Well hello there lovely people! This afternoon's wedding is the perfect example of a couple finding fun and unique ways to personalise their big day. These wonderful images from the hugely talented Eliza Claire are brimming with colour-popping vintage style, the prettiest of tea-length dresses and lots of lego!
Ali and Nathan wed on 11th October 2014 right by the Tower of London at Trinity House London, with the reception held at quirky vintage venue, The Amadeus.
"People joked when we got engaged that they were looking forward to the vintage-lego wedding, which was actually bang on. We wanted our wedding to be fun!"
Photography Copyright (c) 2015, Eliza Claire
An auspicious meeting in London brought these two together from opposite ends of the earth.
"We met in 2006 when my flatmate Gordon announced that his mate 'Nathan from Australia' would be in town for one night only. It transpired that Nathan had not got the correct paperwork to enter the country on his visa, but having been 30 hours in transit, the UKBA couldn't send him back immediately so they let him have one night in London. That's when we met in the new rose in Angel! The next day he was sent back to Brisbane the way he had come at his own expense. A month later with the correct paperwork Nathan flew to the UK again. Gordon who was also our best man began his speech referring to Nathan as 'the man who flew round the world for a few pints'."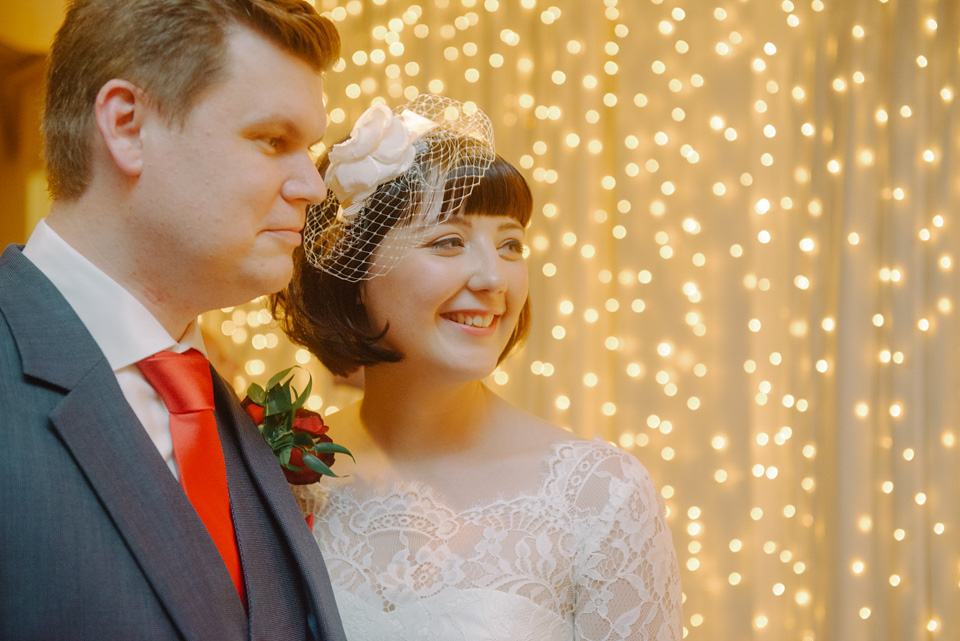 The couple's love of Lego was woven through the day.
"We've always both been big fans of Lego. For many years our friends have bought us Lego gifts and we've even had an anniversary at Legoland. 
We wanted the wedding to have enough Lego to be personalised but not to go to the extent where it could be mistaken for a children's party! So we went for fun touches of Lego throughout the day."
Ali's bob is so chic; she reminds me of Audrey Tautou in Amélie. Gorgeous.
"I adored my hair on the wedding day. Sonya has been cutting my hair for many years and my hair is the longest it's ever been since I was 18. I wasn't sure how to get a vintage look with short hair but Sonya did such a great job and it looked so perfect with the dress."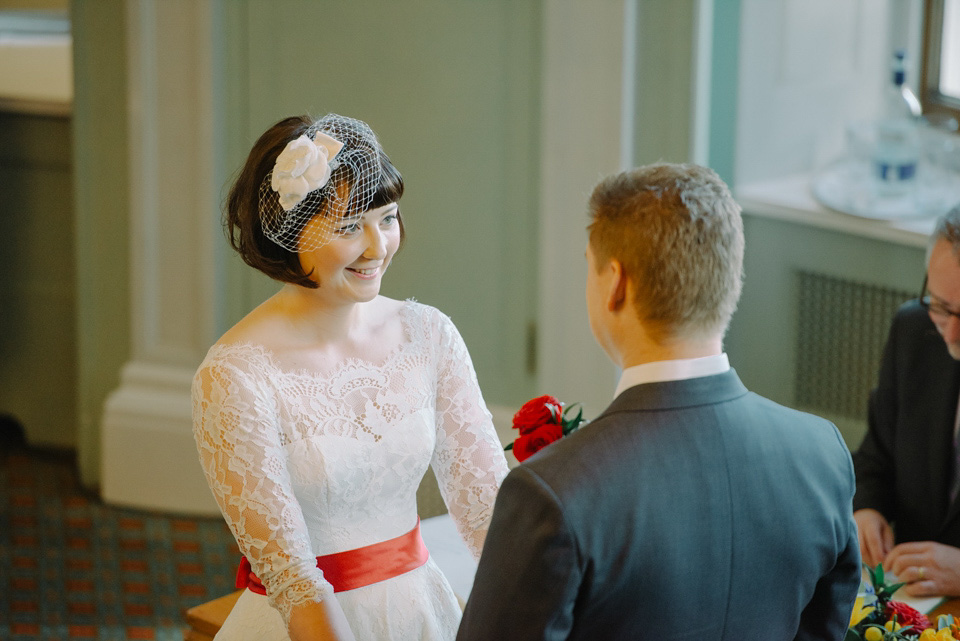 Ali's twirling, swirling tea-length lace dress is by Fur Coat No Knickers.
"I wanted a party dress! And when I came across Fur Coat No Knickers I couldn't believe my luck! Their range of dresses was incredible. When I saw this dress I absolutely loved the lace and the cut of the lace over the neckline. It was really elegant but also so much fun with the red silk sash – I knew it would be so awesome for dancing."
Fur Coat No Knickers also created Ali's birdcage veil using the lace from her dress. Her dainty T-bar shoes were purchased from Emmy London.
The couple had admired Eliza Claire's photography on Love My Dress, and when they found out she had shot at The Amadeus, they realised she was the perfect choice.
"She really got our style of 'vintage-lego' wedding. I love Eliza's pictures of the day as they really capture all of the action and captured people in the moment. The photos are lovely and natural and aren't too staged and formal which was perfect for us."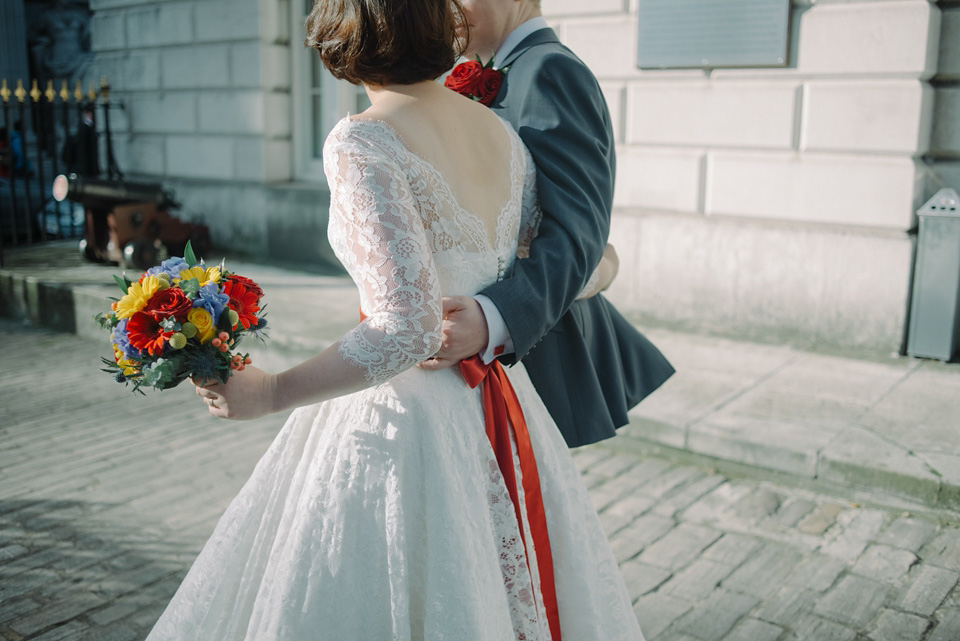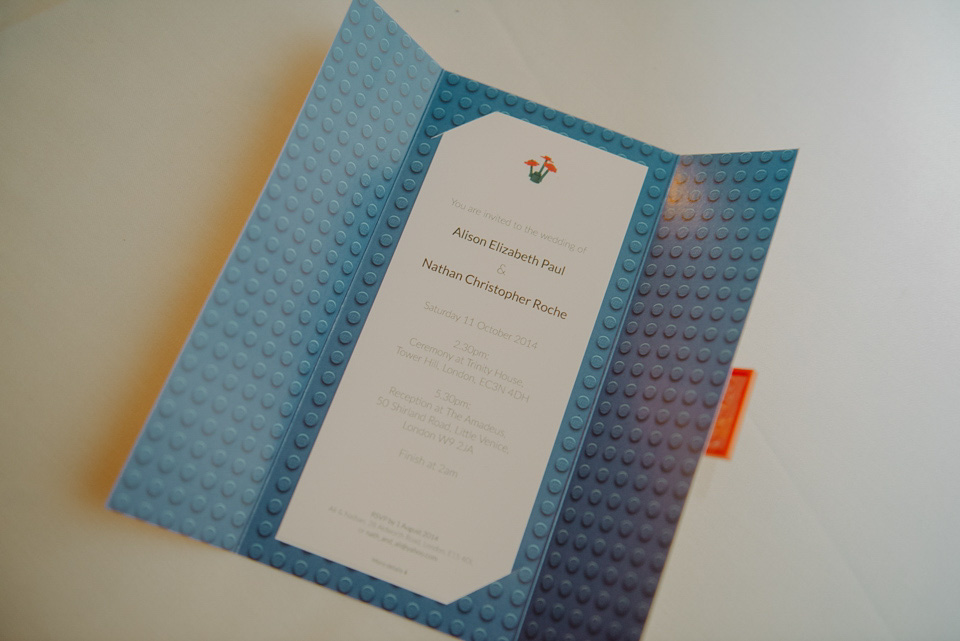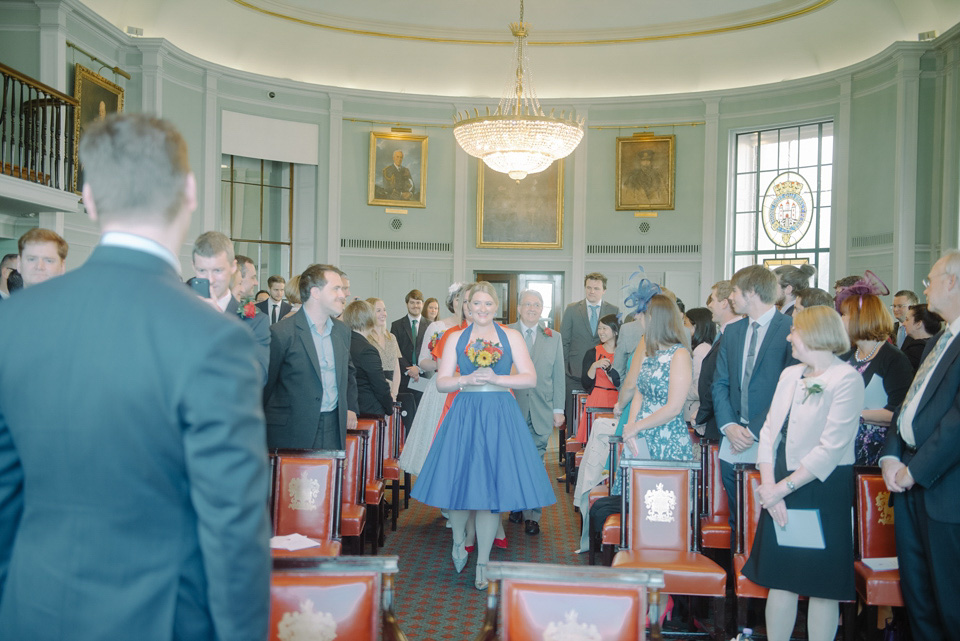 Ali's dad walked her down the aisle to Gymnopédie no. 1 by Satie.
"My wedding ring was my grandmother's on my mum's side. She passed away when I was about 13 and I've worn her ring ever since on my right hand so when it came to my wedding ring I thought it'd be great to now wear it on my left hand."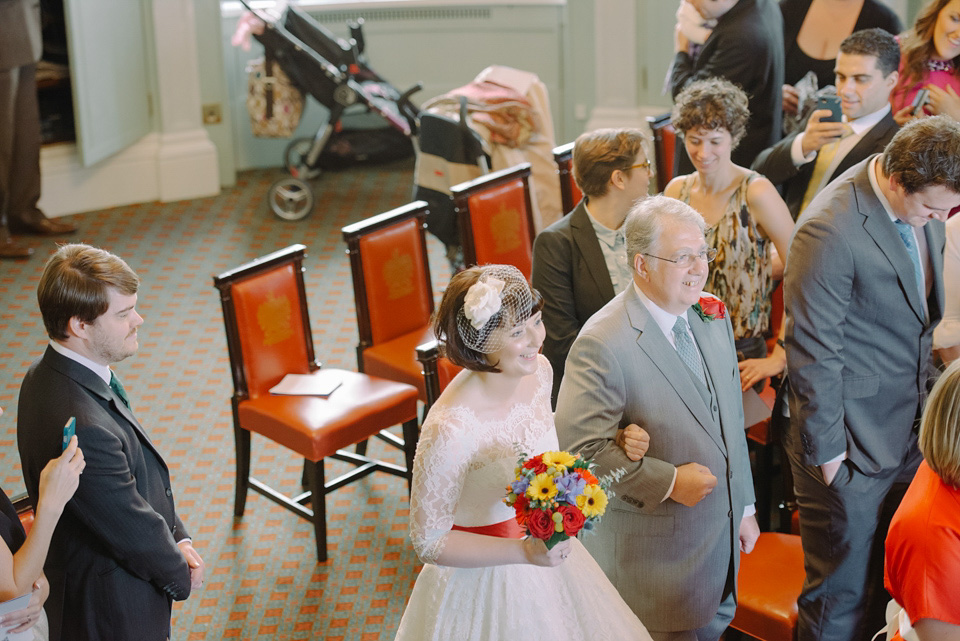 The couple wanted their ceremony to be fun and celebratory. They chose My love is like a red red rose by Robert Burns in honour of their annual Burns Night bash and a love of Scottish poetry, and The square root of 3 by David Feinberg which the couple describe as a "suitably dorky" but "sweet and lighthearted poem about 2 square roots coming together to form an integer.
We had Nathan's dad perform as our '3rd reading'. He composed a song for the occasion called 'I do, too' and played his guitar and sang at the end of the ceremony. It was his first time ever leaving Australia and we were thrilled that he could be part of our ceremony and it was a truly memorable part of our day."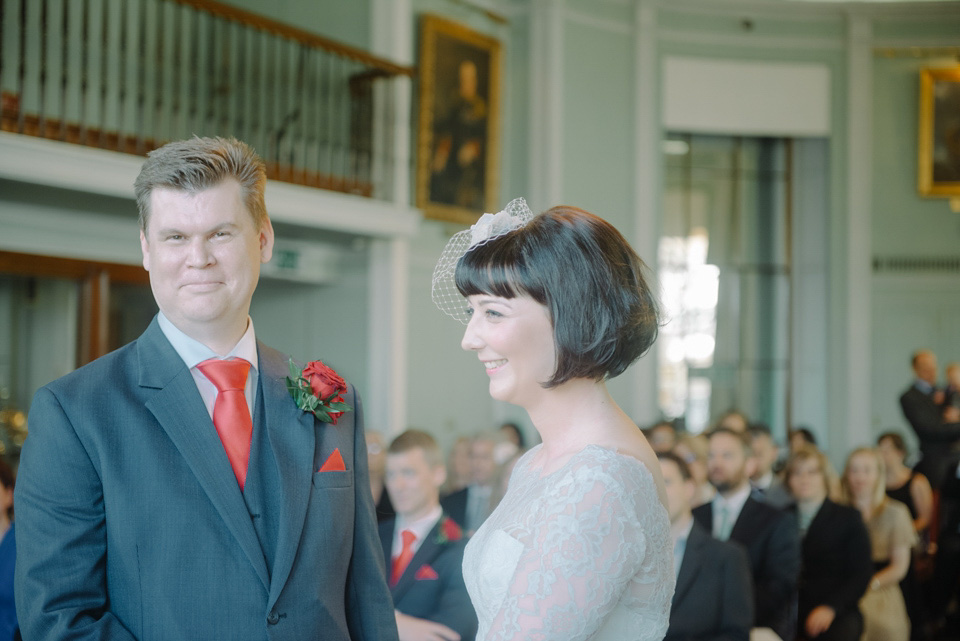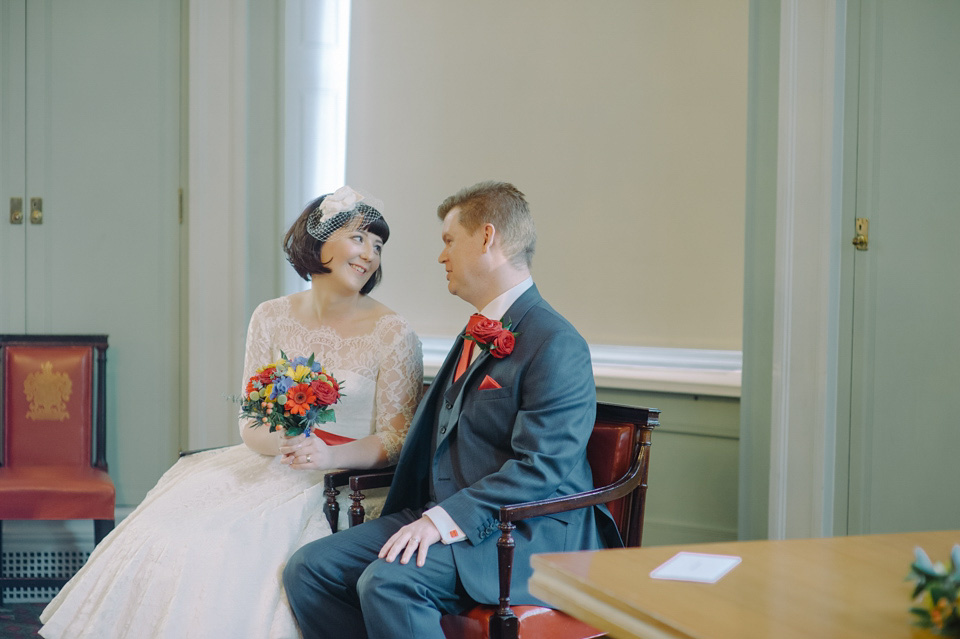 The flower arrangements were inspired by Lego colours.
"Evergreen and Outrageous (contact details at end – no website)  is my favourite flower shop. Angela does amazing bright coloured arrangements and it's a fantastic shop. I know nothing about flowers but Angela helped me choose a lovely arrangement of primary colours that were real Lego colours."
The bridesmaids were styled in cute 50's dresses, from Vivien of Holloway. Each wore a sash from Fur Coat No Knickers, to tie in with Ali's dress.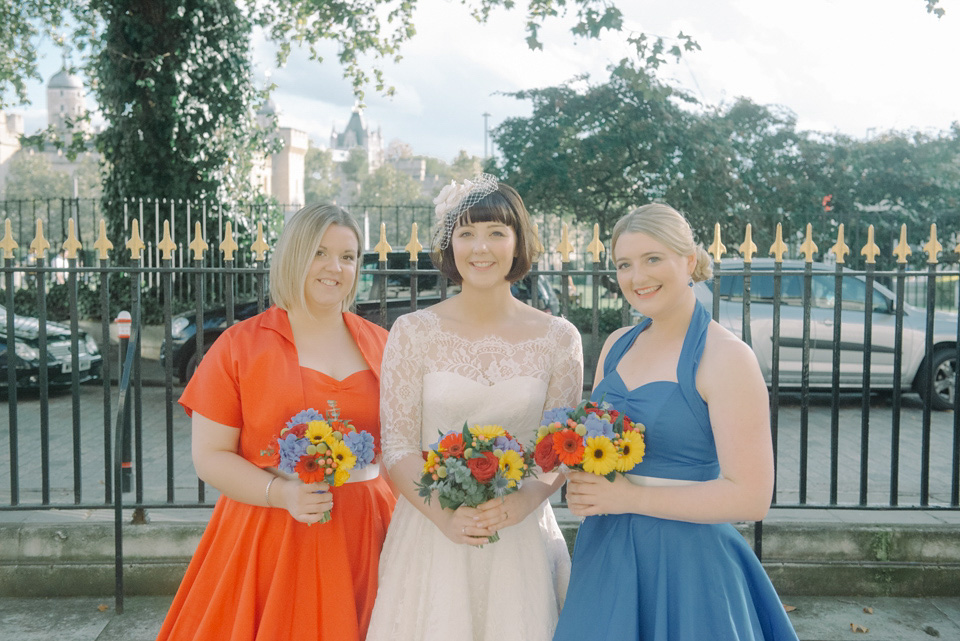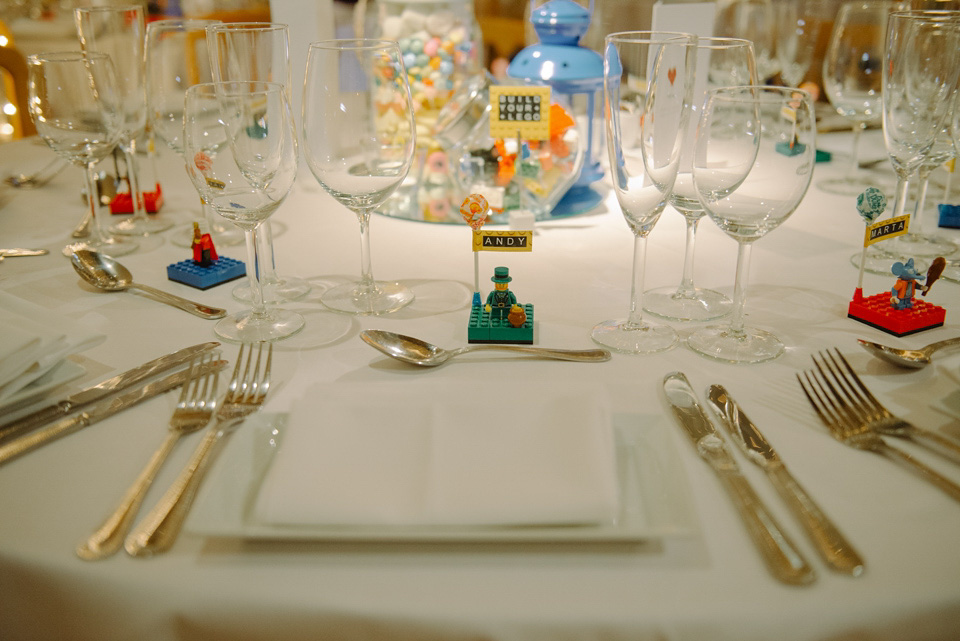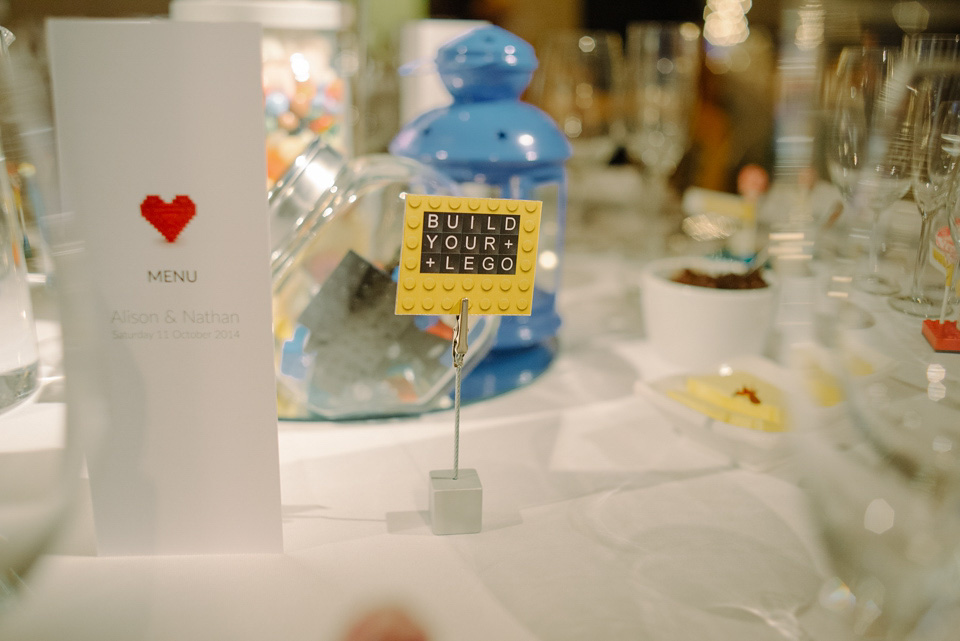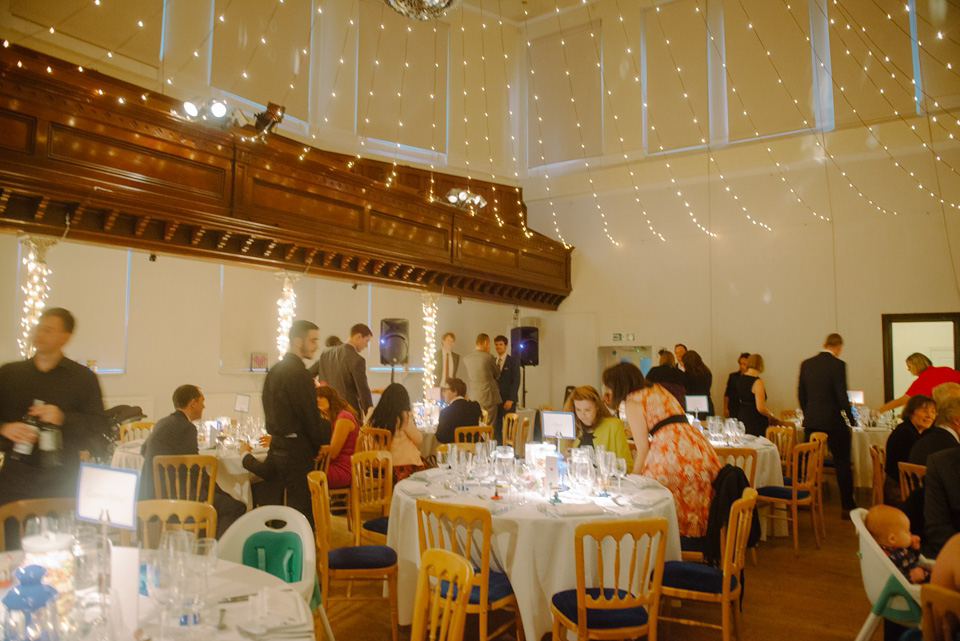 Lego also played a part in the groom's outfit (Lego cufflinks by Etsy), the stationery (sealed with Lego), the cake topper, and the brilliant DIY wedding favours…
"We created our wedding favours using Lego minifigures that we had collected over the last couple of years and then gave people figures that had some sort of an association or that looked like them. (Some were better than others).
We bought small jars from Tiger and had these as part of our centrepieces, these included additional bricks of lego, windshields and wheels so people could take their favours apart and transform them into vehicles."
The couple are big boardgame fans. This was reflected in the table names, Monopoly board table-plan and Connect 4, Kerplunk and Jenga sets.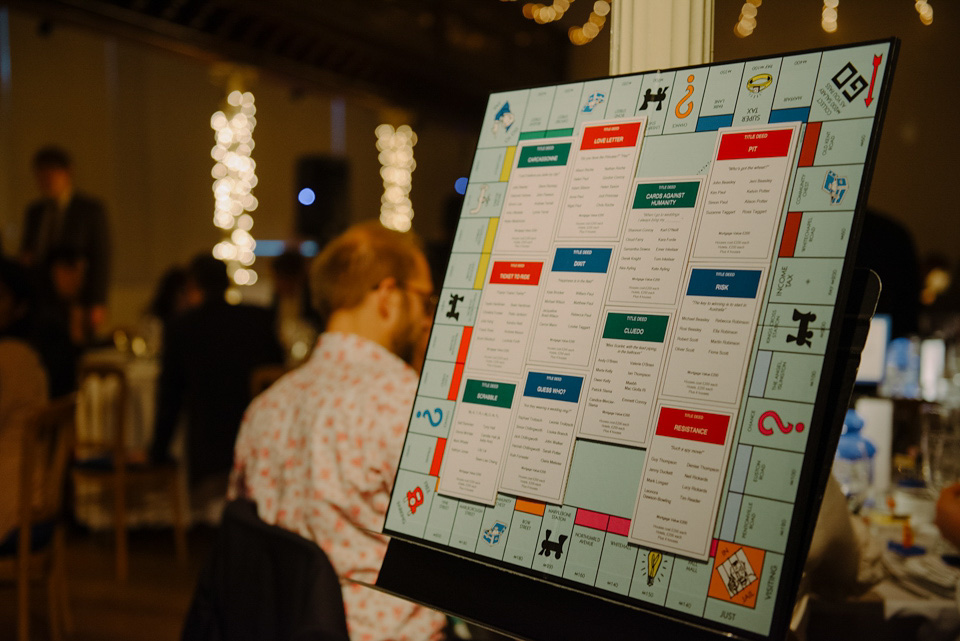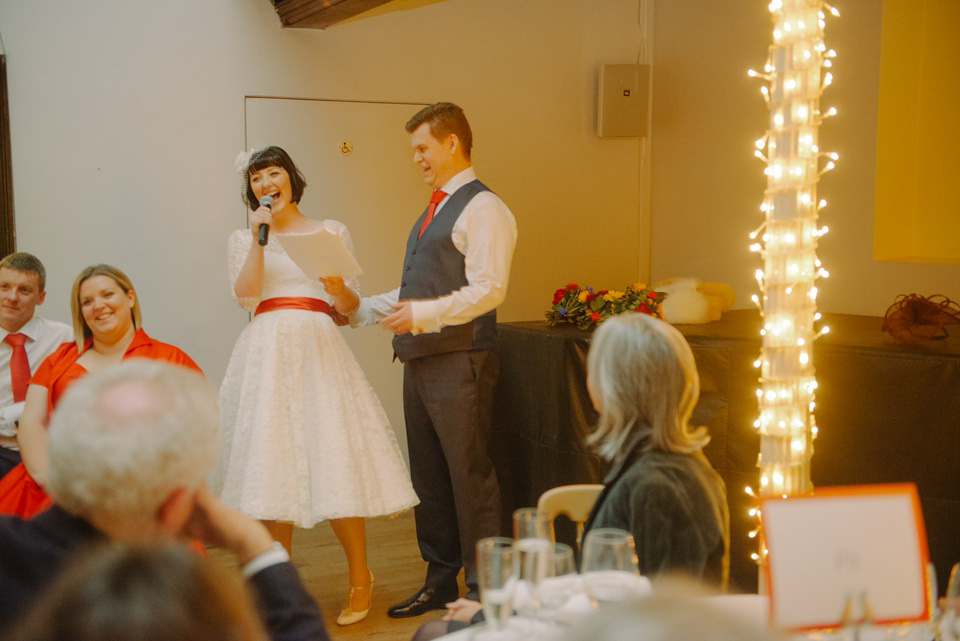 Even the catering, by Food Events, had a fun twist!
"I cannot recommend Food Events highly enough! The team can pretty much create any meal you would like. We had quite a clear idea of our meal as we wanted it to be nice and social; we had sharing starters followed by roast lamb. Dessert was a posh pizza hut ice cream factory vanilla ice cream for everyone. Then people could help themselves to bowls of sweets, strawberries and chocolate sauce.
There were so many wonderful parts of the day. From the doors opening and seeing Nathan and all my friends and family, to Nathan's dad Chris's amazing song, to the bus ride where my bridesmaid Helen gave a hilarious alternative tour on the bus mic, the speeches which were all absolutely hilarious and dancing and singing 'You're the voice' very loudly with inflatable guitars. It was particularly lovely to do a joint speech together as well."
Words of Wedded Wisdom
"Don't worry about all the details being right on the day. Everything will be perfect!
If you have a separate ceremony venue see if they can serve canapés themselves without a caterer. Trinity House offered this service which meant we could order Waitrose canapés. They were really delicious and only set us back a few hundred pounds.
If the wedding websites are really getting you down and look way to cheesy use something like squarespace, which is easy to use even if you're not techy.
If you have a 'dry hire' venue like The Amadeus, don't scrimp on lighting. It makes a huge difference to the venue and means that it looks amazing even if you don't get round to all the decor ideas you had to start with."
Thank you to Ali and Nathan for giving us a glimpse of your lovely Lego-inspired day! As with lots of the weddings featured on Love My Dress, it's the personal touches that make a wedding so special. Thank you also to Eliza Claire for the fabulously fun images; readers can check out more Eliza Claire weddings here.
Love Louisa xx
Photographer – Eliza Claire
Venue – Trinity House London with reception at The Amadeus
Wedding Dress + Veil – Fur Coat No Knickers
Shoes – Emmy London
Groom – London Tailor, Roger Gustavson, 219 Bow Road London (no website)
Groom's accessories – Lego Cufflinks via Etsy; ties and pocket-squares The Tie Store
Bridesmaids – Vivien of Holloway with sashes from Fur Coat No Knickers, shoes by Russell and Bromley and Linea at House of Fraser and hair accessories from Accessorize
Florist – Evergreen & Outrageous, 43 Stoke Newington Church Street, London (no website)
Cake – Marks and Spencer
Cake topper – Lego
Transport – Route-master bus via Traditional Travel
Entertainment – Rock and Roll Jumble Sale
Rings – Raphael, Hatton Garden
Catering – Food Events with canapes by Waitrose
Stationery – Bride and Groom using Lego printed by Hanway Print, wedding website by Squarespace
Hair Stylist – Sonya Park Howie
Makeup Artist – Friend of the bride, Kate Brooker
Centrepieces – jars from Tiger and Ikea