I have the sweetest, most romantic wedding to share with you this afternoon, featuring the most exquisite photography from Joanna Brown and a bride who turned to two of our highly recommended sponsors to help her bring her wedding day vision together. Including the wonderful Lipstick and Curls and Passionate About Vintage.
Katie and Emrys tied the knot at Hedsor House in Beaconsfield on 2nd November last year, and I wanted to begin this feature with a gorgeous, heart-warming little film created by Newlywed Films (weepy warning!)…
"Our amazing videographer was Steve from Newlywed Films, who did an incredible job of filming our day even though his daughter had been born just the night before! He captured so many special moments and we're so thankful to have his work to look back on, it all goes by so fast and you really miss things!"
Film Copyright (c) 2015, Newlywed Films
https://vimeo.com/114730058
"I have great love of all things old, in particular fashions of the 40's and 50's so that was always going to have a place in our wedding. We didn't want the wedding to feel too themed so we just included lots of things that we love and everything ended up working really well together! Everything expressed us and our relationship, so in the end everything worked perfectly together."
Photography Copyright (c) 2015, Joanna Brown Photography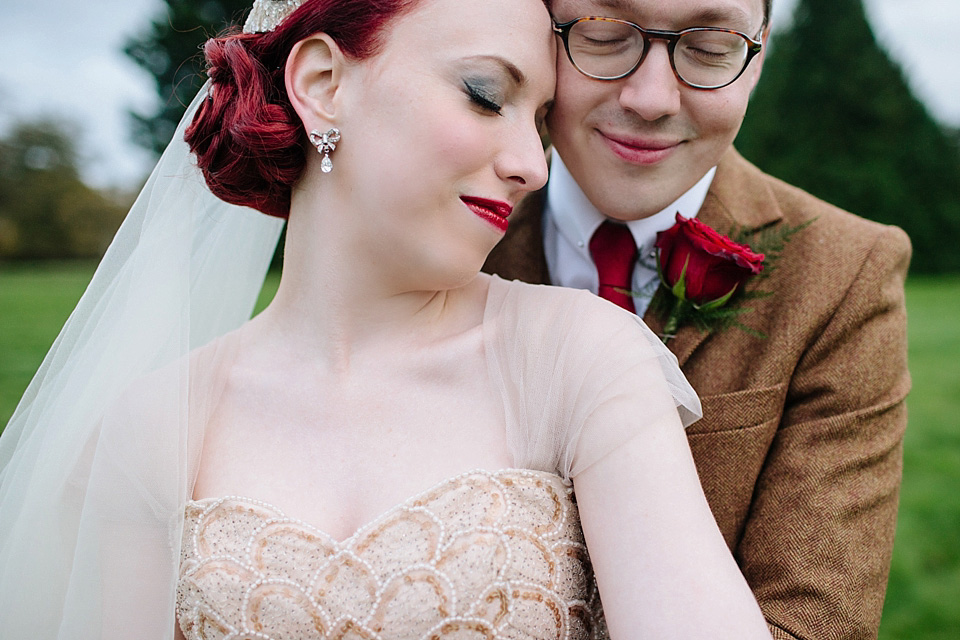 Katie's spectacular dress is an original 40's vintage find from the inimitable Fur Coat No Knickers. Don't you think Katie looks like a Hollywood starlet? Especially with those luscious red lips – the handiwork of Amanda from Lipstick and Curls.
"I first became aware of Fur Coat No Knickers when Emrys and I started dating, because we were both working in the same area of the shop. When I first saw their window display I turned to Emrys and said, 'That's where I'll get my wedding dress one day.' And considering we'd only be going out a few months I'm happy I didn't scare him off!"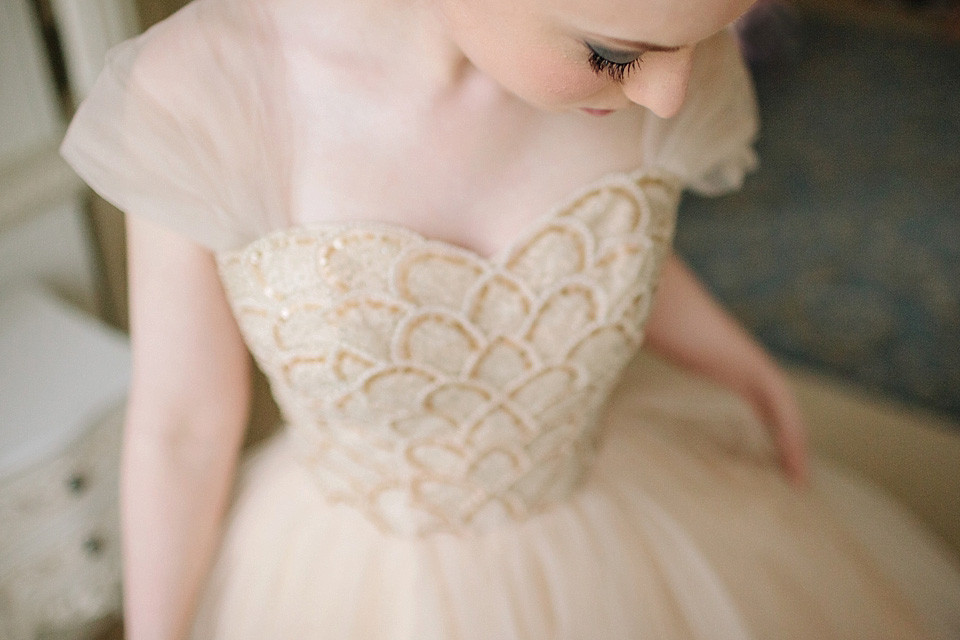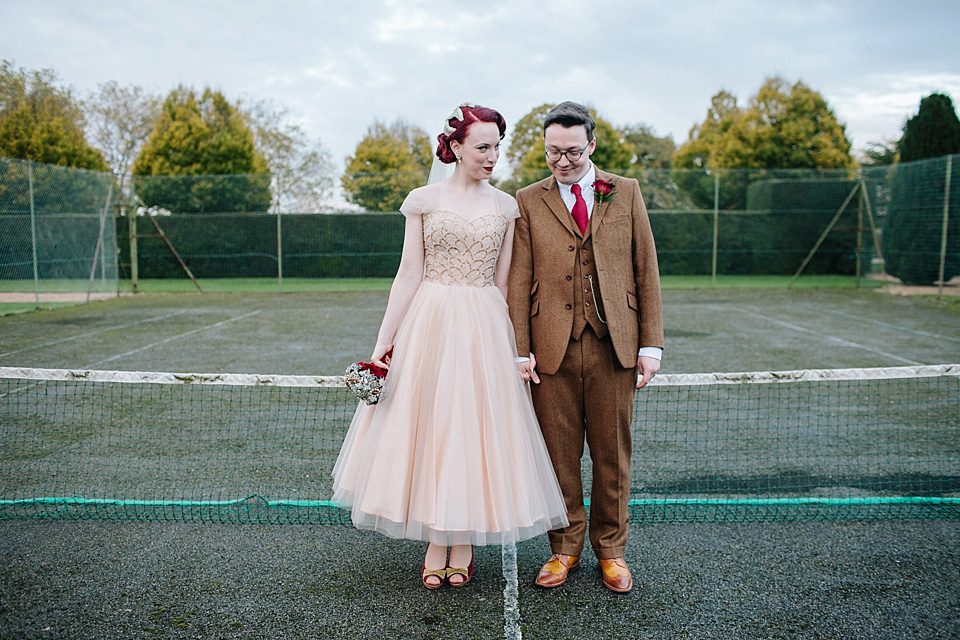 "I first visited Emma and Laura, owners of Fur Coat No Knickers  about a month after I got engaged with my maid of honour Harriet and I think I tried one every dress they had in their store.  I felt like a princess, it was so magical, not just trying on the gorgeous dresses but seeing how much they both care about every piece they sell. It was wonderful.
I never saw myself wearing a white or ivory wedding dress, it just didn't feel me, so when the ladies pulled out this beautiful golden, champagne dress with a full beaded bodice I fell in love. We bought the dress that day and everything other decision I made for the wedding we based on living up to that perfect dress."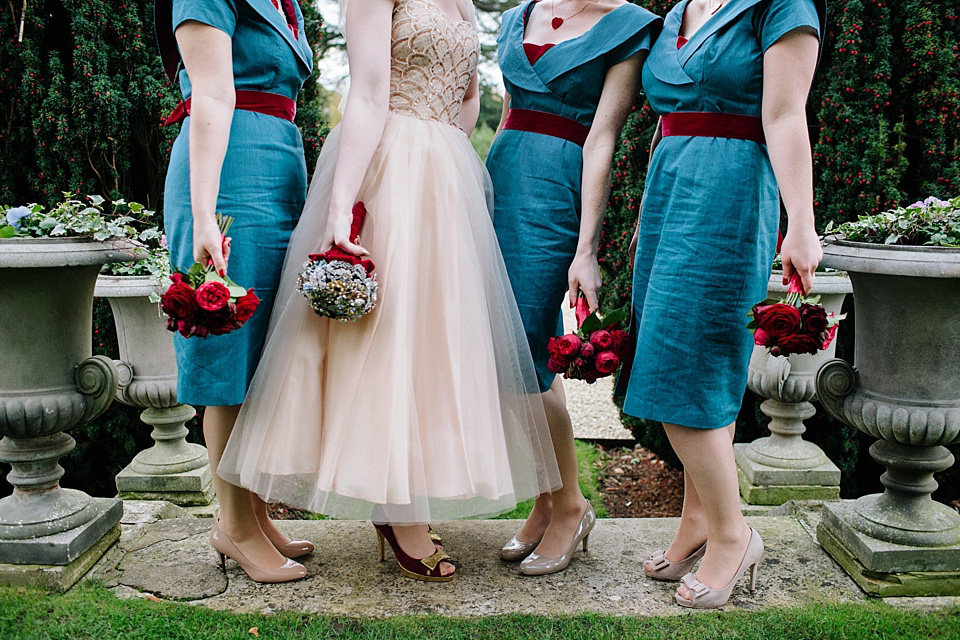 "Joanna Brown was our photographer and I think we would both agree that hiring her was the best decision we made in regards to our wedding (other than choosing each other, obviously!)."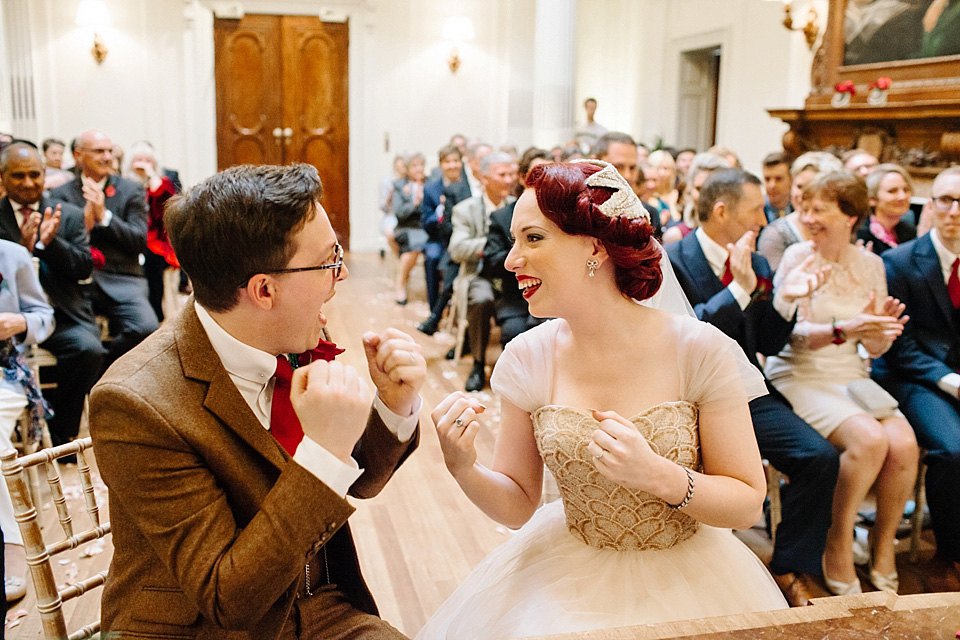 Katie tracked down her wedding jewellery with a little help from Love My Dress!
"I got my wedding jewellery from Natalie at Passionate About Vintage, who I actually found out about from Love My Dress.  And I have to say it one of my favourite parts of my wedding planning. Natalie is incredible at finding the perfect piece of jewellery for an individual, she really understood what kind of thing I was looking for and picking my jewellery was such a joy."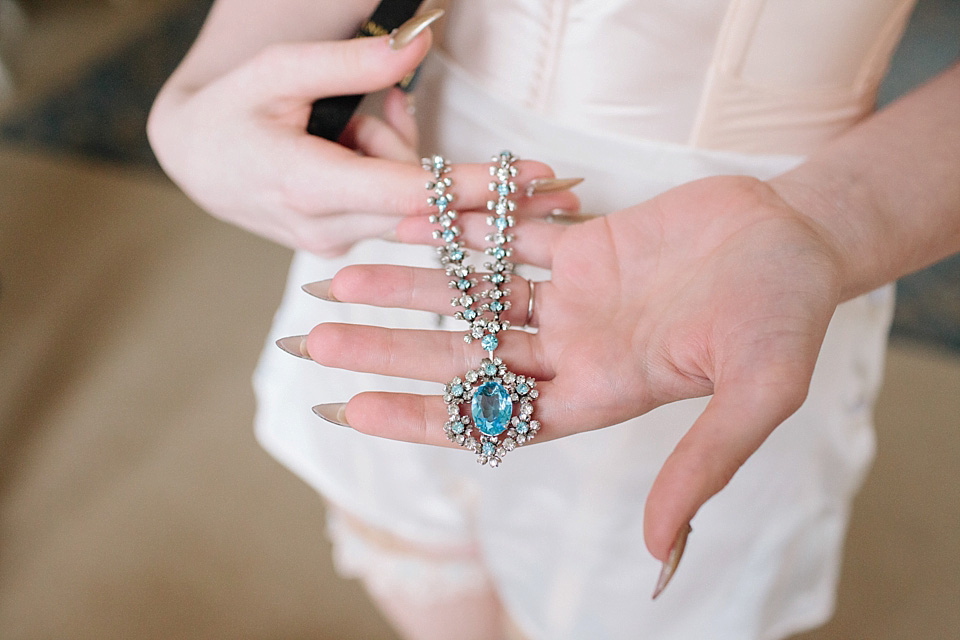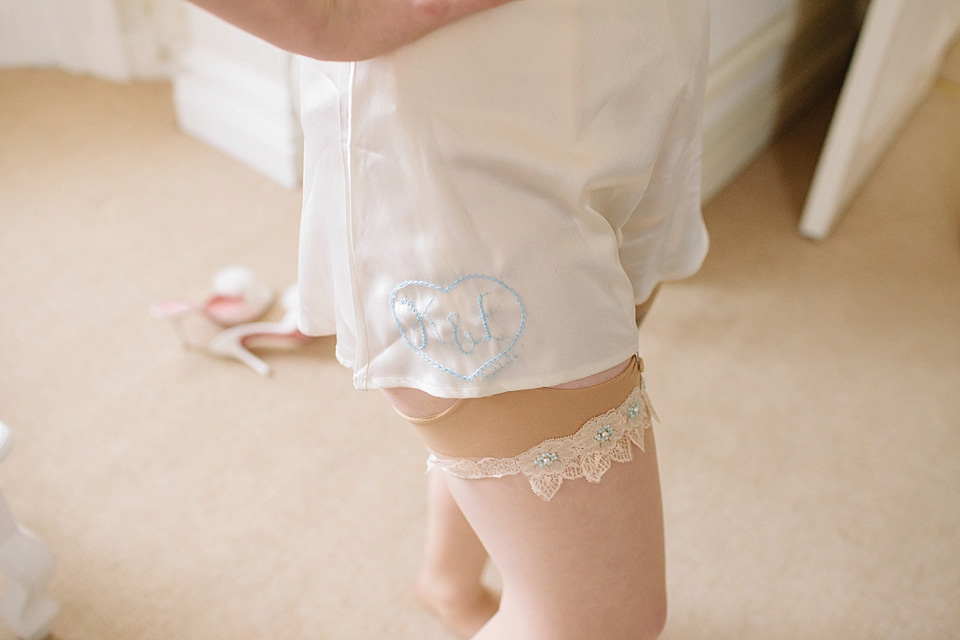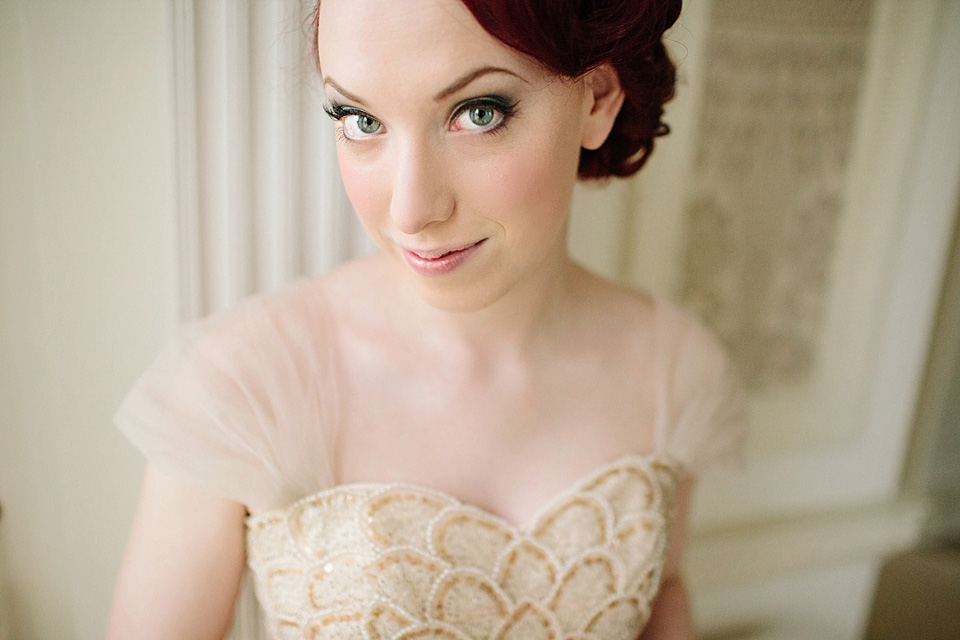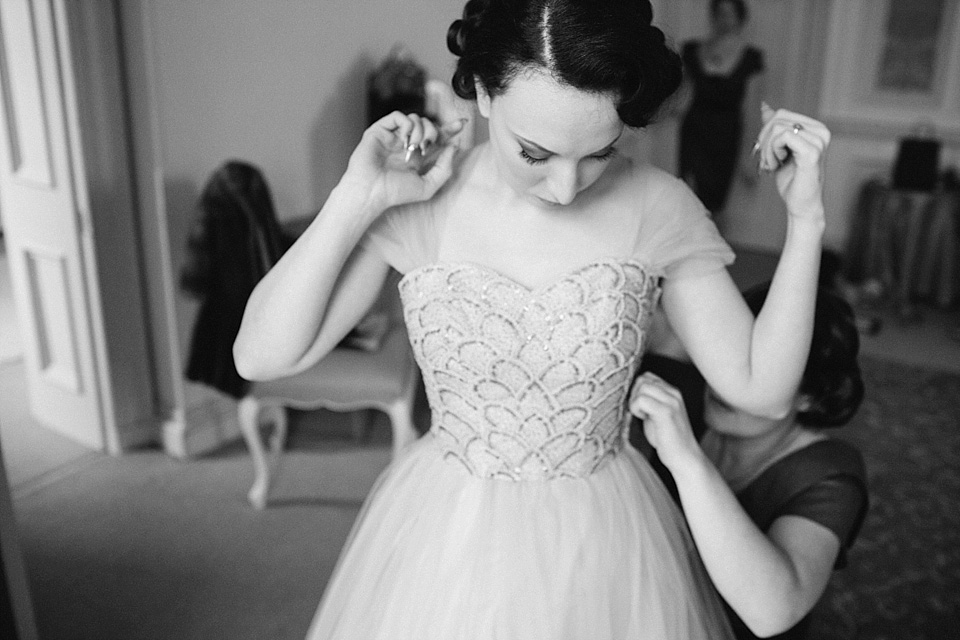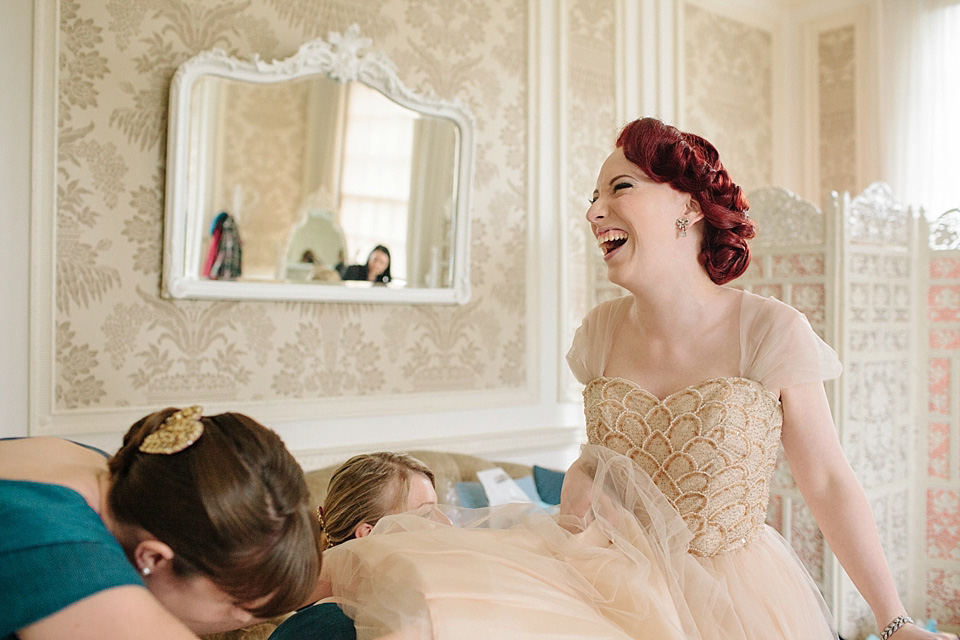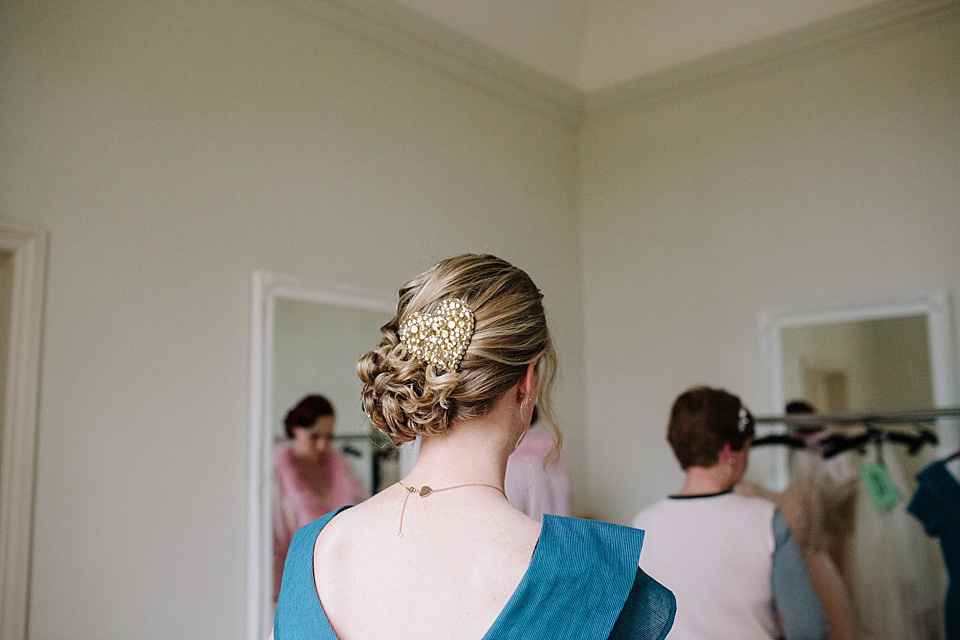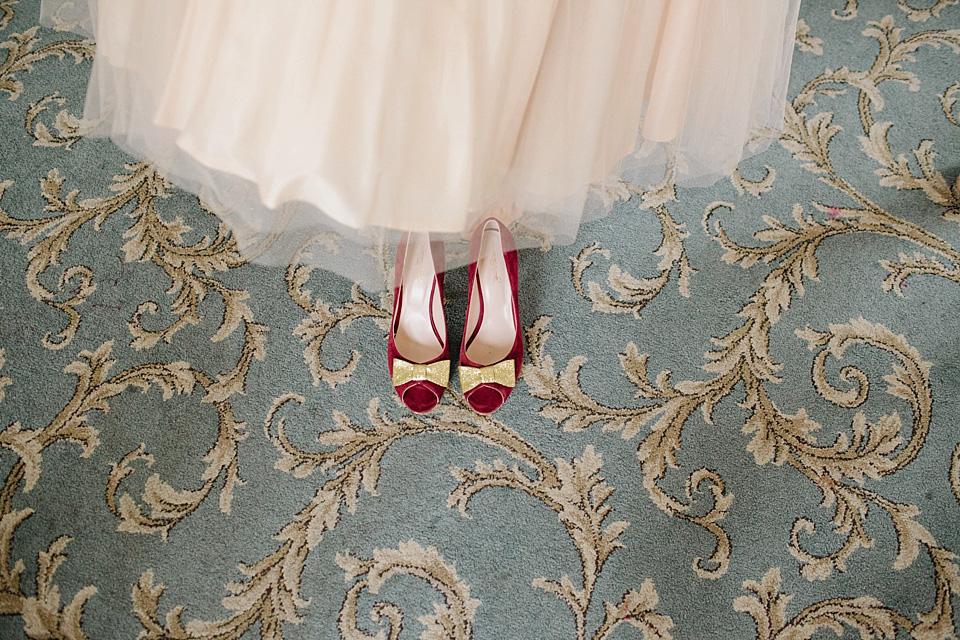 This crafty bride decorated her hat with Swarovski crystals, designed her own shoes via Dessine-moi un soulier, and even hand-made her own bridesmaid dresses, based on a 1950s wiggle style. Oh, and did I mention the brooch bouquet?
"I made my own brooch bouquet, it took months to come together..but it was worth it in the end"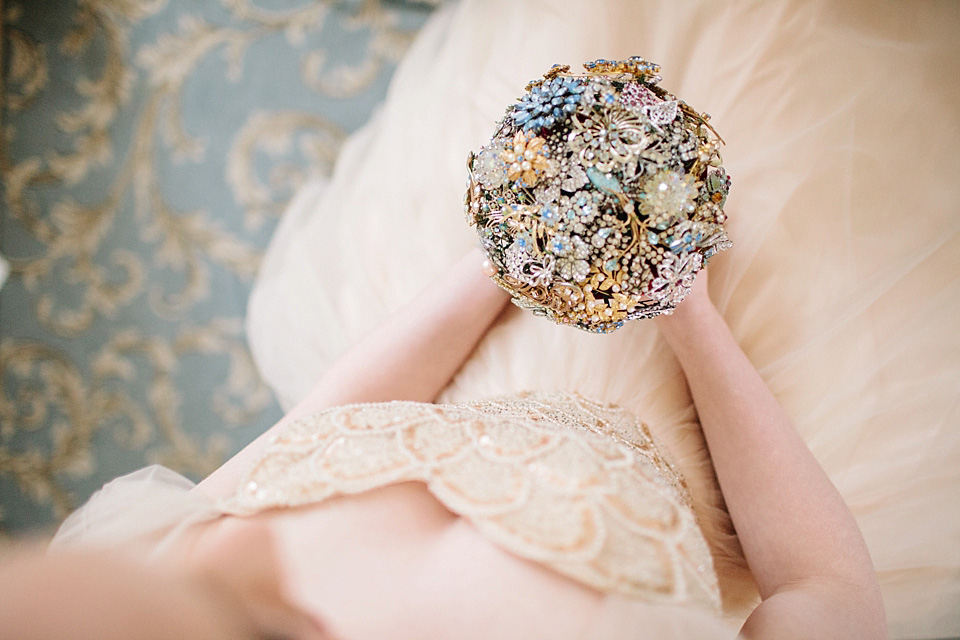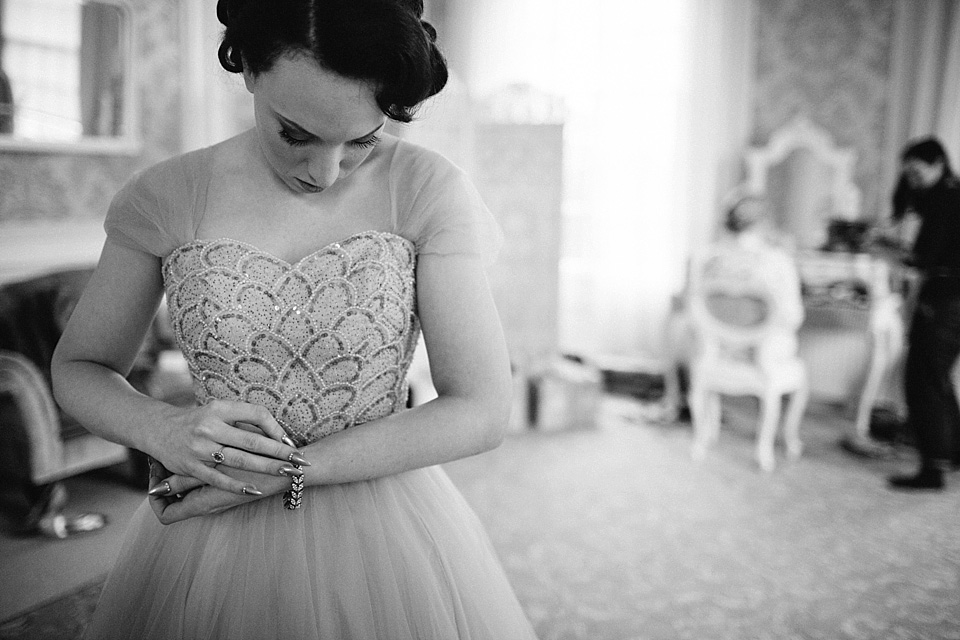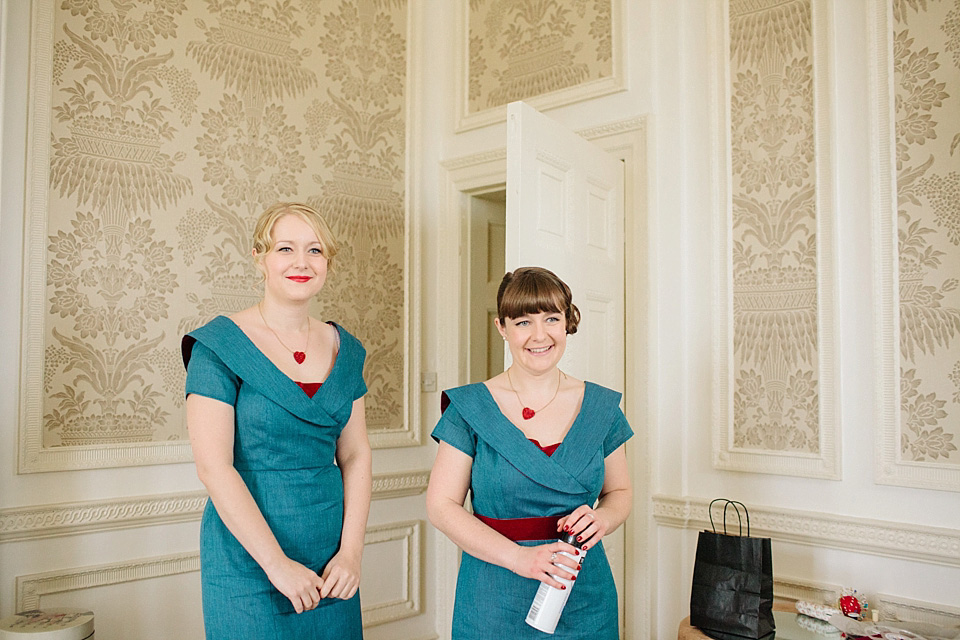 The bridesmaids' hair clips are by Crown and Glory and the glitter heart necklaces are by Tatty Devine.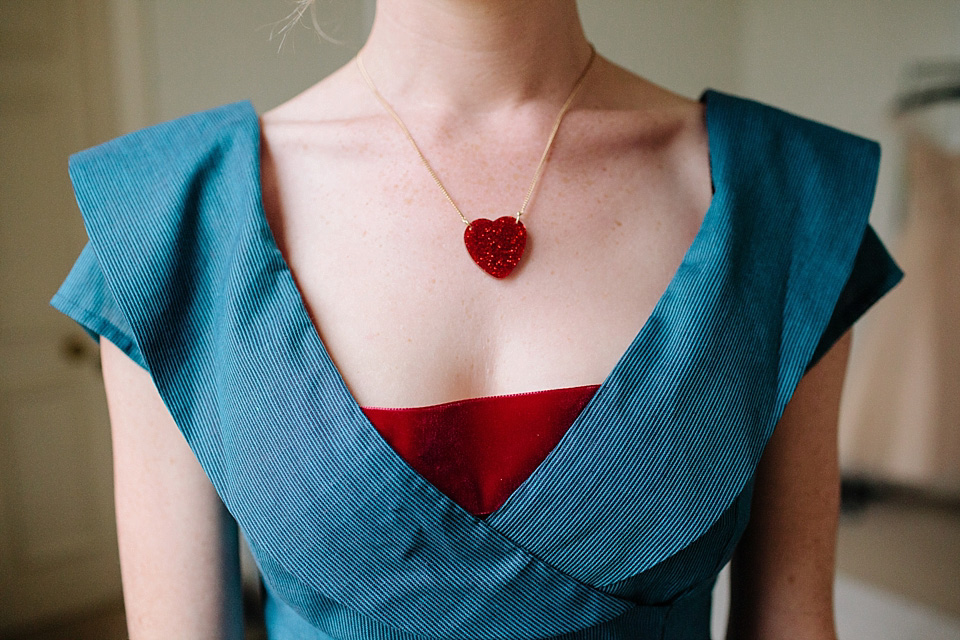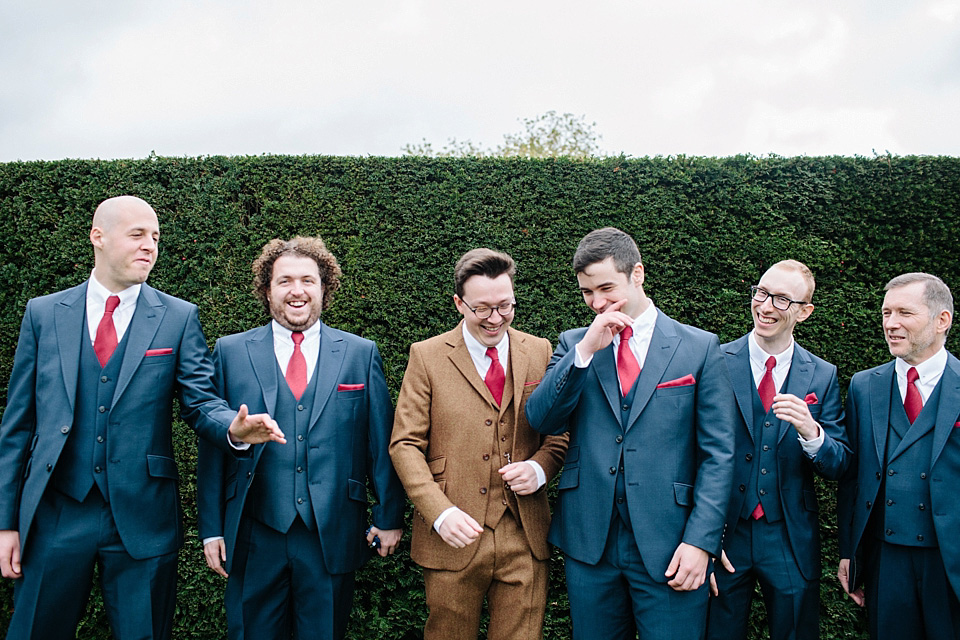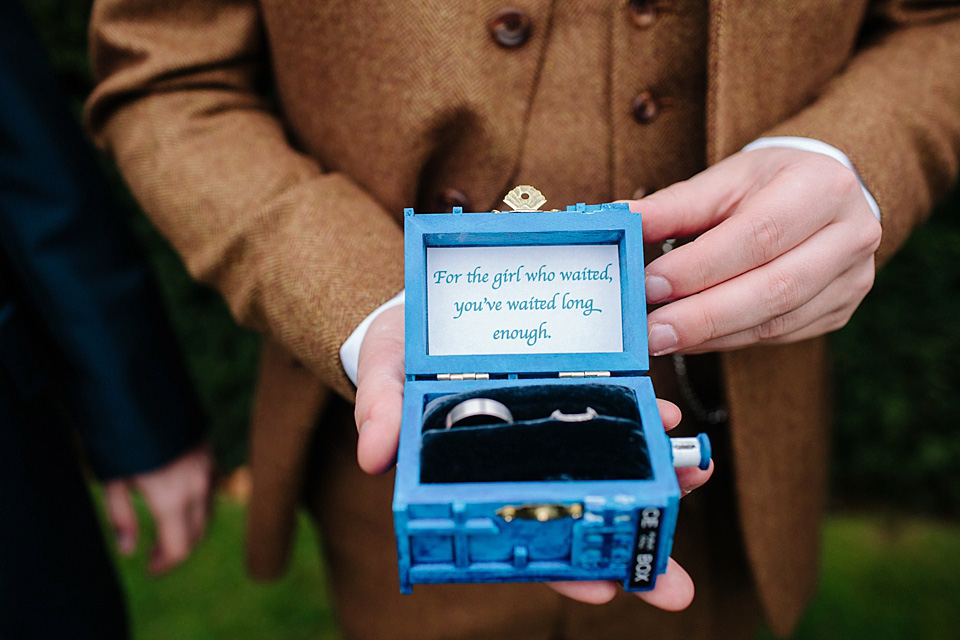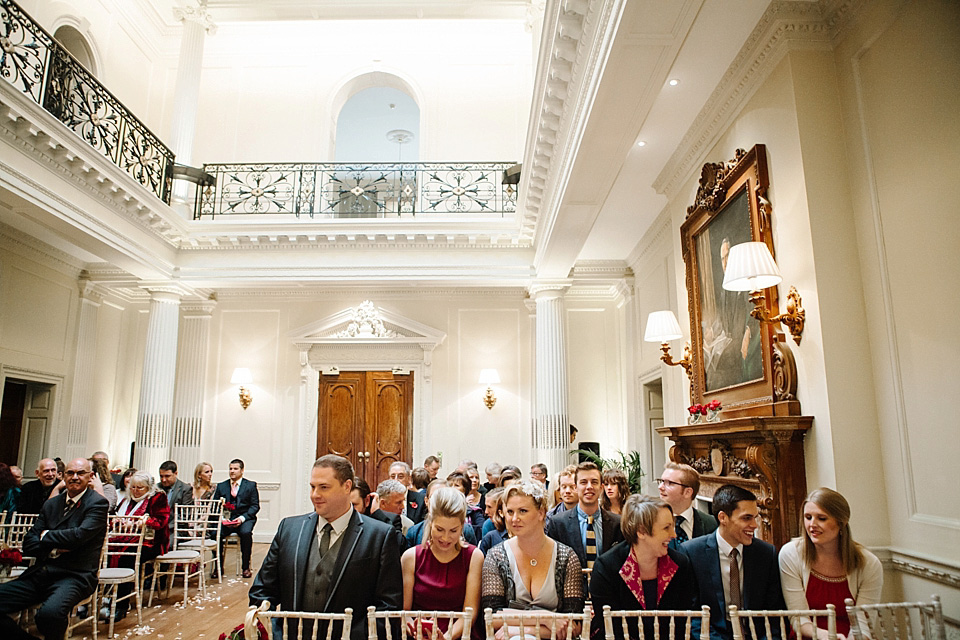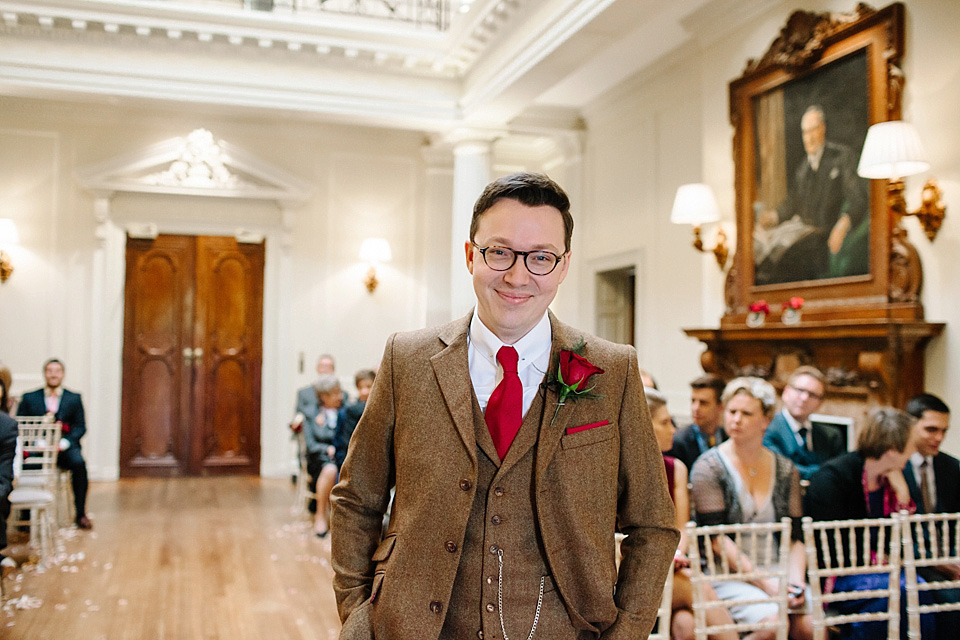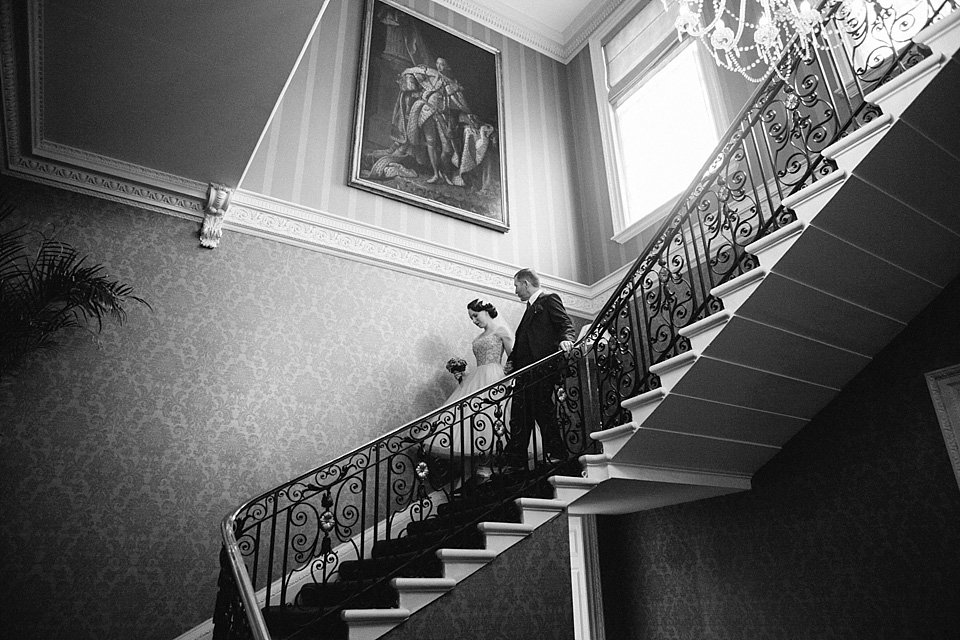 "For walk-in music before the ceremony started, we chose a whole load of instrumental music from films that we have watched and loved through our relationship. Like everything to do with our ceremony it was incredibly personal and it gave our venue such a magical feel."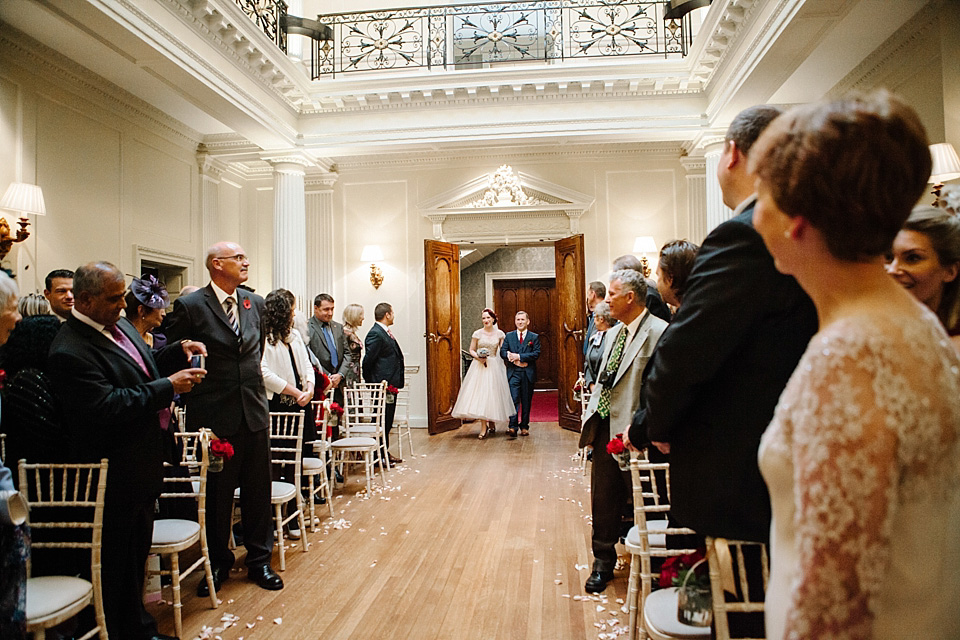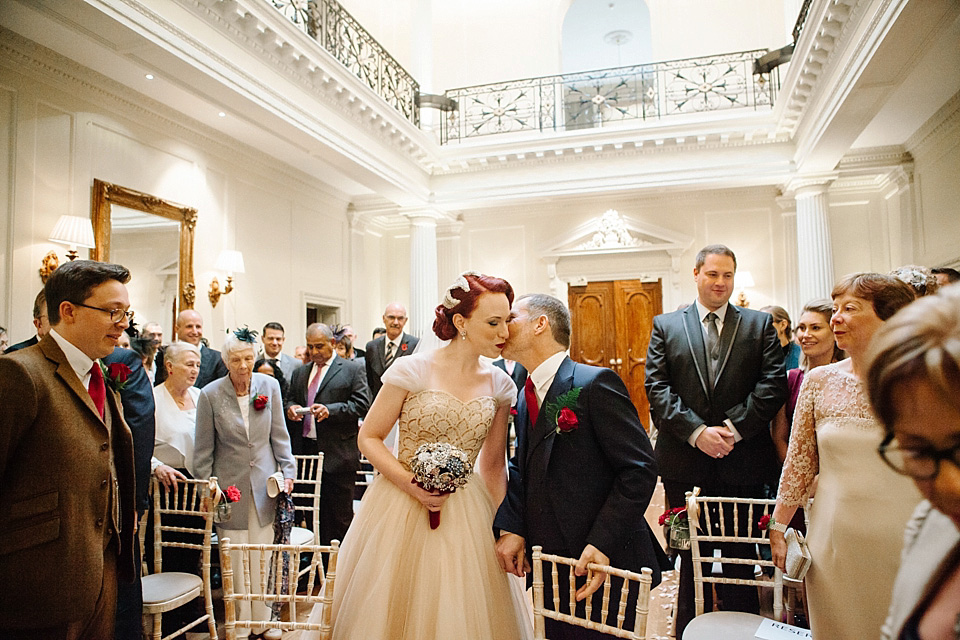 Katie's veil was made by Fur Coat No Knickers to match her dress, and she teamed it with a hat she found in a vintage shop.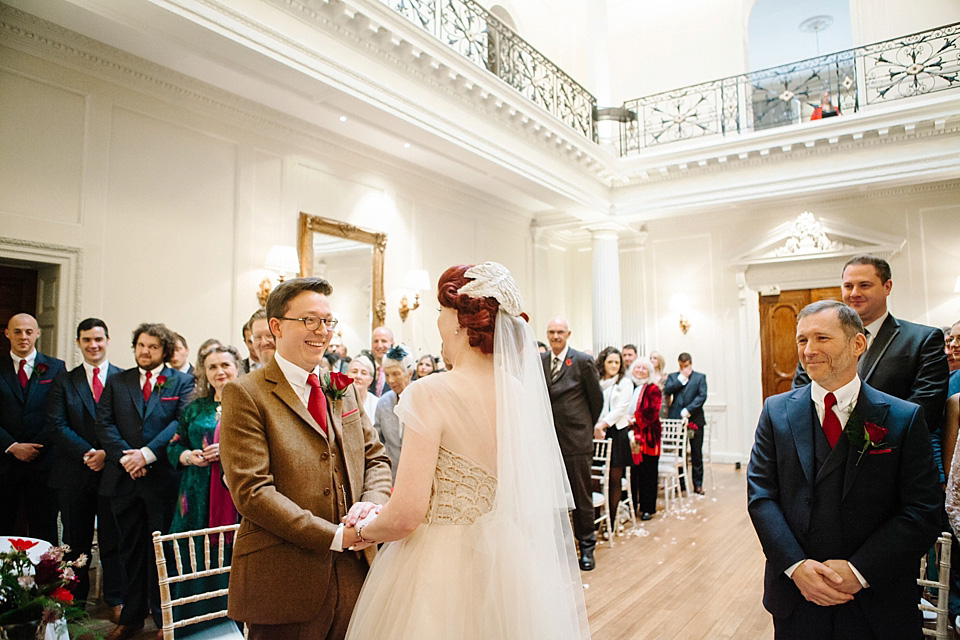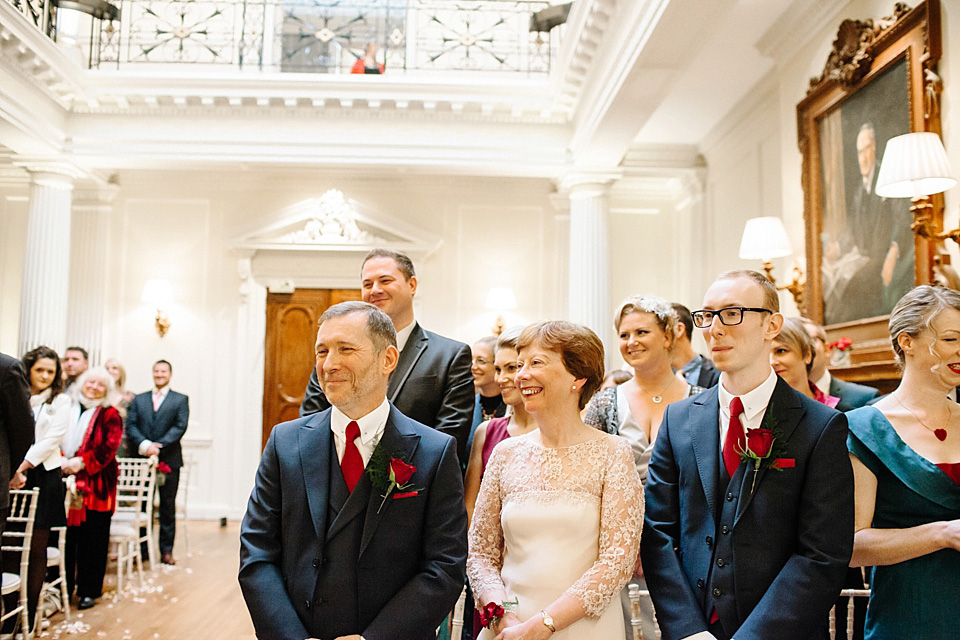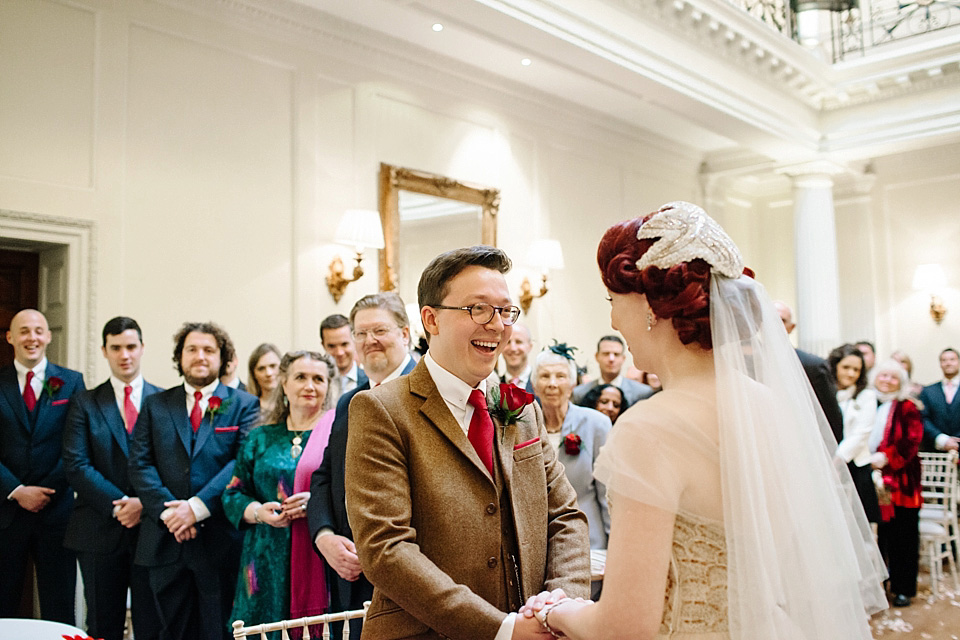 The couple's readings were an extract from 'Jane Eyre' by Charlotte Bronte and Shakespeare's Sonnet 116.
"Our vows were my favourite part of our wedding. It was definitely oneof the best things about having a civil ceremony, because we didn't have to promise anything we didn't feel comfortable with, we just spoke from the heart and it was so special. Between us we managed to reference Star Wars, Doctor Who, Game of Thrones and The Addams Family in our vows, and Emrys even promised to buy me a dog! It was a very honest and emotional moment between the two of us and it couldn't have been more perfect."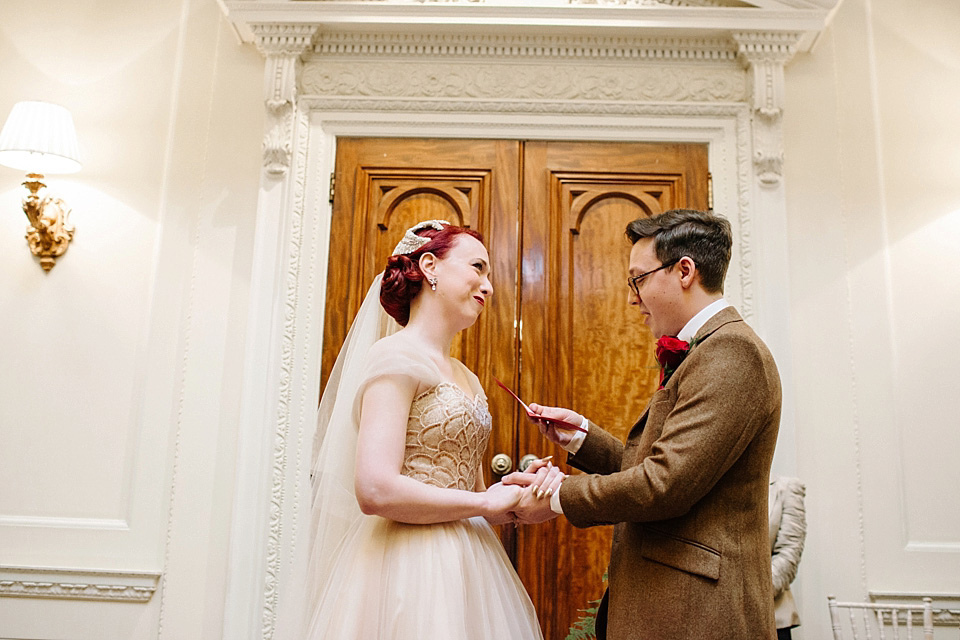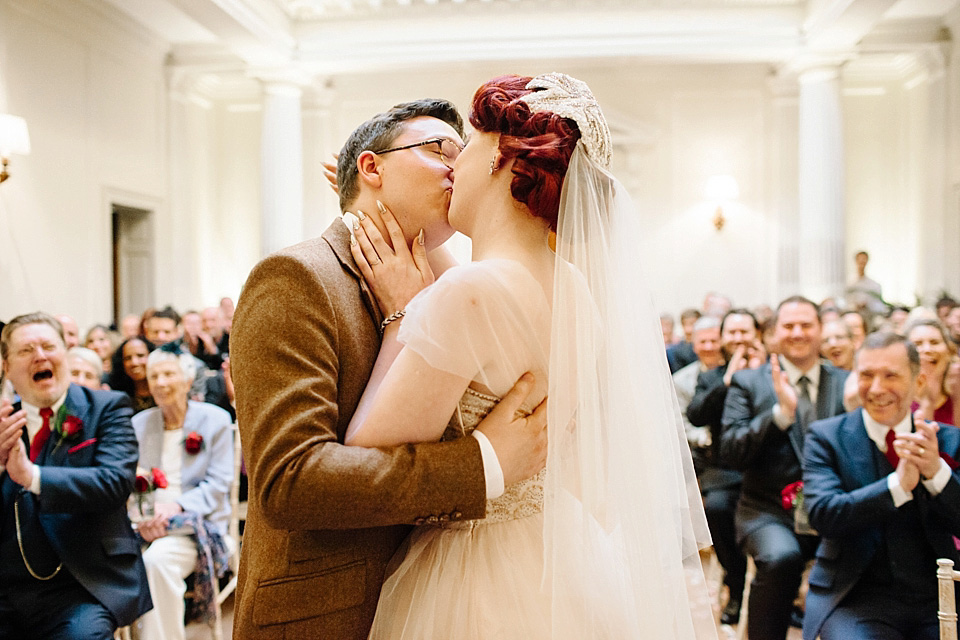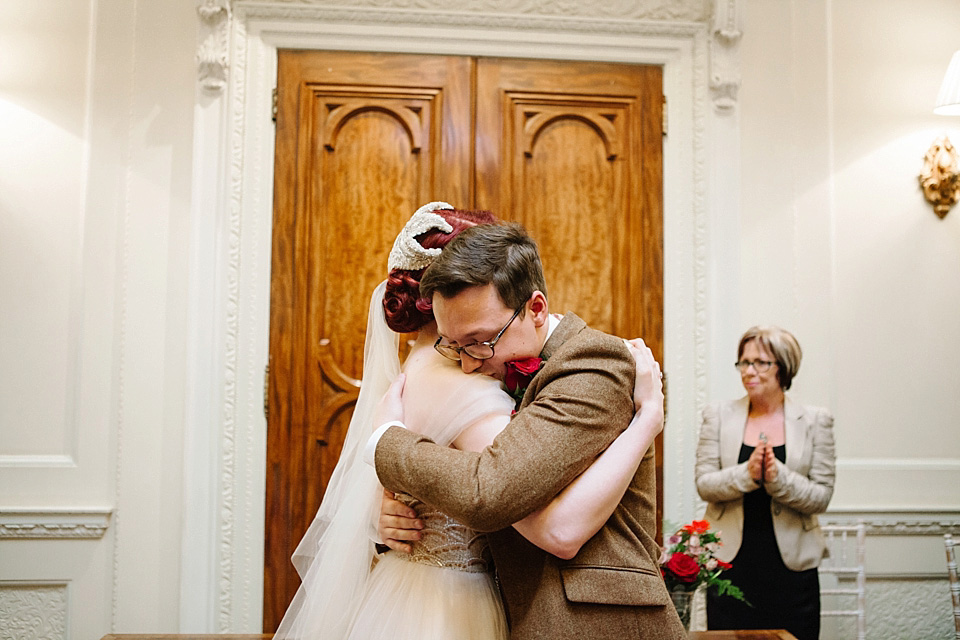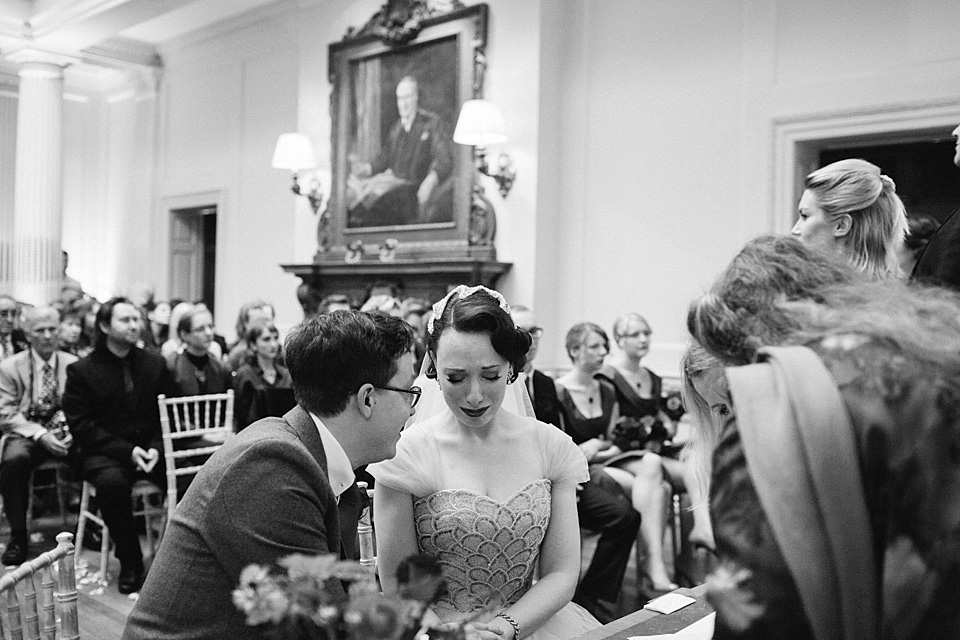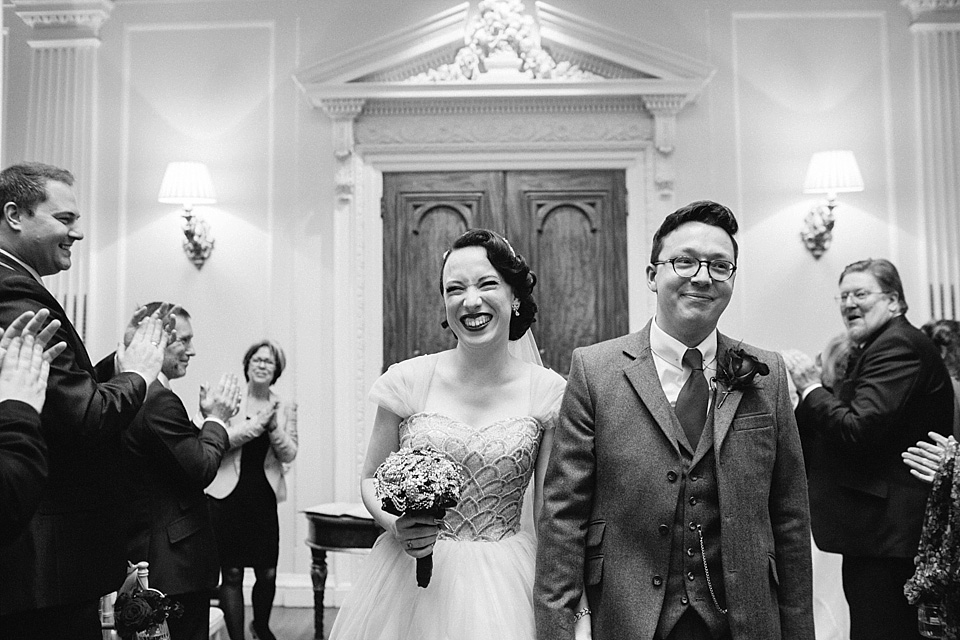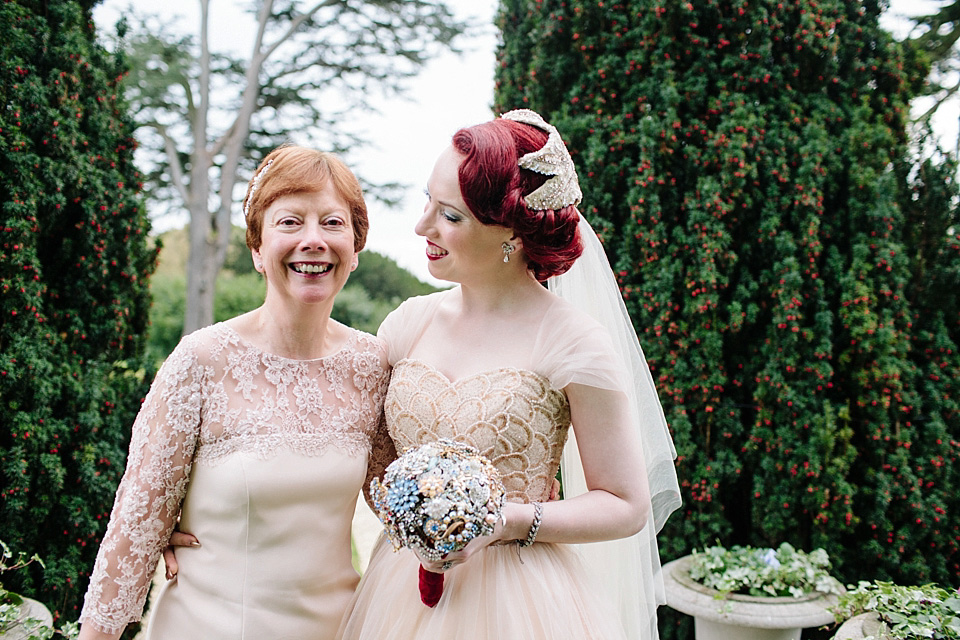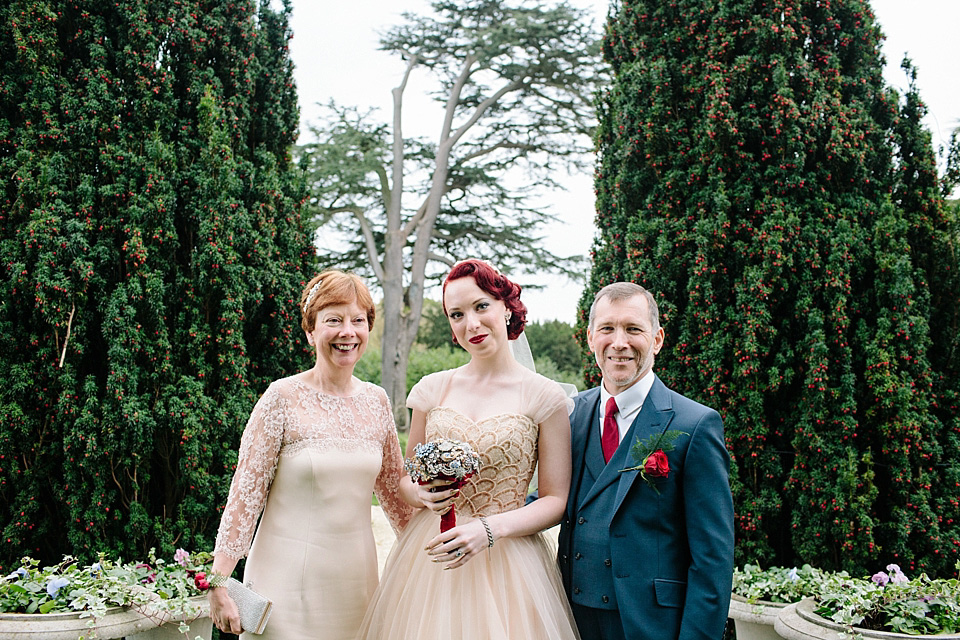 Katie and Emrys chose romantic red for the floral arrangements.
"Ruby and Grace were recommended to us by our venue. Roses are my favourite flowers so we had heaps of them in deep reds to match the sashes of the bridesmaids and the velvet ribbon around my own bouquet. And I also had rose petals down our aisle, I'm too much of a romantic to resist!"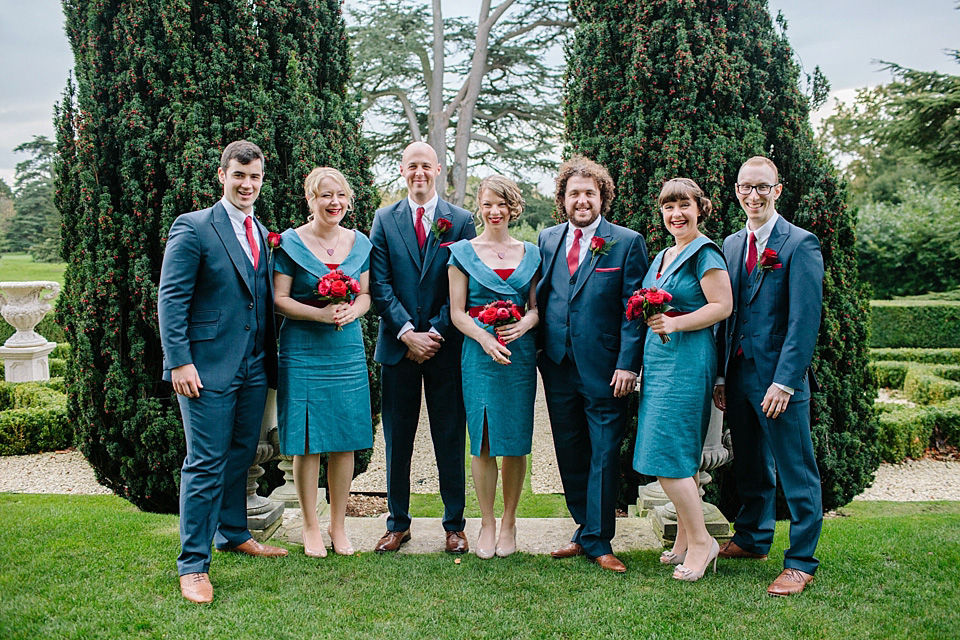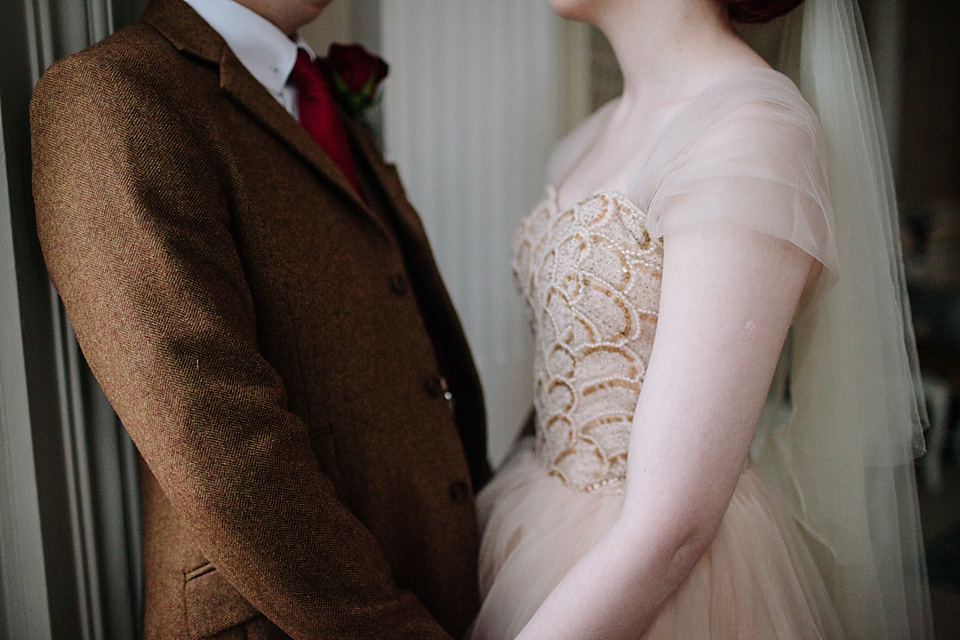 Katie and Emrys added little touches to an already-beautiful venue.
"Instead of a guest book we asked our guests to sign pieces of fabric that I will be embroidering and sewing into a wedding quilt for us.
Our wedding favours were a section of American candies like Swedish Fish and Red Vines and more traditional British sweets like strawberry bonbons and rhubarb and custard that we put together ourselves"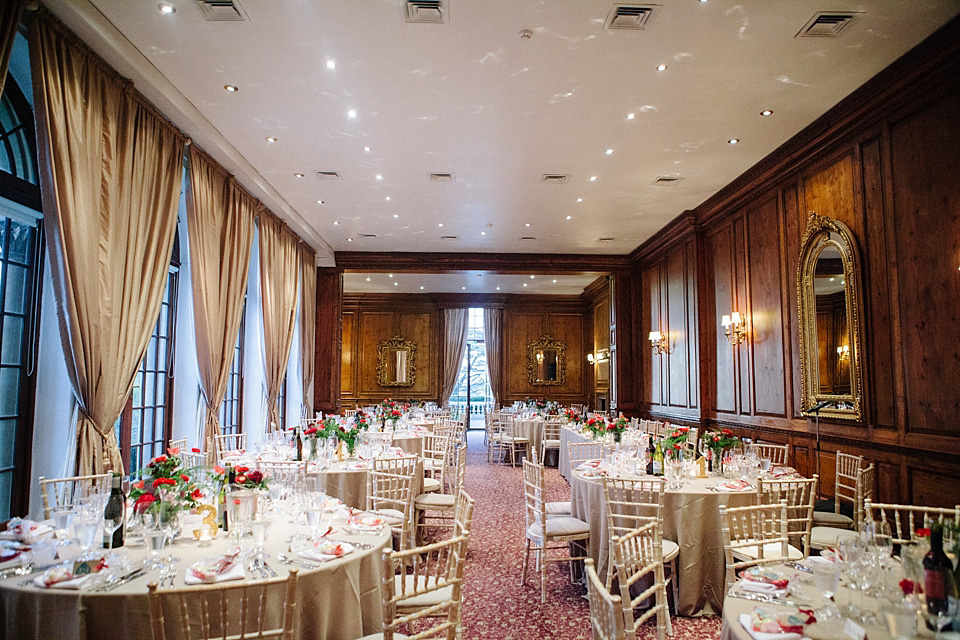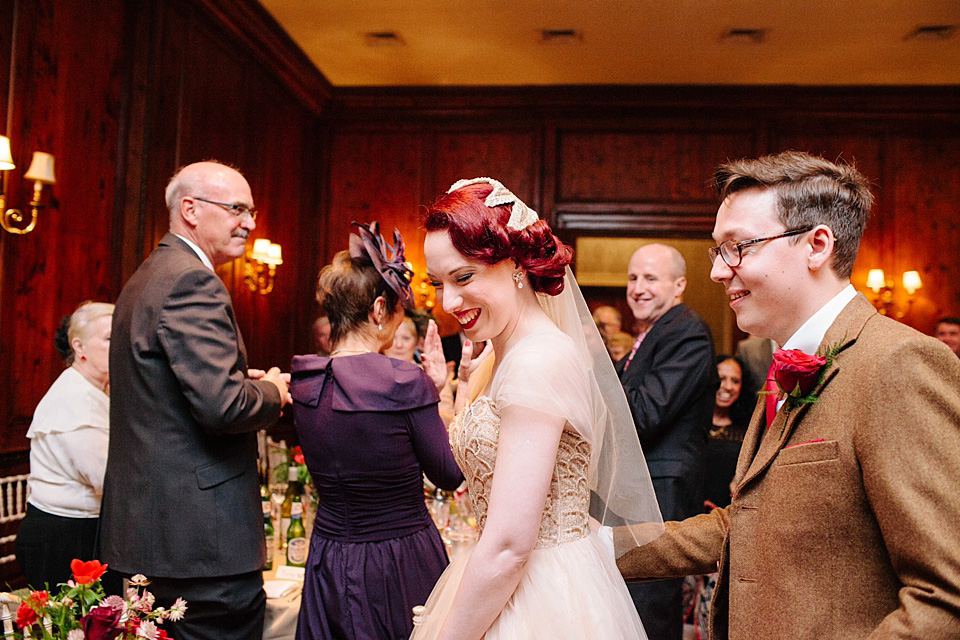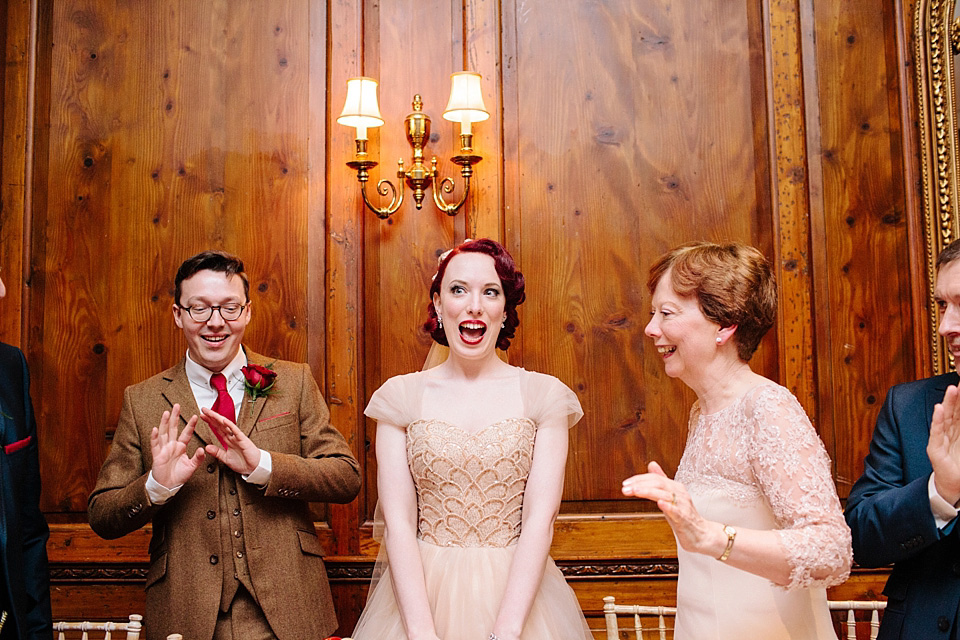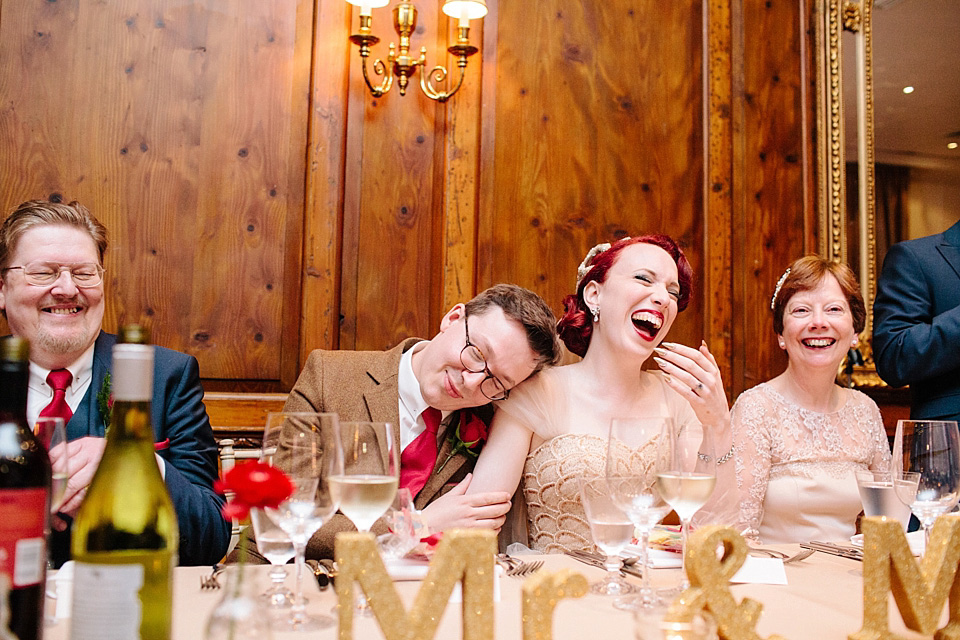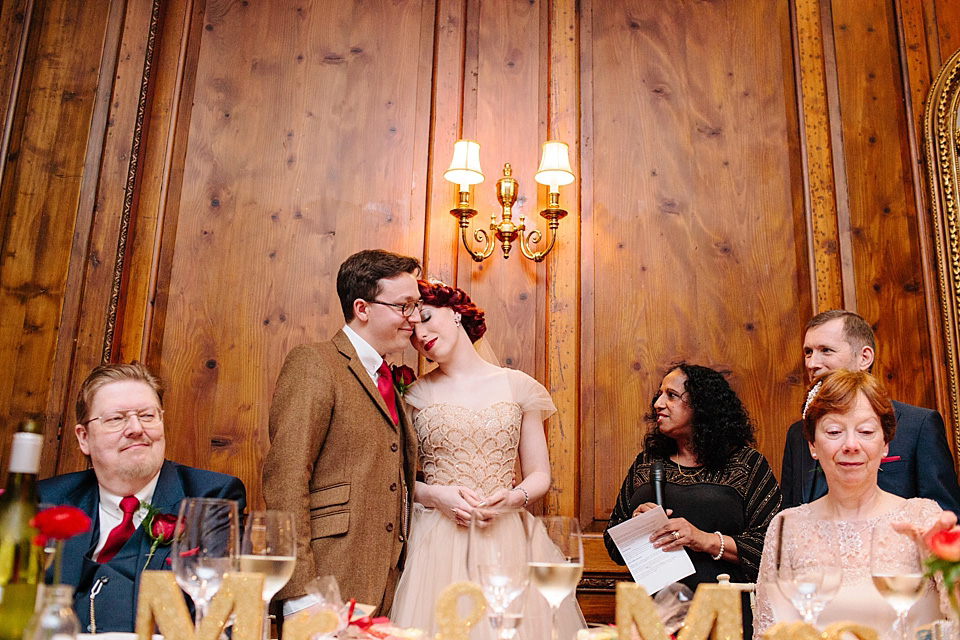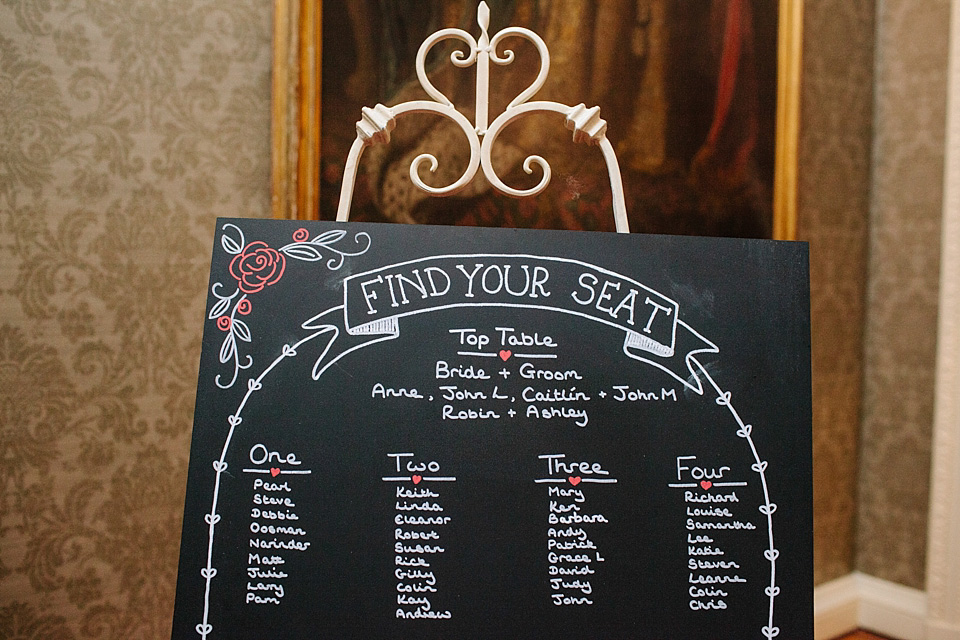 "Our catering company were Caper and Berry and I'm so glad that our venue recommended them to us! One of my favourite parts of wedding planning was going for our tasting to select our menu, as I can honestly say I have never tasted such good food! I said to Emrys that one of things that I was looking forward to on our wedding was getting to eat the food again!
Our incredible cake was made by the super talented Clare from Little Bear Cakery. The cake that Clare produced was just out of this world, from the ombre gold finish to the beautiful trailing roses she captured everything I wanted perfectly, and it was delicious too!"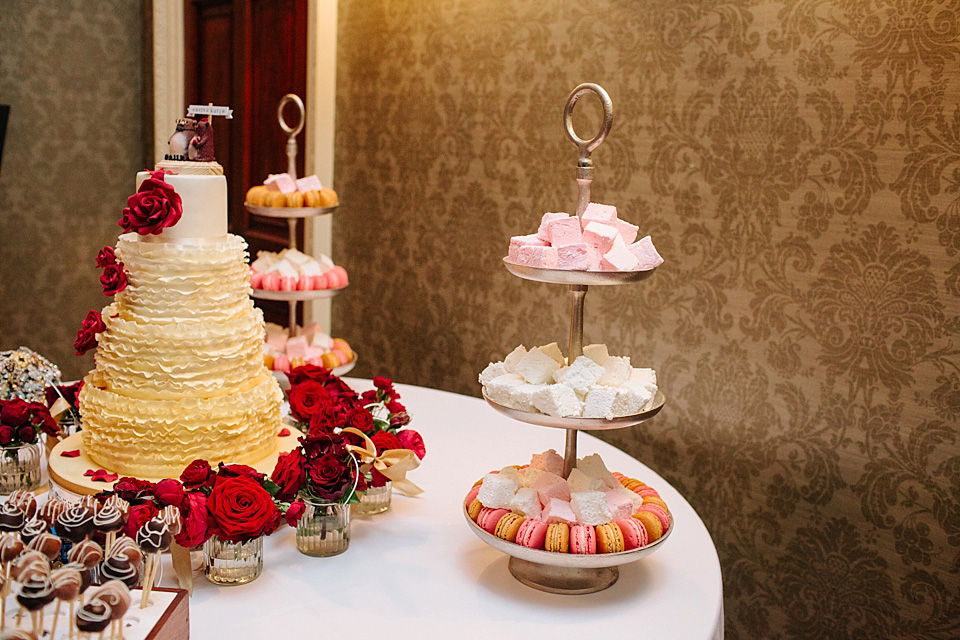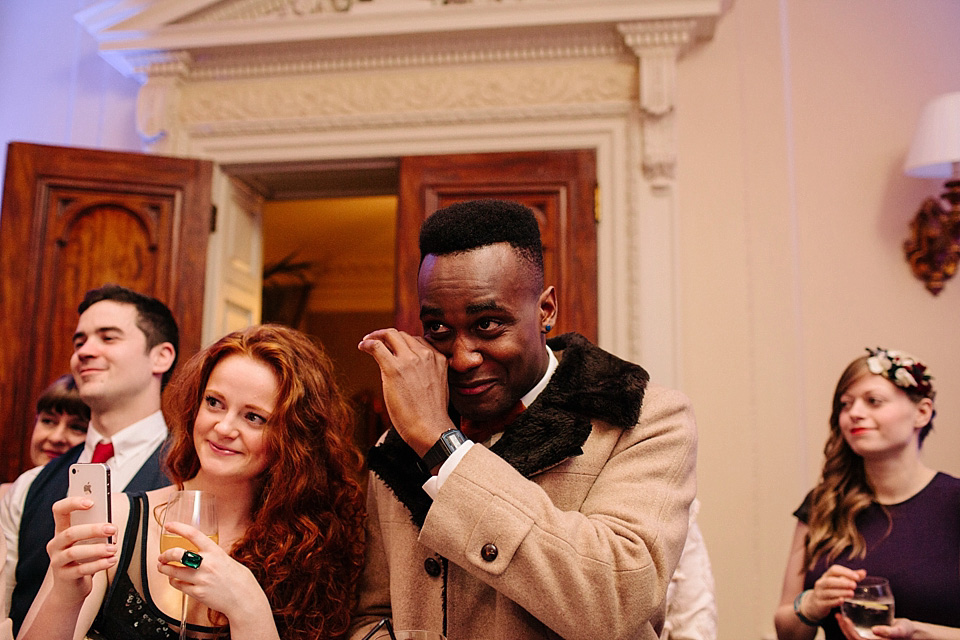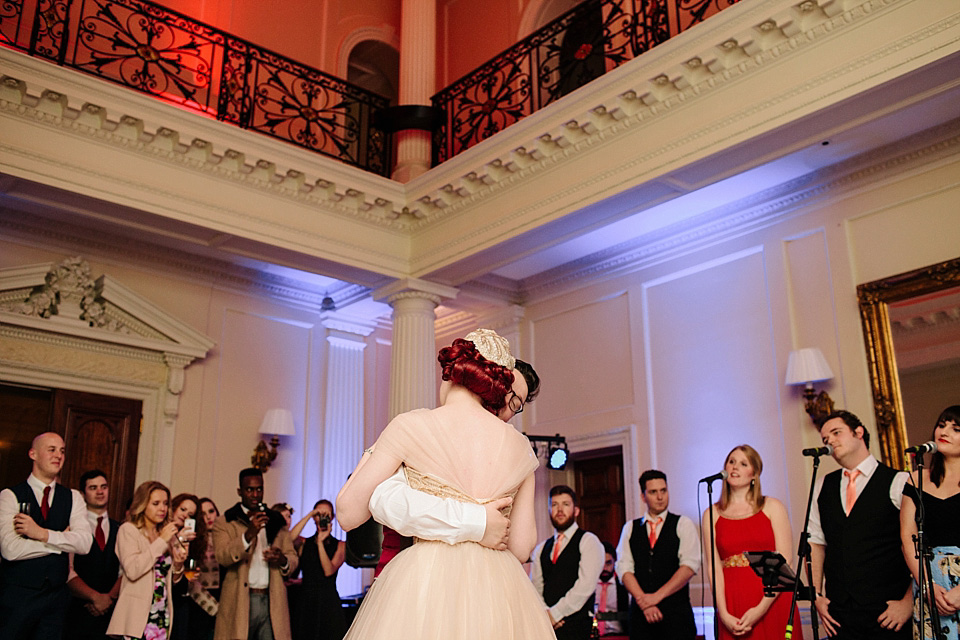 The wedding party were kept entertained by performer friends of the couple throughout the day, with 4YP keeping the guests dancing all night.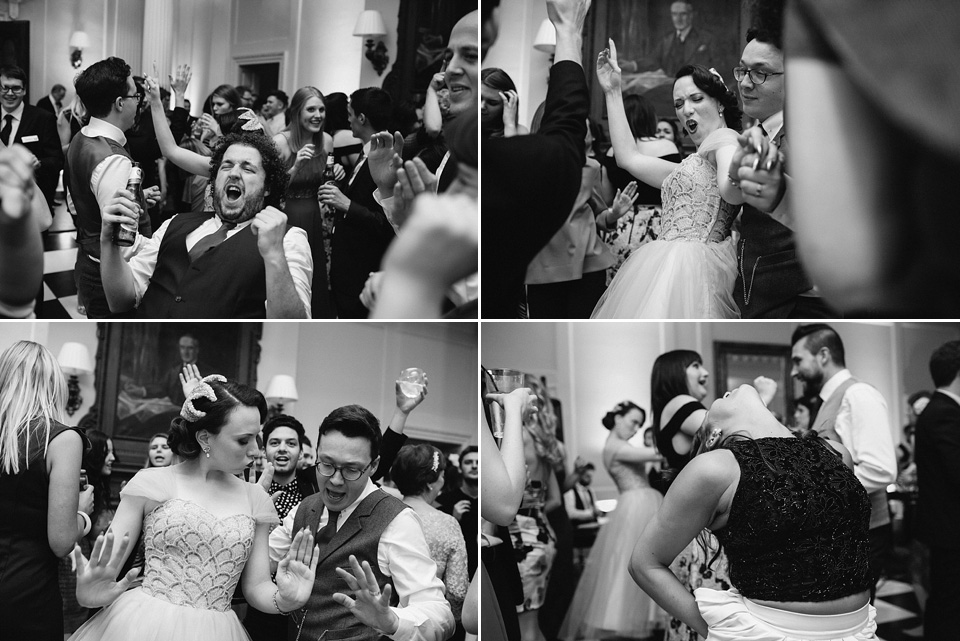 Words of Wedded Wisdom
"I know it's a cliché, but the day will rush past you super fast, so definitely make sure you take a moment with just you and your new husband/wife to reflect on how far you've come and how amazing everything you've worked for is. Your wedding is a special time, enjoy every second!
Also, don't sweat it if things don't go exactly as planned, it will not matter as long as the person you're marrying is waiting for you at the end of the aisle. We had a good few bloopers on our big day, including music going off at the wrong time, a few tipsy friends and relatives, but I honestly couldn't have cared less, and considering how stressed and nervous I had been just a few days before I wouldn't have thought that would be possible! Things will go wrong, it can't possibly go perfectly, but through its imperfections it will become the perfect day for the two of you.
And finally, if you can do get a wedding video, because you'd be surprised how much you miss and forget and how much of a blur the whole things becomes, and I can't tell you how nice it is to look back on everything afterwards"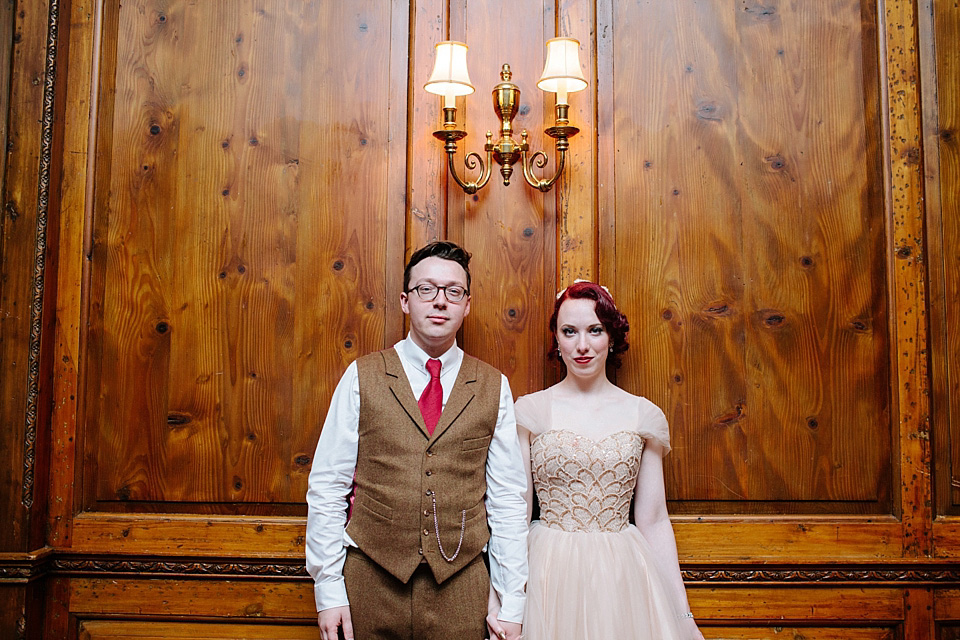 Such a pleasure to write about this truly romantic day – thank you to the new Mr and Mrs Matthews for letting us share your big day, and good luck to Katie in finishing that wedding quilt! Thanks as well to the fabulous Newlywed Films for the beautiful tear-jerker of a film, and to the extraordinary Joanna Brown for your ever-lovely photography. You can enjoy more Joanna Brown weddings here.
Love Louisa xx
Photographer – Joanna Brown Photography
Film – Newlywed Films
Venue  – Hedsor House in Beaconsfield
Wedding Dress + Veil – Fur Coat No Knickers
Headpiece – vintage
Shoes – Dessine-moi un soulier
Accessories – Passionate About Vintage
Bride's Scent/perfume –  Coco Chanel
Groom – Tweed Addict
Groomsmen – Jack Bunneys
Bridesmaids – made by the bride
Bridesmaids' accessories – Crown and Glory and Tatty Devine
Florist – Ruby and Grace
Cake – Little Bear Cakery
Entertainment – 4YP
Rings – Pip Jolley
Catering – Caper and Berry
Stationery – Curious Me
Hair Stylist and make-up artist – Lipstick and Curls