Morning all! Did you have a lovely weekend? We spent ours settling our new puppy in to the house as well as switching off to spend time with family which was really lovely.  Just a quick one for those of you who love to engage in social media and especially those of you gathering visual inspiration for your weddings – are you following Love My Dress on Pinterest and Instagram?
This morning's wedding is a beautifully rustic, countryside affair with a relaxed rural setting.  Farm owners Andy and Fi tied the knot on 20th June last year with a ceremony at The Bush Hotel in Farnham, Surrey, followed by a Pagan handfasting ceremony on their farm.  As the couple are both from creative backgrounds (Andy is a Blacksmith and Fi is a decorative gilder and painter), they made almost all the props and decor themselves, including their bar, marquee and huge L.O.V.E. light sign.
"We wanted a warm, outdoor wedding so we chose midsummers eve. I used the theme of Shakespeare's 'Midsummers Nights Dream' and has visions of a rustic country wedding with a slightly bohemian feel. We had the reception on the farm we live on, in the farmers garden, with an amazing yurt and vintage marquees. We also had a Pagan handfasting ceremony, for which we took advantage of the farms setting – holding the blessing on top of the farm's hill."
Photography Copyright (c) 2015, Tom Ravenshear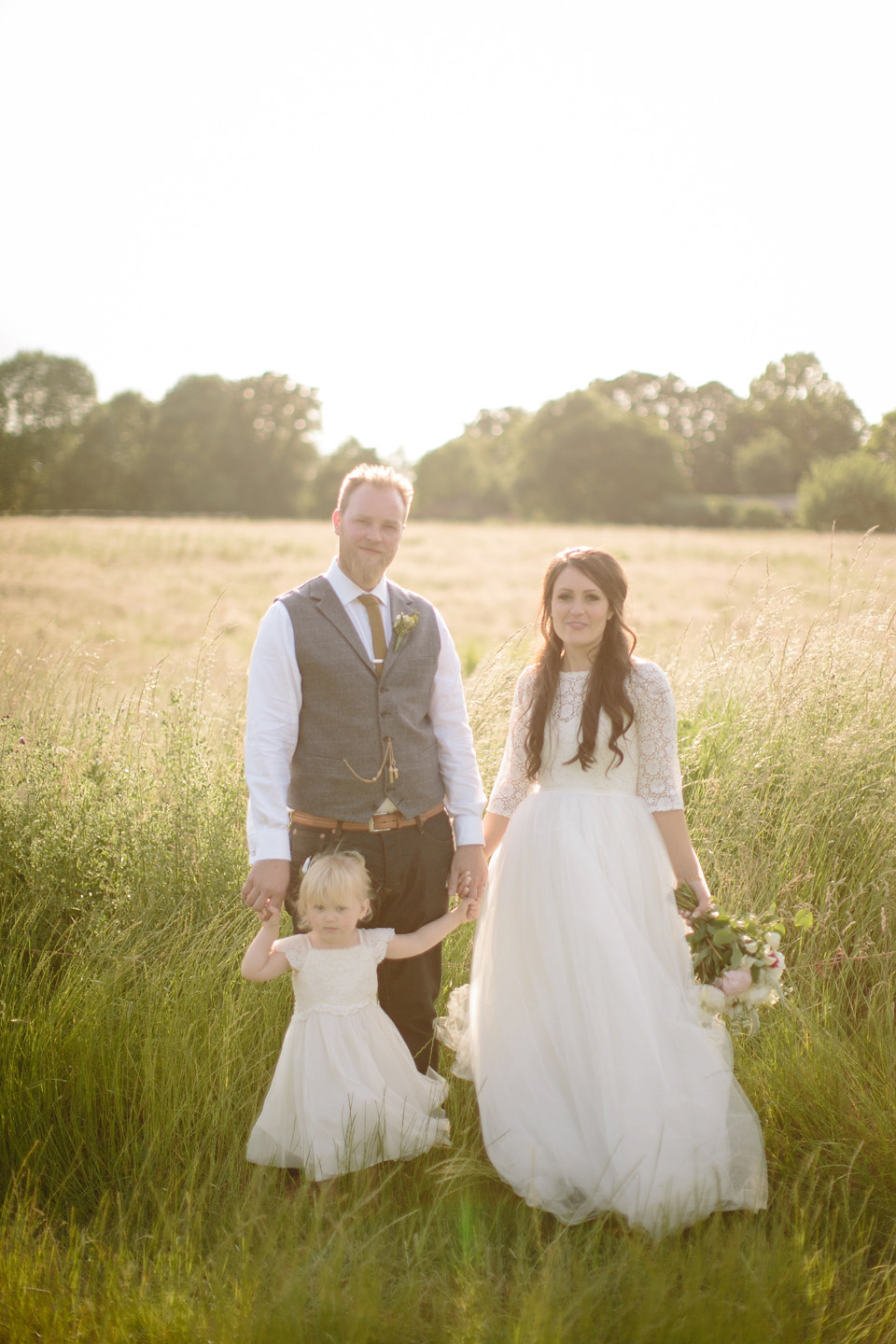 "Our photographer was Tom Ravenshear.  He was amazing, friendly and graceful and he blended in like a guest – our guests infact really sang his praises. Friends who have already got married wish they had found him first for their weddings. He was so easy and cool, which made the day more enjoyable. The photographs are just what we wanted – creative, unique, relaxed."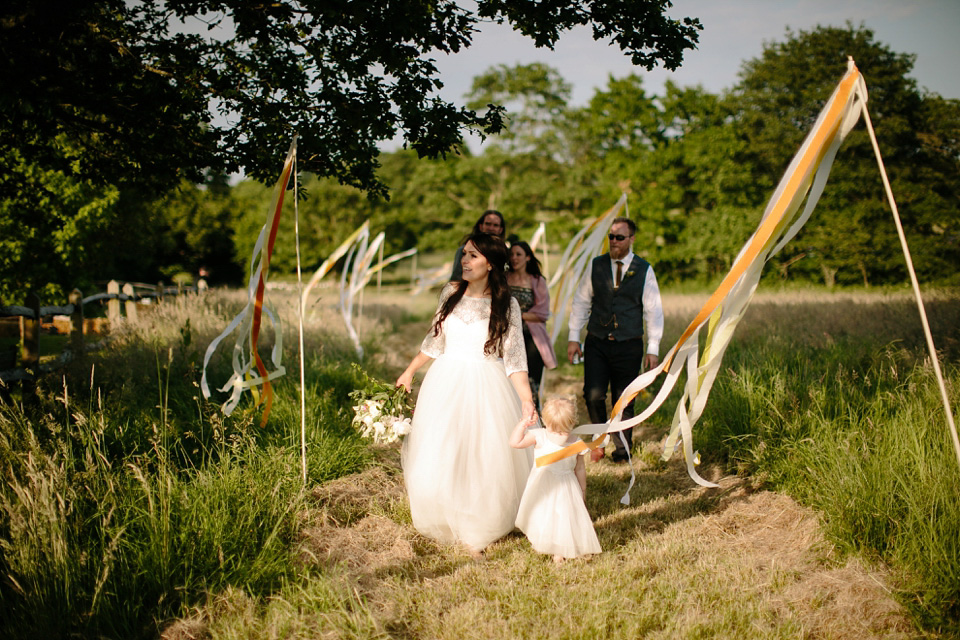 "I designed my wedding dress myself with the help of Ali Rouse at Unique Vintage. I couldn't find a dress that was exactly as I wanted, with sleeves and I was keen to keep costs down too.
My bridesmaid's yellow dresses were from ASOS. I thought yellow was very summery. The dresses were very different as my sister and friend are completely different shapes and colouring.  I wanted a 60s vintage look for them both, with a soft up do featuring slightly boho, plaited hair."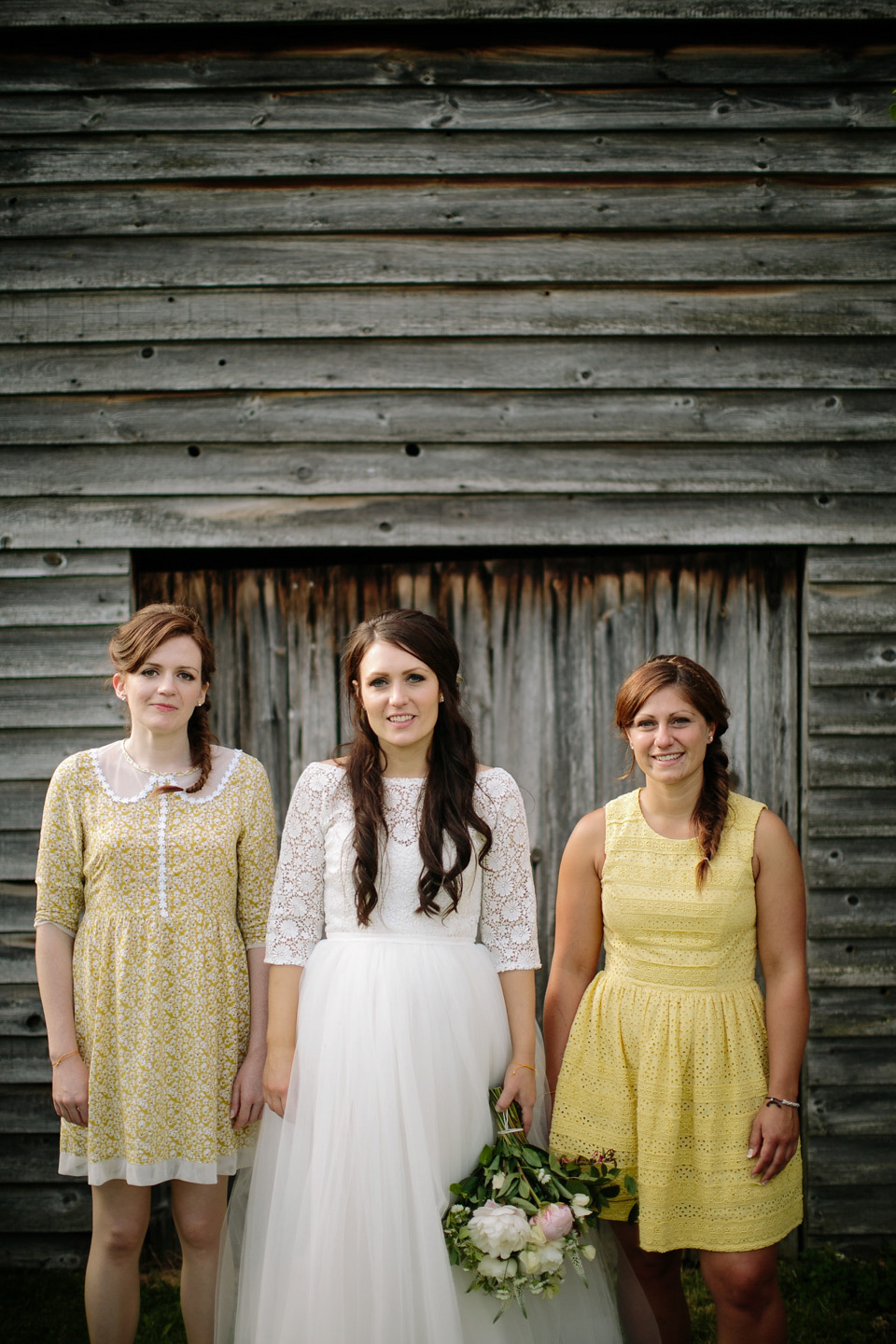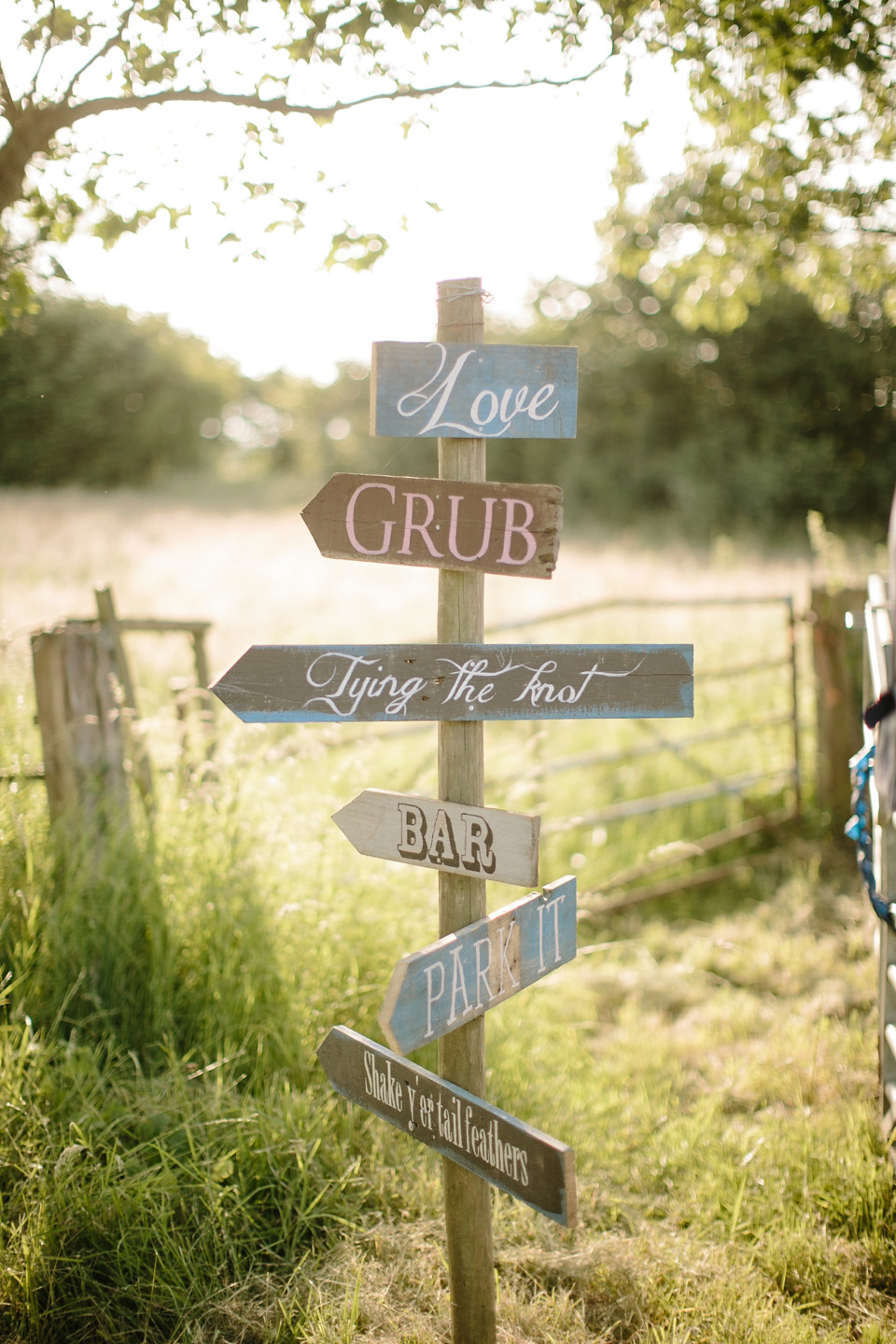 "During our handfasting, we used vows we wrote together and read a line each, one after the other….
'I promise to you, to always treat you right and honourably, to love you even on the days I don't like you. To be kind and be a friend, to comfort you in times of sorrow, to be patient, supportive and always be fair, to have a serving heart and try to bring peace to mind. To try to create fun and joy, to always listen to what you have to say, even when we don't see eye to eye, to continue to love and protect our Saffron and our future babies. But most of all, I promise to love you, under any circumstance; happy or sad, easy or difficult, through the sunshine and through the rain for the rest of my days.'"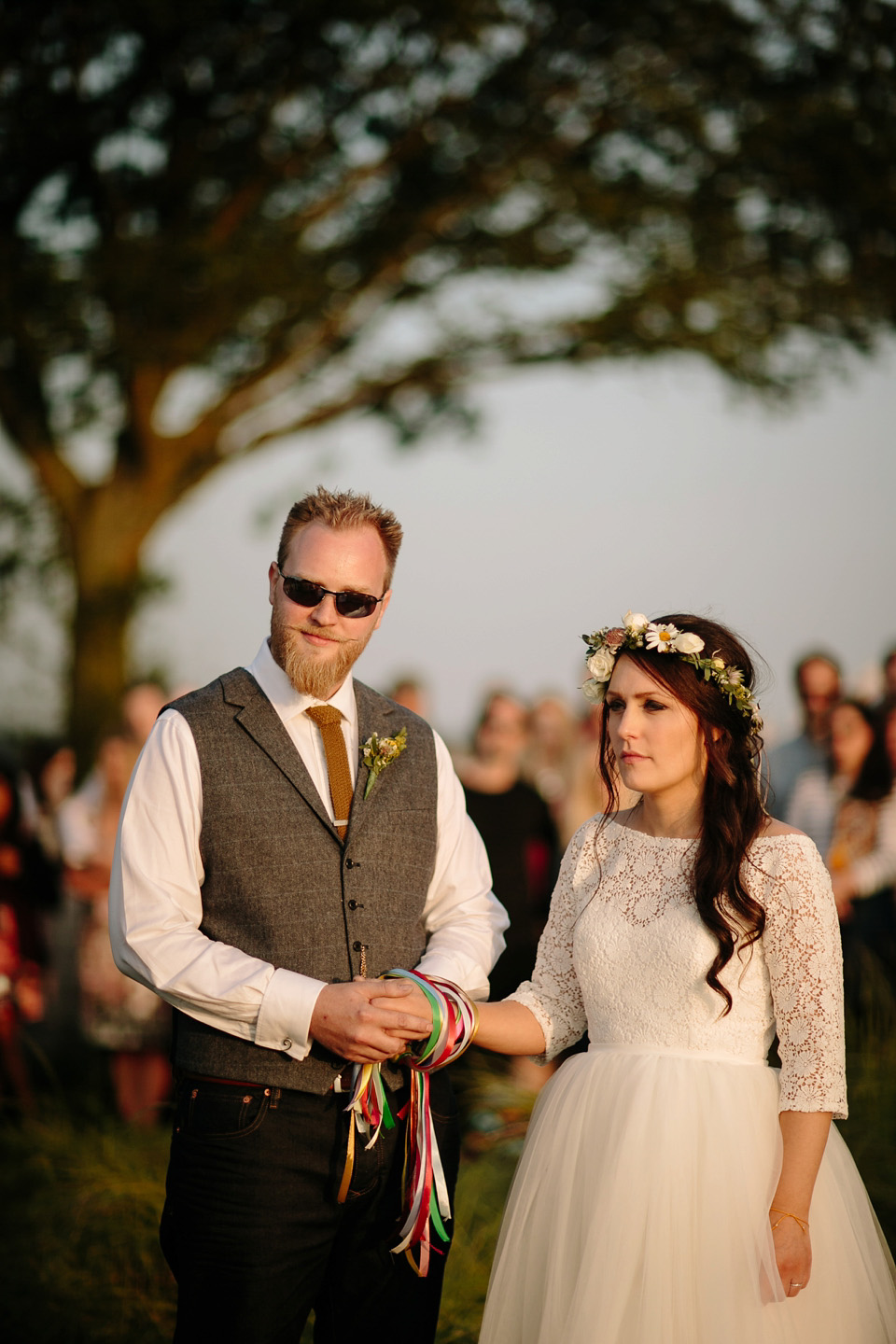 "Andy and I met at Art college in year 2000, got engaged 2010, had daughter in 2011 and after four years engaged eventually got married."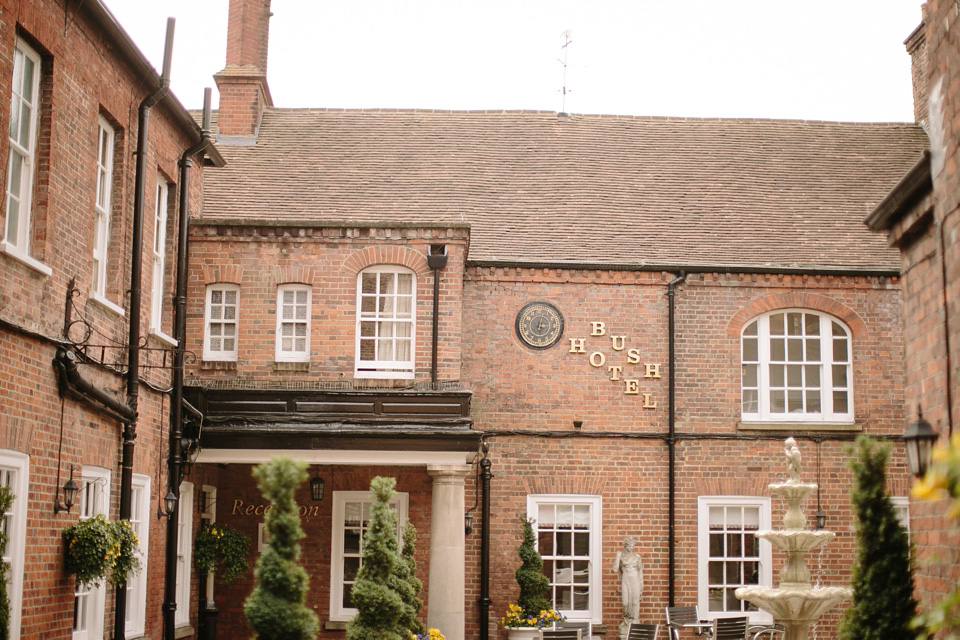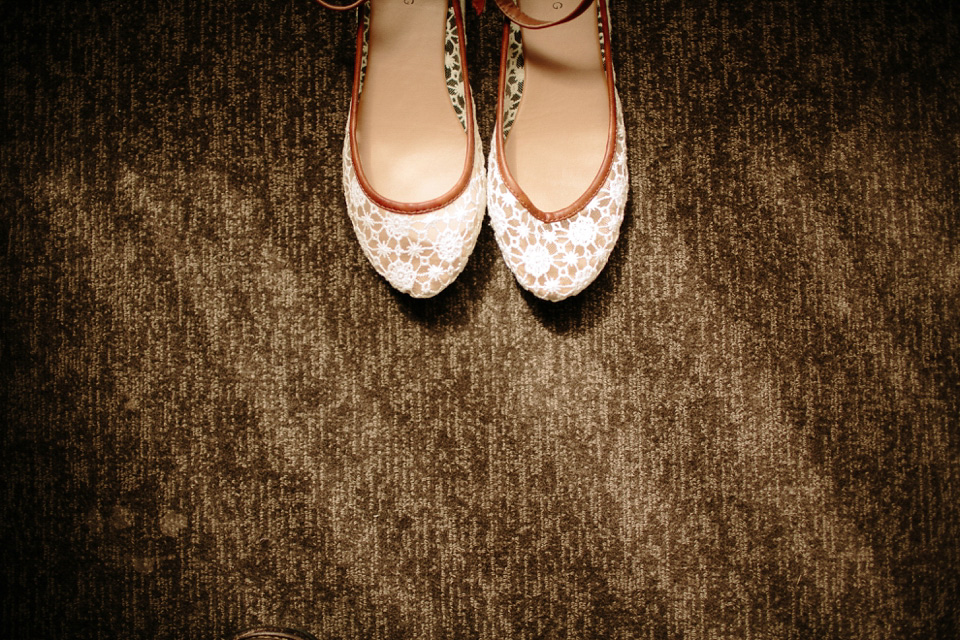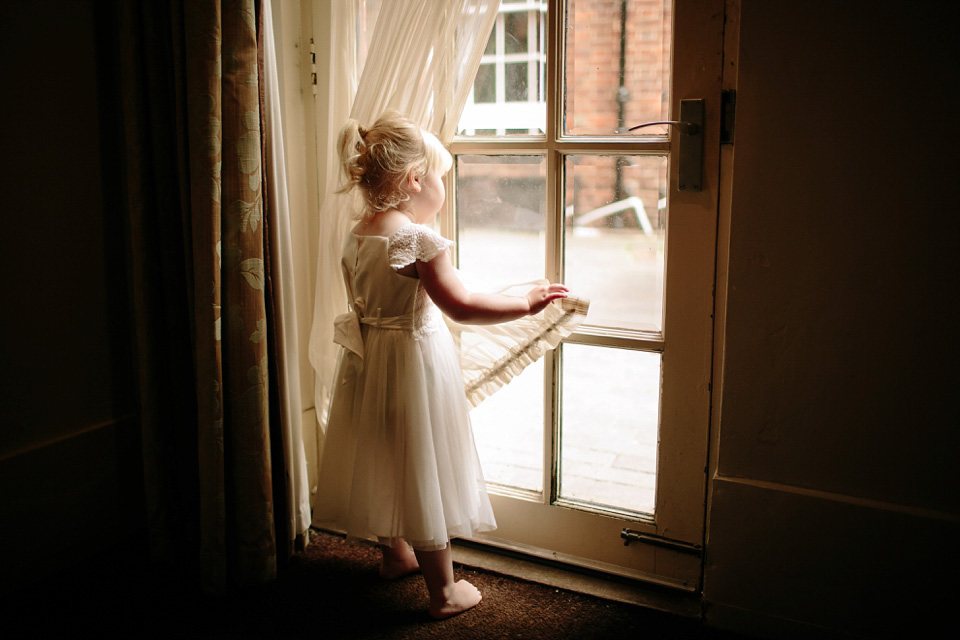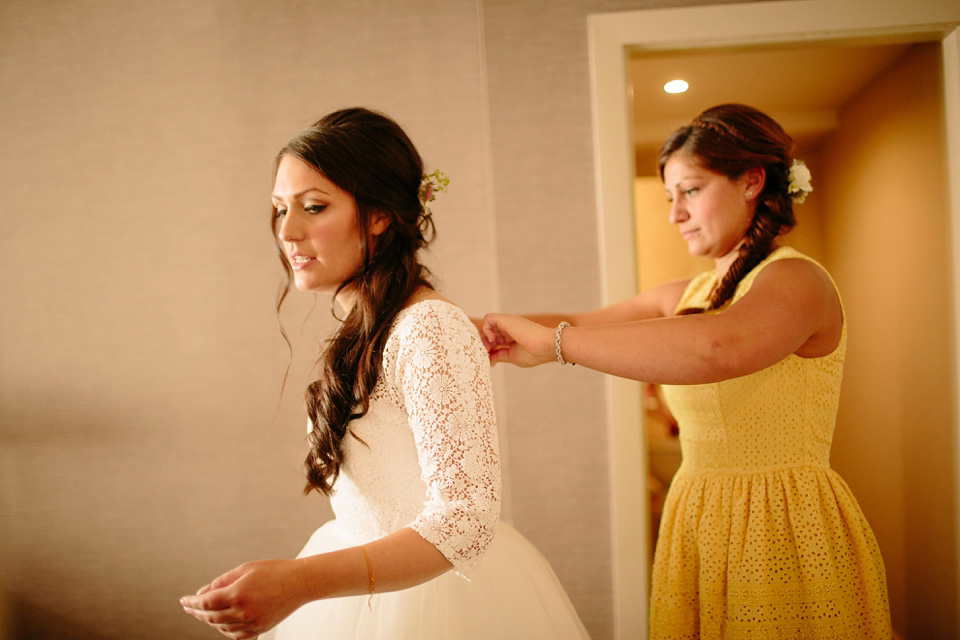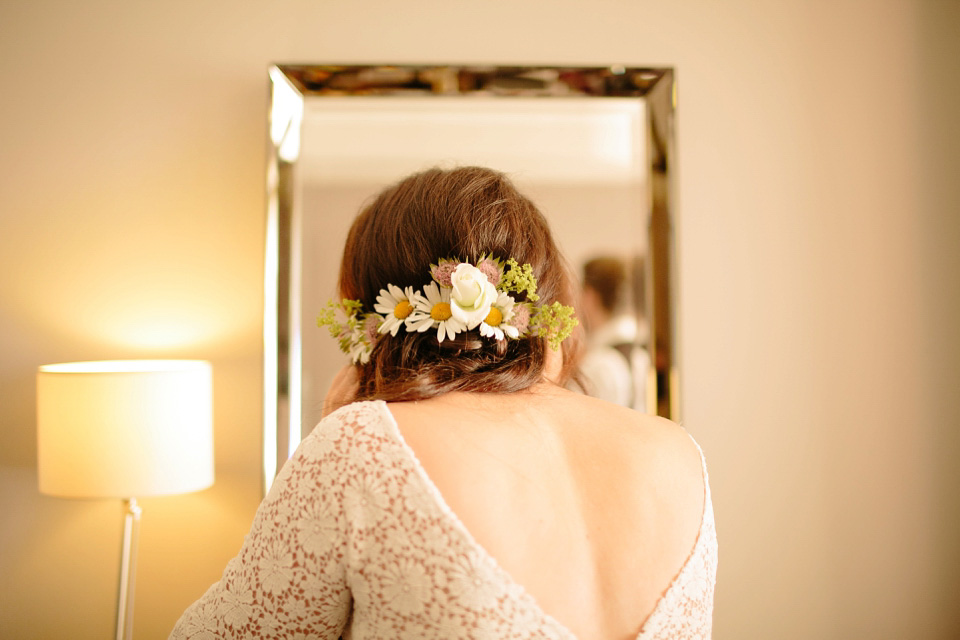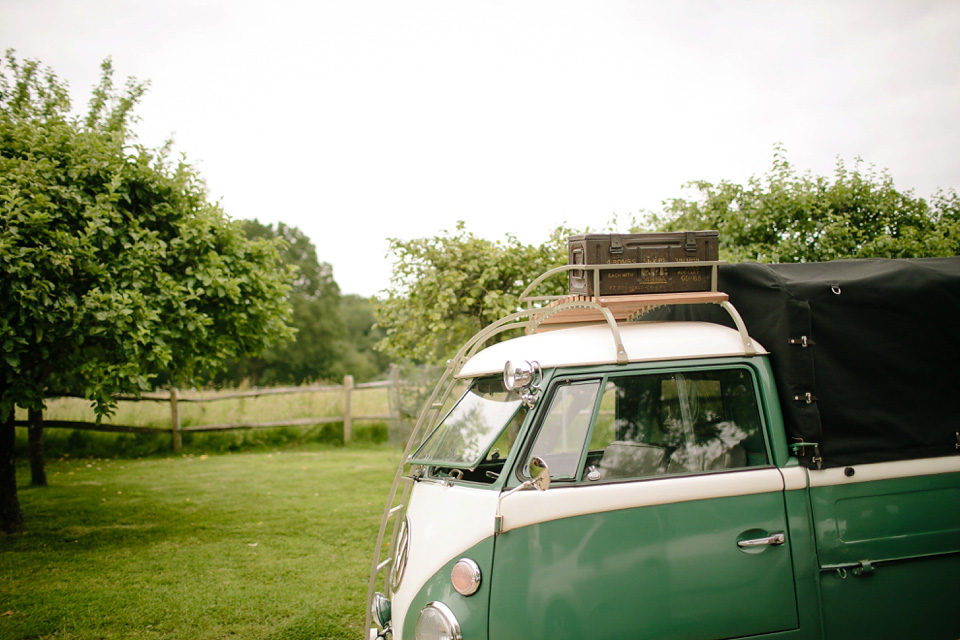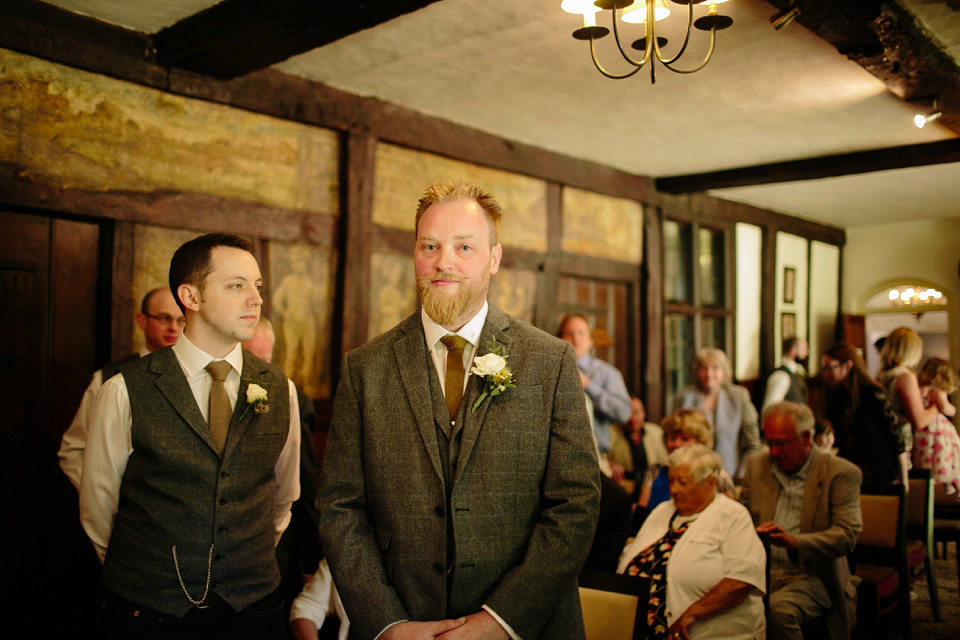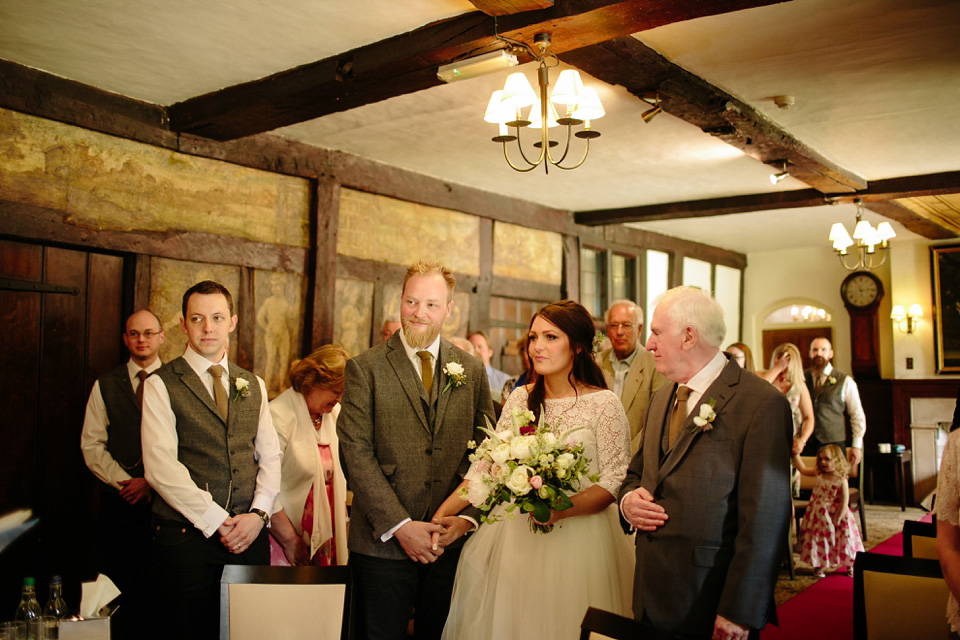 Andy wore a waistcoat and jacket from  Jeff Banks at Debenhams, with jeans and tan leather shoes from River island, that he styled with Fi's dad's 1960's vintage tie. The white shirt was from T.M.Lewin.  He carried a pocket watch from his dad's own personal collection of vintage pocket watches which was secured with an heirloom chain.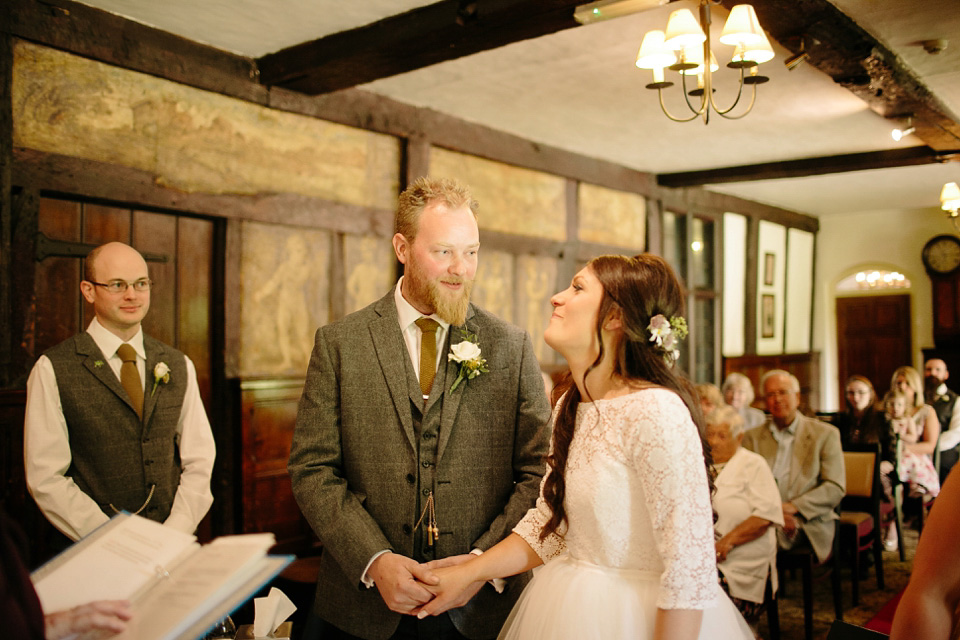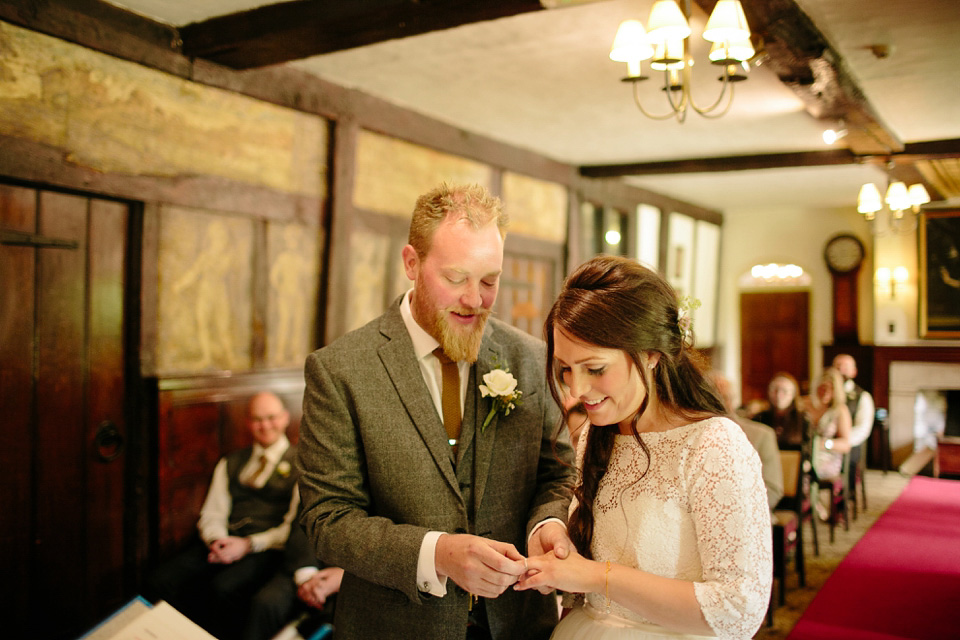 "One of my favourite parts was just after we had the civil ceremony and in the split screen on the way the farm. I had been so nervous up to then, but once we had actually officially got married, I felt completely relaxed."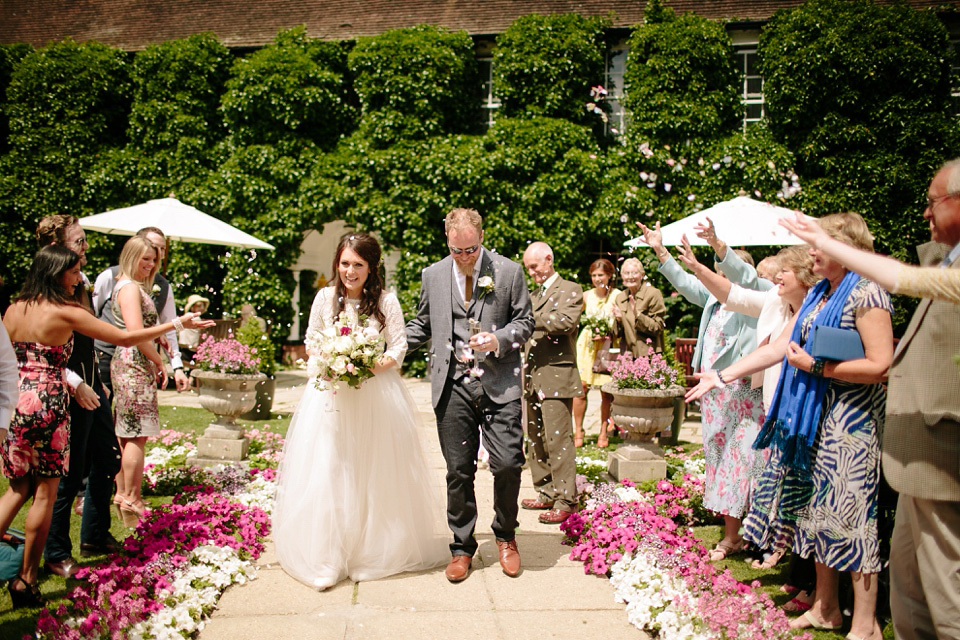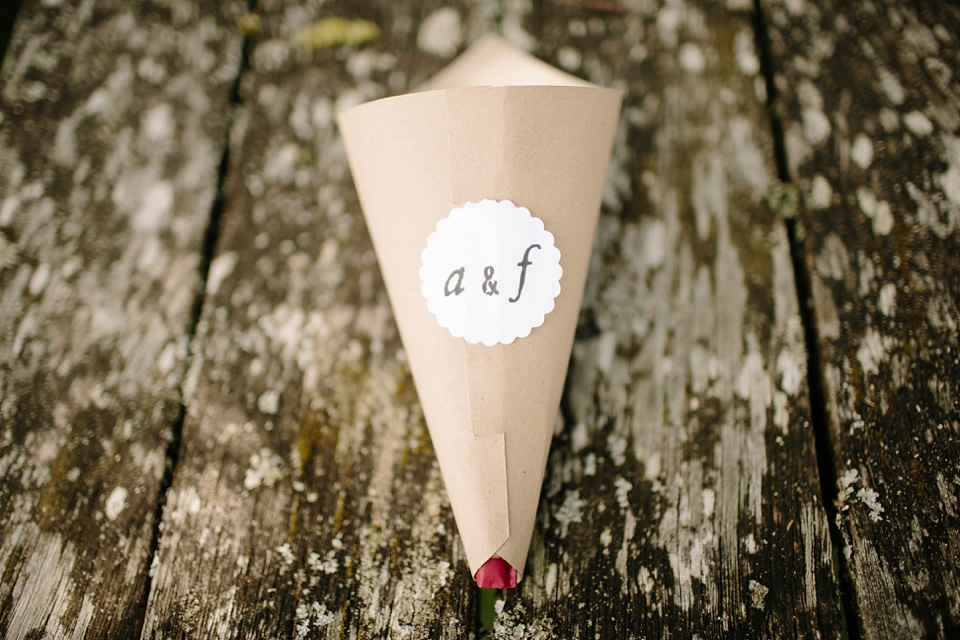 "We used bamboo poles from Homebase with crepe paper ribbons (painted and made by a friend) to decorate the path up to the hill on our farm."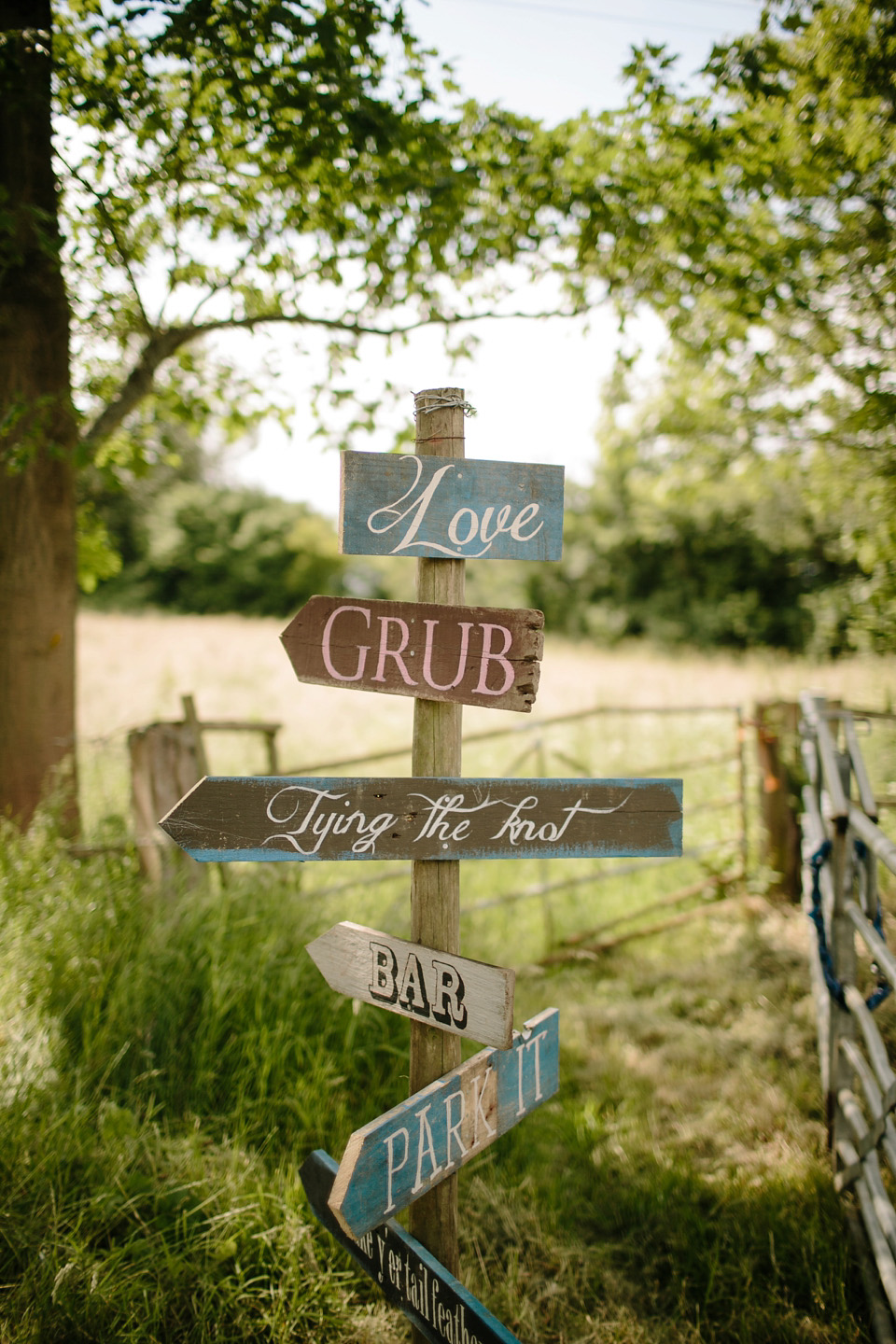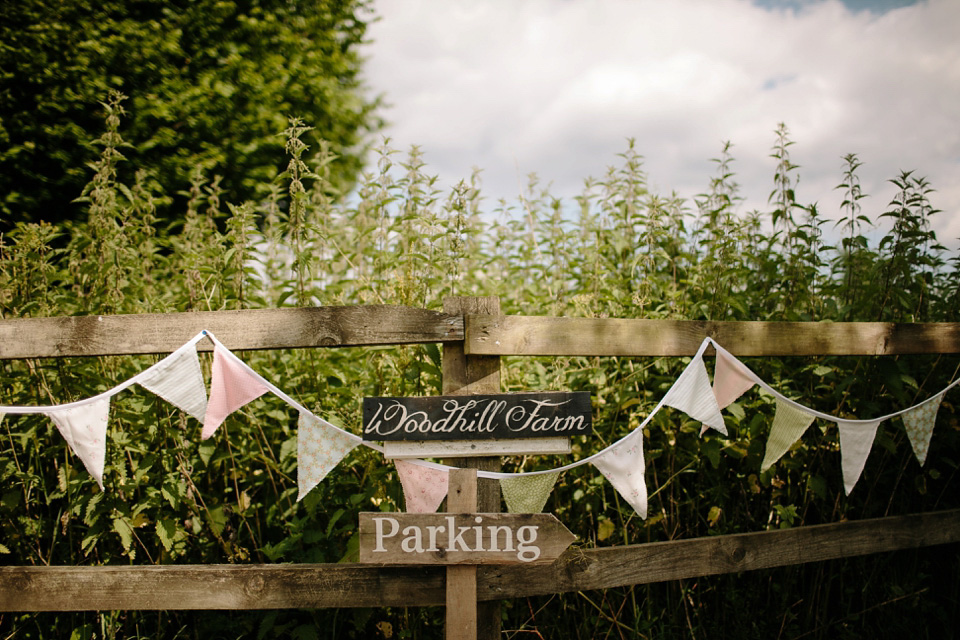 "Our table plan was an archery board with arrows made from feathers from ebay and dowel from Homebase.  The table numbers were made from cardboard and moss."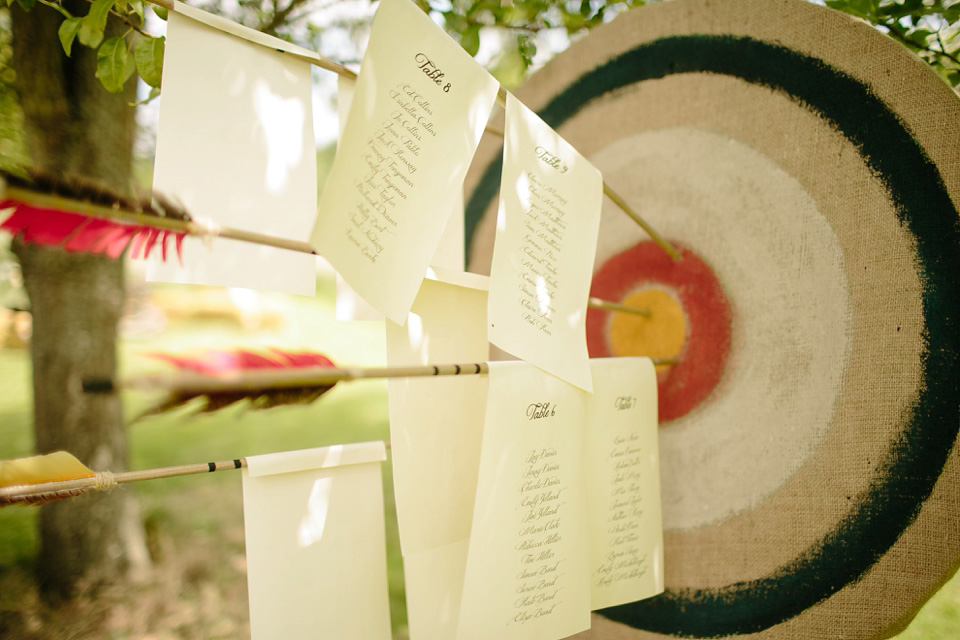 "We had a lot of decor! This included a six bay yurt from Fairlove Yurts, a vintage marquee/trestle table and chairs from Vintage Marquees, Medieval props and table wear from Medieval Banquet Hire and branch chandeliers – made from branches from our local woods. We also used pom poms from Ikea and fairylights."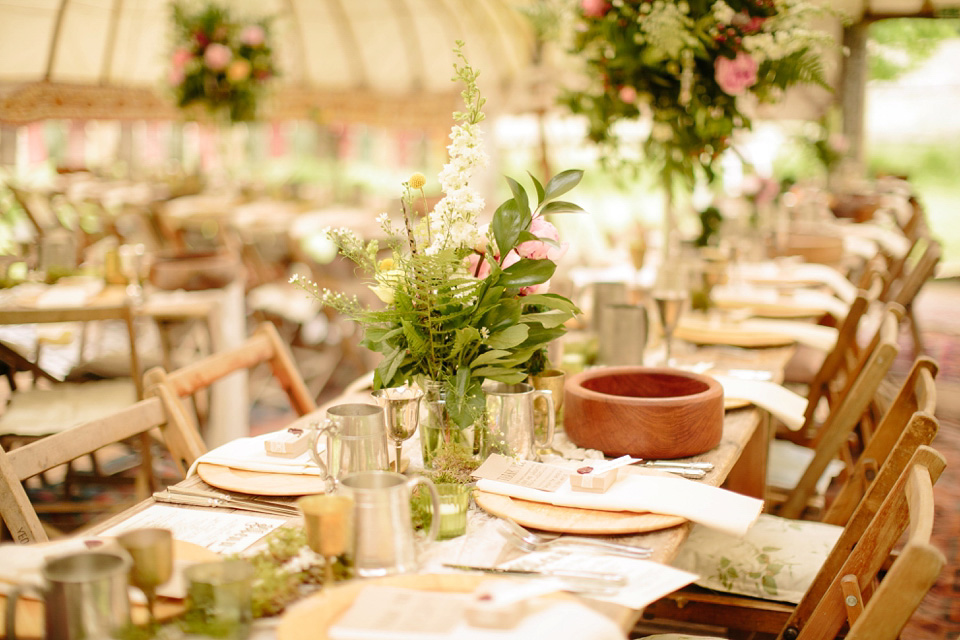 "My old work friend Naomi, my mum and various friends did all the flower arranging, with flowers ordered from Triangle Nursery, and with flowers picked from our gardens.  I do however wish I'd hired a professional florist as it was a big undertaking for them all.  We didn't have enough flowers on the day and wish we'd bought some more.
We designed all the stationery and invitations ourselves. For the 'save the date' cards, we used a design we found via The Natural Wedding Company blog. For the invitations, we used an envelope design, with information insert cards inside and lined with medieval print paper, wax sealed envelope with same celtic stamp.  Fonts were purchased from dafont.com and envelopes were from Eco Craft."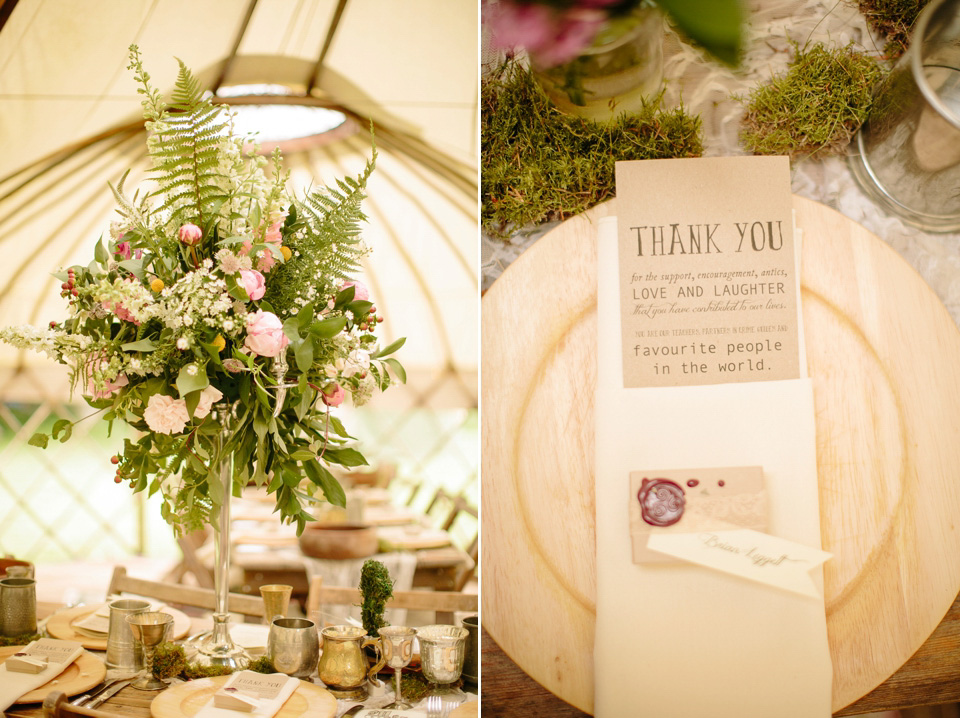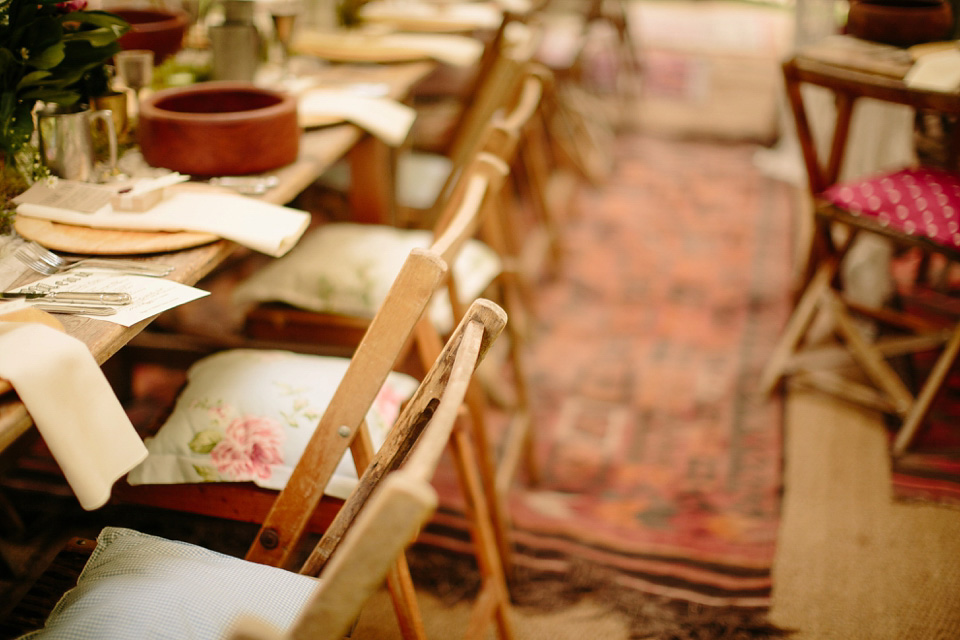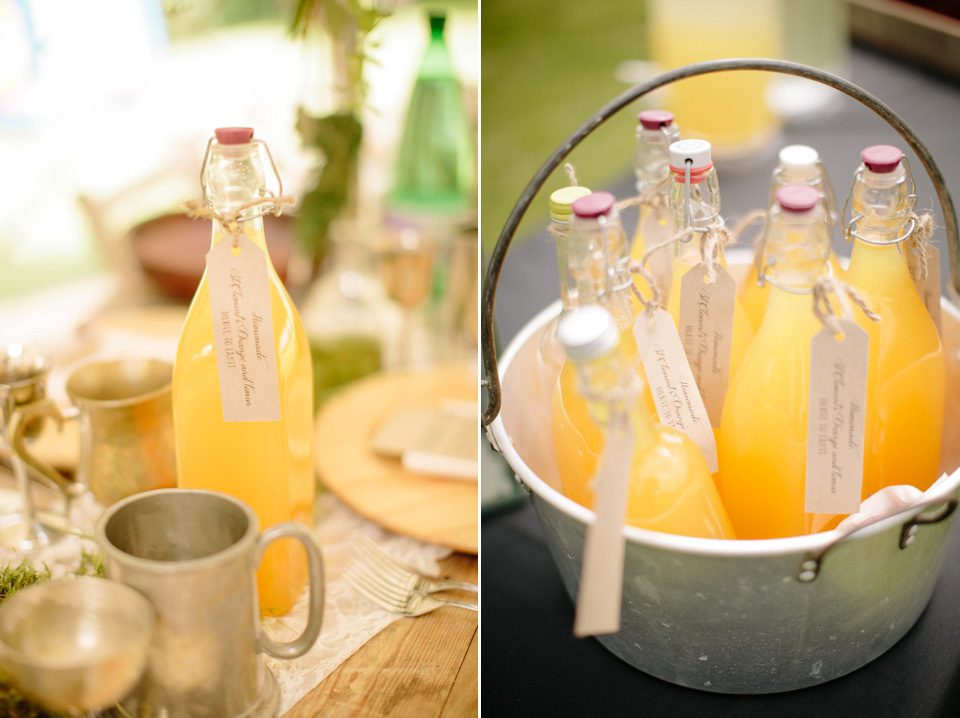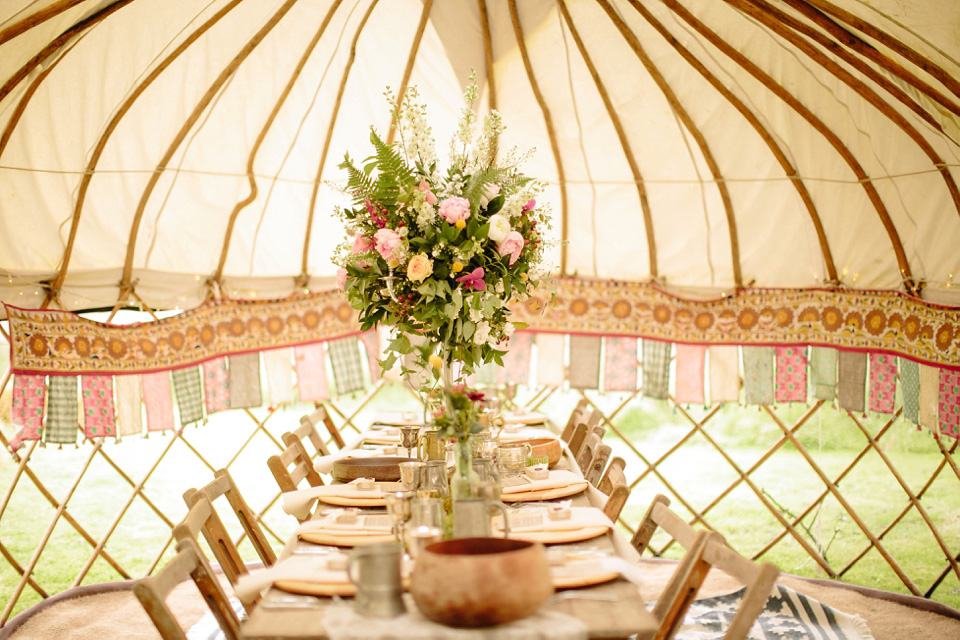 "We used apple crates, old wine grape wooden carts, Ppicture frames (that I gilded), lanterns, church candle stands (that I painted), old books, vases and bottles.  On the cake table, we positioned photographs of family members that couldn't be with us.
We used lace table cloths from Ebay that we stained with tea to provide an aged look, Kilner bottles for homemade cordials, fairy wish bottles from Amazon filled with glitter or dandelion seeds. Moss from Triangle Nursery, lots and lots of mercury silver candle votives, green glass votives borrowed from friend and silver candelabras for tables borrowed from friends."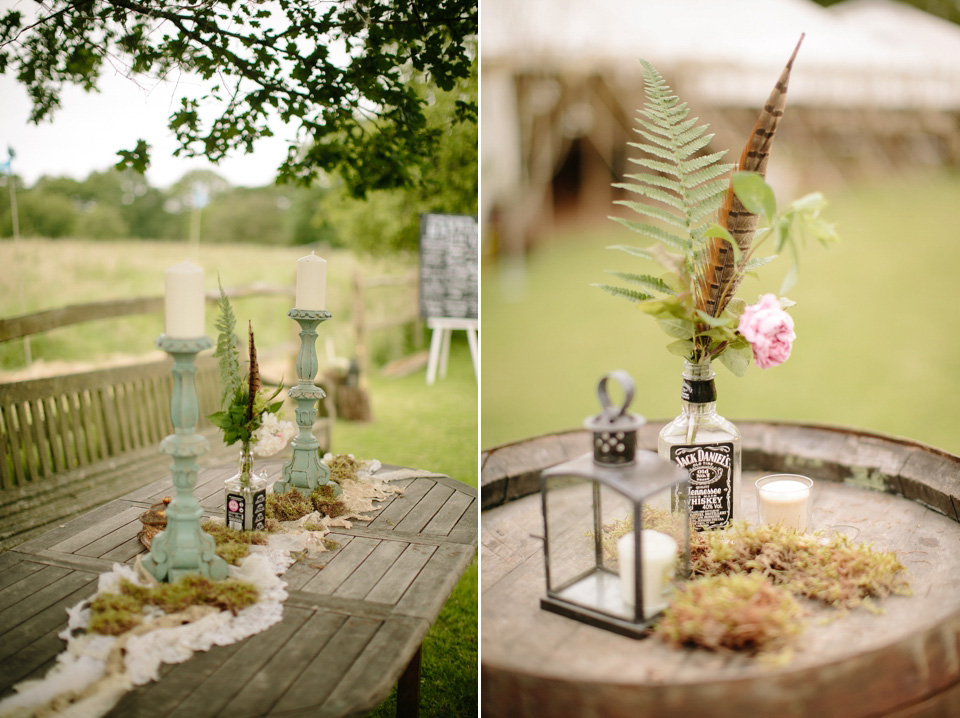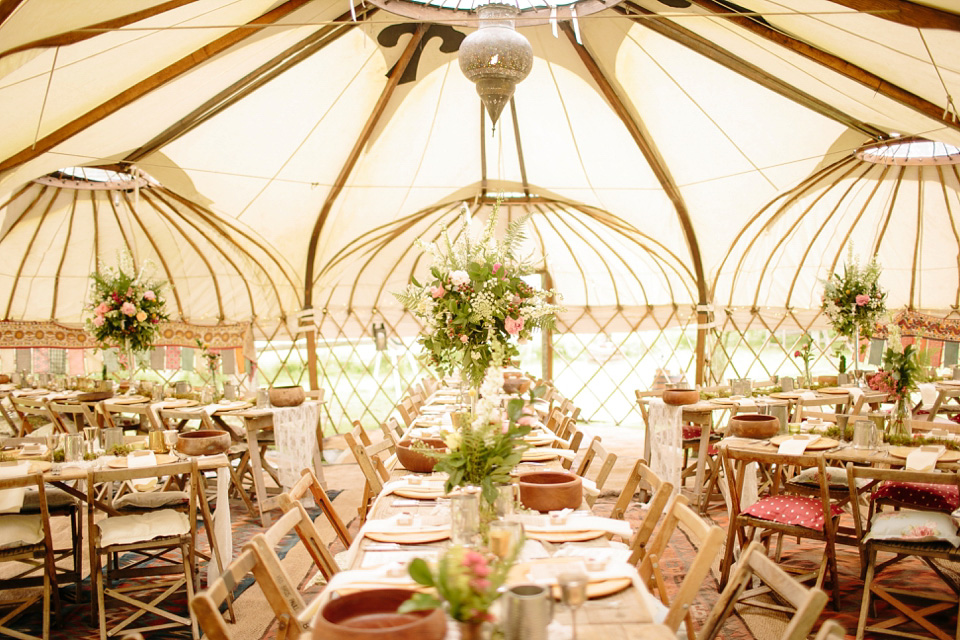 "For the favours, I made glass charms with peoples name on them and put them in brown boxes with place names wax sealed on top. The seal is a celtic symbol.  My sister made strawberry jam, and my mates and I made English wild flower seed bombs. Guests got to choose what they liked."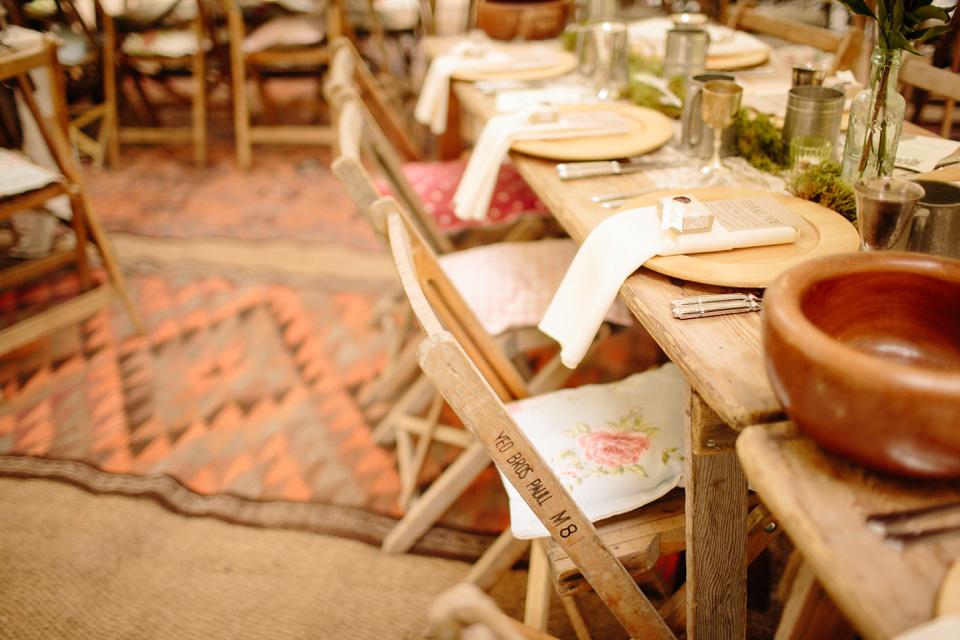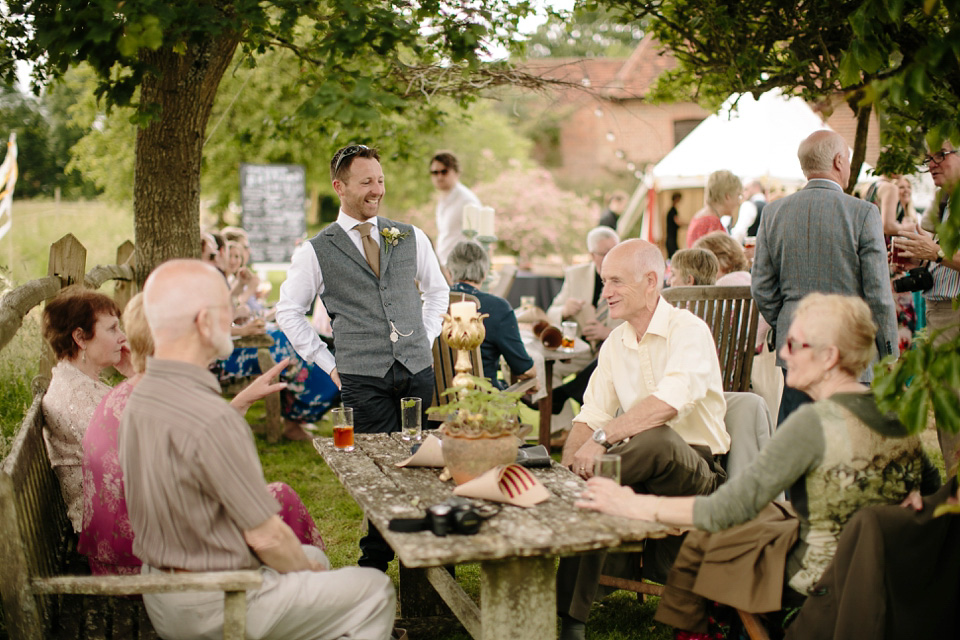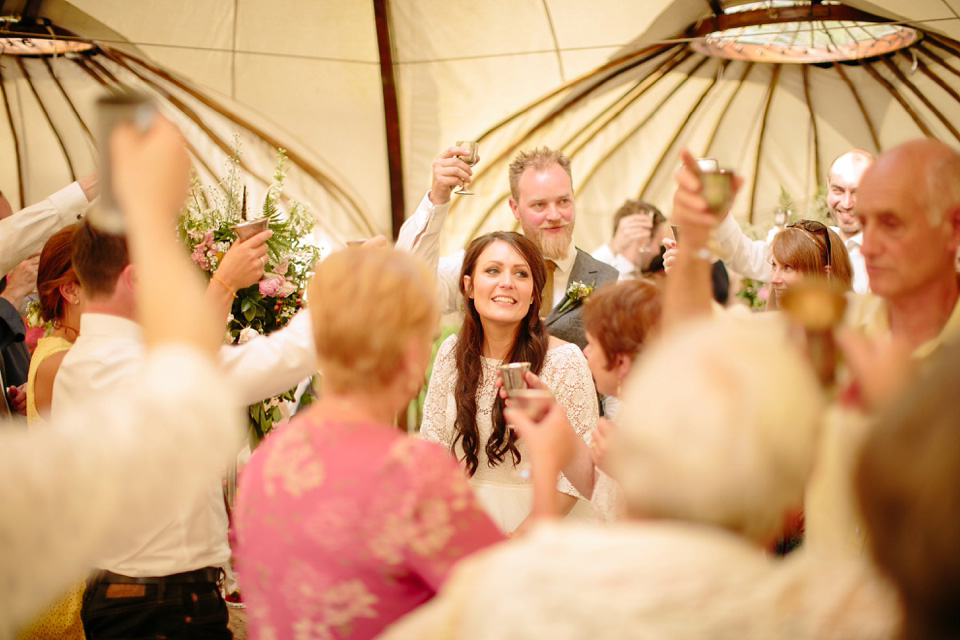 "For outside, we made our own bunting, had festoon lighting (Andy got a company to create us some as a one-off), a huge L.O.V.E sign in lights  that Andy made himself and a wooden corner bar made from scaffolding planks and wooden doors."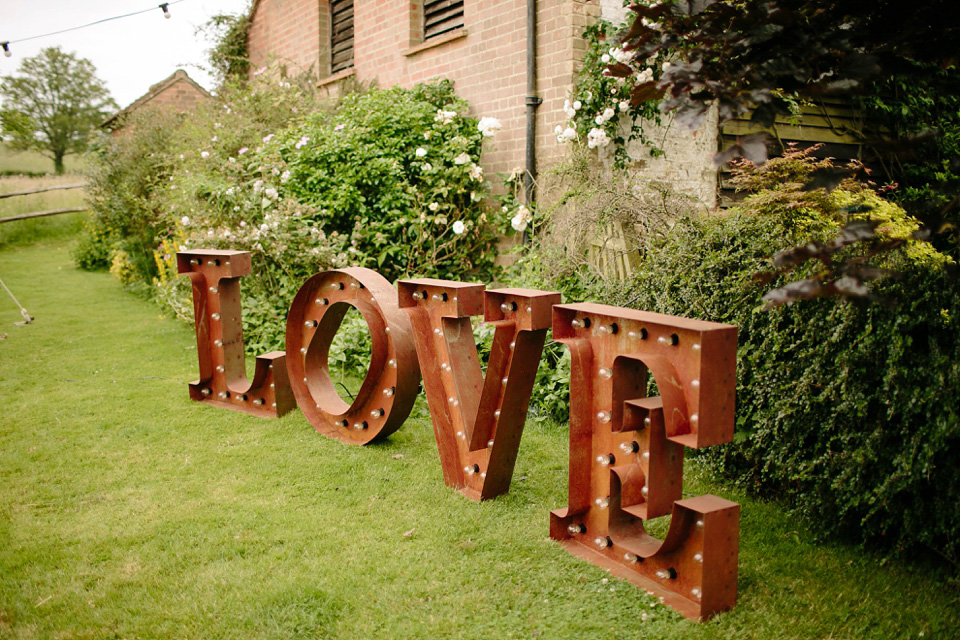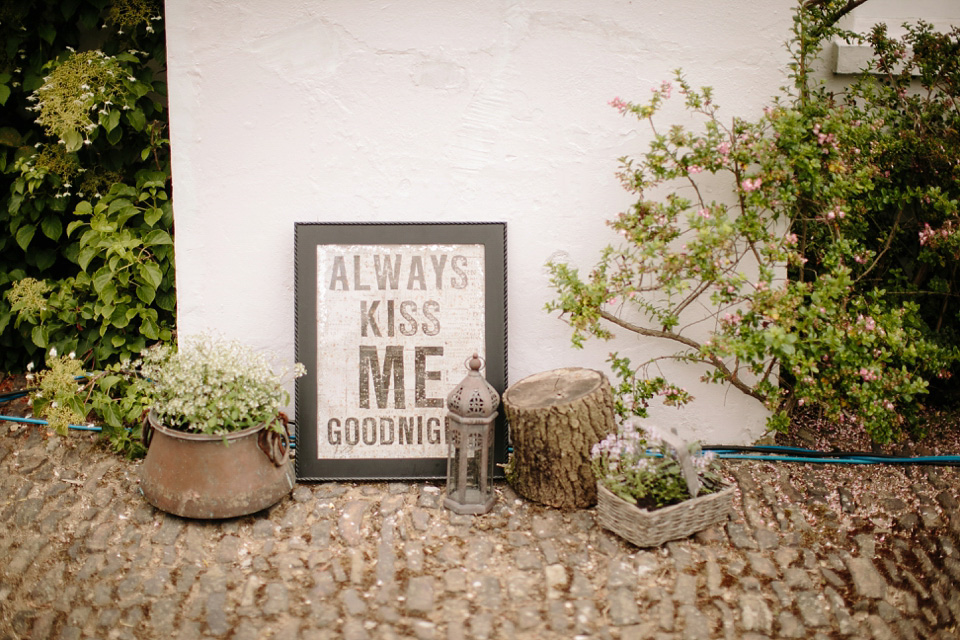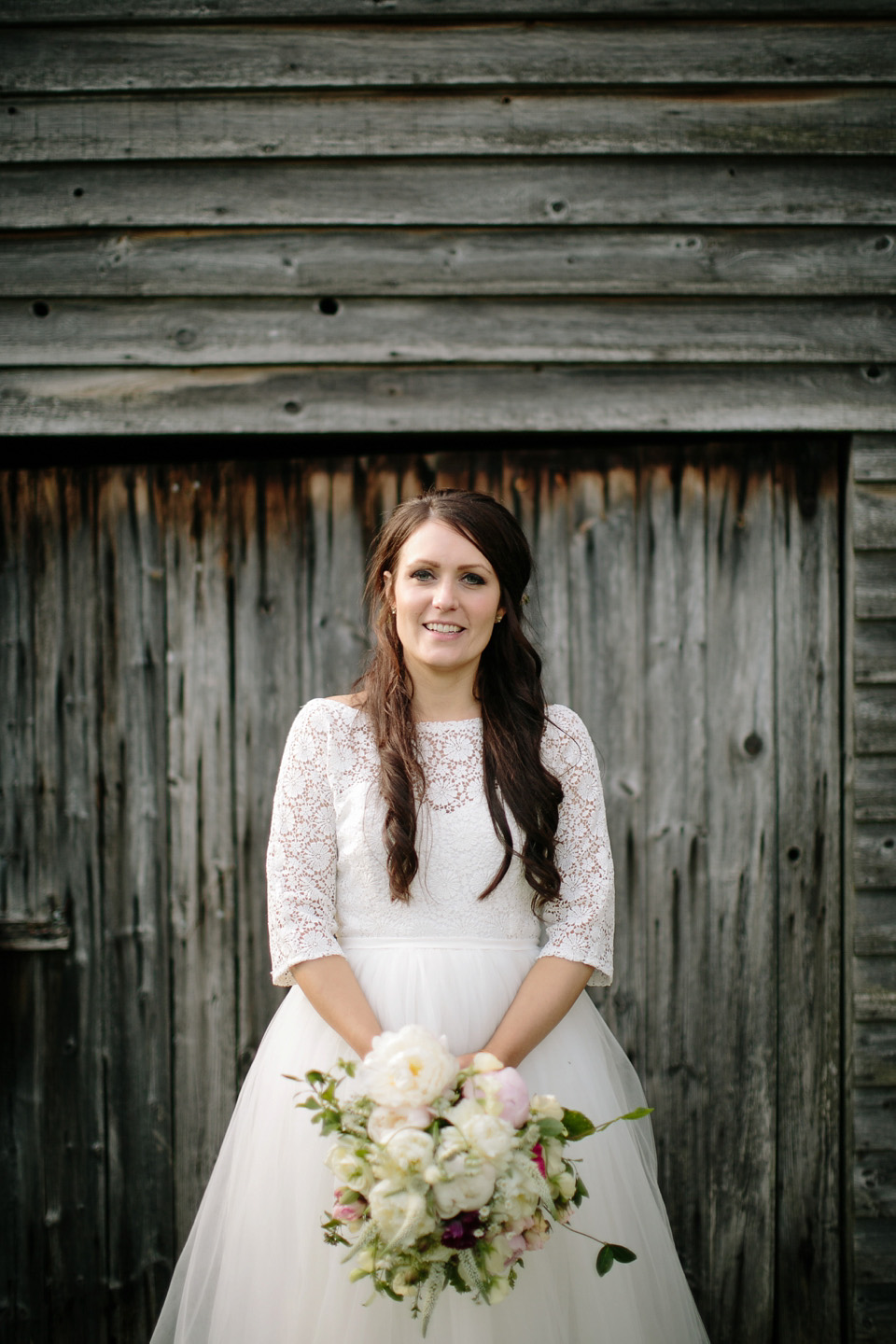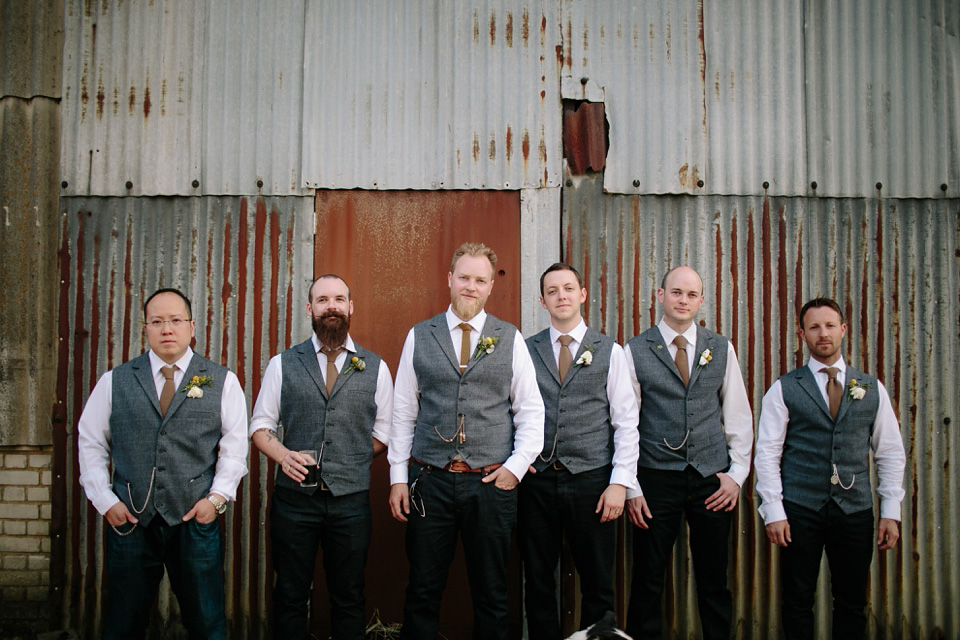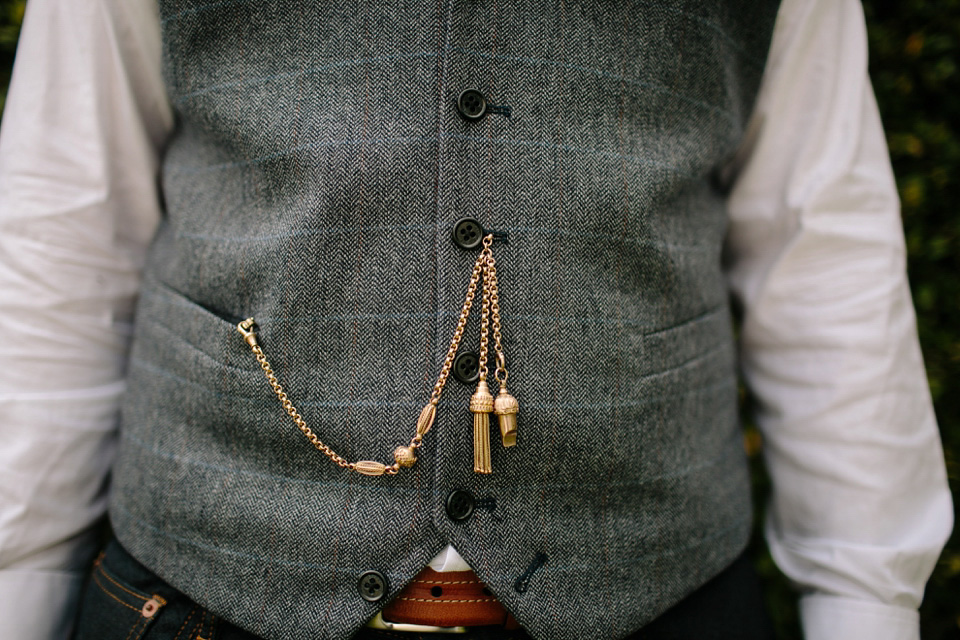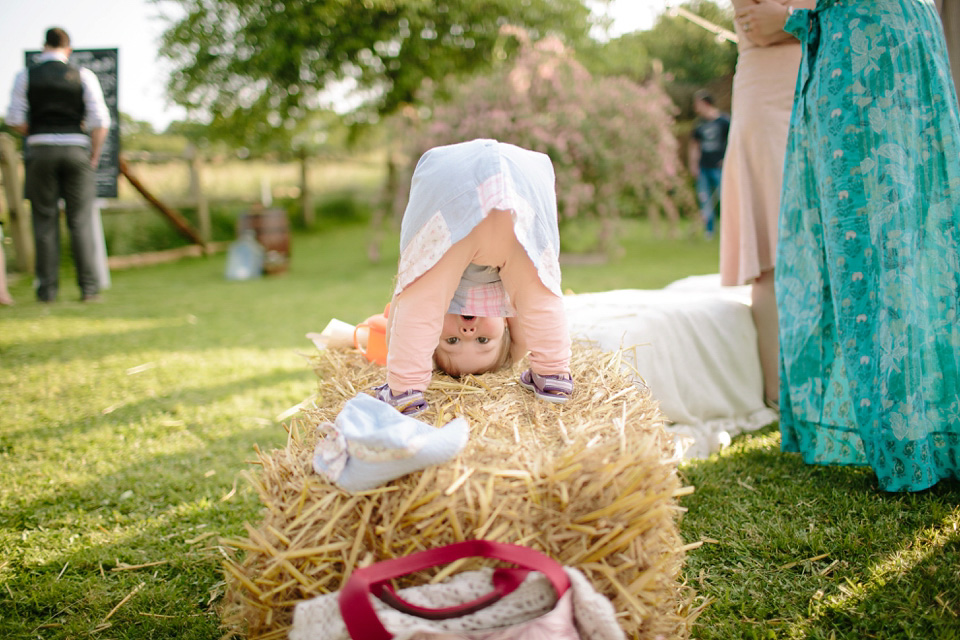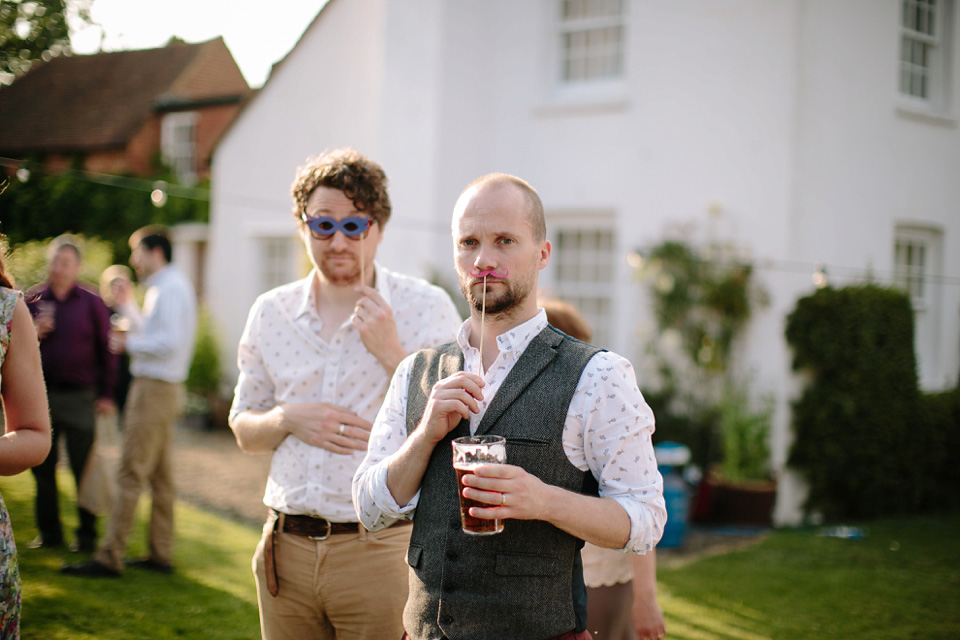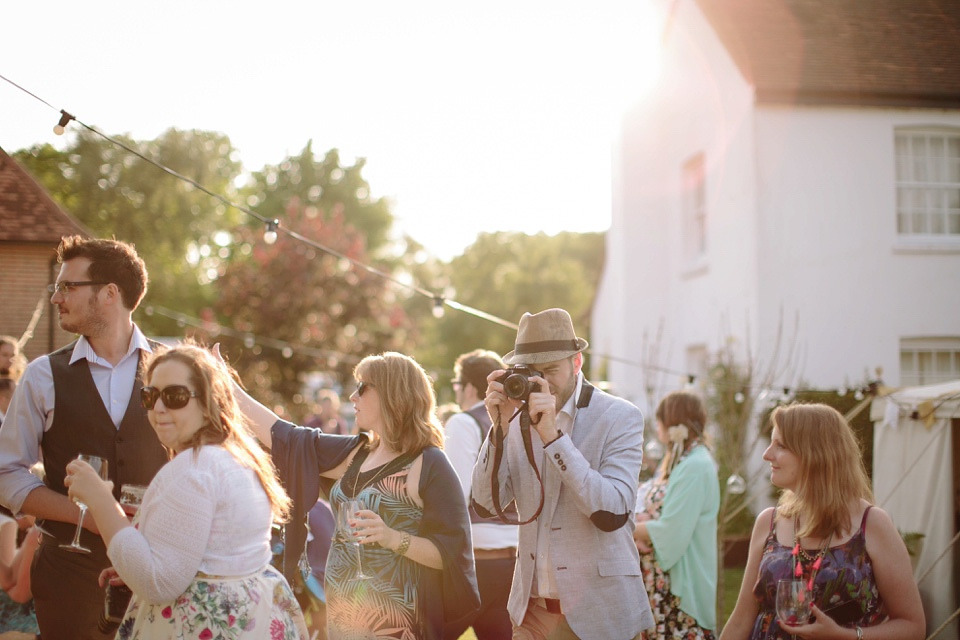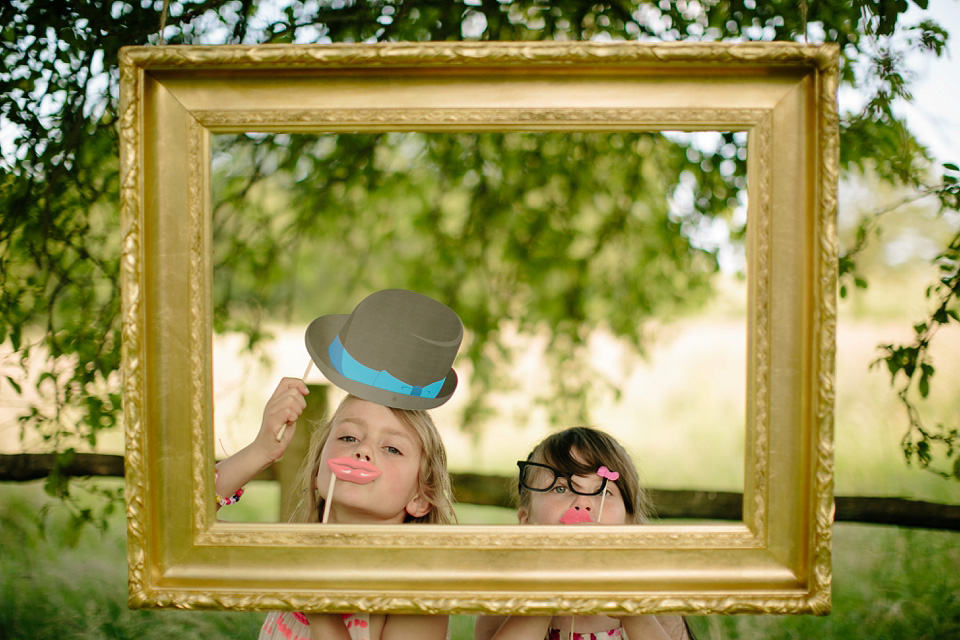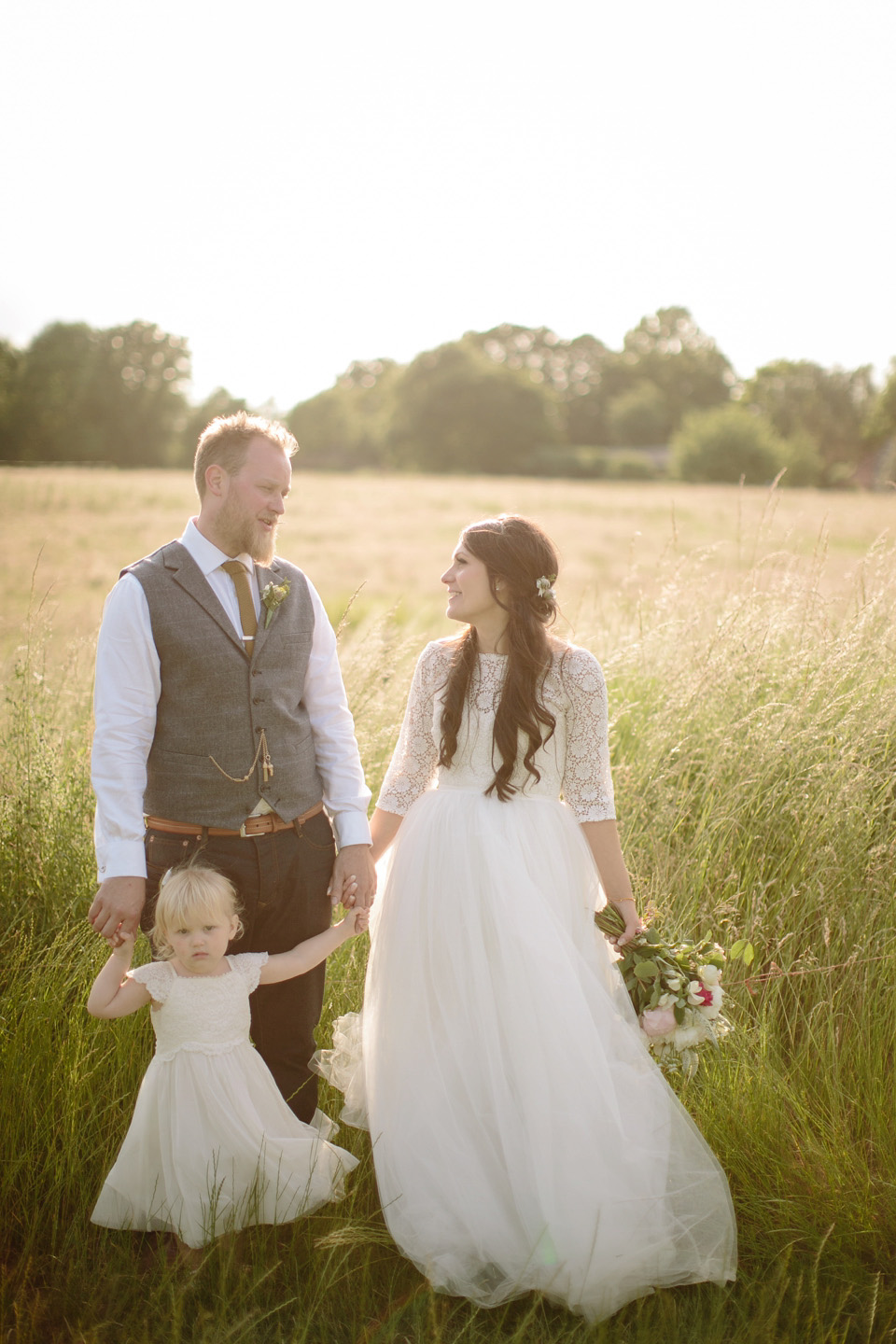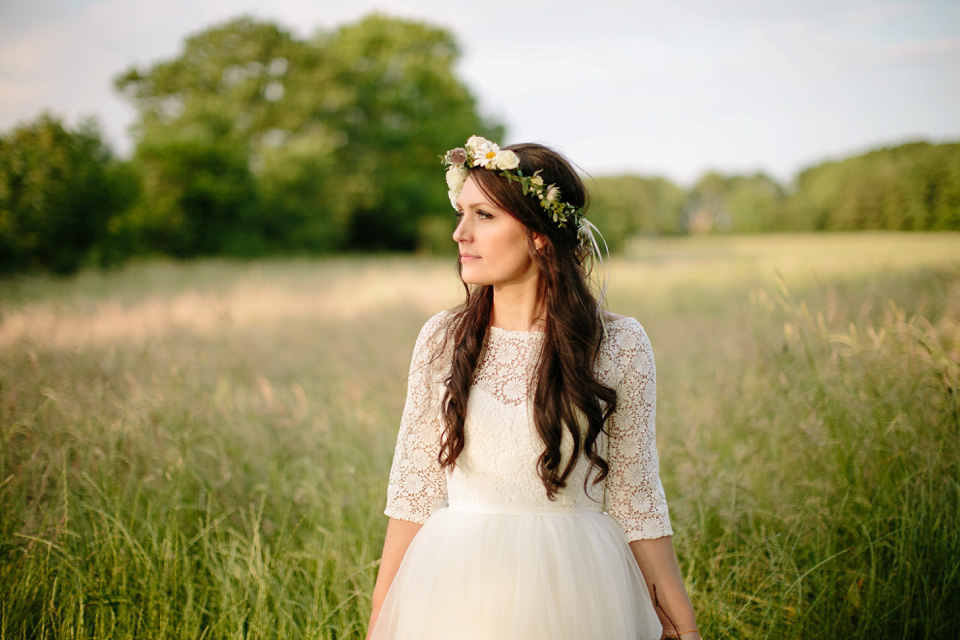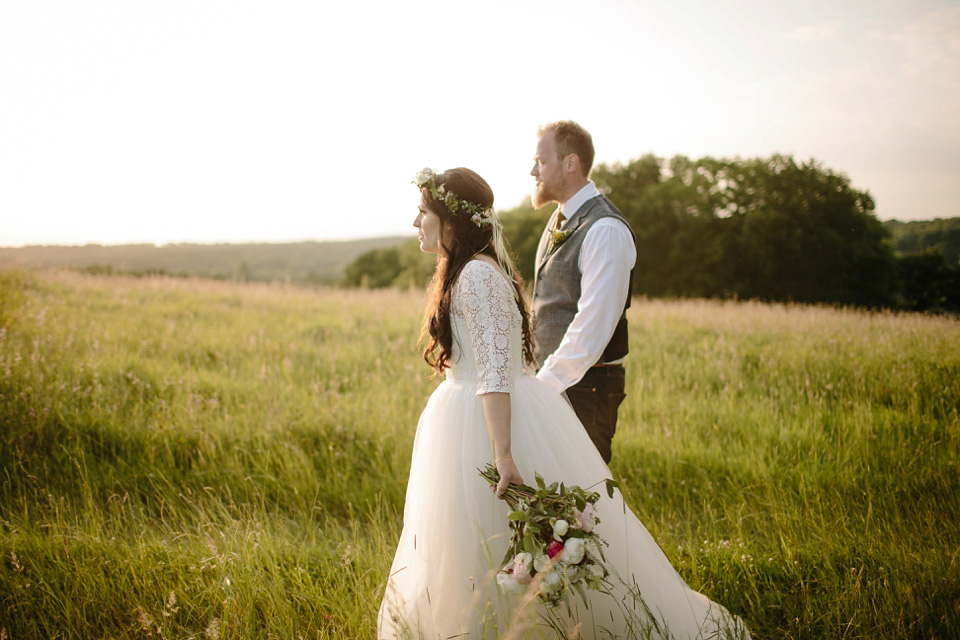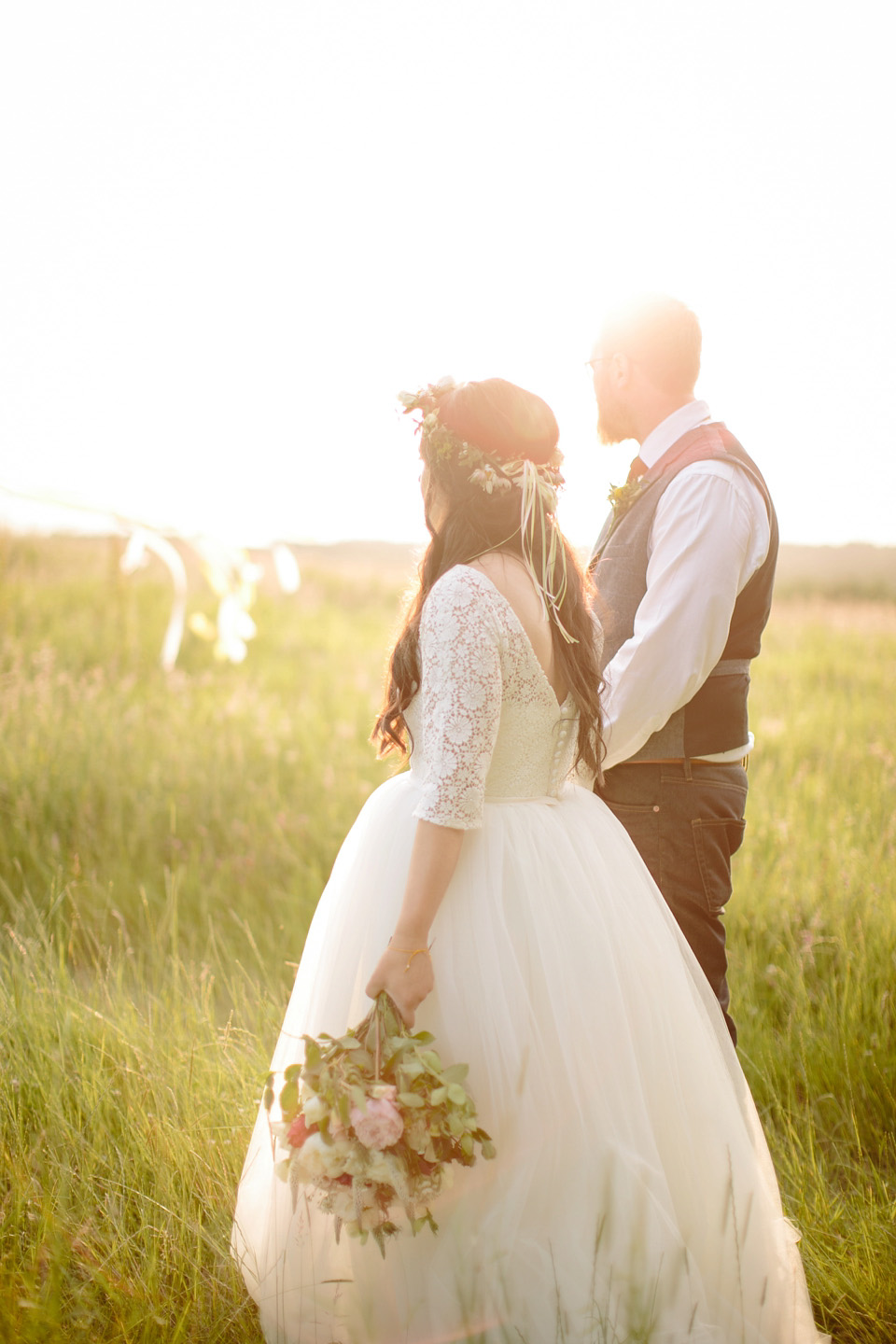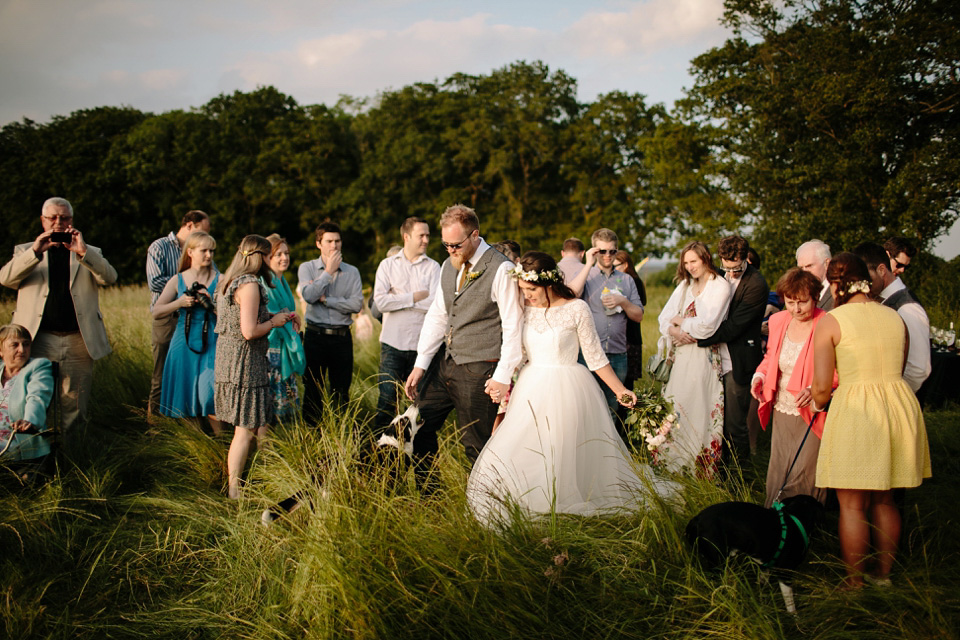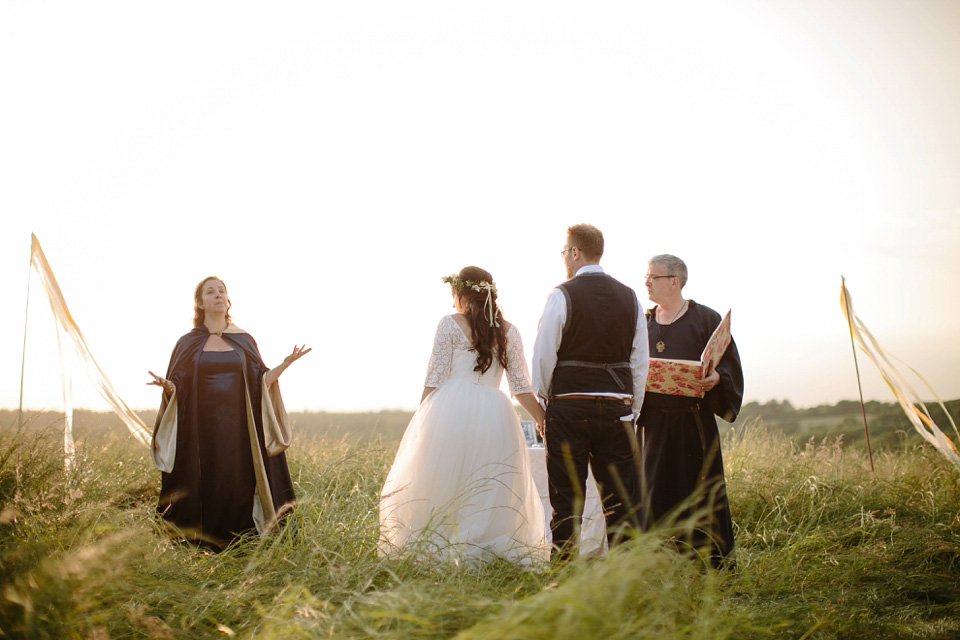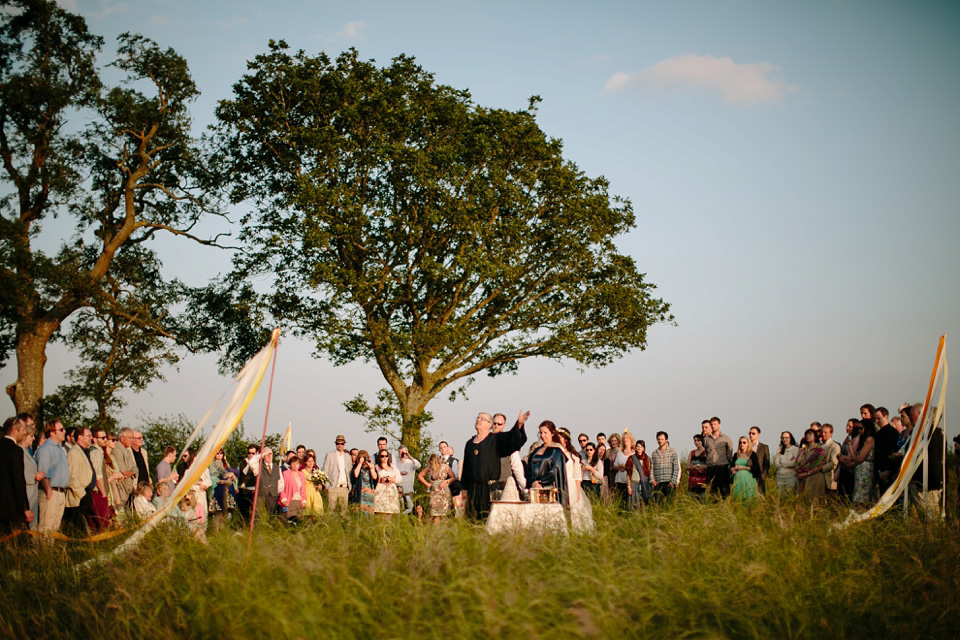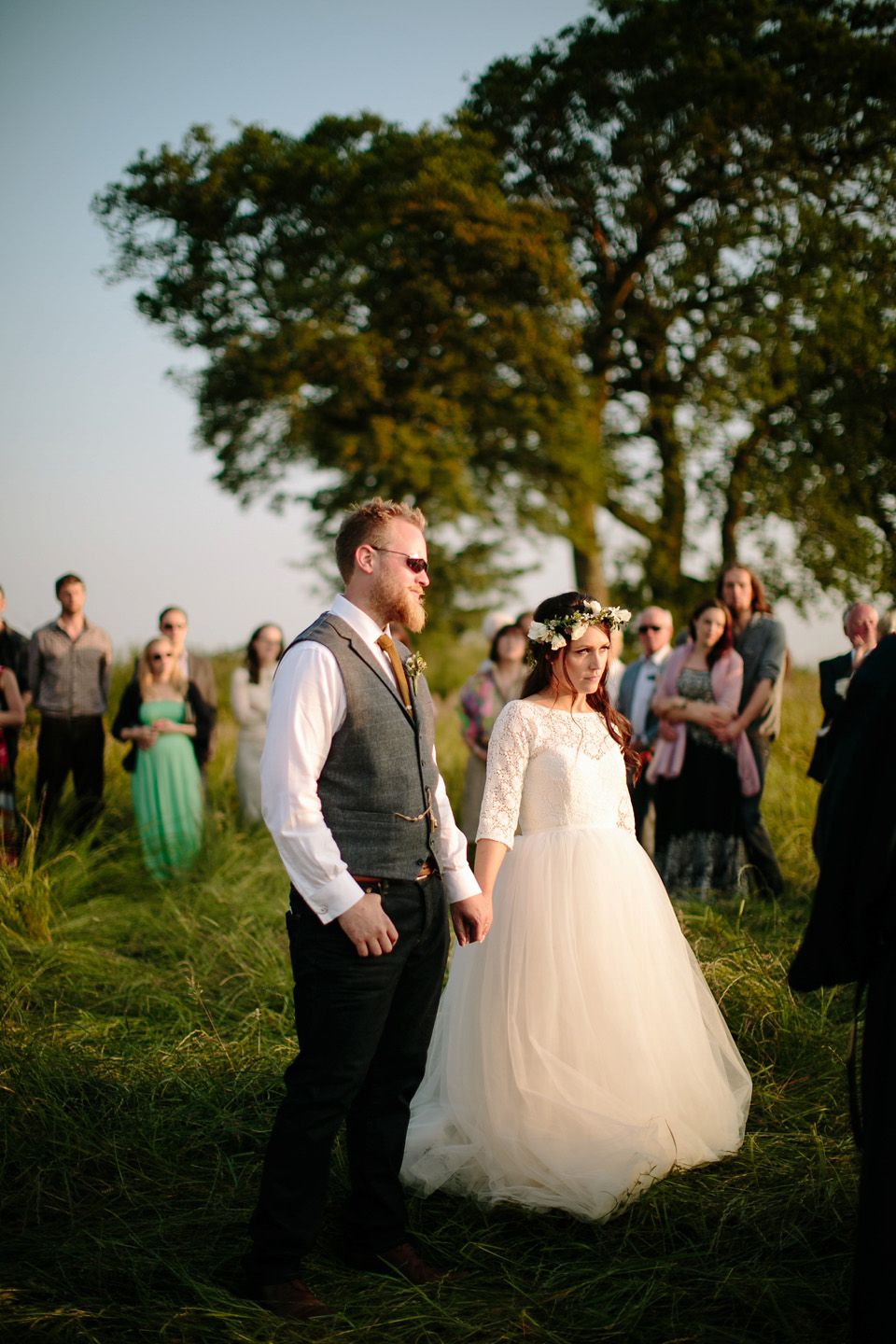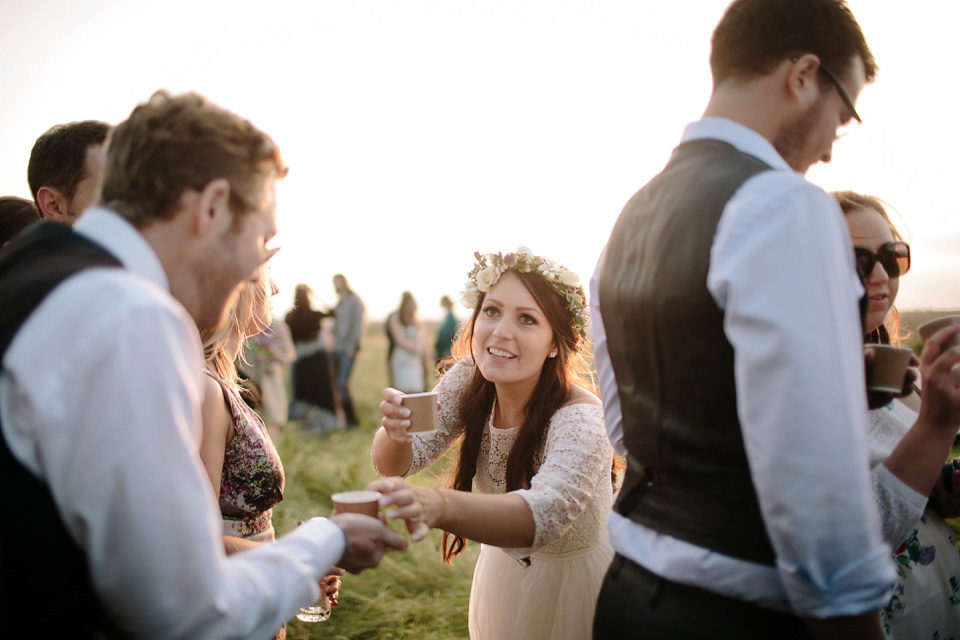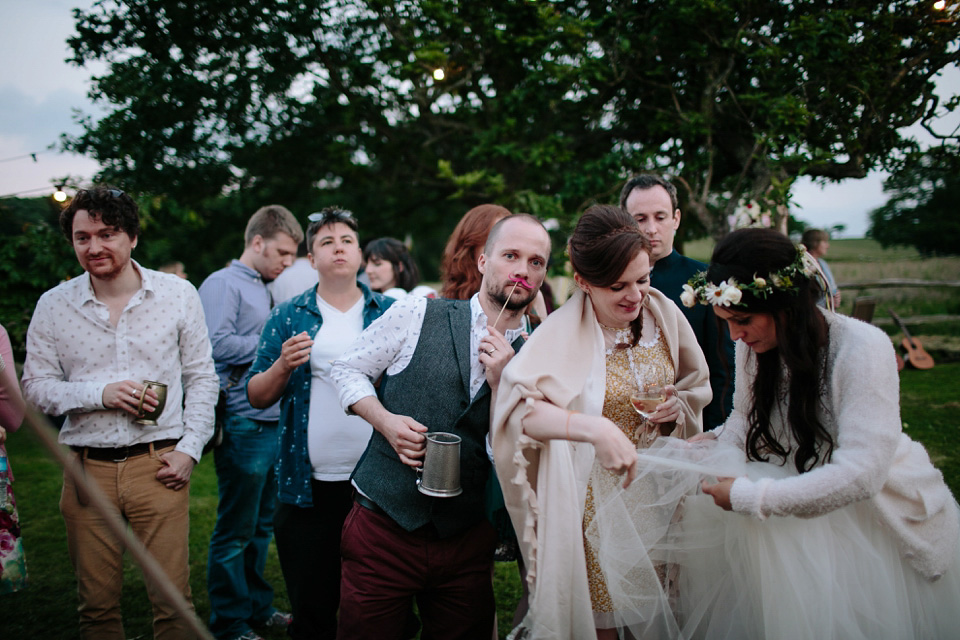 "We hired fire pits and we borrowed straw bales from a local farm for our guests to sit on around the fire to keep warm."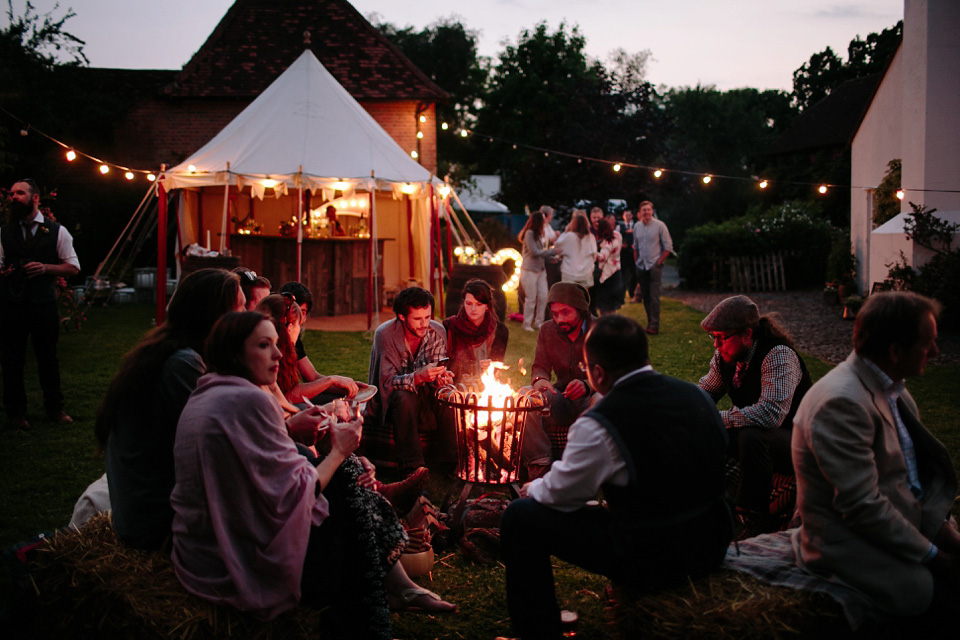 "We made the cake ourselves.  I designed it and, with a lot of help from friends, iced the whole thing. I wanted an impressive, tall cake that created drama . Apart from the top two tiers the layers were polystrene cake dummies. This saved money and time!  Andy's dad made the top two fruit cakes."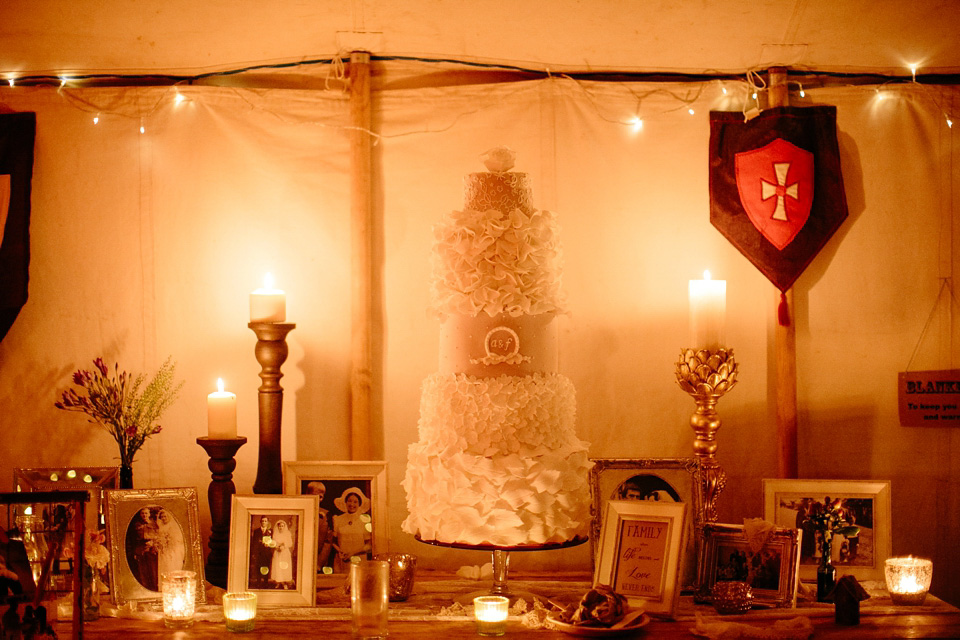 Words of Wedded Wisdom…
"Make it the best you can, so you have no regrets.  Stop and savour the moment throughout the day.
Have a specific style, it helps to focus the look.
Photography is so important, its a record of your day.
Go big on fake eyelashes!
Ask friends to help, we couldn't have done it without asking people to do little jobs for us and join in making things. I had wedding prop/favour making evenings and weekends."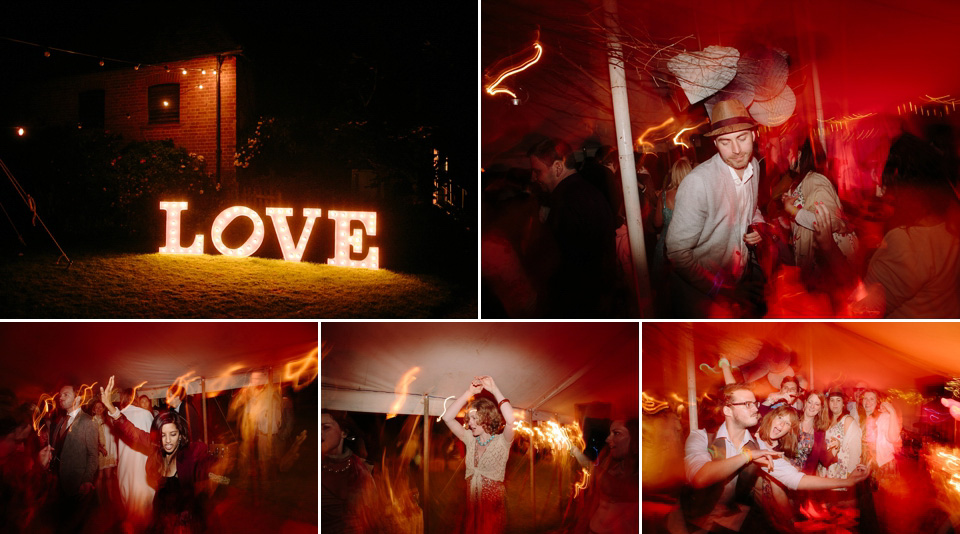 "I wish I had started setting up earlier. An extra day putting things up would have given me time to get to bed earlier the night before and relax, instead I was so tired, that i was crying and stressed out.
If I had more money I would have had a florist, it was too much work for my kind friend to do, I thought I would be able to help but I was way too busy. She did an incredible job though.
It was a really hot day, we should have had more bottled water.
We had Pimm's to save money but not many people liked it, including me, I wish I had bubbly to feel special!
Write notes and directions, even pin/tag them to food, table cloths or napkins etc for the caterer and staff. A lot of things got lost and forgotten about or put in the wrong places. This bugs me still to this day, particularly when I spent a lot of time and money on the detail."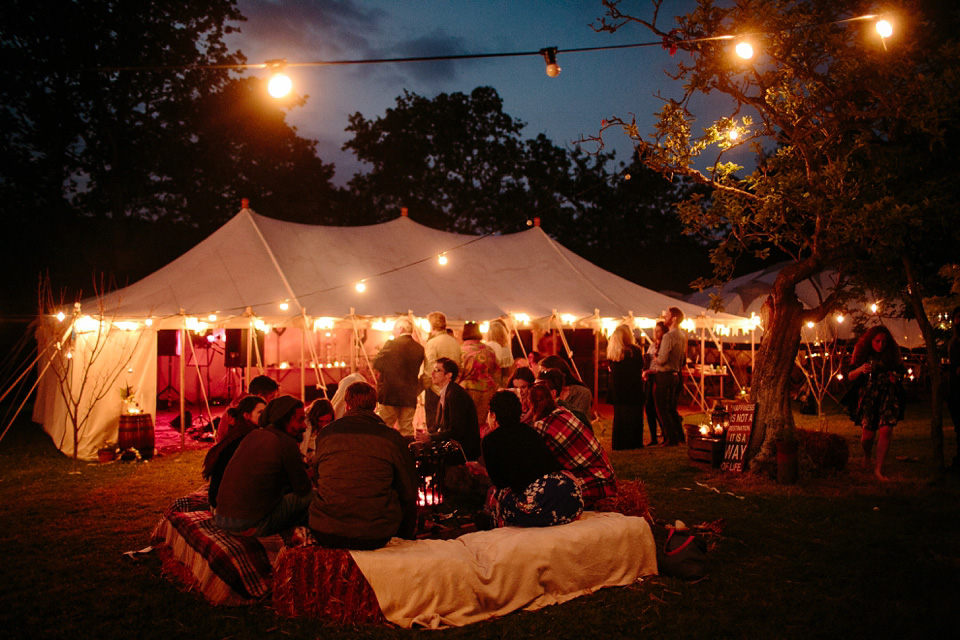 You couldn't get more relaxed and fuss-free with a wedding. Kudos to the talented bride and groom for creating so much of their wedding day themselves.  If you love their wedding vibe, you can see more similar weddings via the categories we link to below, including farm weddings and 1950s style.
Our love and thanks to photographer Tom Ravenshear for sharing these photographs today.
Love Annabel x
Photographer – Tom Ravenshear
Props Hire – all made by the couple via [email protected]
Pagan Ceremony Officiants – Perfect Handfastings
Venue – The Bush Hotel in Farnham + the couple's family farm, both Surrey
Dress – Ali Rouse at Unique Vintage
Accessories – bracelet via notonthehighstreet.com + Earrings by Essential Jewellers
Perfume – J'adore by Dior
Grooms Suit – Waistcoat + jacket – Jeff Banks Debenhams + jeans and shoes via River island
Bridesmaids – ASOS dresses + New Look shoes
Flower girl Dresses – Monsoon
Florist – friend (but note comment in the 'words of wedded wisdom above readers!)
Cake – Made by the couple
Transport – Couple's own VW split-screen Camper van
Entertainment – John Corin, Harpist + Blue Juice (funk/soul 4 piece band)
Rings – Preston & Duckworth
Catering Company – Inside Catering
Stationery – handmade using template via The Natural Wedding Company blog
Hair and make-up Artist – Emily Mickelburgh