Today we've got something truly special for you here on Love My Dress – not only do we have an exclusive first look at a brand new collection but we're also super proud to be able to introduce you to a new British brand that the whole team is already in love with. So, may I suggest that you stop whatever you're doing and say hello to Botanica, the premier luxury loungewear collection from Violet & Wren…
Designed by Helen Pollington and Louise Barnard, who have been best friends since meeting at university in 2000, Botanica comes from the concept of brides wearing beautiful pieces during hair and make up on their wedding days and then taking these gorgeous garments on honeymoon before wearing them long into married life. Each piece is made from fluid silks that feel as fabulous as they look. I just adore the thought of starting a wedding day looking stunning and feeling incredibly feminine.
I am also head over heels with the prints, each of which has been hand-drawn and then digitally rendered to create what is sure to become Violet & Wren's signature look. There's the delicacy and 'magnolia glow', the tropical 'glasshouse palm' and the dark, exotic charms of 'lacquered rose'. The fabrics are, quite simply, wearable works of art. The starting point was a beautiful magnolia tree, the essence of spring, fresh, new beginnings and lush opulence with its rich, glossy leaves. The fragile pink and grey tones are offset with pops of acid lime and chartreuse to create this delicate and oriental print story.
Helen's chosen flower was the peony rose and the rich, jewelled tones of the petals are given a dark and seductive spin with a wash of jade green ink and candy pink hue. Having spent 5 years living in Australia, Louise's choice was the lush, tropical foliage, reminiscent of the Sydney botanic gardens hot house. Elegant palm fronds and luscious succulents sit along side sculptural lotus flowers and scented frangipanis while vividly coloured hummingbirds dart in and out of this mint green image of paradise.
However, as well as being truly stunning, these pieces are fresh and modern. Louise and Helen set out to design luxe, sports inspired silhouettes that are both youthful and directional and my goodness, they have certainly succeeded. Those racer backs and wrap short sides are just spot on. The silhouettes you'll find in Botanica are all kinds of gorgeous – slightly cropped and gently fluted, they're wonderful to wear and so flattering.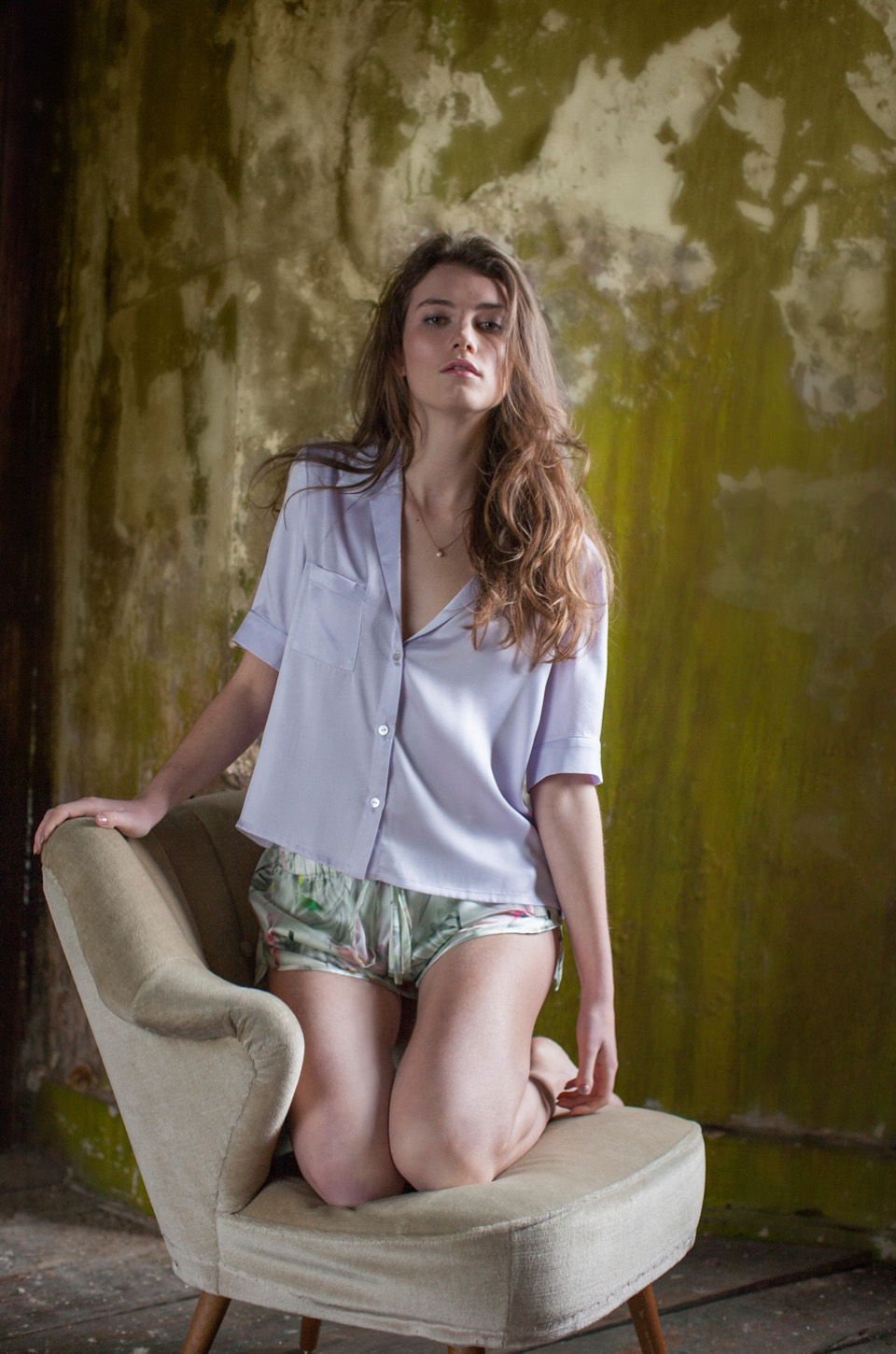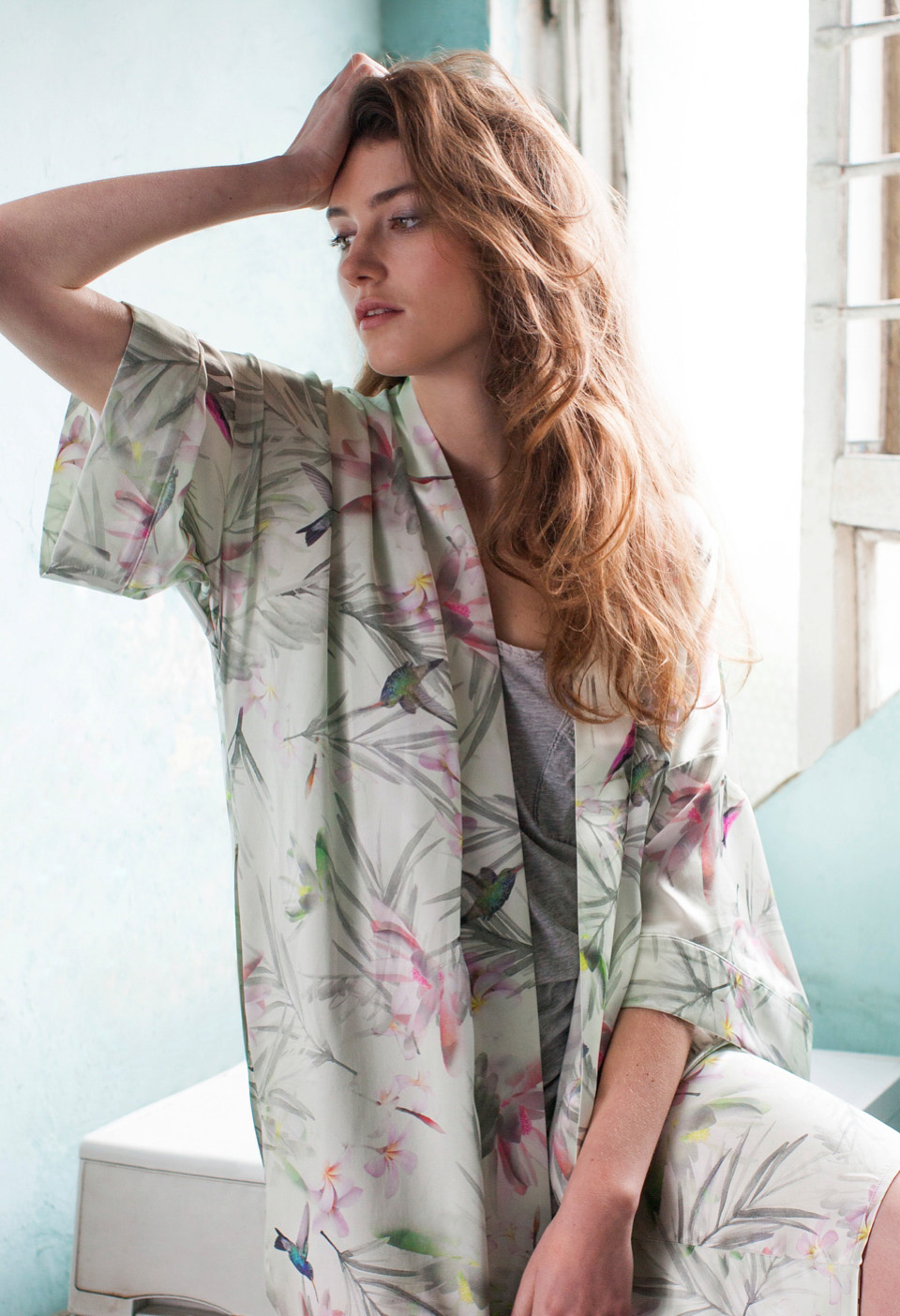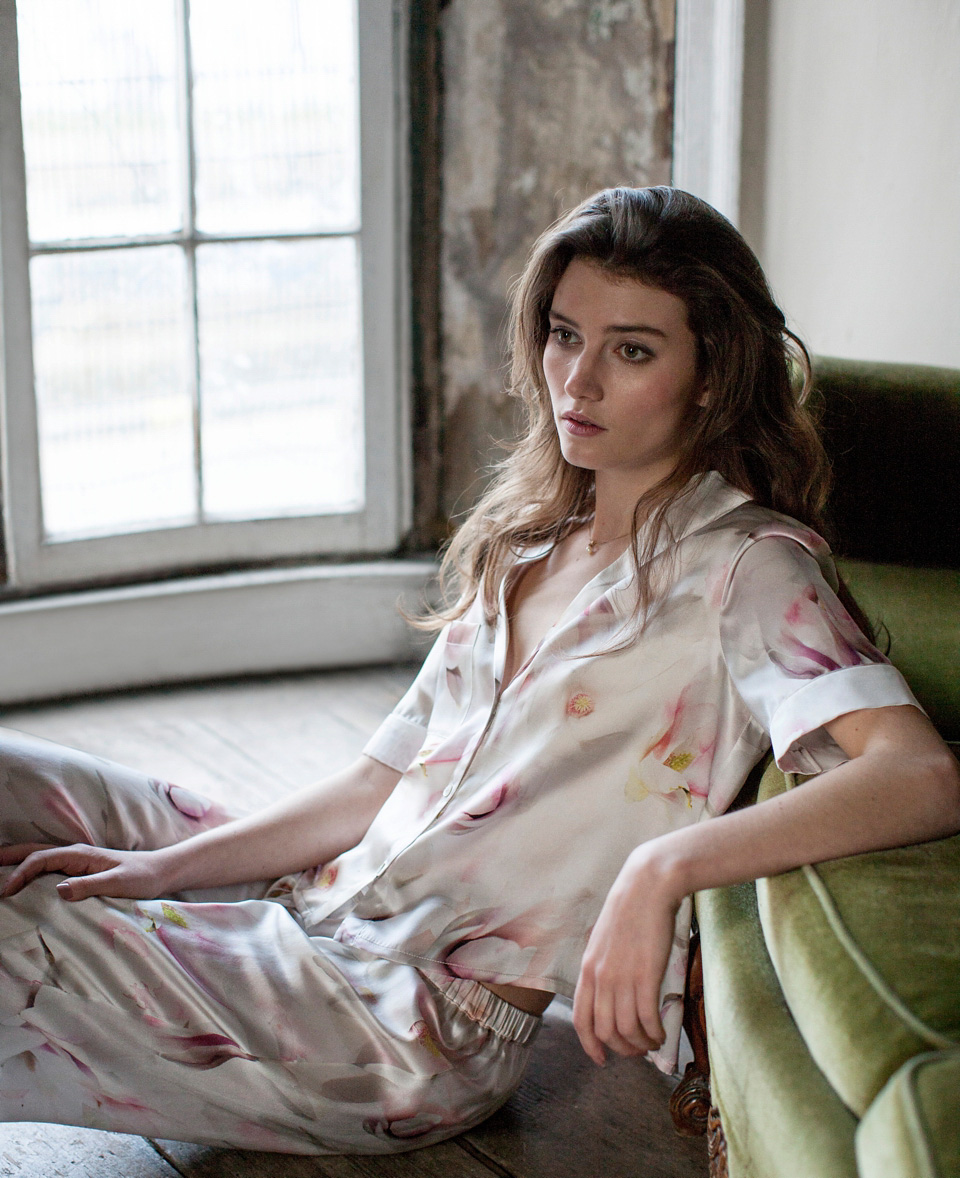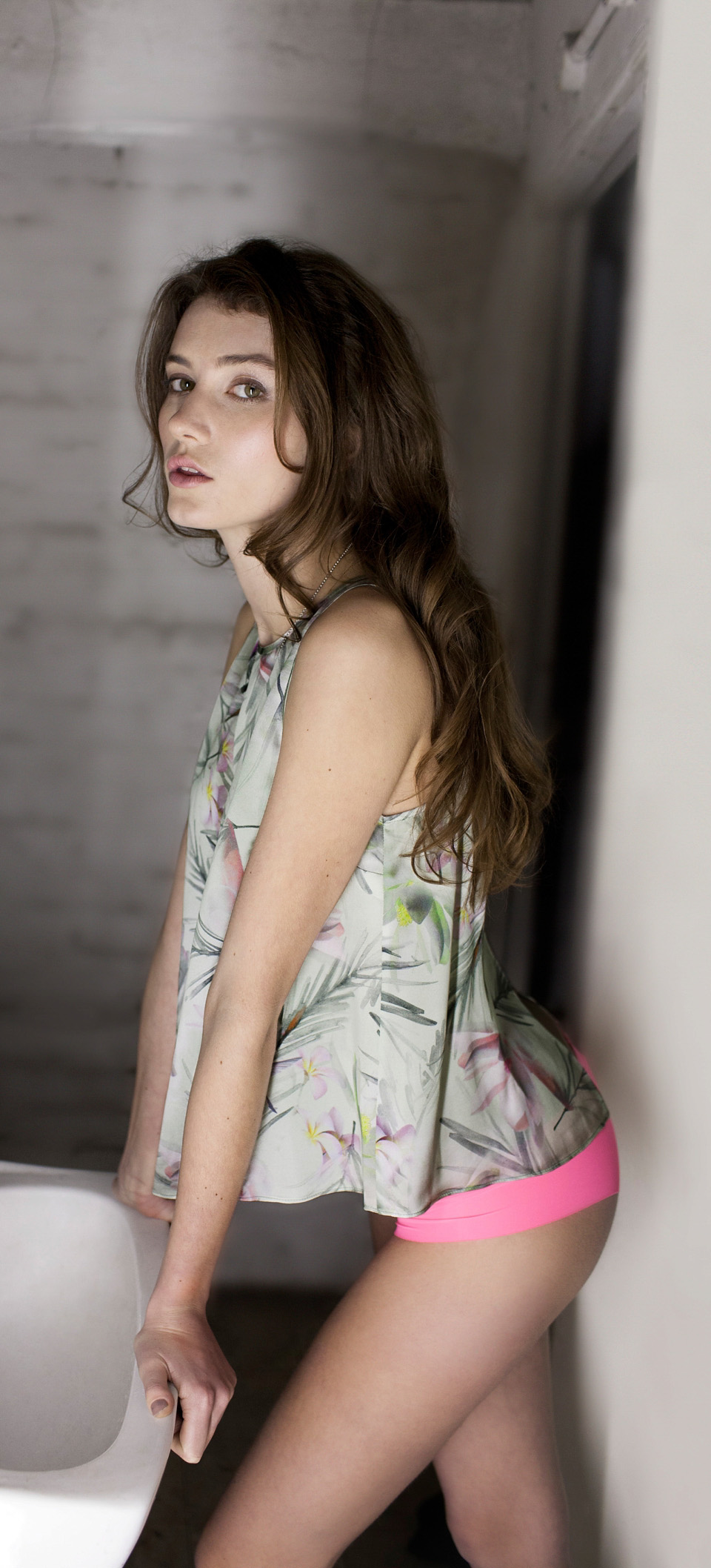 Another huge plus point in my view is the fact that the items are sold as separates and this mix-and-match option really makes me smile. I can also think of nothing better for your 'getting ready' photos than one of the heavenly kimonos from Violet & Wren – say goodbye to toweling robes and say hello to absolute luxury.
Luxury from Violet & Wren comes with real craftsmanship and Helen and Louise believe in lasting style rather than fast, turnaround fashions and they hope that their garments will become much loved, treasured favourites:
"Our most treasured personal pieces of clothing are those luxury items that have meaning and significance," says Helen. "We care very much about creating beautiful, emotive investment pieces that can stand the test of time and be passed between the generations."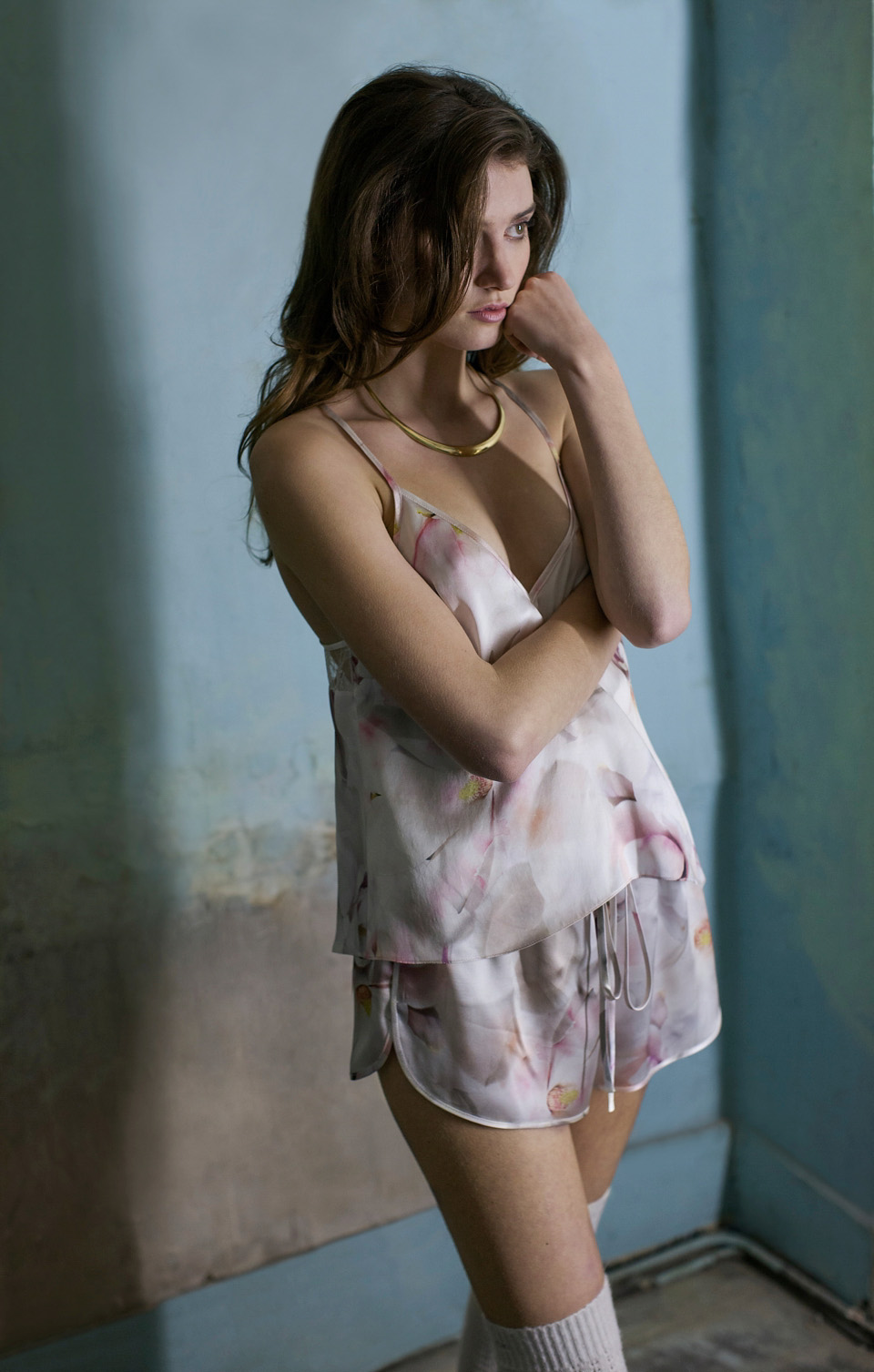 Long lasting, special, precious and loved – completely perfect for a wedding, wouldn't you agree?
The Botanica collection from Violet & Wren will be available to view at Miss Bush Bridal 26th March – 1st April. Viewings are by appointment only so please contact Helen on [email protected] or Louise on [email protected] to make sure you have the chance to see this gorgeous collection for yourself.
For more information, do take a look at the Violet & Wren website, where the pre-order page will soon be in place, or stay in touch with Helen and Louise via Twitter, Facebook and Instagram.
Love Tamryn x
Shoot Credits
Imagery – Reef Design
Hair & Make-Up – Sarah Varney
Model – Aimee Foy at Storm Management