There is something so delectably elegant about a tone-on-tone colour palette, but how do you make it work for a wedding without it looking insipid? Lots of luxe details and texture, that's how.  We've been inspired by simple yet elegant, all-neutral colour palettes since the doyens of colour, Pantone, announced that delicate colours such as Toasted Almond, Sandstone, Camel and Blush are HOT for spring. Secondly I took a trip to Italy in December, part holiday, part working-trip to uncover incredible spaces for destination weddings in Italy.
I am more than a little enamoured with this beautiful country, everything about it screams romance from the history, to the architecture, to the food.  So I thought I would combine both of these influences into one inspiration piece and provide you with a few insider tips on planning an elegant destination wedding in Europe.
THE INSPIRATION
These creamy shades offer an incredibly sophisticated base palette, working equally as well on their own as when added to other punchier colours. The colours used here are camel, sandstone, toasted almond and buff and they work great with other shades along the spectrum from deep mahogany and cognac shades through to the palest champagne and ivory.
The key to getting the tone-on-tone look spot on is with lots of rich texture and detail. Replicate the look of Italian stuccoed walls through your stationery design, pick our furniture pieces in rustic woods, add in luxurious ruffled fabrics, feathery details and deeply textured floral elements for a truly chic aesthetic.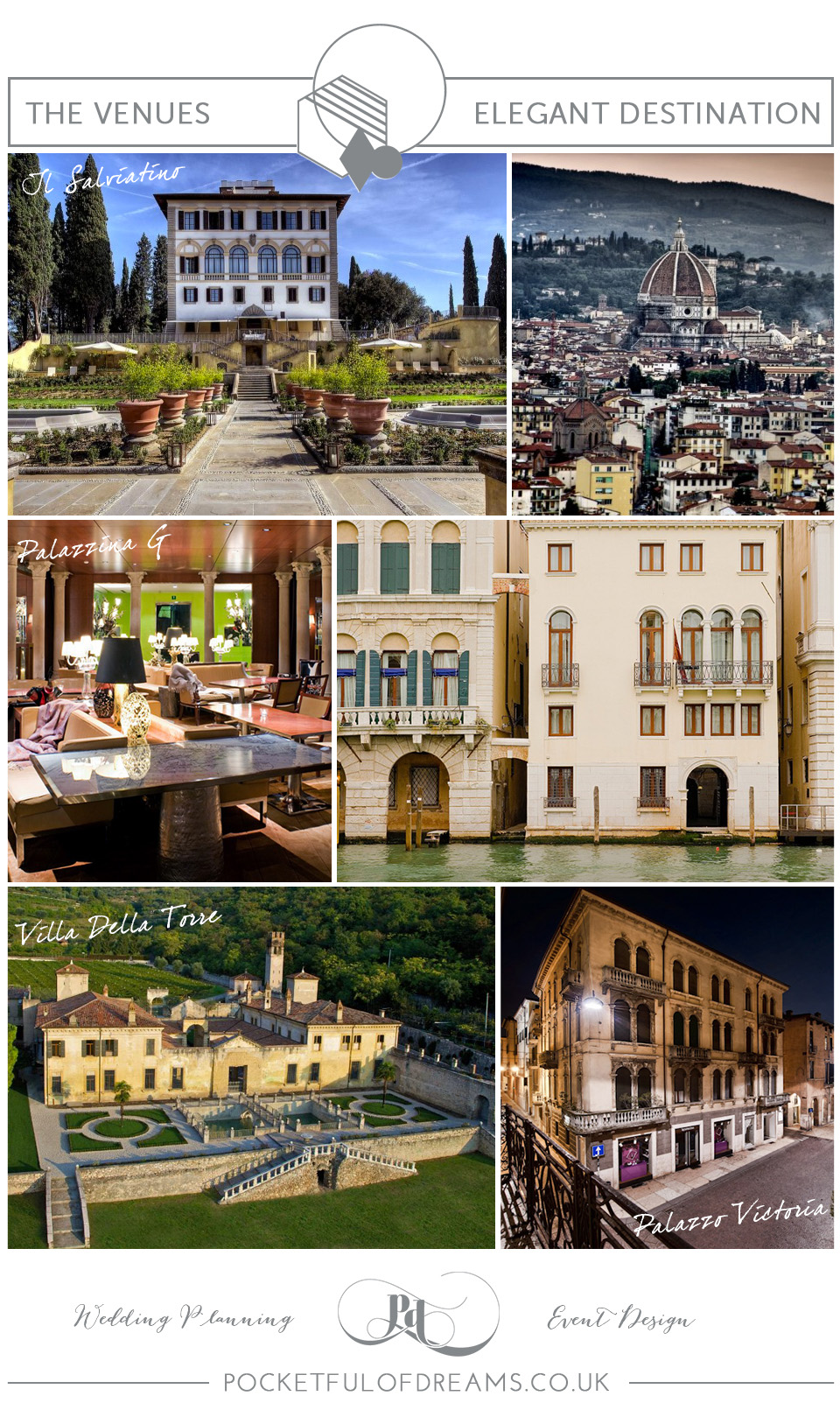 THE VENUE(S)
When it comes to romantic wedding venues in Italy you are literally spoilt for choice, from the rolling vineyards of the Tuscany region, to the world's most romantic city of Venice, to the grace and glamour of seaside resorts like Portofino and Positano.
I have picked out three of my favourite Italian wedding venues that would be the perfect spaces to host an elegant destination wedding:
Palazzina G – Venice: The ultimate party palace, set on the Grand Canal and boasting an impressive array of design-led features by Philippe Starck. It manages to marry the traditional with the modern rather impressively and for a city known for it's ostentatiousness is rather sleek and refined. The hotel is available for 

exclusive use

, accommodating 180-people with; a dedicated restaurant, Krug champagne bar and 22 bedrooms, it's like your own glamorous private house with 5-star facilities.
Palazzo Victoria – Verona: A stunning medieval building in the heart of Verona that again couples contemporary flavour with cultural elegance. Currently they only play host to small parties, however they are collaborating with nearby venetian renaissance 

Villa della Torre

 for weddings with accommodation at the Palazzo.
Il Salviatino – Florence: This 15th Century villa sits high on the hilltop of Fiesole with impressive views of Florence city and the rolling Tuscan hills. Scenic views, fine dining and grand interiors ensure the most breathtaking of settings for your nuptials. They have many locations within to host your celebrations including a magical parkland onsite for al-fresco dining.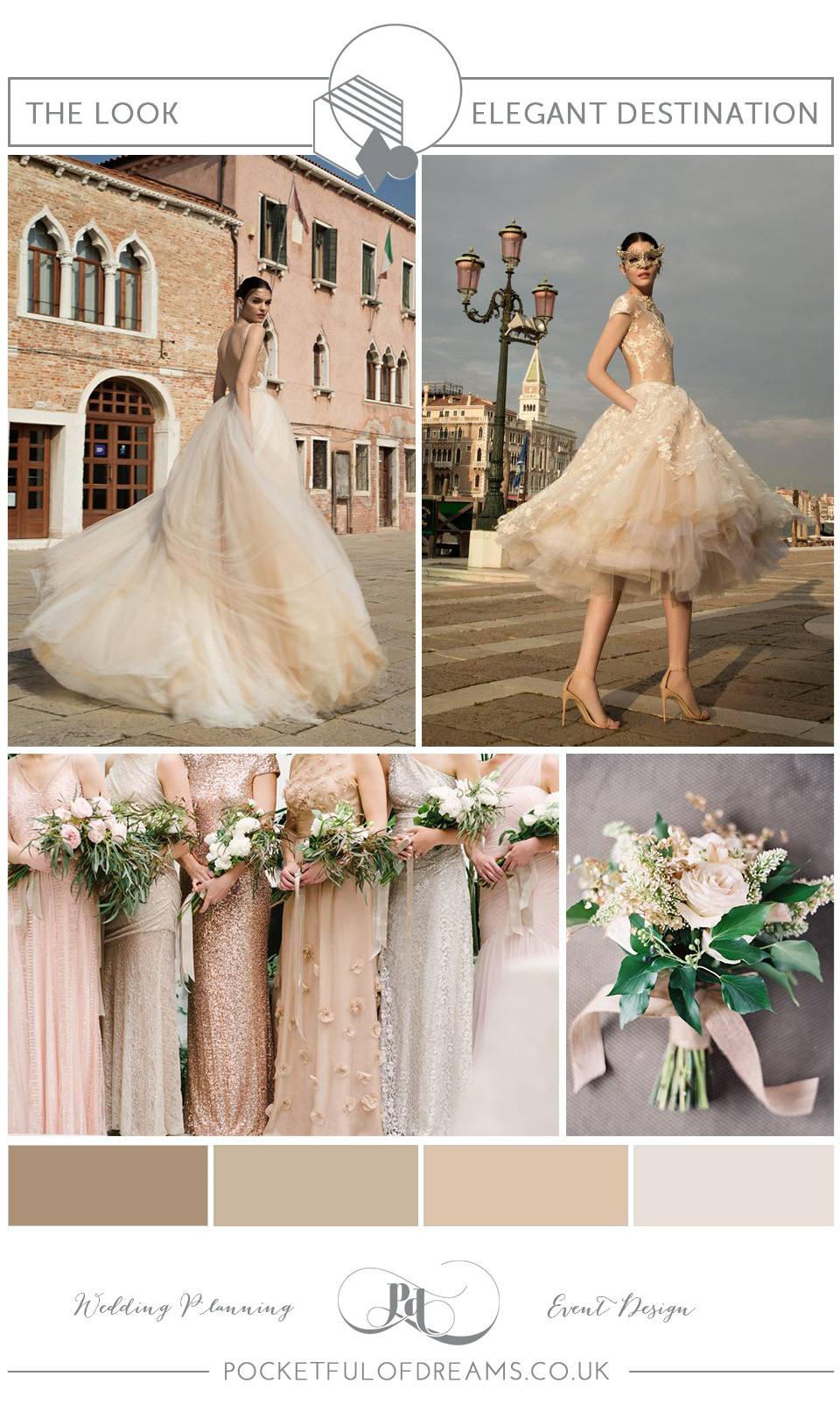 THE LOOK
Israeli designer Inbal Dror has launched an incredibly sexy-beautiful collection for 2015 in diaphanous creamy-shaded fabrics that are perfect for this look.
When choosing a dress for a destination wedding our top tip is to dress for the space and weather. If you are by the sea or beach then a short dress may be a better option, if your venue is a vast villa then an oversized gown is perfectly acceptable and choose fabrics that will fall gently on your skin and let you breathe – the last thing you want is anything itchy or fabrics that cling and make you sweat. You also want to plan how your dress is going to get to your destination, some bridal designers and shops will help you ship it out to your destination following final fittings, if not then seriously consider buying your dress it's own seat so you can be sure of it's safe transit.
For your maids a riot of creamy shades and beaded textures would look divine. Choose floaty fabrics and pair with strappy espadrilles or sandals.
THE DETAILS
A tone-on-tone bespoke paper suite can look so beautiful, just make sure you are choosing luxurious textured paper stocks, and why not try emboss printing for that barely there look.
When inviting guests to a wedding abroad it is important to consider that this may also be a holiday for them so consider their needs when you begin planning and provide plenty of information about timings, logistics and accommodation options.
You want your guests to enjoy themselves as much as possible so consider preparing welcome baskets filled with local crafts, a custom-made guide to the best places to visit and a few holiday essentials.
When it comes to decorating the wedding spaces we would add in texture with table linens featuring beautiful embroidery, pleats, ruffles and lace.  Cascading florals and foliage to decorate key spaces within the venue and a paper flower backdrop showpiece. Paper flowers are a great option for destinations weddings as unlike real flowers they are not going to wilt and wither in the heat of the sun. They are also really lightweight so an easy item to ship out to your destination in advance.
THE RECEPTION
Again simplicity is key here for achieving that effortless elegance, rustic wood tables dressed with natural linens, beautiful cut glassware and an abundance of seasonal florals and foliage. It's important to choose florals that can withstand heat so they last the day.
When it comes to the food, chances are you have chosen your destination because you love the regional delicacies, so let your catering team or venue play to their strengths and do what they do best. Tiramisu in Italy may be a cliche, but it's a damn delicious one and you can be sure your guests will love it just as much as you do.
When it comes to finding suppliers at your destination, this is when it can be prudent to work with a planner in the UK who has those local links. Like us here at Pocketful of Dreams we have established partners across Europe who we work closely with for our client's destination weddings. Those partners understand the local nuances, speak the language and know how to get the very best out of local suppliers, whilst we have the expertise and skill in designing and planning really personalised days for our clients.
Michelle x
______________________
We love to share features by Michelle Kelly, Creative Director and expert wedding planner at Pocketful of Dreams – and partner/collaborator with Love My Dress.   Pocketful of Dreams create captivating and unforgettable celebrations for creative clients across the UK and Europe and provide everything from on-the-day assistance only, to full wedding planning and styling.  If you think you'd like to chat with Michelle about your own wedding, you can drop her a line on [email protected] or visit pocketfulofdreams.co.uk for more information.