Every season has its own unique atmosphere and I always adore the golden glow of autumn weddings. In fact Annabel wrote just last Friday about her reasons for choosing the first day of spring for her own wedding. The changing of the seasons is so present in the magnificent surroundings of beautiful Oxfordshire where Lauren and Dan tied the knot on the 9th of October 2014. Their venue Aynhoe Park has to be seen to be believed, it's incredible! As Lauren puts it, 'why would you not want to get married somewhere with a floating giraffe?'  There's so much more to the venue though, it's dramatic, luxurious, hedonistic style fun, and has the most stunning light-filled ceremony room, all of which photographer Laura Babb has captured beautifully.
"The thing that I loved about Aynhoe Park was that it didn't need much styling. It's utterly magical and like a modern day wonderland filled with unicorns, polar bears, giraffes (including one suspended by helium balloons) and a rocket ship in the garden."
Photography Copyright (c) 2015, Babb Photo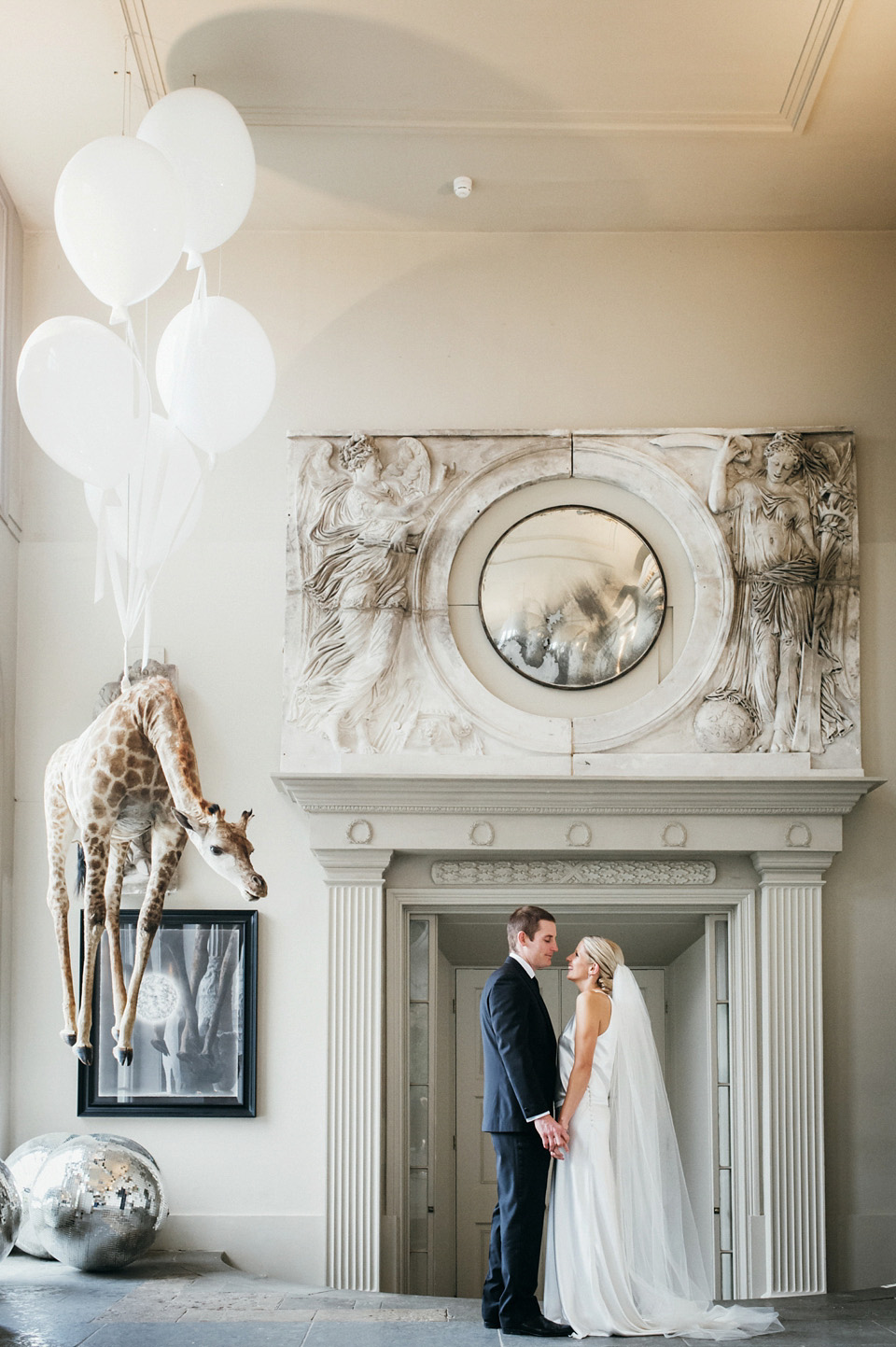 "As Aynhoe is such an incredible venue not much was needed in terms of flowers and didn't want anything too soft and pretty as I didn't think that it would go with the taxidermy crocodile!
Our florist Gerri Rees had lots of great ideas and I love how the flowers turned out. We had big urns with lots of greenery, twigs and branches. The ceremony room looked exquisite with tiny candles twinkling everywhere. I wasn't keen on a bouquet but Gerri made me a tiny gypsophila bouquet that was so simple and beautiful."
Lauren chose a simple backless gown from chic French designer Delphine Manivet. It looks superb with a simple veil and a gorgeous pair of Christian Dior heels.
"I loved how simple the dress was. I felt like myself in it and not that I was trying too hard to be a bride! I wore my granny's earrings with my mother's diamond bracelet and Lea Eau de Parfum by Calypso St. Barth as it's the only scent I have ever worn."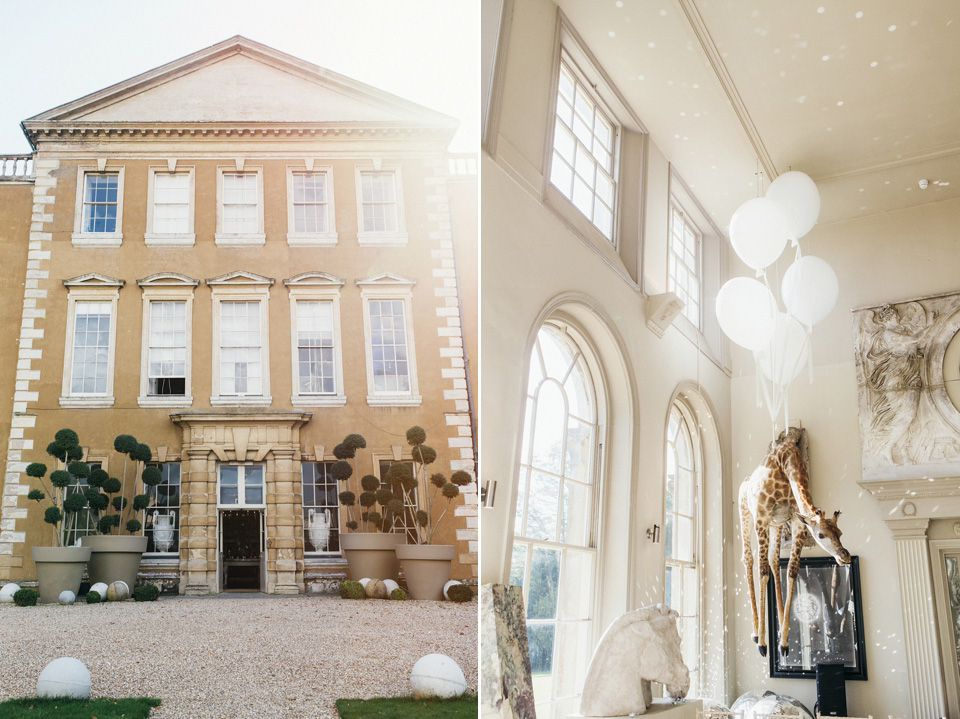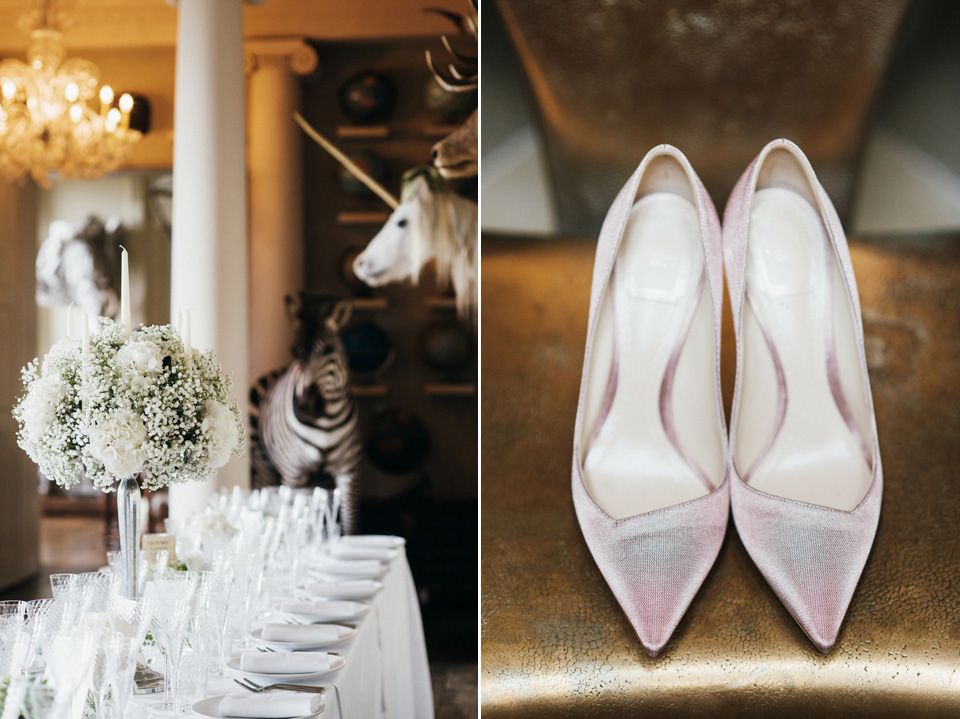 "My makeup artist Charlotte is a great friend and a genius! I love how my makeup was feminine and sexy with a touch of rock. Another great friend Jodie the owner of Mustard Salon did my hair. It's normally always a bit in my face but I wanted something quite classic and simple that matched the dress, I loved what Jodie did!"
"We met travelling in Vietnam. We had a drunken kiss in a dive bar in Saigon on New Year's Eve and spent the next 10 days riding around Vietnam on motorbikes, getting to know each other. He lived in Australia and I lived in London but we kept in touch and 3 months later we met up in India and that was it! We fell in love and decided to make it work. Two and a half years of long distance, lots of flights and Skype calls, Dan moved to London.
About a year later Dan proposed to me in Copenhagen while in the middle of competing in an Iron Man race (him not me!) I said yes obviously and then he ran off to finish the race leaving me standing on my own amongst a crowd of bemused Danish people, holding a ring box and blubbing away! We got married about 14 months later."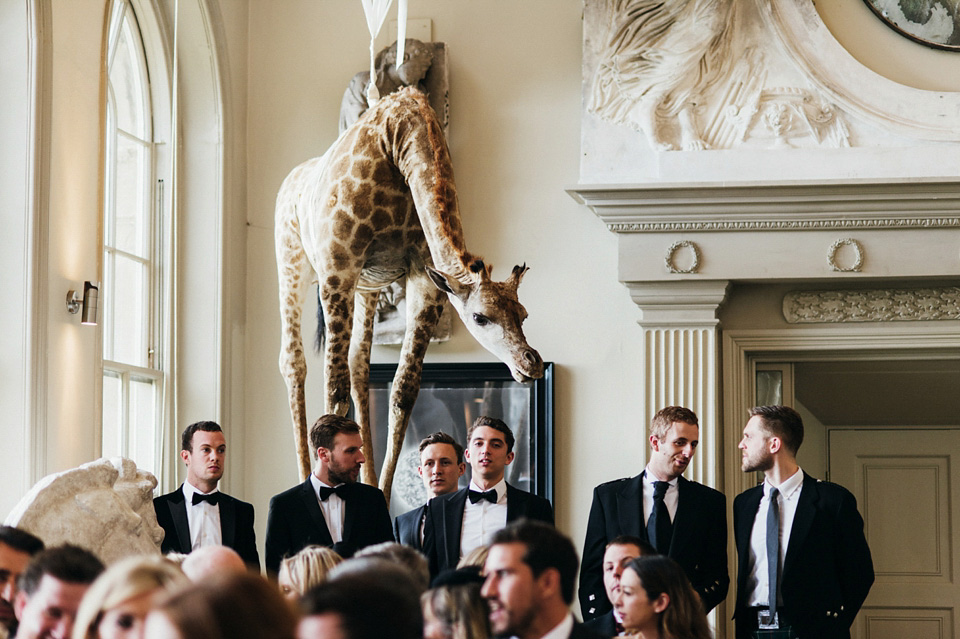 Laura's lovely dad walked her down the aisle to the brilliant Video Games by Lana del Rey.
"I thought I would be most nervous in those few minutes with my dad before we went into the ceremony room, as I was slightly dreading the thought of walking into a room and having lots of people look at me, but it was amazing just to have 5 minutes with my dad while everyone else was in a different part of the house and we were both surprisingly calm."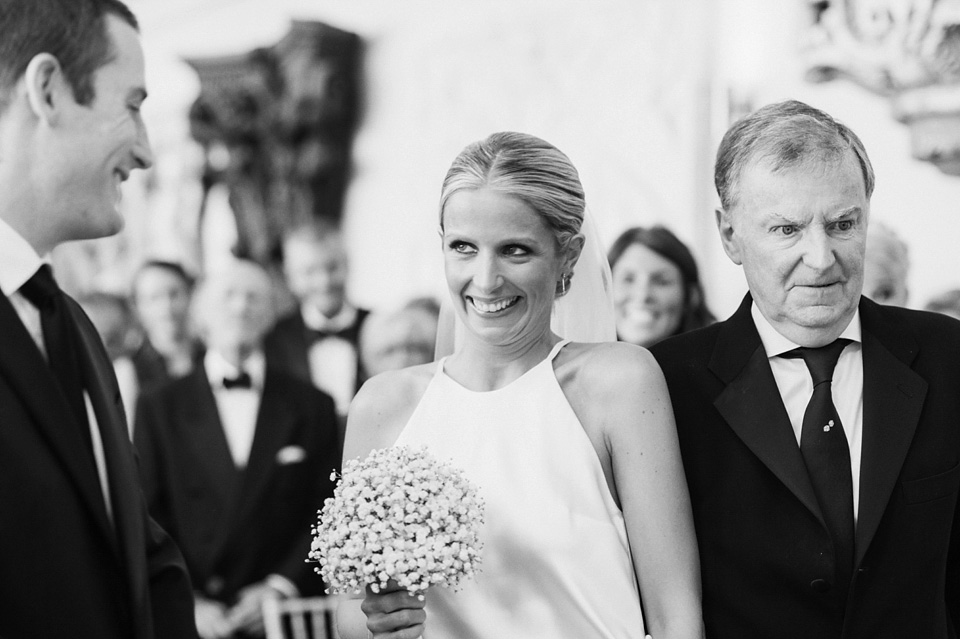 "The ceremony was probably the most special part of the day. Dan and I held hands throughout (clinging on for dear life to each other!) I think we were both surprised by how overwhelmed with emotion we were. It's a little bit of a blur!" 
"We had three readings; the first two were an extract from my favourite book and some lyrics from a Leonard Cohen song. For our third reading, our beautiful friend Henrietta collected little bits of wisdom and advice from our friends and family and put it all together into the most heart warming and funny poem for our third reading."
Dan also chose French tailoring, his black suit is from chic Parisian brand The Kooples.
Instead of cake, the couple chose to have an incredible dessert table and favours of homemade raspberry flavoured vodka. Wood fired pizzas were served from a converted red horse box at midnight to help to soak up the booze!
"I wasn't sure where to begin with finding a photographer but I was recommended Laura by another photographer that I had contacted and was immediately drawn to the beautiful pictures on her website. I loved how so many of her photos were shot in unusual and unexpected places and felt like the individual characters of the couples she was shooting really came out. I loved how she could turn a gritty industrial alleyway into to the most stunning wedding portrait and there was nothing cheesy about her images.
When I first spoke to Laura I explained that I was a bit of an anti bride and not sure about the whole wedding circus being something that I wanted."
"Laura totally got that and made me feel completely at ease. On the day Laura and her assistant Alice were utterly brilliant, so friendly and complete professionals!
I cannot describe how pleased we were with our pictures. I had a day of torture as Laura had sent me the slideshow but Dan was away and I wanted to wait and look at them together – it was so hard not to take a sneaky look! Laura captured every emotion and I love seeing little details and moments that I missed and how much fun everyone is having!
We were so pleased with how the pictures have turned out and so many people have commented on how amazing they are and no cheesy poses in sight! Laura's photos are incredible and something we will treasure forever!"
Words of Wedded Wisdom
"Don't feel the need to stick to tradition just for the sake of it, no matter what anyone tells you!"
Thank you ever so much to Lauren and Dan for sharing your special day with us. Do we have any future Aynhoe Park couples? I do hope that these images from the wonderful Laura Babb have inspired your plans.
Love Caoimhe xx
Photographer – Babb Photo
Venue – Aynhoe Park, Oxfordshire
Wedding Dress – Delphine Manivet from Browns
Veil – Browns
Shoes – Christian Dior
Bride's Scent/perfume – Lea Eau de Parfum by Calypso St. Barth
Groom – The Kooples
Florist – Gerri Rees of Sweet Peas of Great Tew
Rings – Love for Diamonds
Catering – Indulgence Catering + Luca Buca Pizzas
Stationery – Smythson
Hair Stylist – Mustard Hairdressing Salon
Makeup Artist – Charlotte Cowan