Well I certainly needed that sleep last night! What a week last week was – so much to do and a visit to London to attend the press evening for A Most Curious Wedding Fair – some images from which I've been sharing (and have yet to share) on Instagram – are you following?  This morning's wedding is just the tonic after a busy fewy days – a relaxed, woodland,  handfasting affair.  PR Manager Clodagh tied the knot with Elliot, a senior gardener at a large country estate, on 16th August last year at Streamcombe Farm in Dulverton on the Exmoor National Farm.
"We didn't want a theme, we just knew what we liked and what was practical in terms of the outdoor nature of our day and it all just happened to fall together quite nicely. If you had to categorise our day into a theme I guess you could say it was easy, natural and colourful. Neither Elliott nor I are religious so we opted for a humanist ceremony. It gave us the freedom to personalise the ceremony so that our vows truly meant something to us."
Photography Copyright (c) 2015, Kat Hill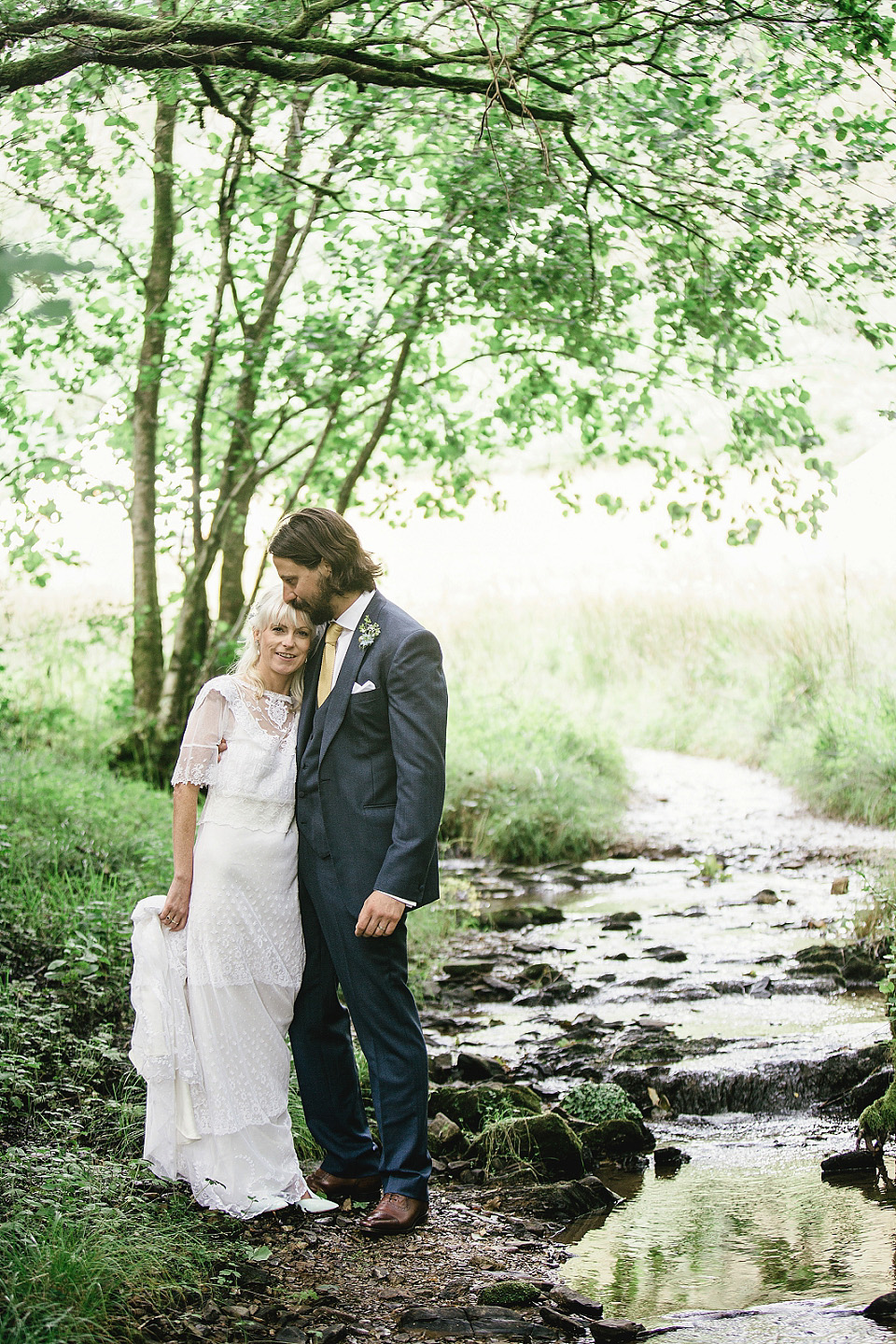 "We had originally wanted to get married in Ireland, where I'm from, but when we looked into it, we realised it would have been a bit of a nightmare logistically and most of the venues were grand establishments that required a large number of guests as a minimum. So we went back to the drawing board and searched high and low for a venue that could provide that low key, intimate feel that we were after.
Streamcombe Farm on the edges of Exmoor ticked all of those boxes and allowed us the freedom to decorate the venue to our taste, another prerequisite for us. Streamcombe's stunning rural location is set against a backdrop of ancient woodland with a stream running through it and this with its wild summer flowers and vivid greenery is what sealed the deal for us. Our guests could also camp in luxury bell tents or pitch their own tents in the beautiful surroundings. We had the entire place to ourselves and could make as much noise as possible, another deal breaker!"
"We used The Flower Lady from nearby South Molten. She created beautiful bouquets with seasonal summer meadow flowers in a mix of colours. She also did the groom and groomsmen's pin holes and a crown for my hair which I took apart and clipped the flowers into my hair instead.
Elliott, being an gardener, planted lots of pretty flowers (dahlias, sweet peas, corn flowers, gypsophila and thalictrum) early in the year and cut before our wedding to decorate the venue and tables with. Everybody staying on site helped decorate the venue with the flowers the day before the wedding."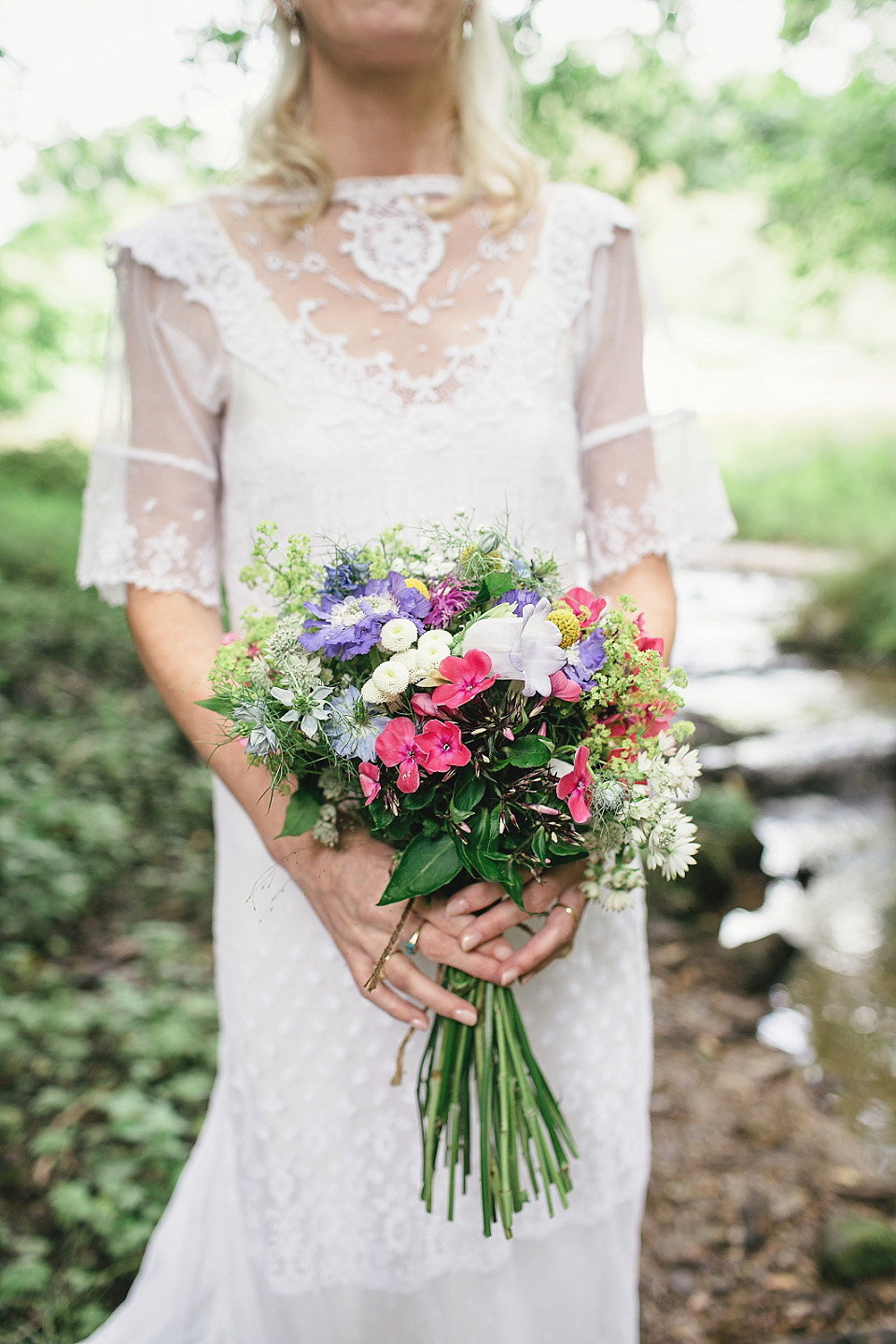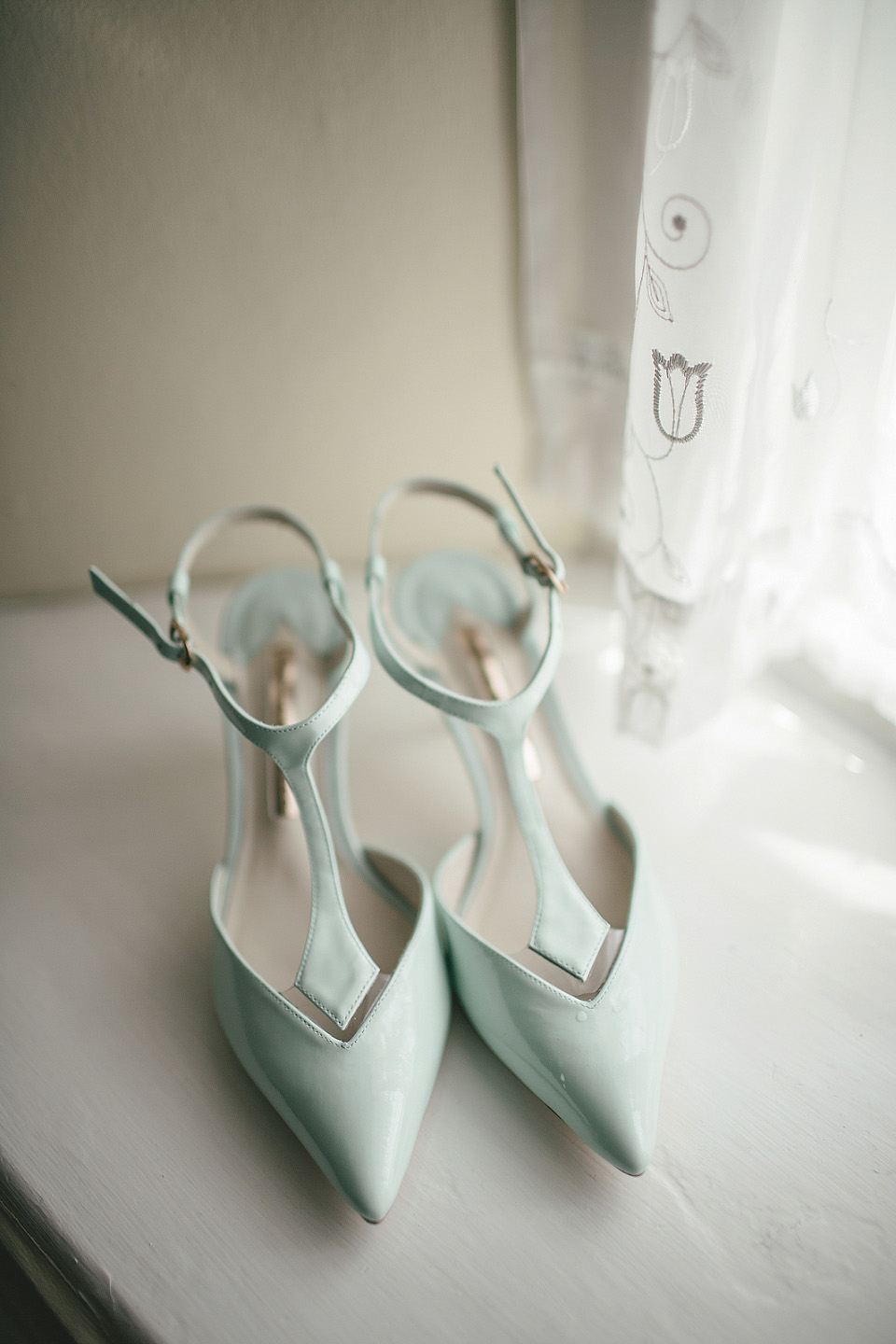 "I'm not a fan of wedding style shoes so I invested in a pair of Sophia Webster t-bar heels that went well with my dress and crucially, were comfortable enough to walk and dance in. I can also wear them again."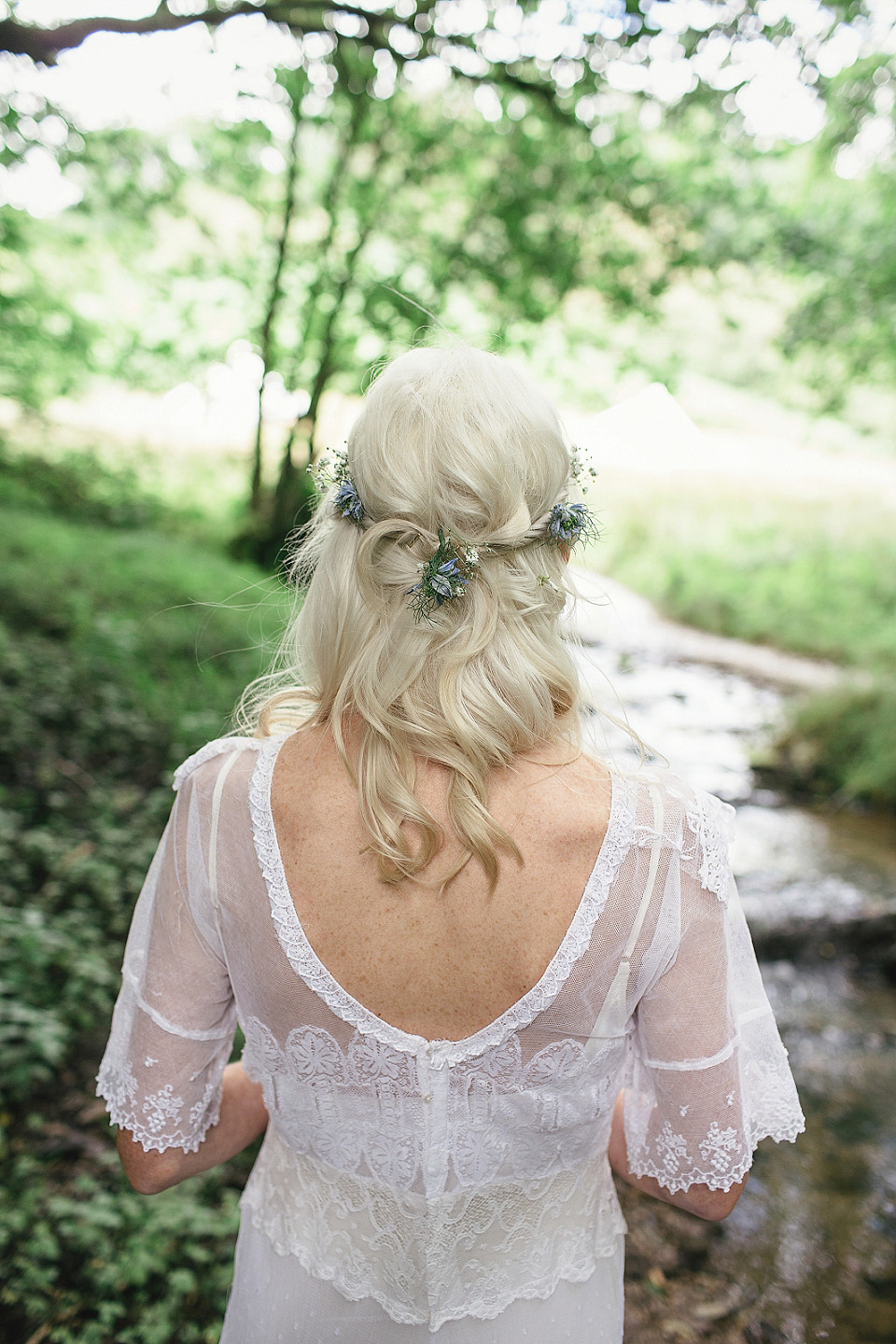 "Our photographer was Kat Hill, who We found through a friend who had been to a wedding she photographed. We loved her style and were delighted to find out she was available. She was brilliant on the day, professional and attentive with a sharp eye for would look good in pictures. We were really happy with how they turned out and couldn't recommend her enough. A friend of ours kindly took pictures of the evening."  
 "Elliott and I met in a pub in Brixton, London where we both lived in 2007. On our first date we just clicked and found it a bit surreal how alike we were and how we had been in the same room together at gigs, festivals and clubs times since we were teenagers! We knew even then that it was meant to be. We had an amazing six years together having a lot of fun and in the summer of 2013 Elliott proposed to me during a trip to Brooklyn, New York. It was an amazing summer's day and we spent it at an outdoor Jon Hopkins gig at the MOMO PS1 venue. We got married less than a year later. "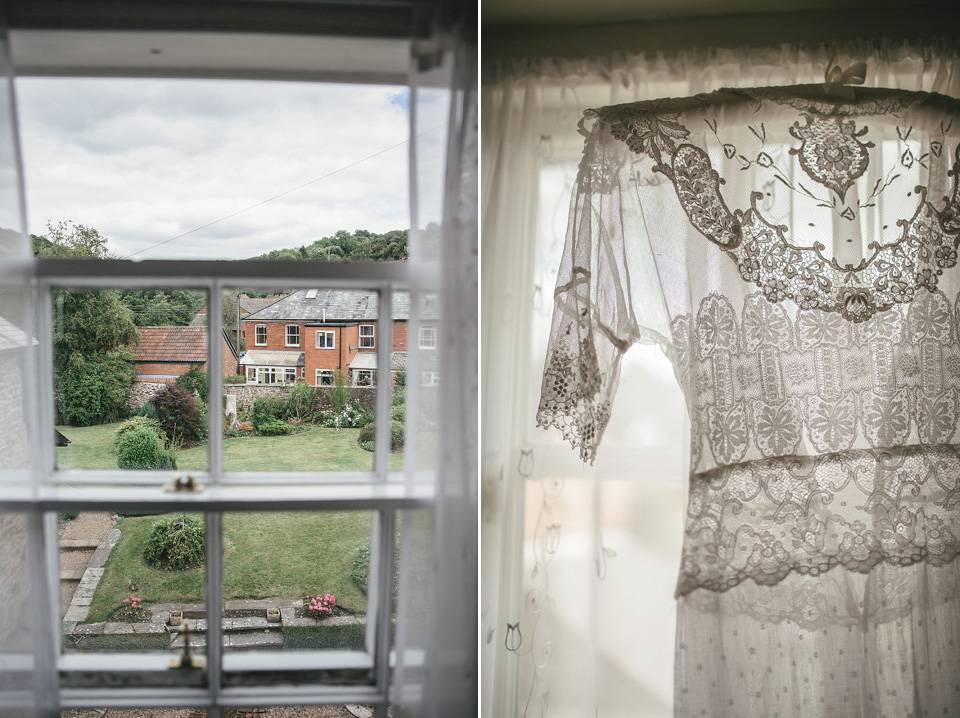 Clodagh's most beautiful gowns was from Jane Bourvis of London – a designer not unfamiliar with these pages, for she has supplied the gowns for many other featured brides too.
"I'm not a huge fan of traditional wedding dress styles so it took me a while to find something that I really liked. I had settled on an original mod-style 60s dress but I went to Jane's shop at the last minute and changed my mind. Jane's shop is a treasure trove for vintage and antique lovers like myself.
I immediately fell in love with the art deco detailing in the lace of my dress which dates back to the Edwardian times. Jane adjusted it to my size but asides from that there was fairly little work to be done considering its age! It had an ethereal quality that perfectly suited the venue and my personal style. I think it divided opinion though, as my clothes often do."
"I wore a pair of 1930s pearl drop earrings were my something old from my mum, a vintage pearl bracelet borrowed from my friend and my mum's turquoise ring as my something blue."
"A stylist from local hairdressers, How's The Hair in Dulverton, came to our B&B and did everybody's hair and a make-up artist from the local beauty salon, Isis Wellbeing in Dulverton, did our make up on the morning. It was chaos naturally but the girls did a wonderful job despite it! I can't thank them enough.
I had a fresh flower crown made but it looked ridiculous on me so I plucked out the flowers and pinned them into my hair which was left loose and natural."
Clodagh's choice of scent for the day was her regular, daily go-to, by Anik Goutal.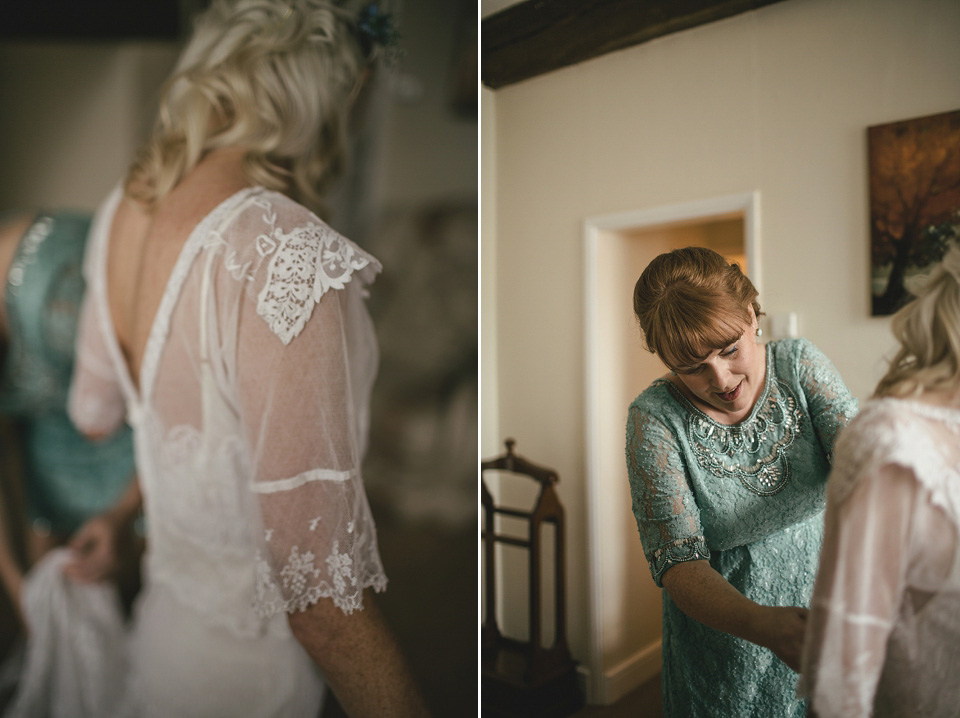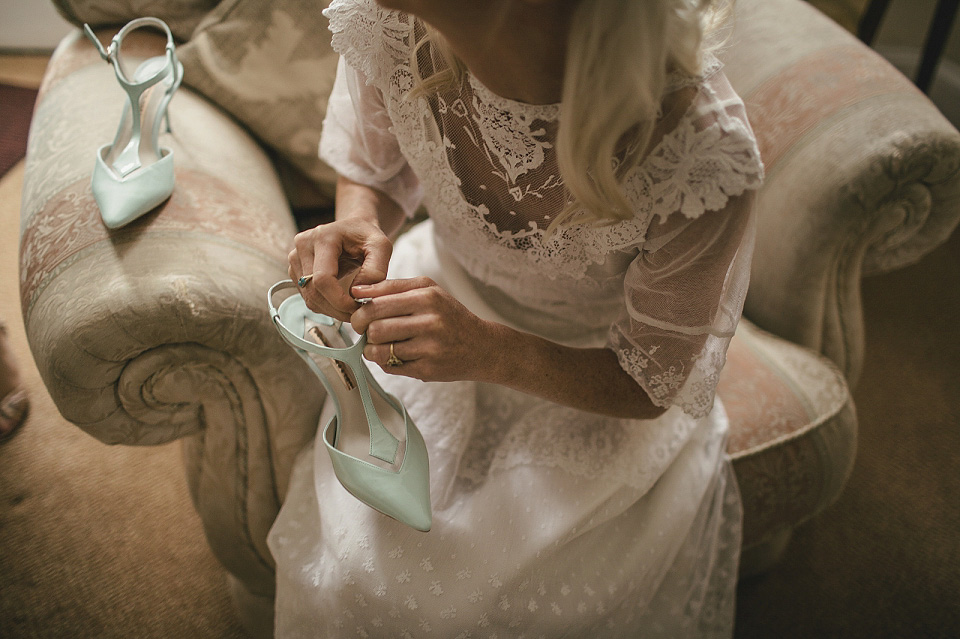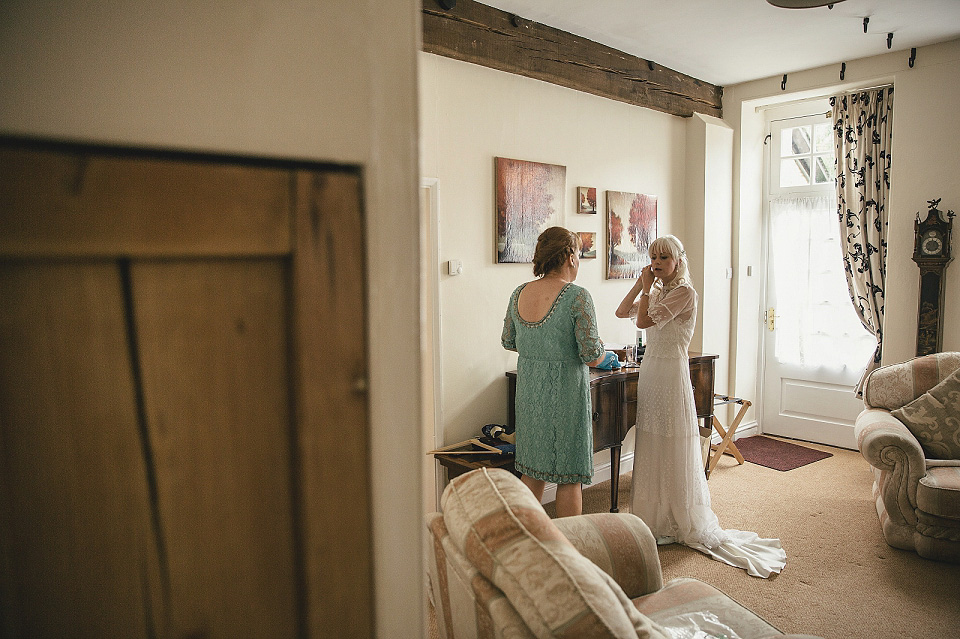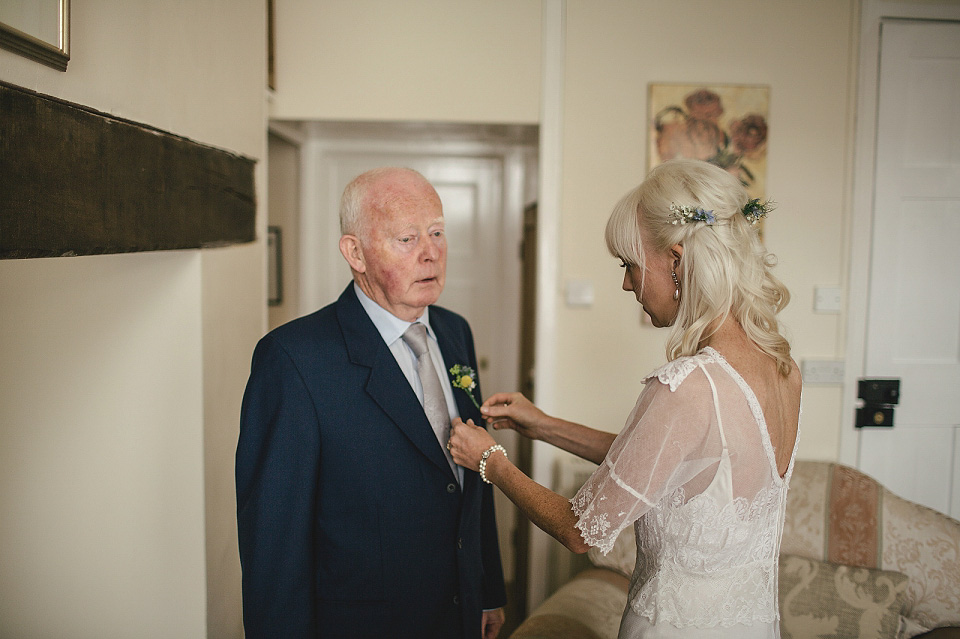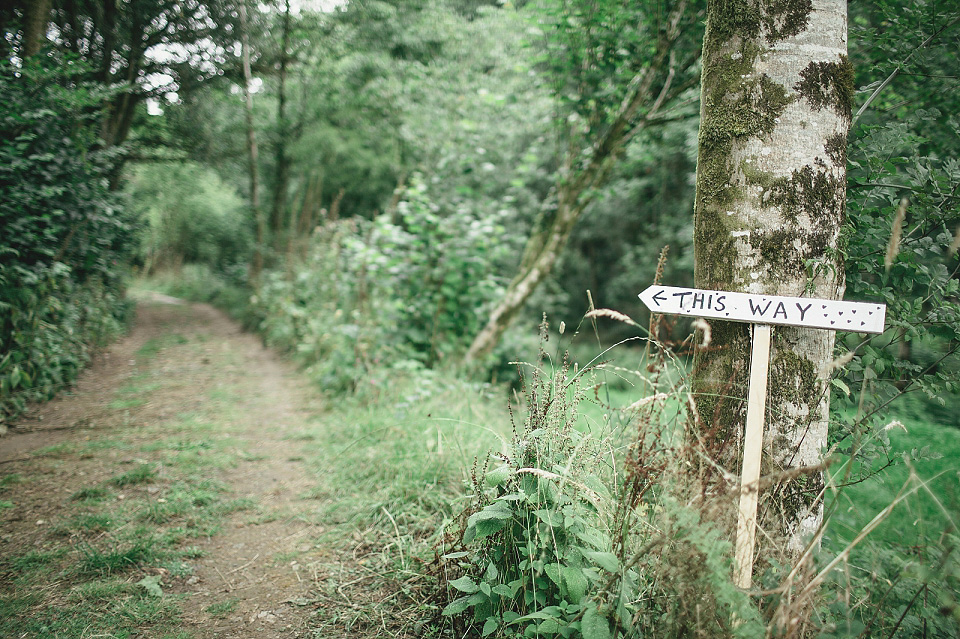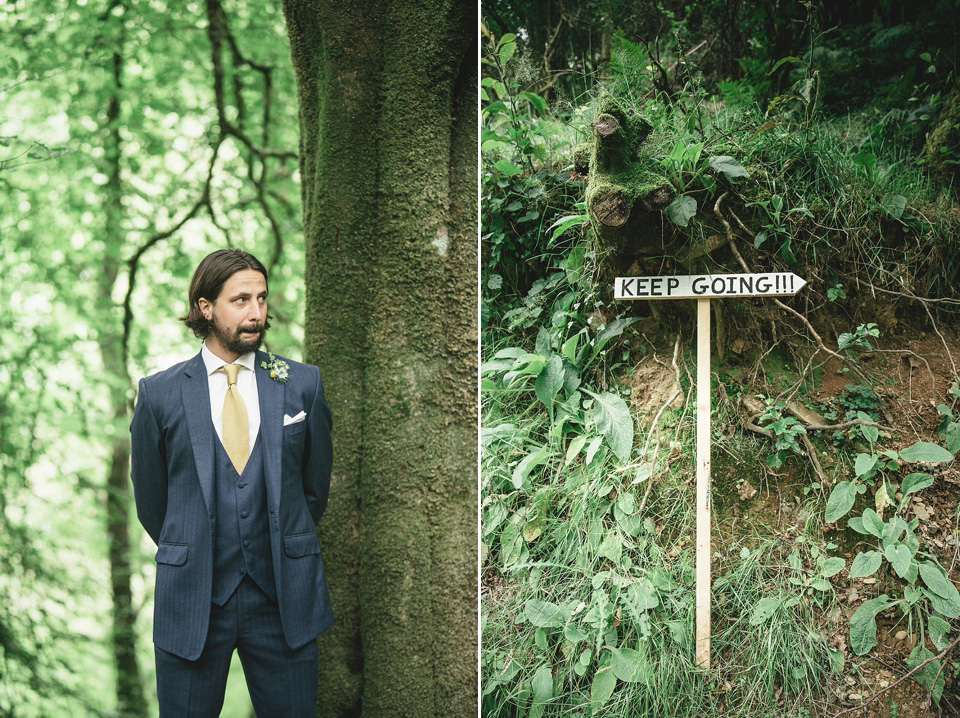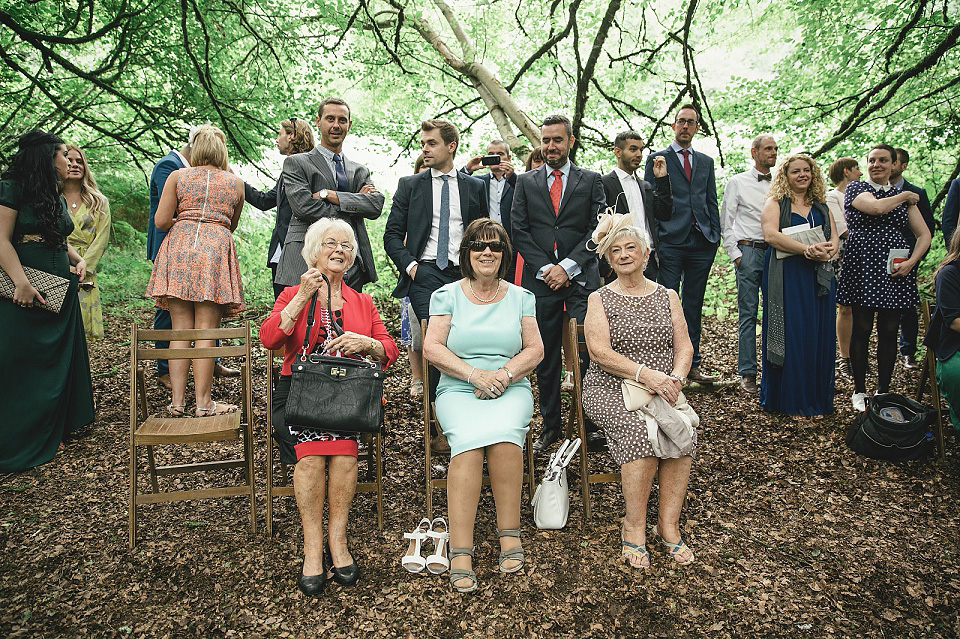 "I let my bridesmaid choose whatever dress she wanted (I trust her taste) as I wanted her to be comfortable and feel great too. She chose a lovely sage green vintage style dress from Monsoon which suited her and the day perfectly."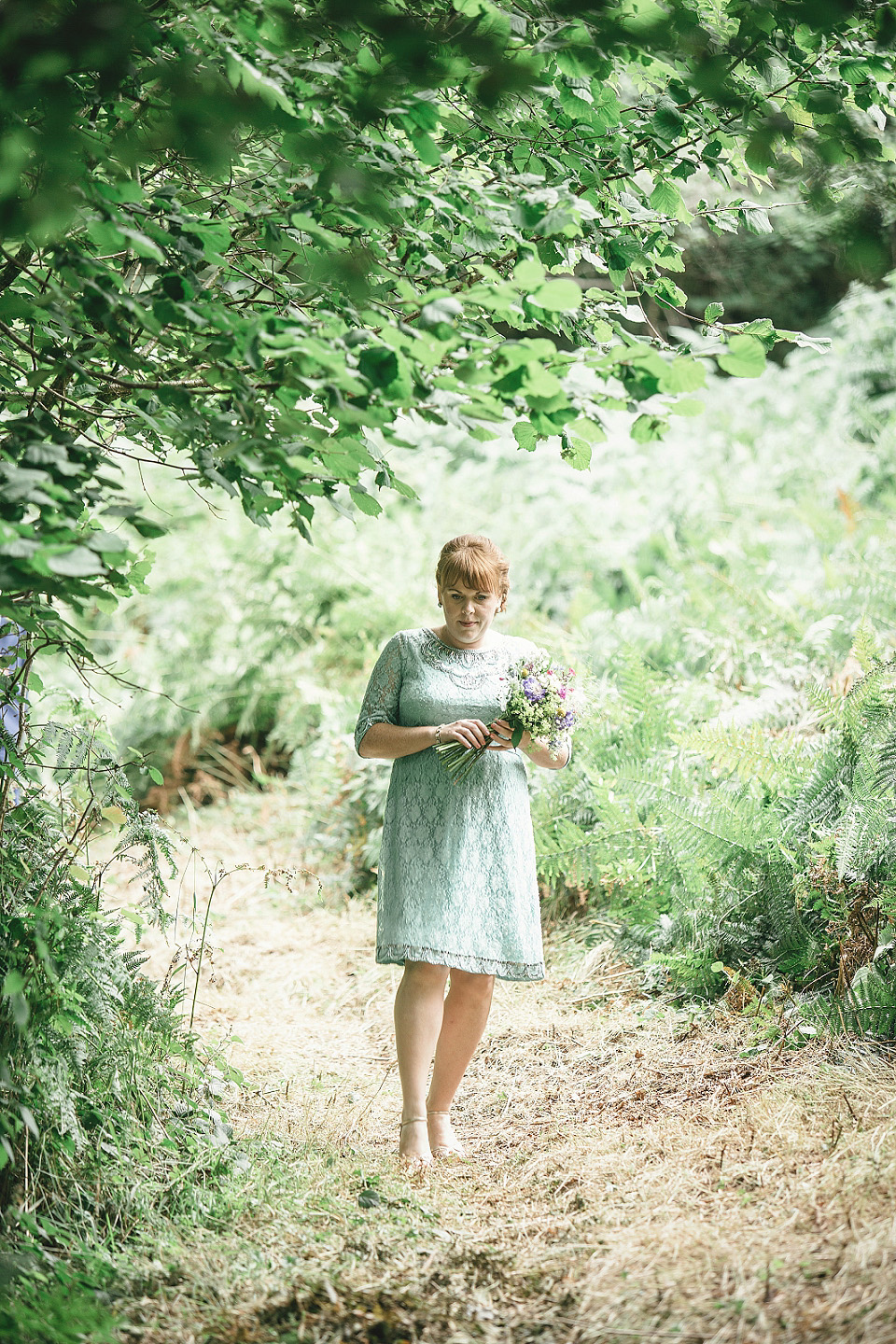 "A friend of ours is a tailor made Elliott's suit to fit and chose the shoes and accessories to go with it."   
"My dad walked me down the make shift aisle to Heartbeats by the Knife played on the harp by Bristol-based harpist, Emily Mullins."   
"Our humanist sermon, David Pack, was fantastic and worked with us to personalise our vows. We met up a few times before the wedding so he could learn about us, our likes, interests, and what we have in common as two people etc. The result was a set of vows which beautifully told the story of how we met and the journey that led us on the path to our wedding. There wasn't a dry eye in the house! We can't thank David enough for helping us create such a memorable ceremony."
"We chose two of our favourite poems which were read during the ceremony by my brother Derek and Elliott's sister Caroline. They were 'Dance me to the End of Love' by Leonard Cohen and 'Carry Her Over the Water' by WH Auden."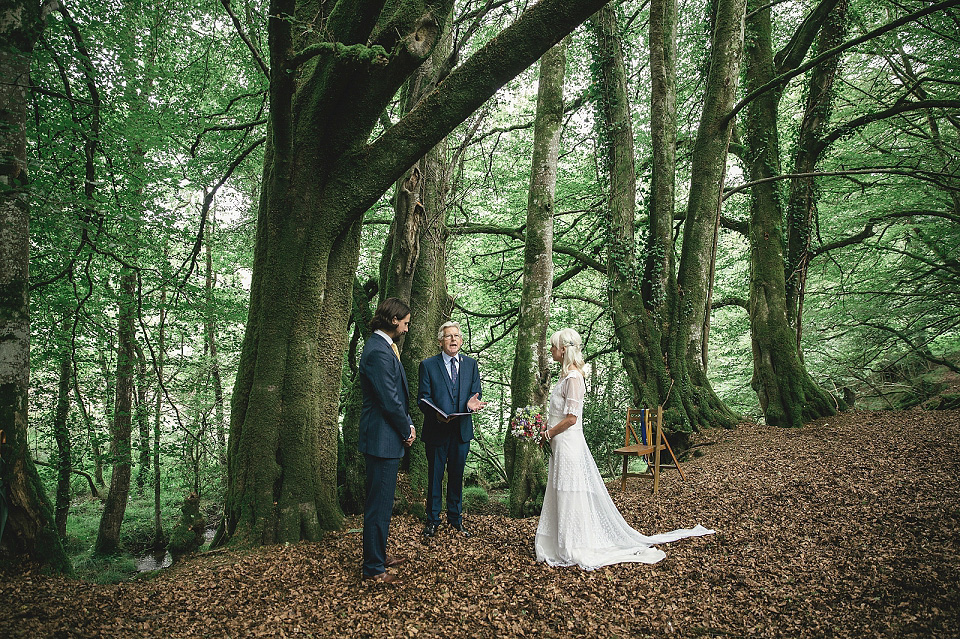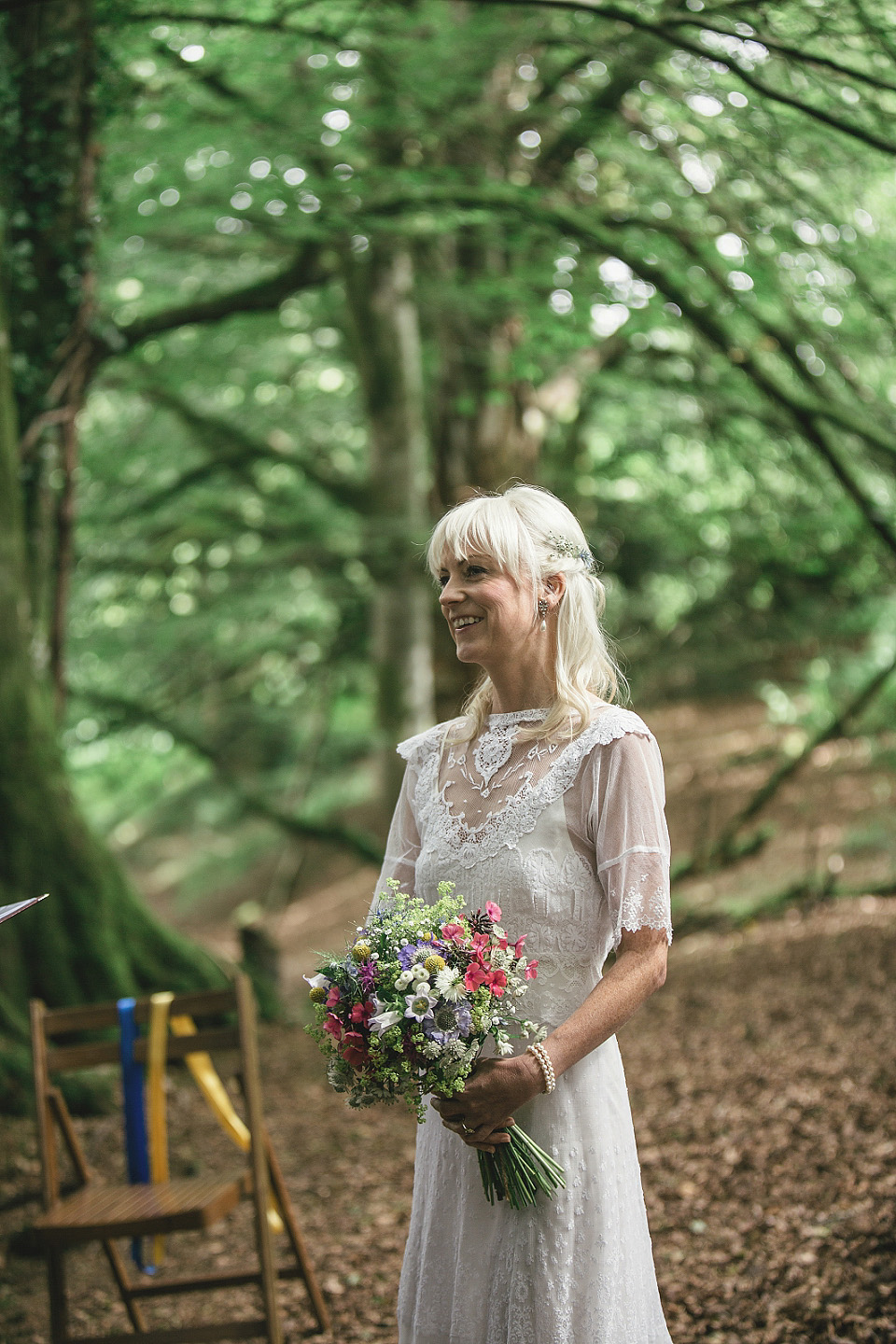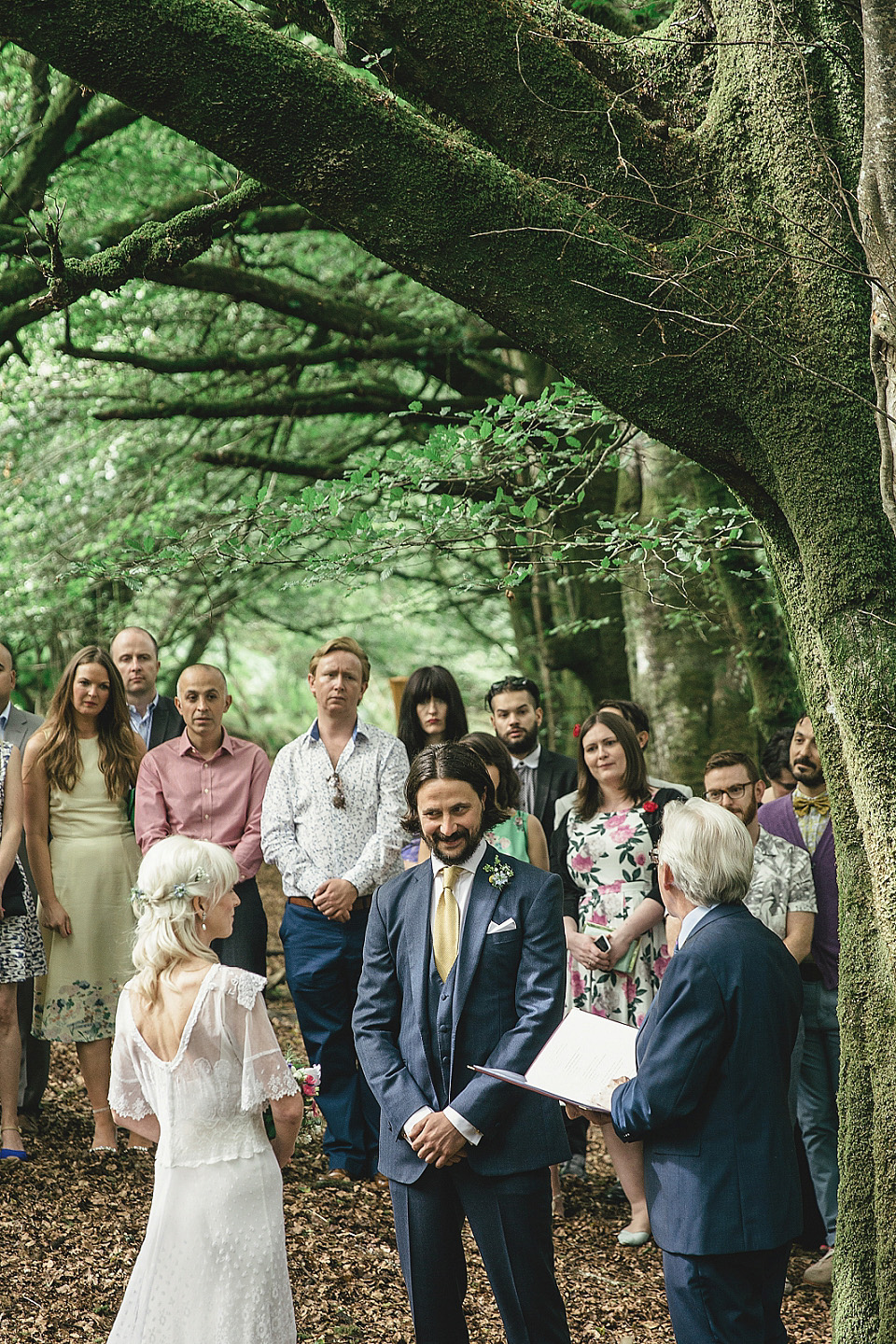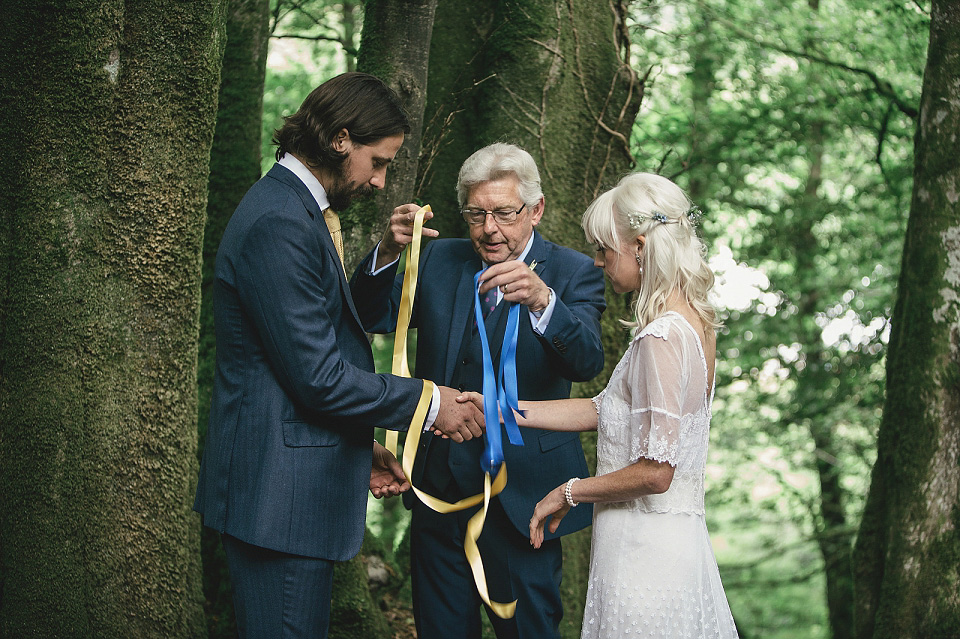 "My Victorian engagement ring is from antique jewellers Baxter and Hall in Brighton and our wedding bands are from Scott's of Dorking."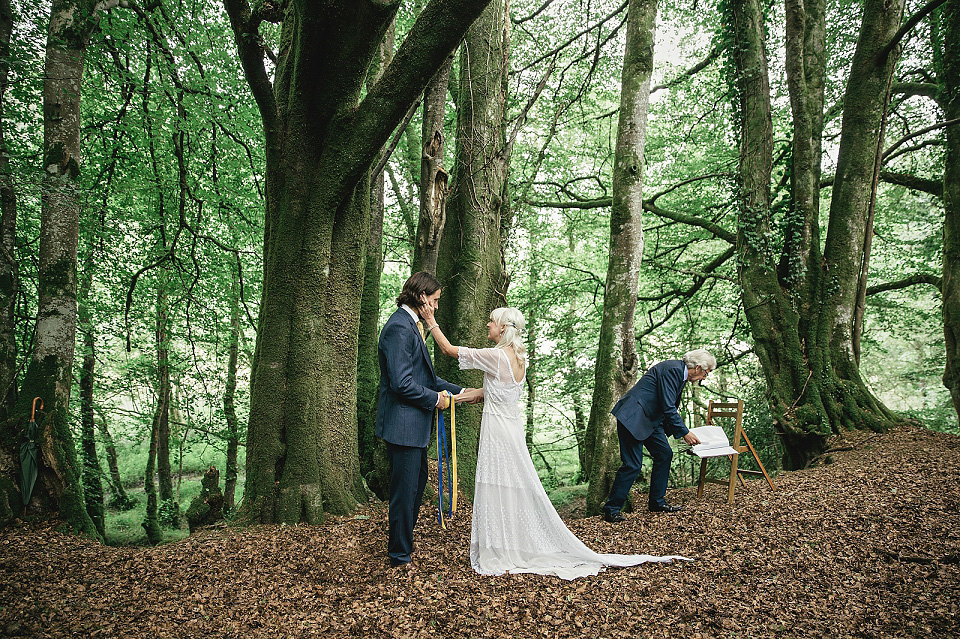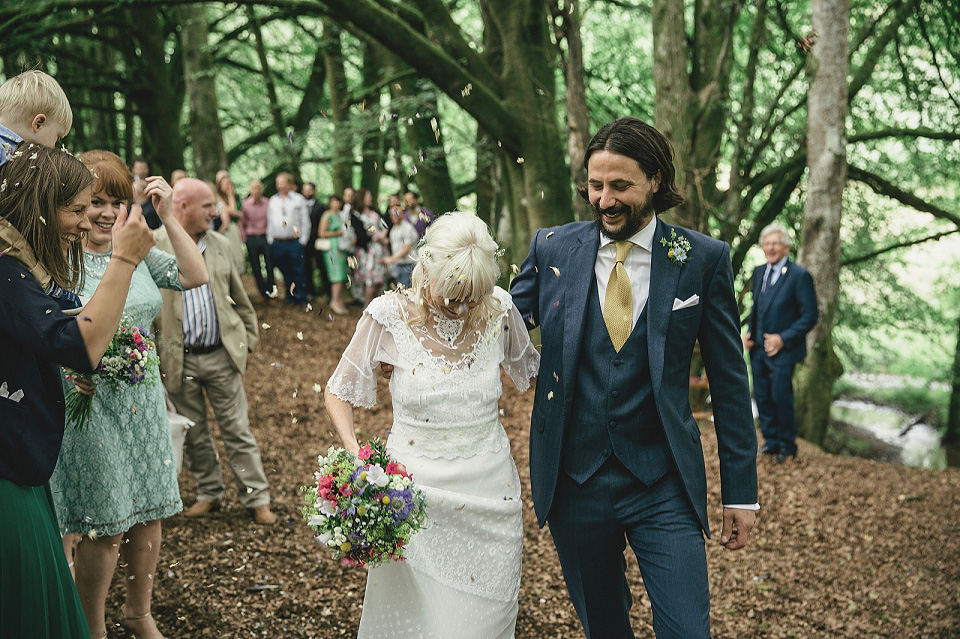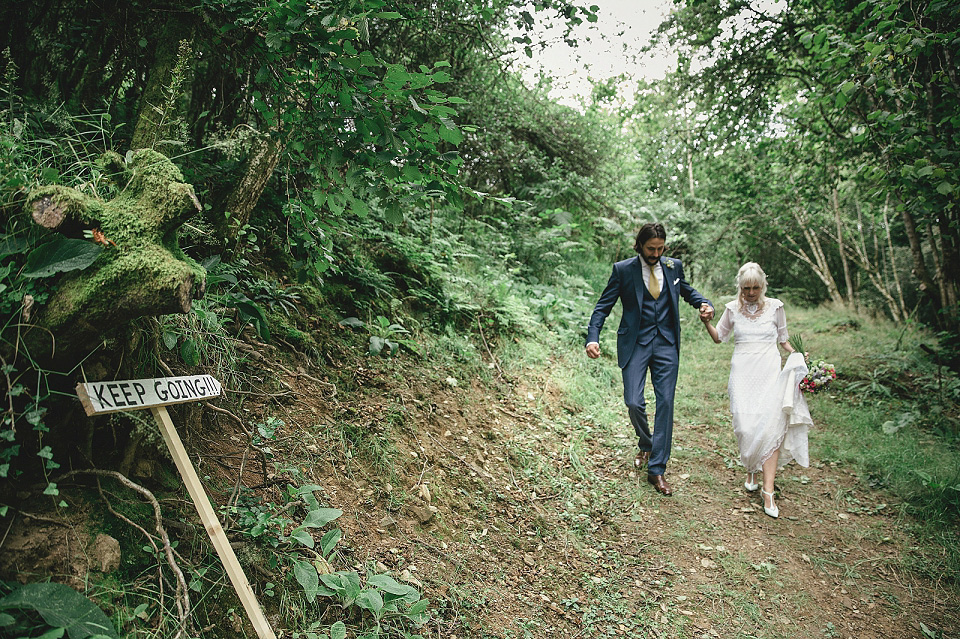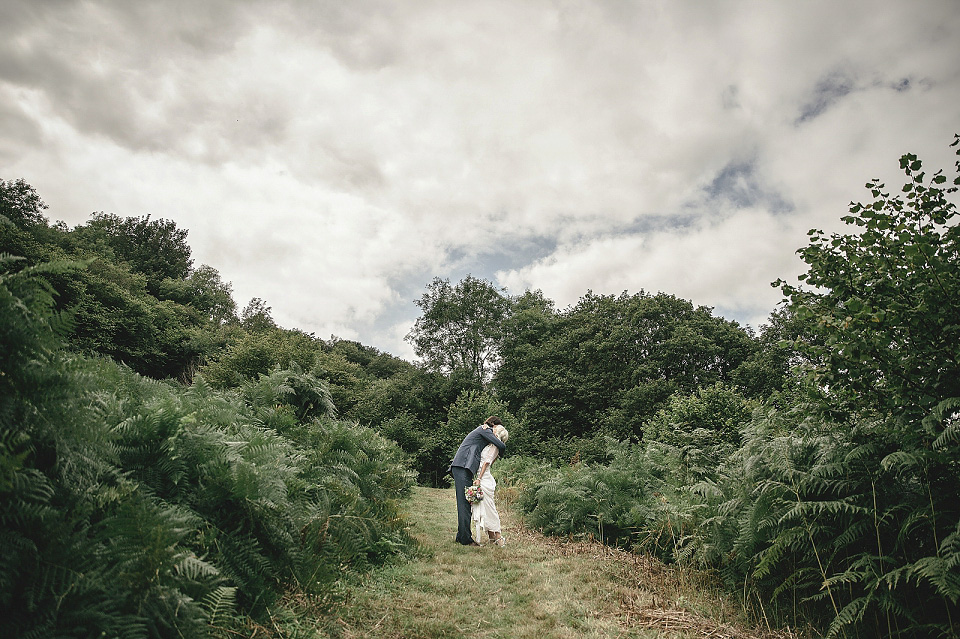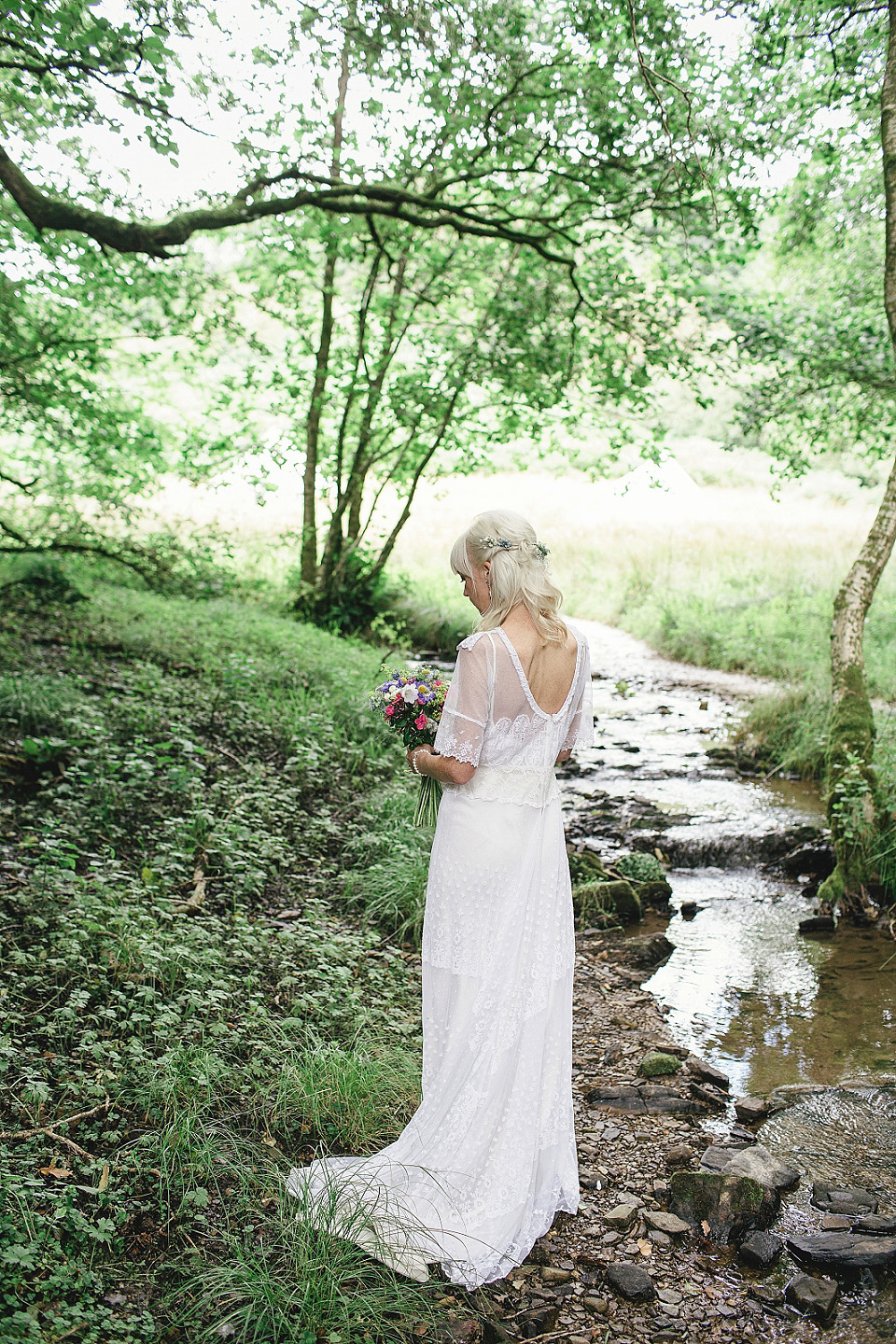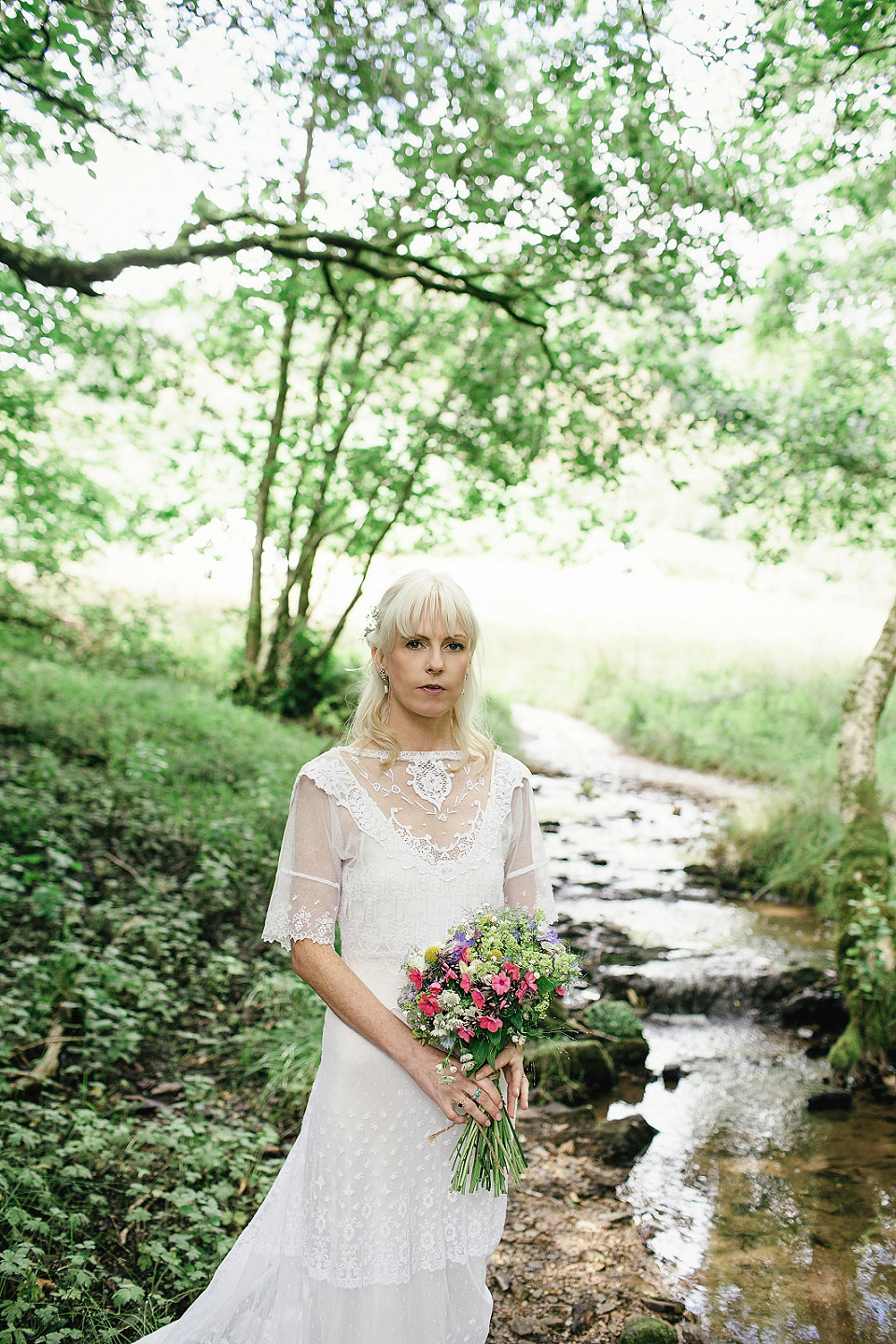 "After a hot and sunny summer our wedding day turned cold and showery (typically) but I remember at one point during the ceremony we were exchanging vows and the sun peeked out through the leaves and shone down on the two of us and I remember feeling so blessed and happy. I also remember thinking to myself whilst dancing with Elliott and all our friends and family that I was, as the cliché goes, having the best day of my life. Elliott said the same.
Much of the vibe was down to our friends who v kindly brought their own decks and played non-stop amazing songs at very high volume. It didn't go down to well with the olds but you can't please everybody!"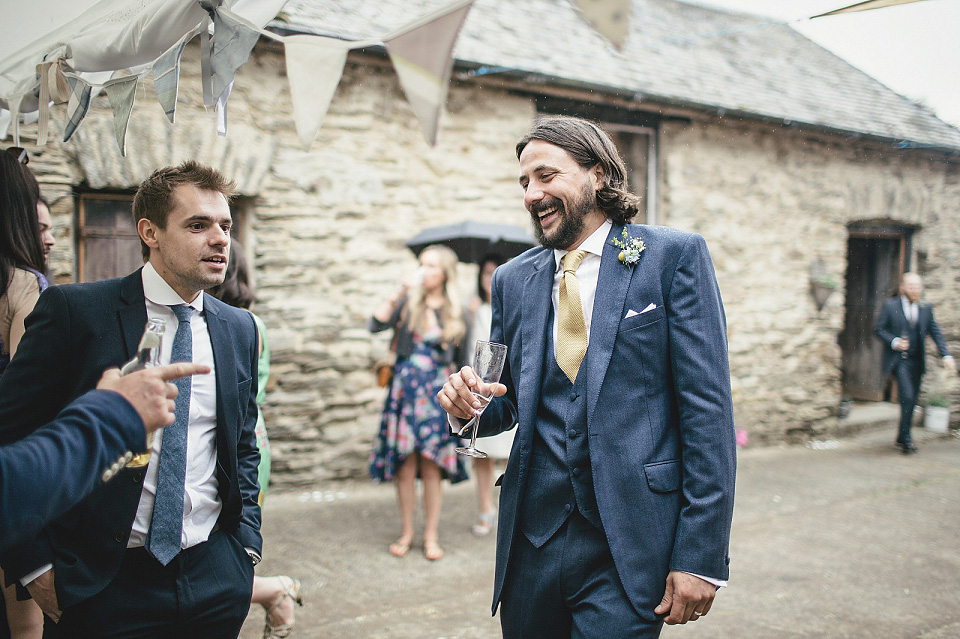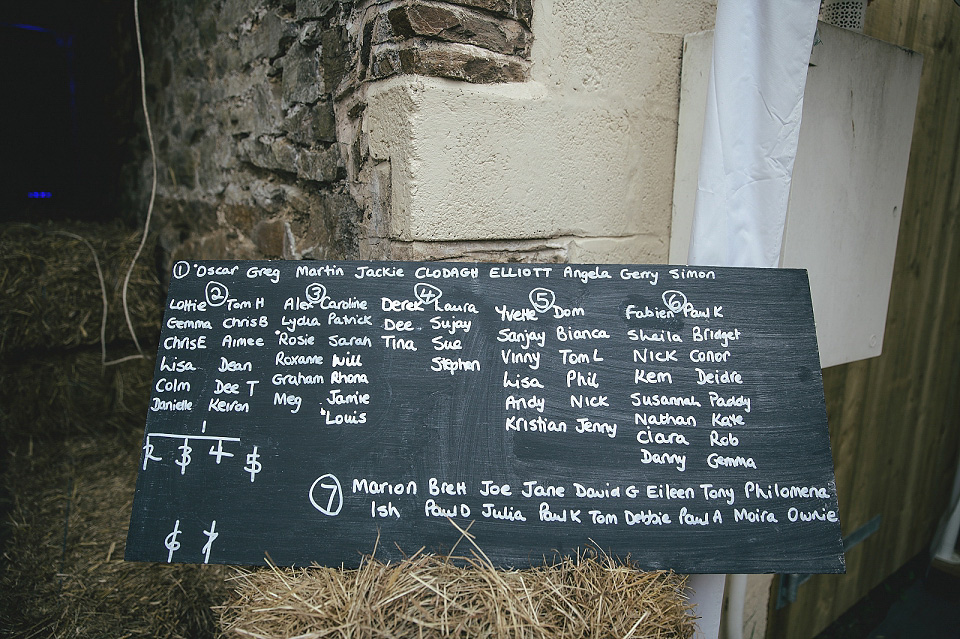 "We blew most of our décor budget on a custom made pink neon sign with the title of the Talking Heads song, 'This Must Be The Place' which was placed above the DJ. In the months leading up to the wedding I scoured car boot sales and charity shops for old vases and medicine bottles to hold flowers for the tables and around the venue. We also bought scented candles in Zara Home. Elliott's mum very kindly crotched beautiful white doilies for underneath vases and flower pots.
It's amazing how lots of flowers and details like old vases and doilies can spruce up even the most rustic of settings. For the marquee we bought paper lanterns and borrowed bunting and a disco ball from friends."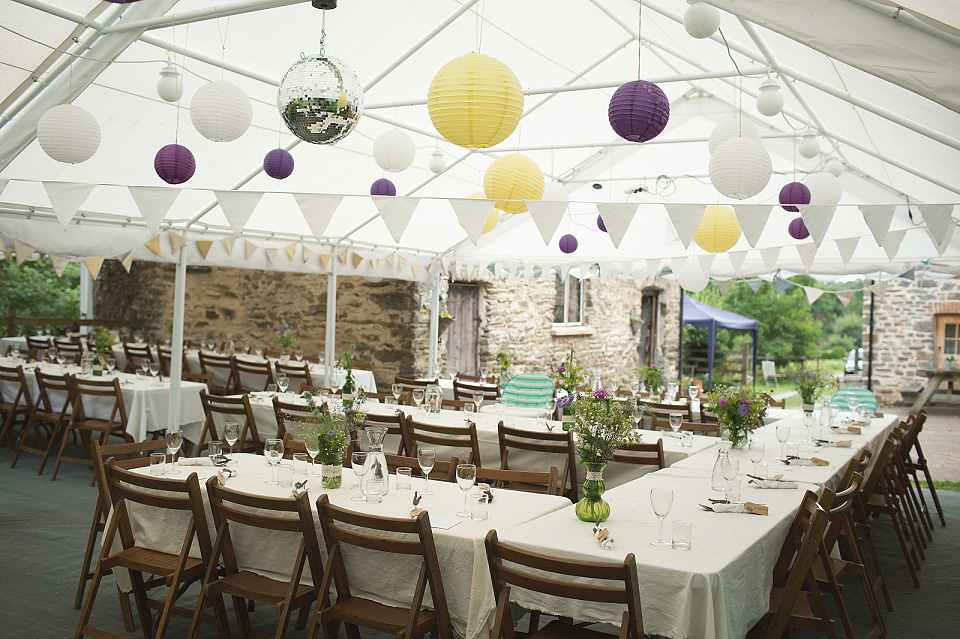 "We ordered our invitations from Lucy Says I Do on Etsy in a floral print which matched the outdoor summery vibe of our wedding. We made our own place name cards using brown luggage tags and a print stamp set . We also had a custom made stamp of a heart with our initials inside for a more personal touch. It was fairly painstaking trying to hand print everybody's names in a presentable fashion but with wine and music we got through it in no time. We tied them with lavender from the garden around napkins which looked very pretty on the tables."
"We decided not to offer wedding favours and spent the money on extra wine for the tables instead."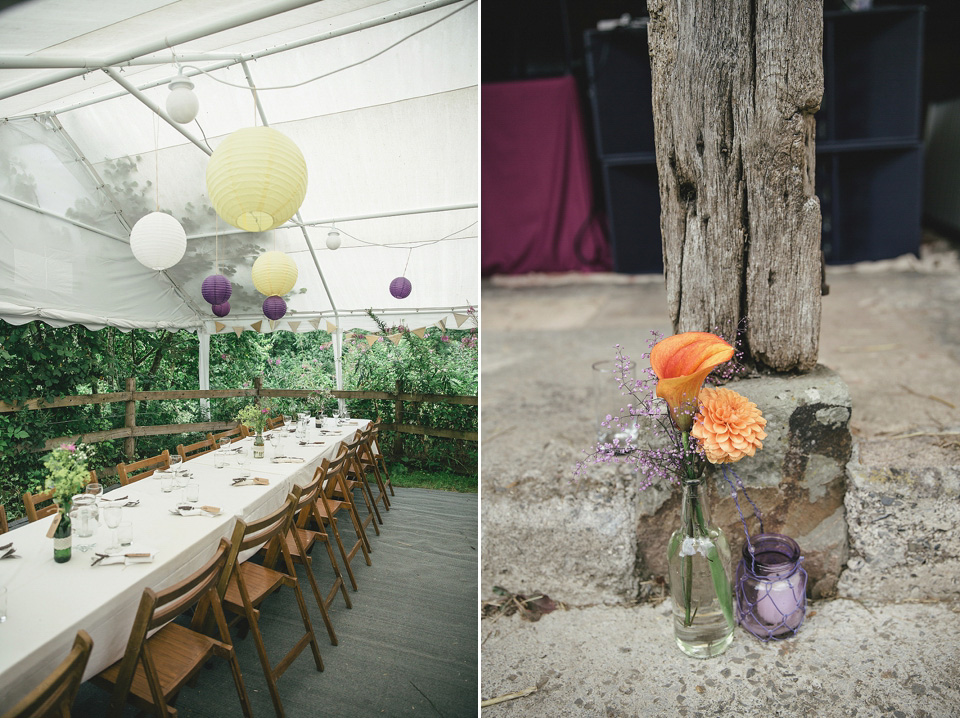 "We weren't sure about a cake but decided to get one for our older guests who love a cup of tea and some cake after dinner. We went local again with the Exclusive Cake Company in Dulverton. Baker Chris created a delicious three layer cake made of chocolate, lemon drizzle and fruit layers topped with white icing. We gave her lavender from our garden for decoration and our hosts at Streamcombe kindly presented it on a rustic stand made from wood."
"Streamcombe Farm Cookery School provided all of the food throughout the day. We had a delicious hog roast which our chef and host Ian roasted on a spit from dawn and served up with a colourful array of salads, homemade breads and Eaton mess and chocolate merengue for dessert. It was perfect summer party food. To line stomachs at night they served up the leftover hog roast in rolls as well as a selection of cheeses and wedding cake. Nothing was wasted!"
"Our friends Tom Light and Vinnie Synan run a music equipment company called Modern Events so they very kindly provided all the music kit and lighting as a wedding present and also DJd alongside our other DJ friend, Sanjay Sur.
We decided on 'Slow Show' by the National for our first dance and got everybody up on the floor to join us for our second song, 'This Must Be the Place' by Talking Heads. From that moment on nobody left the dance floor which was amazing."
(Images below supplied by friends)
Words of Wedded Wisdom
"Set a budget, save up and don't get into debt. Focus on the experience instead of the material and be creative. The devil is in the detail! I would also recommend that brides book hair and make-up well in advance, even before you buy your dress. I didn't do that and got a trial the day before our wedding when my mind was firmly elsewhere so on the day it was quite stressful as I wasn't sure what I wanted.
I found the morning getting ready quite stressful so in hindsight I would have drunk less the night before and got up earlier so we all had more time to get ready. I ended up leaving for the venue from our B&B without any make up to top up or overnight clothes. I had to borrow some clothes from the campers for the after party in the campsite. I probably wouldn't have walked through mud from the campsite in the middle of the night in my Sophia Webster shoes either! I managed to salvage them luckily.
I also loved Love My Dress for inspiration and found many of our suppliers this way."
What a beautiful day and lovely way to start the week – my love and thanks to Clodagh and Elliot for sharing their beautiful day, and to photographer Kat Hill for once again allowing her beautiful photography to grace our pages.
I hope these images assist you in having a really positive start to the week – see you a little later on the blog for more exquisite wedding inspiration.
Love Annabel x
Photographer – Kat Hill
Venue – Streamcombe Farm in Dulverton on the Exmoor National Farm
Wedding Dress – Jane Bourvis (89 Golborne Road, London W10 5NL)
Headpiece – fresh flowers
Shoes – Sophia Webster
Accessories –  1930s pearl drop earrings + vintage pearl bracelet + turquoise ring
Perfume – Anik Goutal
Groom – tailor made by a friend
Bridesmaid – Monsoon
Florist – The Flower Lady
Cake – Exclusive Cake Company in Dulverton
Entertainment – Modern Events + DJ Sanjay Sur
Rings – Scott's of Dorking
Catering – Streamcombe Farm Cookery School
Stationery – Lucy Says I Do on Etsy
Hair Stylist –  How's The Hair in Dulverton
Makeup Artist – Isis Wellbeing in Dulverton