Every once in a while, a wedding comes along that completely knocks my wedding lovin' socks off.  This wedding had me in a spin from the minute the bride sent me her amazing photographs – my screen was full of colourful kitsch and memory prompters of a childhood filled with Sindy doll love 🙂
The bride you see here today is lovely music video and commercials produce Francesca, also owner and founder of The Fabulous Vintage Bride (watch out for more on this brilliant little wedding business soon on Love My Dress).  Fran married film editor Steve on 23rd August last year with a reception held at Brighton's Proud Cabaret – complete with waitresses dressed in vintage Playboy Bunny outfits that the bride sourced herself. I mean, this really is a fabulous wedding!
"I'm born in the wrong era! For me the 1960's has the most beautiful and interesting designs.  It was very full on pulling our wedding all together in just six months. I'm 38 now so thought, why wait to the following year to get a few more wrinkles?"
Photography Copyright (c) 2015, Dragan Zlatanovic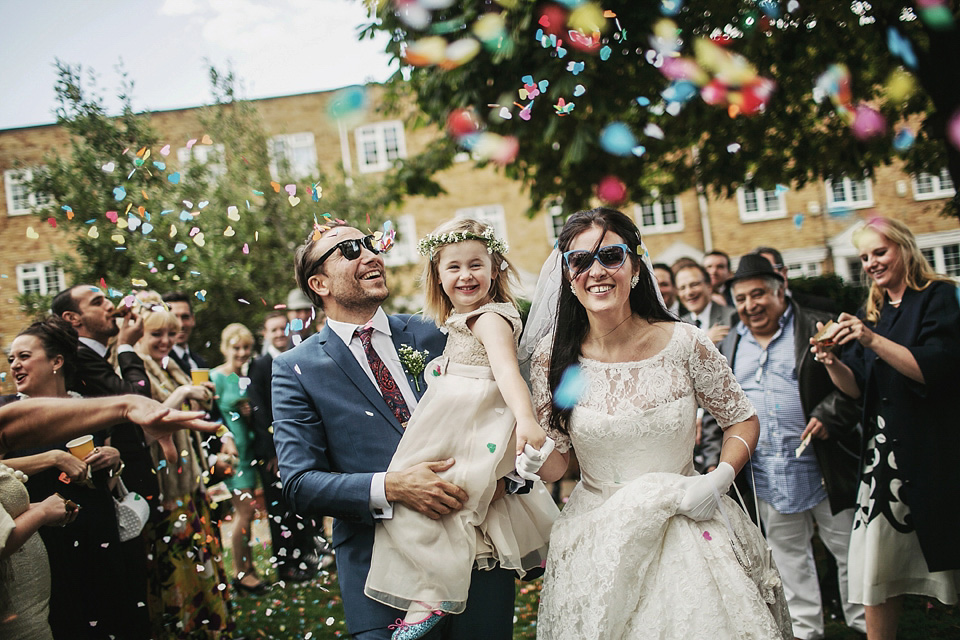 "Although we live in London we've always loved Brighton – Steve went to Uni there but we choose the location mainly due to the brilliant venue. I've always had ballroom look in mind, somewhere that has an interesting history. Proud has been a boxing club, gentlemen's club and used as an air raid shelter in world war II. A venue that has snakeskin booths and rows of globe chandeliers to die for – having Proud as our wedding venue was a no brainer.
We've always wanted 'Footloose' to to kick in at the first song after our first dance – guess what was playing when we spontaneously visited Proud? It also it offers a late 2am licence – I've been to many wedding when I've felt disappointed at having to leave at 11pm."
"My dress is a whole story in itself.  I couldn't find an original vintage gown that suited my shape (the dress shopping part was my least favourite bit – thank god for my amazing best friend). I always wanted to get married looking like Priscilla Presley when she married Elvis, but you gotta work with what you have. I wanted a dress that was full lace and the lace details was exceptionally pretty – plus it pulled me in at all the right places! I pretended I was one of those brides from cover of the old vintage wedding dress patterns.
I actually kept putting the dress shopping off and then went for it six weeks before the wedding!  I was in complete denial about being the centre of attention.  I found a very pretty vintage inspired lace dress by Justin Alexander and added sleeves and altered the neckline and bust. I bought it from Angelica Bridal in Islington."
Fran accessorised her dress with an original 60's veil that she purchased from Charlie Brear.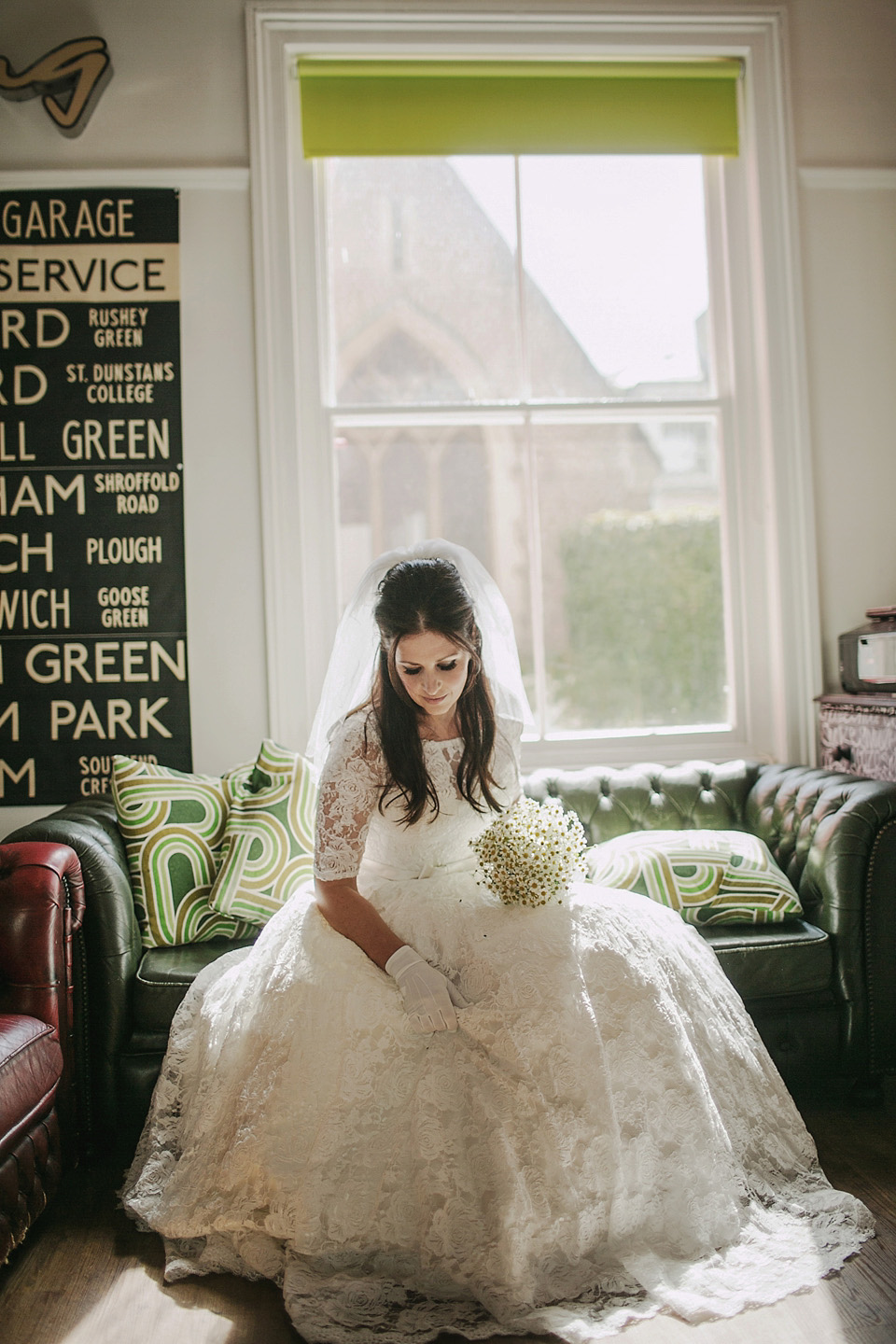 "The decor was the most important thing to me – even more than how I looked!  I had to get the styling right before anything else and spent so much time putting the look together. I really wanted everything to be designed by me – we literally set up craft corner/room/floor in our house. I bored everyone senseless with my ideas!
I quickly realised I could decorate my wedding with anything I wanted to – and for me, that meant no bird cages!  The main thing I wanted from my wedding was a day filled with FUN for everyone, so the decor needed to be kitsch, colourful and totally fabulous."
"The decoration made my guests Instagram like crazy, so with this in mind and the overwhelming excited compliments I received, I decided to start my business The Fabulous Vintage Bride. My background as a producer, fine art degree and having such an eclectic range of vintage props have all combined to start this creative new venture.
I've just styled a wedding where a 1960's Batman and Batwoman Barbie made an appearance and I'm currently working on vintage paper dress up doll centrepieces for another bride. It's all very exciting!"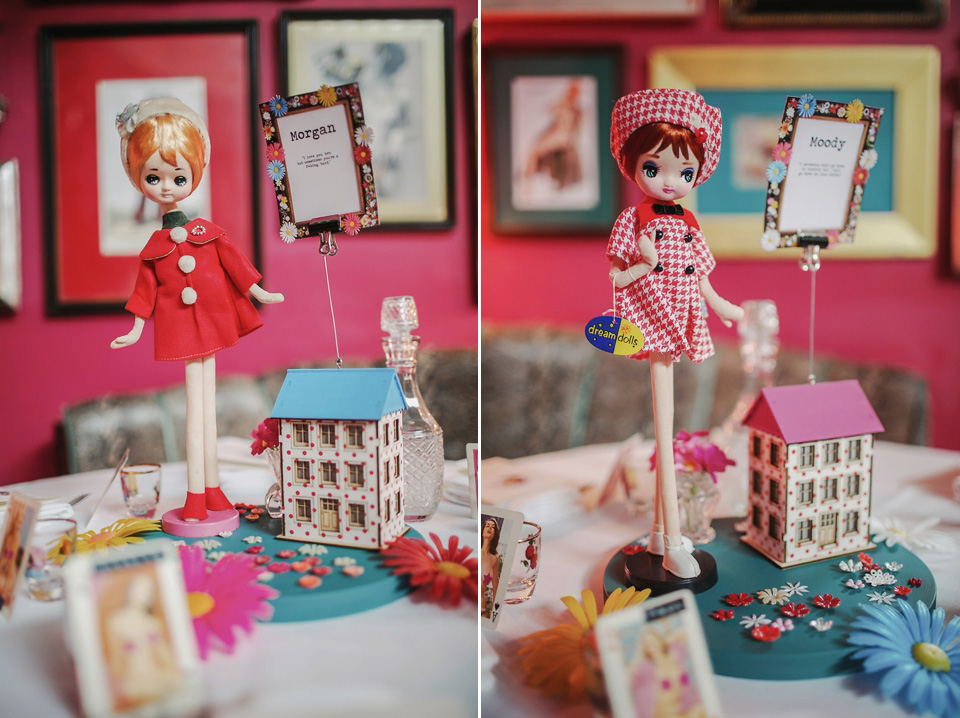 "I wanted to keep the kitsch and colourful theme running throughout our wedding reception. I managed to source some fabulous 1960's Playboy bunny girl outfits, based on the original design, for our gorgeous waitresses to wear. They looked amazing as they stood in a line outside the venue as the guests arrived. My table settings were a mixture of 1960's Bradley dolls and what I call drunken desperate housewife Sindy Dolls also from the 60's – I spent forever collecting everything to create these little table installations."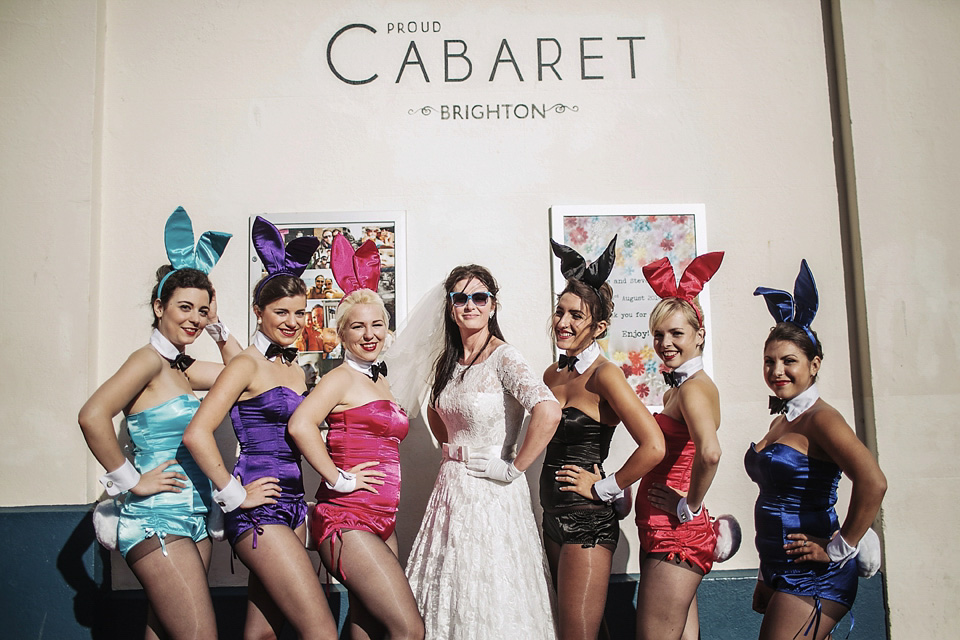 "We met years ago working on a terrible music video and didn't think much of each other, to put it politely!  A few years later, we bumped into one another at an industry awards party and that was it. I whisked Steve off on a surprise birthday trip to Amsterdam three weeks after our first date – which was brave, bold move, but one that won his heart. We got engaged on Christmas day and our daughter carried the ring to me on a little pillow (it then got dropped under the sofa and we were all on our hands and knees trying to find it).  A proper movie moment."
The couple hired the photographic super talents of Dragan Zlatanovic.
"We were very lucky to have the super talented Dragan Zlatanovic shoot our wedding – He's based in Italy but was delighted to fly over and visit Brighton. I couldn't recommend him highly enough.
We had so many guests say 'he's like a superhero' jumping off stage to get the shot. I hate having my photo taken so was surprised to realise after the day that I didn't actually notice him.. His story telling was fantastic. We think the end result is stunning, and what a nice guy!"
"My flowergirls wore dresses from BHS – they were the only ones I could find with Peter Pan collar, and were a lovely champagne colour.  I teamed them with blue sparkly shoes."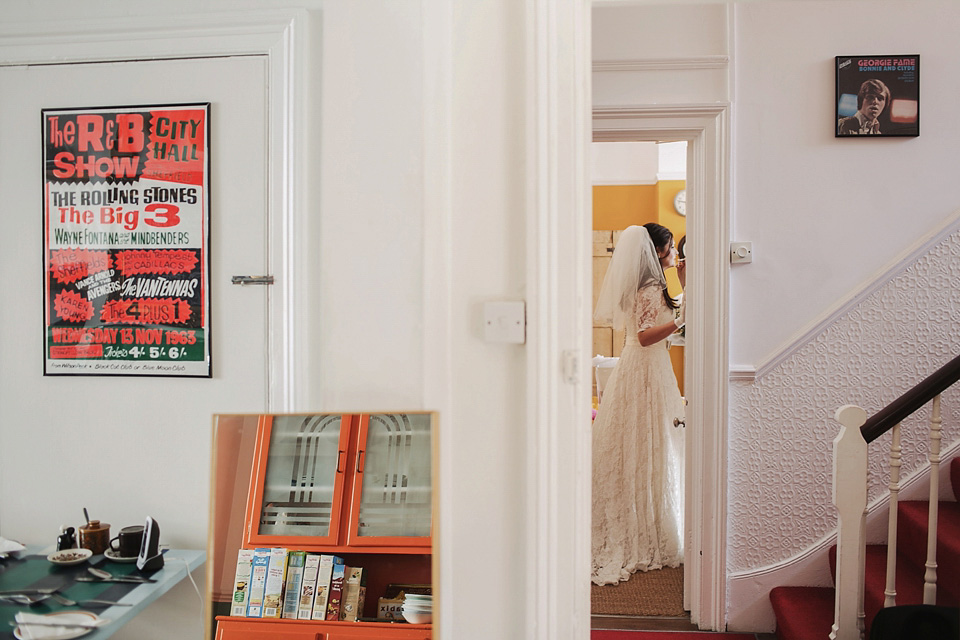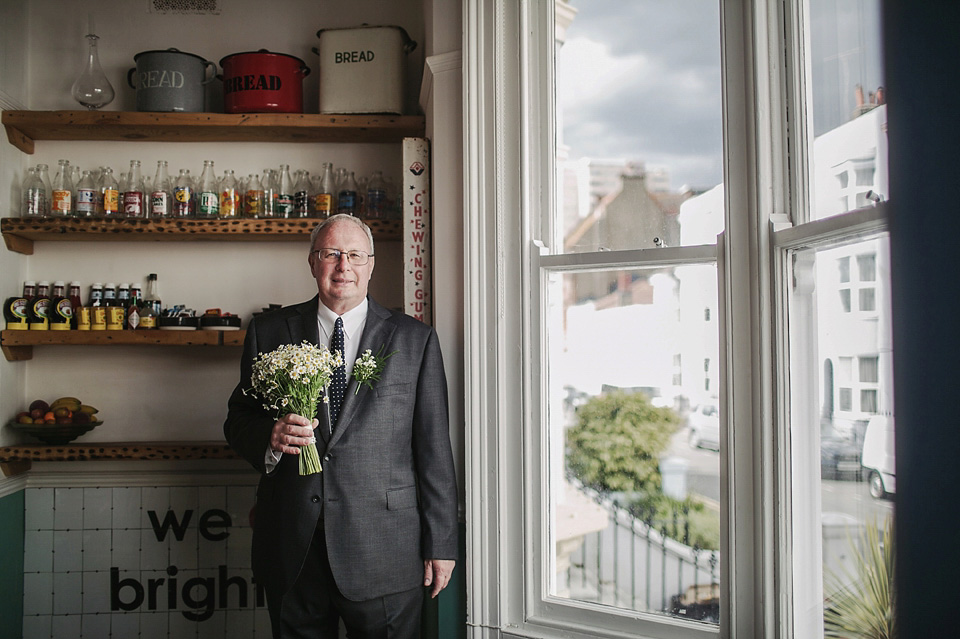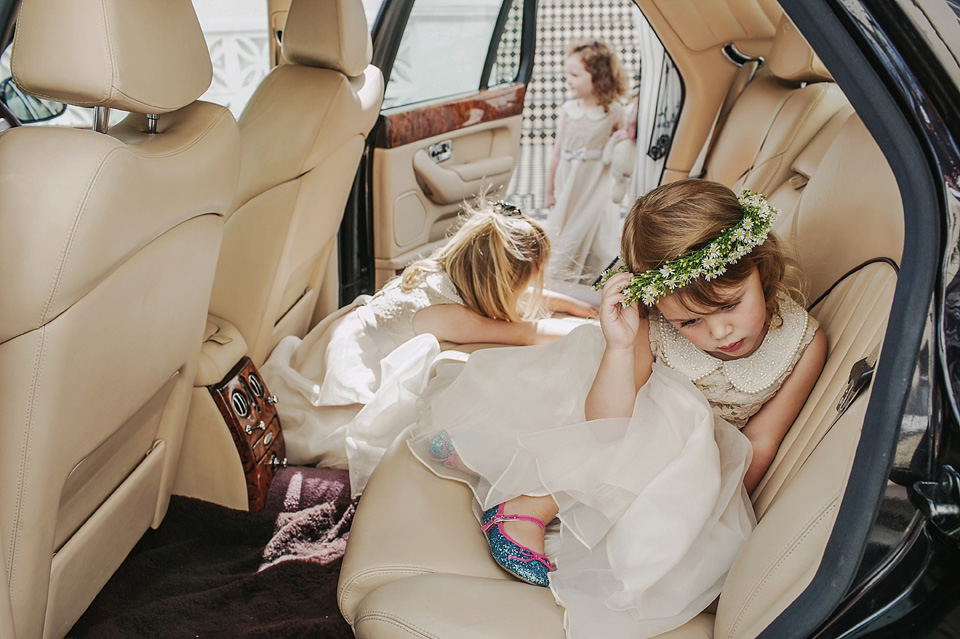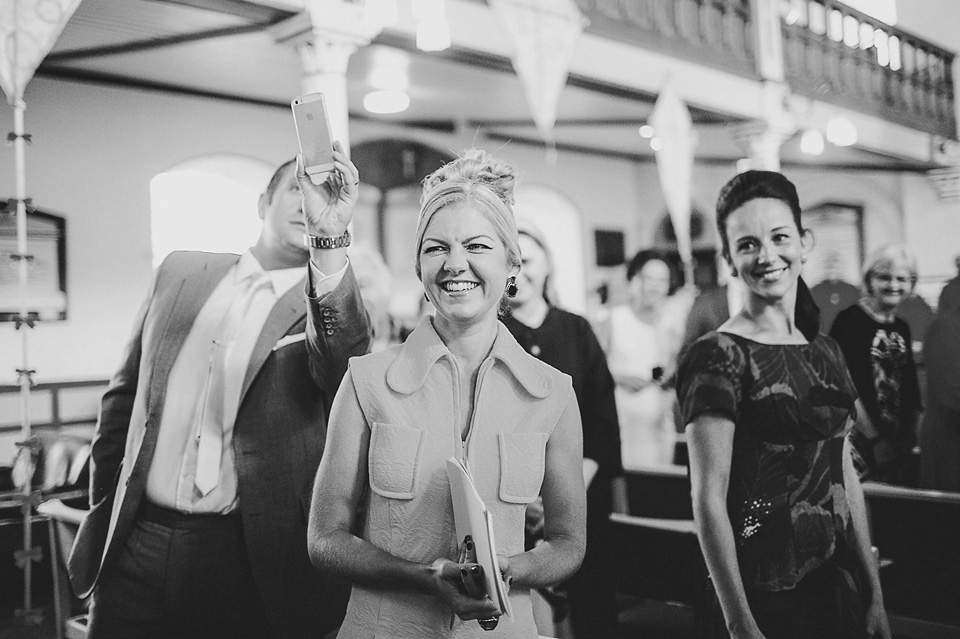 "My wonderful Father walked me down the aisle to the sound of the traditional wedding march, played by the organist.
During our ceremony, we had the reading 'I Wanna Be Yours' by John Cooper Clarke'.  It's just so brilliant and upbeat – It went down a storm."
"I have quite a decorative 1960's diamond cluster engagement ring so we wanted simple and traditional matching gold bands. They are both inscribed with something a little cheeky inside!  The rings were purchased from Hatton Garden."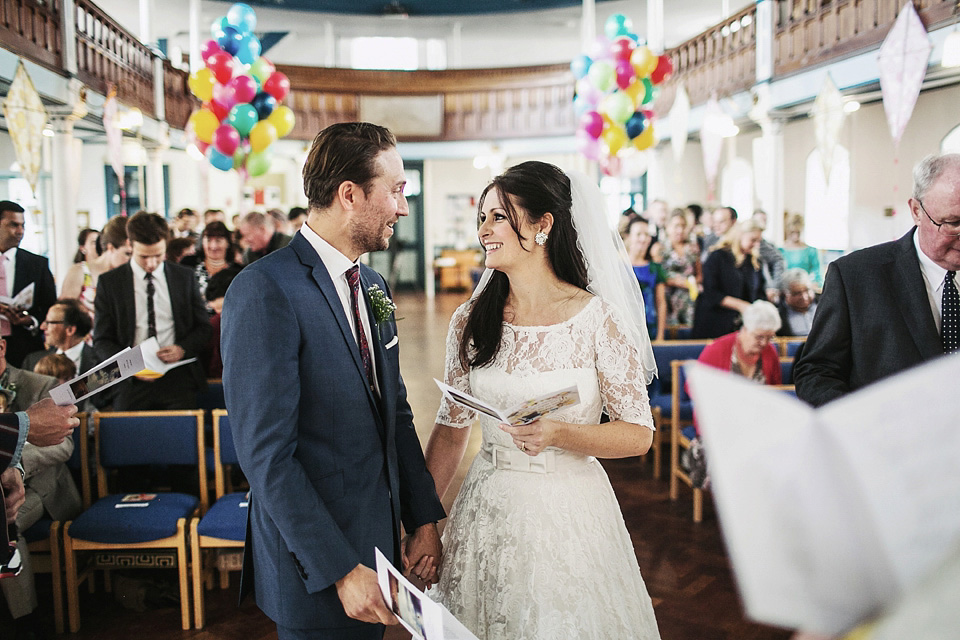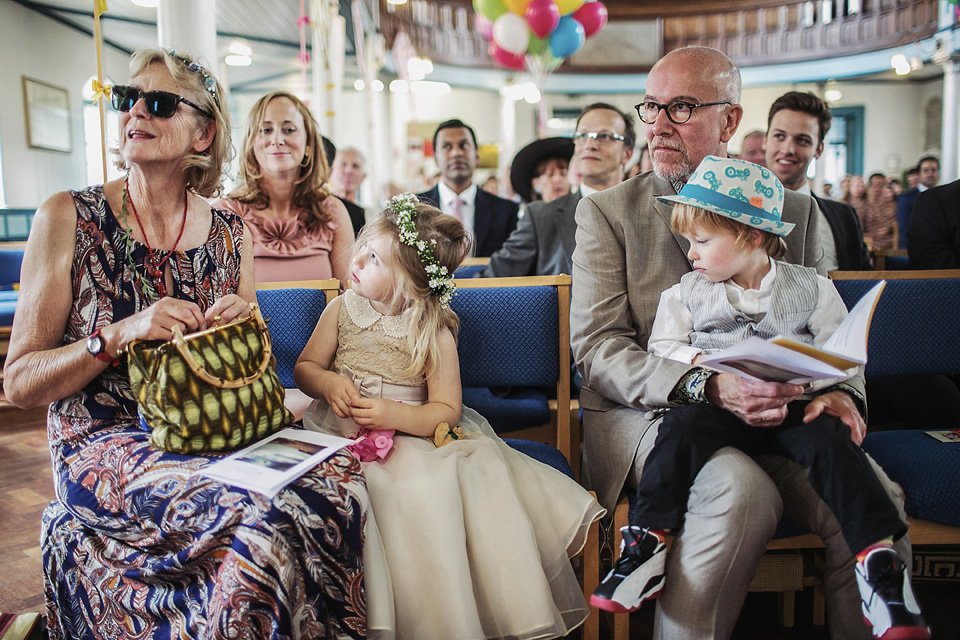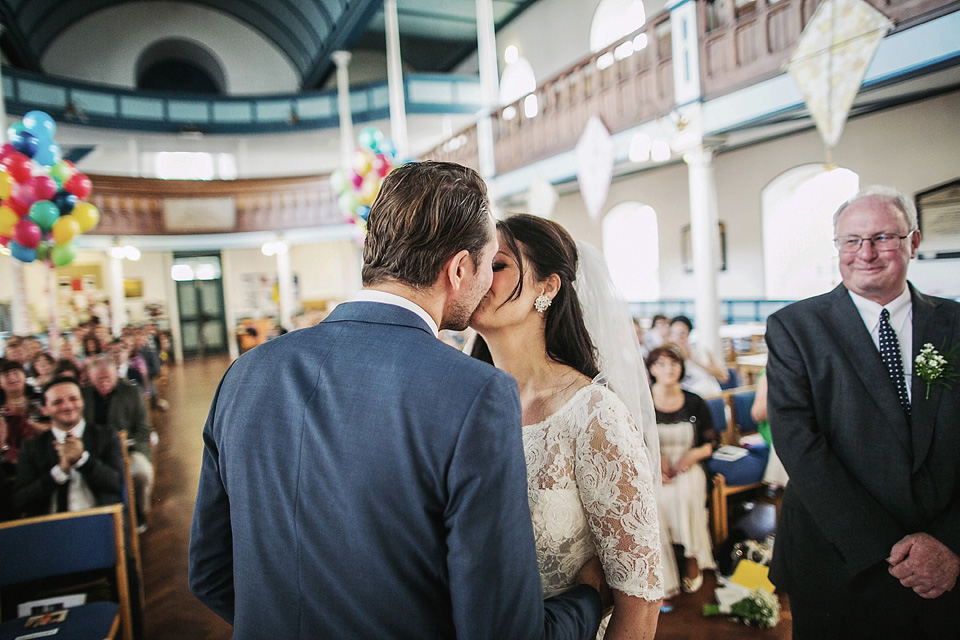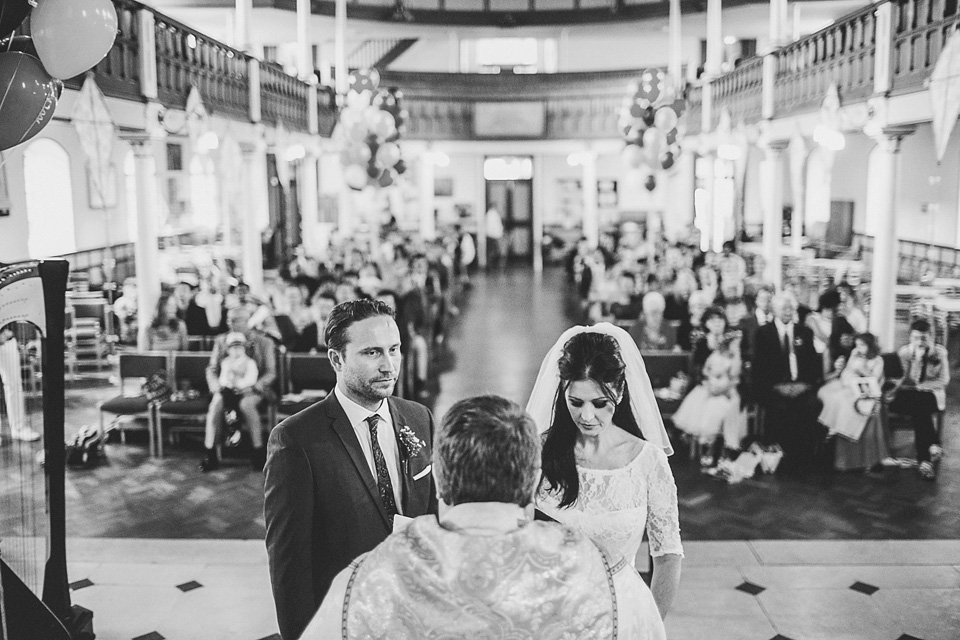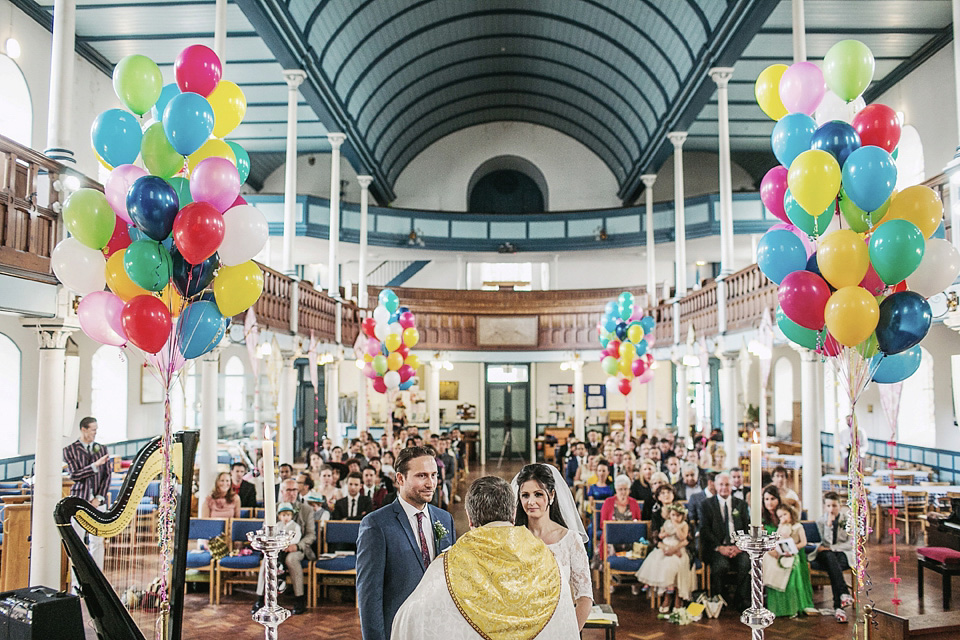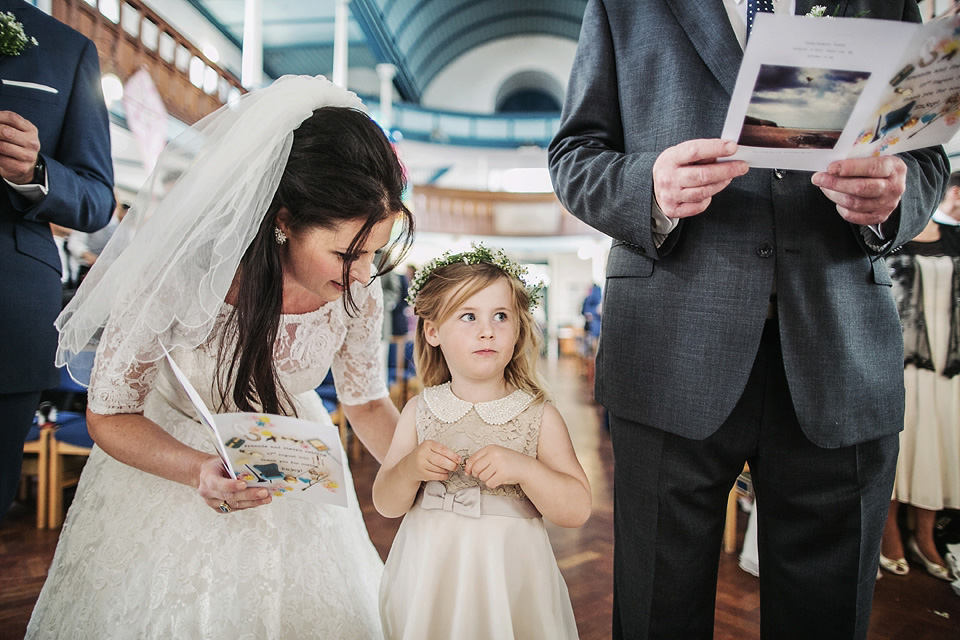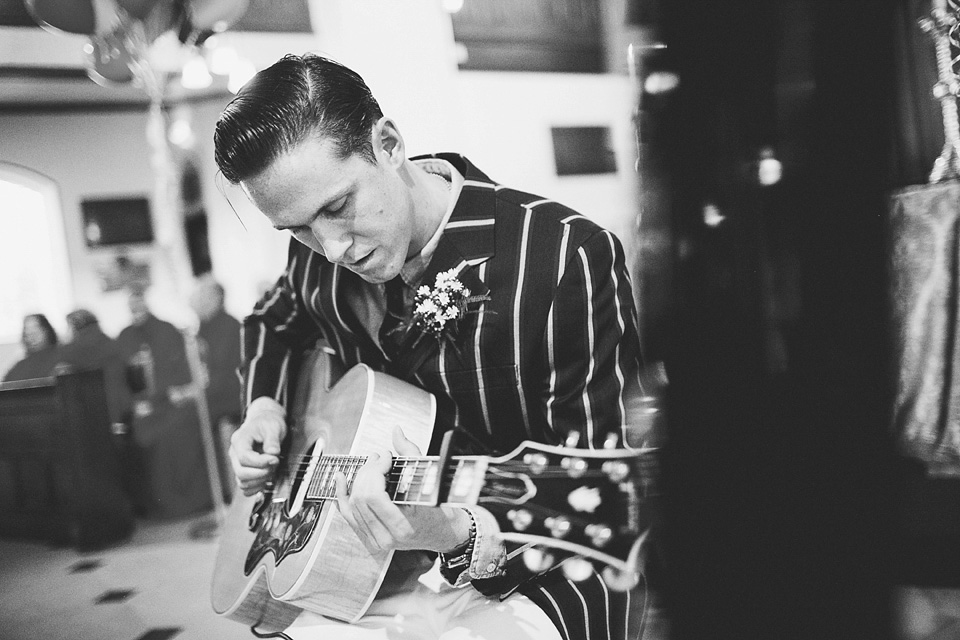 Rob Ackroyd, who is Steve's brother and also the guitarist for Florence and the Machine, was accompanied by Tom Monger, the harpist for Florence and the Machine too, to play 'Like a Virgin and 'You've Got The Love' in church.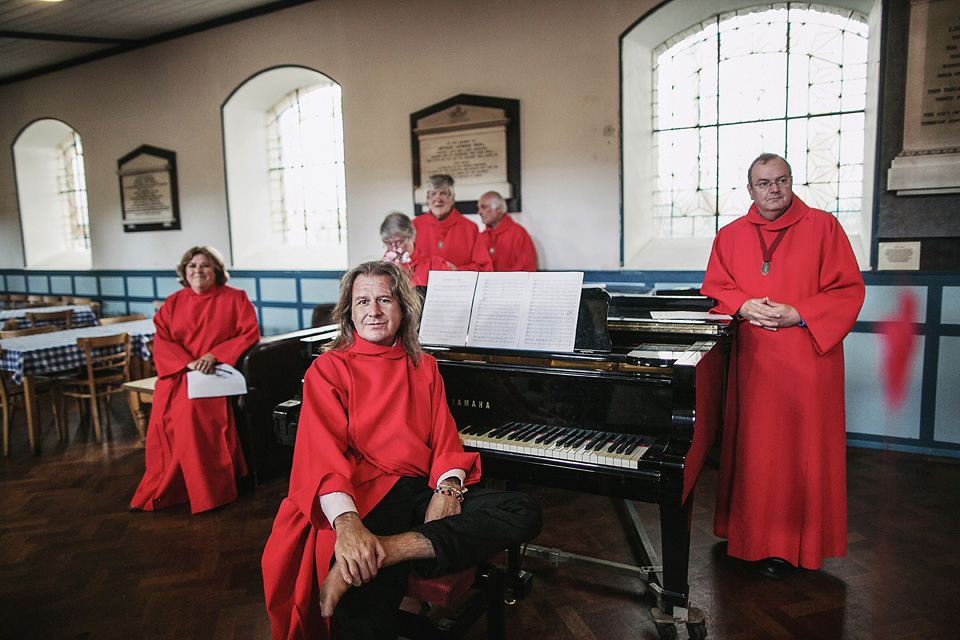 "We sang 'lets Go Fly A Kite' in the church (my daughters favourite song), so I made kites from retro flower power bedsheets. To add more colour, I filled the church with bunches of colourful 'Tim Walker' style balloons. We had pretty pink flamingos greeting the guests as they entered the church."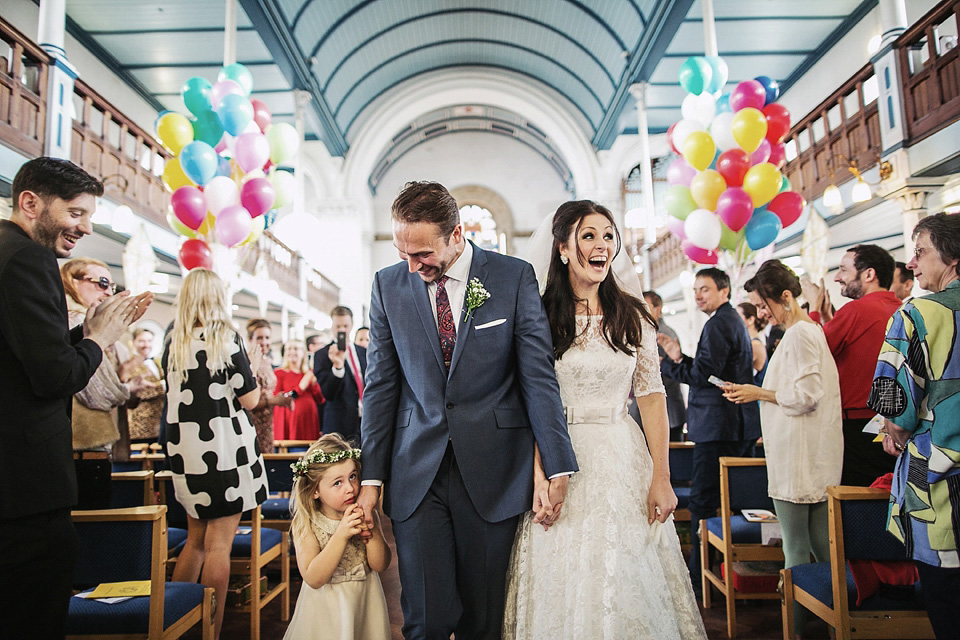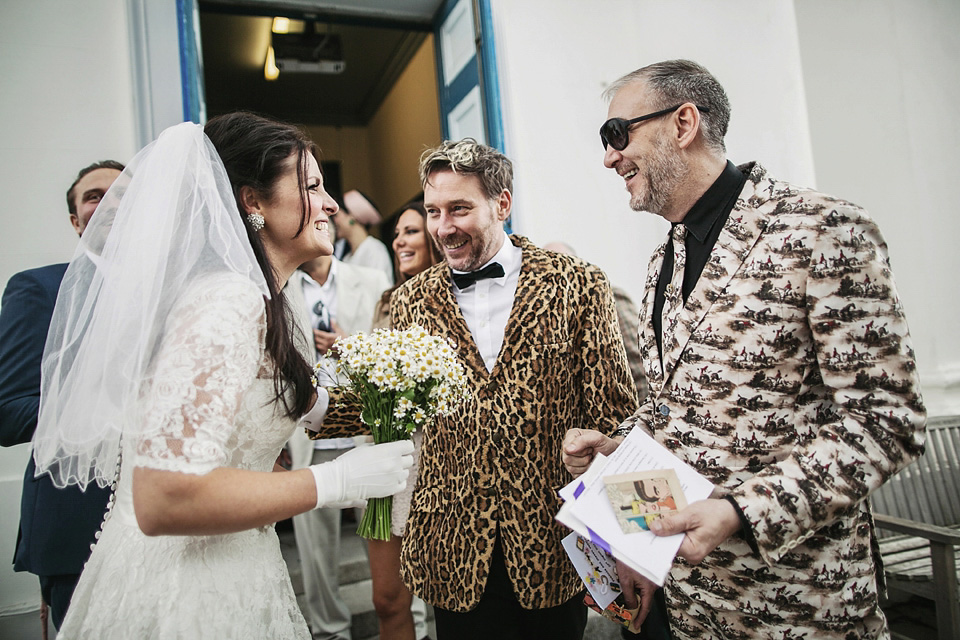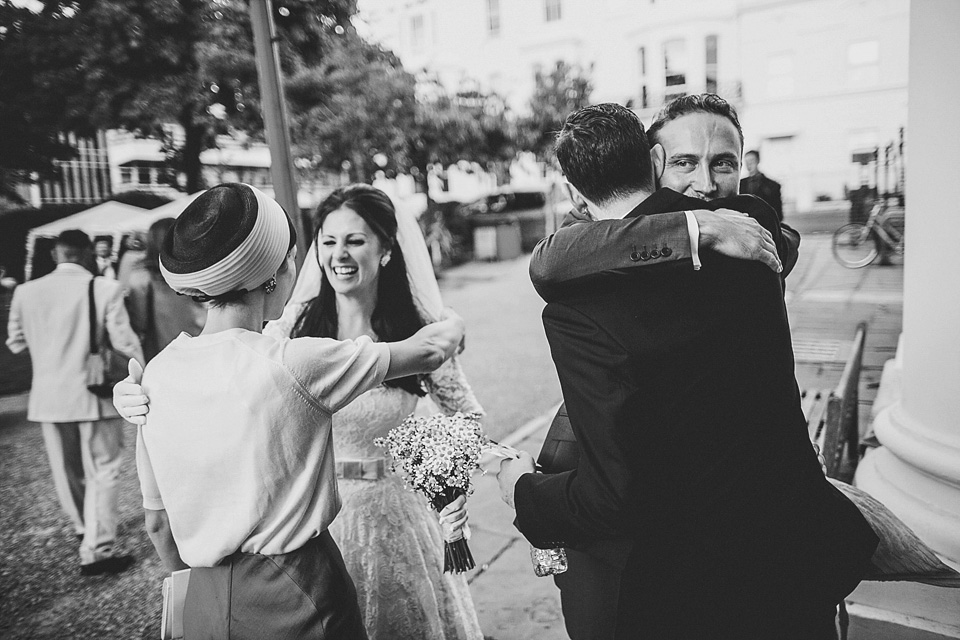 "I even used my guest to decorate as they all wore 1960's outfits and looked amazing. I'd sent them Pinterest mood boards for inspiration and declared I wanted to be upstaged!"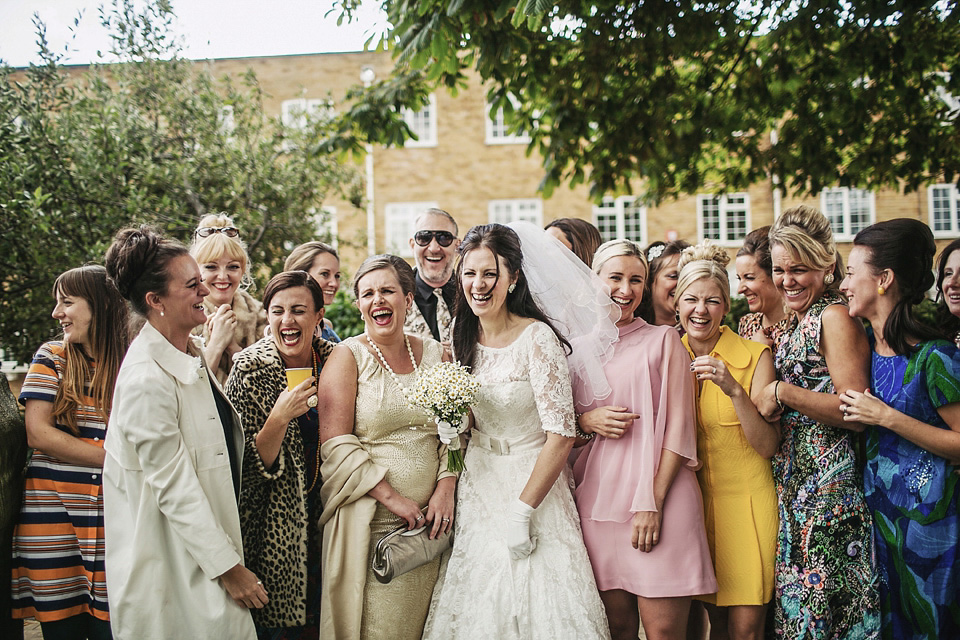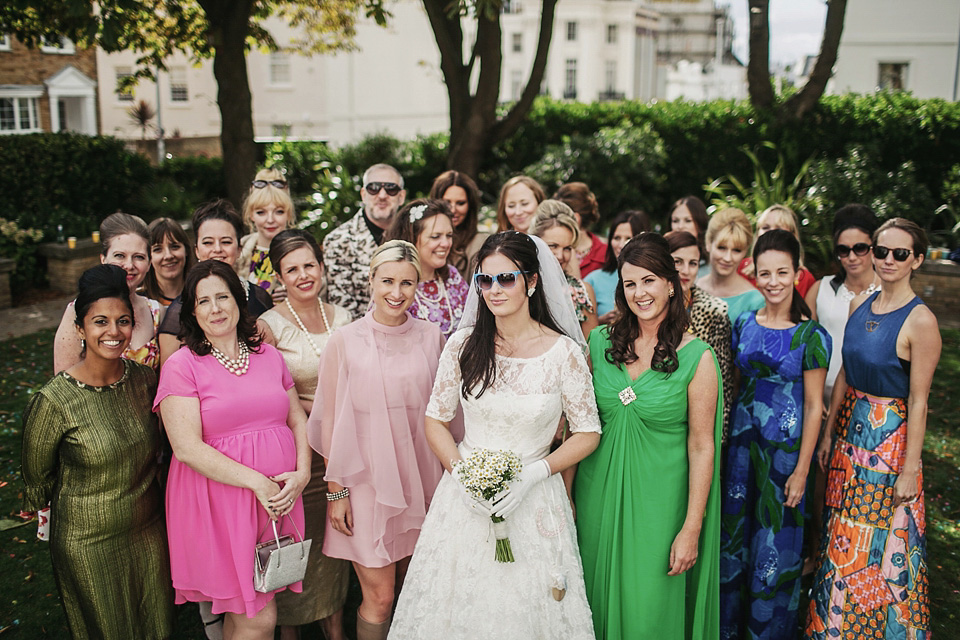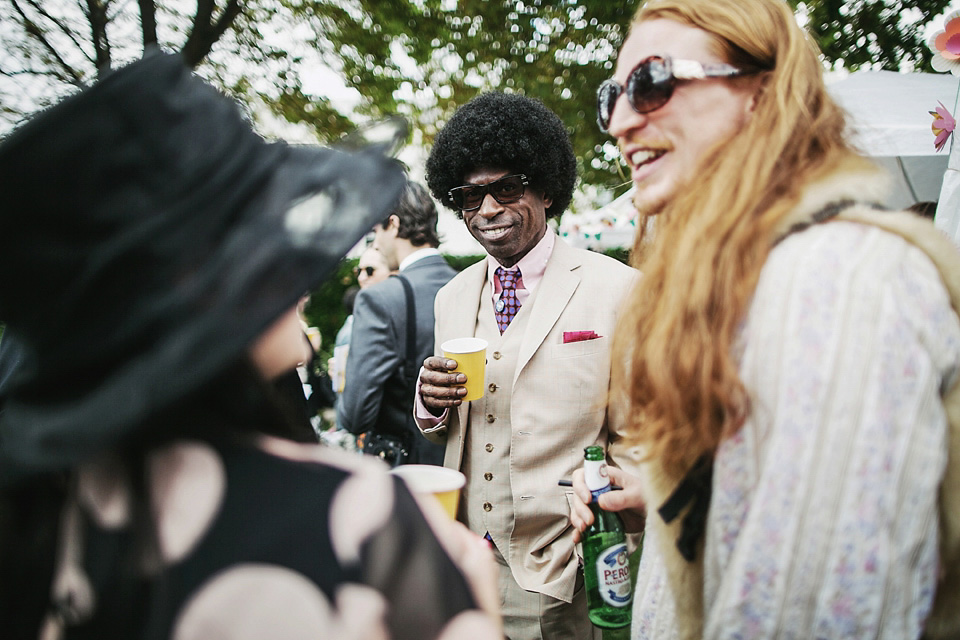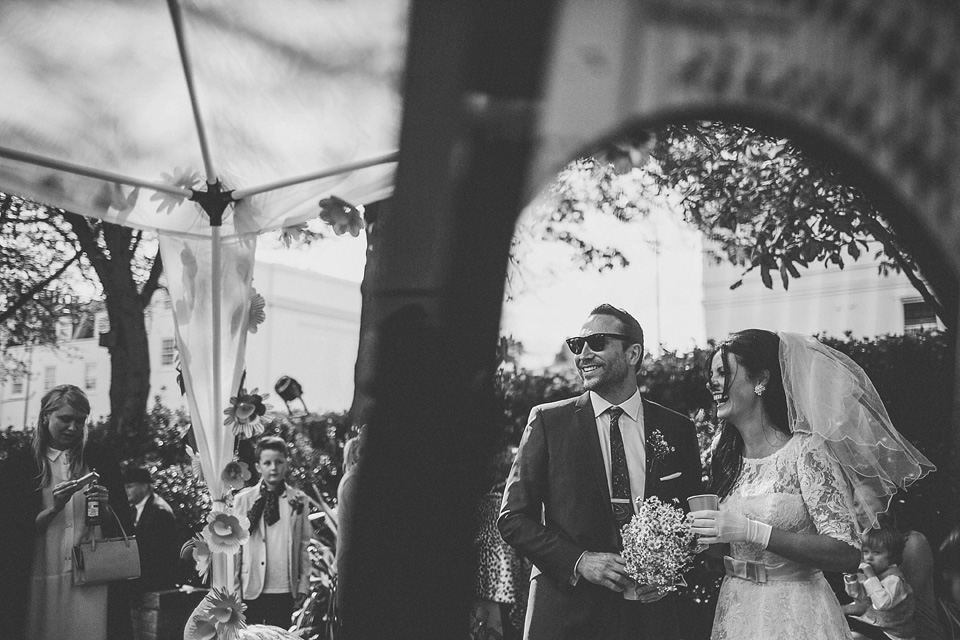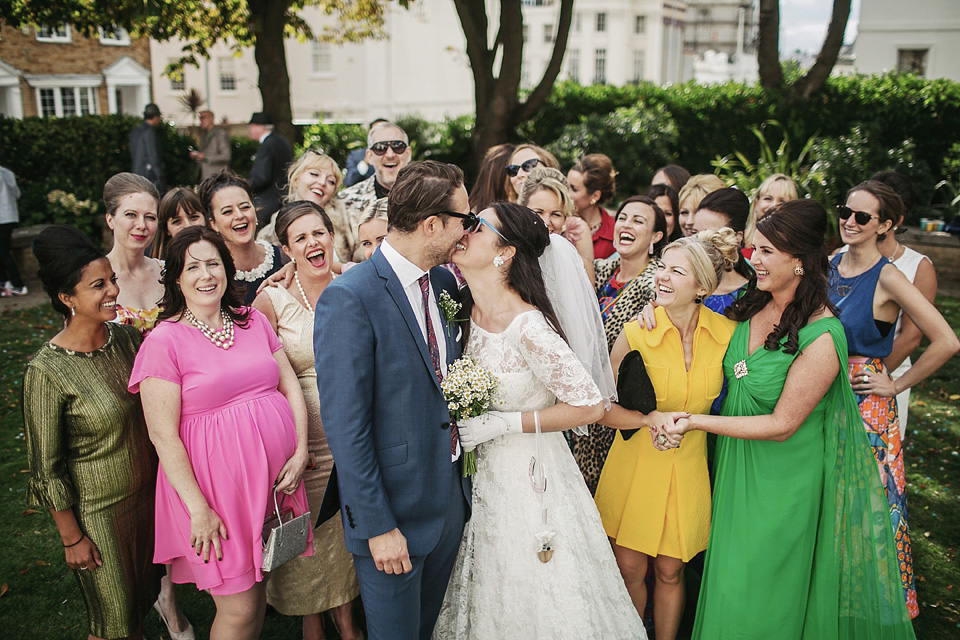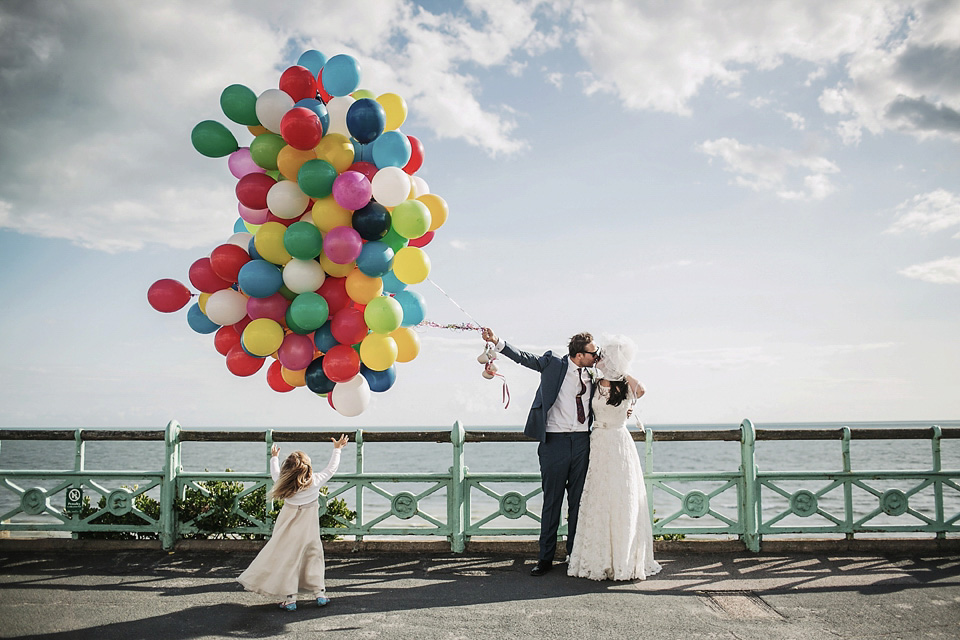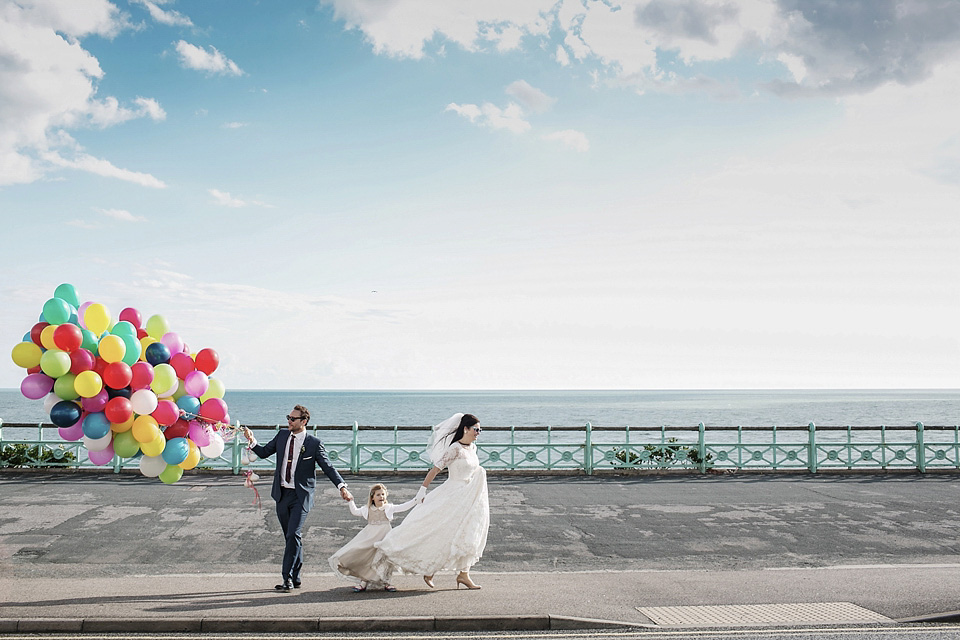 "Kate, Adam, Sean and their team at Proud Cabaret were incredible – nothing was too much trouble and they were all so much fun.  They also do a regular supper club at the venue so are to used to catering on a large scale. The chef worked with us to choose our 1960's inspired menu.  I'm used to dealing with a lots of locations and venues on my shoots and I can hand on heart tell you they'll be the most professional and accommodating people you could wish for. You should check out the fabulous domed ceiling. We also had out own lighting technician so for a club venue it's perfect for the after show party."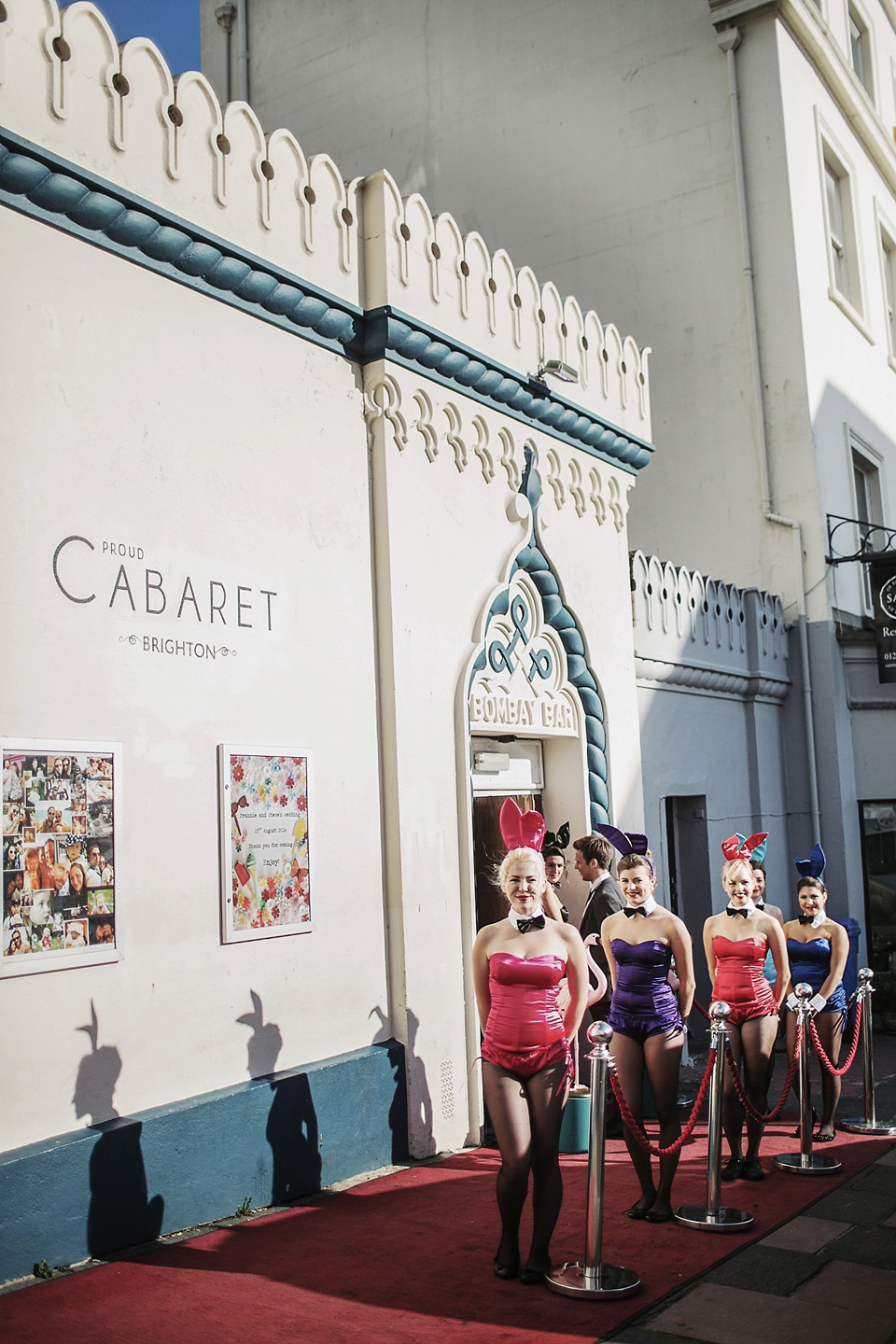 "All the stationery including the save the date, invitation, table plan and posters were designed by me.  The table names were characters, accompanied by a quote, from one of our favourite box sets that we've watched together.  I managed to find 100 original 1960's menu folders and used a mixture of 60's honeycomb place setting and pin up playing cards for place settings (I covered the nipples with stars to protect their modest- Aunty Beryl loved hers!)"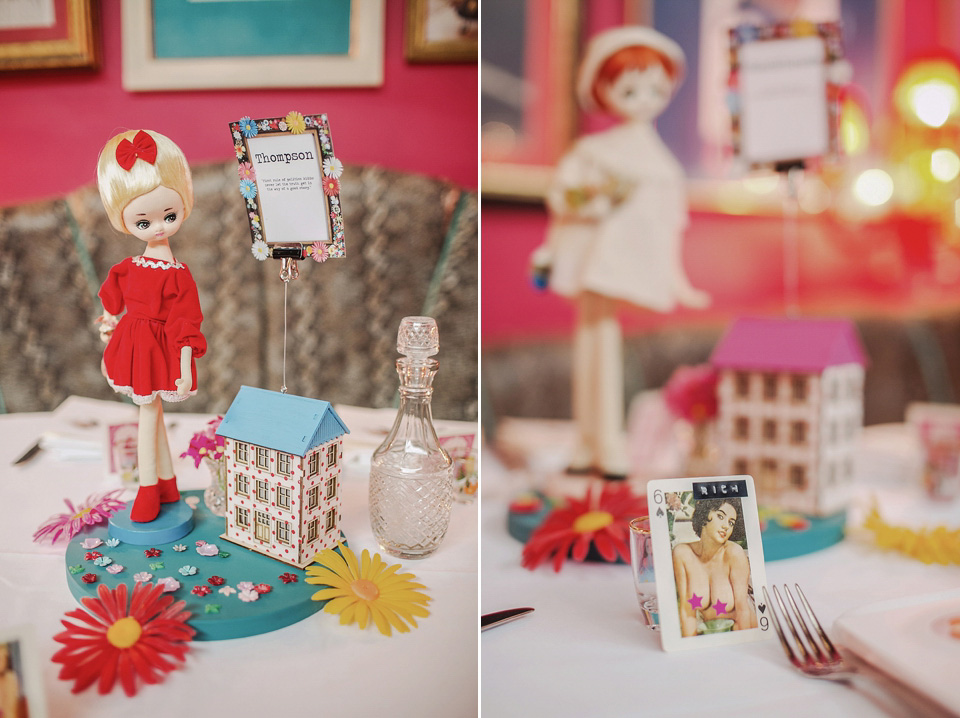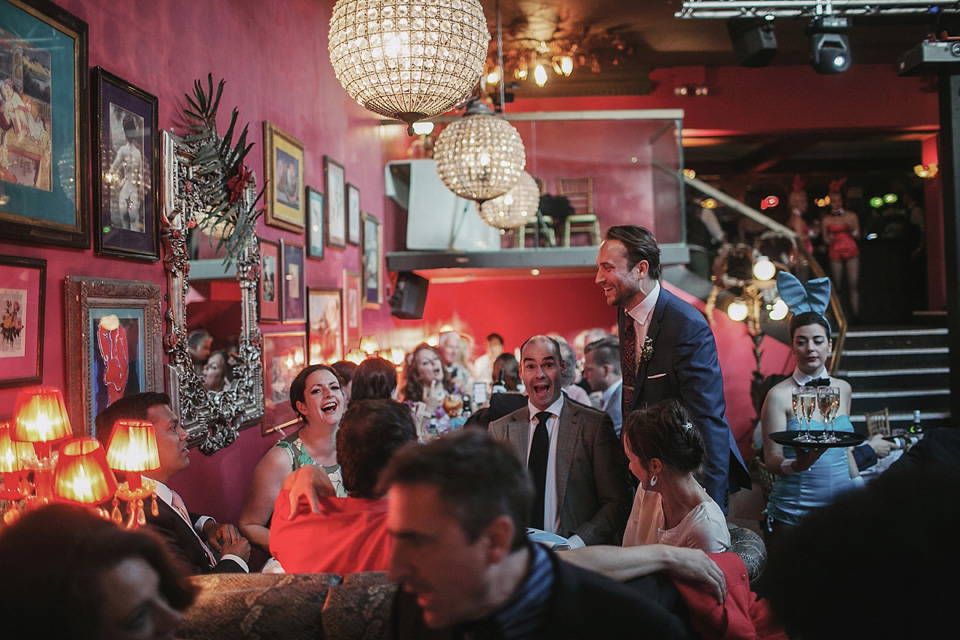 Wendy Kelly Flowers of Brighton provided the retro style blooms…
"I wanted to keep the flowers simple with pretty white daisy's – Plus I wanted to spend all my decoration budget on pink flamingos and Sindy dolls."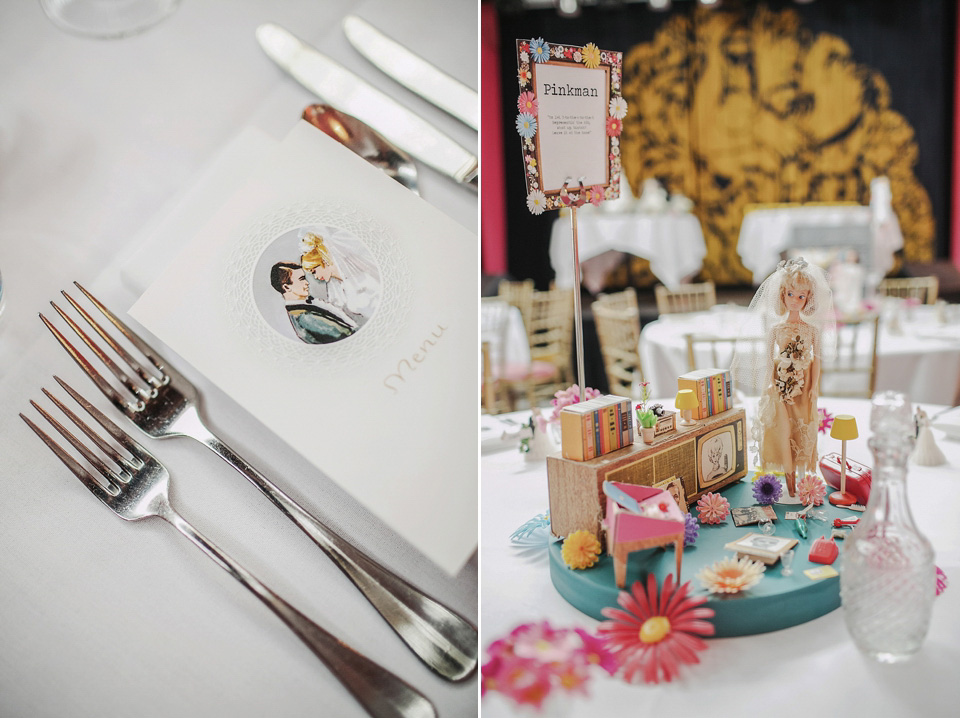 "The cake was made by Elizabeth Ackroyd, my new mother in law – it was delicious. We decorated it together with things I have collected over the years – trinkets from my childhood etc. The cupie cake topper is from Etsy.
I think most cakes, as stunning as they can be, look very lonely standing on their own so I made a feature of mine by surrounding it with beautiful vintage pieces."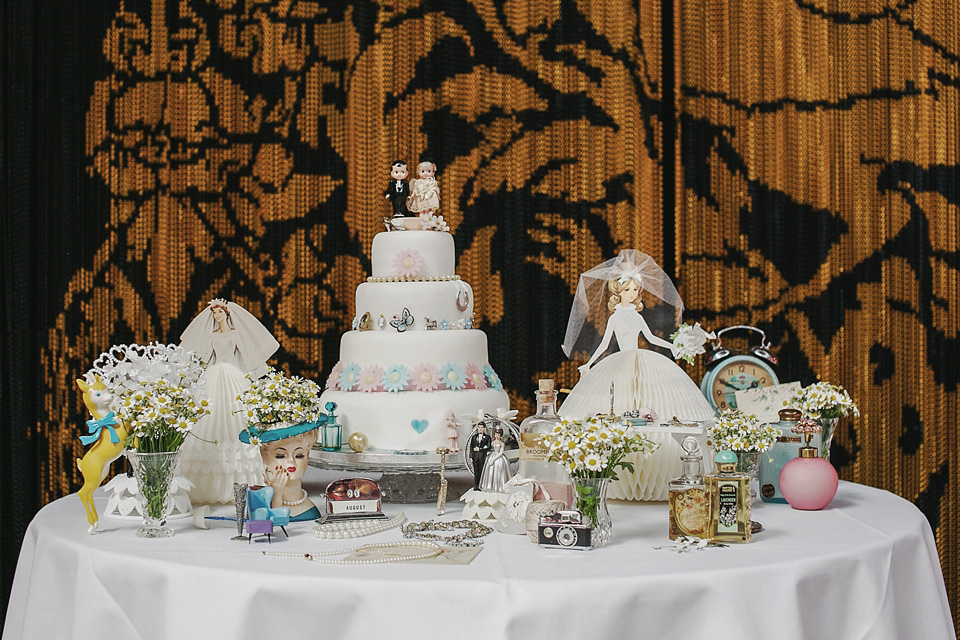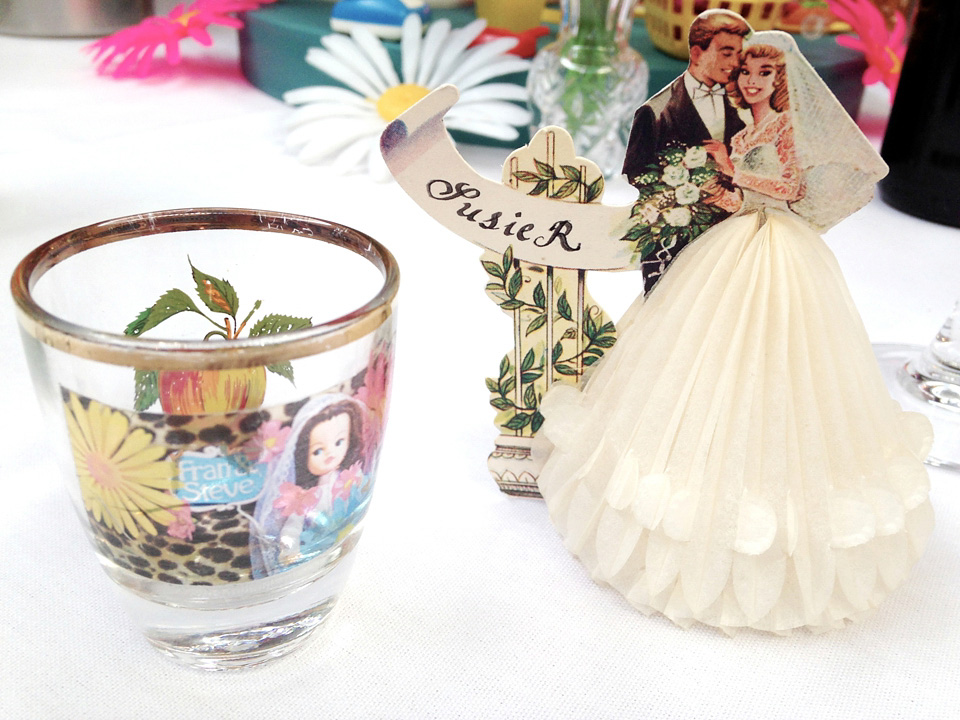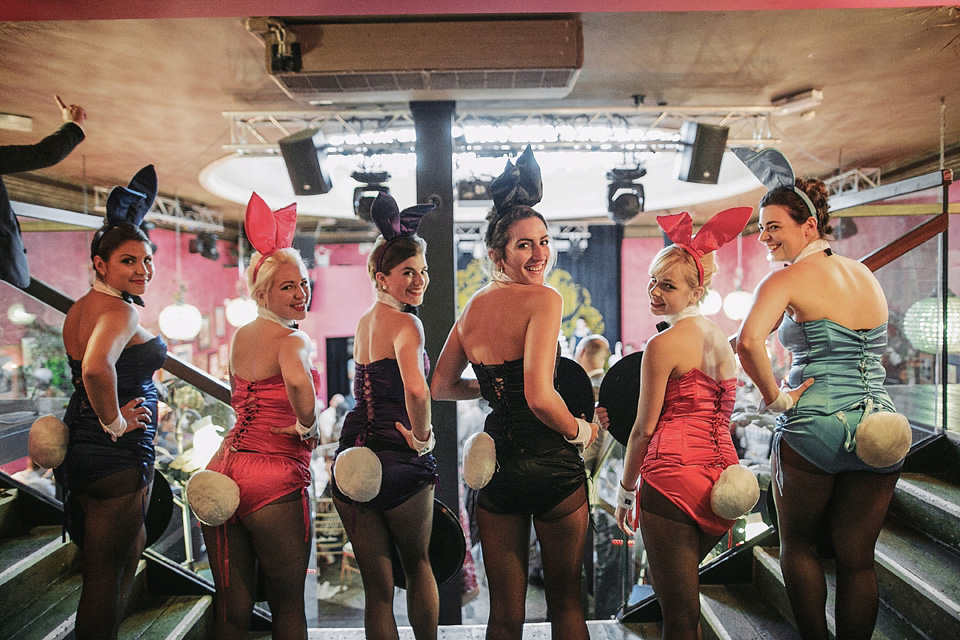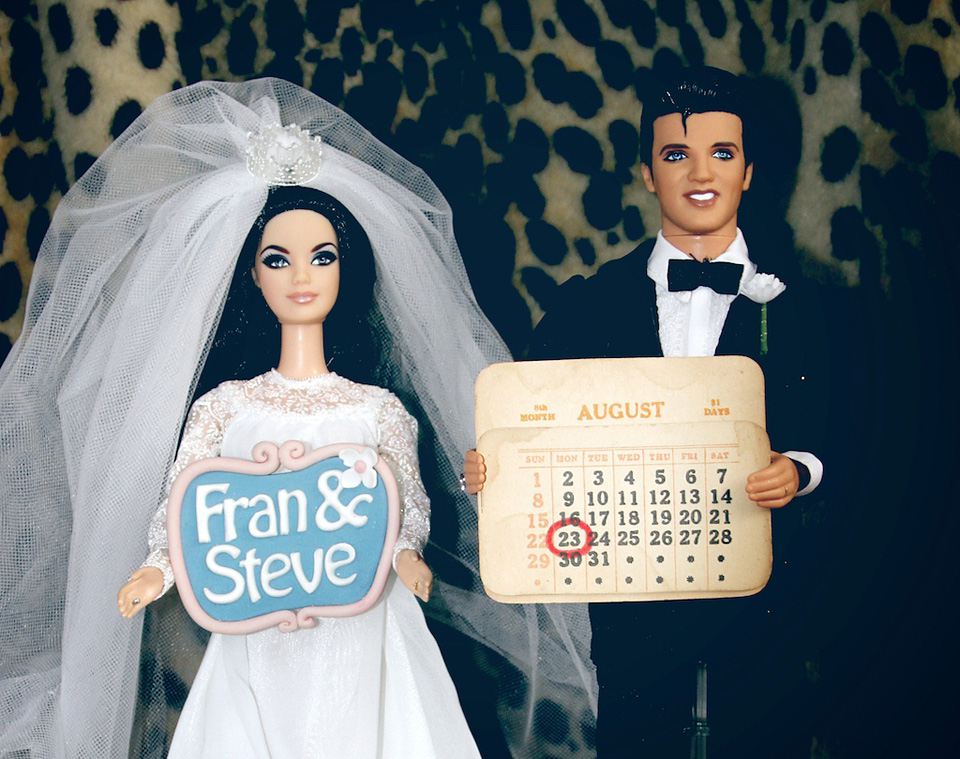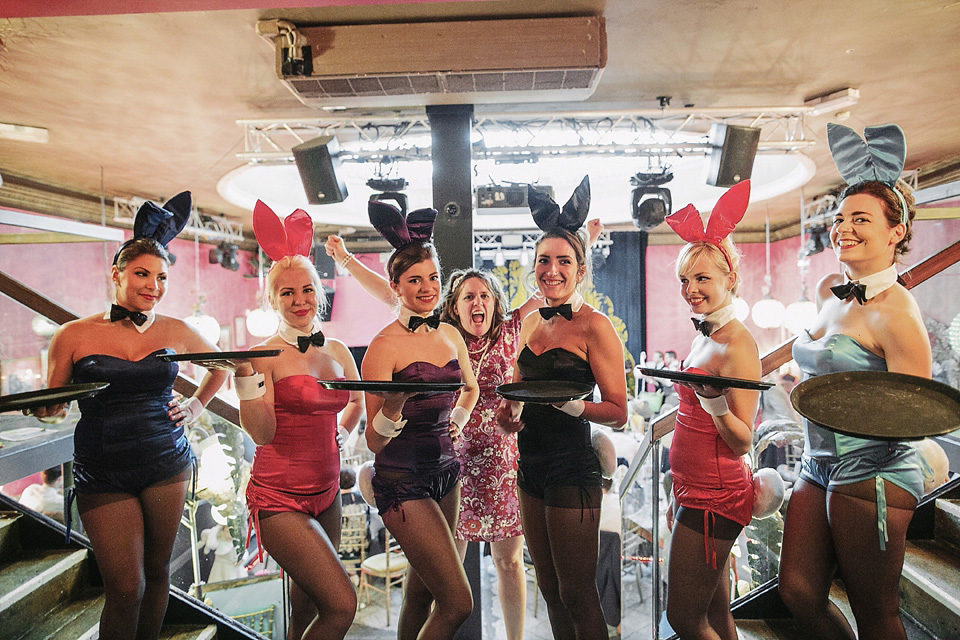 "My lovely friends build me a champagne tower (something I've always wanted) to add to the nostalgia. It was a thrilling moment when they poured that first glass!"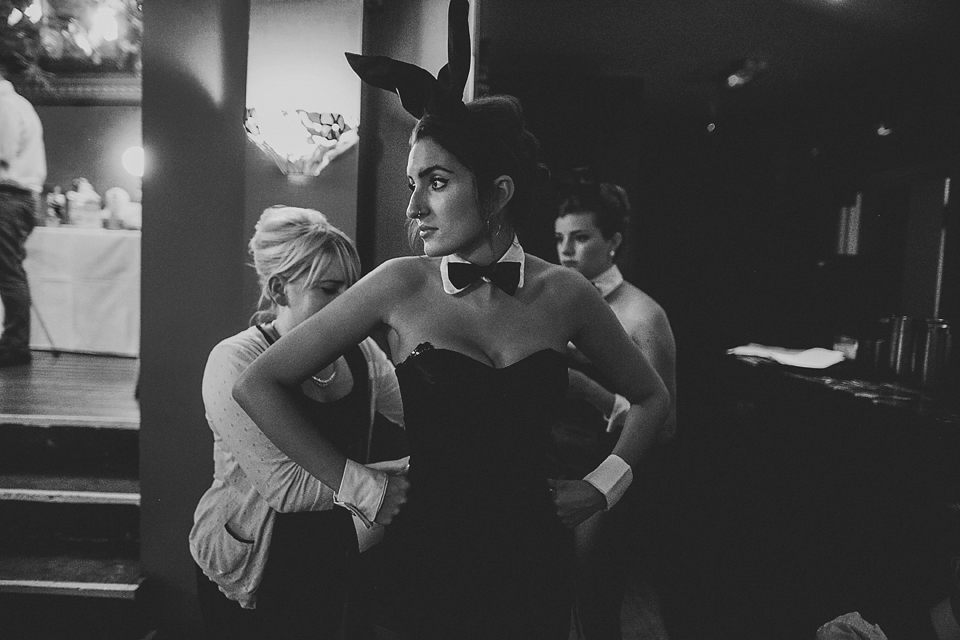 "I collected matching vintage shot glasses for our wedding favours (I added a picture of Sindy and our names and baked them all in the oven……!)  This was a real process to find the right method that didn't rub off when they were washed. It sent me a little crazy.
Each table had a decanter of tequila, so we all did a shot together as the brides toast . I never expected to be doing tequila shots with Dad on my wedding day, a magical memory and he loved it!"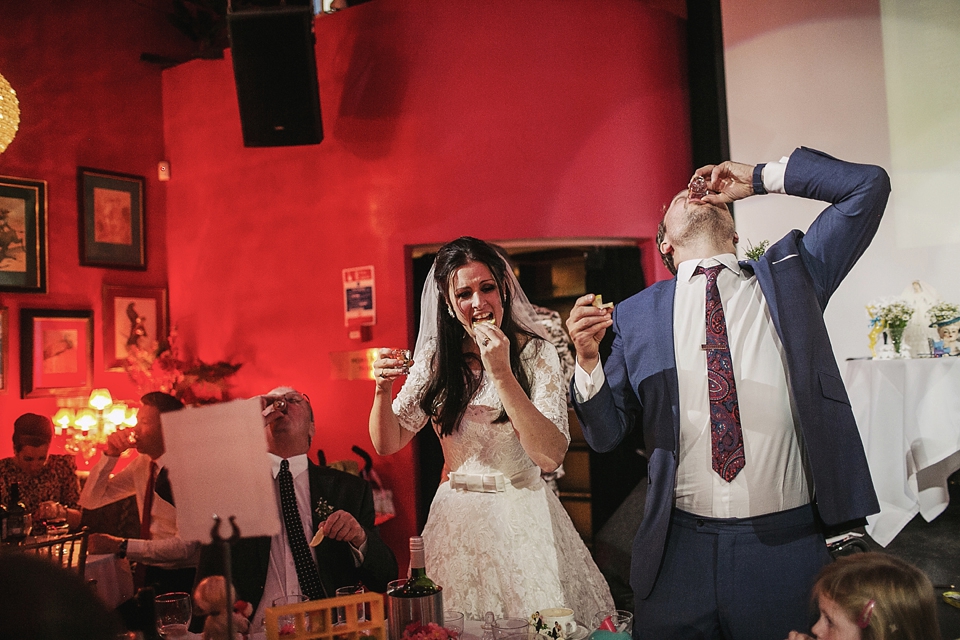 DJ Boogaloo Stu and Florence and the Machine guitarist  Rob Ackroyd (who I mentioned earlier is Steve, the groom's brother), played a 90's set in the evening.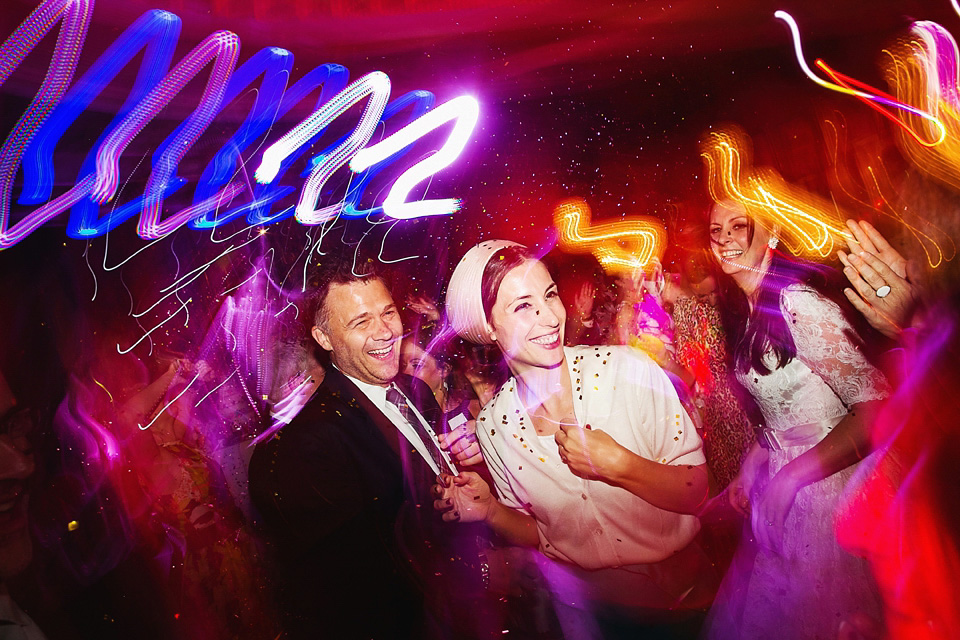 "Our first dance was 'crazy for you' by Madonna – I remember dancing to this at the school disco telling myself one day I'll be dancing to it on my wedding day. This was followed by 'Footloose' with gold confetti cannons being fired off paying homage to the movie.
This, watching our daughter (who is the most energetic 2 year old EVER) go crazy on the dance floor and of course marrying my best friend were our favourite moments of the whole day."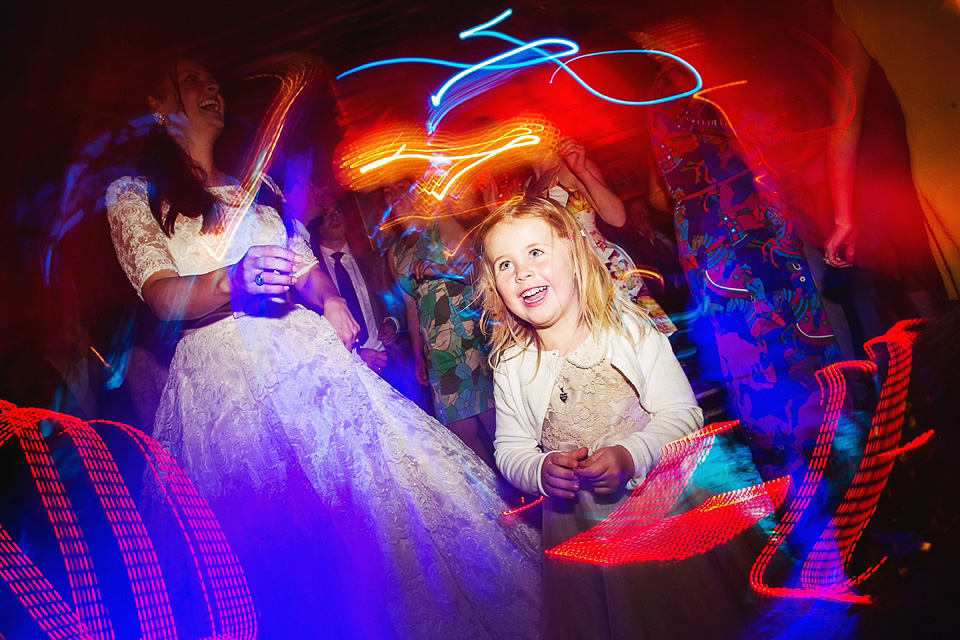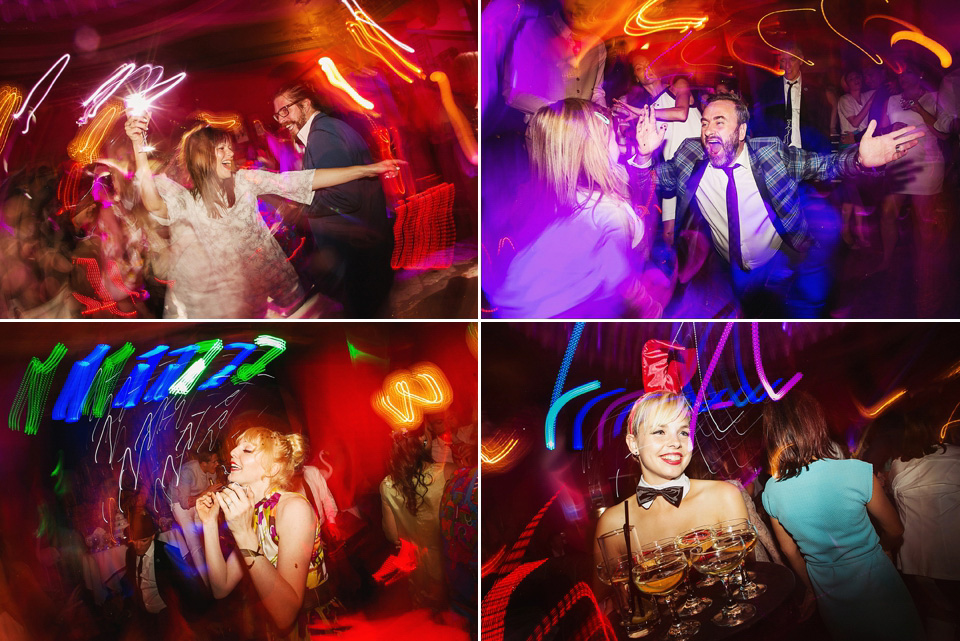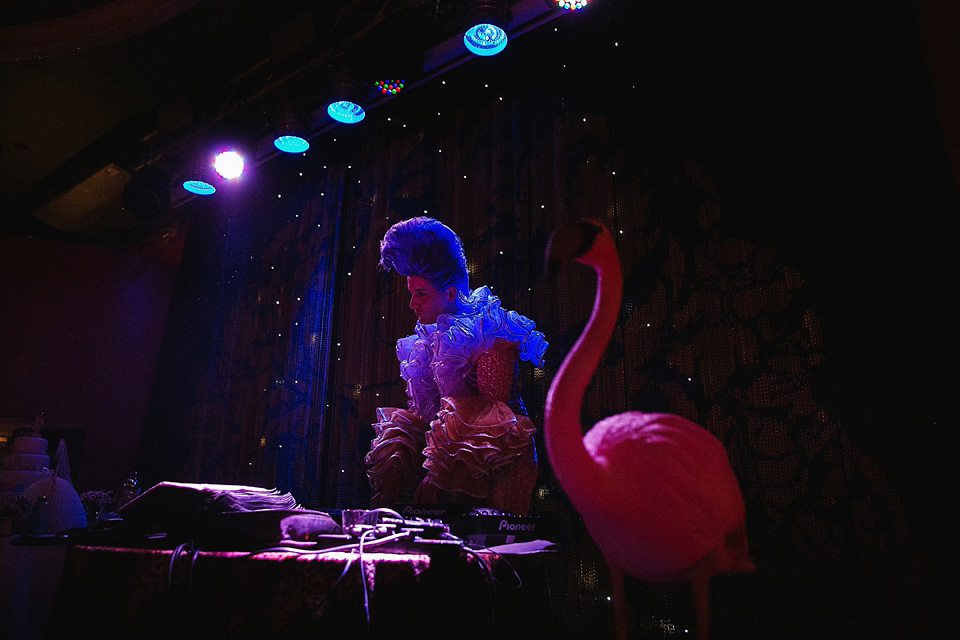 Words of Wedded Wisdom…
"Even if you do all the planning yourself hire a planner/coordinator for the actual day. It will be the best money you spend!
I wouldn't have been so ridiculously nervous on the lead up. My nerves completely went the moment I stepped into the Church, at that point you just have to let it go.
Secondly I would have appointed one of my girlfriends to be on hair duty.. It was a windy day in Brighton and my hair got blown the second I left the hotel. Most of my photo's look like I've got two big spiders legs hanging down!!!
Also, as an engagement present friends bought me Annabel's book – I swear it was the only thing I looked at…… uncanny!"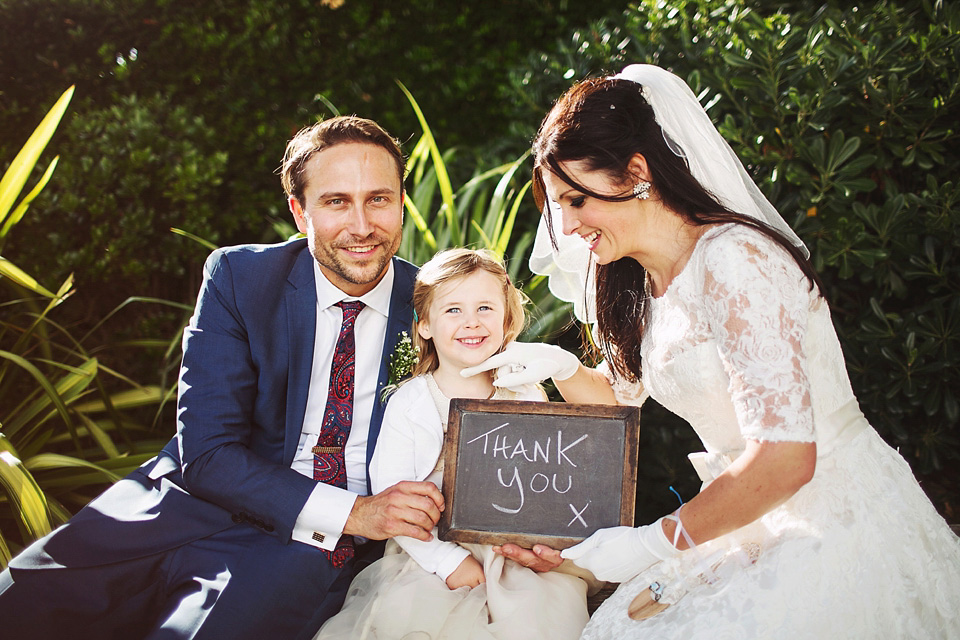 What an incredible wedding – so fabulously creative and so much fun! I can't help but think this whole day could potentially have been 60's dress up overload, but on the contrary, Fran managed to create something so utterly stylish and fantastic, I simply can't get enough of this wedding. This is how you do 1960's vintage bride!
I'd like to thank Fran for connecting with Love My Dress (and her friends for buying her my book!).  I'd also like to encourage all of you who love Fran's style to visit her website at thefabulousvintagebride.com.  You can also connect with Fran via Instagram, Twitter and Pinterest.
Have a GREAT morning all – and sending all self employed parents a LOT of love for the Easter holiday challenge!
Love Annabel xx
Photographer – Dragan Zlatanovic
Planner/Stylist + Stationery – The bride herself, aka, The Fabulous Vintage Bride
Venue + Catering – Proud Cabaret, Brighton
Wedding Dress – Justin Alexander
Veil – original 60's from Charlie Brear
Shoes – M&S
Accessories – original 60's earrings and gloves from Etsy
Perfume – Joya
Grooms Suit – Spencer Hart + vintage tie, tie pin and cufflinks
Groomsmen' suits –  all vintage
Bridesmaids – own choice 60's inspired
Flowergirls – BHS
Florist – Wendy Kelly Flowers of Brighton
Cake – The groom's mother
Transport – 1960's Bentley
Entertainment – Rob Ackroyd (guitarist) + Tom Monger (harpist) both of Florence and the Machine
Rings – Hatton Garden London
Hair and make-up Artist – Jo Clayton