Afternoon all, it's been a while since I shared a business related feature, so if you only want to visit Love My Dress to soak up all the beautiful wedding inspiration, you might want to skip over this particular feature.  For anyone else interested in my latest ramblings on the business of blogging, stick around. I've got some things I want to share, and as always, I welcome your feedback.
In the 5 years and 4 months since I published the very first post on Love My Dress, I've shared 3,389 posts and moderated 41,111 comments. 'I' became 'we' as I took on support and established a team.  I now have 11 feature writers, one of whom is a professional freelance copywriter, and 10 of whom are readers who have applied to become writers (7 of these are Interns I took on board in December last year).  I also have a professional freelance administrator who works almost full time hours for Love My Dress, and I pay a developer/designer too.  More than twice the amount of money I used to bring home in to my bank account in my previous job now goes towards paying these people to help me manage a blog that started out as a passion project.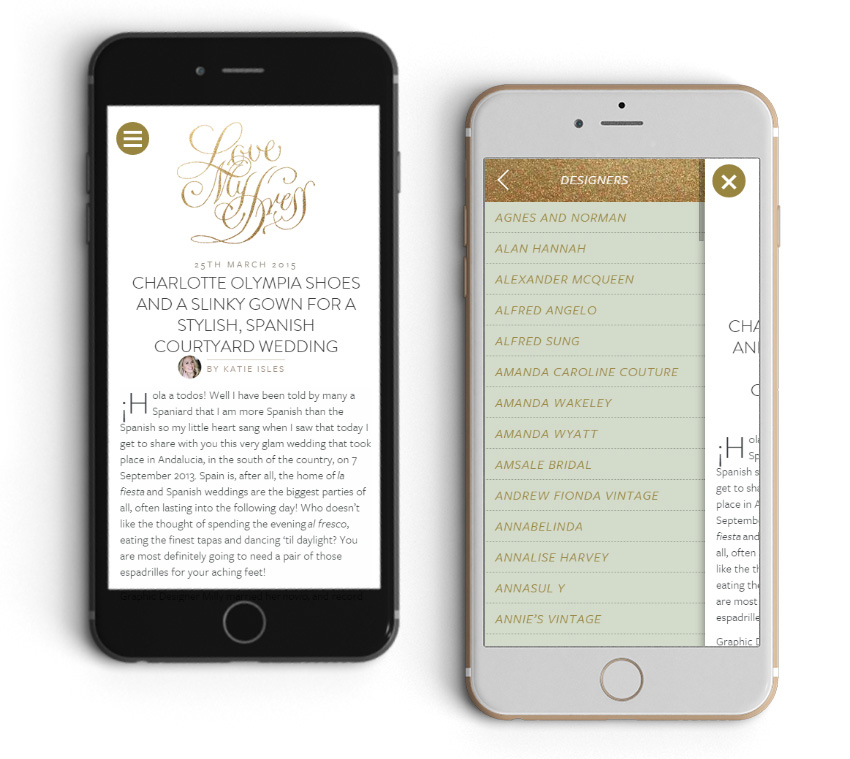 Have you viewed Love My Dress through your mobile or iPad/tablet lately?
Our new mobile responsive blog view launched earlier this week

Love My Dress isn't just a wedding blog any more, it's a successful commercial business and as with most businesses, we face competition and need to work constantly to stand out in the crowd – make our blog the 'go-to blog' not just for brides to be, but for those businesses who align with our aesthetic and values and who are looking to promote their products or services online.
Love My Dress was established at a time when wedding blogs in the UK didn't exist – it was around the same time the Rock My Wedding set up too and about the same time that the Rock n Roll Bride blog was taking off. I have respect for these other two UK based wedding blogs for having made it this far with a loyal reader base and successful business model, in a commercial environment that is changing all of the time.
A problem for more long time established blogs like Love My Dress, is that there is a plethora of newer blogs that have entered the scene since we started out.  There's nothing wrong with this in principle of course – there should be 'room for everyone' and the competition keeps you on your toes.  I enjoy being part of the blog community and supporting other bloggers. Most of us are simply trying to earn an honest living doing what we love. But a comment I keep on hearing these days is 'there are just so many wedding blogs out there now'.
Screenshot taken from Bridetide top 100 wedding blogs
There would be a time when being located on another continent gave a blogger a unique voice – but these days, with social media connecting anyone, anywhere, and at anytime, the physical location of one blogger to the other doesn't really offer a distinction of this kind any more.  Furthermore, reader habits have changed vastly since I first started blogging in 2009. And they continue to change all of the time.
Our thousands of readers are interacting with Love My Dress in more ways than before, as the ever-changing social media landscape advances at lightening speed. Whilst our reader number continues to rise for example, traditional blog commenting is on the decline (a trend observed across the blogosphere) and readers are choosing to engage with blogs through their social media channels. Comments on and followers of our Instagram feed for example have hugely increased in number and there are exciting new ways to target a very specific audience at granular level through Facebook.
All the while, the internet has grown more crowded, requiring more energy than ever to be noticed and heard. I speak on behalf of myself, of Love My Dress and of the sponsors who support us.
The questions is, how do you stand out in an world of wedding blogs?
Becoming a mobile responsive blog
50% of our readers are now viewing Love My Dress through their mobile phones, iPads and tablets compared to the 12-15% or so who were doing so back in 2011.  I'd wager a bet that that most other blogs share a very similar statistic.  We needed to do something to make sure Love My Dress was loading fast, in a user friendly format on small screen, mobile devices, so earlier this week, and after weeks of work getting it right, we launched a mobile responsive version of Love My Dress. This means anyone who visits the blog via their mobile device will now be met with a much more user friendly blog layout.
Developing a mobile responsive blog is just one of the key steps we've had to take in order to help us stand out and respond to reader habits.  I know, I know – some blogs have had a mobile responsive view for way longer than we have. Our issue has been working out how to integrate our sponsor banner adverts in a way that wouldn't put the reader off but that provided good honest exposure for our advertisers. I'm super proud of the solution we've come up with and based on feedback received so far, so are our sponsors and our readers.
I believe that being fit for mobile is a 'non-negotiable' for bloggers these days who want to stand out and provide the best possible blog reading experience.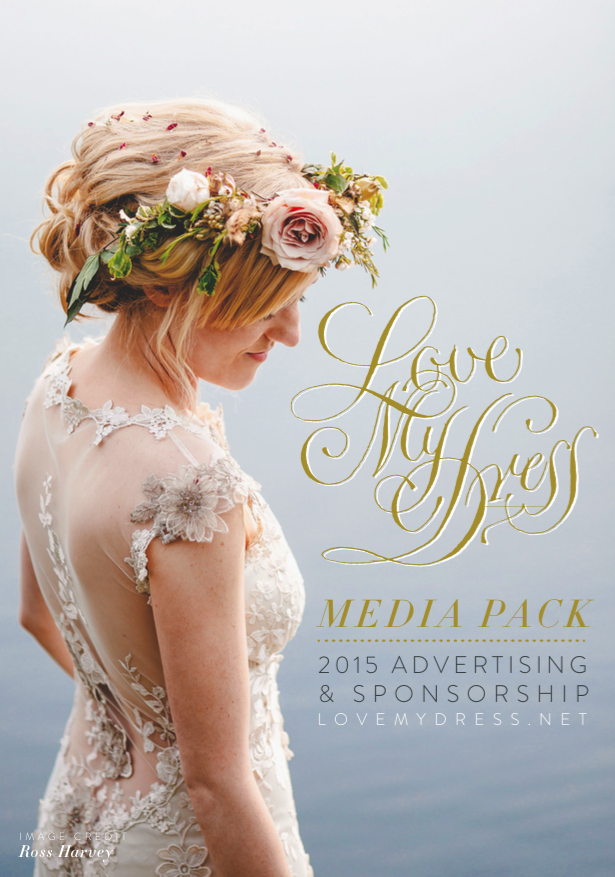 Our media pack – email us for a copy.
Beyond The Banner
If you have a copy of our media pack (pictured above), you'll be aware of our new 'beyond the banner' mantra.  Beyond the banner is a term we use to describe the full suite of support we provide sponsors who pay Love My Dress to advertise their products and services.  I truly believe that the days of providing a straight forward banner advert are gone.  I believe that sponsors need and deserve more, and so my team and I have been working hard on ways we can broaden the level of support we provide.
We want our sponsors involvement with Love My Dress to be positive, meaningful and above all, to have a positive impact on the success of their business.  Our goal is to develop long-term trust and brand association between reader and sponsors.  Whilst a banner advert remains the first, and most important 'foot in the door', we have completely enhanced our sponsor pack and the level of support we provide, which includes:
a free introductory feature
free Events Listings
significant savings on blog features
free exposure via our social media channels
a free, enhanced listing in our beautiful new supplier resource, 'Annabel Adores' (more on that a little further down)
I believe all bloggers need to look beyond the banner.  We will continue to seek to find more useful and meaningful ways of supporting our advertisers above and beyond their banner advert.
Submissions Exclusivity
Some of the other changes we're making focus on our submissions exclusivity – that is, the length of time we ask wedding photographers not to submit the content they share with us elsewhere, after it's featured on Love My Dress.  I'm referring specifically and only to real wedding features.
I'll be honest, I was disheartened to discover purely by accident this week that two weddings I shared last year went on to be shared on other wedding blogs, 6 weeks and 5 months after our own features.  All of a sudden, our own 4 months exclusivity policy didn't really feel long enough.  My frustrations led to me sharing this post on Facebook.
I rely on the wedding photography community for our content and have a great deal of respect for them. Likewise, I really hope that the photographers who work with us respect and appreciate that our readers and social media followers have been hard earned, and that securing a feature on Love My Dress doesn't just mean a blog feature any more – it means having images shared and credited on Instagram, Pinterest, Facebook, Twitter and even Google+ – not once – several times.  We're constantly developing our social media strategy and working out how best we can maximise exposure for those who supply our content.   All this takes time and effort and time and effort costs money. Investing in this aspect of running my business is absolutely critical however.
On the note of submissions – we don't have an online system that handles submissions and don't have any plans for one (I recently turned down a developer who wanted us to trial one), but we do have an excellent set of email templates that enable us to:-
provide an accept/reject on every submission within 2-3 working days
confirm via email when a feature will be published (within 2-3 days of receiving the images)
notify all suppliers involved in a wedding we blog that they have featured on our blog
Again, all things that take time and time is money but in my view, keeping those who feed your content well informed and updated this way keeps everyone happy. It helps to set us apart from the rest and hopefully minimises any criticism we might receive in any private forums.  No one is perfect after all, but we are getting there 😉
Images from some of the real weddings we've shared this week
Annabel Adores
That supplier resource I mentioned earlier? We've been working for months on developing our own directory that we're aiming to launch in May.  To be fair, the term 'directory' doesn't do it for me, so I've been fondly referring to it as a resource for months now.  It will infact have a name all of it's own; 'Annabel Adores' will soft launch in May .
Lots of blogs have a supplier directory, so why bother creating one of our own?  Because we want to stand out and build a resource that not only looks beautiful but offers readers a much more organic and pleasurable way of locating wonderful sponsors.
We're still designing and developing but the image below gives the tiniest of flavours of what you can expect.
Social Media
The cacophony of social media makes it more difficult than ever to stand out, but we try our hardest to connect in an honest and genuine way through all our social accounts.  Facebook continues to diddle with their algorithms, limiting organic reach further and further, forcing page owners like me to pay to secure any kind of half decent reach – something I was incredibly reluctant to do at first – but that I now embrace as part of our marketing strategy.  There's absolutely no shame in paying for Facebook promotion.  I hear people moan about the Facebook thing, but it's OK. I get it. Facebook is a business just like the rest of us – it has to make money somehow.
Twitter isn't the social hub-spot it used to be and is mostly, I find, the reserve of industry chatter.  For me, the excitement is all about Instagram and I love how this beautiful little social media tools allows me the opportunity to to micro-blog, by sharing excerpts from our blog features.  It encourages more meaningful engagement with our Instagram followers and blog readers.  Since I started utilising Instagram in this way, our follower numbers have leapt forward.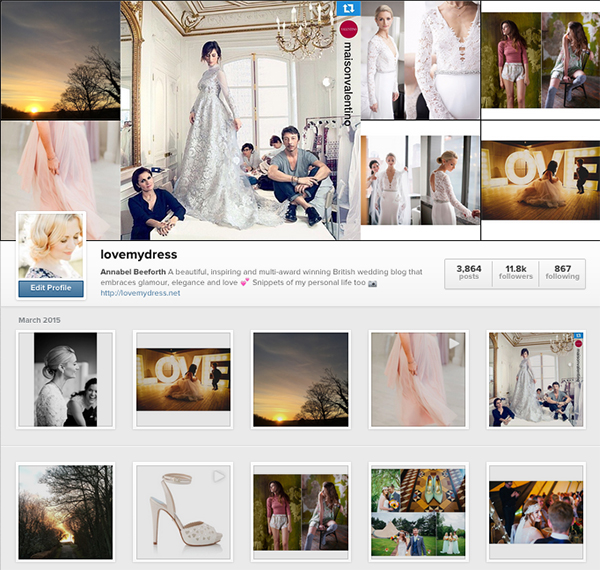 Good customer service
Two years ago I wasn't running my business as well as I am today. I was struggling under the pressure and didn't have decent systems in place to help me manage my work flow.  We receive a ridiculous volume of emails every day and it had become overwhelming.  Bringing in a skilled administrator with years of administrative experience has given my business a huge boost, as has expanding my team of writers and taking on a professional copywriter.
We're not perfect but we've come such a long way and good customer service continues to be my number one priority.  Timely, polite communications and reliable, trustworthy, well written content.
. . . . . . . . . . . . . . . . . . . . . . . . . . .
So there you have it, some musings on how we've been tackling the issue of standing out in a crowded social media environment. You might be wondering why I've shared this post today, why I've given away some of our insider info, and what I hope to achieve from doing so? I've always enjoyed reading how other bloggers tackle the challenges of remaining commercially successful and truly believe that we can only benefit as a whole if we keep on sharing and challenging one another to do things better.
I also want to be able to say on my toes and continually challenge myself and how I manage this blog so that it remains a commercial success for as long as possible. I suppose I feel by 'putting it out there', I'm holding myself to account, setting a benchmark that I can only improve on – an exercise in discipline and good management for anyone who is there own boss.  Whatever, it has felt like a really useful exercise for me being able to share this information and I really do hope that other bloggers or those working in the wedding community might gain some insight or usefulness from this post.  We can only continue to write in our style too, to believe in our own unique voice and perspective and way of sharing weddings and wedding related content.
As for all you lovely brides, if you've even got this far, then please know your voice is always valuable to me.  Do you think there are too many wedding blogs out there?
I'm not expecting any comments back, but it would be lovely to see some below all the same 🙂 Do you blog? Do you work with bloggers? What are your views of how social media has changed and how are you working to stand out in a saturated social media environment?
Annabel x