Happy Friday everyone, so who is dress shopping this weekend? We've the most stunning champagne tulle ballgown wearing bride, all the way from New Zealand, for you to adore today. I'm sure you will be drawn in to the sense of fun, love and joy of the day, all mixed in with a true feel of vintageglamour, gorgeous rich jewel touches and superhero powers too (in a nod to the couple's 'nerdy side'!).
Julie and Keith were married in a humanist ceremony and celebration, surrounded by friends family and their two gorgeous sons on Saturday the 1st of November 2014 at As You Like It, in stylish Jesmond, Newcastle Upon Tyne. Keith owns a stunning beachside caféin Wellington New Zealand and Julie is a stay at home mum to their two gorgeous 6 and 3 year old boys Atticus and Henry.
"I wanted vibrancy and sparkles, an almost handmade 'vintage Hollywood'style. Choosing a varied jewel toned palette, with bases of gold and navy was perfect. Especially after choosing my wedding dress, and the bridesmaids dresses. But with Keith being a total nerd, and our bond over sci-fi movies and Harry Potter books I really wanted to bring in quirky, nerdier details. Such as the Groomsmen superhero socks, the Harry Potter cake topper (and a pair of wonder woman undies that I wore!)"
Photography Copyright (c) 2015, Helen Russell Photography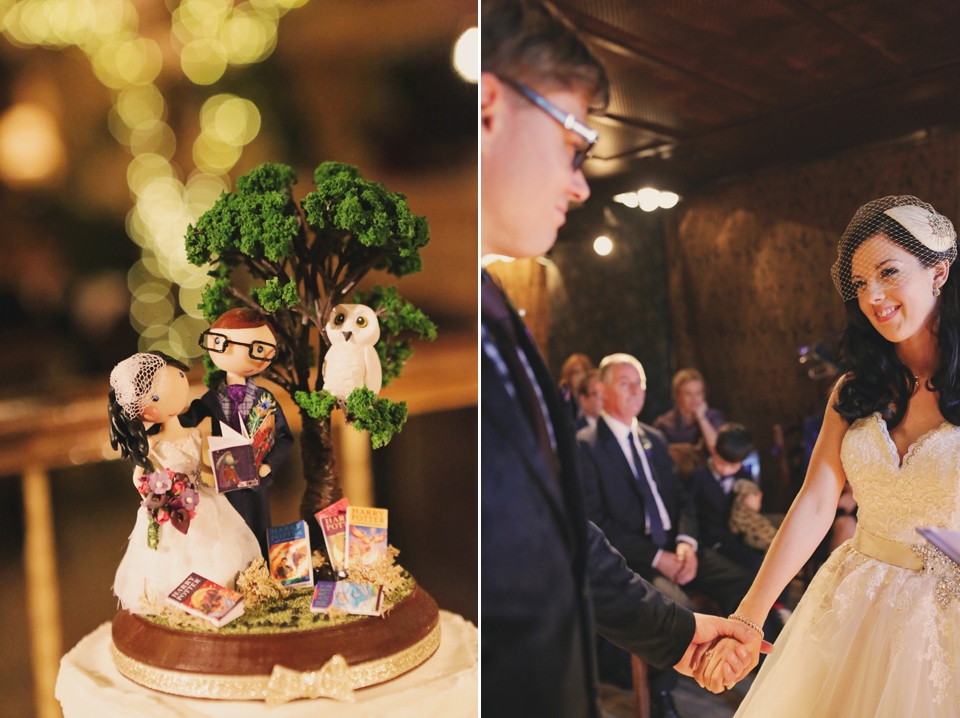 Bride Julie is a regular reader of Love My Dress, and it's just so wonderful to hear how inspired she was by the real life weddings and how it influenced her own planning.
"I had always loved the weddings on Love My Dress, the vintage-glam ones and London pub weddings in particular. I loved seeing brides taking vintage and quirky detail and adding them into an urban city setting. I knew I didn't want to get married in a country house, as gorgeous as these weddings are, they just weren't 'us'. We wanted a unique wedding, a party with home style cooking and our favourite people. We wanted to stay true to our personalities, and have a day that was an actual representation of us and our long relationship."
"I'd been reading Love My Dress since before we became engaged, and I loved the fact that it has a variety of vintage weddings. Not just specific eras, or definite style, or being scared of originality. The passion for weddings is so clear through the pages. And I loved Annabel's obvious fondness for the North East!"
"My bridesmaids Kelly, Claire, and Nicki, all wore Virgo's Lounge Raina dress in navy, from ASOS. I absolutely adored these dresses! I was originally just letting the girls shop for their own dresses, given the fact I lived in another continent! But whilst meandering around ASOS one afternoon I stumbled across these dresses and was absolutely blown away.
I immediately messaged the bridesmaids to see what they thought and was thrilled that they loved them. The style, the colours, and the embellishments were exactly what I hadn't realised I was looking for! When the girls sent me their photos of themselves once the dresses had been delivered I genuinely welled up. They all took my breathe away on the day itself, and that was the sole reason I had asked them to walk down the aisle 'American style'before me, so everyone could see just how beautiful they are."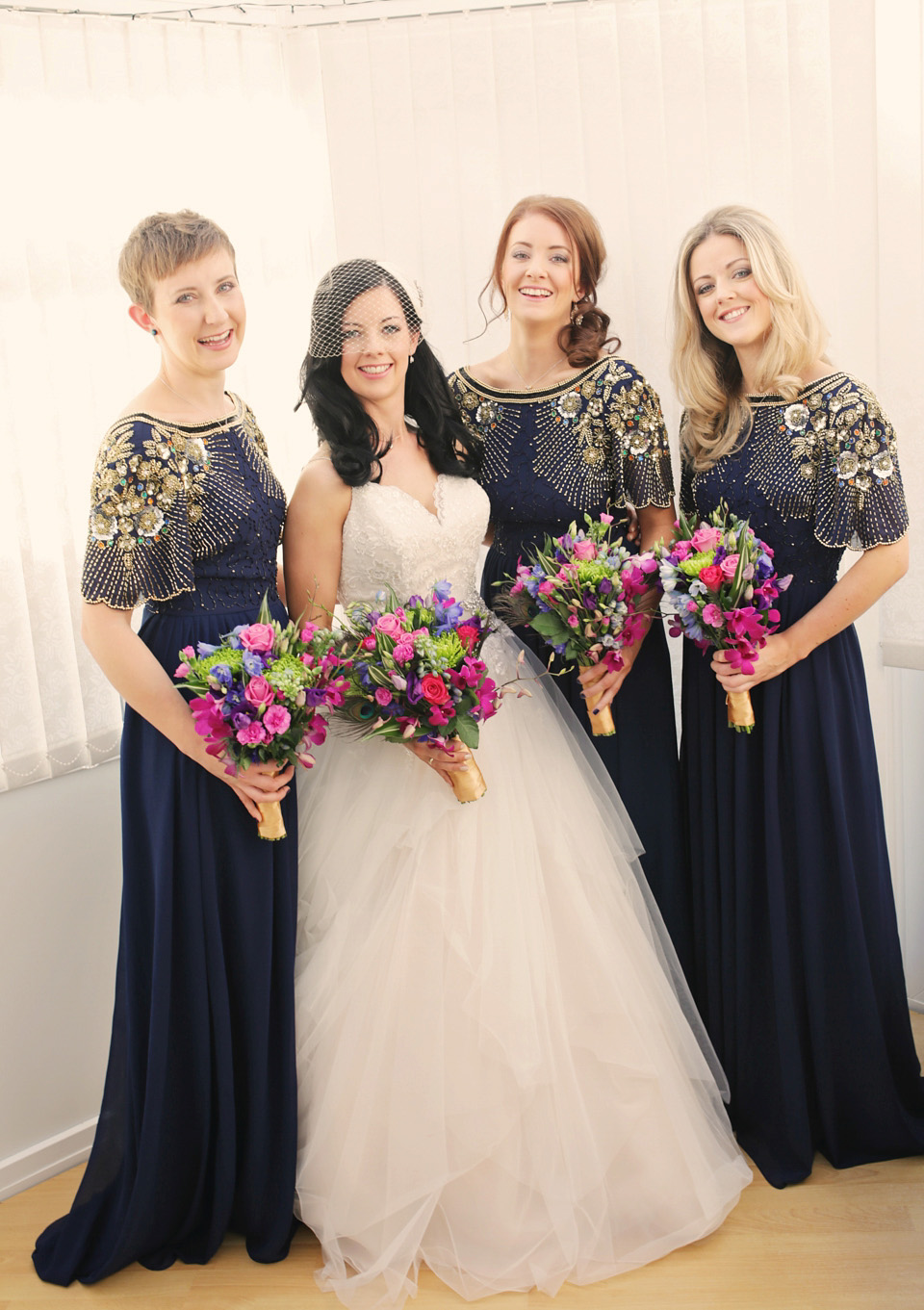 Julie knew the perfect gal to create the her look for the day, selecting the talented Lisa Jones Hair and Makeup;
"I found Lisa after falling in love with the Mooshki Bridal dresses and seeing she had done all their hair and makeup styling. She was a total superstar. So talented and an absolute riot to have around when we were getting ready on the morning of the wedding. It was just like having another mate around, having a laugh and a gossip. Totally perfect. She did a fantastic job with my mum, and bridesmaids, and I have never felt more beautiful in my life. She's so talented."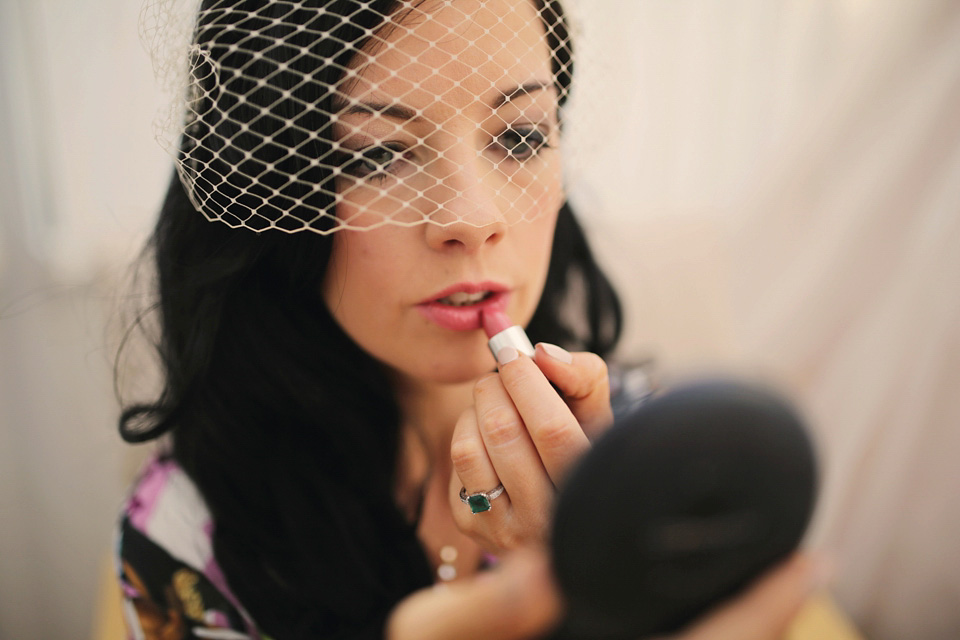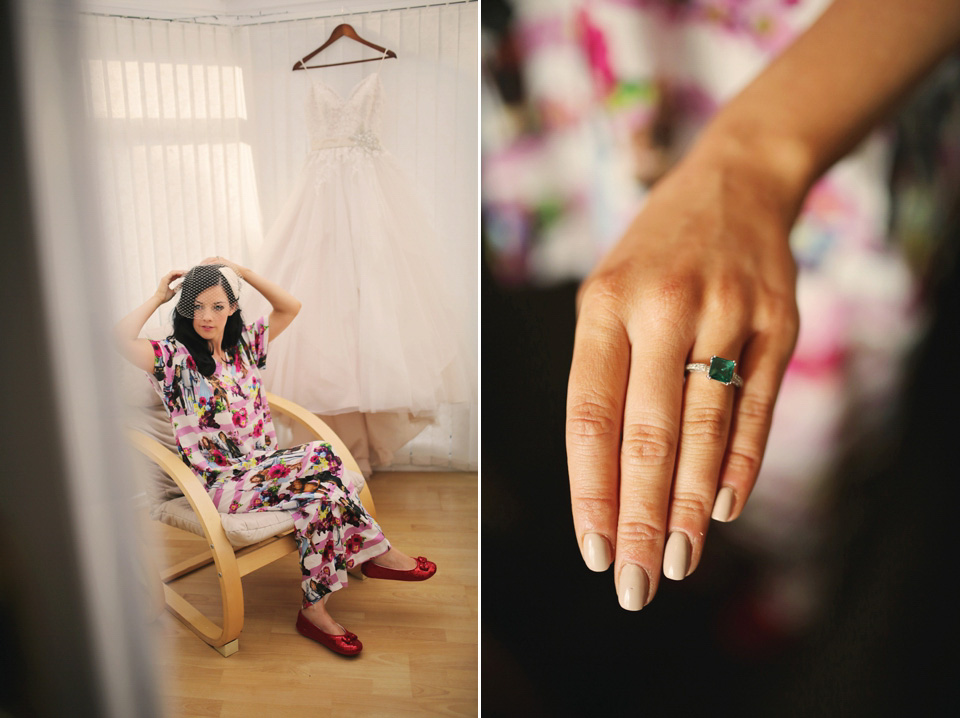 Julie and Keith chose Helen Russell Photography to capture their day and could not have been happier with this talented lady;
"God where do I start with Helen! She was just absolutely incredible. Id seen her beautiful work on Love My Dress and just loved her. The minute I had paid the deposit to the venue I was immediately typing out an email to her to ensure I secured her services, as she's in such high demand! I jumped for joy when she confirmed. There's not many ideas or opinions I was dead-set on during the wedding planning, but I was so hopeful she would be our photographer-even before we became engaged!"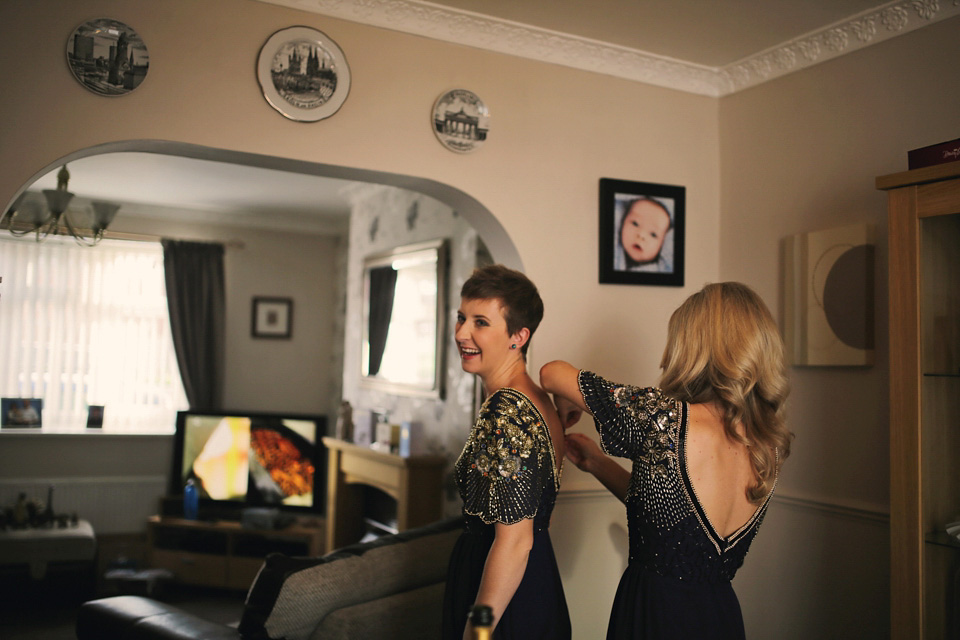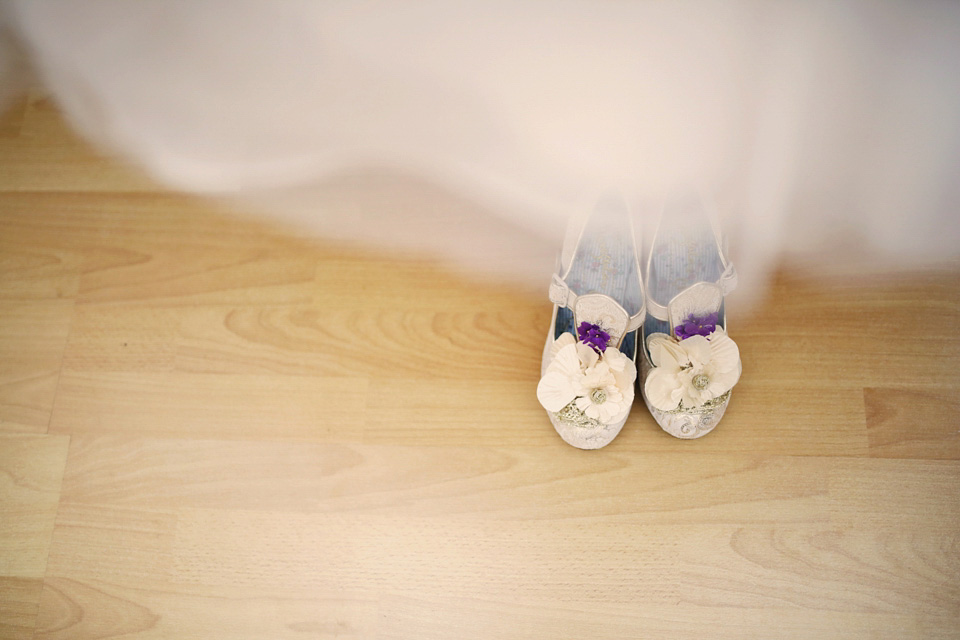 When it came to choosing the perfect shoes, there had only ever been one pair that would do…
"I wore 'Can't Touch This'in gold by Irregular Choice shoes, a common staple in any vintage brides'choices these days. But I first saw them over 11 years ago in Schuh in Newcastle and said to my friend Caroline that "I will get married in those one day". Luckily they matched the dress! I can't help but wonder if they were always in the back of my mind, influencing my choice of dress."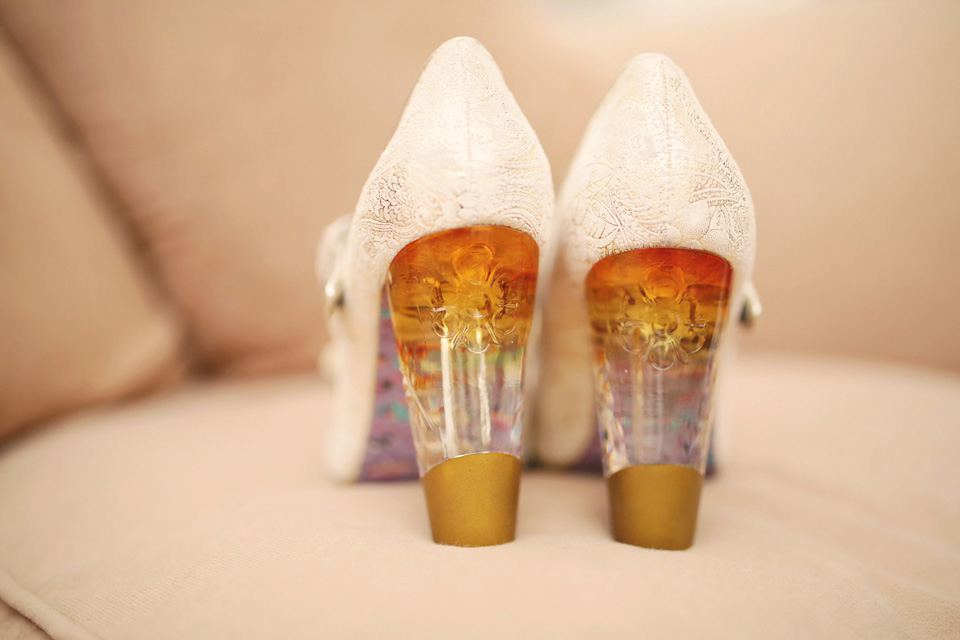 "My mum found our florist Jean Boullivant Flowers and they did an excellent job. Once again, being so far away made it a bit hard to sort flowers so I emailed my mum a few pictures of the kind of things I liked and left her to it! I wasn't too worried about what flowers went into the bouquets, it was more about getting the right colours to catch the vibrant tones. I knew I didn't want a very 'structured'bouquet, and my mum did a fantastic job of sorting out exactly what I liked, and they even included some peacock feathers to tie in the boys boutonnieres."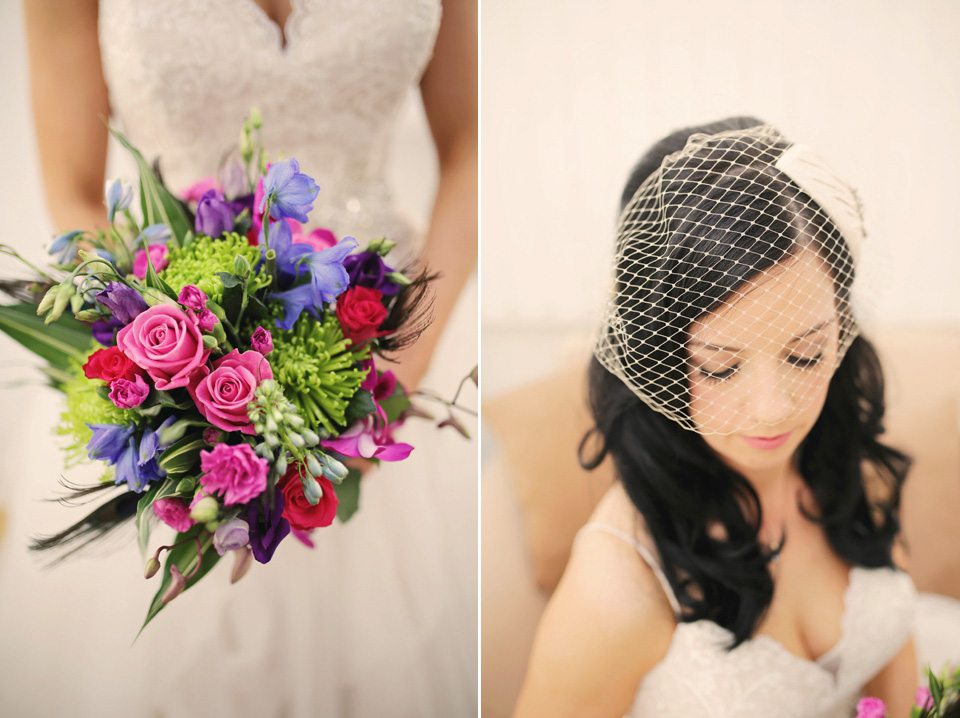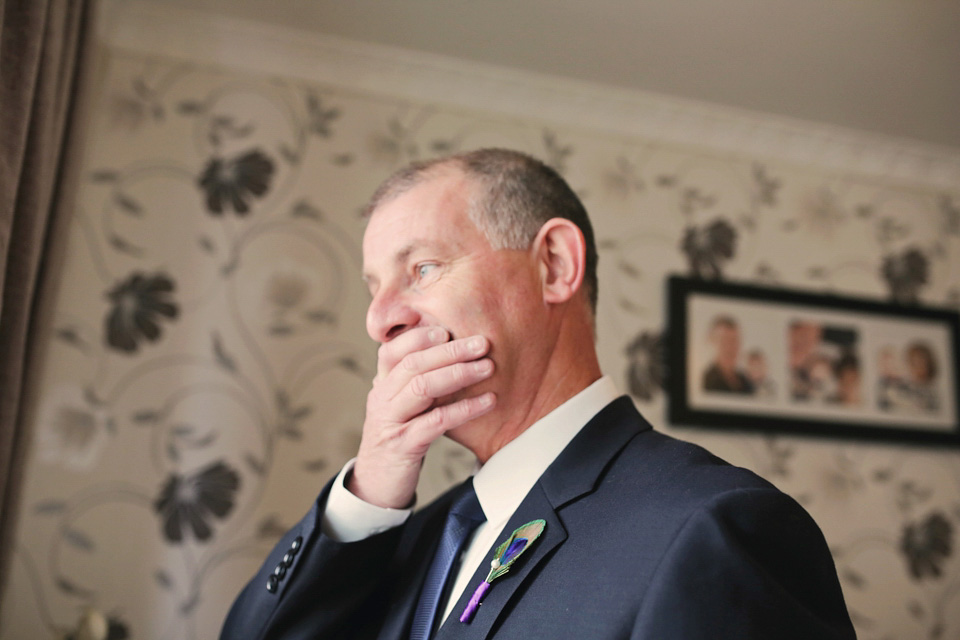 Julie decided to choose a special perfume to wear not just on her wedding day but in the run up to the wedding too, I love the reason why, as scent can evoke such memories;
"I wore BonBon by Viktor and Rolf. I had worn Babydoll by Yves St Laurent religiously for nearly 14 years, and a few months before the wedding I decided I wanted a new scent since I was turning 30. And something that would always remind me of this time of wedding planning, and of course the day itself. It's absolutely delicious and the bottle is so cute!"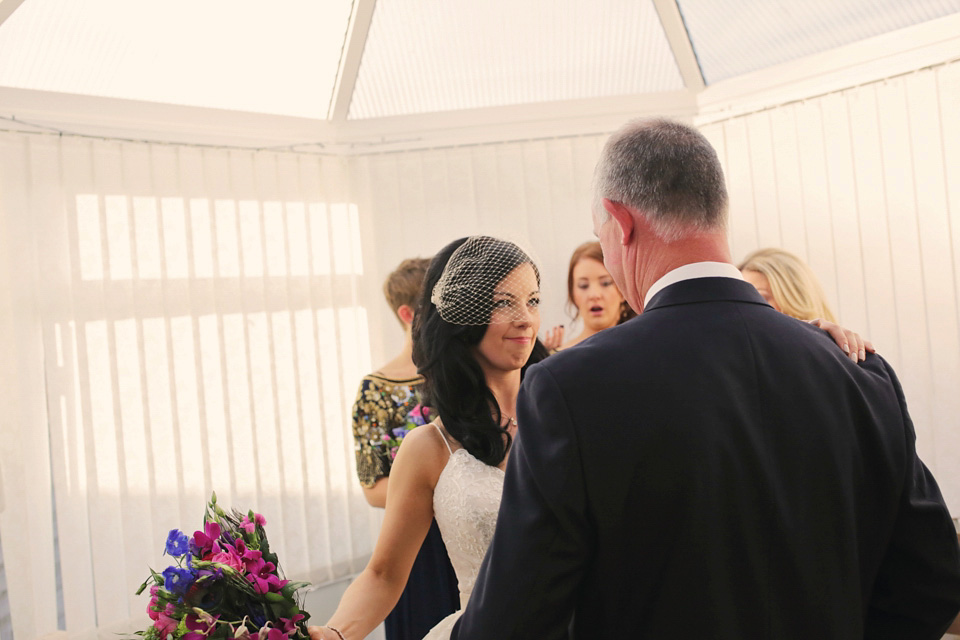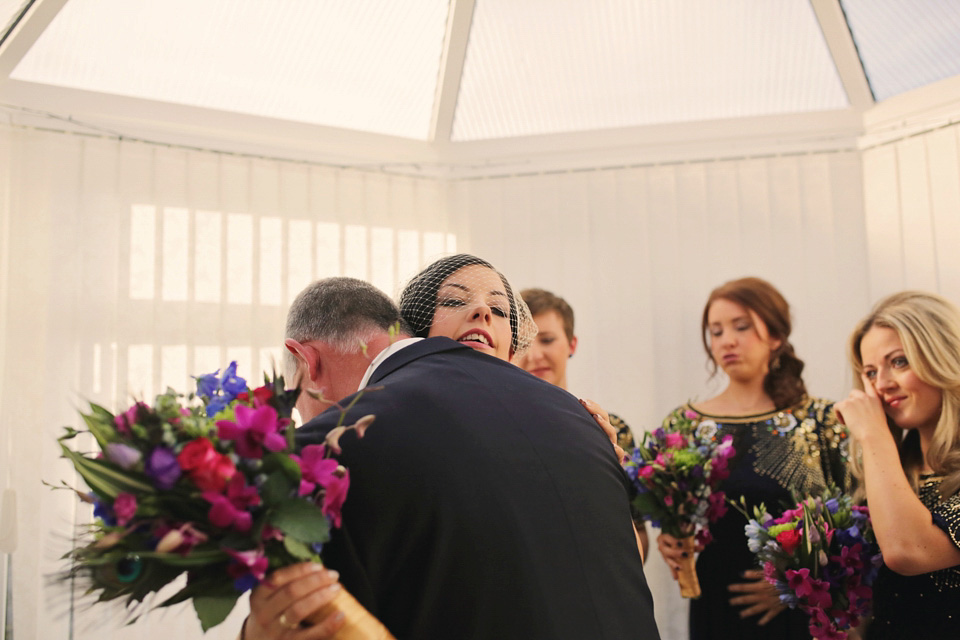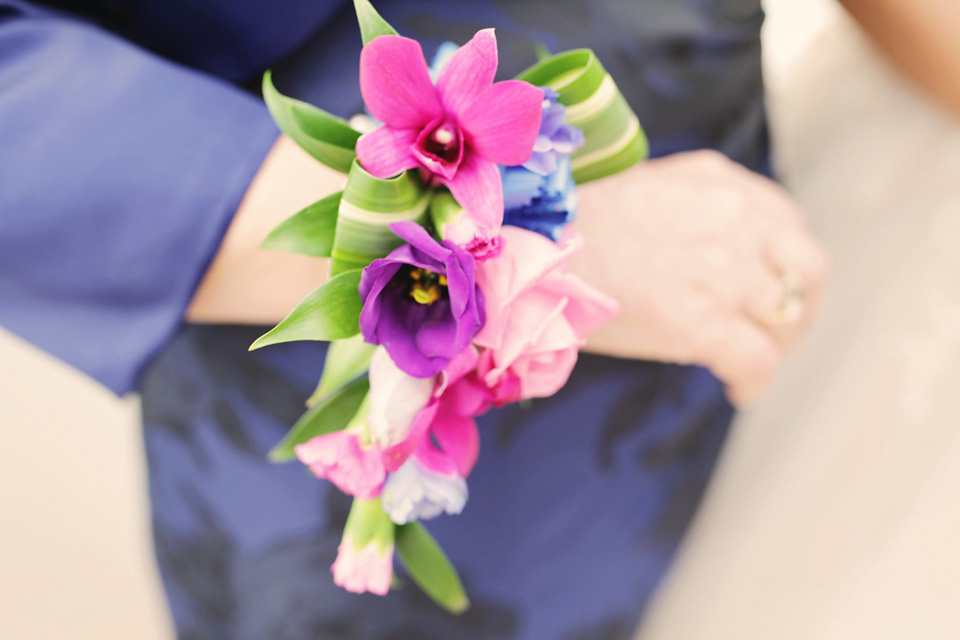 Julie wore the most fabulous ballgown style dress, with a sweetheart neckline and glorious layers of handkerchief layered tulle skirting, with lace and sparkle detailing, just perfect for floating about beautifully in all day! Totally Hollywood Glam!
"I'd always thought I'd go for a tea length dress with sleeves. I had a pixie cut hairstyle when I got engaged and wanted something that suited that. I had found a dress company in the North East of England online and fallen in love with a dress but had reservations about having a dress made, purchased, and shipped to New Zealand, without trying it on once. So when my parents came over to Wellington 18 months before the wedding I thought I should use the opportunity to see if I could find a dress a bit closer to me!
It was only through dress shopping that I discovered I loved a deep sweetheart neckline, and that I might be willing to grow my hair out for the wedding! I tried on a dozen dresses though and wasn't particularly excited about any of them."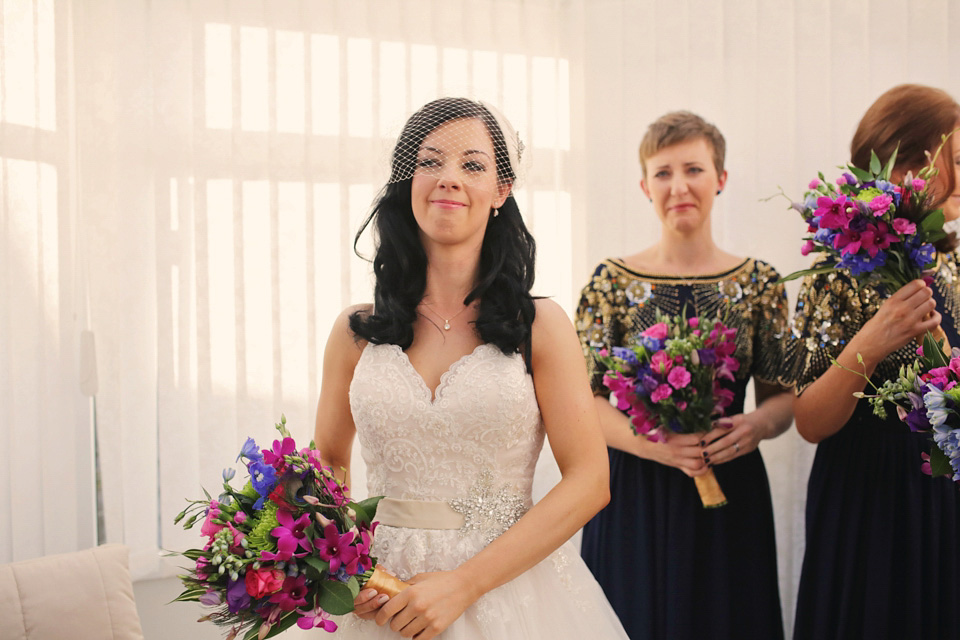 "I had seen a lovely tea length dress though in Astra Bridal in Wellington, New Zealand, so I went back to try it on with a petticoat. On the way there I was telling my Mum that 'maybe I am just too cynical to have a "the one!"moment'. When we got there, lovely Irish Kirsty from Astra Bridal mentioned they had a few new gowns delivered that morning from Bonny Bridal Couture and I immediately chose two of them to try on. Needless to say, the 2nd one didn't even make it off the hanger! I remember my mouth dropping open as Kirsty fastened me into the beautiful champagne dress as a fully formed image of what I wanted my bridal look to be fell into my head. It was vintage, it was special, and it wasn't white!"
"The best advice I got about choosing a dress was from one of my best friends Kerry who told me 'go hard or go home. You only get one first wedding dress!'  The dress more princess-y than I ever expected to choose, but the champagne colour, and lace bodice stopped it from being too much for me. The handkerchief tulle, the spaghetti straps, and the embellishments added an ethereal feel, and its true what they say- once you choose the dress everything else just falls into place."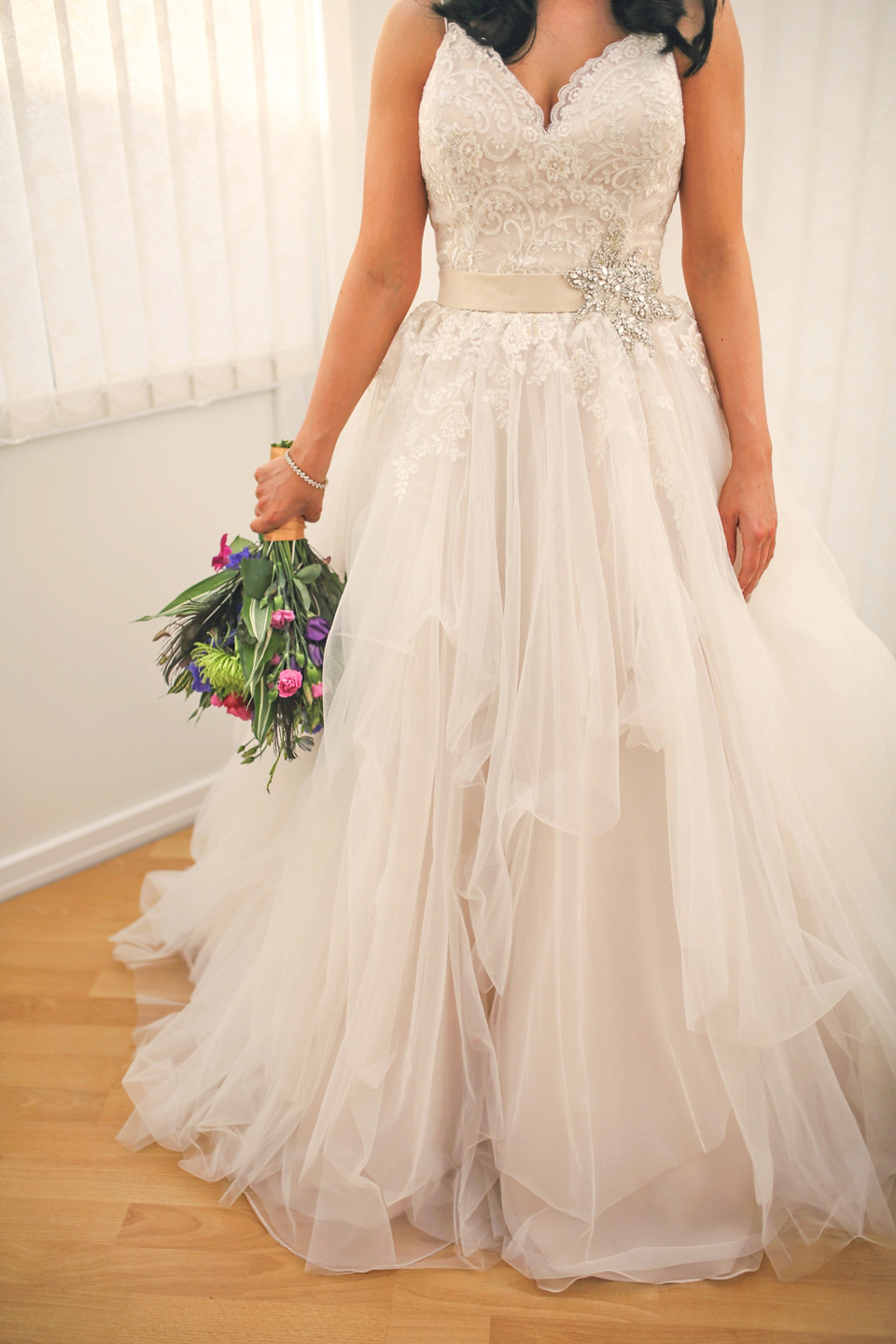 Having found her 'the one'moment with her dress and deciding there and then to grow her pixie haircut out too, Julie turned her attention to finding the perfect veil to match;
"I knew I didn't want a full length veil. An easy choice when you have short hair, but once I started growing my hair out, to balance out the gown, I had second thoughts. I couldn't find any examples online of a birdcage veil with a ball gown. Every website I had searched on came back with reasons why you should not do it! But then I found one glorious image of an old Hollywood style bride with long black hair, a ball gown, and a birdcage veil and I knew it could possibly look pretty good."
"I found Rae from Agnes Hart on Etsy. She's a costume designer and milliner in London and was incredible to work with, even sending me fabric samples all the way to NZ. I knew I wanted a straight across veil, but she even included a free wedge veil in case I changed my mind! I can't recommend her highly enough, she's incredibly talented. It was a champagne coloured satin teardrop, with an embellishement attached to match my dress. I loved it, and I am dying for the opportunity to wear it again!"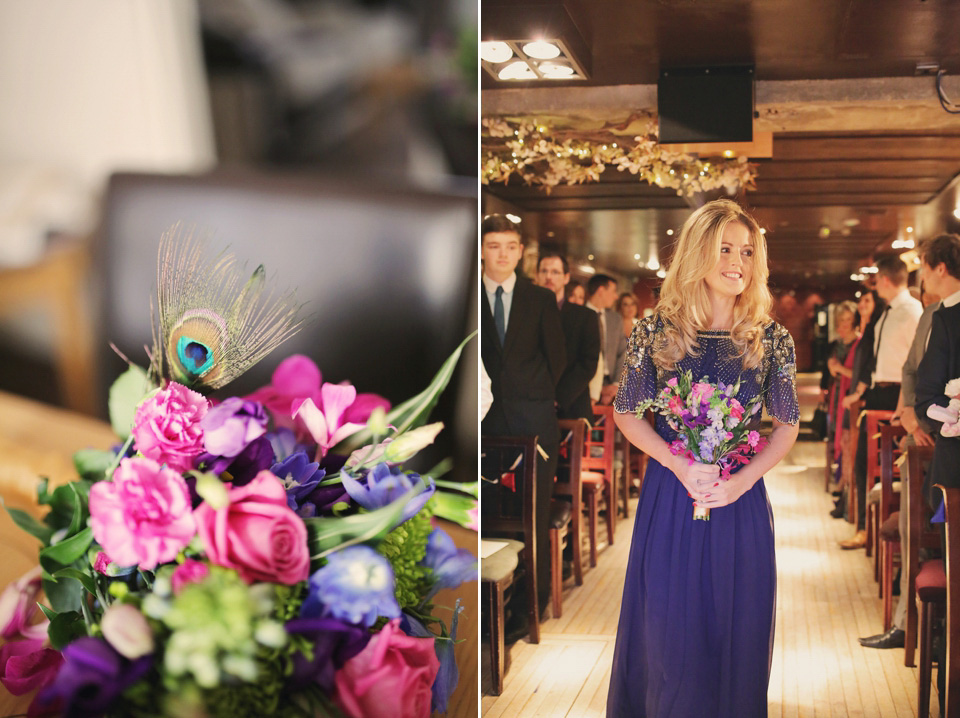 "We first met 12 years ago when we both started working in the same bar. I was an 18 year old Geordie, and he was a 28 year old Kiwi. He asked me out on what would turn out to be a terrible first date, and we've been together ever since. We are so different, but completely hopeless without the other. About 7 years ago we decided to move to New Zealand to settle down, start a family, and a business. We became engaged on 12.12.12 at his parent's rural property in Australia. We were planning on getting married at some point soon, we had been together for so long and already done so much, we really needed to get round to ticking it off our list!
But the proposal was still such a surprise. We went for a walk after the kids were asleep, and whilst I was side-tracked by a cat leaping out of the bushes he got down on one knee and said the most wonderful things to me, including references to some of our favourite movies! And we were engaged for nearly 2 years before the actual wedding, only just long enough to plan a wedding from so far away!"
"My dad Bill walked me down the aisle. Being a proud feminist, and considering I had been living with Keith since I was 18, I didn't welcome the notion of being 'given away', and our celebrant Anna was very good at phrasing it during our ceremony, explaining that 'whilst I wasn't being given away, it was extremely important to both my dad, and me, that we take this walk down the aisle together'. And it was. My Dad is my hero."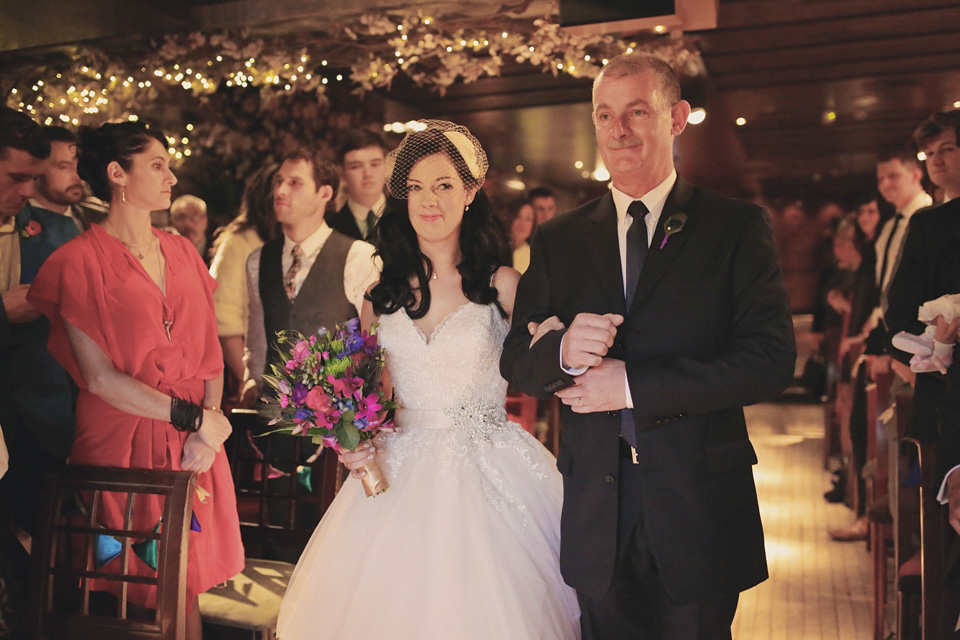 "I walked down the aisle to an acoustic version of the Foo Fighters Everlong, performed by our lovely friend Mick Rolfe. It has always been a special song to us, and standing outside the doors, waiting to go in was so nerve wracking. But when the song started playing my stomach hit the floor, it was such an intense moment, watching my girls walk out one by one, me clinging onto my Dads arm, listening to this beautiful portrayal of such a personal song, and just thinking of my bestest friend waiting for me at the other end. As I walked out I just locked eyes with Keith and was so focused on him that I didn't even see anyone else. Id happily go through it 100 times."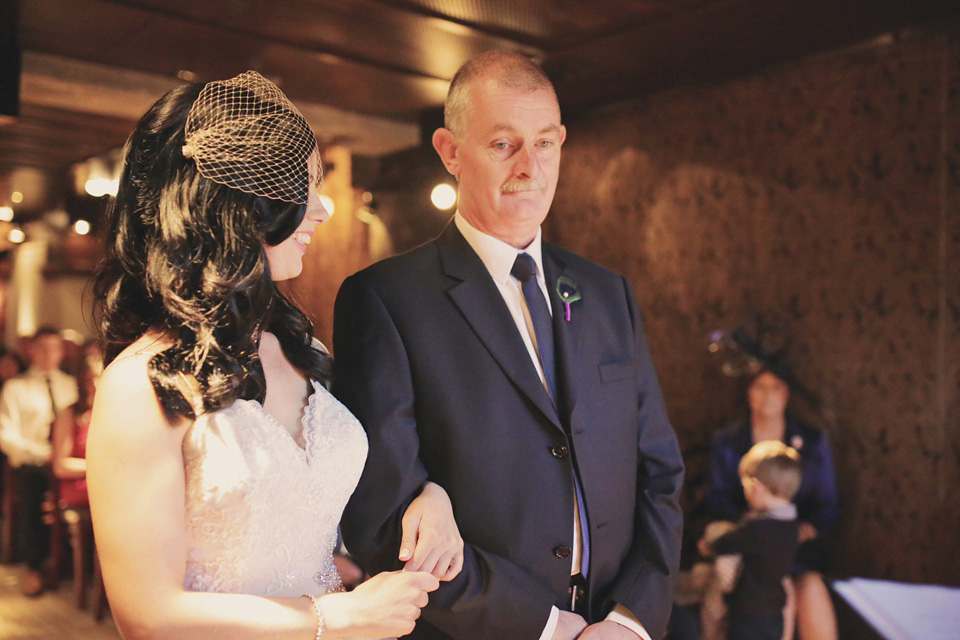 "Our vows were perfect for us. Our humanist celebrant Anna Forster constructed such an original, and romantic, ceremony around us that we felt completely comfortable writing our own vows. We decided to keep them secret from each other as a result. We went with a basic 'opening paragraph-half a dozen promises- closing paragraph'layout so they would at least flow in a similar fashion. We agreed to make them light hearted, but to balance them out with serious feelings because this was IT, after 12 years we were eventually getting married."
Julie's vows:
"My darling, We have been together for so long now, that I can't imagine what my life would be like without you in it. The person that I am today is down to you. And you have to live with that.
You are my soulmate, my best friend, and my Corbin Dallas.
To you I promise to be loyal, and stand by you always. Just as you have always stood by me.
I promise to be the best mother I can be to our beautiful children, and to take constant inspiration from what a wonderful father you are.
I promise to always be the initiator of our adventures, and to let you play the part of 'unwilling participant'.
I promise to always make you laugh at yourself, at least half as hard as I laugh at you.
I promise to be strong and understanding, at whatever problems life throws at us, and we will always face them together.
And I promise to not keep score, even when I am totally winning.
I have seen the best and the worst parts of you, and I choose both. I have never doubted your love for me and I promise to return the favour. We are proof that true love doesn't have to be a romantic fairytale. It can be solid, and strong, powerful, and hilarious. And I promise to never give up on something so perfect.
I love you."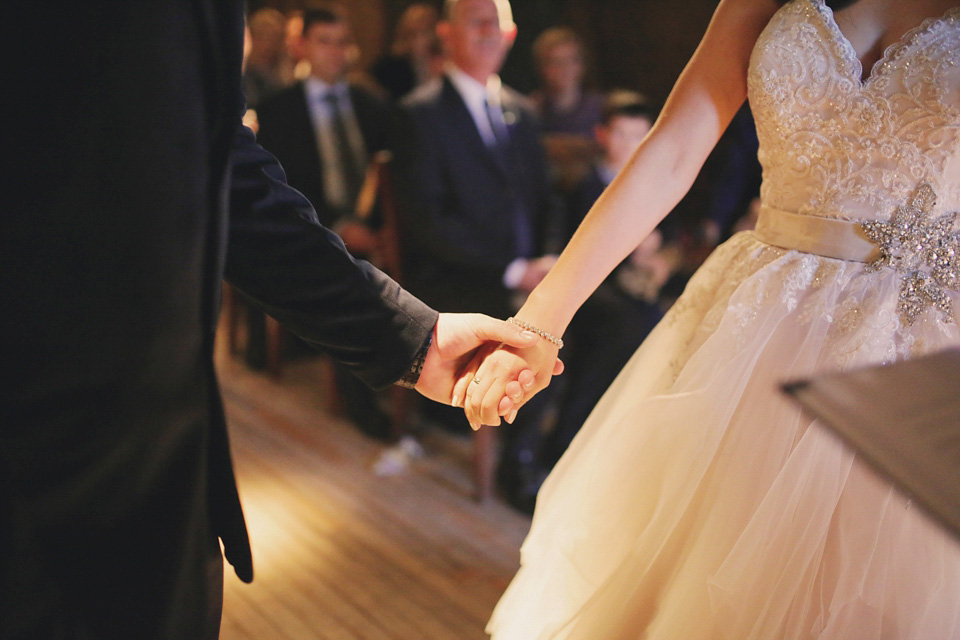 Keith's Vows
"Julie, you have changed my life in so many positive ways. Your faith in us has given me the opportunity to be a father to our two beautiful children. Your confidence in me has given me the strength to persevere with our business. Your own strength has supported me when times have been tough. And now, after almost 12 short years of trying , I am able to pleasure you daily with my tea making ability. All that is good in my life, is because of you. And as I am thankful for that.
I promise you that I will be a dad to our kids that you can be proud of
I promise you that I will work hard for our family's future
I promise you that I will put the needs of our family first
I promise you that I will take care of my health so you don't worry
I promise you that I will continue my tea making education to perhaps please you twice daily
And finally, I promise to love you like I always have, because you are the only girl in the world for me, and as you often say, I am very lucky to have you."
"We searched a lot for readings to suit us and 'A Lovely Love Story' by Edward Monkton was the only one that came close. Our celebrant suggested that we could change the details to make it more suited to us, but it was hilariously already spot on! We were the dinosaurs already. Our lovely friend Helen agreed to read it for us."
"We chose the venue As You Like It, because we were part of the company when it was being built, and had a look around whilst it was still a building site and without a clue it would eventually be our wedding venue and loved the idea of getting married there all those years later, after so much had happened in between. It also fitted well with our idea of a fun, comfortable, quirky wedding.
It's a regular haunt amongst our friends back in Newcastle, and as close as I could hope to get to one of the 'london pub weddings'I am huge fan of, whilst still getting a gorgeous vintage vibe. The indoor cherry blossom trees, and strings of fairy lights looked so gorgeous on the dark autumn night."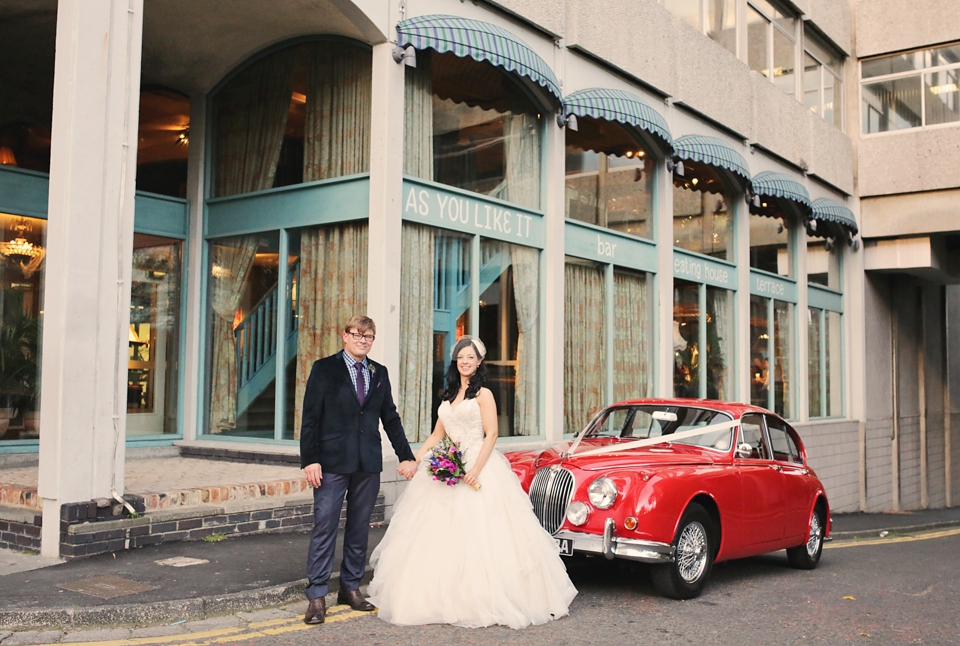 Keith chose a smart navy velvet jacket from Hallensteins, with his shirt, tie, and trousers from Barkers and his brown boots from Overland, all stores in New Zealand.
"The boutonnieres were peacock feathers sourced from a seller on Etsy, the shop seems to be closed down now. I chose them because they went well with the jewel toned theme, and Keith liked the idea of having something that wasn't flowers.
Our best man was one of our oldest friends Eddie, and the groomsmen were my younger brother Jonathan, and Keith's older brother Nick, who had flown over from Australia for the big day. They wore their own navy suits.  They all wore superhero socks, gifted to them in their thank you bags from us. As well as the silver tie pins we gave them, each engraved with their initials." 
To decorate the venue Julie and Keith enlisted the help of their friends and some lovely suppliers to achieve the casual, relaxed but vintage glam look they wanted for the day;
"My sewing machine whizkid bridesmaid Nicki made all the jewel toned bunting to hang on the back of the chairs, AND all the table cloths. When I mentioned that I thought having bunting on the back of the chairs, instead of bows, would look cool she was already whipping them up on the sewing machine before I had a chance to talk her out of it. I can't thank her enough, the day wouldn't have looked half as good without her blistering her thumbs in the process."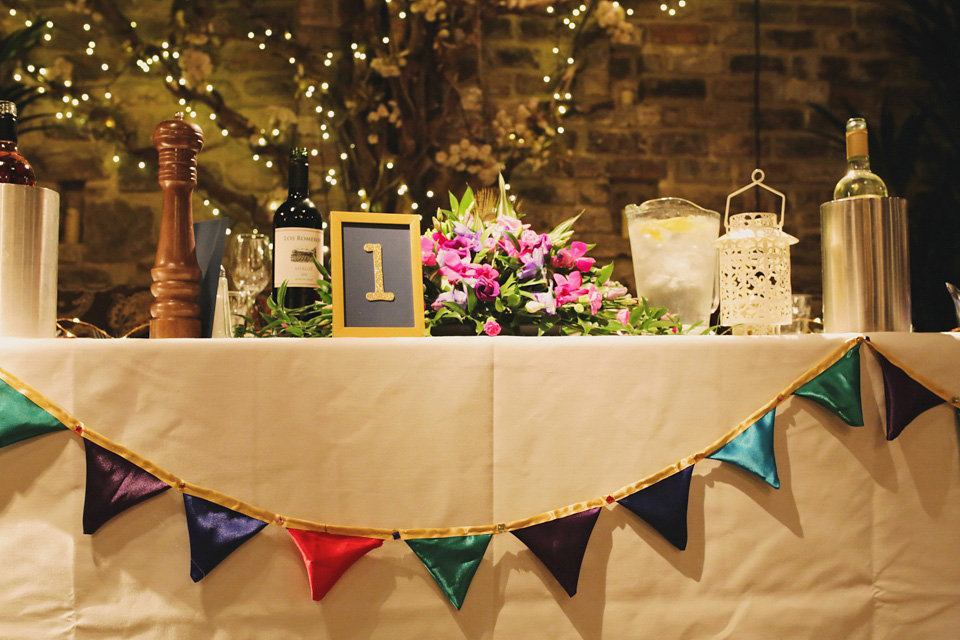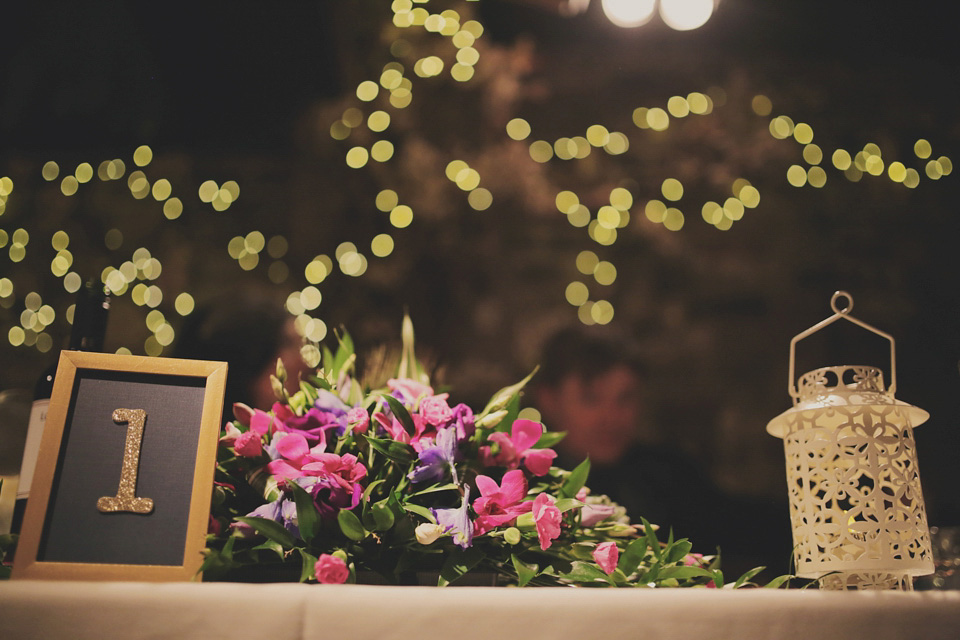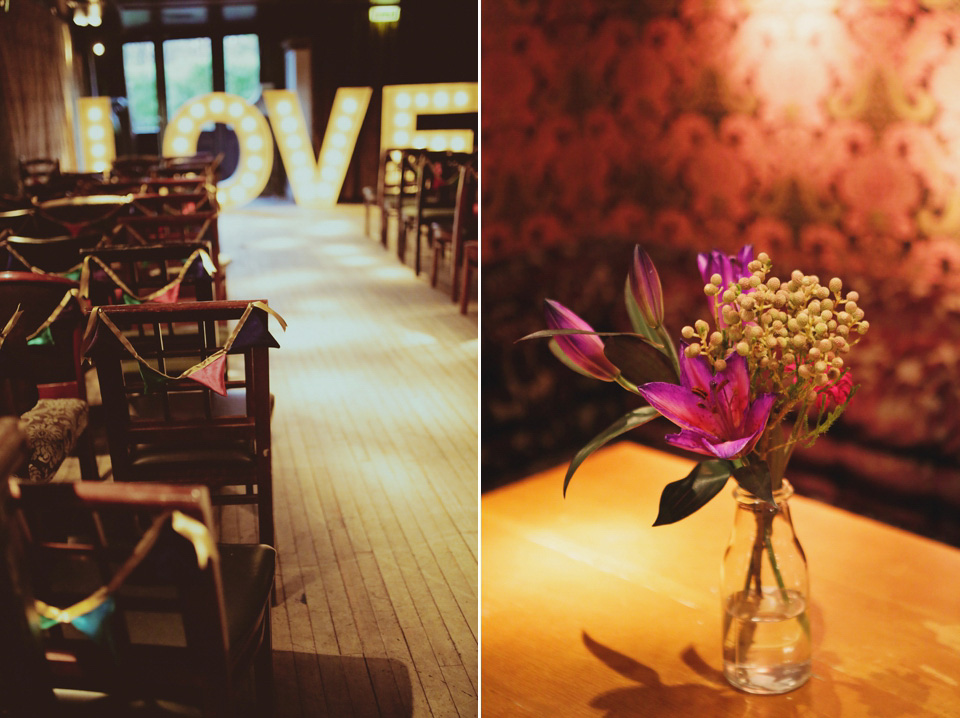 "I hired the sequin table runners from the marvellous Melissa at the Sweet Hostess. She was a treasure and the table runners absolutely 'made'the tables, and the one thing that tied the whole theme together for the reception."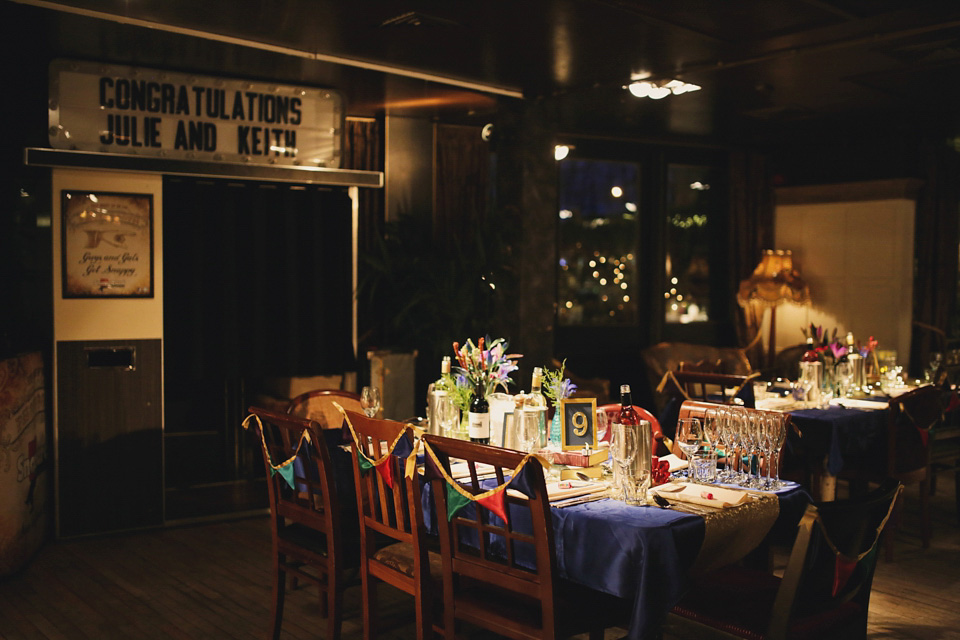 "Again my parents found the cake for us Ladybird Cake Supplies and arranged everything. I knew I didn't want thick fondant icing, or anything too dramatic as I already had my eye on our personalised cake topper. They did 3 tiers, 2 lemon flavoured, and 1 caramel for Keith, finished with a beautiful butter icing on the outside. It was so delicious, and the staff were so lovely and helpful to deal with."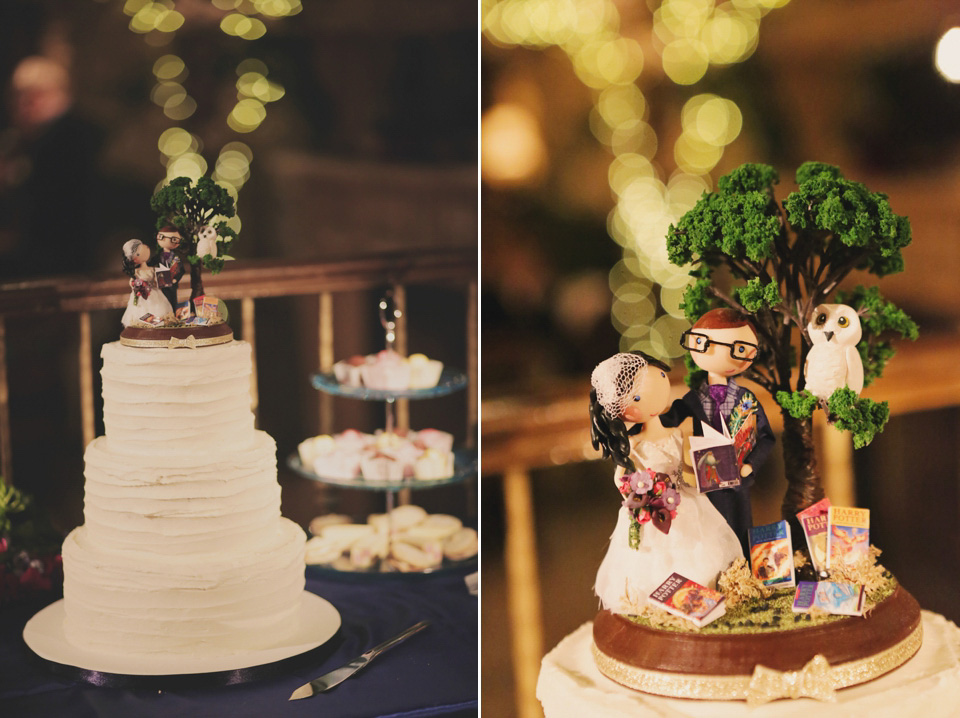 "I have so many favourite parts of the day! From Henry declaring he needed a wee halfway through the vows, and Atticus's face when he saw me in my wedding dress and told me I looked like a superstar princess!"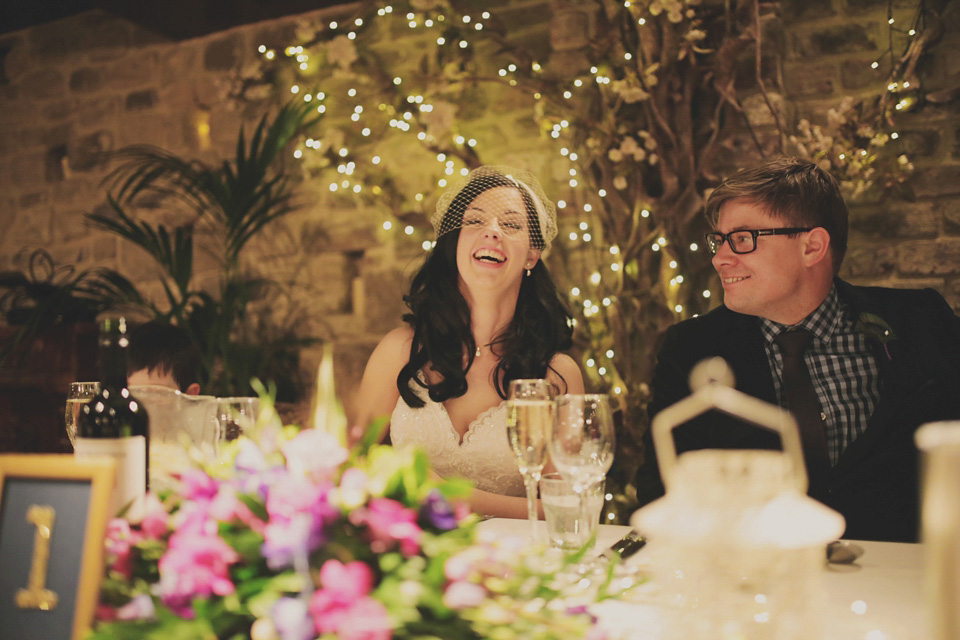 "I also booked our photo booth through Snapparazi Booths. You really can't go wrong with a photo booth and these ones are just stunning. I loved how well the retro style booth fitted in with the theme. Ross was another supplier who was so helpful to deal with online."
"We also hired the light up LOVE Letters from Coco Luminaire. I just adored them. Because we had a humanist wedding there was no 'signing table'and knew those letters would look spectacular in its place. Again, this was one of the things I was set on getting. The lovely staff at As You Like It even moved them to the dancefloor for the reception, and our friends all had great fun taking photos with them. I would've taken them back to Nz with me if I could've!"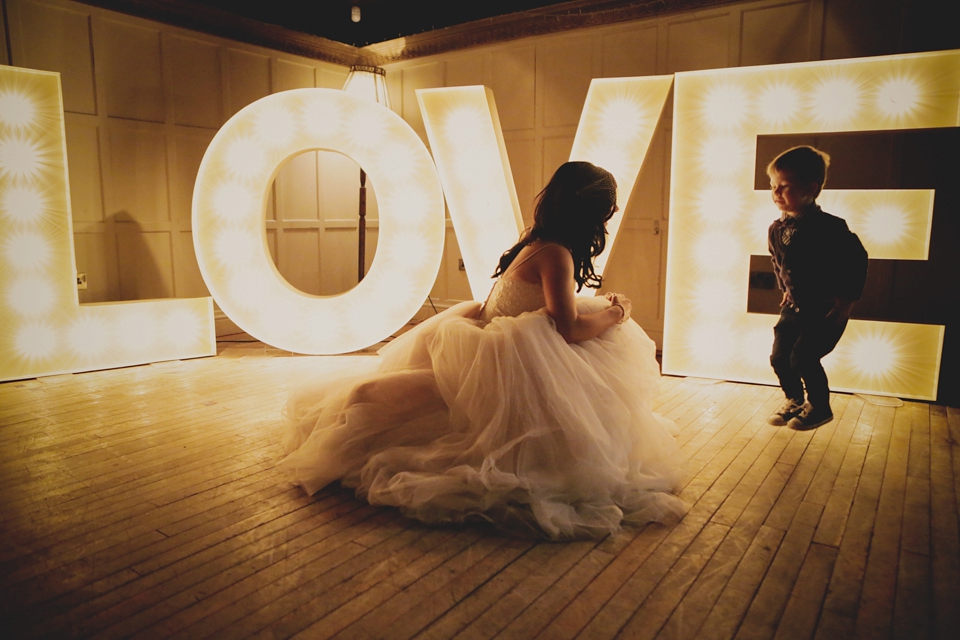 More raves for the couple's photographer Helen Russell… 
"She was so good about arranging everything over email her emails were always so warm, and polite. Something that is extremely reassuring when you are planning a wedding over the internet!
She did so well during our goofy engagement shoot, where we were giggly and jet lagged after only arriving in the UK 2 days previously. And on the day she was a total rockstar. She turned up looking amazing, I really appreciated the effort she had put into her outfit, it was after all a wedding. She caught all the best moments during the 'getting ready'process, a time that was so much fun, but hard to remember due to the nerves, and champagne. Throughout the ceremony I didn't even notice her capturing her incredible shots, but again she's captured memories I wouldn't have been able to recall otherwise. It all went so quickly."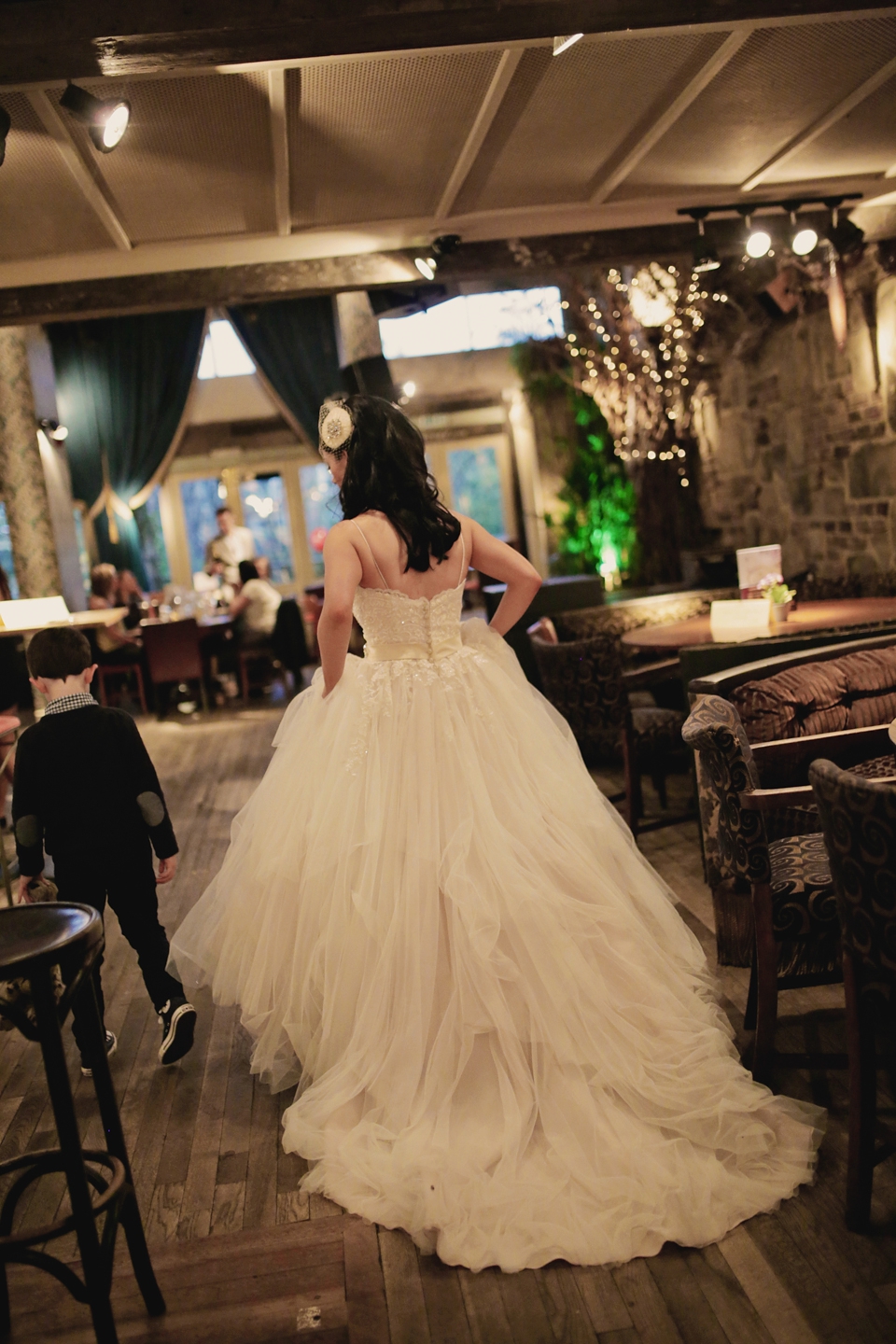 "I also really appreciated her talents for managing to get some wonderful photographs of our two sons. They aren't huge fans of getting their photo taken, and I didn't want to put any pressure on them to pose for photos. Helen was so understanding when I explained this in our pre-wedding meeting, and her background in child photographer meant that she was able to catch some truly precious moments of them, just being themselves. We don't have many photos of us as a couple, never mind as a family, so we will truly treasure these photos for always." 
Words of Wedded Wisdom
"Don't sweat the small stuff'is an oldie, but a goodie. And it's true. I decided early on what was important to us, and what wasn't. And by not striving for perfection meant that the day ended up being way better than we ever imagined. A wedding is a party, not a performance.
And don't be afraid to accept offers of help! Good lord, there is absolutely no way we could've achieved this wedding had it not been for my amazing parents and bridesmaids. They did everything we couldn't be there for and so much more in between. It's not the easiest thing to do, planning a wedding from the other side of the world, but it definitely helps to have as many hands as possible to assist! Choosing the very best photographer you can get is so important too, they are the ones who will provide you with a lifetime of memories.
And if things get a bit stressful, just hold your fiancés hand and make them tell you everything is going to be ok. Because it is, really.
I think the only thing I would've changed would be maybe getting to the UK an extra week earlier. The two and a half weeks we were there before the wedding were chaotic, but they were fast and fun."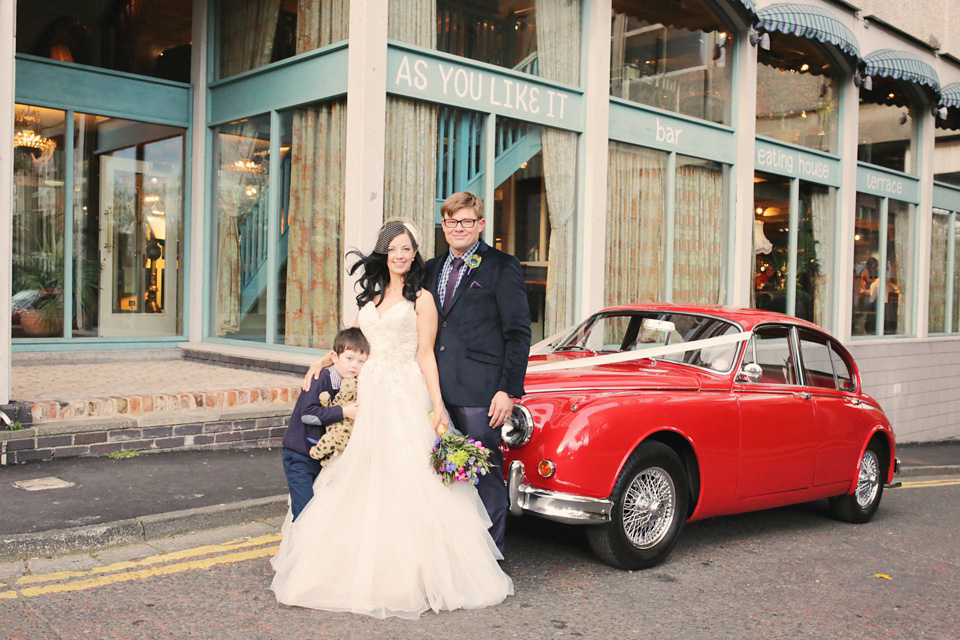 Congratulations to Julie and Keith, thank you so much for sharing your fantastic wedding day, I love it all and its always so lovely to be able to feature the wedding of a regular Love My Dress reader. Thanks too to the very talented Helen Russell Photography sharing these images with us. If you are a newlywed bride or groom and would like to share your wedding with other readers too, you can find out more here about how.
So having enjoyed this wonderful wedding, I bet you've the same one unanswered question that I do;
"Julie where did you get those wonder woman undies, we all want some!"
Love and superpowers,
Rebecca x
Photographer – Helen Russell Photography
Venue – As You Like It
Bride's Dress – Bonny Bridal Couture at Astra Bridal
Bride's Birdcage Veil – Agnes Hart on Etsy
Bride's Shoes – Irregular Choice
Bride's Scent – Viktor and Rolf
Groom's Attire – Hallensteins + Barkers + Overland
Bridesmaids Dresses – ASOS
Bridesmaids Necklaces – Whimsy And Grace
Rings – Walker and Hall
Invitations – Original Wedding Tea Towel Company
Florist – Jean Boullivant Flowers
Cake – Ladybird Cake Supplies
Cake Topper – Keep Sake Wedding Cake Toppers
Magicician – Paul Lytton
Photobooth – Snapparazi Booths
Favours – Amazon
Sequin Table Runners – the Sweet Hostess
Light Up Letters – Coco Luminaire
Transport – MMD Cars
Hair and Makeup –  Lisa Jones Hair and Makeup