It was just over a year ago now, that we introduced our first team of Lovettes.  Having a team of brides to contribute their journey in wedding planning was always something I'd wanted to do on Love My Dress, so it felt like a proper little milestone when we came to announcing our first ever chosen Lovettes last February.  Sadly, one of the original four ladies selected had to pull out, but it has been an absolute pleasure being able to read the contributions of the remaining three Lovettes as they each planned their 2014/15 weddings.  You can read all about their journeys in to marriage here.
Back in January, we set out to invite fresh applications for our 2015/16 team of Lovettes.  We received 135 entries in all – the combined impact of which completely knocked me sideways for a whole 48 hours, as I carefully made my way through  every word of every single entry.  What our readers have to say really matters to me, and I wasn't about to whizz through the applications for the sake of getting the shortlist together in a rush.  As I was deep in to shortlisting, an overwhelming sense of pride engulfed me, and I became quite the emotional thing!  It became apparent more than ever, what an incredible set of inspirational, diverse, hard working, strong, honest and supportive women Love My Dress attracts as readers.  It was an incredibly humbling feeling, knowing that all these ladies enjoy visiting this blog that my team and I have created – visit it to be inspired and to seek reassurance and support.  How on earth was I going to begin to shortlist 135 applicants down to 4 – the same number we had appointed last year!?
That's when I realised that this  year, I wanted to do it completely differently. Indeed, I think we had to.
Part of my objective for establishing The Lovettes always was to create a more interactive community of brides to be.   I'm not saying we didn't achieve that with our inaugural team of blogging brides, who I feel very proud of.  But how could 3 lovely brides, wonderful as they are, truly represent the diverse community of readers that we have?  I really wanted to be sure we did a better job of representing our readers this year. It was time to shake things up a bit and approach this project from a lateral perspective (planning their blog post schedule was an interesting experience!).  Why restrict ourselves to just 4 readers? Why stick to an inflexible 1 post every month schedule? And why not consider brides due to marry soon who have already amassed a wealth of wedding planning experience?
Please welcome then, our very first proper Lovettes 'Community' – 21 brilliant women, each of whom are due to marry over the course of the next 18 months.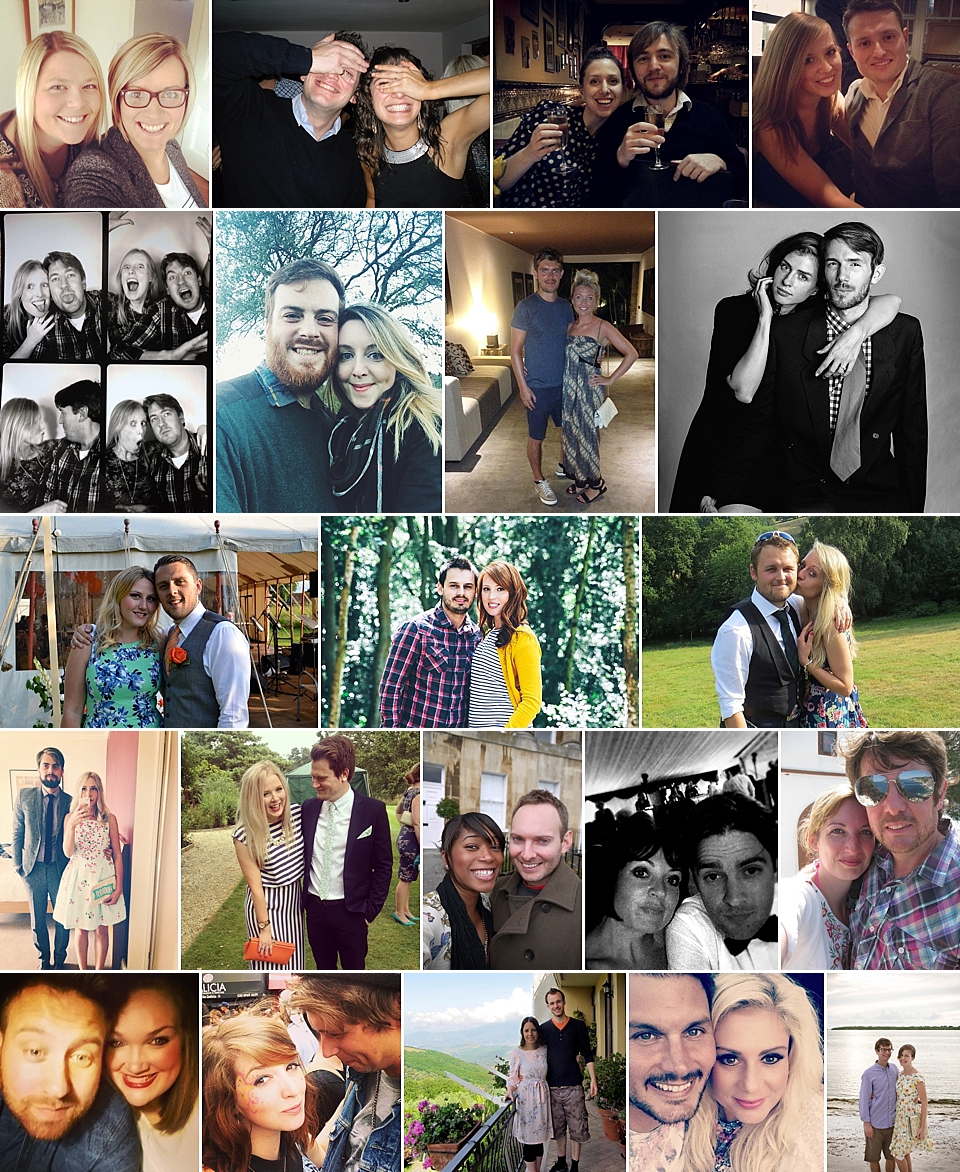 21 you say? Crikey! How will be keep up?! Fear not oh worried ones, we have it all covered (didn't I tell you, we're spreadsheet maniacs and have it all worked out already?).  Our first Lovettes to start blogging are due to marry in June this year, and we have Lovettes marrying as late as September 2016 who will start blogging from June onwards.  We're also going to be reserving these features for evening time – features will be shared at 6pm instead of in the day time, offering the ideal blog reading opportunity for once you've put your feet up after your evening meal 🙂  By allowing ourselves to be more flexible, creative and a little braver in our choices, we'll be able to deliver a much richer and more varied reader experience that won't impact on our regular blogging schedule.  In so doing, we hope to enrich and enliven our community of readers who are planning a wedding.
Soooooo, let's find out who the lovely ladies are, shall we?  Introducing you to 21 faces in a single blog post was always going to be over-kill, so I'm going to cover half the team today, and half the team tomorrow – and I'm only going to provide a relatively brief introduction as I'd rather the ladies have an opportunity to introduce themselves properly and more fully, through their first blog posts.
Amii Lanham, age 31
Wedding Date: 13th June 2015
Location: Brighton
Photographer:  Devlin Photos
Brief Details: 'Low key but surrounded by family and friends. Children in fancy dress, lawn games and Caribbean street food. Expect colour, laughter and sentiment.'
Find Amii at: Instagram (private), Pinterest
Kasia Wisniewski, age 27
Wedding Date: 27th June 2015
Location: New York
Photographer: Spencer Lum at 5 West Studios
Brief Details:  'On a Saturday in June, an old paper factory in New York will hold our full-on DIY, glamorous pizza-party wedding!'
Find Kasia at: veiled-threat.com, Instagram, Pinterest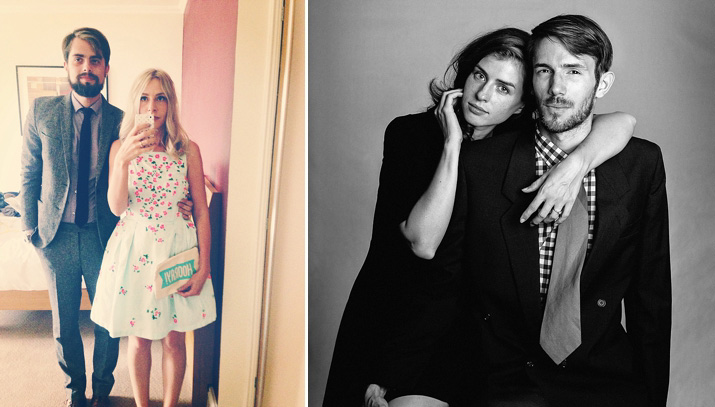 Amii on the left, Kasia on the right
Victoria Last, age 36
Wedding Date: 18th July 2015
Location: South Devon
Photographer: Lucy James Photography
Brief Details: 'Handmade, relaxed, rural and fun, with a free bar thrown in for good measure! We are keeping everything very local and the closest thing we have to theme would be Devon! Pasties, Cream Teas and Cider a plenty!' 
Find Victoria at: Instagram, Twitter
Hannah Frost, age 25
Wedding Date: 11th July 2015
Location: Norfolk
Photographer: Red On Blonde
Brief Details:  'Chris and I are planning our wedding to have a wild/vintage/mismatched feel: a ceremony in a beautiful bat-filled church on the north Norfolk coast, followed by a summery woodland-marquee reception – fairy lights, flower crowns, garden games and the obligatory ceilidh (and kilts, naturally, Chris being Scottish!) Hopefully all a recipe for chilled and happy family and friends; fingers crossed the sun has his hat on but have suggested the wellies come along too, just in case! So thinking  'Robin Hood: Prince of Thieves' meets Disney's 'Brave' – less Hollywood, more homemade, with lots of Scottish touches?!'
Find Hannah at: Instagram, Pinterest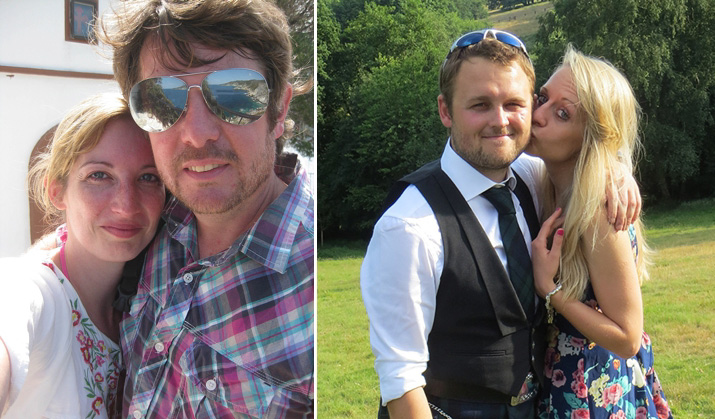 Victoria on the left, Hannah on the right
Victoria Gardiner, age 26
Wedding Date: 22nd July 2016
Location: Manchester city centre
Photographer: Haydn Rydings
Brief Details: 'We hope that our civil partnership wedding will be intimate and opulent but also reflect the love we have for one another and for the people we have invited to share our day with us.'
Find Victoria at:  Instagram (private)
Katie smith, age 25
Wedding Date: 5th September 2015
Location: London
Photographer: Miss Gen
Brief Details: 'Our wedding will (if we can pull it off!) be an eclectic mix of modern, DIY, bit glam (there's glitter!) and hopefully totally us city wedding- it's hard to really describe it as one 'defined theme' but I guess you could say what we want it to be most is fun and laid back for us and all our loved ones!'
Find Katie at: Instagram, Tumblr
Katie on the left, Victoria on the right
Charlotte Knott, age 28
Wedding Date: 18th September 2015
Location: Petersfield, on the border of Sussex and Hampshire
Photographer:  McKinley Rodgers
Brief Details:  'An Autumn, DIY barn wedding with touches of Liberty print.  Our mutual love of Wes Anderson films will also play a part in inspiring our decor. '
Find Charlotte at: London to Brighton Blog, Instagram
Saffron Freeman, age 39
Wedding Date:  5th September 2015
Location: Cornwall
Photographer: Matt Gillespie Photography
Brief Details:  'Boho theatrics at stunning Camel Quarry House, Cornwall, on a lazy, hazy, late summer, 3 day wedding weekender!'
Charlotte on the left, Saffron on the right
Ria Clarke, 30
Wedding Date: 5th September 2015
Location: Richmond
Photographer:  Charlie Campey
Brief Details: 'A colourful, soulful celebration with our nearest and dearest. We want to get the balance between acknowledging the huge commitment we're making to each other with an unstuffy fun day. At the moment we're still working out how to achieve that but in my mind it involves a Gospel choir, a bouncy castle and bubbles! We also want to celebrate my Caribbean heritage with our Britishness (which obviously means Jamaican food!). Hopefully this isn't too ambitious with only 6 months to go!
Find Ria at: Instagram
Caroline Ayello Wright, 31
Wedding Date: 12th September 2015
Location: Sussex
Photographer:  Tarah Coonan
Brief Details: 'A relaxed day with hand-made touches in a beautiful woodland setting. A touch of gold. Plentiful in love, family and kids.'
Find Caroline at: Instagram, Pinterest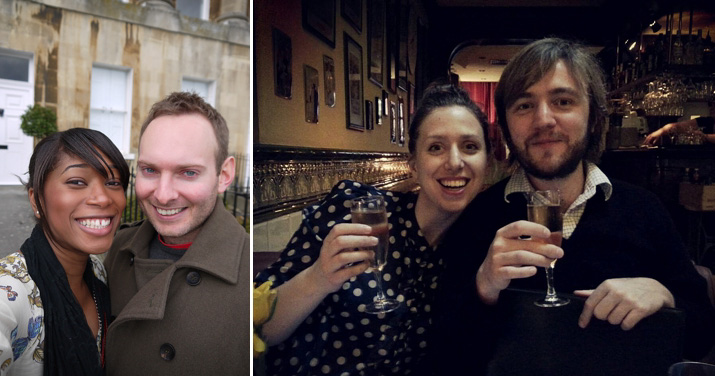 Ria on the left, Caroline on the right
Each of the women above have a different story to tell, different life experience to share, different view points, perceptions and perspectives and very different weddings to plan. I think you're going going to relish the Lovettes project this year readers! We're set for quite a ride.
Tomorrow afternoon, I'll be introducing you to the remaining 11 successful applicants and late this month, we'll be sharing our first Lovettes features, as our brides due to marry in June approach the remaining few weeks of their wedding planning journies.
Love Annabel x