Good morning wonderful ones.  You know, even after five and a half years, it is such a pleasure – more so now infact, to be able to prepare a real wedding feature for Love My Dress. I genuinely consider it one of the 'perks of the job', and incredible privilege to be charged with creating something that will be enjoyed and appreciated by thousands of other brides to be. Safe to say, I don't think I will, or could ever tire of writing about weddings, or of listening to other people's perception of love.  On that note, I have the most elegant of December celebrations to share with you today, a suite of images that perfectly capture the essence of a cool, crisp and beautifully sunny winter wedding – a day drenched in effortless glamour.
Preme and Phil's wedding took place on 13th December last year at the award-winning Fetcham Park.  I actually slipped a little sneak preview of this wedding in to our feature on black tie weddings last week.  The couple were assisted in planning their elegant day by the absolutely delightful and delectable Anna of Bride & Glory.
Photography Copyright (c) 2015, Mark Bothwell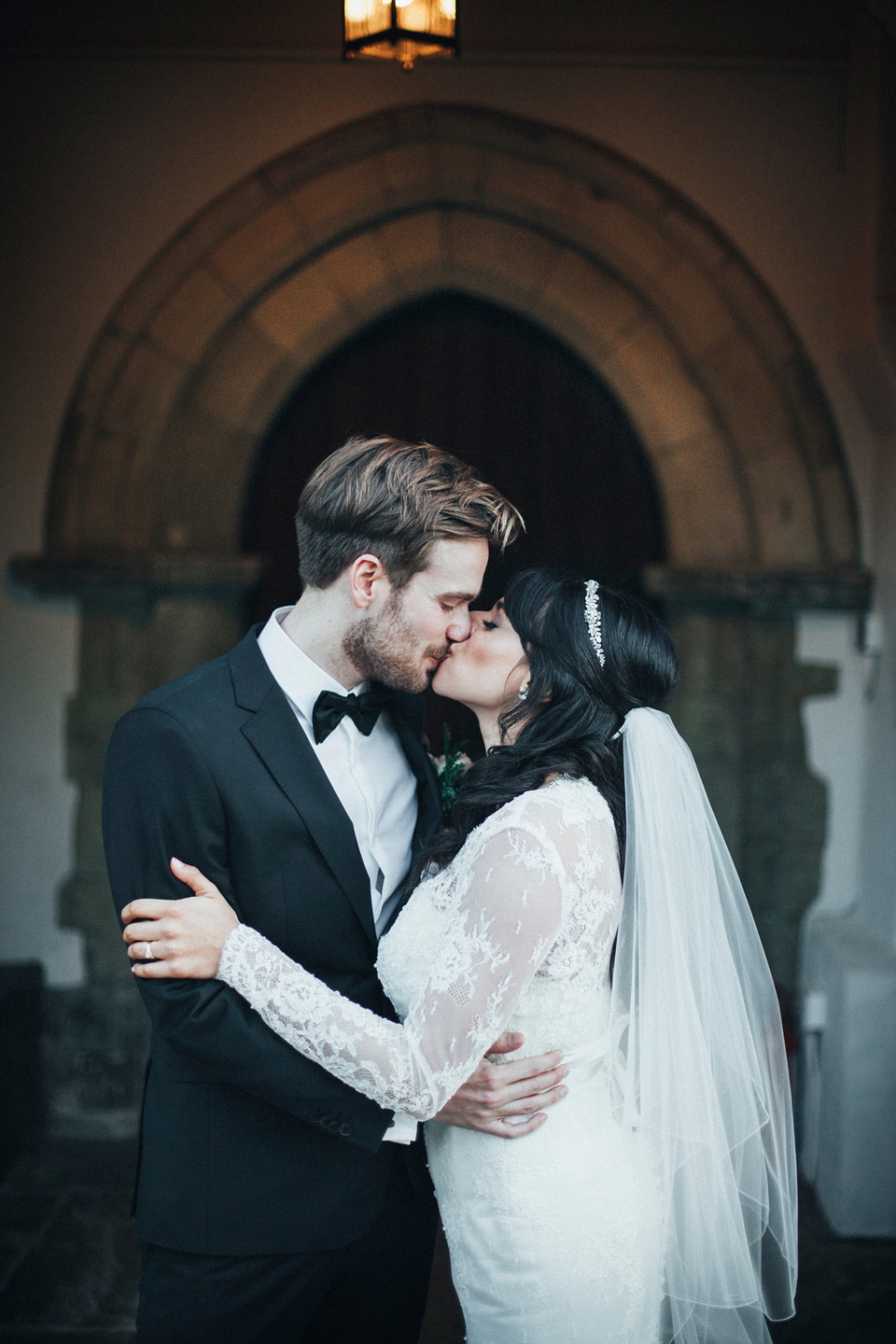 "We wanted our wedding to have a wonderfully Christmassy and wintery feel to it. We opted for plummy, purple tones and rich green foliage for which Fetcham Park's dark wood panelled great hall was the perfect backdrop."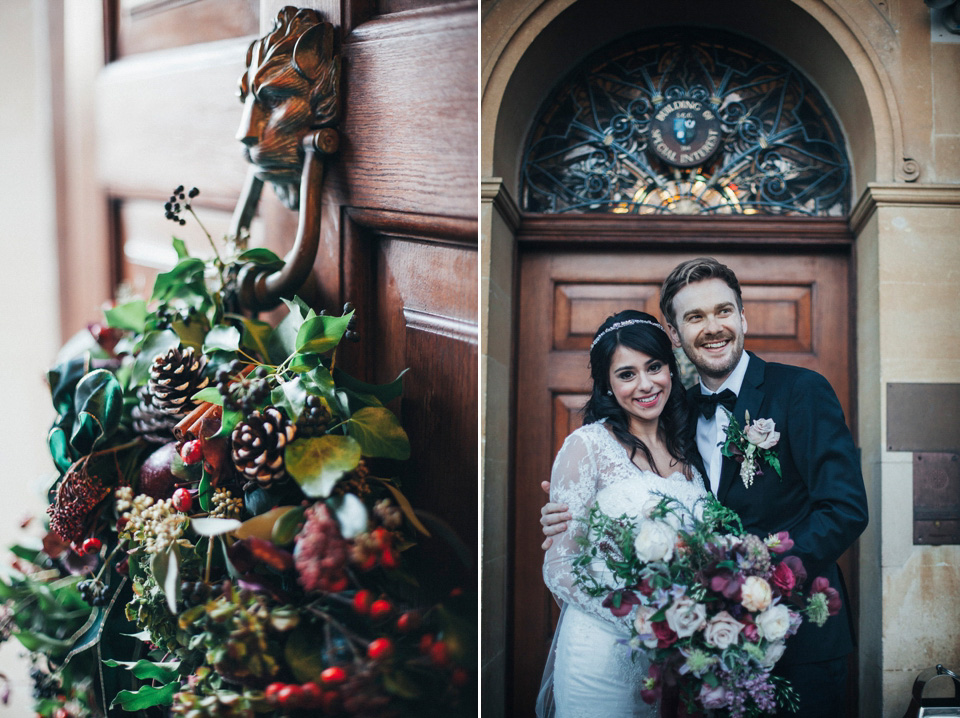 The bride wore a bespoke gown by Suzanne Neville that was ordered via Miss Bush Bridal in Surrey – another award-winning supplier and highly recommended sponsor of Love My Dress.
"My dress was made to order. Suzanne Neville dresses are known for their incredible fit and mine was no exception. I chose a beaded lace which made the dress appear 'frosted' when the light hit it. A lace jacket was made separately which I removed before the dancing began!"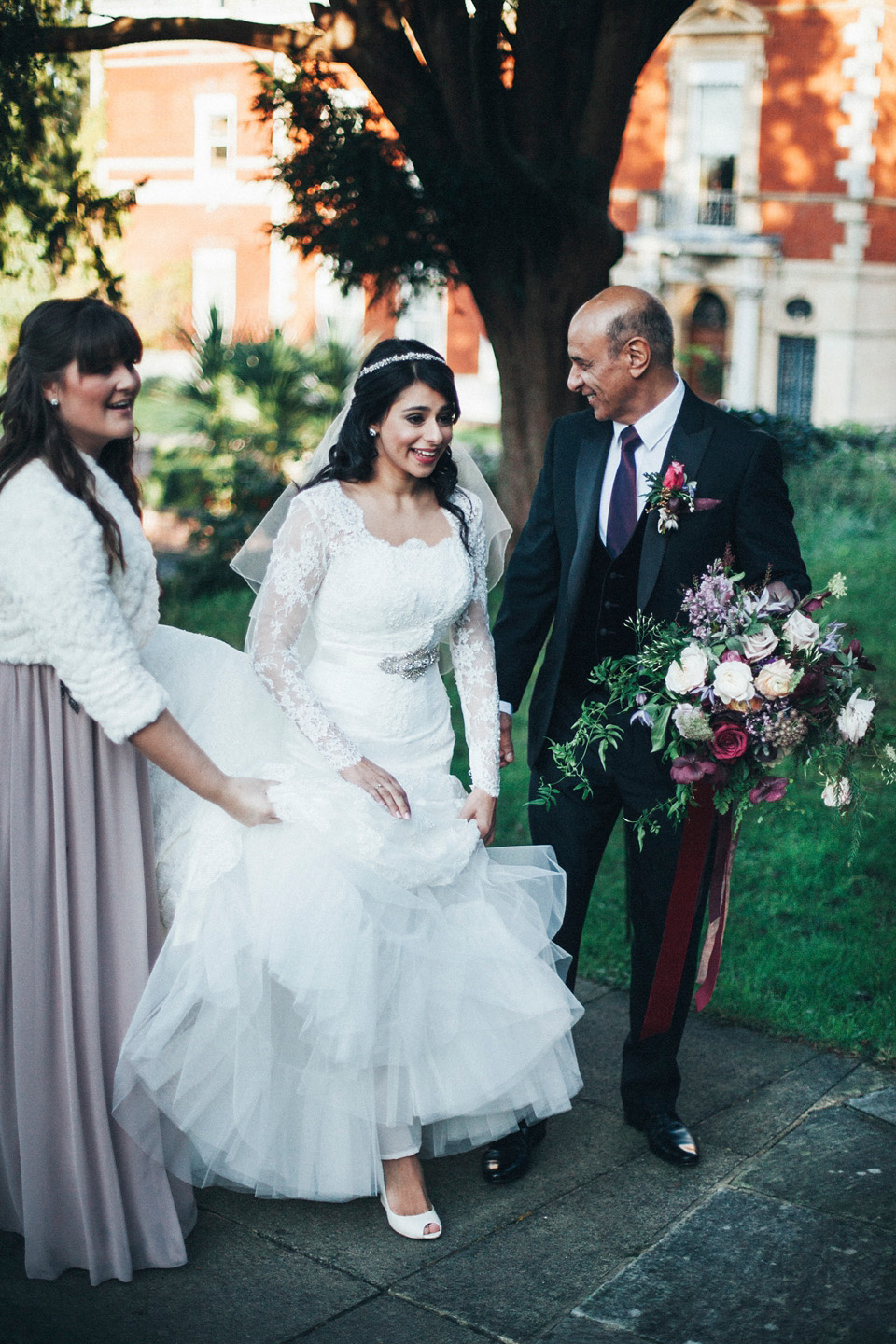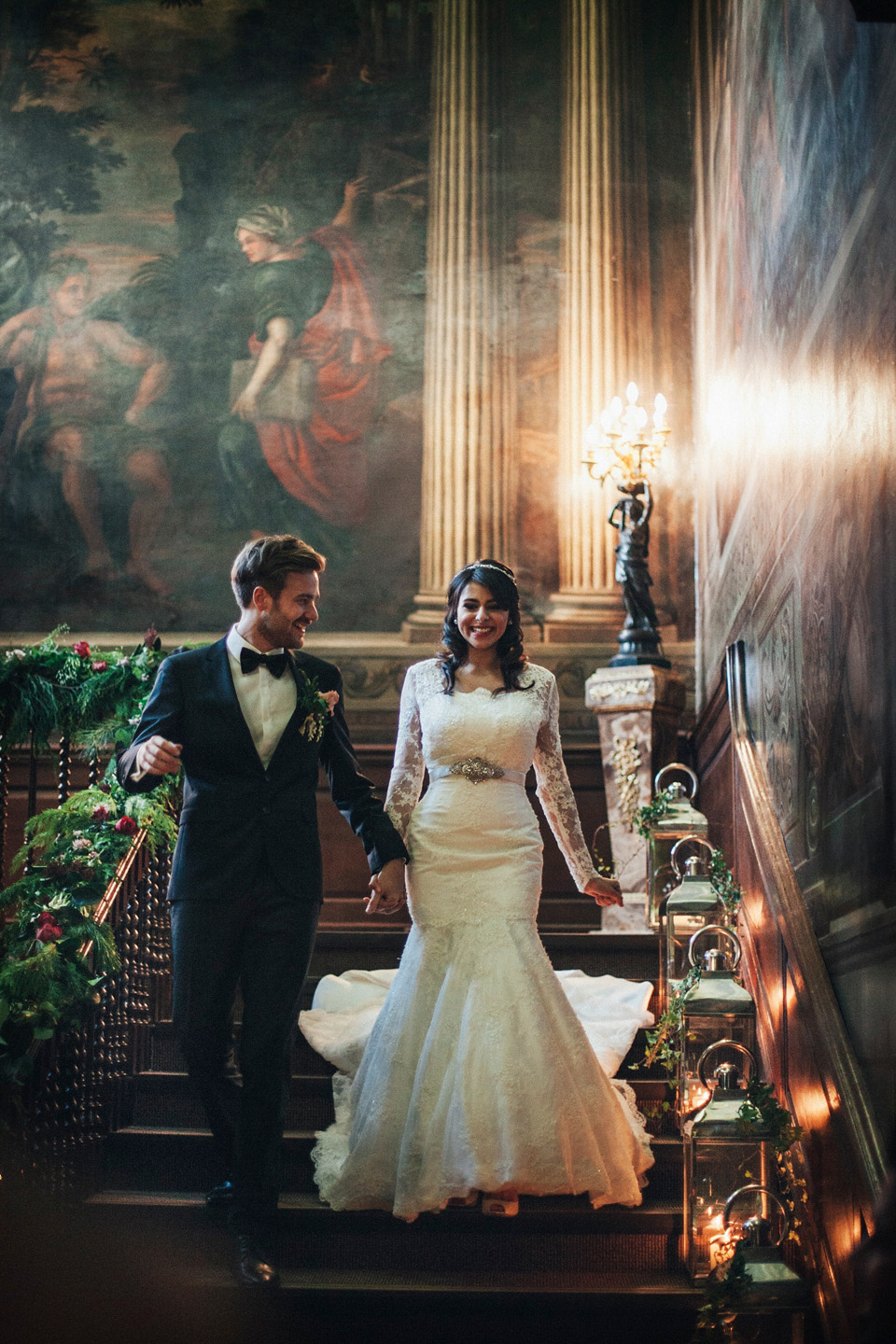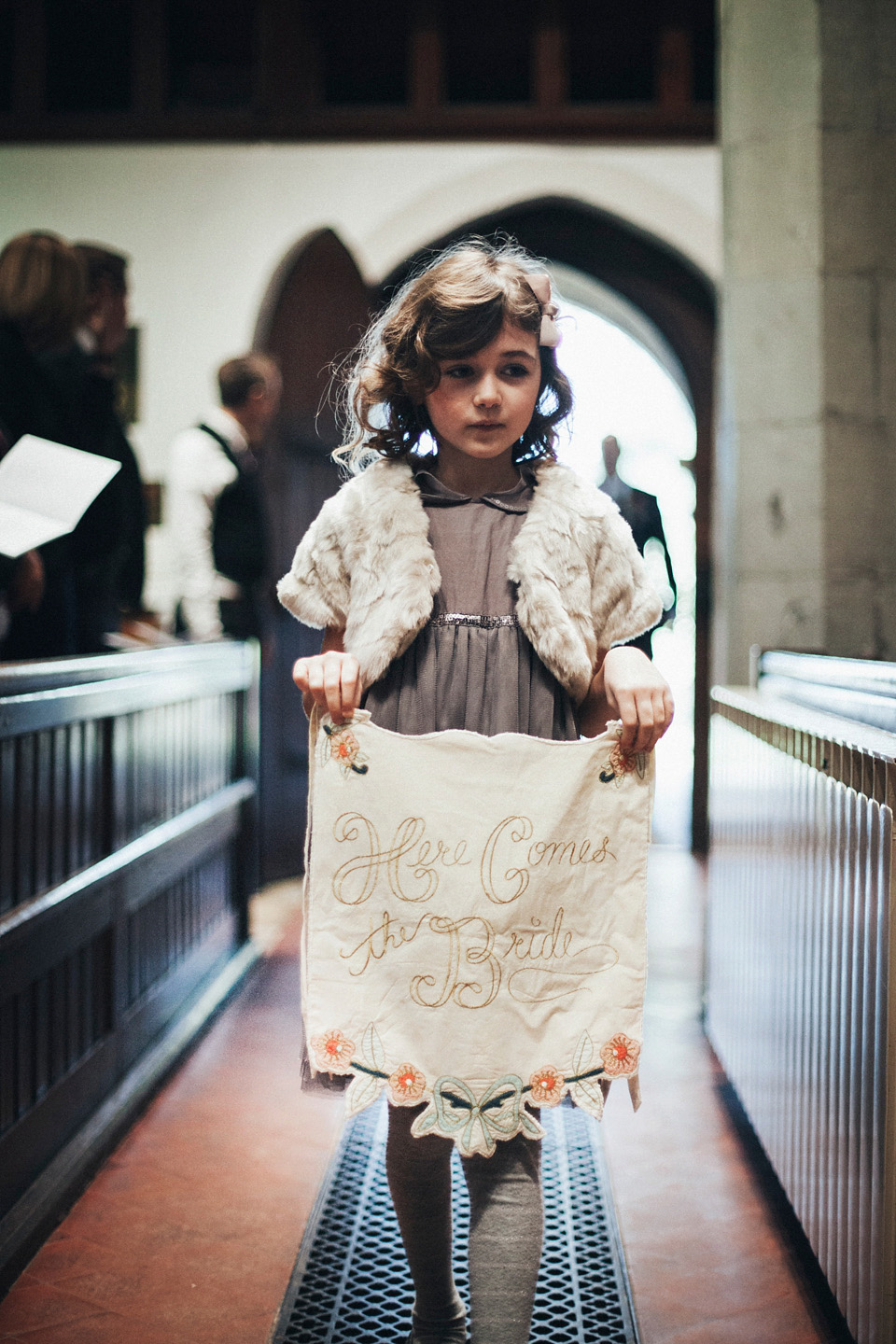 "Our photographer Mark Bothwell has a wonderful reportage style. His photos tell a story of the day and captures people emotions and feelings in that moment. He isn't intrusive and you honestly won't even notice him there. A week after the wedding you'll be sent a bundle of beautiful photos that you didn't even know were being taken!"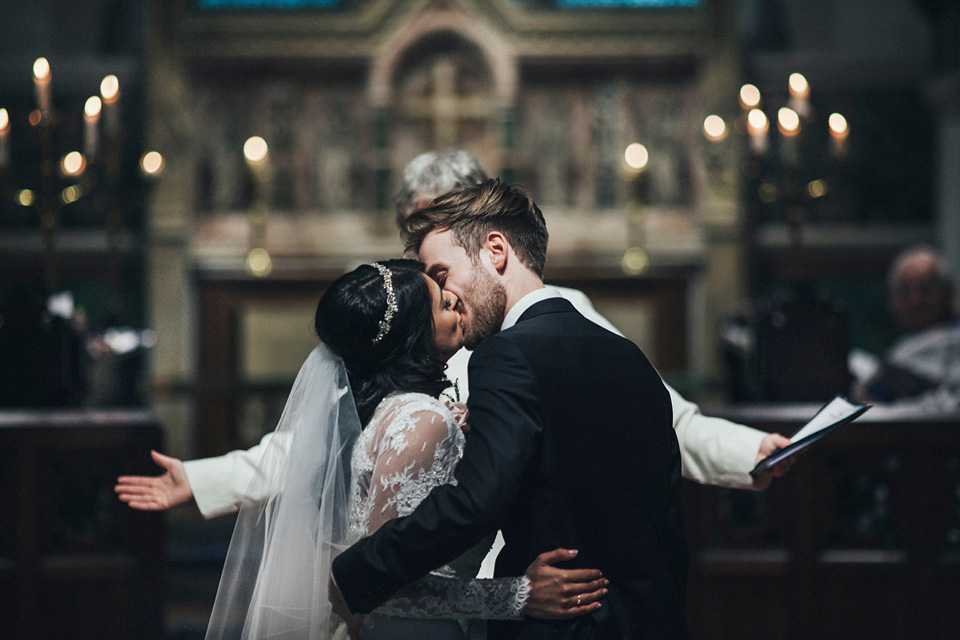 Fetcham Park in all it's late December morning sunlit glory…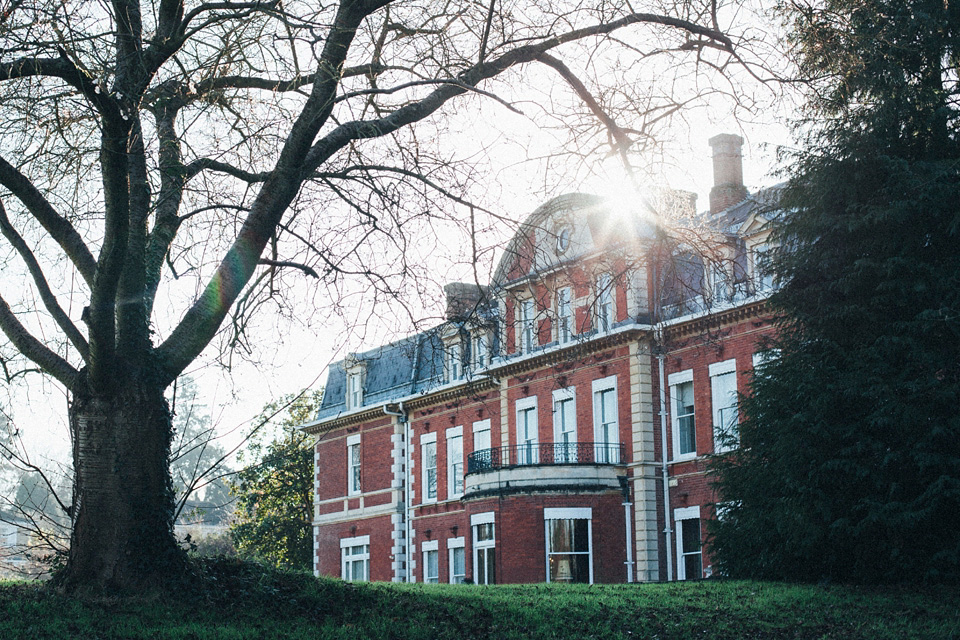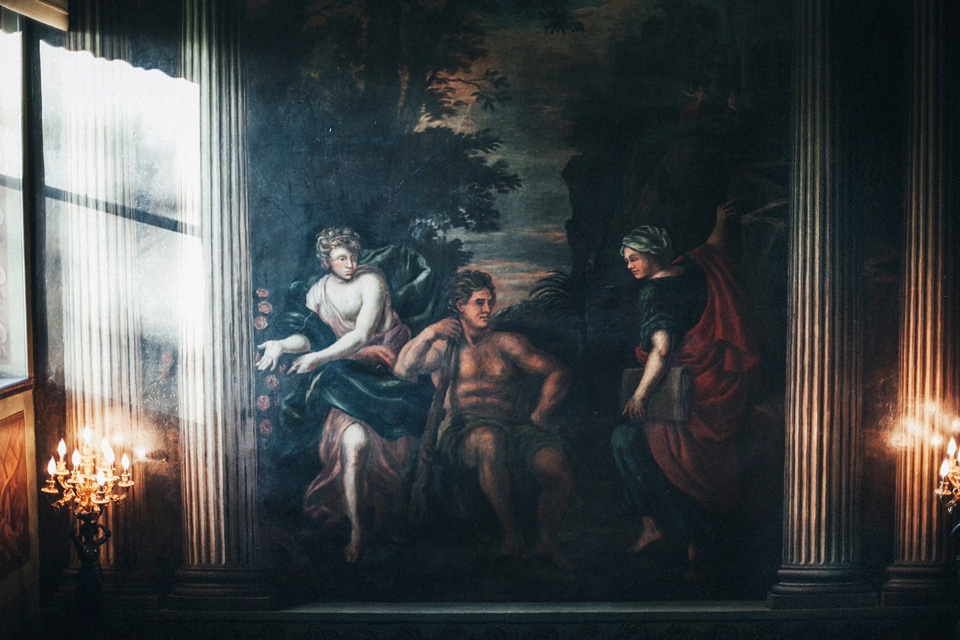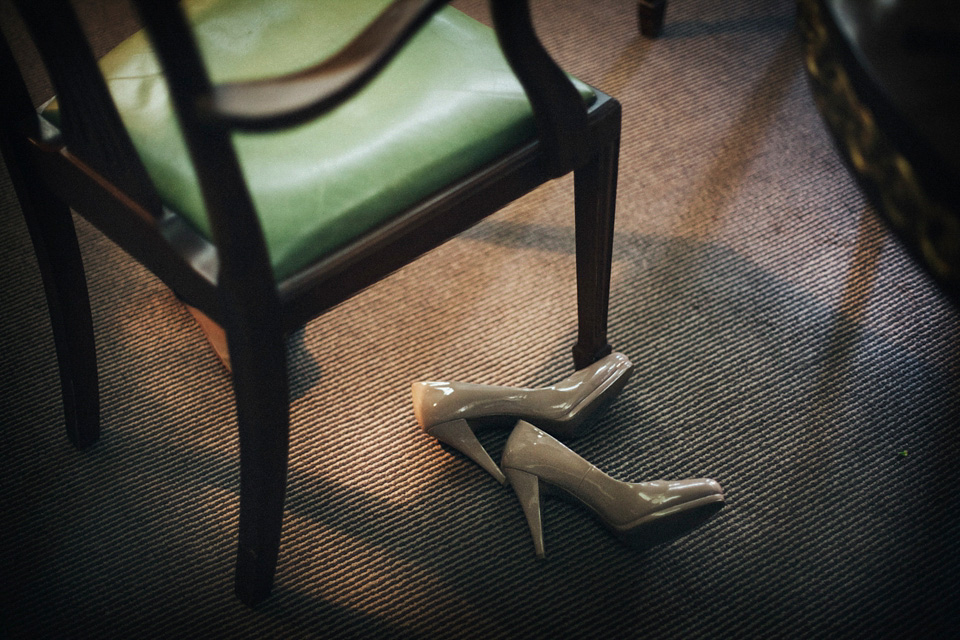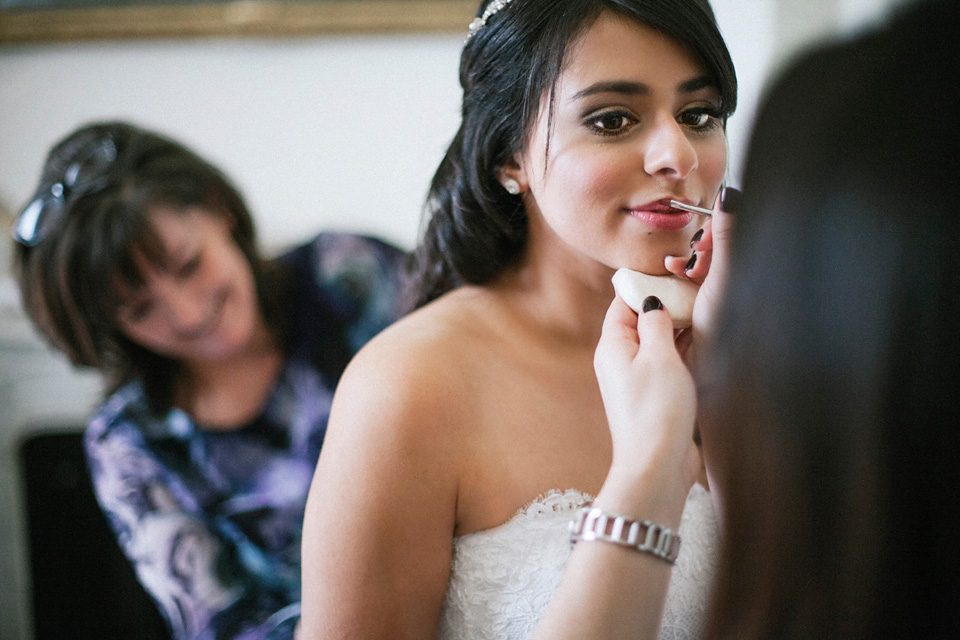 I happened to chat with Emma, the owner of Miss Bush Bridal about Preme and her glamorous gown…
"Working with Preme to create a unique Suzanne Neville gown was a dream and a brilliant testament to UK design and production, highlighting how to work best with a designer boutique. In early meetings Miss Bush stylist Corinne and Preme discovered the best style and outline for Preme's tiny but curvaceous figure. The inner sculpted corset is incredible in all of Suzanne's gowns and her couture service enabled us to shorten the pattern of the dress to Preme's petite vertical measurements and scale the fishtail skirt correctly.
Calico intermediate fittings are essential and in-house Miss Bush expert Laurie Smith fitted the toile to provide a perfect 3D impression for Suzanne. Preme's religious ceremony required modesty so Suzanne also designed a variation of an existing jacket that blended seamlessly into the dress allowing Preme to look seasonal and keeping sexiness to a hint."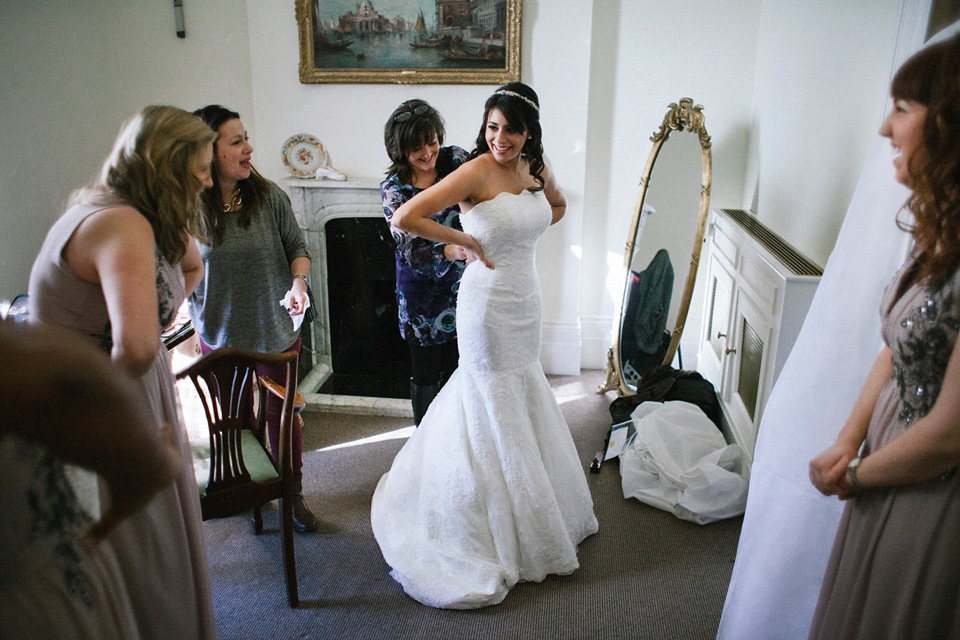 "When two cultures come together a wedding a dress can be a very obvious place to demonstrate and illustrate that union. For Preme's Anglo-Indian wedding Suzanne Neville was asked to source a beaded lace. To the novice choosing a fabric for a whole dress from a swatch can be rather nerve wracking and it was with huge delight that the 'reveal' of the dress was brilliant. A twinkling corded lace reflected the exuberance and highly decorative nature of Indian wedding attire, the silhouette is all English.
Preme's 'something borrowed' ended up being Jenny Packham's Tsarina belt. Unable to order one in time for the Preme's wedding and unwilling to let my favourite belt go I broke everyone of my own rules and lent the belt for the wedding."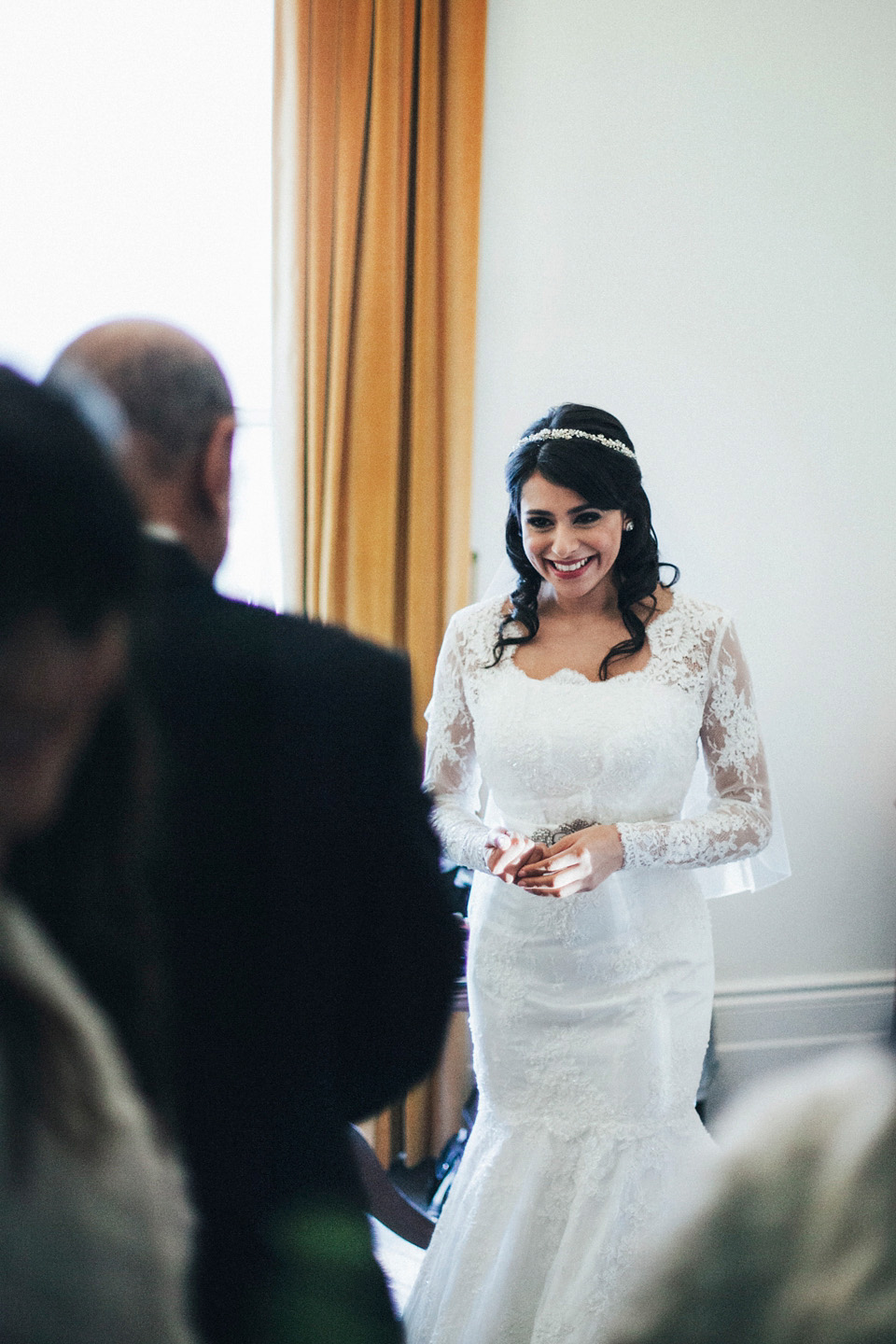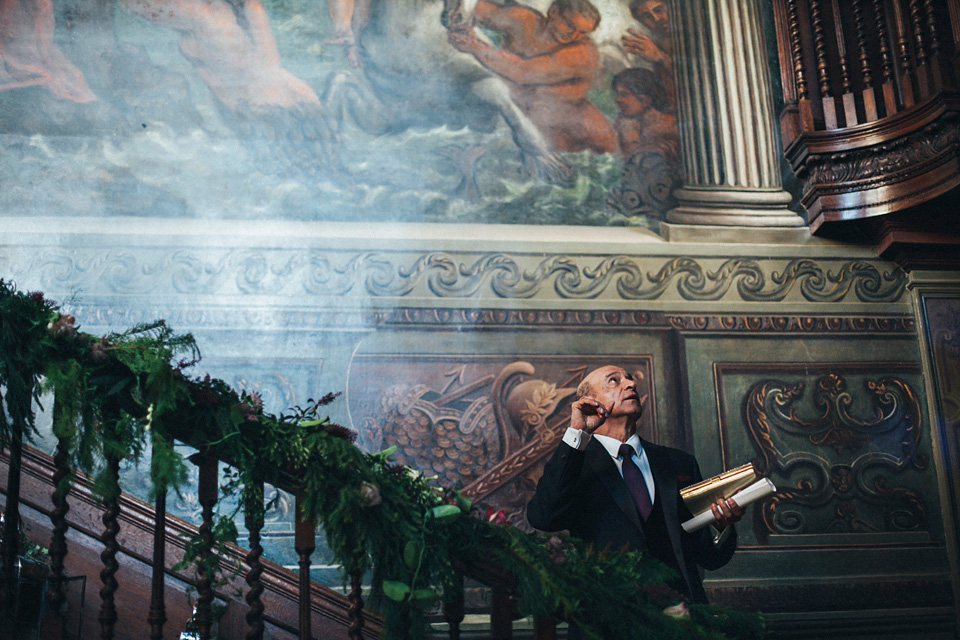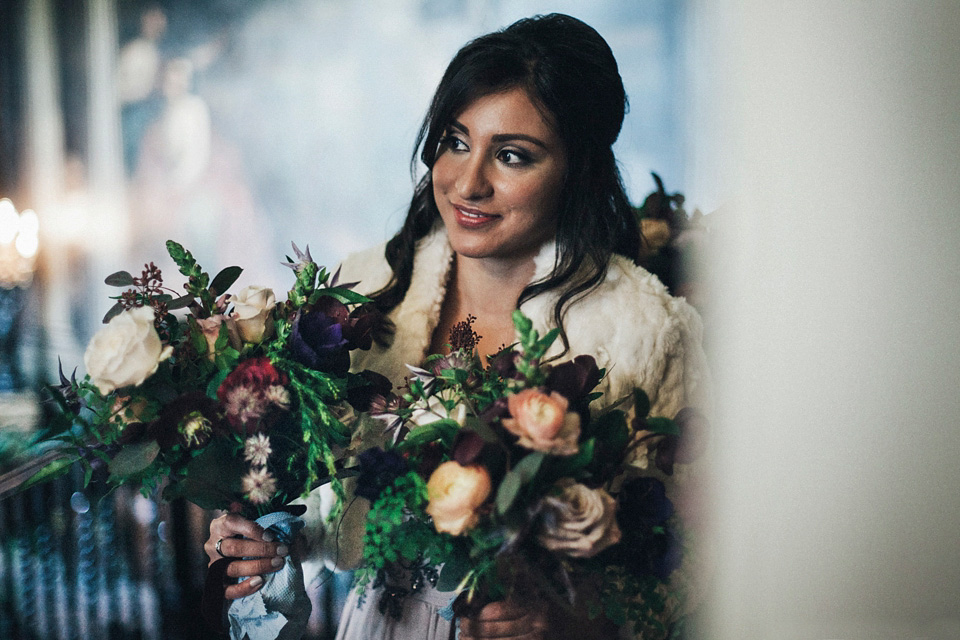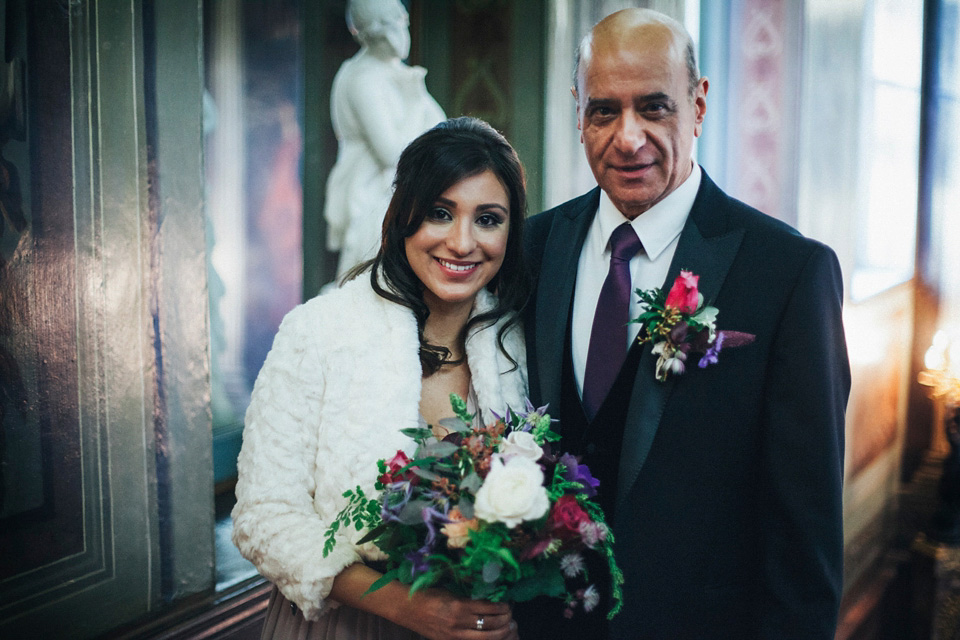 "My bridesmaids wore fur jackets and I had long lace sleeves. There were woollen blankets on the pews, to keep guest warm in the old stone church and they were greeted at the house with hot winter pimms being served in teapots. There was a beautiful wreath on the front door of the house, an ornately decorated Christmas tree in the entrance and wild wintery foliage decorating the banister of the great staircase which was also dotted with storm lanterns laced with ivy. And as if that wasn't festive enough we have mistletoe place settings."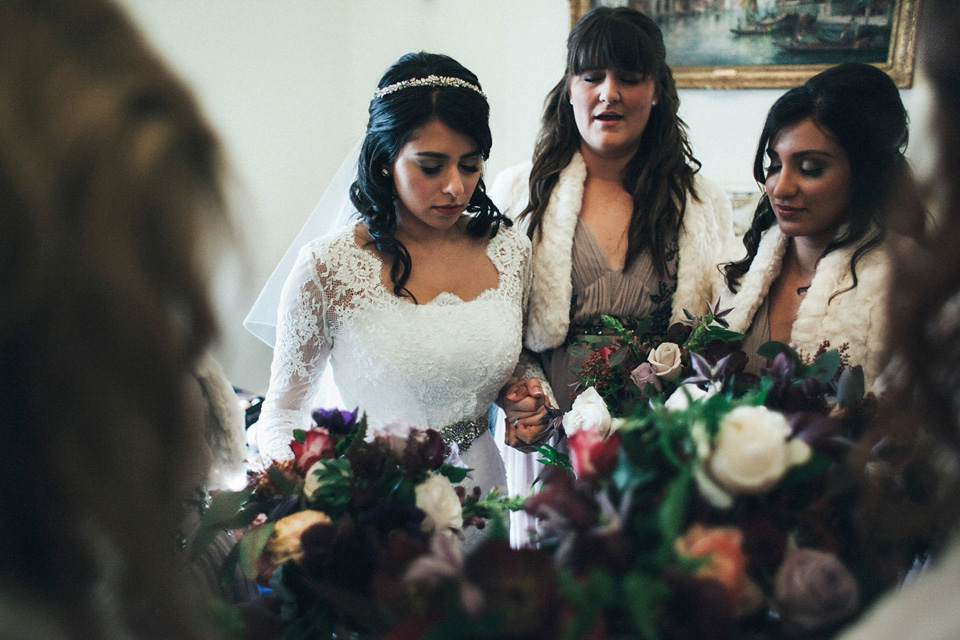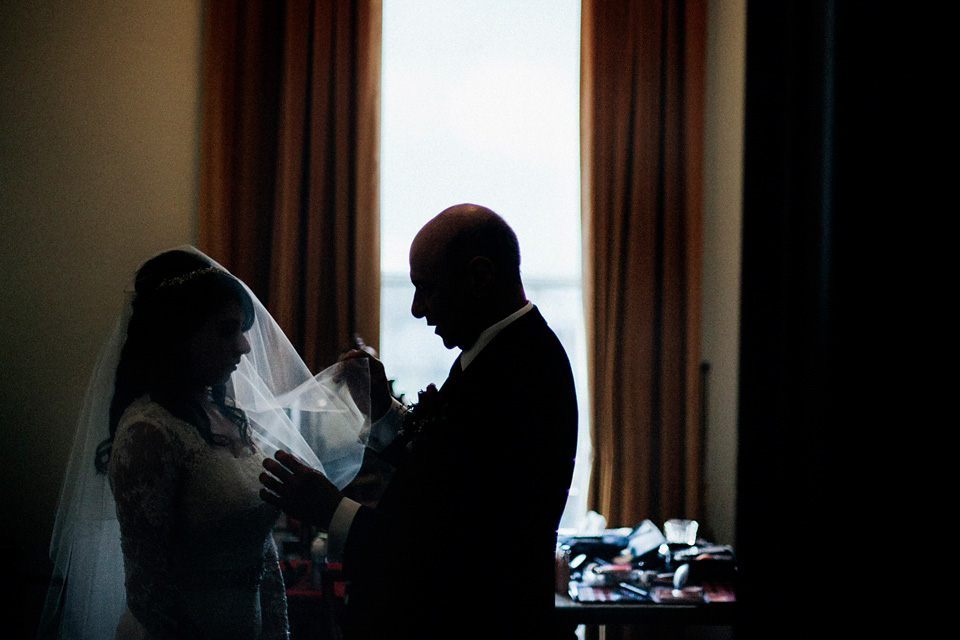 "We chose Bloomingayles for our flowers. She is so creative and has a wonderfully wild style, which suited our wintery theme perfectly."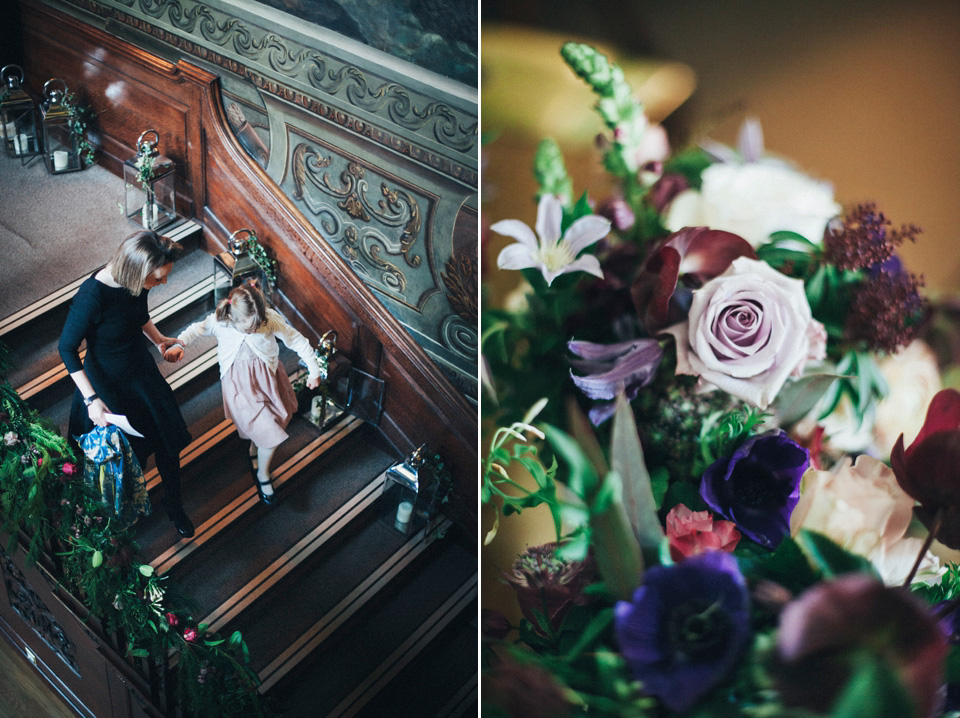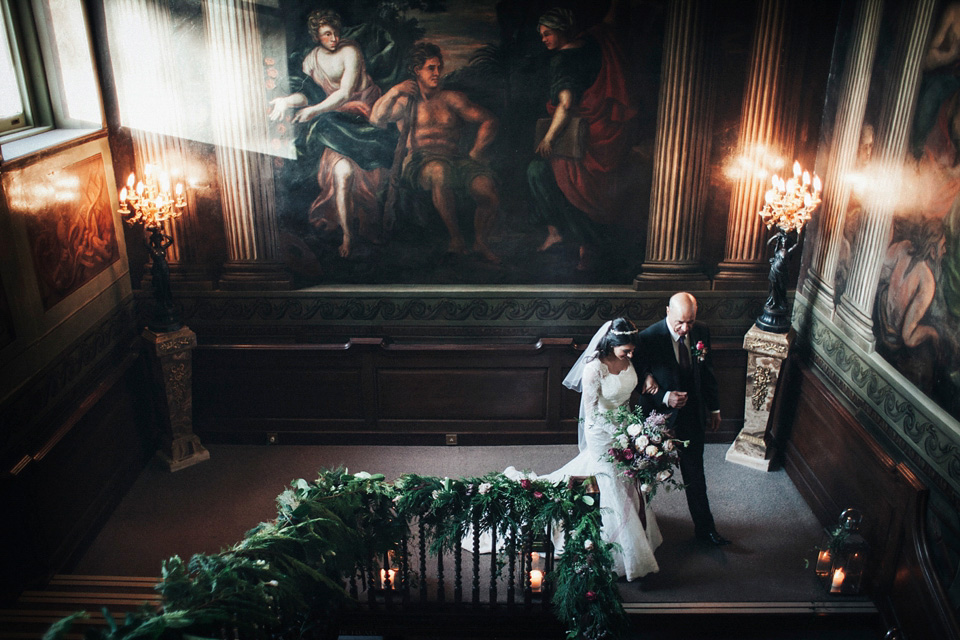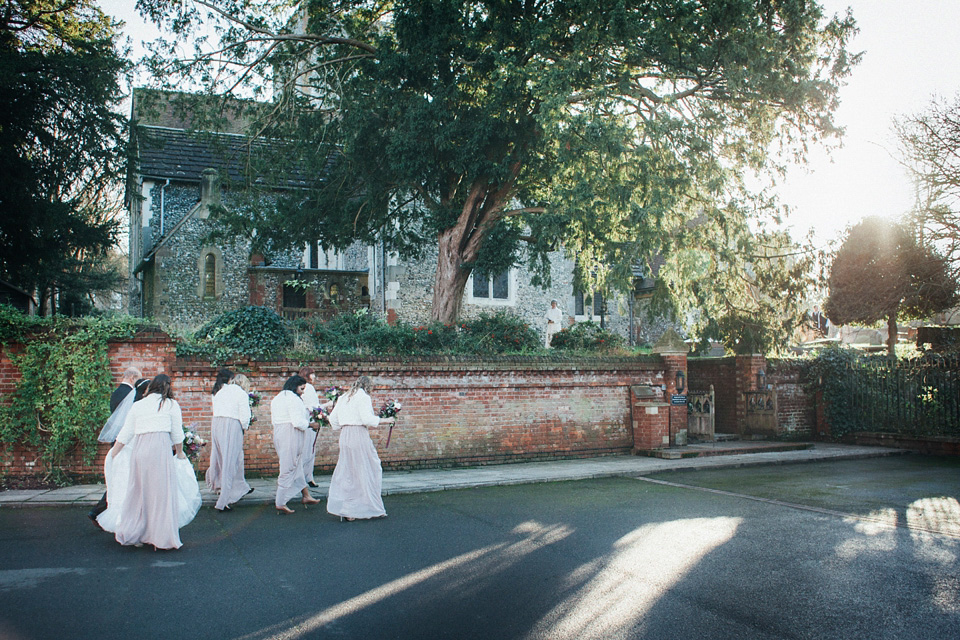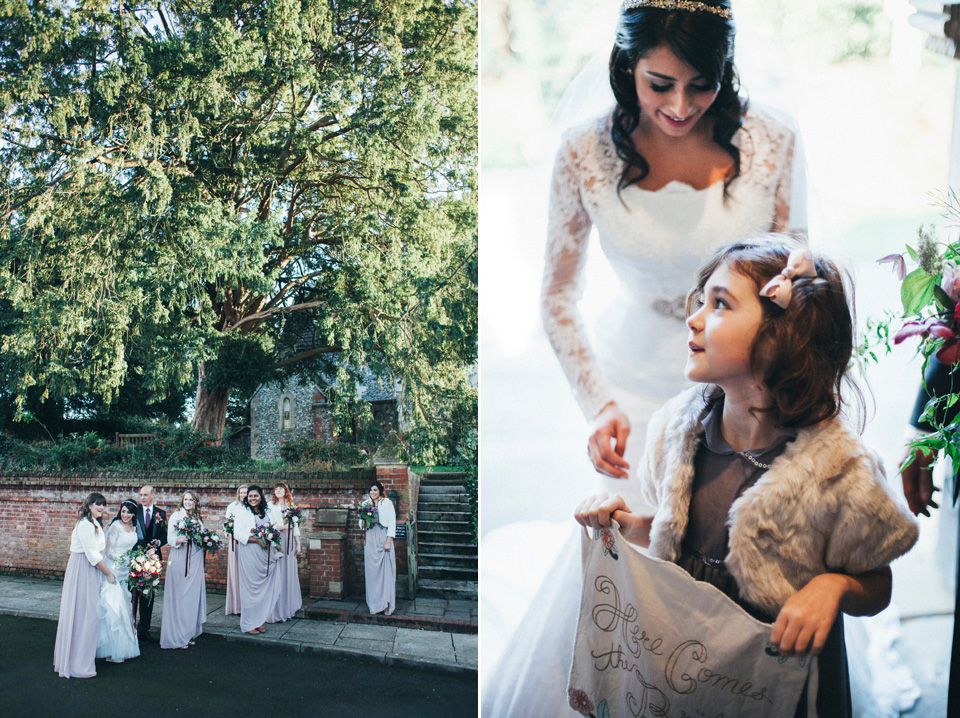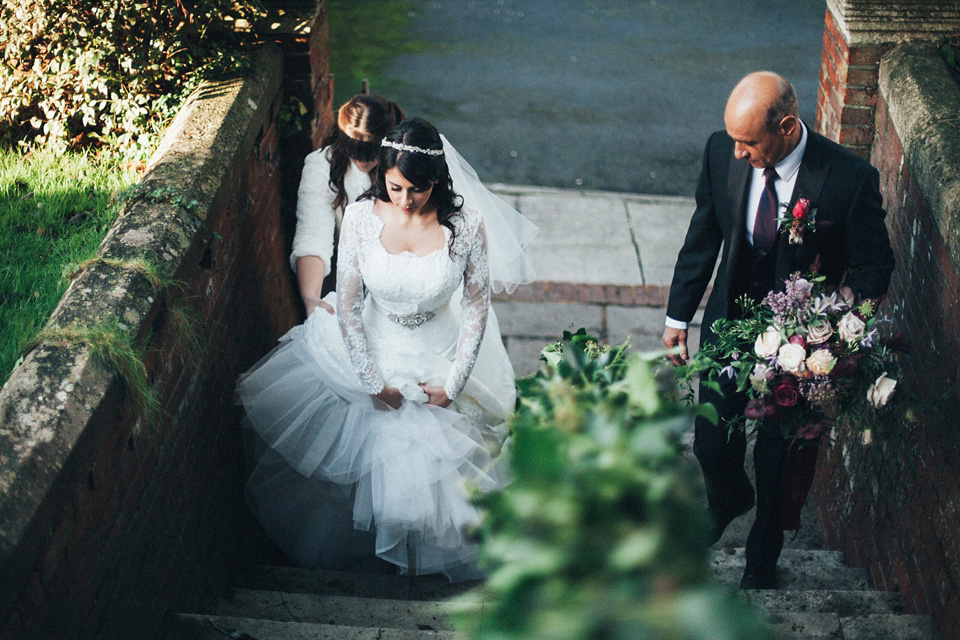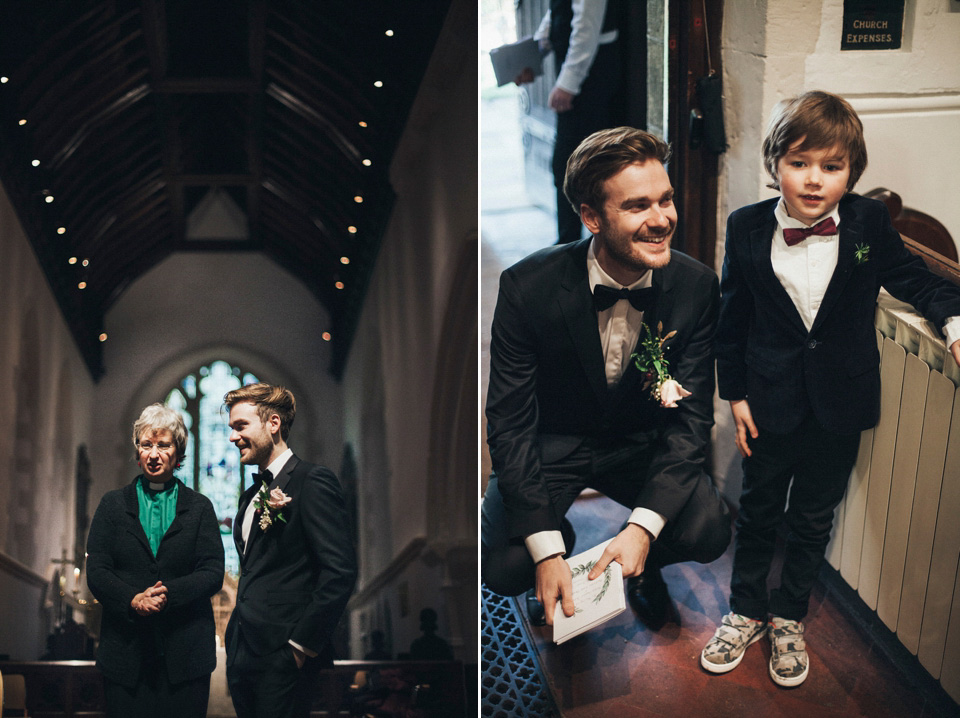 "Phil and I met in the Summer of 2013, we had both started work for a big church in South Kensington. We were on a church retreat when Phil first spotted me, later that day he called his big sister to tell her "I've met the most beautiful girl in the world and I'm going to marry her" to which she responded "is she single?" and he replied "oh… I don't know, I haven't actually spoken to her yet". Despite being teased mercilessly (by his sister) he wooed me with great determination and 8 months later we were engaged! We were engaged for nine months."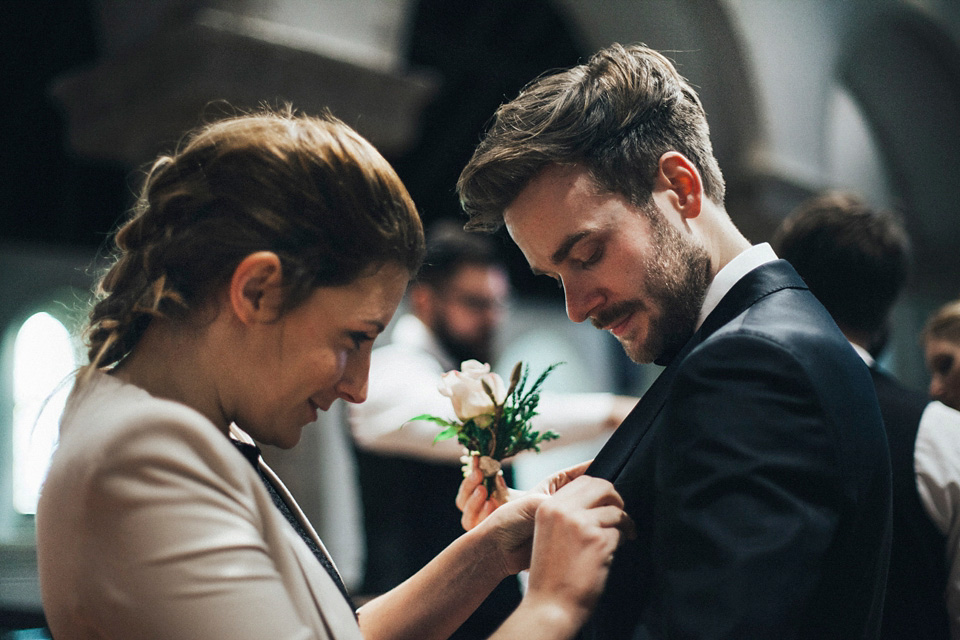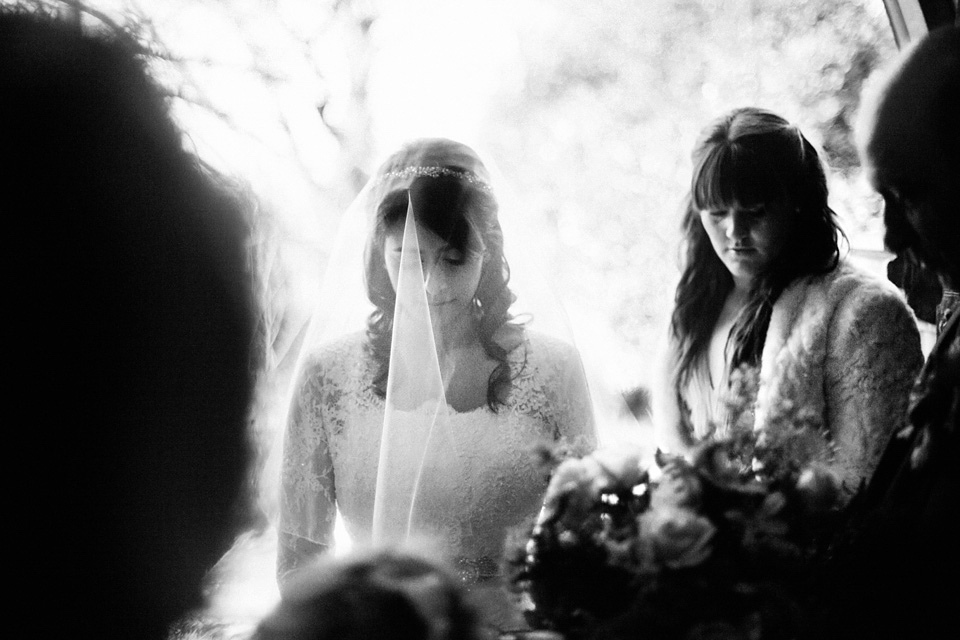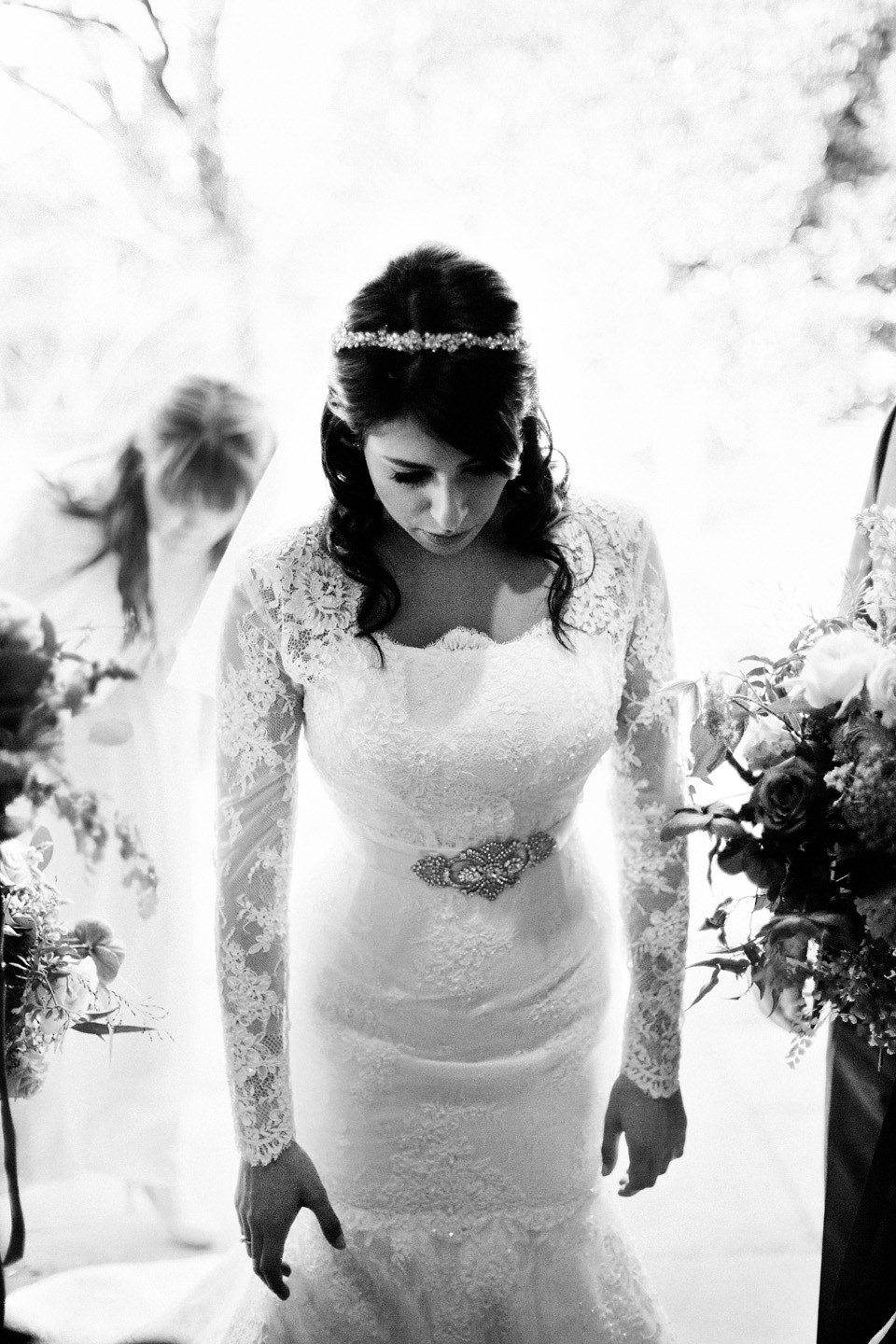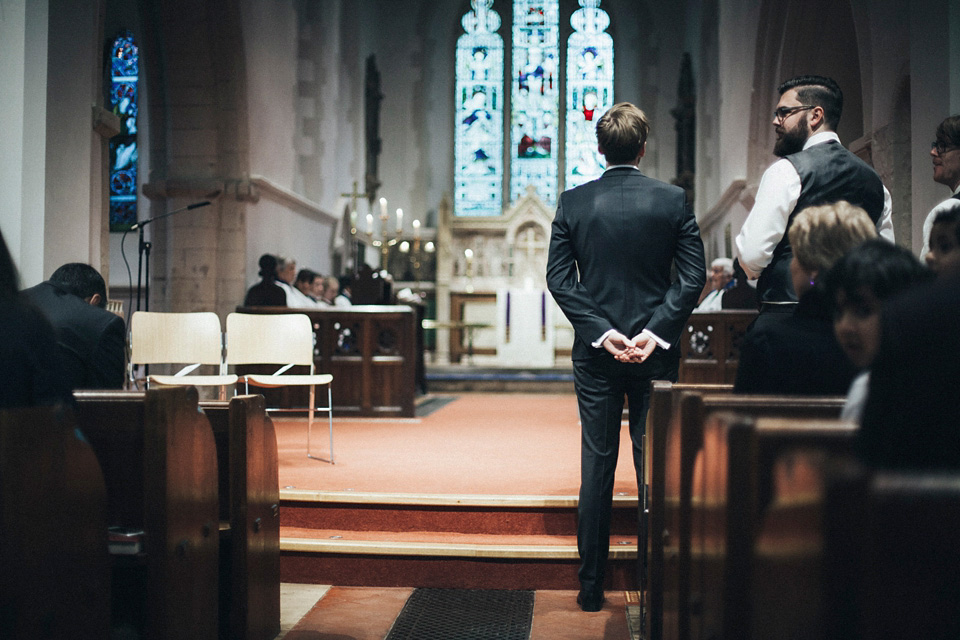 Preme's Father accompanied her down the aisle to the sound of one of my favourite pieces of music in the whole world, Debussy's 'Clair de Lune'…
"We are Christians and had a very traditional church ceremony.  We said traditional vows but we did have a special moment in the church where Phil and I lit a candle together at the High Alter Table to symbolise us coming together as one."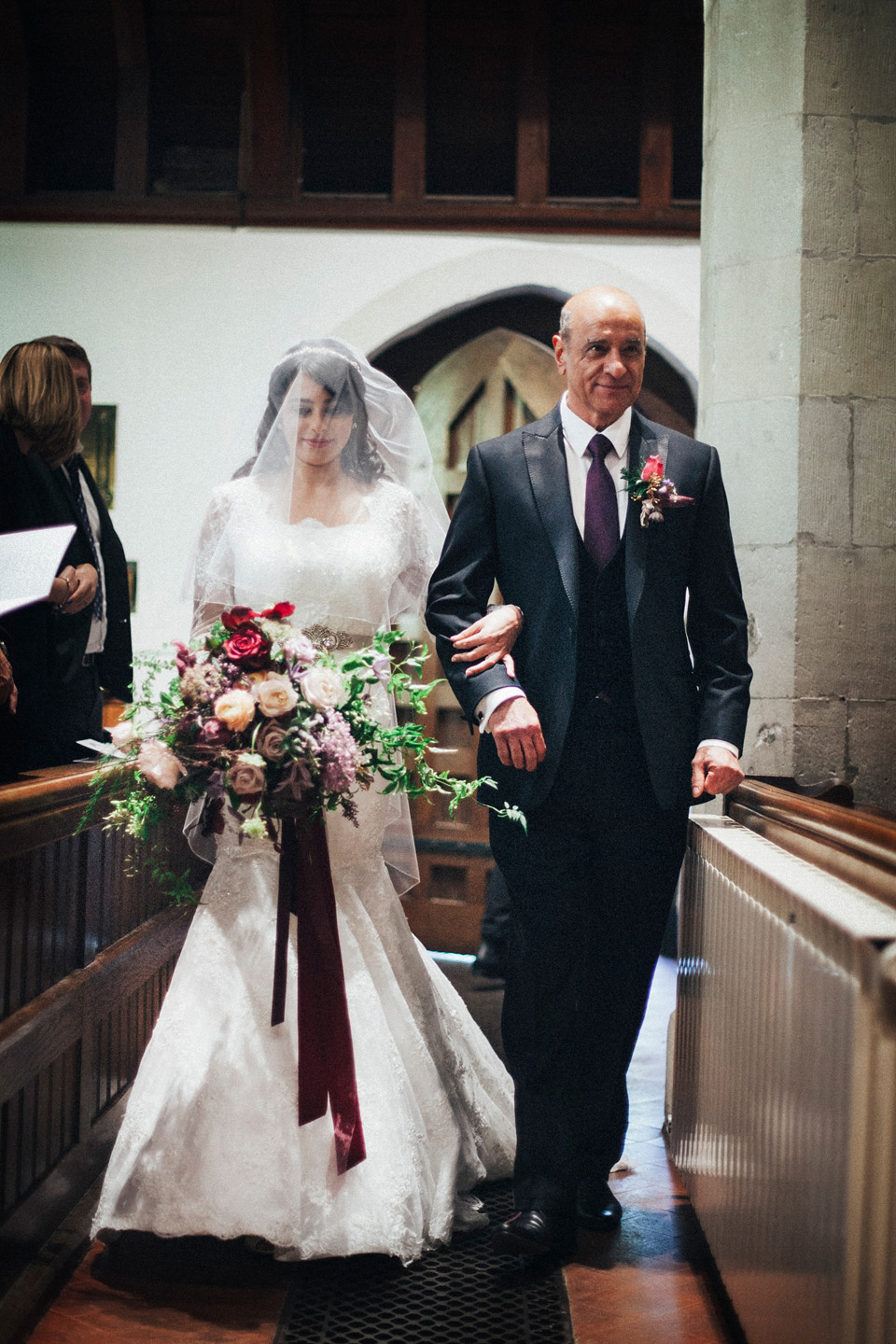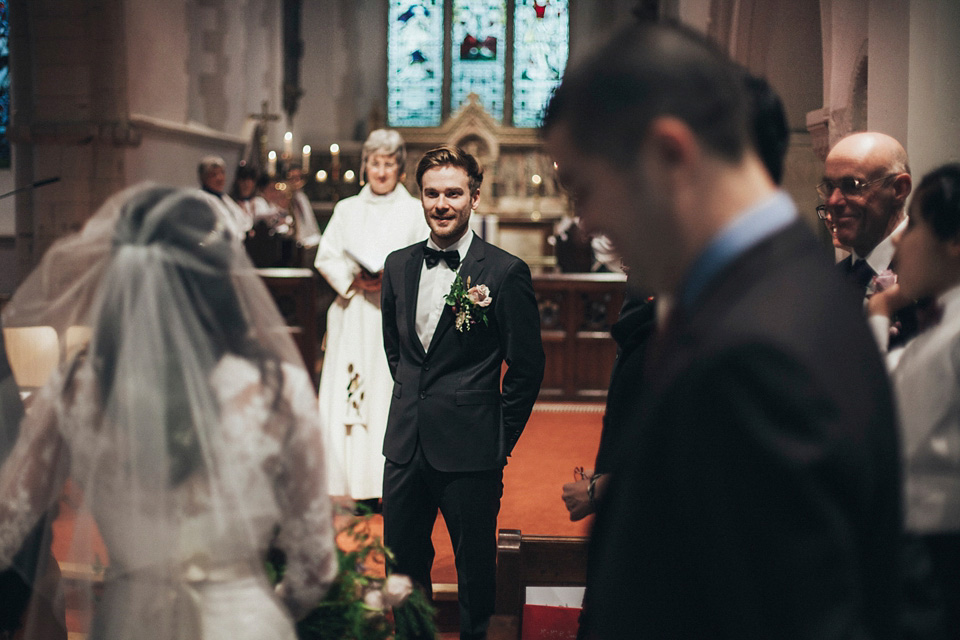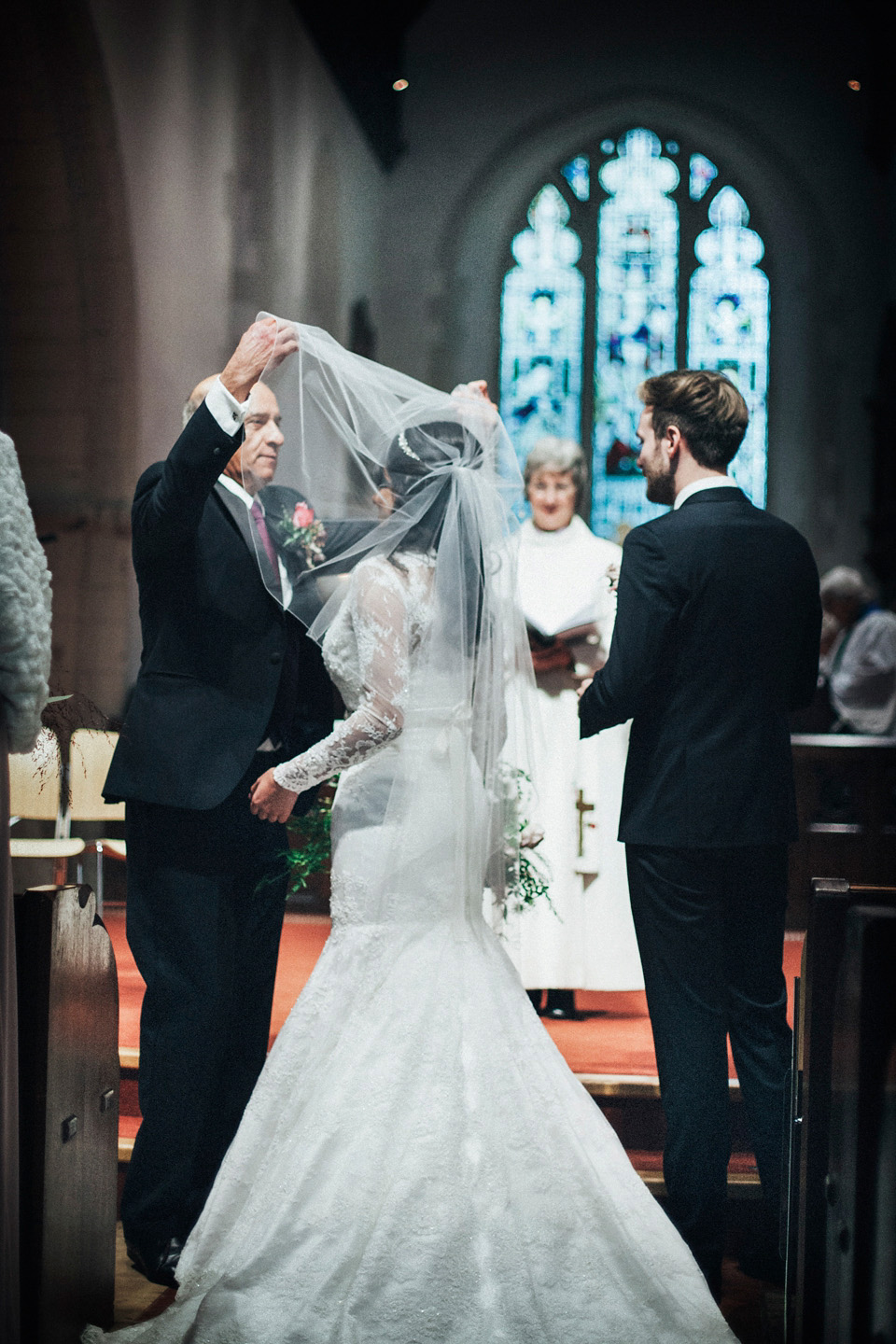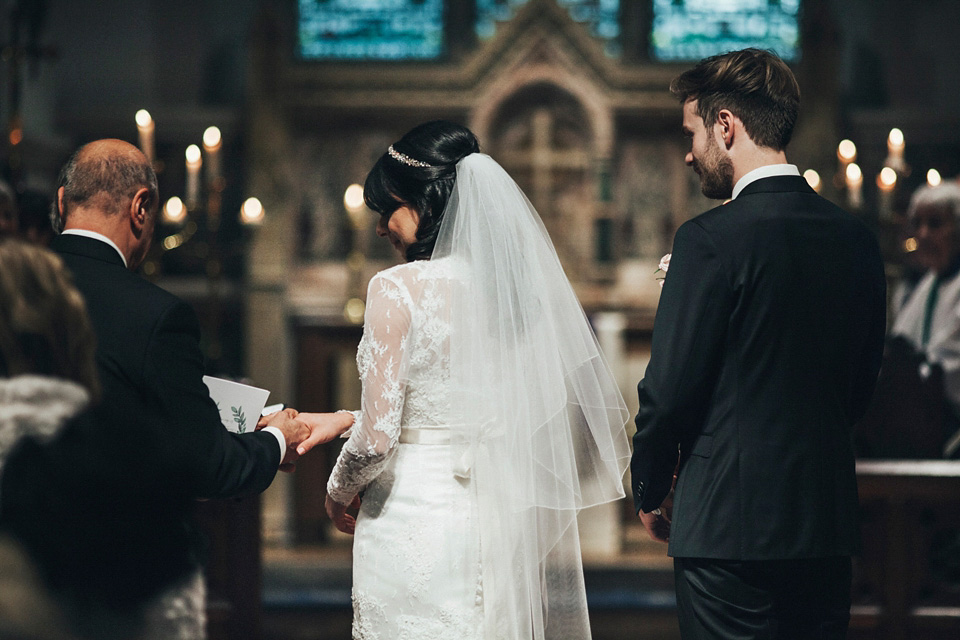 The couple's readings were as follows
Philippians 4: 4–9
Rejoice in the Lord always. I will say it again: Rejoice! Let your gentleness be evident to all. The Lord is near. Do not be anxious about anything, but in every situation, by prayer and petition, with thanksgiving, present your requests to God. And the peace of God, which transcends all understanding, will guard your hearts and your minds in Christ Jesus.
Finally, brothers and sisters, whatever is true, whatever is noble, whatever is right, whatever is pure, whatever is lovely, whatever is admirable—if anything is excellent or praiseworthy—think about such things. Whatever you have learned or received or heard from me, or seen in me—put it into practice. And the God of peace will be with you.
Colossians 3: 12–15
Therefore, as God's chosen people, holy and dearly loved, clothe yourselves with compassion, kindness, humility, gentleness and patience. Bear with each other and forgive one another if any of you has a grievance against someone. Forgive as the Lord forgave you. And over all these virtues put on love, which binds them all together in perfect unity.
The reason these verses meant a lot to us is because they remind us to have faith in God and to pursue loving one another, all the days of our lives.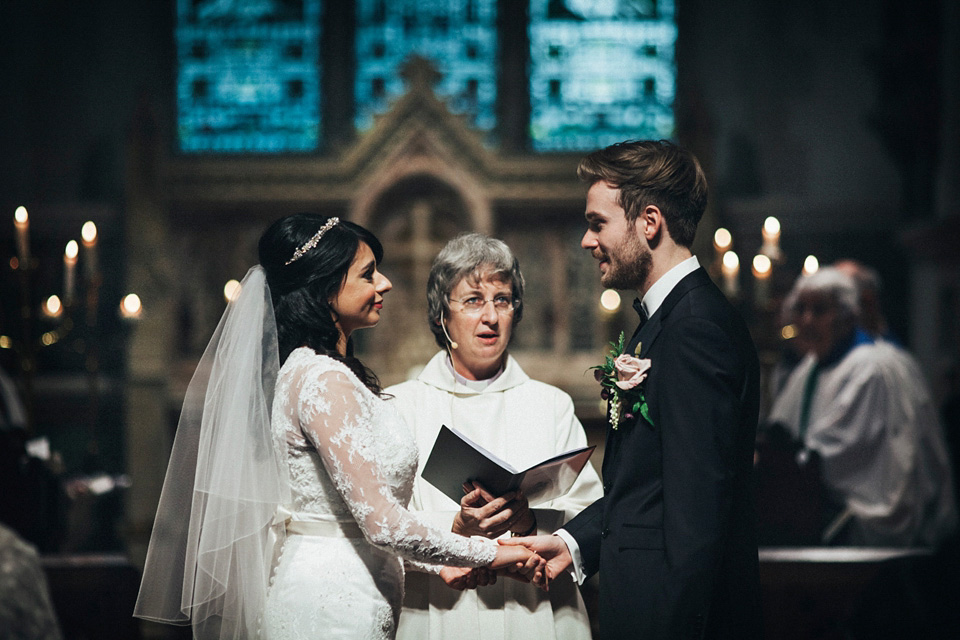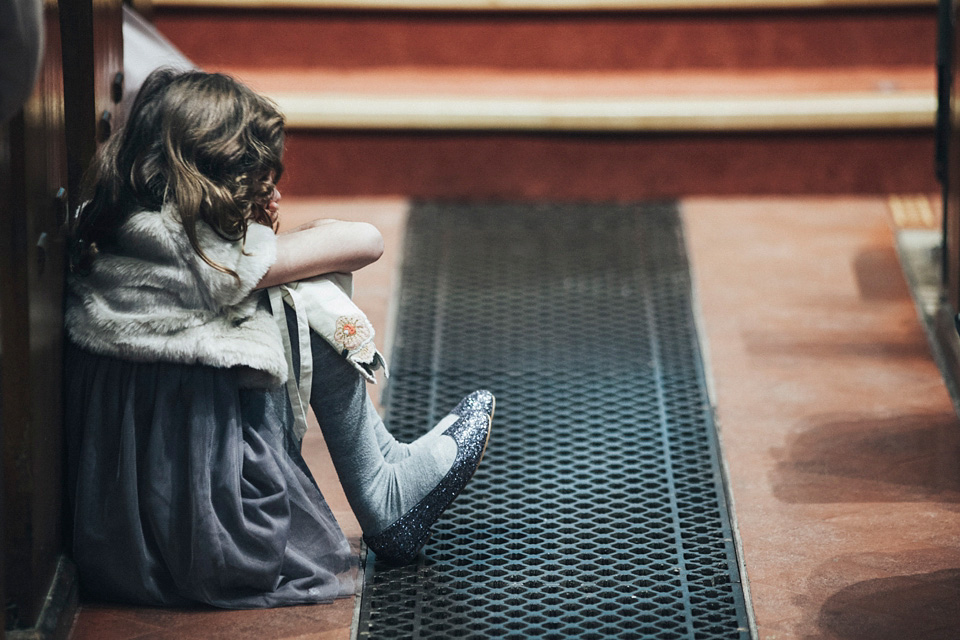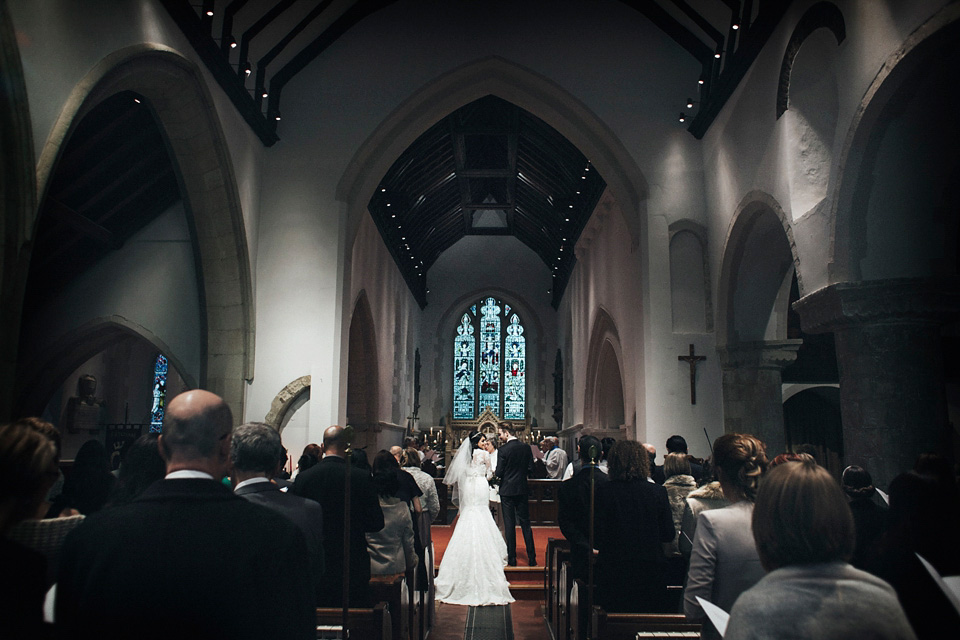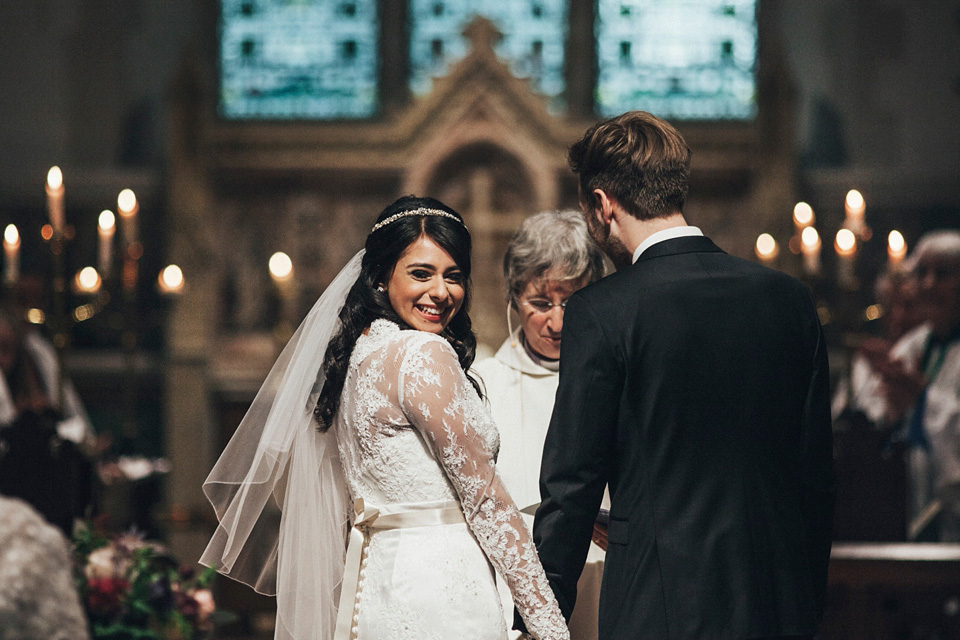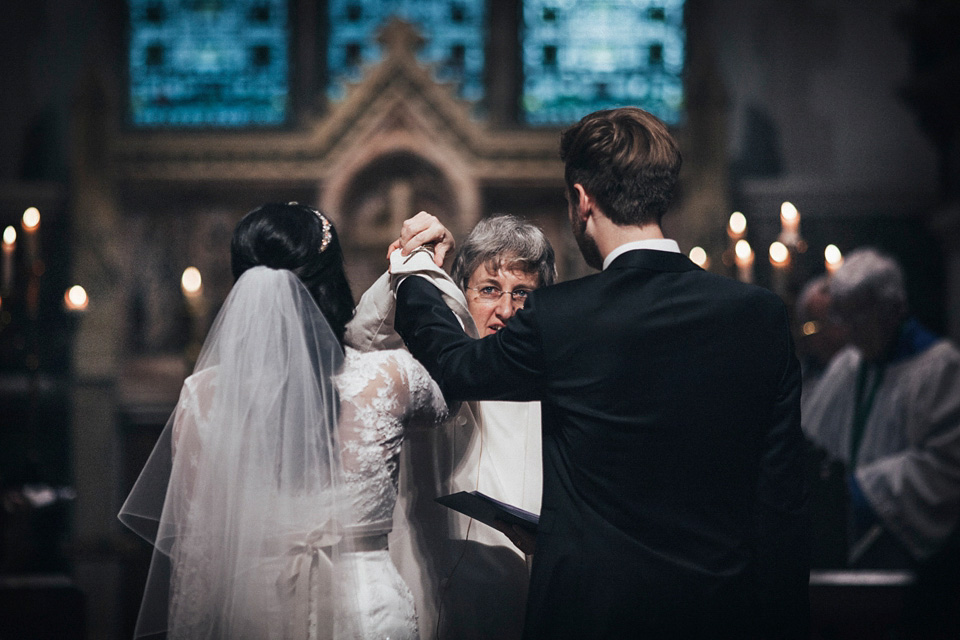 "We chose to scent our wedding. Phil and I both wore Jo Malone's Dark Amber and Ginger Lily, which was a great alternative to traditional Christmas scents. This smell will always take me back to our wedding day! (We also scattered the Jo Malone candles through the house and the church)."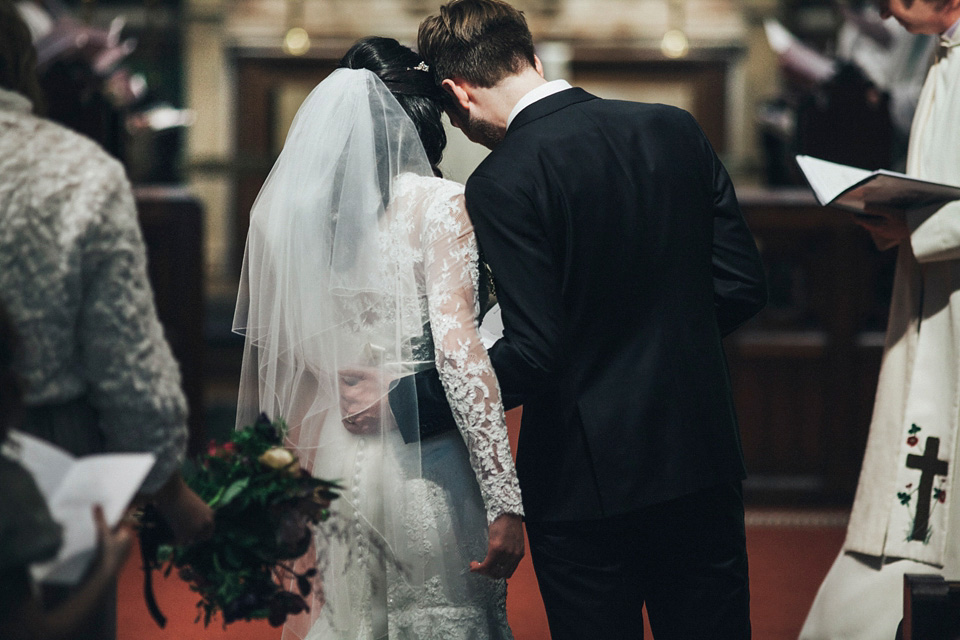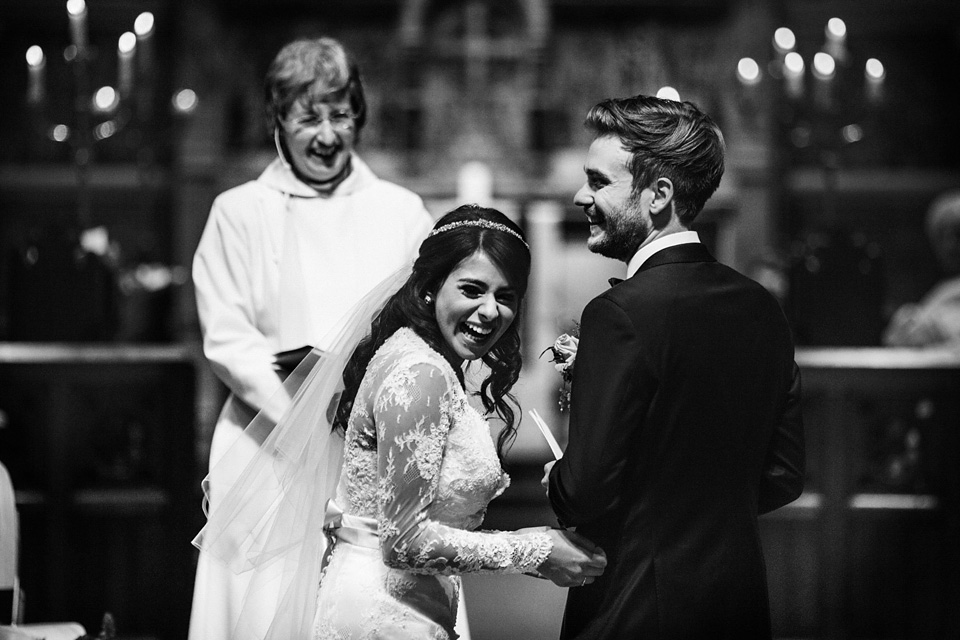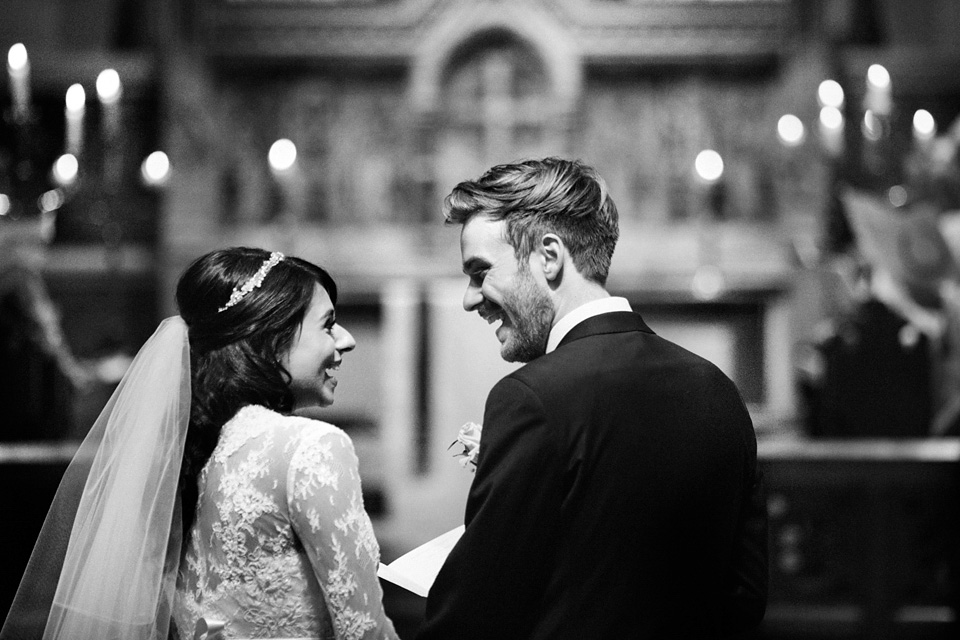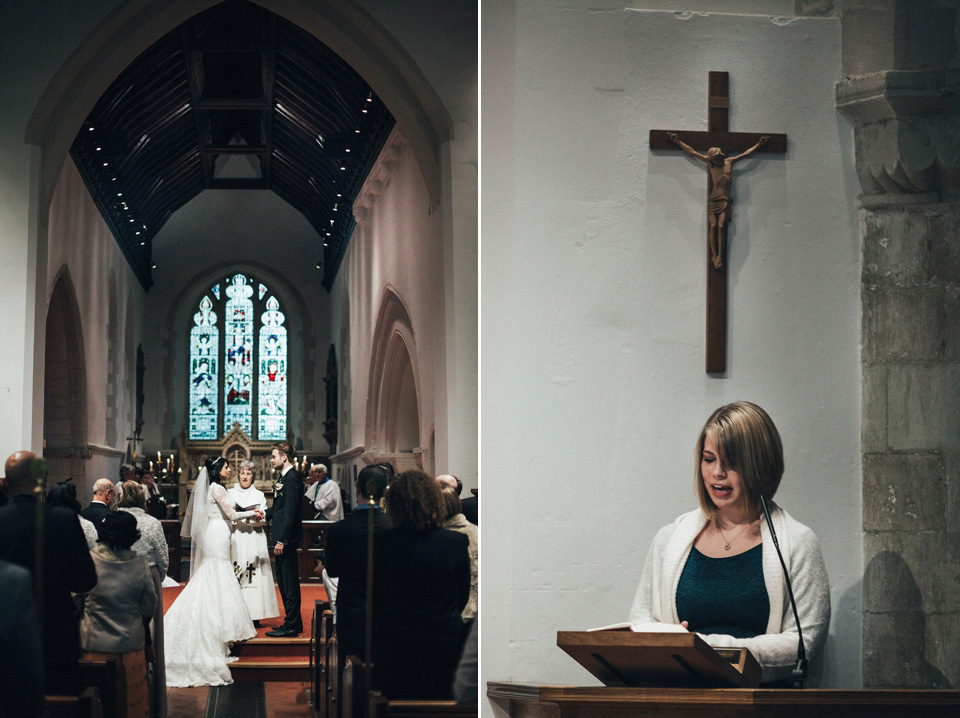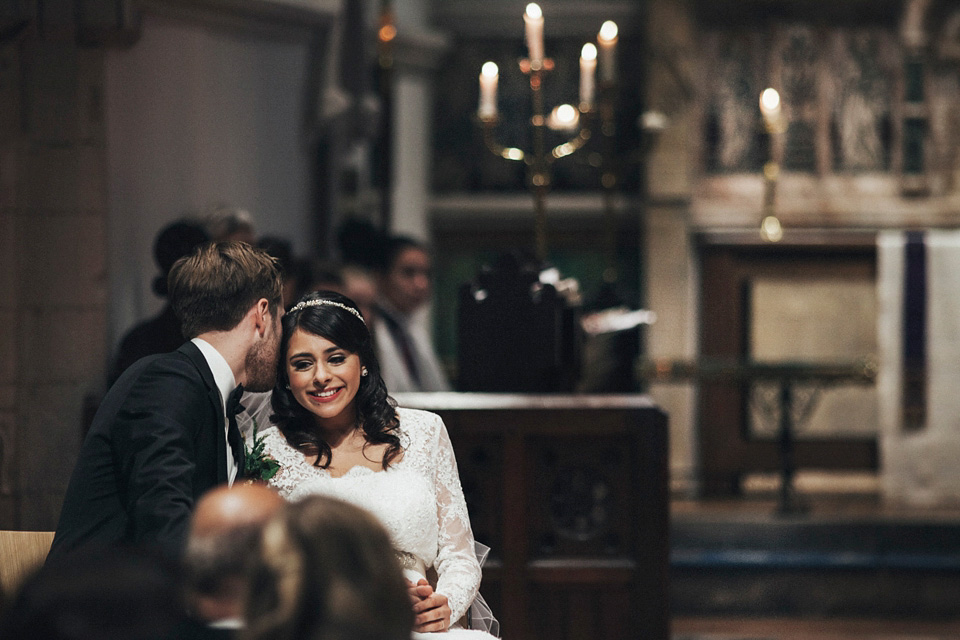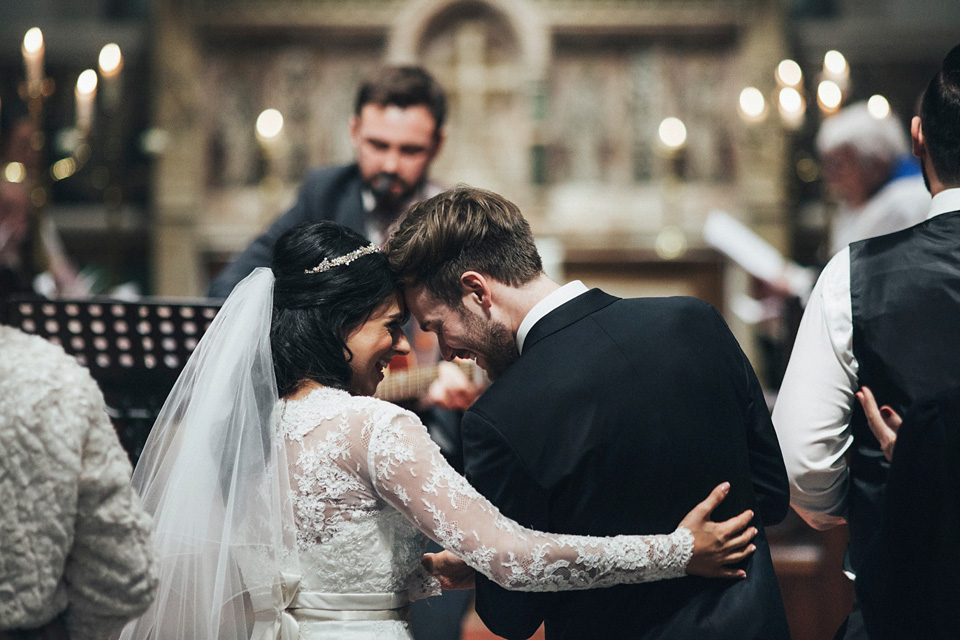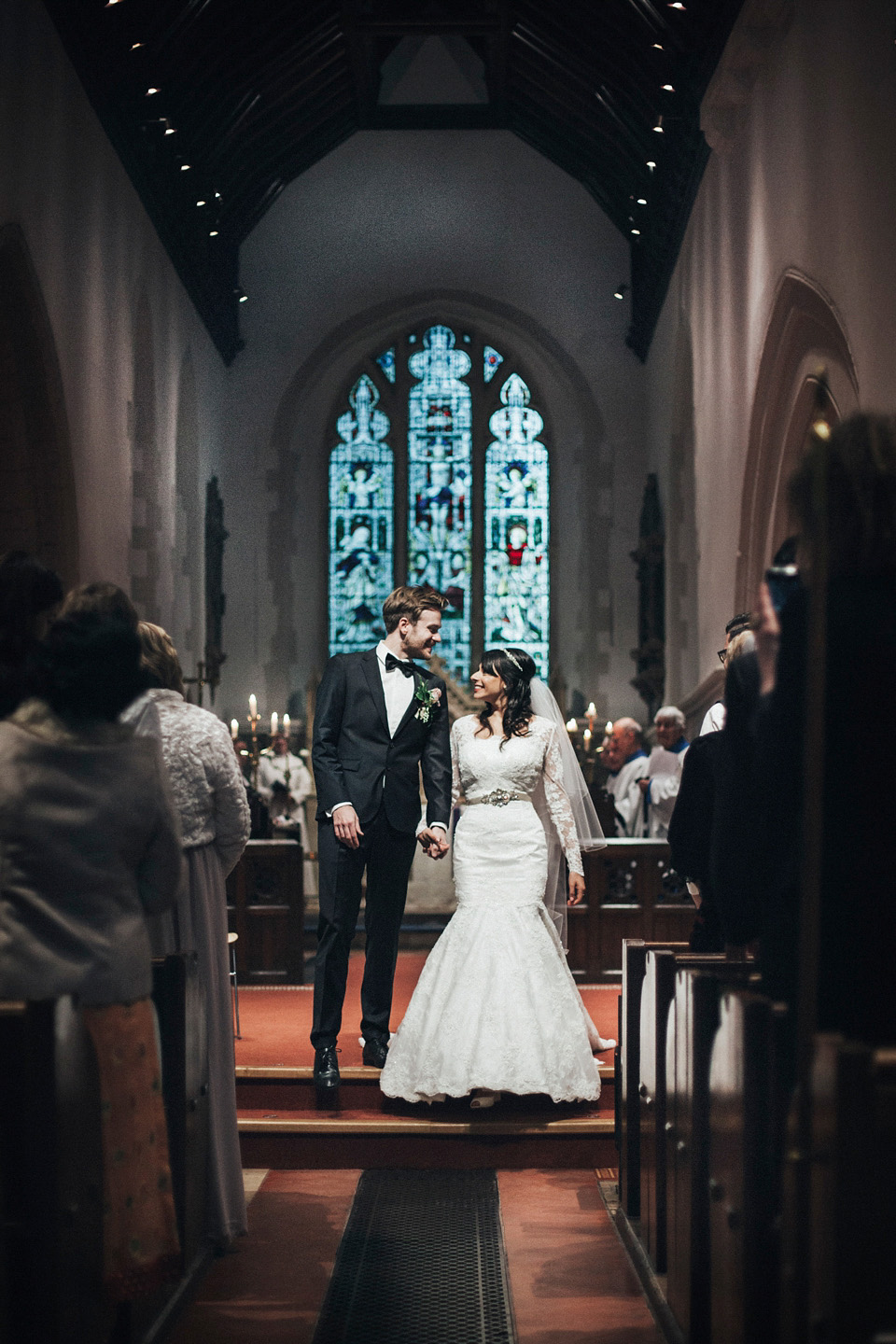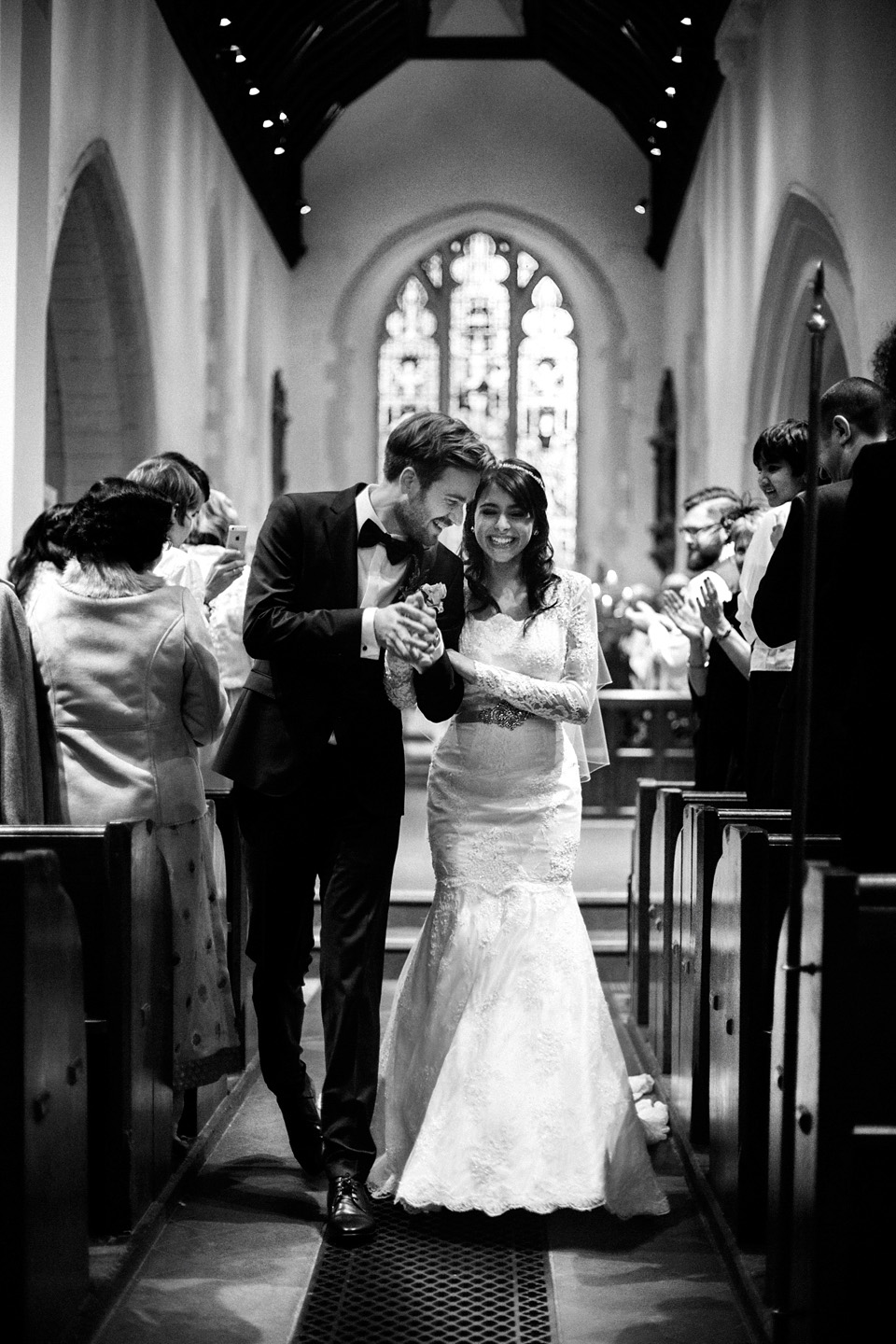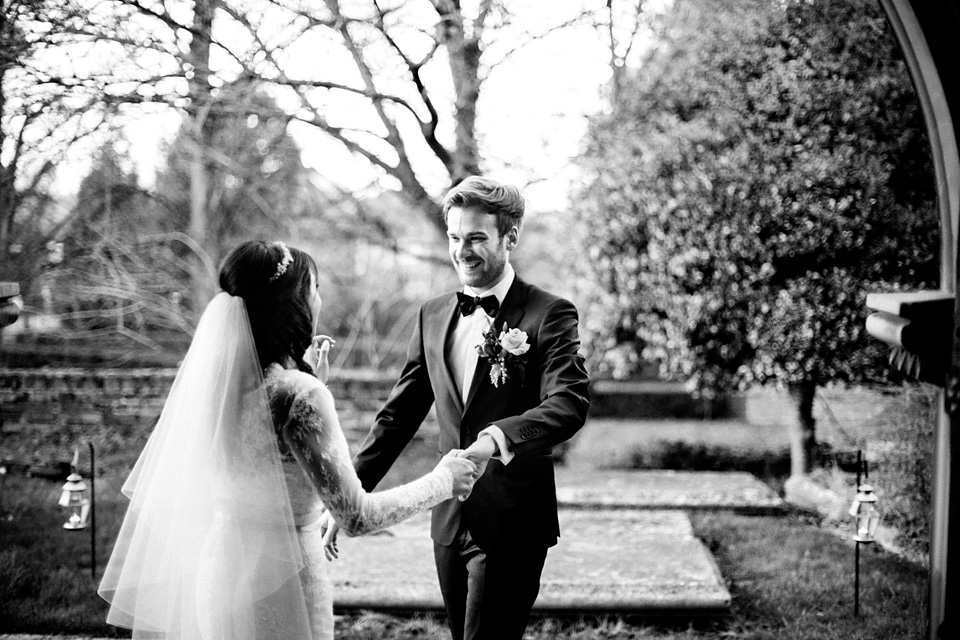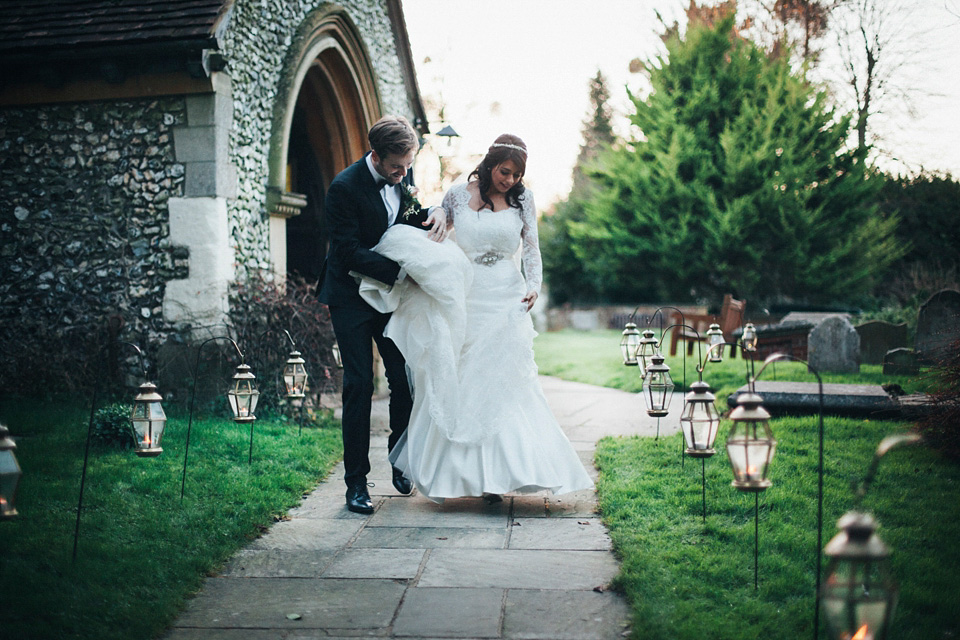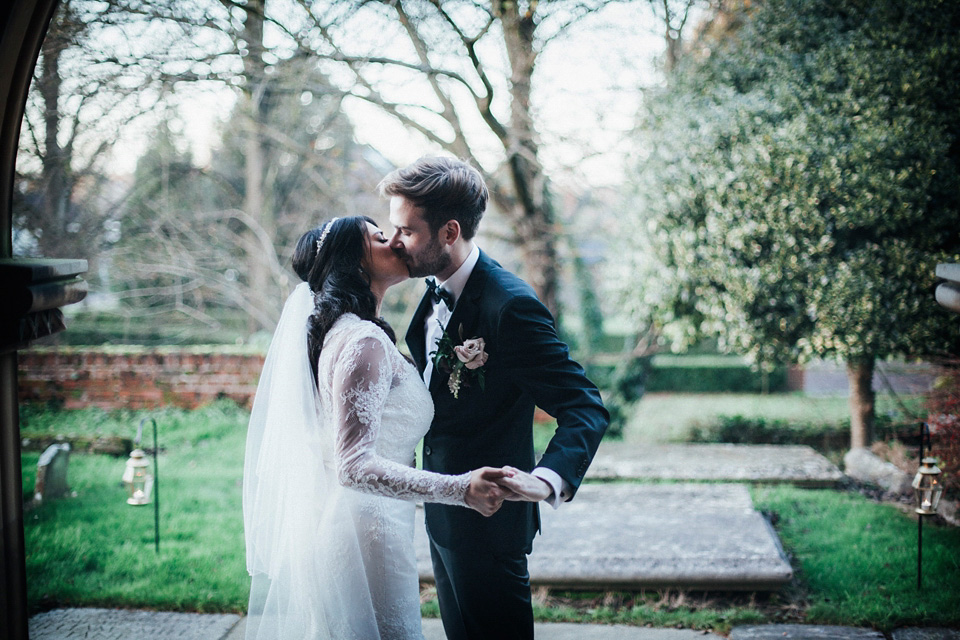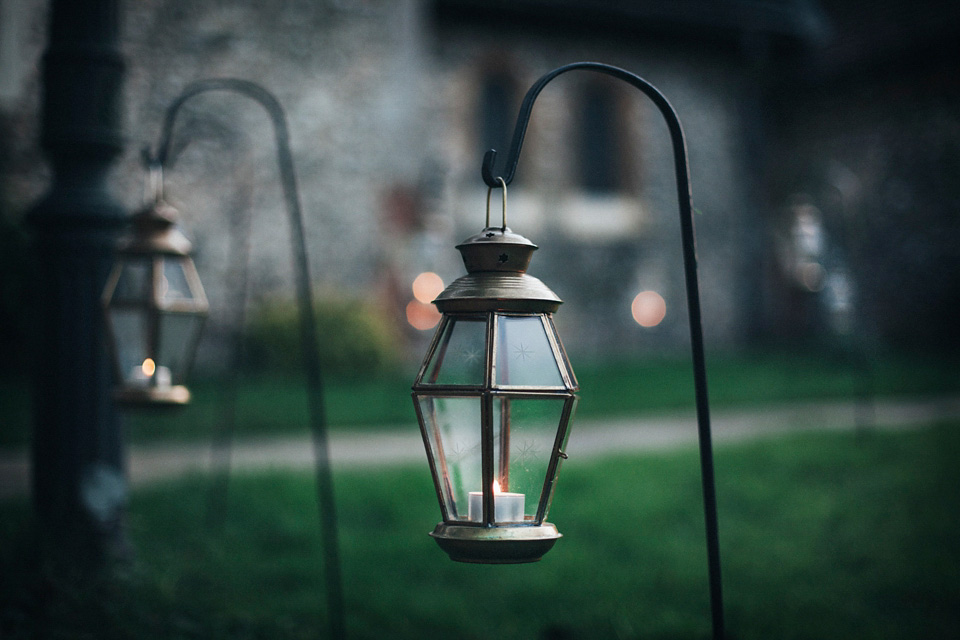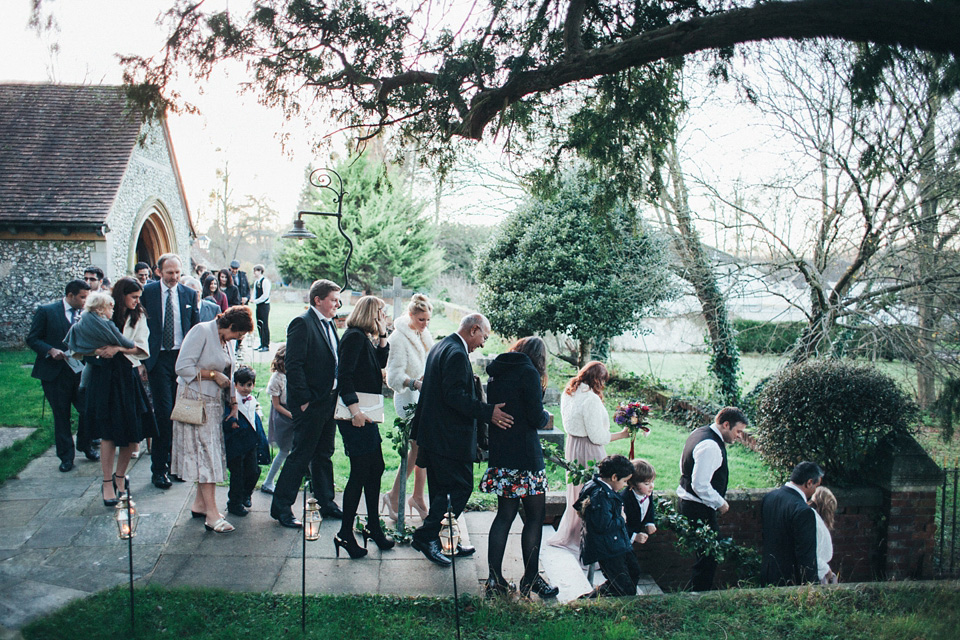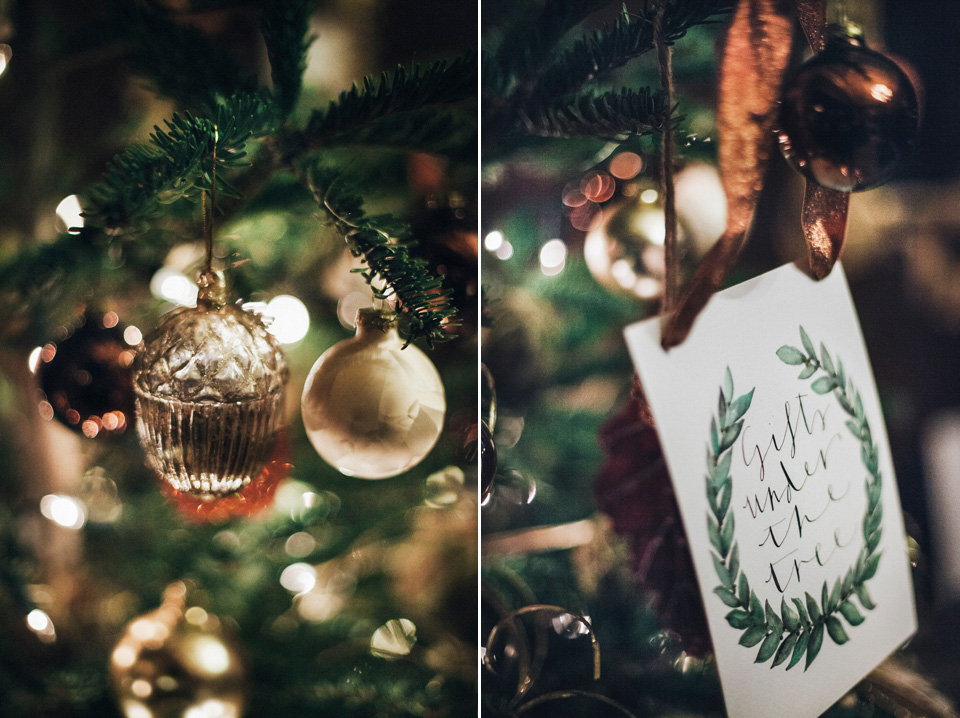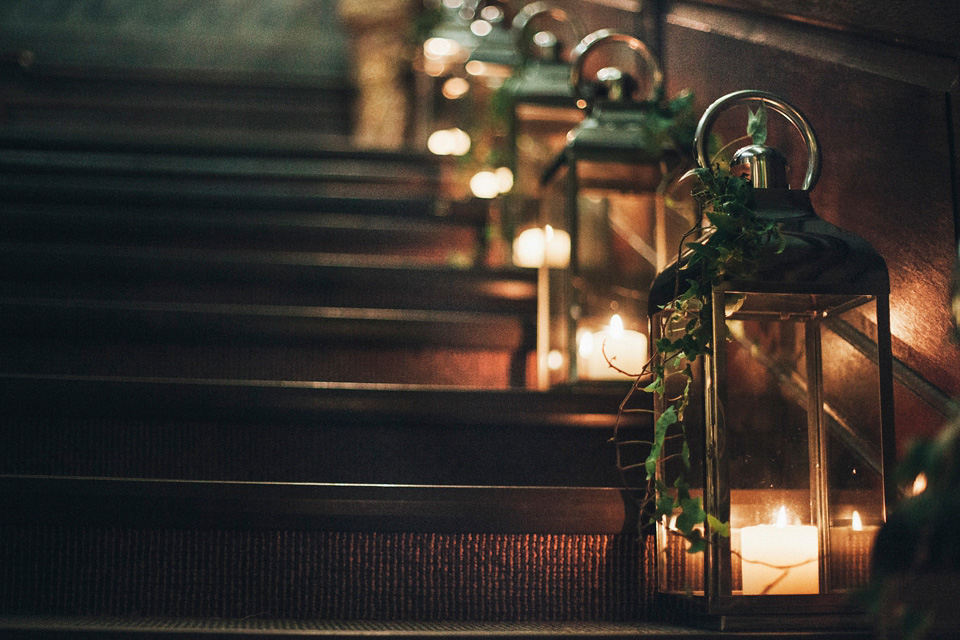 "Fetcham Park itself is so beautiful that we just decorated with Bloomingayles wonderful flowers, nothing else was needed."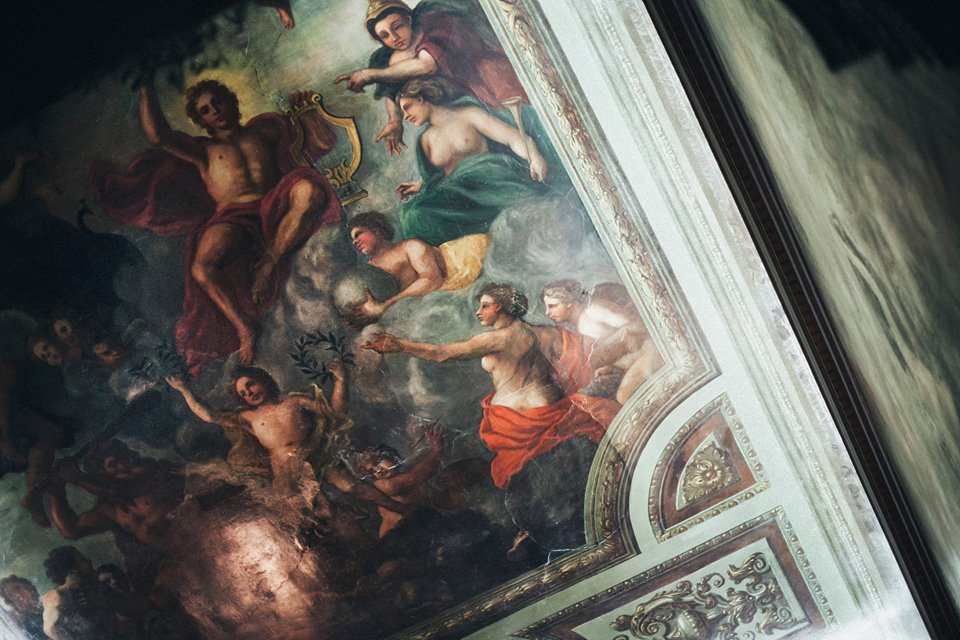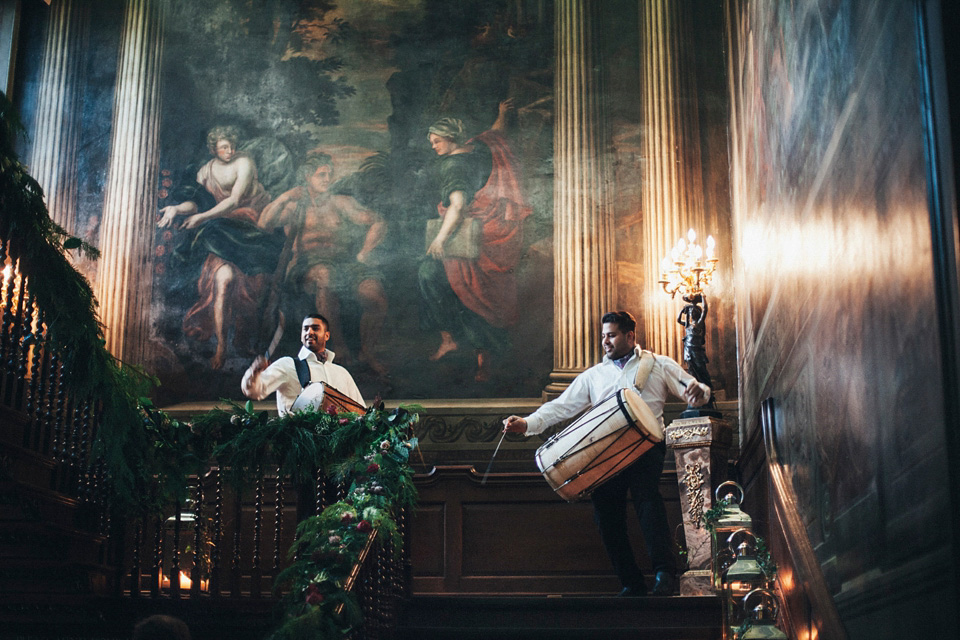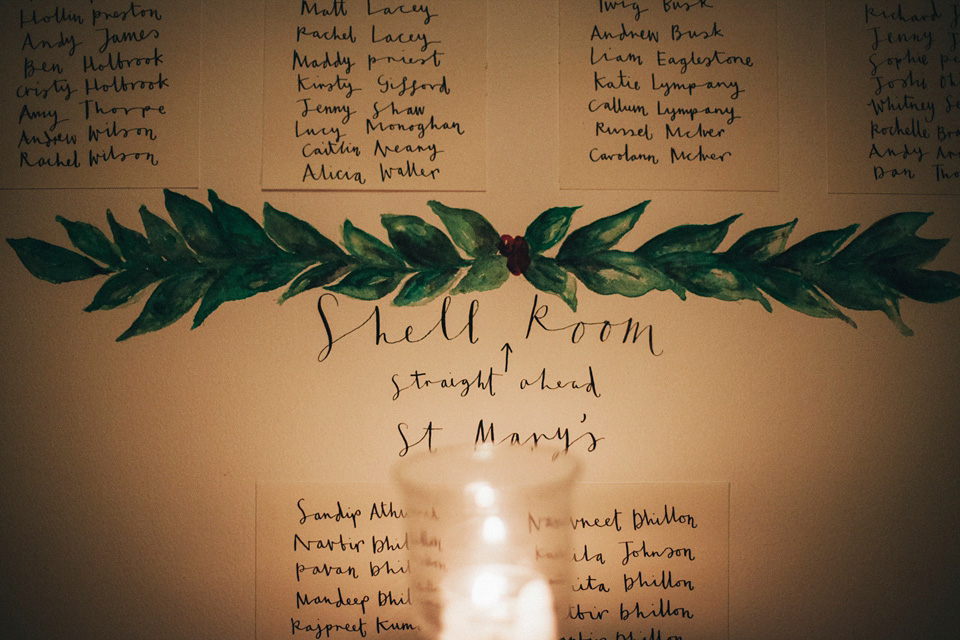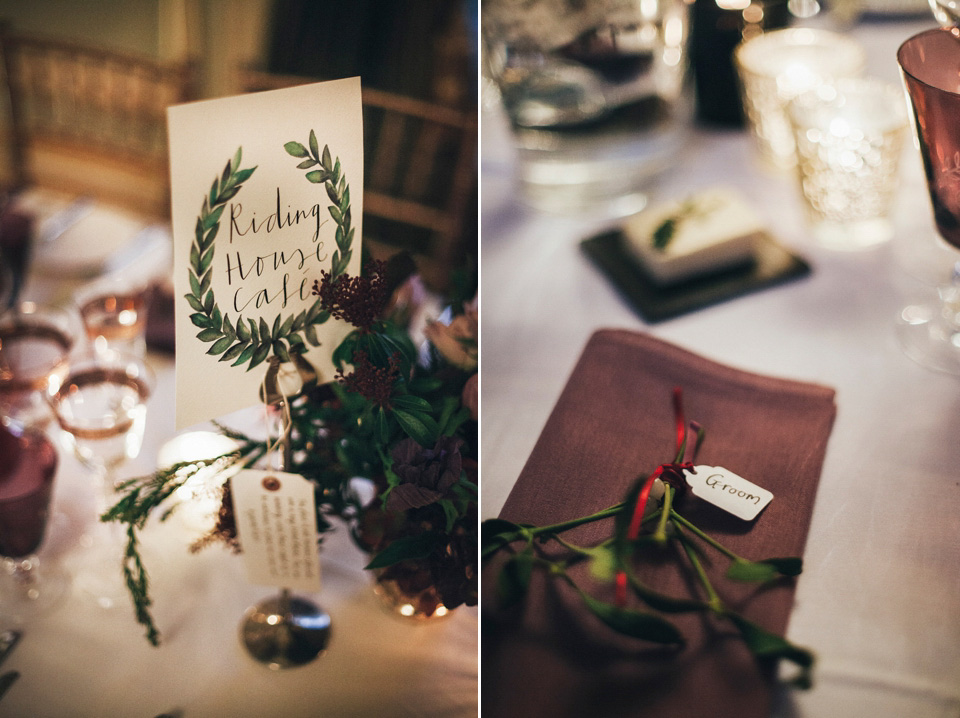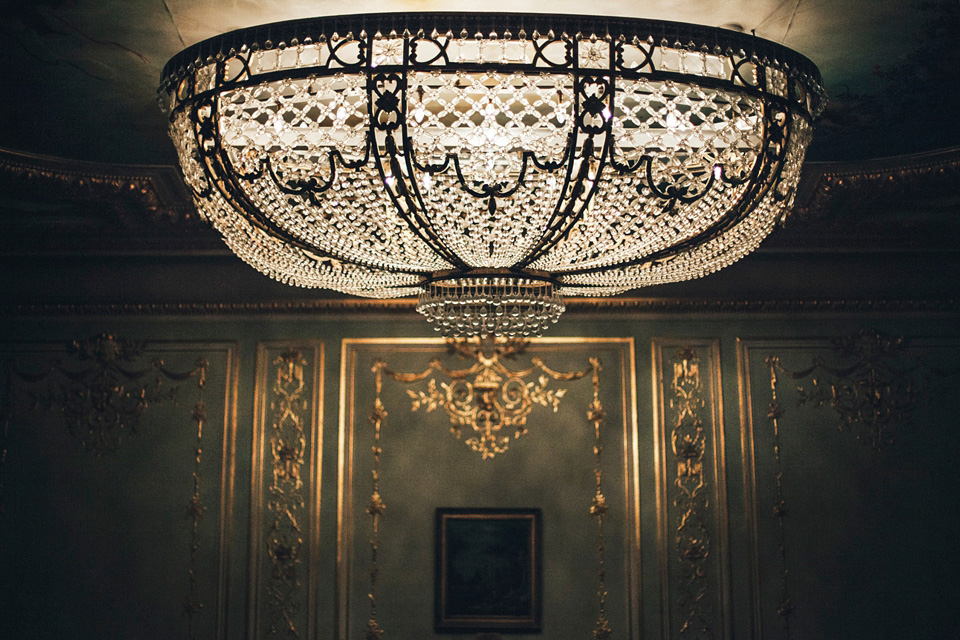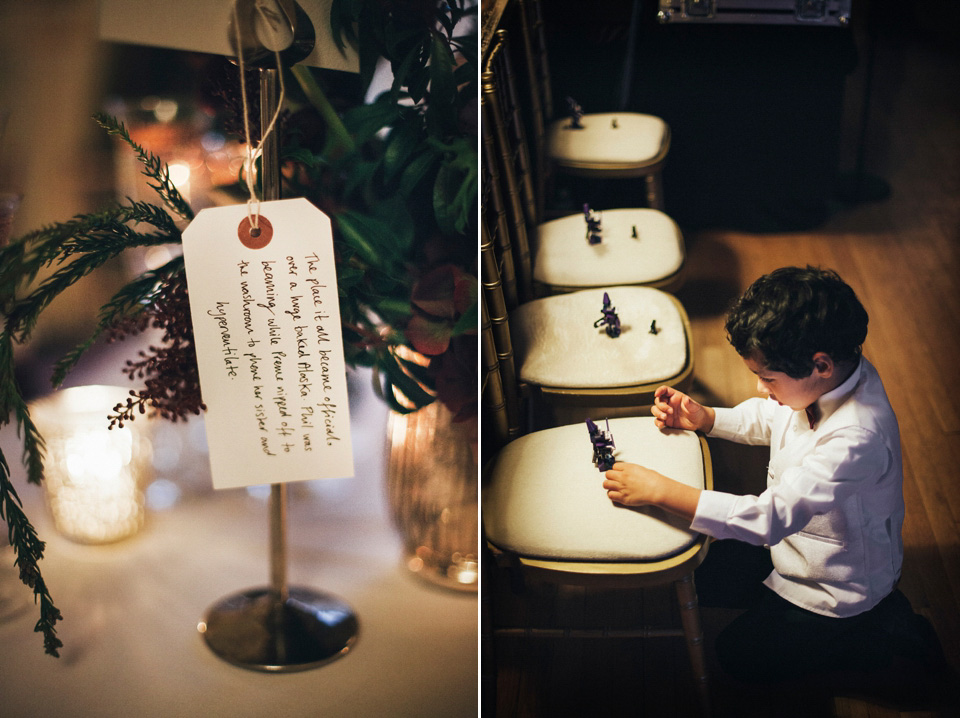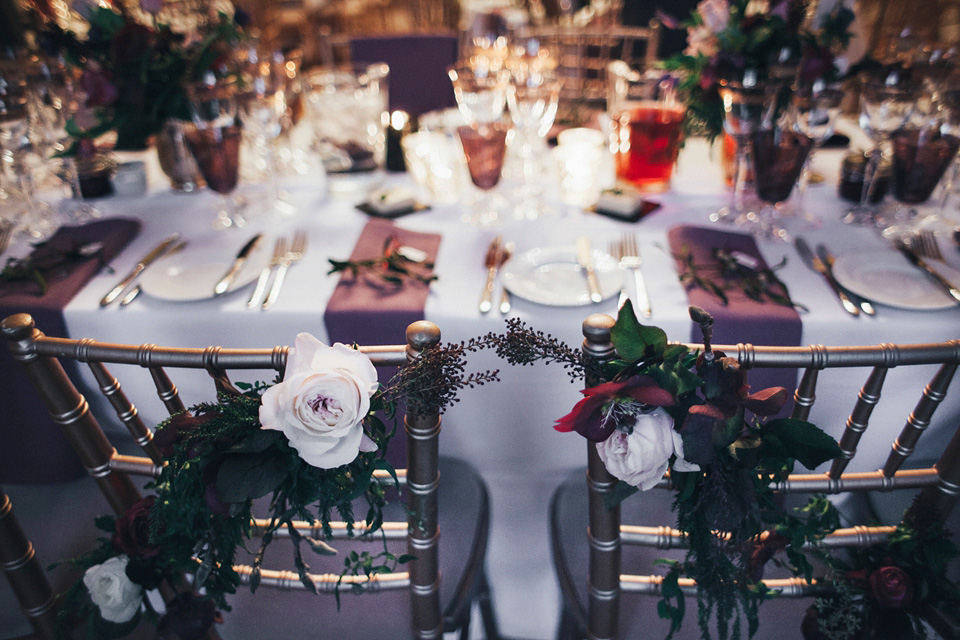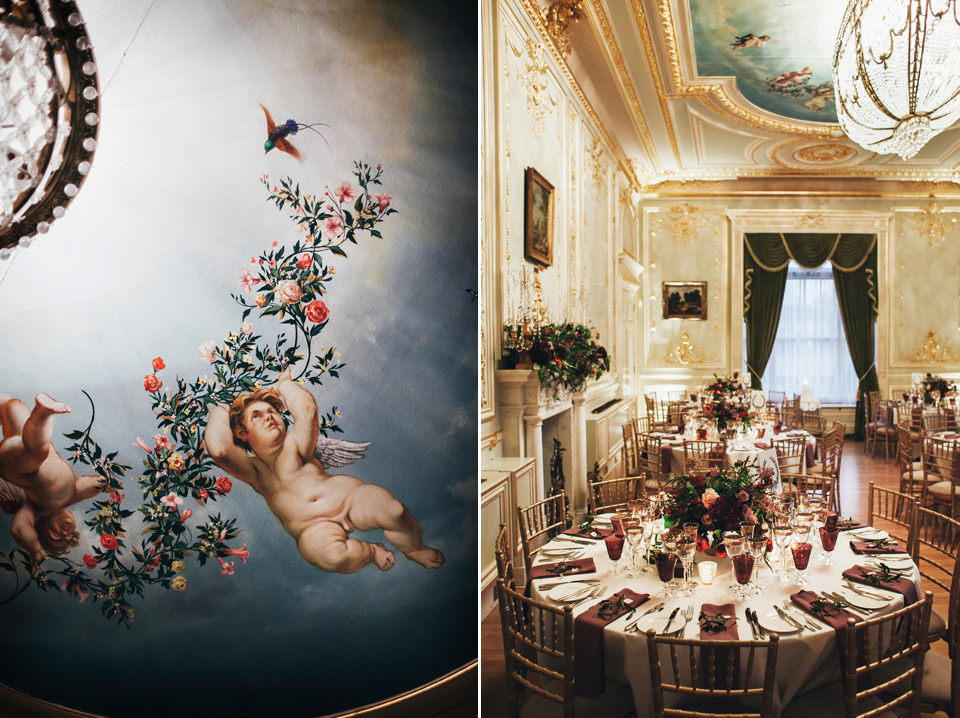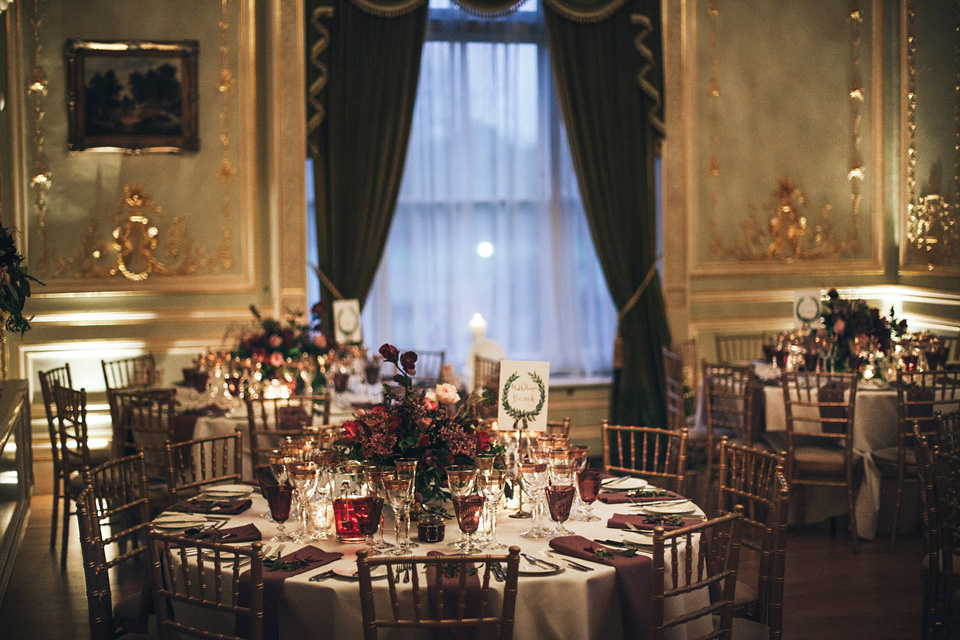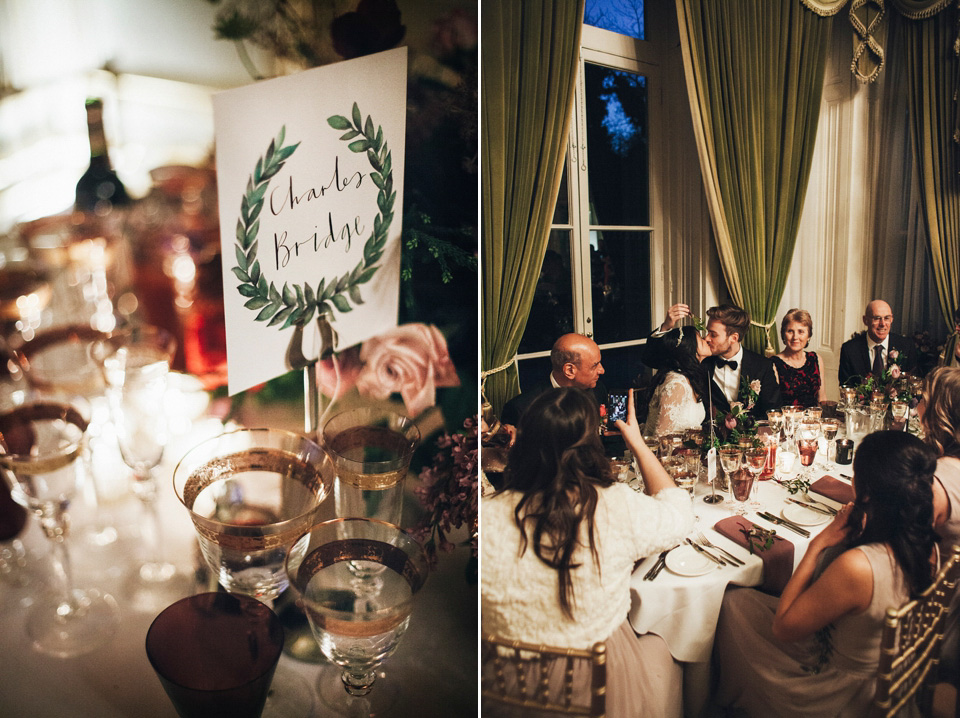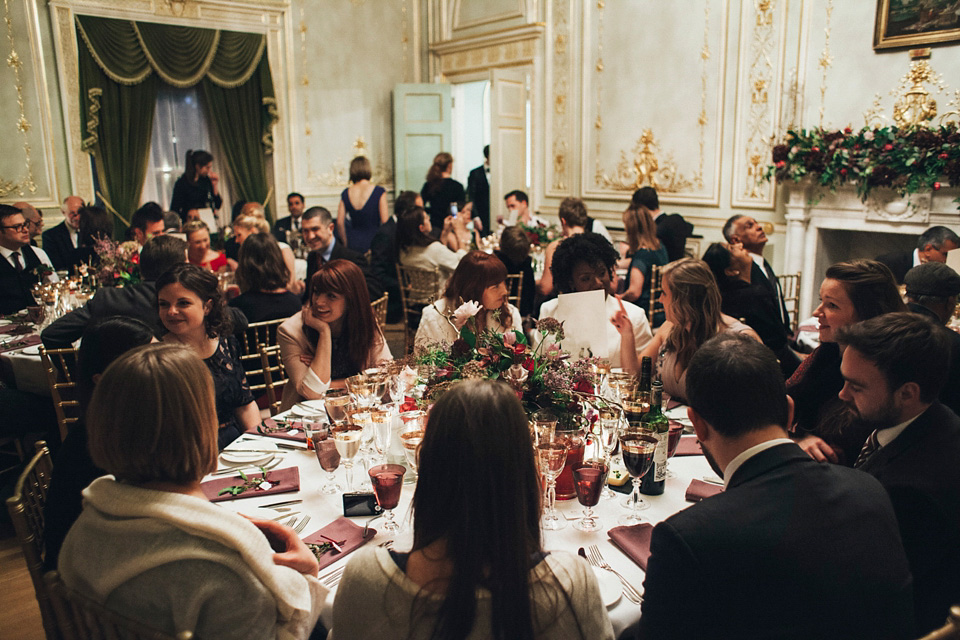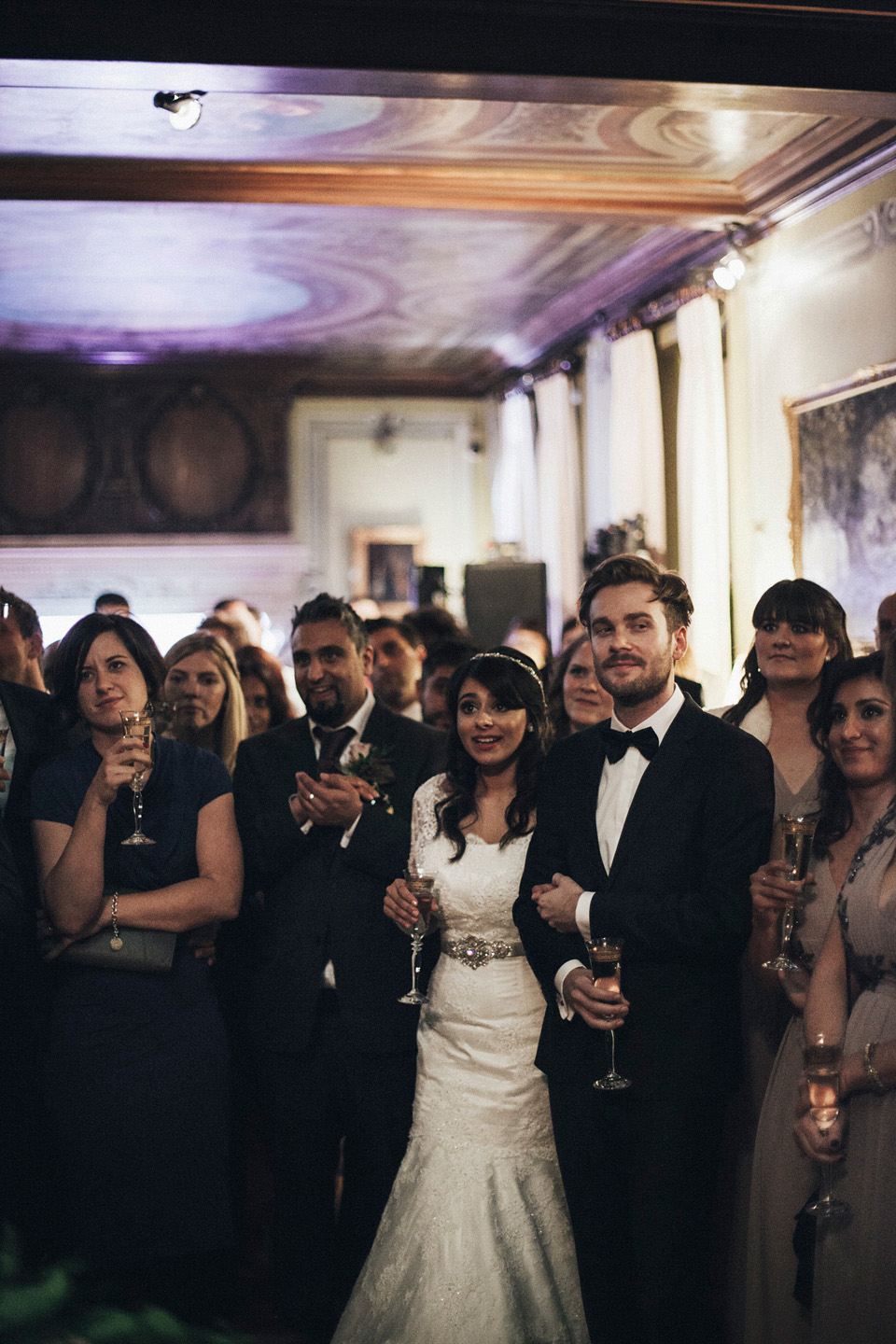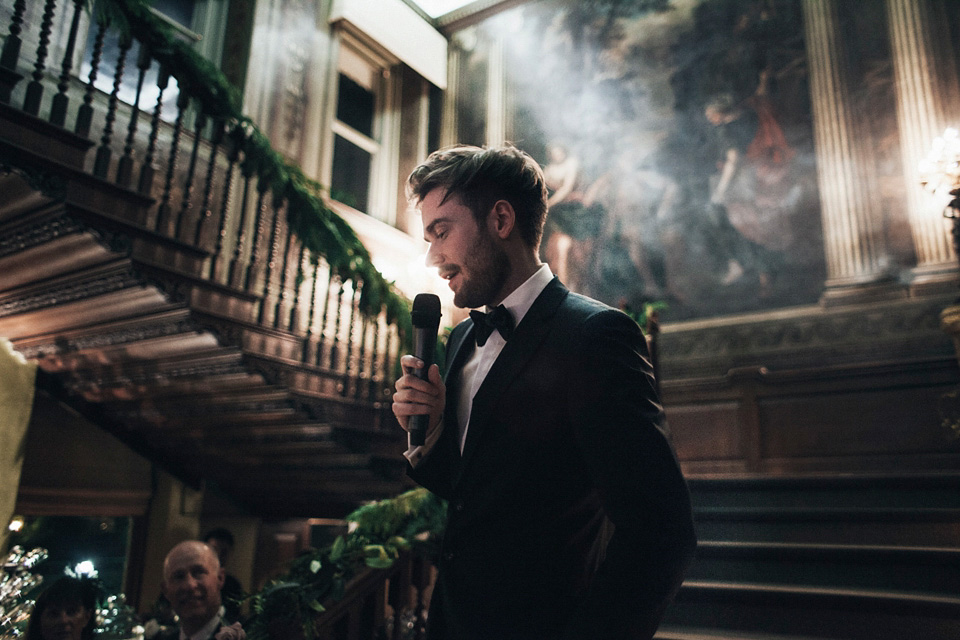 "Our cake by Cakey Coo was absolutely stunning; four tiers decorated with gold leaves, big blooms and a hint of mistletoe. It was so beautiful I almost wish we hadn't eaten it, but it was delicious."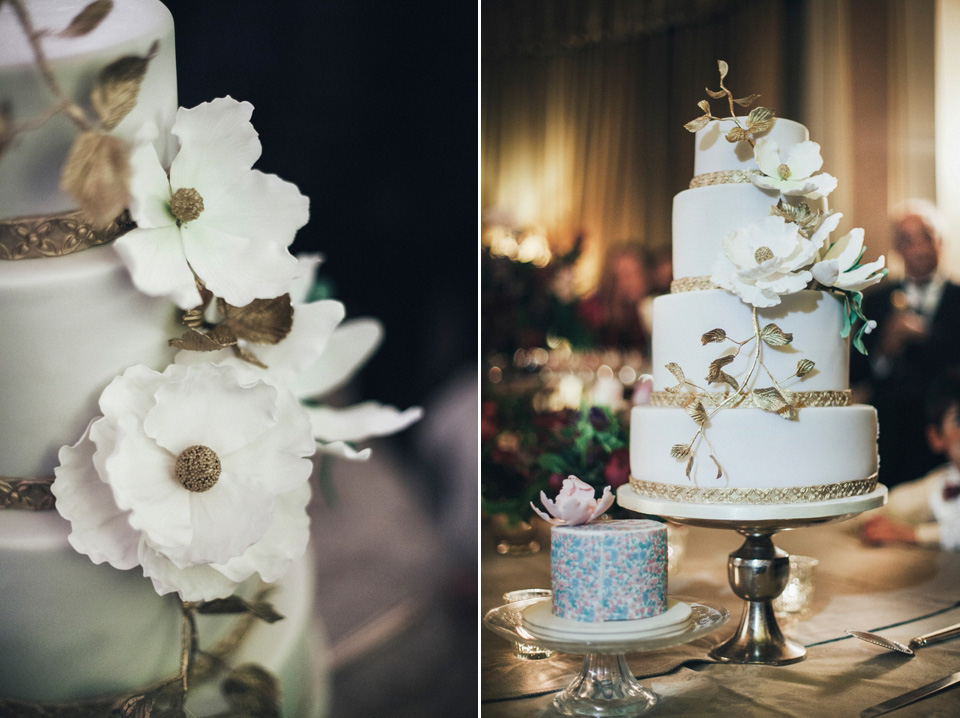 "Our wedding day was also my Aunt and Uncle's 45th Wedding Anniversary. After we cut our cake we surprised them with a cake of their own to cut and I made a little speech. It was such a special moment. When they married 45 years ago it was controversial as they were from different cultures and they weren't able to have a big celebration. It was such a beautiful thing to celebrate them and their glorious dedication to each other on our wedding day!
I asked Cakey Coo to inscribe the bible verse: 'Love hopes all things' on their cake. Their love had indeed hoped all things and is a wonderful inspiration to Phil and I as we start our journey together."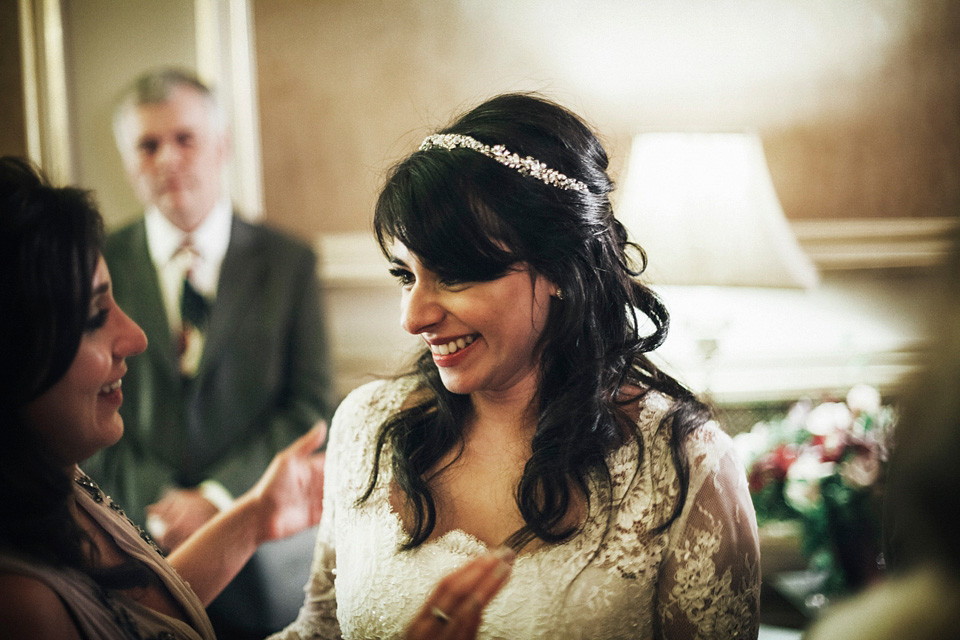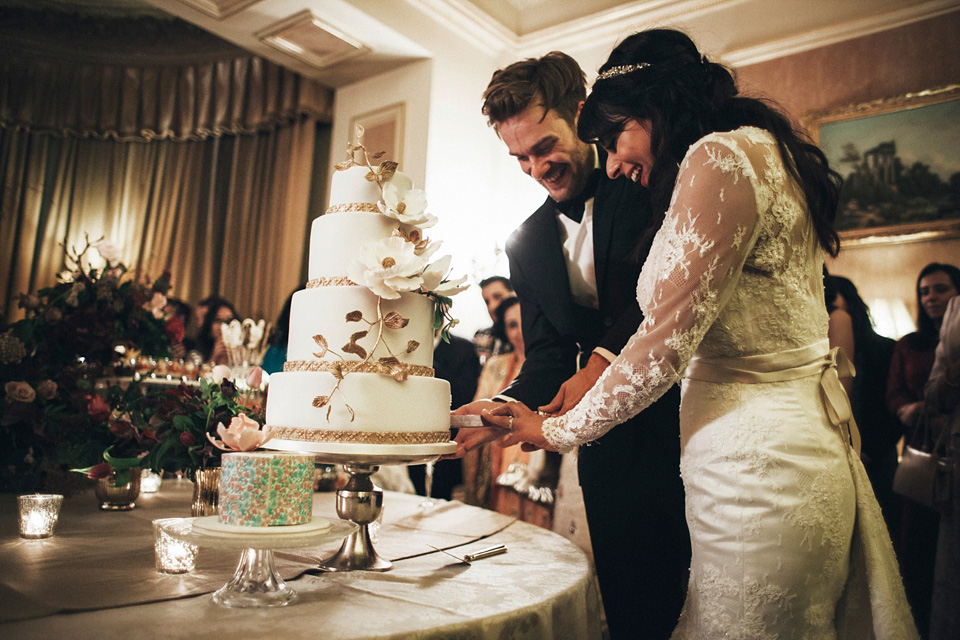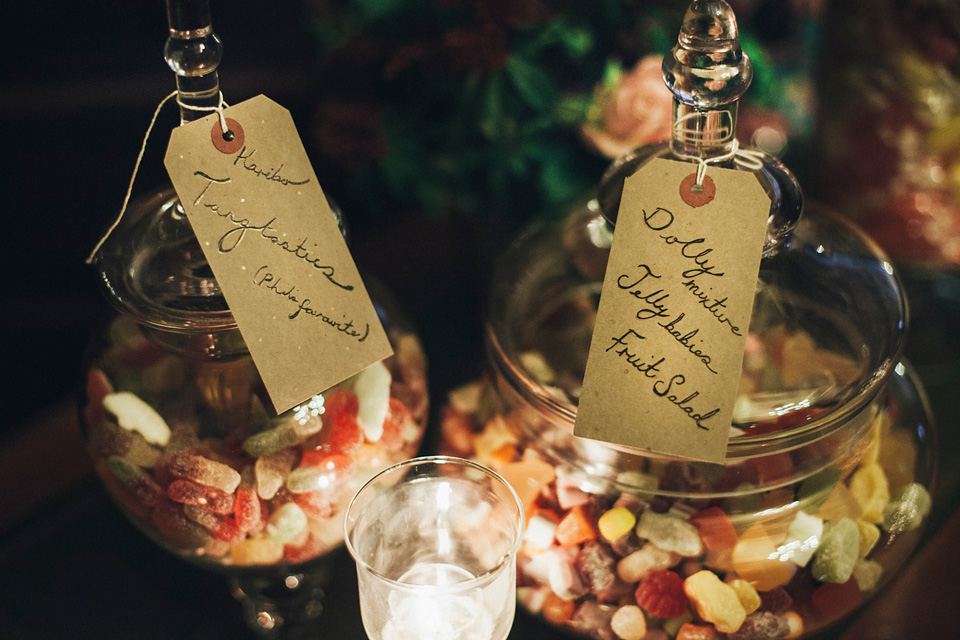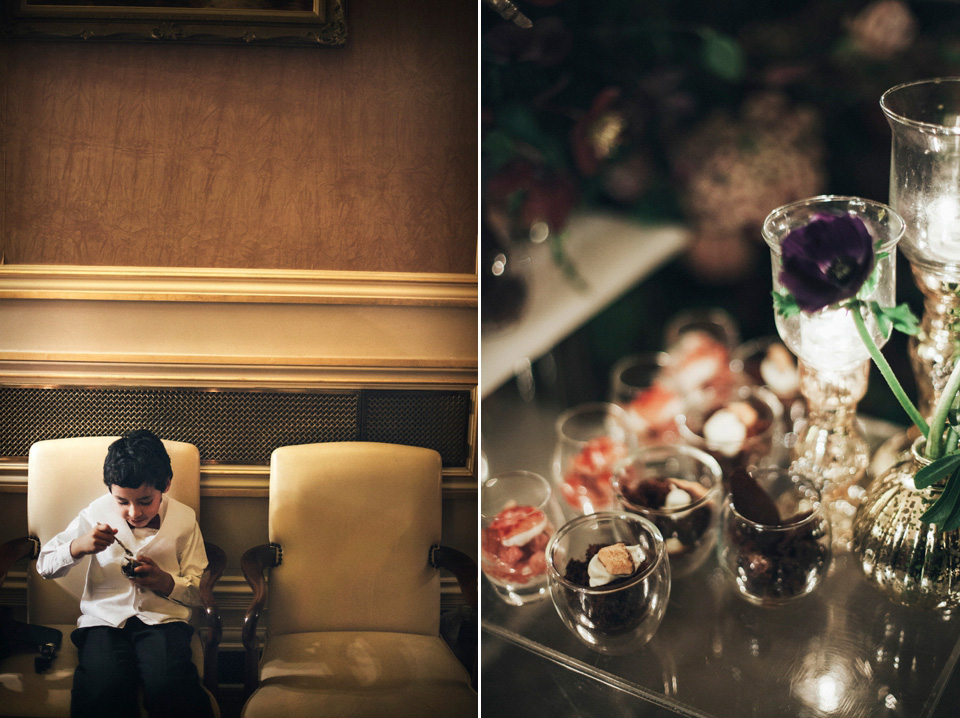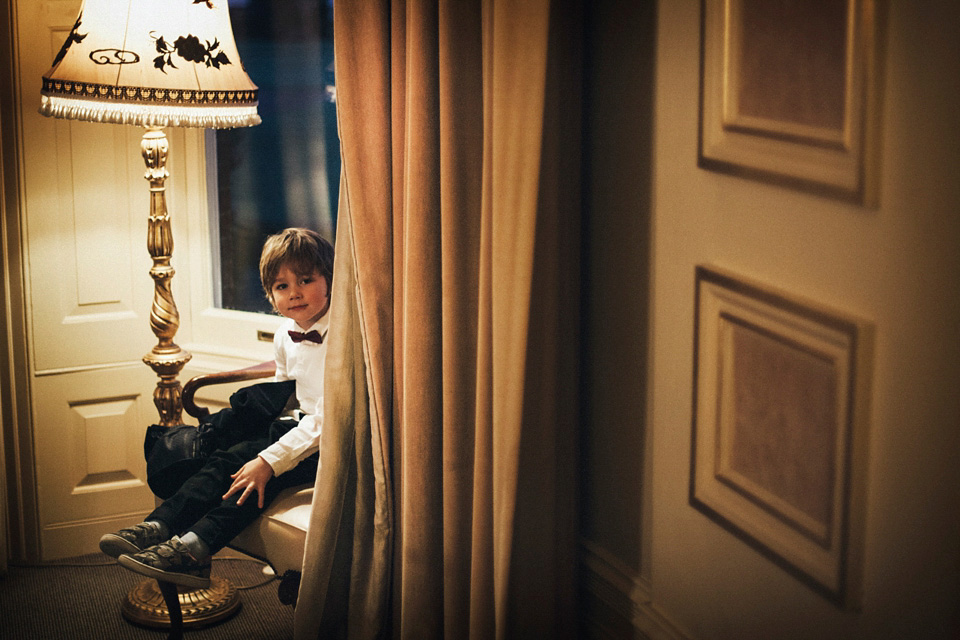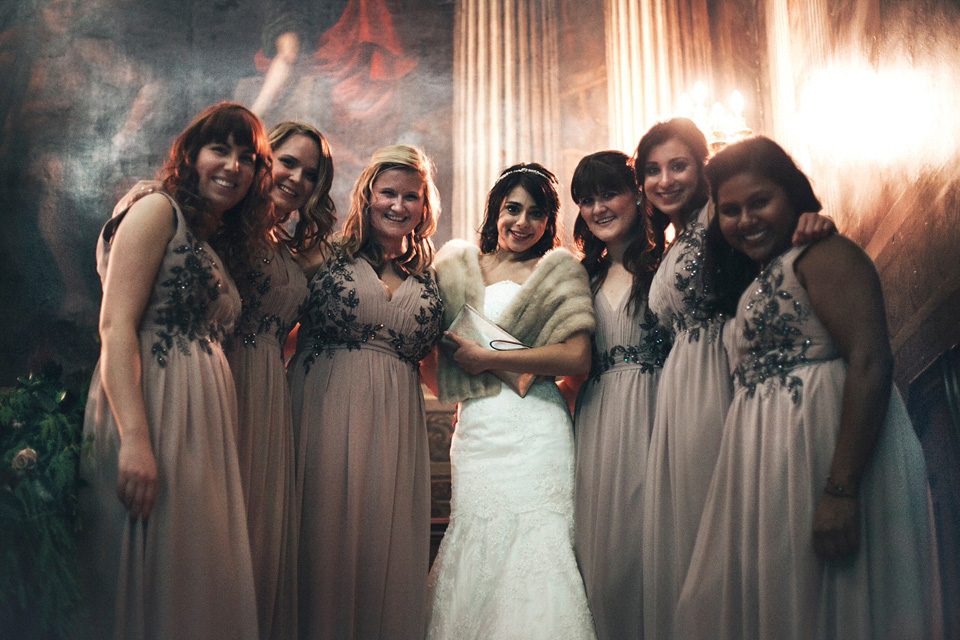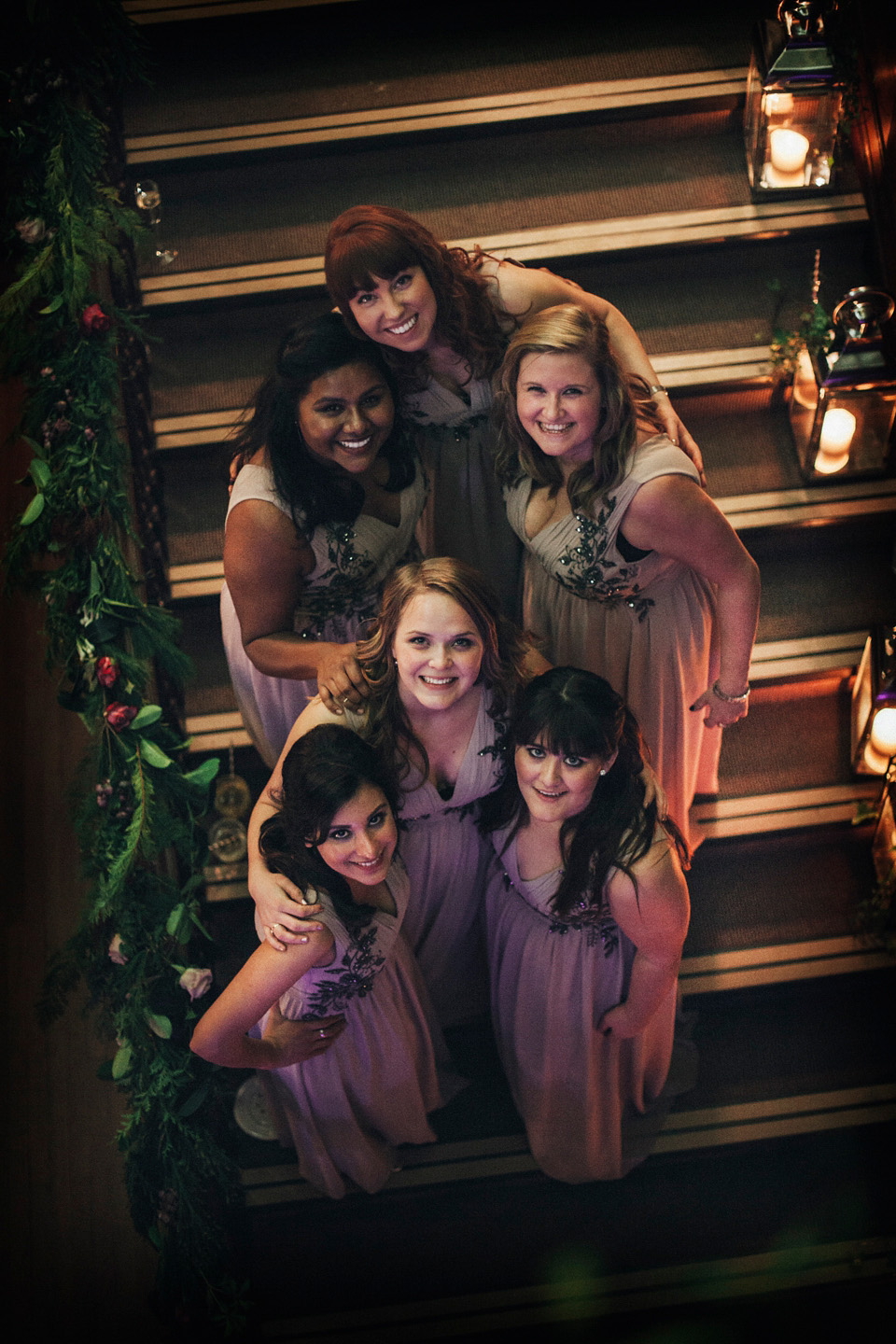 "Our first dance was a song called Green Eyes and a Heart of Gold by a folk band from Brooklyn called The Lone Bellow. I was living in Brooklyn up until the summer I met Phil and discovered the band while I was out there. Phil and I went to see them play in London shortly after we started dating and it was during this song that we had our first kiss! Poor, patient Phil was officially my boyfriend for a week before I kissed him!"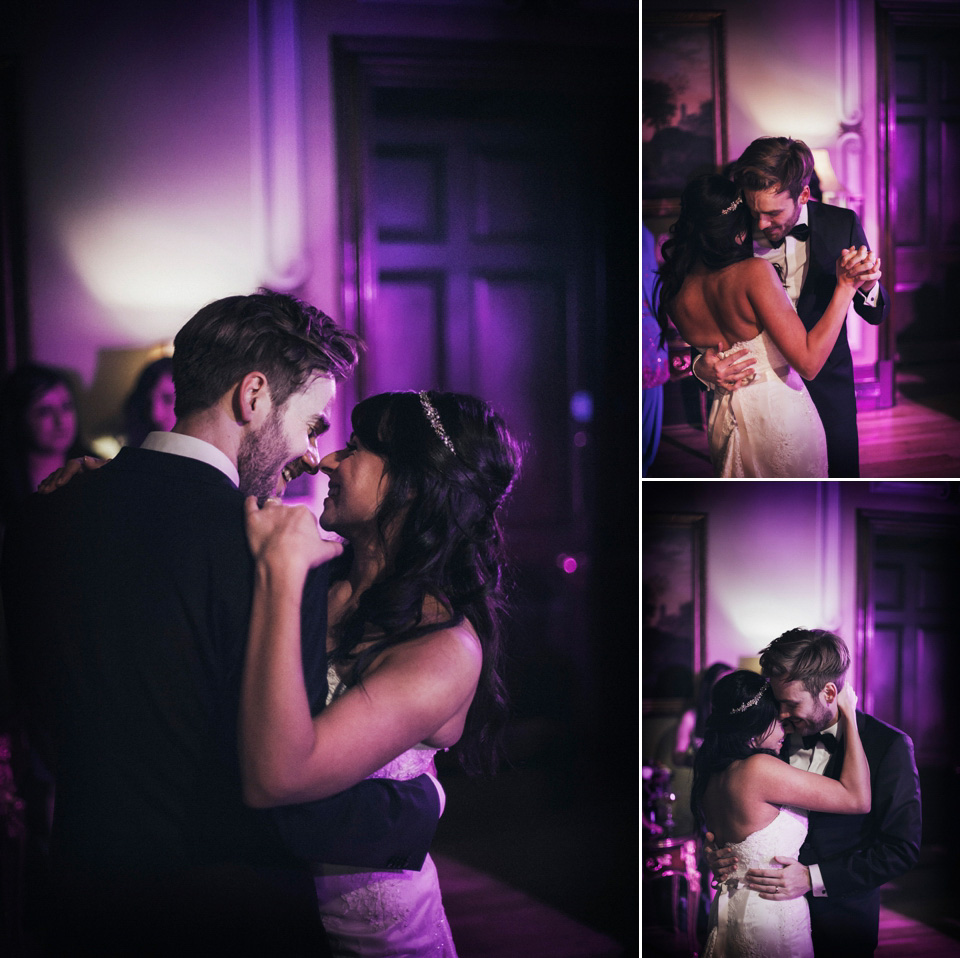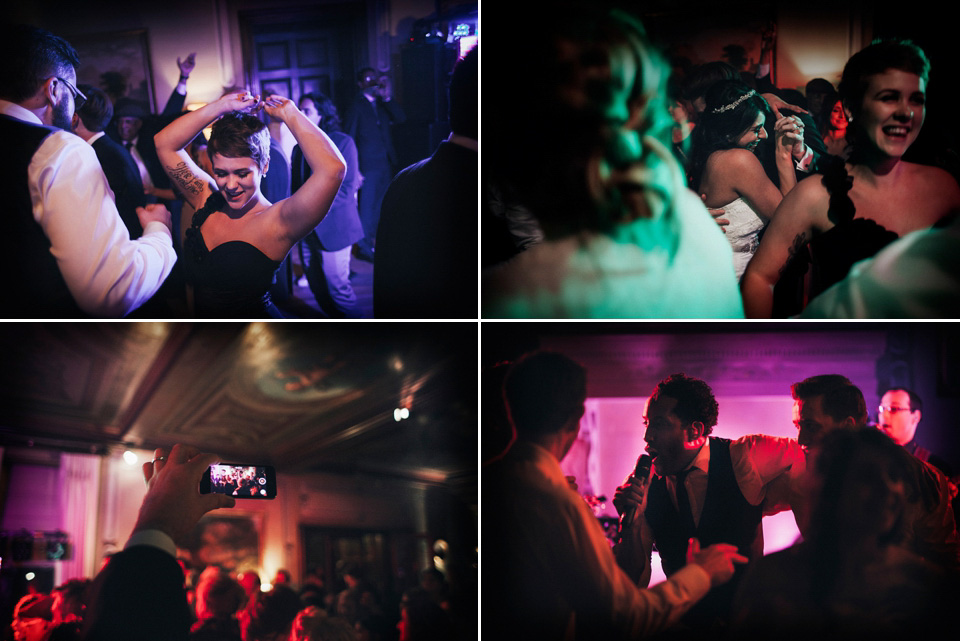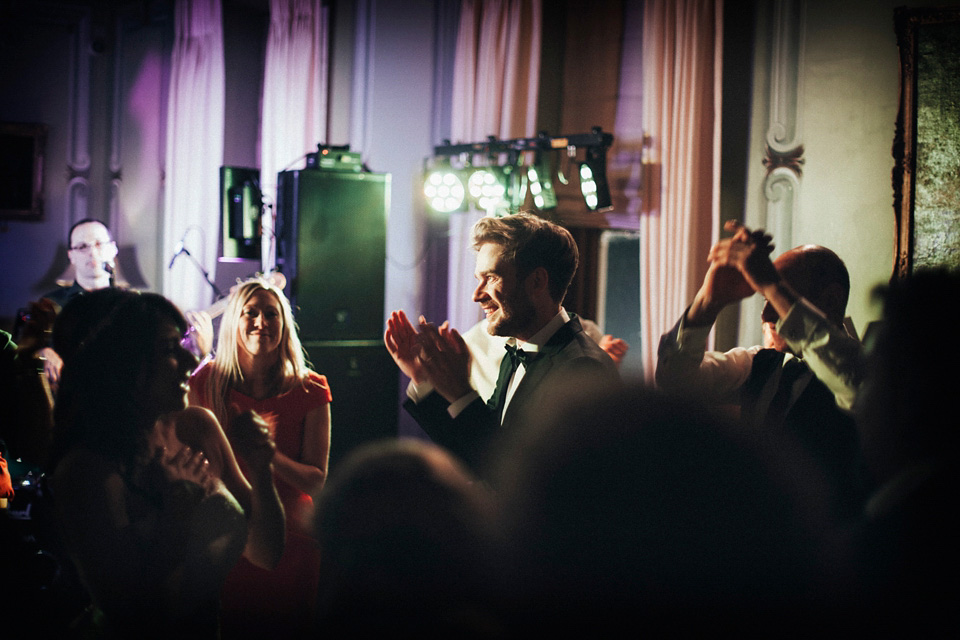 Words of Wedded Wisdom…
"Your wedding day is such a glorious day but it is over in a flash. When you're engaged, give time to building your marriage as well as planning the wedding day."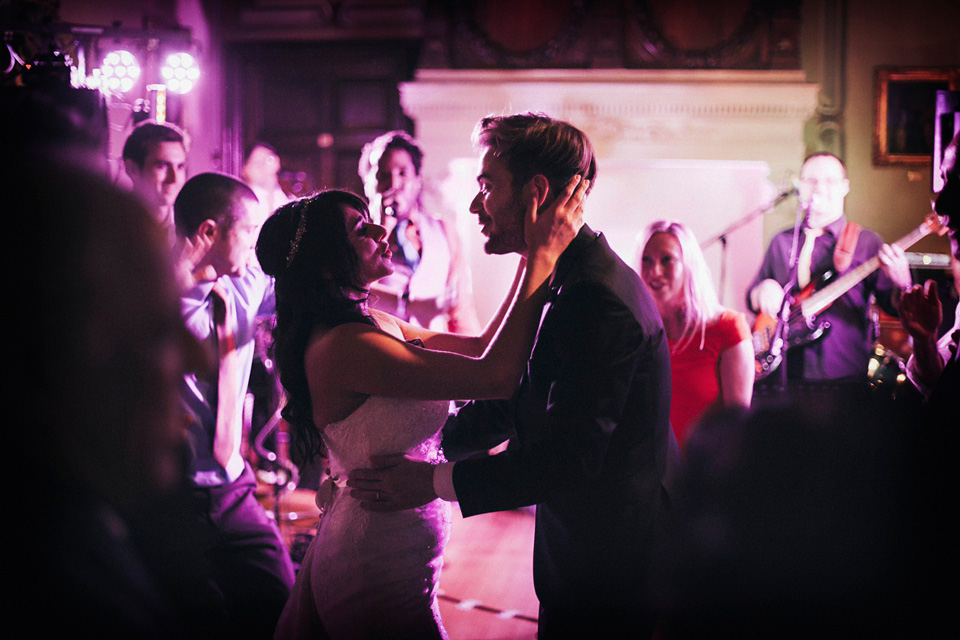 What an exceptionally beautiful day.   I'd like to thank my lovely friend Laura Caudery from one of the most wonderful wedding venues in the UK, Fetcham Park, of course, as well as Emma Meek of Miss Bush Bridal for contributing to this feature.  Thanks also to the beautiful newlyweds for allowing their day to be shared, and to photographer Mark Bothwell for making Love My Dress look so darn glamorous this morning.
If you didn't catch it last week, you can learn more about black tie weddings like this one here.  I'd also really love to hear from any other Suzanne Neville brides who might be reading this today.
Have a lovely morning all,
Love Annabel x
Photographer – Mark Bothwell
Planner/Stylist – Anna, Bride & Glory
Venue – Fetcham Park
Wedding Dress – Suzanne Neville, from Miss Bush Bridal
Bride's Veil – Miss Bush Bridal
Bride's Hair Accessories – BHLDN
Bride's Shoes – Russell & Bromley
Scent – Jo Malone's Dark Amber and Ginger Lily (worn by the bride and groom)
Grooms Suit – Hugo Boss
Bridesmaid's Dresses – Asos + Monsoon jackets
Florist – Bloomingayles
Cake – Cakey Coo
Entertainment – Candy Apple Blue
Rings – Browns Jewellers
Catering Company – Kalm Kitchen
Stationery – Letterbox Lane
Hair Stylist – Sharon Roberts of Wonderful Wedding Hair
Make up – Ana Ospina Make-up