¡Hola a todos! Well I have been told by many a Spaniard that I am more Spanish than the Spanish so my little heart sang when I saw that today I get to share with you this very glam wedding that took place in Andalucia, in the south of the country, on 7 September 2013. Spain is, after all, the home of la fiesta and Spanish weddings are the biggest parties of all, often lasting into the following day! Who doesn't like the thought of spending the evening al fresco, eating the finest tapas and dancing 'til daylight? You are most definitely going to need a pair of those espadrilles for your aching feet!
Graphic Designer Milly married her novio, and record label owner Tom, in the local church that her grandmother is active in and then later celebrated the marriage at her (rather stunning) family home in Cadiz.  The couple chose London based Hearts on Fire Photography to take these fabulous images. I love Karolina's individual style and the interesting way that she views the world and captures the details.  Look at these super cute flower girls with their gyp crowns and beautifully simple dresses from I Love Gorgeous.
Photography Copyright (c) 2015, Hearts on Fire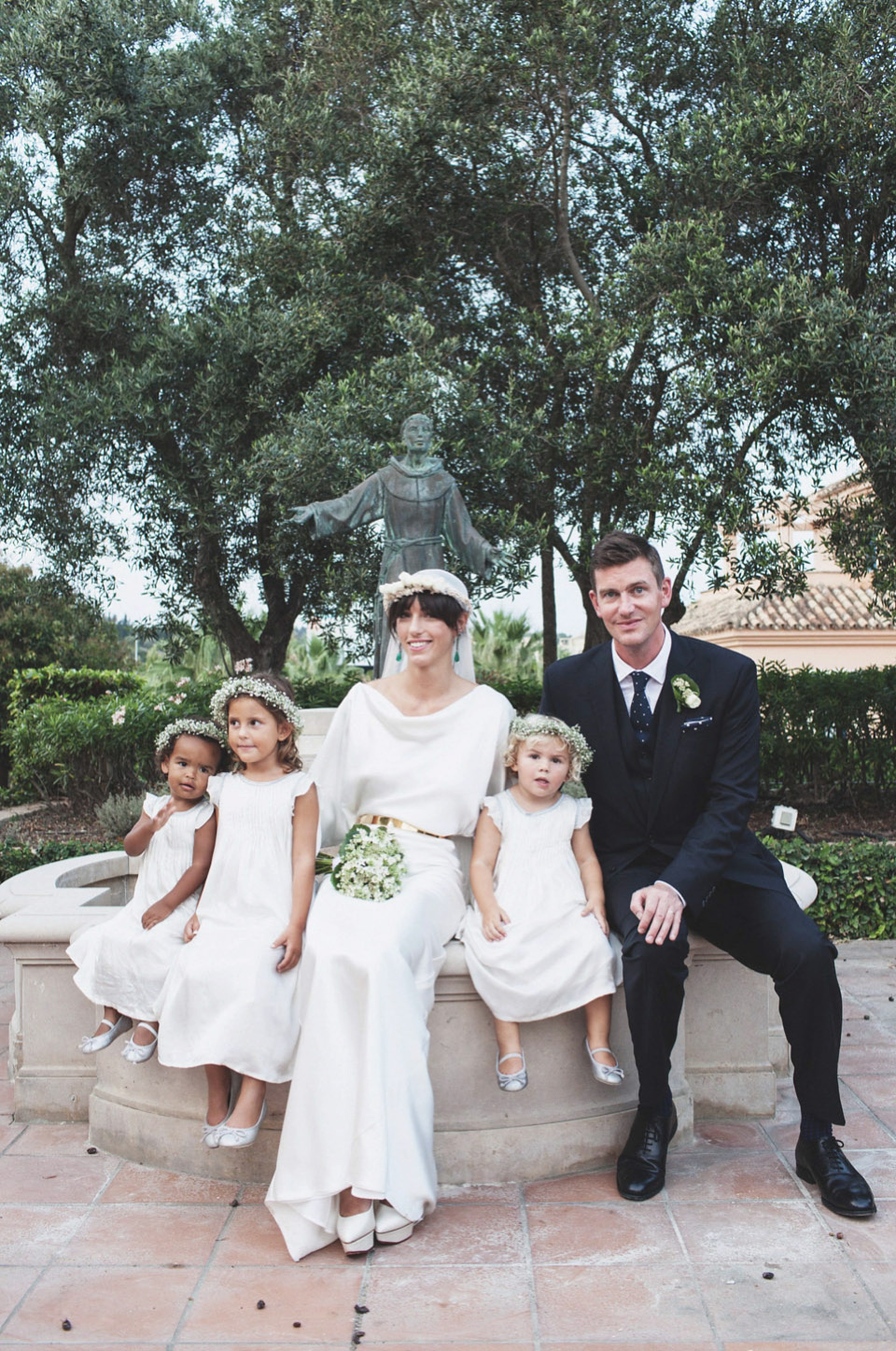 "I think the main theme throughout was family and friends. Everyone who could offer something helped out, from the DJ, the transport, the decoration, the design, the catering, the table flowers, and the soloist during the church ceremony. It made the whole thing feel very personal and unique to us, like the imprint of the people who we love was on everything around us. We had no need for an event planner, just a very well equipped and wonderful family who know how to throw a good party."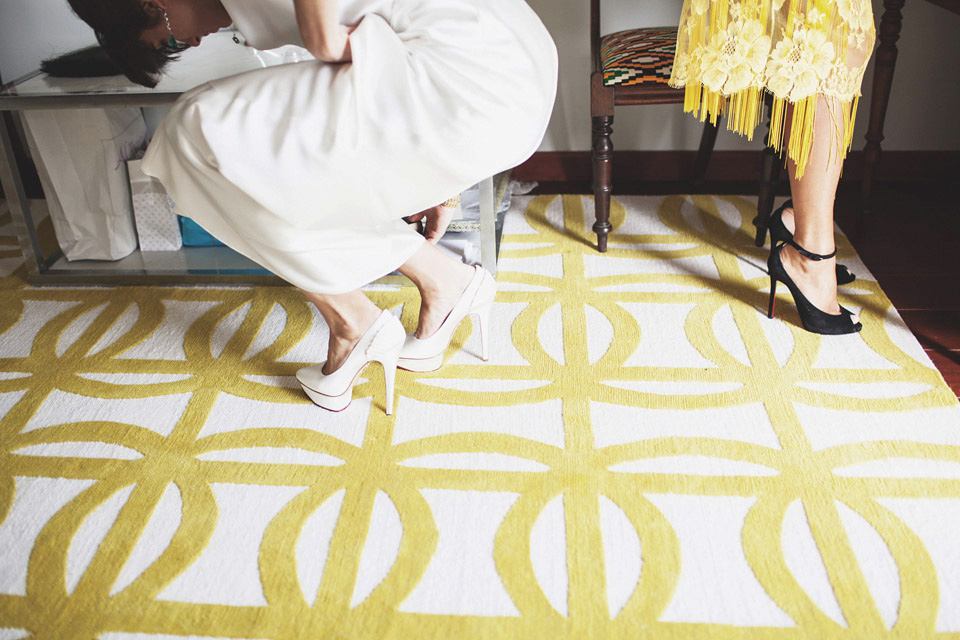 We utterly adore Milly's choice of slinky bridal gown – a deliciously bias cut heavy satin dress with cowl front and a twisted cowl plunge back – so utterly glamorous.  Milly accessorised her dress with a custom-made gold belt by Eden Diodati.
"I chose my Rebecca Street dress because of its simplicity and sculptural form. I had seen so many dresses that were so structured and fussy; I just wanted something I could still feel like myself in, and also something that I could dance all night in! I didn't want to feel like an imposter on a day when everyone would be looking at me so it was important that I was comfortable.
My shoes were from Charlotte Olympia. With Tom being 6'6", I could get away with wearing stilts and still not reach him!"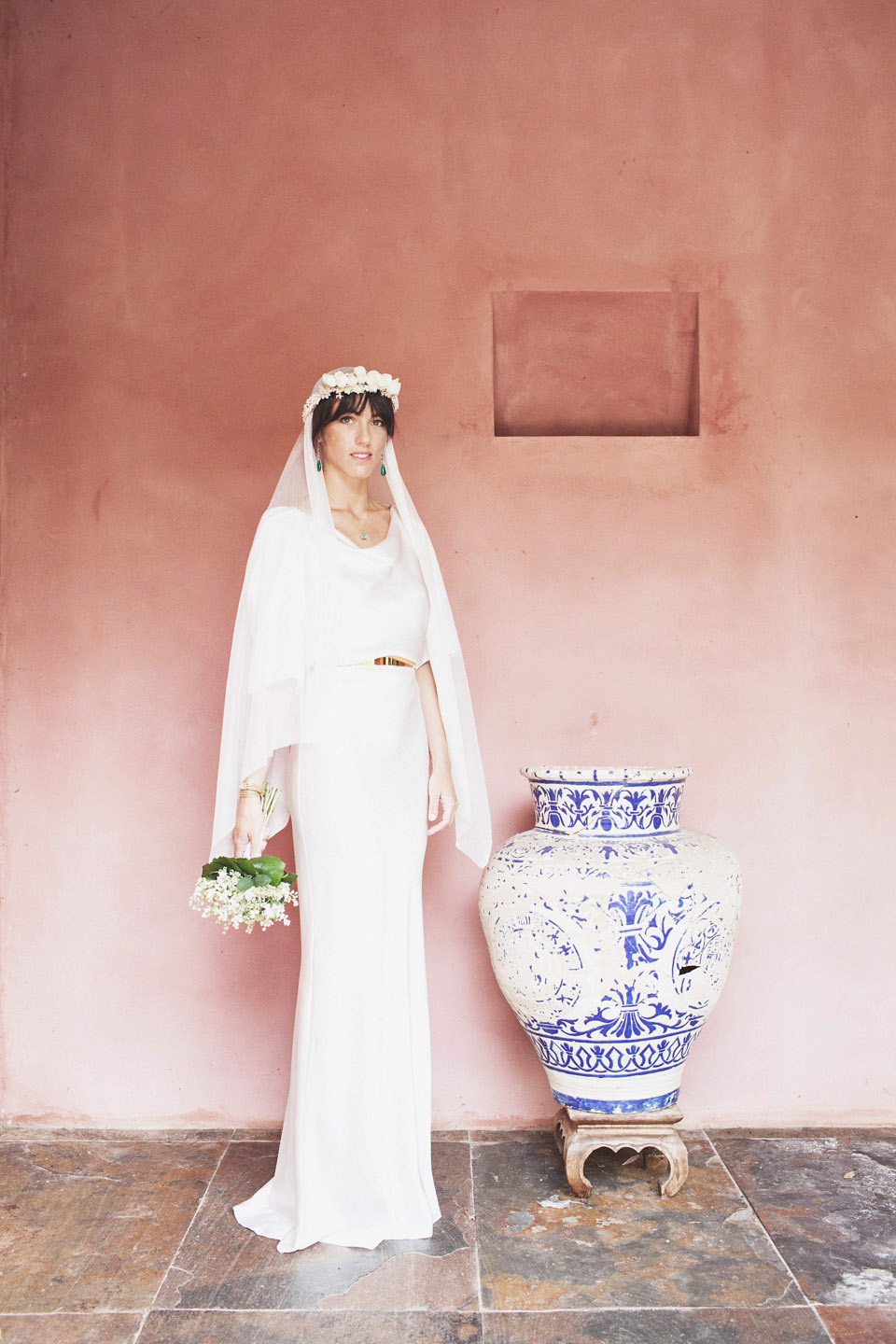 Milly made her pretty veil herself from silk tulle bought from The Silk Society on Berwick Street, Soho and her flower headband was made by Tocados le Touquet based on sketches that she sent the designer who is based in northern Spain. I love how it takes inspiration from the was flower headpieces of the Edwardian era.  Each headband is handmade to order so brides are able to work with Paula on their size, shape and style. The finishing touches to her look were a pair of earrings originally owned by her great-grandmother.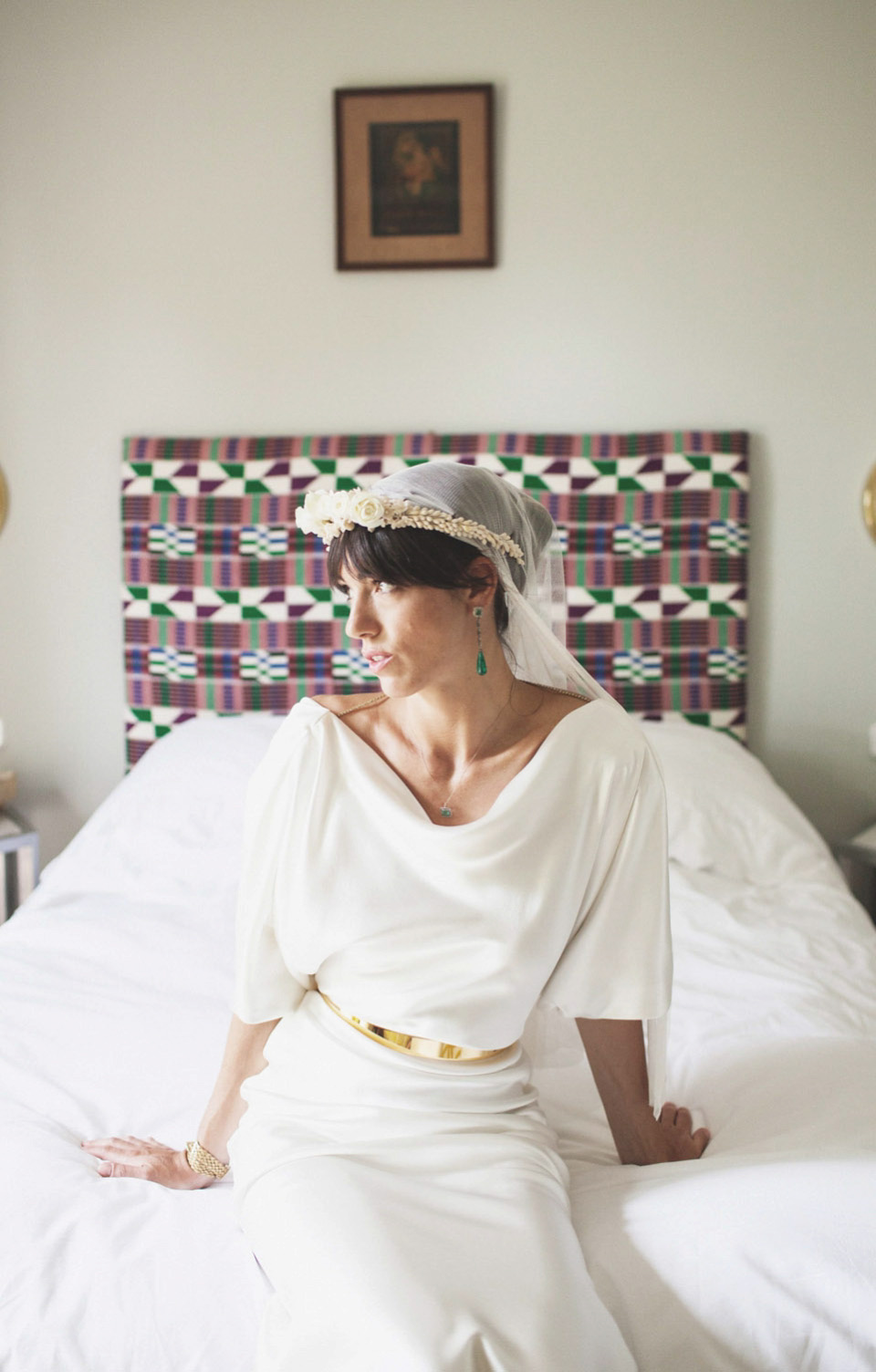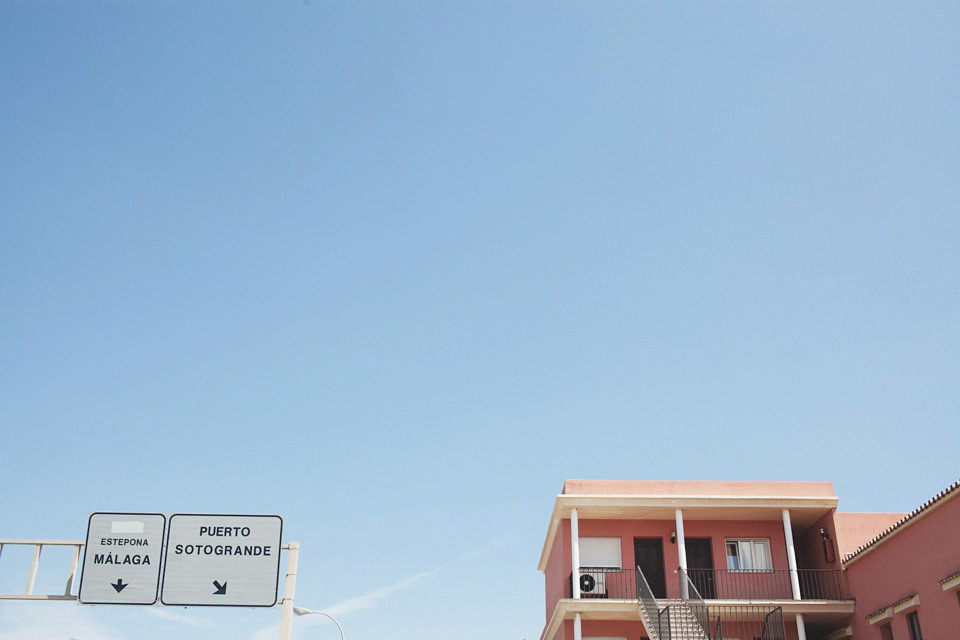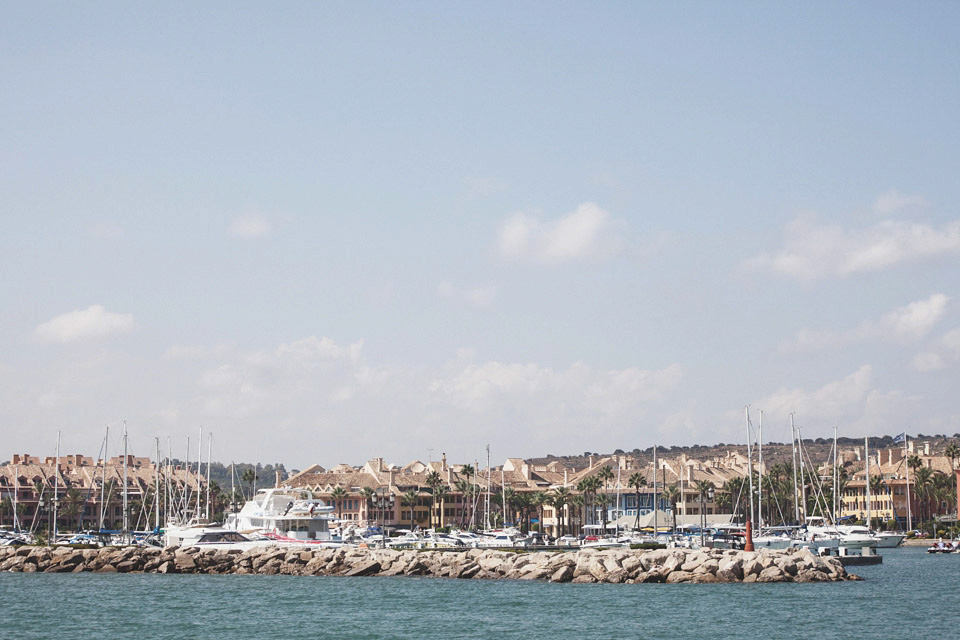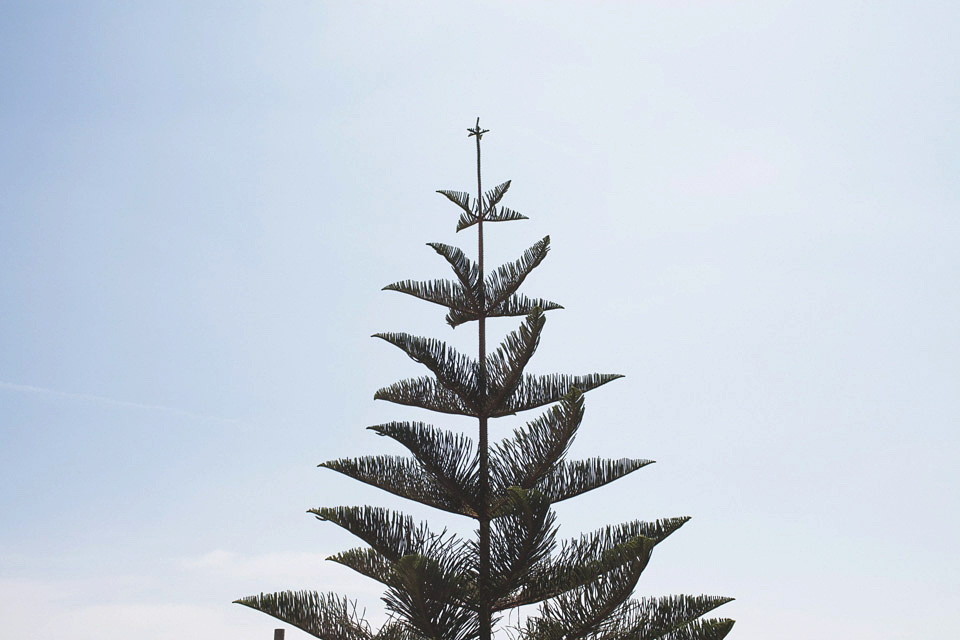 Spanish weddings tend to be pretty glamorous affairs and upping the fashion stakes, along with Milly, were her sister who wore a yellow lace Stella McCartney dress and a pair of Christian Louboutin's and her mother wore a striking orange and pink Roksanda Ilincic number.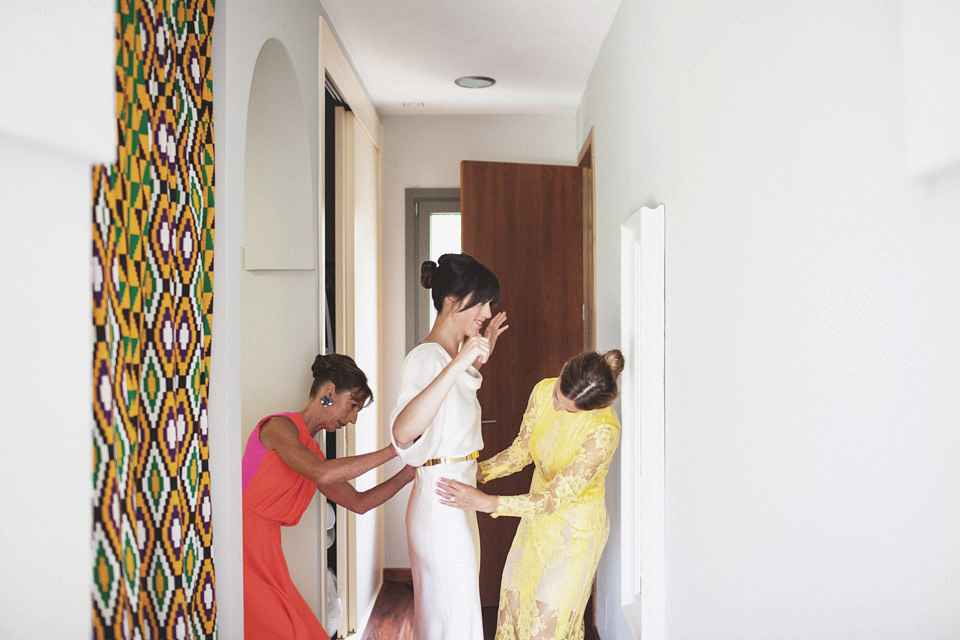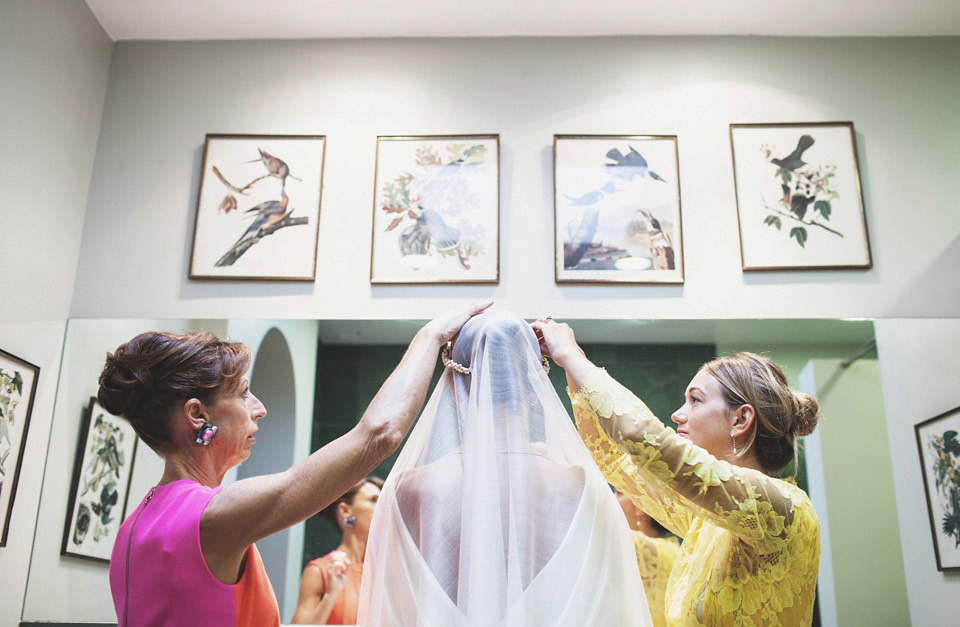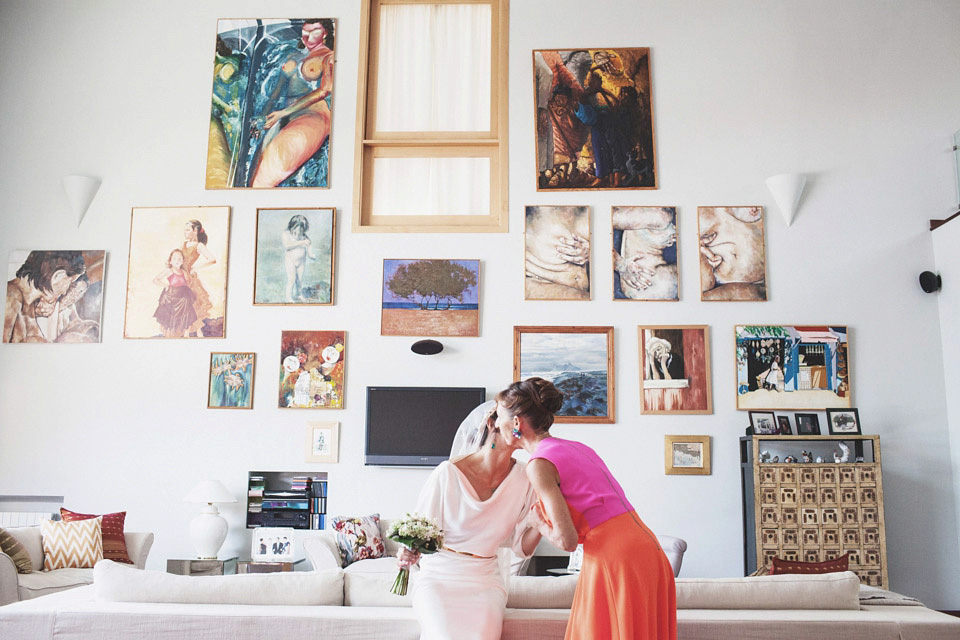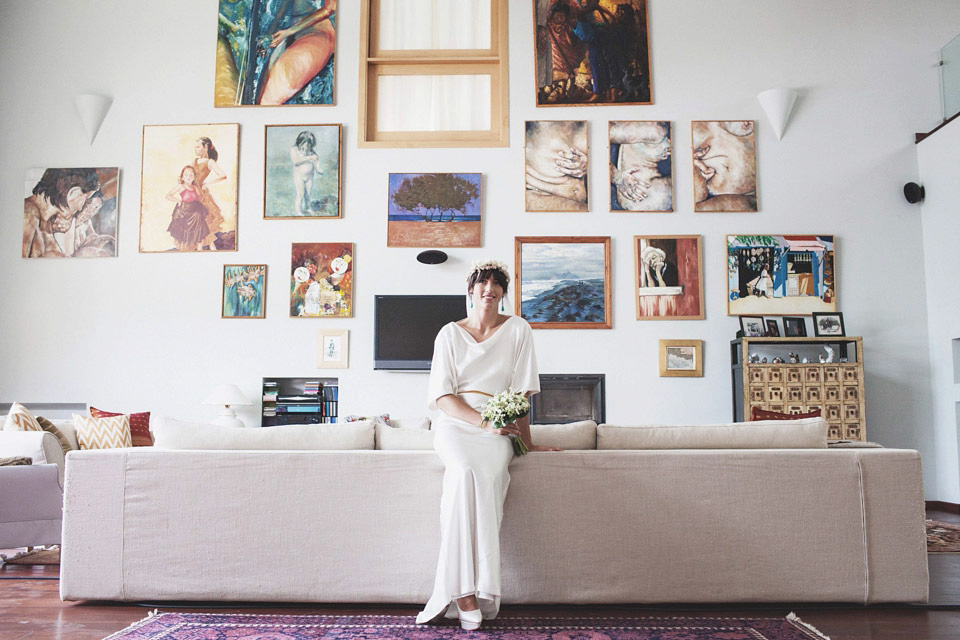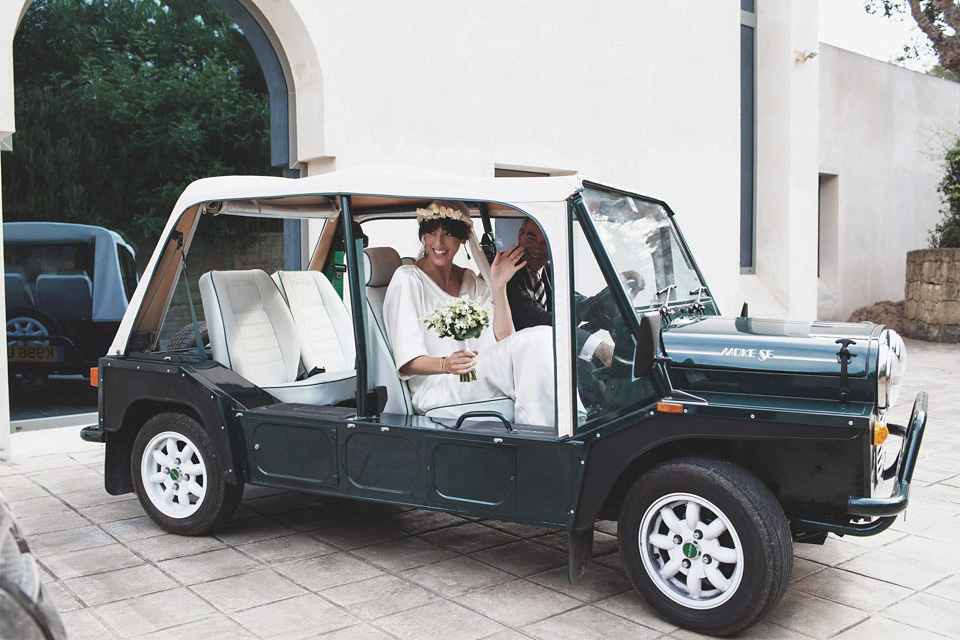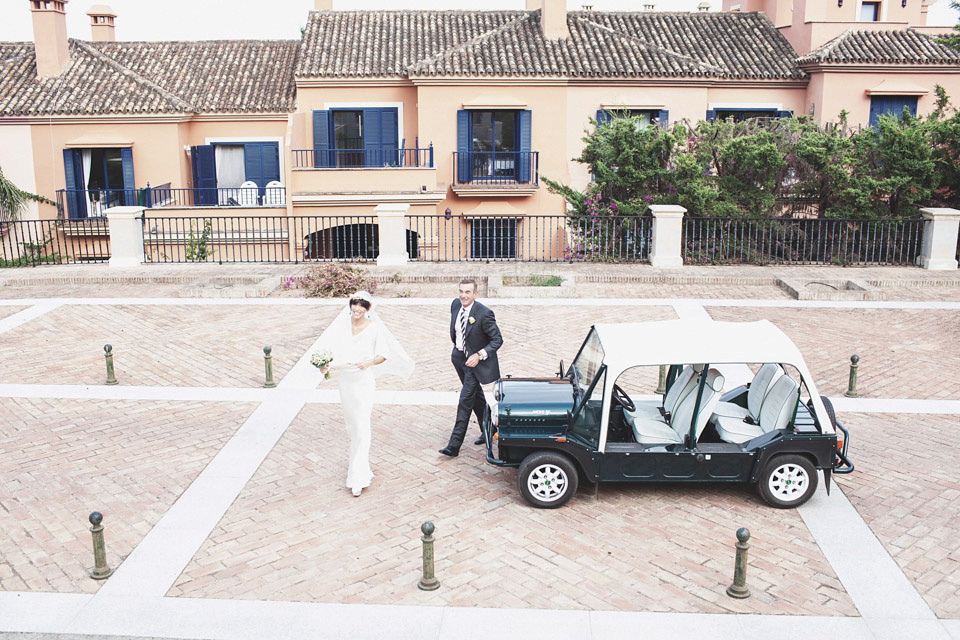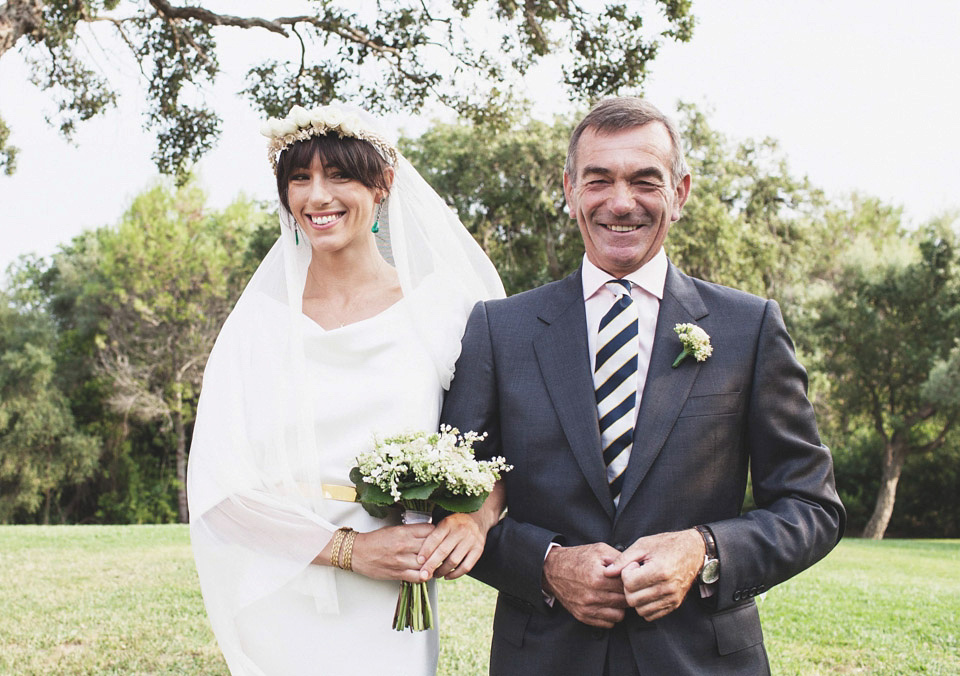 Being a rather tall fella (6'6″), Tom had a bespoke suit tailored for him by the wonderful Kevin at Richard James. He made sure the suit fitted perfectly. Tom then added a Drakes tie from Mr Porter.
"We met whilst I was cycling down Old Street and I caught Tom's eye. Coincidentally he was standing next to a mutual friend who called me over. After a bumpy start, we started dating and four years later Tom proposed on our anniversary outside the Serpentine Gallery. We go every year to re-enact what we did on our first date.
The Yoko Ono show was on and outside there were some trees where you were encouraged to write a wish and hang it on a tree; I think both our wishes involved spending the rest of our lives together."
"We are both Catholic, so the choice of readings were limited for the ceremony. But our good friend Mara Carlyle sang during the signing of the register and that was truly special, there wasn't a dry eye in the house. She sang Schubert's Ave Maria which she taught herself to play on the Ukulele, and then a song called "Con toda palabra" by Lhasa de Sela which she learnt in Spanish specially for us."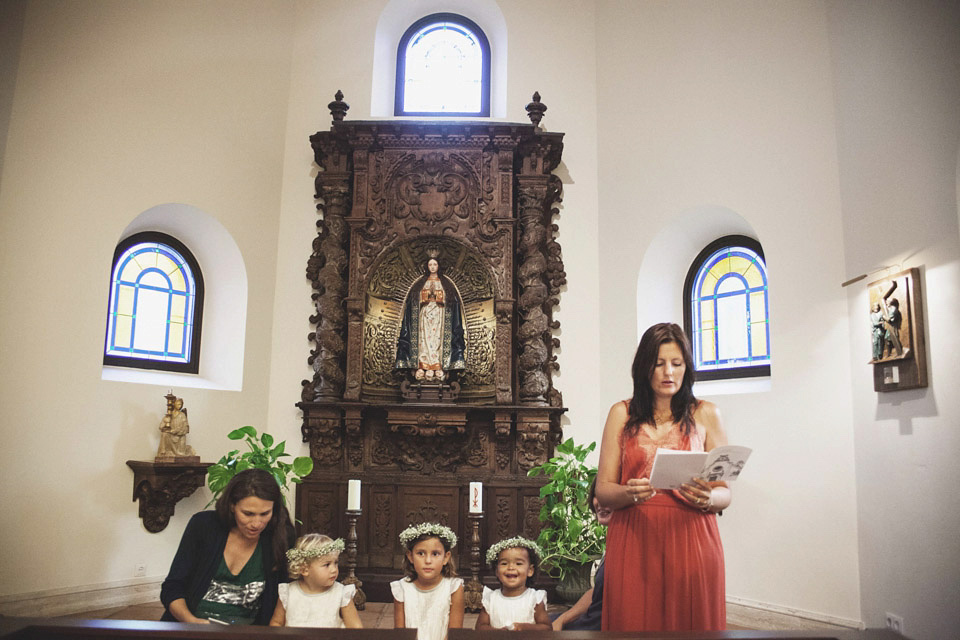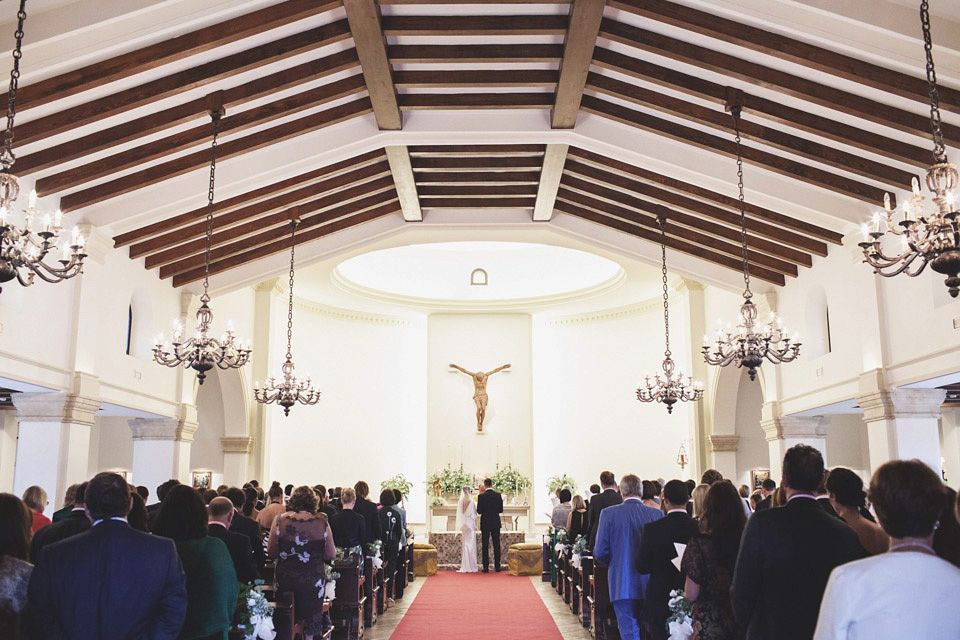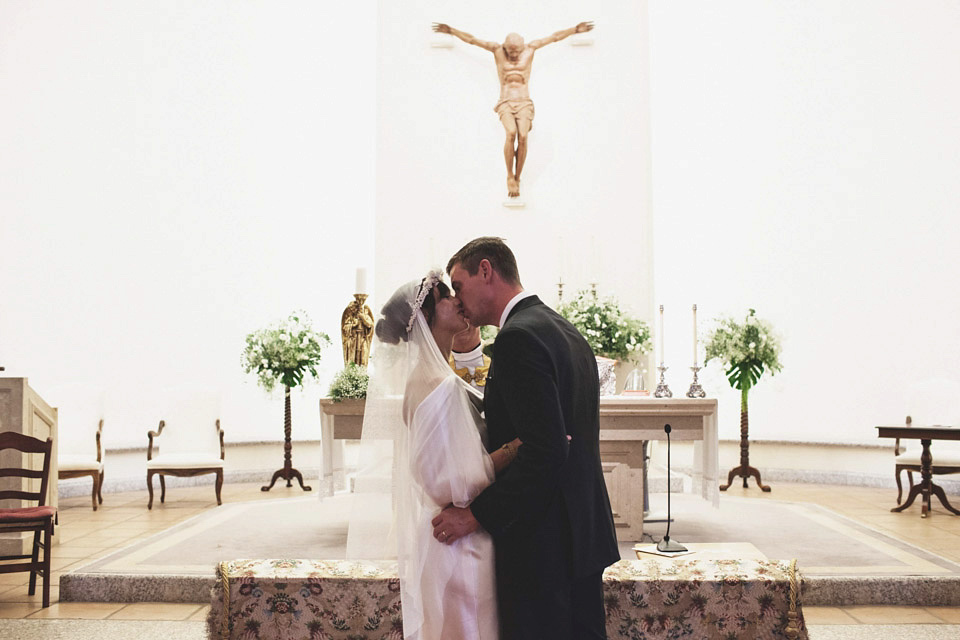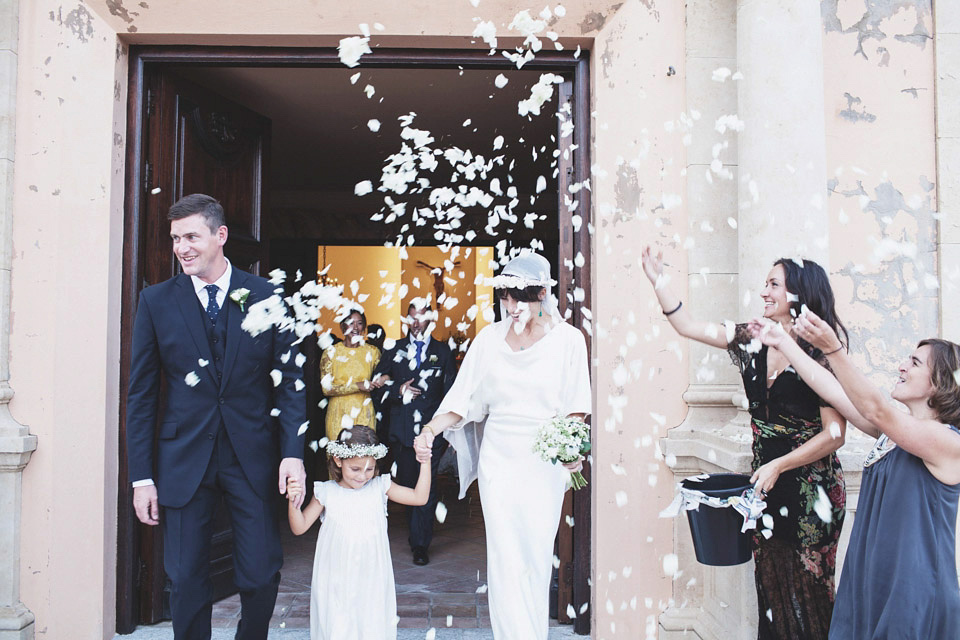 "The best thing about getting married is seeing all the people you like and love in one place, it's the only time everyone makes the effort to be there no matter where you do it. It will never happen again, unless it's at a funeral… in which case I'll be none the wiser!"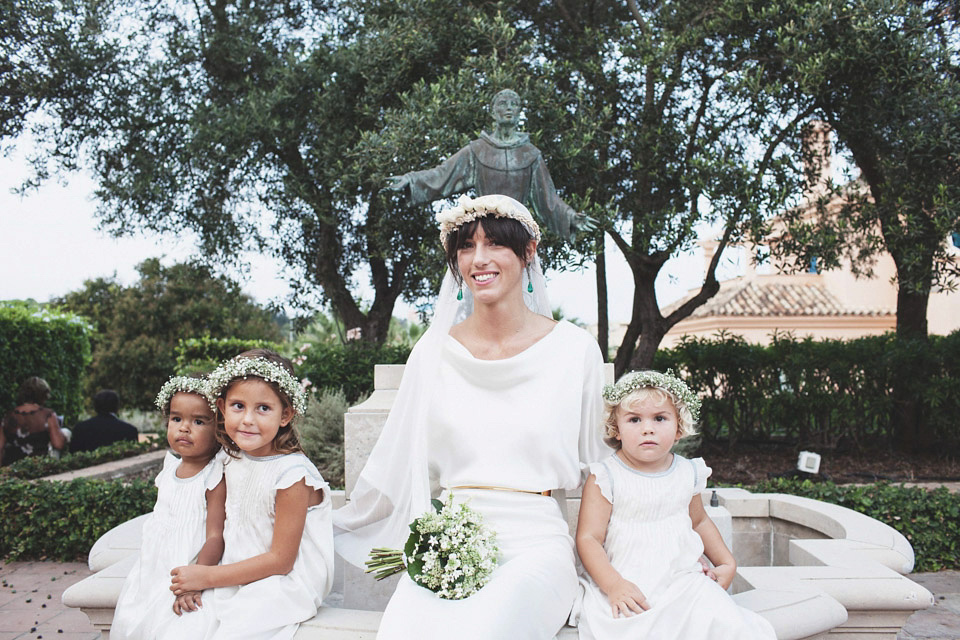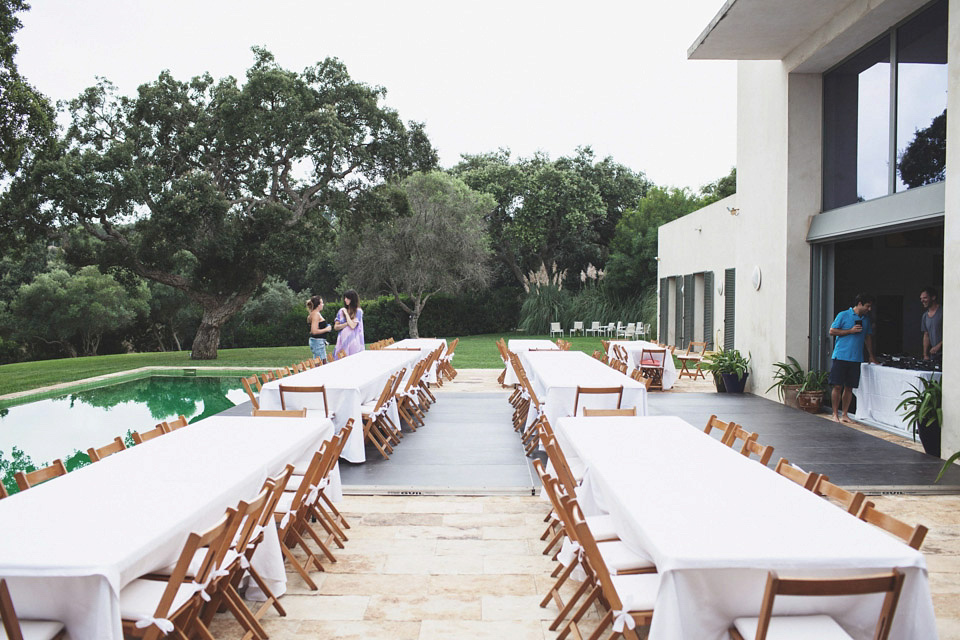 "For the table centres we grew cactus and succulents. We bought some about six months beforehand and my mum nurtured them until we had enough. I bought all the vintage brandy glasses, one by one, on eBay and got all my friends and family to take them out to Spain each time someone was flying. Tom's mum had got me into succulents a few years ago and had given me offcuts of her plants that I had begun to grow in London, so I am really into them. They remind me of the Andalucian landscape."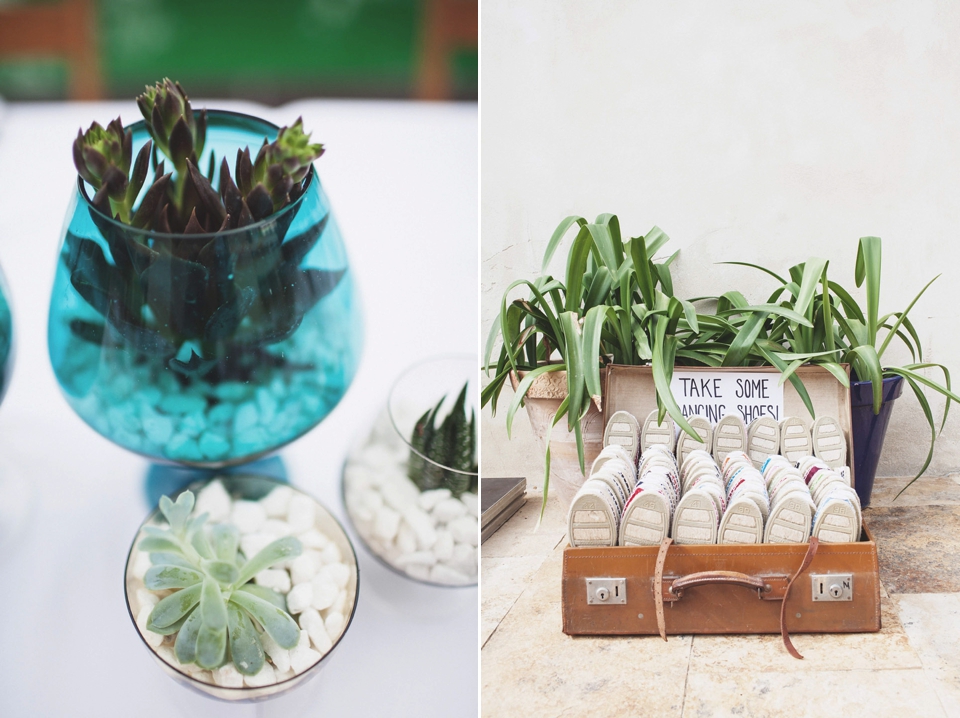 "We ordered personalised matchboxes with our initials on from For Your Party, so that everyone could light the sparklers and then take something useful home with them. And we ordered some Alpargatas (Espadrilles in English) from a local Spanish company for those who wanted to dance all night long and kick off their heels. They could then take them home with them."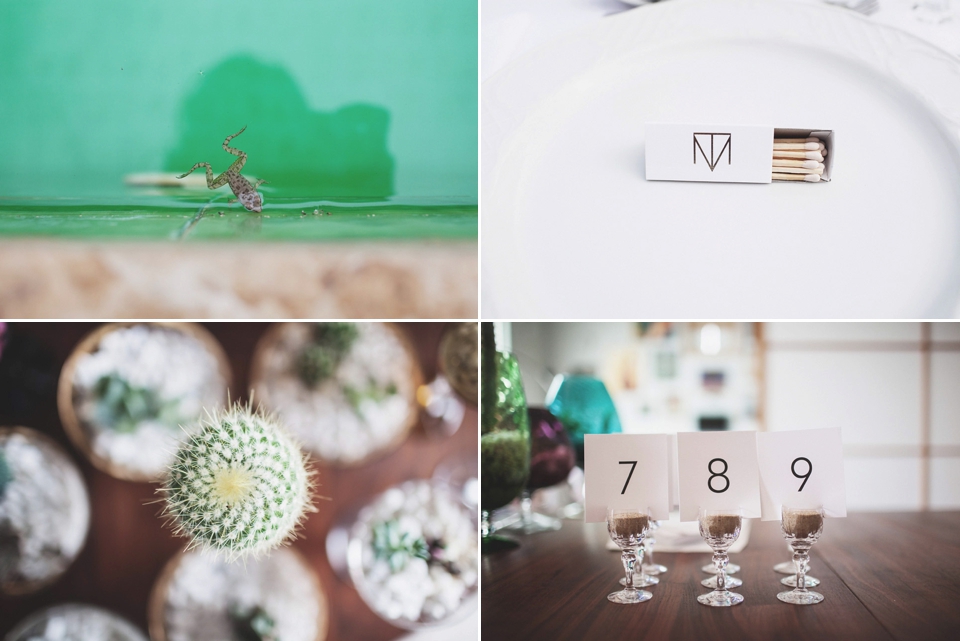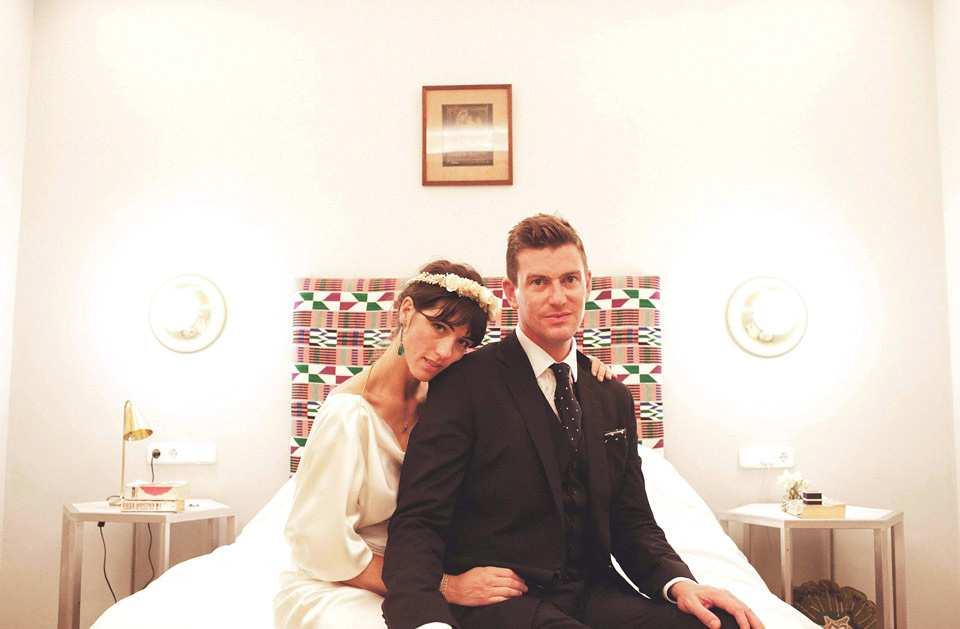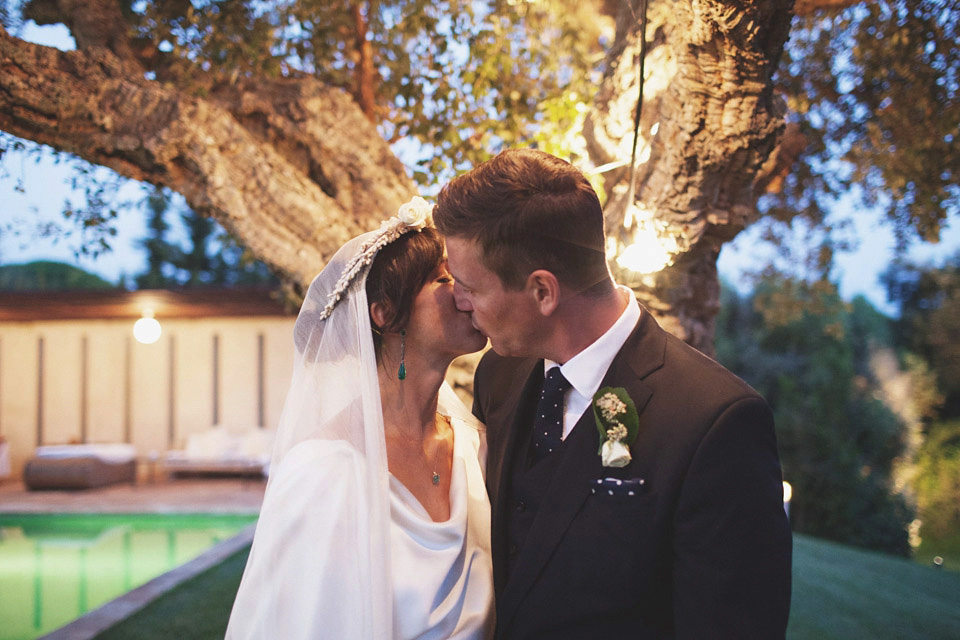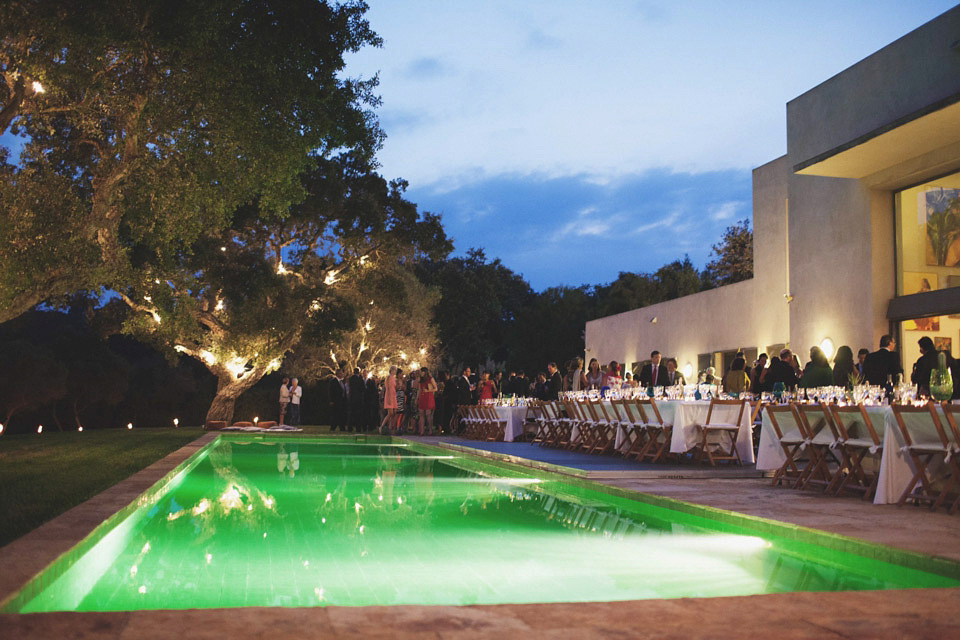 "The food was delicious. One of my biggest regrets was that I didn't have enough time to try every tapa. It was catered by a family friend called Pia Cervera who has set up her own business in Seville and the surrounding area, it was too good."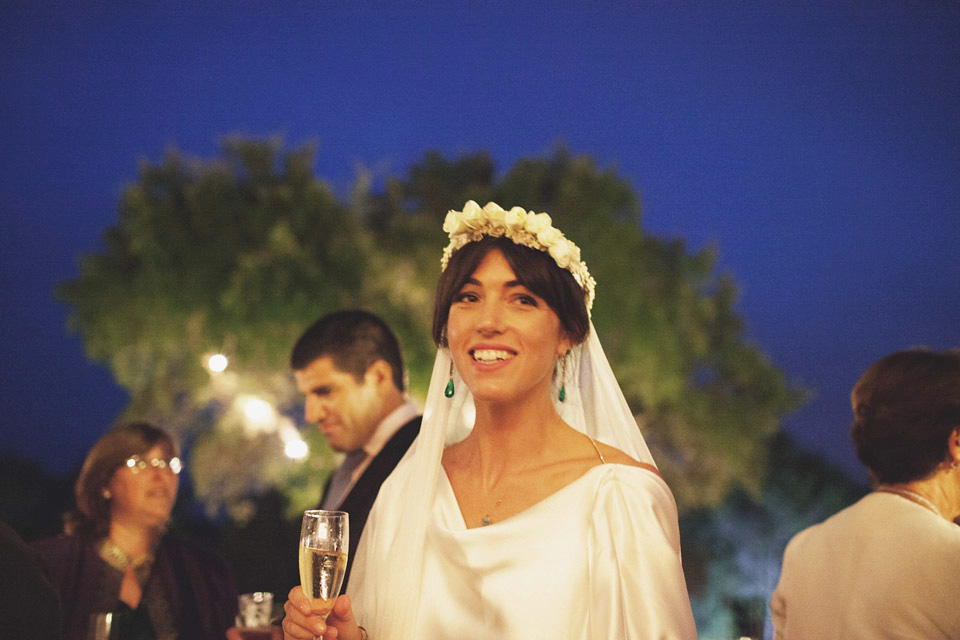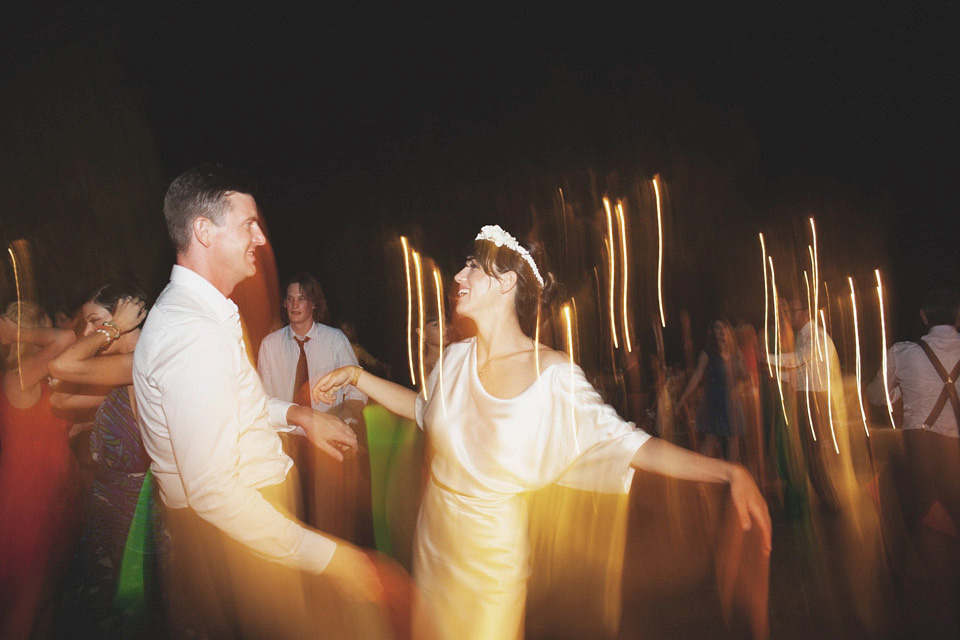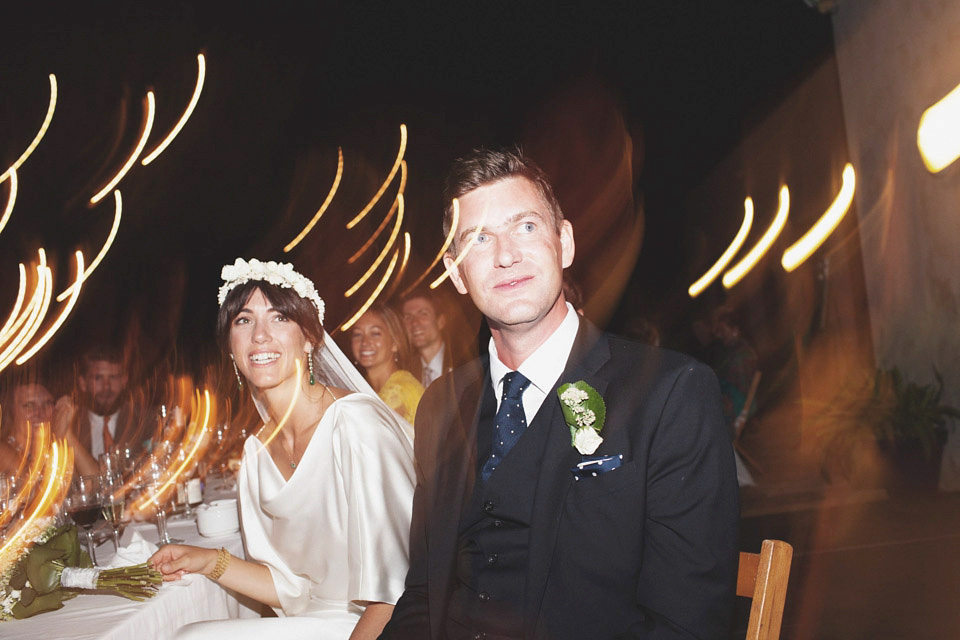 "A friend from London DJ'd the best music all night long. I don't think there was anyone left sitting down. Tom is in the music business and my family love to dance, so it was really important to us to get it right. Piers was so fantastic, he didn't stop until 7am and he even threw in some flamenco so my mum and her friends could show the English guests how it's done."
Words of Wedded Wisdom
"Delegate. You can't do it all on your own, so if someone offers to help it's because they want to, so take them up on it.  Don't be too controlling. If things don't happen as you planned them, no one will know. Our outside citronella candles started catching fire one by one so a guest got up out of his seat and started fighting fire during the speeches! It's a great memory that made everyone laugh. 
Put your guests first. If they are happy, comfortable and having fun, you are going to have a great time. Don't make them stand around for hours waiting, keep them fed and watered at good intervals, create a timetable for the evening so things don't drag on too long, and put on music that gets everyone dancing, from the old ladies to the young boys.
On reflection, I wouldn't have done my hair myself! I look back at the pictures and it really annoys me. At least I would have done a dry run beforehand. I also should have practiced how to attach the veil and headpiece as it was a nightmare at the time. My mother, sister and the photographer, Karolina were just ramming more clips into my hair in the hope that it would hold, by the time I walked up the aisle it was slipping off and I had to get it re-done next time I had a chance."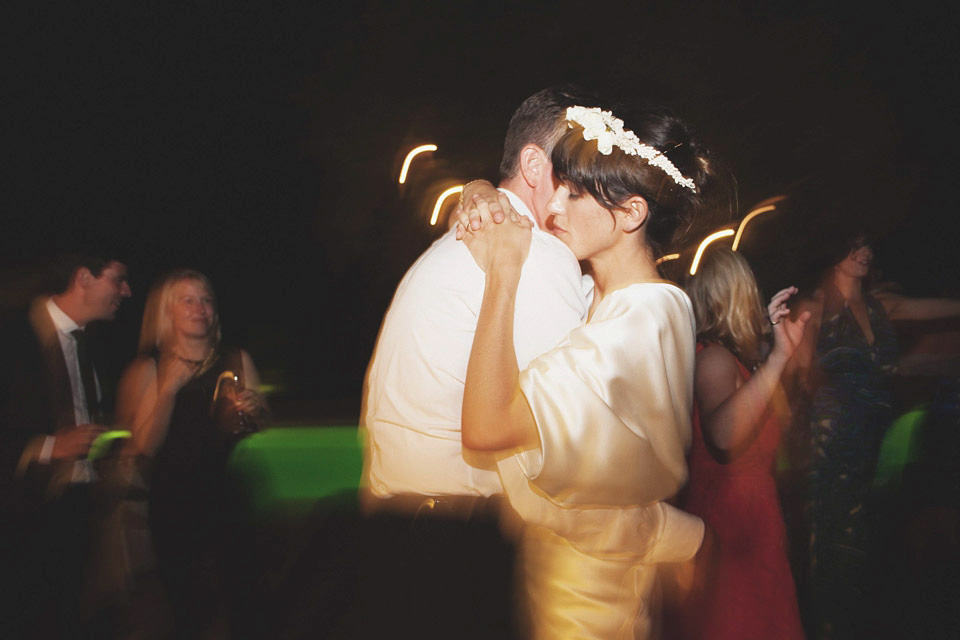 This is such a stylish wedding. I love the glamour of the day but more importantly for me is that my idea of heaven is being outside on a warm evening, eating delicious food with family and friends. Oh how I wish I were Milly's friend so that I could have been there too.
¡Felicidades a los novios! Many congratulations to the happy couple and thanks to Hearts on Fire for sharing the photos of their big day.
Besitos,
Katie xx
Photographer – Hearts on Fire
Venue – Family home, Cadiz, Andalucia
Dress – Rebecca Street, gold belt – Eden Diodati
Headband – Tocados le Touquet
Shoes – Charlotte Olympia
Veil – made with tulle from The Silk Society, Soho
Flower girls – I Love Gorgeous
Groom – suit – Richard James + tie via Drakes
Stationery – DIY, printers – Baddeley Brothers
Rings – Cellini, Gibraltar
Flowers – home grown
Matches – For Your Party
Mini Moke car – Blands Travel