Good morning readers! We have a lovely Welsh, Autumn, wedding for you this sunny Monday morn. Set in stunning surroundings and filled with warm, humorous details (see the anteater cake toppers, Metallica Harp solo and their first dance!) you are sure to love today's nuptials. Sally, a fashion and print designer (for Mrs Bow Tie amongst others), married Steve, a web designer, on Saturday the 18th of October 2014 at St. Fagans National History Museum on the edge of Cardiff.
"When we got engaged, Steve had one request; it had to be an Autumn wedding and I was in complete agreement. The colours, the log fires and falling leaves, wrapping up warm for Sunday walks…I love the mood and tone set by the season and must be one of the few brides who didn't hope for blazing sun on her wedding day!"
Photography Copyright (c) 2015, Pycroft Weddings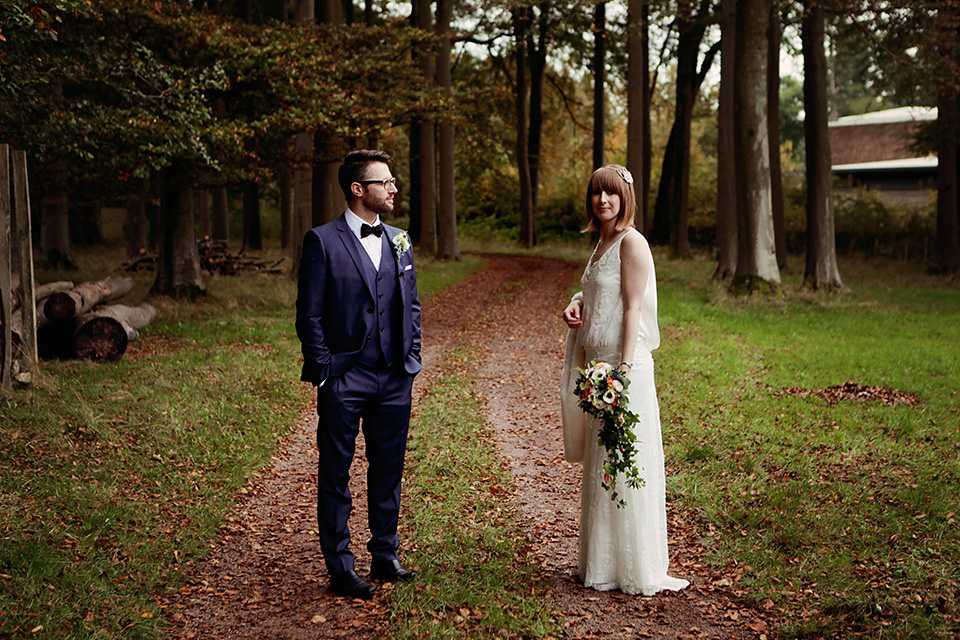 "We booked a combined photography and DVD package with the Pycroft sisters, Sophie and Hannah. These two talented ladies produced the most beautiful album and DVD. I had my heart set on a slightly overcast day for dramatic photos and Sophie totally understood where I was coming from. The results were everything we hoped to achieve and more; the photos really capture the intensity of the season. Sophie and Hannah remained professional throughout the whole day, capturing the guests with a very natural and relaxed approach."
Sally wore a stunning 1920s inspired, low back, drop waist Charlie Brear gown purchased from Perfect Day Bridal Rooms in Bradford on Avon.
"Thanks to my wonderful mum and my late grandma 'Wam', I was lucky enough to wear the beautiful ivory 1920.2 Catroux beaded lace dress by Charlie Brear. Nothing sums up the feeling I have for that one possession in such a succinct phrase as 'I Love My Dress'! 
Since I work in the fashion industry, the dress was always going to be really important. The lovely Kelly of Perfect Day Bridal introduced me to Charlie Brear. The concept of mixing and matching different fabrics, necklines, sleeves and overskirts really appealed to me as a designer. When I tried on my dress I had 'the' moment! I loved the elegance of the draped back and drop waist, the fine silk and the twinkly beaded lace; it fell beautifully and felt so graceful and comfortable to wear."
Sally and Steve met Sharon Phillippo of the The Forget-Me-Not Cake Co. at a local wedding fair and fell in love with her delicious designs.
It's always lovely hearing about a bride inspired by Love My Dress and Sally is no exception…
"Love My Dress was my go-to website every day while planning the wedding, and remains so. Having a creative background I'm in my element when faced with a big project; all the research (multiple daily visits to Love My Dress!) and pulling all the ideas and styles together to come up with a unique look that represented us and our history as a couple."
When Sally and Steve discovered that their favourite childhood museum, St. Fagans, was licensed for weddings they jumped at the chance to celebrate what became affectionately known amongst their family and friends as their 'Small Day Out'!
"We booked the venue within days of our engagement (we didn't even consider anywhere else). For anyone who grew up in South Wales, St. Fagans will most likely bring back memories of primary school trips, weekend family walks and wellington boots; being in Wales, rain was always on the cards! As adults, Steve and I have spent many weekends there together, and now that we live away from home, it was just perfect to spend our wedding day in familiar surroundings."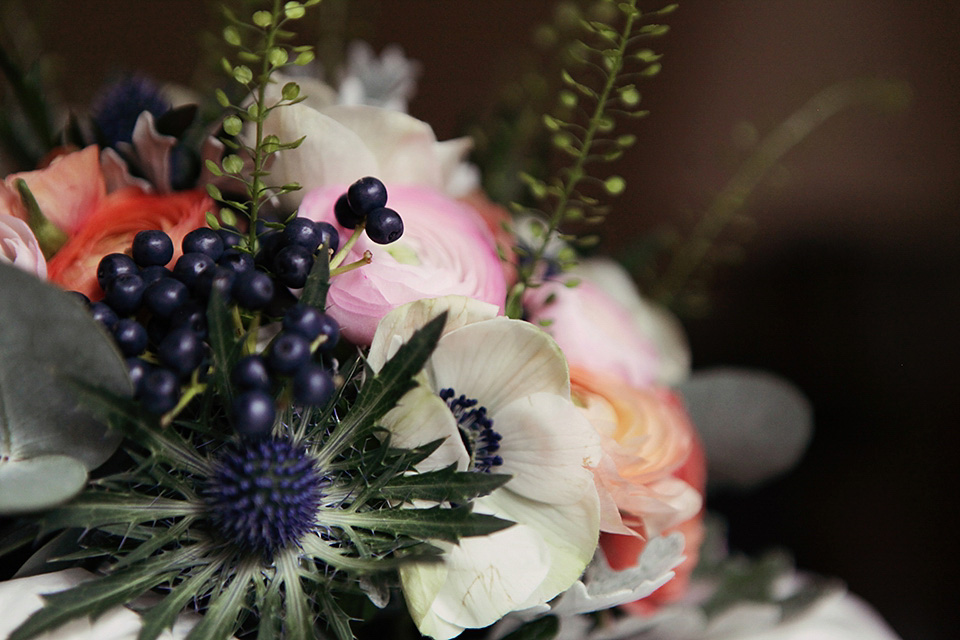 I love Sally and Steve's autumnal floral arrangements! The couple's flowers were expertly put together by Suzi Thomas of Flowers with a Twist:
"I was so glad to find Suzi! I wanted the flowers to have a vintage feel with quite a varied pallet of blues, pinks and autumnal oranges. We used navy centred, ivory anemones in all the bouquets and buttonholes, complemented by thistles, dark navy viburnum berries, pale pink ranunculi to tie in with mum's outfit and trailing ivy in my own bouquet. I was so pleased with the results!"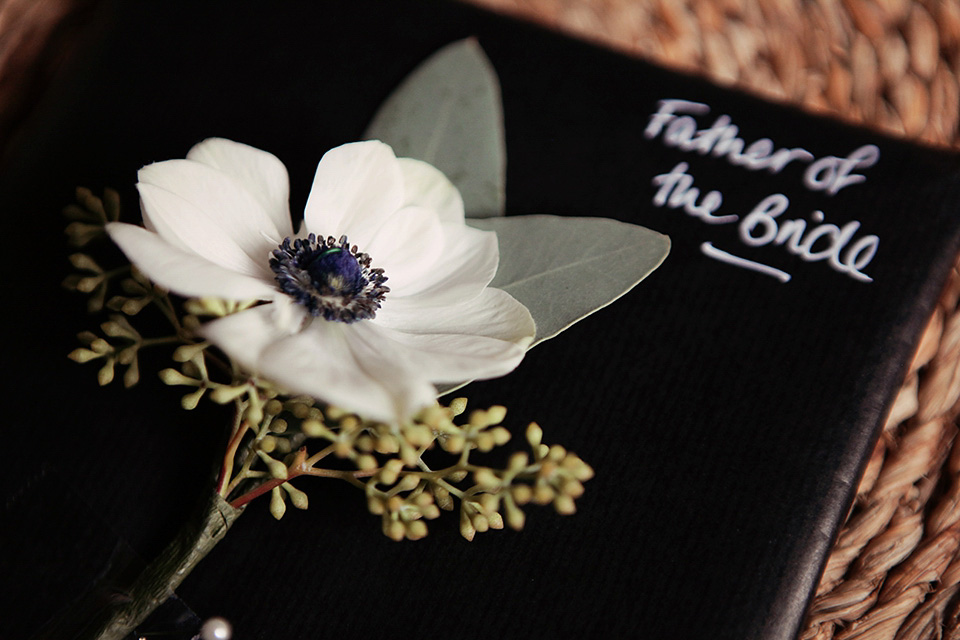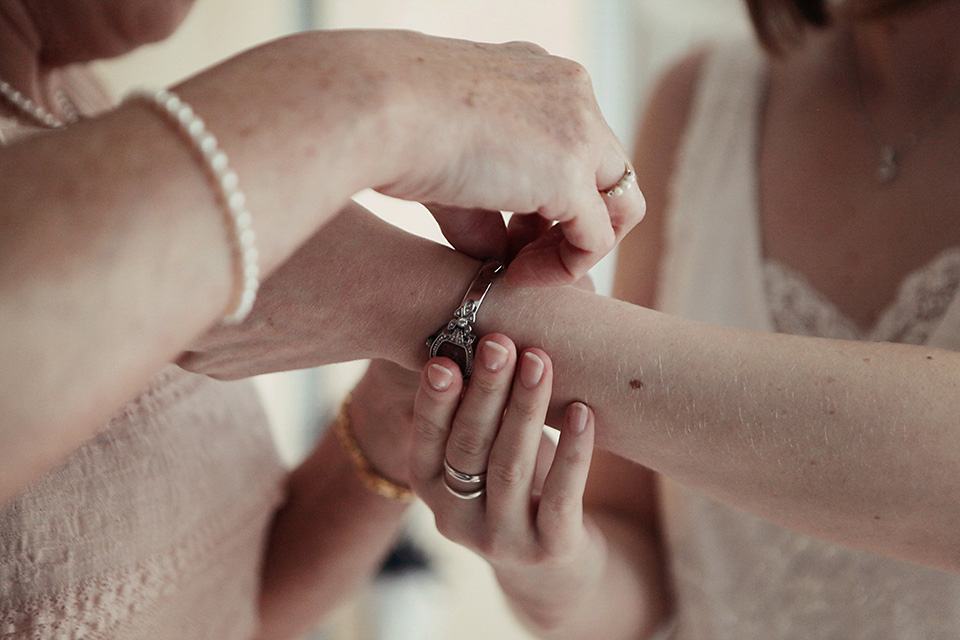 Sally accessorised with a custom made, 1920s style sparkly headpiece from Enys Bridal which perfectly complemented her gown. Our bride kept the autumn chill at bay in style, with a vintage faux fur wrap from ASOS Marketplace and long black gloves from The Costume Store.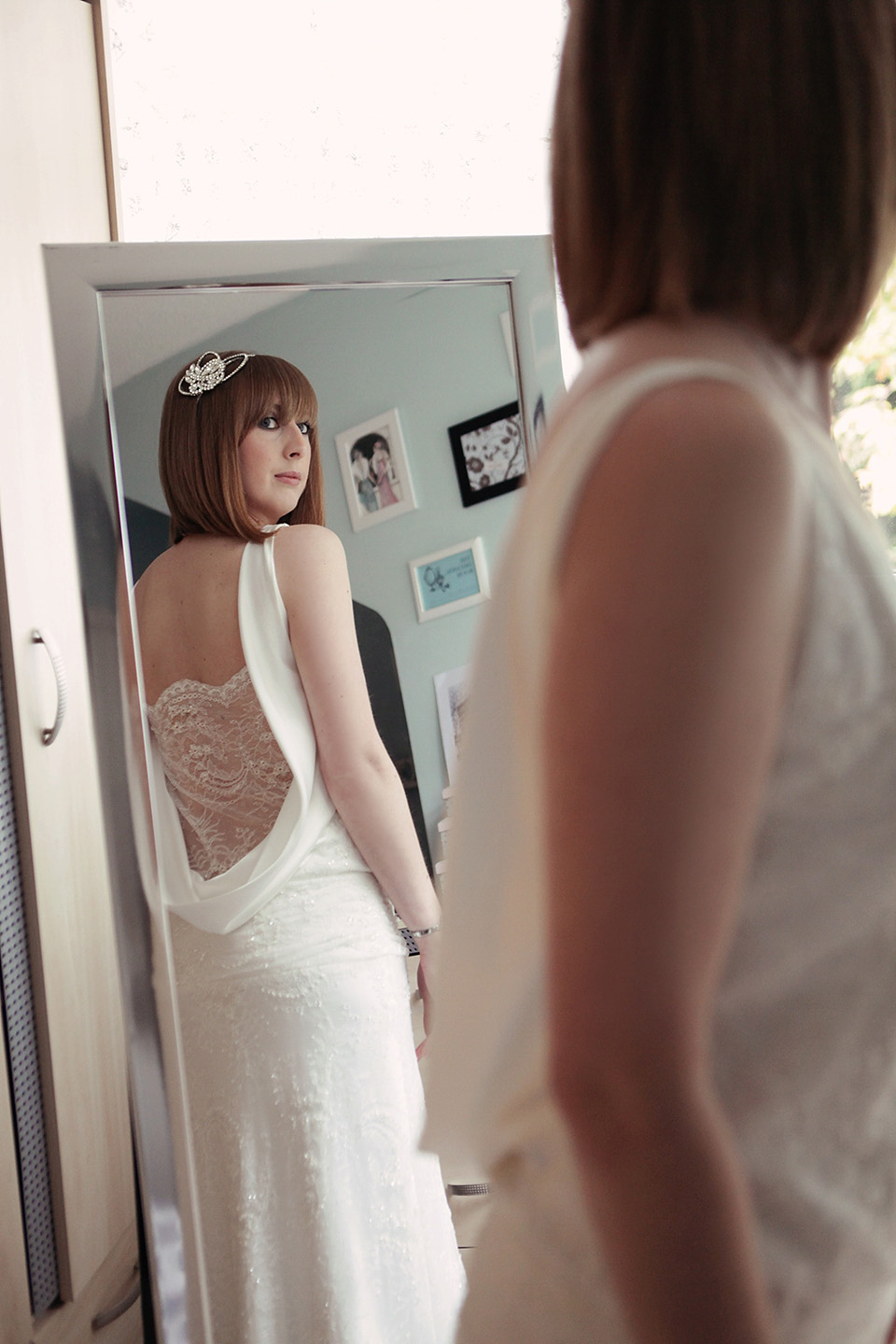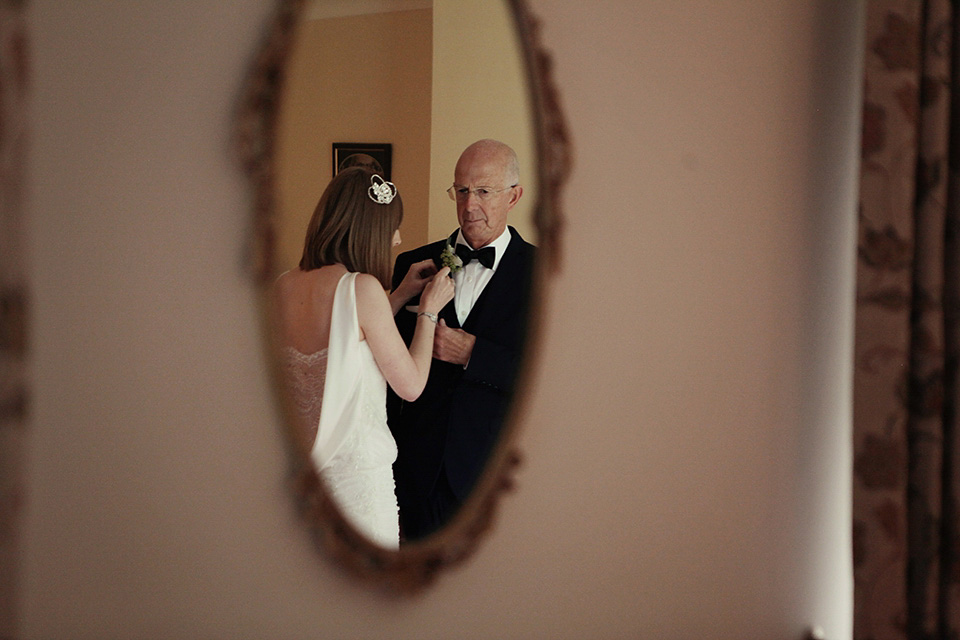 Sally walked down the aisle accompanied by her father to a harp recital of 'Hornpipe' by Purcell.
My favourite part of the day has to be walking into the ceremony room at St. Fagans Castle and seeing Steve. It was very surreal to actually be living that moment after all the months of anticipation."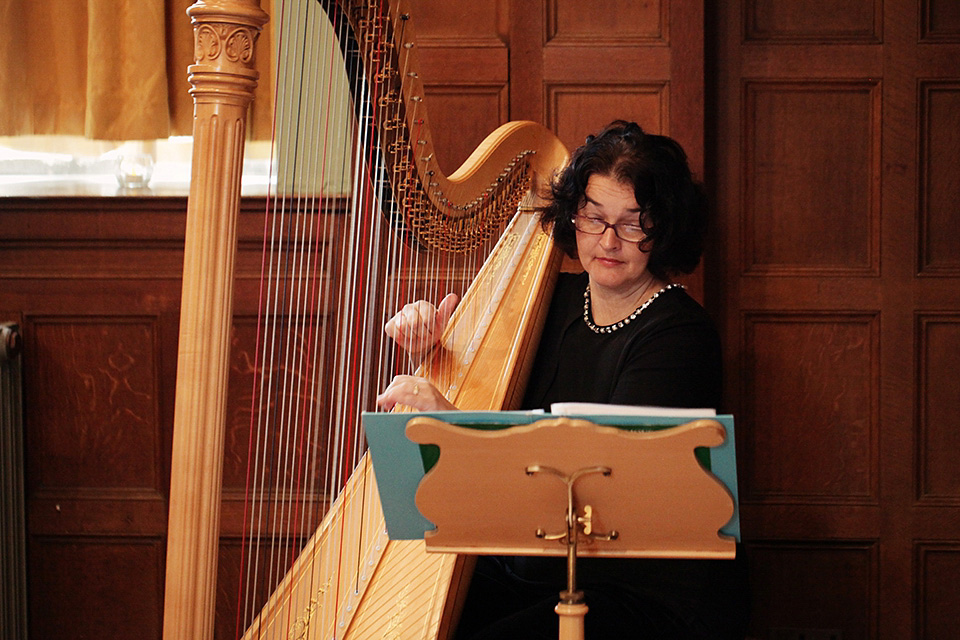 "Steve was in the year above me at secondary school but we only knew each other to say 'hi', in the corridor. After we left school we kept bumping into each other in local pubs and soon became a couple. Though we'd been together nearly 10 years and had always spoken about getting married the proposal caught me off guard.
I came home from work one Friday in March 2013 to find a trail of red roses and Steve on one knee in his best suit and tie surrounded by our entire collection of tea lights and something absolutely perfect in a small box! Of course I did what any grown adult would do and hid round the corner in tears of joy. We married 19 months later."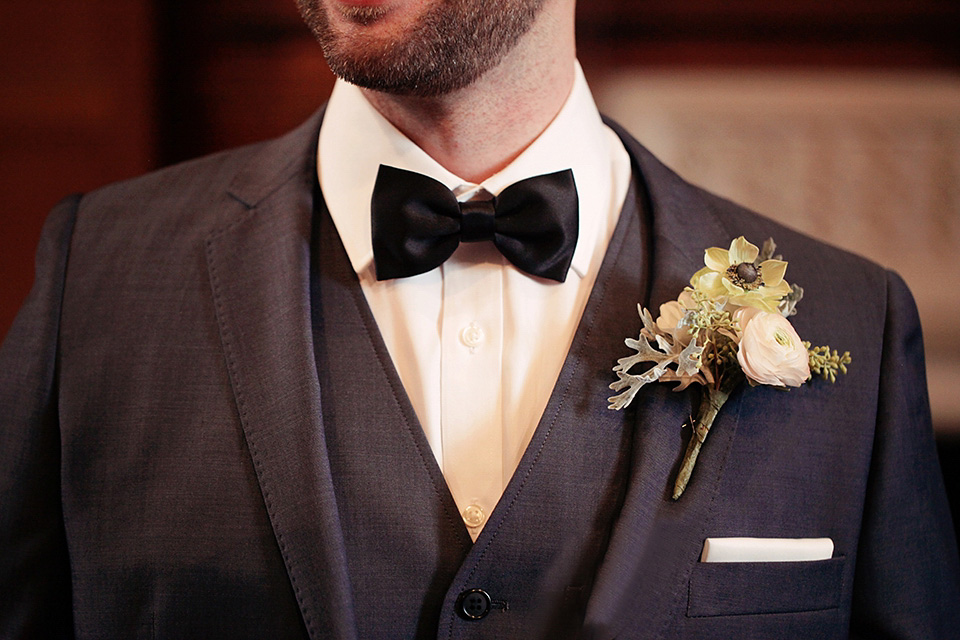 Steve looked very stylish in a blue, skinny fit, three piece Topman suit with pocket square and bow tie from Mrs Bow Tie.
"As a designer for Mrs Bow Tie, the world was our oyster when it came to accessories. In the end we decided on a very clean and classic look, opting for a black satin bow tie and crisp white clear cut fold pocket square for the men in the wedding party. They all looked very dapper on the day. I was a very proud daughter walking in with Dad."
Sally's bridesmaids were the epitome of elegance in navy blue Eliza J maxis purchased at House of Fraser and long black gloves from The Costume Store.
"Blue is my favourite colour and I wanted something that would suit all of the girls, so navy was ideal. I loved the cowl front and beading detail of the Eliza J dresses – I even bought myself one for any future black tie events! Teamed with some long black gloves my 'maids very glamorous; I was extremely proud to have them walk in behind me."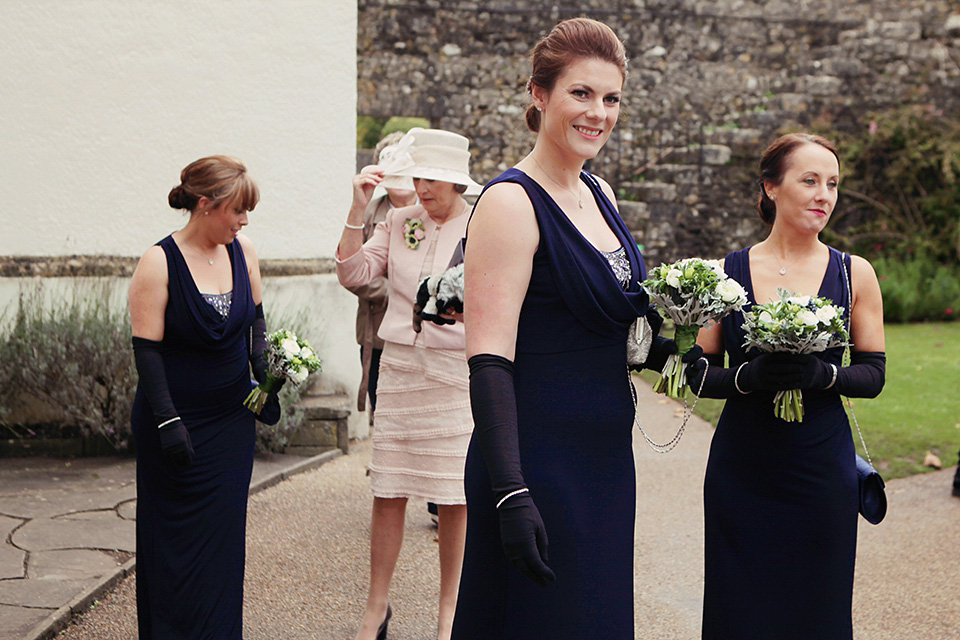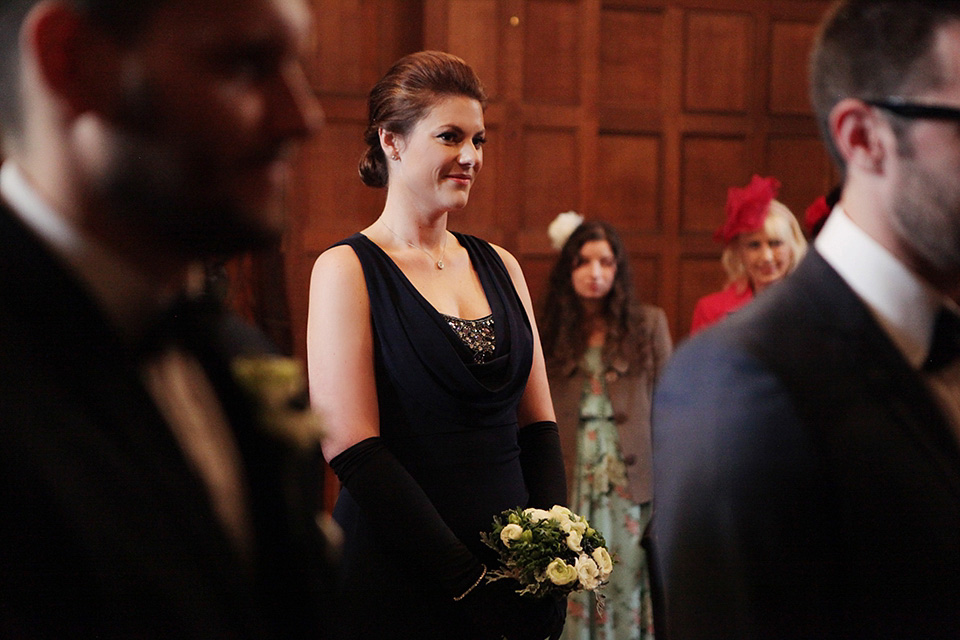 Our couple, chose two readings; 'The Little Yellow Leaf', a very seasonal children's book by Carine Berger, and to add a little humour to proceedings, 'I'll Be There For You' by Louise Cuddon.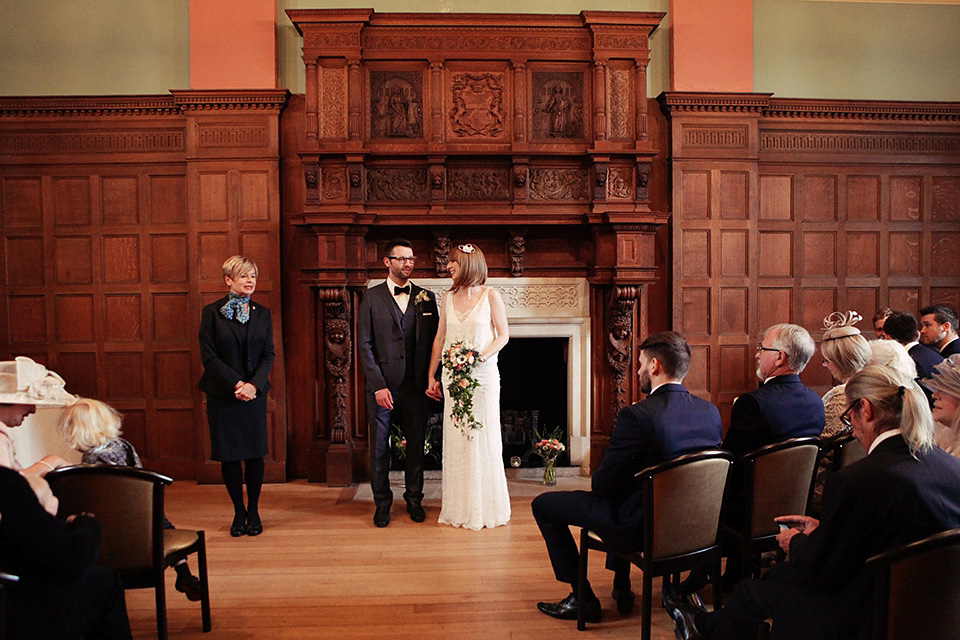 For Sally, who was born in her Dad's VW Beetle, choosing the wedding transport was an easy decision!
"When Paul at LoveDub Weddings introduced me to their VW family, I fell in love with the 1958 Cabriolet 'Seren Haf'. The car had special significance as I was born on the front seat of my Dad's Beetle on the way to the hospital!"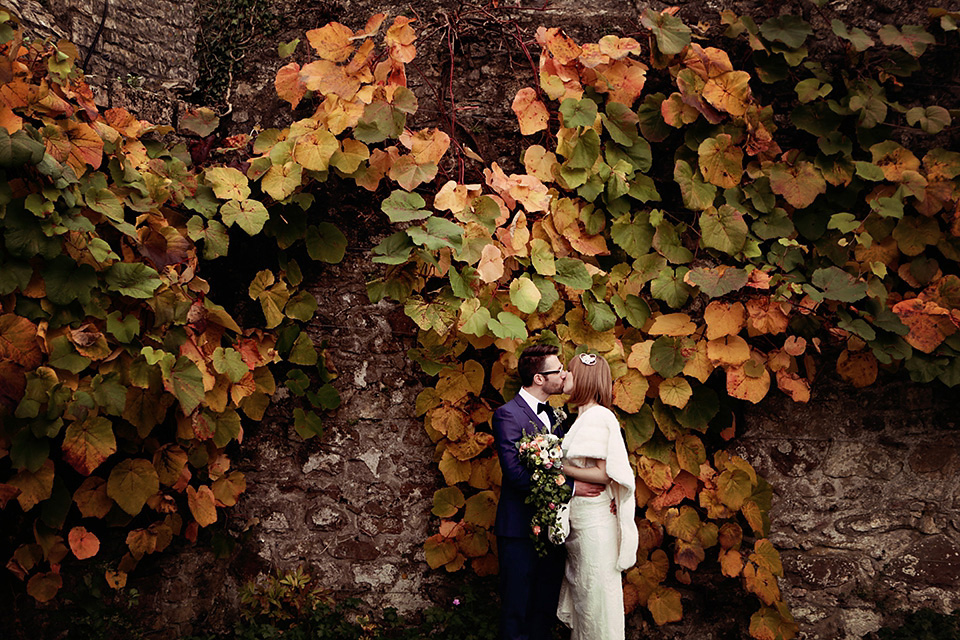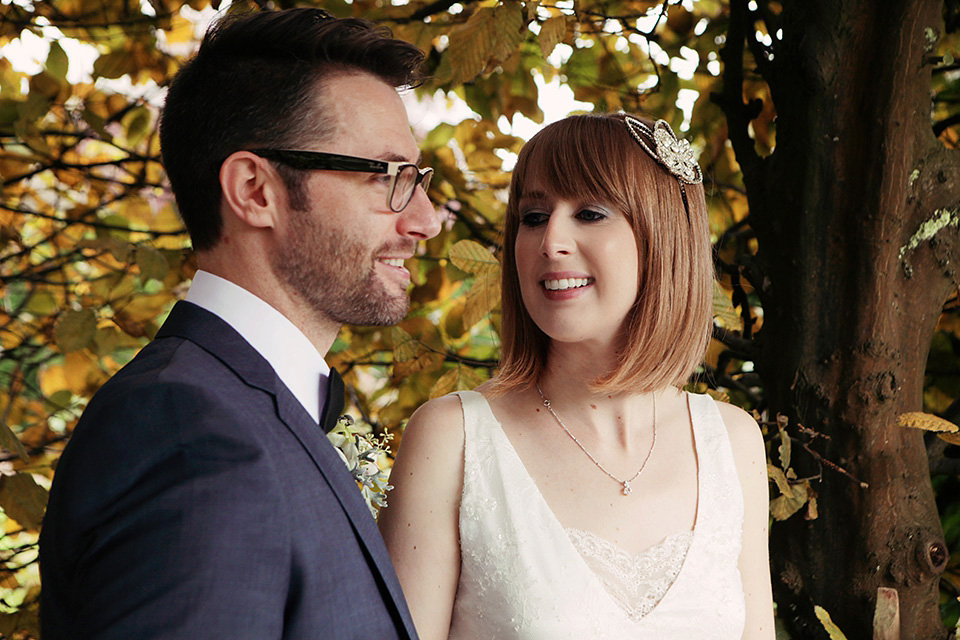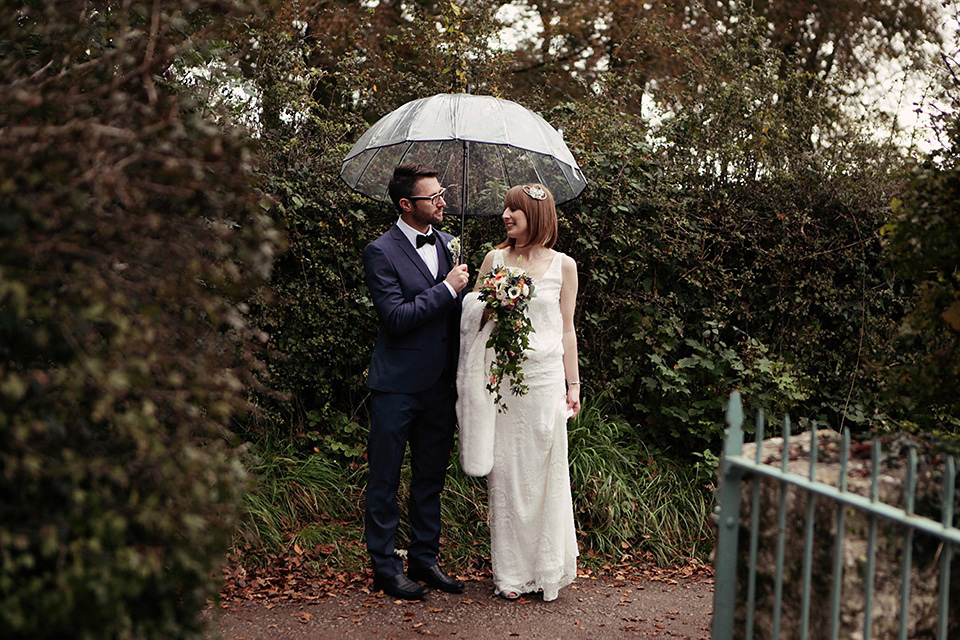 Sally and Steve held their celebrations in the museum's original, Welsh buildings re-erected in the grounds of 16th Century manor house, St. Fagans Castle:
"We held our civil ceremony in St. Fagan's beautiful castle, our drinks reception in the castle's buttery and our marriage blessing in the quaint little Pen – Rhiw Chapel, all onsite. We ended the day with our reception in the Old Workmen's Institute building. If that wasn't enough already, the little museum train was reserved for us to transport guests between locations – we were sold on that alone!
The events team at St. Fagans were just brilliant. Rhodd and Anwen were on hand to answer any questions and were always open to our ideas. The end result was beyond anything we had hoped for – a big thank to you both!"
"Our food and drink was provided by the in-house caterers, Elior, using locally sourced ingredients wherever possible. We opted for a selection of delicious savoury canapés served on Welsh slate at the drinks reception and a hot buffet for the wedding breakfast. At the evening party we served a late 'afternoon tea' style buffet with finger sandwiches and cakes all beautifully presented on vintage tiered cake stands. The whole of the Elior team worked their socks off from morning to evening."
Music played a big role in Sally and Steve's day and our couple chose three very different musical delights to keep their guests entertained.
"For the ceremony and blessing we opted for harpist Eluned Henry; it was very special to have a traditional Welsh harpist and we especially liked that Eluned was willing to do a Metallica harp arrangement to help calm Steve's nerves before the ceremony! For our after dinner entertainment we booked three piece novelty swing band The Hot Potato Syncopators.  These three gentlemen absolutely stole the show with their comedy jazz act!
Finally, for our first dance (an arrangement of Adam Sandler's performance of 'Grow Old with You' in The Wedding Singer) and evening entertainment we opted for The Marionettes, an a Capella group whose harmonies were absolutely incredible! Steve is very musical and we wanted a selection of different entertainment to break up the day."
Words of Wedded Wisdom
"Be true to yourselves, focus on what matters most to you as a couple and divide your available budget accordingly. Do your research, choose your venue and suppliers wisely and you will be rewarded tenfold with their knowledge and dedication. If you are lucky enough to have your mum on hand throughout the planning process then I promise you, after all the ups and downs and 'can we have just one phone call without mentioning the wedding!' moments you will look back and be ever thankful for her love and support."
Thank you so much Sally and Steve for sharing your special day and to the Pycroft sisters for capturing it so very beautifully. You can find more Welsh weddings here, and other lovely autumn nuptials here.
I hope you have a great week!
Annora x
Photographer & Videographer – Pycroft Weddings
Venue – St Fagans National History Museum, Cardiff
Wedding Dress – Catroux gown by Charlie Brear via Perfect Day Bridal Rooms
Headpiece – Enys Bridal
Shoes – Monsoon
Accessories – Vintage faux fur wrap from ASOS Marketplace + long gloves from The Costume Store
Bride's Scent/perfume – Roses de Chloé by Chloé
Groom – Topman suit + Mrs Bow Tie pocket square and bow tie
Bridesmaids – Eliza J gowns from House of Fraser + Elegant Steps shoes + gloves from The Costume Store + Marks and Spencer studs and pendants
Florist – Flowers with a Twist
Cake – The Forget Me Knot Cake Co.
Transport – LoveDub Weddings
Entertainment – Eluned Henry + The Hot Potato Syncopators + The Marionettes
Rings – Pravins Jewellery, Southampton
Catering – Elior
Stationery – Designed by the bride and printed at The Studio in Romsey
Hair Stylist – Trystan and Lauren from VADAtelier
Makeup Artist – Charlotte Joy