Good morning lovelies, so the sun is shining and I'm sat here dreaming of afternoon tea with my hubby (I'm working too of course, well when I'm not distracted by the thought of cake!). I'm definitely a tea and cake kind of girl as you may have guessed! It certainly isn't great for my waist line but for a treat who doesn't love a pretty tea room and a good book! I hope you manage to grab at least a cup of tea and a few minutes today to read our lovely 'Tea and Cake' themed Yorkshire wedding.
On September 13th 2014, Company Director, Dan and stay at home mum Nirmala, tied the knot at The Craven Arms, Appletreewick in the beautiful Yorkshire Dales. It was a relaxed country affair with lots of homemade touches and a lovely original 1930's dress.
"My inspiration for the day was simply Dan and I as a couple. I wanted the day to feel really like us filled with all the things we like which led to a loose 'Tea and Cake' theme. The venue lends itself to a rustic and vintage feel. We are both quite creative and I wanted that to feature too."
Photography Copyright (c) 2015, Becky Ryan Photography
"We had spent a lot of time in the Dales walking, camping and having a pie and a pint in lovely countryside pubs. We already knew The Craven Arms did the best pie and a pint so it all just came together. The staff at the Craven Arms were amazing. Laura was our events coordinator and she did a sterling job, we dropped off all the decorations and cakes etc the day before and when we arrived for the wedding everything was set up.
We didn't have to do anything and it all looked beautiful.  On the day everything ran smoothly and the food was amazing. I really can't recommend them enough."
I'm a bit of a romantic so the thought of wearing a vintage dress, knowing it's been a part of a love story or two sounds so wonderful…
"Finding a dress was a long drawn out process. I knew from the beginning I wanted a vintage dress but finding the right one was difficult.  I did give up hope at one point, and started looking at other options. I was limited by a small budget but it wasn't just that, new dresses didn't feel right, they had no soul and I didn't look like me in a typical strapless gown.
My dress ended up being an original vintage gown from the 1930's, which I purchased from a US based Etsy seller for just £250.  I knew it would need a few alterations – it had sleeves that were not very attractive and as I'm only 5ft, I knew a lot would need a lot taking off the length, but what I didn't know until it arrived was that it was completely see through!"
"My first thought wasn't 'it must go back!'.  But then I started to ask 'how can I make this work?'.  I took the dress to Stitches in Leeds and they were brilliant.  They basically made a new dress to fit underneath. I bought some ivory bridal satin from my local Haberdashery and took it to the team at Stitches.  They took off the long sleeves and used some lace that had been cut off from the dress to make capped sleeves; they shortened the train to make it more proportional with my small frame and made the dress fit perfectly.  They were really great and it all cost £100."
'It was crazy buying a dress that I hadn't tried and that I knew wasn't in a state to wear but when I put it on it felt right. It was comfortable and it had a history and I looked like me which was really important. It was however not very practical when you're running after a toddler and I couldn't dance in it so I had another dress made by Julie at From this day Forward. It was a short 50s style dress with a lace jacket that was really easy to move about in."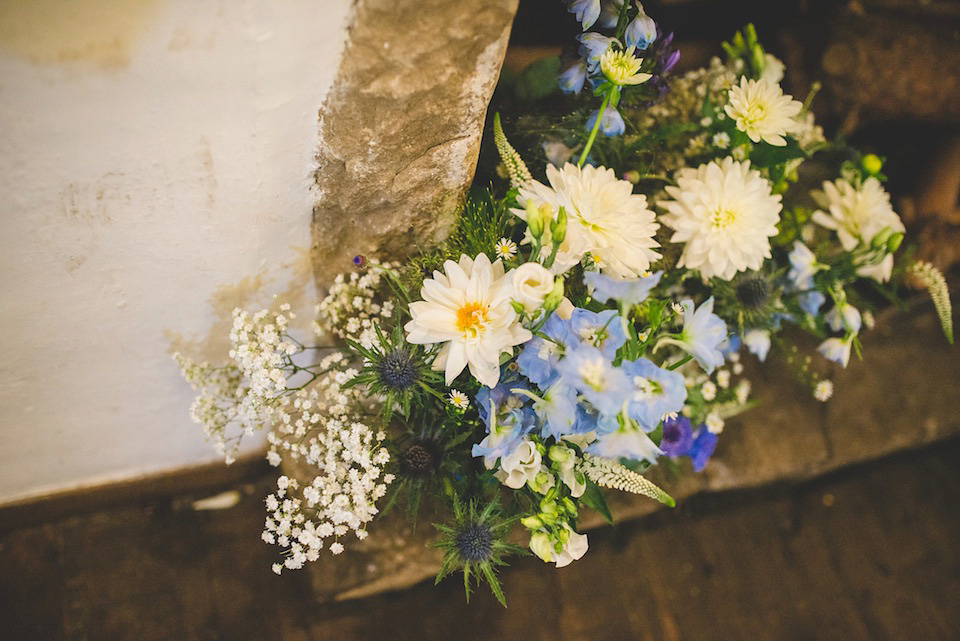 "I was finding it hard to find the right photographer as we only had a small budget and we didn't want lots of posed or cheesy shots.  I found Becky of Becky Ryan Photography on Facebook and as soon as I saw her website I knew she was what we were looking for.  Becky specialises in quirky, vintage style weddings with a documentary style of photography.  Becky had a package that suited us and very kindly travelled from Derby on the train to capture our wedding in the way we wanted. 
Due to her being based in Derby and us having a baby we didn't get to meet in person but went through our requirements on the phone.  Within 5 minutes of Becky arriving she felt like one of the girls, it felt really natural her being there while we got ready.  Becky was a real pleasure, lots of our guest commented on how nice she was and we are really happy with the photos. I would definitely recommend her."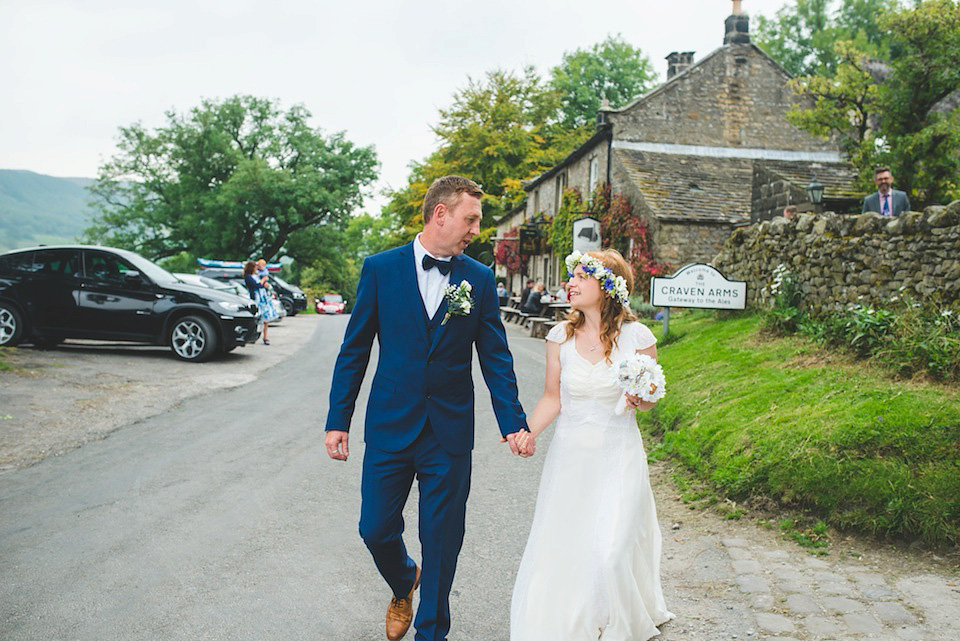 Dan and Nirmala met through the internet dating site eHarmony. It became apparent to them both very early on that they had found the one.
"We spent two years 'dating' and having the best time together. We spent weekends in our camper mainly in the Lakes and the Dales. Afternoons were for tea and cake and evenings were for a pie and a pint! By December 2012 I was 28 weeks pregnant and we went to stay in a Yurt on a farm in Cumbria as our 'baby moon'. I was very surprised, when after a game of scrabble in the yurt, Dan proposed.  I was so surprised that the first thing I said was 'what really?' then of course I said yes!"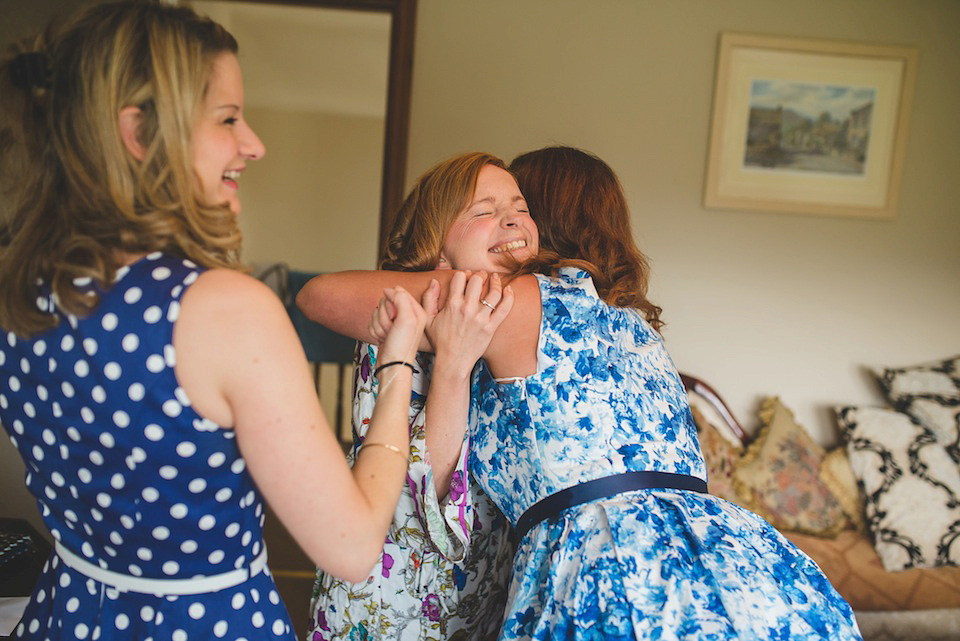 Kirsty of Minnie Bee's Floral Design made little wrist corsages for the bridesmaids while Nirmala's Mum created a beautiful broach bouquet from items she had collected all Nirmala's life including one piece they had chosen together from a vintage shop.
"Kirsty is super talented and creative and such a joy to work with. I told her that I wanted thistles and for the flowers to look like they had just been picked from a meadow. I also said I was collecting vintage tea caddies and tea pots for the flowers to go in. She knew straight away what I wanted and what flower combinations would work the best. Kirsty was so inventive with the arrangements and used all the things I had collected so well.  She even used the lids to the tins. The room looked beautiful and I hadn't even thought about how it would smell as Kirsty had used herbs as well. The flowers were perfect and I cannot say enough good things about Kirsty!"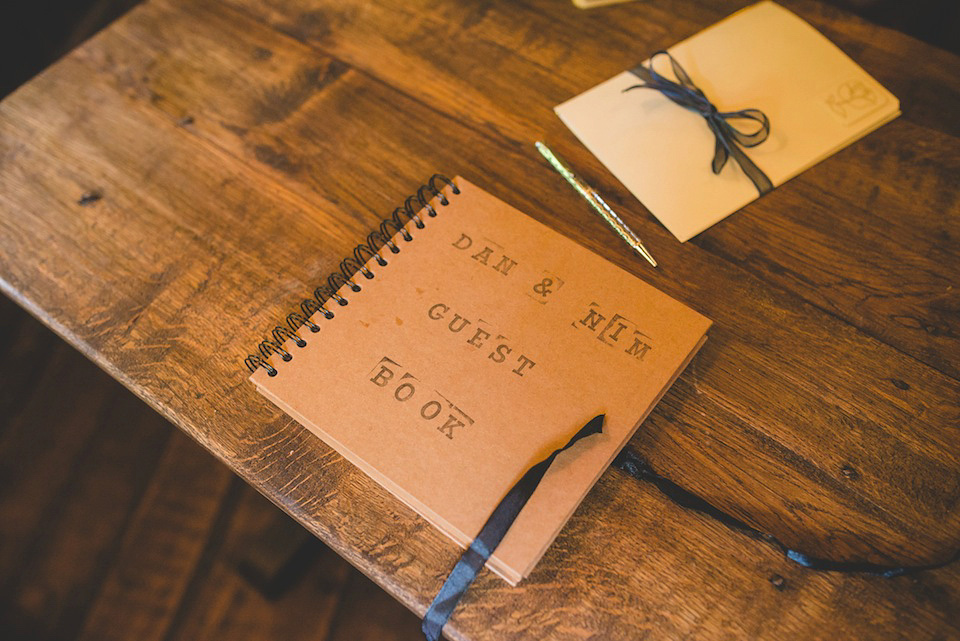 Nirmala's bridesmaids both wore 50's style circle dresses and delicate necklaces gifted to them on the day by the bride.  For Laura, Nirmala's 'wing girl', she gave a sliver bee and to Coralie, for being such a star, a tiny silver star.  Both were bought from Sevenstarz on Etsy.
I loved how Dylan, Nirmala and Dan's son, walked Nirmala down the aisle. What a sweet moment to remember and a story for years to come.
"I walked down the aisle to Over the rainbow by Israel Kamakawiwo'Ole.  It's just a pretty little song about all your dreams coming true which seemed very fitting. We had Nina Simone's Its a new day playing while we signed the guest book and the Beatles All you need is love as we walked out."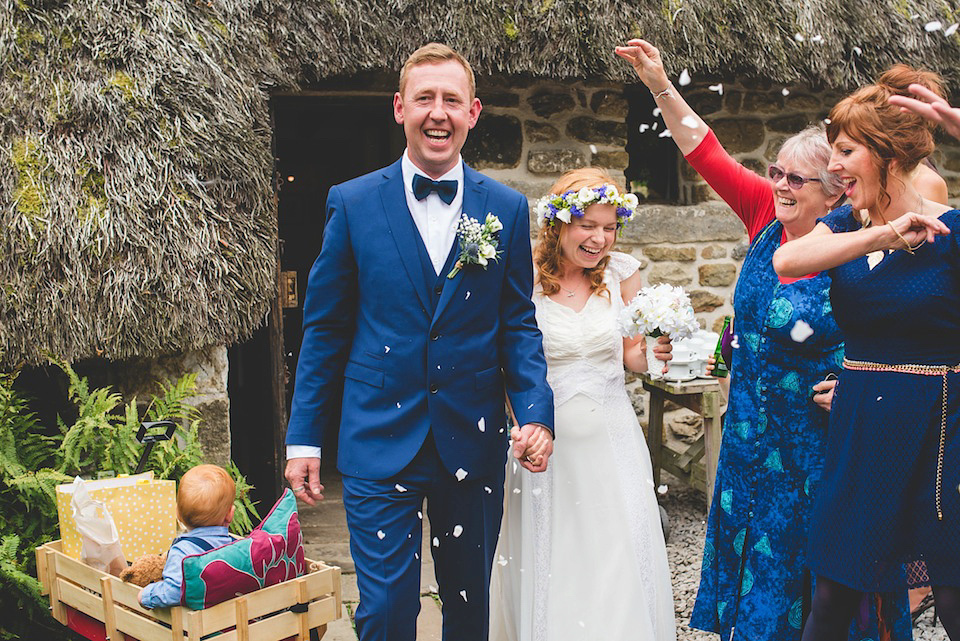 Dan wore a 3 piece suit from Next with a white shirt from Reiss and a pair of Grenson tan brogues that by coincidence were called 'Dylan'! He finished of his outfit with a knitted bow tie and pocket square from DQT. Nirmala also gifted Dan an antique pocket watch on the morning of the wedding to wear with his waistcoat.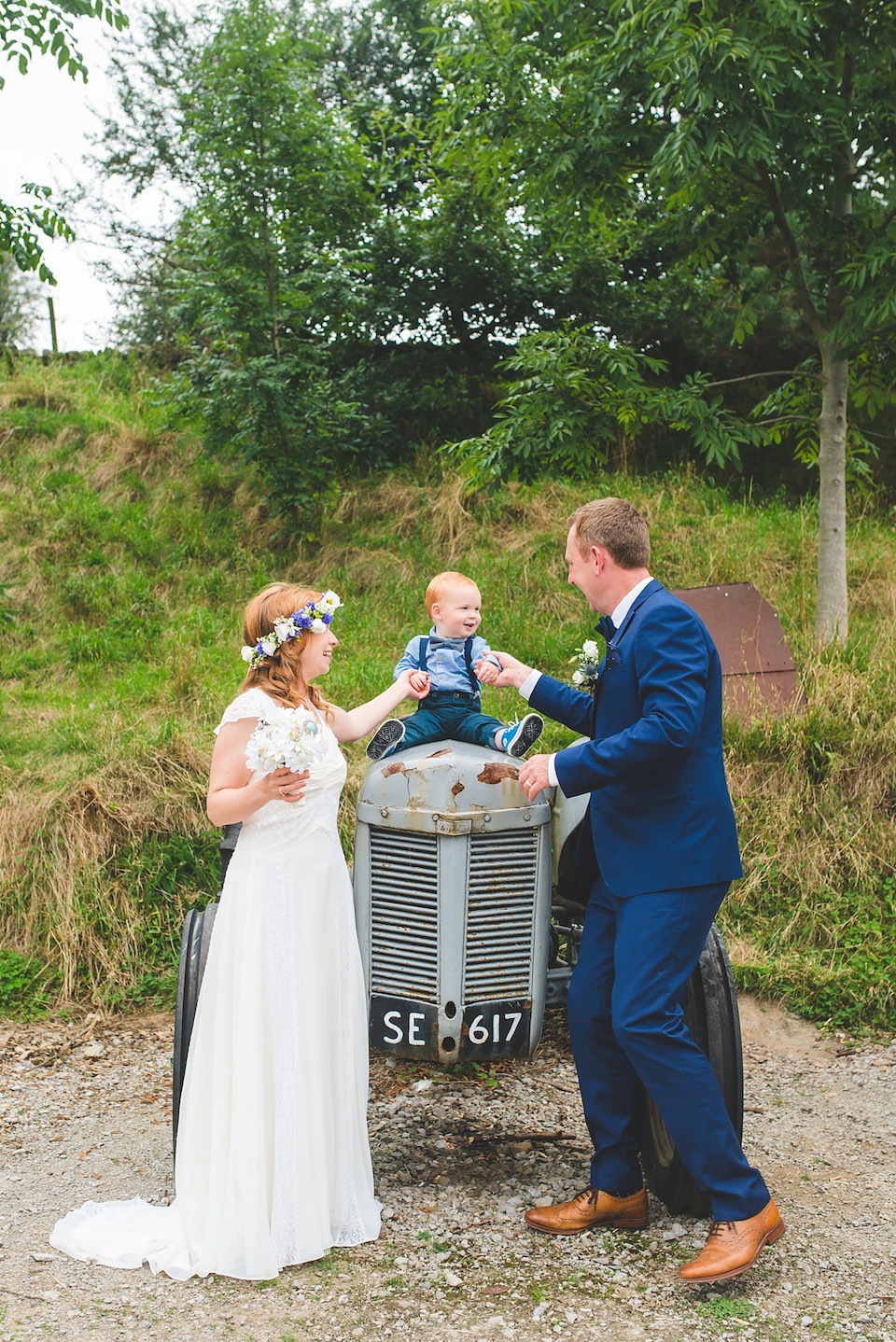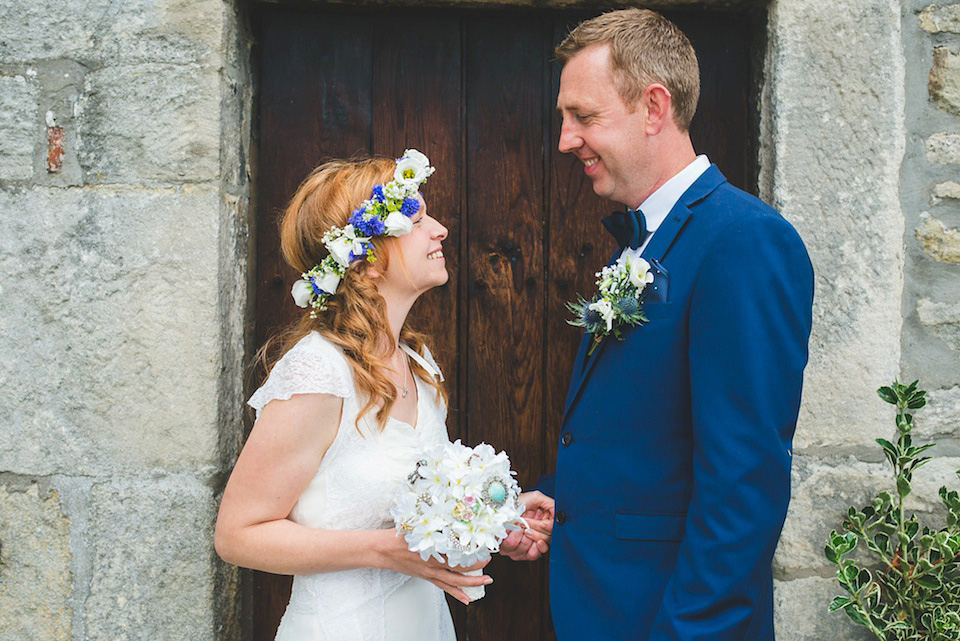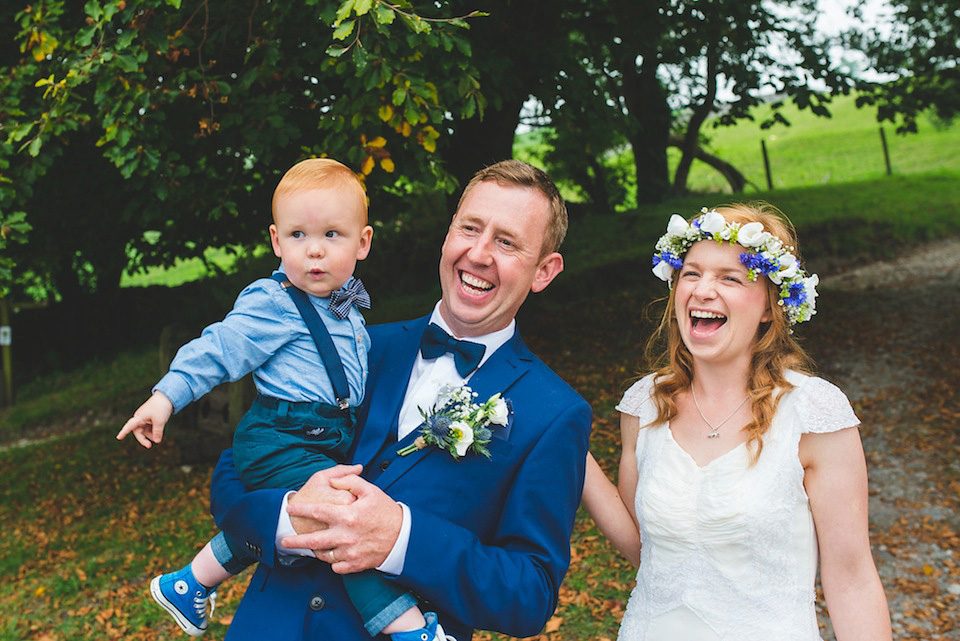 Dan cleverly made each guest a hand thrown mug which was perfectly in keeping with the tea and cake theme while Nirmala created all the stationery herself.
"To fit in with our Tea and Cake theme we served tea and cake after the ceremony.  My talented friend Rosie made a selection of  delicious bite sized cakes and to top them up we bought a few large cakes from Cakes and Bakes of Harrogate."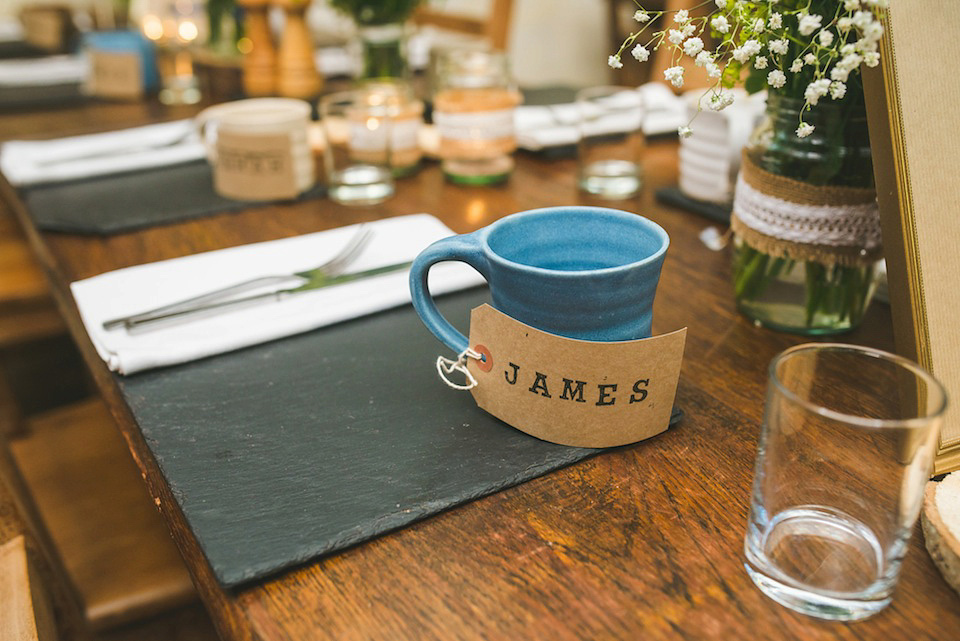 "We wanted to be able to have a dance in the evening and have a live band.  We had already hired The Blueflies for Dan's 40th and knew they were amazing so booked them for the wedding as soon as we had a date"
Words of Wedded Wisdom
"Accept help!  Your friends and family really want to get involved.  At first I didn't want to put people out but they are offering because they want to help you. 2 months before the wedding I decided I would accept every offer I got and it really helped. You can make a night of it, a friend came round and we had a bottle of wine and filled all the kids' bags! I'd also like to say to brides to be that it's ok if you fall out with your wedding. It can be a really stressful time and if you get through it without disagreements or getting stressed you are really lucky. I fell out of love with the wedding at one point then felt really bad but I think it's natural.
Just take a bit of time out and you will fall in love with your wedding again. For me it was my friends and family that brought me back, seeing how excited they were helped me get excited again.  In the end it all comes together. A few things went wrong on the day but it didn't matter. The feeling of marrying the person you love in front of everyone close to you out weighs everything."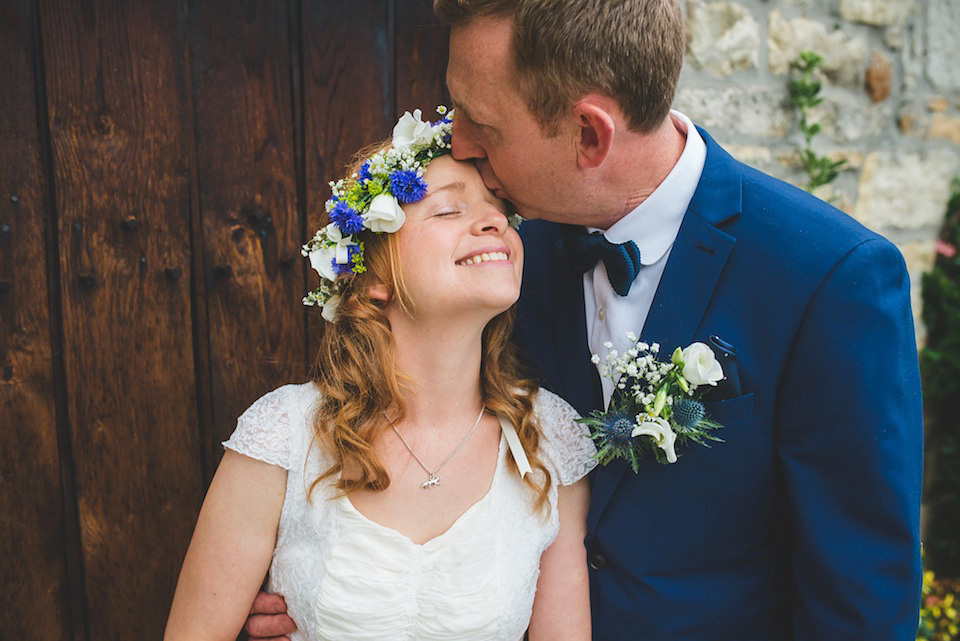 Congratulations Dan and Nirmala, thank you for sharing your special day with us and a big thank you to Becky of Becky Ryan Photography for sharing your lovely photography with our readers.
With Love,
Christina x
Photographer – Becky Ryan Photography
Venue – The Craven Arms, Appletreewick
Wedding Dress – Purchased on Etsy, Altered by Stitches
Headpiece – Minnie Bee's Floral Design
Accessories – Necklace from Joy Everley & Cardigan from Joules
Bride's Scent/perfume – Coco Mademoiselle by Chanel
Grooms Suit – Next
Grooms Shirt – Reiss
Grooms Shoes – Grenson
Grooms knitted bow tie and pocket square – DQT
Bridesmaids – BHS & Amazon
Page Boys – Chino's from Next, Shirt from George and Converse from Ebay
Page Boy Accessories – Bow tie & Braces from Cutensity on Etsy
Florist – Minnie Bee's Floral Design
Cake – Cakes and Bakes of Harrogate
Entertainment – The Blueflies
Rings – Jo Vane
Catering – The Craven Arms, Appletreewick
Stationery – Homemade by Bride