Becky and Gavin tied the knot last year with two separate celebrations in March, and September, the latter of which we're sharing today.  These beautiful photographs were taken by Sheffield based photogarpher Jess Petrie, whose artistry I'm a huge fan of – I love her soft and feminine approach to capturing intimate moments between couples.
"We actually had two weddings including a ceremony in March and September.  In September, we had a church blessing at St Alban's Church in Wickersley. This is my family's church, so using this venue was a lovely way to feel close to my family. It's a very beautiful but simply decorated church so it was a natural home for our simple, joyful ceremony for all our family and friends. We had our reception in the Chimney House, which was the perfect venue for delicious food, drinks, singing and laughter ­ and it perfectly captured the post-­industrial, creative vibe of Sheffield city that had surrounded us as we were falling in love."
Photography Copyright (c) 2015, Jess Petrie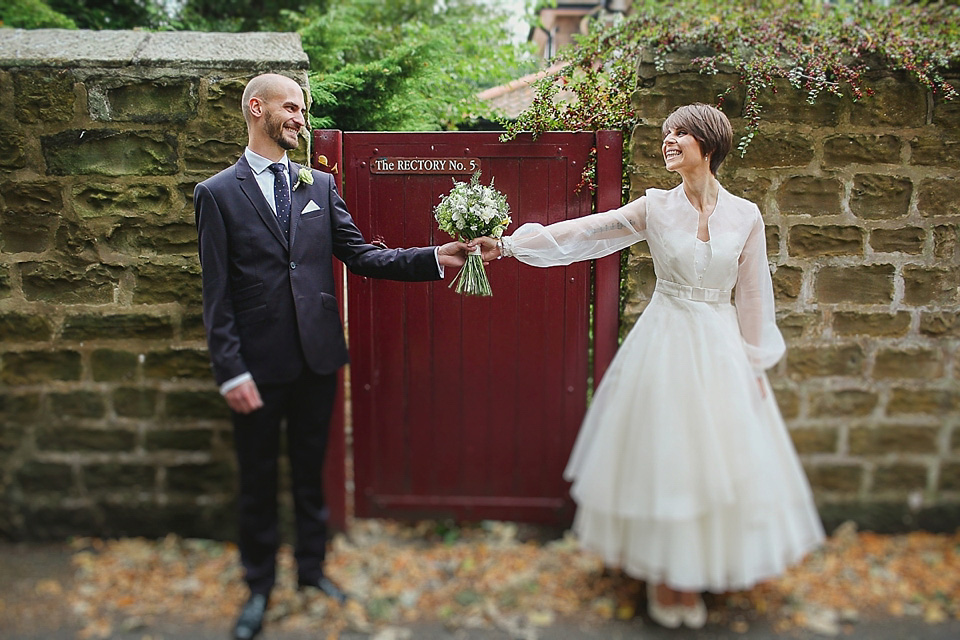 "My dress was by  Sharon Bowen and had little daisies all over the bodice, which were pretty without being too girly. It had a really interesting hem – tea length at the front, but then a long train at the back, which meant I got the best of both worlds – I could swish around but didn't have to worry about tripping over! It also meant that I could shorten the dress for September so that the dress was more of a fifties style length – what bride wouldn't love two dresses in one!
Sharon made my veil for me. I wore it as long as my train in March, and didn't wear a veil in September."
"In keeping with the fun, unfussy atmosphere I didn't give my bridesmaids any rules to follow – so I was very pleasantly surprised when they both chose to wear green dresses, which matched all the flowers perfectly!"
"We went with Campbell's Flowers, firstly because they were recommended by our photographer, but when we met Tracey we knew she was exactly the right person to work with. She welcomed us to the workshop in her home and was so friendly. In March we chose colourful spring flowers, and in September we chose simple white and green meadow-style flowers to match the simplicity of the ceremony.  The bouquets, buttonholes and arrangements all had a vintage-y, relaxed, just-picked style, and had personal details – we had rosemary to symbolise remembrance and my love of cooking!"
"Our wedding photographer Jess Petrie and her husband Rodrigo were the most wonderful guests at our wedding. Not only did they fit right in to each ceremony, but they took photographs that took our breath away. They captured moments that we missed, and recorded the tears, laughter, and love with sensitivity and a palpable feeling of friendliness. In some of our photographs we look so beautiful we almost don't look like us (!), but Jess managed to capture the spirit of our wedding – and our relationship – perfectly.  I'm delighted with the natural images, and will always remember feeling so beautiful on such an important day.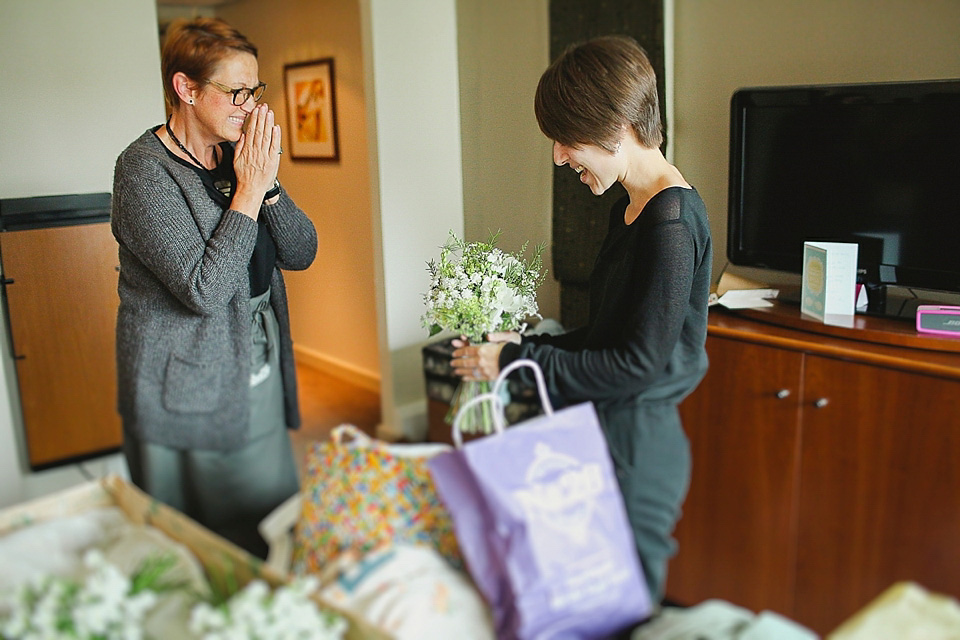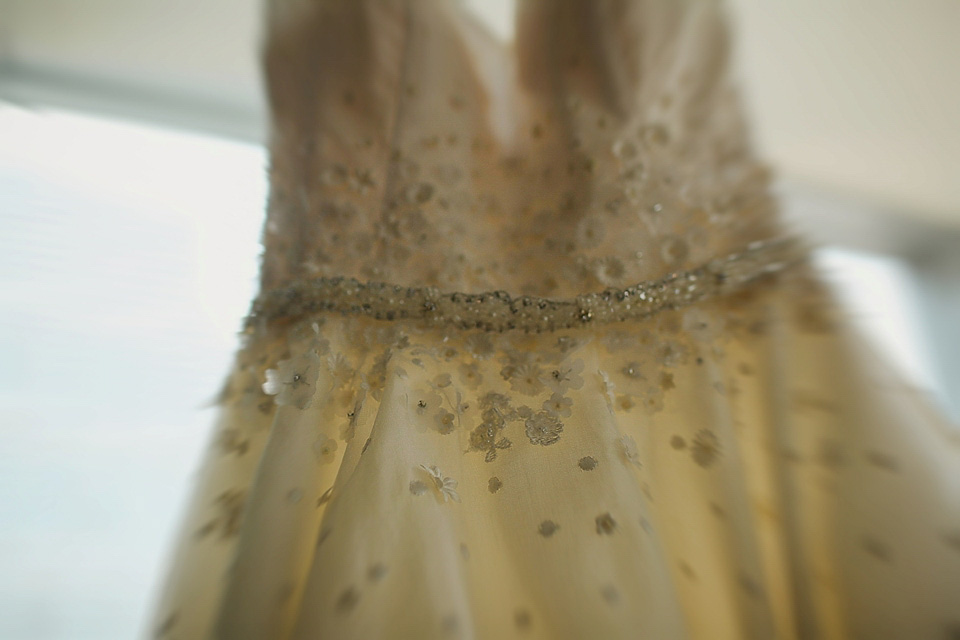 I love the subtle polka dot accent of this wedding – the daisies punctuated over the beautiful dress above, and the gorgeous gold polka dots on the shoes too!
"My shoes were purchased from Anthropologie in New York on a wonderful day out with my new family! In fact, this trip followed a beautiful Christmas day a few months after our engagement where Gavin gave me my engagement ring – a very special, stunning gift, as the ring had belonged to his grandmother. The ring is one large diamond flanked by two diamond baguettes on a platinum band – I was watching it sparkle when I bumped into the perfect shoes on the shopping trip in New York!"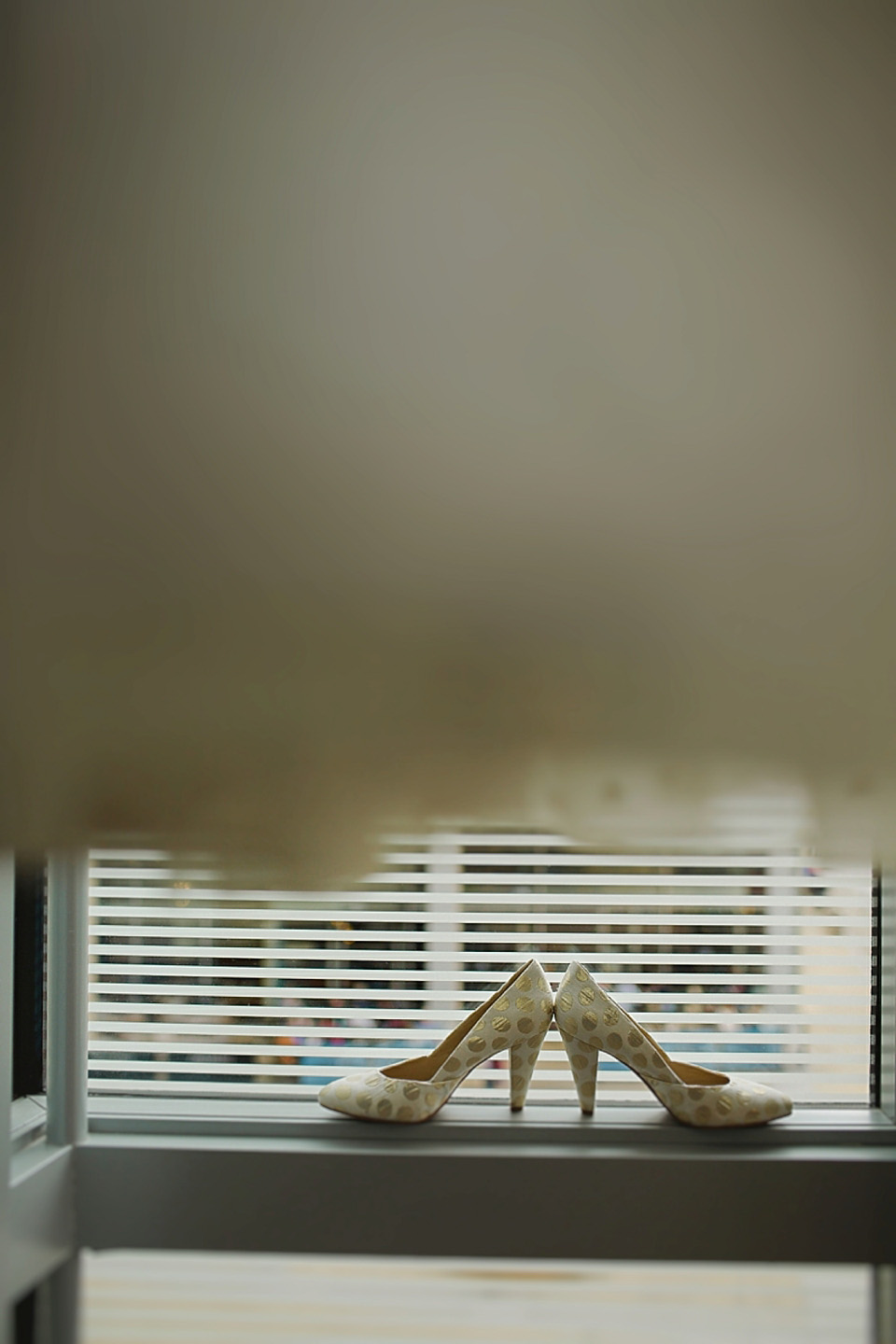 "Gavin and I met at the University of Sheffield. I was in the first year of my PhD and Gavin was studying for his Master's degree. As fate would have it, it turned out that not only were we in the same Manuscript Studies class, but also we ended up sharing a mutual friend with whom I had studied as an undergraduate, so we quickly became fast friends and fell in love before we realised it!
We got engaged sort of by accident – we were talking about wanting to get married and how much we wanted to be side by side wherever our lives would take us, and it suddenly was the right moment. Claude, our cat, was there as a witness. We jumped straight in the car and drove to my parents, who Gavin asked for permission to marry me. We celebrated the good news and got married in six months."
"Sharon also made me a beautiful coat to go over my dress, which I wore to dinner in March and throughout the church ceremony in September. My mother-in-law lent me some of her mother's pearl earrings to wear in September, which I was very honoured to wear."
"Gavin wore three-piece suits from Ted Baker for both events: dark blue in March and eggplant in September. I wore my grandfather's cufflinks; he passed away a few years ago and never had a chance to meet Becky, so I wanted to have him represented at the ceremonies. My father gave me a Hamilton pocketwatch with the date and my initials on it, so I wore that as well. I didn't want my best man or groomsmen to go through the hassle of wedding formalwear, so they just wore their own suits."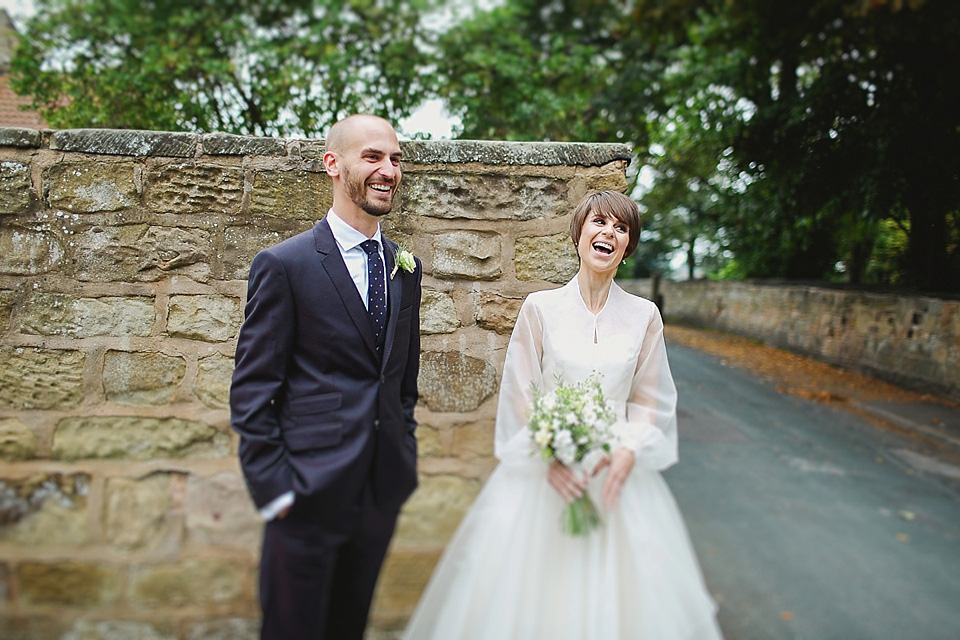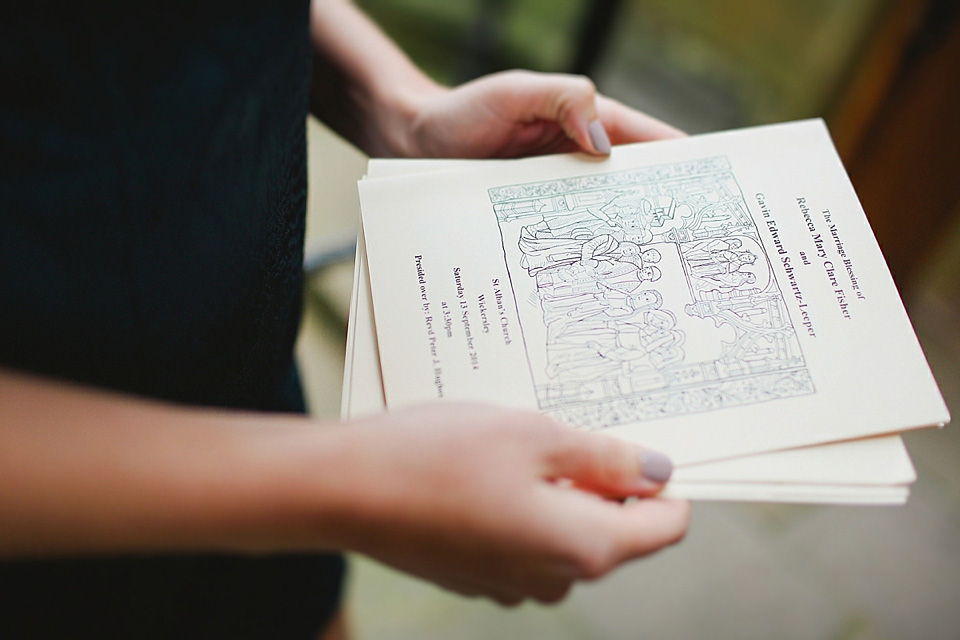 "Gavin and I entered the church together, preceded by our bridesmaids and groomsmen. It was really special to walk down the aisle together, sharing a moment that usually the bride experiences on her own.
We spent a long time choosing the music for our ceremonies, as we knew that the music was a way we could express who we are as a couple. So, for March I entered to 'Sunny Side of the Street' by Peggy Lee and Benny Goodman, and in September we walked down the aisle to an organ arrangement of 'Cara Mia Addio' from Portal 2 – both very personal choices!"
"We had very traditional vows at both ceremonies. We both found this part of the ceremonies really touching, and it was a powerful experience to speak words that were so heavy with tradition and meaning."
"We had three readings, all read by close friends of ours. Laurence gave a reading taken from the Bible – Proverbs 4, which is all about the love of learning that Gavin and I both share.  Our dear friend Christine read 'Caedmon's Hymn', which is an extract from Bede's A History of the English People. Christine, Becky and her mum studied Anglo­Saxon literature at university, and the particular passage tells a story about creativity, patience, and bravery that we thought was appropriate to the start of a marriage!
Finally, our friend Reza read an extract from Edmund Spenser's 'Colin Clouts Come Home Again' (1595), which Gavin chose. The extract we chose describes lasting love and commitment – here's a few lines:
'Her name recorded I will leaue for euer.
Her name in euery tree I will endosse,
That as the trees do grow, her name may grow. And in the ground each where will it engrosse, And fill with stones, that all men may it know. The speaking woods and murmuring waters fall, Her name Ile teach in knowen termes to frame: And eke my lambs when for their dams they call, Ile teach to call for Cynthia by name.'"
"We had our rings made by Jessica Flinn, another Sheffield business. Jessica sourced some real Sheffield steel for us, which was then made into our rings, and was a lovely nod both to where we met and Becky's heritage as a steel family."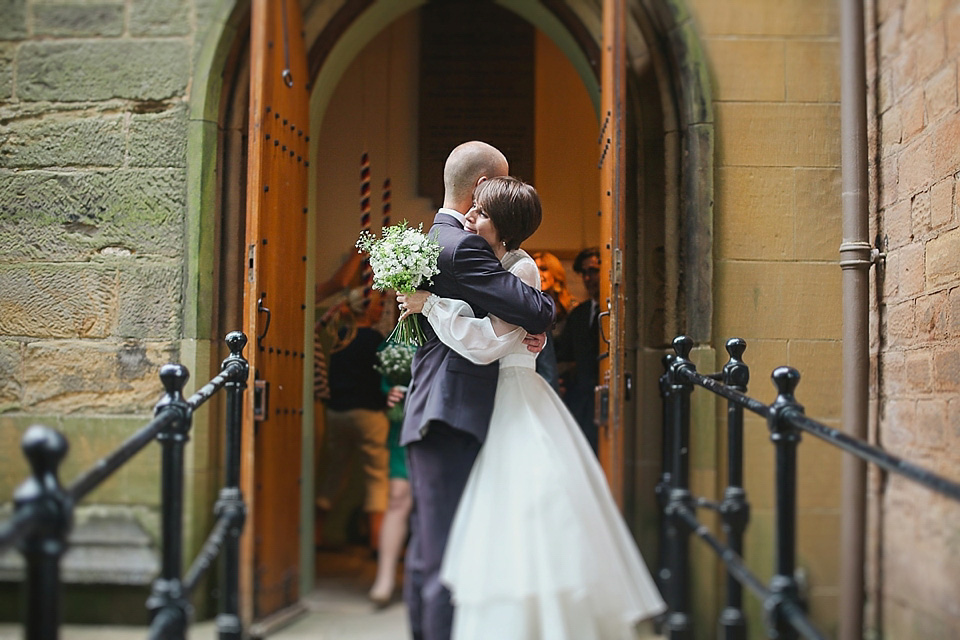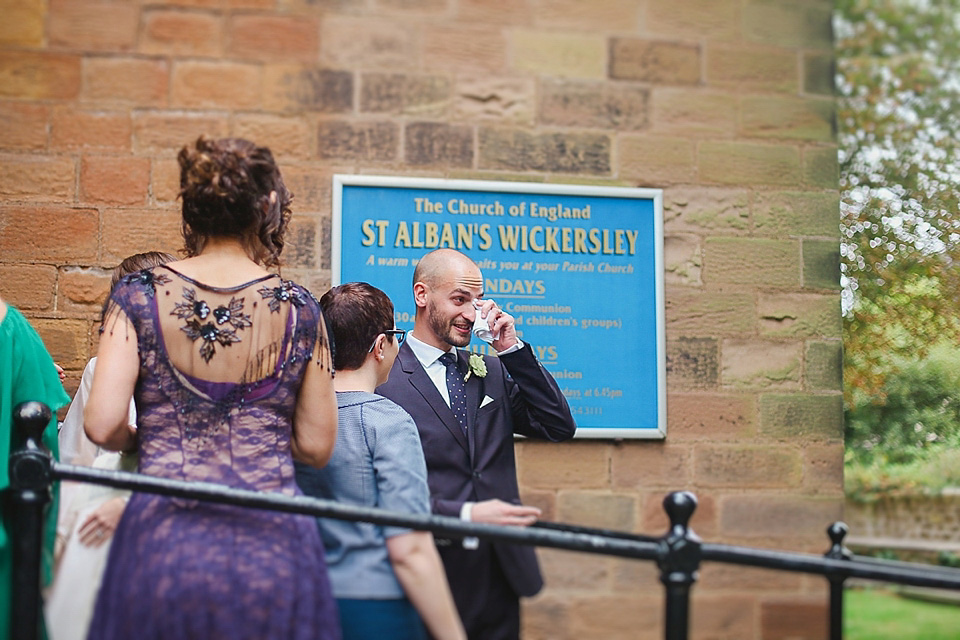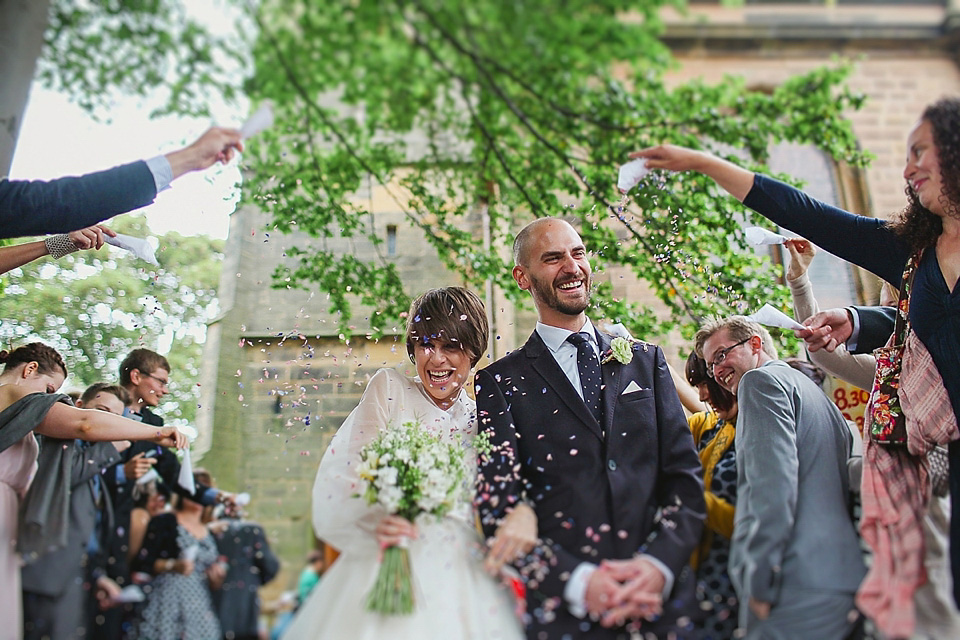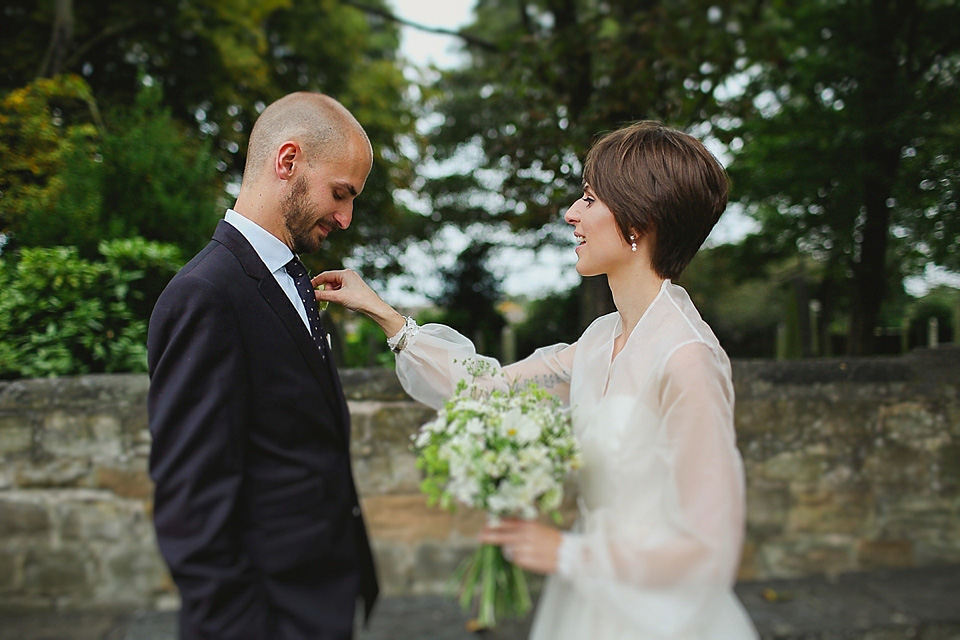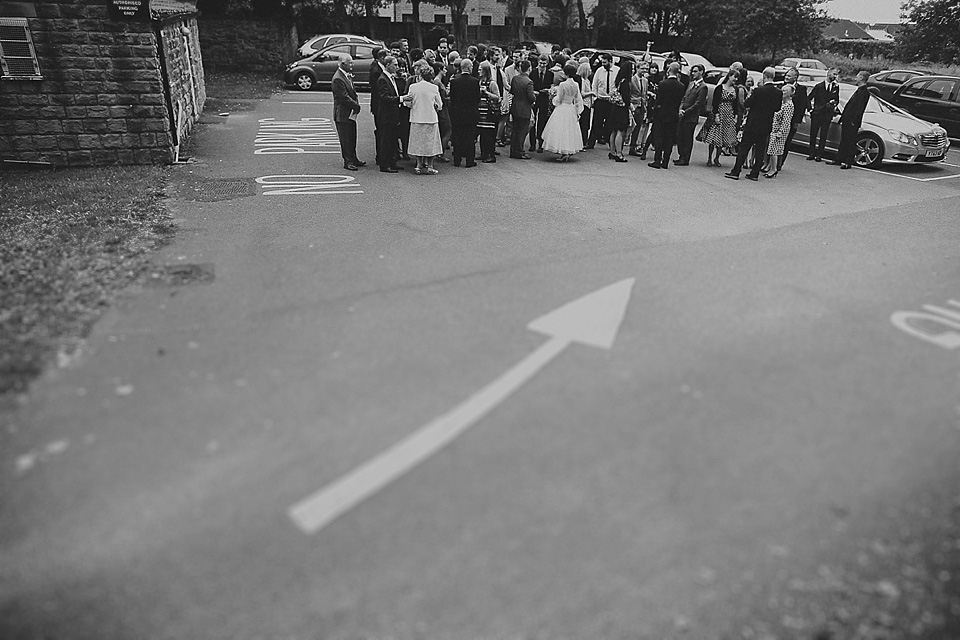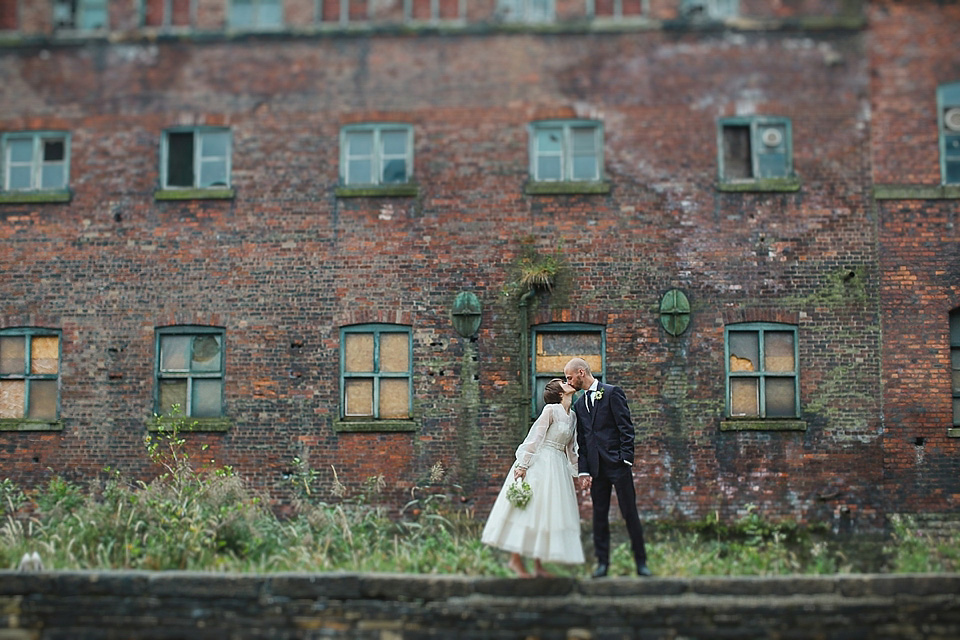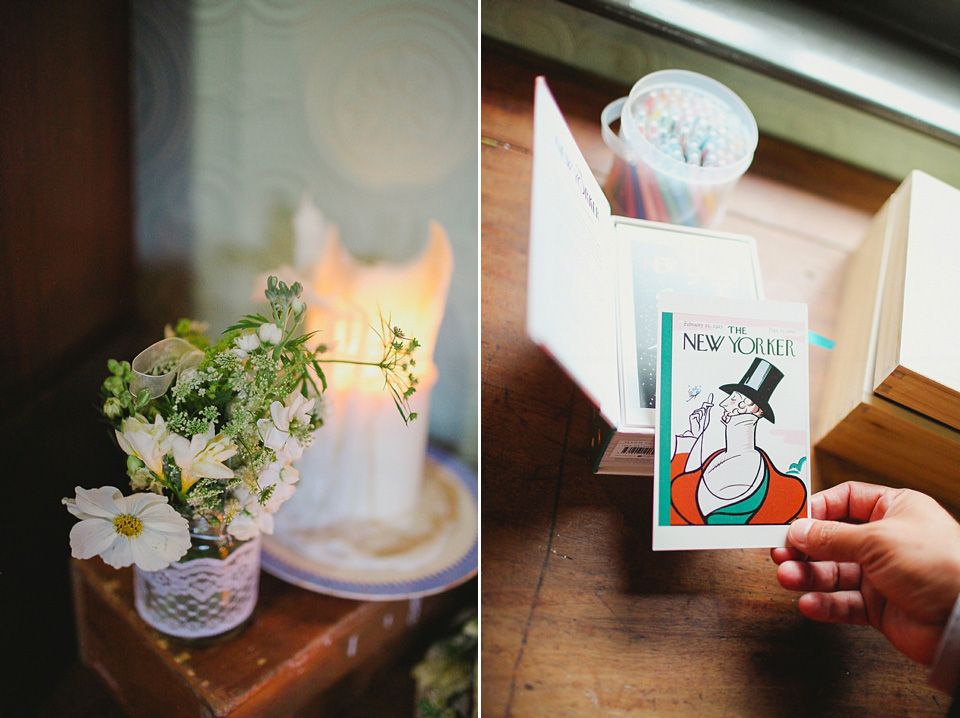 "We went with Fancie for our wedding cake, because they are a great Sheffield business, based locally and started by graduates from the University of Sheffield. We didn't have a cake in March, so in September we had two! We had a naked three-tier red velvet cake with cream-cheese icing, which was covered in beautiful white and green flowers by the wonderful team at the Chimney House. We also had a chocolate cake in the style of the cake featured in the Portal video-game – a little nod to one of our favourite past-times!"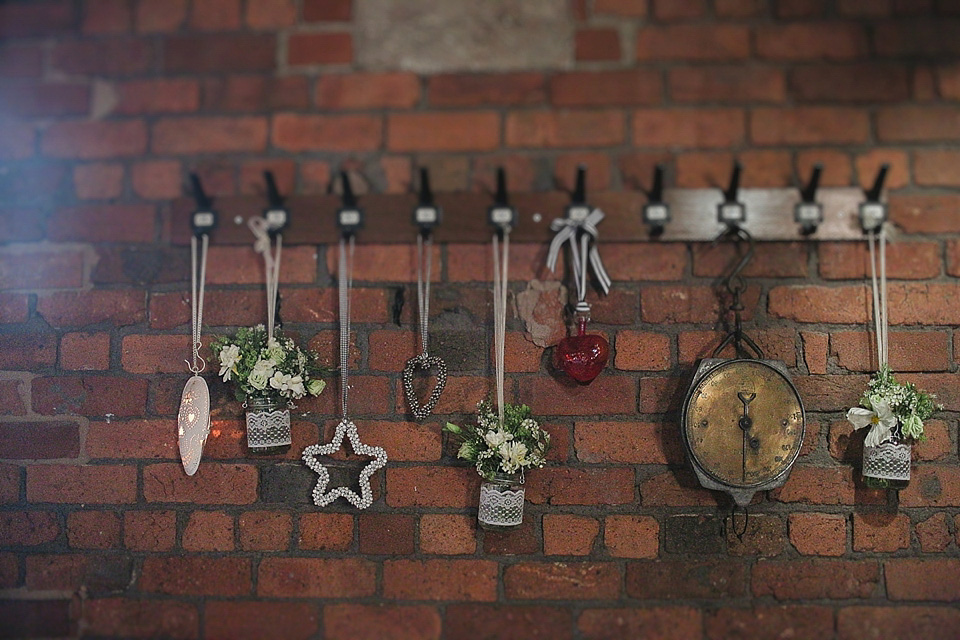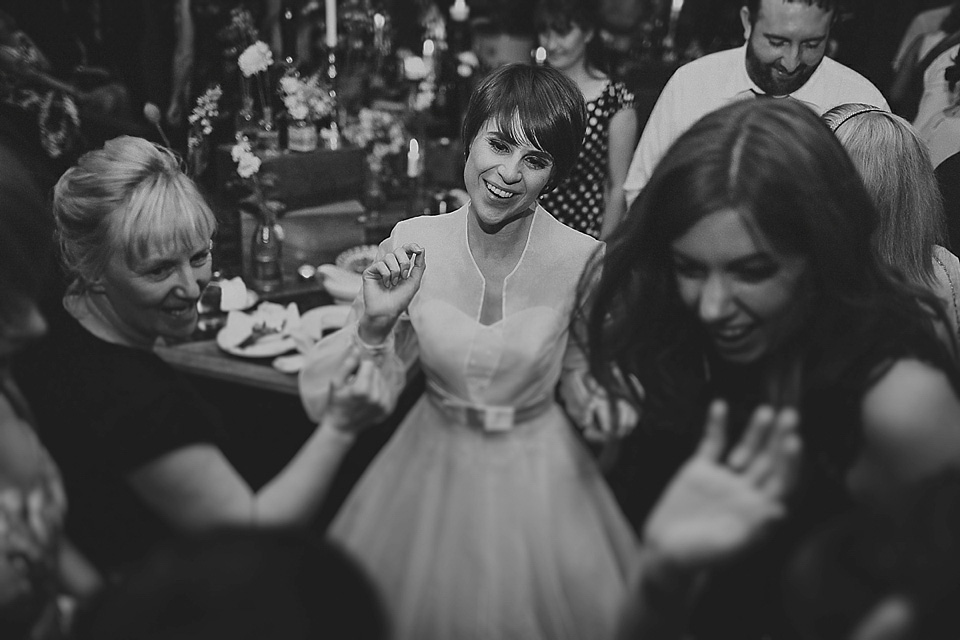 "We had our first dance to Bruce Springsteen's 'Thunder Road', a song which has always meant a lot to us and makes us think of all the adventures we will have together. Gavin was a true gentleman and passed Becky over to her dad so they could finish out the song together – a very thoughtful thing to do as Becky and her dad have always shared a love of the Boss!
We made our own playlist of our favourite songs – in fact, Gavin created the list and the thoughtful, well-planned selection of all our songs was one of the best gifts I've ever had. It leaned heavily towards power ballads we knew everyone would enjoy singing along to."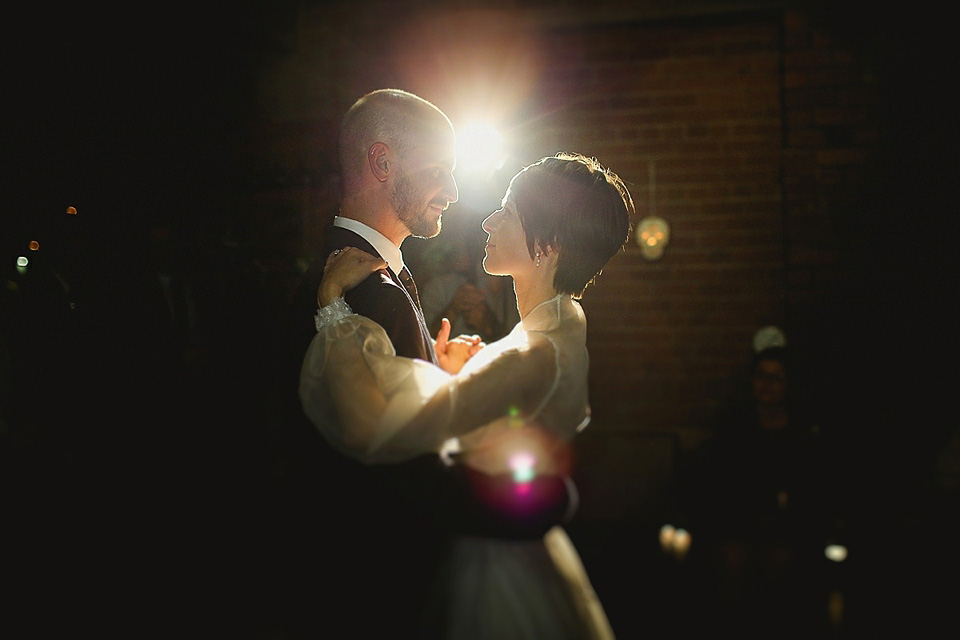 Words of Wedded Wisdom…
"Choose two or three things that you're not willing to compromise on and relax about everything else! Gavin: On a similar note: there's so much pressure to plan every detail, to make sure everything is absolutely perfect. If you let go, you'll have more fun."
Absolutely beautiful and so skillfully captured on camera by the wonderful  Jess Petrie.
I hope you have loved browsing through these photographs and are feeling as inspired as I am this morning.
Love Annabel x
Photographer – Jess Petrie
Venue + Catering – The Chimney House, Sheffield
Dress + Veil – Sharon Bowen
Shoes – Anthropologie in New York
Accessories – bracelet made from a Sheffield steel spoon
Perfume – Jo Malone's 'Tuberose and Angelica'
Groom – Ted Baker
Bridesmaids – own choice of green dress
Florist –  Campbell's Flowers
Cake – Fancie
Transport – Winns Travel
Entertainment –
Rings –  Jessica Flinn
Stationery – Carly Reed Design (stamp) +  PDA Card & Craft + Kris Robinson
Makeup – Farys Carr (Illamasqua)