With nature waking up again after what feels like a very long winter, and sunshine finally making an appearance, it seems like the perfect time of year to feature this joyous, colourful wedding, which DIY-brides and blank canvas venue aficionados are going to love.
Tania and Philip were married on 30 August 2014 in the same church that the groom's grandparents tied the knot in over 50 years ago. So romantic and such a lovely tribute to their family history! They discovered Whalton Village Hall on Love My Dress and 'fell in love'.
"Love My Dress was fantastic as there was a beautiful yellow wedding reception at Whalton Village Hall, this allowed us to see just how much potential the venue had! When we went to visit the venue we hoped that it would live up to the hype… and thankfully, it did!"
Photography Copyright (c) 2015, Alexa Penberthy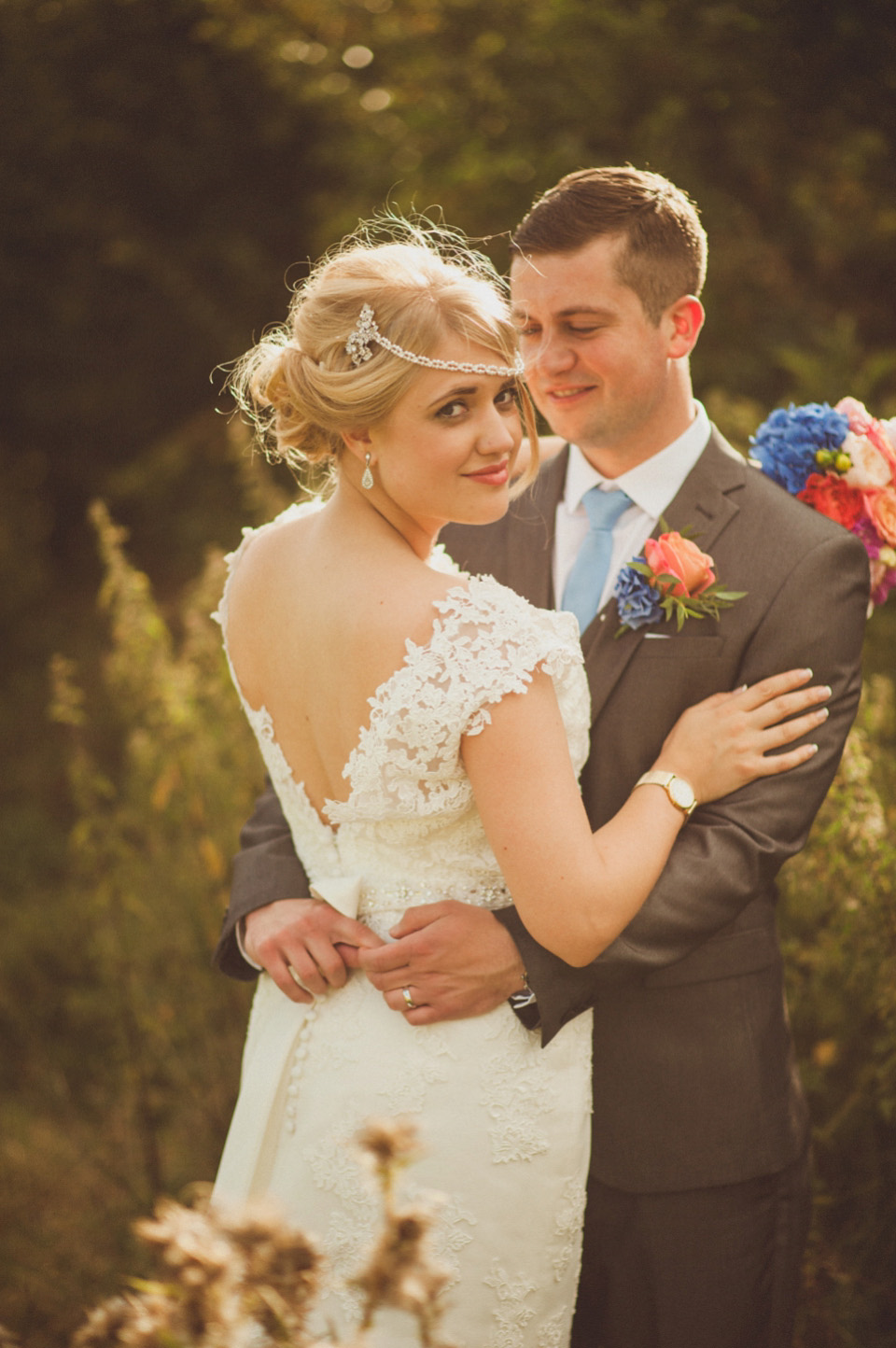 "I think in some ways our wedding was rather eclectic, but it worked for us.  The village hall wedding made it rather quaint. The venue was in Northumberland and we named each table after our favourite places in the North East. Coral and blue are my favourite colours, but we also added a bit of pink and yellow as to make the decoration seem bright and cheerful and we had festoon lights and the music was indie/rock. So I guess it was a bit like a summer fete with a modern twist!"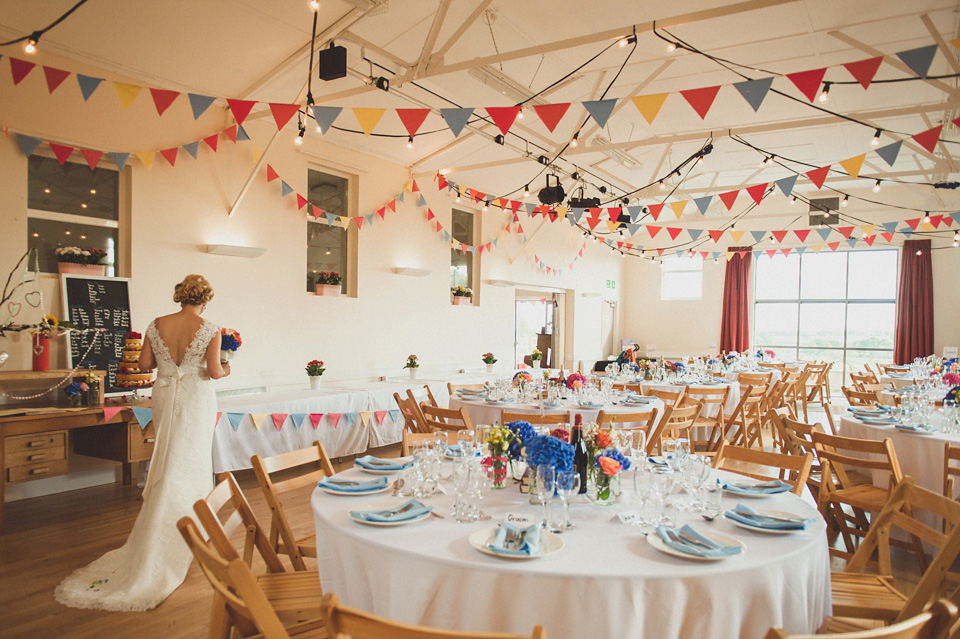 Tania's elegant lace dress is Mori Lee style 1901, from You Are Precious ("YAP") in Newcastle. Love the scooping back.
"I'm usually quite casual in what I wear and I felt a bit silly in every other dress. This dress just made me feel good! YAP are super helpful and really couldn't do more for you."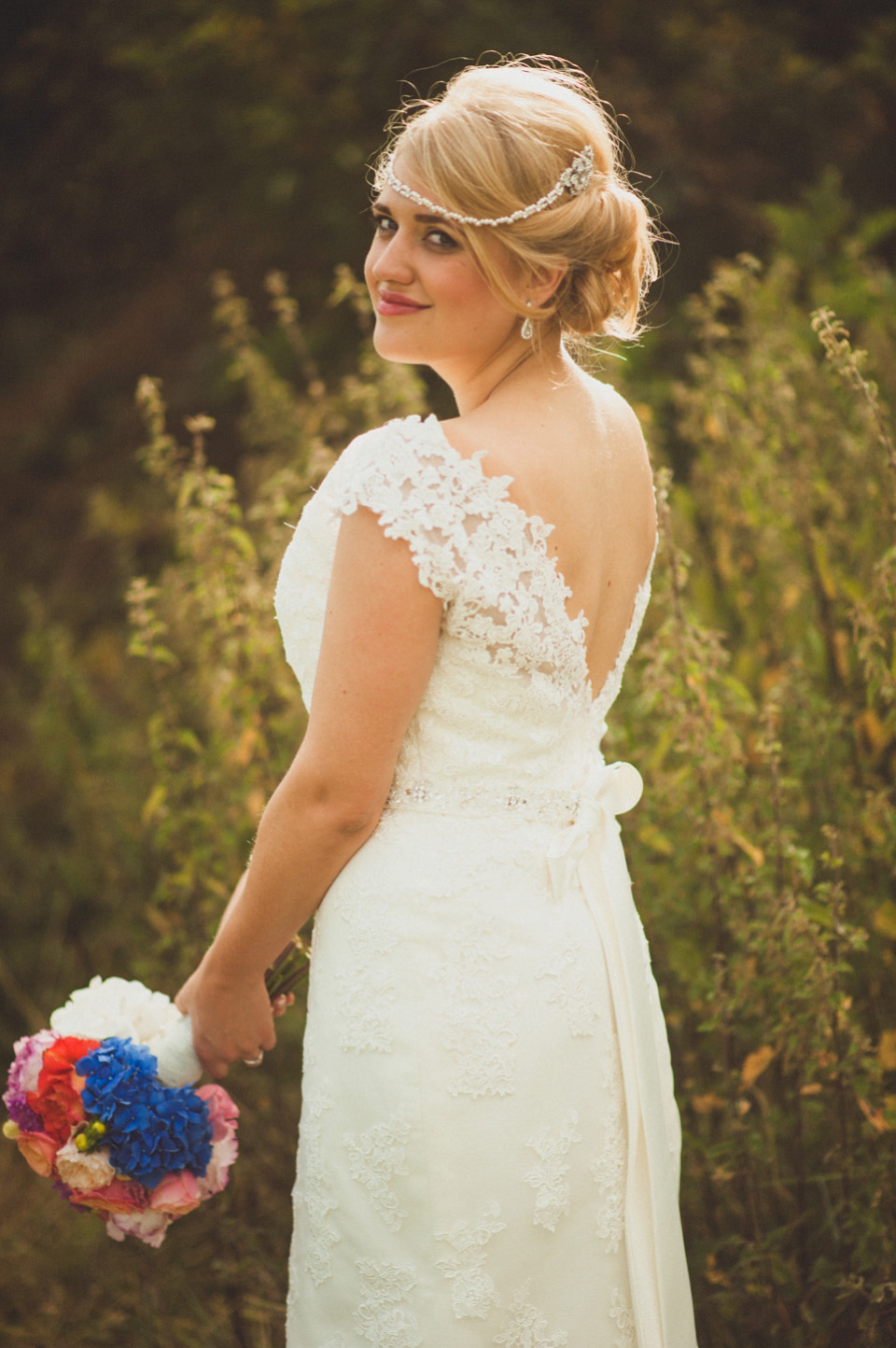 I love how the day was full of bright, bold colour – especially these coral colour dresses that the bridesmaids wore. Such a flattering shape.  These dresses are from Next.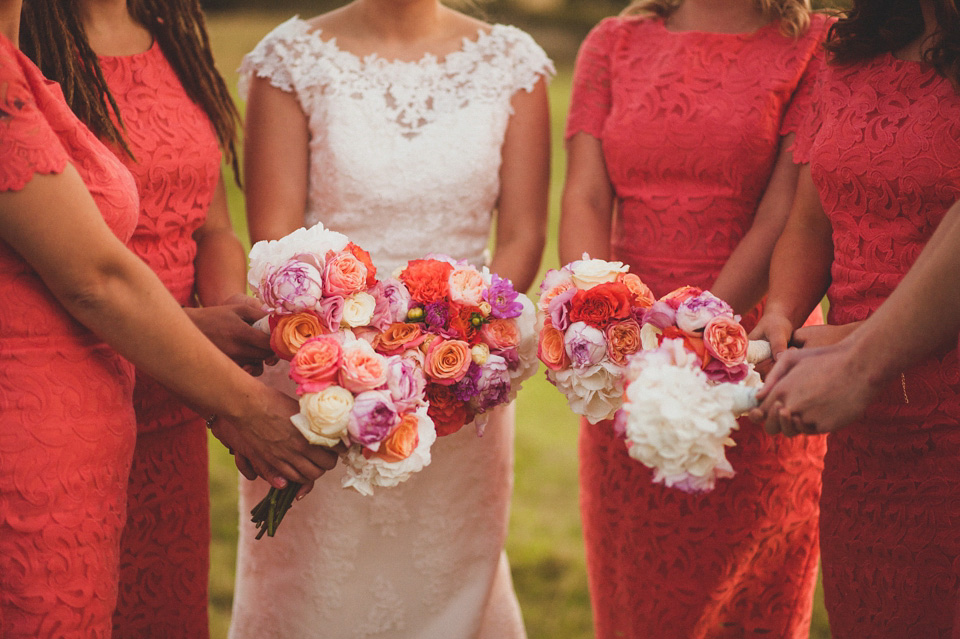 Tania's accessories are really stand-out. The deco-style earrings are by John Lewis, and that stunning pearl and jewel headpiece is also from YAP. The watch belonged to Tania's grandfather and was her 'something old'. The couple's rings were white gold bands from Fraser Hart.
The couple chose Alexa Penberthy as their photographer.
"Like many couples, our wedding budget expanded over time and Phil wasn't convinced that we needed to spend a good amount on a photographer. In an age where everyone has a camera on their phone and many photography students are willing to give you a discounted rate, you can see why he felt this way. However, I realised that the pictures were going to last a lifetime and so it became important to me to hire a really talented professional, and we struck gold with Alexa! Our guests described Alexa as a silent ninja! She worked so hard to capture our day and really did do an incredible job. She captured every moment perfectly just the way we wanted. I couldn't recommend her highly enough."
"I moved up to Newcastle to study for my Masters in 2010 and met Phil while working in a bar. It was the old cliché of 'when you know, you know'. I could actually see the pub from my hotel room on the wedding day, and Alexa (our photographer) unwittingly took a photo of it, which was quite sweet."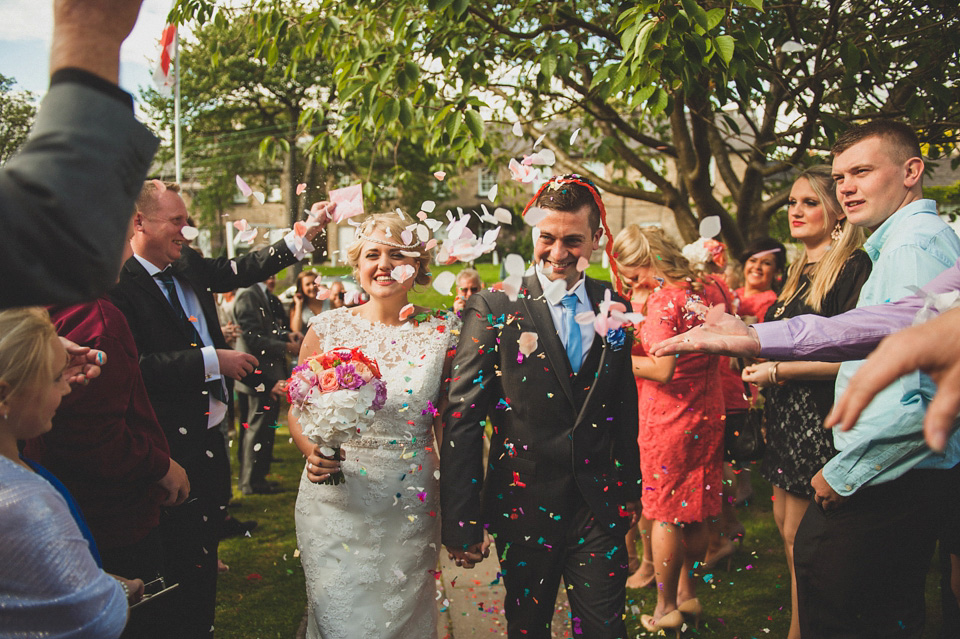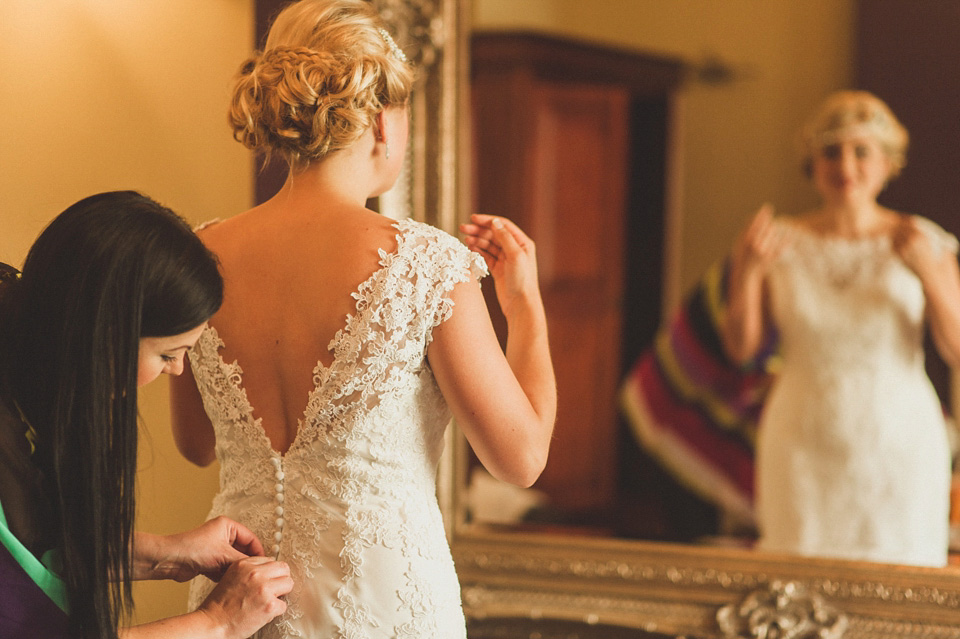 Maximillion Hair and Make Up created Tania's gorgeous look.
"Maxine was amazing, she really listened to what I wanted and she's an incredible artist.
I actually loved the getting ready in the morning. I had five bridesmaids and my mum in the hotel room and I couldn't have asked for a better group of women. It was fun but emotional, especially as my friend Chloe plied us all with Prosecco!"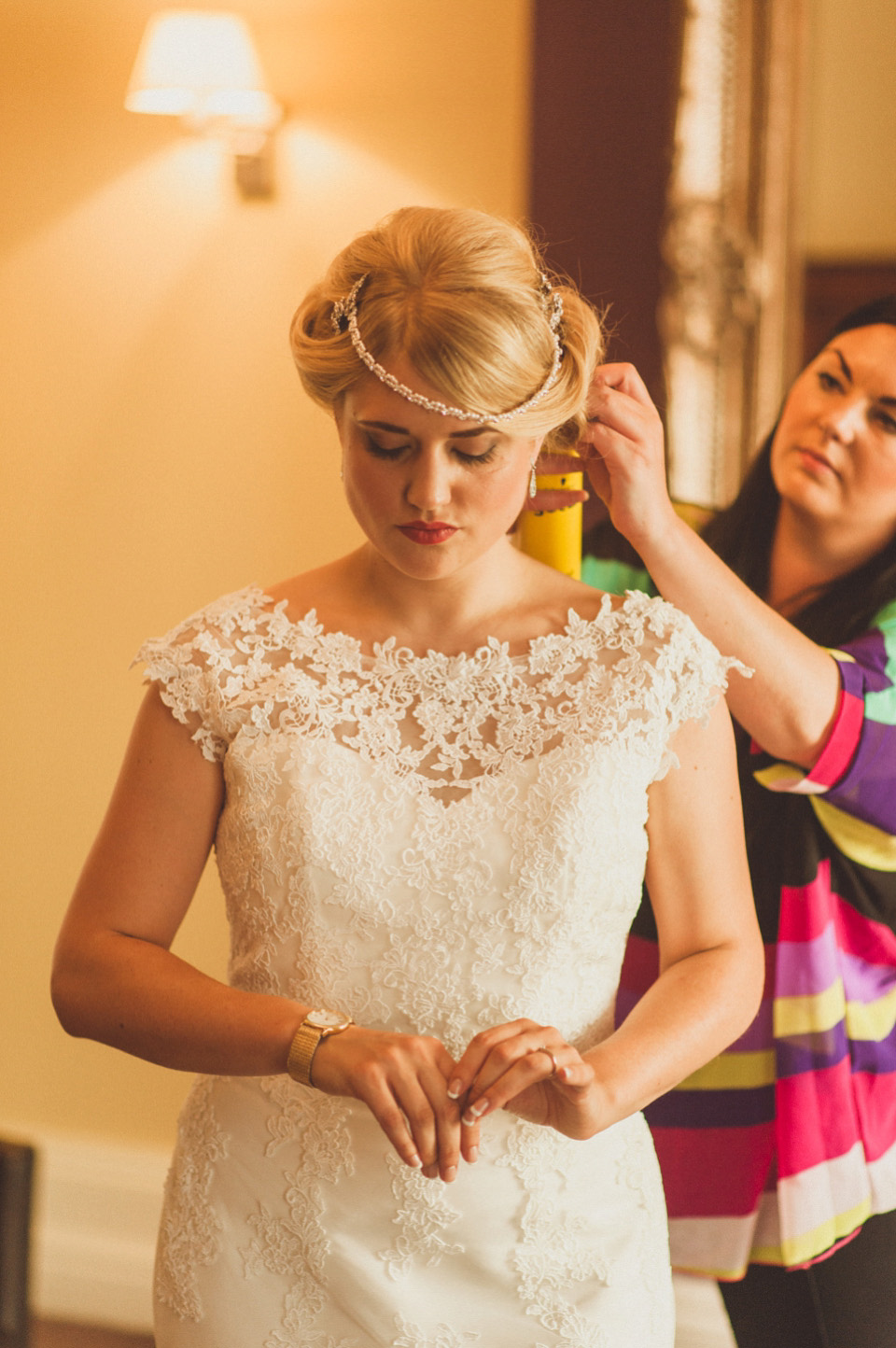 Colourful and cheerful florals were created by Thoughts of You, North Shields.
"I really wanted peonies, but unfortunately they weren't in season, however there are many roses that are of a similar style. I spent a long time in the florists, choosing exactly the flowers that I wanted in exactly the right colours (to fit with the coral, blue, yellow and pink colour scheme)."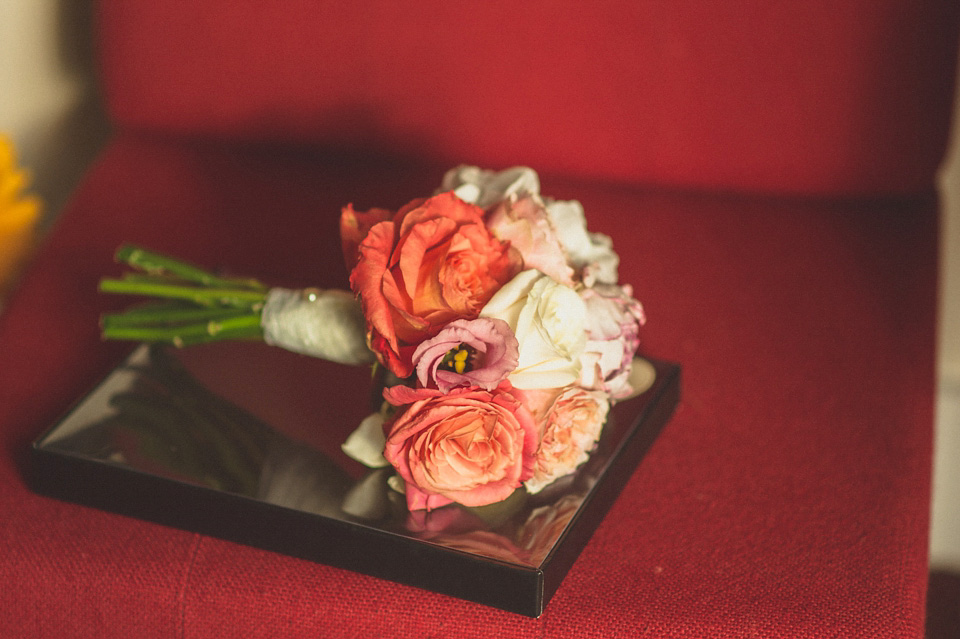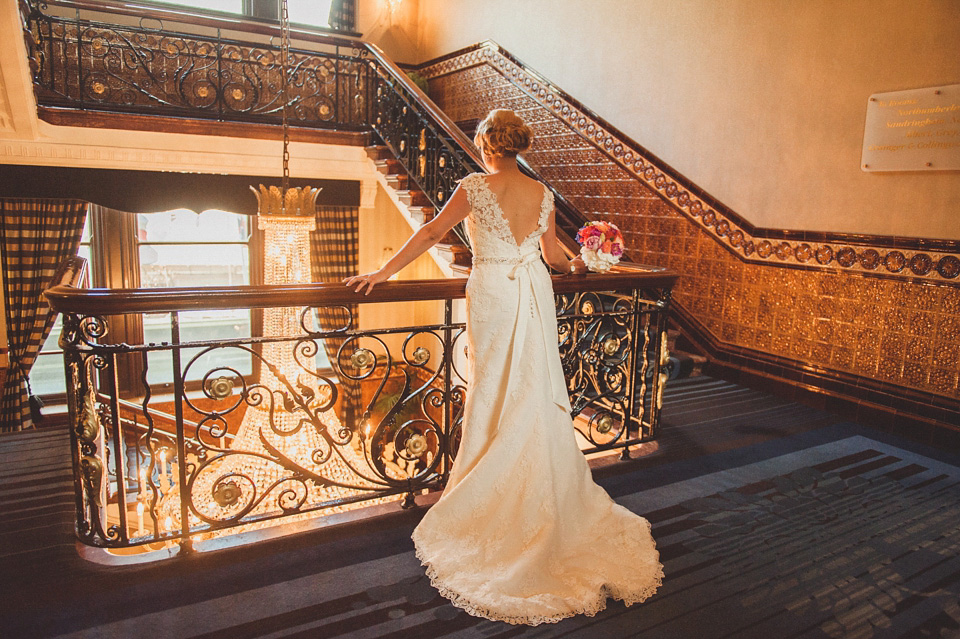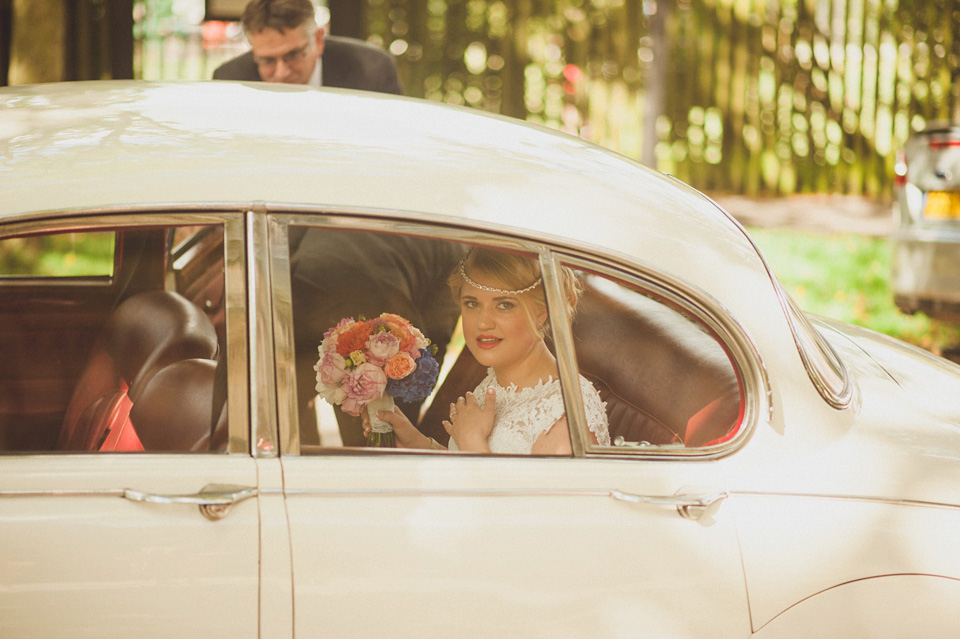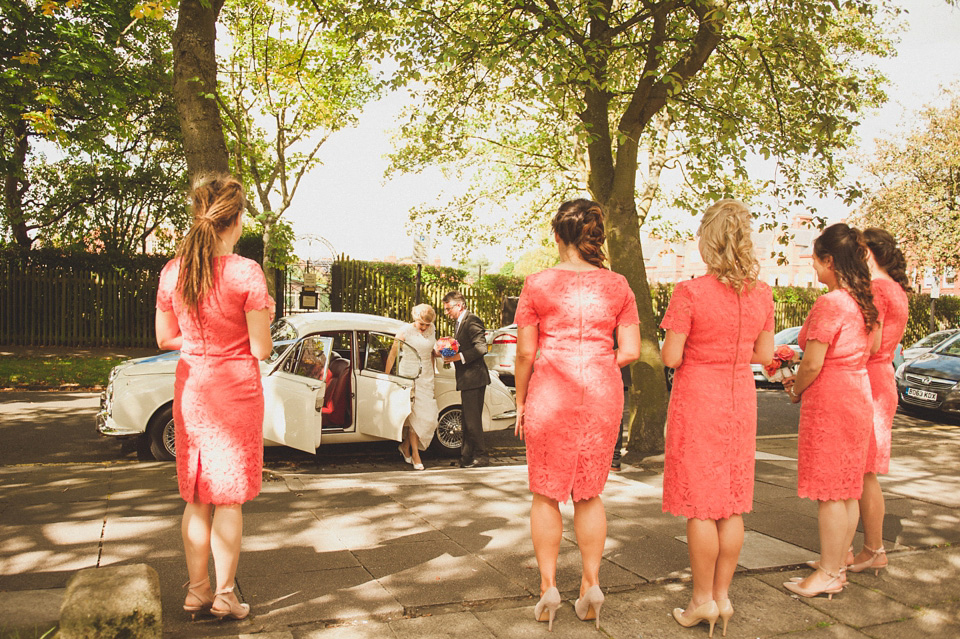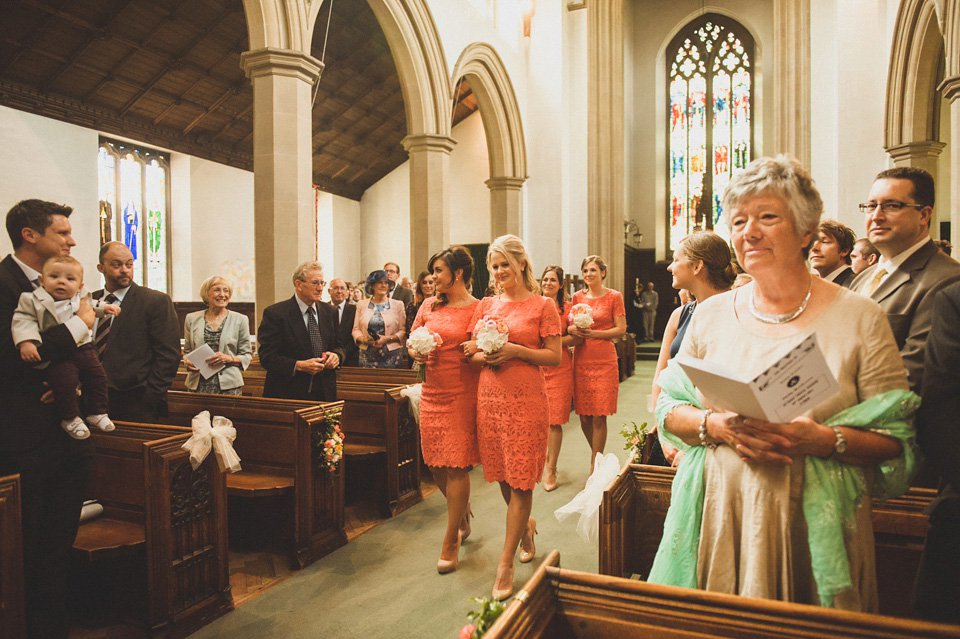 "My dad walked me down the aisle to 'Canon in D Major' by Johann Pachelbel. That was both special and nerve wracking. We left the church to Vivaldi 'Spring' which will always remind me of our first holiday together in Prague where we visited a Vivaldi concert."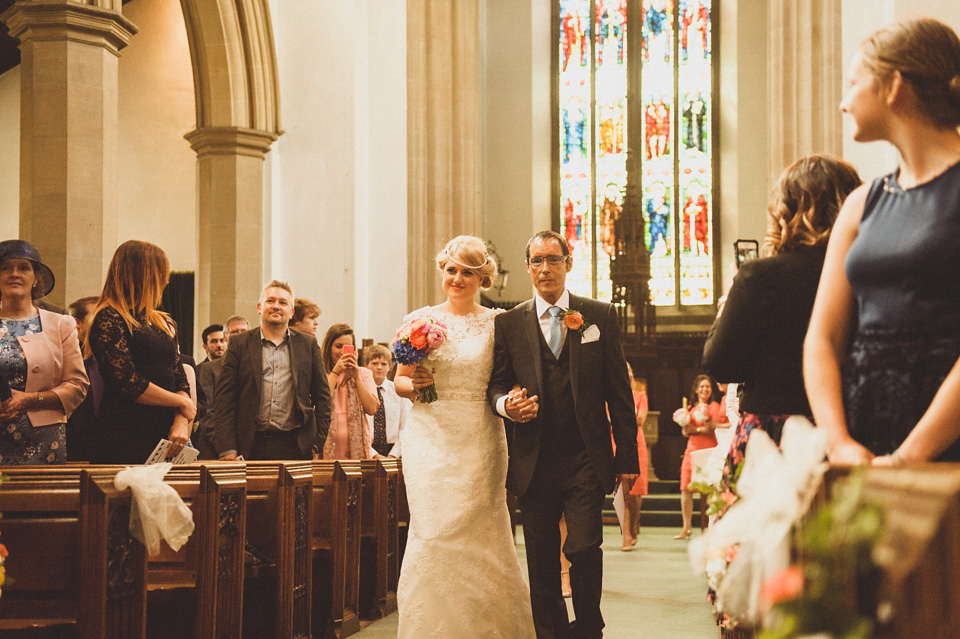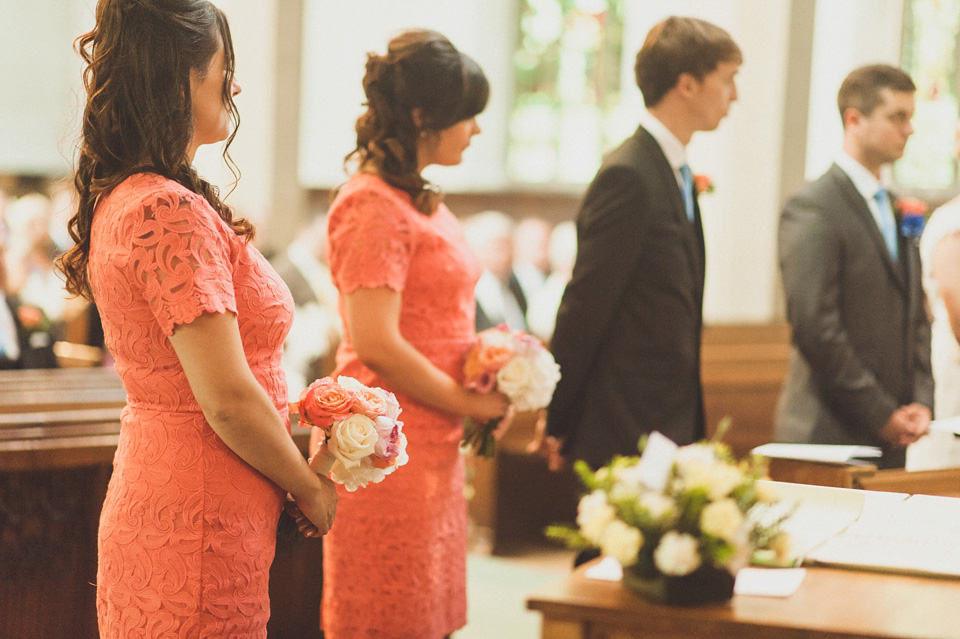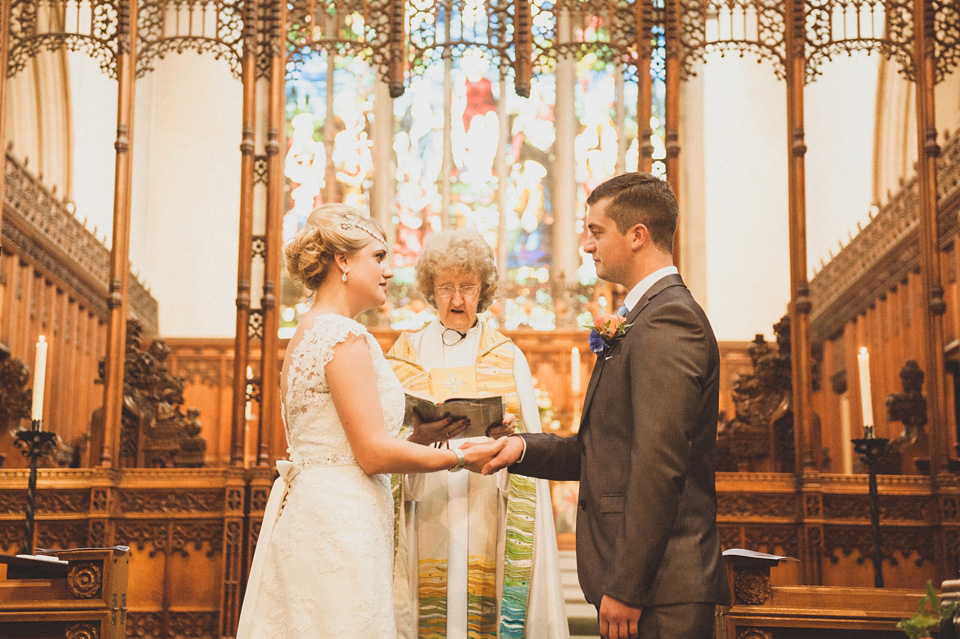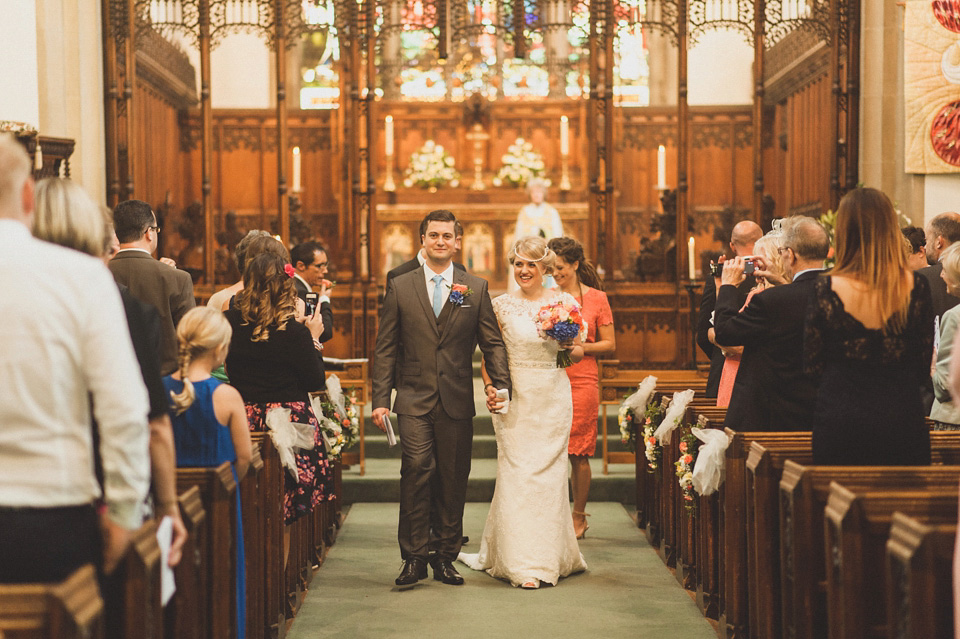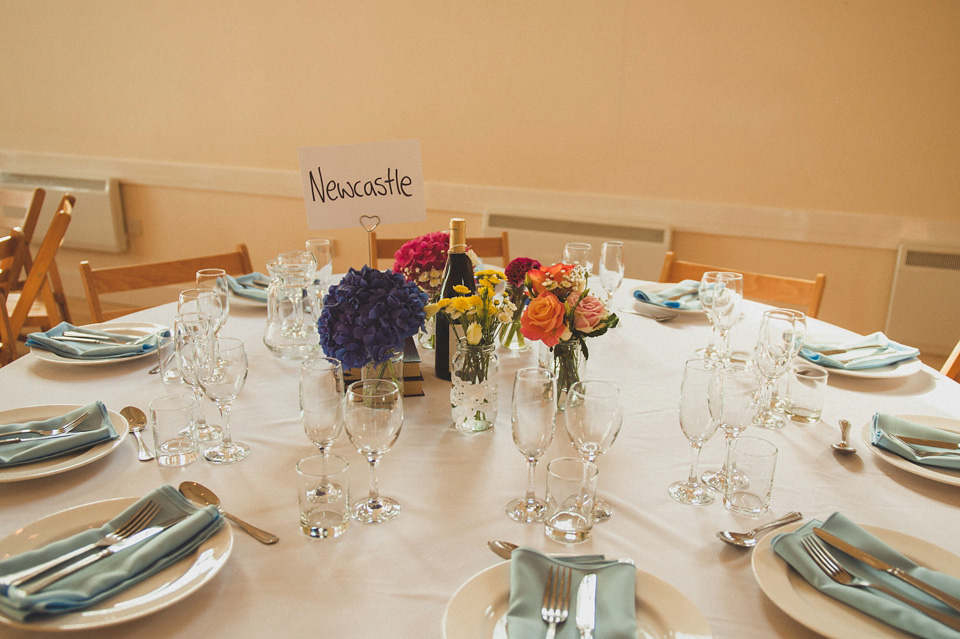 This pretty naked cake was made by the Ivory Cake Company.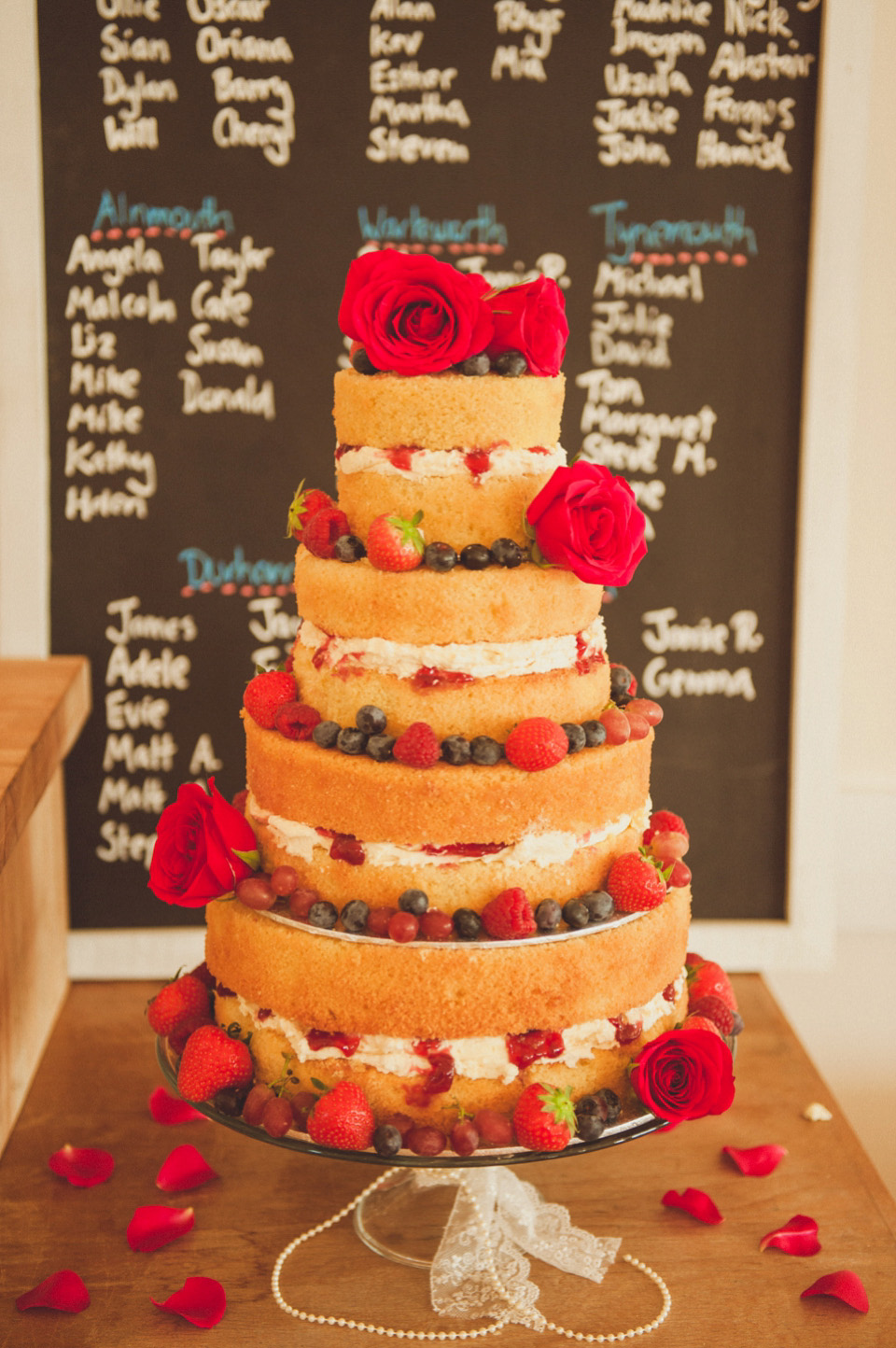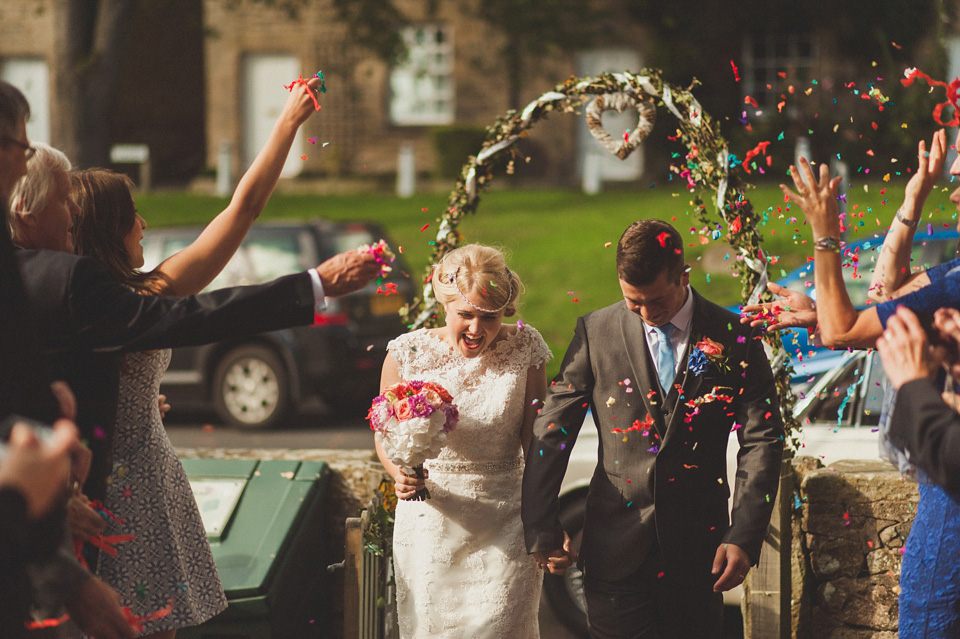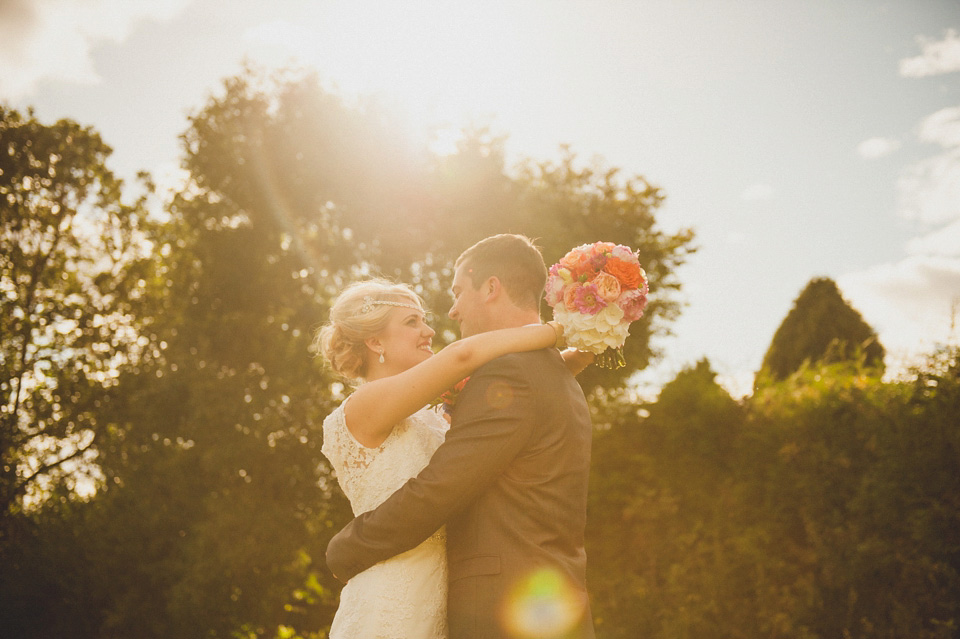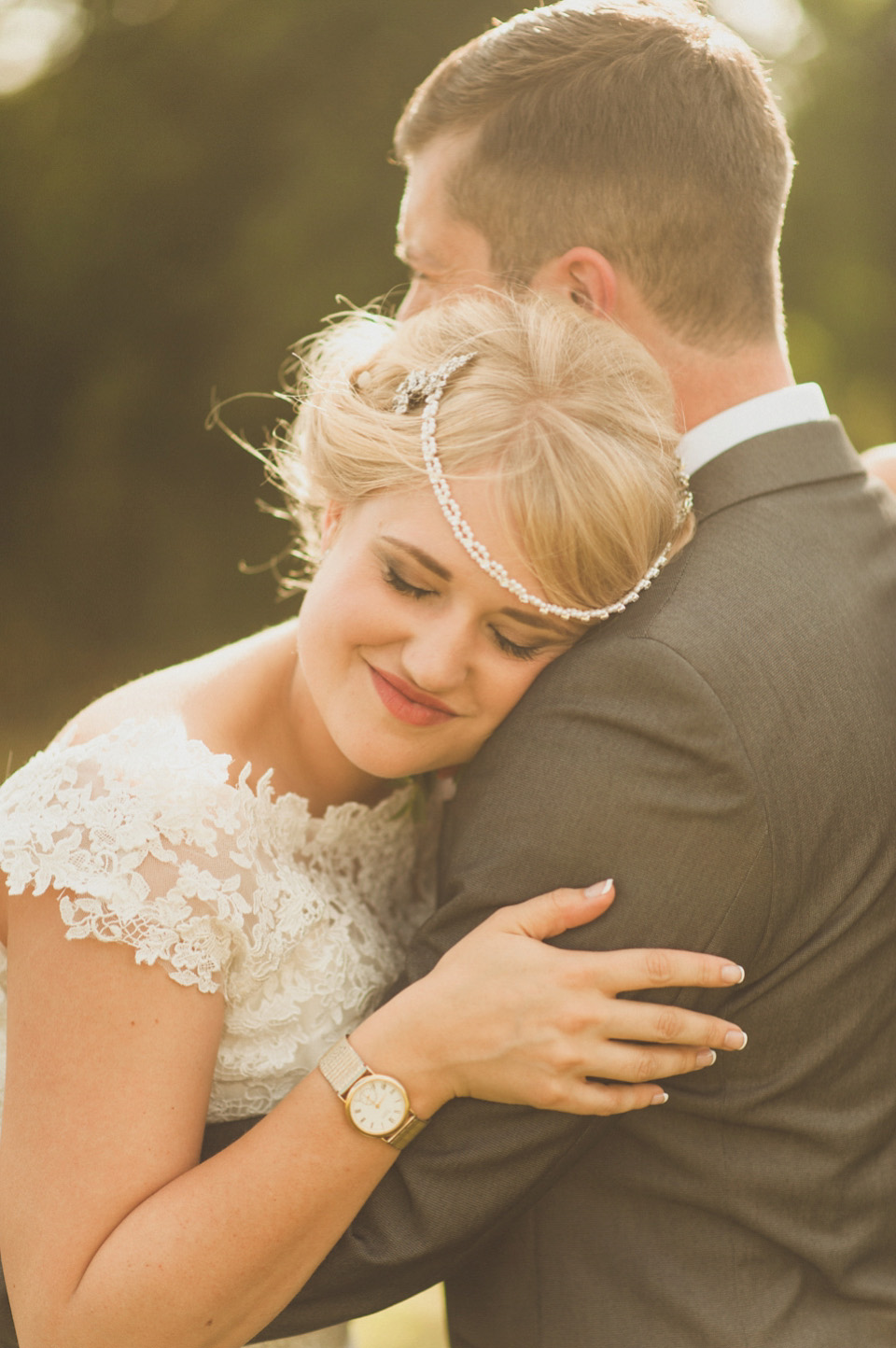 Tania and Philip put their own stamp on the blank canvas venue, using lots of lovely local suppliers.
"Coco Luminaire provided the festoon lights (which were a lovely touch, especially once the sun set). A wonderful woman named Emma runs a shop in the Grainger Market called Surf and Silver, she allowed us to design our own bunting to hire! She even gave us 10 metres as a keep sake!"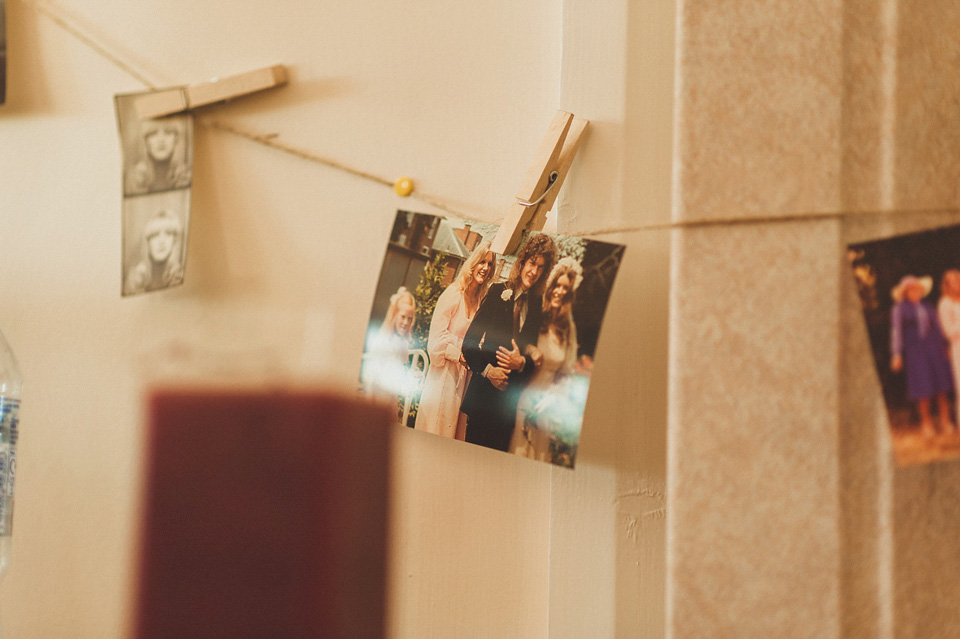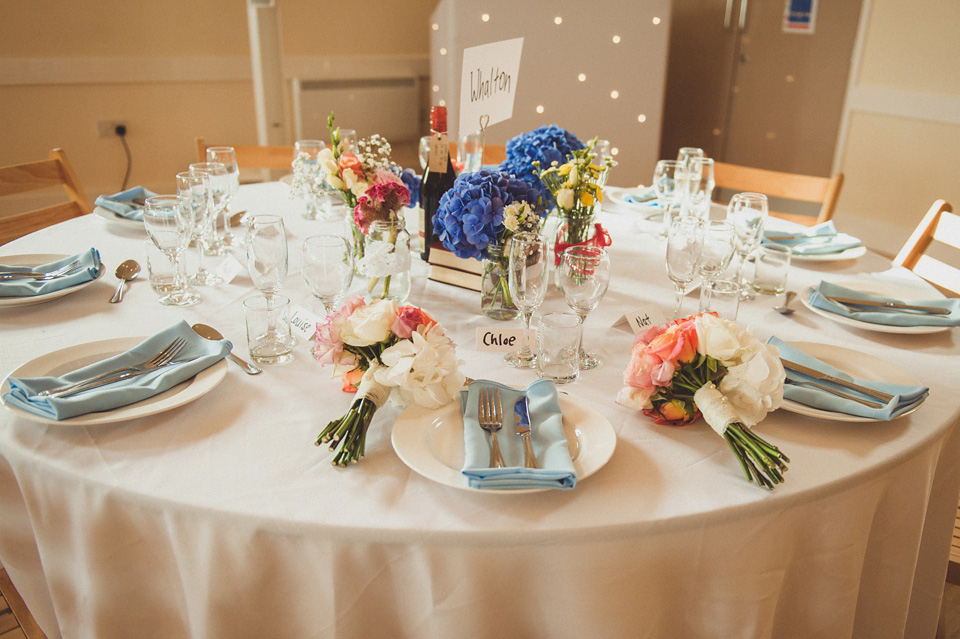 "The venue itself has provided some inspiration; we used old books, and we popped these on the tables to give the table signs some height, we even pulled an old desk through from one of the back rooms. On the desk we had a guest book, the table plan, the wedding cake and a display made of branches. The display was inspired by an Easter Tree which I saw in a shop called Serendipity (in Newcastle), this is where I bought all the little trinkets for the tree."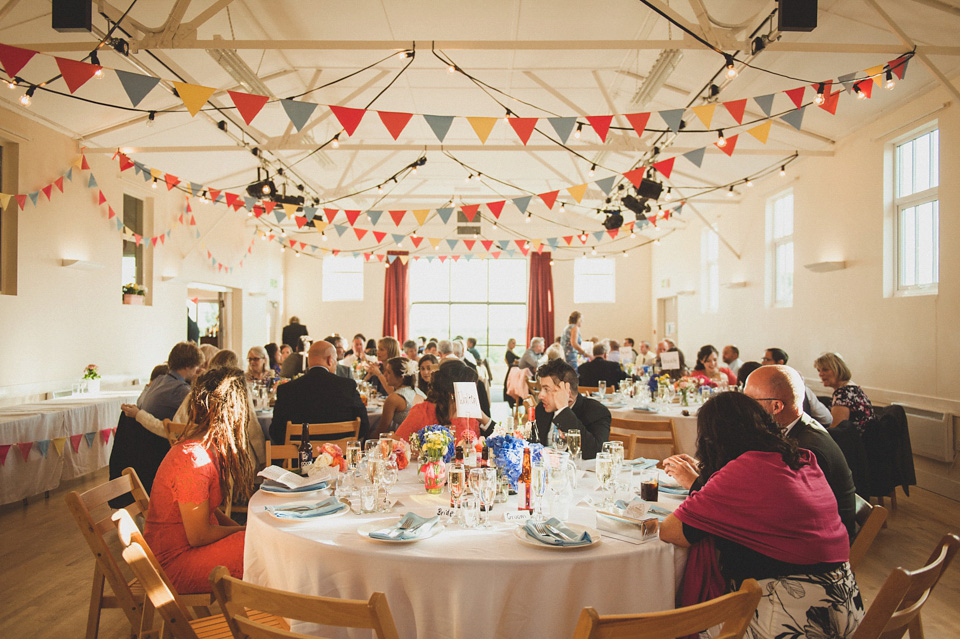 "I'm so glad that we went with a buffet and not a sit down meal. The casual vibe really suited the venue and allowed the guests to mingle. The food was perfect too, it was all picnic foods; cheese boards, olives, sundried tomatoes, French bread and Italian meats and much much more! Jacob and Tori is a fantastic company, the food and the service was top quality."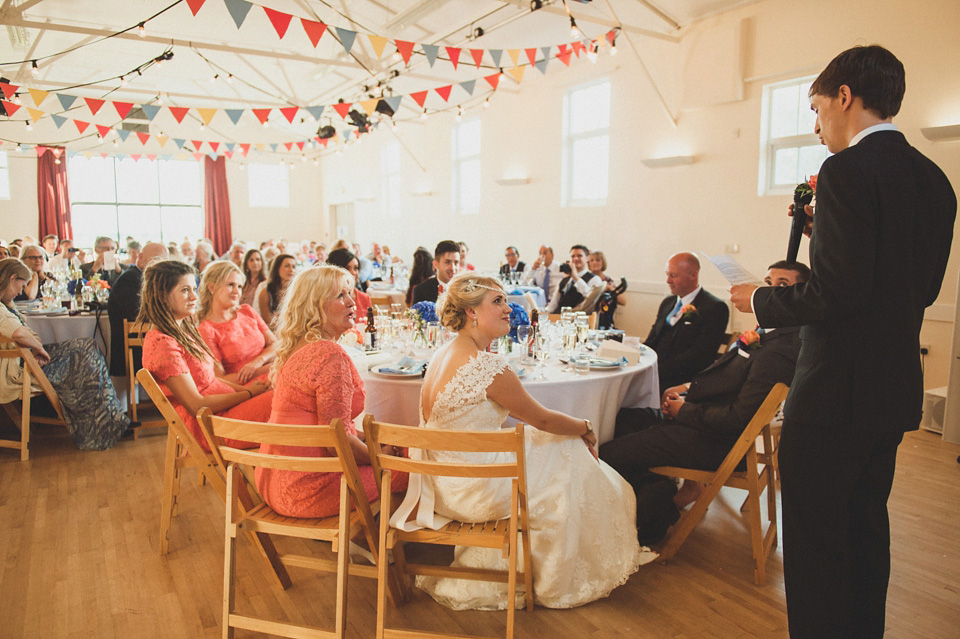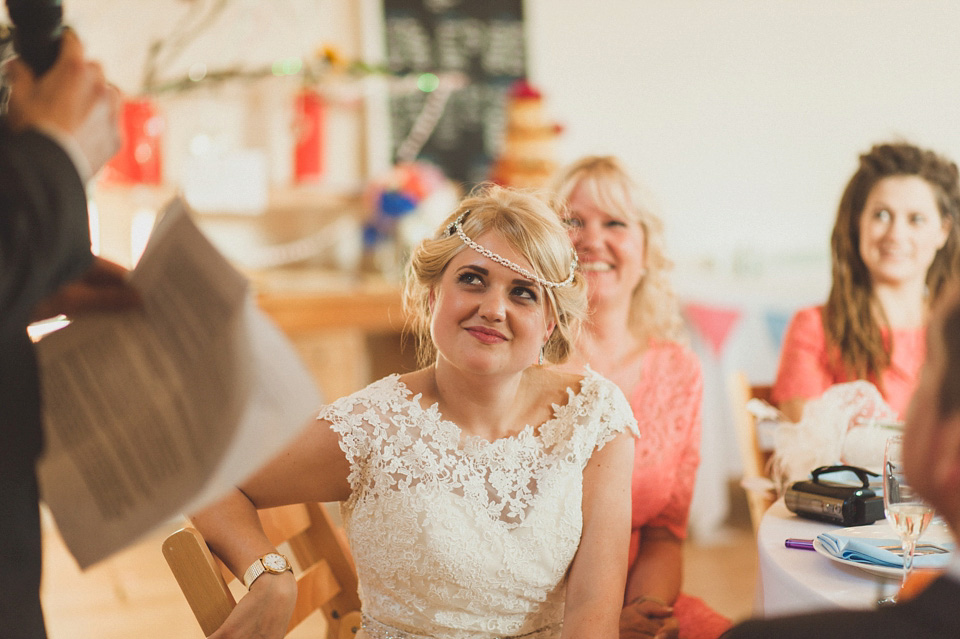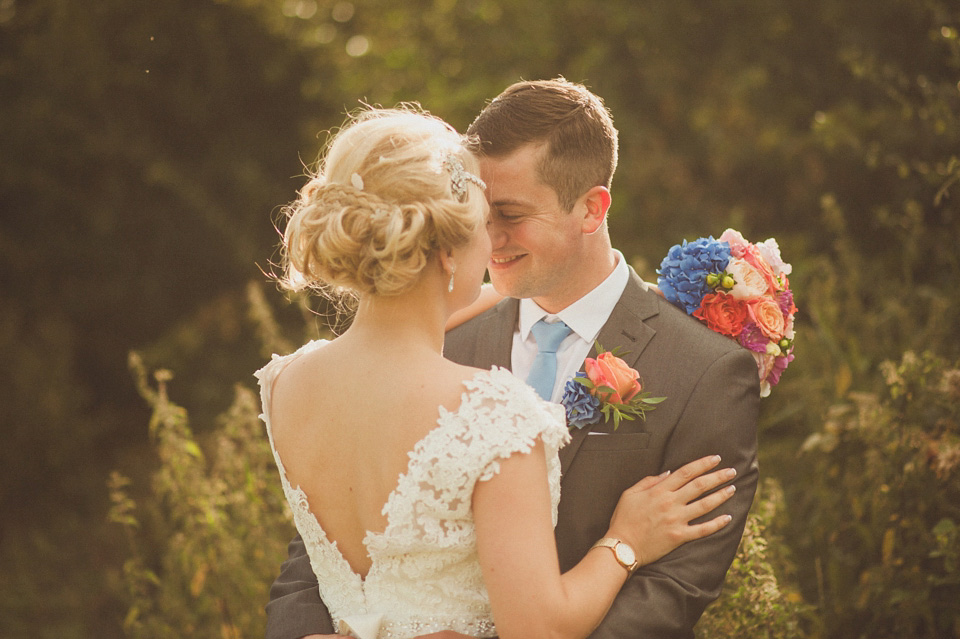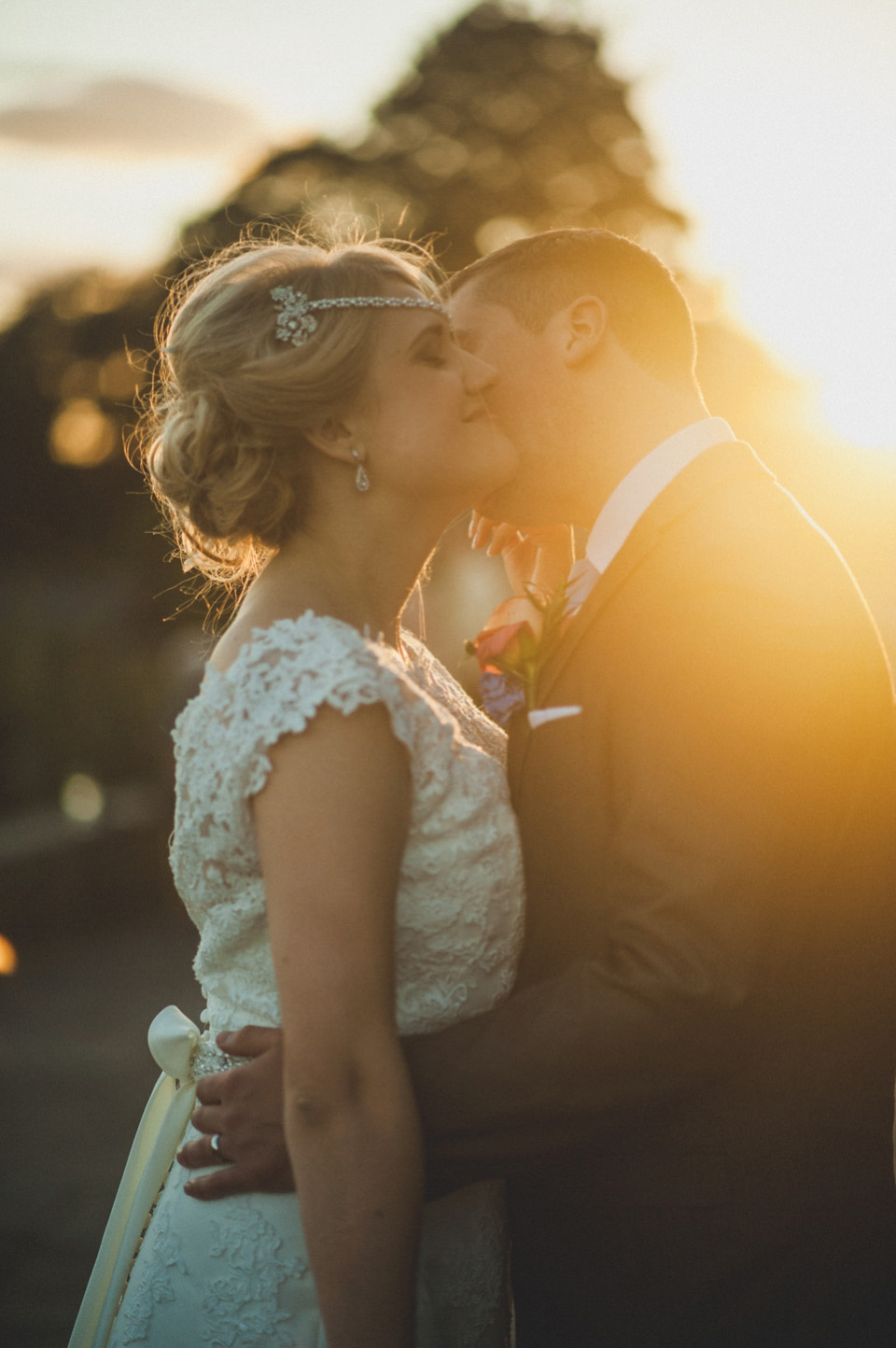 "My favourite part of the day has to be the speeches (partly because I didn't have to do one!). Phil's speech – I was blown away. Hilarious, moving and honest. Phil's speech will be up there in my all-time favourite moments of my life."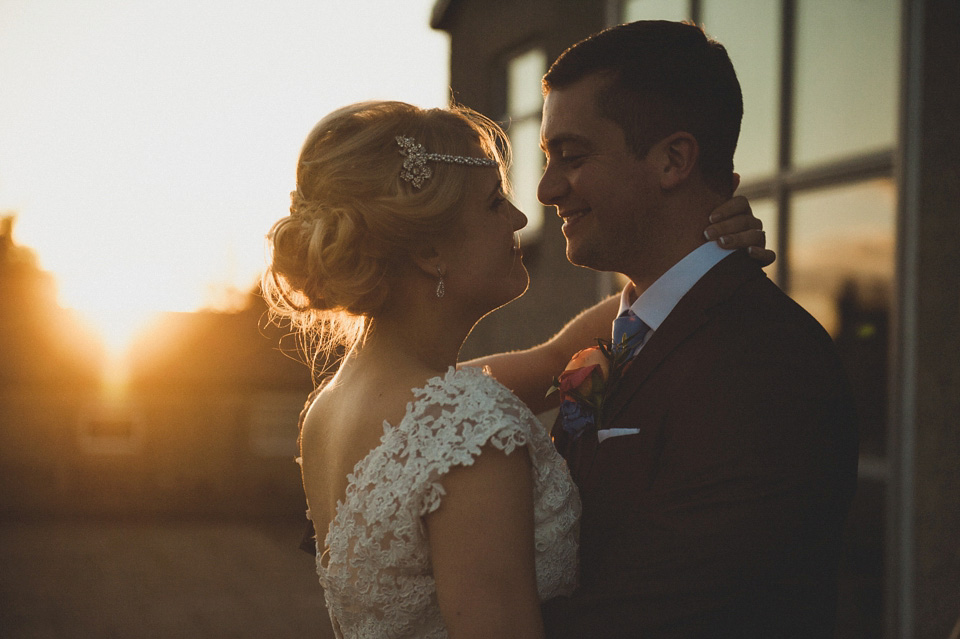 Words of Wedded Wisdom
"Always make sure that the suppliers you go with are both helpful and polite. I didn't go with any suppliers that were rude or standoffish or disorganised in my first encounter and I think this is why every company/person we went with were so good! Also, don't let anyone let you feel silly! Sometimes you have an idea, you tell people about it, and they just don't get it. That's fine, it's your day, and sometimes the best ideas are the ones that people have to see to understand! And lastly, family and friends are truly brilliant at helping you on the day, let them and just enjoy it!"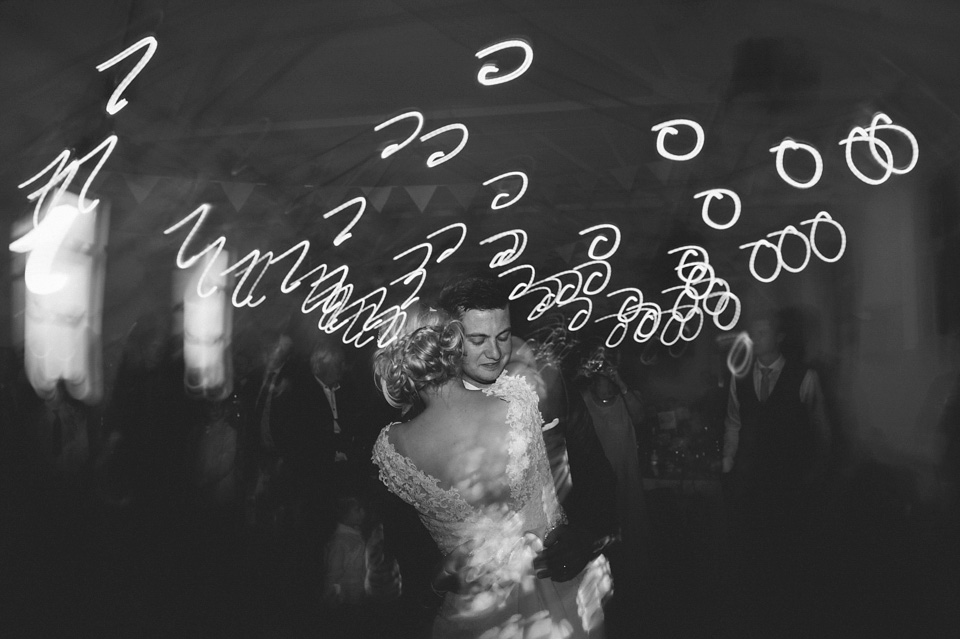 Thank you Tania and Phil for sharing your beautiful, uplifting day with us! And to Alexa Penberthy for the exquisite photography today. Are any readers planning a village hall wedding? If so I would love to hear more about your plans below…
Love Louisa xx
Venue – All Saints Church, Gosforth, Newcastle + Whalton Village Hall
Photographer – Alexa Penberthy
Bride's dress – Mori Lee style 1901 via YAP Bridal Boutique
Headpiece – YAP Bridal Boutique
Bride's shoes – Fenwick
Bride's earrings – John Lewis
Hair and make-up – Maximillion Hair and Make Up
Bridesmaid dresses – Next
Groom's suit – Next
Florist – Thoughts of You, North Shields
Cake – Ivory Cake Company
Rings – Fraser Hart
Catering – Jacob and Tori
Entertainment – Colin Cook
Transport – Brooklands Wedding Cars + Kingston Minibus & Coach Services
Stationery – Zazzle
Décor – Coco Luminaire, Serendipity, Surf & Silver