Good morning weekend folk, hoping this finds you embracing Saturday and it's opportunity to relax and unwind a little (here's hoping?).  I'm still recovering from a non-stop few days on the #Kaleidotour – where I joined a number of other social media influencers including Bri Emergy of Design Love Fest, Hannah and Alice of Belle and Bunty, my gorgeous new friends Charlotte and Charlotte of Betty Magazine, Symmetry Breakfast, Photographer Charlotte Hu (she has a pet hedgehog!), and anonymous foodie Instagrammer, Clerkenwellboy on a tour of Italy to experience the offerings of a range of selected Italian wedding and food suppliers. It was pretty damn amazing. I can't even begin to tell you how spoilt we were by our hosts, Italian Eye and La Selva Villa – keep an eye out for my upcoming blog post, which I hope will be of value to all those considering marrying in Italy.
I'm excited to be sharing details with you this weekend, of an exclusive upcoming event, just for blog readers, that is being hosted by my favourite online market place, Etsy.  The Etsy Wedding Fair will take place on Saturday 16th of May through to Sunday 17th May, but we have a little treat for you;  Twenty Love My Dress readers are invited to enjoy an exclusive launch event on the evening of Thursday 14th May at Oui 2 Rooms, 89 Titchfield Street in London – before the main event opens to the public.
1. Twin spring Rosemary band by wearerarrow   2.Harvest Ring by weararrow   3. Pale blue hand-typed escort cards by sepiasmiles   4. Liberty pattern tie by katetempleuk   5. Gold polka dot wedding favour bags by sepiasmiles   6. Liberty Print bow tie by katetempleuk  
This is a genuinely lovely opportunity to be able to immerse yourself in a world of creative and very beautiful wedding inspiration in an exclusive event designed just for you.  You will be joined by readers from other selected influential wedding blogs too and because we're giving away tickets in pairs, you'll be able to bring your best friend or fiancé along to enjoy the evening too.
What a pleasant way to spend a Thursday evening…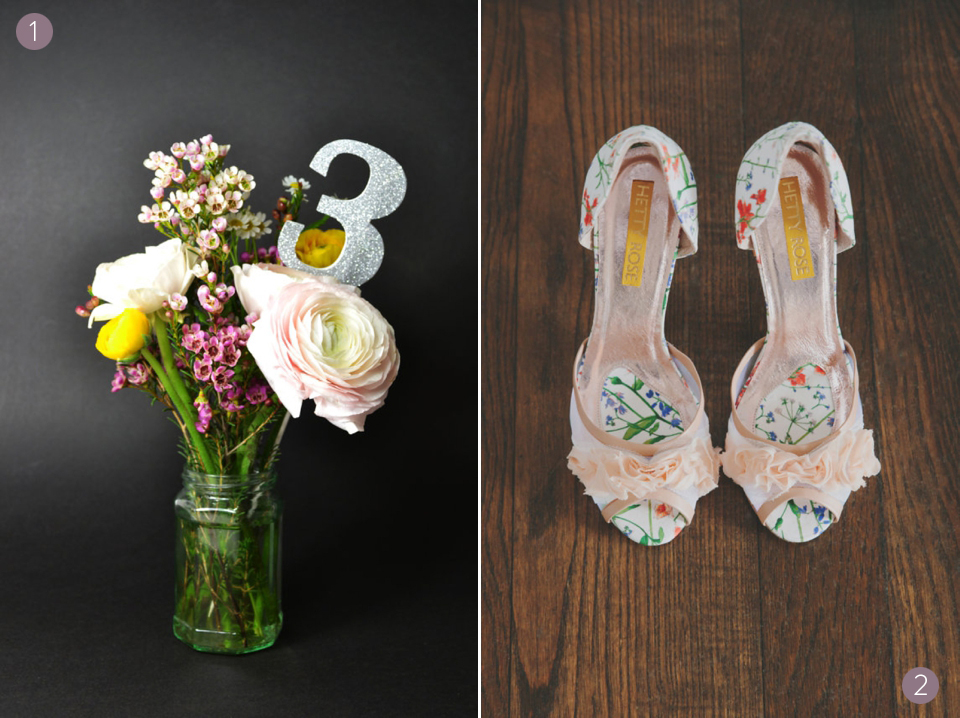 1.Glitter table numbers by comeuppance   2.Bespoke bridal Rosie shoes by Hetty Rose
The Etsy marketplace is full to bursting with handmade goodness, fashion, paper goods, jewellery – you name it.  What I love most about this diverse online market place however is that it supports the smaller, independent designer.  It allows anyone with a talent for creating, a superb showcase for their designs.  That's really kinda important to me and to the values of Love My Dress.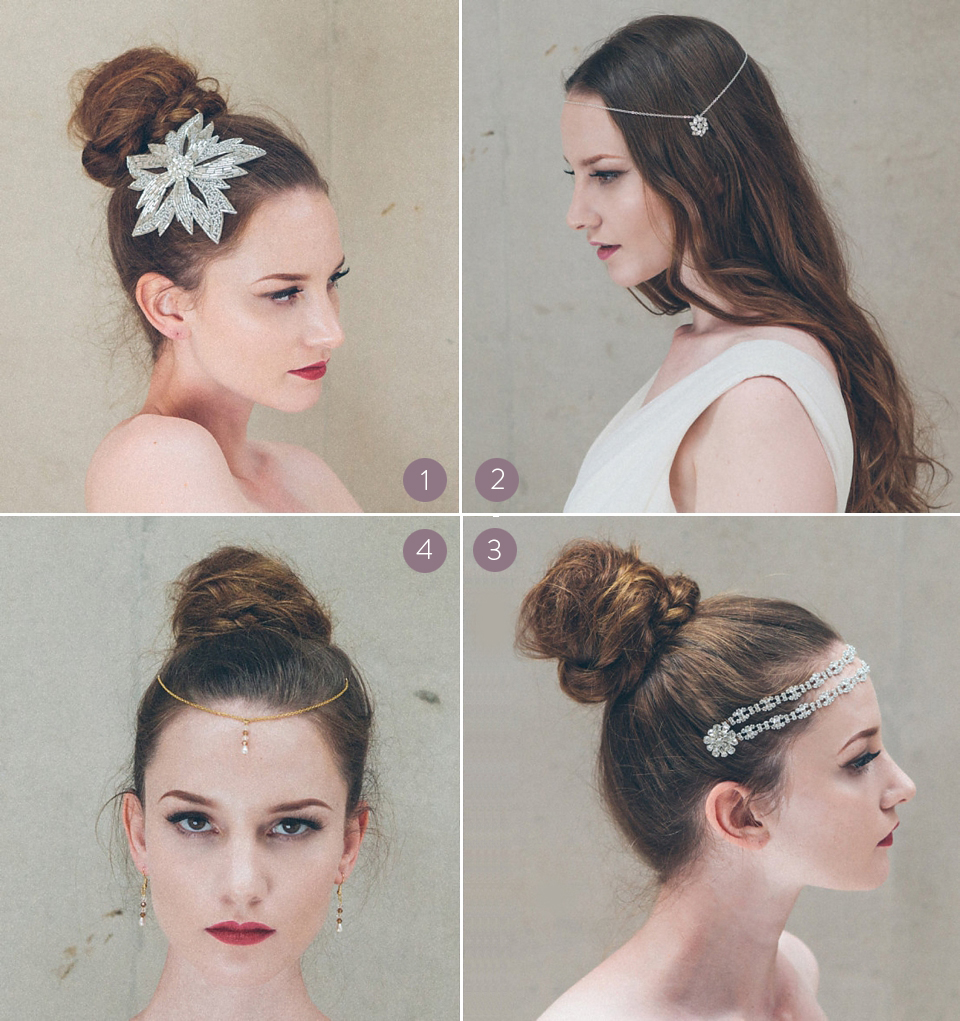 1.Lavish Olivia wedding hair comb   2.Ophelia Silver Chain Bridal Halo   3.Darcy Wedding Circlet   4.Titania Droplet Forehead Jewel.  All designs by Debbie Carlisle
The Etsy Wedding Fair event will provide an opportunity to have first view of the marketplace, obtain special discounts on all items and for you to shop in comfort without the crowds.  And to add to the loveliness, Etsy will also be providing free drinks, nibbles, live music, a floral wedding hairpiece workshop and a special gift to every Love My Dress reader who attends.
The designs you see on the page today are from sellers who will be exhibiting on the night and throughout the Etsy Wedding Fair weekend too.
1 Hand drawn floral wedding set   2.Custom wedding invite illustration   3.Watercolour wedding poster   4.Custom illustrated wedding stationery   5.Custom Calligraphy Envelope   6.Hand drawn wedding invitations.  All items from curiousmedesign
For those of you who aren't able to attend an opening night on 14th May, tickets to the weekend event cost just £12 each and can be purchased direct from the Etsy website here, where you will also be able to enjoy images from the previous My Etsy Wedding Event (talking of which, here's a post I shared having attended the first ever Etsy wedding event in 2013, with my blogging buddy Charlotte from The  Natural Wedding Company.
1.Lujon – Crystal Art Deco 1920's Tulle Headpiece  2.Bacall Old Hollywood Wedding Gown  3.Moonlight Bohemian Luxe Silk Flower Crown.  All items by Gibson Bespoke
To win one of 10 pairs of tickets to the Etsy Wedding Fair reader preview event on 14th May 1015, please pop your details into the form below by midnight on Sunday 3rd May.  Etsy will be in touch with the winners by the following week with details of how to access the event.  And don't worry – we'll also drop those who didn't win a little email too, just so you're not left wondering.
Have a lovely weekend all,
Annabel x
Terms and Conditions
Only one entry per person
By entering you agree to allow your email address to be added to the Etsy and Love My Dress general mailing list database. Your email address will not be shared with any third party.
By entering, you are confirming that you are able to attend the Etsy Wedding Fair preview event on 14th May 2015.
This promotion will commence on Saturday 25th April and end at midnight on Sunday 3rd May 2015.