I'm sure you'll agree that this morning's relaxed summer wedding is sufficiently Love My Dress style glamorous.  Captured by superstar photographer, Assassynation, and full to the brim with seasonal, locally sourced food and homespun flowers and decorations, I feel this is a darn good way to start a Wednesday morning feeling inspired.  PhD student Pete, married Janey, a HIV and AIDS research nurse, on the 23rd of August 2014 at St Richard's School in the Herefordshire countryside. Take a look at how wedding videographer Frank Millar documented their day on film below:
Videography by Frank Millar
http://vimeo.com/107986075
"We just wanted our wedding to be as relaxed as possible. The awesomeness of the venue meant that we didn't really think about styling too much and, importantly, our beautiful dog, Dickens, was on hand for entertainment throughout the day!."
Photography by Assassynation
For their flowers, our couple opted for colourful sweet peas and cornflowers amongst other seasonal delights. Each and every one of Pete and Janey's lovely blooms were grown and arranged by the couple's family and friends!
"Mum arrived on Thursday with bucket loads of flowers and we had a beautiful few days arranging them with all the aunts, Pete's mum and granny and anyone that fancied getting creative. My friends and I made the buttonholes over a whiskey mac or two the night before the wedding using flowers from the garden."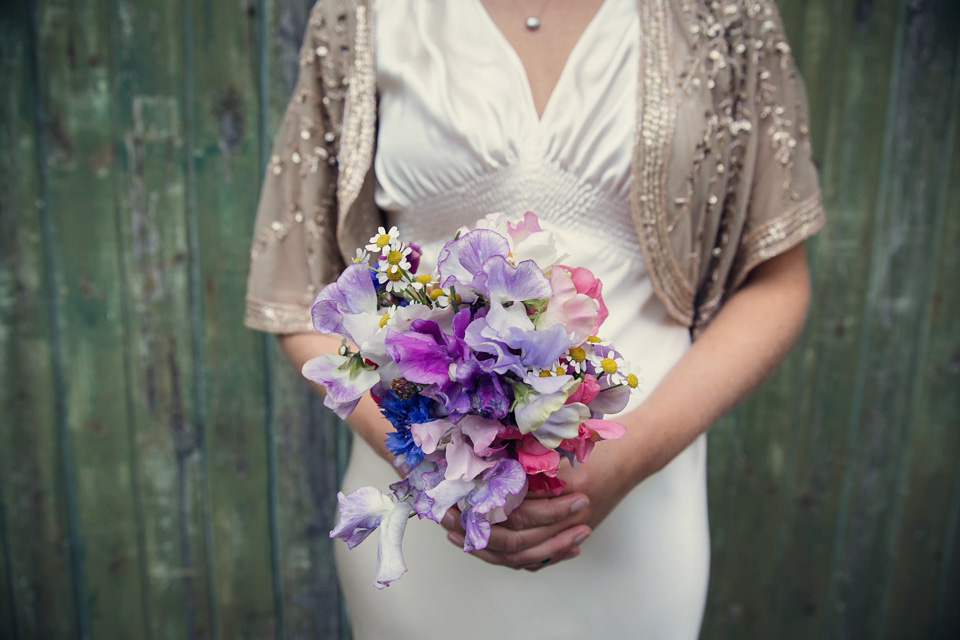 Janey purchased her beautiful 1940s inspired, wedding gown from London based luxury womenswear label, suzannah.  We are big fans of British designer Suzannah Crabb here at Love My Dress HQ – Annabel herself owns several fabulous Suzannah frocks.
"I was never going to be someone who enjoyed trawling around dress shops, trying on loads of wedding gowns. One day, I saw my gown on a blog and it stayed in the back of my mind – I loved its simplicity. After another unenjoyable trip to a bridal boutique, I decided to go to Suzannah to try it on. The ladies in Suzannah were so great and relaxed, they made the whole experience a complete delight."
Janey and Pete enlisted Sassy of Assassynation to capture their big day, a talented photographer whose photos regularly grace the pages of Love My Dress.
"I came across Sassy on Love My Dress and stalked her work! Sassy was absolutely awesome from the moment we exchanged emails. We literally felt like we'd gained a new friend who we were really looking forward to meeting at the wedding. Sassy was so helpful and relaxed and generally just brilliant at fitting in with our crazy family and friends. Everyone loved her and Chris Scuffins (the second shooter). We felt genuinely sad when she left – she was a joy to have around and we could not recommend her highly enough, plus the pictures are AMAZING!"
We held both our ceremony and reception at St Richard's School in Herefordshire, marrying in the school's beautiful little chapel, followed by a marquee reception in the amazing grounds. My family have close ties to the school going back to my grandparents who both worked there. My stepfather was the headmaster of St Richard's for over thirty years and my mum has been the school matron for the last twenty – five.  My twin brother, younger sister and I all went to St Richard's from the age of seven and Pete became part of the school's incredible team of teachers when he taught and lived there for a year after university."
Janey wore Dune shoes ("because they were gold and shiny!") and accessorised with a simple necklace from Wanderlust Life. Instead of bridesmaids, Janey had 'important ladies' who "wore whatever they wanted!".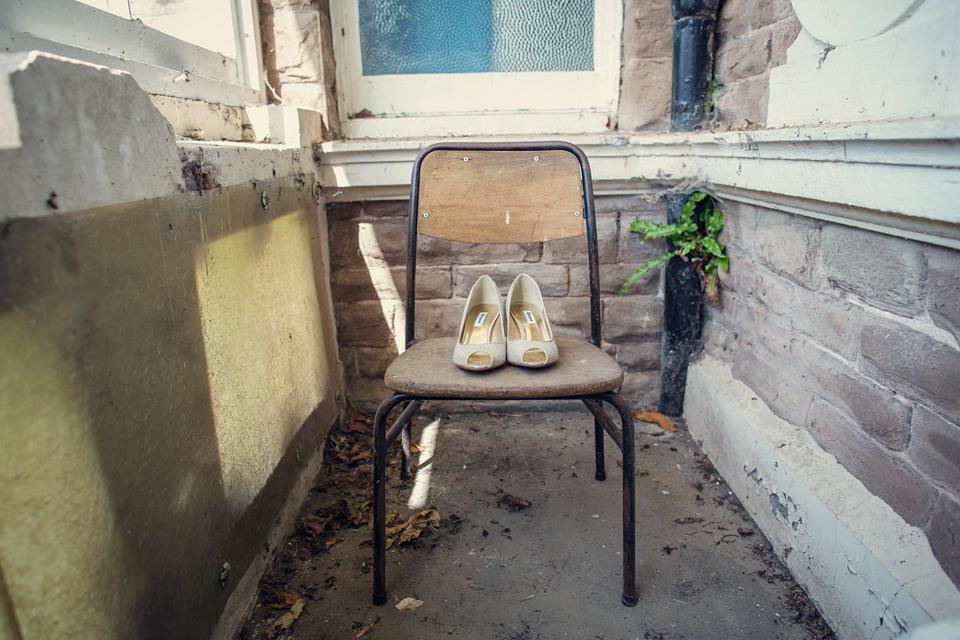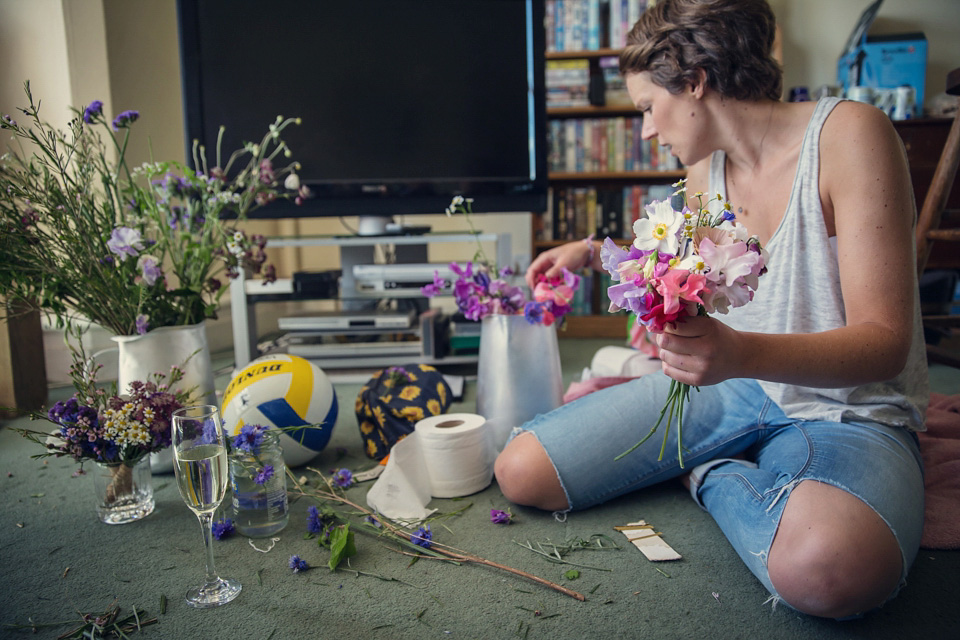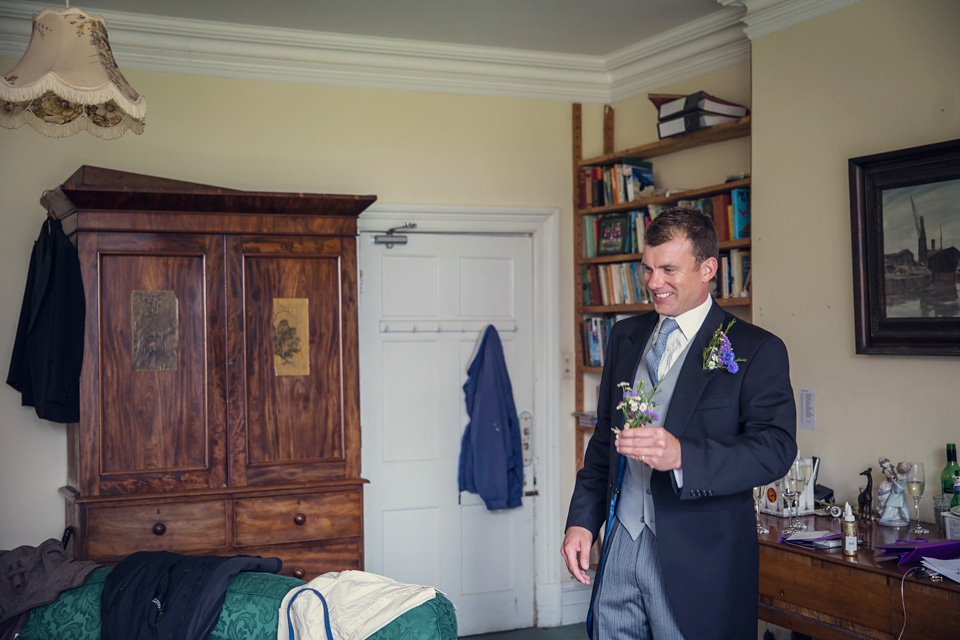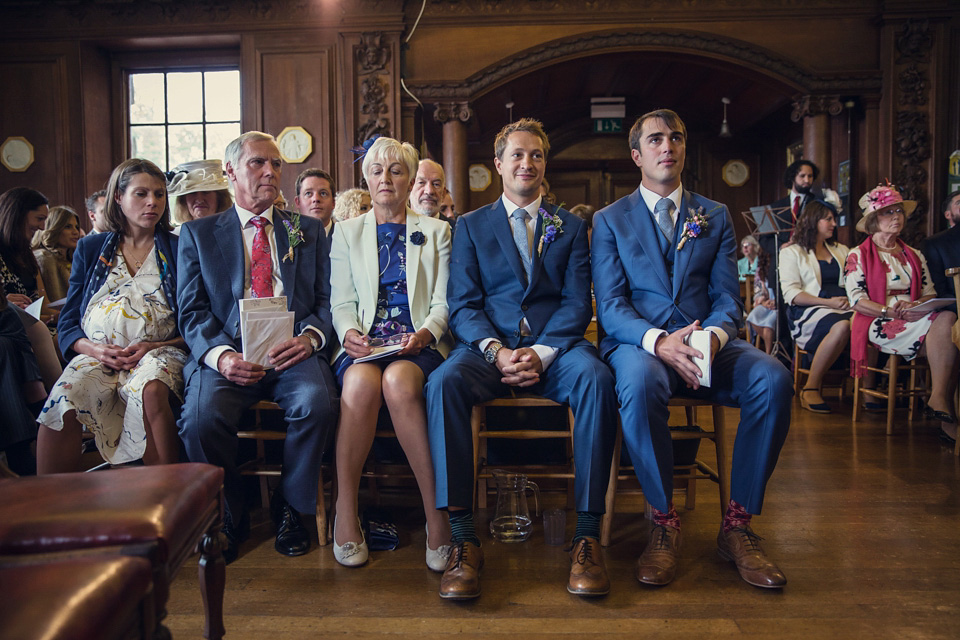 "My father (the lieutenant general!), walked me up the aisle to Clarinet Concerto in A-major (from Out of Africa) played by our friend J- Dog. It was ridiculously emotional! We opted for old school vows, which we found very humbling."
In keeping with the vintage feel of her gown Janey wore a birdcage veil, expertly crafted by her friend, milliner Bundle Maclaren.
"At first I wasn't planning on wearing anything on my head, but when we went to see her to discuss my mum's hat, we decided a birdcage veil would go very well with my gown. Bundle is completely brilliant and knew exactly what would work with the dress."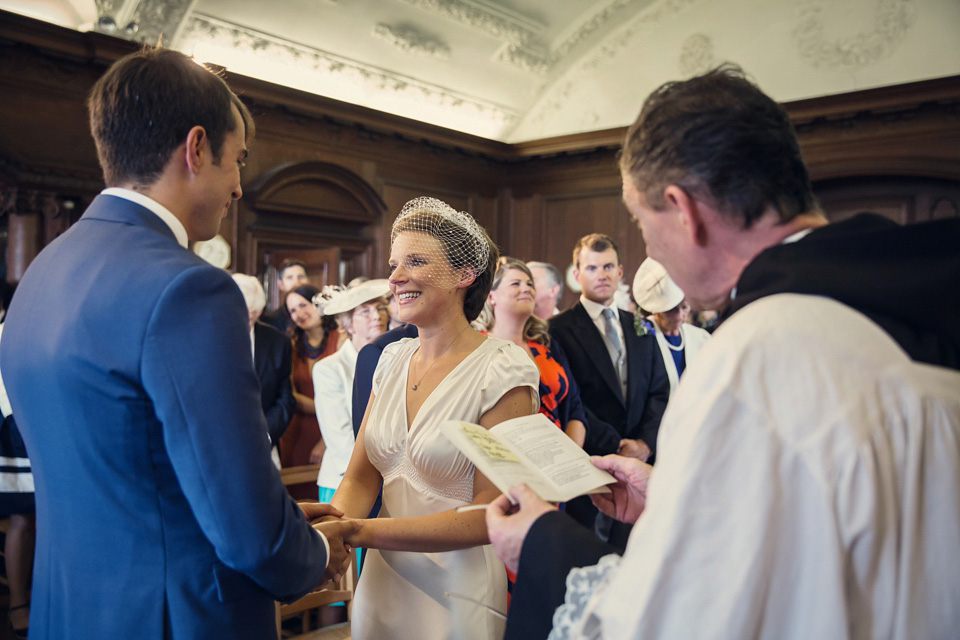 "During the ceremony, a good friend of ours read an extract from Walt Whitman's Song of the Open Road.  We chose it because it really sums up our feelings about our future together."
Allons! the road is before us!
It is safe—I have tried it—my own feet have tried it well—be not detain'd!
Let the paper remain on the desk unwritten, and the book on the shelf unopen'd!
Let the tools remain in the workshop! let the money remain unearn'd!
Let the school stand! mind not the cry of the teacher!
Let the preacher preach in his pulpit! let the lawyer plead in the court, and the judge expound the law.
My friend, I give you my hand,
I give you my love more precious than money,
I give you myself before preaching or law;
Will you give me yourself? will you come travel with me?
Shall we stick by each other as long as we live?

(Walt Whitman's Song of the Open Road)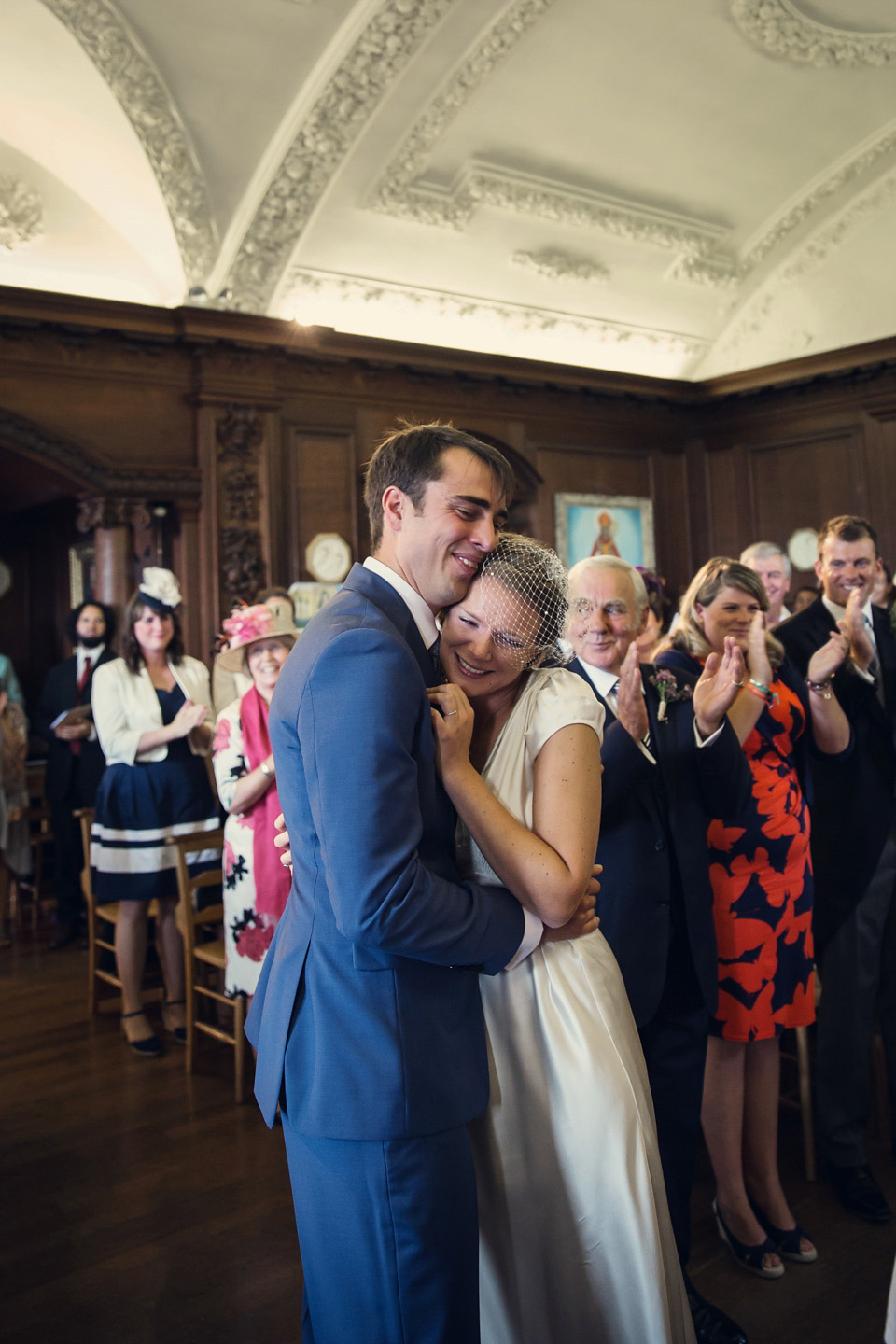 "Our favourite part of the day was the ceremony. We both came out of it completely buzzing and really emotional; it was the absolute highlight for both of us (though the party was pretty awesome too!)"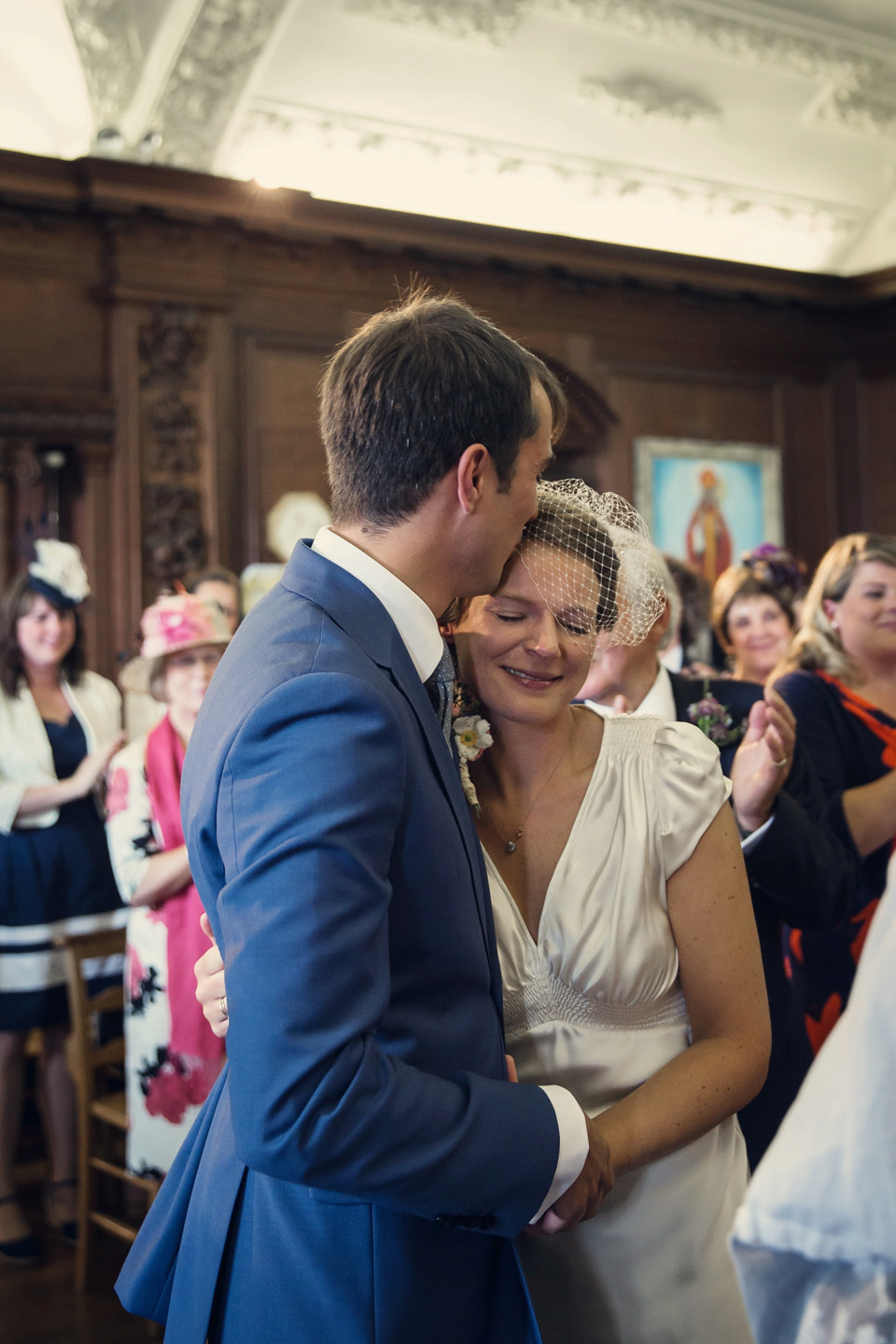 In addition to their beautiful flowers, Pete and Janey decorated the church with hop bines purchased from a local farmer and strings of fairy lights.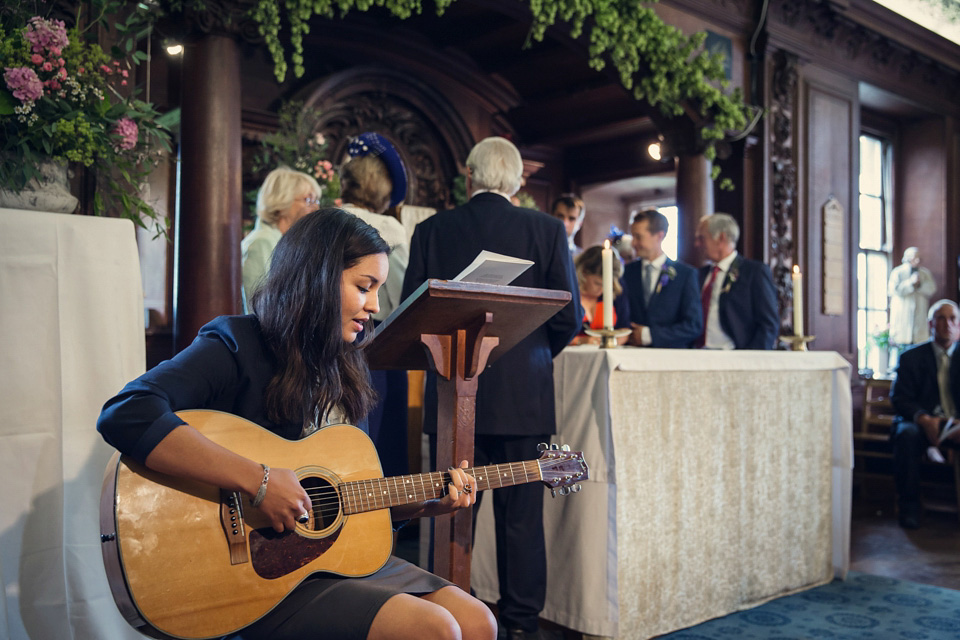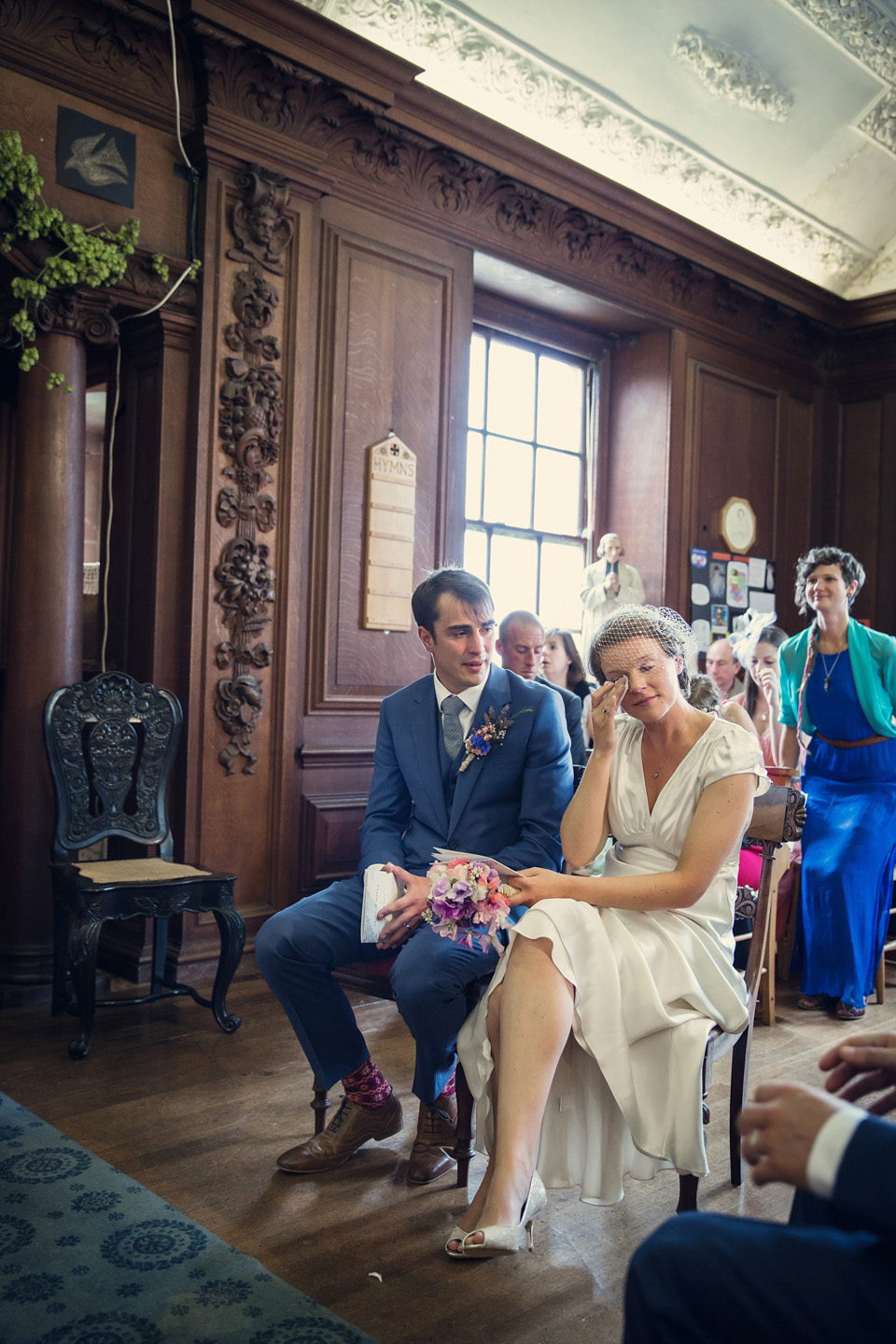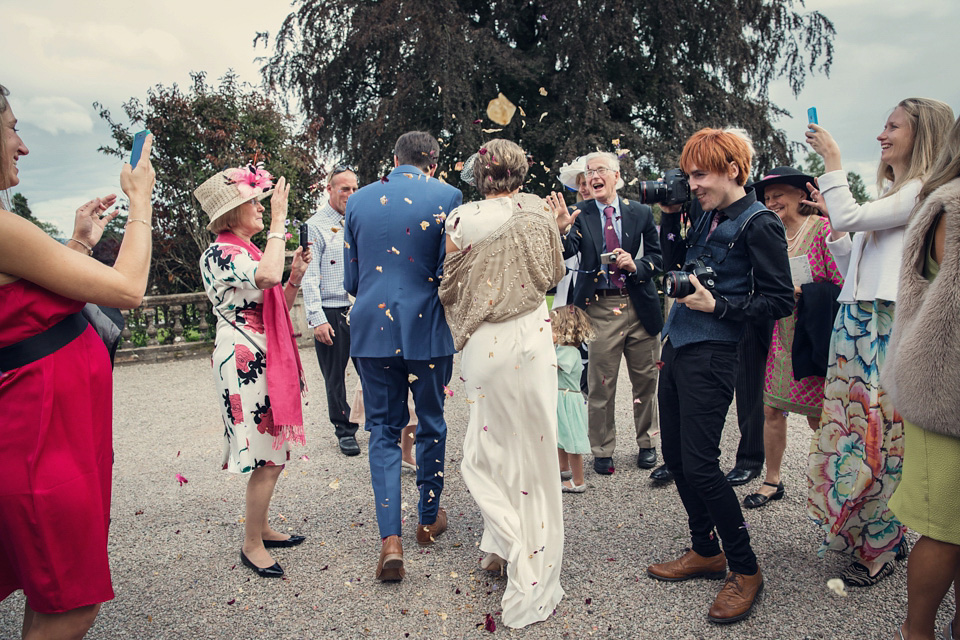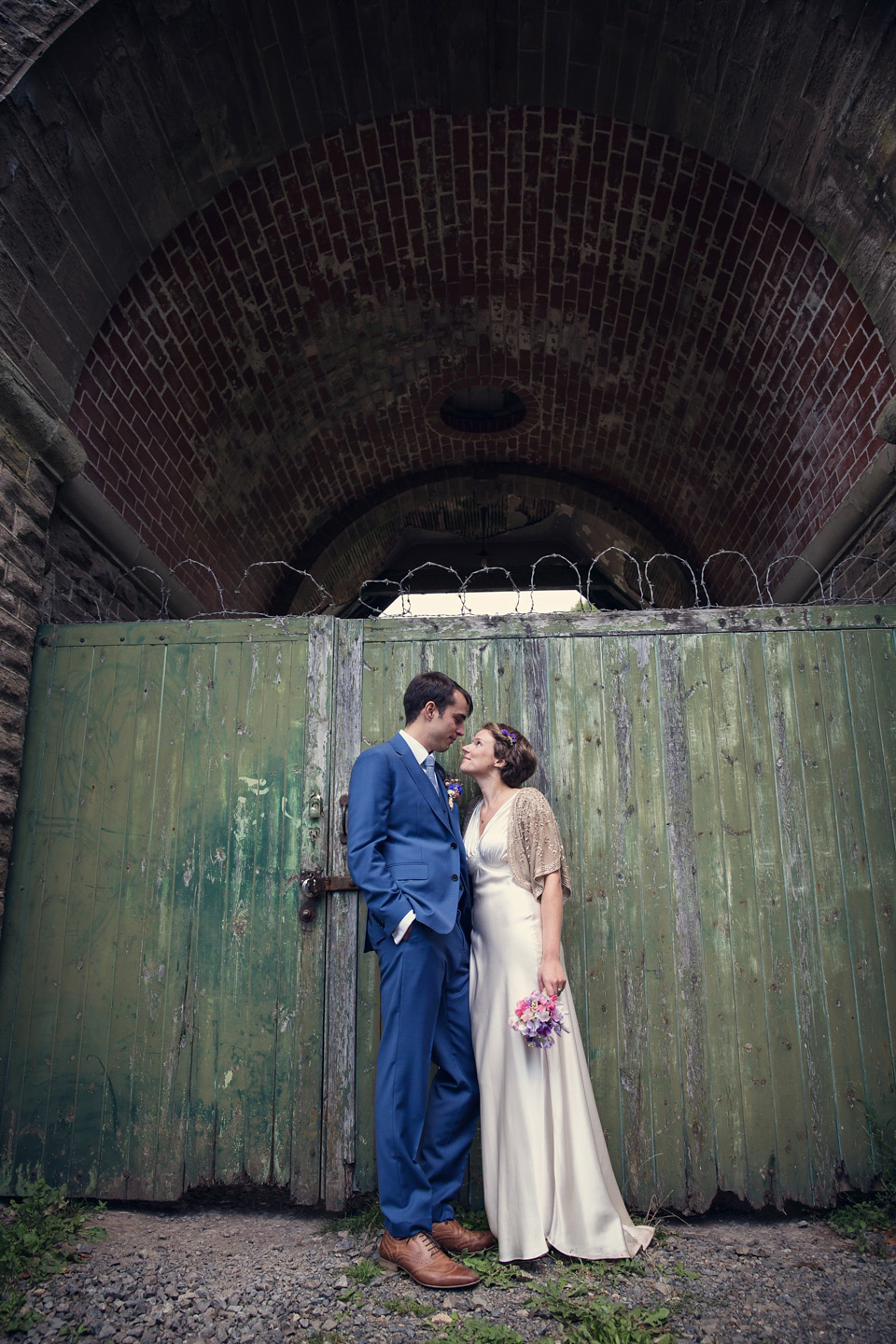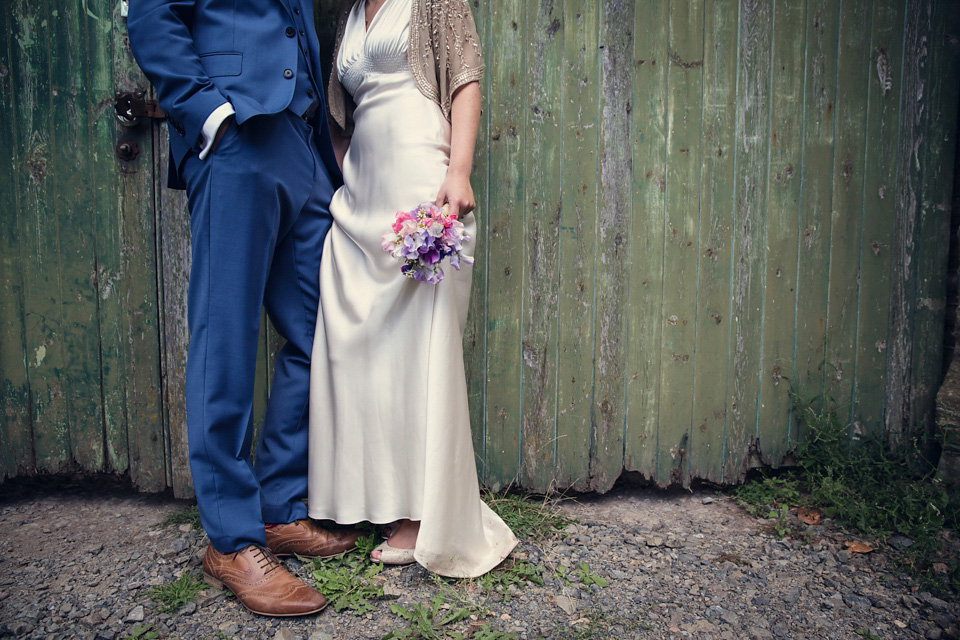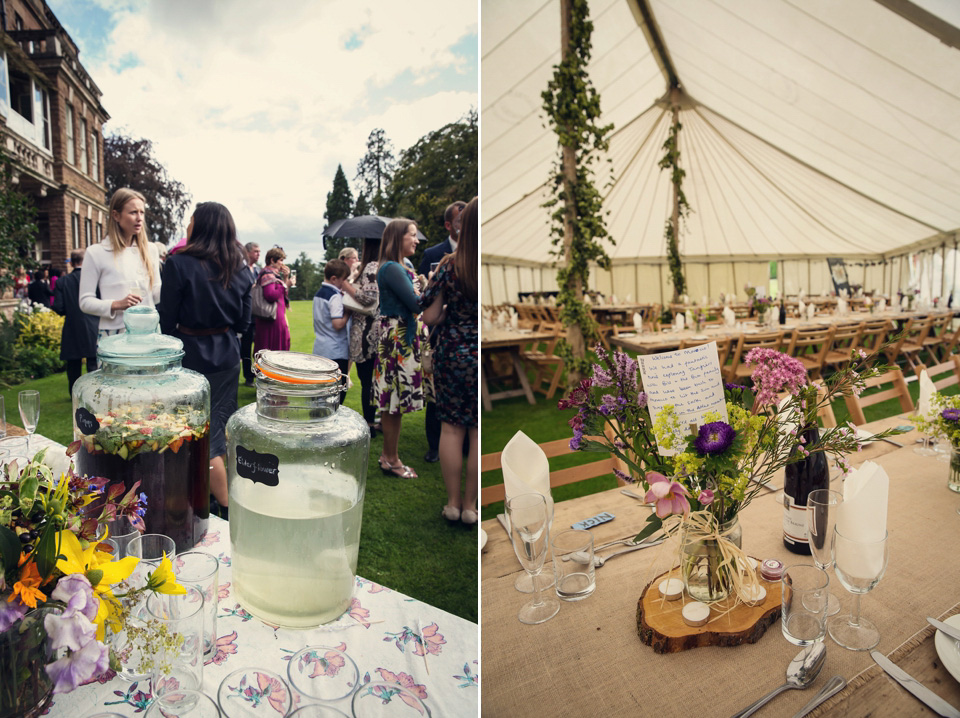 "All our friends pitched in when it came to making the place names. We spent a weekend at the cottage where Pete proposed, painting local slate."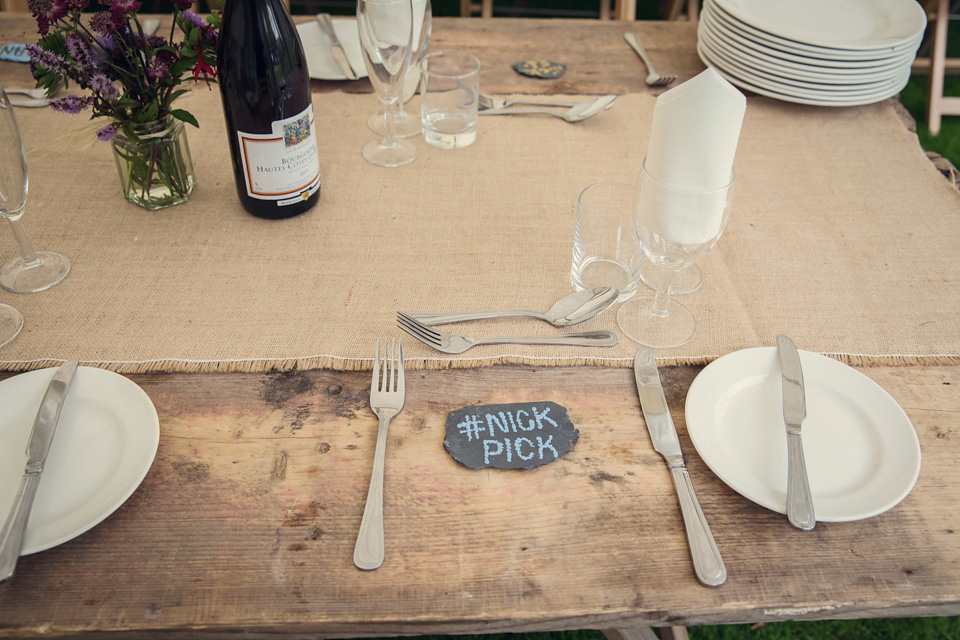 "Our food was catered by Elaine's Farm Kitchen, who are very local to the school. Elaine created a really delicious meal using Herefordshire beef and other local produce. My very talented friend Rhiannon (plus sous chef Jess) made an incredible pavlova for pudding which was a total winner! In the evening we had locally sourced cheese and specially brewed beers on tap."
"We asked guests to make and bring cakes so that we could eat more! The next day, we had a sports day using the school's sports field and had tea with cakes and sandwiches after our first tennis tournament as a married couple!"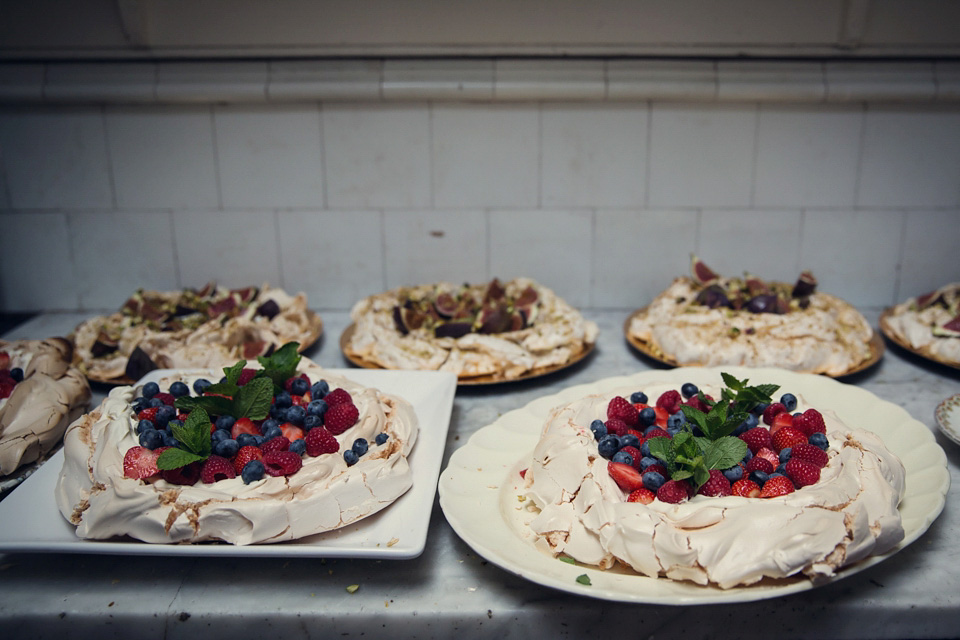 "Normally on the weekend of our wedding we are at Shambala (our favourite festival) with all of our friends. In a nod to the festival we had glitter and face paints on all the tables and a dress-up box for everyone to get involved in.
In homage to our mutual love of gambling we placed a £1 bet for each of our 140 guests on a horse race that took place on the afternoon of the wedding. We had a very fun time  in the bookies the day before the wedding! We then hid the betting slips in envelopes taped to the underside of the table. We played recording of the race through the PA, which resulted in lots of shouting as the horses reached the finish line, and a few lucky winners who cashed in their slips the next day!"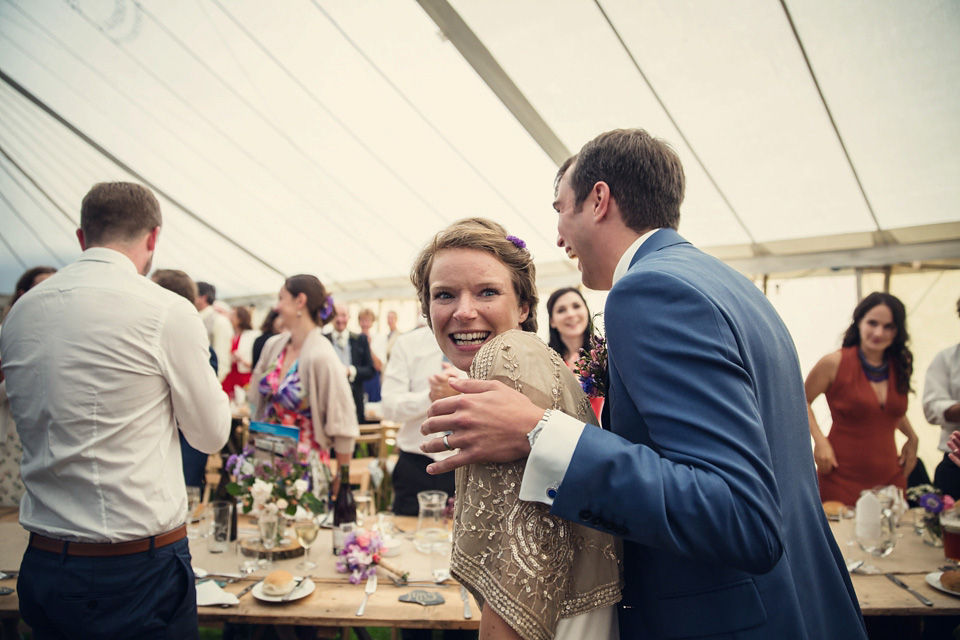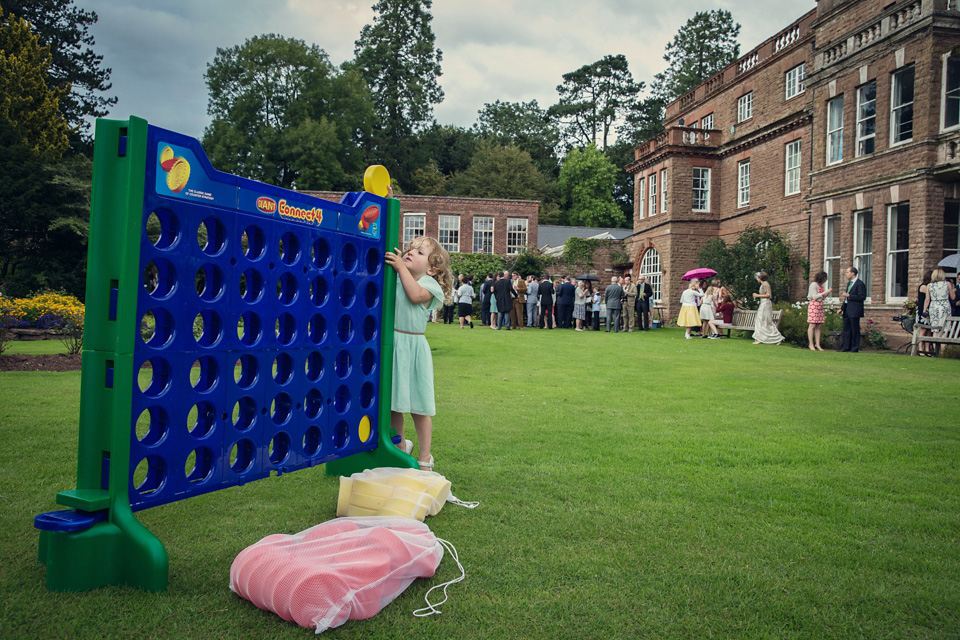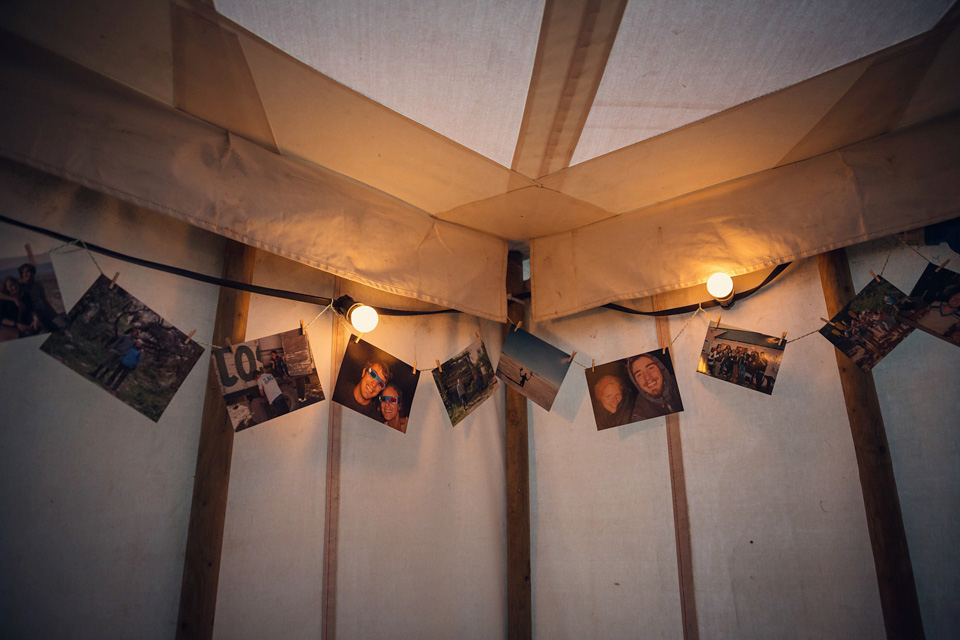 For their evening entertainment, Pete and Janey chose the brilliantly named Thrill Collins; "a wonderful local skiffle pop band that kicked off! They were too much fun."\
Words of Wedded Wisdom
"Our rule for 'wedding club' was zero stress, which was great to fall back on when things got even remotely out of hand! Also, don't underestimate how much people want to help and be a part of the day; we had the loveliest few days with friends, getting everything ready and sleeping in the dorms at the school. It was incredibly special."
A big thank you to Assassynation for these lovely images and to Pete and Janey for sharing the details of their big day. If you'd like to see other weddings captured by Assassynation please click here.
Annora x
Photographer – Assassynation
Film – Frank Millar
Venue – St Richard's School, Herefordshire
Wedding Dress – Suzannah
Birdcage Veil – Bundle McClaren
Shoes – Dune
Accessories – Wanderlust Life
Groom – Reiss Suit
Flowergirls – I Love Gorgeous + Zara
Florist – Grown and arranged by family and friends
Cake – Made by family and friends
Entertainment – Thrill Collins
Rings – Tamara Gomez
Catering – Elaine's Farm Kitchen
Stationery – Steve at AdeleRosa
Makeup Artist – Boolou Makeup