Wow, what a few days! I leave London today having arrived last Thursday to attend a variety of wedding shows (it's trade season right now lovely readers, so lots of designers are showcasing their beautiful new collections and designs that will be making their way into bridal boutiques in a few months time).  The best way to keep up with my travels is through our Instagram account – and whilst I've adored spending time in the city and having an opportunity to see so many industry friends and colleagues, I'm so happy to be returning home this morning to my lovely family who I miss like you wouldn't believe.
People will often ask me – why don't you consider moving to London? My spiritual home is Whitby and I adore it with a deep-rooted passion. I love dipping in to London life glamour but my heart will forever be in the countryside and at our beautiful family home by the sea and this morning's wedding has reminded me why I love the area so much. Photographer Hannah married accountant Andy on 13th September last year at Robin Hood's Bay – one of the charming seaside towns that dots the North East coastline and happens to be only about 20 minutes drive away from where I live.
"My parents live in the village, living in the house my grandparents owned. Very special place for me growing up as a child, going there for holidays to see my grandparents. It has become a home from home for me and Andy and hope to be able to take our children there to be with my mum and dad. On top of this emotional connection it is a beautiful part of the world – a relaxed location next to the sea with beautiful landscape."
Photography by Stephanie Swann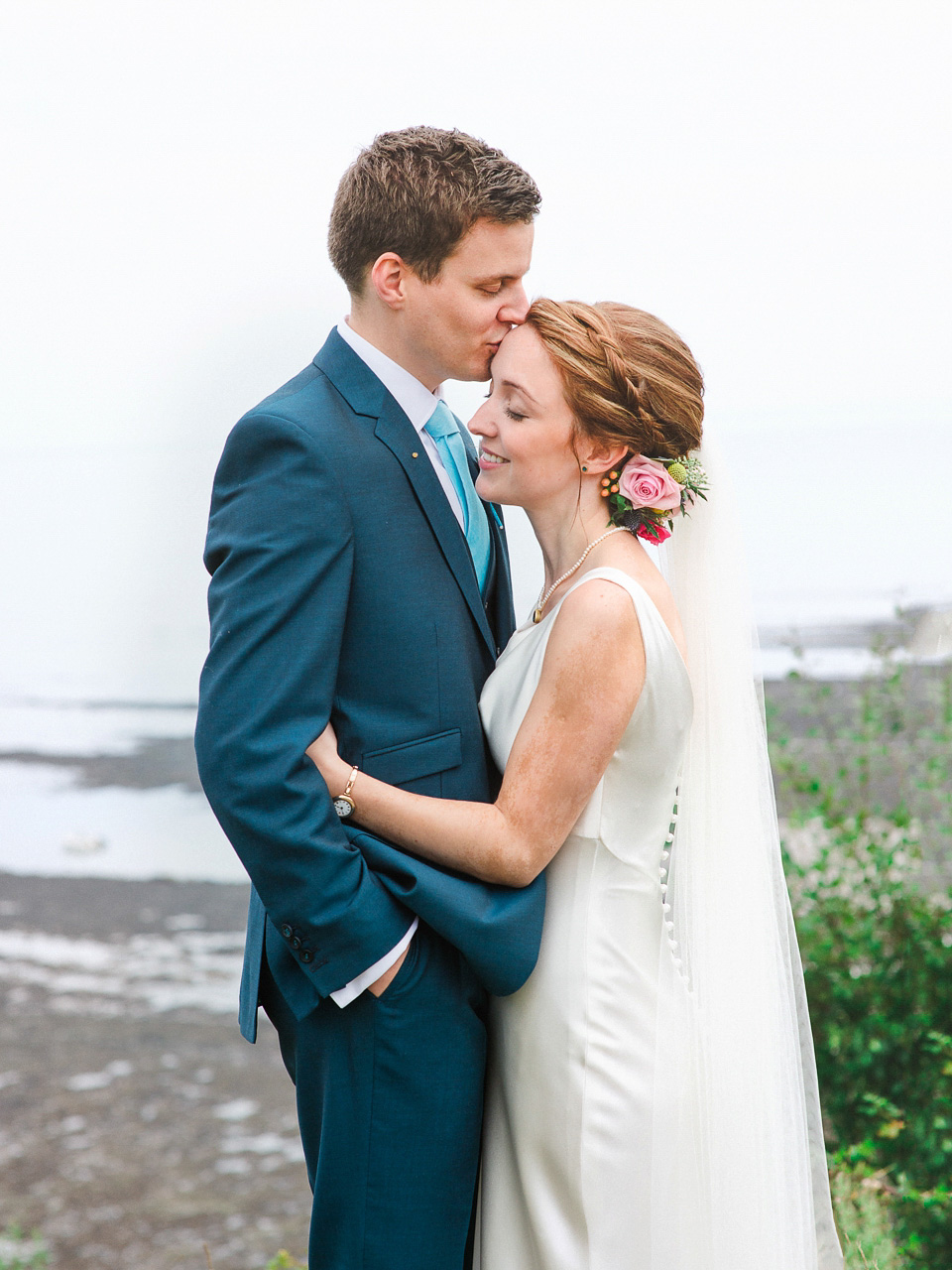 "My dress was from the Bridal Rogue Gallery in York. The dress was made by Catriona Dowse. Catriona measured me herself and the dress was made bespoke. It fitted me beautifully.  
If I had drawn the perfect wedding dress for me, this was exactly it! I have dreamt of wearing a wedding dress like this since I was about 18 when I saw a similar style dress in a magazine. I wanted something really simple and elegant, I am quite petite and so the sheer and slender design of my dress suited me perfectly. It was so comfortable to wear, and the second I saw it on the hanger I knew I had found the dress. (it sounds cheesy but it is true!)"
"Andy and I met when we were 16 through mutual friends. We were friends for years then finally got together when we were 24. We got engaged four years later in June 2013. Andy proposed at the top of the Aiguille du Midi, a mountain near Mont Blanc, above Chamonix in the French alps. Chamonix is one of our favourite places and this was a perfect proposal spot – and a whopping 3,842m high! We were engaged just over a year before our wedding."
"We wanted a relaxed wedding – barbecue for food, lego figures for favours – and so this is what drove most of our decisions on the overall style. I am an artist and really enjoyed mixing different colours and styles together to create the look we were going for.
Neither of us had a set-in-stone idea on exact things we wanted style wise, so we were quite flexible, letting the style develop organically as we went along. We chose a beautiful colour pallet of teals, pinks, yellow, orange, blue and green, both pastel shades and vivid colours. This was one of my favourite things about the look of the day – just how colourful it all was! I am also a massive fan of Chevrons! so these featured quite highly!"
"I designed the invites, table plan and place cards myself with the help of my sister in law Kath, who is a graphic Designer based in Lancashire. Kath also designed a guest book picture for us which was a drawing of us holding a bunch of balloons which people signed their names in, we took the inspiration from similar designs on Pinterest . It is now hung on our wall and we love it! here is a link to see it."
"We wanted lots of different colours for the flowers, and gave Amy of Greenhouse Florist a colour pallet and a Pinterest board for inspiration. We had two long trestle tables and had 10 turquoise 'Ball' mason jars on each table. We wanted the relaxed feel that each jar had a different selection of flowers in."
"Amy was fantastic and the flowers far exceeded our hopes, they made the marquee alive with colour and set the tone for the whole decor. We had collected lots of turquoise old glass bottles for the tables too and went to the local flower shop (and Aldi!) to get more flowers to display ourselves, so that we had little collections of different sized vessels of flowers dotted along the tables. Amy provided us with all the leftover flowers too so that we could add these to our displays."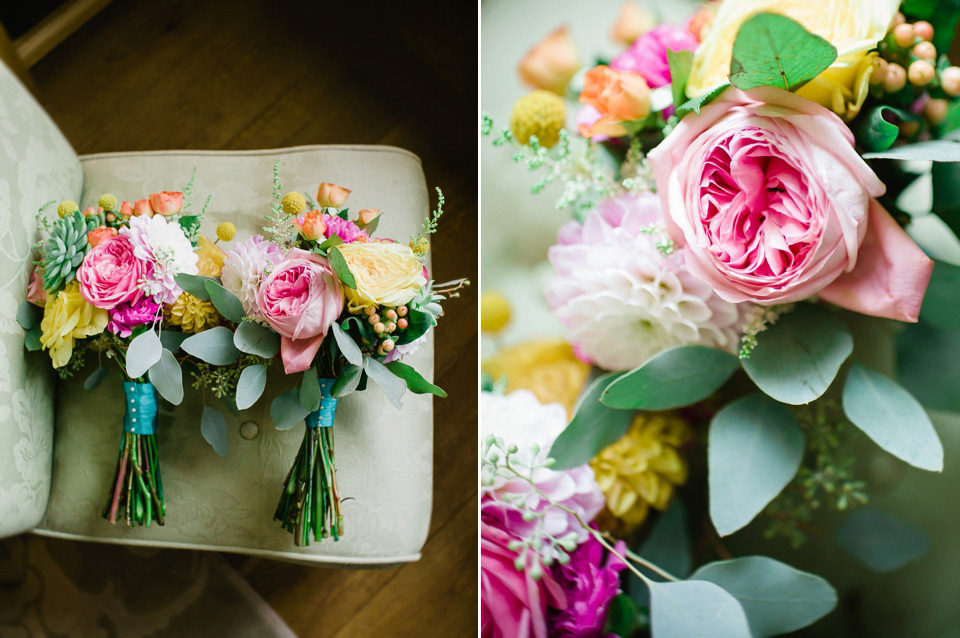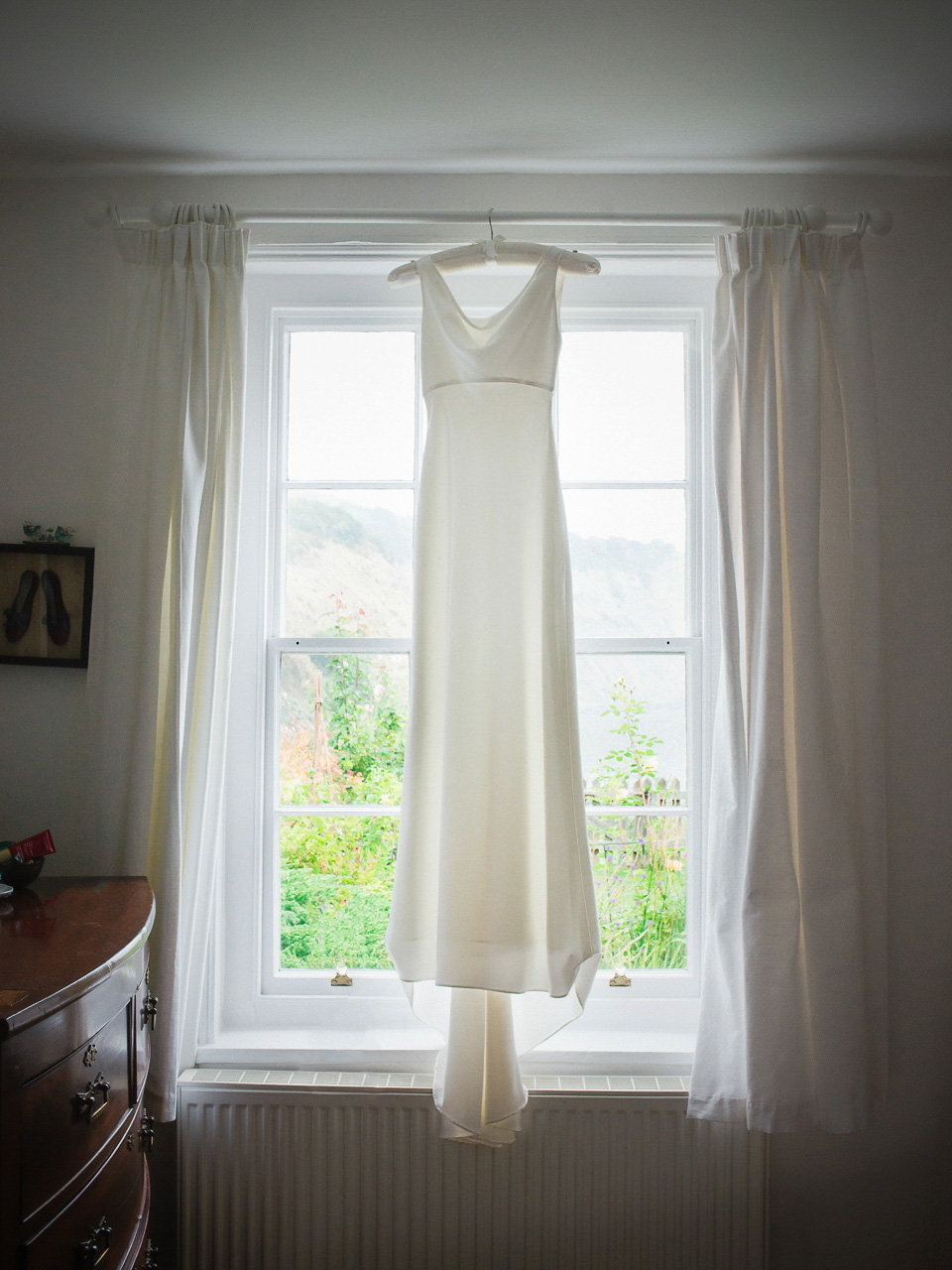 Hannah wore Rachel Simpson's 'Mimi'  – a cute vintage inspired pair of t-bar peep toe heels. 
"My hair stylist was Alison Jenner – she styled my hair in exactly the way I planned, I loved the plait and the flowers in my hair got a lot of complements. I did my own makeup after having a Bobbie Brown make-up lesson."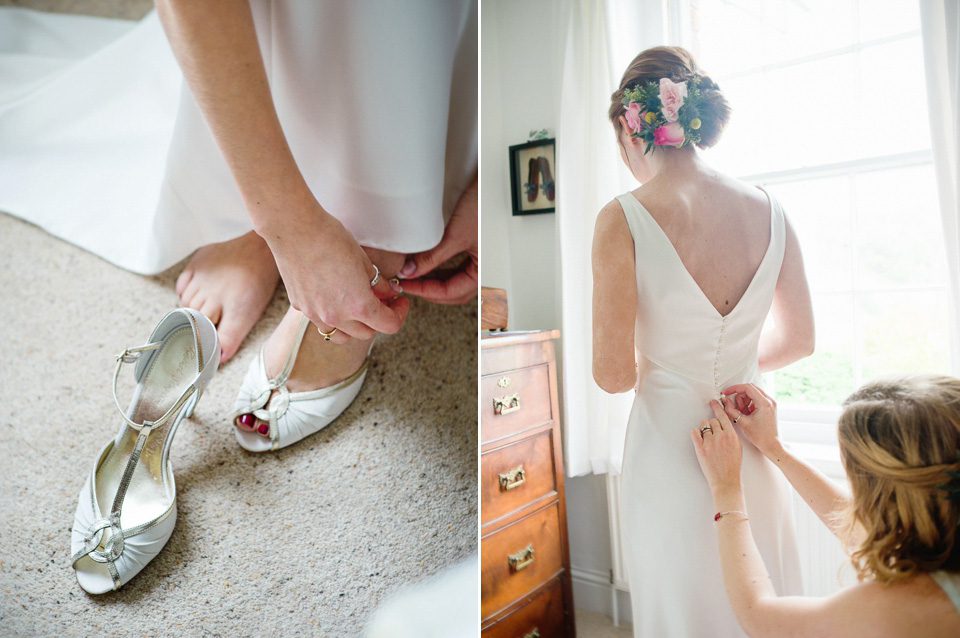 "I wanted some flowers in my hair and so on the morning of the wedding I asked my hair stylist, Alison Jenner, to go up to the marquee and pick a few flowers off the tables. I decided that she probably knew what would work best, so I left it up to her to choose which flowers to use. I LOVED the result.
My earrings were some I borrowed from my mum, I had planned on wearing pearl studs, but on the morning of the wedding mum showed me some of her gold earrings with some blue enameling on, which matched my necklace beautifully. I wore my great Aunty's engagement ring on my right hand, an opal set in gold, which my mum had given me the day before the wedding."
"I wore my granny's rose gold watch, which had belonged to her mum and dates back to early 1900's. This was given to me on my 18th Birthday. They each chose their own shoes so that they were comfortable. They both ended up going for a pair of neutral heals. They were both considerably taller than me!"
"I am very keen on handmade contemporary jewellery, and I particularly love the work of Natalie Jane Harris.  I asked Natalie to make me a necklace for the wedding. It was a stunning large pear shaped Topaz, set in Gold and strung on creamy freshwater pearls. I chose the blue Topaz to complement my blue Sapphire engagement ring. The necklace was a real talking point, and was really special to wear as my dress was quite simple, it was lovely to add a bit of sparkle with my jewellery."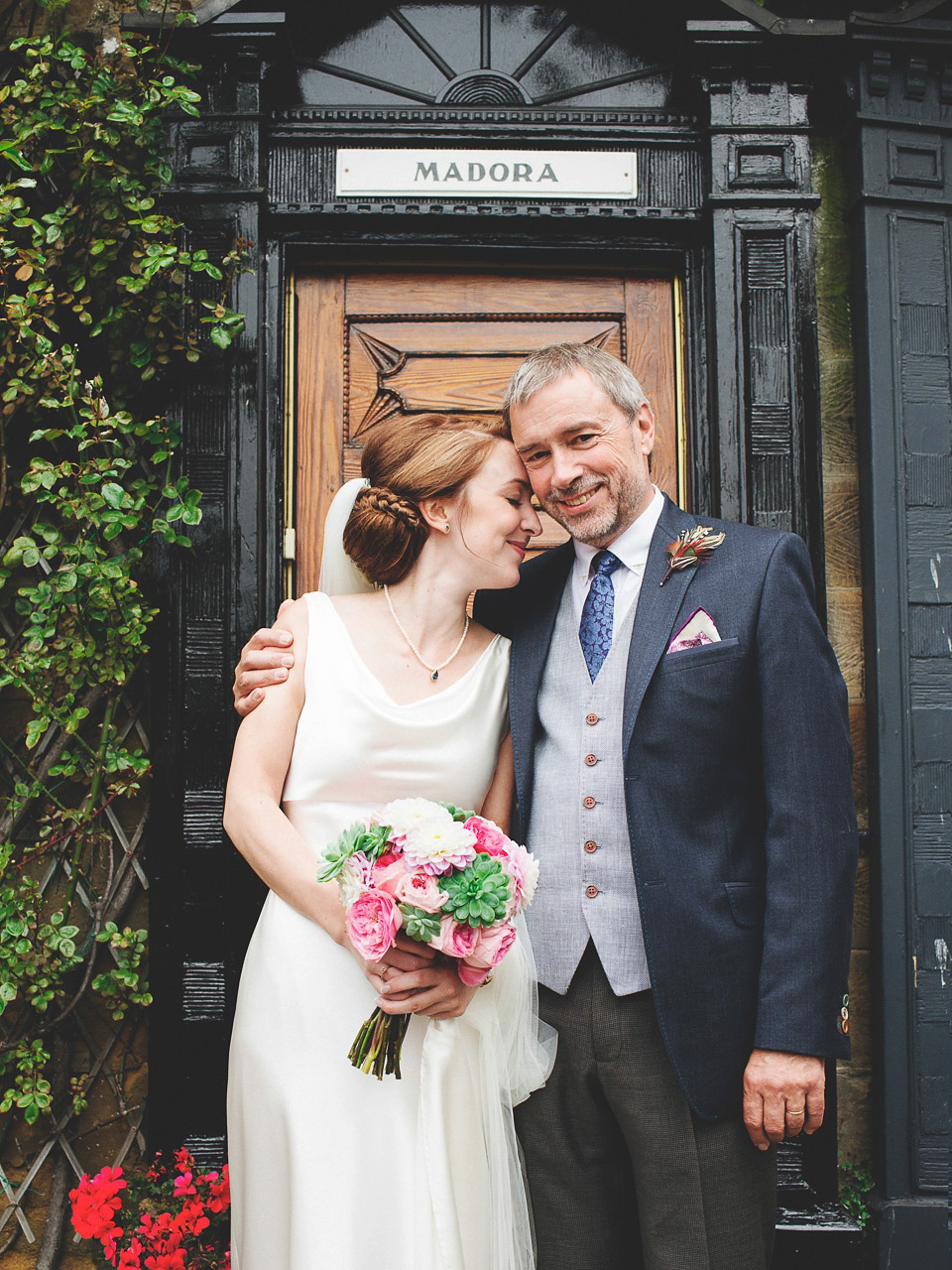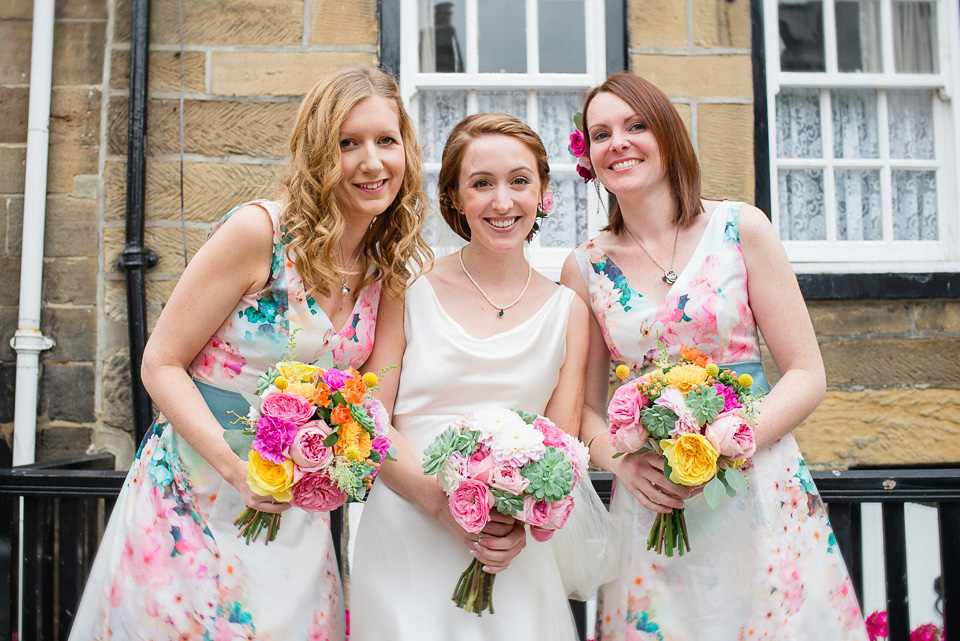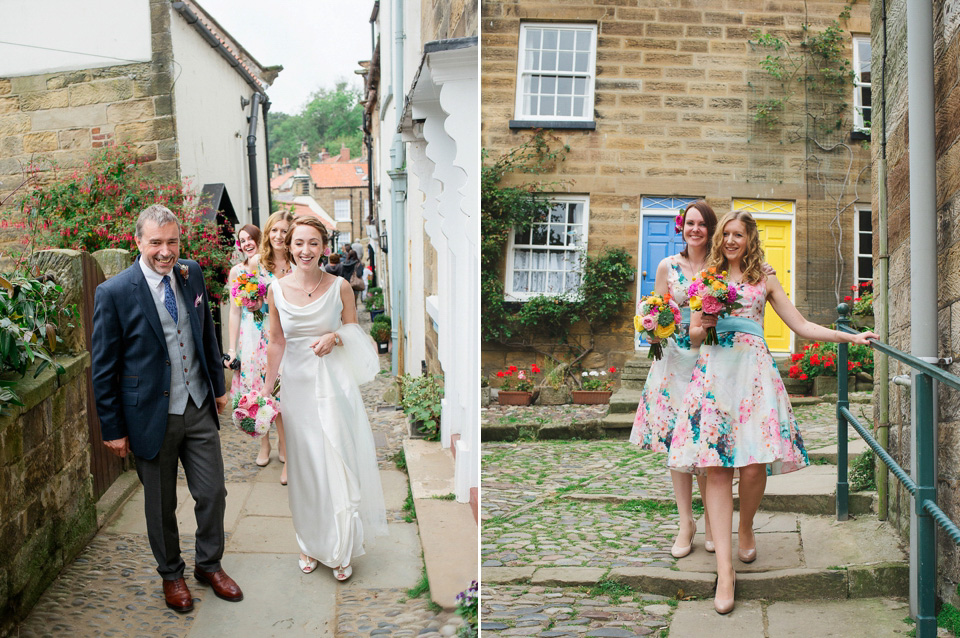 "My dad walked me down the aisle, the venue is an auditorium with 1840's box pews. The way in for us to walk was down a steep set of stairs in-between our guests! it was a little daunting!! I walked down the aisle to Hoppipolla by Sigur Ros, one of our favourite bands who we have seen live a few times."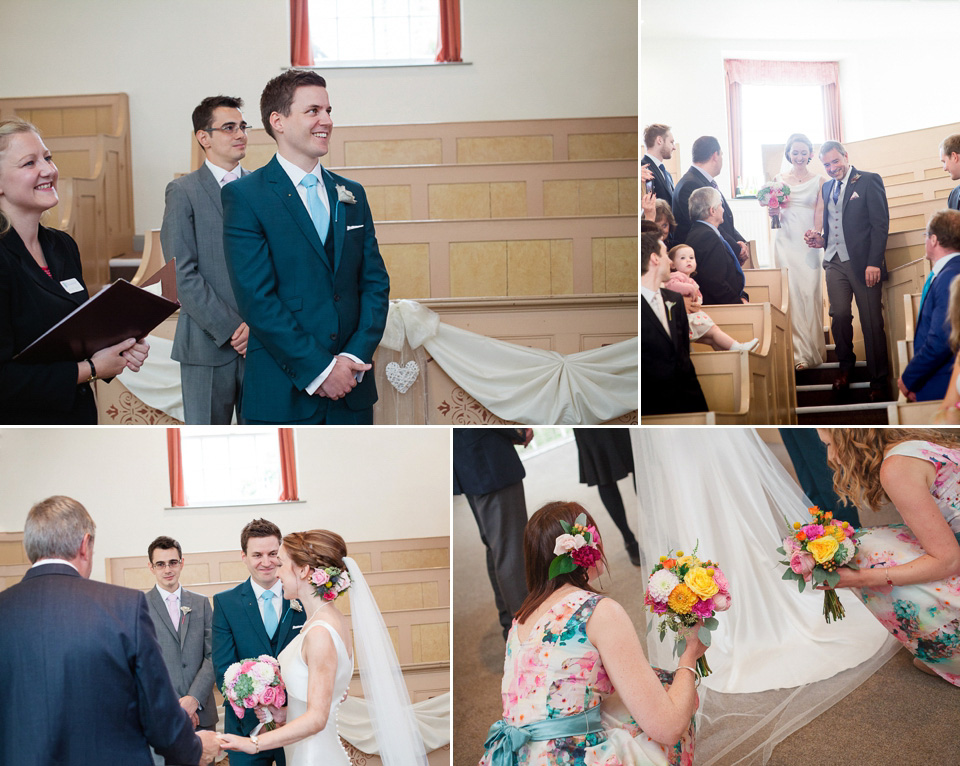 "We had one reading during our ceremony, read by one of our best friends. The reading was a poem that my late grandfather wrote."
My Love

sweet the ice that splintered
in that pond of long ago
bright the merry voices
of the friends we jointly know
warm the winter sunshine
in the woods we wander through
soft your tender whisper
when i pledge my heart to you

slow the passing moments
as we journey hand in hand
deep the wild emotions
that we try to understand
strong the love between us
as we promise to be true
all these things i offer
as i give my life to you.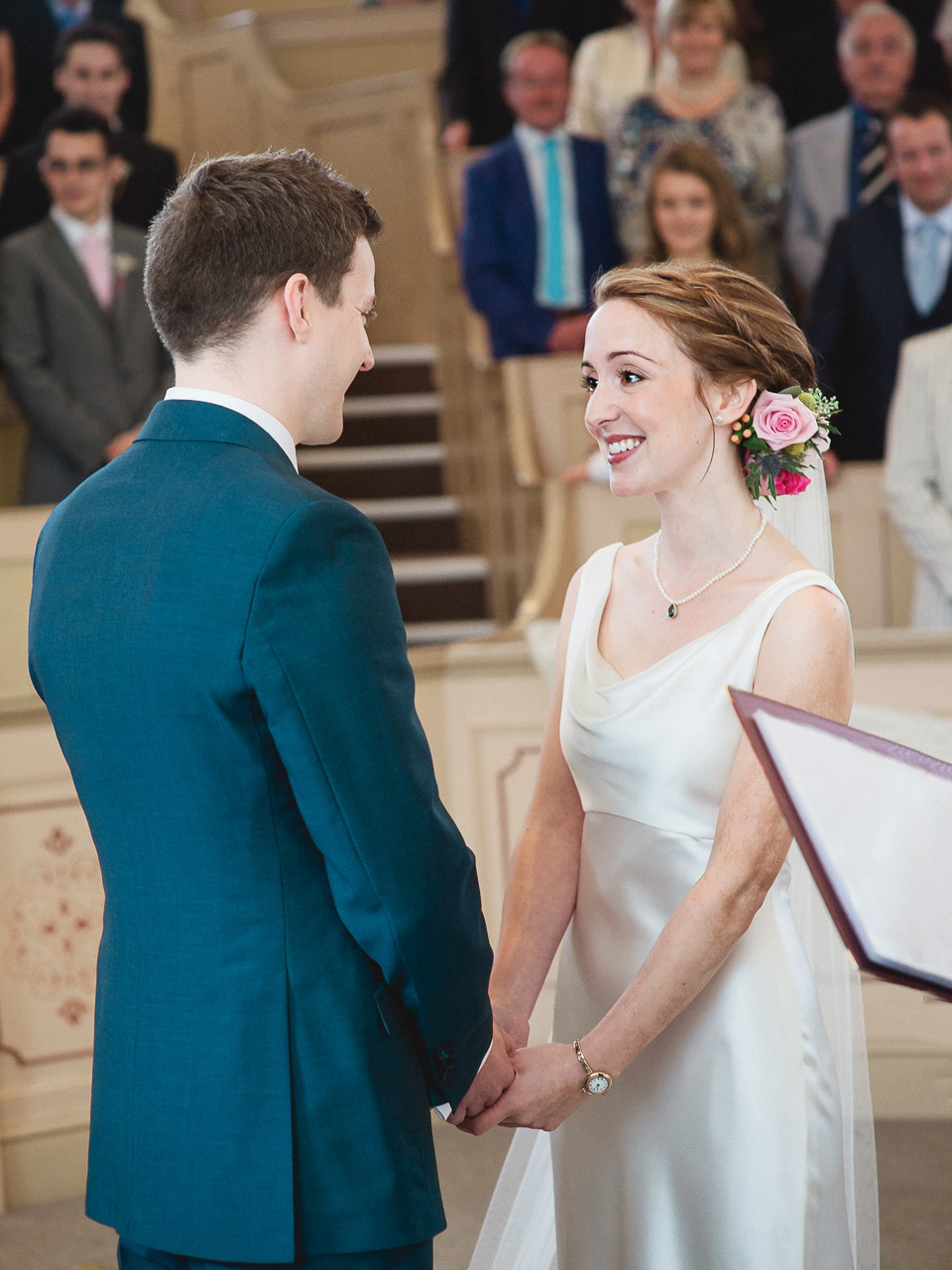 "We got our rings from the Kath Libbert jewellery Gallery, in Salts Mill. This is a contemporary jewellery gallery, showcasing lots of independent contemporary makers. My ring is by James Newman, and Andys is by Diana Porter. We both wanted gold rings, Andy wanted something quite simple and not too thick, and I needed something very delicate to match my Mark Nuell engagement ring."
"I decided to get a diamond eternity ring for mine, which I absolutely love! Catering Company We had a BBQ Buffet for the food, which was organised by the Victoria Hotel but put on by a local butcher. The food was delicious and got lots of complements!"
"My veil was also from the Bridal Rogue Gallery in York. I wasn't planning on wearing a veil originally, but when I tried it on (upon the request of my mum!) I immediately felt like a bride! I'm very pleased that I wore one."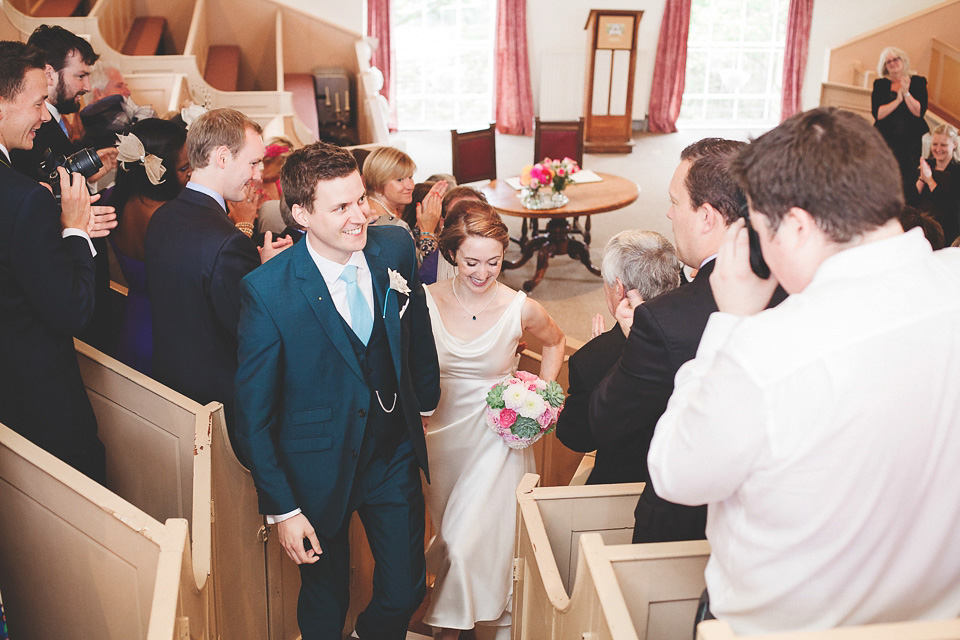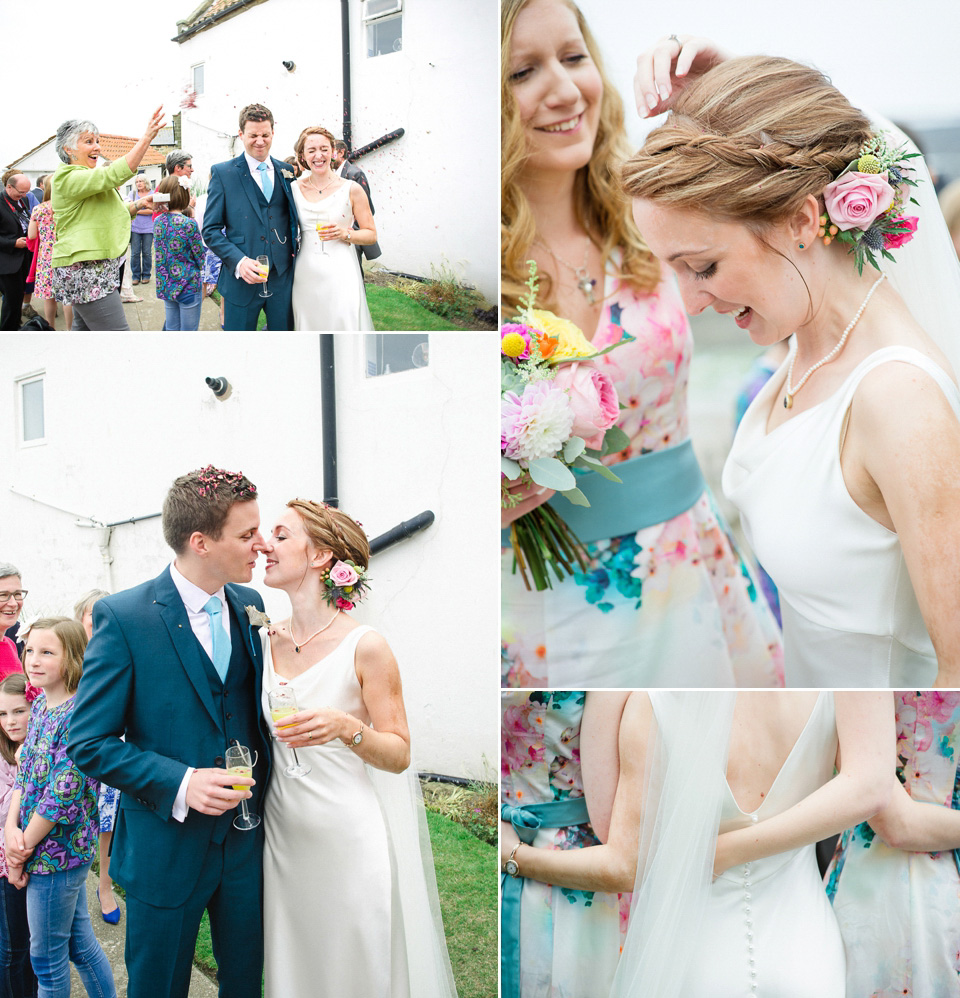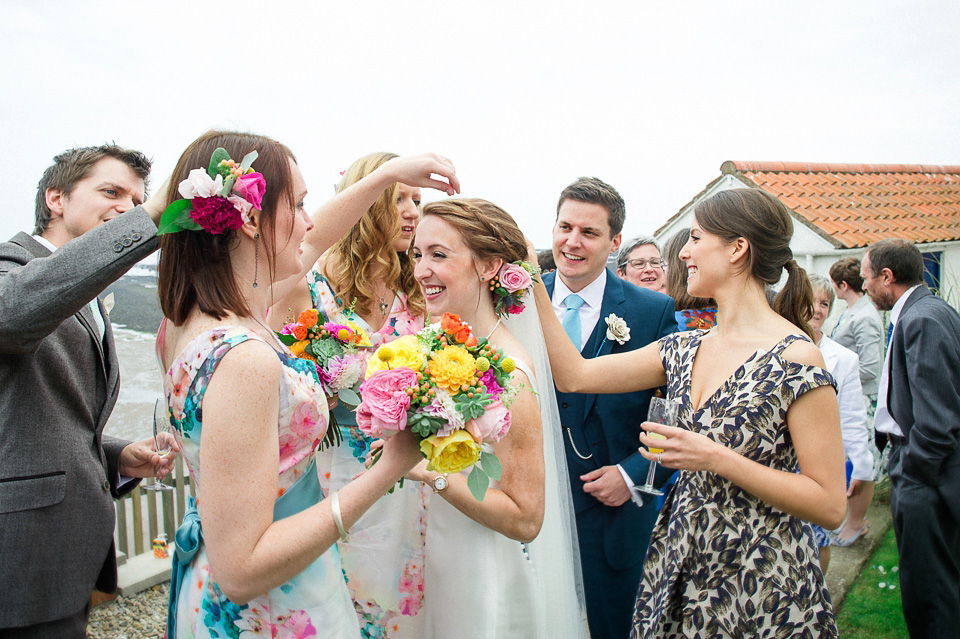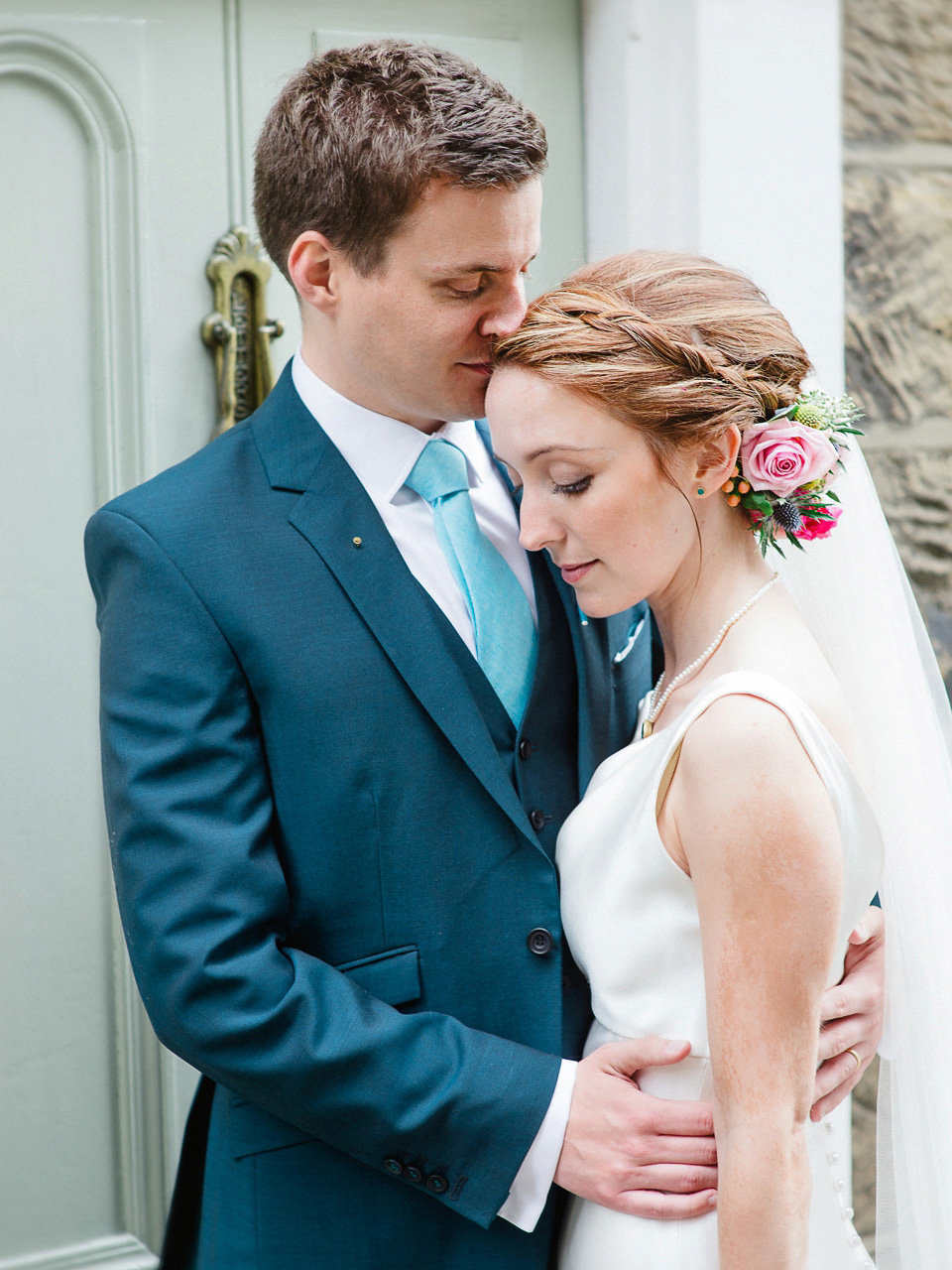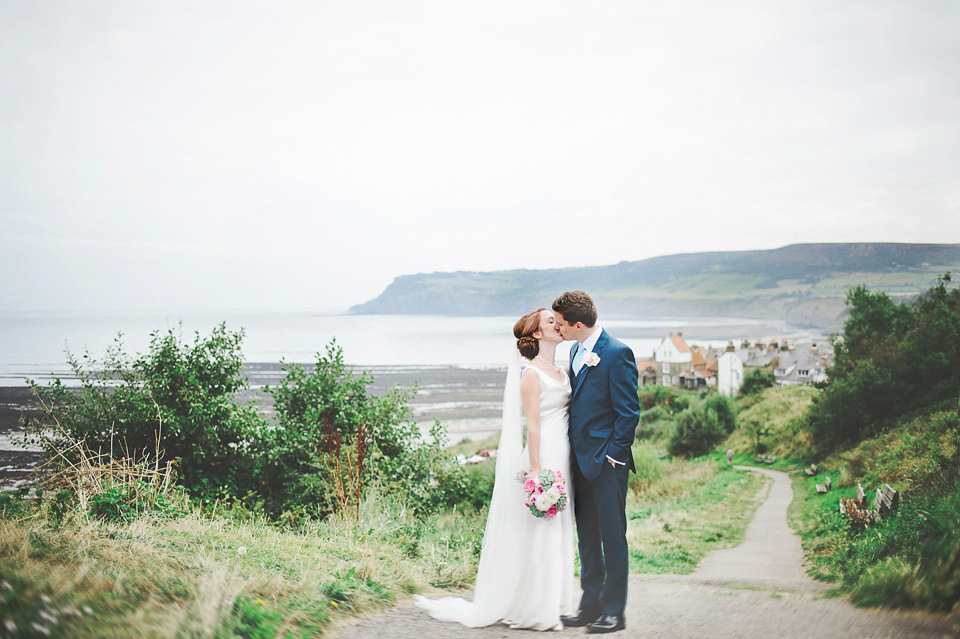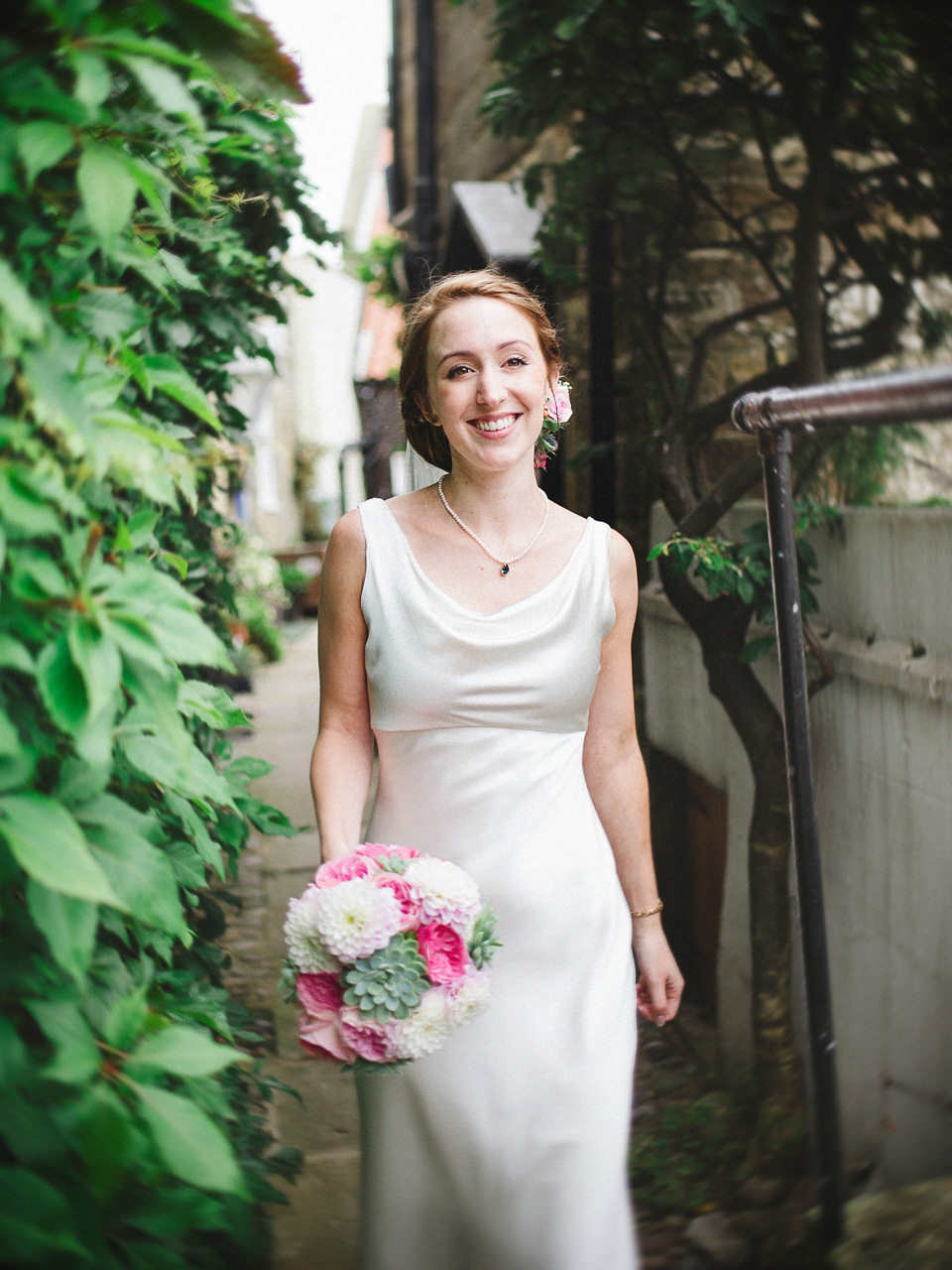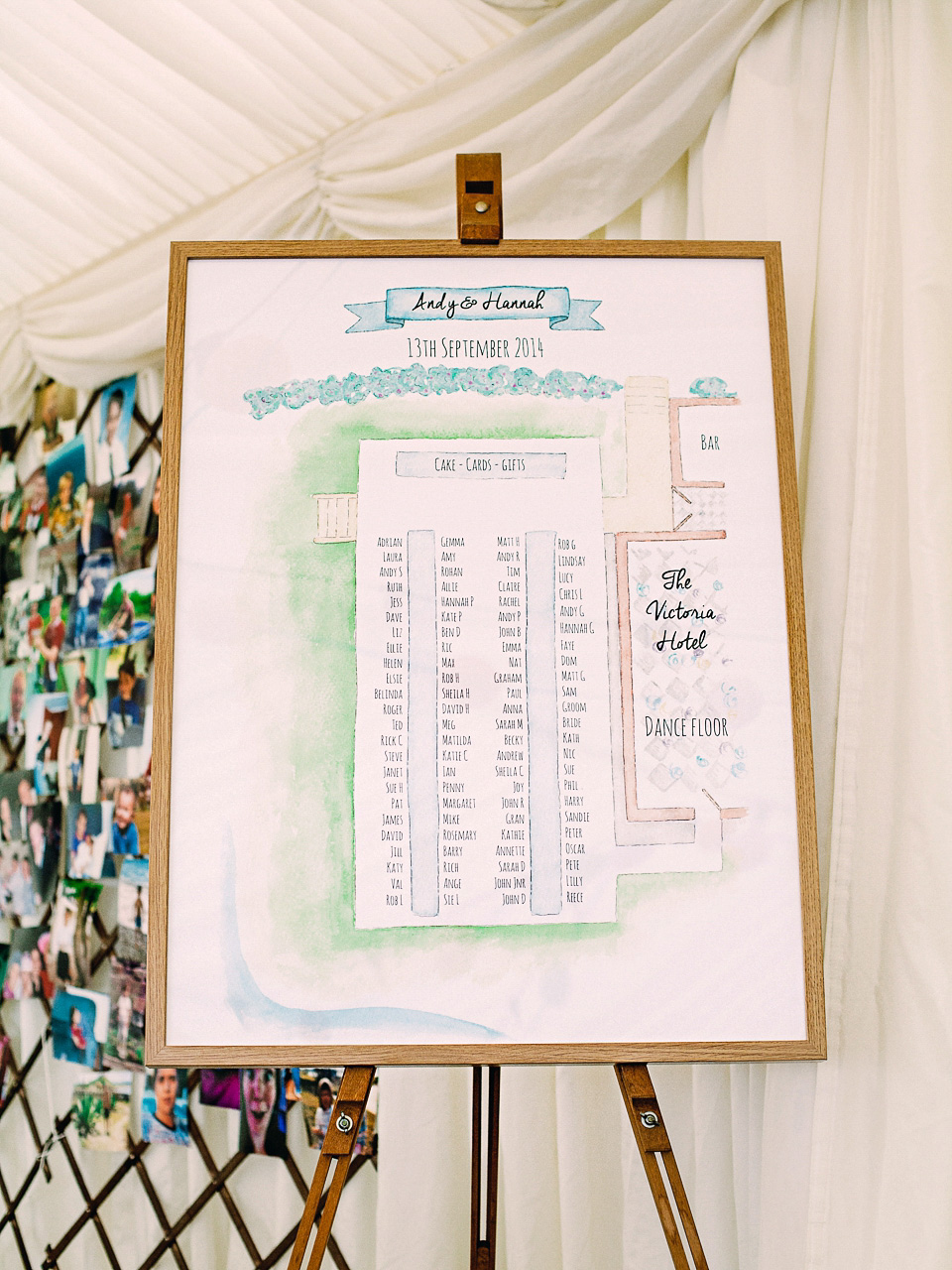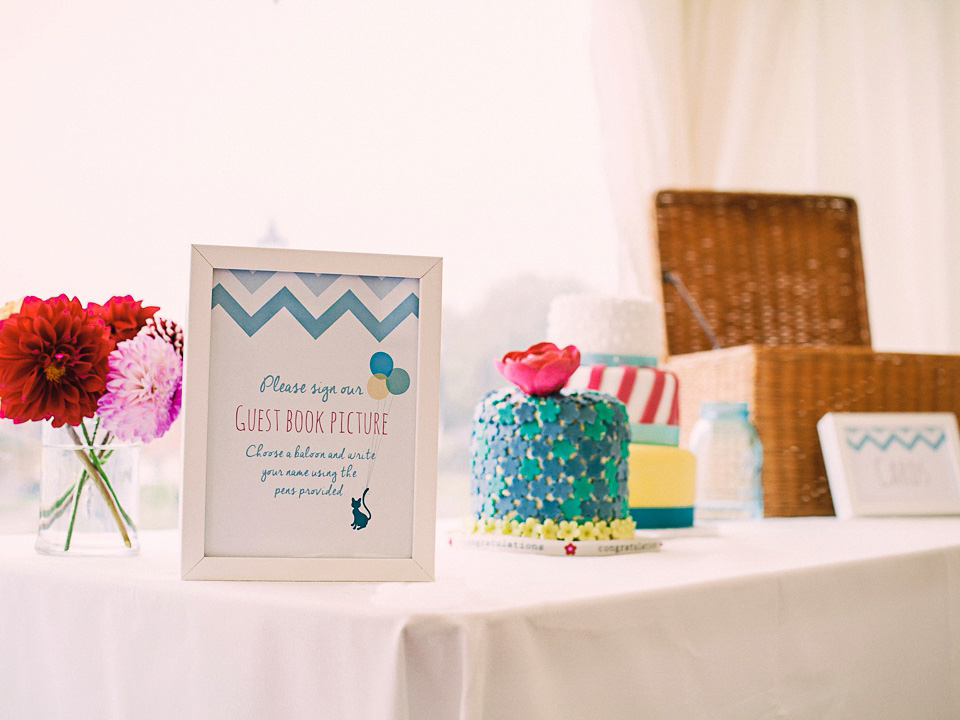 "We hired some festoon lights to string up in the marquee and we bought lots of paper honeycomb balls to string up on ribbon to hang alongside the lights. The effect was fabulous! We had chevron table runners which I made and our place cards were little flags held by Lego figures."
"To complement the photo favours we also had a photo wall at one end of the marquee, with photos of each of the groomsmen, bridesmaids, siblings, parents and us, at all ages! this provided lots of laughs!"

"We were not too bothered about the 'cutting of the cake', we instead fired a cannon! But we wanted to have a cake still for snacking later on. Me and mum saw a fab wedding cake in a magazine which had 3 tiers of different colours, one of which had diagonal stripes! It complemented our style so well that Mum and I decided to make it ourselves."
"We baked the fruit cakes a month in advance, and then decorated it a couple of days before the wedding. A member of the family also made and decorated a sponge cake which looked fantastic too."
"We didn't want to do favours that people would just leave or chuck away after the day. Andy had the idea that we get old photos we had of our guests, special memories (often days before Facebook, digital cameras) printed and write personal messages on the backs of them detailing why they were there and what they meant to us. We placed them in envelopes and tucked them in to the napkins. Nobody knew about them so it was a complete surprise – the pictures Stephanie took of peoples reactions when they opened them are probably our favourite photos of the day!"
"We were outside on our own when they opened them, so the attention was away from us. We wanted it to be a selfless gesture and get everyone at the meal talking and happy before we'd even sat down or started speeches.  Everyone also got to keep their personalized lego figurine which held their place name."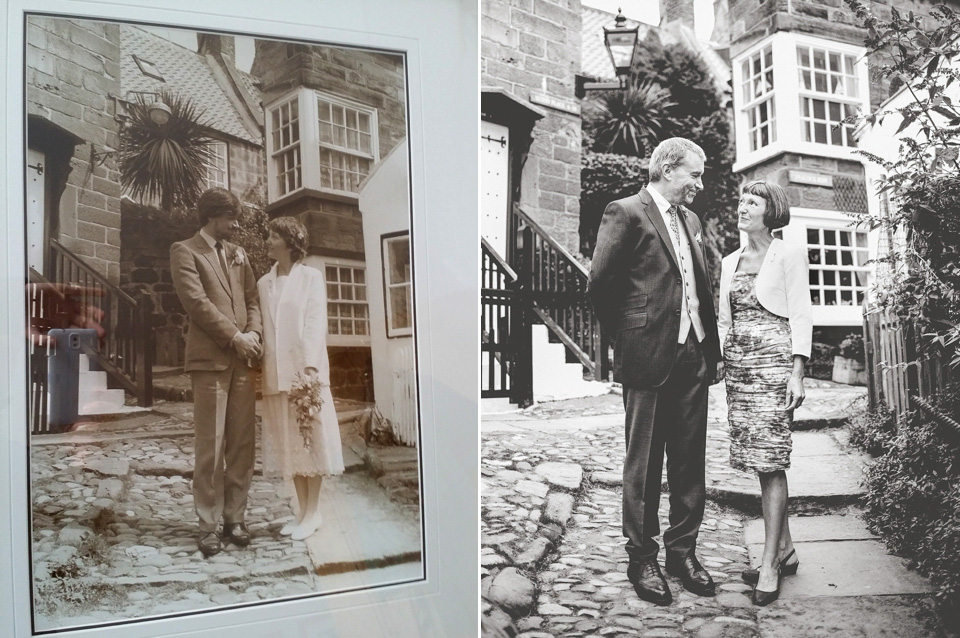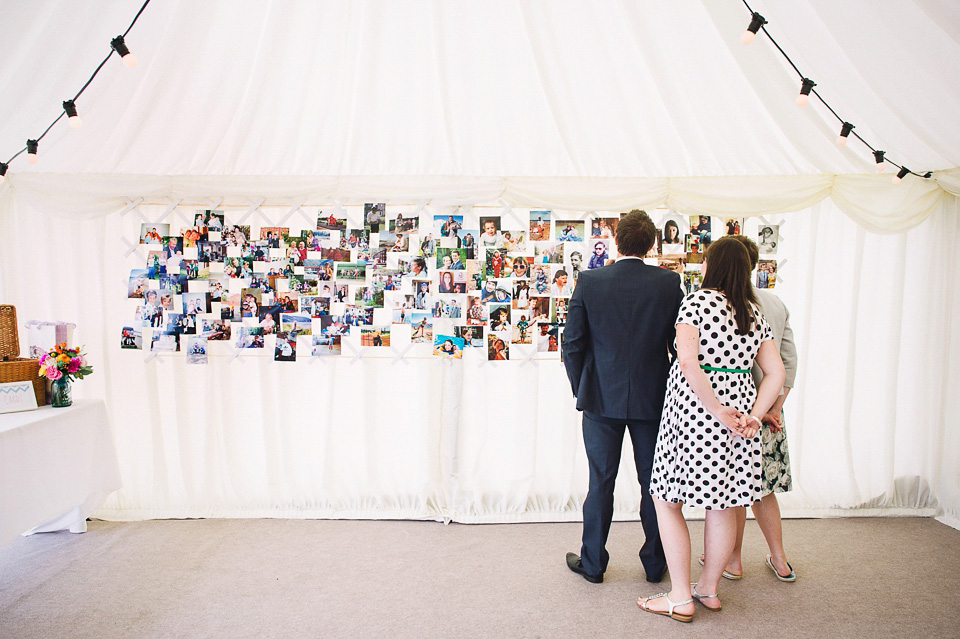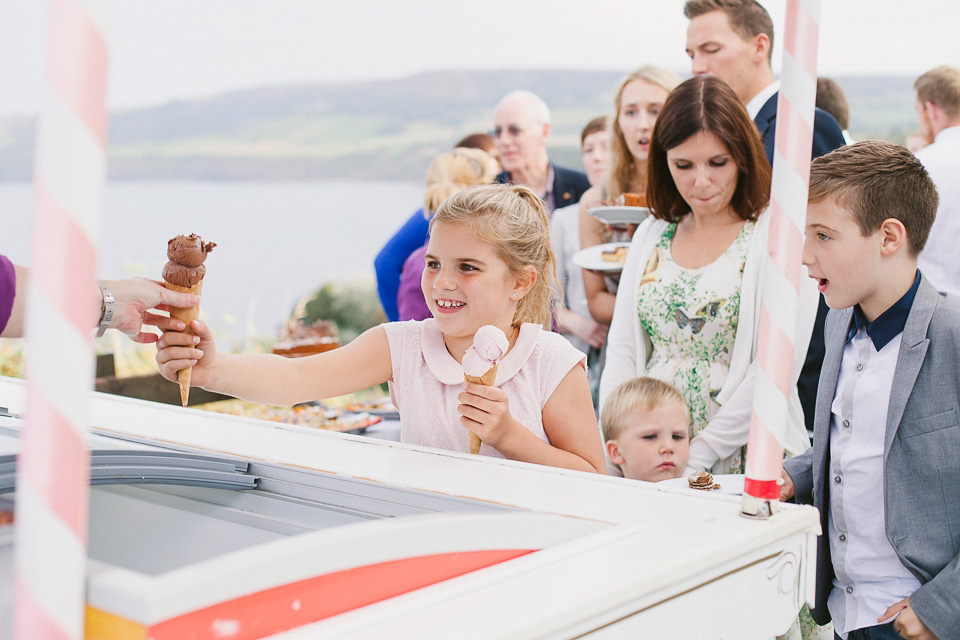 "Choosing a photographer was the most important part of the planning for me! As a photographer myself (and having done some weddings in the past) I really value the importance of getting a fab wedding photographer! I knew the exact style I was looking for when searching for a photographer and dismissed many of the ones we looked at! We found Stephanie Swann and we both fell in love with her work. I was so happy to find that she was available on our wedding day and booked her immediately! We simply could not be happier with the images she produced, and thank her so much for recording our day so beautifully."
"Stephanie became a friend on the day, not just a photographer, and blended in to the crowd seamlessly. I was worried that as a photographer myself I would be very aware of the camera and where she was at all times, but her subtle and unobtrusive style meant we barely knew she was there! She works with a fab second shooter, Maddie, too."
Word of Wedded Wisdom
"We think that the reason our day was so perfect and stress free is that we didn't put too much pressure on it. We booked the major things about a year in advance (venues, registrar, photographer, outfits) then the rest of the details came together in the four weeks running up to the day. I think when there are months and months of carefully made plans there is far more chance of something going not quite how you pictured it.
It is very easy to put so much pressure on having the 'perfect' day, that if things go slightly not as planned it ruins it for you. We were quite relaxed about a lot of decisions, which meant that when things didn't go according to plan (which is inevitable!) we weren't too phased by it. We did most of the decoration ourselves, I made buttonholes, we made name cards, decorated the venue etc, and we had such fun doing it! we had lots of help from family and friends which made the whole process great fun! We loved the decorating day before the wedding almost as much as the wedding itself!"
"We got a friend to video the speeches and first dance. I wouldn't want to have captured the entire day, but having a copy of speeches and first dance that we can look at it again is priceless. We know a lot of friends who wished they could look over these things again just to get a taster of being back in the moment."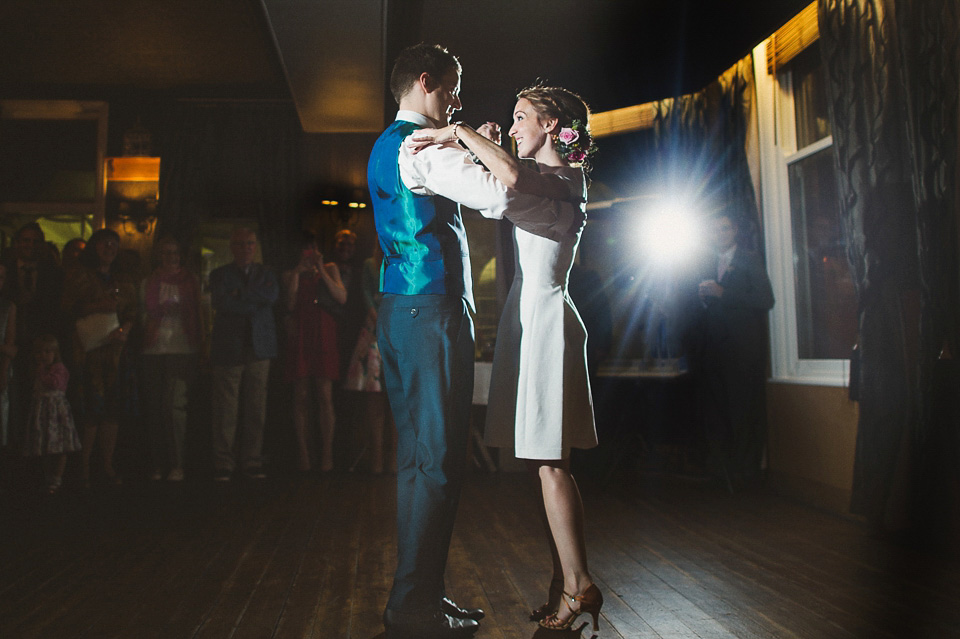 "To entertain our guests in the evening, we hired lights and a sound system and had a spotify playlist."
Wise words of wedded wisdom indeed lovely Hannah – so much love and thanks to you and Andy for sharing your beautiful day with us.  And thanks of course to photographer Stephanie Swann.  Readers, you can enjoy more seaside style weddings here on Love My Dress – be sure to check out our coastal wedding inspiration Pinterest boards too.
Love Annabel x