Morning all! Welcome back to another week of wedding inspo – I really hope today is a positive and productive one for you all. This morning's wedding is a wonderfully laid back, relaxed, fun-filled and incredibly stylish affair.  The bride, Elise, works in PR for Ikea and she married her beau Nicholas who works in Finance in the music industry, over a glorious three day long weekend in France last October last year.
This is just one of those fabulously fun affairs that I hope will remind brides to be excited and not stressed in the run up to their wedding day. Enjoy all!
Images by Hearts on Fire Photography
I love the way this couple approached the planning process and embraced a little compromise 🙂
"Nicolas and I have been travelling together for seven years now and so marrying abroad felt like the next natural step in our big adventure. We agreed on most planning discussions – though we did take longer over the honeymoon, simply because I had been dreaming of visiting Japan for years and Nicolas of Argentina. So we asked our closest friends to vote and flew to Tokyo on the Monday following the wedding (and intend on visiting Argentina to celebrate our first year of marriage!)." 
"For the religious ceremony, I wore a Delphine Manivet dress.  I wanted a natural style, not a 'meringue'. The most important thing for me was to feel special and natural at the same time."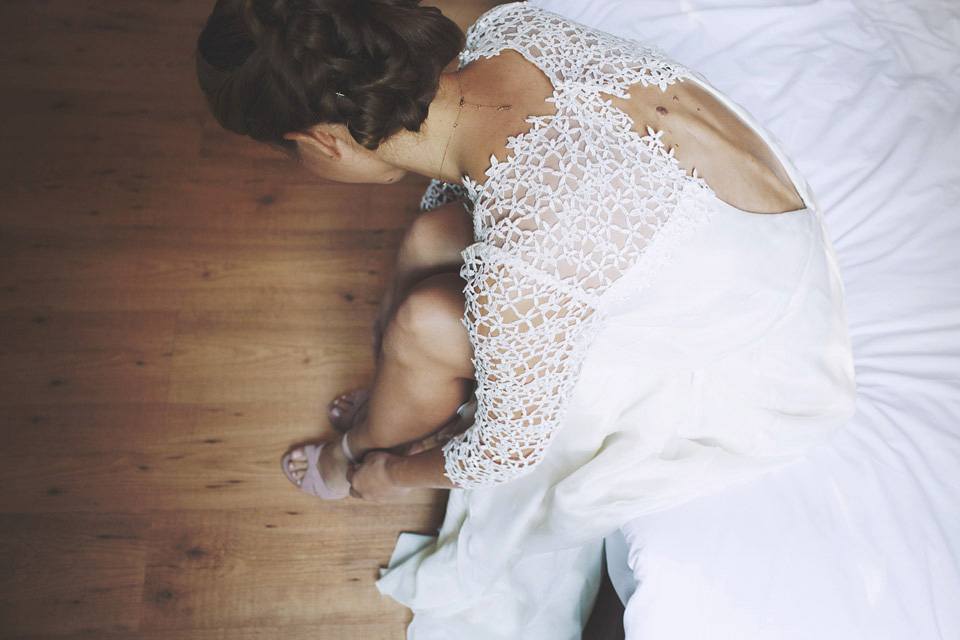 Images by Hearts on Fire Photography
"Our photographer was Karolina of Hearts on Fire Photography.  e met Karolina thanks to Anne and Steve who got married a year before us. I just fell in love with her photography.  When we had to move from Paris to London just before the wedding because of a job opportunity, we didn't even think about not asking Karolina to come for three days in France (and I was so happy when she accepted!)."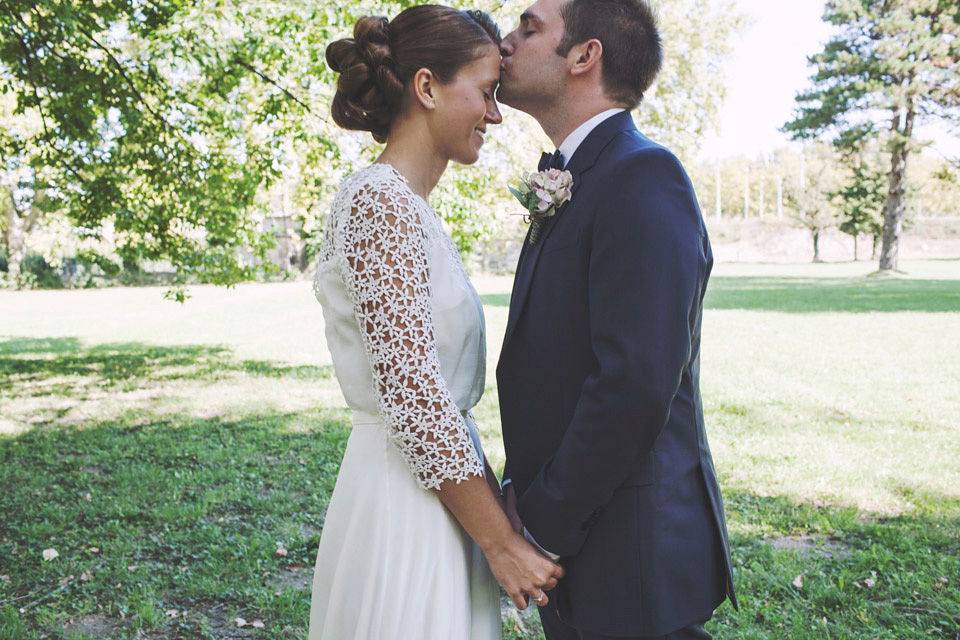 "Today, when I look at the pictures, I feel Karolina really caught the atmosphere, the smiles and all those beautiful memories. Thank you so much Karolina."
"Nicolas and I met at University. We were part of the same Student Sports Association. We were living in London when Nicolas decided to propose, six years into our relationship.  He had organized a treasure hunt along Regents canal, one sunny Wednesday evening. He had hidden 13 notes along the walk with memories we share like 'do you remember our first travel together?', or 'what is the most important thing for you in our relationship?'.  I guess I didn't realise what was going on until we ended up in Regents park! On the last note, he asked, 'ready?', and when I turned back, he was on his knee…
He said beautiful words (although he didn't have to convince me to answer 'yes' at all) and the ext day, we flew to Copenhagen for a three day weekend to enjoy our engagement – just the two of us."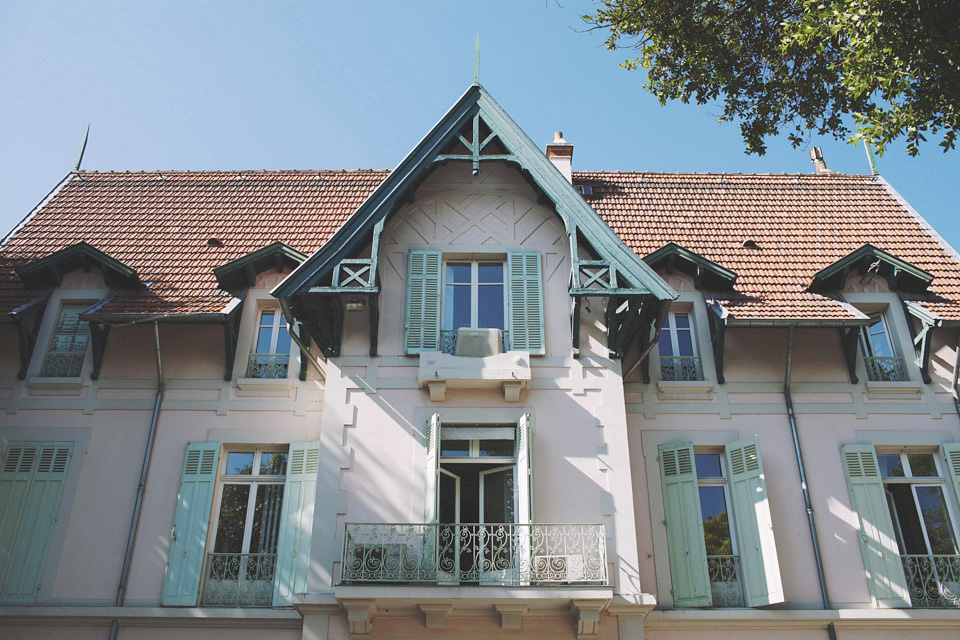 The couple had an international wedding to plan but instead of hiring a professional planner to assist, they were supported by friends and family…
"We had a quite good idea of what we wanted and Barbara, the manager of l'Auberge du Parc, helped us. Our families were very helpful too. Our mums helped us with the decoration, my sisters Charlotte and Sarah as well as my best friend Louise were super planners, Nicolas's brother David and his bestmen Tom and Pierrus helped us a lot on the day too. Our dads surprised us in different ways also."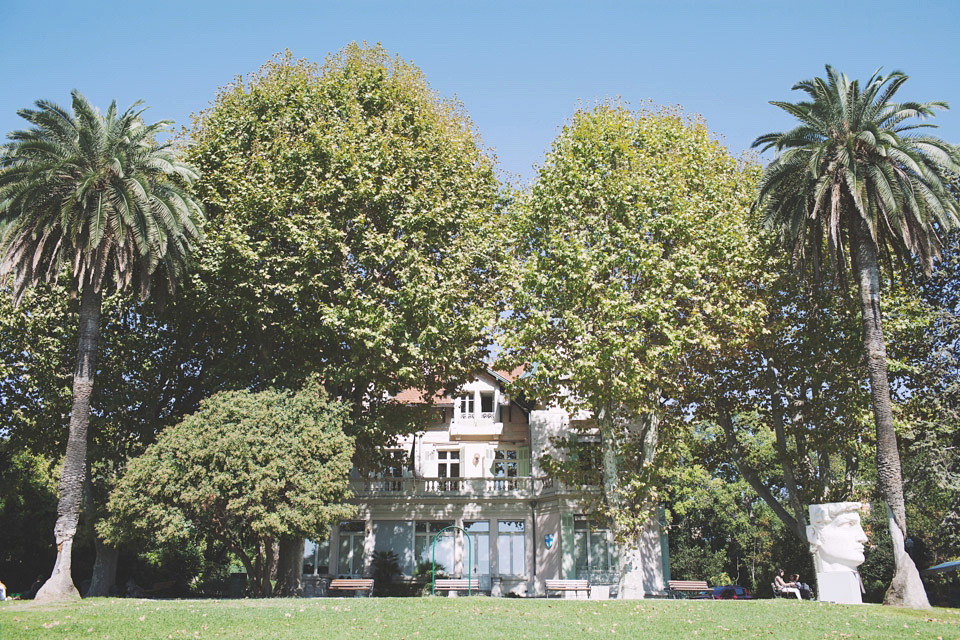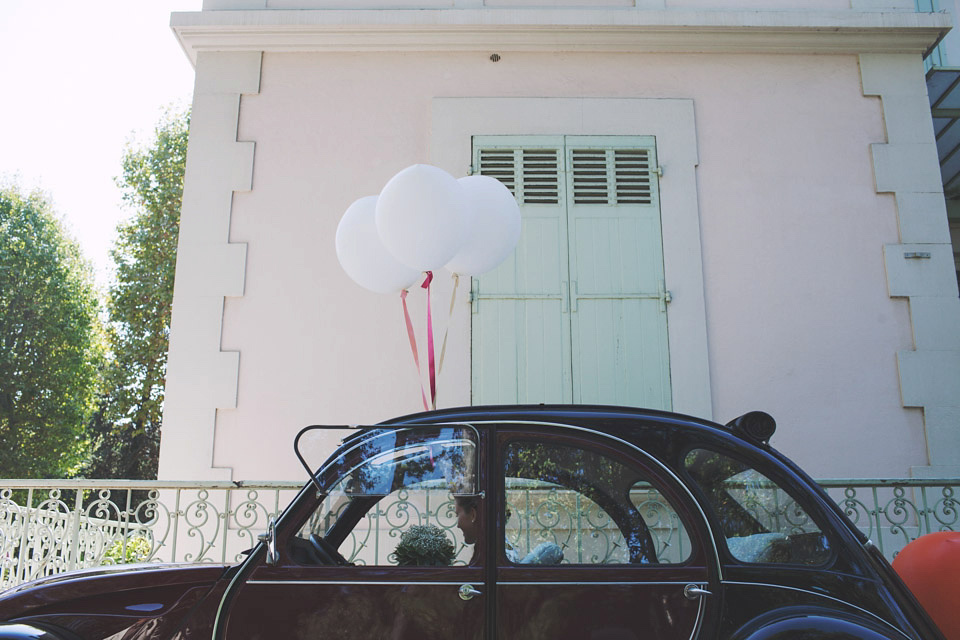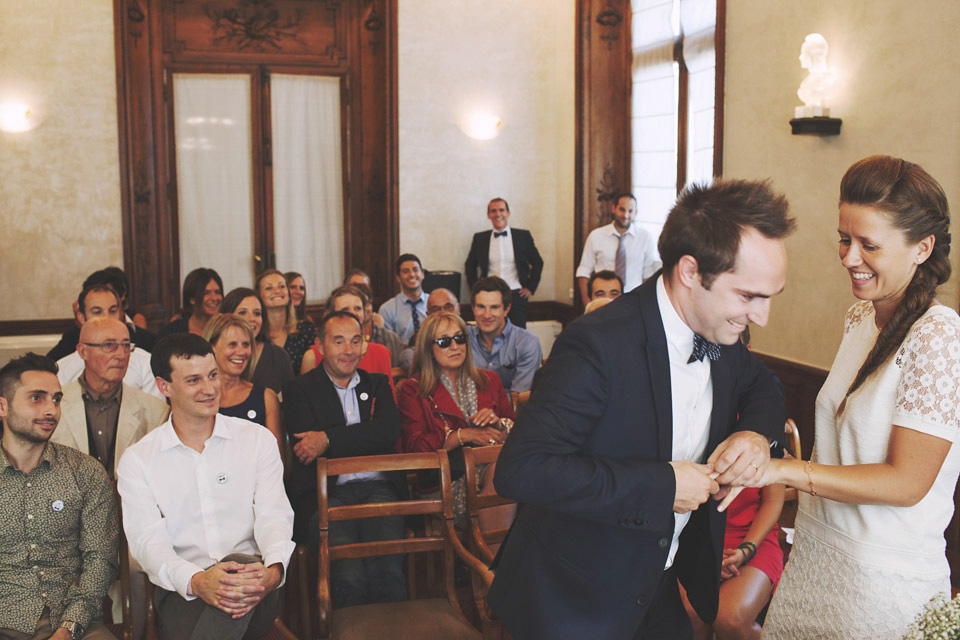 For the civil ceremony, Elise wore a short dress by Vanessa Bruno.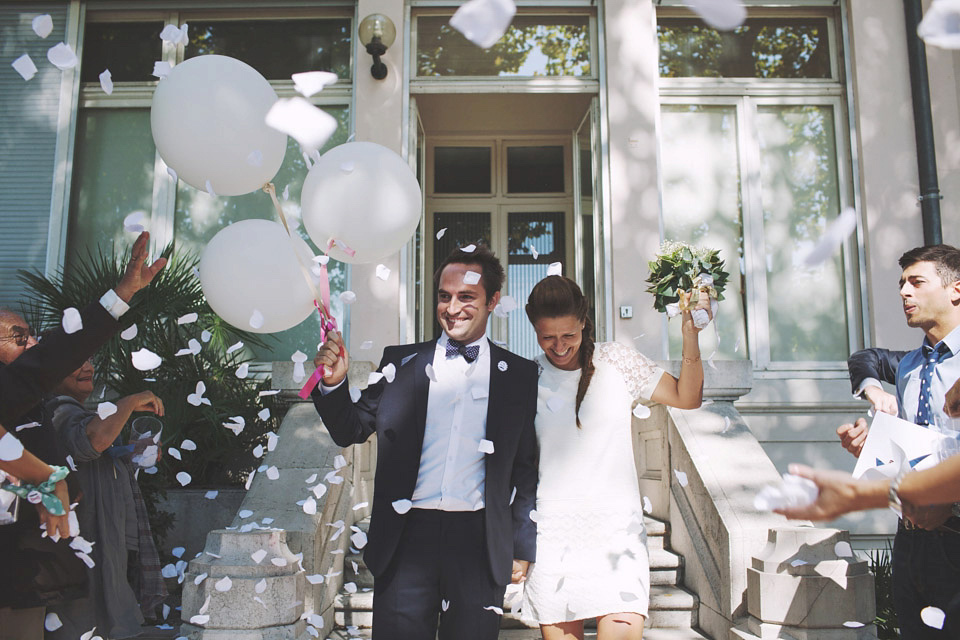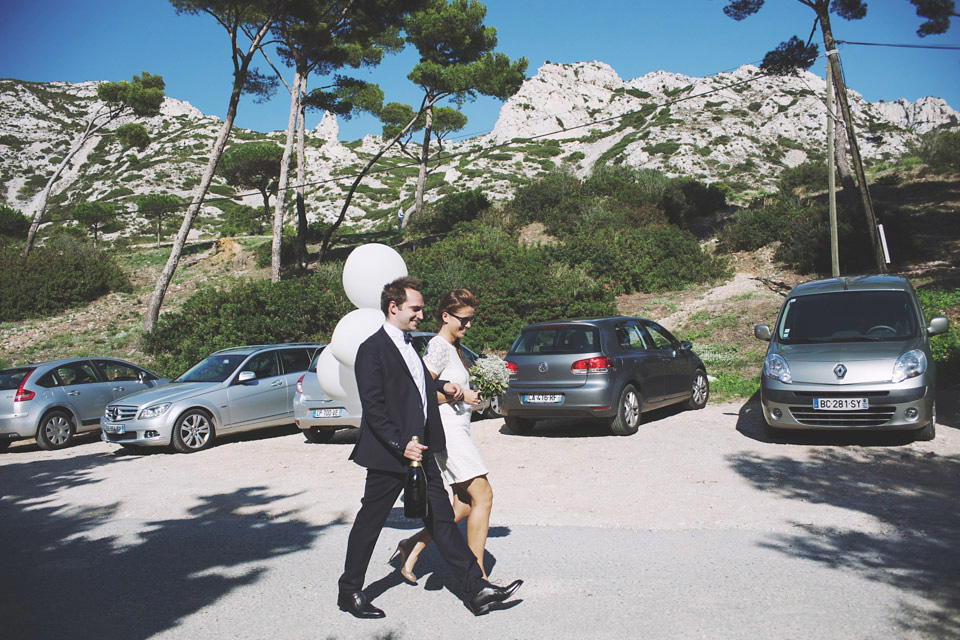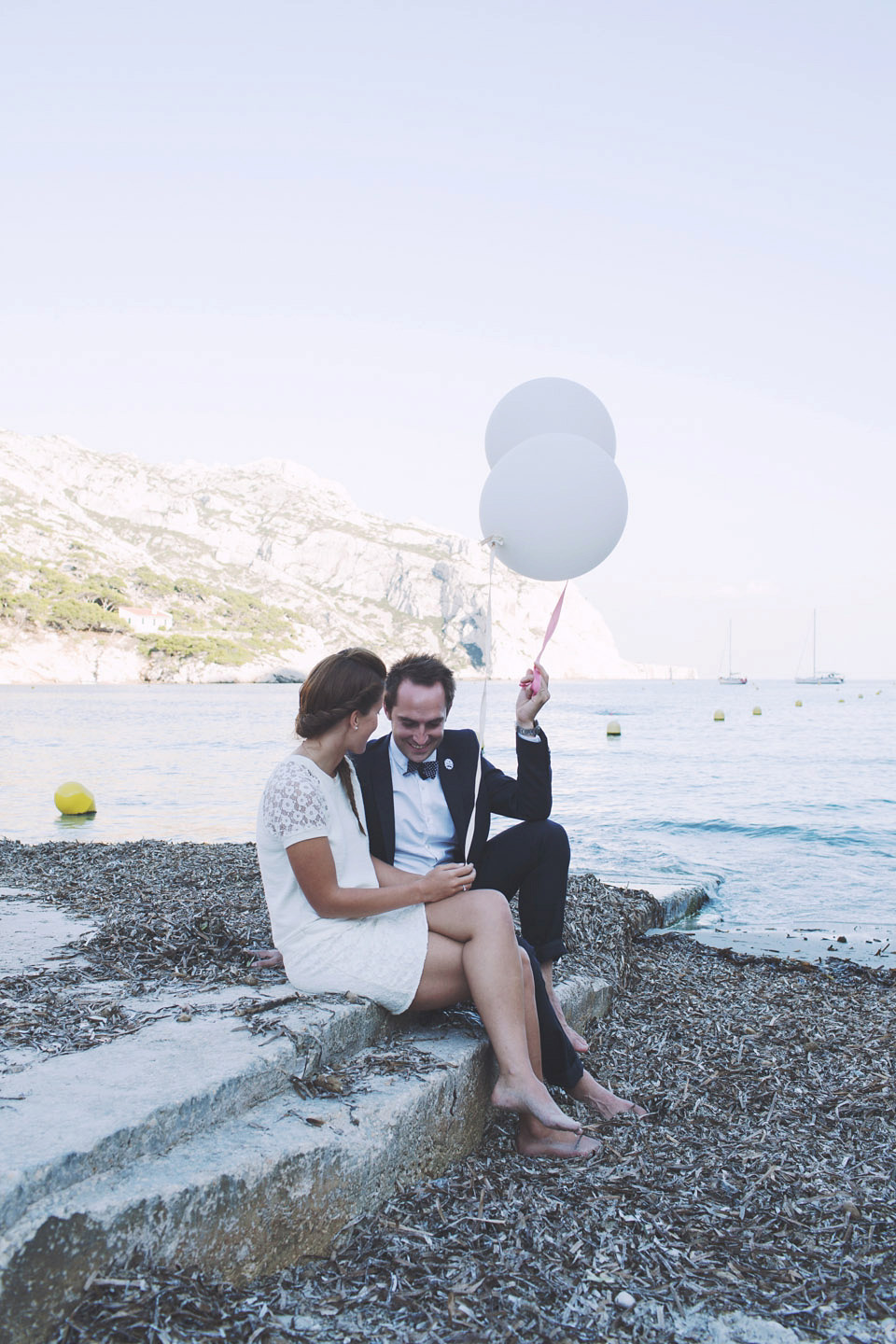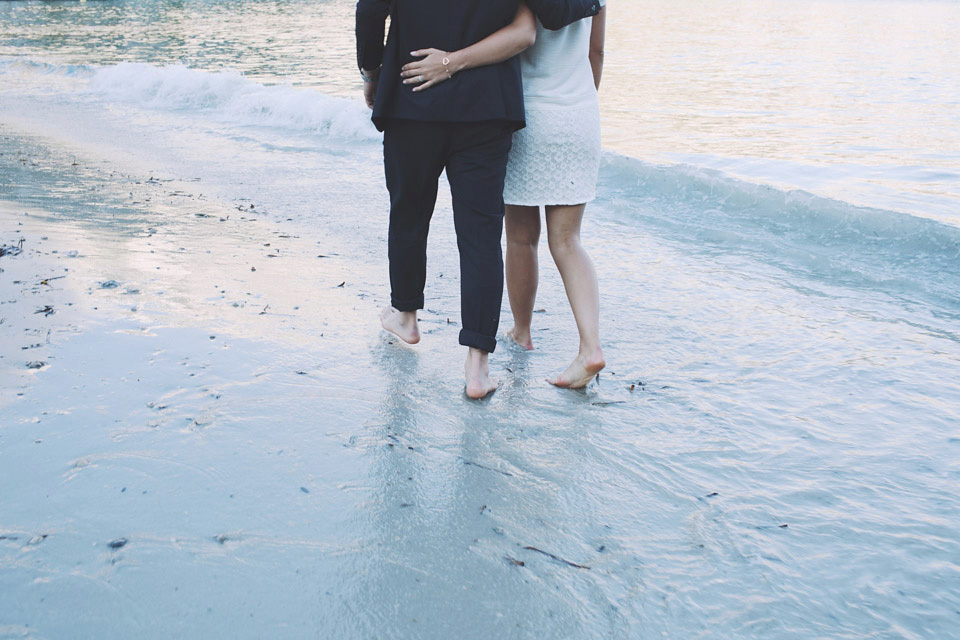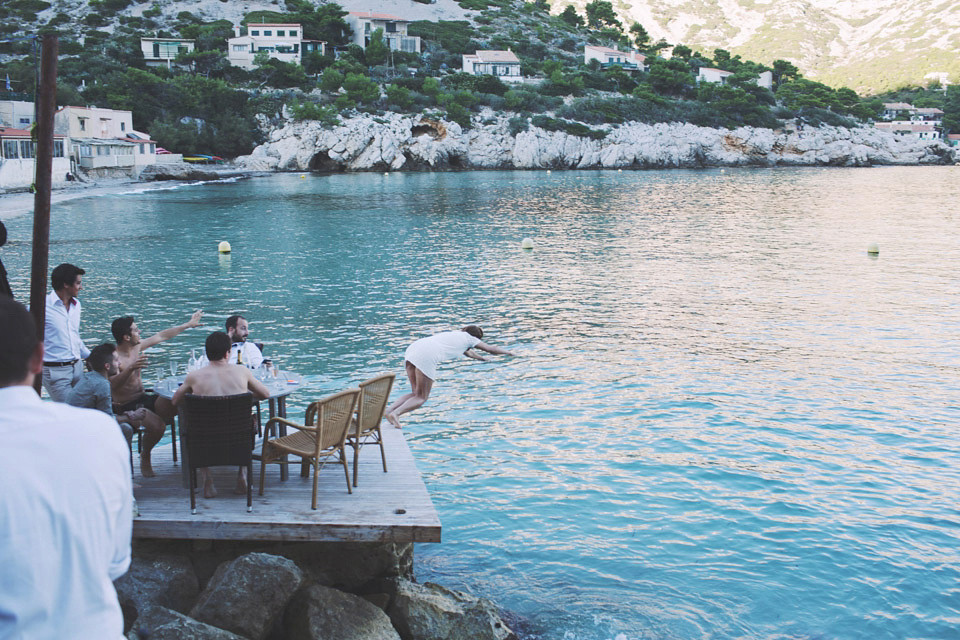 "We were looking for a close place on the beach to spend the afternoon with our closest friends and family after our wedding ceremony.  We had invited 30 people to the civil ceremony. That's how we chose the Calanques de Sormiou*. It offered a perfectly relaxed atmosphere, and everybody ended in the water, including the bride and groom!"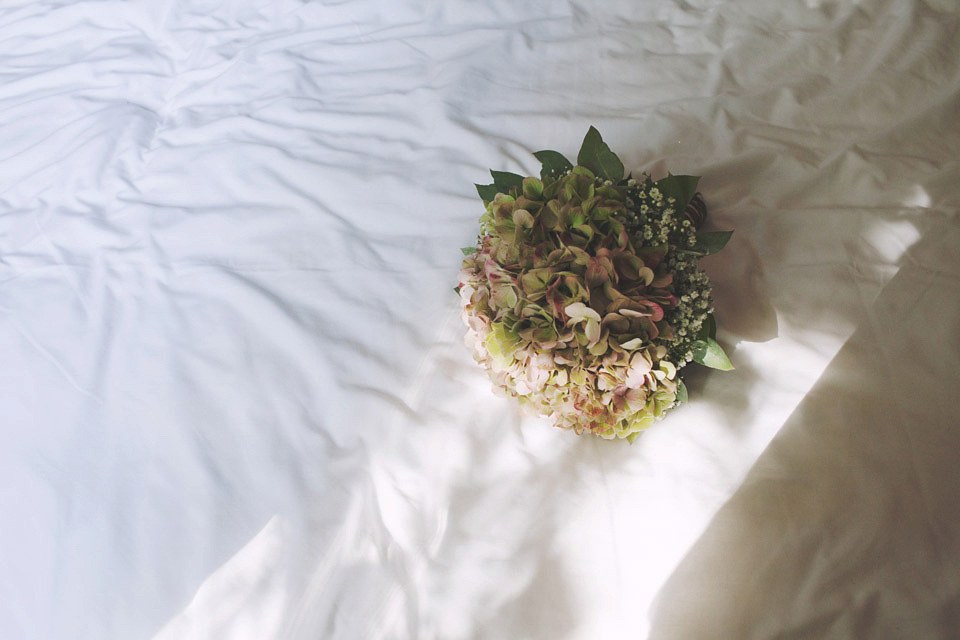 "I work at IKEA and a lot of the stationery and decor came from here – the pom poms, glass bottles and candles etc."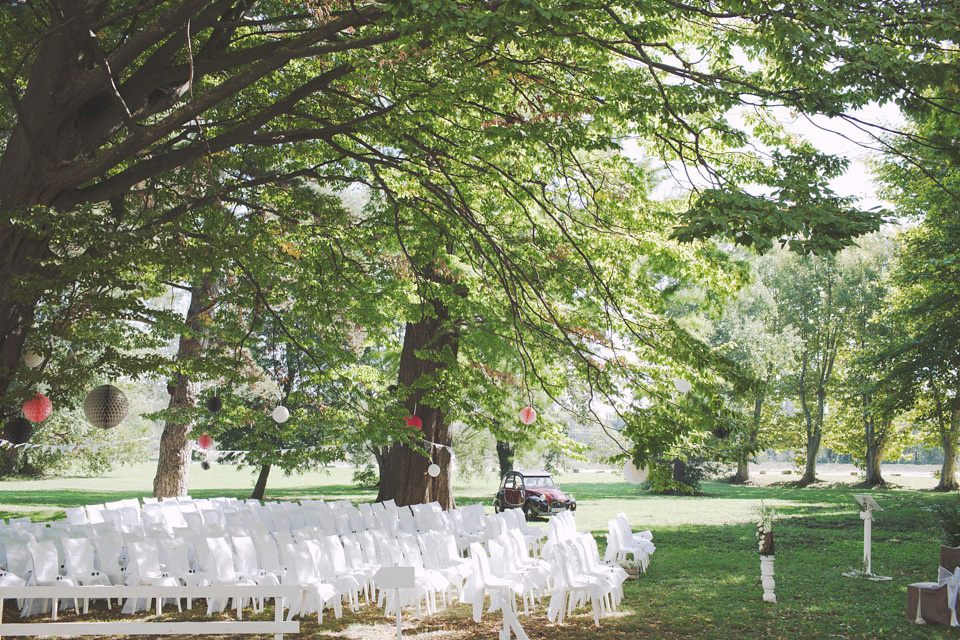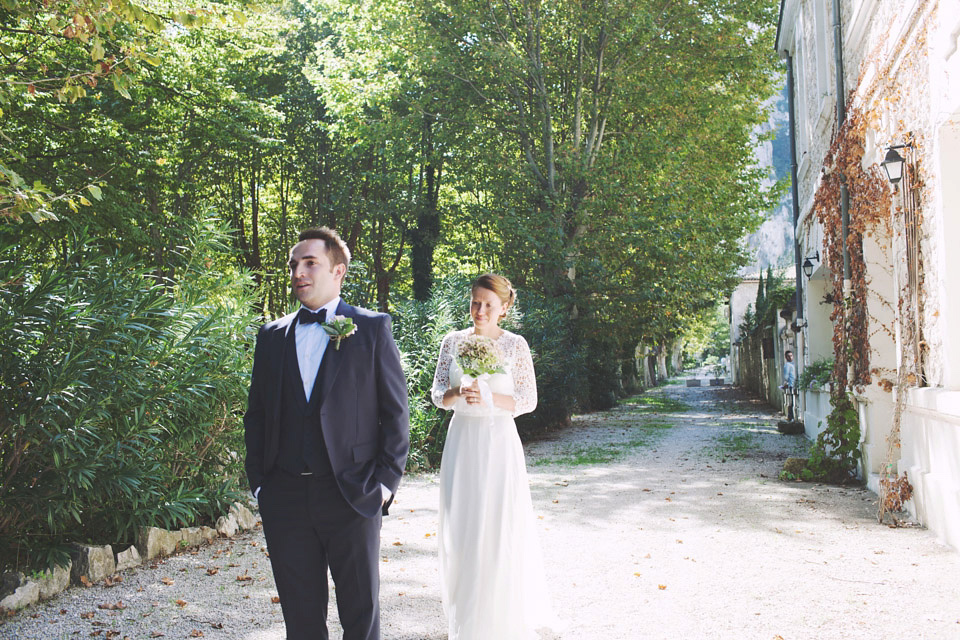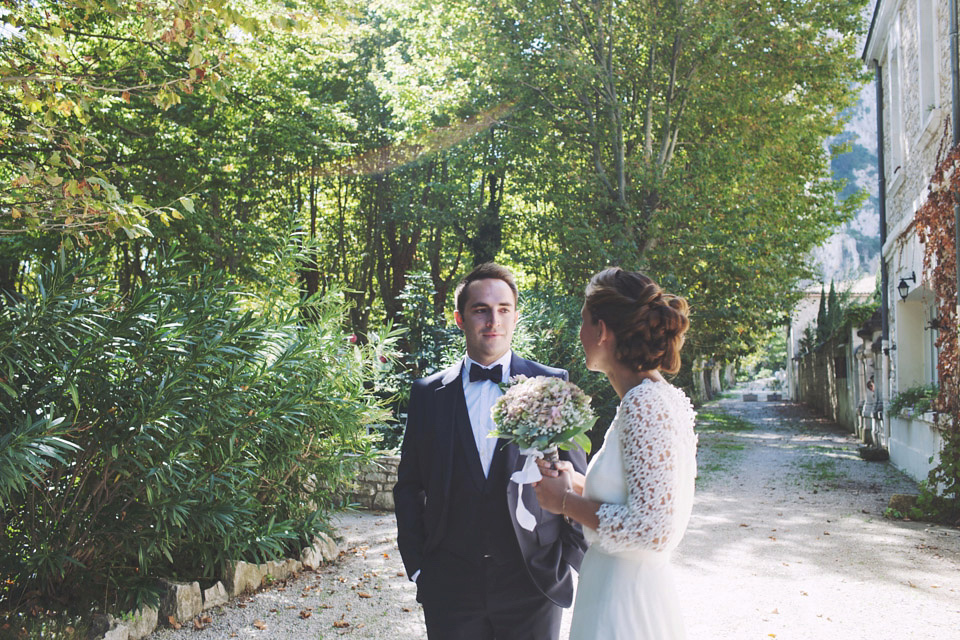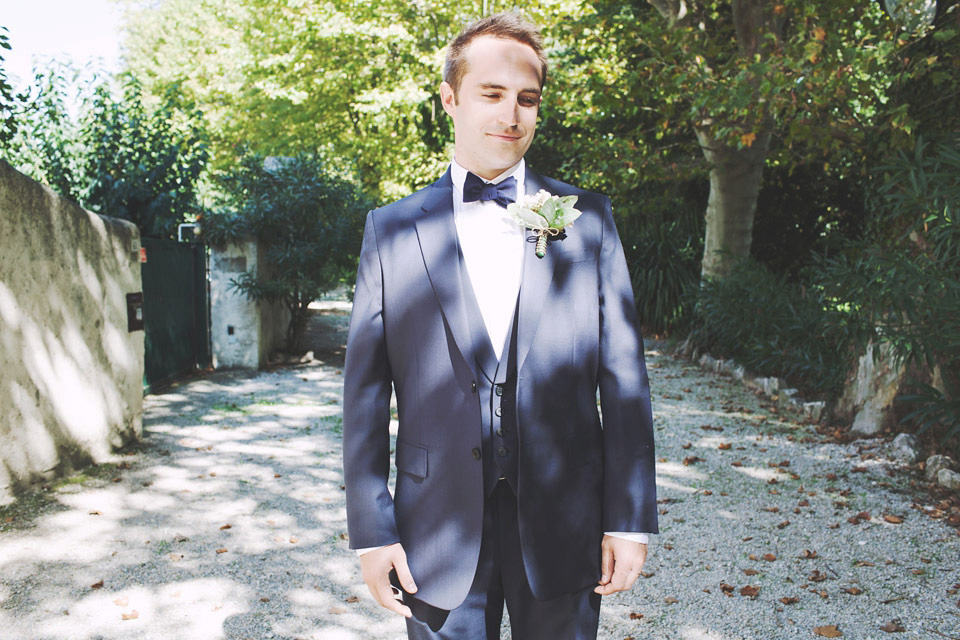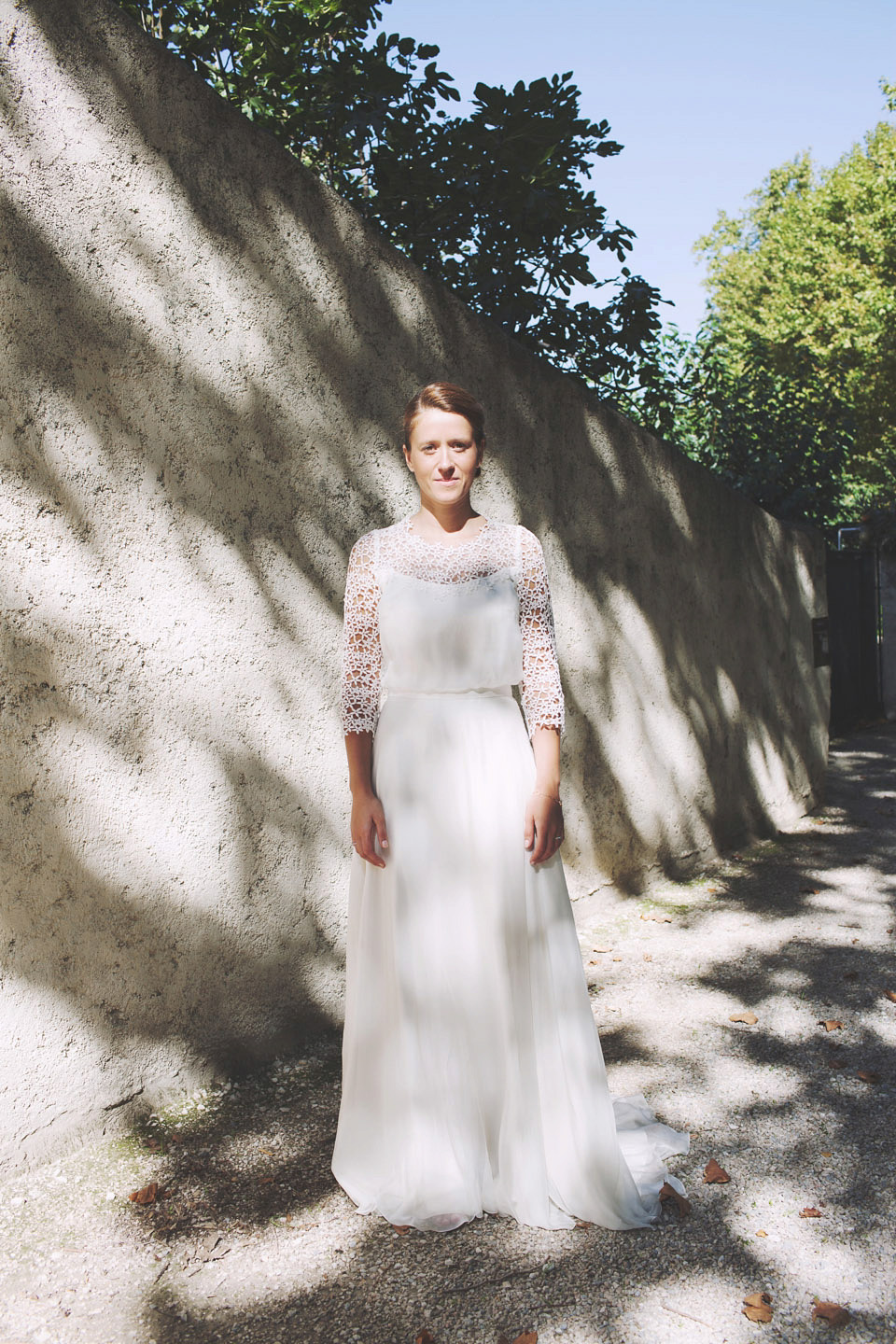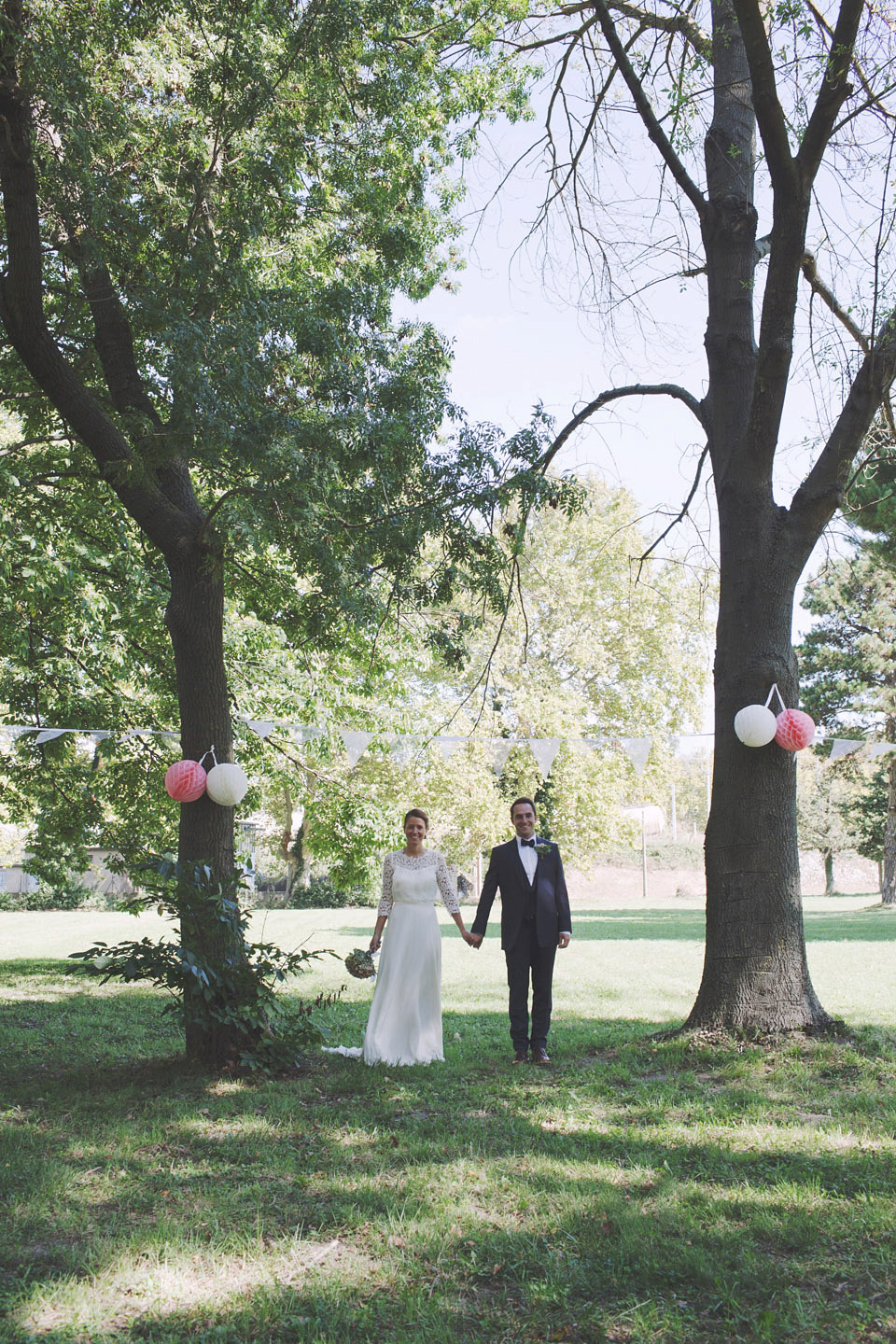 "We wrote our vows just an hour before the ceremony and read them to Louise my maid of honour."
"For the religious, ceremonious part of the wedding, the most important thing for us was to make everybody comfortable. Our families came from far, our friends too (I am Belgian, Nicolas is French and we were living between London and Paris at that time).  That's why we chose to organise a whole weekend away – and also why we chose l'Auberge du Parc in Orgon where we could accommodate our guests (there was a swimming pool too)."
"My dad walked me down the aisle and I remember I paused in the middle of that walk to hug him and whisper in his ear how proud I was to walk from the first man of my life, to my man.  Alexis (my sister's boyfriend) is a very good pianist and we asked him to play 'River into the Flows' by Yiruma."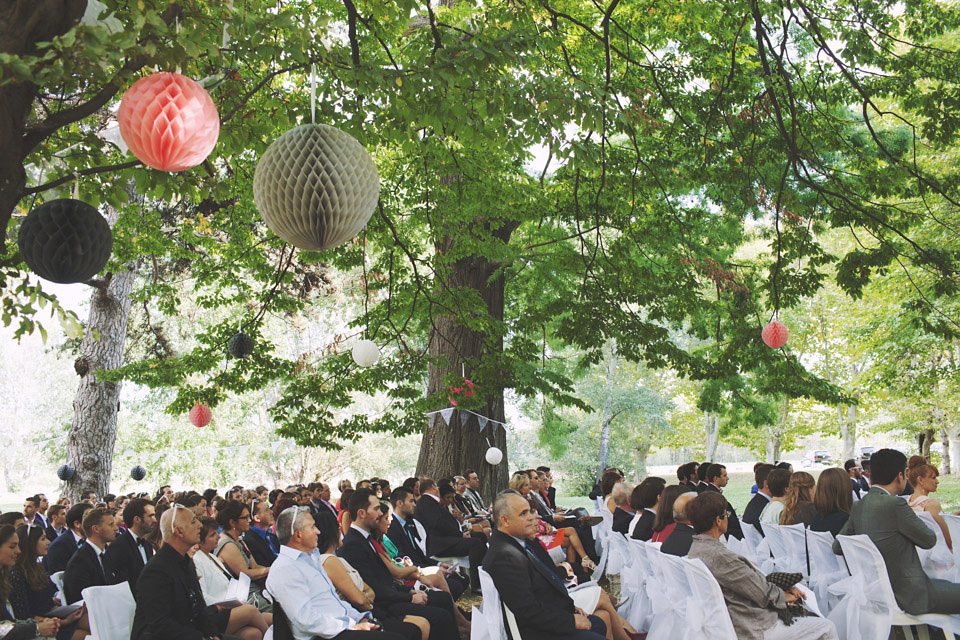 "I had only asked my bridesmaids to wear a pink pastel colour and offered them a bouquet of gypsophila."
"Père Antoine, the priest who married us in the garden, explained to our guests at the beginning of the ceremony, why we were outside and not in a church.  It has been our personal choice to reflect our philosophy around organising the whole – I remember Nico and I had the feeling we were going to get married by our families and friends – and that was the sweetest thing I ever imagined."
"You might be surprised, as was our jeweller (who had never heard anything like it before) that we asked to have the GPS location of the place we first kissed engraved inside our wedding rings.  It's a very good memory for us both – our lives changed that day and I still remember eight years later how astonished I felt after that kiss!"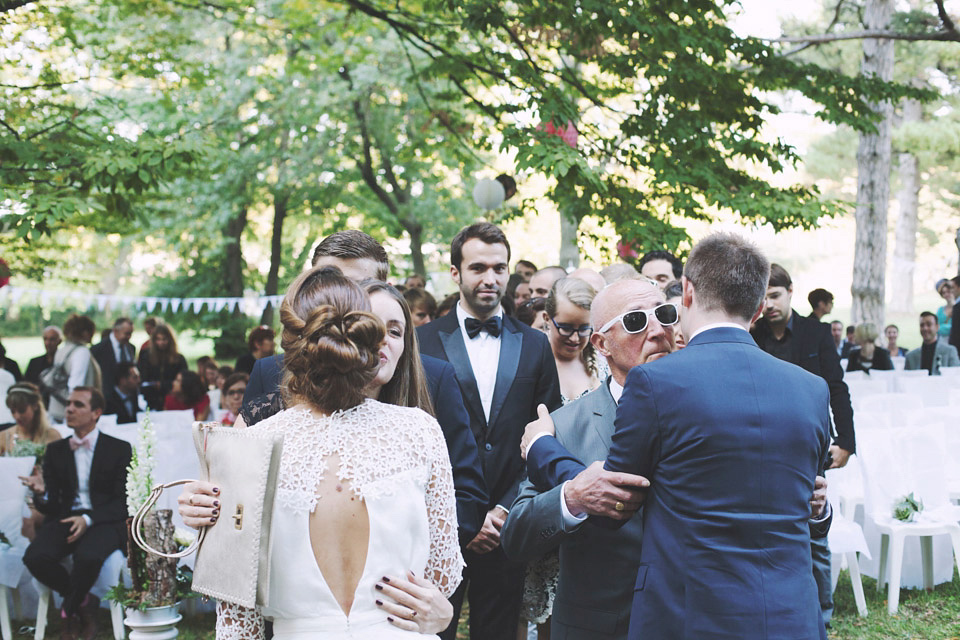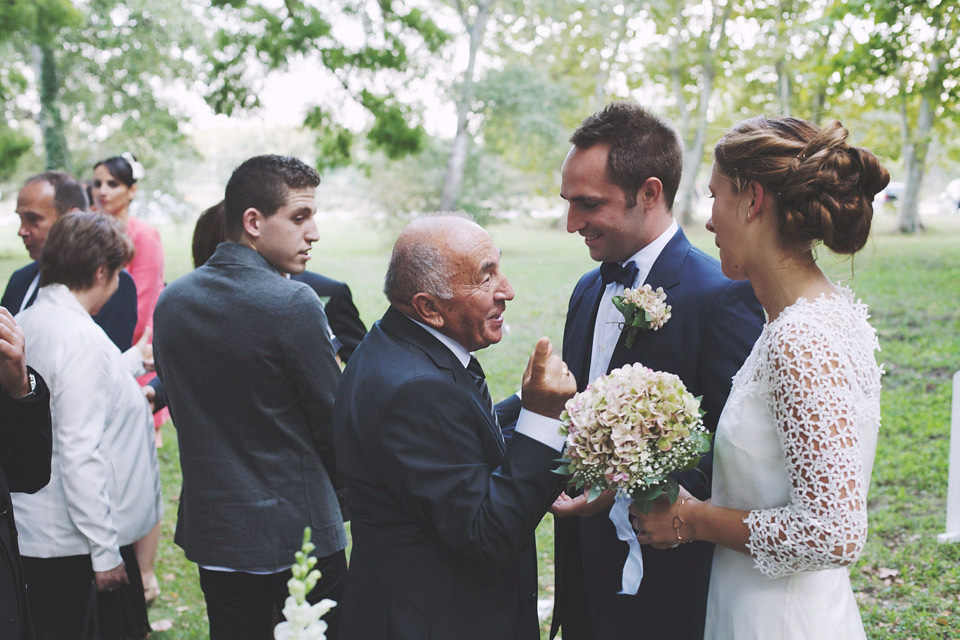 "My best advice would be, allow some time for surprises. I am a big fan of the movie 'Love Actually', and my sisters rented some fake instruments, distributed them in the audience and did this part of the movie when the audience plays 'All You Need Is Love'. Charlotte and Sarah my sisters both sang! They also organised a flashmob during the dinner – it was the perfect surprise."
"We hired Nicosax and DJ Walls.  Nicosax was an amazing saxophonist, our guests still remember him each time they hear the saxophone today!"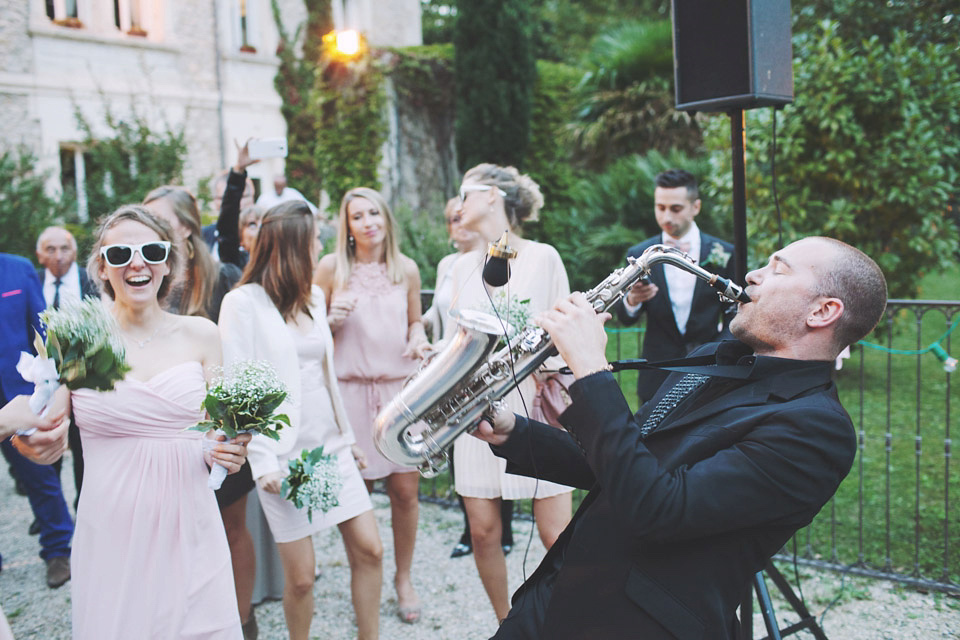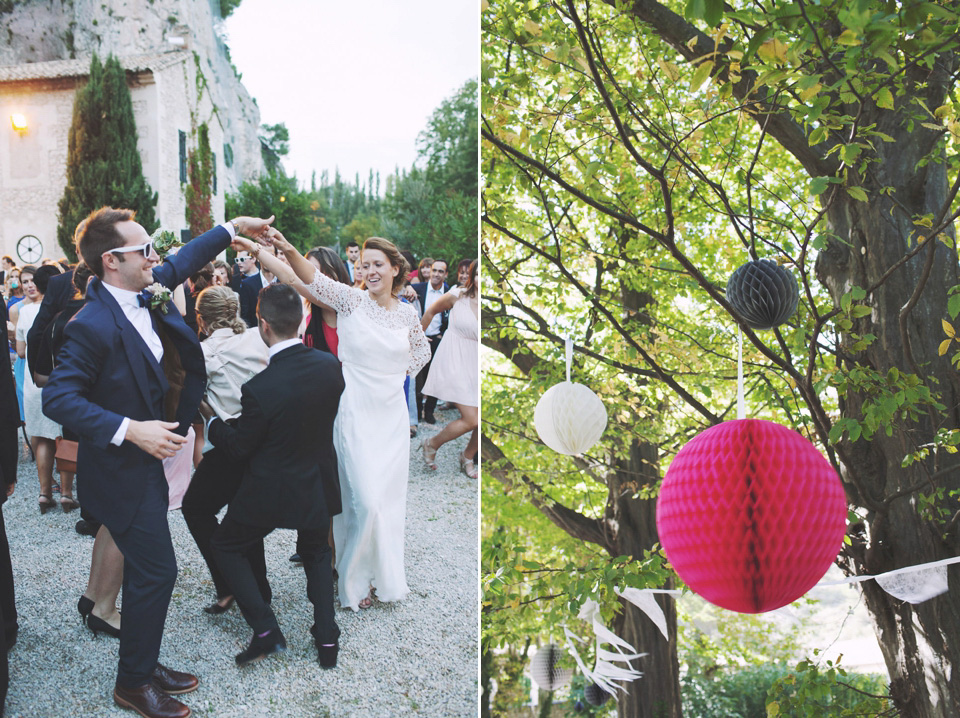 "Because we wanted to invite all our friends, and to dance until very late, we kindly asked parents to come without children. And it was our maids of honour and best men who helped us carrying the ring and the flowers.  (Just a note about the box for the ring, we asked Tom (bestman) to surprise us with an original idea. He came with a Japanese secret box, which turned out super tricky to open! We laughed though!)"
"In France, it is very common (or traditional) to choose a waltz as a first dance to open the evening celebrations with your dad. When we announced to my dad we were going to get married (actually, he already know that because Nicolas had asked my hand to him a few months before asking me) I mentioned I wanted to open the evening with him on a rock n roll number. My dad didn't know how to jive, so he took classes every Wednesday for a whole year to be ready.  Finally, a few weeks before the wedding, he asked me to come to a private lesson with him, a taught me the choreography he had set up with the teacher. It was the best dance EVER and so much fun.  My dad rocks!  We danced to the Blues Brothers' 'Everybody Needs Somebody.'"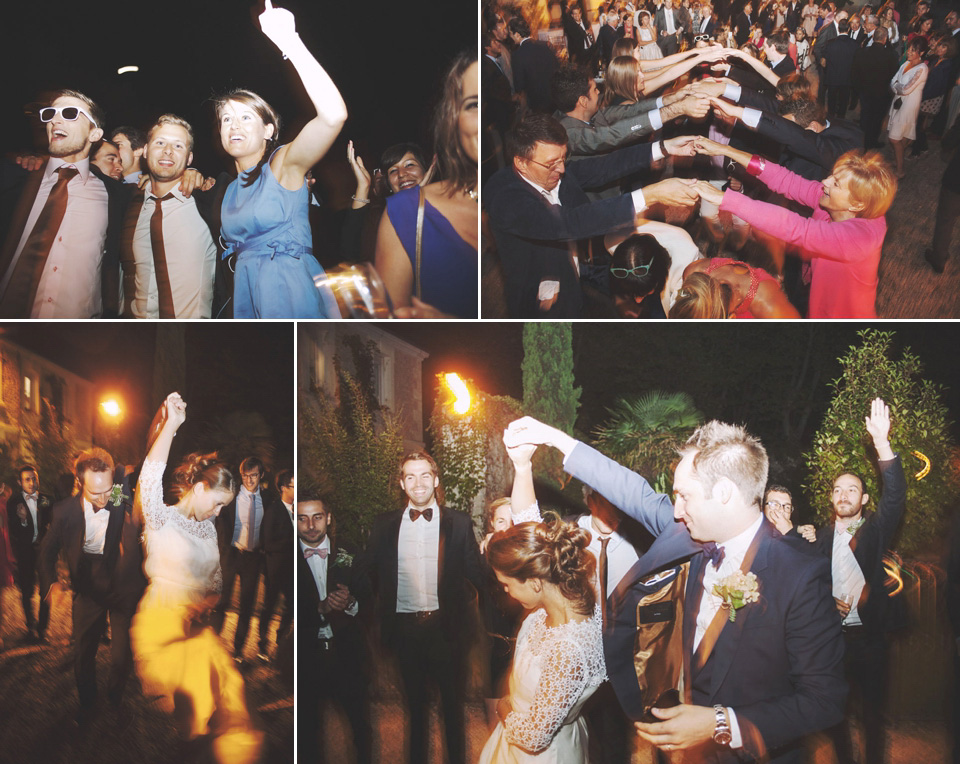 Words of Wedded Wisdom…
"Treat yourself before the wedding – you don't want to look tired on that day.  To fully enjoy it, identify what could potentially cause stress, talk about it and let your family and friends help you.
When you try the dress, try to dance in it!  Be prepared to receive a lot of love.  And don't forget, it's a party, so have fun!
Finally, I really, really loved Love My Dress, and what I love especially about the blog is that you feature different styles and personalities. The most important thing for me as a future bride was to feel that everything was possible.  Love My Dress provided a lot of inspiration. In fact, thanks to Love My Dress, we stuck to our idea of jumping into the sea after the wedding ceremony – and it is one of my best memories ever: married, in love and wild – thank you!"
Huge congratulations to this pair, and all my love and thanks to photographer Karolina of Hearts on Fire – you can see more from this talented image maker here on Love My Dress.
I really hope this wedding has inspired you in some way this morning. Have a great start to the day all,
Love Annabel xx
Photographer – Hearts on Fire Photography
Venue – Calanques de Sormiou (civil ceremony) + l'Auberge du Parc in Orgon (outdoor religious ceremony)
Wedding Dress – Vanessa Bruno (short dress) + Delphine Manivet dress
Shoes – Christian Louboutin
Grooms Suit – The Kooples (civil ceremony) + Paul Smith
Bridesmaids – own choice gowns
Transport – 2CV
Entertainment – Nicosax and DJ Walls