Hello lovely readers.  As a slight deviation from my normal writing habits, I am writing this feature from a coffee shop in sunny Scotland (in between sips of my latte and bites on a rather tasty cake) as I'm away on a work trip, and I'm therefore feeling very appropriately placed for today's delightful wedding, which took place at a beautiful country house in the south east of Scotland. (Is method-writing a thing for bloggers?)
Photography by Mirrorbox Photography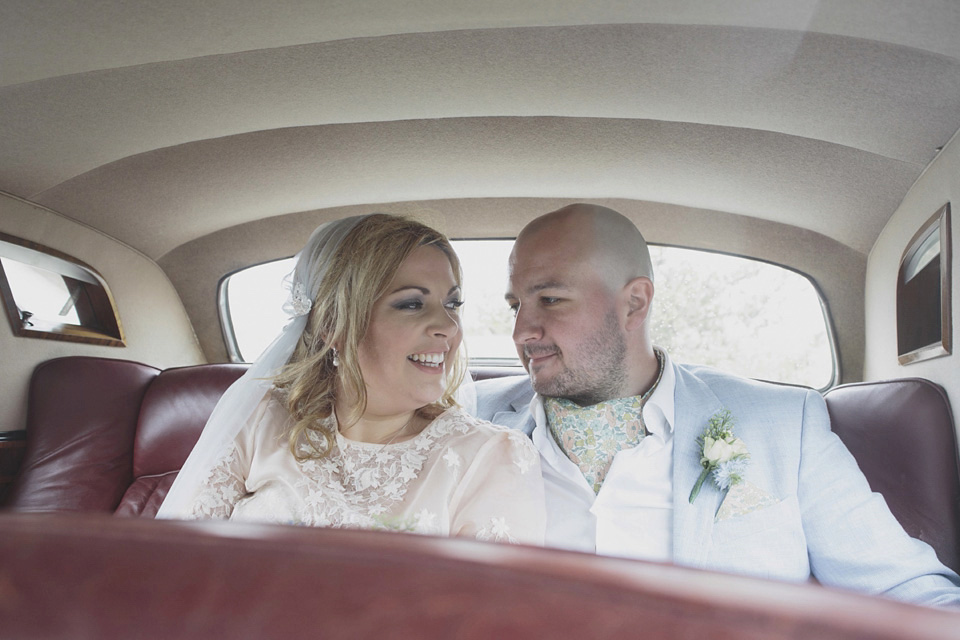 Gaelen, a lawyer, and Cathal, who owns his own dog walking business, married on the 19th of July last summer in a traditional church ceremony at St Mary's R.C. Church, Haddington, followed by a country house reception at nearby Archerfield House.  The couple chose to base their day around the colours of their wedding attire, and everything sprung from there! Thank you to Mirrorbox Photography for today's gorgeous images.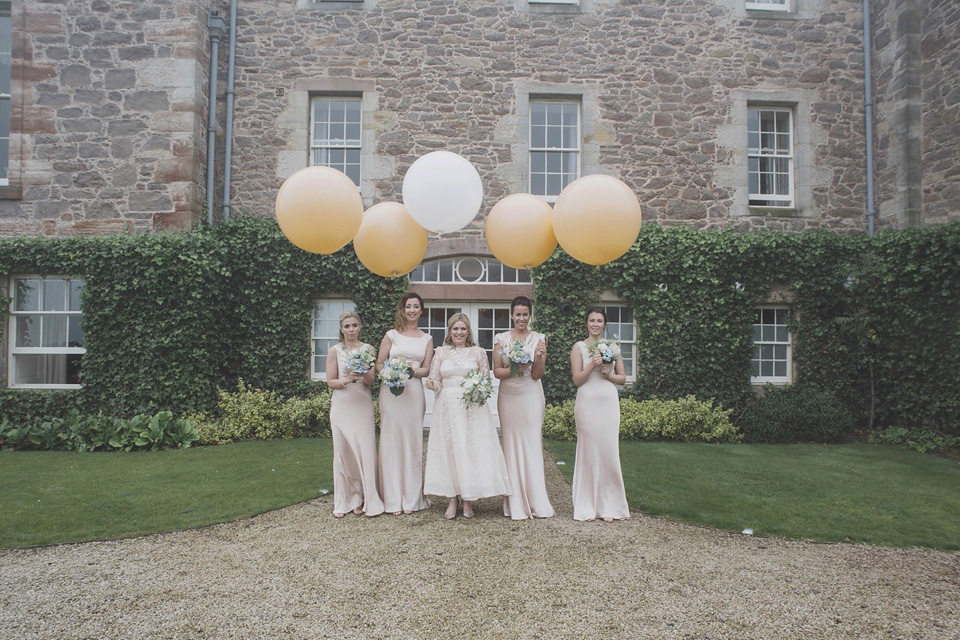 "We were keen not to have fixed theme for our day and the final look sort of evolved from the colours we had chosen for our own outfits.  I had my heart set on a very softly blush coloured dress and Cathal (after seeing Gerard Butler at Wimbledon) decided his look was going to be a pale blue blazer with white trousers."
"We also wanted to incorporate a Liberty print because I absolutely LOVE Liberty and I managed to find a Poppy and Daisy print which had a peachy blush, cornflower blue and a pale olive green – so this was the one.   This gave us a lovely summery palette from which to draw and we incorporated the Liberty fabric in our flower girl's dress, Cathal's cravat and the decoration on one of our cakes."
Liberty print is such a pretty, summery and classy choice and the couple's beautiful country house reception venue reflected this relaxed but classy theme….
"We were looking for a venue that had a relaxed feel but also a bit of glamour, somewhere that we could spend the weekend around our wedding with our friends and families and the wedding could 'just happen' in the middle of us all having a great time – we were lucky enough to find that with Archerfield House- a beautiful stately home which is as welcoming and homely as it is elegant and classical.
This was where we stayed from the evening before the wedding until the day after, and was the venue for afternoon tea and an informal meal on the eve of the wedding and our drinks reception on the day of the wedding. Our wedding breakfast and the remainder of our reception were hosted in Archerfield's waterfront pavilion, a permanent structure which has a marquee feel that gave us the ideal blank canvas to create our own look."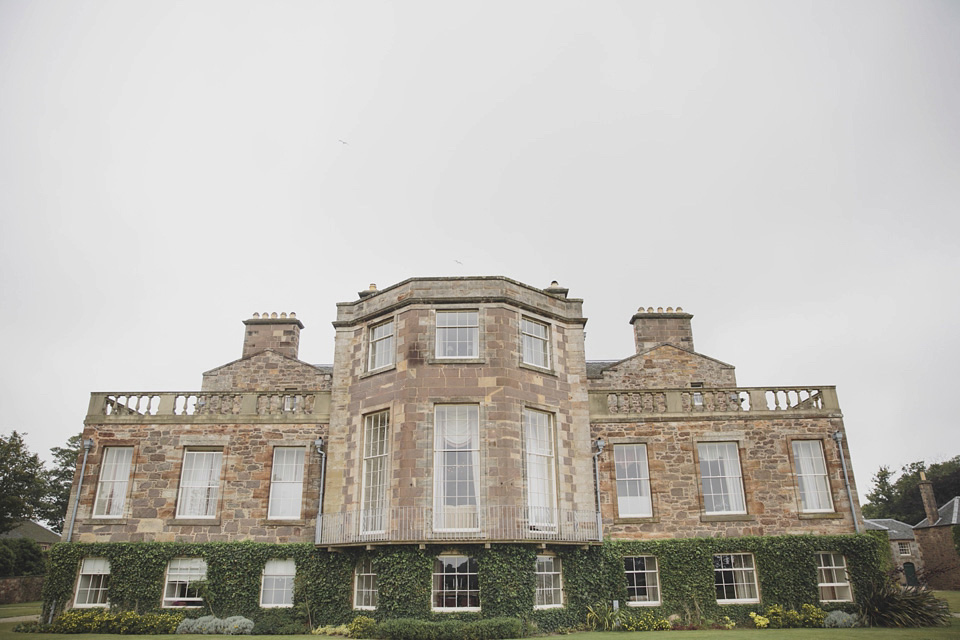 "Our photographers, Mirrorbox Photography, were one of the very first things we booked after setting the date.   A friend had shown me their website a while before Cathal and I got engaged. I remember showing Cathal at the time and we both agreed that these were the photographers we wanted when we got married.  Luckily they were available when we finally found a venue and set the date!  The package we chose included a pre-wedding shoot which Cathal, admittedly, wasn't convinced by to begin with.  We met Sam at a country park and chatted through various details of the wedding to give Sam a general feel for the sort of day it would be.  We were both so awkward and unnatural in front of the camera we were a little worried how the pictures would turn out, but when we saw the photographs we were delighted, and it really put us at ease about having our photographs taken on the day.
"Sam and Hannah worked in perfect harmony on the day and were so unobtrusive, yet managed to capture so many lovely moments.  We were keen not to have too much time away from our guests having formal photographs taken and wanted our photographs to look natural and un-posed, which Sam and Hannah achieved beautifully.  We are so pleased with our photographs that we haven't yet managed to narrow down a selection to have an album made!  We are working on that."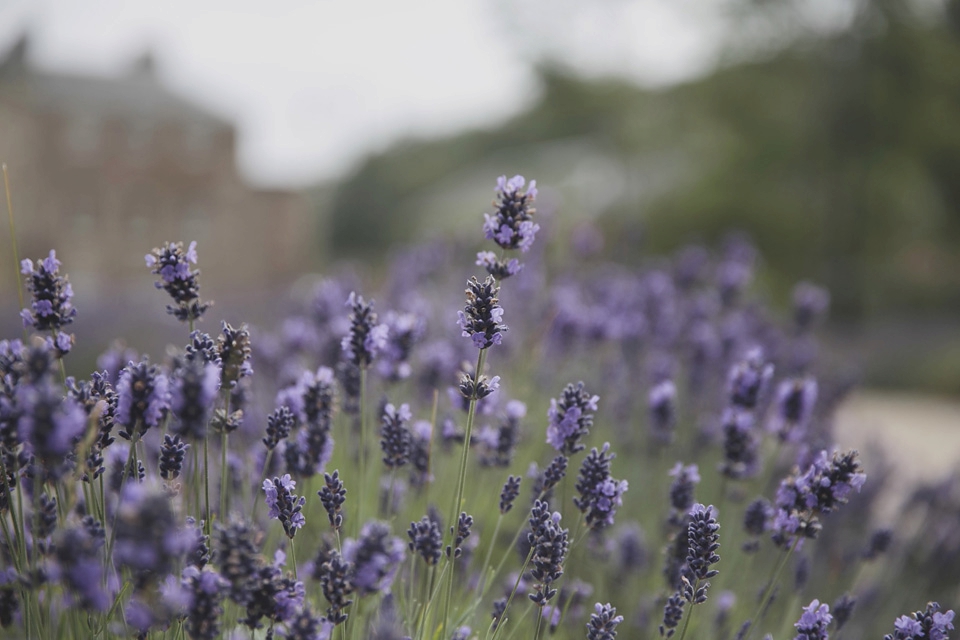 As mentioned earlier, Gaelen had several ideas regarding her dress from the beginning of the planning process.  She therefore opted to have her dress made for her- a wonderful option if you have something specific in mind!  Elspeth Ker of Kerfuffle brought her designs to life beautifully. I absolutely love the delicacy of the removable overlayer, the big bow at the back and the ballerina length skirt- such a flattering but practical option for those of us who love to dance!  It's a gorgeous combination of elegance and fun.
"I had a fairly clear idea what I wanted from quite early on  because I don't generally suit very formal styles, and full length dresses can be a little overpowering on me, so I knew that I wanted something quite relaxed in a slightly shorter length.  It was also important to me that I could wear it again (although perhaps not the full ensemble all at once!)"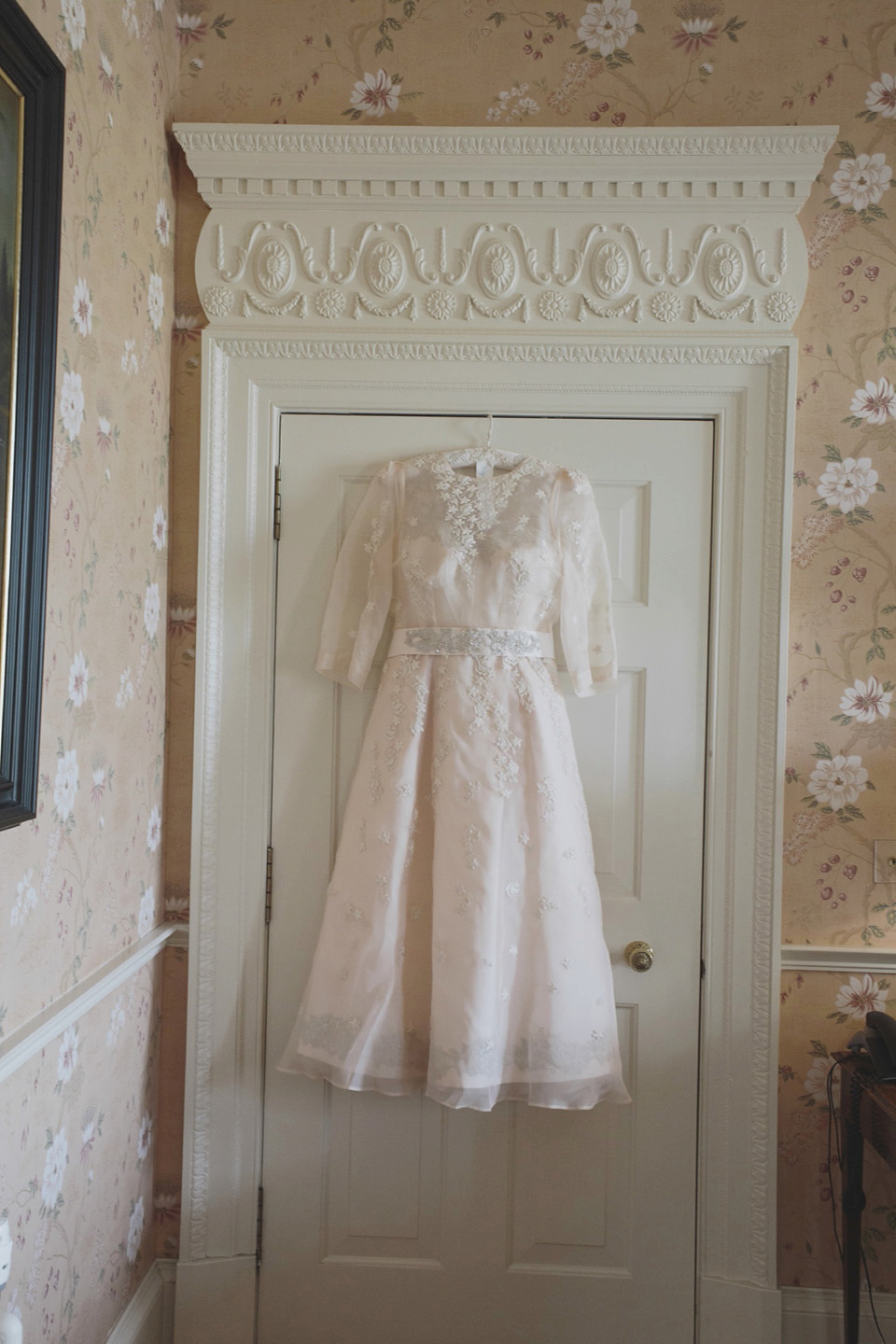 I researched different shapes and styles of dresses online along with fabrics and trims that would work with the design I had in mind but I also tried on dresses in a variety of different shapes and styles since I didn't want to potentially overlook something that may have been better suited to me. 
Although I did keep coming back to what I originally had in my mind, it was still quite difficult to take the decision to have it made, since I hadn't tried on anything which was that similar, so it was a bit of a leap of faith having my idea made in to reality.  When I went to meet with Elspeth to discuss my idea, she put all of my doubts to rest and was able to add the benefit of her expertise in bringing it all to reality."
"What I particularly loved about my dress was that it was so comfortable and, as it was a long ballerina length it didn't get in my way when I was dancing.  The double layer design also gave me a slightly different look for during the day and in the evening and Elspeth had so carefully added all the detailing to the various parts to make it look like one dress when it was all together but equally, make each of the parts a standalone item."
On her feet, she wore the most fabulous pair of Charlotte Olympia Margherita shoes in silver, a purchase from Matches, and accessorize, an aquamarine tennis bracelet, which Cathal bought for her as a wedding gift, as her 'something blue'.
"My earrings were my 'something borrowed' from my mum and were a pearl drop on a little plain hoop.  The only other accessory I wore was a little white gold and diamond cross which was a present for my 21st birthday from a family friend.  I also wore Jo Malone Peony & Blush Suede because I loved it and I was also having peonies in my bouquet."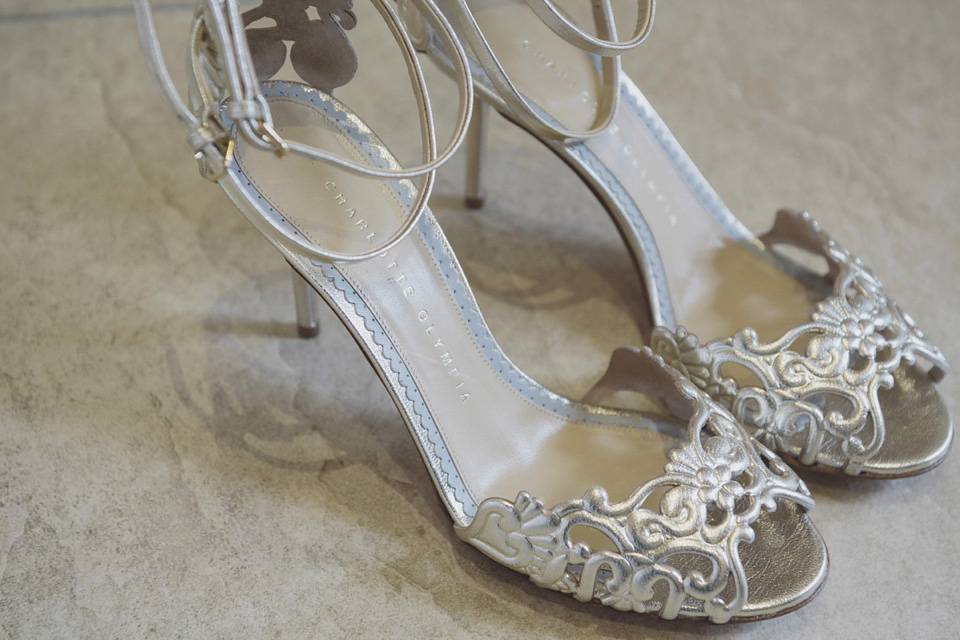 Makeup artist Victoria Faulkner (further) beautified Gaelen and her ladies on the morning of the wedding.
"Victoria had seven of us to get through (all by herself!) before a 12.30 wedding, which she did so unflappably, on time, and without rushing anyone – quite a feat.  It's quite emotional on the morning of your wedding and it could be a little bit overwhelming being around people you don't know that well, but Victoria was the loveliest person and such a calming influence to have around on the morning of the wedding.  I would highly recommend her."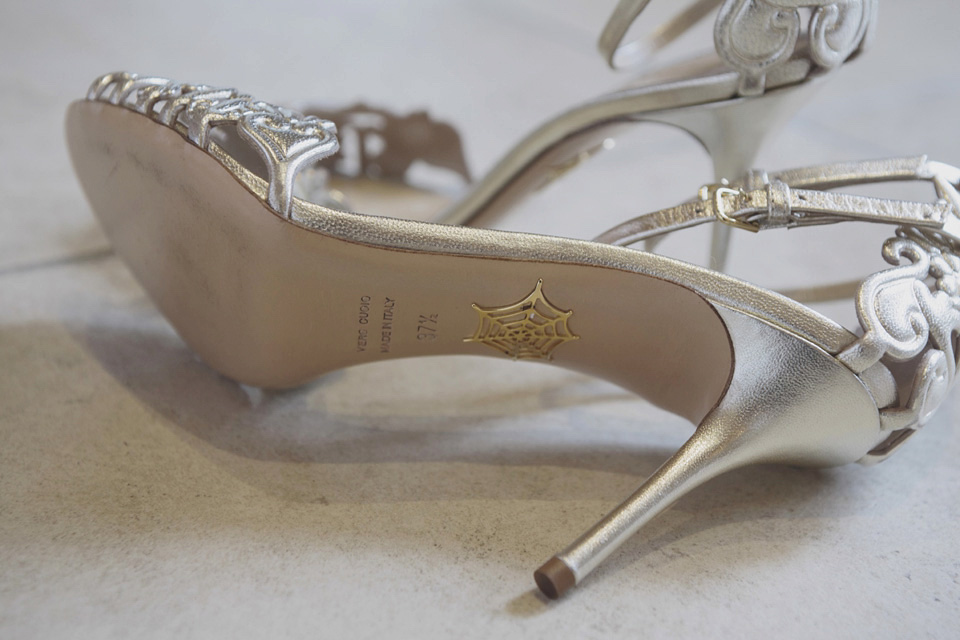 Like many of us here at Love My Dress, I am an absolute sucker for gorgeous flower arrangements, and these are some real beauties.  Florist Dawn from First Blush Flowers did a wonderful job creating the relaxed romantic look the couple hoped for.
"I don't know a lot about flowers, and generally knew that we wanted something that looked quite relaxed and 'undone' but wasn't really able to be any more specific other than I wanted my bouquet to contain peonies, which are my favourite flowers, freesias because my mum had those in her wedding bouquet and a little bit of blue to tie in with Cathal's outfit."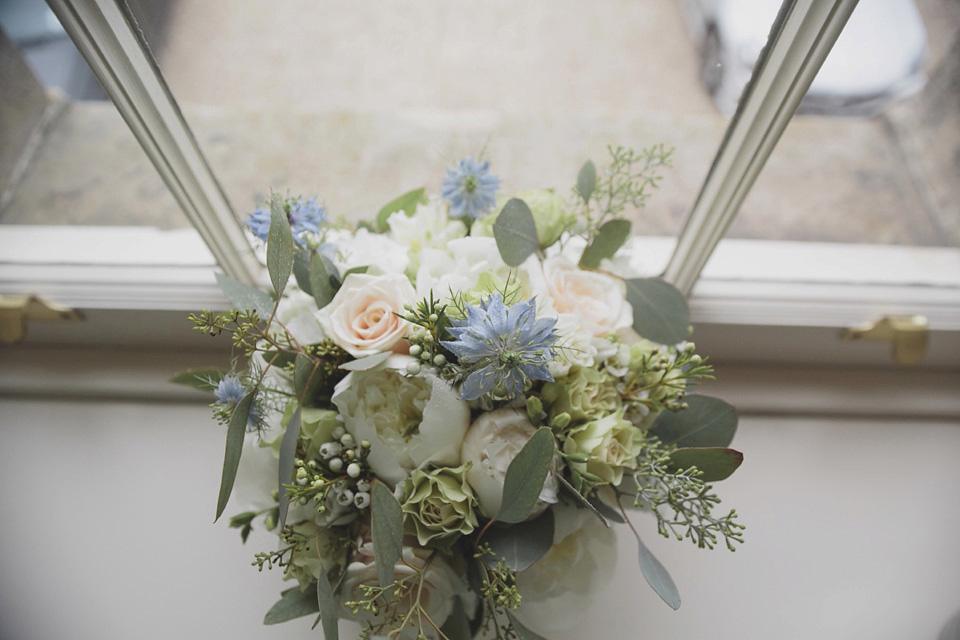 I had created a flowers board on Pinterest where I pinned bouquets and flower arrangements that I liked, which I shared with Dawn and I sent her a piece of the Liberty print we had that incorporated the colours.  Otherwise, we gave Dawn creative license and she did not disappoint.  In addition to the bouquets, buttonholes and a beautiful floral crown for our niece, Leah, who was our flower girl, Dawn also created the most amazing floral centrepieces for our tables, which she arranged in vases so that they could be used in the church initially, and she then transported them after the ceremony to the venue and set them up on the tables.  
We had bought a crate with our names and wedding date (from Wedding in a Teacup) to use as our table plan and Dawn filled this with another wonderful arrangement and set up the table plan cards so that they looked like they were springing out of the flowers.  It was beautiful."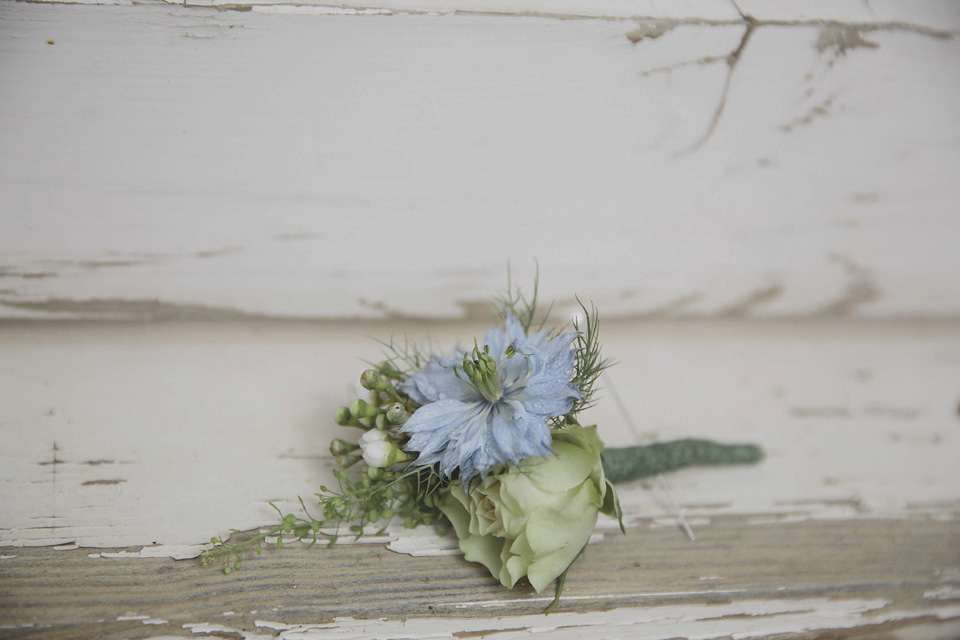 Cathal was not to be outshone by Gaelen and her bridesmaids, and picked a wonderfully summery outfit to compliment his beautiful bride, accessorized with a Liberty cravat and pocket square, made by the bride herself.
"Cathal was looking for something a little different and was initially going to have a custom made tweed kilt, but we went to look at fabrics and there were so many he couldn't choose!  Then, we were watching Andy Murray win at Wimbeldon, when Cathal stood up and announced "that's it, that's what I'm wearing".  At the time I was slightly baffled, until he pointed out a very dapper Gerard Butler in the crowd.  I must confess, I wasn't entirely convinced by the white trousers to begin with, it's one thing on a Hollywood actor but not the easiest look to pull off!  However, he was determined and it all came together perfectly in the end."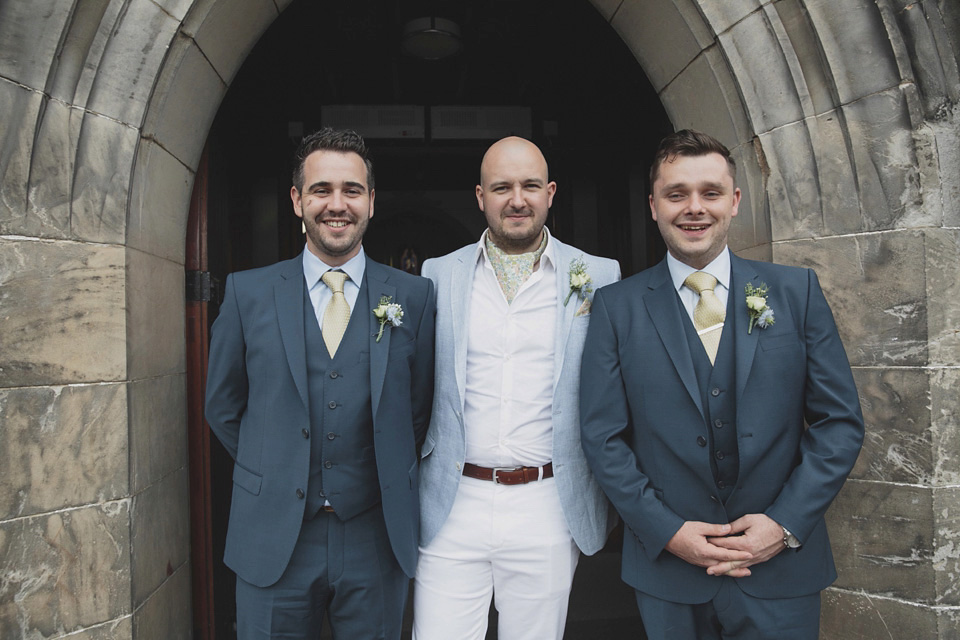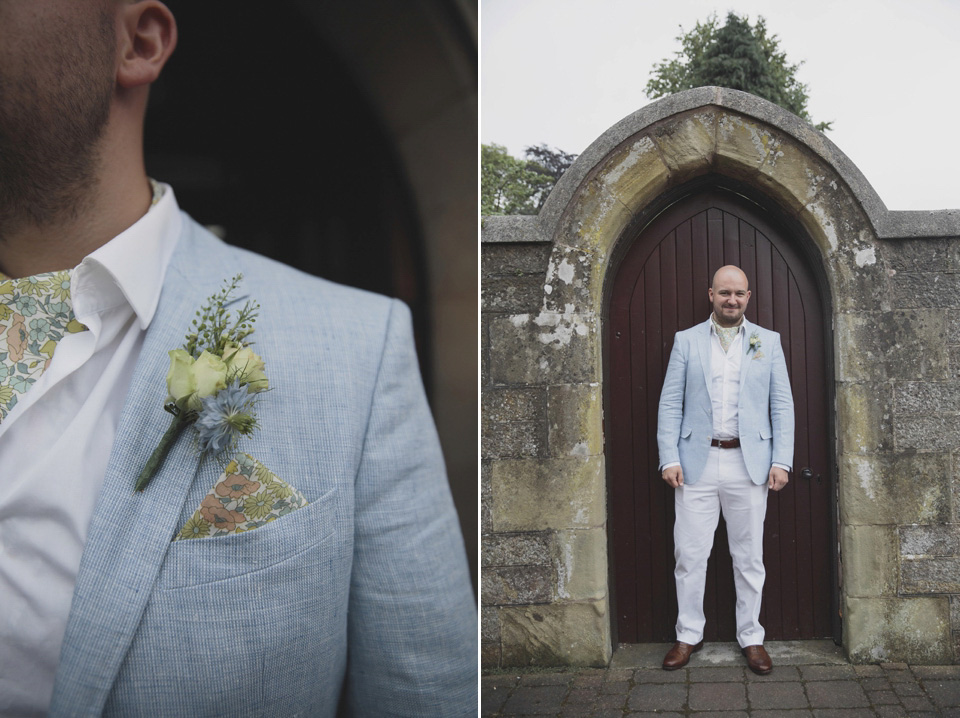 Gaelen's romantic Juliette cap veil was a bespoke commission, to incorporate and compliment her dress.
"My veil was a Juliette cap veil which incorporated a little bit of the lace from my dress so during the day I didn't really need any other hair accessories.  In the evening, when I took off the top layer of my dress, I had a headband which I made myself, again, from sections of the lace from my dress to which I added beading to match the colours of the dress."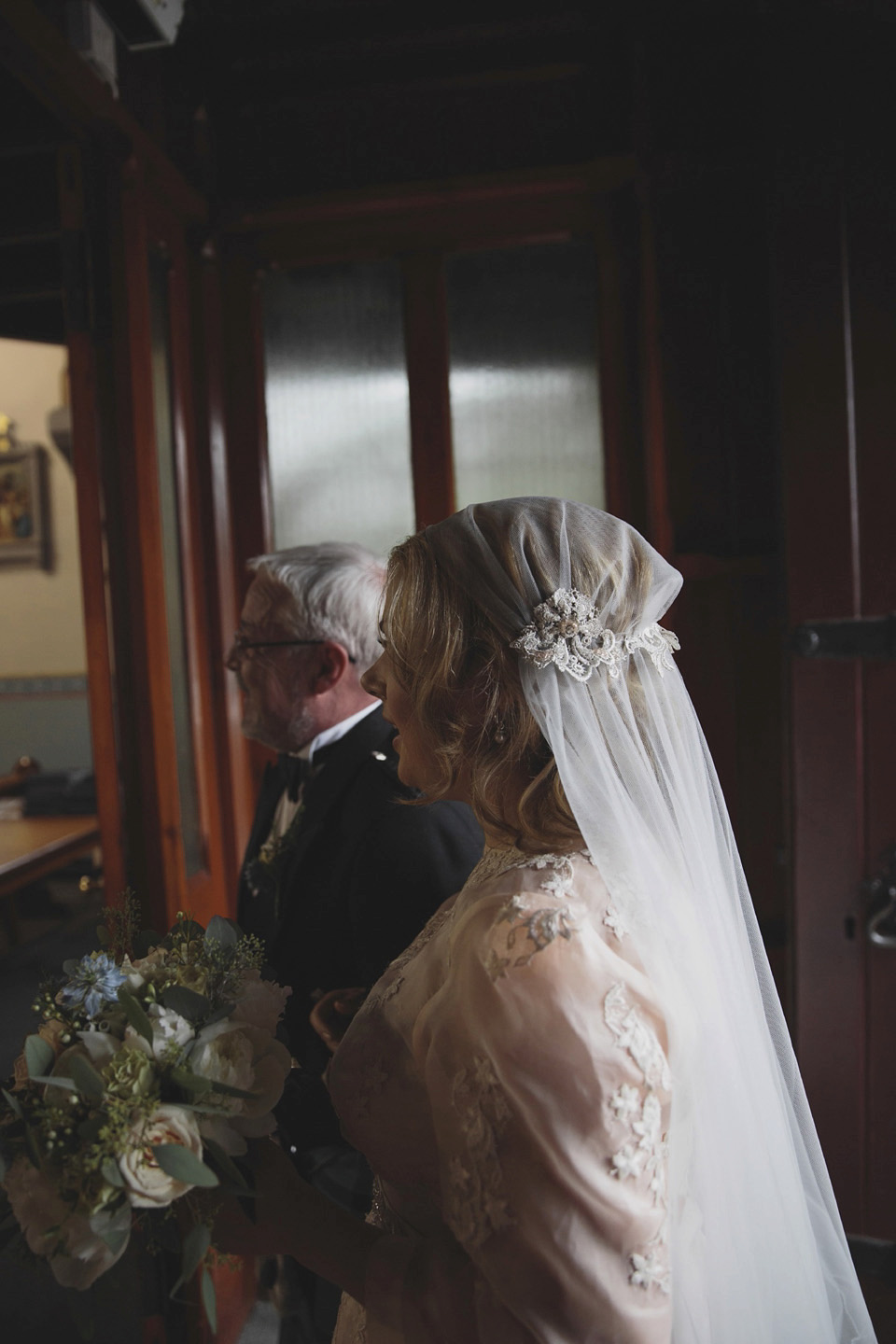 "Our ceremony was held in St Mary's church in Haddington which is not our local parish but is close to Archerfield as we were keen to keep the ceremony and reception venues close together to minimise travel time for our guests during the day.  The parish priest at St Marys and the parishioners welcomed us as one of their own and helped us with the music, readings, even coming along on the day to ensure everything went smoothly.  Our ceremony turned out to be one of our most favourite parts of the day."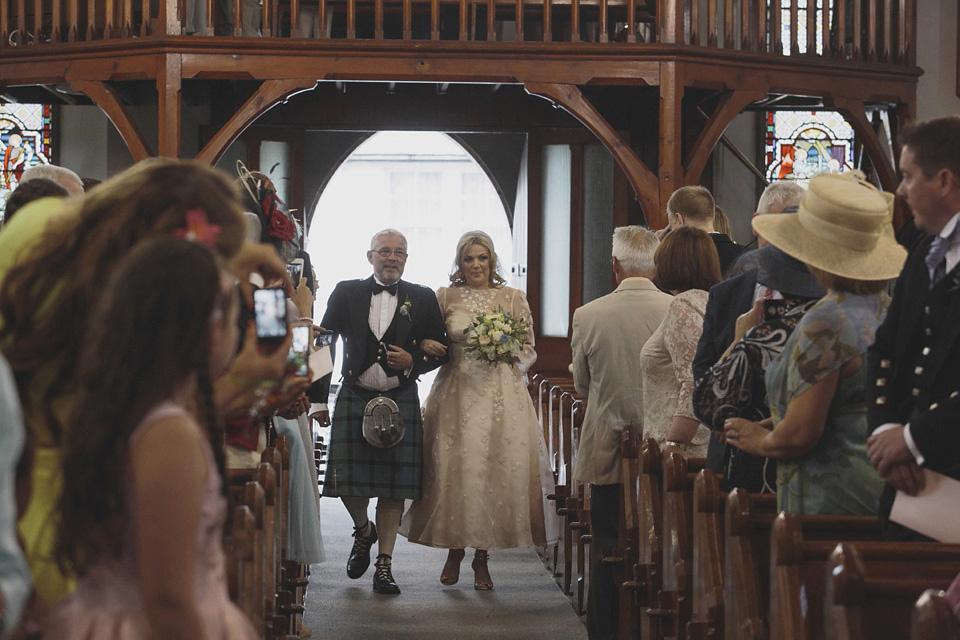 The ceremony took place at the beautiful St Mary's R.C. Church, Haddington and Gaelen and her Dad walked down the aisle to the evocative tones of Pachelbel's Canon in D- I just can't think of anything other than weddings when I hear this gorgeous piece of music.
The ceremony and vows were the traditional religious words, spoken by thousands of people for hundreds of years as they voice their commitment to one another, but the couple also chose to personalise the ceremony with an instrumental version of Christina Perri's "A Thousand Years' whilst they signed the register, and a number of readings.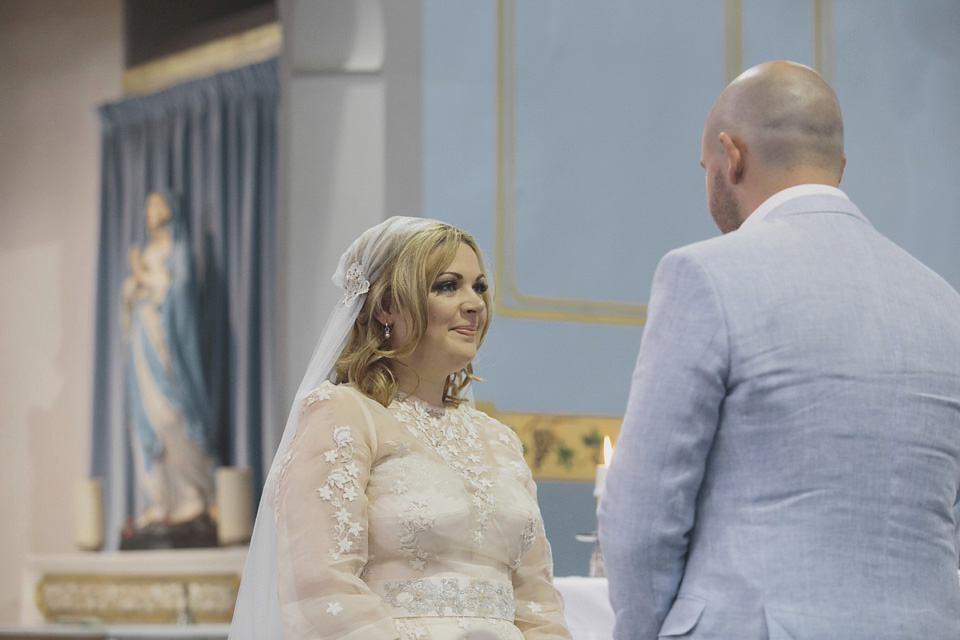 "In particular, our second reading was one my mum had read at a friend's wedding when I was very little and had always remembered.  It is quite a well known one-
"…Love is always patient and kind; it is never jealous; love is never boastful or conceited; it is never rude or selfish; it does not take offence, and is not resentful. Love takes no pleasure in other people's sins but delights in the truth; it is always ready to excuse, to trust, to hope, and to endure whatever comes.  Love does not come to an end' "
The newly weds walked back down the aisle together to A Midsummer Night Dream (Op.63:III: Wedding March)- how gloriously romantic!
Like many of our brides, Gaelen cites the ceremony as one of their favourite parts of the day- I always think this is so lovely and indicative of Love My Dress brides, although the party is fabulous, the food delicious and wearing your dress (finally!) is wonderful, our brides consistently say that saying their vows is one of the best bits of the day, which really, is just as it should be isn't it?  It reminds us all of the real reason for the big day in the first place – love and commitment.
"It's hard to choose just one part, but the ceremony itself was a definite highlight.  I think we were both a little worried about being nervous during the ceremony standing up in front of all of our family and friends but our priest was just amazing and made us both feel very at ease.  He was also due to retire a few weeks after our wedding and kept forgetting our names during the ceremony which actually broke the tension so we just relaxed and enjoyed it.  There was lots of laughter during our ceremony and it was a lot of fun."
"Cathal and I actually first met at work, but worked in different teams so didn't speak much to begin with. When he first asked me out, I was pretty determined that I wasn't going to date someone from work so I politely declined! Over time, I began to wonder if I had maybe been a little hasty in not taking up his offer of a drink and perhaps it was worth going on one date.
Anyway, I thought I had missed my chance because I didn't hear from him again for a while, then one night out of the blue, I got a text asking if I wanted to go for a drink (I didn't know it at the time but it was actually his friend Graham who had pinched his phone to text me!) so this time I decided to take the chance and say yes.  That was March 2007 and we've been together ever since."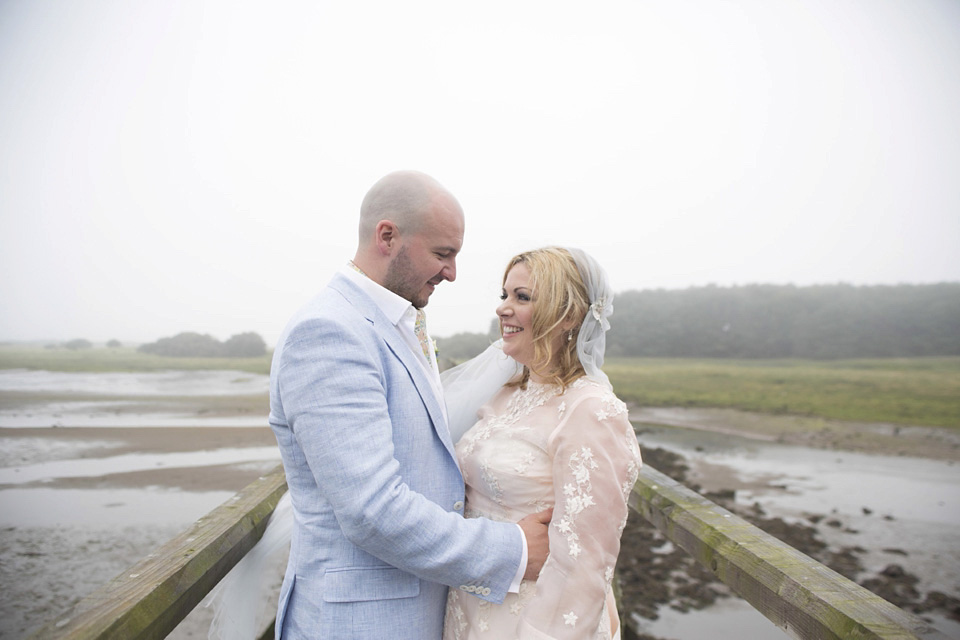 We got engaged in Paris at the top of the Eiffel Tower two days before my 30th birthday in 2011 which was a complete surprise to me and I fear I left poor Cathal waiting, on one knee, for a little too long because I was utterly speechless.  I said yes of course when I eventually found my voice!
It transpires that unbeknownst to me he had been planning to propose for a while and, since I had always wanted an antique aquamarine cocktail ring, he had been secretly researching them and got up very early one morning to bid in a live auction taking place in the U.S. to secure the perfect 1920s aquamarine and diamond vintage cocktail ring to propose with.  I think the ring was part of the reason I was so speechless!"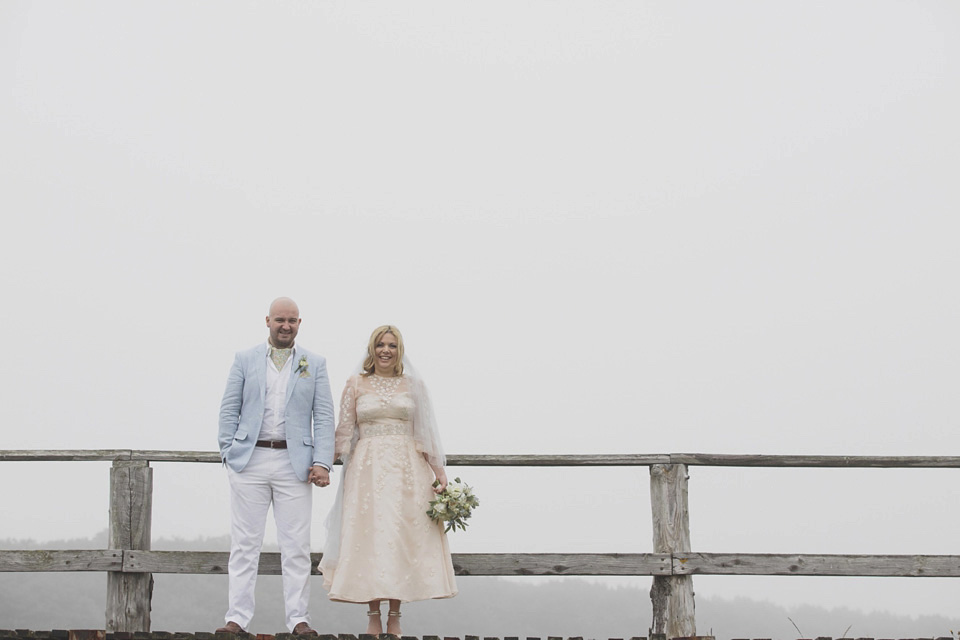 "We were engaged for just under three years before we got married, we both quite enjoyed being engaged and weren't in too much of a hurry to get married.  We also struggled to find a venue, to the point we had begun to wonder if what we were looking for actually existed and were contemplating the Little White Chapel in Las Vegas (dismay from the mums!). 
When we went to see Archerfield it was everything we were looking for and a little bit more and as soon as we had found that, everything else fell into place very quickly and we had set a date for the following year."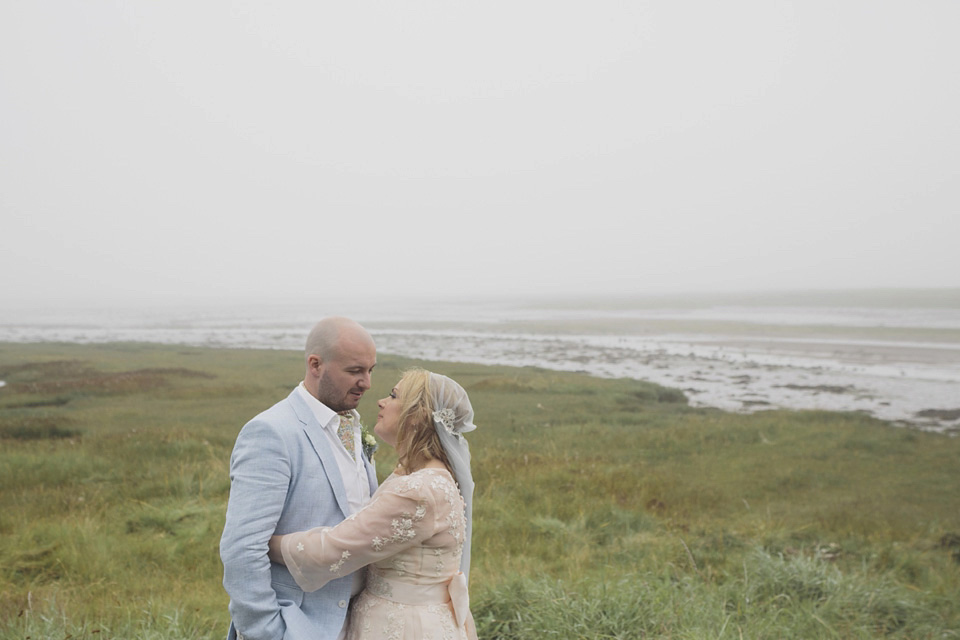 The gorgeous bridesmaid dresses were purchased from the ever-lovely Ghost.
"I had been looking on Pinterest for inspiration and noticed that almost all of the bridesmaid pictures I had pinned happened to be Ghost.  The bridesmaids loved them too so this made the decision pretty easy.  Luckily, the styles and colours had just been updated at the time we were ordering them, and the new 'nude' colour was a perfect match for my dress.  I wanted the girls to feel comfortable and to have a dress that suited them, so I gave them free reign to choose the style they wanted, with the only stipulation being that they were all the same colour."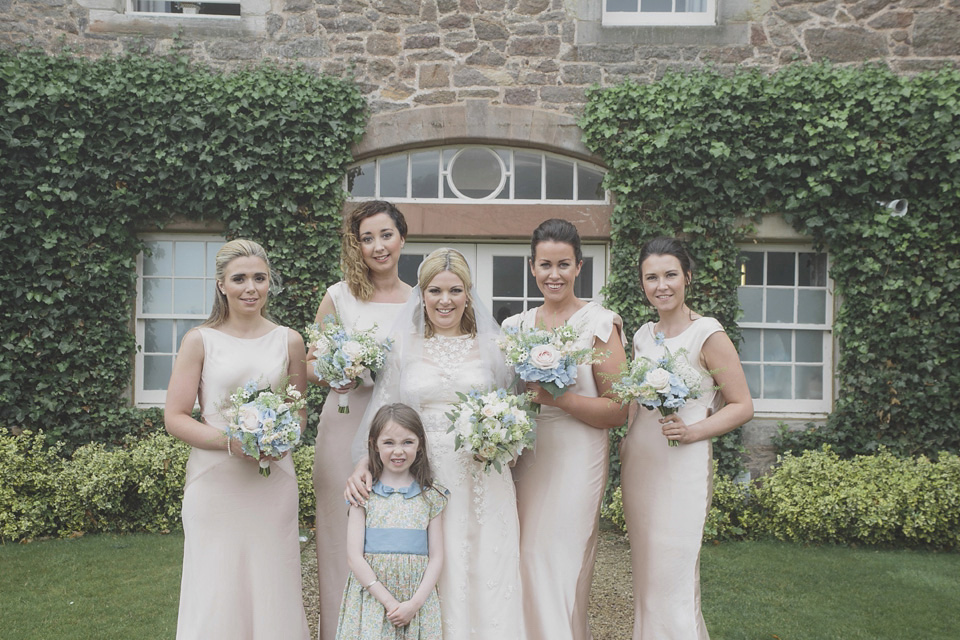 "I really wanted the bridesmaids to be comfortable since they would be on their feet all day and managed to find some wedges in Clarks which were a lovely nude shade that matched their dresses perfectly and had a rose gold strap across the toe.  As their dresses were floor length, it was only the little rose gold bit that peeped out from underneath.
I bought each of the bridesmaids a little silver bracelet from Dower & Hall as a thank you gift which they each wore on the day and, for the evening, I also bought them all a cashmere shawl in the same colour as their dress to wrap up in if it got a little bit cooler.  Other than their own jewellery, these were the only accessories the bridesmaids wore."
"Our stationers, E.Y.I.Love, were awesome.  I instantly loved their work and when we had our consultation with Jack, he had so many great ideas we were sold straightaway.
I had been fairly busy in the lead up to the wedding, sitting exams the month before such that Cathal and my dad had the task (which they executed with military precision) of sending out the invites, and we were also in Italy for a friend's wedding two weeks before our own so it is fair to say we were generally a little bit behind schedule in getting the details to our stationers for printing.  Despite being extremely busy at the peak of wedding season, they were so patient and accommodating of our inability to meet deadlines and, in spite of our own lateness, everything arrived beautifully packaged and on time.  They are incredibly talented at what they do.  I can't wait for another excuse to have them design us more beautiful stationery (any excuse will do!)."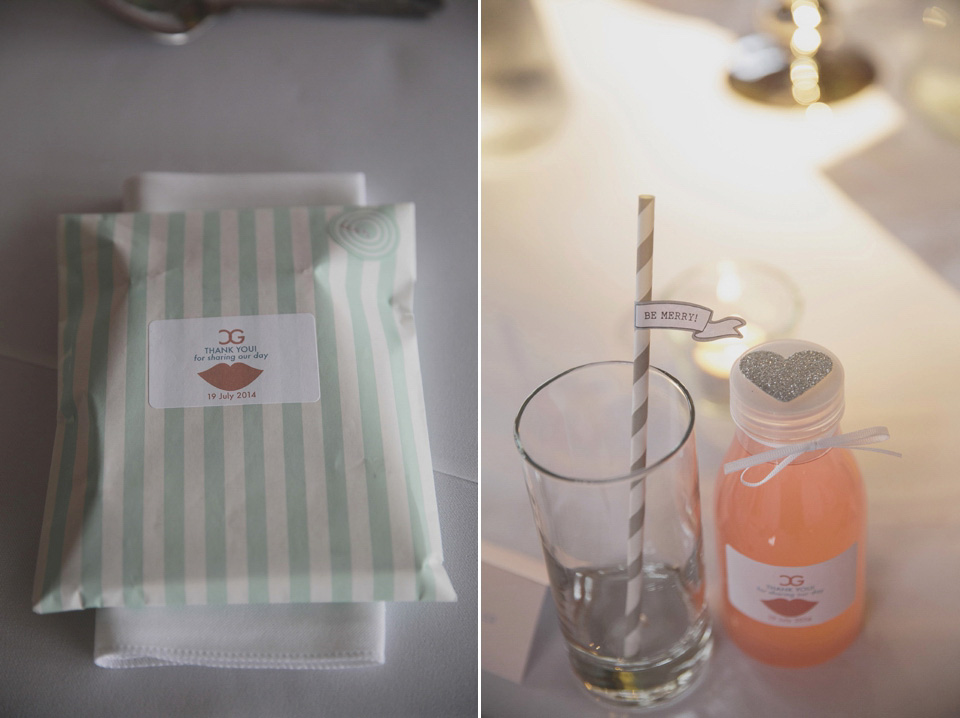 The couple didn't feel the venue required much in the way of additional décor as it was already so pretty, so they just chose a few special elements to incorporate, and made some fantastic home-made favours as well.
"I had been using Pinterest for inspiration in the lead up to the wedding since it was so useful for narrowing down ideas. I had seen a few pins on wedding boards with giant round balloons which I thought looked really amazing in pictures and had this lovely dreamy quality, so we bought these in the colours of the Liberty print (blush, blue, green and white) to suspend from the ceiling of the venue like a sort of modern take on bunting.  This proved to be much easier conjured up as an idea than brought to reality, but Cathal's mum and her two friends very kindly spent hours putting these up in the couple of days before the wedding and we were delighted with the end result."
"Favours were another homemade part of our wedding!  For the ladies, my lovely bridesmaids zested and juiced innumerable lemons to make delicious limoncello and then decant it into little miniature bottles, and tied little silver bows.  The gentlemen had little lemon biscuits, dipped in white chocolate, which were packaged in glassine bags.
The children also got some little lemon biscuits along with a selection of goodies in little striped bags and a bottle of pink lemonade to which we also added our labels. For our save the date cards, I had downloaded moustache and lips graphics and we incorporated these in the labels for the favours, blush lips for the ladies and blue moustaches for the gentlemen."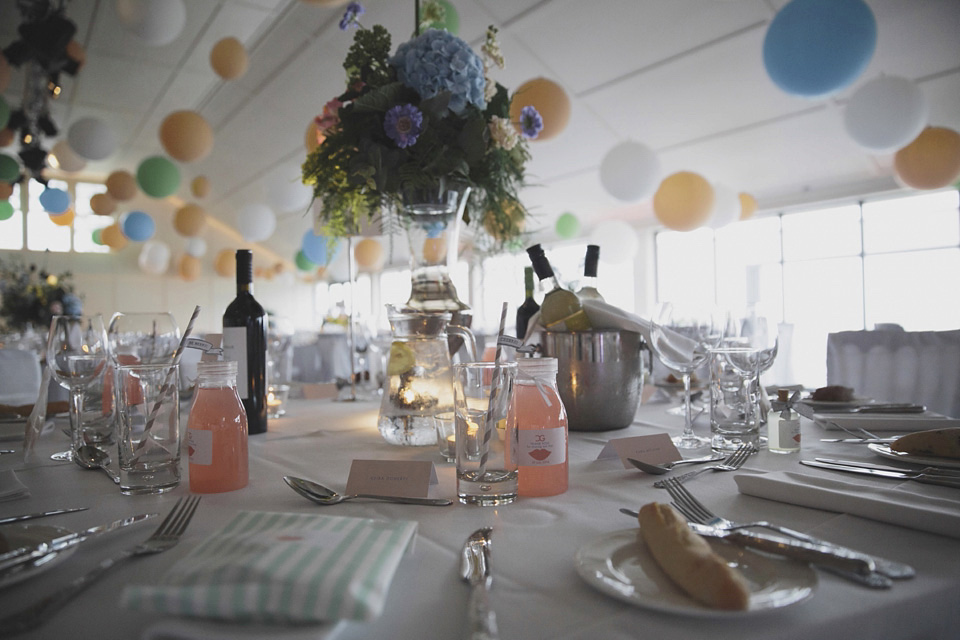 Gaelen and her mum, (with a little help from Gaelen's sister in law, Elizabeth) made the wedding cake(s) themselves, and each and every one looks absolutely delicious….
"Initially we were going to have a tiered cake, but when mum and I were talking about the practicalities of transporting it, we decided that it would be a bit risky, and also a bit tricky to try and assemble it at the venue without all our equipment, so we decided to just have each of the individual cakes on different sized cake stands to make a cake table.
We had five cakes in total; two fruit, one victoria sponge, one chocolate sponge and one coconut, all in different colours from our colour scheme and decorated slightly differently.  We also bought a couple of really small, domed cake stands to which Dawn, our florist, added a couple of flowers from the arrangements and a string of fairly lights around the table.  I was really pleased how it all turned out.
Despite having five cakes, there was not a crumb left at the end of the night so we didn't need to worry about what to do with the leftovers!"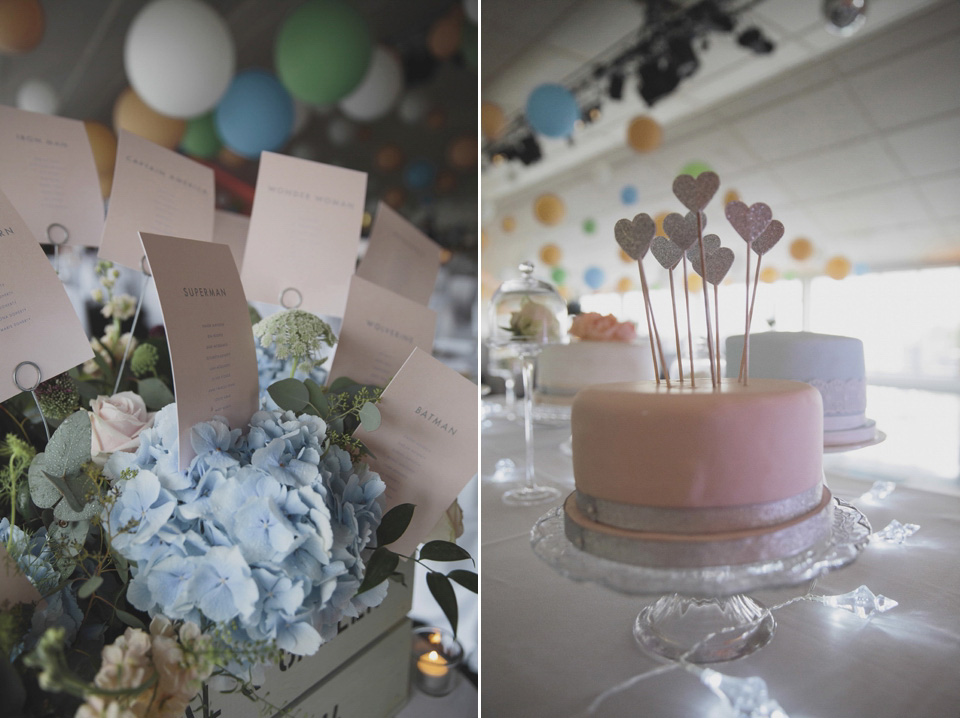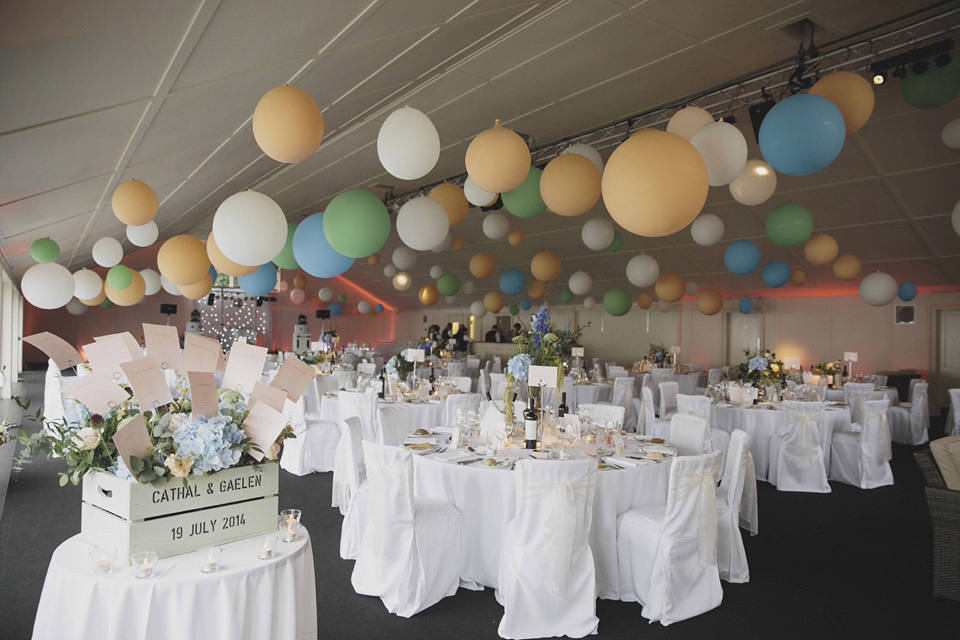 Words of Wedded Wisdom
"My words of wisdom would be in relation to the week prior to the wedding.  I love to make things and had packed a lot in to the week for the wedding, making and doing last little things.  The only thing I would do differently would have been to take a little time to relax and put my feet up in the week leading up to our wedding day.  My manic week didn't impact on the day at all, but looking back I do wish I had just had a little more time to potter about in a happy pre-wedding daze!  
We loved our day from start to finish and had so much fun.  Lots of people had recommended getting a videographer since the day goes by so quickly but neither of us were keen to have one so we made a point of savouring every moment and didn't find that the day flew by in a whir, we loved it all and have so many great memories."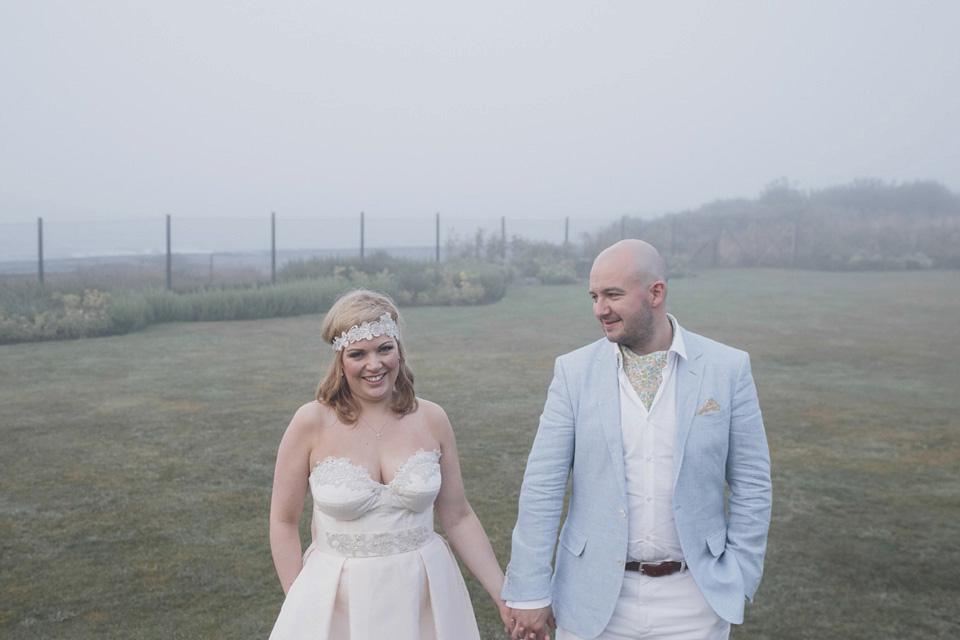 Thank you so much to Gaelen and Cathal for sharing their gorgeously romantic day with us, and to Mirrorbox Photography for the beautiful imagery/  Are any if our other reads having their wedding dress made for them? It's a lovely option if you have something specific in mind.
Much love as always,
Shona x
Photographer – Mirrorbox Photography
Venue – Archerfield House
Wedding planner – Kirsty Doull, from the team at Archerfield
Wedding dress – Bespoke, by Elspeth Ker of Kerfuffle
Headpiece – Bespoke Juliette veil (daytime) and headband for the evening (bride made herself)
Shoes – Charlotte Olympia Margherita in silver purchased from Matches
Accessories – Aquamarine bracelet from Cathal, borrowed earrings and a favourite necklace
Bridesmaid dresses – Ghost
Bridesmaid shoes – Clarks
Bridesmaid accessories- Shawl- My Pashmina, handbags – Dower and Hall
Flowergirls – dresses made by Gaelen's mum in Liberty cotton
Makeup artist – Victoria Faulkner
Groom – Hugo Boss (blazer/shirt) +M&S (trousers) +  Liberty print cravat
Groomsmen – Three-piece suits from Slaters
Florist – First Blush Flowers
Cake – Made by Gaelen and her mum
Catering – In house at Archerfield
Entertainment – Ceilidh via Entertainers Agency
Rings – Love for Diamonds
Stationery – E.Y.I.Love
Transport – Ecosse Classic Cars