Modern, minimalist and monochrome – or 'ModMono' for short, is 2015′s answer to monochrome minimalism, but this time around things have become much softer. No more hard lines and bold patterns, it's about soft painterly styles, marbling and circular shapes.
Image Credits: dress / pattern / dress / flowers / paper / pattern / flowers
When mixed with pale blush and glacier grey it offers a much more subdued modernistic style – almost like a whisper.
Perfect for those couples wanting a pared-back vibe that feels less wedding frou-frou and more chic dinner party, without losing any sense of occasion.
Image credits: Paper / Tiles / Stairs / Candles / Flowers / Plates / Packaging / Bottle  / Cake
THE DETAILS
From the get-go we'd set the scene for a stylish and individualistic take on things: the invitation would feature bold typography against a soft marbled background. Bold patterns found in the design of their chosen wedding space would be juxtaposed by delicate blousy florals cascading down staircases, in doorways and from drawers to create an enchanting oasis. Centrepiece vessels would be the deepest darkest matte black for ultimate sophistication.
Slim taper blush-hued candles would sit in marbled holders whilst the dinner service would be enhanced with designer ceramics and brass tipped crockery.
The functional would be fancied up too with intricate illustrations added to paper bags holding treats for the guests with custom-designed labels added to the bottle service for that added level of detail. The cake would remain minimal and chic, allowing the intricacies of the design to shine through.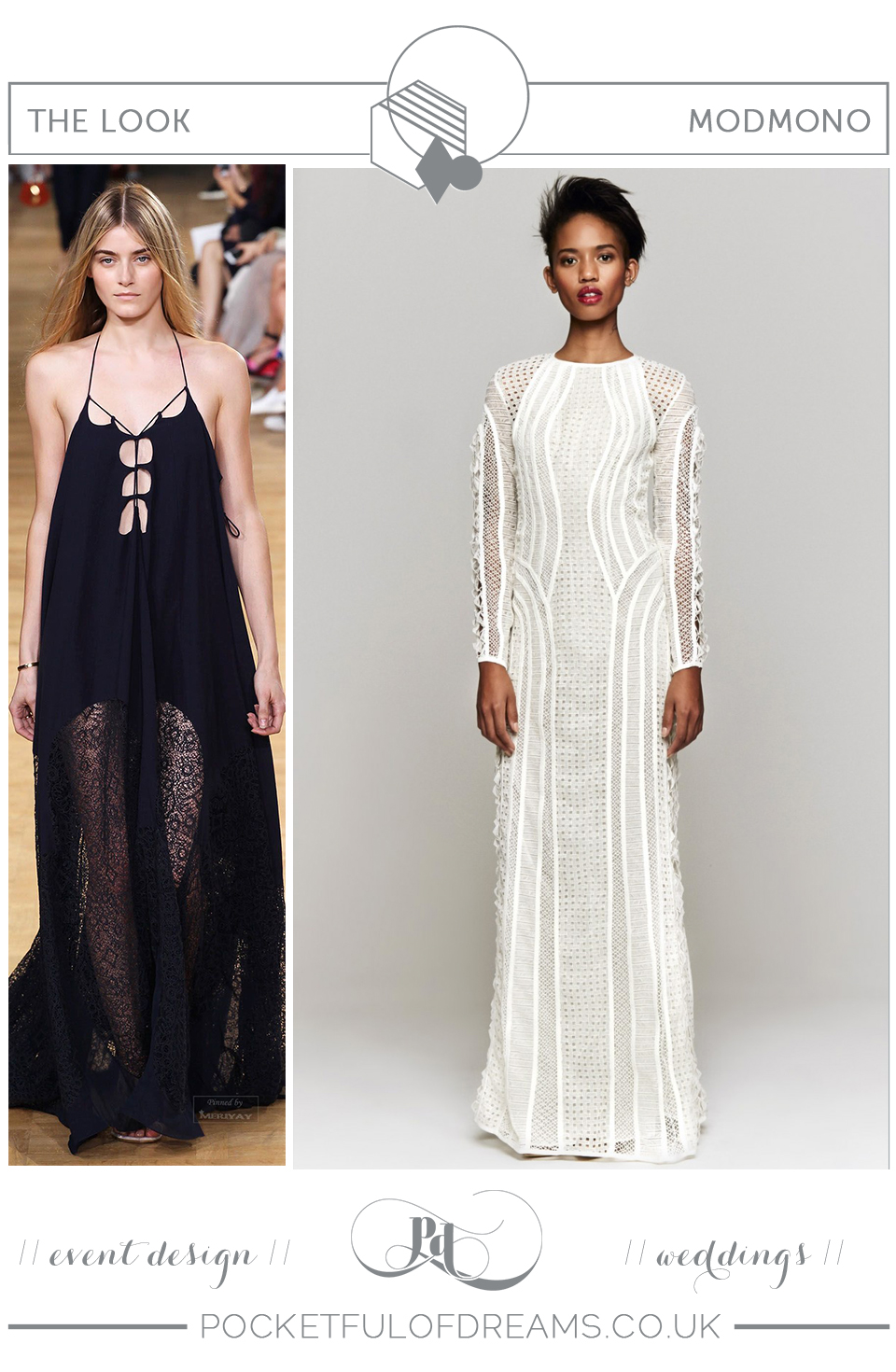 Image credits: black dress / bridal dress
THE LOOK
This look is all about expressing personality, the contour dress by Zimmermann gives a little nod to a modern bride's sassy yet sophisticated style with it's intricate woven details and daring open back. We'd add in an elegantly crafted bouquet with unusual leafy elements. The maids would have a little edge of their own in an array of simplistic black gowns.
The ModMono style is the perfect choice for any modern couple with a strong creative vision and a desire for a more chic and unique wedding space.
I hope I've been able to inspire some of you lovely Love My Dress readers this morning.  Have a beautiful Friday.
Love Michelle
_____________________
We love to share features by Michelle Kelly, Creative Director and expert wedding planner at Pocketful of Dreams– and partner/collaborator with Love My Dress.   Pocketful of Dreams create captivating and unforgettable celebrations for creative clients across the UK and Europe and provide everything from on-the-day assistance only, to full wedding planning and styling.  If you think you'd like to chat with Michelle about your own wedding, you can drop her a line on [email protected] or visit pocketfulofdreams.co.uk for more information.