Happy late afternoon my loves. I couldn't keep from sharing this loveliest of weddings with you this afternoon – it felt so apt given the glorious weather we've had today and the sun shine and smiles that are evident in all of these photographs.  The couple in these images are Louise and Lee, who tied the knot on 26th July last year at Talton Lodge at Newbold on Stour, having officially become newlyweds three days prior at Chelsea Registry Office.
"It was a massive risk having an outdoor wedding in the UK and it could have been very different if it had rained, but we were so lucky, because as it turned out, it was scorching all weekend."
Photography by Sara Lincoln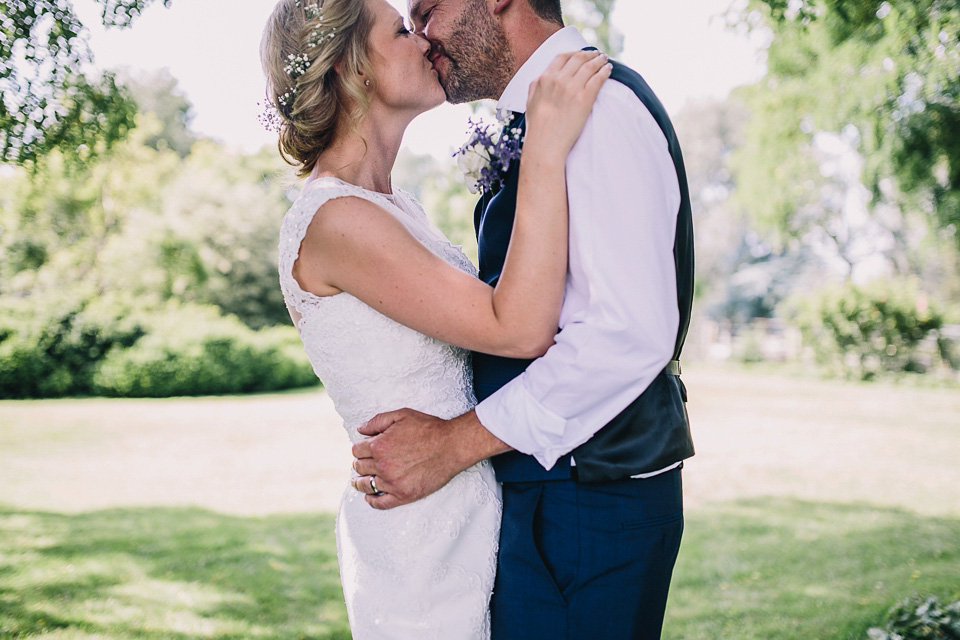 "We organised all of our wedding ourselves with the help of Barney and Olivia of Talton Lodge, and talented family and friends. It was a pretty big undertaking as it was a weekend wedding. We organised accommodation for everyone on site, sourced everything from tables, chairs, tables cloths to napkins and even bought all of the booze (which we stocked in our spare room!)."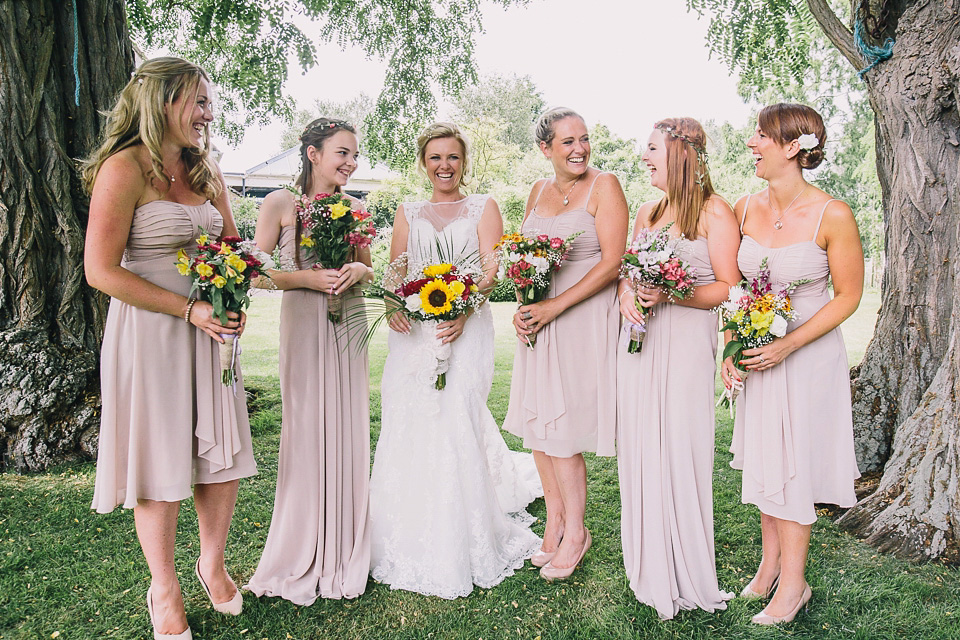 "I was working on a campsite when we met which was part of the inspiration for having a camping wedding.  We really didn't want a formal wedding, we wanted it to be fun and relaxed. I had used Pinterest and blogs for inspiration and loved the Californian outdoor weddings (which was a risky idea with the UK weather).  We just wanted lots of rustic, handmade details."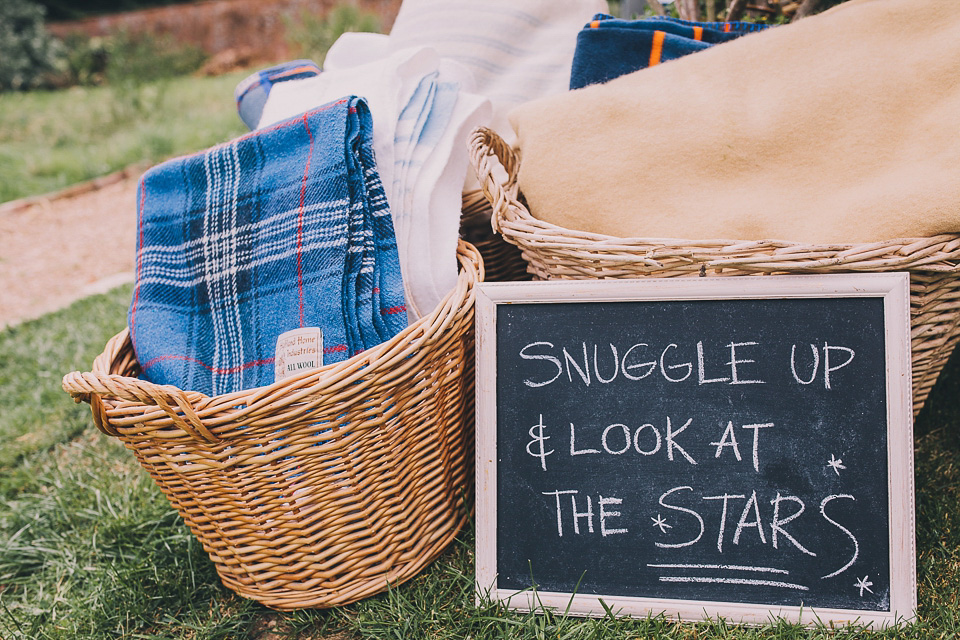 "We had a humanist, hand-fasting ceremony, which meant we could write our own vows. It meant the ceremony was so meaningful and personal to us. Teri Stout was our celebrant and did a fantastic job of helping us write the ceremony and giving us advice beforehand. She told the story about how we met and why we are together."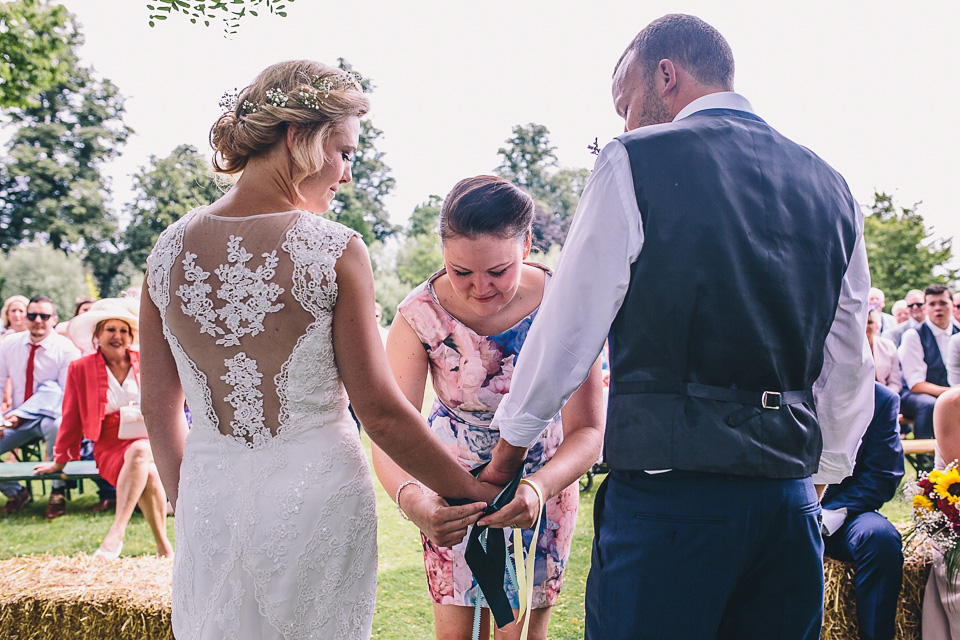 "I have size 8 feet and always struggle to find nice shoes, so I went with comfort over style. I found some simple Kurt Geiger shoes which I could dance in all night."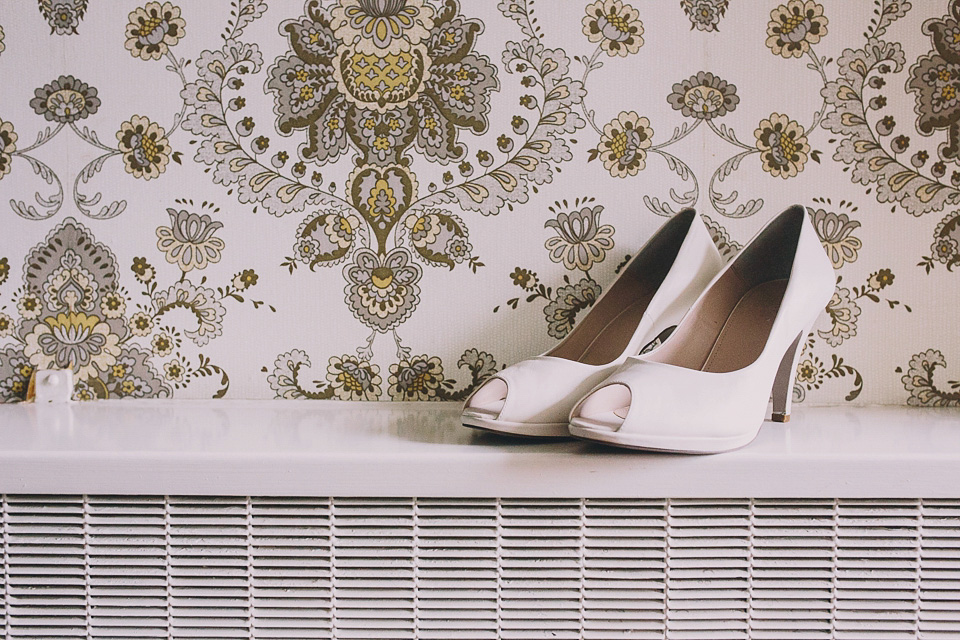 "Chloe Coleman did my hair and make-up and make up for mums and bridesmaids. She did a great job. She listened to me at the trial and is lovely to get on with which is important.
My mum suggested putting gypsophila in my hair on the morning of the wedding and I'm so glad she did as I loved it – so simple."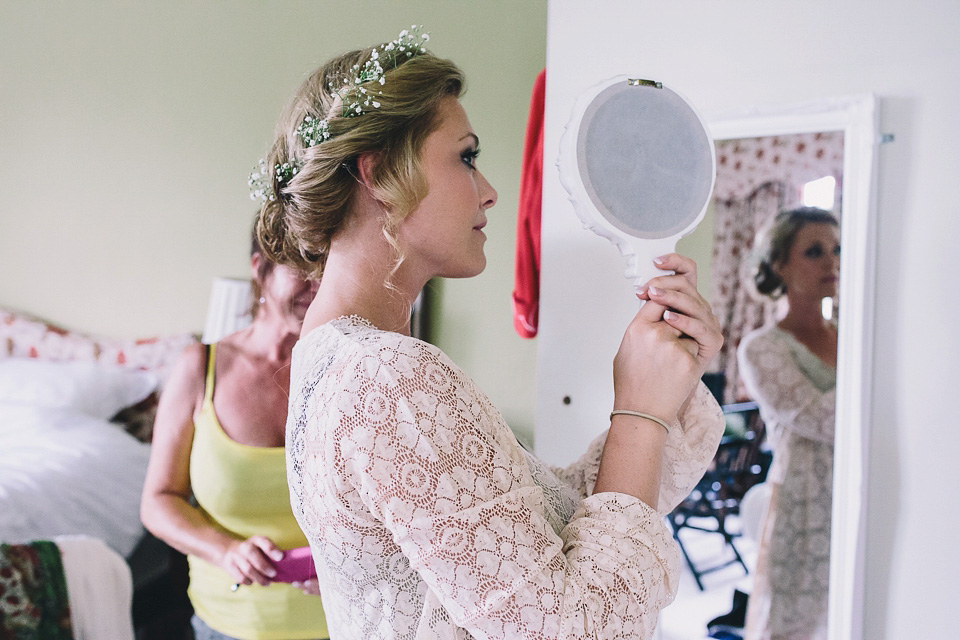 "My bridesmaid bought their own shoes and went for a neutral colour then changed into sandals in the evening. 
All my bridesmaids live in different parts of the country so logistically it was difficult to take them all shopping! I thought it was going to be a nightmare, but I saw some I liked from Debenhams and luckily they all liked them too. So I bought them over a year before the wedding which was probably a mistake as two of them got pregnant and alterations were needed! In the end however, I think they all looked beautiful.
I bought flower rings for my two younger bridesmaids and the older ones chose their own accessories."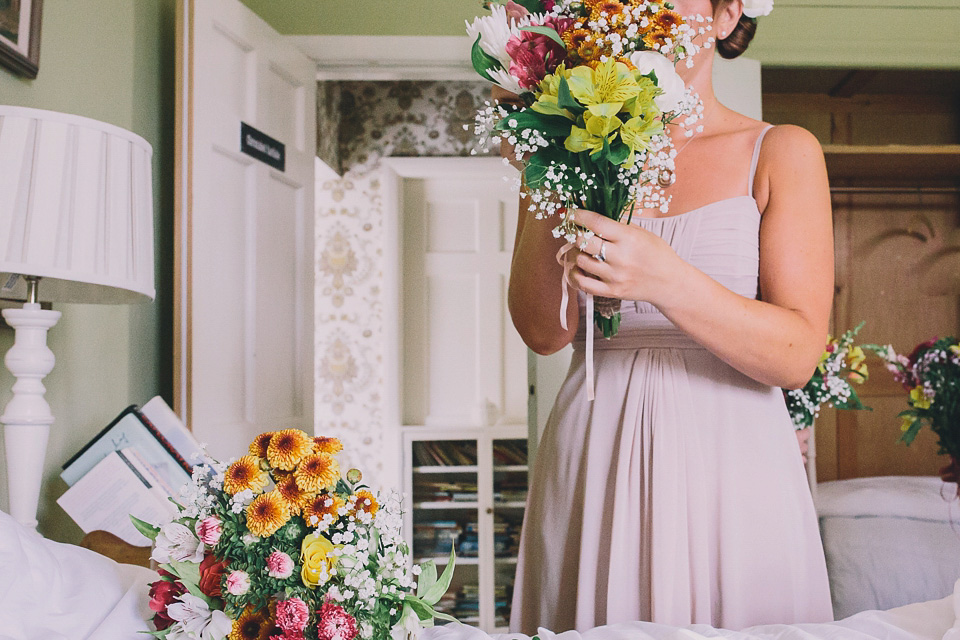 "I wore the 'Haggar' gown by San Patrick. It was from Abigails Bridal based in my hometown of Leeds. I loved dresses that featured beautiful back detail and I wanted to wear something simple and floaty. After trying loads on, I couldn't find anything that ticked both boxes, so I went with the back detail.
Because there was so much detail on my dress I didn't need to accessorise, I borrowed some earrings from my bridesmaid and that was it."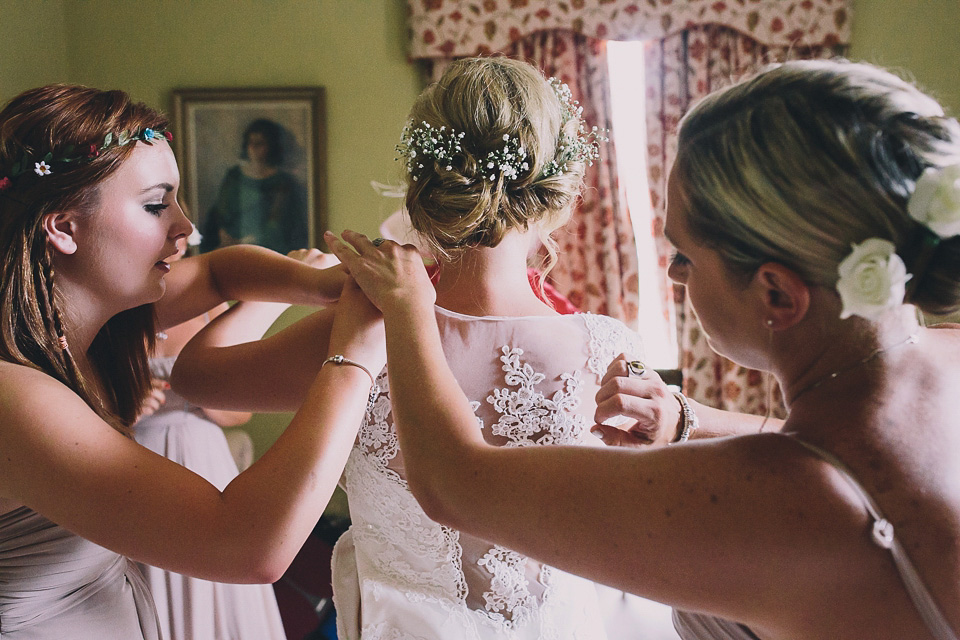 I do adore sharing this kind of perfectly captured moment on Love My Dress.   Louise and Lee hired the services of photographer Sara Lincoln to record their wedding day in images – a decision they didn't regret for a nano-second.
"Photography was very important to us and we did A LOT of research. I finally found Sara Lincoln; we met her in the local pub, went through her portfolio and we were very impressed. After a few beers together, we booked her.
Sara and Paula were brilliant on the day. They got involved with our guests, and, apart from the 'couple shots' we don't even remember being photographed – they were so discreet. The photos were informal and she captured all those important split second moments that could be missed in a blink. She's amazing and we love the photos."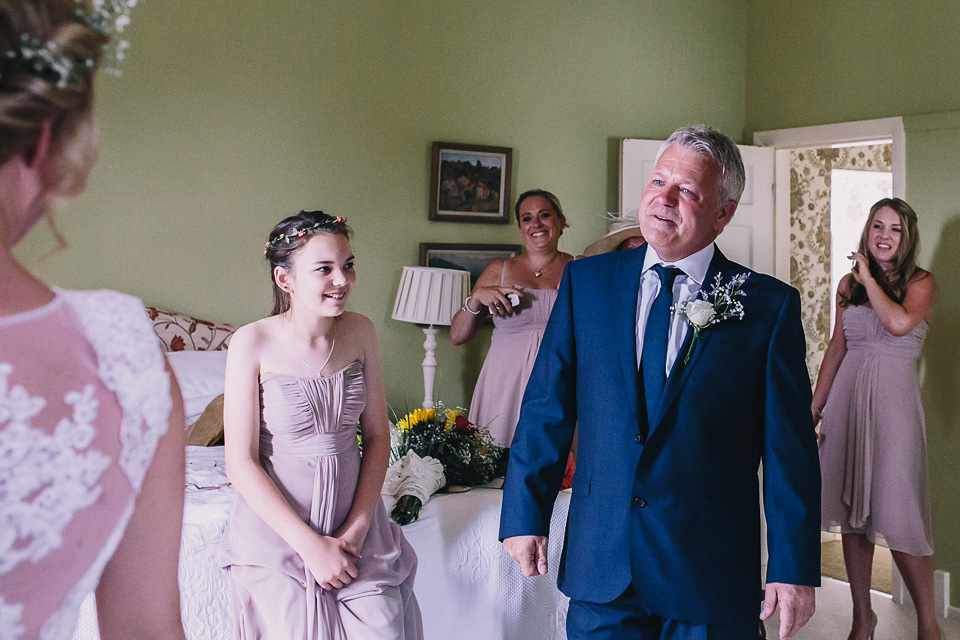 "We met twelve years ago in the South of France. After three months of knowing each other, I moved to London to be with Lee and I've been here ever since. He proposed to me on our tenth year of being together. We were on holiday in Thailand with a group of friends celebrating the new year when he suggested we go to Koh Lanta for a few days by ourselves. He proposed on the beach one night after dinner and we kept it to ourselves for a few days. We then met up with the rest of the group and celebrated with coconut cocktails watching a beautiful sunset. Bliss.
We had a two year engagement, we've been together so long that there was no rush!"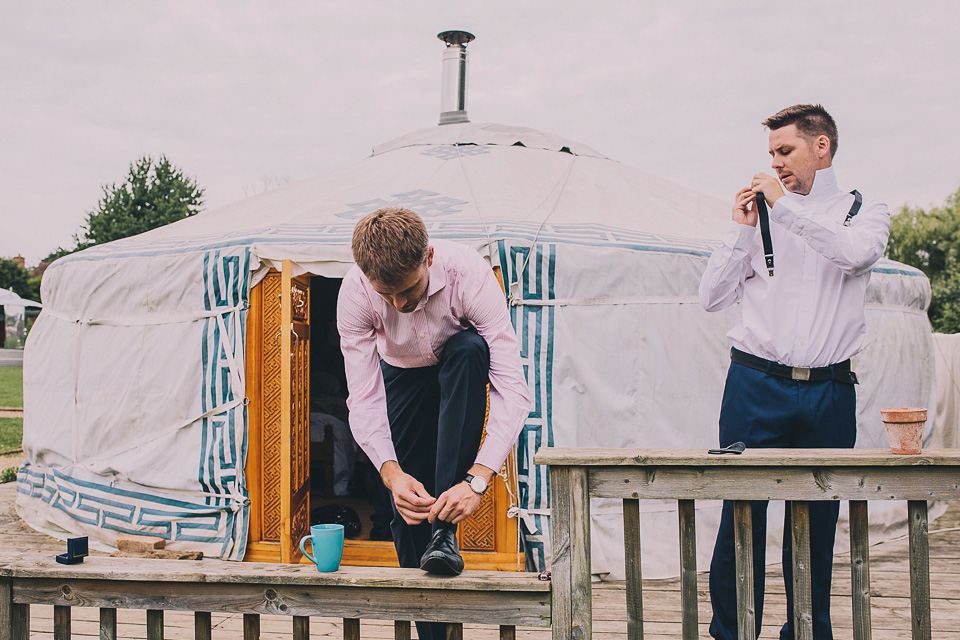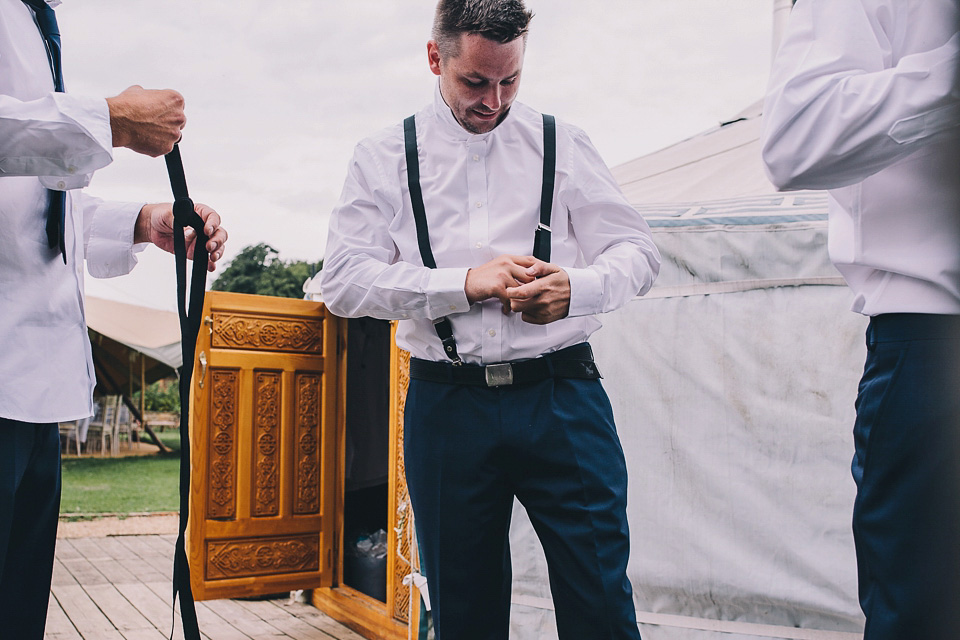 "Lee didn't want a full suit – just a waistcoat so that he could feel comfortable.
We wanted groomsmen in trousers and braces for a more casual look. They wore their own shoes and shades ."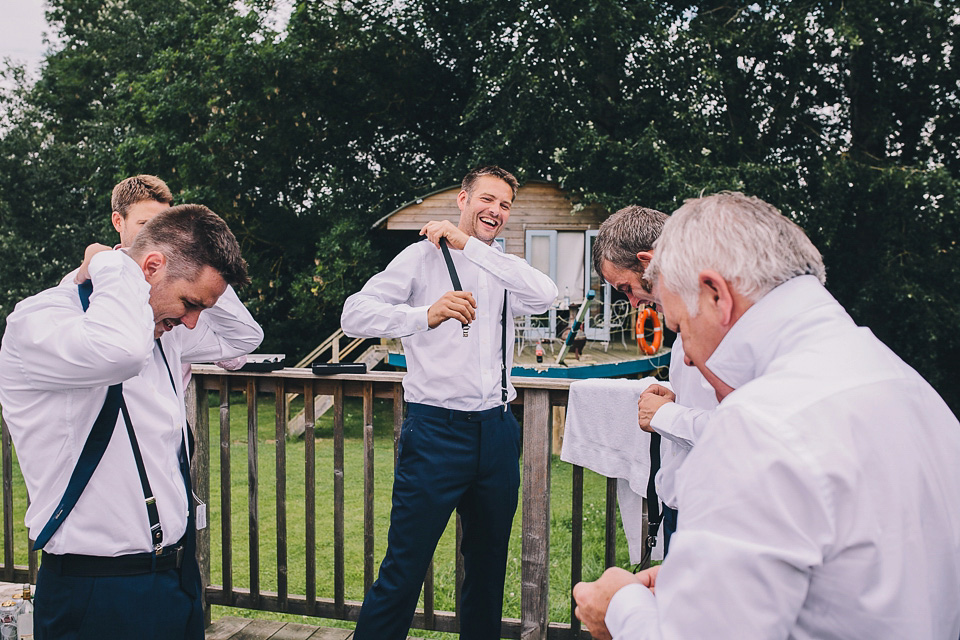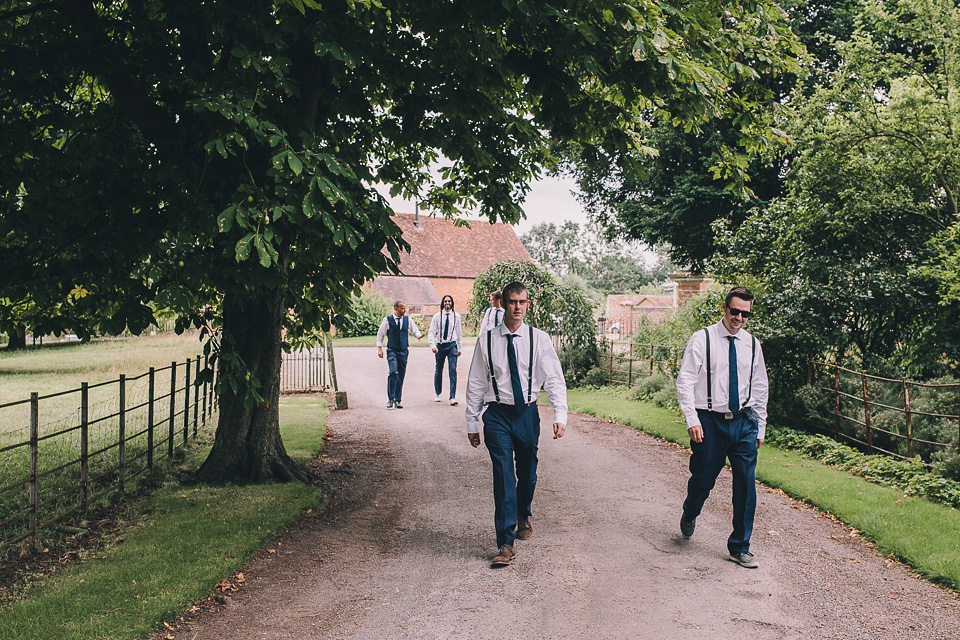 "We travelled all over to find the perfect venue and eventually found the gem that is Talton Lodge. There were so many reasons we chose it. I'm from Leeds and Lee from Southampton and Talton Lodge is right in the middle. It has such a relaxed feel, the owners Barney and Olivia were extremely helpful and laid back, we could hire the whole site from Thursday-Sunday, it could accommodate our guests on site in the huge house, the barn, tipi's, boat house, yurts and orchard wagon! Plus it had a camping field for those guests who wanted to bring a campervan or pitch a tent.
They only have eight or so weddings a year there and we fell in love with it."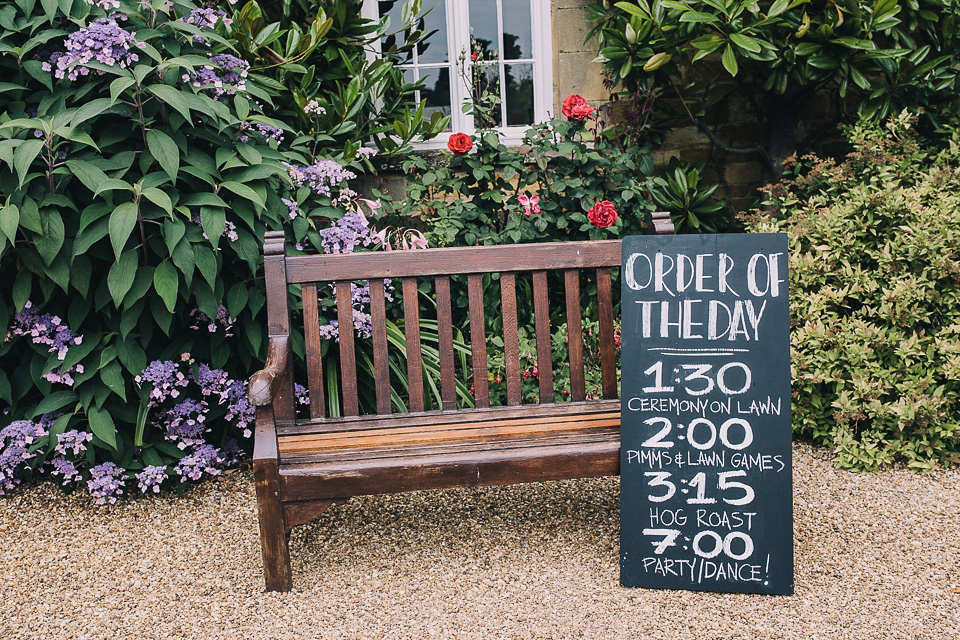 "It could only have ever been my Dad giving me away – I'm not embarrassed to admit I'm a bit of a Daddy's girl. Dad did a short speech in the bedroom and had us all laughing and in tears (including our photographer) before he walked me down the aisle. We walked down the aisle to the sound of 'Old Pine' by Ben Howard played by Johnny B. It's about the South of France in the summer and having all your family and friends around you."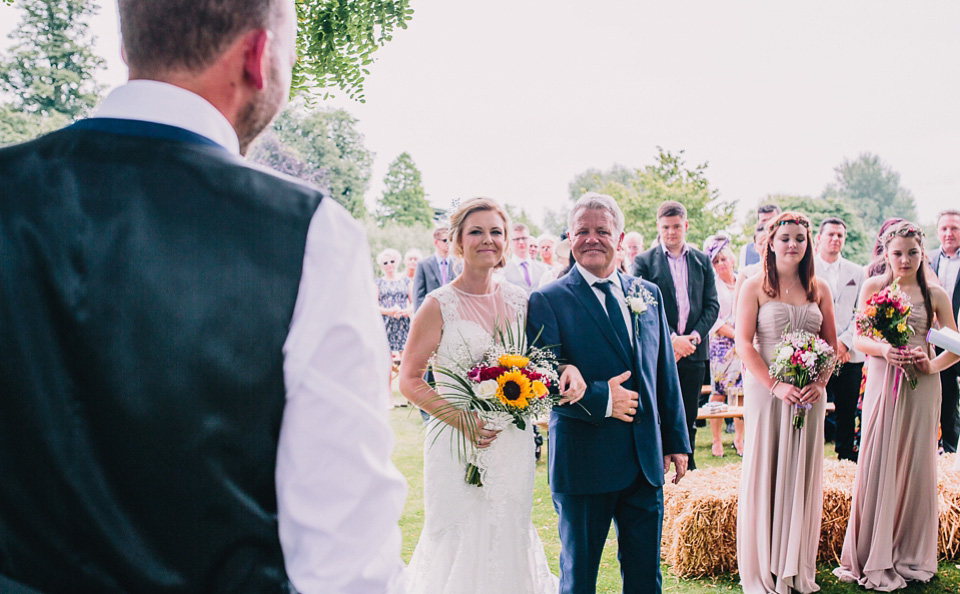 "Flowers were important to me and I wanted a wild, bright look. My mum and I visited a place in Kent where you can pick your own but we decided that my mum would do them instead as she used to be a florist. She planted wildflower seeds in her garden and two days before the wedding went to markets to buy the rest. The day before the wedding she arranged all the table flowers in small jam jars, made up five bridesmaid bouquets, all the button holes as well as my bouquet.
She did an amazing job and the fact that they were all of her work made them more special."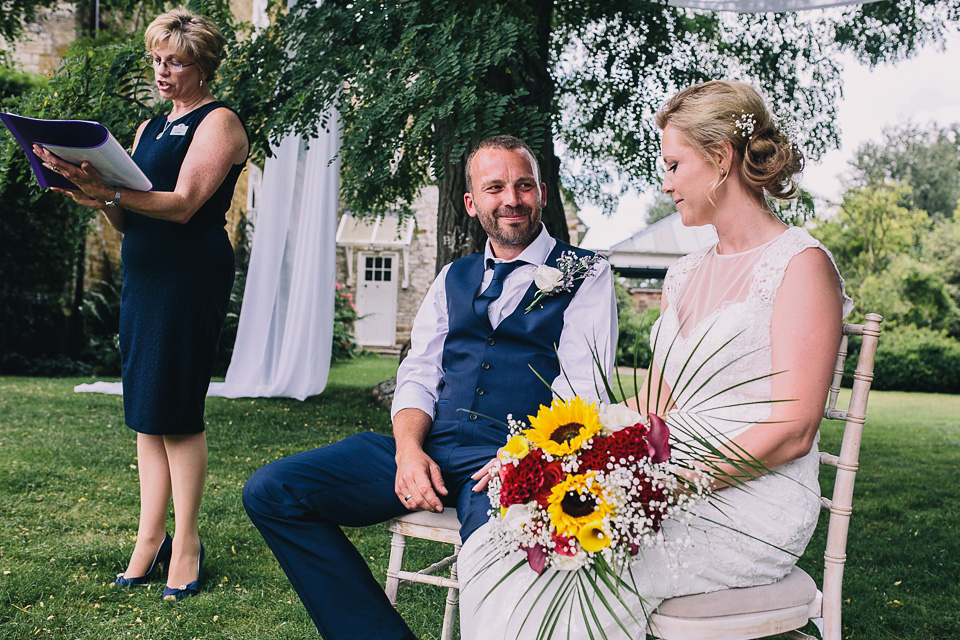 "My engagement ring was from Hatton Gardens and our wedding bands were handmade by a local jeweller – he was recommended to us by a friend."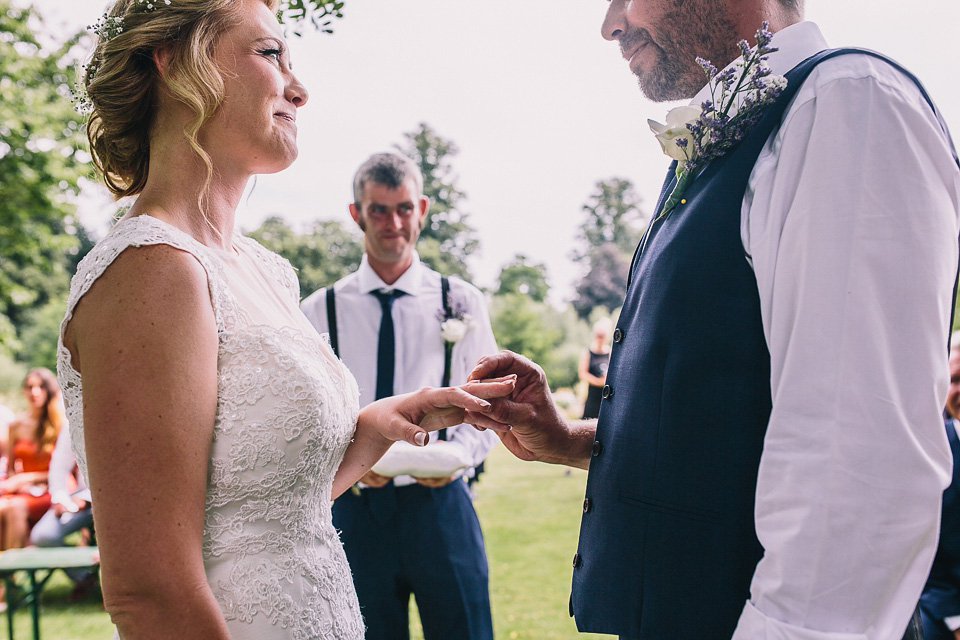 "We had the 'Blessing of the Hands' reading – delivered by Teri as our brothers and Sisters tied the ribbons for our hand-fasting."
'These are the hands of your best friend, young and strong and full of love for you, that are holding yours on your wedding day, as you promise to love each other today, tomorrow, and forever. 
These are the hands that will work alongside yours, as together you build your future. 
These are the hands that will passionately love you and cherish you through the years, and with the slightest touch, will comfort you like no other. 
These are the hands that will hold you when fear or grief fills your mind. 
These are the hands that will countless times wipe the tears from your eyes; tears of sorrow, and tears of joy. 
These are the hands that will tenderly hold your children. 
These are the hands that will help you to hold your family as one.
These are the hands that will give you strength when you need it. 
And lastly, these are the hands that even when wrinkled and aged, will still be reaching for yours, still giving you the same unspoken tenderness with just a touch.'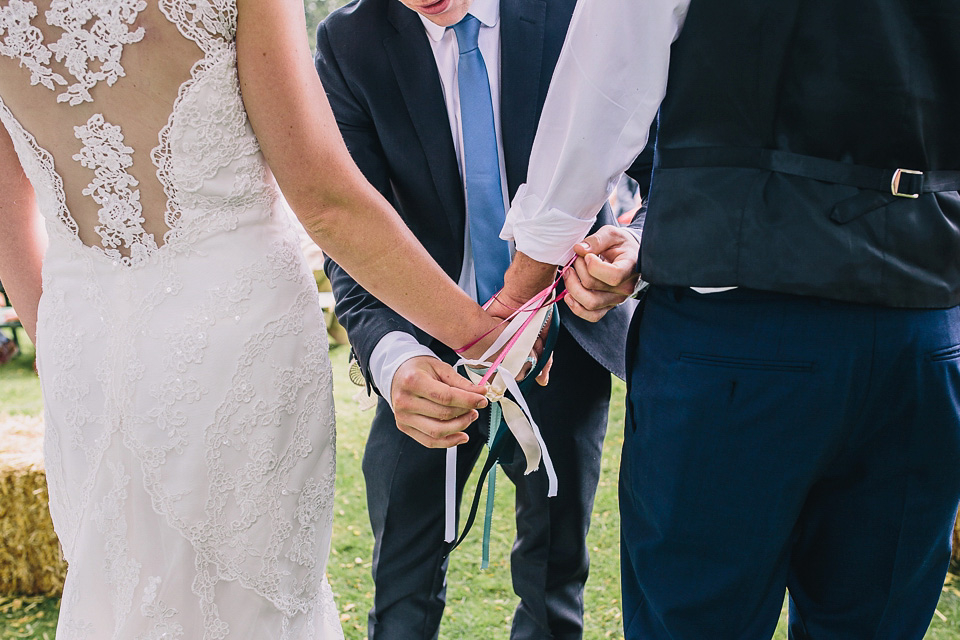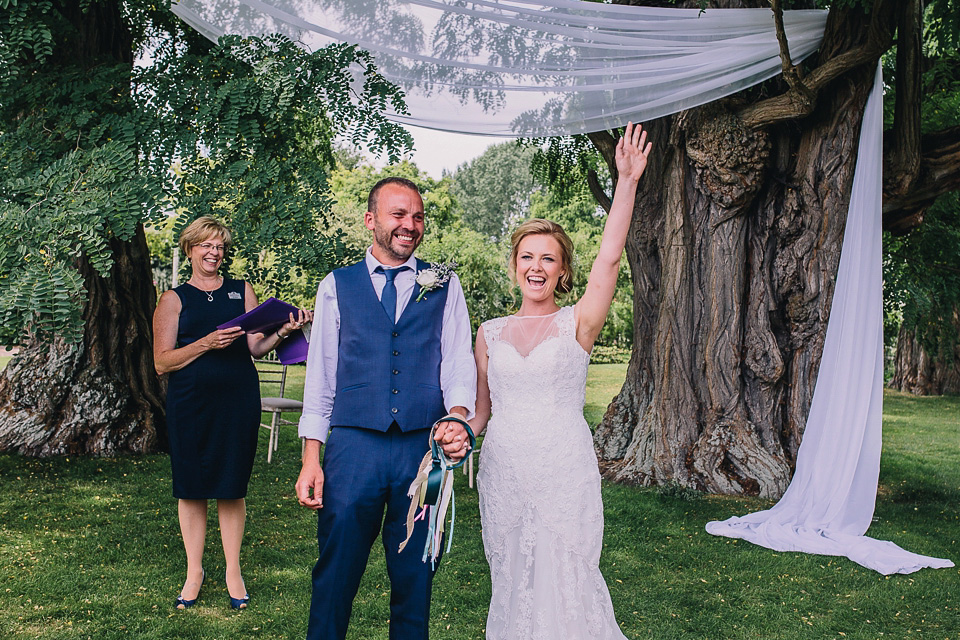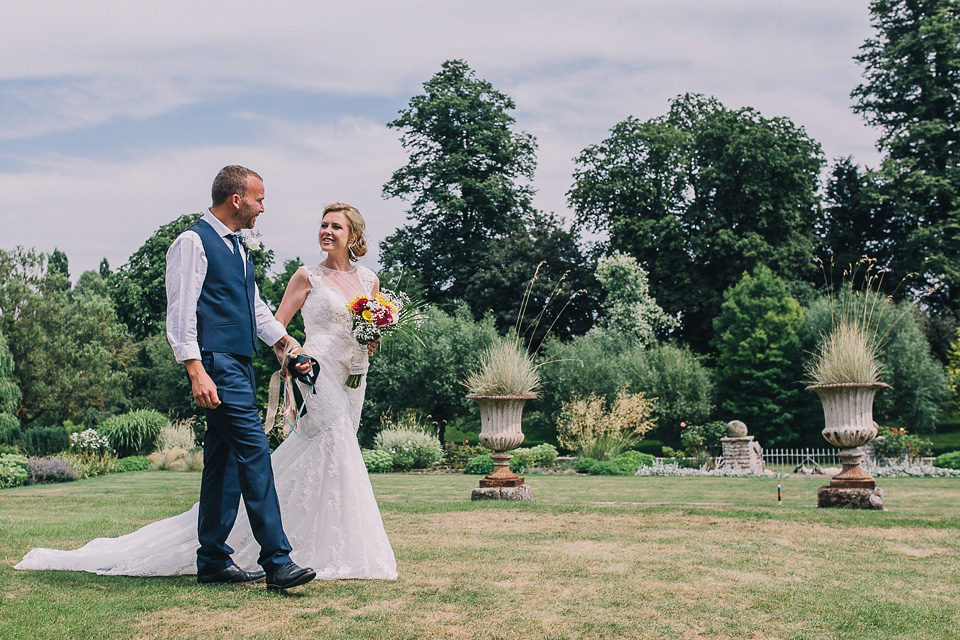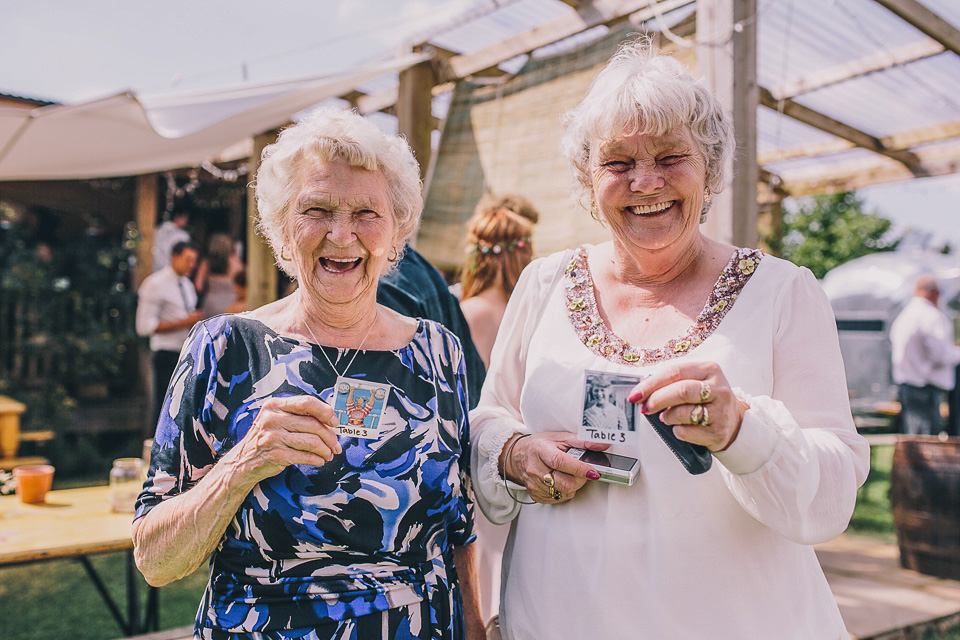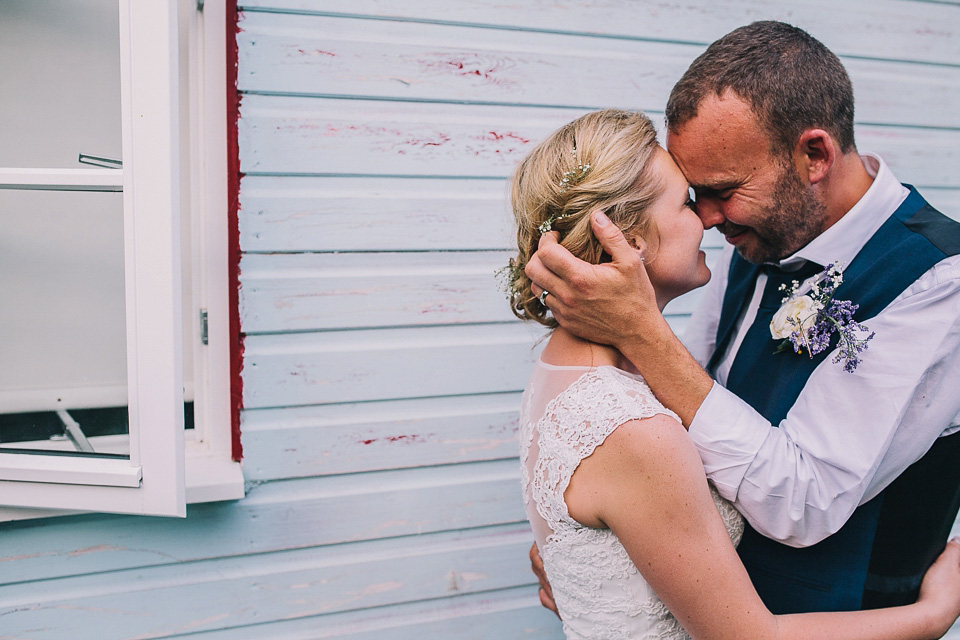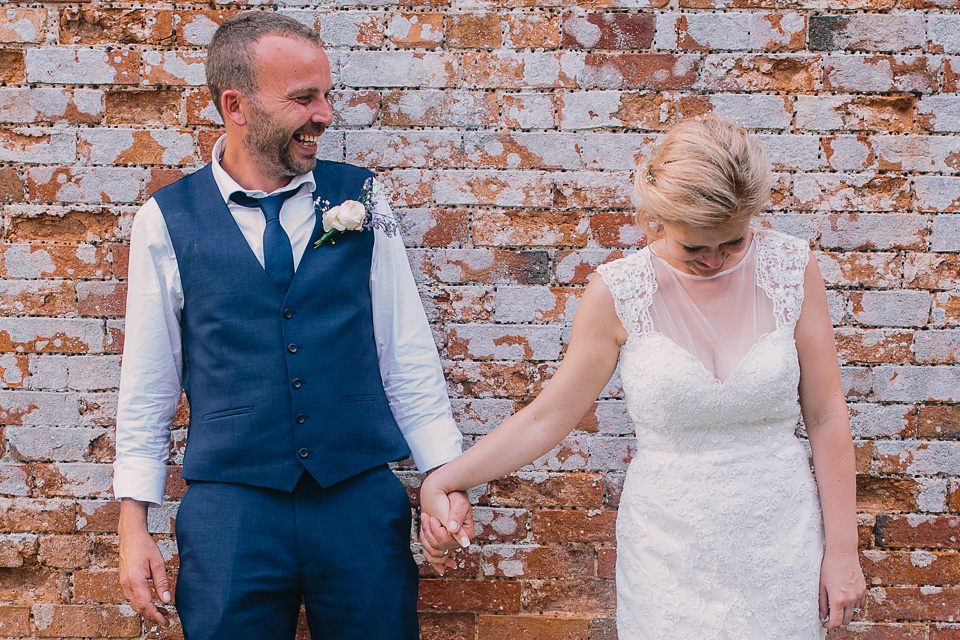 "Olivia and Barney and their team at Talton Lodge catered for the day. Lee and I love our food and Talton Lodge's food is all locally produced and ABSOLUTELY delicious. Again another massive selling point for us."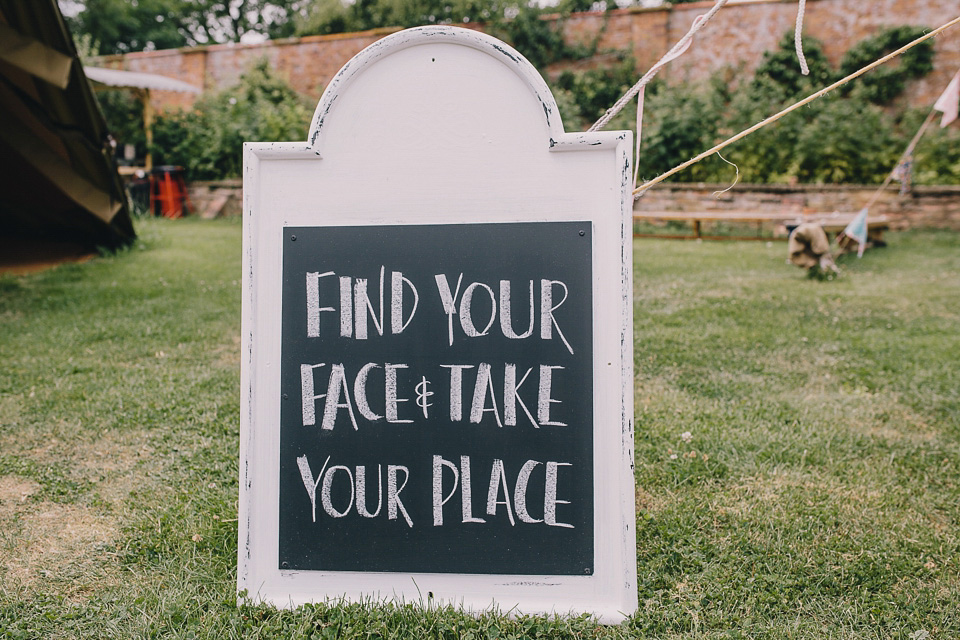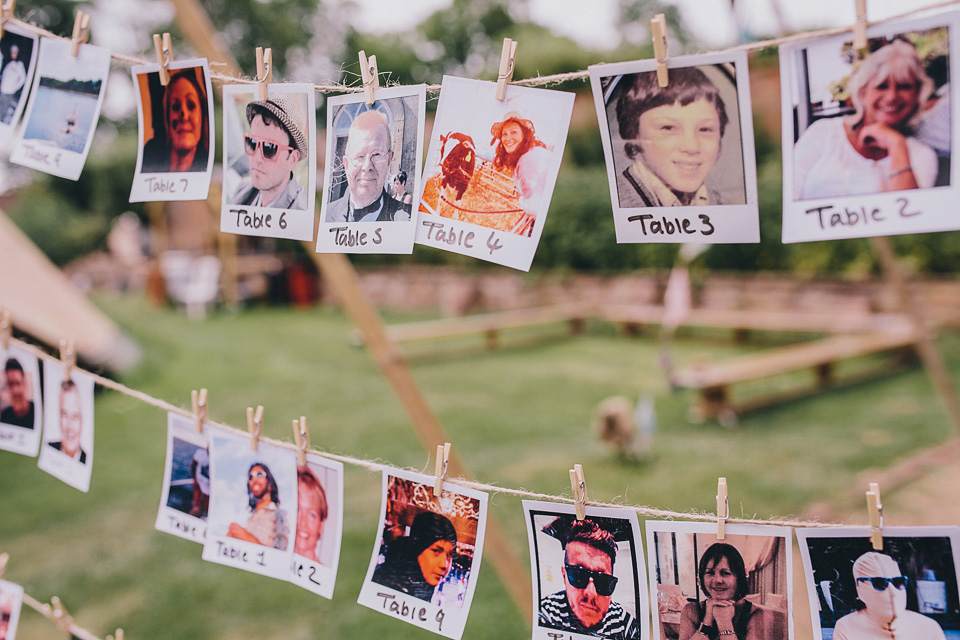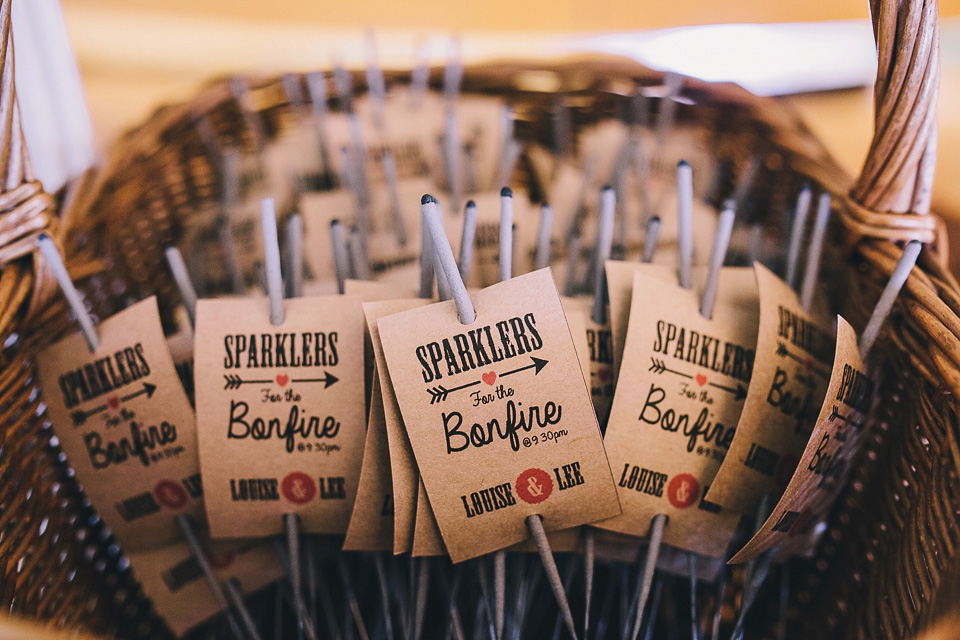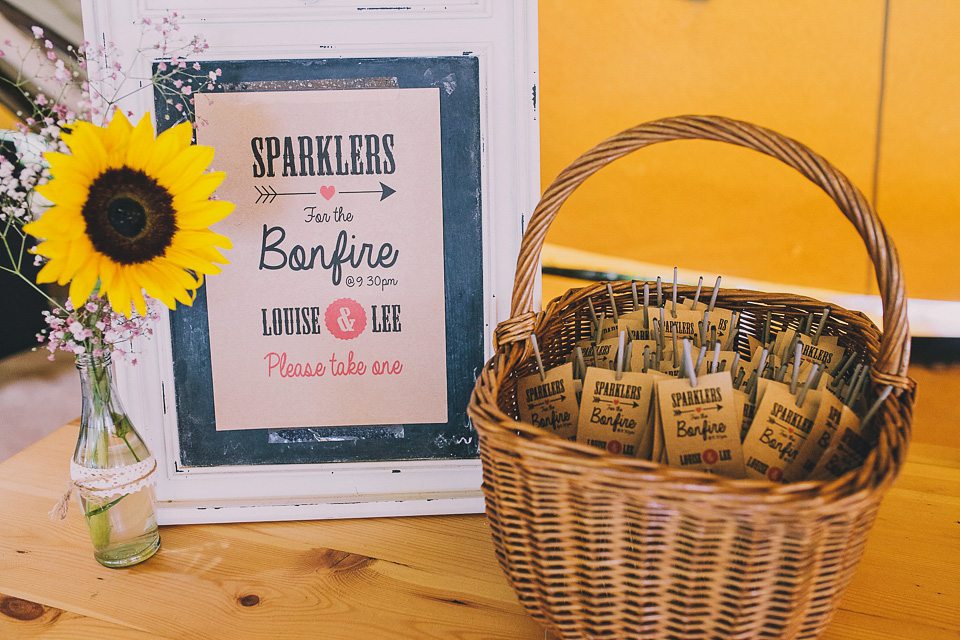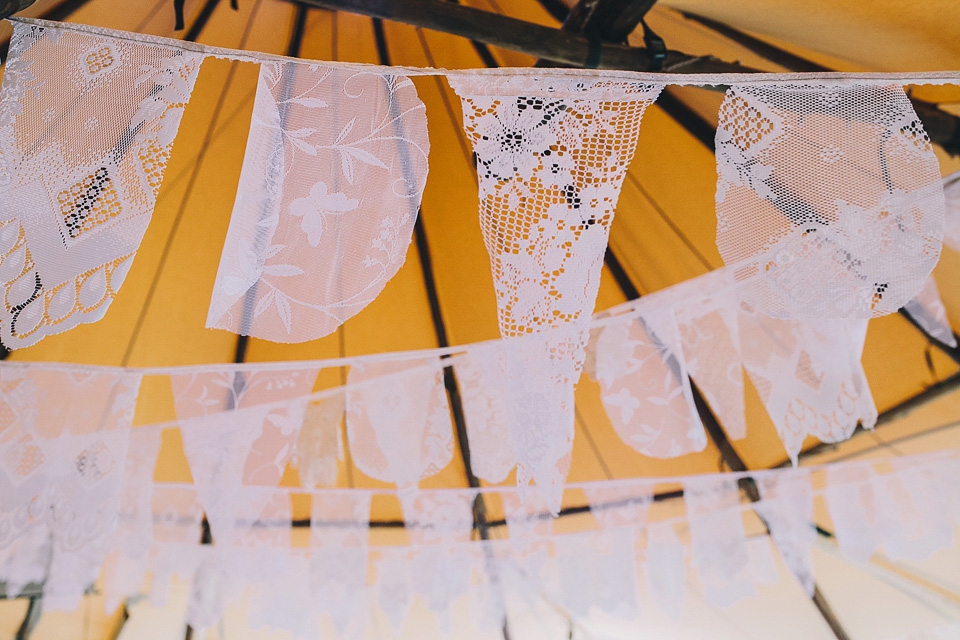 "We had pass the parcels on each table full of coloured wigs and sunglasses which went down a treat. Entertainer Johnny B stopped and started the music as people played. My brother Wes spent quite a few hours wrapping these – thanks! I had hangover kits for the top table but unfortunately forgot to put them out.
We also had sparklers and marshmallows for the bonfire in the evening."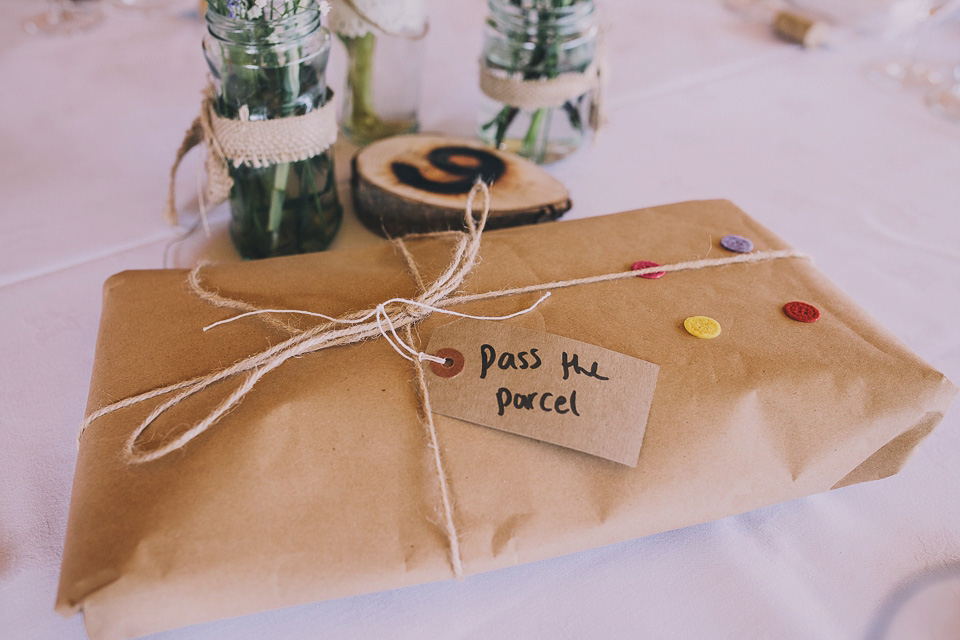 "My mum made metres and metres of beautiful vintage bunting, collected vintage suitcases, chalkboards, blankets and jars and helped decorate the venue. It looked stunning."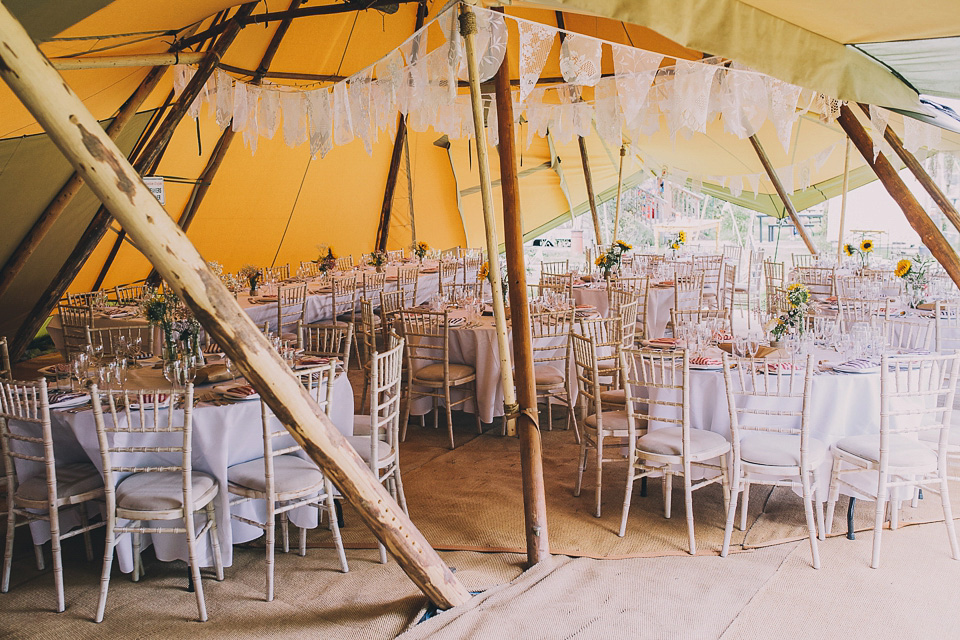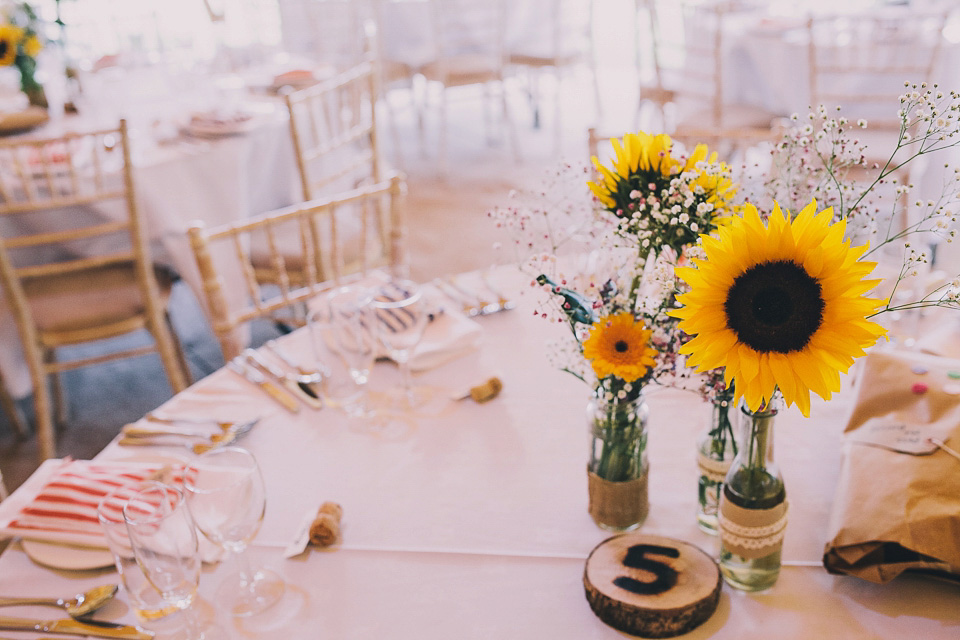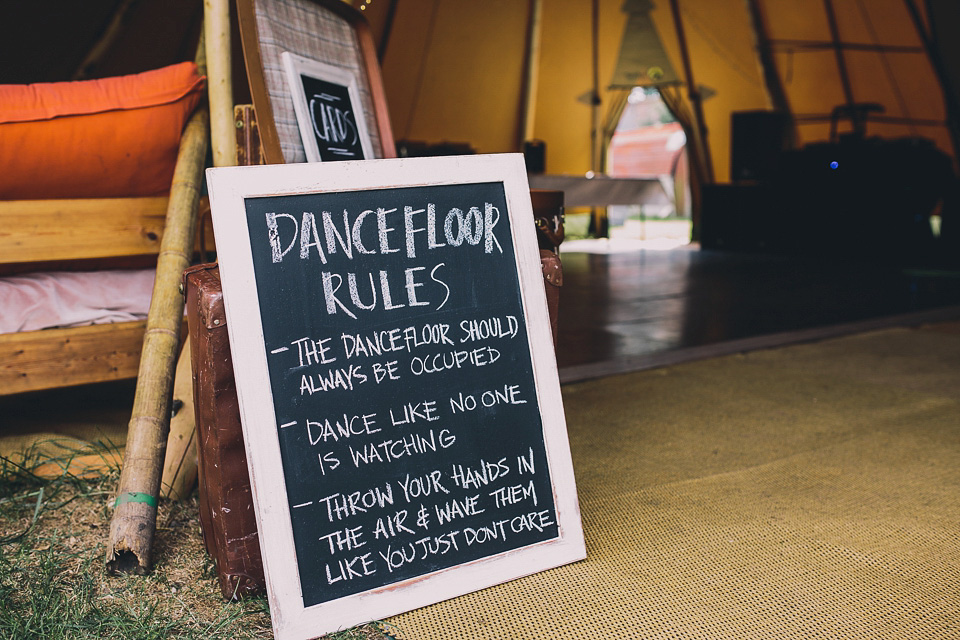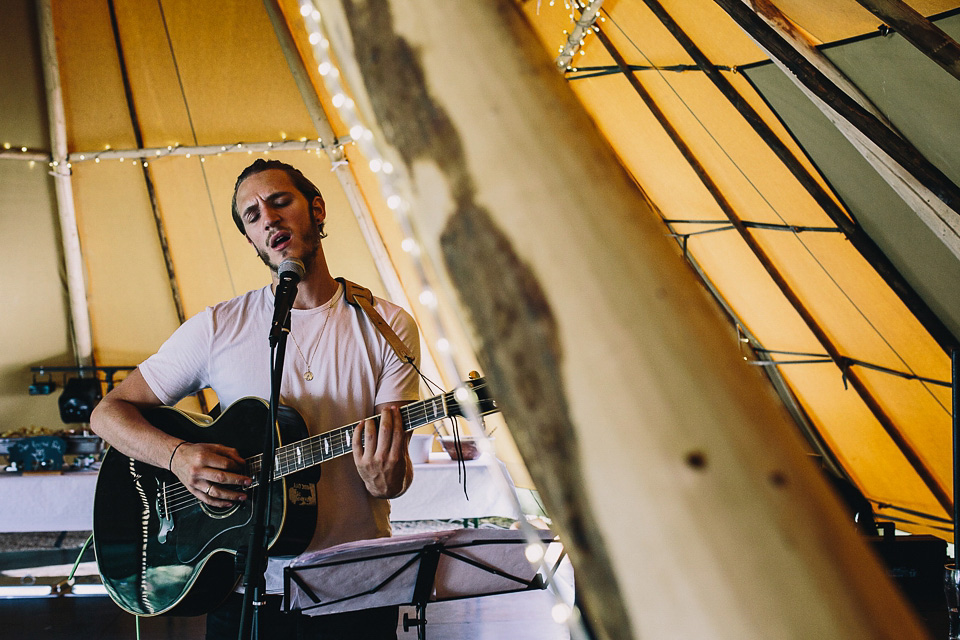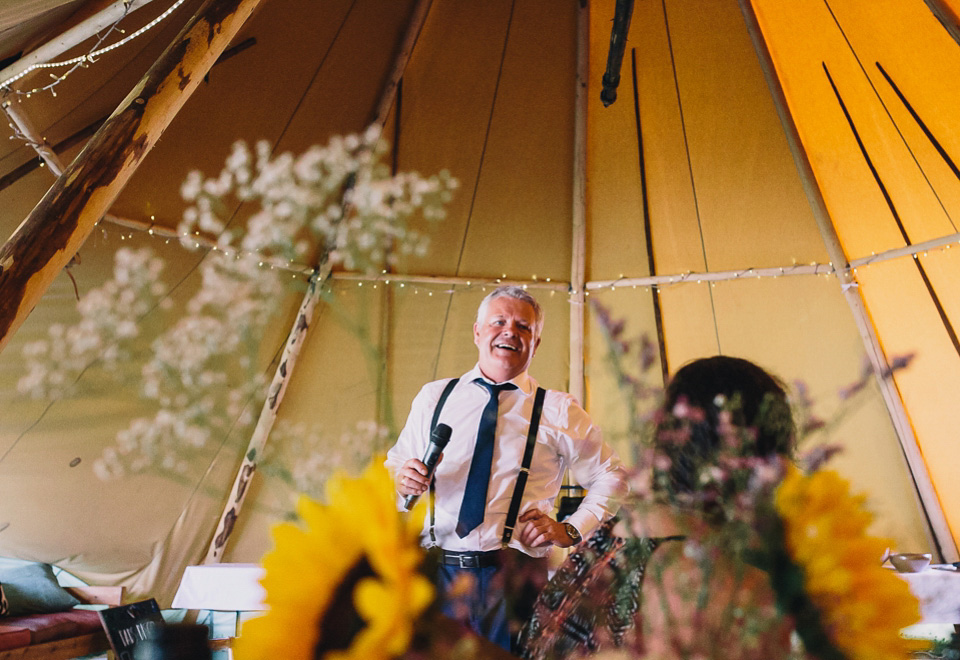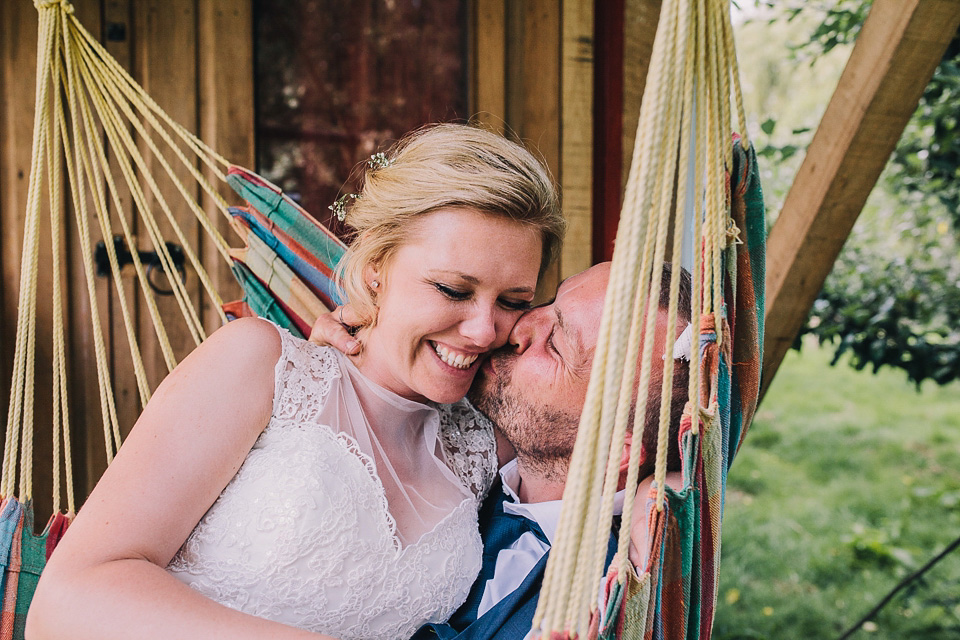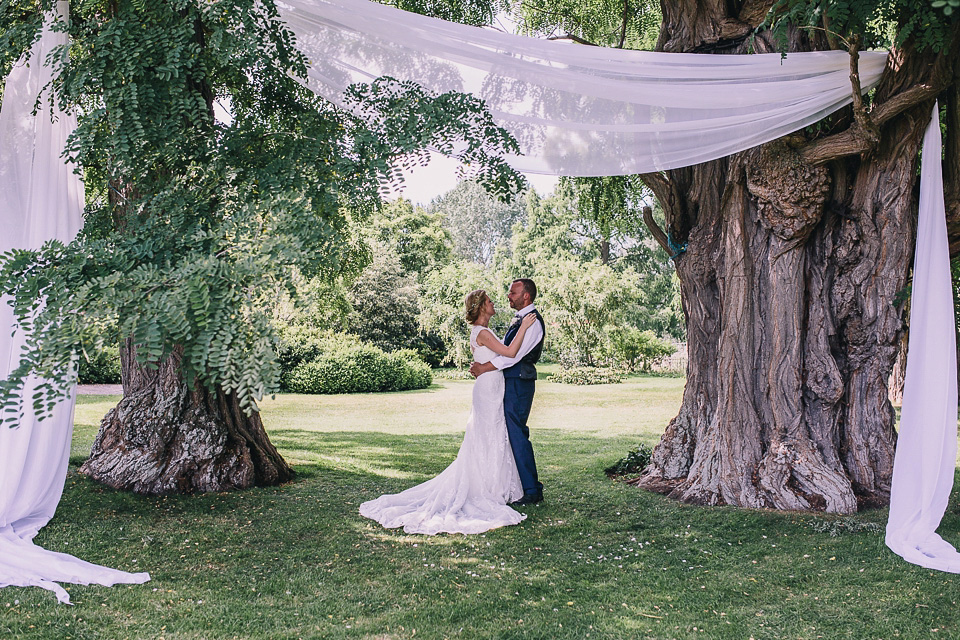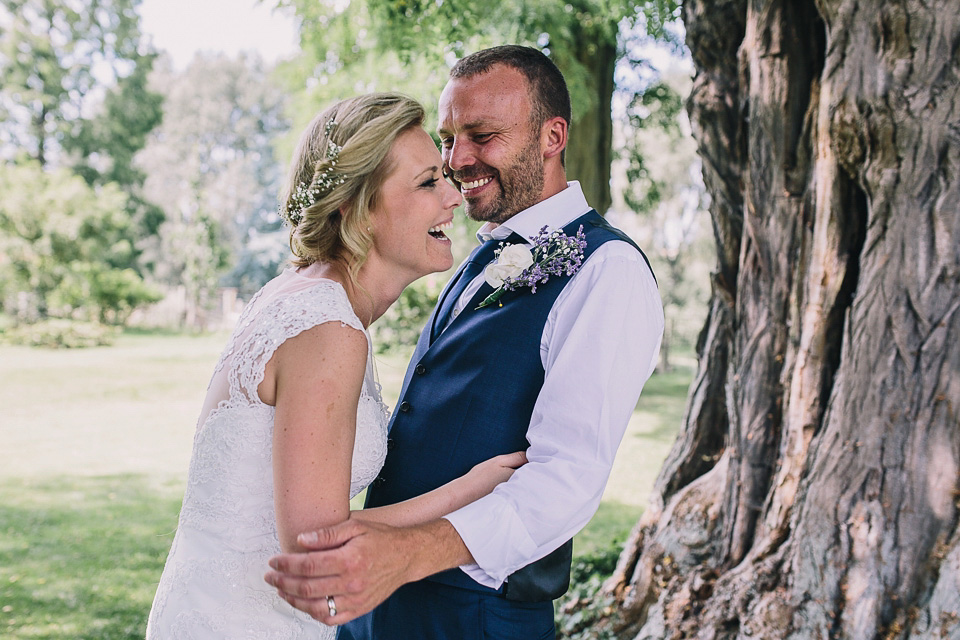 "Entertainment was our top priority. We started with a BBQ and drinks on the Friday night which was great as it broke the ice for our guests and our families that have never met before.
We had the gorgeous airstream photobooth very kindly provided by friends Vic and Tyson at The Photo Emporium. Our guests loved it and we have some very funny and debauched photos."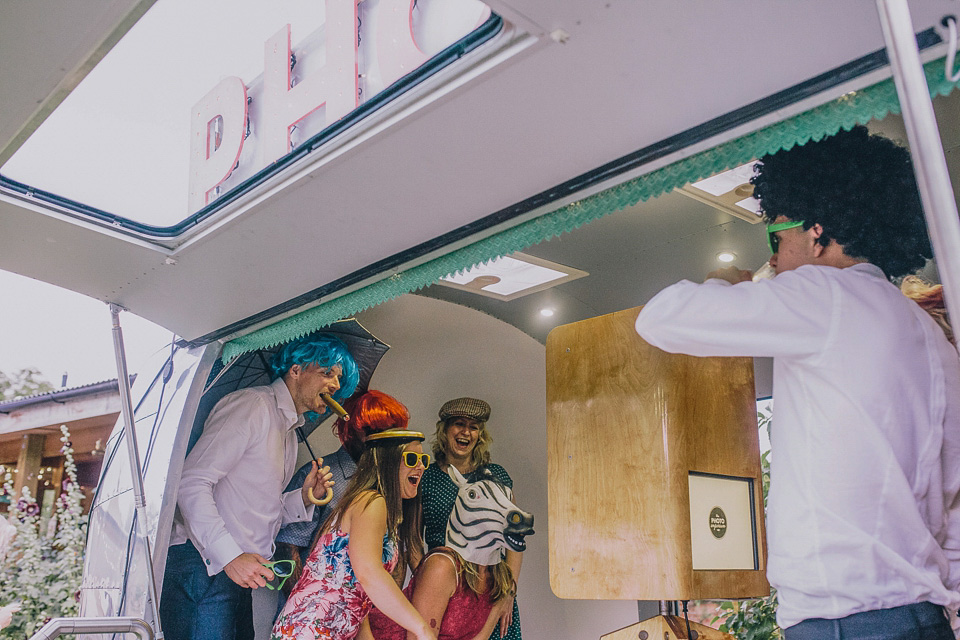 "There were simply too many favourite parts of the day to single out one – they included the ceremony and just saying our vows to one another and being surrounded by everyone we love. At the end, our guests pronounced us man and wife which was a total surprise.
Walking into the tipi and seeing everyone clapping and whistling, the screeches of laughter when people opened the pass the parcels, the speeches and seeing everyone at the silent disco.
Not taking 10 minutes out together alone to soak it all up, even though EVERYONE tells you to do this. We would have gone to bed earlier because we missed breakfast with everyone the next morning.
We want to thank every single person that helped us in some way. It meant the world to us and we can't thank you enough."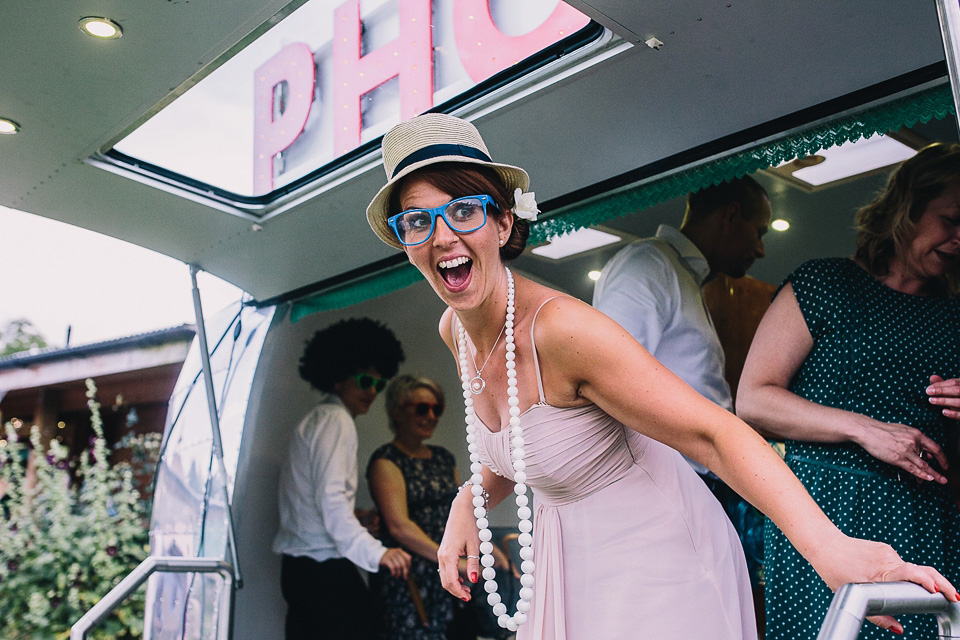 "Lee's, very talented sister Zoe made our three cakes. We discussed styles for months and she did a fantastic job. She made a fruit cake, chocolate cake and a vanilla cake. They were quite eclectic which I loved. She handmade the flowers on one of the cakes and I used these as my bouquet in our legal ceremony."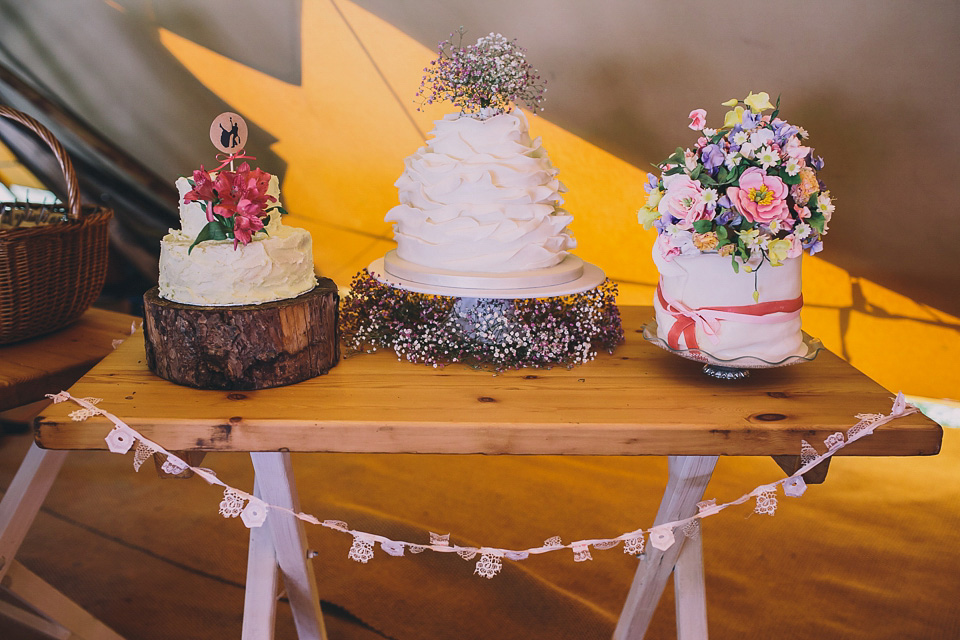 "Our first dance track was Al Green 'Let's Stay Together'. We were dreading the first dance and thought it would be some awkward school disco shuffle but you just forget about all that when you're on the dance floor. We then kicked off the party with 'feel the love' rudimental.
There was much debate over evening entertainment, Lee wanted a band and I wanted a silent disco and none of us wanted to back down! Our budget didn't stretch to both, so there was a bit of a compromise. Lee found the amazing Johnny B who played a mix of motown and modern songs acoustically during the ceremony and wedding breakfast. I am so glad we booked him.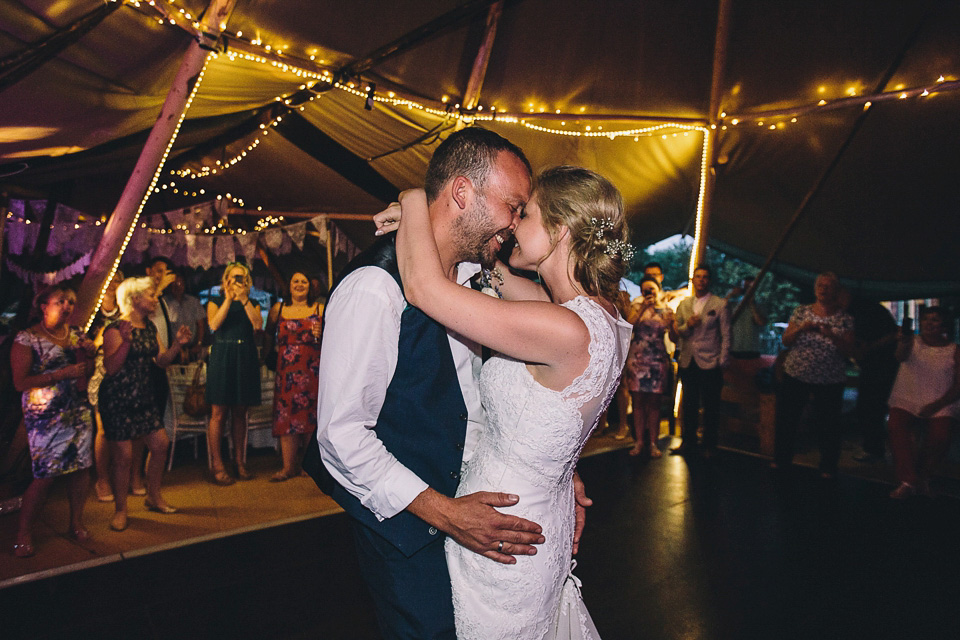 "A DJ friend kicked off the disco then at about 10.30pm we brought out the surprise silent disco. People were a bit confused at first – then it went off! We had three channels 'dads disco' – oldies, 'northern monkeys' – indie rock and 'southern softies' – rave and drum and bass so there something for everyone.
As the night went on, everyone left the tipi dance floor and ended up dancing on tables and singing really badly around the outdoor bar –it was absolutely hilarious. Most of our guests didn't go to bed until 4am. It went down a storm."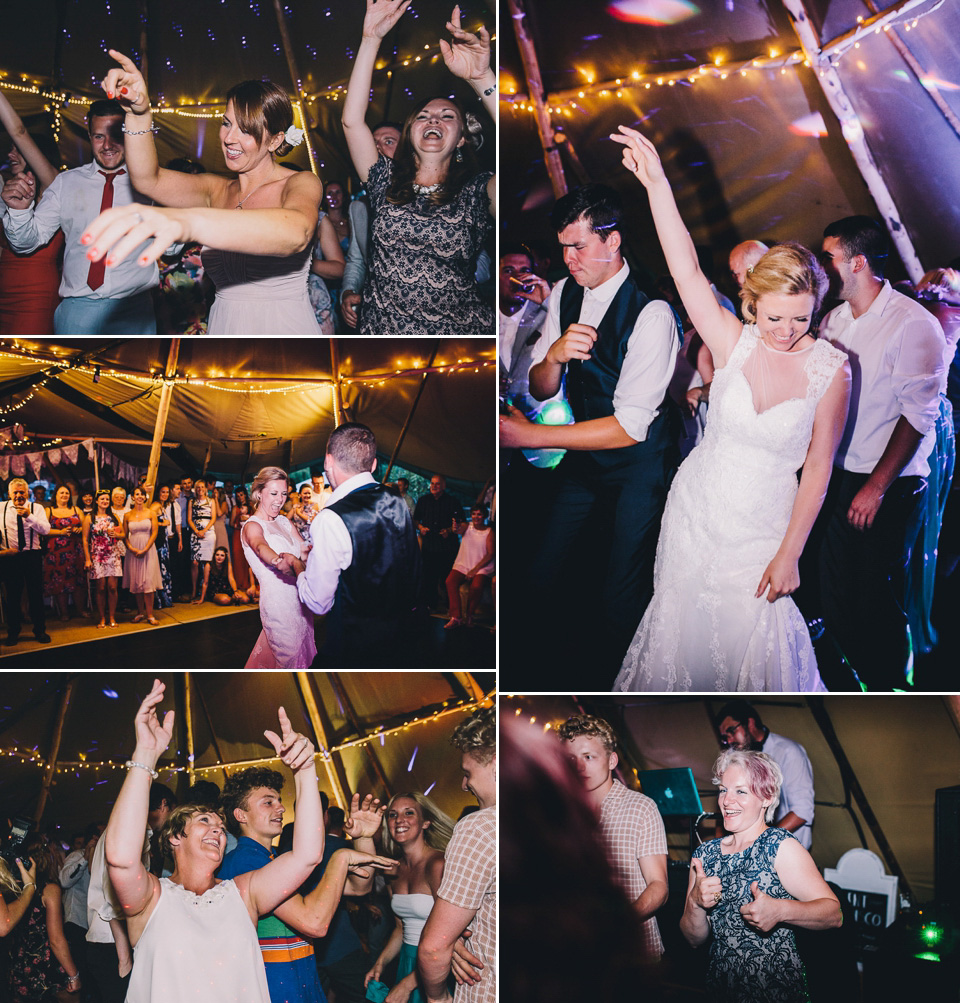 Words of Wedded Wisdom…
"Enjoy the planning process and stick to your gut feelings. Do what both of you want to do. Some people didn't understand some of our ideas, but absolutely loved them on the day.
If you want certain things, take the time to save for it. You only have this day once and it's worth waiting for. You are going to be together a lifetime so there's no rush!
Get help, we had so much help from people and we couldn't have done it without them."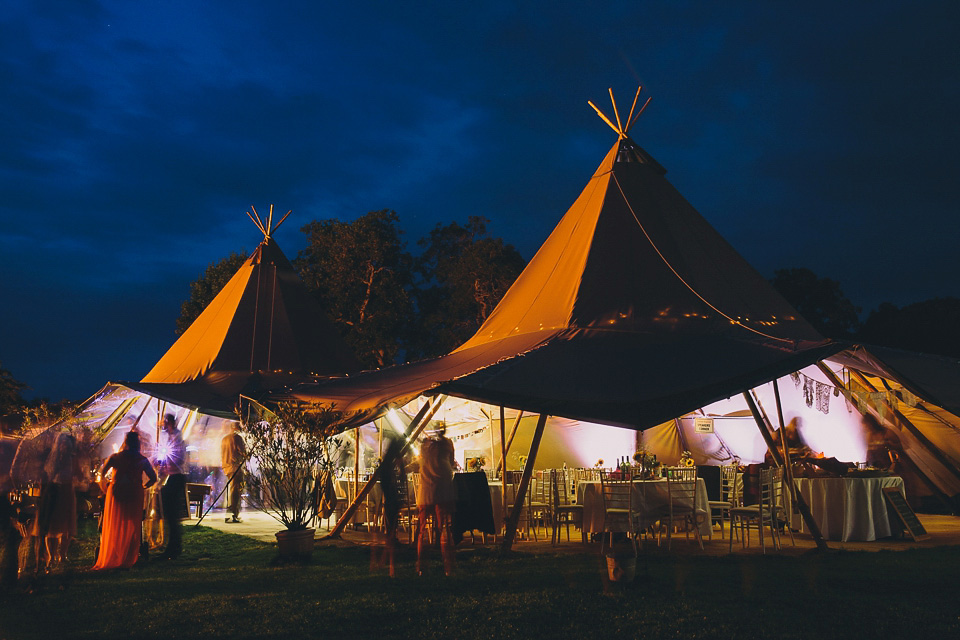 Much love and best wishes to you both Lee and Lou – sending you our very fondest wishes and love for the happiest of first wedding anniversary celebrations soon.
I hope you've really enjoyed these images and reading about Lou's experience as a bride, lovely readers.  You might want to take a look at photographer Sara Lincoln's website if you love these photographs as much as we do.
Love Annabel x
Photographer – Sara Lincoln
Venue + Catering – Talton Lodge
Humanist Celebrant –  Teri Stout (Wiltshire)
Wedding Dress – Haggar' gown by San Patrick via Abigails Bridal in Leeds
Shoes – Kurt Geiger
Perfume – Chanel, Chance
Bridesmaids – Debenhams
Florist – DIY
Cake – DIY
Entertainment – Johnny B
Rings – via Hatton Gardens
Hair + Makeup – Chloe Coleman
Lighting + Stationery – Tom & Macy
Photobooth Hire – The Photo Emporium