Hello lovely people! I hope your day is blossoming after a truly rotten start to the week. There's nothing gloomier than stowing away your new summer sandals and digging out the brolly again! That said, nothing quite like a glorious spring wedding to perk you up.
Photography by Lily Sawyer
I love to see a traditional church wedding on Love My Dress. When I was younger, I would dream about the perfect church wedding, and watch in awe as brides would arrive at my village church to tie the knot with the man of their dreams. It's uplifting to see a wedding that 'takes me back', so to speak!
Today's beauty of a day took place almost exactly two years ago on 18th May 2013, between artist Anna, an artist and her town planner husband Philip.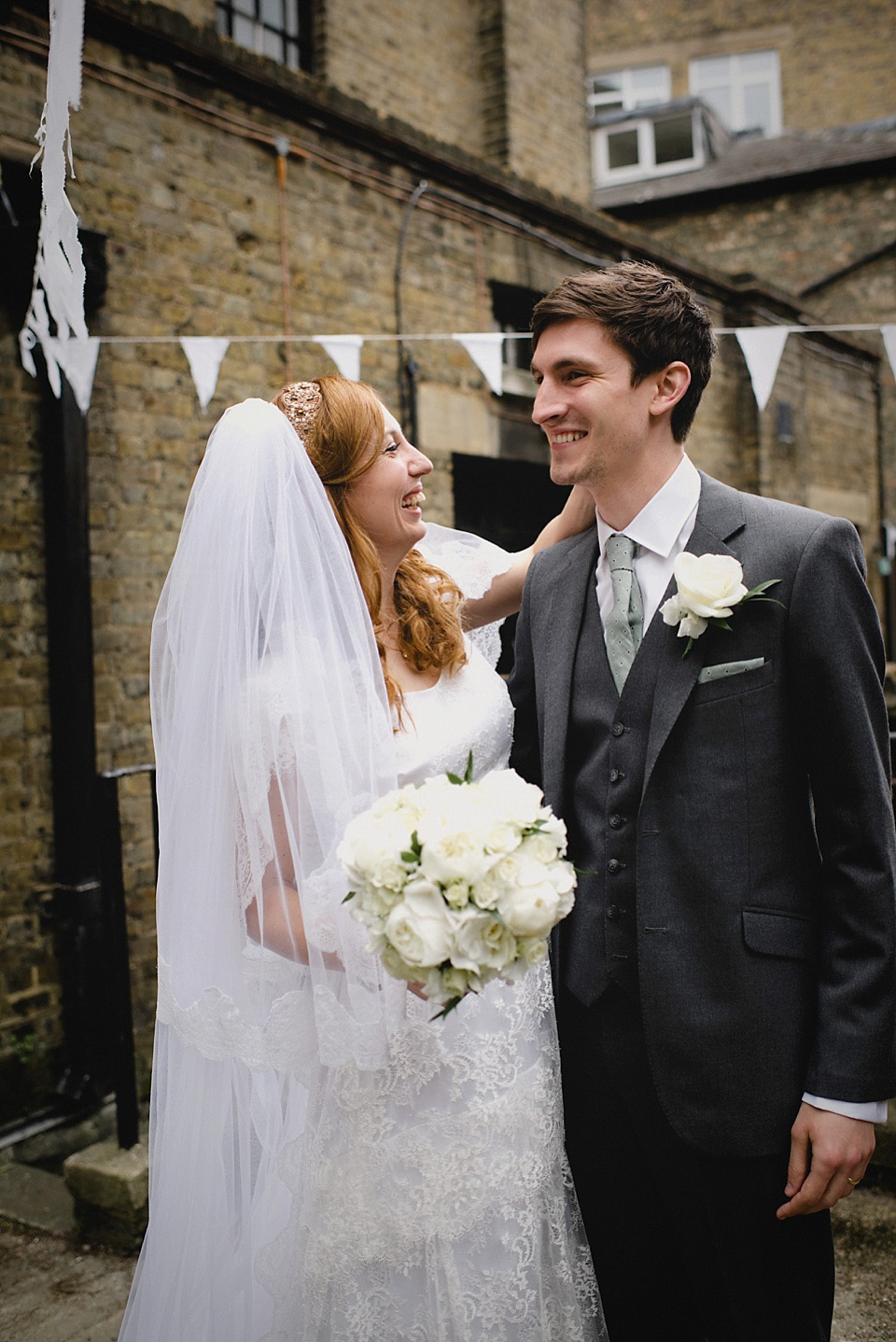 "I've always loved the baroque and rococo styles and the combination of a mint grey green with gold was the obvious colour scheme. We wanted our wedding day to be a real celebration, one that pointed to God who made marriage. Since we both love buildings and architecture, we decided to theme our wedding with windows, to remind us and our guests that we wanted our marriage to be a marriage with windows onto eternity."
I just adore that analogy! So simple, yet symbolic and utterly enchanting.
Anna enlisted the help of a former dressmaker to the Queen for her delicate lace gown. A friend of her aunt, the wonderful Maureen Rose came out of retirement to create Anna's dream dress.
"The dress was inspired by a few different styles. Maureen is now retired and only makes wedding dresses in 'very special circumstances'. I was honoured that she made this for me. She spent hours and hours stitching by hand. The scooping neckline and sleeves were really important and contrasted with the fullness of the dress. My veil was also made by Maureen Rose."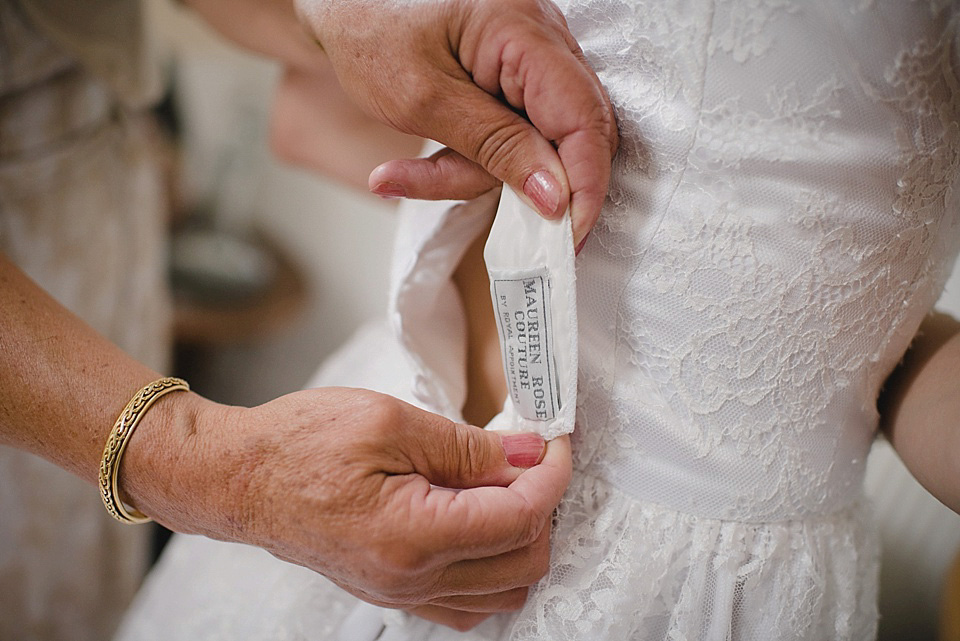 Maureen does not have a website, but if you search online, you can dream away a while reading many an article about her fascinating time as the Queen's dressmaker (as I did!).
The creative bride also made her own headpiece, adapted from a headband at her favourite shop, Anthropologie. "I bought the beaded headband and cut out a section of it and sewed it onto a normal headband, so that it became just a small gold/bronze area of decoration."
"I wore a simple gold chain with a diamond, borrowed from my mum. I turned a pearl necklace of my mum's into a bracelet. I borrowed my mum's jewellery to have the 'something borrowed' but more importantly because they were gifts from my Dad who died when I was 16. He was very much missed in the run up to the day and on the day that I wanted as many things as possible to remind me of him."
"A friend of Philip's family, Elspeth Bright, lovingly made all six and a half of the bridesmaids dress (the half was the dress for my niece who had chicken pox that day so was a bit miserable!). The dress design was taken from a dress that I bought at Anthropologie (as part of the wedding research!)."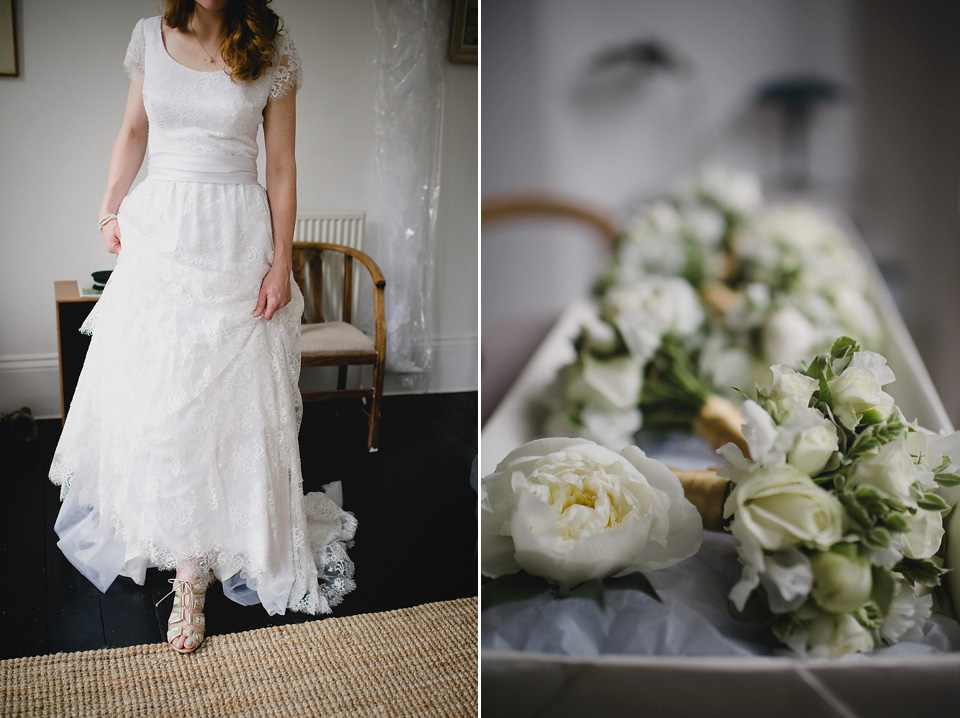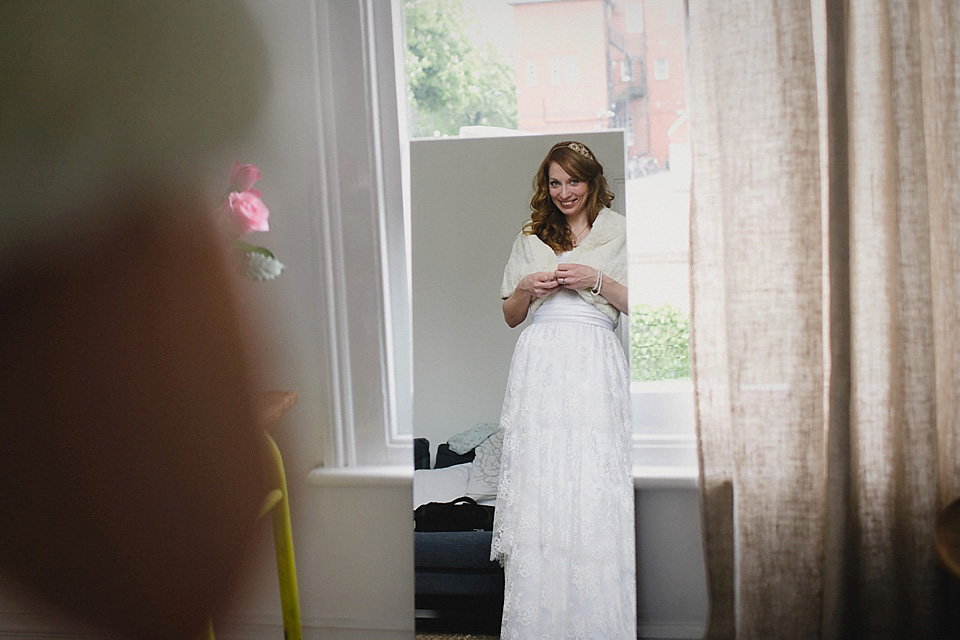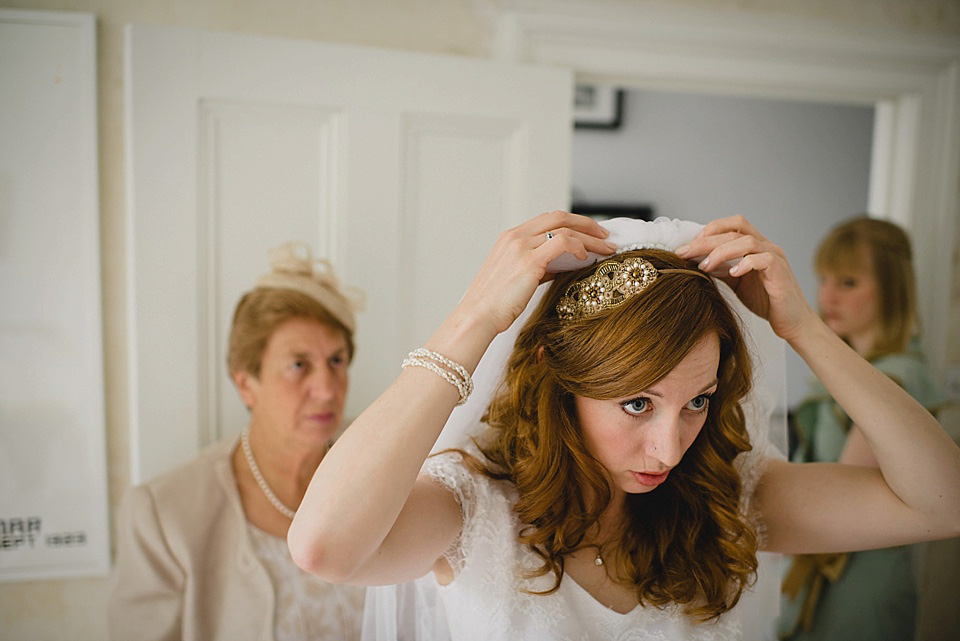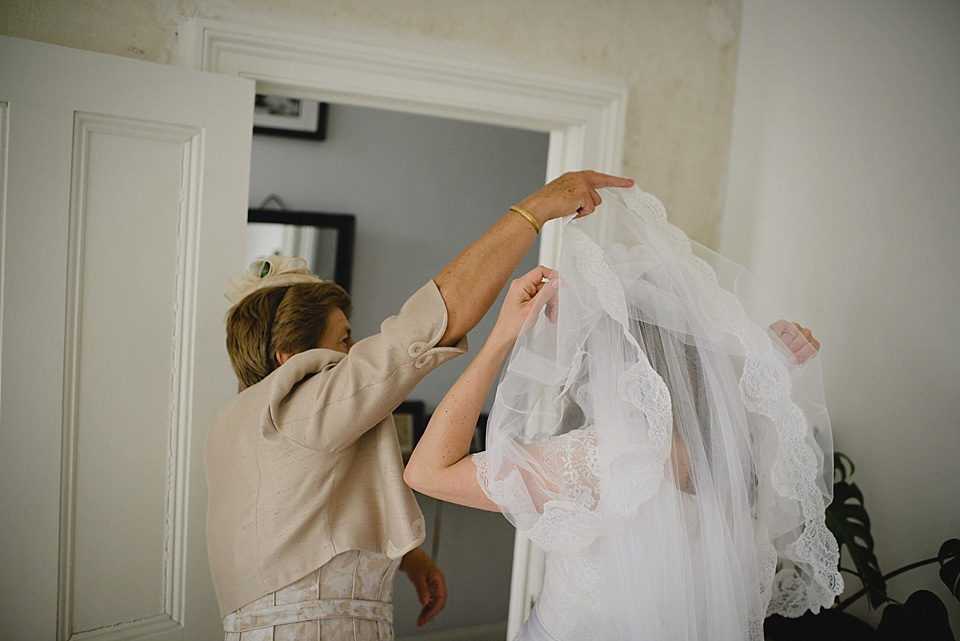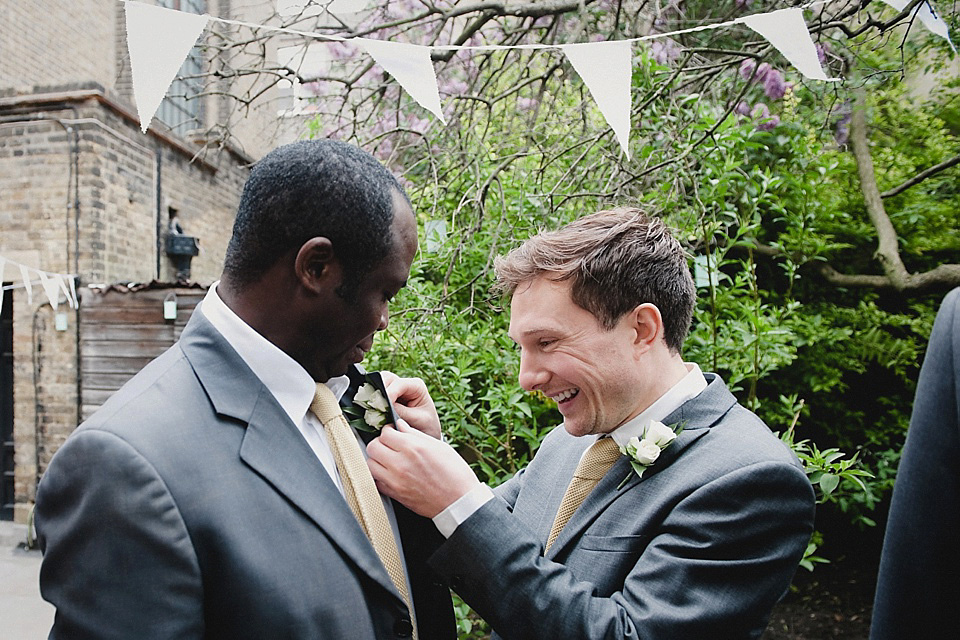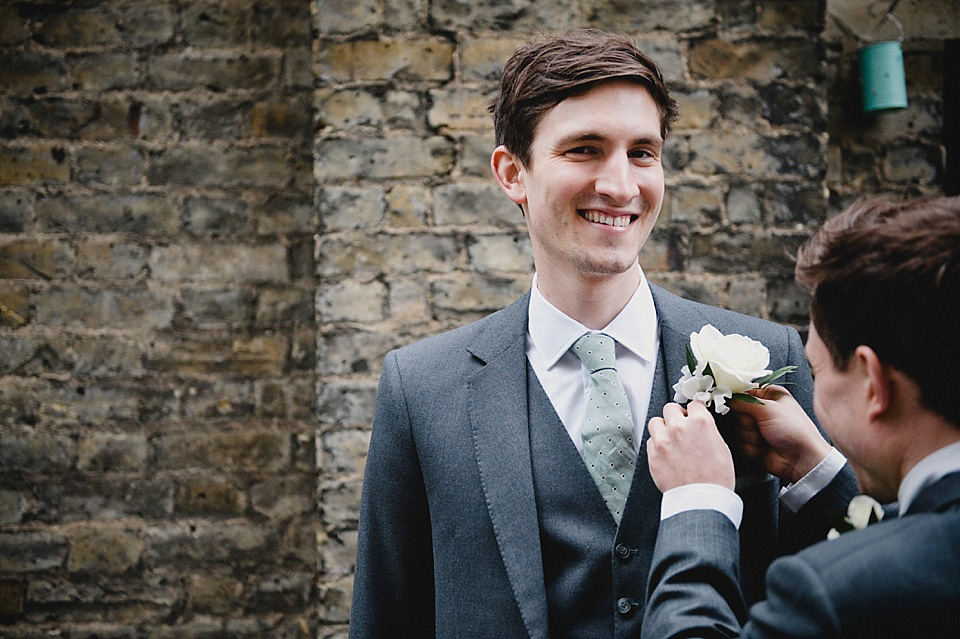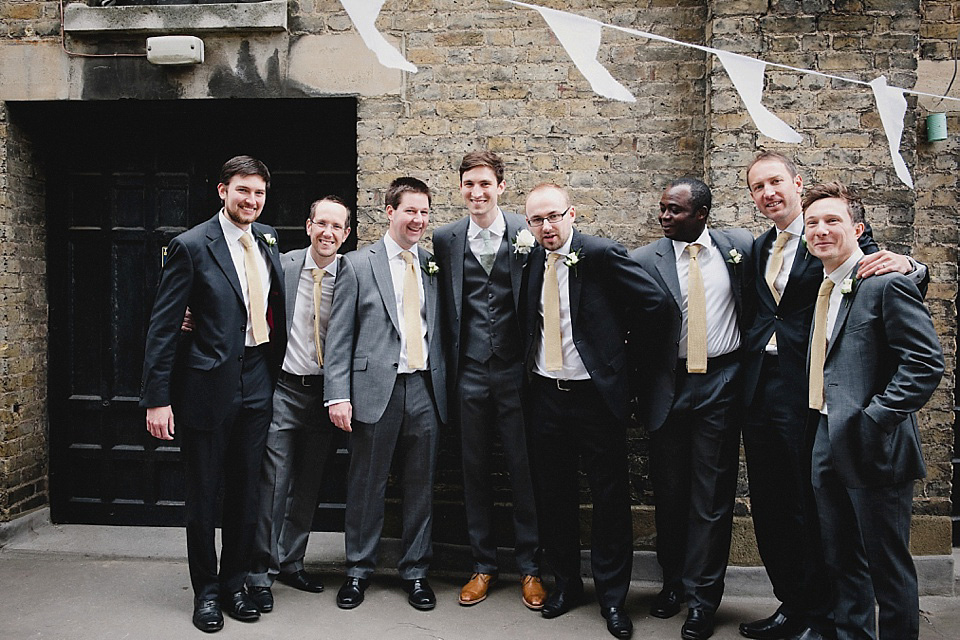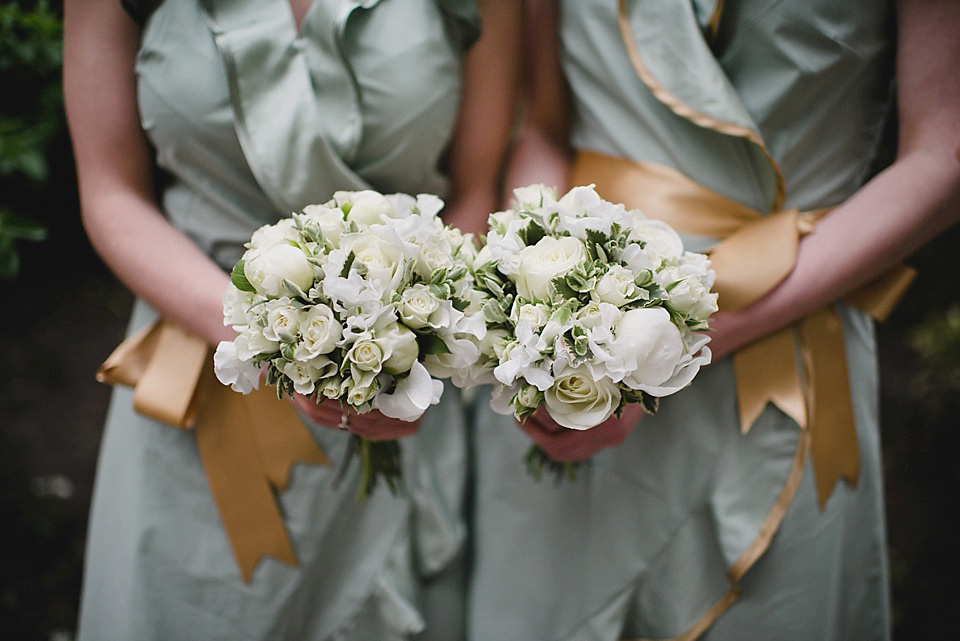 "My nephew was the page boy and pretty much stole the show. He is in most pictures and melted hearts everywhere he went. His suit was from the local suit shop on Kingsland Road."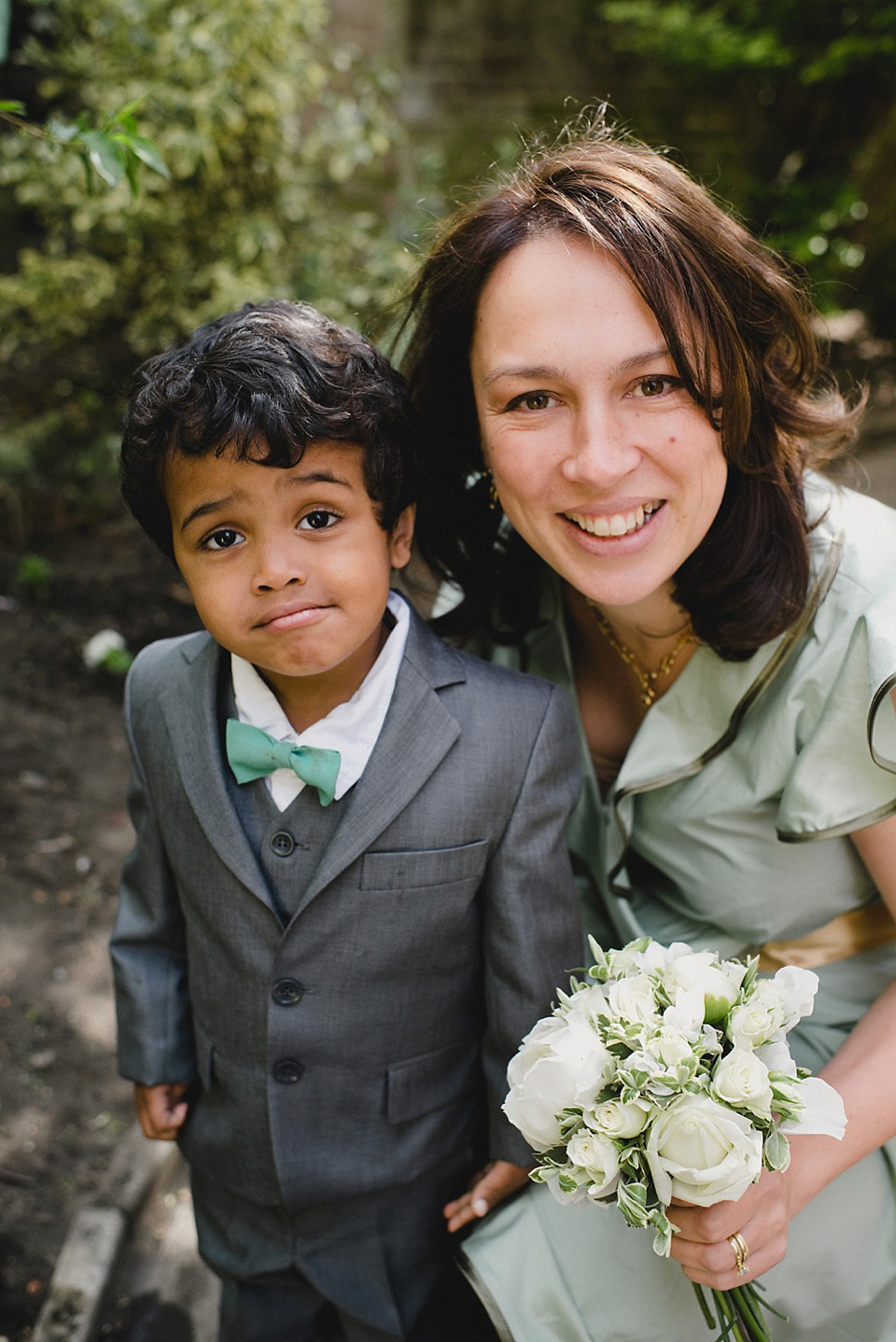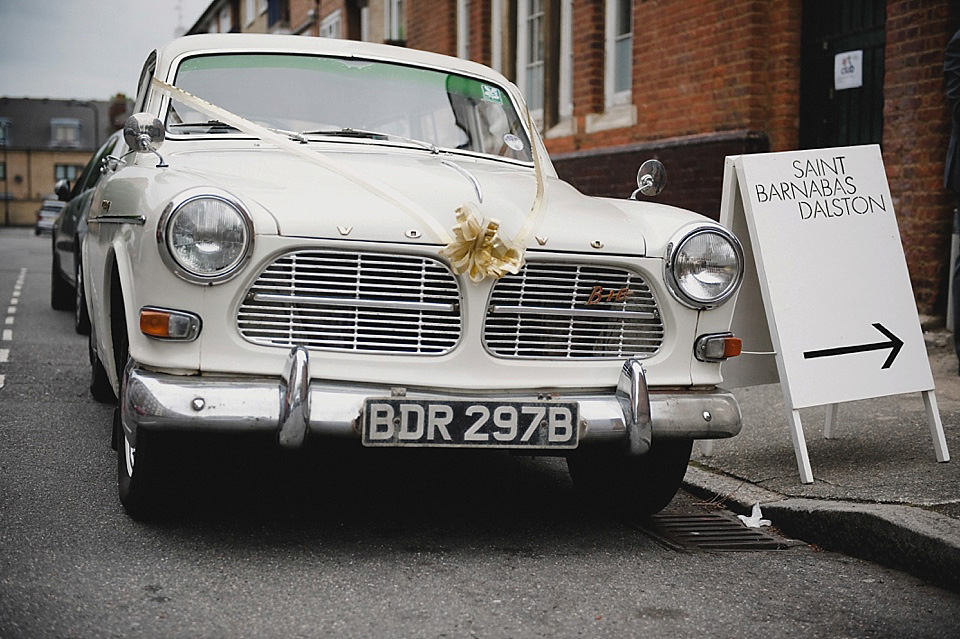 The couple chose their local Saint Barnabas Church in Dalston, London as the place to become husband and wife, and also as the special place where they first met.
"We first met at our Vicar's house at an evening for newcomers to the church. I was emotional that day and Philip was shy. Philip remembers me as "intense" and I remember Philip as 'very young'. We later became friends, and three years later, became more than friends. Then after being 'together' for just over a year Philip popped the question one night on the roof top of the Tate Modern, overlooking London. We were engaged for just seven months."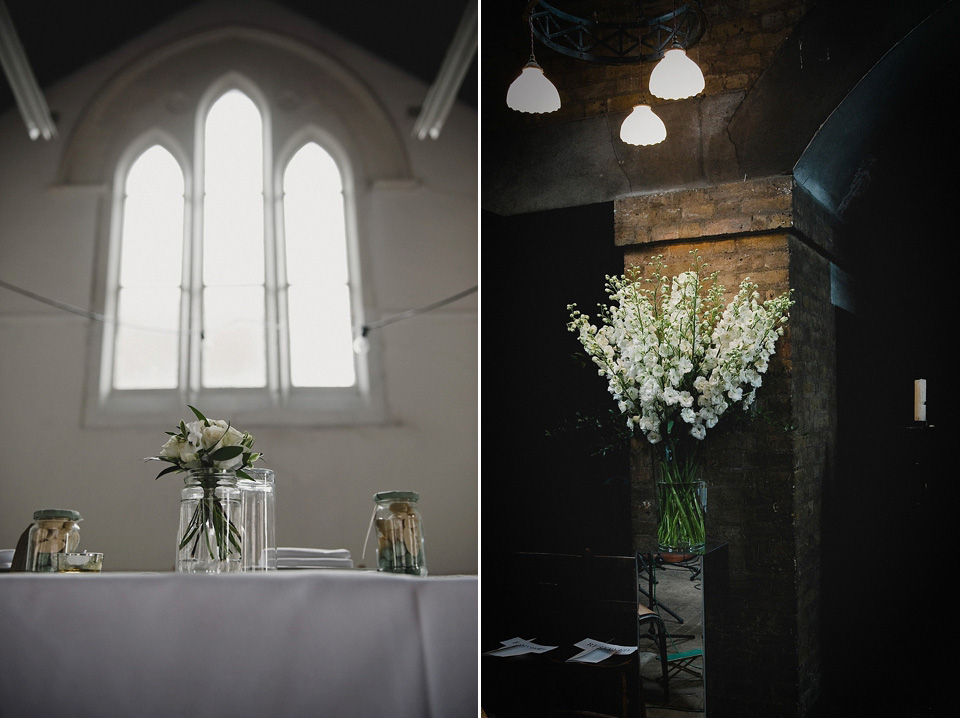 Anna and Philip used stained glass windows to decorate the church, as well as incorporating them into the theme of the whole day through their stationery.
 "Our wedding invitations were designed to look like a stained glass window, and we used windows for our table plan. We had a loose reference to art nouveau and also to 1930's styles but most of all we enjoyed not being too thematic but instead tried to create something eclectic that reflected who we are and our families."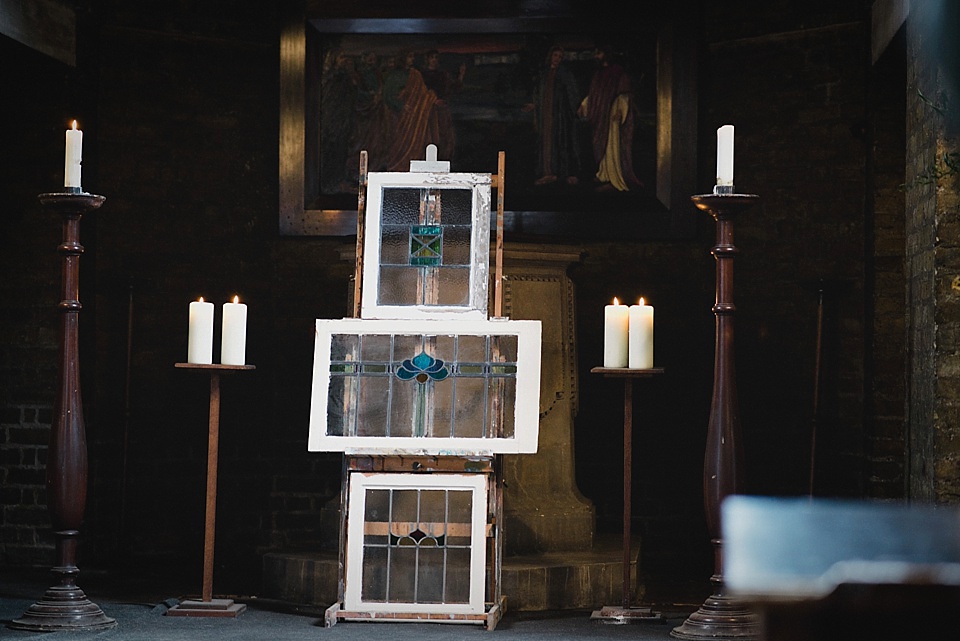 Anna and Philip enlisted the help of Philip's sister as the florist for their day.
"She worked independently for our wedding but normally works at Hayford and Rhodes."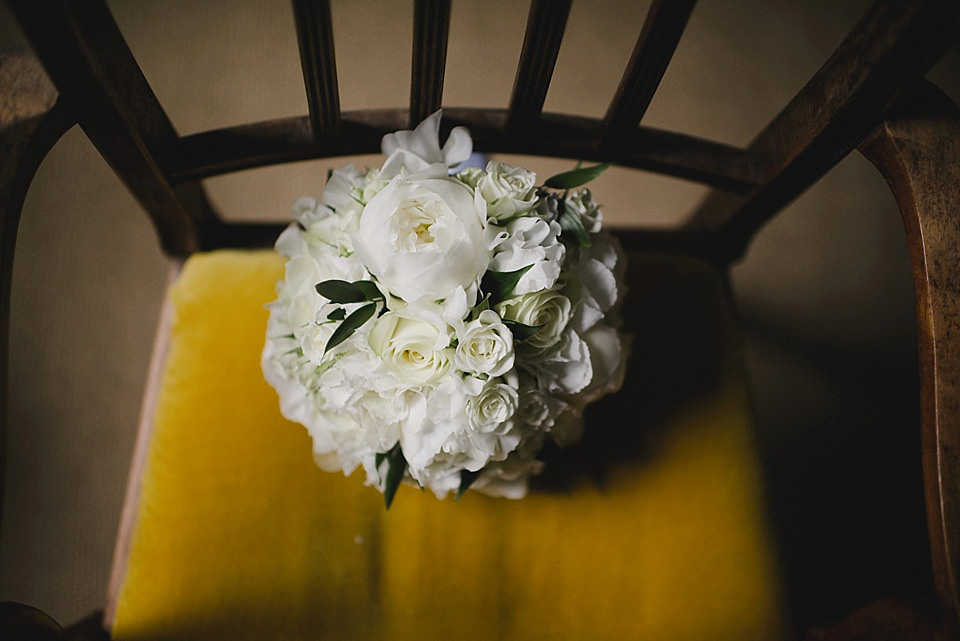 "As committed Christians it was important to us to use the traditional vows that have been used over the years and put together by God fearing Christians many years ago. We recognised that some of these vows may sound controversial to modern ears, so before going through our vows we added a few statements to clarify that we believe that the vows of loving each other are to be based on the love demonstrated to us by God in Jesus, and that marriage is a picture of the relationship between Christ and the Church.
Because we take these truths of our faith very seriously, we wanted to make it clear that we take each aspect of our marriage vows very seriously, and could take them on only with God's help."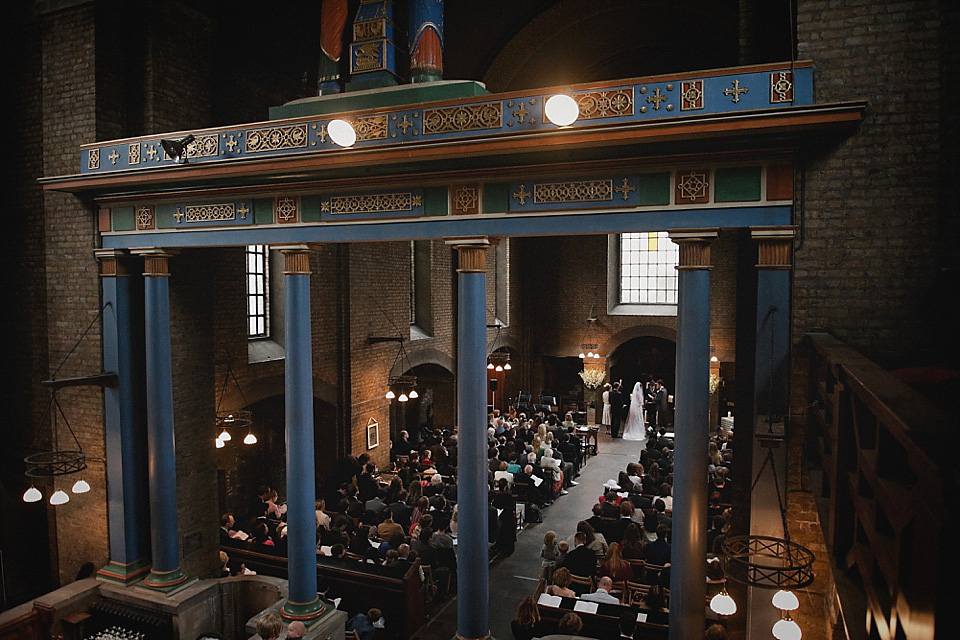 "My father died when I was 16 so my brother gave me away. One of our favourite films is The Princess Bride and since we are really in to film in general, I wanted a film reference to creep in somewhere. So, we decided that I would walk down the aisle to the theme tune to The Princess Bride. The song is called Storybook Love. We asked a good friend Scuta to play the theme tune on guitar and so he lovingly learnt the music and performed it beautifully."
"We bought all of our rings from Premier Jewellers in Hatton Garden. My engagement ring was vintage and from the 1920s, sapphires surrounded by diamonds in platinum setting with a yellow gold band. I love the history of it and imagining who wore it before."
"All of the readings that we had in our wedding were from the Bible. We chose Psalm 121 to remind us that God is our help and our strength and Revelation 21:1-5 to remind us of the future marriage that we put our hope in, the final wedding celebration when Christ claims his people as his bride. Our final reading was Proverbs 31:10-31, about The Wife of Noble Character.
We love these verses and chose them because whilst we believe that men and women are different we didn't want anyone to misunderstand that as sexist towards women so these verses talk about the amazing strength, dignity and capabilities of a woman."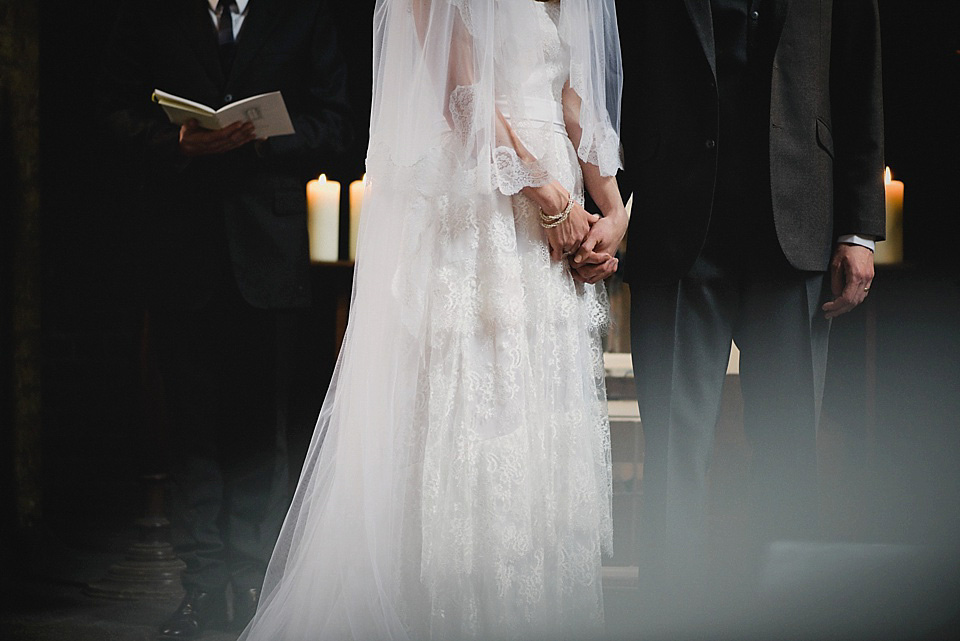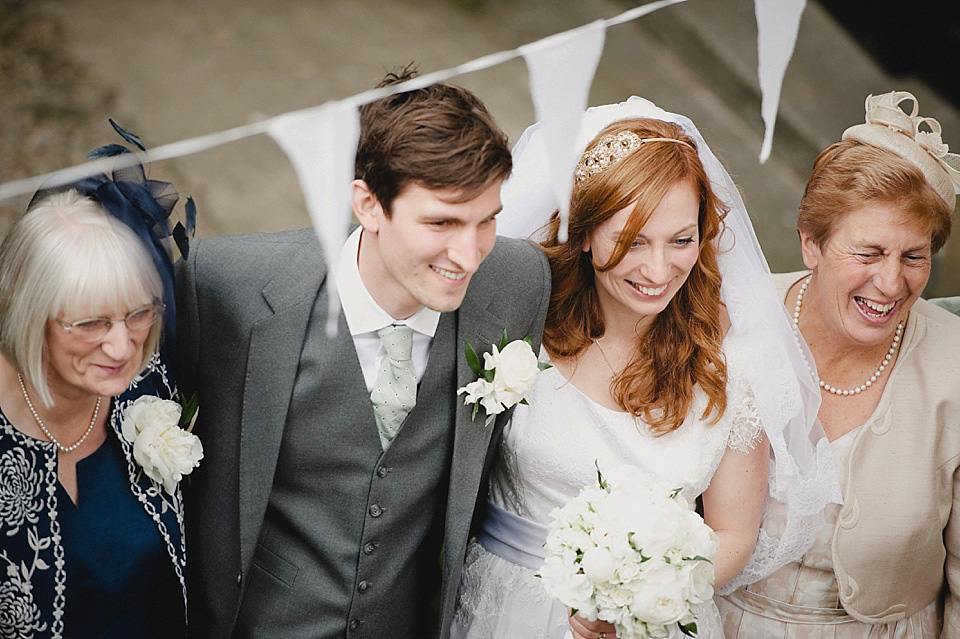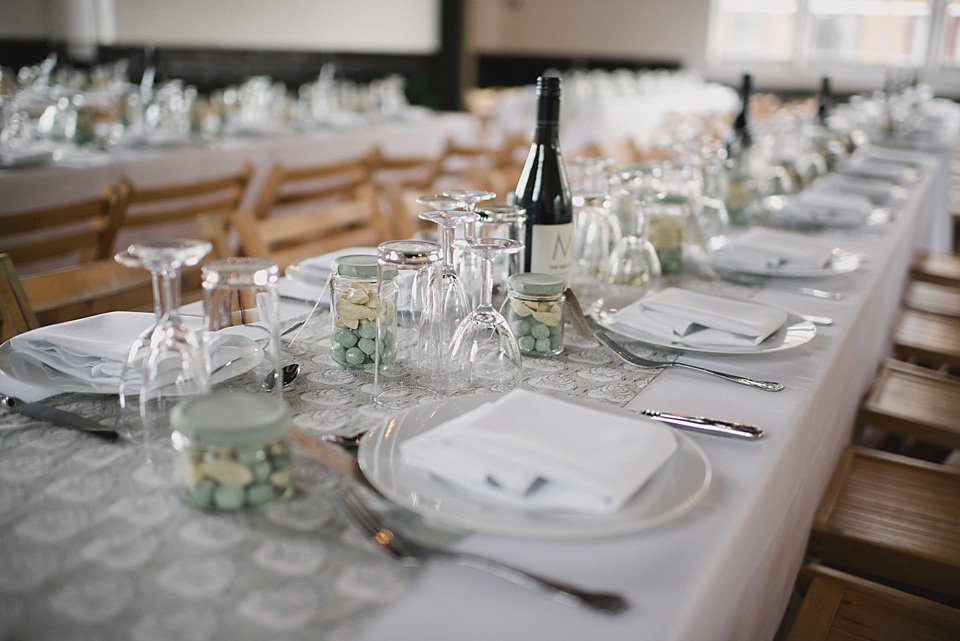 "Lily Sawyer was the most amazing photographer, and having a second photographer was incredible in catching candid shots." 
A top tip from Anna regarding a second photographer. Having an extra eye (and a second lens!) around on the day will allow a photographer to catch private moments and memories at the same time as taking traditional photographs.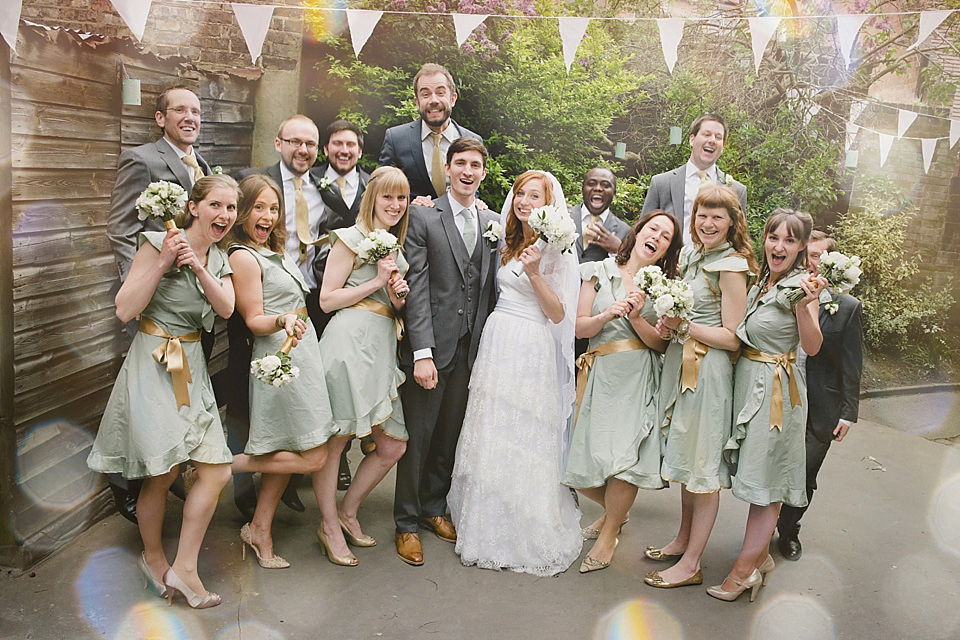 "Easy Gourmet Catering were AMAZING! They did everything. We went for pies (which pleased my east Londoner no end!) and Marie-Laure just organised everything. It was incredible. We also had a puppet show for the children in the afternoon put on by Puppet Barge."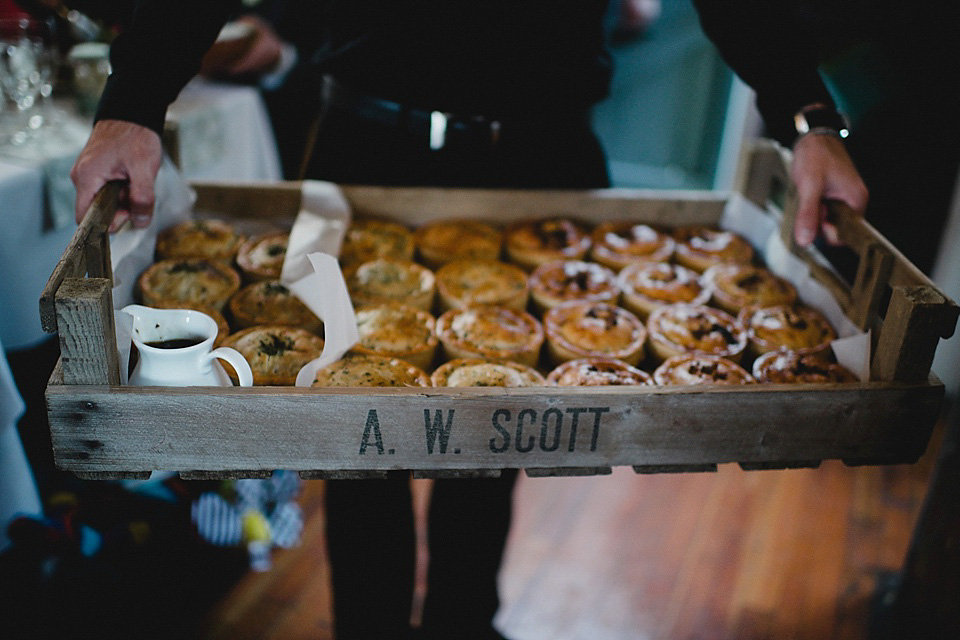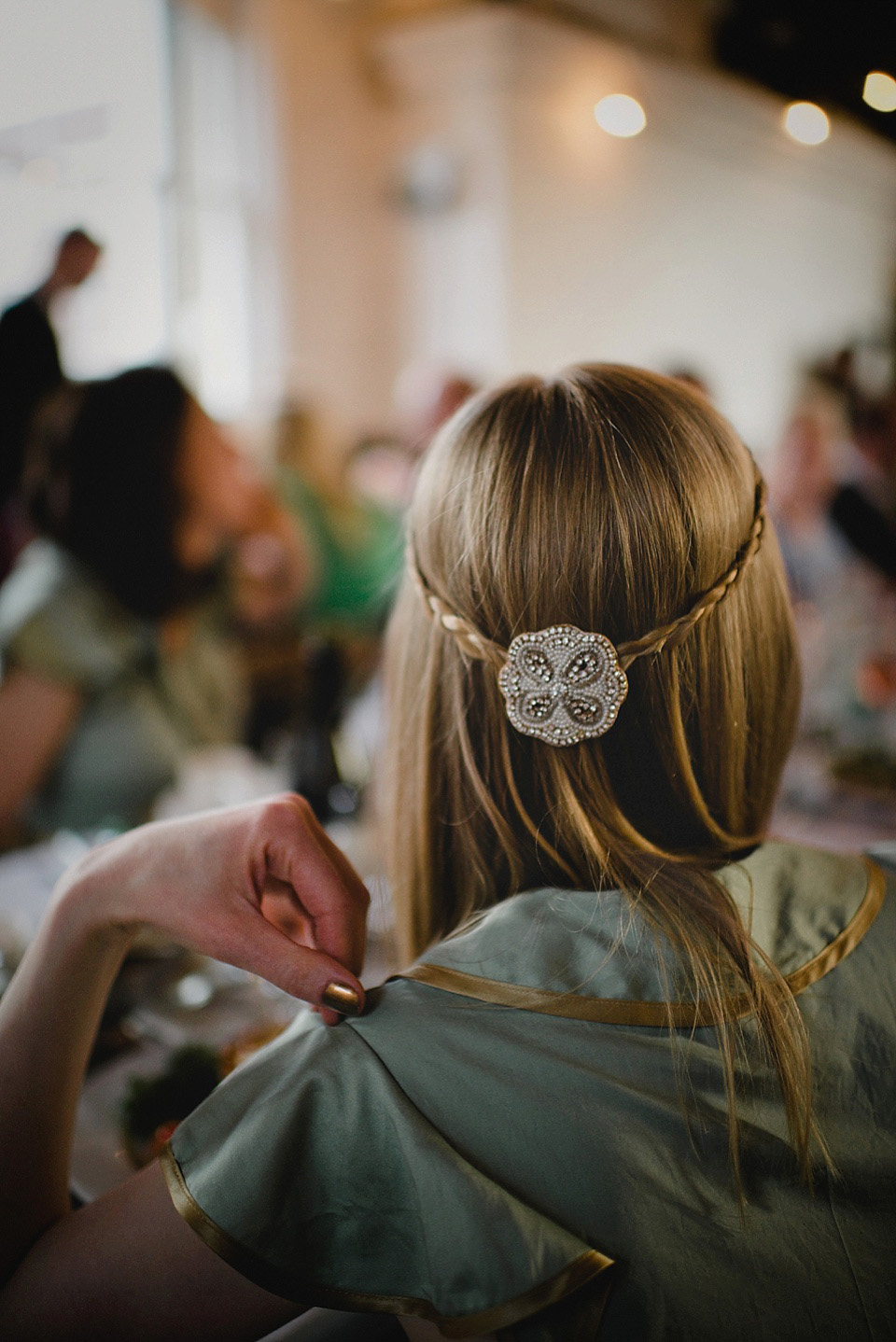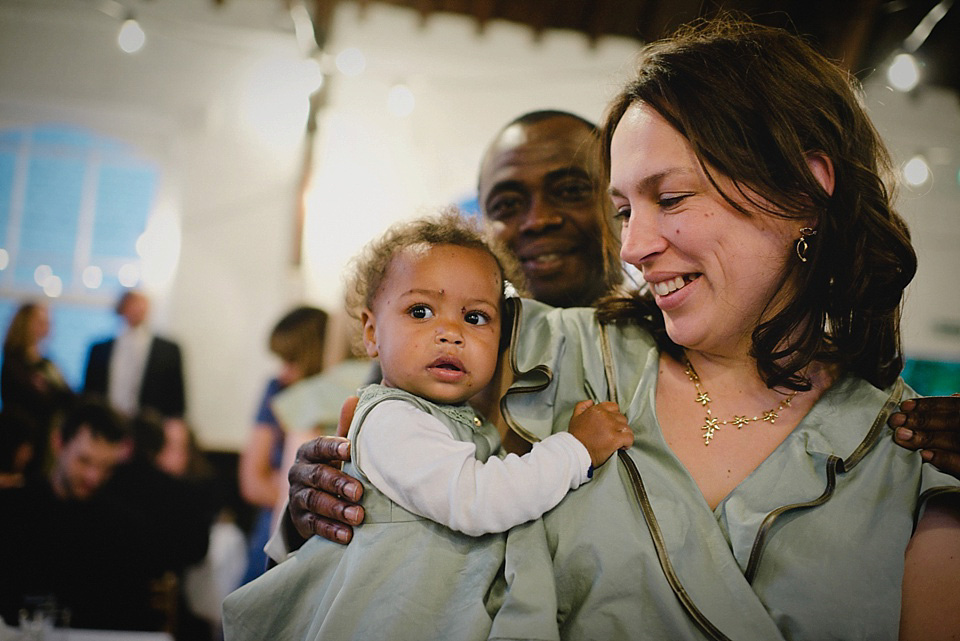 "My favourite moment was walking down the aisle. It was incredibly intense and wonderful to be surrounded by so many friends and family there to support us. I was really composed because I didn't want to miss the point when Philip turned round to look at me, so I had my eyes utterly fixed on the back of Philip's head which made it more and more intense. When Philip did turn round he had tears in his eyes and it was deeply moving.  Philip also says that that was his favourite moment because after all of the organising, we finally got to that moment and then we knew that we were definitely getting married!"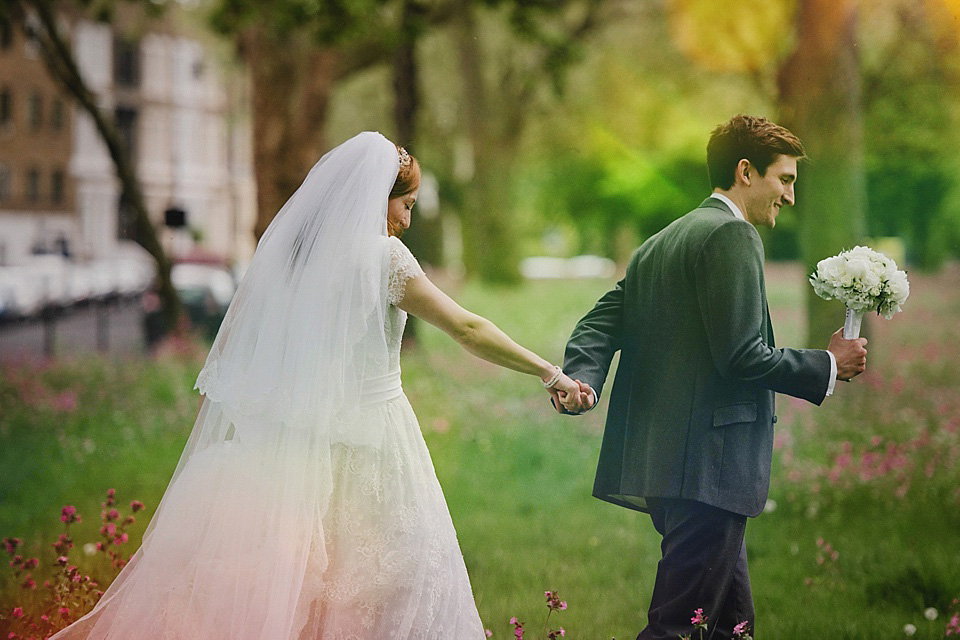 "Even the little things that did go wrong, we look back on them and laugh! For our exit music from the church, we wanted to have the song by the Beach Boys 'Wouldn't It Be Nice' but the PA didn't work so the band just played the final hymn again! Still when we hear the Beach Boys' song we think of our wedding day."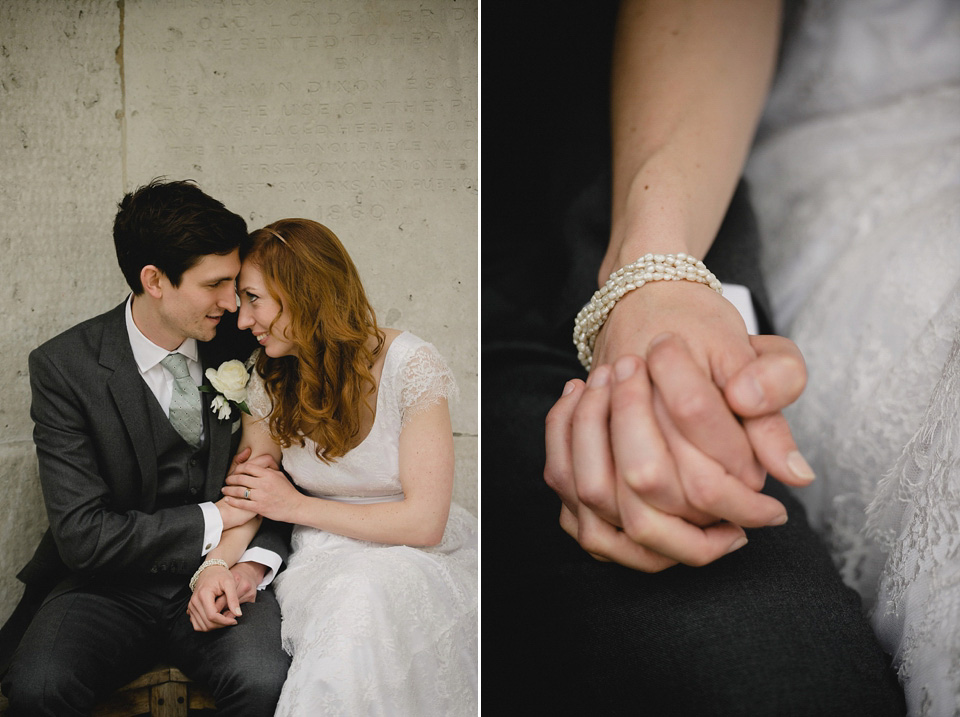 Words of Wedded Wisdom
"I would say, be prepared for the fact that it will be stressful, but it will be worth it. Also, try not to let it become too big in your head, try to keep perspective. A wedding is something that everyone has an opinion on and people offer their opinions very freely which can become confusing. Take time and space to remember what is really important and be grateful for other people trying to help but keep your focus on what it's really all about."
Thank you to Anna and Philip for sharing their glorious day. I absolutely loved putting this piece together, and I don't think I will look at a stained glass window again without thinking a little deeper – it's such a beautiful symbol of love and the future. Many congratulations to you both!
I wonder what other little symbols our brides will include to their wedding days so special and personal… Do tell, all of you!
Love Rachel x
Photographer – Lily Sawyer
Florist – independent florist (who usually works for Hayford and Rhodes)
Bride's dress + Shoes + Veil – Maureen Rose
Bride's shoes – BHLDN
Bride's hairpiece – Anthropologie
Hair and make-up Artist – Angela at Toppers on Wilton Way in Hackney
Bridesmaids' dresses – made by a friend
Groom's suit – Tailor made by Savas at Luke's Bespoke Tailors
Groom's tie – John Lewis
Groom's cufflinks – Gold cufflinks from a vintage jeweller in Hatton Garden
Groom's shoes – Justin Deakin
Best Man/Groomsmen – Gold silk knitted ties from Fur, Feather and Fin
Cars/Transport – Addison Lee
Stationery Designer – Matt Peckham 
Catering – Easy Gourmet Catering
Entertainment – Puppet Barge
Rings – Premier Jewellers