Hello! I've got a cracker of a wedding to share with you today. I'm obsessed with succulents at the moment so whooped when I saw the bride's bouquet. Office manager Amy and Programme support manager Will married on 9th August last summer, at the Sun Pavilion in Harrogate. When you are planning a wedding, the amount of choice can be overwhelming, my advice is always to pick one thing you love and everything else will start to fall into place around it. For Amy it was her dress…
"We wanted a relaxed wedding, with a vintage, bohemian, Art Deco style. My Gwendolynne dress was the first thing bought for the wedding (once I had seen it there was no going back!) – everything else was styled around this."
Photography by Liz Wan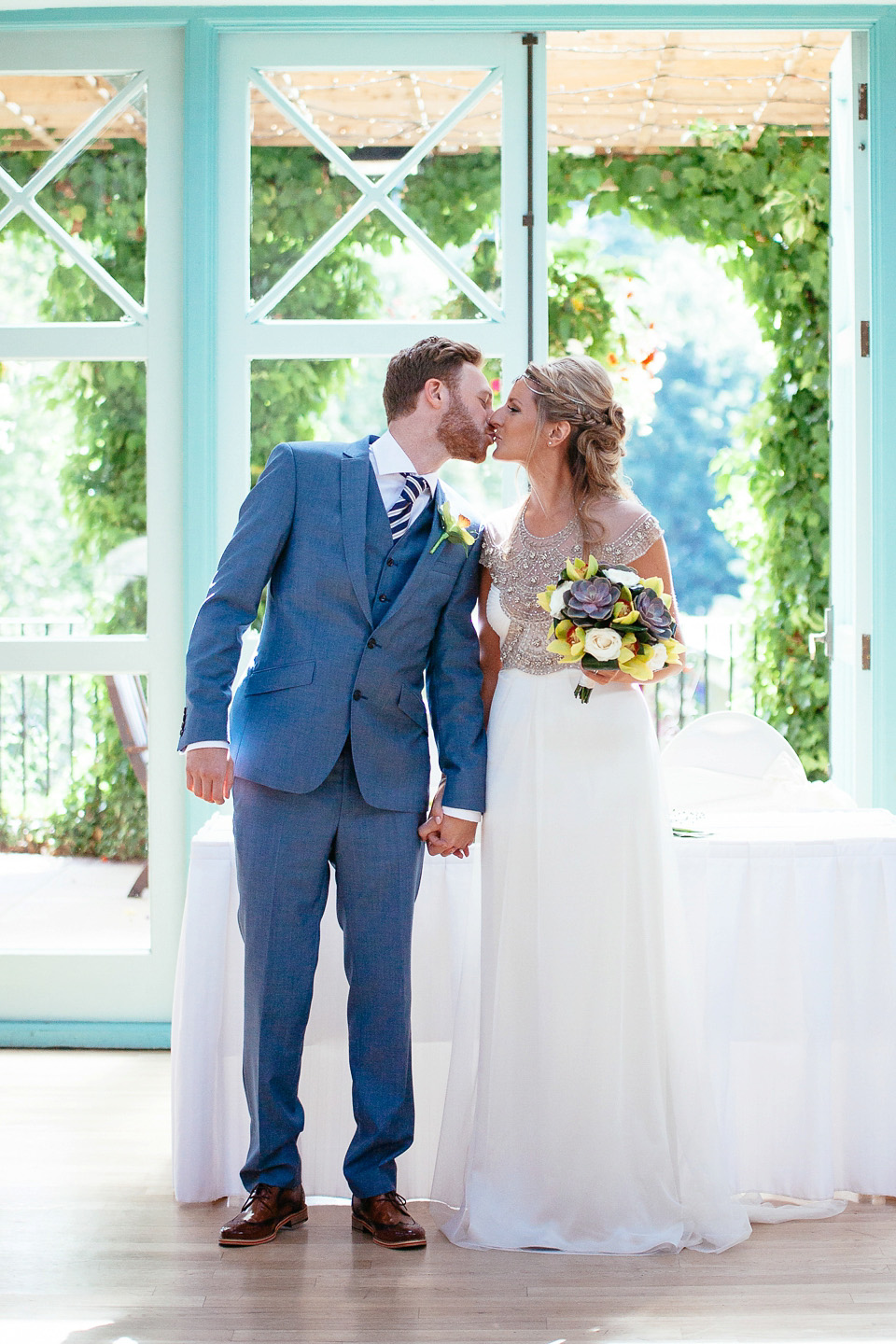 Amy's Indian Tikka inspired headpiece complements the dress perfectly, and amazingly she found it in Accessorize. Makeup artist Megan Gleeson and Rachel from Yorkshire Bridal Hair worked their magic, and seeing the result was one of Amy's favourite moments of the day.
"Seeing yourself for the first time having your hair, makeup & dress on with final touches all put together in exactly the way you imagined was a real buzz!"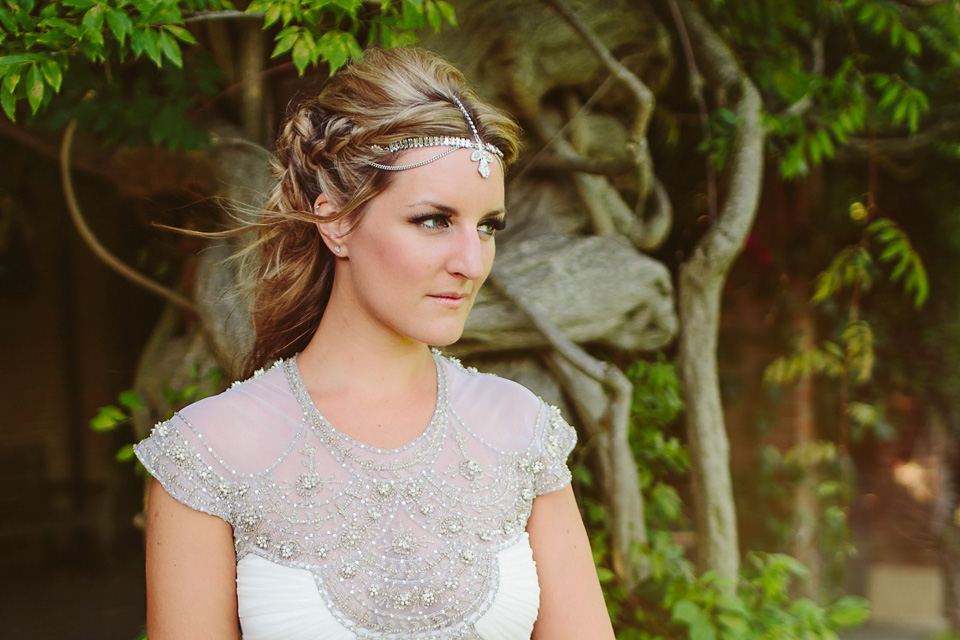 The table plan was a map of the world, each table was a location we have been to, and the plan had a luggage tag with all names of people on each table pinned in. The Post box and guest book both were blank brown manilla paper from paper chase decorated with lace trim and map of the world wrapping paper, again from paper chase."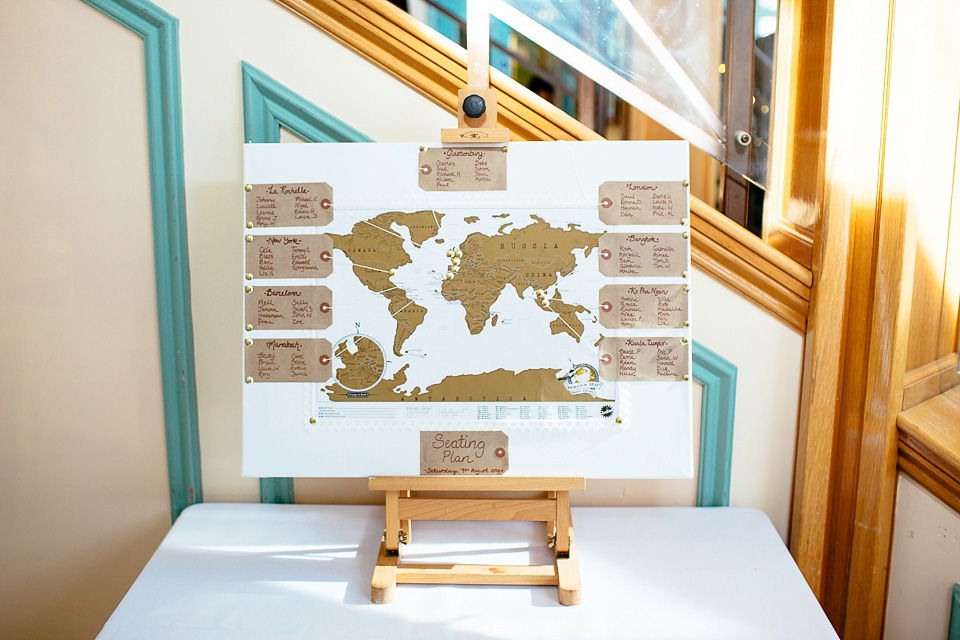 Will and Amy's day was expertly captured by photographer Liz Wan.
"Contemporary, great shots capturing emotions of guest and newly weds, she made sure to stay until evening disco was in full swing."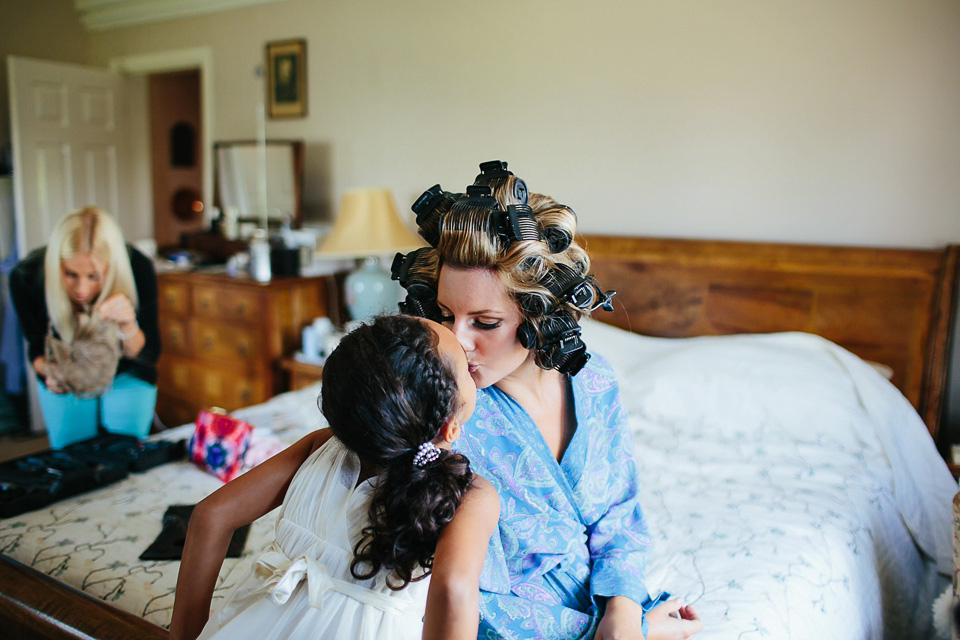 The wedding had a loose travel theme, inspired by how the couple met.  The decor was all home made by the couple and Amy's sister Rachel, including lots of luggage tags.
"We met in 2008 whilst both travelling independently in Thailand. Will returned home after spending a year in Australia, I was away for a year travelling with my friend Grace. When I got back we met up, and that was it. Will proposed in December 2012, in Paddington  Station London – where they first met on my return from travelling.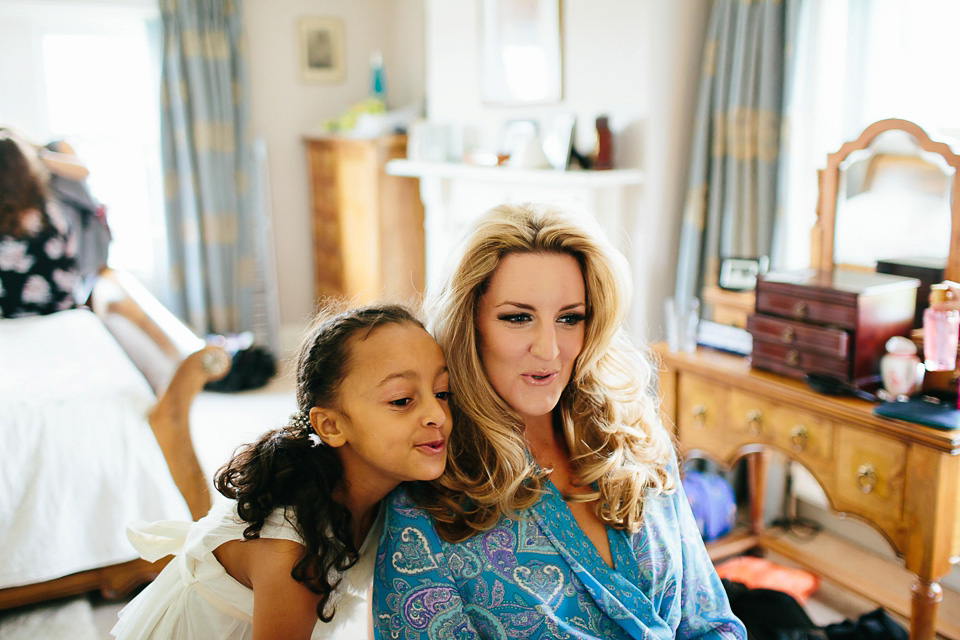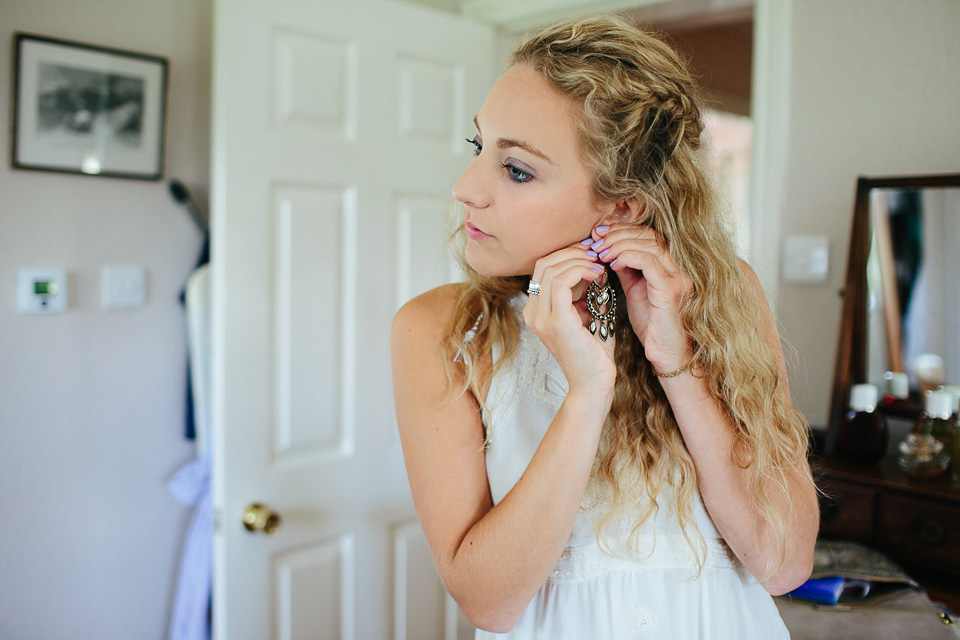 We can't go any further without talking about Amy's stunning dress. It is called Deco, by Australian designer Gwendolynne, bought from from Luella's Boudoir in Wimbledon Village.
"It's soft tulle, and matte satin crepe body was a champagne vintage colour rather than the stark traditional white, and the soft ethereal silhouette flattered my figure. The hand beaded bodice, and key hole back gave a fun side, and the ornate deco clasp at the back of the neck was vintage inspired. All in all 100% perfect! The comments I have had then and since are that it was such a unique look, and no one has seen anything similar."
The headpiece wasn't the only high street bargain, Amy's shoes were from New Look the Bridemaid's dresses from Zara, and the Groomsmen kitted out by Marks and Spencer.
I love it when Bride's choose a special scent for the day, Amy's is Penhaligons Gardenia.
"I went in the shop to buy Will a pre wedding gift and found my scent. Such a pretty vintage style bottle and soft fragrance."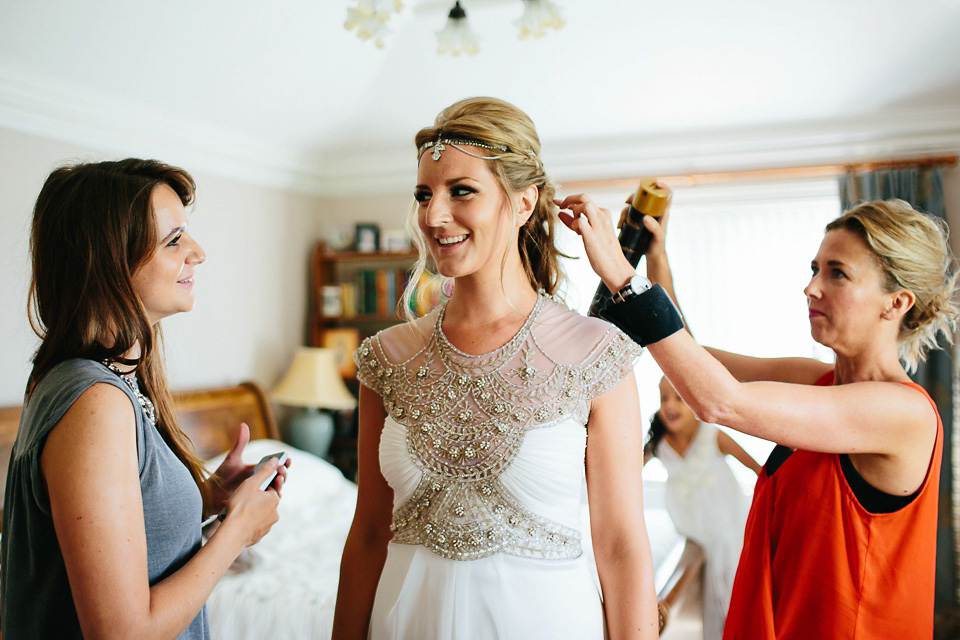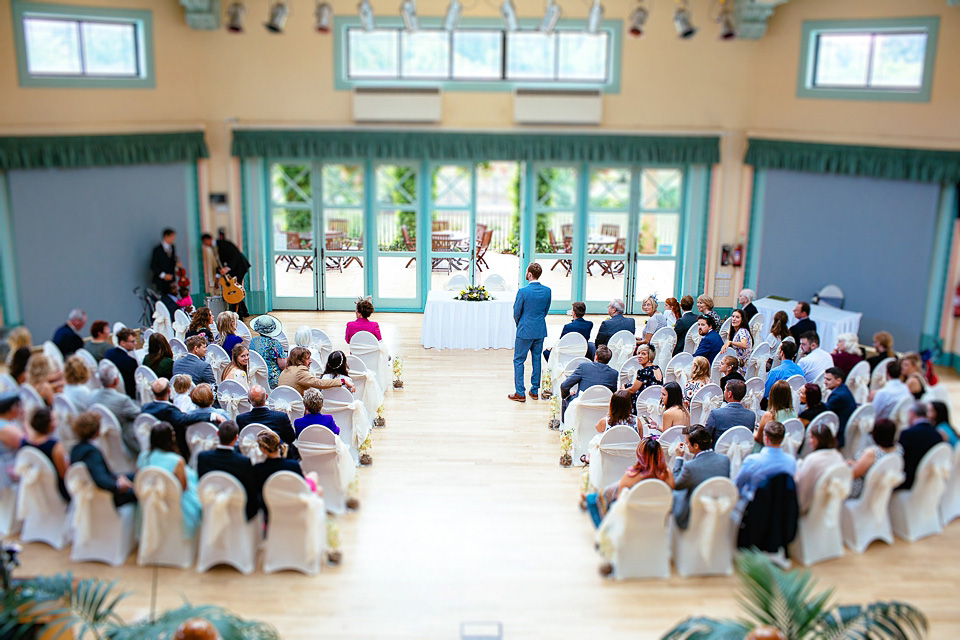 The Sun Pavilion in Harrogate is a classic Art Deco building, and for Amy and Will it was love at first site.
"I am from Harrogate, it was the first venue we saw and thought it was perfect – why say no when we loved it."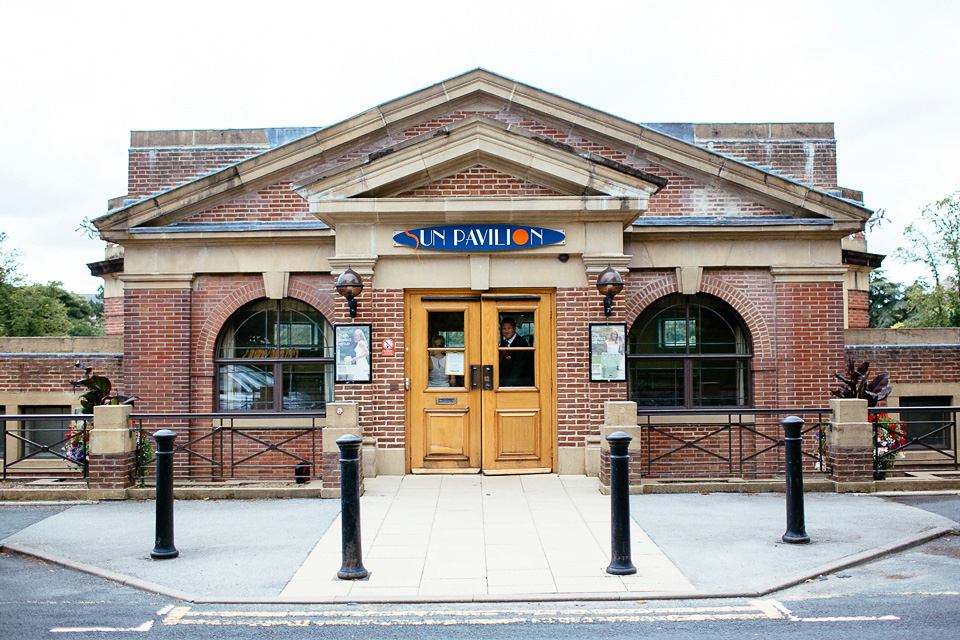 Will looked very handsome in his petrol blue suit from Simon Carter.
Amy was given away by her Dad accompanied by her brothers Tom and Giovanni playing a special arrangement of Elton John's 'Your Song'.
The bouquet I have been swooning over is by Regal Florist of Harrogate Amy loved the idea of succulents and muted colours and they did a great job with the brief. The lapels, corsage and bridesmaid bouquets are actually silk flowers from Pink Lilac. Silk Flowers seem to have really upped their game in recent years, and I love the idea that you can keep them afterwards.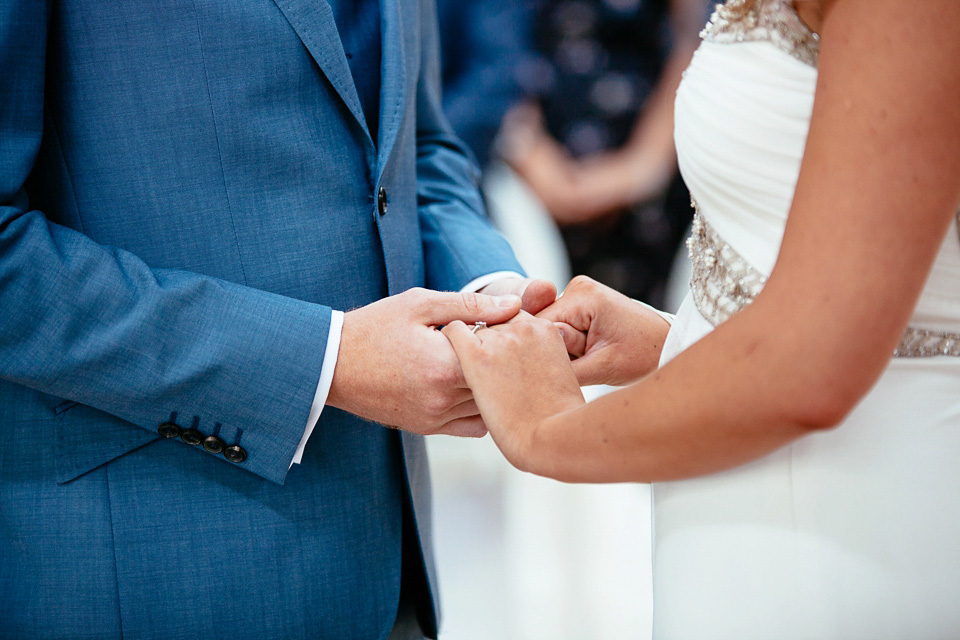 Family friends Sue and Steve from Crown Jewellers of Harrogate helped them choose their rings.
"When choosing her engagement ring I tried on a wedding ring to get an idea. When we went back to purchase wedding rings over a year later, Steve had saved the ring for me!"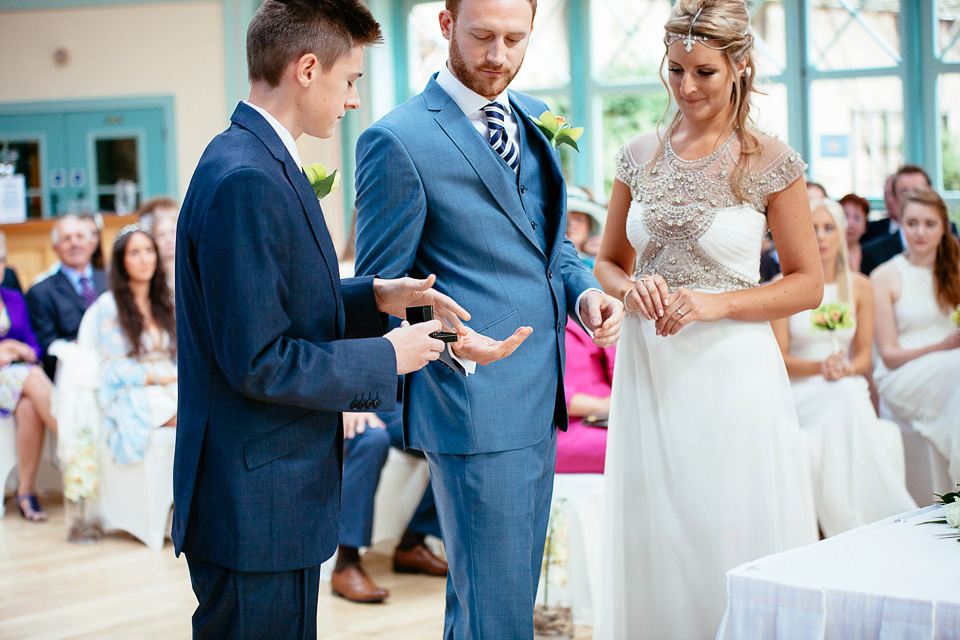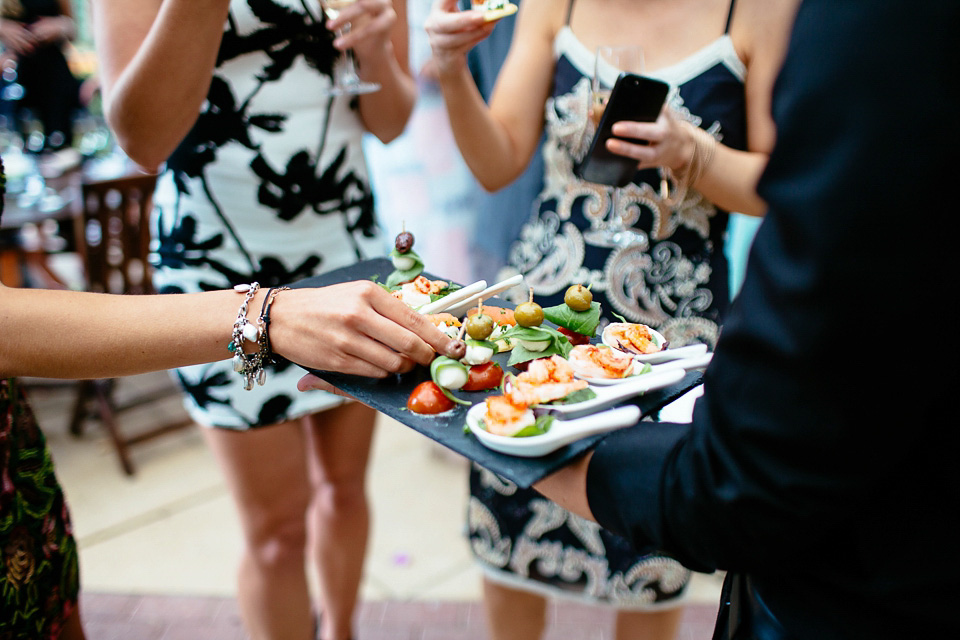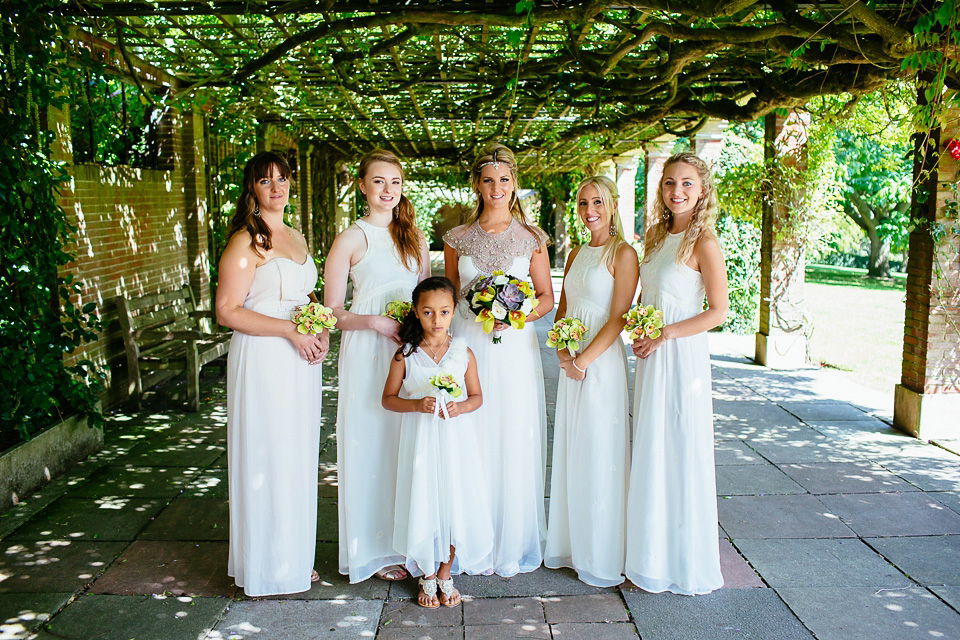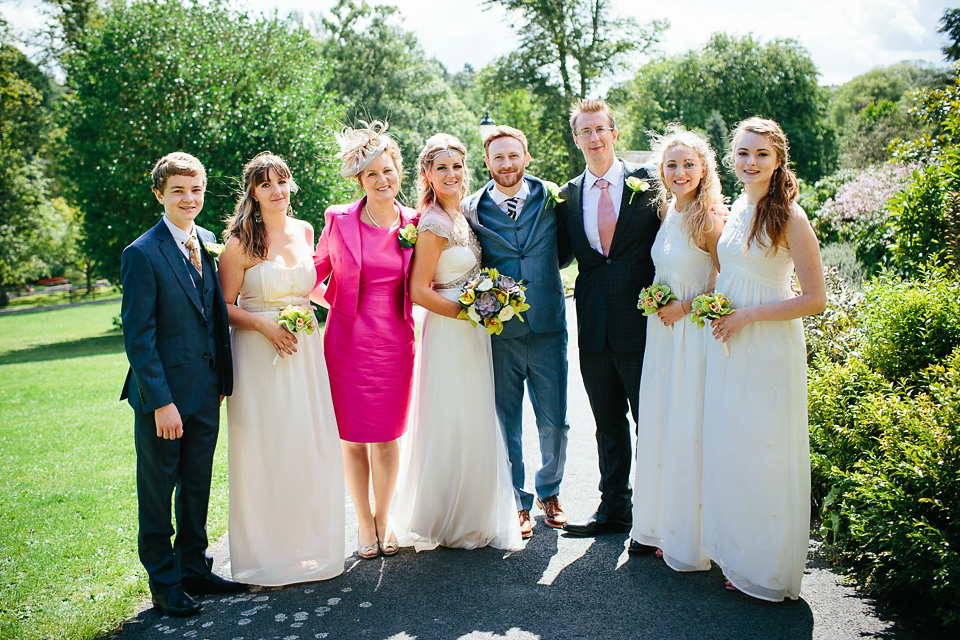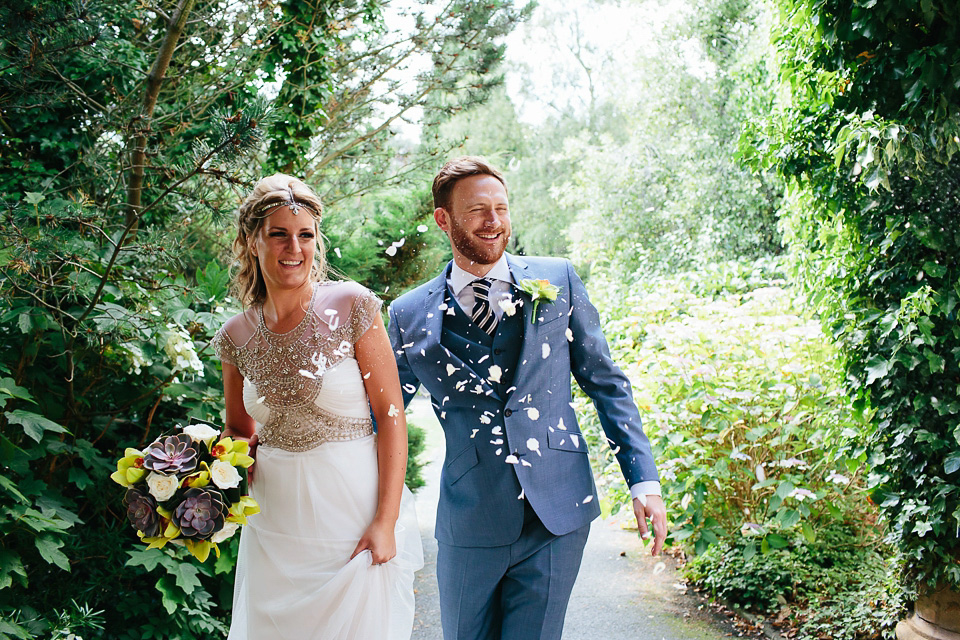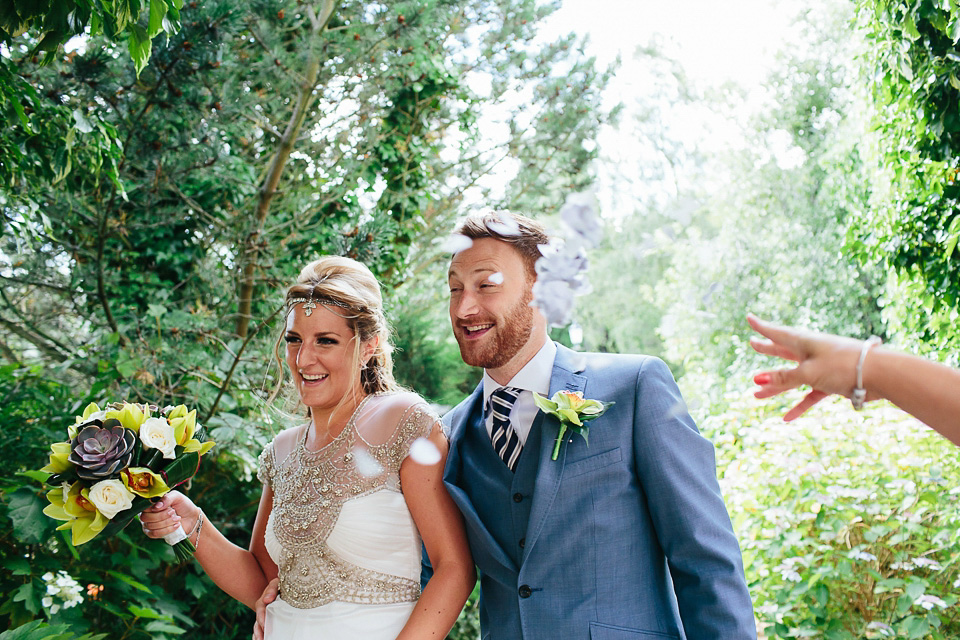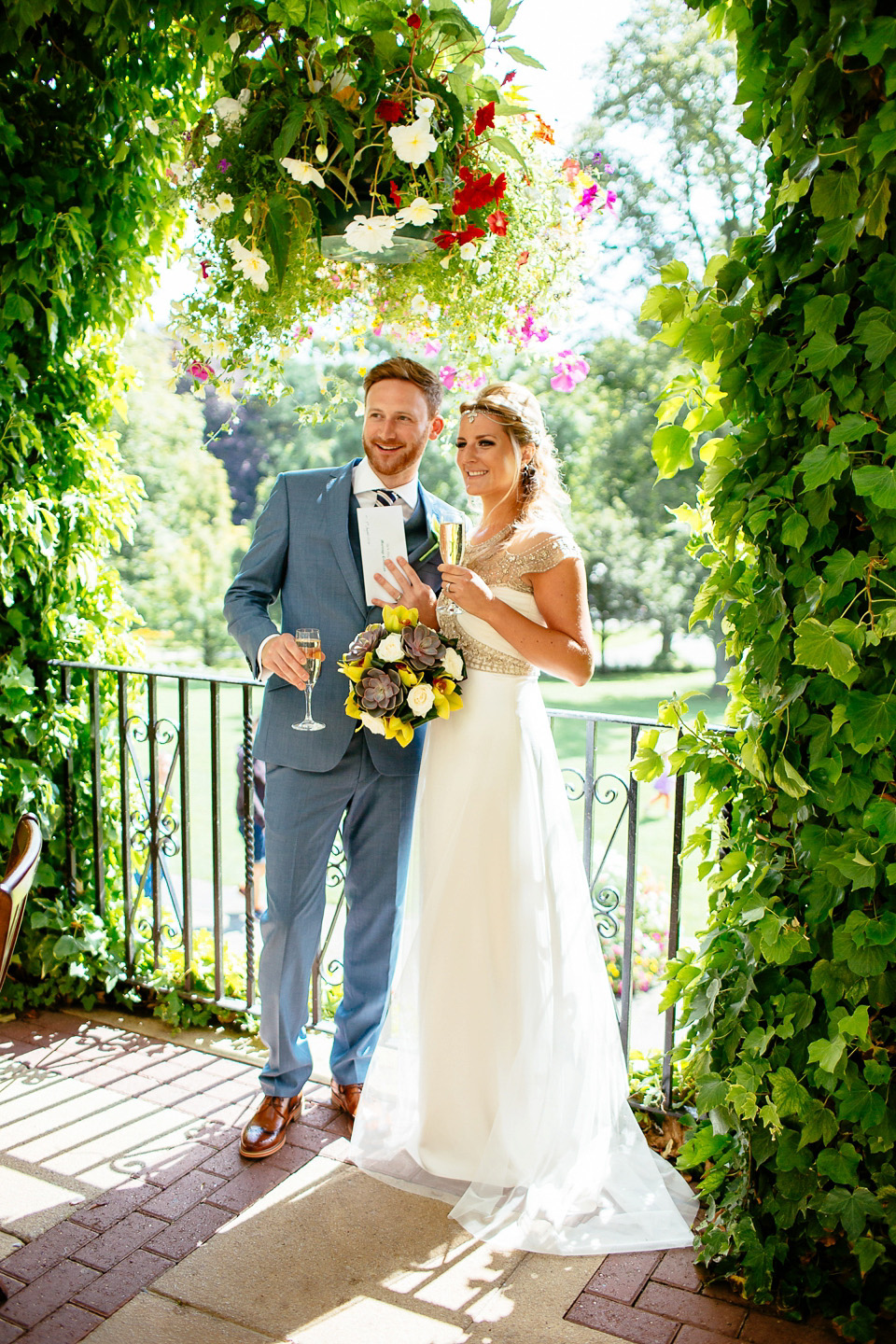 The travel theme continued with the very exotic sounding cake…. made by family friend Jacky.
"Coconut sponge with Filling of mango purée and lime buttercream – white icing, and a scattering of delicate sugar paste cymbidium – people thought they were real, and the cake tasted amazing!"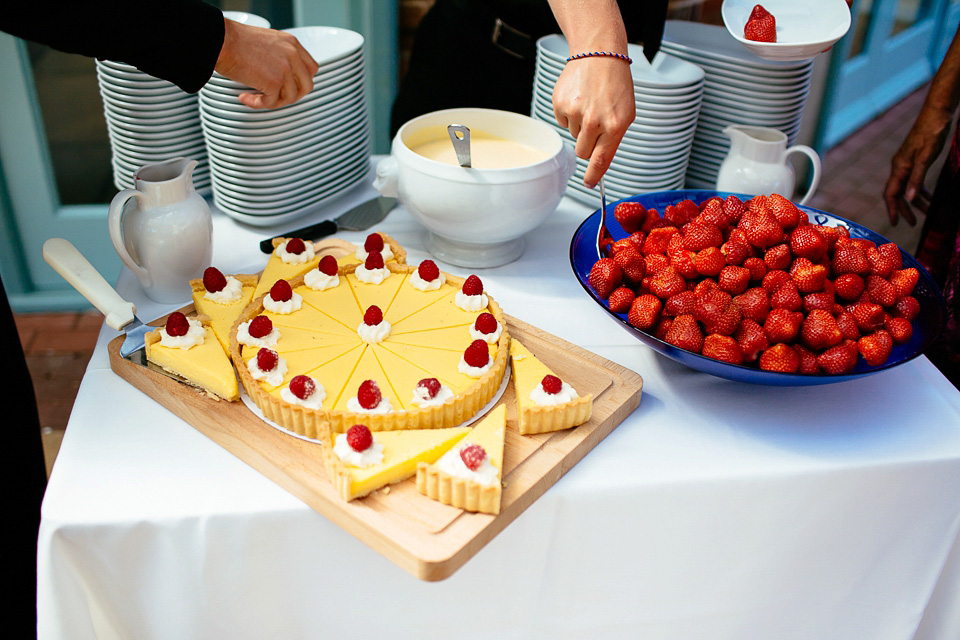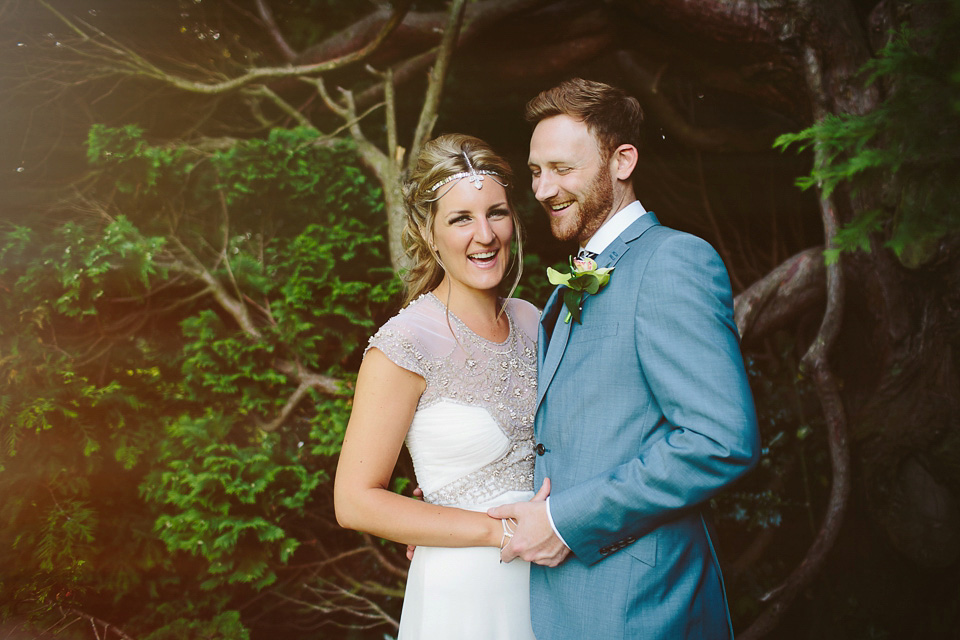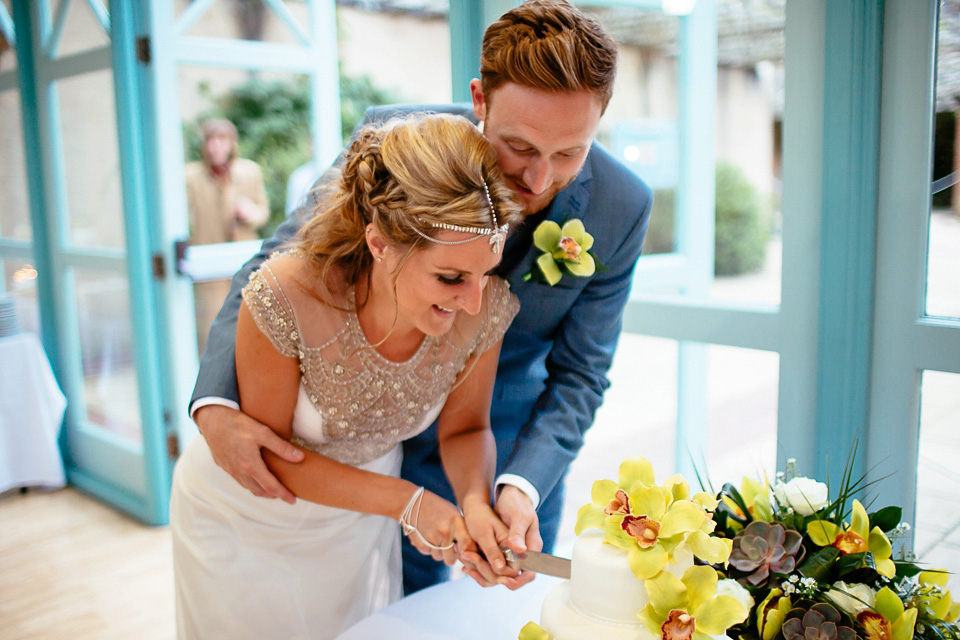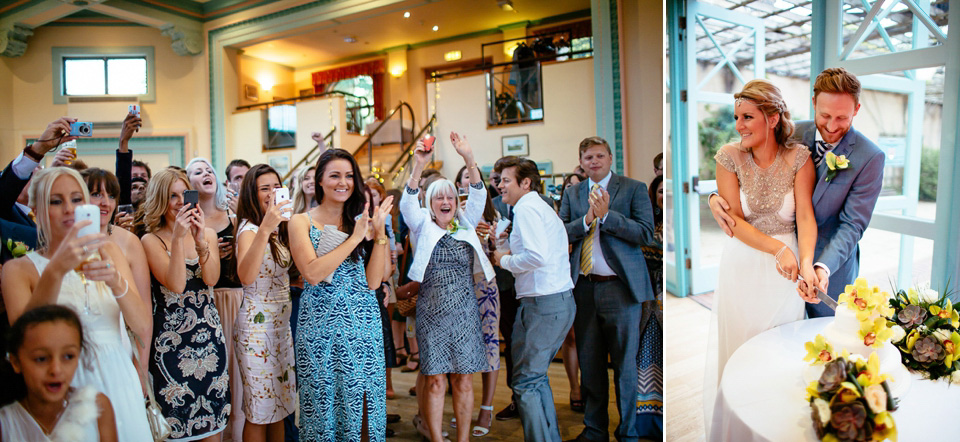 "For our first dance we had Earth Angel from Back to the Future (Marvin Barry and the Starlights), which then merged into Jonny Be Good to get everyone up and dancing. We chose it as it's one of Wills favourite films, and when we went to see Back to the Future at Secret Cinema a few months before the wedding a band played it live, and we both instantly suggested choosing the song."
Words of Wedded Wisdom
"Do not stress too much, or overspend! Rationalise what your three main priorities are with your budget, and everything else will fall into place. The day goes too quickly to be fussing over what colour your napkins are! Also, it's your day, so make sure you're happy with final decisions!"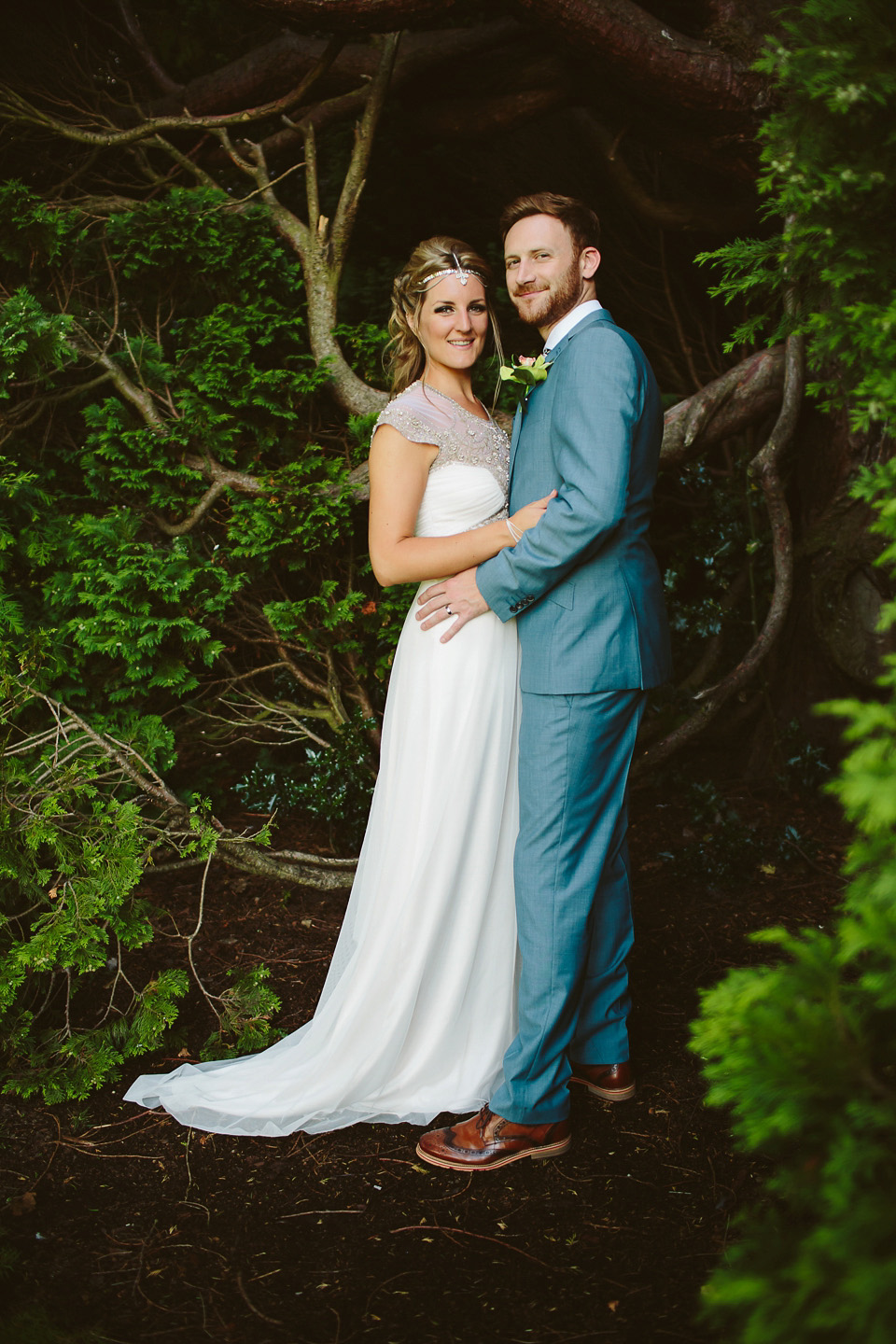 Thanks very much to Will and Amy for sharing your wedding day with us, and to Liz for the stunning photos. I'm heading to Pinterest to search for more gorgeous succulent bouquets.
Hannah x
Venue  – Sun Pavilion, Harrogate
Photographer – Liz Wan
Wedding Dress –  Gwendolynne via Luella's Boudoir
Florist – Regal Florist of Harrogate
Silk Flowers – Pink Lilac
Shoes – New Look
Headpiece –  Accessorize
Perfume – Penhaligons
Groom – Simon Carter
Bridesmaids – Zara
Flowergirls –  Accessorize
Groomsmen – Marks and Spencer
Hair – Megan Gleeson
Makeup – Yorkshire Bridal Hair
Rings –  Crown Jewellers of Harrogate
Catering – Kings Catering Company