Hello hello! Very satisfyingly, I have another member of our extended Lovettes team to introduce you to this evening. I have loved reading Saffron's introductory post and all about her weekend wedding party in Cornwall, and I hope you do too. You will find all our other Lovettes posts here by the way. Love Annabel x
. . . . . . . . . . . . . . . . . . . . . . . . . . . . . . . . . . . . . . . . . . . . . . . . . . . . . . . . . . . . . . . . . . . . . . . . . . .
Weird Science – a classic movie that captures the zeitgeist of 1985 – big hair, shoulder pads, Miami Vice pastel jackets, and that was just the men's styling. Two teenage boys take the composite picture parts of their perfect woman, run it through their behemoth of an 80s home computer and out pops Kelly LeBrock – hilarity and bad dancing ensues. If you are too young to remember it, or have just never seen it, I highly recommend it. You will be backcombing your hair and slipping into a puffball skirt before you can say Girls Just Wanna Have Fu-un.
ANYHOO, I digress….
Simon Lovell is my 'Weird Science Guy', I've said so since day one. Hopefully he won't be offended by me likening him to a male Kelly Le Brock. The point I'm getting to with my nostalgic ramblings is that if I were to cut out pictures of my ideal partner, add some dry ice and a prayer – my 80s computer would spit out S Lovell.
He remains irritatingly gorgeous at all hours, day or night, even during a Sunday afternoon nap when us mere mortals would be catching flies or stuck to the sofa with drool. Thankfully, he's as lovely on the inside as the outside and brings me kindness, support and laughter every single day. Within two weeks of meeting, we were discussing having a family. It was a total shock to me that this didn't make me head for the hills as I'd never wanted children – the only explanation I can offer is that 'he smelt right'. Pheromones, love potions, voodoo, who knows? In a way it's a relief from the modern world to experience something purely instinctive and unscientific. Our son, Ferry, was born 20 months later.
Simon is one of life's worriers. He worries about the usual everyday stuff – zombie attacks, the moon getting further away, wearing odd socks. He now tells me he had been stressing for several years over how to stage the perfect proposal. Moonlit beaches, Red Arrow flyovers, elaborate YouTube sensations?? Paralysing panic set in for him and after 4 years of birthdays, Christmases and special occasions I began to wonder if it was ever going to happen.
In March last year we very sadly lost our second child early on in the pregnancy. It was an emotional time on top of a lot of stress at work, and on the Saturday of that week, Si bundled us all in the car, drove to the Jewellery Quarter in Birmingham where we picked a ring. He then proposed as we sat in the car in an NCP multi-storey car park – no fanfare, no fuss, a proposal for just us rather than other people, at the right time. A bemused and confused 2 year old in the backseat wondering why Mummy was crying.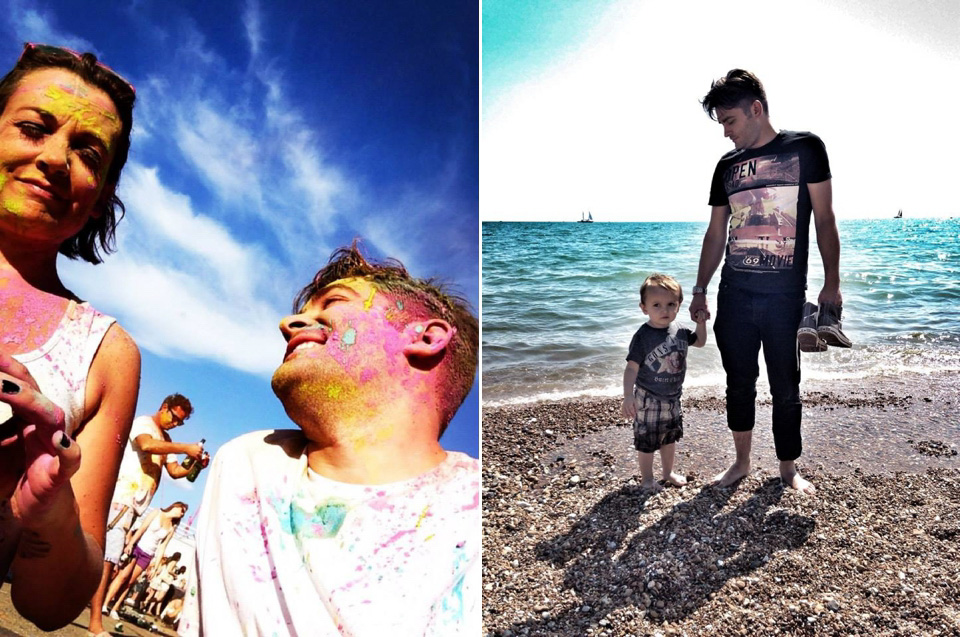 From that point we agreed to focus on making some changes to reduce workloads and stress and of course organising the wedding. And so here we are, with four months to go until The Big Day and as I'm writing my first blog, my ipad is resting against an increasingly substantial baby bump. Nothing like Mother Nature flexing her muscles and reminding us of her ability to throw the odd curve ball. Happily, unexpectedly, we will have a very special twelve week old guest being a big part of our day. Muffin top, no sleep, sick on the dress….  I'm trying not to think about it, we can make it work!
"Enough about 80s movies, leaking boobs and baby puke!" I hear you cry, "we've logged on here to read about bridal stylings and glamour, tell us about the wedding plans FFS!". So moving on swiftly to our plans so far….
The first part of the wedding will be a three-day weekender at stunning Camel Quarry House in Cornwall. We will be having a Humanist ceremony on the first Saturday in September in front of just our closest family and friends. The amazing Zena Birch is working with us to create a meaningful ceremony including contributions and readings from some of our nearest and dearest. More about Zena and Humanism in later blogs I hope.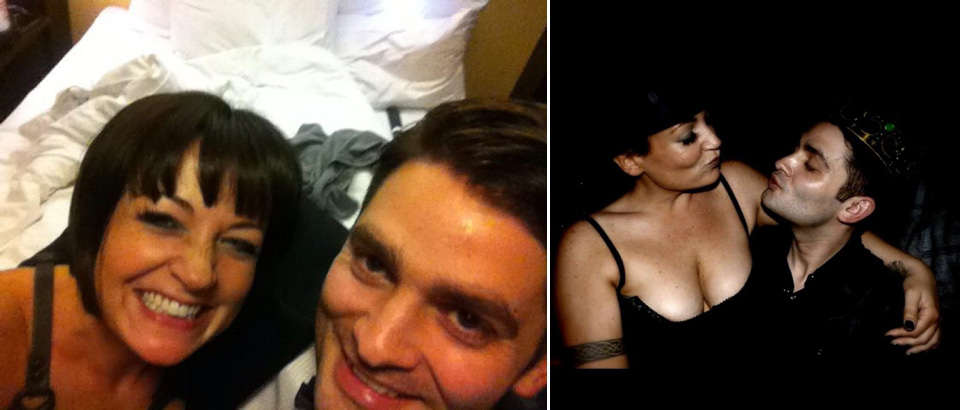 Dress code is for guests to wear whatever makes them feel at their most amazing, with no other guidelines or restrictions. I'll be preceded down the aisle by Ferry, my fearsome flowergirl Scarlet Hill and our two pugs Banjo and LouLou. After the ceremony we'll be tucking into a middle eastern banquet from Lafafa before dancing under the stars to tunes from three of our guests who are DJs (handy).
Sunday will be a champagne breakfast to scare away the hangovers, followed by an all day pyjama party – hopefully in some hazy, lazy, late summer sun. The following weekend we will be making things legal at our local registry office in Stratford upon Avon, followed by a big party at Riverside Stratford for a wider circle of family and friends.
I'm so excited to have been picked as a Lovette. Once the baby is here at least I'll have plenty of late night opportunities to obsess over the details and write more blogs. Here's to 9 more weeks of pregnancy before I can start sampling our cocktail menu.
Lots of love, Saffron

A little background on Saffron and Simon
As this is Saffron's first post for Love My Dress,  we thought it would be nice to share some of her original Lovettes application with you all – to help you get to know her a little better.  We'll be doing the same for all our new Lovettes when it comes to sharing their first posts.
Saffron Freeman is marrying her fiance Simon Lovell on 5th September 2015
Location: Camel Quarry House in Cornwall
Photographer:  Matt Gillespie Photography

How they met:
We met on one of those random, unassuming nights out, when the separate groups we were with came together through friends in common. Without wanting to sound over dramatic, it was most definitely love, lust and lightning at first sight for me, so he really didn't stand a chance! I call Simon my 'Weird Science guy', because it feels as though he has been created from all the mental scrapbook images and wants I would look for in a partner. We've really been inseparable since that night and although neither of us had ever wanted children, it was on our agenda within 2 weeks of that first encounter – the only explanation I can offer for this is that 'he smells right'.
Our son Ferry came along 18 months later and in early 2014 we were trying for a second child.  Sadly we lost our second pregnancy very early on and it was this low that was the catalyst to our engagement. No fanfare, no fireworks, an engagement that was for the three of us rather than a performance for other people, Simon drove us to the Jewellery Quarter in Birmingham, we picked a ring and he proposed in the car, in a multi-storey carpark, while our son sat in the back, utterly confused as to why mummy was crying. Not exactly a Hollywood setting but so, so perfect and memorable for us.
About their wedding:
Think tassels, lanterns, koinoburi, ghost chairs, Colombian roses, middle eastern banquet, fire eating guests and machine gun flower girls.
Since the engagement, my OCD planning has gone into overdrive, no detail to small, no idea too 'out there' to explore. We agreed we wanted a relaxed but theatrical vibe to the day. Neither of us holds strong religious beliefs but a registry office ceremony seemed dreadfully perfunctory and lacking it the personality we were looking for. My family chose to have Humanist funerals for both my paternal grandparents and the content of these, focussing on human relationships, represented a marriage with our ideals.
We also loved the fact that friends and family can be so involved with the ceremony itself and a number of our guests are putting together readings, ably guided by our Celebrant extraordinaire, Zena Birch. I feel these blogs would also be a great way of promoting the alternative a Humanist wedding can offer to those looking for something more personal than a civil ceremony.
The wedding itself will be held over 3 days, hopefully in hazy, lazy, late Summer sunshine, at Camel Quarry House in Cornwall. Dress code for the ceremony and after party will be 'wear whatever makes you feel your absolute best' – suit or speedos, dress up or dress down, the choice is yours.  Our wish is for our guests to feel comfortable but fabulous and to express their individual style. The following day will be a champagne recovery breakfast and all day pyjama party. We will have around 30 guests, made up of our closest friends, family, children and our two pugs.
Our final blessing is that somewhat unexpectedly, but very, very happily, I found out I was pregnant again in September last year. Our initial thoughts were that we would need to postpone the wedding but have since decided to just go for it. Our baby is due 12 weeks before we go to Cornwall – our initial shock is now joy that our whole family will be in the wedding pictures. Having to squeeze back into the sample of my David Fielden dress to be measured at nearly five months pregnant was not quite so joyful! I could therefore offer a (no doubt at times panicked & hysterical) blog perspective of a bride not just planning for a wedding, but popping out a baby in the interim, and praying for no boob leakage on The Day.
As humanist ceremonies are unjustly still not legal in England, the following week we will be making it official back in our home town of Stratford upon Avon, followed by an Après Wedding Party for all of our wider friends and family. The best of both worlds.
What does marriage mean?
Our marriage means the formalising of our family. Sadly, Simon did not have the most stable upbringing and neither of his parents will be coming to Cornwall so we want our children to have a firm and loving foundation. Again this ties in so neatly with the Humanist aim of celebrating relationships no matter how they have formed and that the strongest bonds can traverse age, background or culture. We want this to be a celebration of our 'framily' (sic.) and to thank them for the love and support they offer.
Favourite Hollywood Icon?
One of my muses for bridal styling on the day is Dolores del Rio. Firstly she epitomises the old school Hollywood glamour I am hoping for. Secondly, she was such a trailblazer being the first internationally recognised and acclaimed Latino actresses, way ahead of her time. Our day is about individual expression, grace, and possibly not giving a damn what other people might think!
Favourite Love My Dress wedding:
I have to vote for Madeleine's New York wedding. It was definitely a location we considered and I love the fact that her styling is both individual and made up of some cheaper 'found' items, commingled with what will be cherished budget busting luxuries, such as her black studded earrings. I have been sourcing a lot of our wedding accessories from Etsy and love that we will have handcrafted items from all over the world bringing a sense of theatre to our theme and design.