When we took on our first team of blogging brides, aka, 'The Lovettes' last year,  their actual weddings seemed such a way in the distance. It's funny how time passes and before you know it, you're right smack in the middle of that place that seemed so far before.  I'm so very excited to be sharing the first of our Lovettes weddings with you this morning.  The very charming Madeleine has been documenting her wedding planning journey here on Love My Dress, and I've absolutely loved checking in to read her latest updates.   I think I've felt particularly drawn to Madeleine's wedding, knowing she was going to tie the knot in my favourite city in the whole world – a place I have a deep love affair with, the one and only New York, of course.  In fact, my own husband and I literally just missed being able to crash this wedding as we were ourselves in The Big Apple only a day or two after Madeline and Tim left having tied the knot at New York City Hall a few days earlier.
I can honestly say that it has been a true joy to work on this feature – there are so many elements of this wedding I love, the best of them being the sense of free spirit and young love, and I adore how photographer Claudia Rose Carter has captured this in her breathtaking and emotive images.
"We always wanted our wedding day to be about being young and in love; the details weren't really that important. I'm just so in love with Tim and we both love New York so much that ultimately there wasn't any other option than for us to throw ourselves on an airplane and go get married there.  Once we had decided to get married in New York and have our names be part of New York's history (which felt incredibly romantic), there was never much of a discussion between Tim and I about where we would actually say I Do – it was always City Hall."
Photography Copyright (c) 2014, Claudia Rose Carter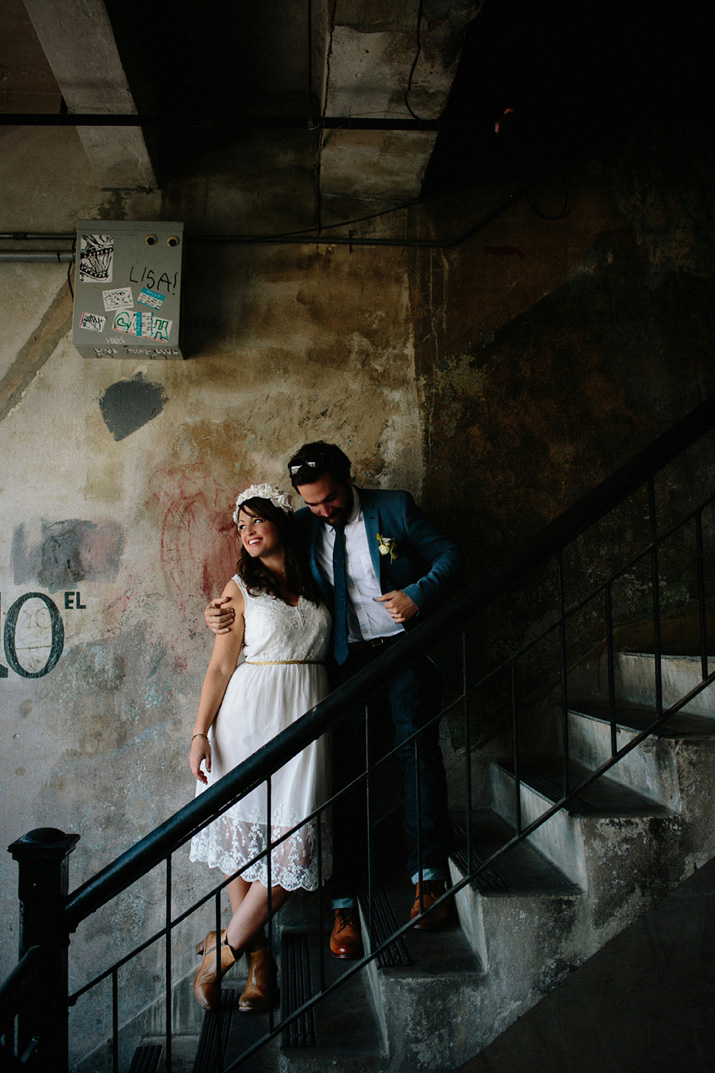 "It's such a small moment, but as we stood on the street waiting for cream cheese bagels minutes after we'd left City Hall; the weight of my bouquet resting against the curve of my hand; my husband's fingertips entwined with my own; our fabulous wedding party surrounding us in a post-ceremony glow a passer-by shouted out 'This is so f*****g New York right now!'. And it was; it really was.  Everything I'd ever dreamed of was real – we were a New York bride and groom, we'd made it happen, and it was perfect."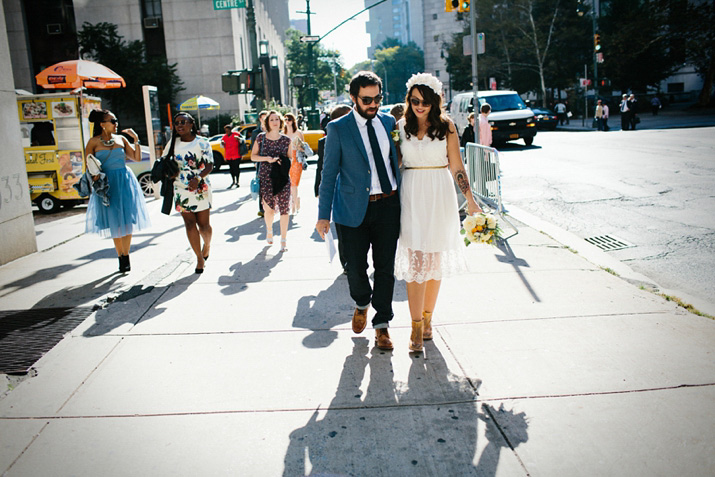 "Tim and I were first introduced over seven years ago – Tim was a friend of my ex's friends; and over the course of five years we met a handful of times (as Tim was living in Hungary, then Cyprus). We always got along well, and when my relationship ended we stayed in touch. Our first proper date was a book-return in Hampstead in the winter (as a Film Studies graduate, Tim had lent me a copy of Theodore Roszak's somewhat challenging Flicker to mull over!).
We sat outside The Holly Bush pub, with London sprawled out at our feet, talking long into the evening over frosty pints of cider and cheap red wine. When he bundled me into a taxi at the end of the night, I honestly knew that life would never be the same again. Less than two years later, we went to New York for my 30th, and on the morning of my birthday Tim proposed over a cup of tea in our East Village apartment….  364 days later we went back to New York and got married."
"I never wanted to spend a fortune on my wedding dress; for me, as long as the dress made me feel happy when I wore it I knew I'd feel beautiful on my wedding day. After months of dress hunting, I decided to make a trip to Stratford City a Saturday morning whim. I was feeling hopeful that weekend because as I tucked myself up on the train ride there my friend messaged me to say that she had faith my wedding dress would be waiting for me that day – I just had to go and find it.
Several hours later, with no dress to call my own I resolved to head home.  Stopping by M&S to pick up a snack, I pushed open the heavy glass doors and there my dress was, as my friend said – quietly waiting for me."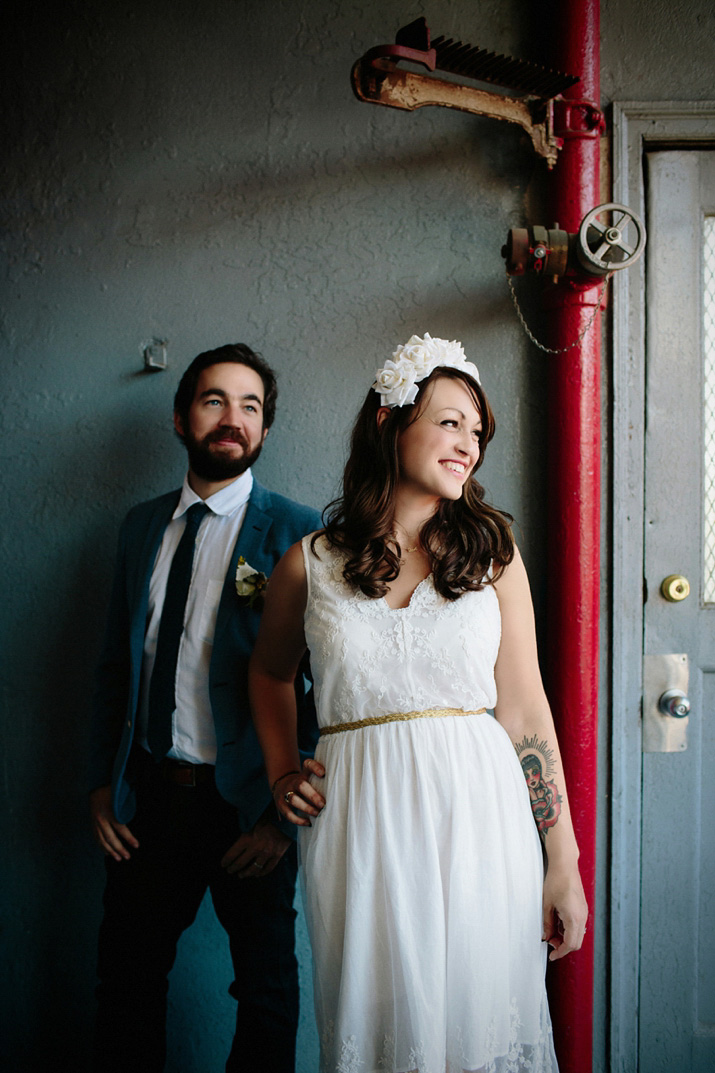 "I can't say what made me know that dress was the one I was meant to marry Tim in, I thought the scalloped sweetheart neckline was very pretty and the lace hemline was just lovely – but when tried it on and threw my bluest denim jacket over it with my scuffed ankle boots over my toes it just felt right – and I just felt so incredibly happy. And that was all I was looking for."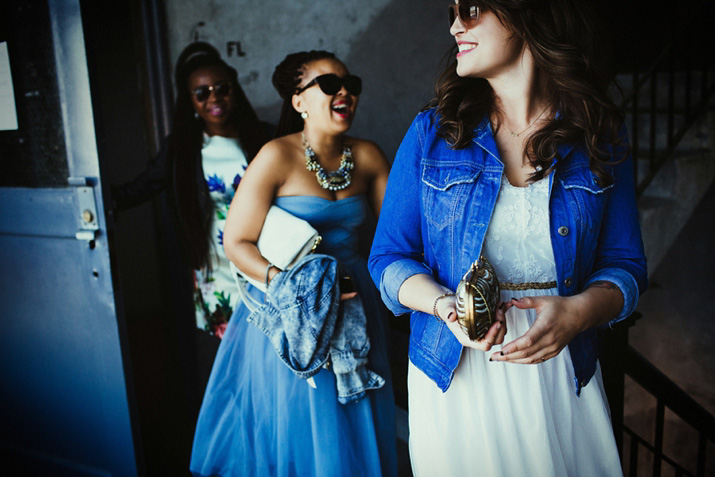 "Our flowers were by Rose Red & Lavender.  Initially, Tim and I weren't planning on having flowers for our wedding, but with less than a month to go we thought they would add a romantic element to our day and I'm so glad we made that decision as they elevated the occasion in a way I can't quite explain. I had a blousy bouquet made of white and pale blue flowers with splashes of yellow – and Tim had a neat little boutonniere of made up of a small white rose, yellow spray and pale green foliage."
"Our celebratory wedding lunch was held at Café Colette. Even though we wanted the day to be incredibly relaxed and spontaneous, having a wedding lunch was really important to us as it was a time to eat, drink and celebrate being married with our friends. Café Colette was the perfect venue as it's right in the heart of Williamsburg, Brooklyn (near to where we were staying) and we were also able to have a private dining experience in their beautiful greenhouse which made the delicious meal even more intimate and special."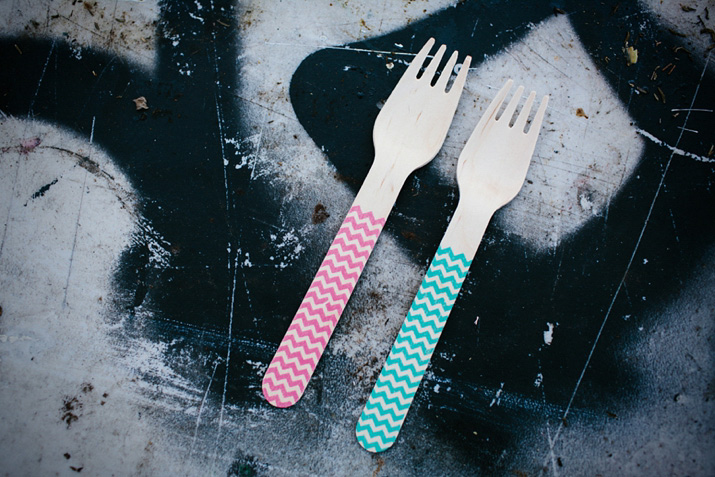 "The venue also helped accommodate some of our friends from home to have champagne waiting to crack open upon arrival – it was such a lovely surprise and truly made us feel closer to our loved ones even though we were both on different sides of the Atlantic."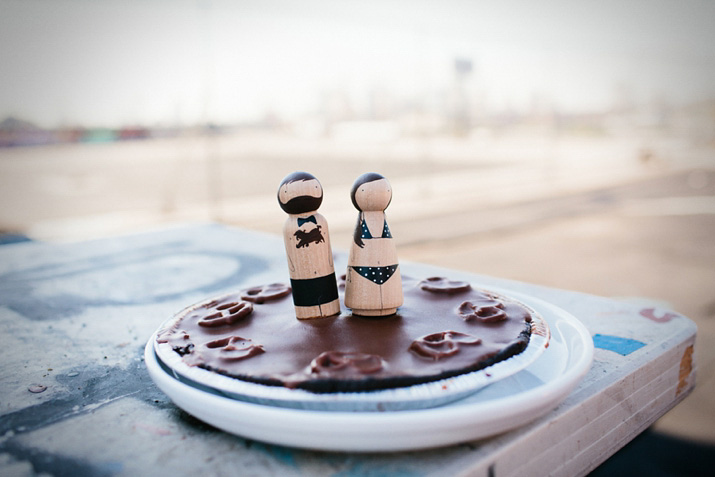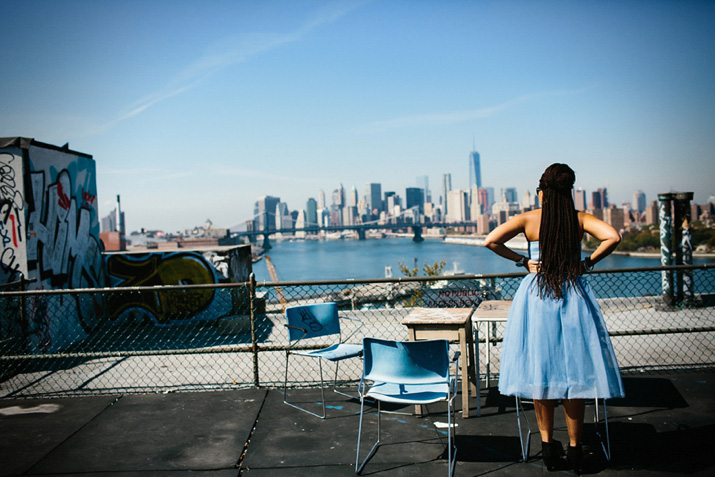 "On her blog, Claudia Rose Carter  described our meeting as 'A Series of Fortune Events' – and I couldn't agree more. Having fallen in love with Claudia's amazing work through Love My Dress®, we had already booked her for our Whitstable wedding reception in 2015 and were looking forward to meeting the lady herself at some point in the new year. However, about three weeks before our wedding, after a series of spontaneous emails and just one phone call, Claudia booked her flights and set out to join us on our NYC adventure."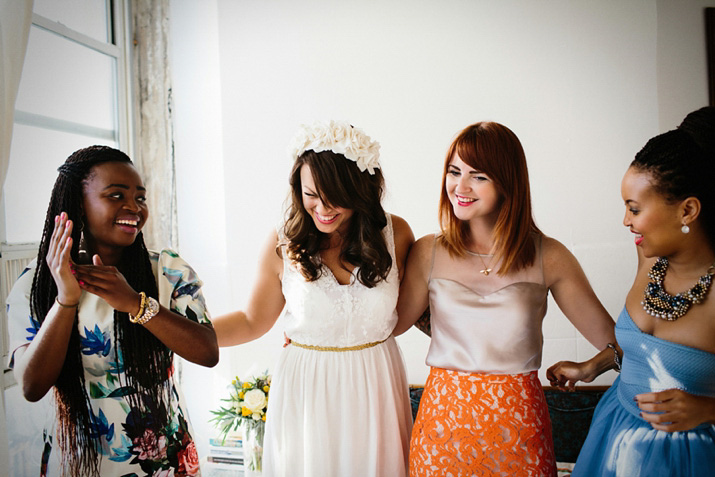 "We spent three wonderful days with Claudia who just absolutely 'got' our wedding and what it meant when I said New York made me homesick for a place I'm yet to call home (she felt the same too which is why I think her work is such a love letter to the city as well as us). Claudia is absolutely one of the most marvellous people Tim and I've had the pleasure and privilege to meet and her work has absolutely blown us away with its raw magic.
The praise we have received for the story she has told has been so heartfelt and moving – I honestly couldn't imagine anyone more perfect for capturing our wedding day."
And here is my personal #ShareTheHonestLove image from this feature, I just adore it…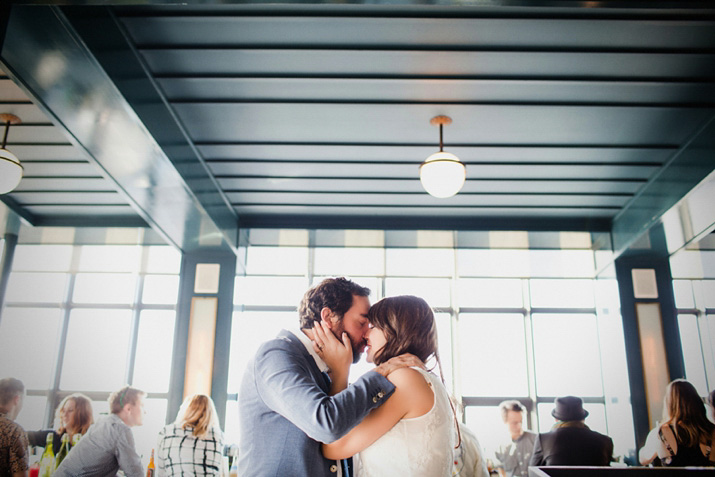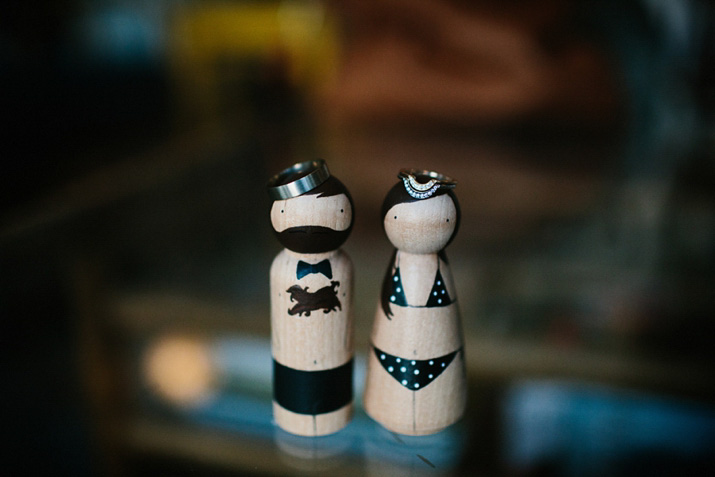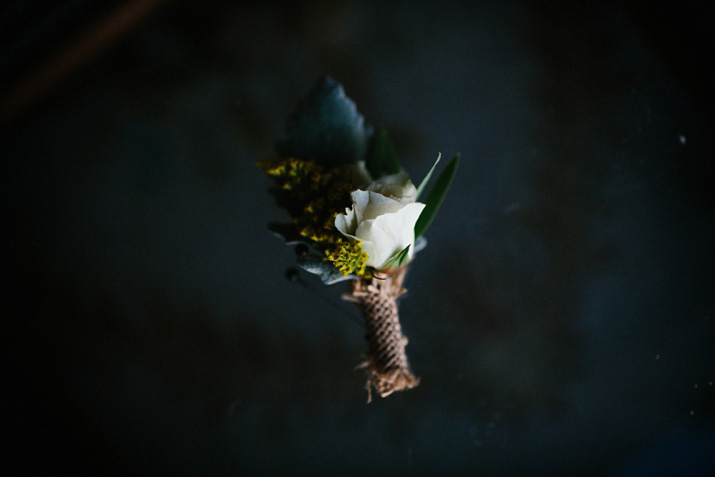 "I decided that I wanted to buy most of my wedding jewellery from New York so that I would have some cherished pieces to wear that reminded me of our wedding day. Before we went out to the US, I spent a lot of time online finding most of the jewellery so that it would save us time shopping when we got to New York but when I got to the stores some of the pieces were available and some of them weren't. Ultimately though I adore what I chose and it truly didn't matter because I just loved the thrill of running around New York picking them up the day before our wedding.
I wore the 'This must be the place' Heartbeats Necklace by Erica Weiner and the 'Sue' Name Bracelet by Erica Weiner  (I got lucky in their cache of antique nameplate bracelets and found one saying 'Sue' – which is my Mum's name – and wore it as she couldn't be there with us on the day)"
"I also wore a Pretzel Bracelet by Erica Weiner  – a pretzel bracelet in New York?  What could be more perfect?! My best friend gave this to me on the morning of the wedding with a card that read 'Today is going to be Awesome' which was absolutely wonderful – and she was absolutely right!"
Other accessories I wore included the J'adore' Bracelet by Free People, the 'Maleficent' Black Diamond Studs by Catbird (I rarely wear big earrings, so for my wedding day I wanted something that I felt totally comfortable it. I fell in love with these black diamond studs while shopping for scented candles and even though they were over budget they were definitely a good decision as I've hardly taken them off since we got hitched!) and also a 'Miow' Letter Ring by Bittersweets NY.
Finally, I wore a sapphire and diamond ring, which was my Grandmother's engagement ring.  I felt so privileged to wear it on my wedding day. It was my 'Something Blue' too which now makes it even more special."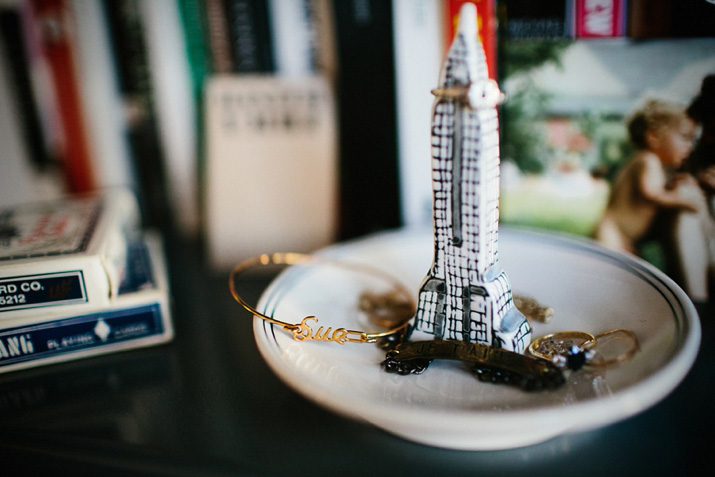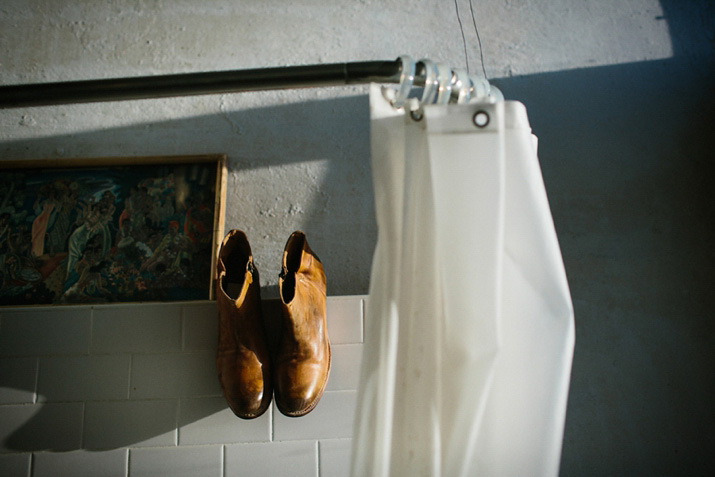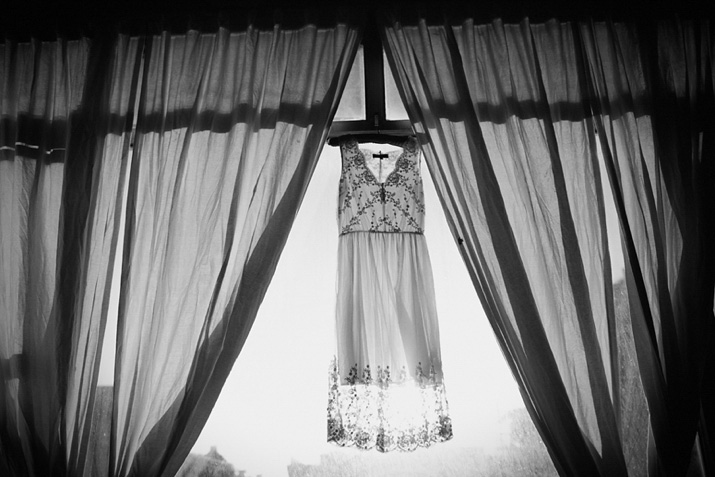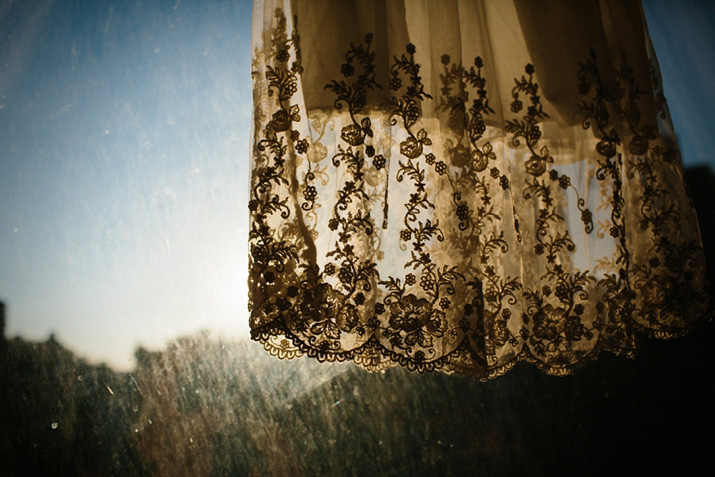 "I wore Daisy Dream by Marc Jacobs – I had originally planned on picking up one of Catbird's solid perfumes to wear on the day but when I went to the store I got side-tracked and it completely went out of my head so I ended up wearing Daisy Dream (which I wear most days). I didn't mind though as I love how fresh and light it is – and now I get that reminded of that glorious-nervous-wedding-morning feeling whenever I put it on, which is just lovely."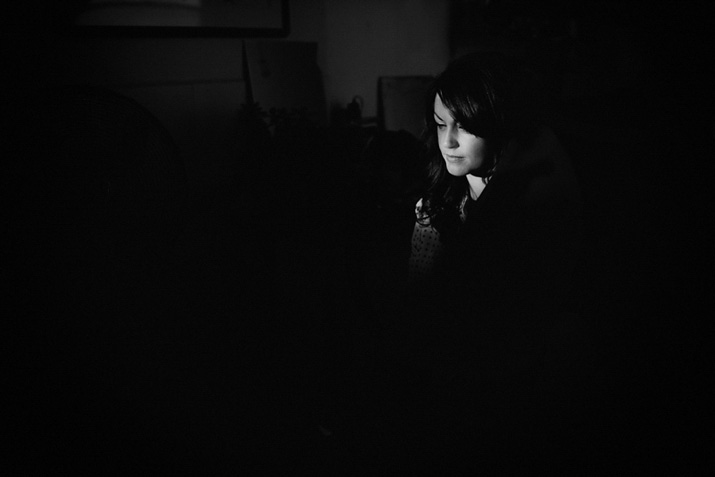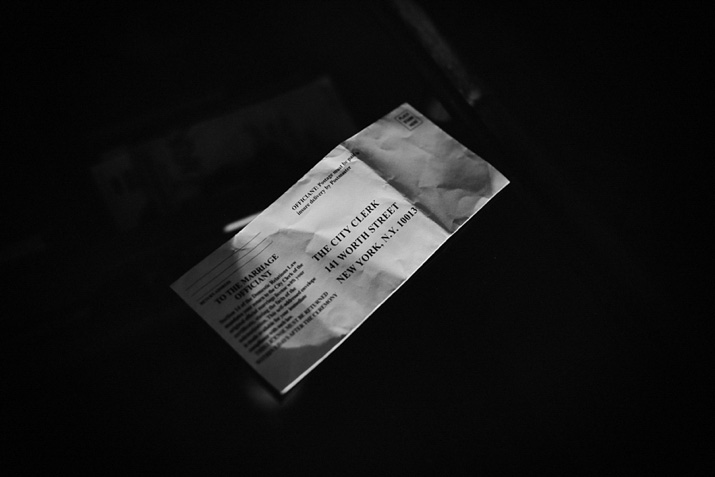 "I was always unsure about whether or to get my hair and make-up done for our wedding as due to time constraints I knew there would be no time for me to have a trial before our big day – and that worried me. But when I saw Margie Bresciani's work on the Photo Philosophie's Facebook page, I thought it was so good that I tentatively sent her an email to see what we could work with. Despite being over 3,500 miles away, Margie was absolutely incredible in her correspondence – and on the day itself she was utterly amazing (even texting me back at 3:30am on the morning of the wedding when I woke up in a bit of a panic)."
"As I don't wear that much make up it was so important to me that I felt completely like myself so she did everything step by step and let me check my face at any opportunity which was so reassuring. The results far exceeded my expectations on every level – everything was insanely perfect – so much so that when my friends first saw me in the stairwell of our apartment building they screamed so loud some of the other residents came out of their apartments to see what the fuss was about! Margie's work made me feel like a total movie star that was exactly the kind of feeling I wanted on my wedding day."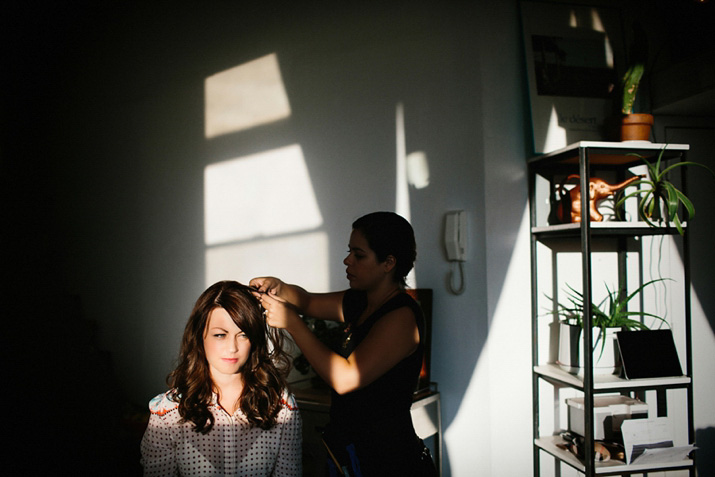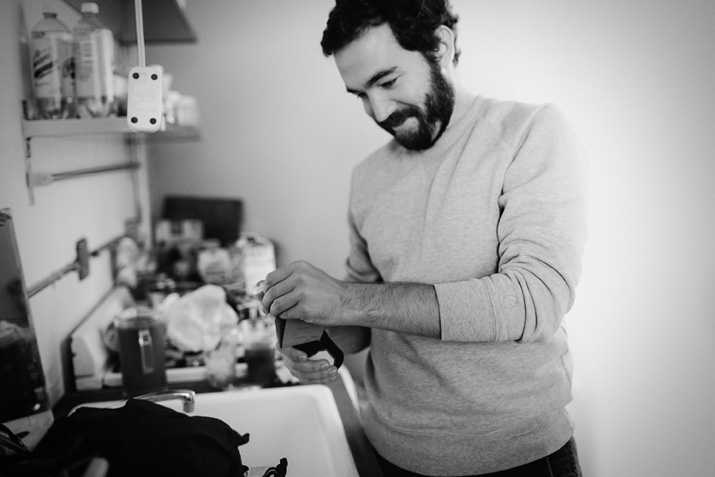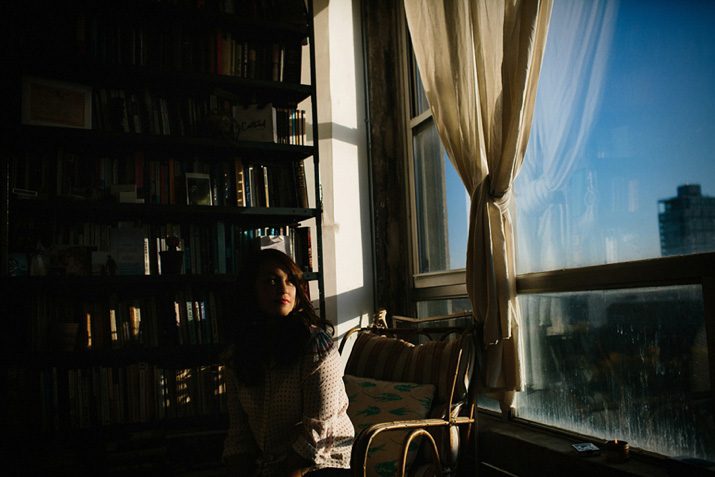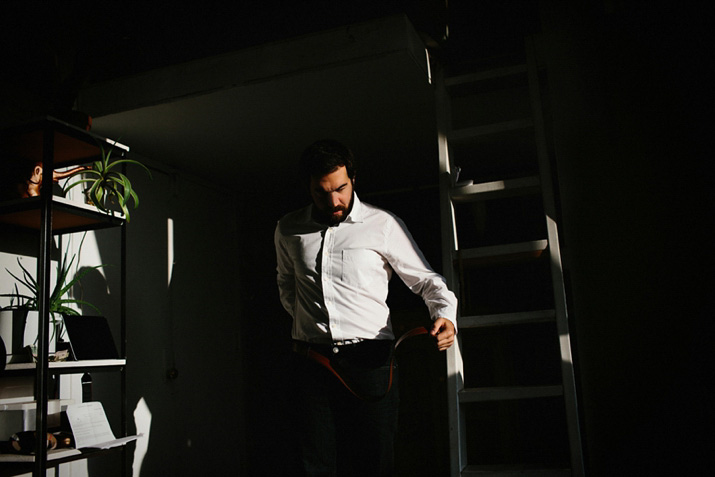 Tim wore a pair of All Saints jeans with a blazer from SAND Copenhagen and a shirt and woollen tie from Charles Tyrwhitt .  He accessorised his oufit with a pair of shoes from Grenson and a pocket square by Fox & Brie, which he had beautifully monogrammed with the letters 'T & M'.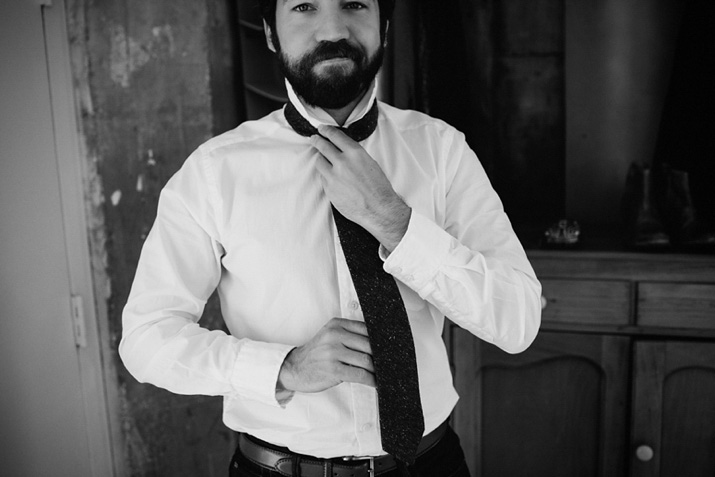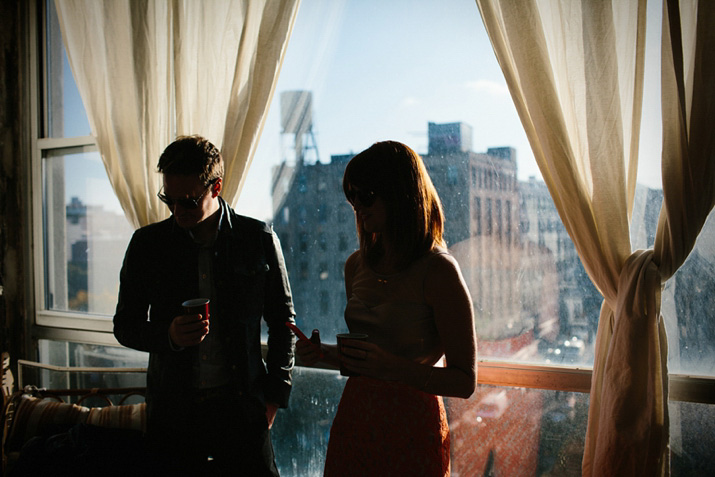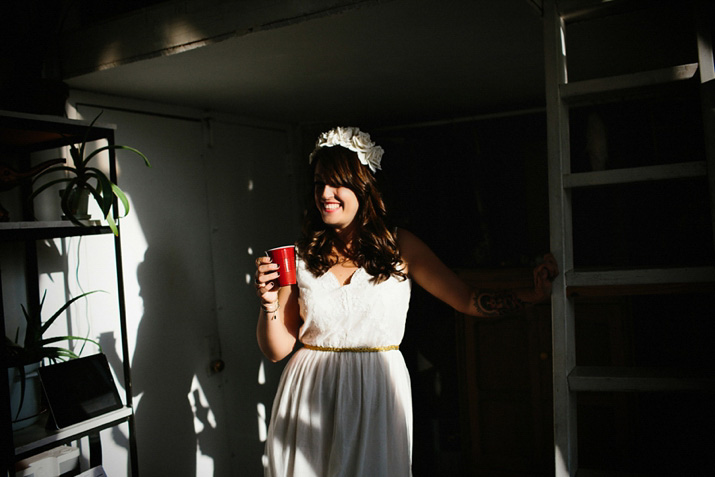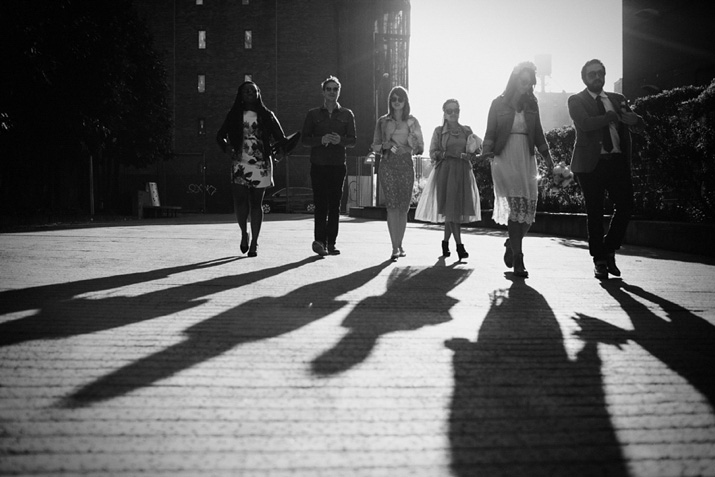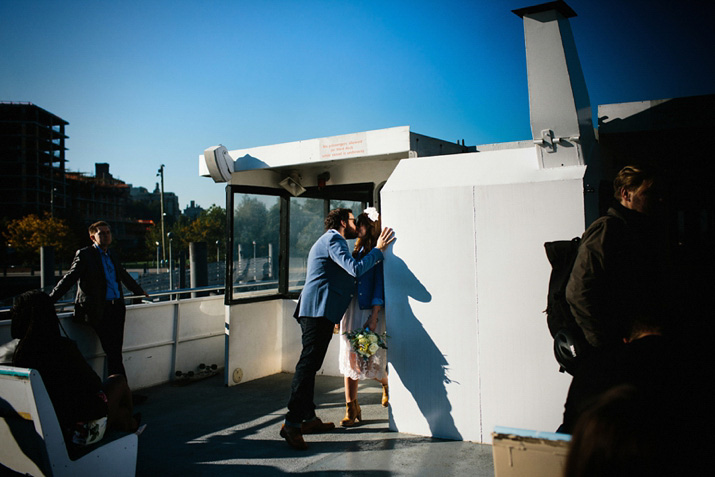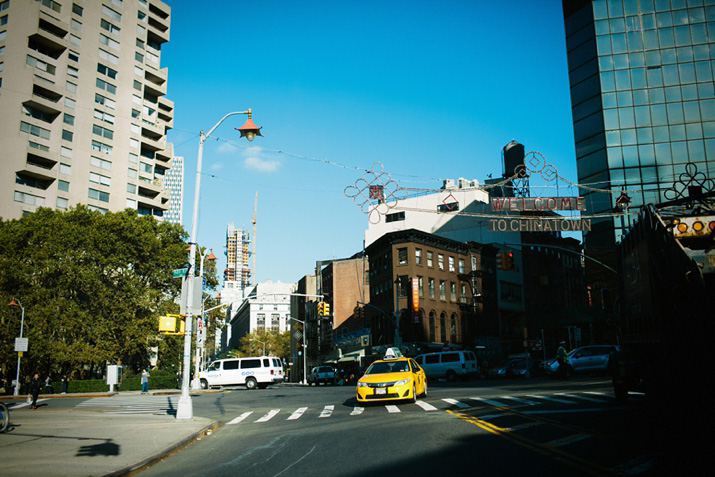 "After we got back from New York we sent each of our guests a framed Empire State of Mind Print by Fox & Velvet on Etsy as a wedding favour. We had origionally planned on giving them to people on the day, but due to luggage constraints we had to leave them behind. We hoped the surprise through the letterbox was still a welcome one though, and helped inject a little New York magic as we all struggled to deal with post-NYC blues."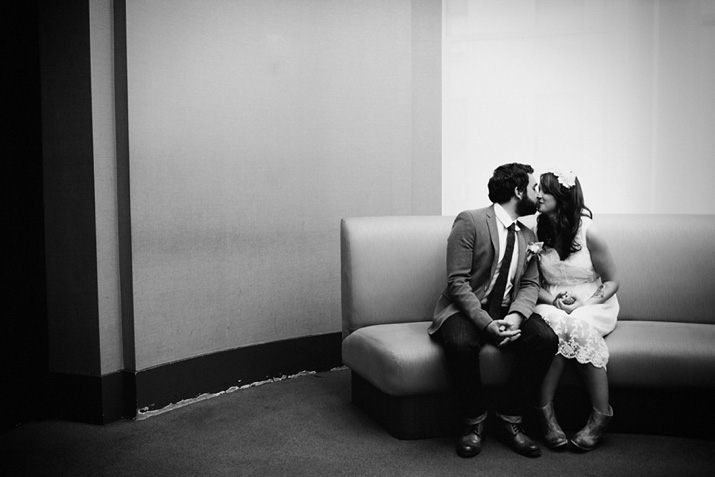 "Although our wedding service was less than five minutes long (and the only words Tim and I said were 'I Do'), the ceremony said exactly what needed to be said and the vows we made meant the absolute world despite us not having written a word. I can't say we wouldn't've written our vows given the opportunity, but sometimes it's just nice to repeat the words that you know have been said by thousands of people before you and know they will be said by a thousand more."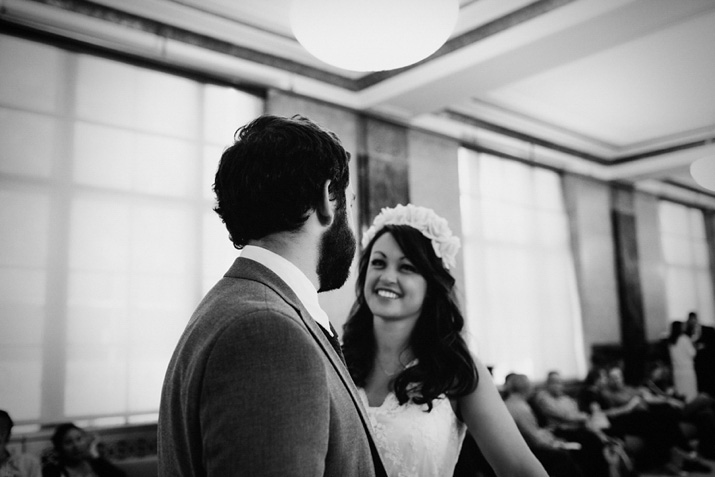 We weren't able to have any readings at our wedding service but we did have an unexpected reading at over lunch. On the day before we flew to America my Dad (who was due to come out the day afterwards) was told it was too dangerous to fly out because of kidney stones. It was incredibly upsetting not to have him be part of such an important day, but on the morning of the wedding he sent us a message with an Irish Blessing that he would have read to us if he'd been able to attend. It was very touching as we listened to the beautiful words he would have spoken, read out by one of Tim's oldest friends…."
'May the road rise to meet you
May the wind be always at your back
May the sun shine warm upon your face; the rain fall soft.
May green be the grass you walk on
May blue be the skies above you
May pure be the joys that surround you
May true be the hearts that love you
May you see your children's children
May you be poor in misfortune; rich in blessings
May you know nothing but happiness.'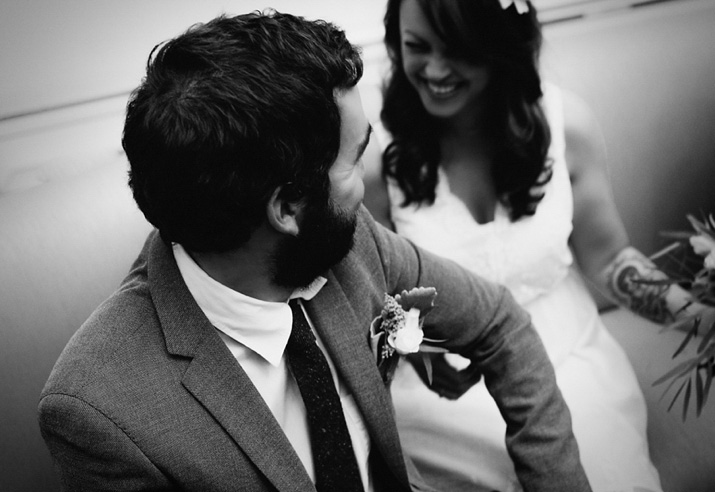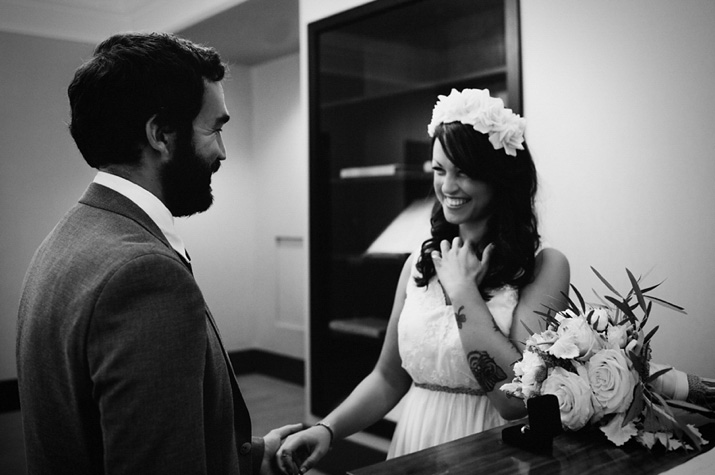 "As my engagement ring is a vintage horseshoe I spent a lot of time trying to find a wedding band that would complement the age and shape of the curve of the ring. I came across Anna Sheffield's crescent ring set  completely by luck online but I think it must've been fate as not only was she based in New York (I didn't actually see the rings until the day before the wedding!) her crescent set couldn't've complemented my engagement ring any more perfectly than if it had been custom designed. We really did have all the luck in New York.
Tim decided on the Catbird classic wedding band, as he liked the idea of his wedding band being from the place we got married (which I thought was really romantic). He always wanted a simple band in white gold and the ring he chose is exactly that, it's timeless but with a little bit of Brooklyn cool."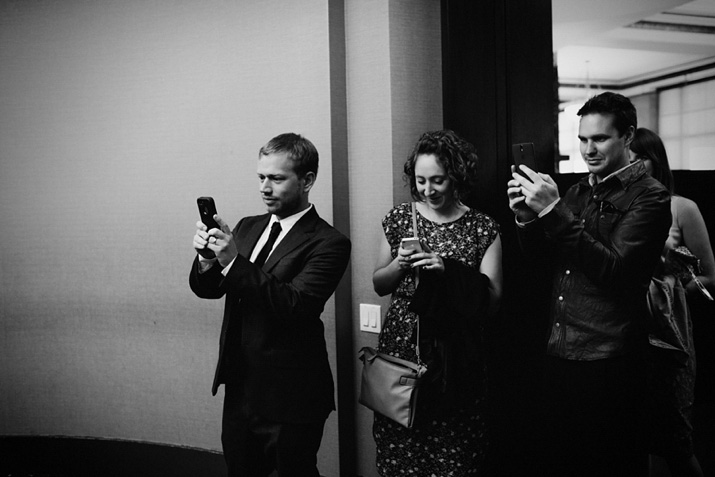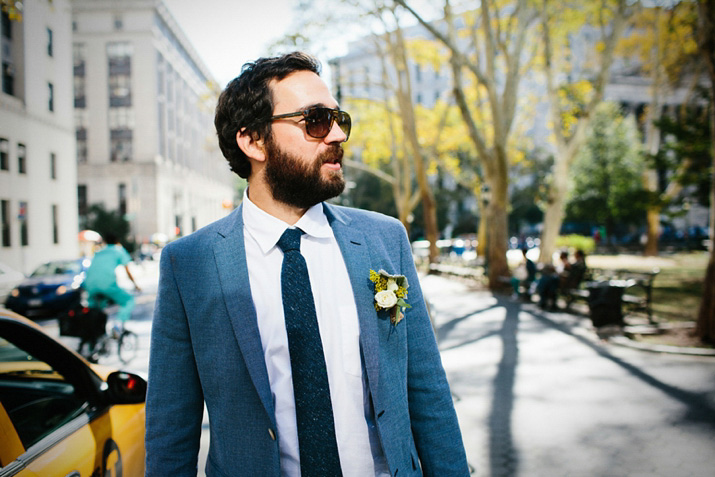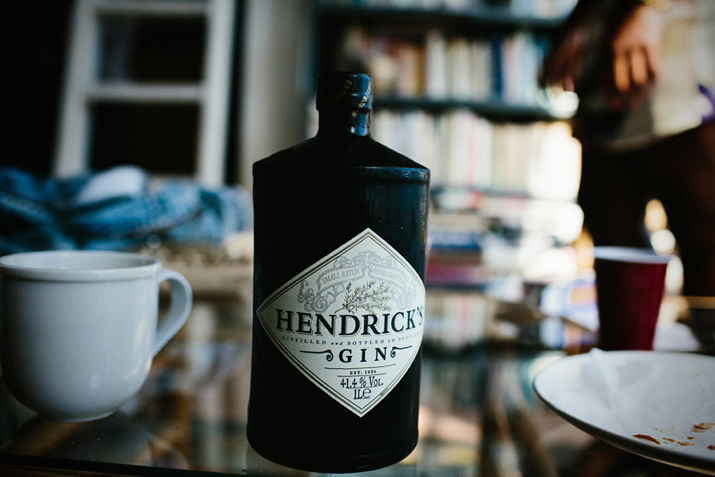 "The East River Ferry  is a commuter ferry and initially I was a little bit nervous about travelling on it in my wedding outfit, but the experience was actually a massive highlight of the day as New Yorkers were so kind to us. From the moment Tim and I stepped onto the boat, we were congratulated by everyone and as we made our way across the Hudson River,  the bounce of the boat beneath us, the Manhattan skyline in front of us and ridiculously blue skies above us, we absolutely beamed."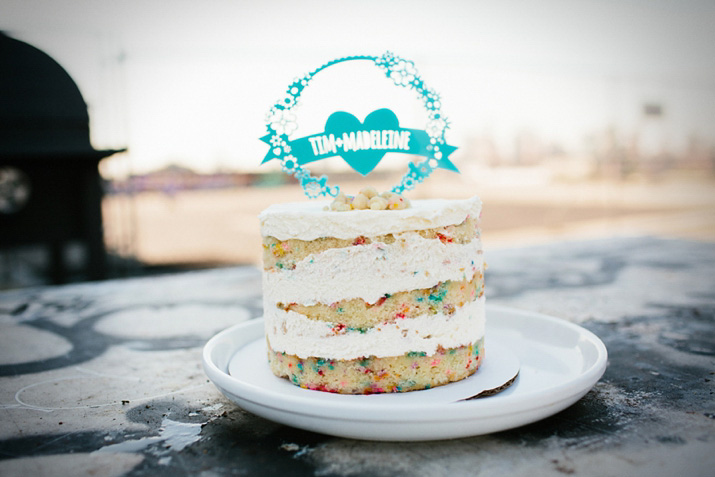 "Our cakes were from Momofuku Milk Bar.  We decided to celebrate with a trio of desserts so opted for a Birthday Cake which had a rainbow cake crumb and vanilla frosting (as I had a thing about wanting a white cake); a Candy Bar Pie which had a chocolate crust, a peanut butter nougat filling and was covered with chocolate covered pretzels – and Apple Pie Truffles as we were in the Big Apple! Even though we had a small wedding party we still wanted to give our guests a choice of treats for our champagne and cake reception after City Hall and Momofuku didn't disappoint. My only regret was I didn't get to try one of the truffles as our guests had snaffled them all! We decorated our wedding cake with a custom turquoise cake topper from
Miss Cake on Etsy, and our pie with 'Him & Her' peg dolls by Made by Layla on Etsy too."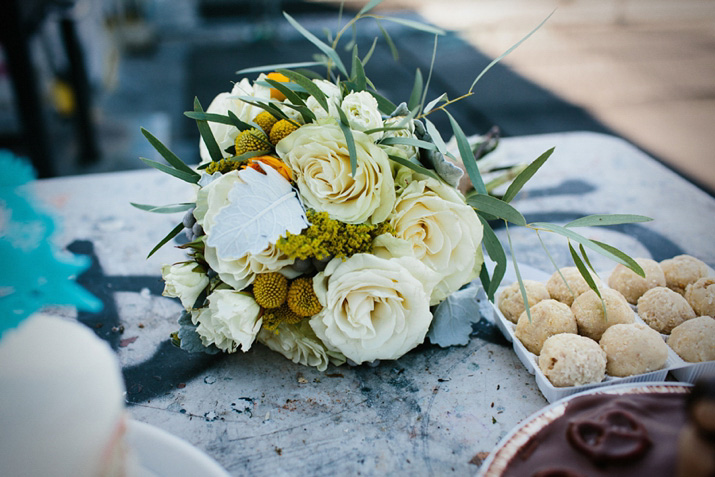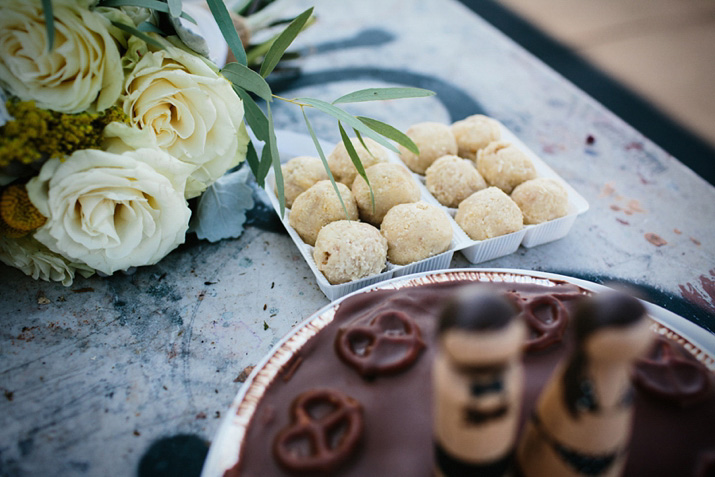 "After we got back from New York we sent each of our guests a framed Empire State of Mind Print by Fox & Velvet on Etsy as a wedding favour. We had origionally planned on giving them to people on the day, but due to luggage constraints we had to leave them behind. We hoped the surprise through the letterbox was still a welcome one though, and helped inject a little New York magic as we all struggled to deal with post-NYC blues."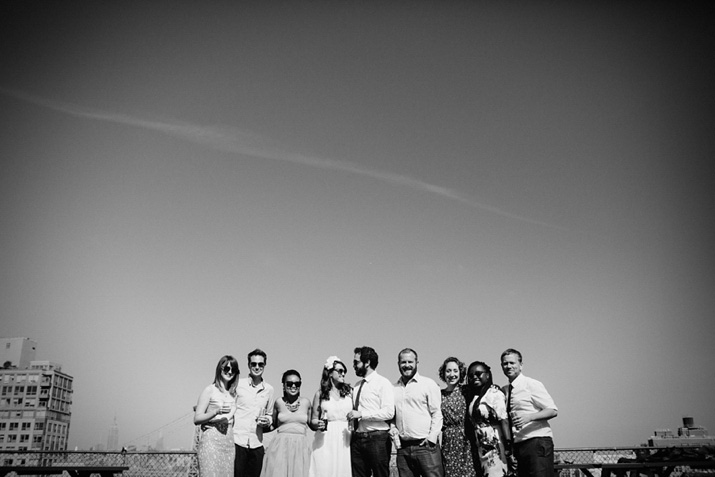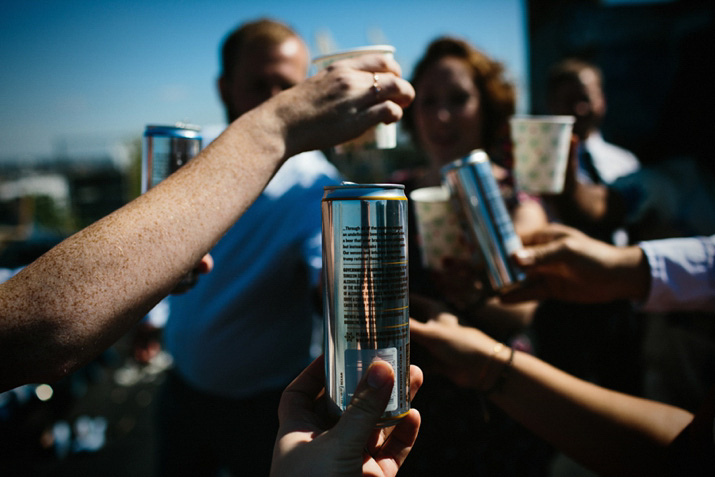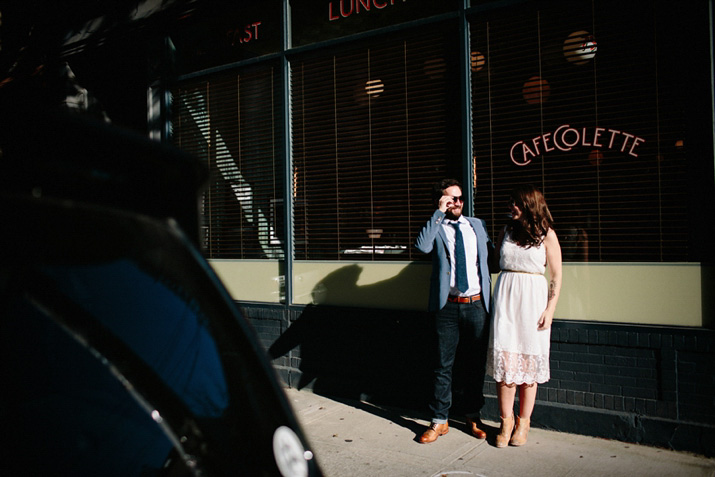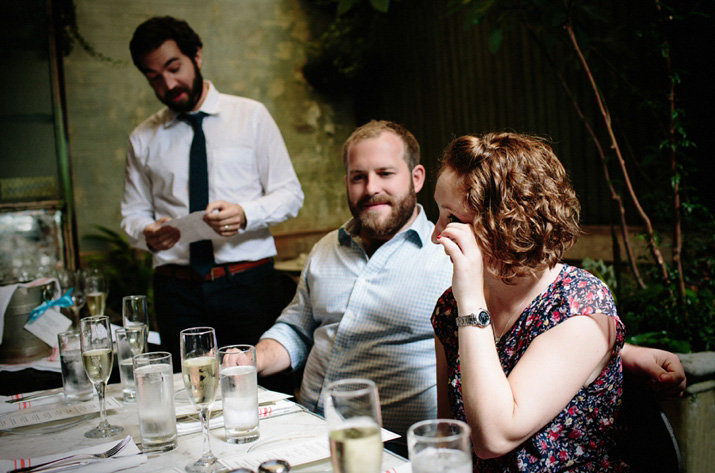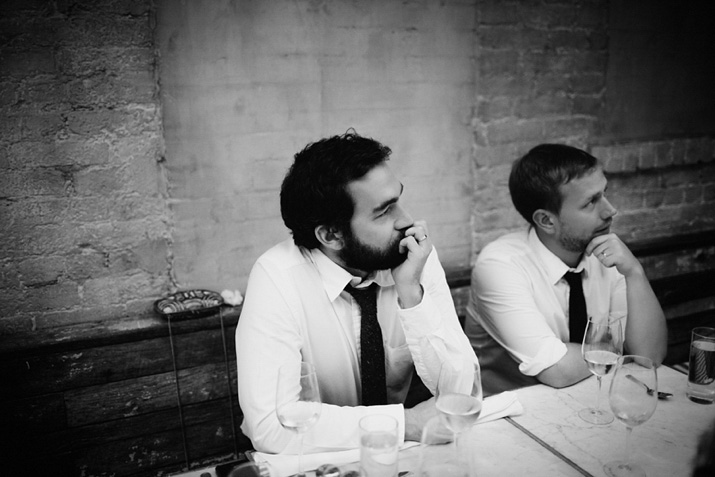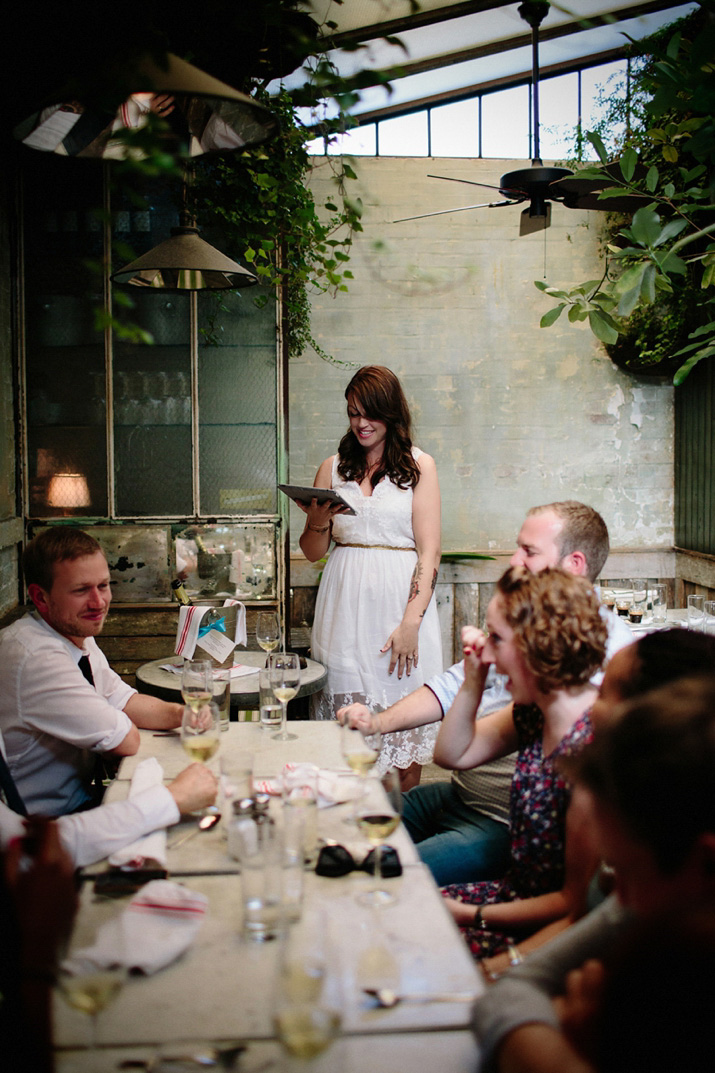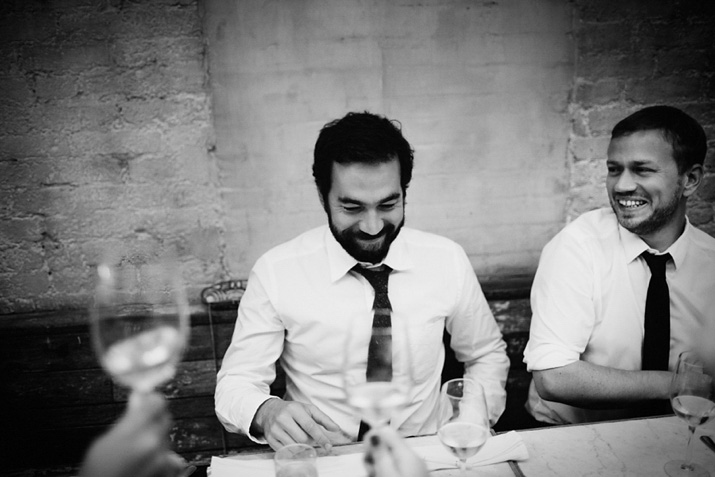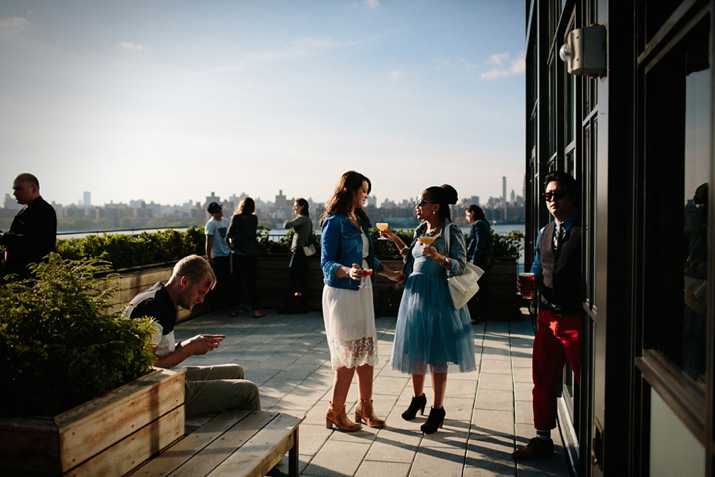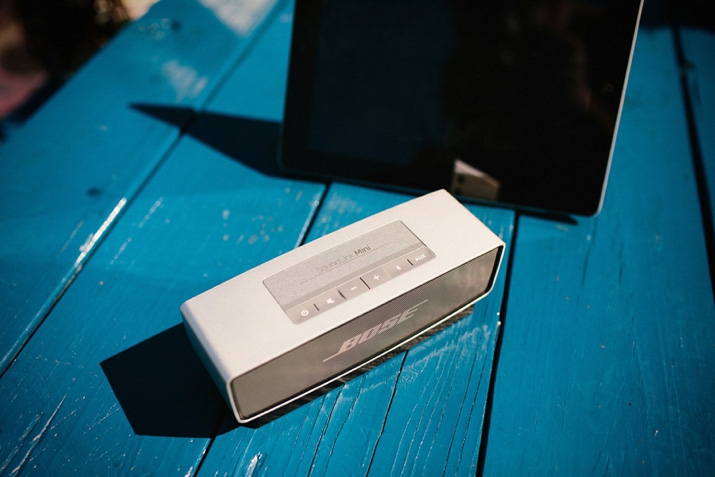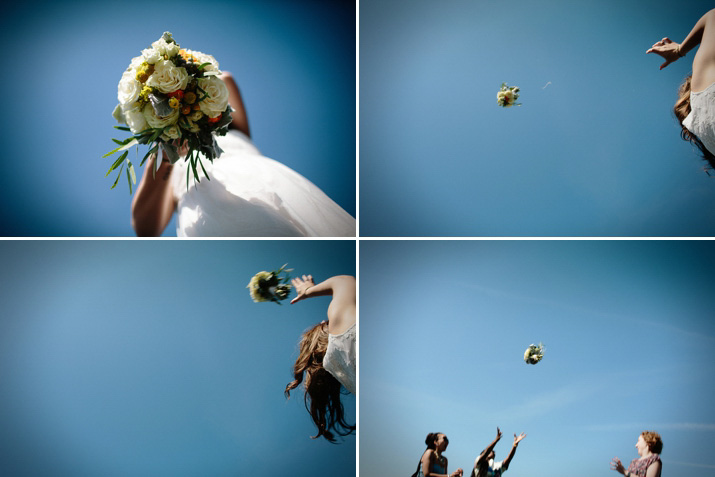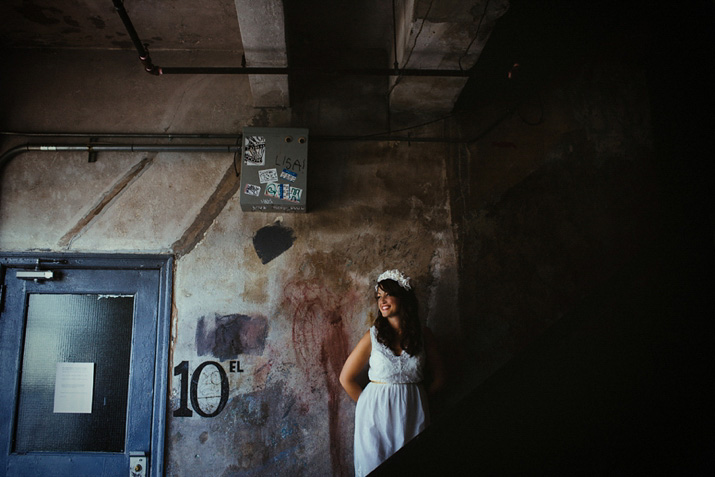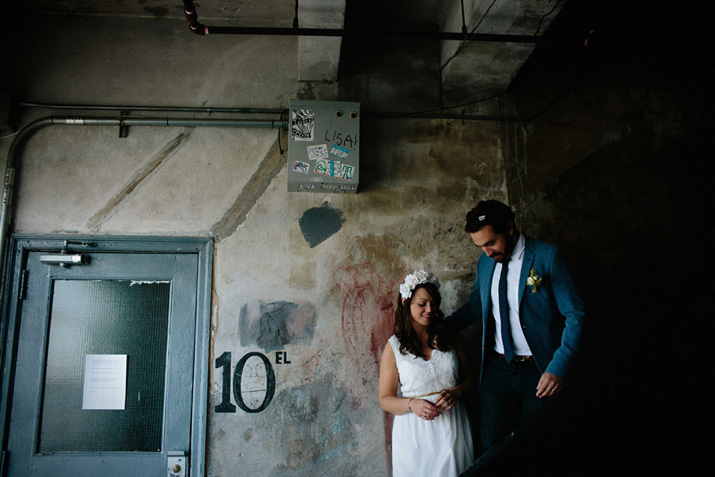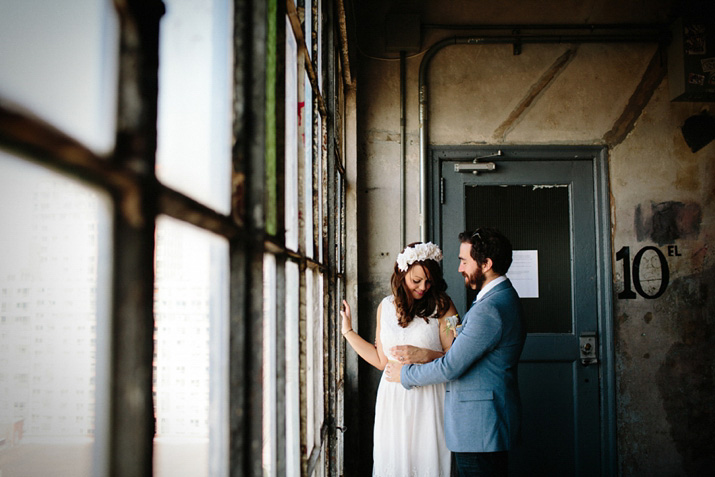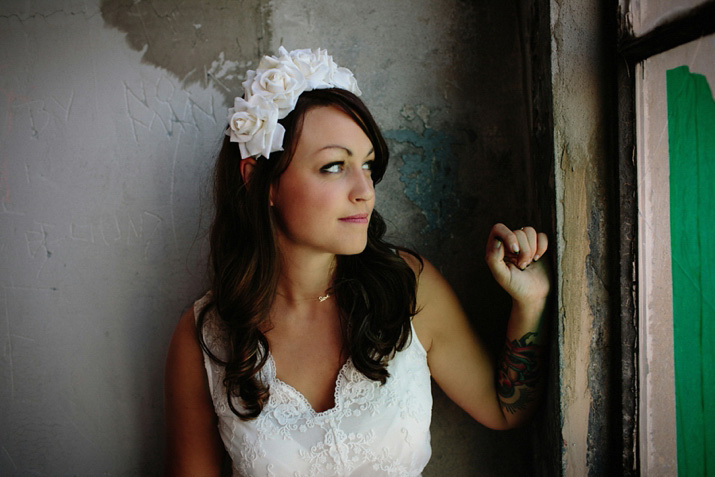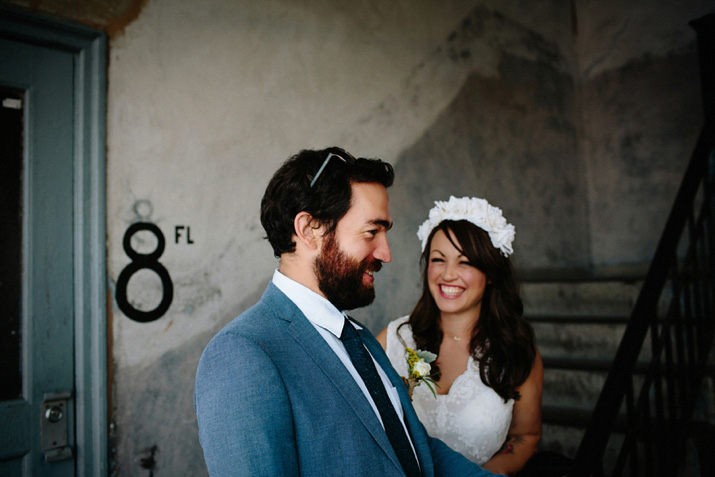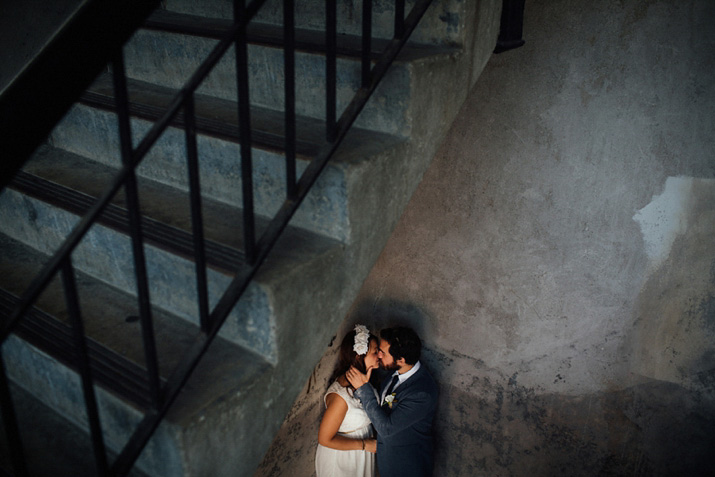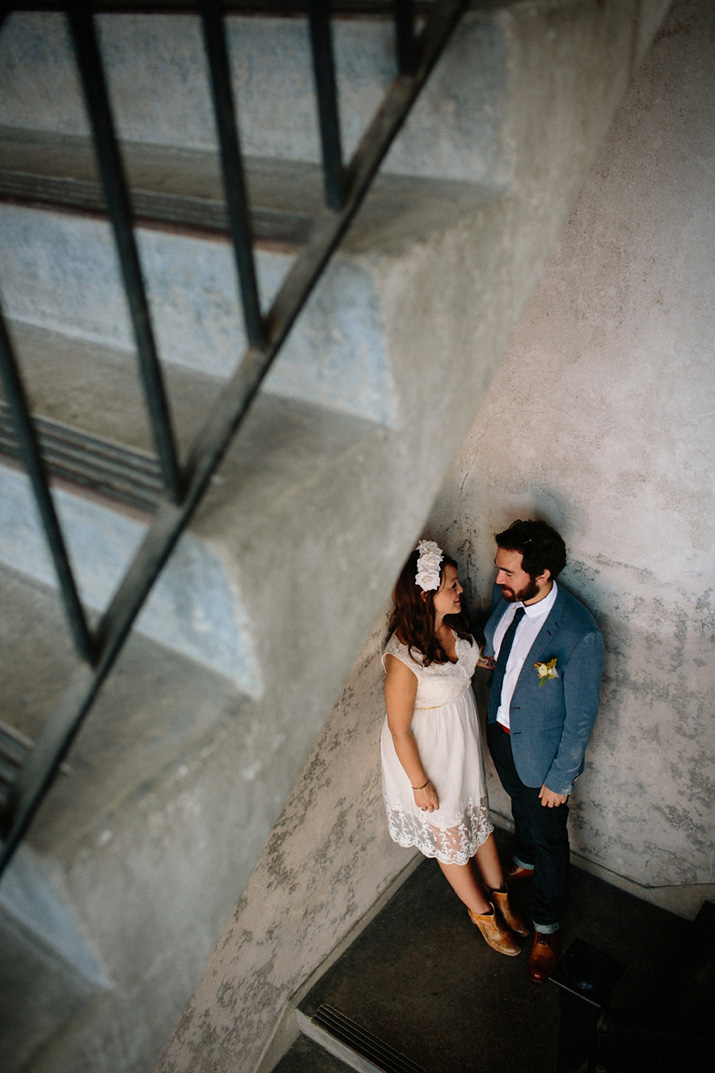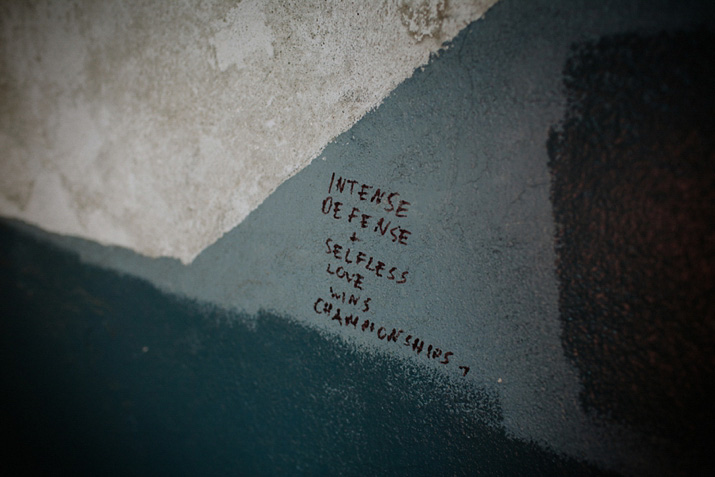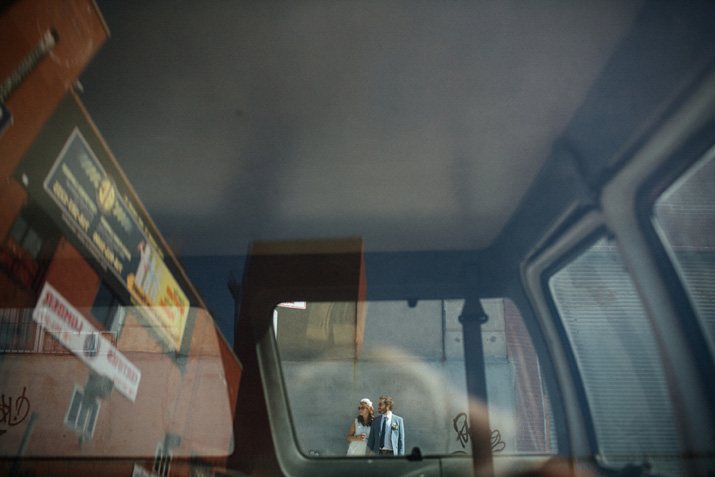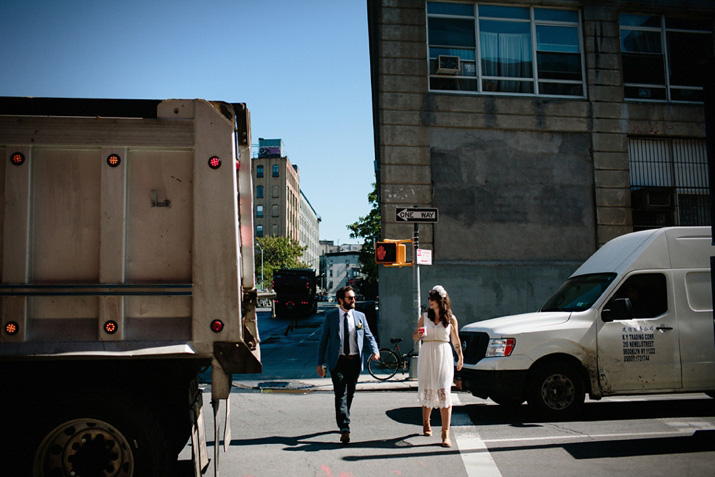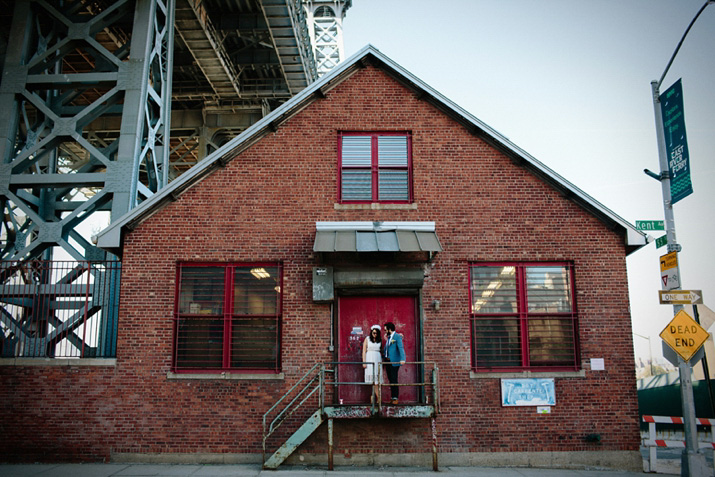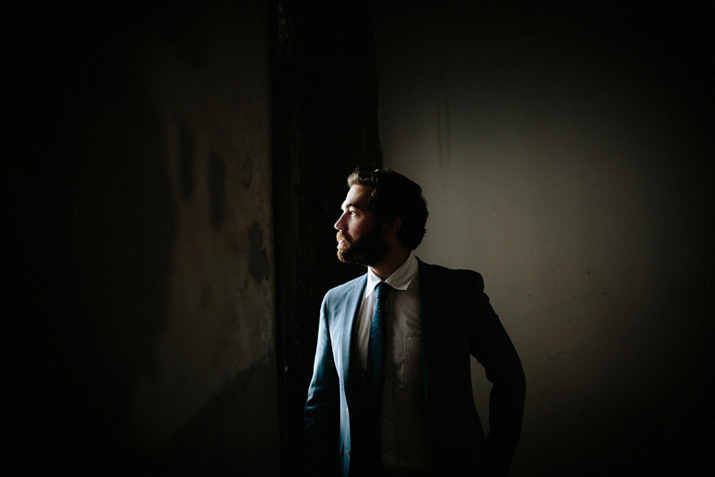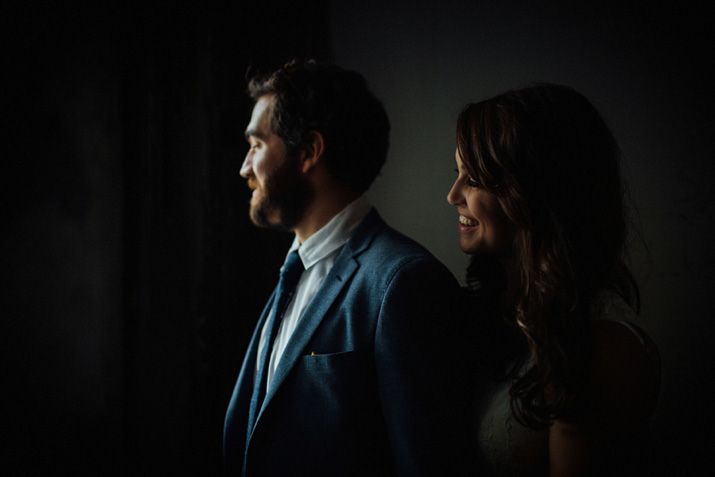 "Our first dance was to 'Can't Help Falling in Love' by Elvis Presley – a song that was massively significant in the beginnings of our relationship, as  we'd often listen to it as we cosied up in my cold little flat when we first got together. Our first dance ended up being pretty much our last dance (as we kept getting distracted) but I'll never forget the feeling of dancing on a rooftop in Brooklyn, with the Manhattan skyline twinkling behind us as we danced in the warm glow of our friends and strangers sharing an absolutely glorious and extraordinary moment in time."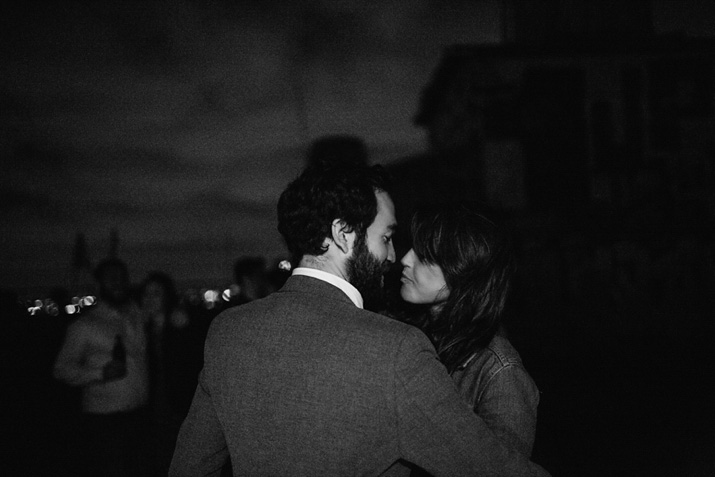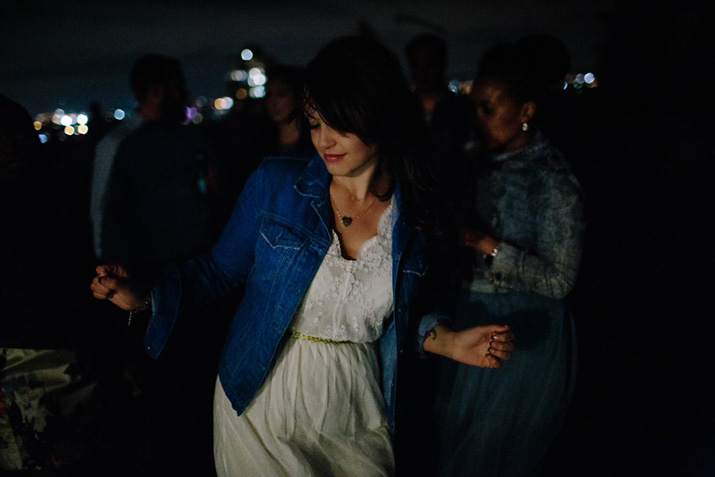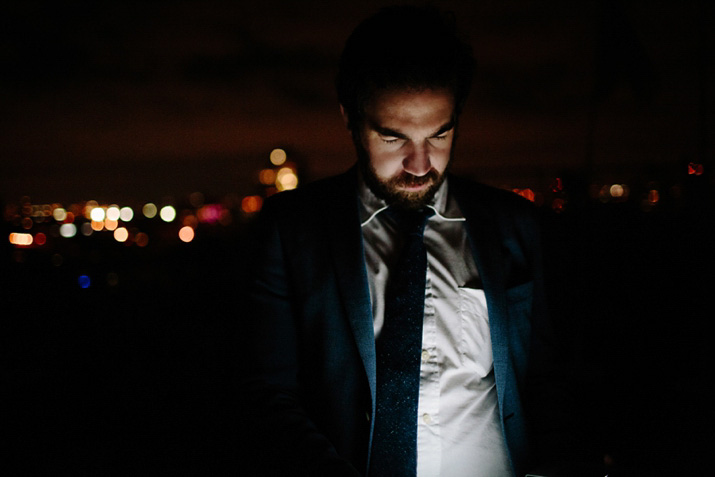 Words of Wedded Wisdom…
"The only thing I regret about our day was not having someone video our ceremony at City Hall. I'd thought about it all morning, but in the whirl of doing the legal bit and our legs turning to jelly as we waited for our number to come up it completely went out of my head. The memories of the service are a beautiful, happy blur but I wish I was able to relive it more clearly – and also share it with our friends and family who couldn't be there with us.
It might sound a little pragmatic I would say think about the kind of memories you want to be left with once the high of your wedding is all over to really help work out what's important to you. Sometimes the hardest decisions are the right ones that will give you the most happiness."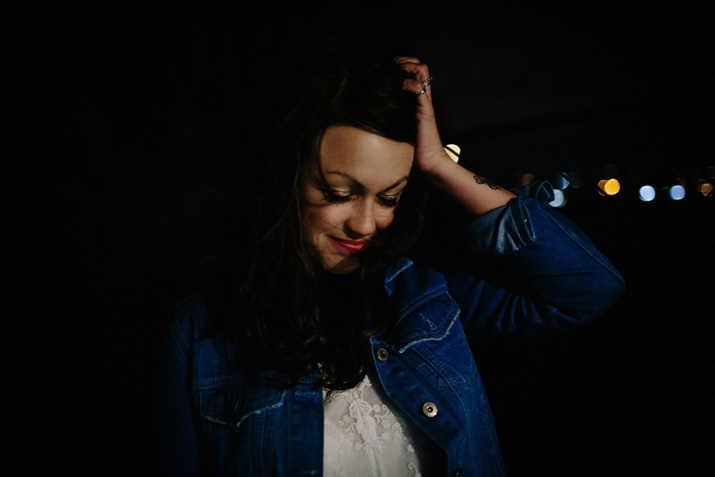 "I took a lot of inspiration from Love My Dress as the content and attention to detail on the blog is always so incredibly high that it's a daily joy to visit the site. I love the relaxed and welcoming feel of the blog; so often I would pop on my PJ's after a long day at work and curl up with my battered laptop and get lost in the photography and details of so many gorgeous weddings. I also love that the whole wedding journey is shared with the Love My Dress readers; that the couple's story is given so much care and attention and each post makes every wedding special.  
I honestly can't praisethe blog enough. Love My Dress is the best wedding blog there is because – long may your blog continue as a beacon of glorious inspiration!"
Just the most fabulous day – I can't tell you how much I LOVE this wedding and how happy I am for Madeleine and Tim.  If you'd like to treat yourself to their journey from the beginning, pop on over here to read these posts – all this leaves me to say is huge, huge congratulations you two! Thank you so much for sharing this most precious part of your lives with Love My Dress – we are so lucky and privileged.  I'm ridiculously excited about the 'UK-leg' of your nuptials and once again, am so looking forward to sharing more beautiful images with our readers – thank you both so very, very much.
NEW YORK, NEW YORK!
I'm already planning my next visit to this most glorious of cities.
Love Annabel xx
Photographer – Claudia Rose Carter
Venue – New York City Hall + Café Colette
Dress – Limited Edition by Marks and Spencer
Headpiece – Cream Velvet Flower Crown by Rouge Pony on Etsy
Bride's Shoes – Whiskey Sunset Boots by Free People
Accessories – Clutch by Free People
Bride's Scent/perfume – Daisy Dream by Marc Jacobs
Groom – All Saints jeans + SAND Copenhagen blazer + Boden shirt + Woollen Tie by Charles Tyrwhitt +
Groom's Accessories – Grenson shoes + Pocket Square by Fox & Brie
Pocket Square by Fox & Brie (Which they monogrammed beautifully with 'T & M')
Cake – Momofuku Milk Bar + toppers by Miss Cake + Made by Layla
Rings – Catbird Classic Wedding Band (Tim) + Anna Sheffield Crescent Set (Madeleine)
Hair + Makeup – Margie Bresciani