I have to admit that when Annabel asked me to interview bridal fashion designer Charlotte Balbier, I was more than a little bit thrilled. I've obviously known Charlotte's designs for a long time and the opportunity to get to know her a little bit more was one I was absolutely not going to miss. It's easy to love Charlotte Balbier for her gorgeous and romantic gowns but I also love her for her personal touch – she gets involved with the wedding industry, she speaks to brides on Twitter and Facebook personally, she proudly shares the images they've sent in of their weddings and the care that goes into each and every design is clear to see.
Weddings are personal occasions full of emotion – how lovely then, to have the chance to meet a designer who pours her heart into her work as well…
Portrait of Charlotte Balbier
Charlotte, can you give, for readers who don't know your story, a little overview of how you came to be a bridal designer?
I was born into a bridal family.  My mother is award-winning designer Amanda Wyatt.  My grandparents were involved in bridal design manufacturing in the 1960's and ran a successful bridal business for generations.  My grandparents owned several bridal boutiques across the UK as well as a manufacturing business supplying independent boutiques both in the UK and internationally.  I love my family's bridal heritage and the Charlotte Balbier label is a lovely family-run business.  My cousin works in my wholesale team selling our dresses and my Grandfather is still apart of the business too.  He comes into work alongside us and he is 85!
It is lovely to be a part of a family business and work alongside my mother Amanda Wyatt.  I am pleased I followed in the footsteps of my family but I did it independently by starting my own label, Charlotte Balbier, in 2003.
See Charlotte Balbier's wedding on Love My Dress®
Photography Copyright (c) 2014, Polly Alexandre
When you start to design a new collection, what is the process? Do you start with an overview of what you want to collection to be or a mood board with the elements you want to include?
I'll collect up ideas all the time.  Idea elements will come from high fashion, the catwalk and keeping images of dresses I love – Pinterest and catwalk shows are a great way to get the creative juices flowing.  I will clip images I like onto mood-boards all year around plus I always have a notebook handy to scribble design ideas in.  I am constantly buzzing with ideas.  Everywhere and anywhere, every day brings a new lease of inspiration and ideas.  My brides are amazing and I love to hear from them with all their wedding news and journeys. 
What part of the design process do you enjoy most? 
I love all of the design process from start to finish.  It's great brainstorming new shapes and trims and it's lovely looking through fabric samples to pick out the best lace and silks to use. The best part is seeing the finished dress on a model looking beautiful.
How many drafts of a design might you go through before reaching a finished design? 
It depends.  Sometimes you'll come up with an idea for a dress and it works out perfectly.  Another design may need tweaking a few times before it looks perfect!  I am very fussy and if a design doesn't work I'll take the dress apart and work at it until the finished design is perfect!  Our collection is rather large so we work long-hours ahead of a releasing a new group of designs. You need to look at what brides loved from the last collection and try and incorporate this into the new designs as well as being innovative!
Do you design on your own or is it a more collaborative process? 
I am the only, and the lead designer, at Charlotte Balbier.  I just love being involved in the design process from start to finish with every design and when the design season starts, I am completely wrapped up in coming up with new designs and sourcing new materials.  I'll be researching new ideas, finding new fabrics and I know I'll be up late at night creating ideas for new designs.  I am very lucky that my mother is Amanda Wyatt as she is always on hand to ask for advice.
What are you design influences right now?   
The fashion weeks and fashion show are very important and I'll research all the top designers for inspiration.  I especially adore Elie Saab as his red carpet gowns are simply out of this world. Valentino is my all time favourite and I have huge respect and admiration for Jenny Packham, Alice Temperley and Vivienne Westwood – all very different designers but I love them all.  There is so much you can learn from watching a catwalk show.  They're a great source of inspiration for colours, shapes and styles.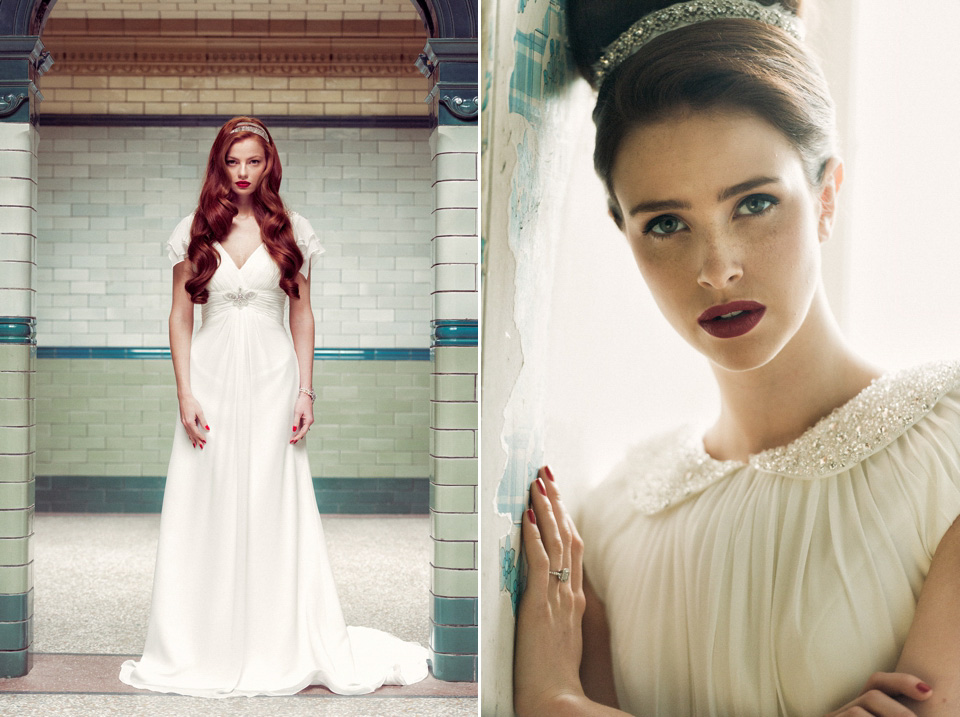 Where do you look to spot 'trends' and keep abreast with what brides are looking for?
You can look internationally for inspiration and also to keep abreast of trends coming through. The gowns with a shoulder strap or sleeve detail are popular choices for 2014/15 brides and brides love the detail and style of a gown with straps and sleeves. These shapes and styles have all trickled down from lead designers on the catwalk. My biggest passion is high fashion and haute couture and I love to keep an eye on all the latest collections from my favourite designers.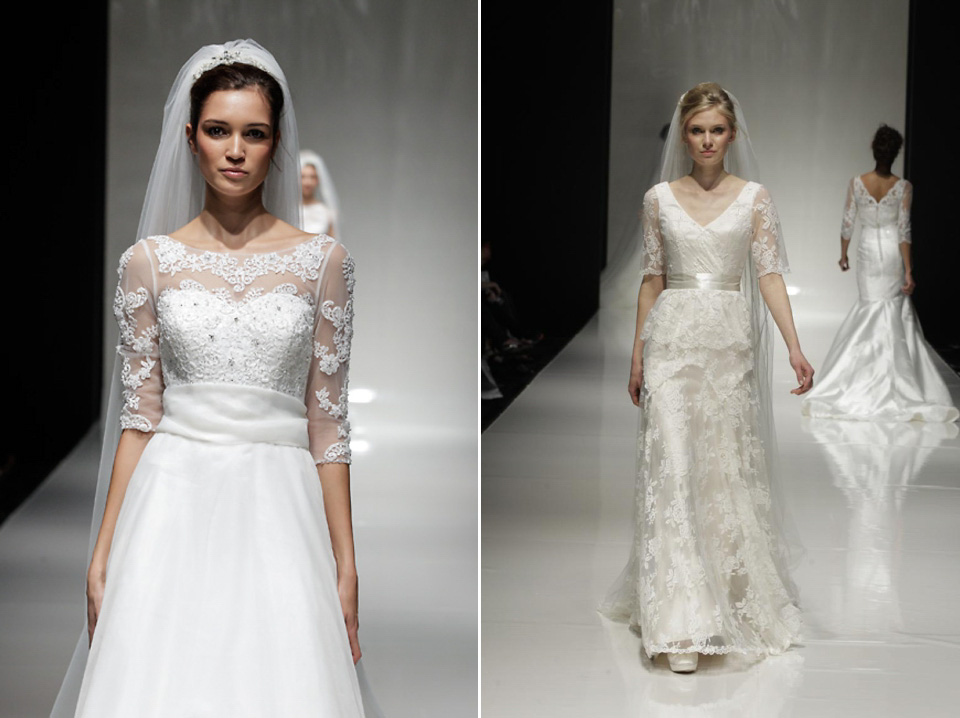 Looking back through the years, which celebrity wedding dresses really stand out to you? Who got it just right?
I am so passionate about bridal design that I have a few! Kate Middleton got it just right with nothing too ostentatious and a classic dress – she brought the lace trend firmly back into bridal. When I started in 2003 there were no lace dresses in the market but my first collection, and every collection since, has always incorporated lace material.  I am overjoyed that Kate Middleton confirmed my love affair with lace!  During my first collection many people said lace won't sell, it looks too vintage and brides don't like vintage or lace. I'm so glad I stood by what I believed in and pushed the boundaries.
However, my favourite bride from history is Princess Grace. Everything about how she looked was so beautiful. My favourite modern day bride is Kate Moss because her Boho style wedding dress and wedding was styled to perfection. 
Do you tend to design with a certain type of bride in mind? Who is a 'Charlotte Balbier' bride?
A Charlotte Balbier bride is a free spirit with a passion for fashion and all things feminine.  She is also a bride who is independent in her life and fashion choices and who loves glamour with a vintage modern edge.
What are you favourite materials/embellishments to work with? 
I love to work with French lace, soft silk chiffons and delicate satin. My family heritage is French and Italian and I adore fabrics from both Italy and France.  The year of 2014 has been about embellishing definitive looks with modern touches. Brides to be are all about back detail with low cut backs, cutaway daring designs and those sheer lace backs all very much on trend. The Great Gatsby has certainly had an influence on bridal trends and a nod to the 1920's is apparent with lots of feather accessories, metallic embellishments and beautiful beading being popular during 2014.
You've got a wonderful reputation in the industry – what, in your opinion, sets your brand apart? What are your core values? 
During my 11 years as a designer my aim was always to create fresh and exciting designs that still remain true to the brand identity and are instantly recognisable as a 'Charlotte Balbier'. I have achieved this whilst growing and developing the brand from being a completely new label in 2003 to now, in 2014, it being one of the best known and loved British bridal brands with over 40 stockists.  Charlotte Balbier has really strong branding and an ethos that is evident in our designs and photo-shoots. I also work very closely with all of our stockists and brides and although the brand has grown massively I have always kept my personal touch.
What are your proudest moments workwise?
In 2007, I launched the 'Summer Of Love' collection.  This, my fifth collection, was the one that put Charlotte Balbier on the map and I pushed the boundaries to create a something different. I produced a photo-shoot to go with this collection that at the time it was very different to what anyone had ever done before in bridal. The location, model, styling and photography were amazing and I still love it now 5 years on!
What do you do to relax? How do you escape from the wedding world?
I love to care for my dog Buster. He takes my mind off the bridal industry by us escaping off for long country walks together. I also love to spend time with my husband Teddy in some of the great restaurants Manchester has to offer. Oh and I love the odd cocktail… or two! 
What are the most important things brides should keep in mind whilst choosing their gown?
Keep an open mind when looking for a bridal dress. It's good to use magazines and look online for inspiration. I'd advise brides to listen to the boutique's sales advisors advice because they are experts – they have the expertise to suggest a dress that turns out to be 'the one' and fit your shape and size perfectly.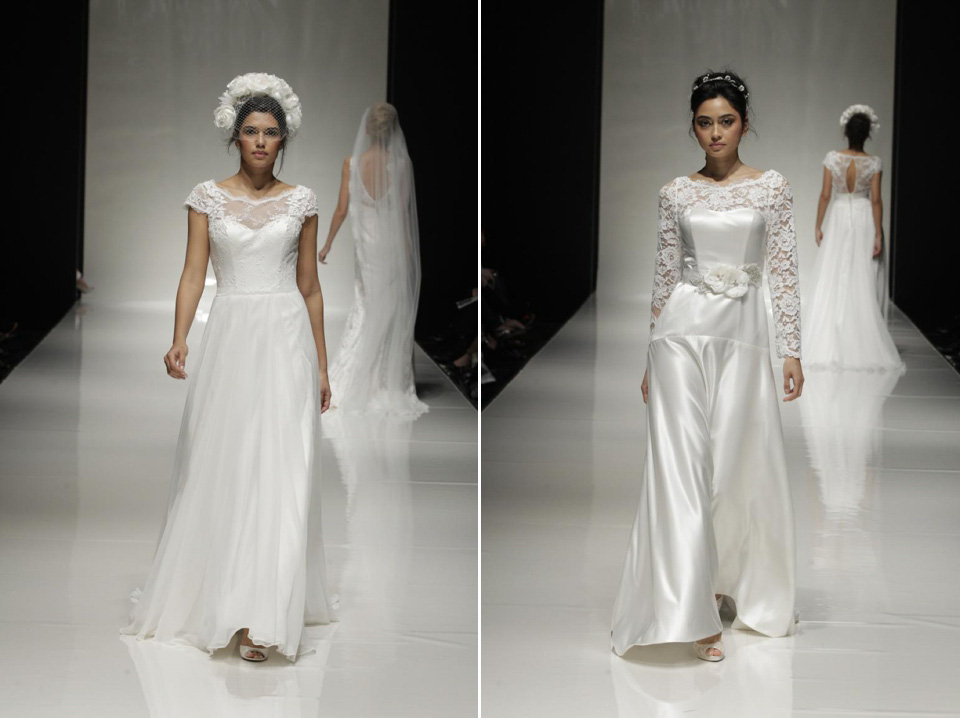 What are the biggest challenges you face?
You have to constantly keep innovating and that can be a challenge. But we keep on getting an overwhelming interest in our Charlotte Balbier dresses from brides year on year. Plus we won the Wedding Ideas Best Bridal Designer last year. I'm also on the shortlist for the Best Bridal Designer award with Perfect Wedding magazines awards this year too – I'm keeping my fingers crossed I win!
Your love of your brides is evident from your website – do you think you draw a lot of inspiration from them? Are there any specific examples?
If you look at the Charlotte Balbier collections, you'll see we're very keen to help a bride look fabulous whatever her body-shape. We really take on feedback and try to design the collection to fit with what our brides are looking for. At Charlotte Balbier, we have a beautiful and extensive collection of gowns to suit all body shapes and to ensure the bride looks and feels her absolute best on her wedding day.  For example, an apple shape figure looks best in a dress that cinches in at the smallest point on the waist-line like the Charlotte Balbier 'Lily Mae' dress. An athletic figure is more straight than curvy so I'd suggest the Charlotte Balbier 'Etienne' gown for this shape whereas a cornet body shape typically consists of broad shoulders and a small bust, a great option would be the Charlotte Balbier 'Abbie' wedding dress.
If you weren't designing wedding dresses, what do you think you would be doing?
I love animals so something animal related would be great.  I especially love dogs so perhaps something like a vet would suit me perfectly. I do love fashion though so I'd be most likely doing something fashion related like designing dresses.
As a recent bride yourself, have you got any pearls of wedding day wisdom for readers of Love My Dress? 
Well, the vows really should be the most important part of the day but my Three Golden Rules are a good photographer, an amazing dress and fantastic food & drink.  We also wowed our guests by using Red Floral Architecture to create all the flowers and they transformed the marquee into a magical wonderland. Our guests were speechless at seeing everything for the first-time!
What should we expect next from Charlotte Balbier?
The Charlotte Balbier brand has been around for more than 11 years now.  To make your own brand and business a success you have to live and breathe your work 24/7 and 365 days a year. I still have the same passion for my Charlotte Balbier brand years on from our launch! I am now embarking on a new chapter and looking forward to another 10 years with more staying at the forefront of British bridal and looking to also take the Balbier brand international.  Last year I won the Wedding Ideas Best Bridal Designer awards and I've just been nominated for Perfect Wedding's Best Bridal Designer title too. Winning awards is a great achievement and it's such an honour to be recognised in the industry but most importantly by the brides who wear our gowns.
Oh Charlotte, I am so grateful to you for agreeing to this interview and I hope that you, the wonderful readers of Love My Dress, have enjoyed reading this piece as much as I have. If you'd like to spend a little more time with Charlotte Balbier, you can view the current collections online and also connect with Charlotte on Twitter, Facebook and Instagram and Pinterest.
We shared Charlottes wedding to her husband Teddy earlier this year, you can see the full, glorious affair here on Love My Dress, though we're going to completely spoil you with a few little teaser images and video below…
Film by Silk Wedding Films, Photography by Polly Alexandre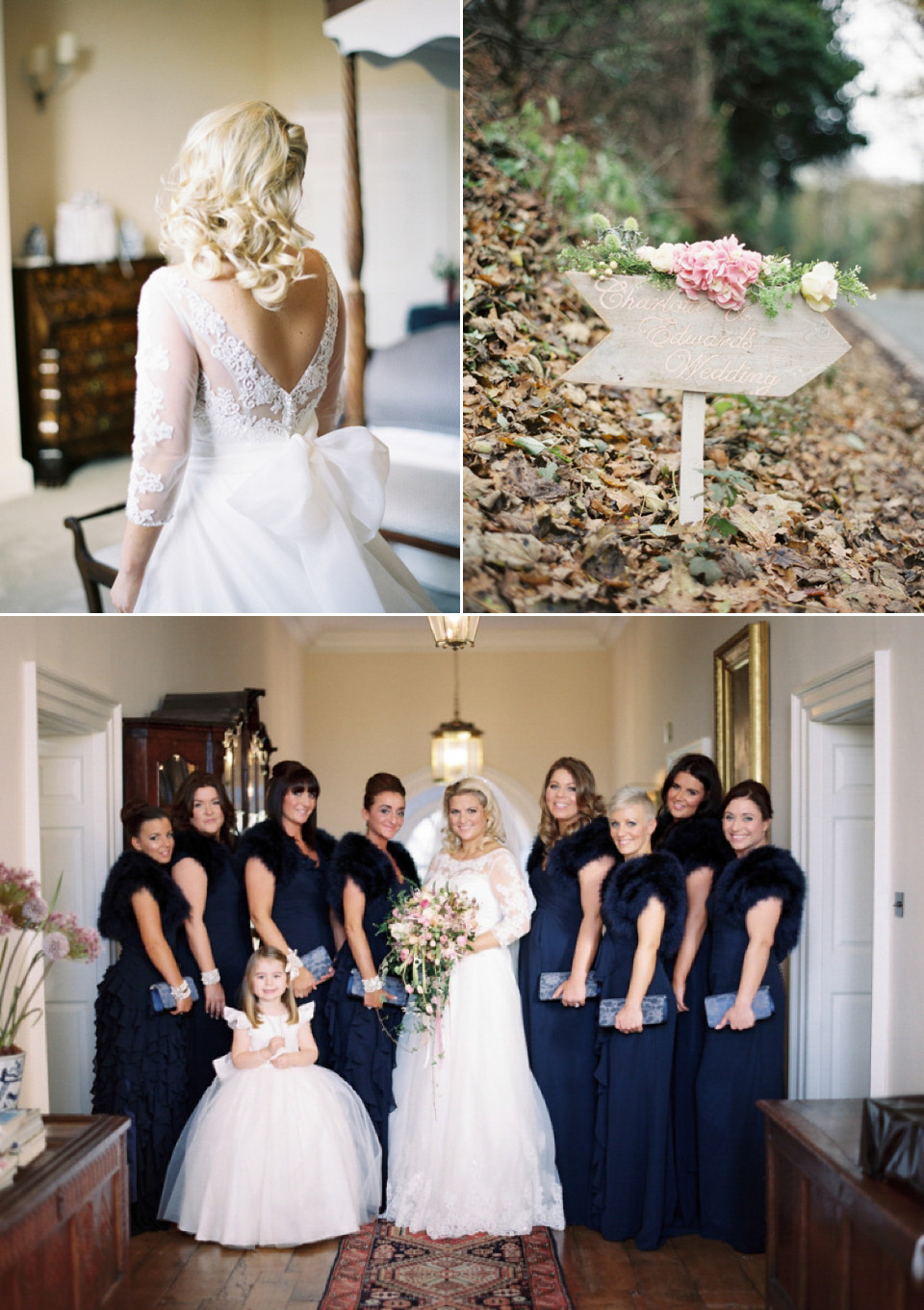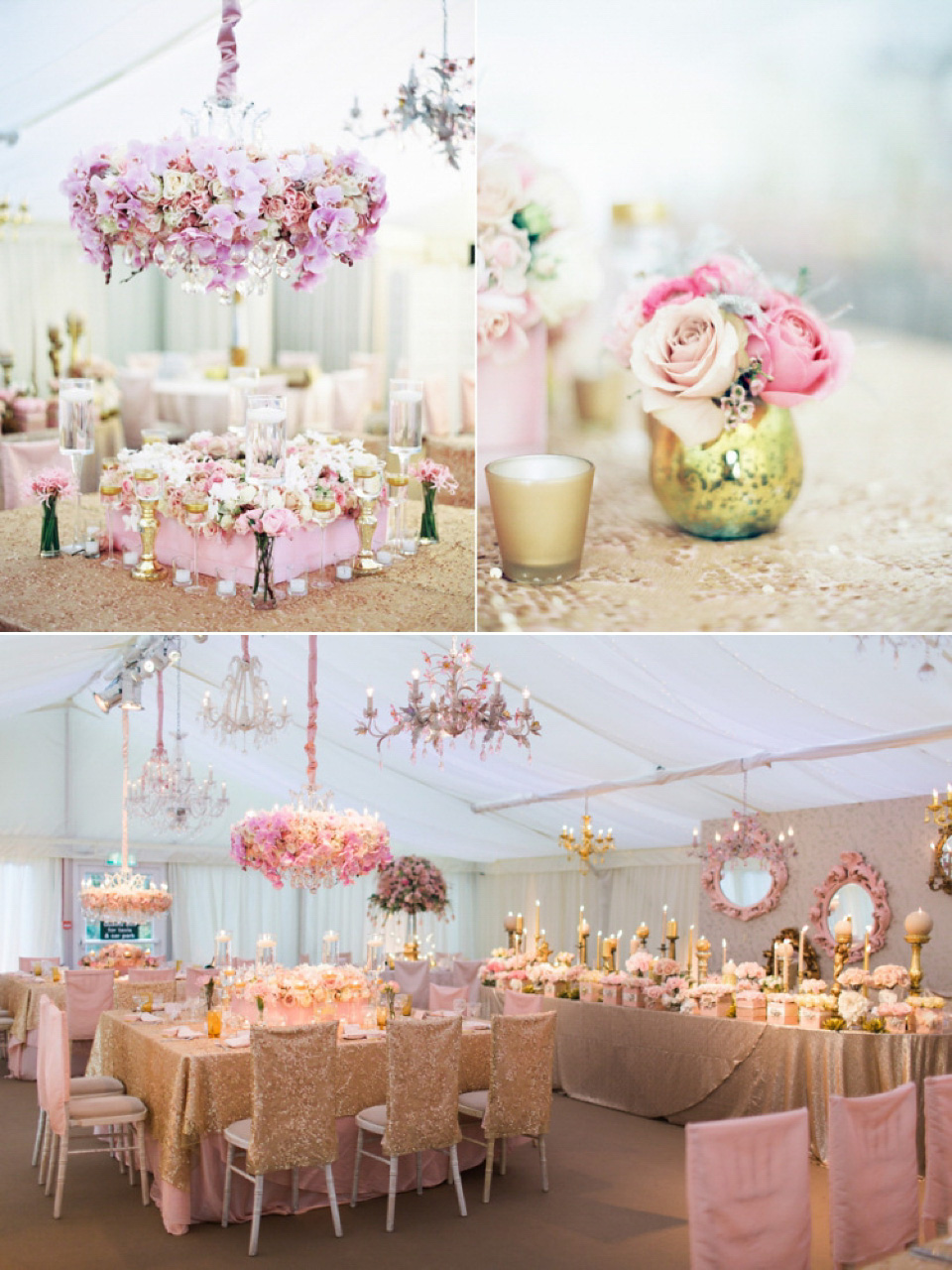 Love Tamryn x