As the end of this fantastic blogging internship draws closer, I've spent a bit of time going over the wonderful weddings I've had the opportunity to write about in the last six months. Every single one of them had been beautiful in it's own way and the true pleasure of working for Love My Dress is that the focus is on 'real' weddings, those that truly shine with all the love and emotion of a day spent marrying your best beloved. This wedding is one of those that genuinely filled me with joy when I looked at the photographs. You can really see how much Abigail – a chartered surveyor – and her wool trader husband Paul adore each other.
Mr and Mrs Hughes tied the knot on 26th July at St. Jude's church in Halifax, in accordance with Abigail's family tradition. They chose to entertain their guests at Crow Hill in Marsden.
"There wasn't a theme, I just love pastel flowers and lace – but if anything, my mother's wedding probably inspired me the most. I was also very lucky to have a groom who said 'it's our wedding, but your day…go for it'. "
Photography Copyright (c) 2014, Sarah Mason
"We chose Crow Hill because it looked like an amazing venue and because we could have all our friends under one roof so the party could continue all weekend!"
The bridesmaids wore dresses from To Have & To Hold and the groomsmen's ties were made to match in similar pastel tones.
"I decided not to buy the girls jewellery as they are so different, I know if I had got them jewellery it would probably be only worn once! So as a gift we got them a silver butter knife which is engraved with 'spread the love' from Not on the High Street."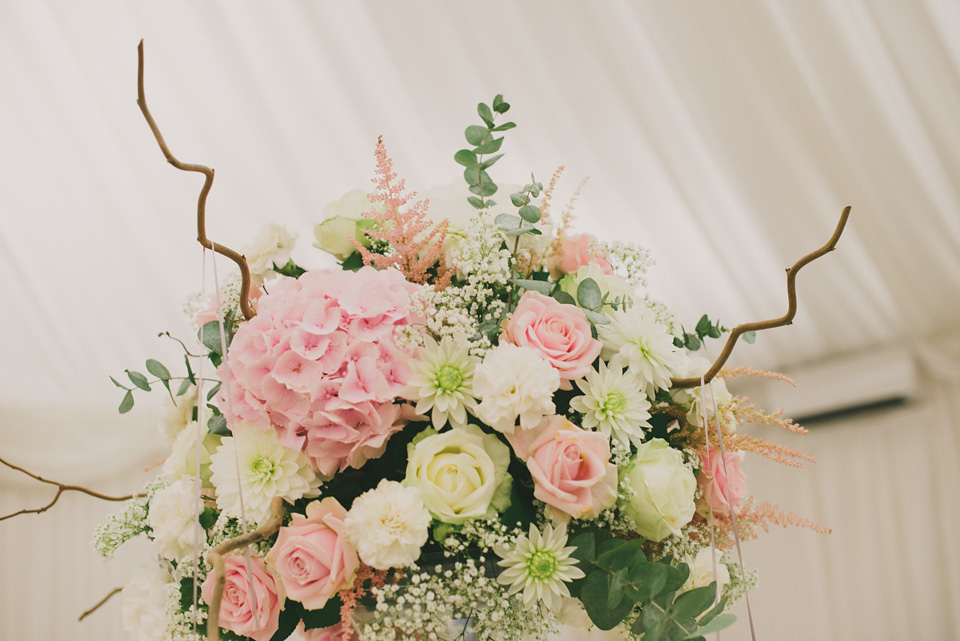 "Paul is 6ft 5″ and so hiring a suit wasn't on the agenda! It's fair enough as I had my dress made, why shouldn't he have a made to measure suit! We also wanted a French blue, which are none existent around these parts for hiring.  I gave him a pocket watch on the morning of the wedding, engraved with a personal message and also a sliver money clip."
Abigail's journey to find her perfect dress was not the smoothest but oh boy was it worth waiting for!  It is a totally bespoke gown that suits her down to the ground.
"When my mum and I were looking at dresses, I couldn't find a thing. We searched and searched and there was nothing out there.  At one point I thought of re-using Mum's dress – but when she mentioned it I remembered my sister and I wore it in the garden when we were children whilst eating ice cream!  I decided not to go down that route. So Mum and I set out with a brief for my dream dress to the seamstresses at Mia Sposa in Huddersfield.
A year later when 'the dress' arrived it had been mixed up with another design- a high neck fish tail arrived. It was beautiful, but not my dress. Four months or so later, my dress was made. The seamstress then added the flower petals and it was finished two weeks before the wedding."
The couple were photographed by the wonderful and talented Sarah Mason and her assistant Suzi.
"Sarah photographed my sister's wedding a few years ago and has since documented many of our friends' weddings! I cannot recommend Sarah and Suzi enough, (we recommended them recently to another couple who are planning their wedding!) They made us feel at ease and all of our photos tell a story.  Sarah has this amazing ability to make you feel as if you are the only couple she has ever photographed and she made us feel very special.
Both Sarah and Suzi have an eye for great shots which screams through their work. One thing you should never scrimp on at your wedding is the photographer. You get what you pay for and Sarah is definitely worth her weight in gold."
Erika Swinn was responsible for Abigail's hair and make-up.
"Erika Swinn  was absolutely brilliant – what a girl! Erika knows her stuff and she is so friendly. She is the kind of person who you think you have known for years. I went to a few hairdressers that said I couldn't have the hairstyle I wanted as it was too difficult. Erika didn't even flinch and made my hairstyle better than I imagined. Erika has worked on red carpets, TOWIE, Will Young, to name but a few. She is fantastic at what she does."
Abigail wore shoes from Russell and Bromley, a lace trimmed veil and an exquisitely delicate headdress of intertwining vines.
"I also had a bracelet made at Walkers in Huddersfield out of a necklace from my husband with an engraved gold disc detailing our initials and wedding date. Our rings also came from Walkers. If you  visit on a Saturday at around 4pm you'll be in time for champagne!"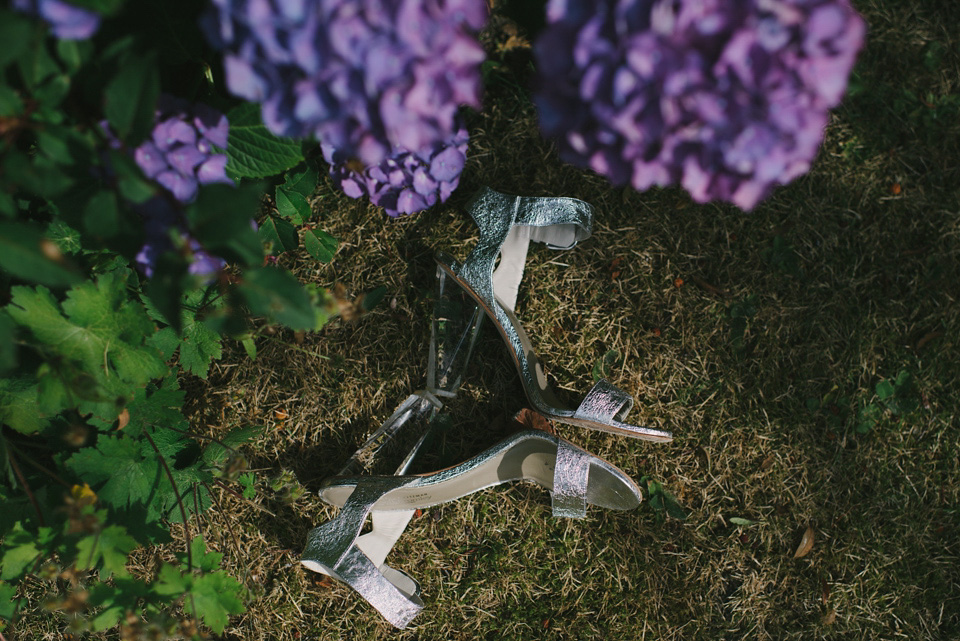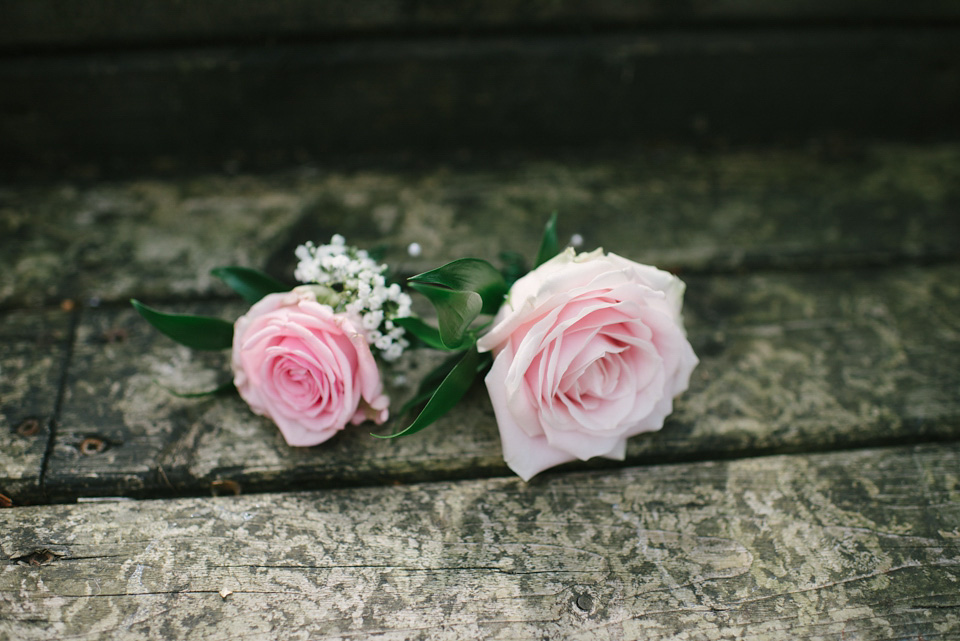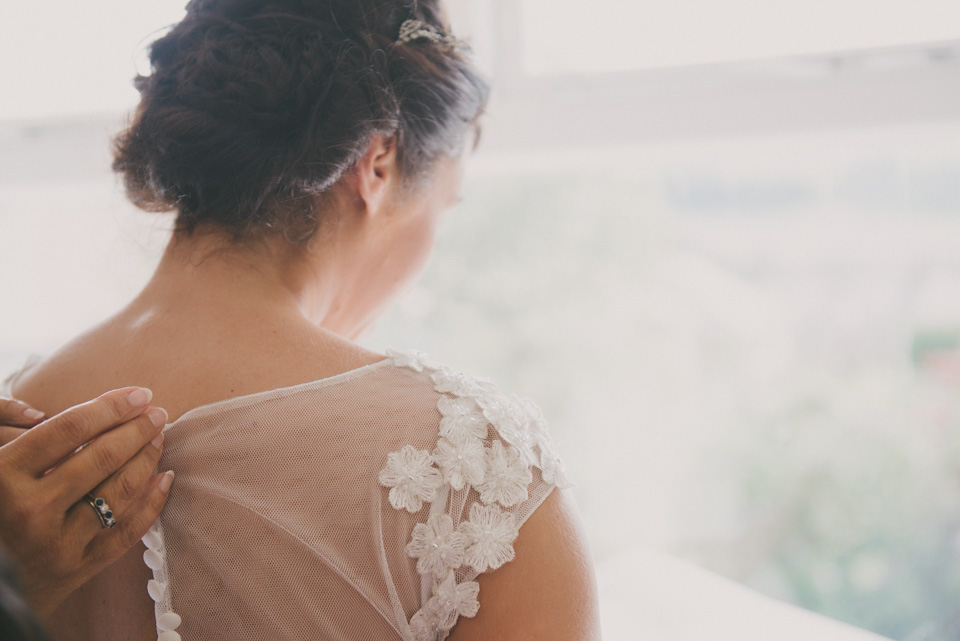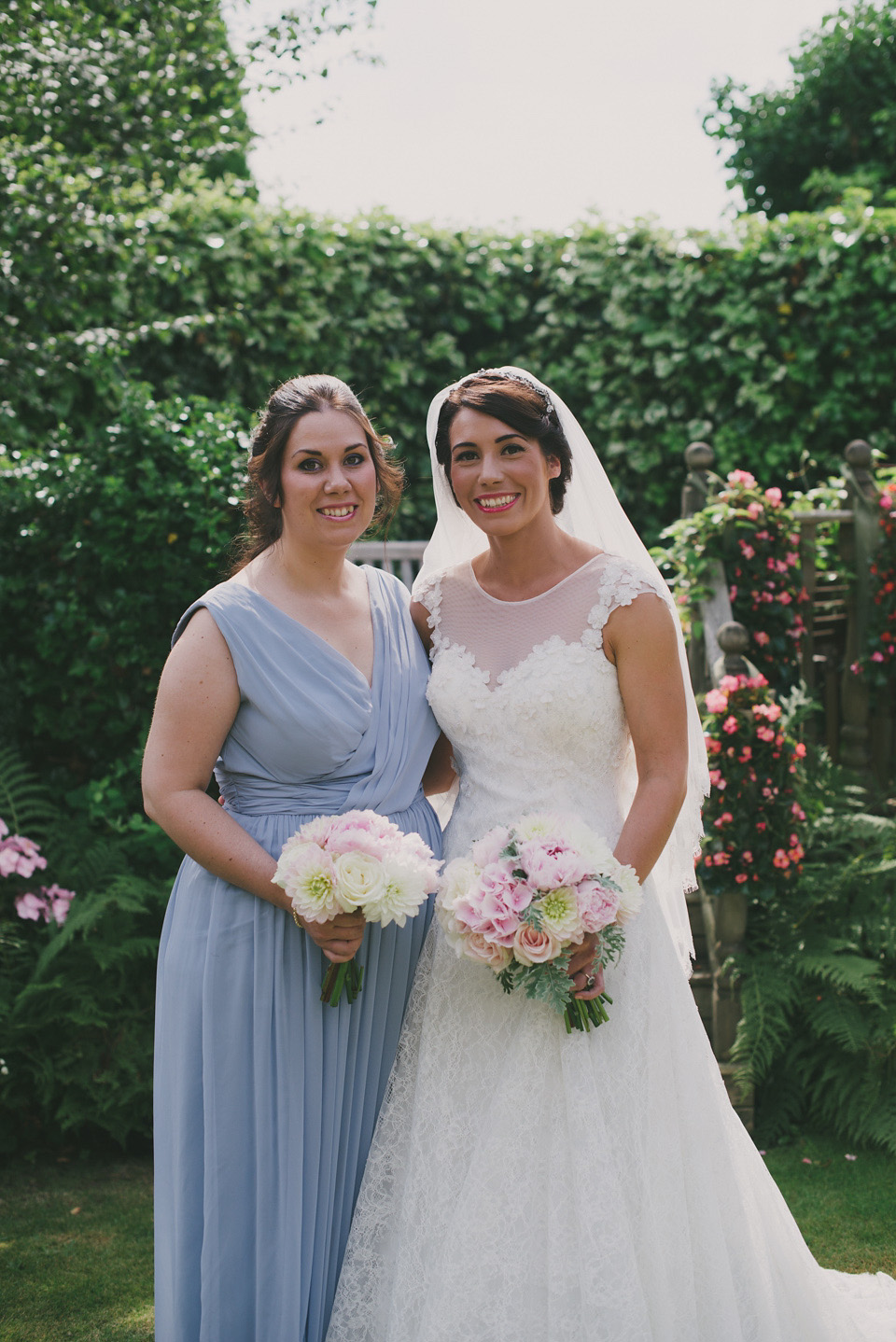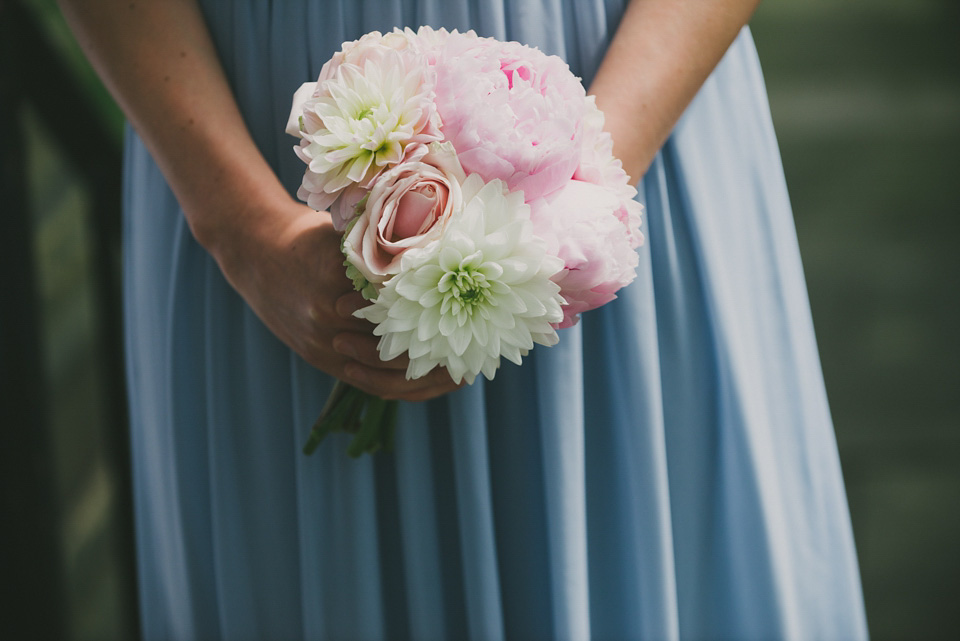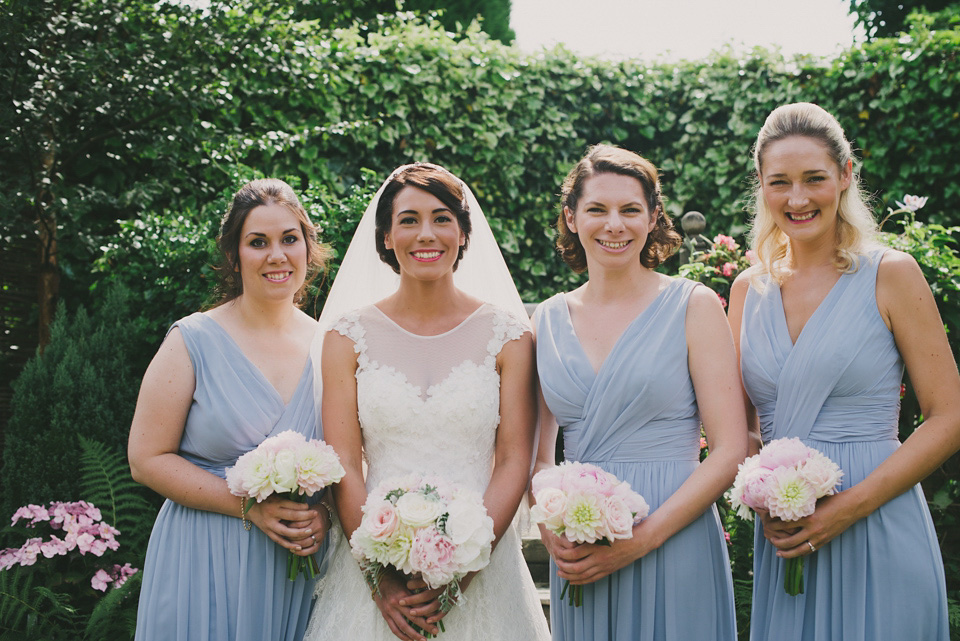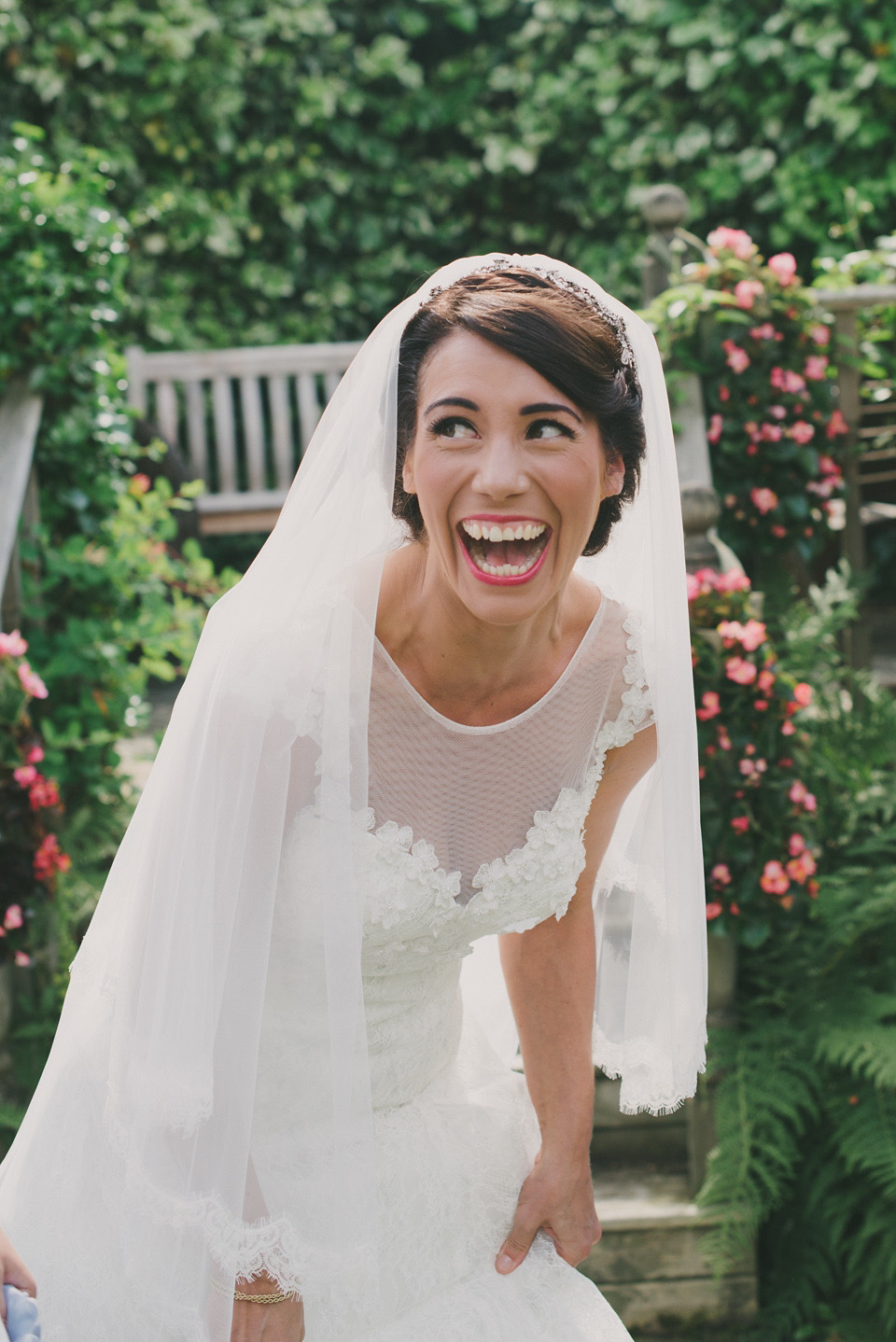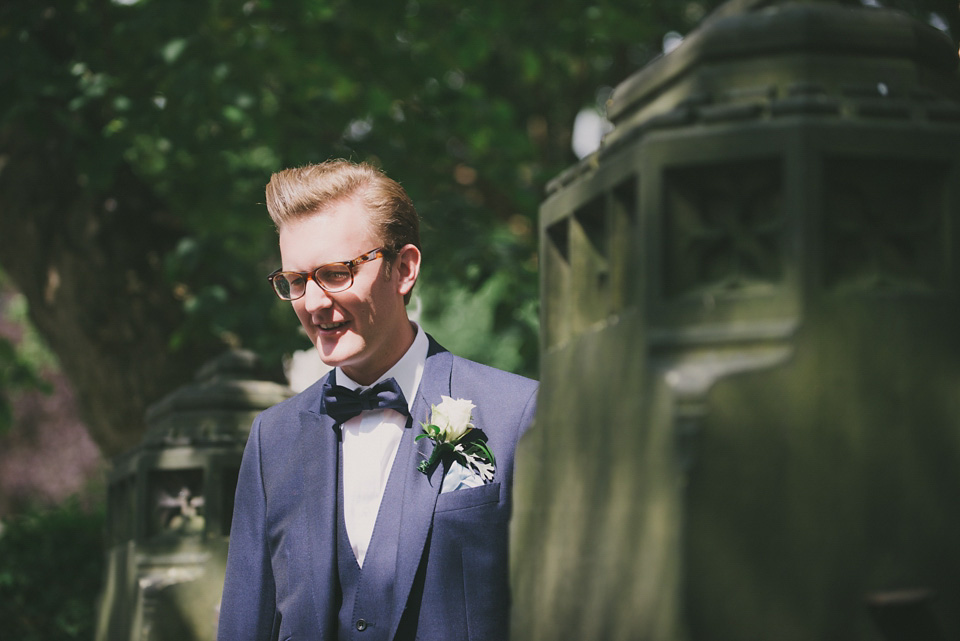 Abigail walked down the aisle with her father, accompanied by acoustic guitarist Ben Harrison, who played Jose Gonzales 'Heartbeats'. It was a family effort to get the couple together in the first place.
"We had been vetted by our families and finally met three and a half years ago after many failed attempts on each Boxing Day! We became an item and roughly a year later we were engaged. The church service was my favourite part of the day. It just felt so very right."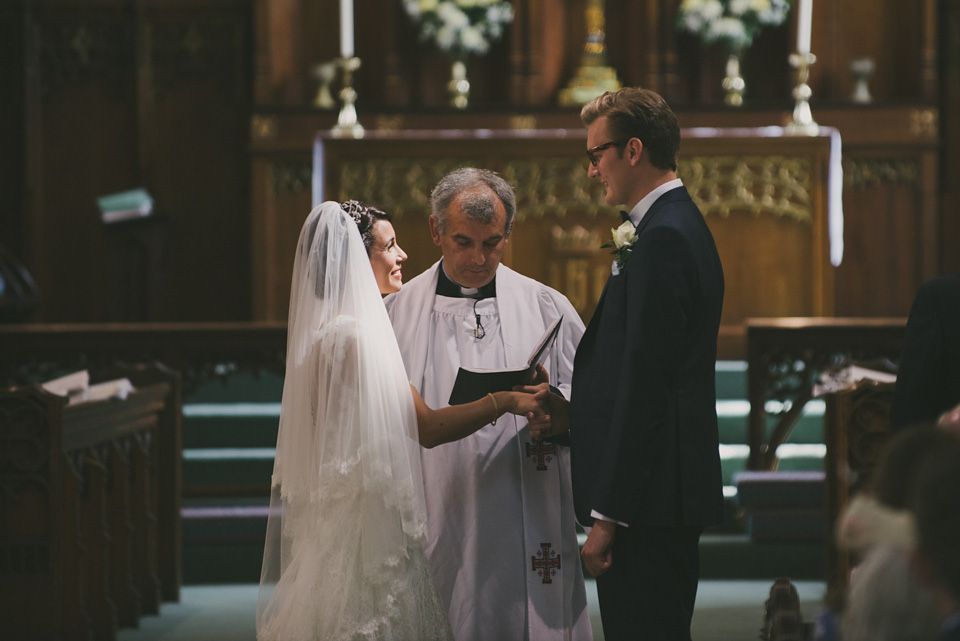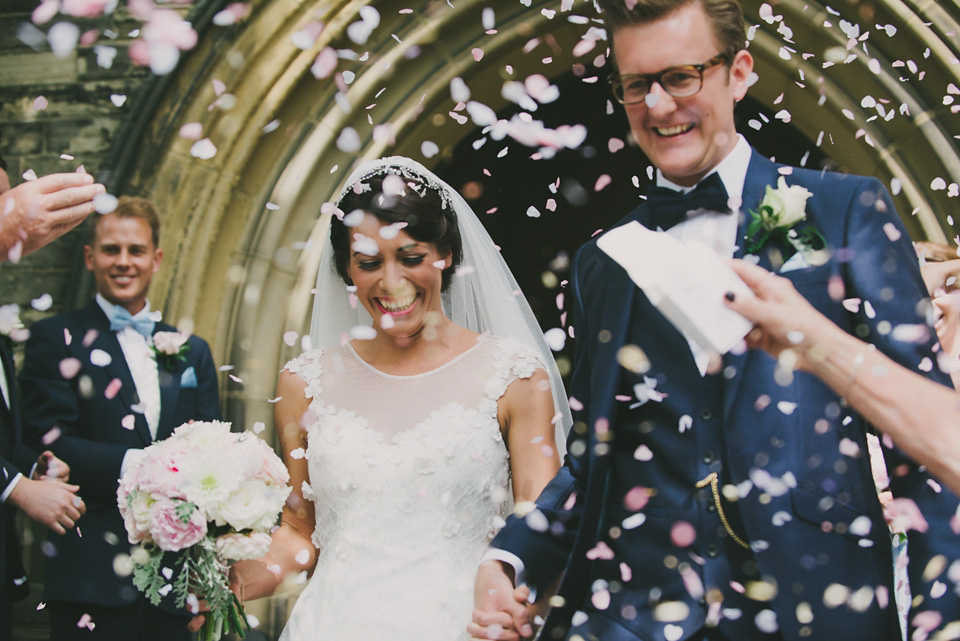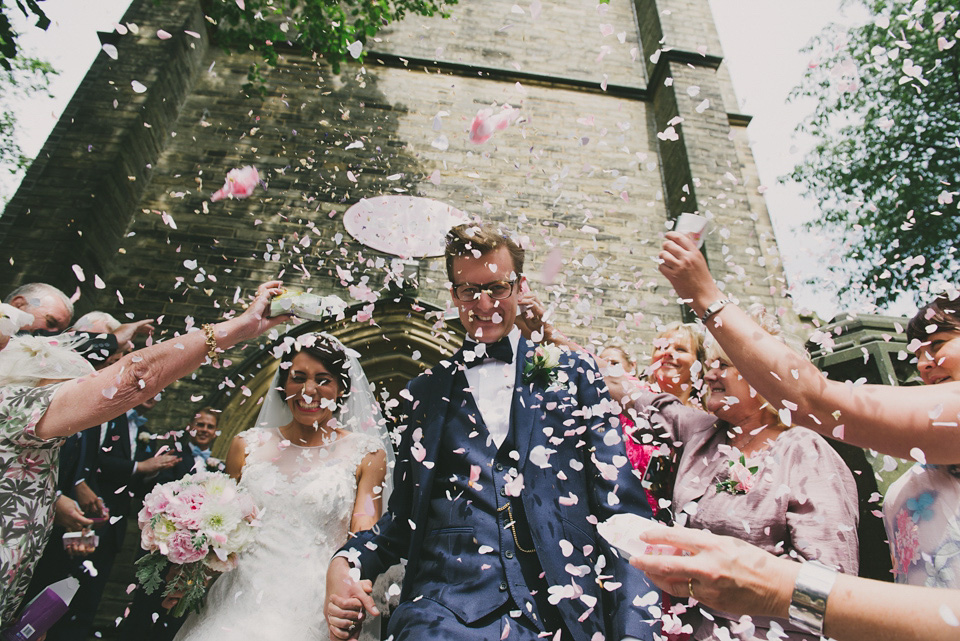 "We are lucky enough to have family and friends who own nice cars so we were able to borrow one for the journey to the reception. We did transport the guests on a vintage bus from The Yorkshire Heritage Bus Company and we also provided water on the bus given the 27 degree heat!"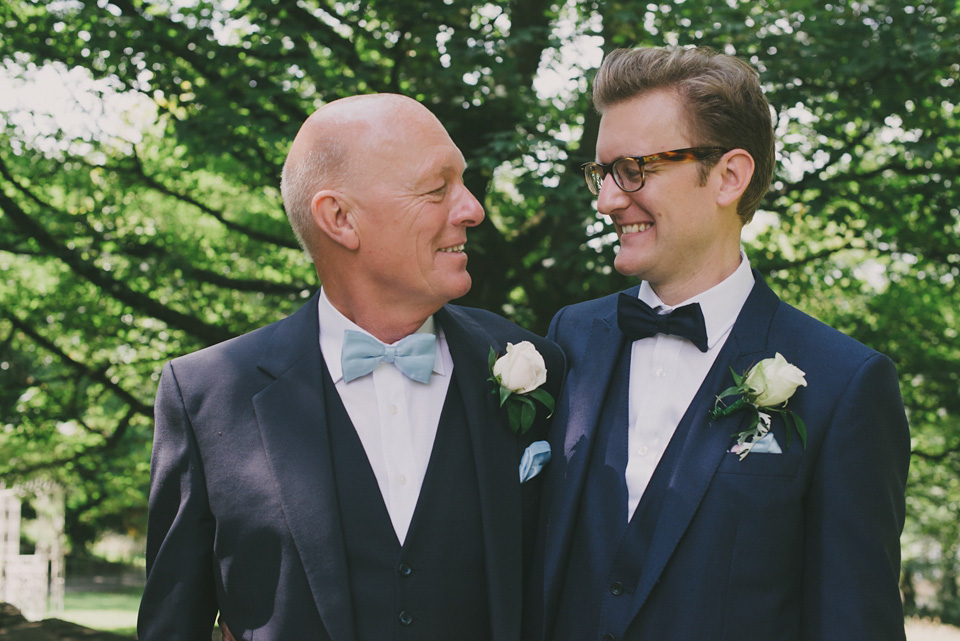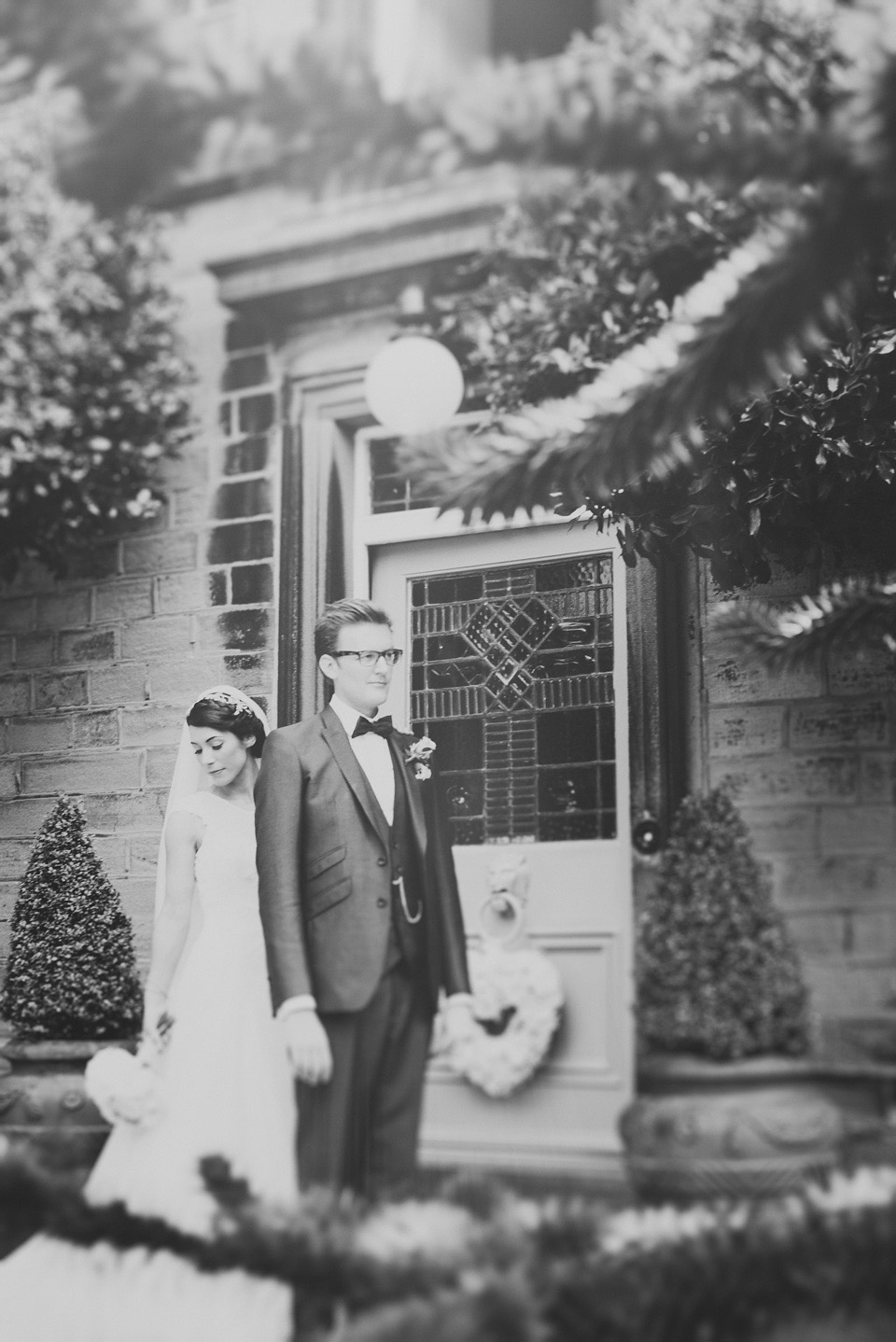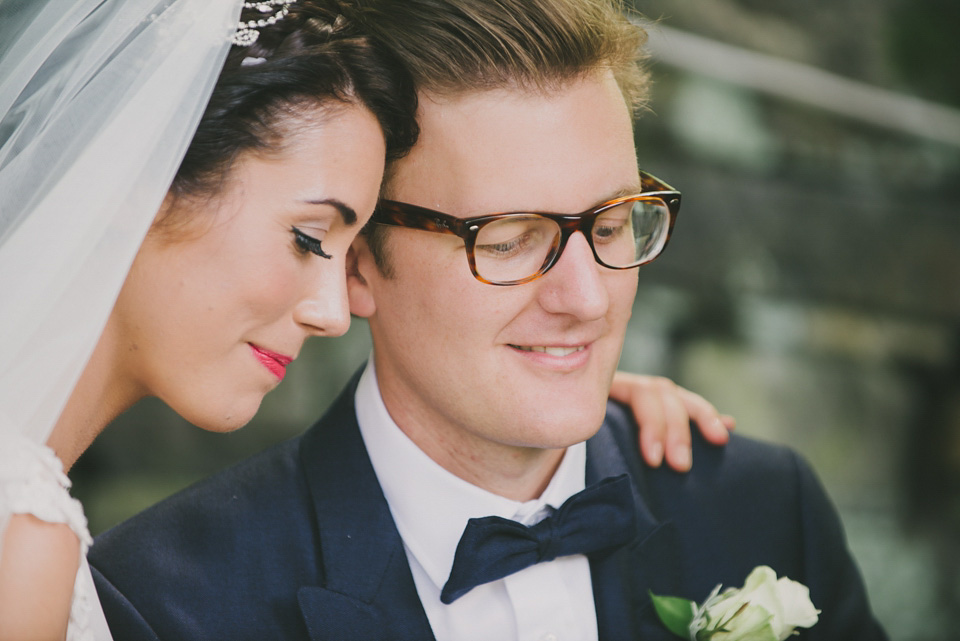 The gorgeous flowers really bring the reception venue to life. The choice of gentle pastel shades and soft shapes were perfect for Abigail and Paul's high summer celebrations.
"Roxanne from Lily Blossom put up with A LOT of random emails. She created some great flower arrangements at a reasonable price. To get within budget, we had to cut a few tables to more modest arrangements and we decided not to have any flowers in the church. The church is beautiful in itself."
Crow Hill provided all the catering for the wedding which included a delicious sounding belly port starter. They also had a lot of the decor that Abigail had been looking for.
"The venue had some of the decorations we were after,  like bird cages etc, but we did hire large light bulb letters from Doris Loves. I wanted to keep them! We also hired the ten man photo booth from Booth Revolution which was absolutely brilliant and it gets people together. It's amazing what people do with a banana in a pressured photo situation!"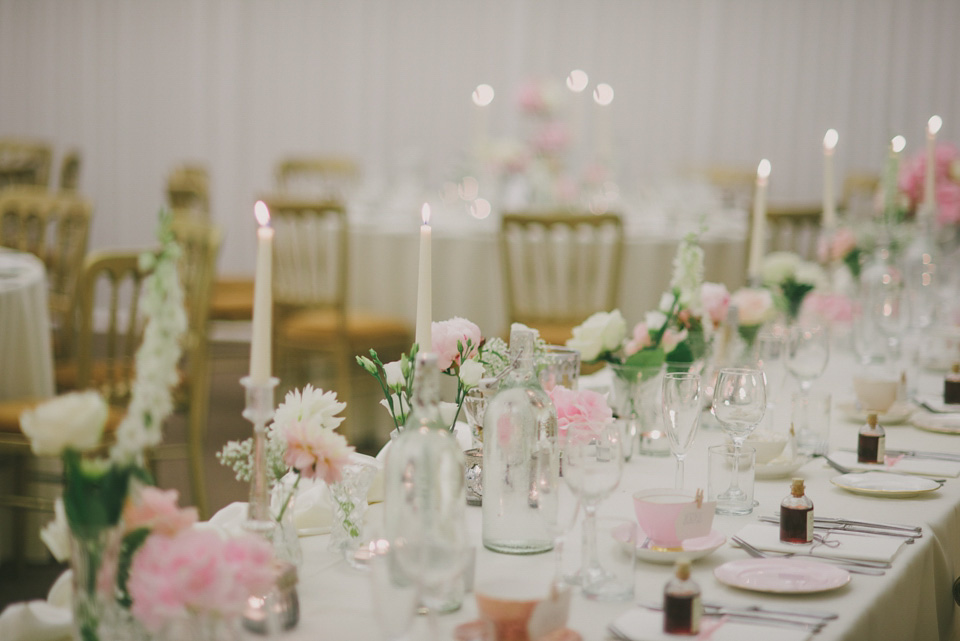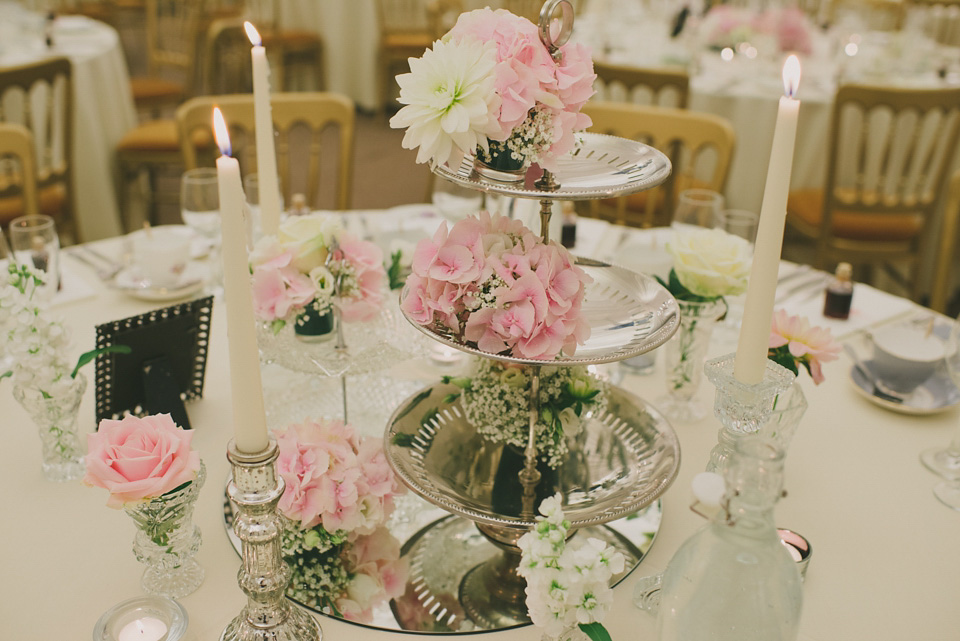 "Our cake was from Just Darling Cakes in Brighouse. I wanted a dense sponge with white chocolate ganache and fruit. It was amazing. The cake was four tier (the fourth being fake.) I was very pleased we ordered a cutting cake so we had left overs! We had cake for breakfast for a while!"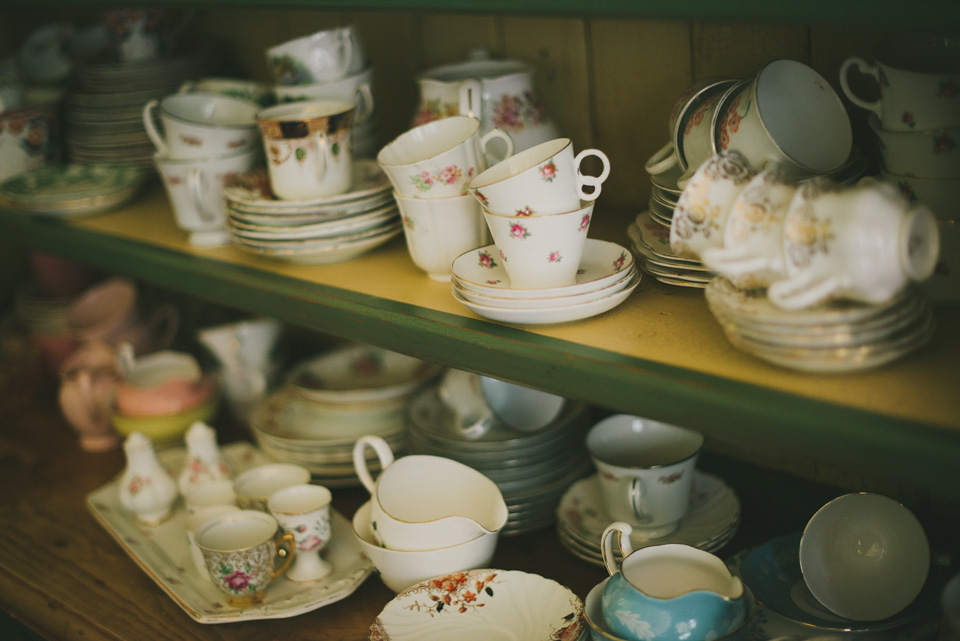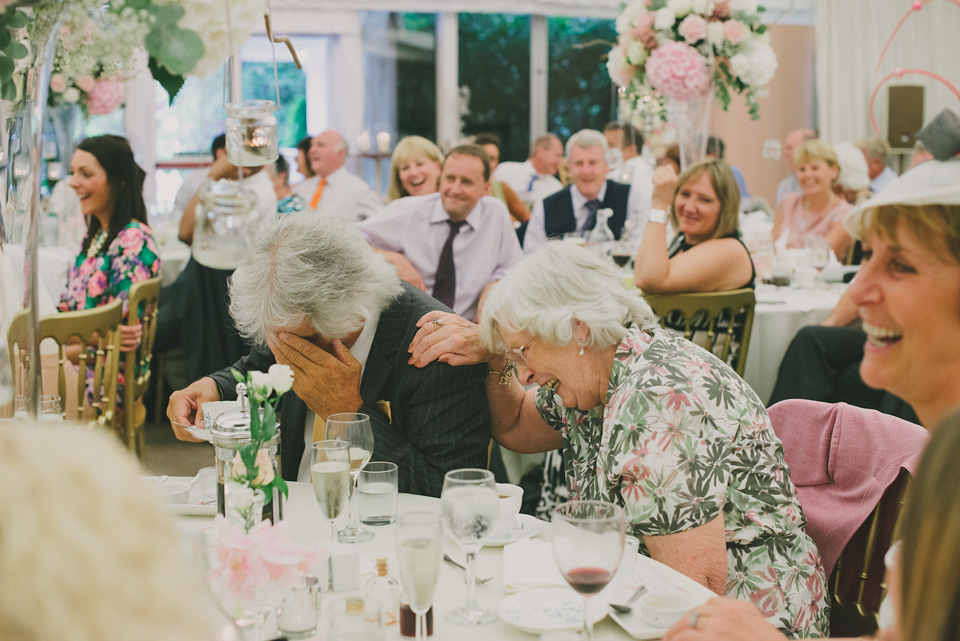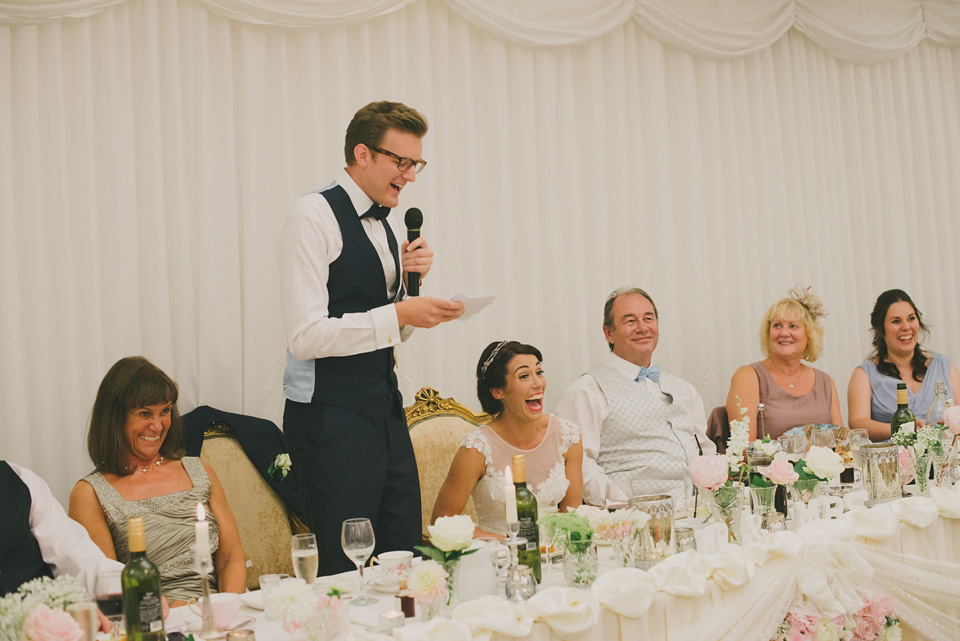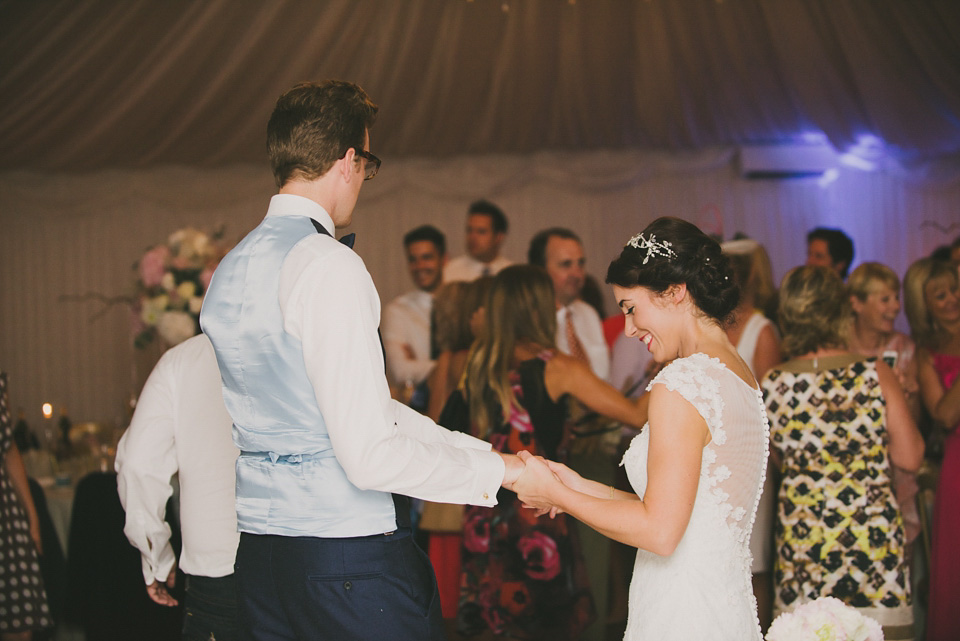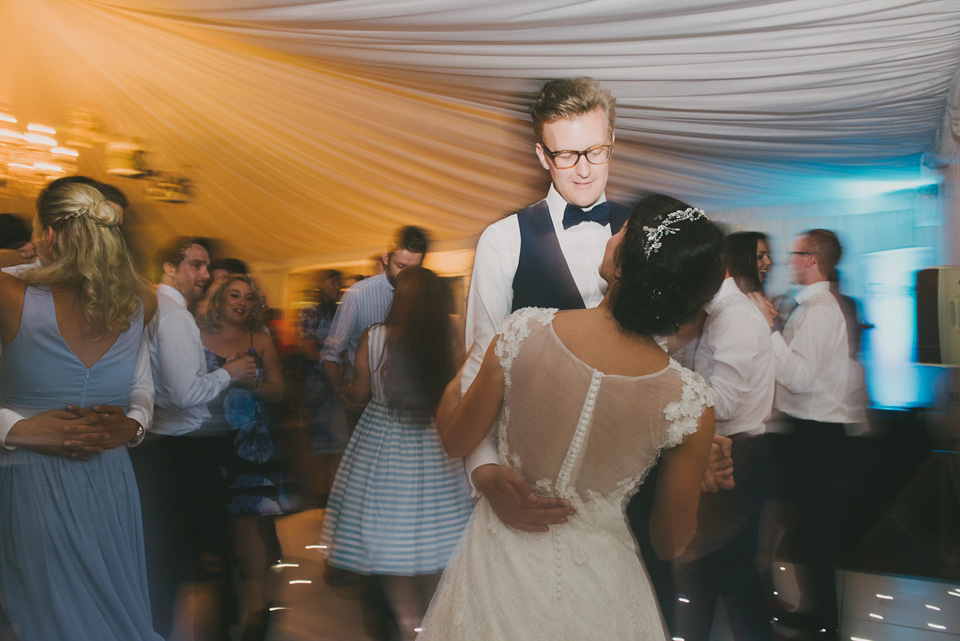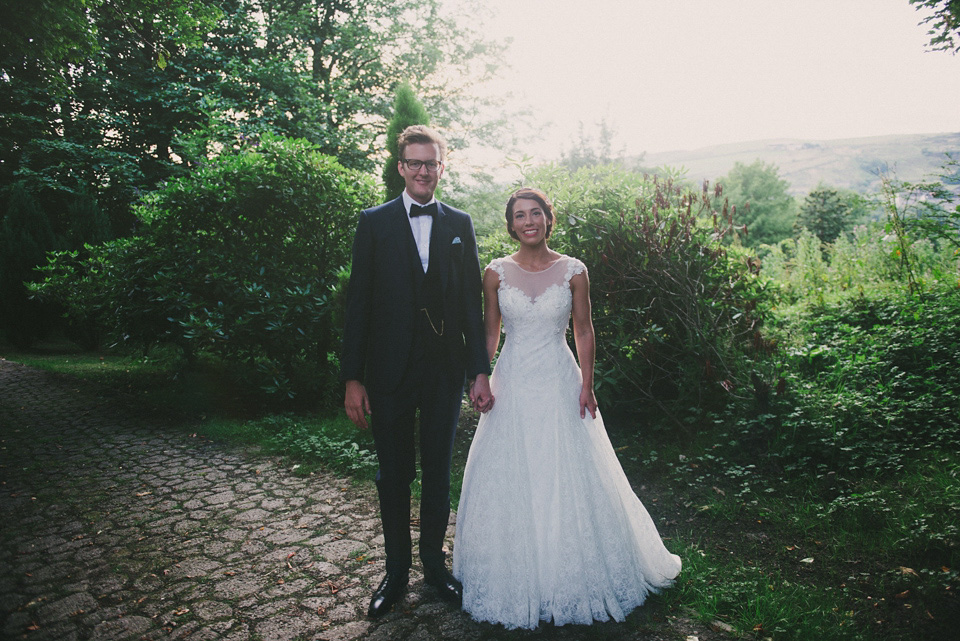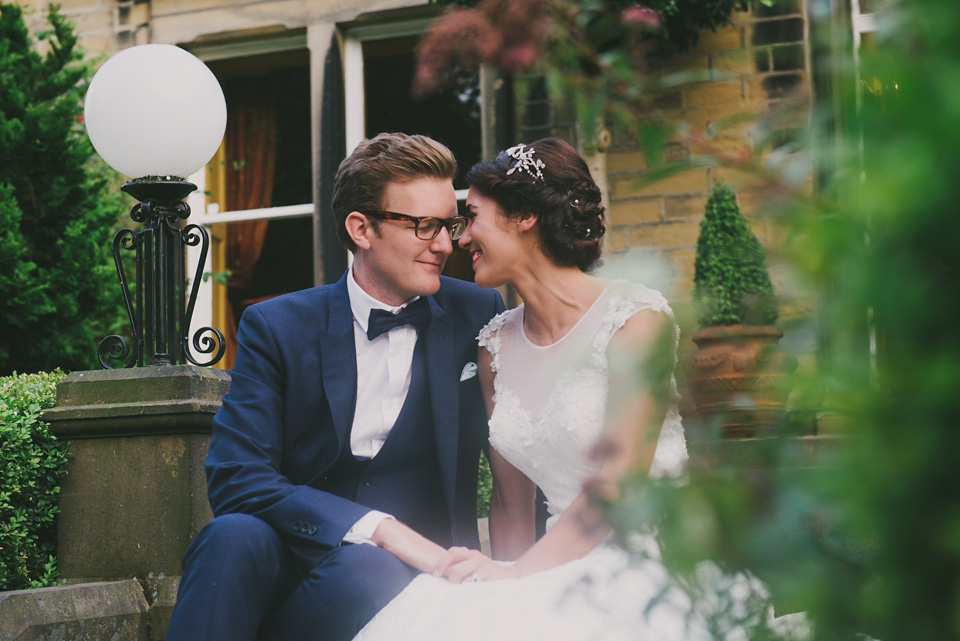 Words of Wedded Wisdom
"Take time to stop and look around to memory bank the day. To ease the pressure off we went round each table in between courses. Don't forget what the day is actually about. Two people becoming one unit. Oh and try not to drink too much!
Weddings are stressful. Enjoy the build up as much as you can as the day goes so fast. Have as many hen do's as possible! I had three. One was a surprise trip to Amsterdam, a family one and a Manchester weekend with friends and family.
It was SO hot on our wedding day – the hottest day of the year and blimey was it hot. Talc is a good saviour – I owe a lot to my bridesmaids! They had made me a bride bag which had everything anyone could possibly need in it."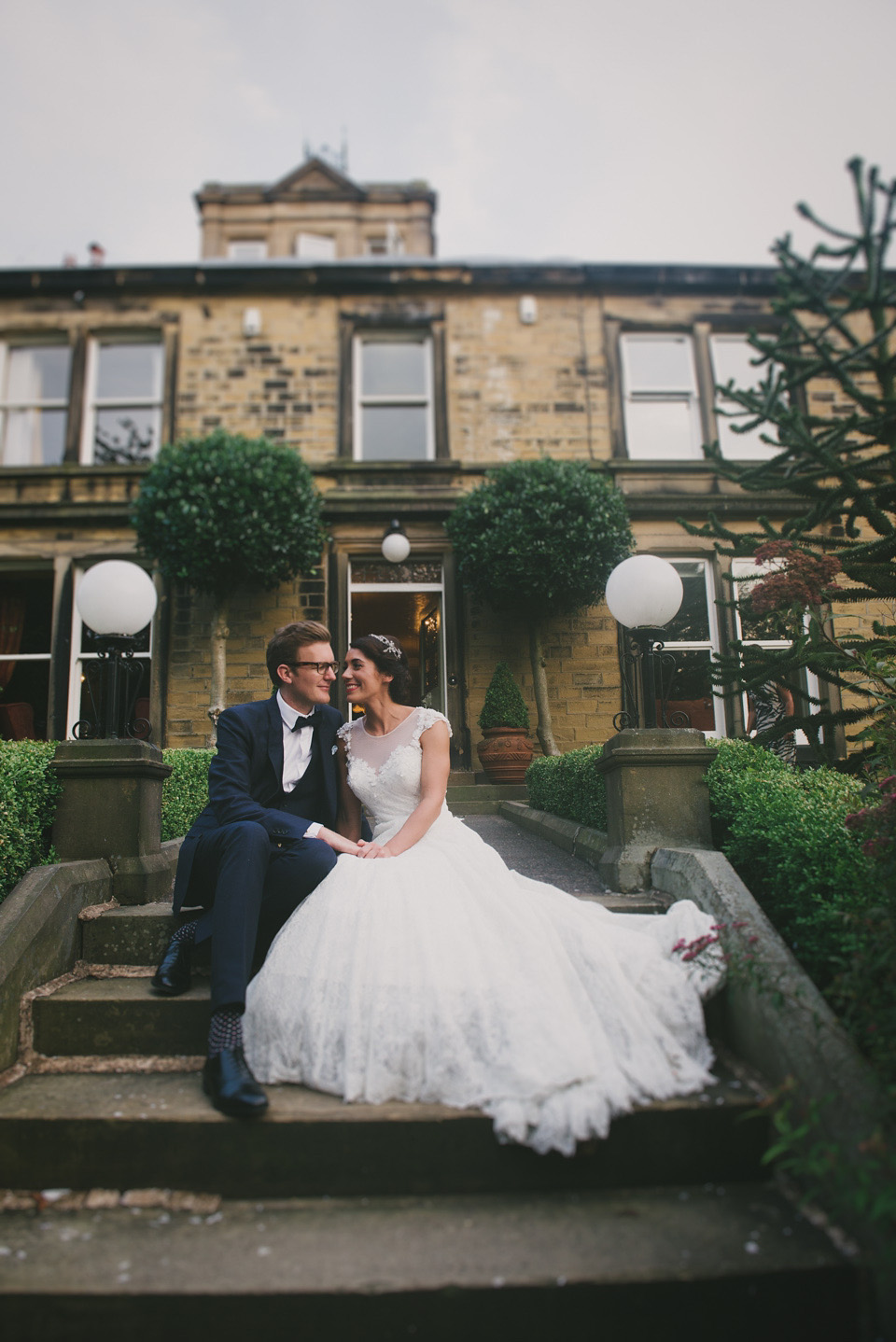 Huge thanks to Abigail and Paul for sharing this little gem of a wedding and also a standing ovation to Sarah Mason for capturing all those wonderful love-filled moments.
Love Susie x
Photographer – Sarah Mason
Venue – Crow Hill
Wedding Dress – Bespoke design created at Mia Sposa
Shoes – Russell & Bromley
Bridesmaids – To Have & To Hold
Florist – Lily Blossom
Cake – Just Darling Cakes
Transport – The Yorkshire Heritage Bus Company
Entertainment – Ben Harrison
Rings – Walkers
Hair + Makeup – Erika Swinn
Stationery – Artcadia
Large Light-up Letter Hire – Doris Loves