I guess on a day like this (isn't it spectacular?!) no one wants reminding about winter, but let's not forget a huge portion of our readers will actually be planning winter weddings and inspiration for you guys tends to go quiet this time of year as everyone focuses on seasonal ideas. Not here – we're whisking you back to December last year on Love My Dress this afternoon for the wedding of Dan and Chessie.  This lovely couple, who in their spare time are both artists and love drawing, tied the knot on 6th December last year at Chelsea old Town Hall, followed by a reception held at Dan's family home in Totteridge in North London.
I love these wedding photographs because they capture a beautiful joyous day, and one very stylish lady looking fabulous. Always been a bit of a sucker for the 70's style me 🙂
"We always said we wanted our wedding day to be relaxed and intimate, and because neither of us are religious, a registry office ceremony was perfect for us. It was a relatively small room in Chelsea Town Hall, seating only 38 people, which we filled with our family and closest friends, some of which came all the way from the US!"
Photography by Sharon Cooper Photography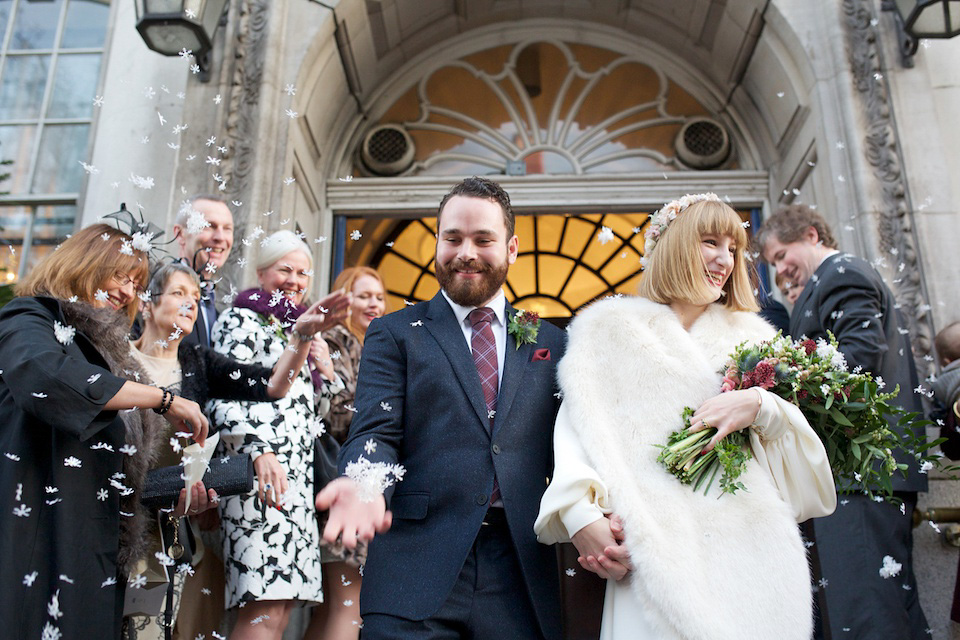 "I knew pretty quickly what I wanted my dress to be like – I love 70s looking dresses, and after looking through Ozzie Clarke's designs I knew that my dress definitely had to have those big full sleeves! Plus being winter time I didn't want to have bear arms!"
"I knew pretty quickly what I wanted my dress to be like – I love 70s looking dresses, and after looking through Ozzie Clarke's designs I knew that my dress definitely had to have those big full sleeves! Plus being winter time I didn't want to have bear arms!"
Shoes by ASOS 
"I bought my veil from Minna in Brixton. It had soft muted pastel colours, and lace shaped flowers on it."
"I spent a lot of time researching 70s dresses and Ozzie Clarke's designs in particular. I saw a great dress in Brighton very early on in our engagement, which had the huge sleeves and was made from a thicker satin, so I had that look in my head when I was coming up with the final design for my dress.
We have a great local seamstress near our flat called 'Michaelas', in Cricklewood, and I went in with a few pictures and doodles. It was amazing that she managed to do everything so perfectly from such rubbish images!"
"It was made from a gorgeous Moroccan silk which I found in a material shop near our seamstress, and I spotted the tulip shaped buttons one day in a shop in Edgware Road. I actually wanted buttons to match the blue sapphires in my engagement ring, but these worked really well as well since they were a very dark blue stone with diamond gems around it. A great find!
What I loved the most about my dress was that it was simple but elegant. I don't really wear dresses very often so I just wanted to feel comfortable on the day."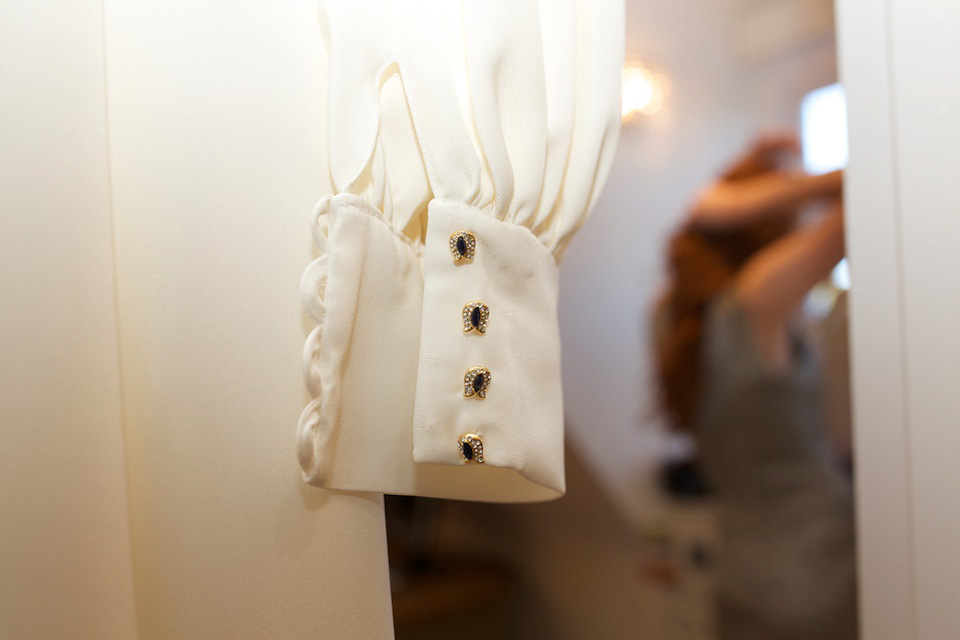 "I wore a necklace which my grandparents had made for me for my 18th birthday. When I was growing up, every girl in our family received a small stone of their birthstone for each of their birthdays until they were 18. The idea is when you are 18 you can decide what you would like to do with them. I decided I wanted to design a necklace out of my Blue Topaz stones. I only really wear my necklace for very special occasions because it feels very special to me, but if there is one day it was definitely coming out, it was this one!"
"On the day before my wedding, Dan's mum gave me a lovely bracelet which belonged to Dan's grandmother (on his dad's side). It was my something blue, since it has a blue gem with two diamonds on either side of it. I haven't taken it off since."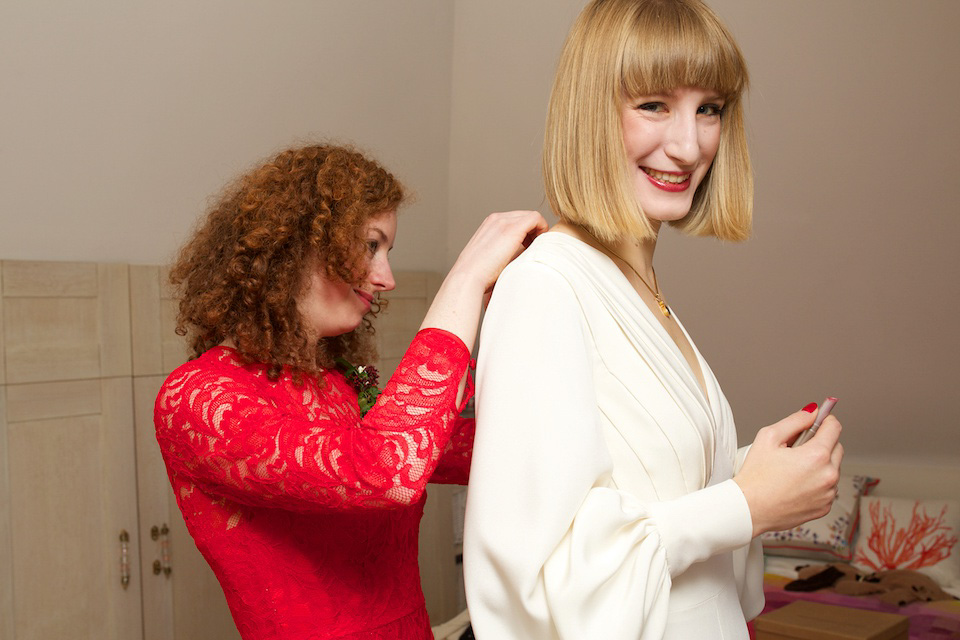 "I wore Chanel Coco Mademoiselle – Dan bought this scent for me about 5 years ago and I don't wear anything else now! He might be regretting this impromptu present now haha!"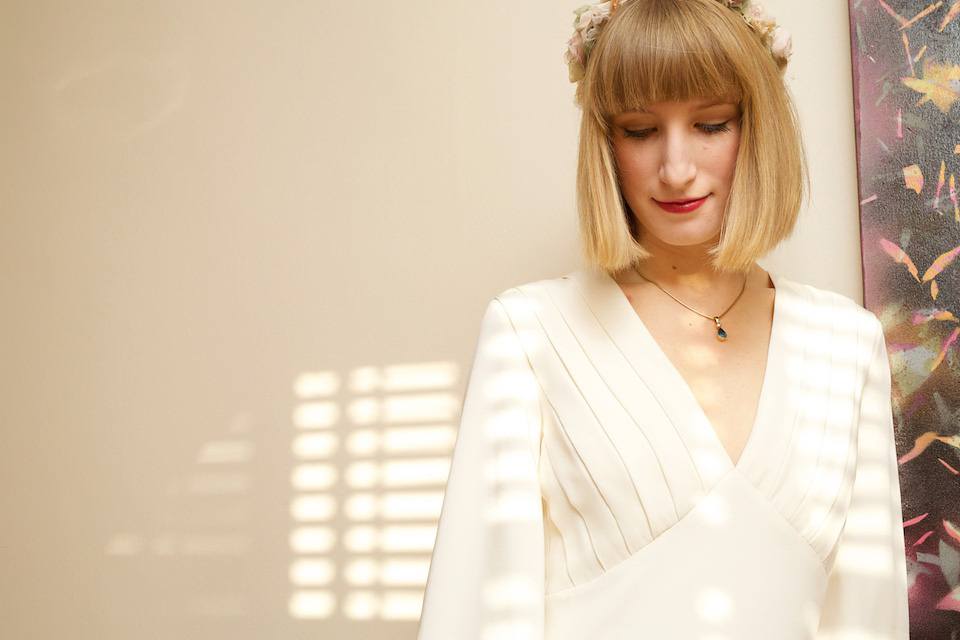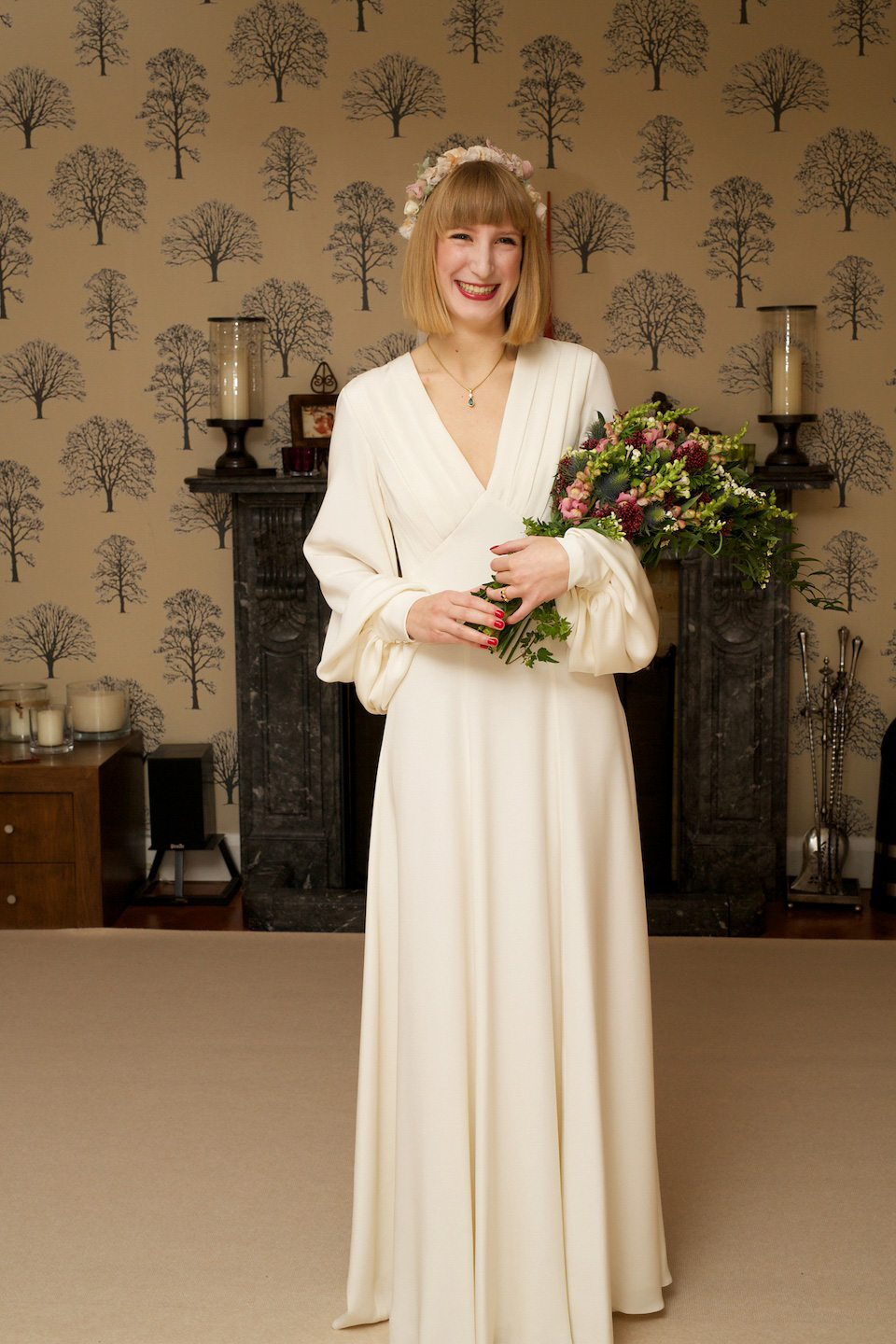 "We had to keep it a secret for a while since we wanted to tell both our families together, which proved to be quite difficult to organise in the end sadly! So in the end we told our families separately, but a few days apart. Dan's on the 22rd December, and mine on Christmas Eve. It was perfect, and needless to say both sides were very happy!  We got married the following December."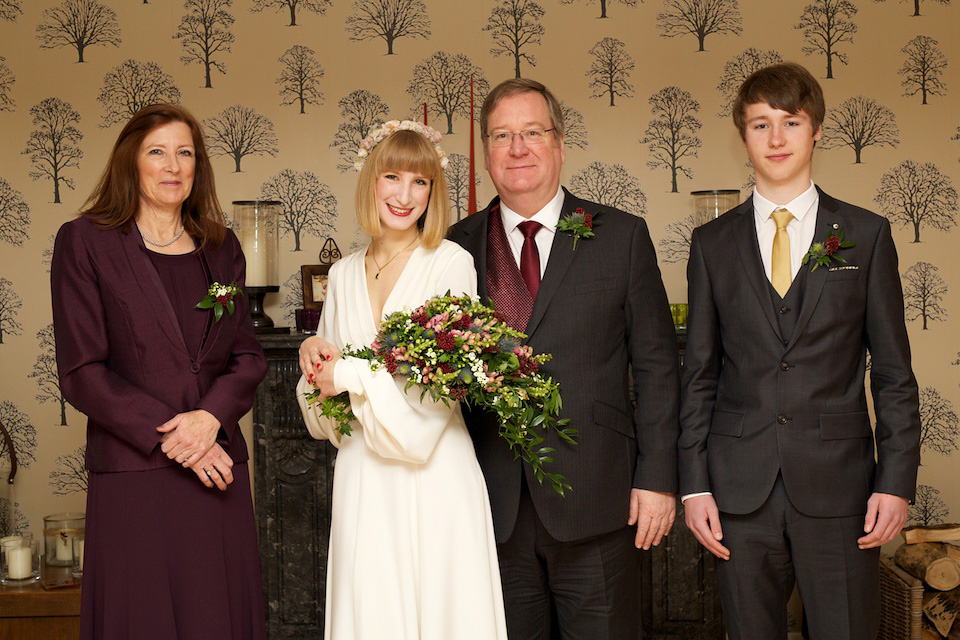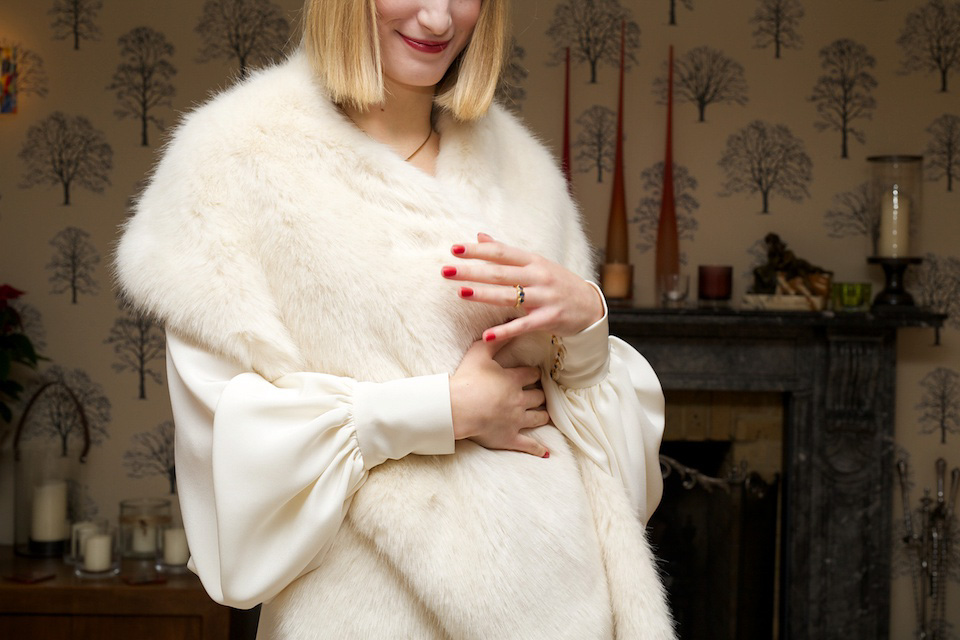 "Dan and I both met at university in London eight years ago where we studied Fine Art. It didn't take long for us to get together- I think it was in the first month of meeting each other. Our art school was very small so we saw each other every day for the 4 years we were there. We didn't really ever have 'a first date'- he just invited himself along to a play which a few of my friends were one evening, and our friendship just sort of went from there! We were, and still are joined at the hip really!"
"Dan and I had spoken about getting married for a while before we got engaged (and of course Dan's brother and sister had been asking us for at least 5 years to get on with it already!) and so one day we were sitting in our flat and just decided to do it! We just thought, what are we waiting for!? A few weeks later we went out together and chose my engagement ring. It was a lovely thing to do together."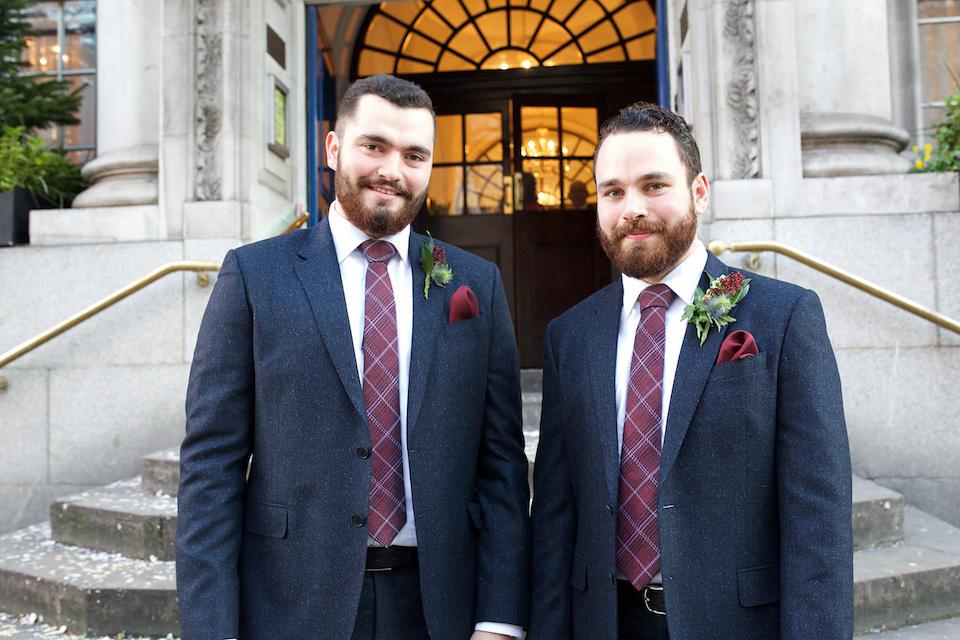 "We chose this registry office because the room was beautifully decorated and elegant, and we loved the look of the building – it was just lovely in itself. And those iconic steps of course- perfect for the confetti moment!"
"I walked down the aisle to 'My Baby Just Cares For Me' by Nina Simone. We chose to read a poem to each other called 'The Eskimo Song'. It was only a verse long, but we split the poem up so Dan read the first half and I read the second half. It was short and sweet, but just perfect for us.
My two sisters read 'Pooh and Me' by A.A. Milne. It's not a particularly original reading, but I chose it because it reminds me of Dan. We were out one day and had argued, and to cheer me up Dan went and bought me a Winnie the Pooh bear. Usually this kind of thing would make me cringe, but on that day it made me smile.
A few years later I made him a birthday card with a painting of the bear on the front and wrote 'Pooh and Me' inside. He still has it!"
"My nephew was our ring bearer. He wore a waistcoat and shirt from Marks & Spencer, and a little red velvet bow tie. He looked adorable, but I'm not sure he enjoyed having to tuck in his shirt!
Both my engagement ring, and our wedding rings were made by Ruth Tomlinson. I love her designs – she doesn't polish the metal, so they look really handmade and a bit rough around the edges. Dan and I do not have matching wedding bands, but I like that they are both made by the same designer. Dan's ring is matt white gold, and mine is a gold plat design."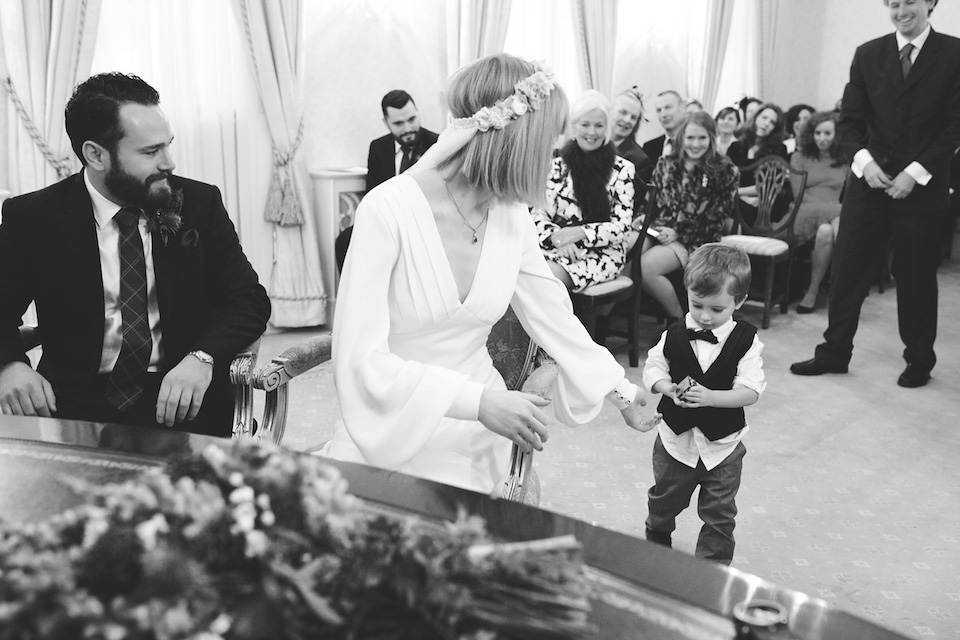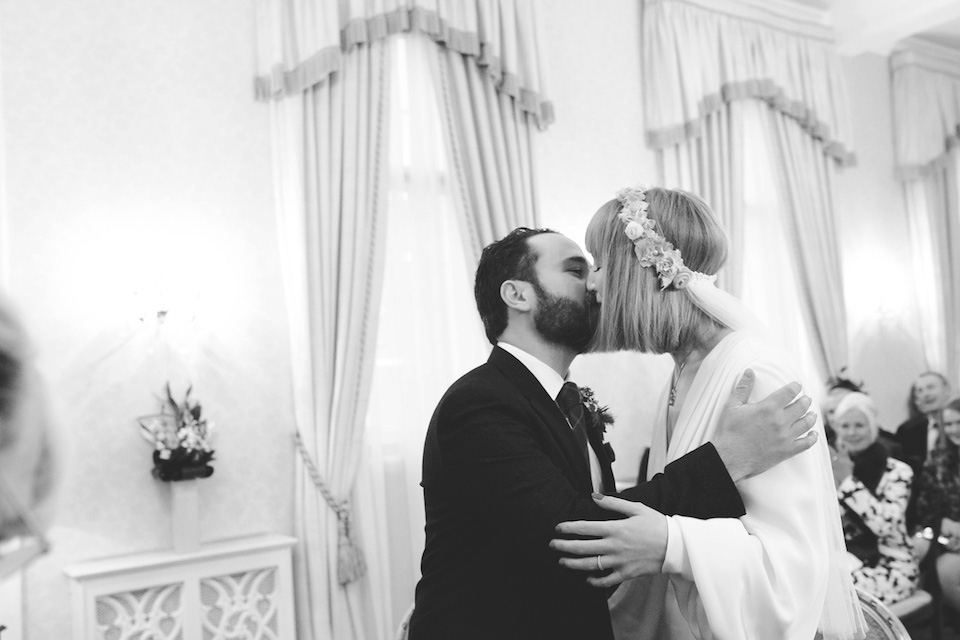 "We hired Sharon Cooper Photography to take our photographs.  She was fantastic – could not recommend her highly enough. She was so friendly and captured the whole day from start to finish beautifully. Dan and I do not like having our photograph taken but she made us feel so at ease. Plus she really noticed all the little things which we had done (which perhaps other guests may not have noticed) – it was so nice that she captured those things so we have a memory of it."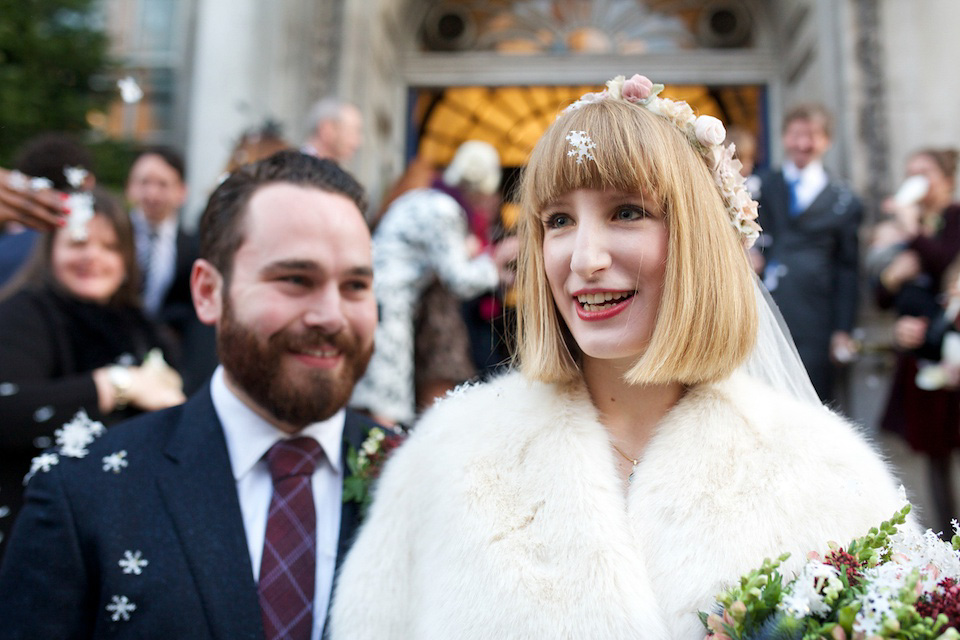 "Dan and I are both creative so we wanted a lot of the details to have our own stamp on them. I designed our wedding invitations, designed a stamp with the silhouette of our heads for our confetti cones, and used the same stamp on our place name cards, hand cut our snowflake shaped confetti (which was a great thing to do one evening with my friends), and painted our table plan.
It was so nice to have done all those things ourselves – it made us feel so happy seeing it all come together on the day."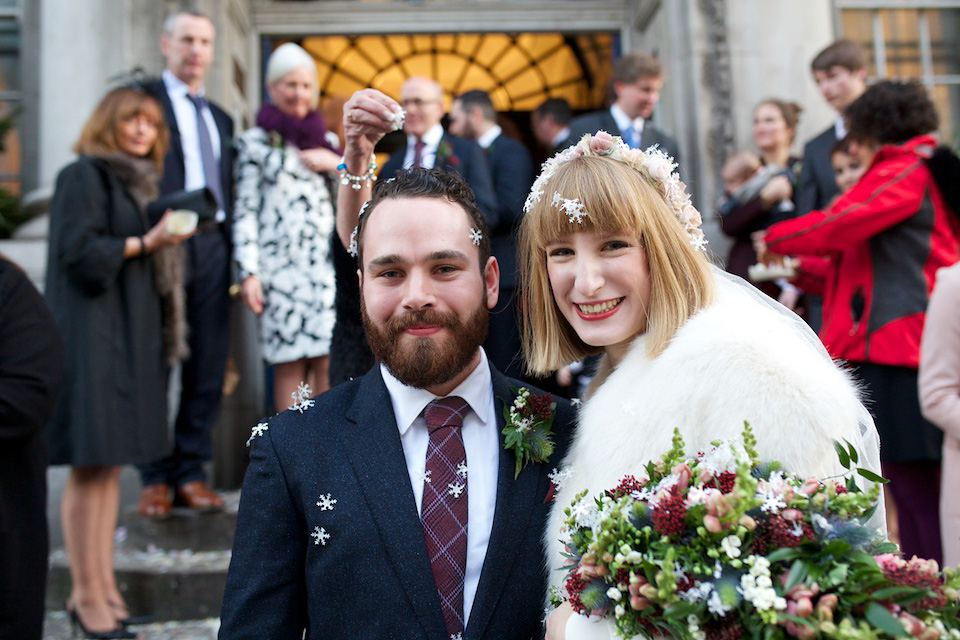 "Our florist is very local, her flower stand is next to Totteridge and Whetstone Station. I wanted my bouquet to look very natural and liked the idea of holding it over my arm as opposed to a stiffer hand held bunch. It meant that you could see the sleeves of my dress and the details of the cuffs. I also wanted it to look wild and wintery.
I spent a long time working out what sort of flowers could work with that shape and what the colours, but I knew from the beginning that I wanted thistles and splashes of red in there. Luckily my florist Claudia understood exactly what I was going for and talked me through all sorts of flowers which could work. So many flowers in there that I couldn't tell you any specifics but I was so pleased with the end result!
Claudia also made corsages for all our immediate family members and my two best friends from school who were my bridesmaids."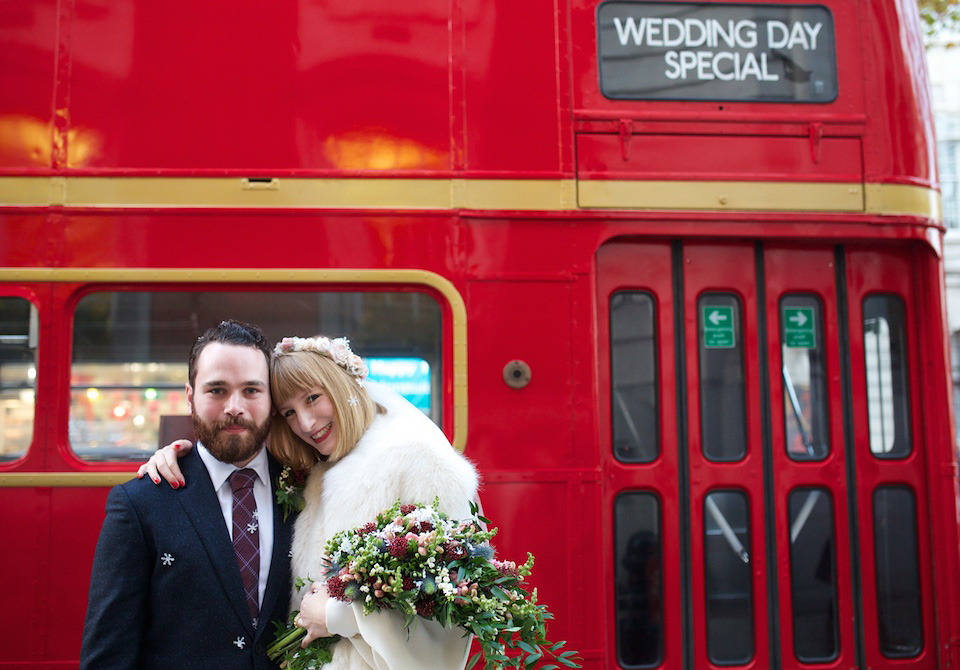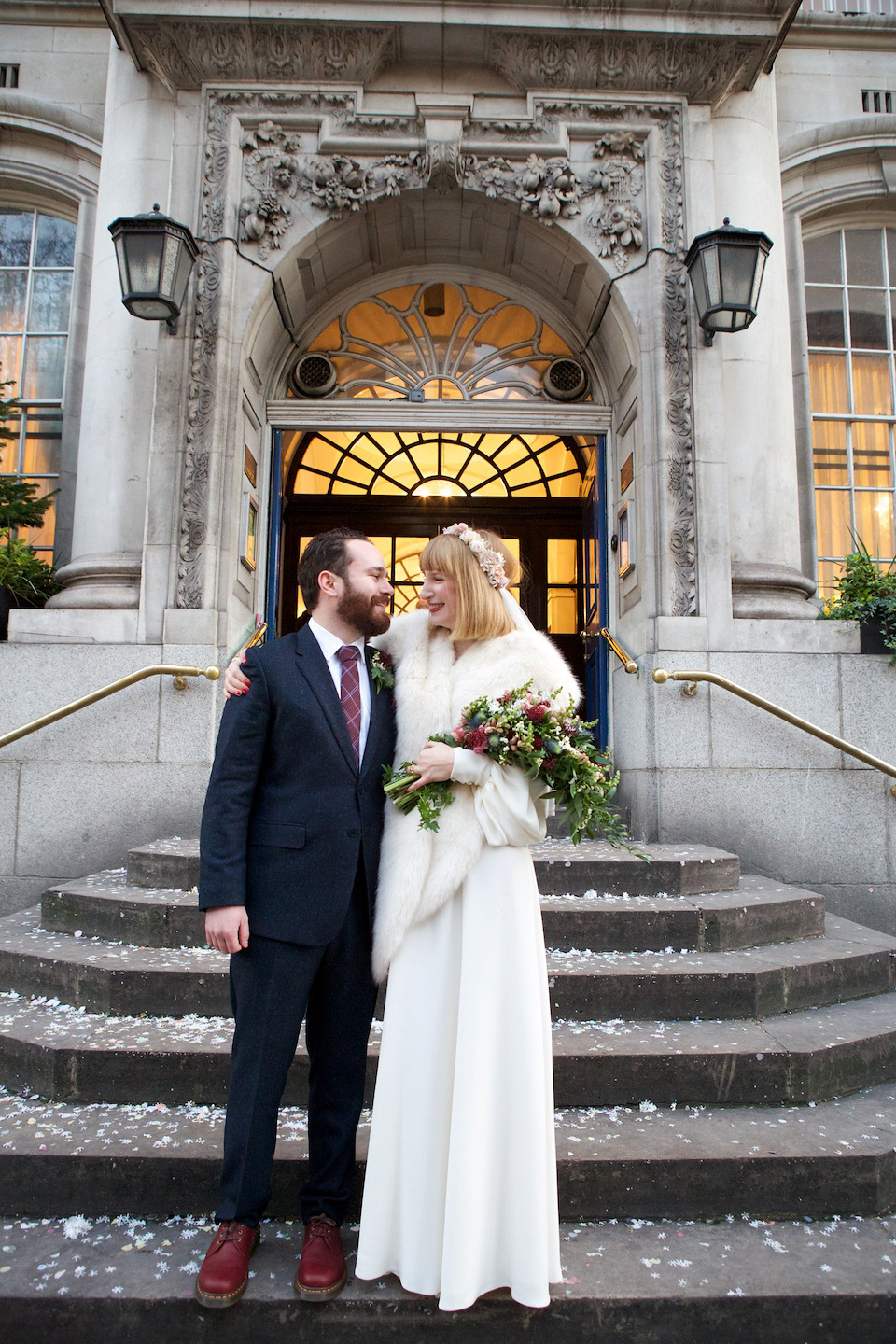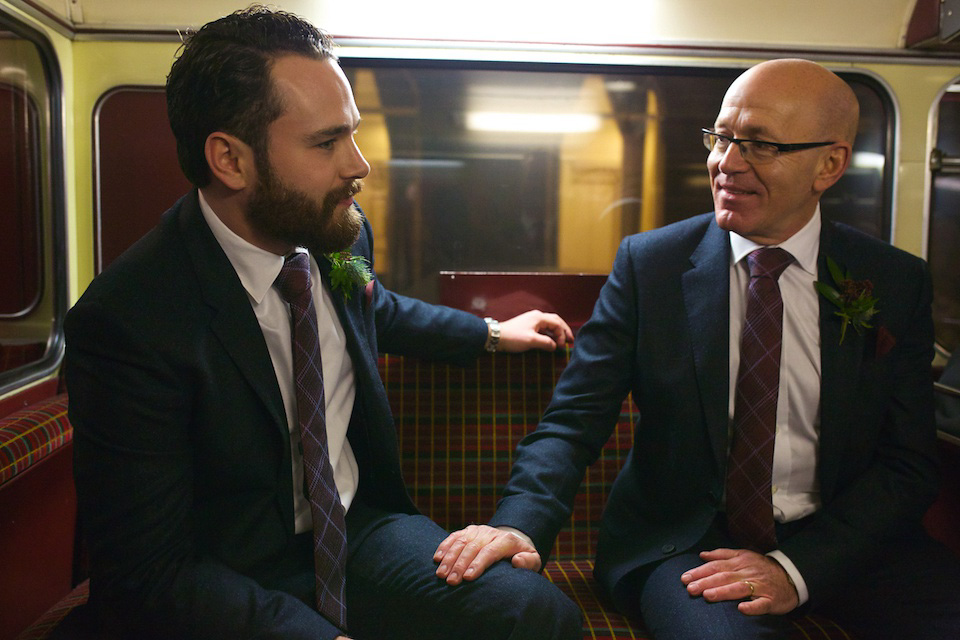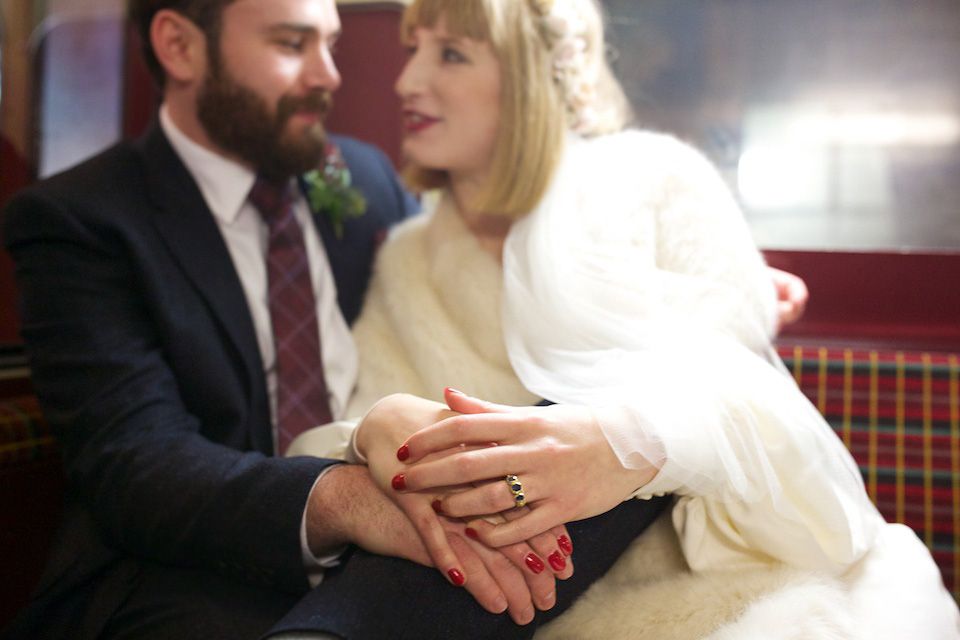 "We had an ongoing joke that Dan's mum Margaret should set up her own party planning business (Patsy's Party Planning – an Ab Fab reference there!) – she just thought of everything and it was all down to her that things ran so smoothly on the day. Dan and I were a bit too relaxed half the time!"
"We chose to get married in December because there is just something about that time of year – the smells, the festivity, the lights.  We wanted to have all of that atmosphere on our wedding day. And having the reception at home meant that it already had that sense of warmth and intimacy that was so important to us. We decorated the house with lots of candles, Christmas trees with gold and bronze baubles, and fairy lights dotted around – it looked really cosy.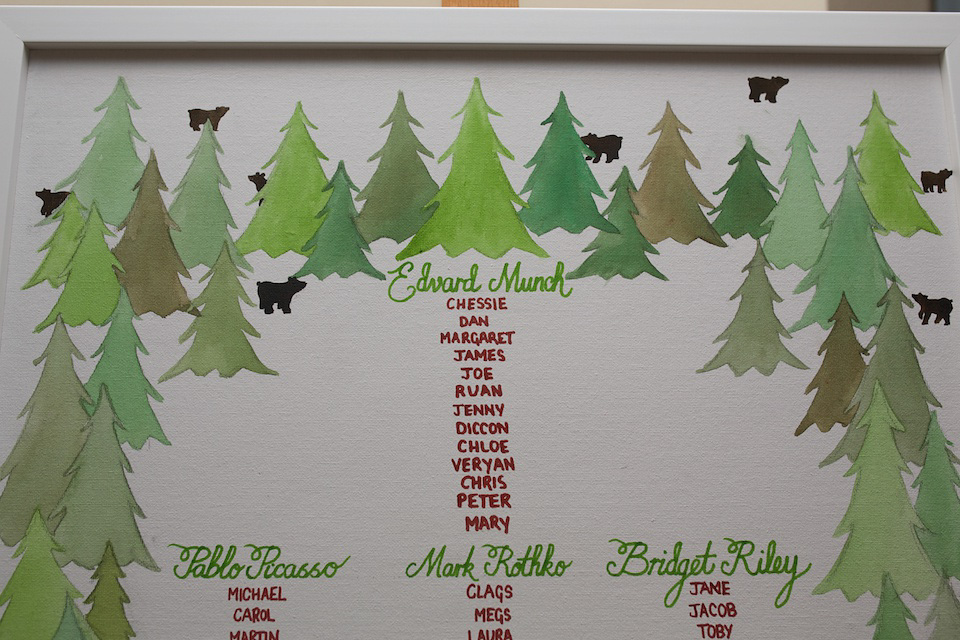 "We also had fairy lights running along the hedges at the front of the house, and lights on Christmas trees by the front door- it had such an amazing impact when we all came off our vintage red bus after the ceremony."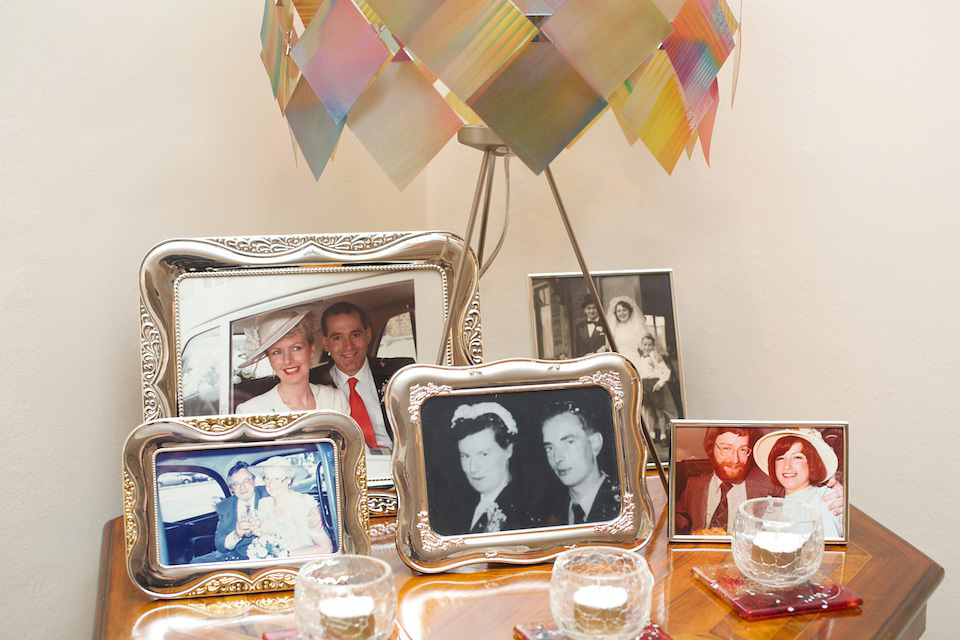 "We knew from day one that we wanted to have our reception at Dan's parents house. His mum held a small Christmas party there the year before we got engaged and that put the idea in our heads. We had always said that where we would get married would have to be somewhere that meant something to the both of us – and what better place than where we had spent so much of our time with family and friends!"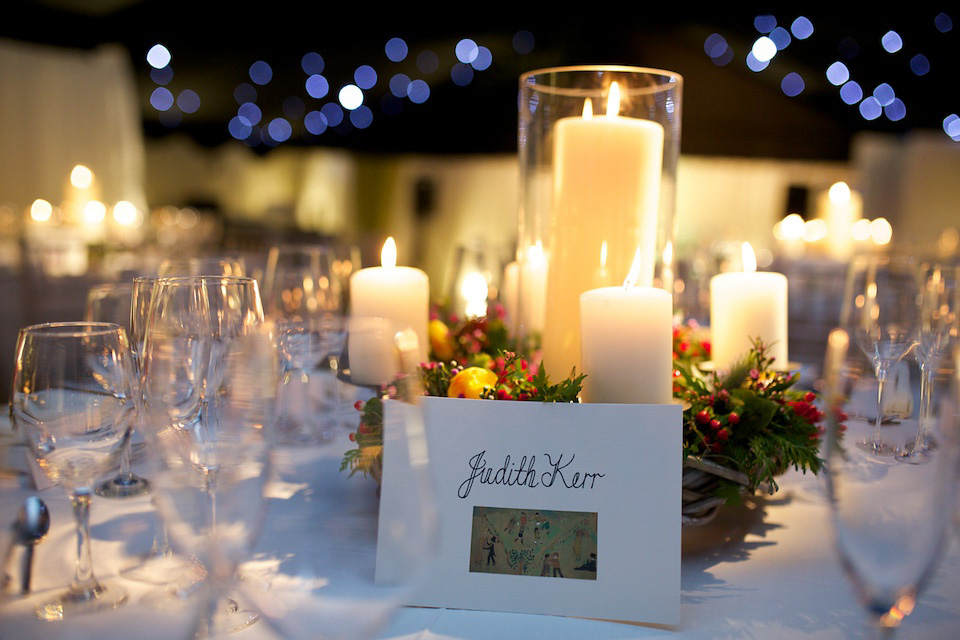 The house is a home so there really wasn't much we wanted to change about it! We added a lot of candles, and fairy lights were dotted around the place, but with the fire roaring and lights flickering, there just wasn't anything you would want to change!"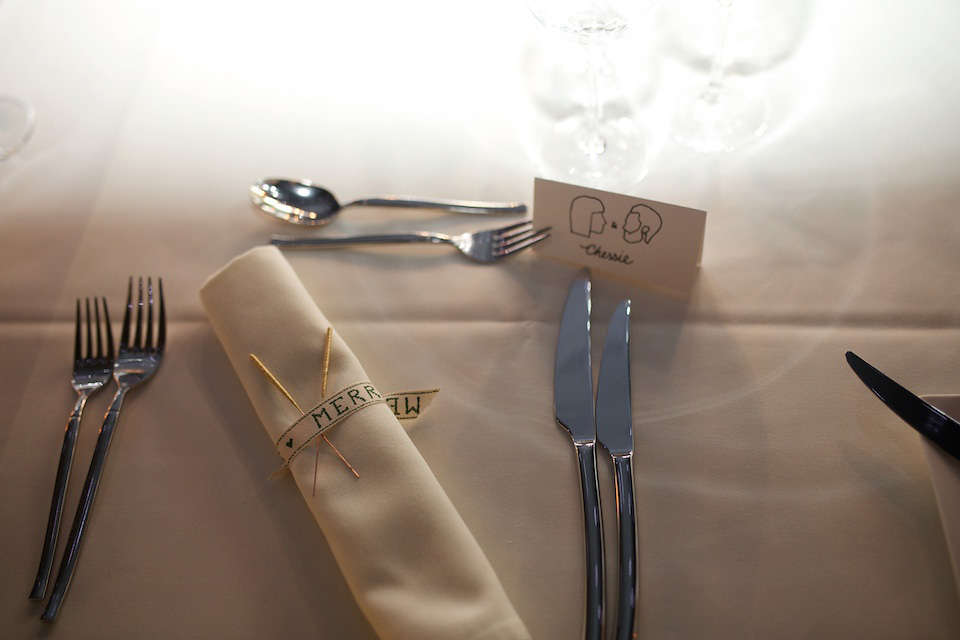 "There was one feature in the room that we added to though. Dan's mum and dad have a small table with photos of family members on their wedding days, which I have always thought is such a nice thing to have on display. On the day I added in a photo of my mum and dad on their wedding day as well – it was so nice to have both families on there!"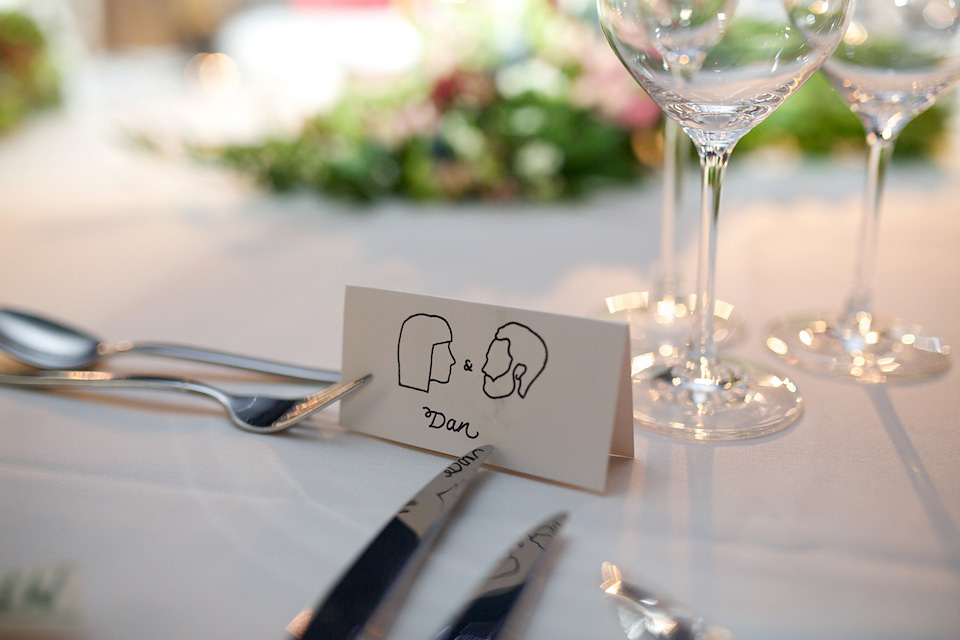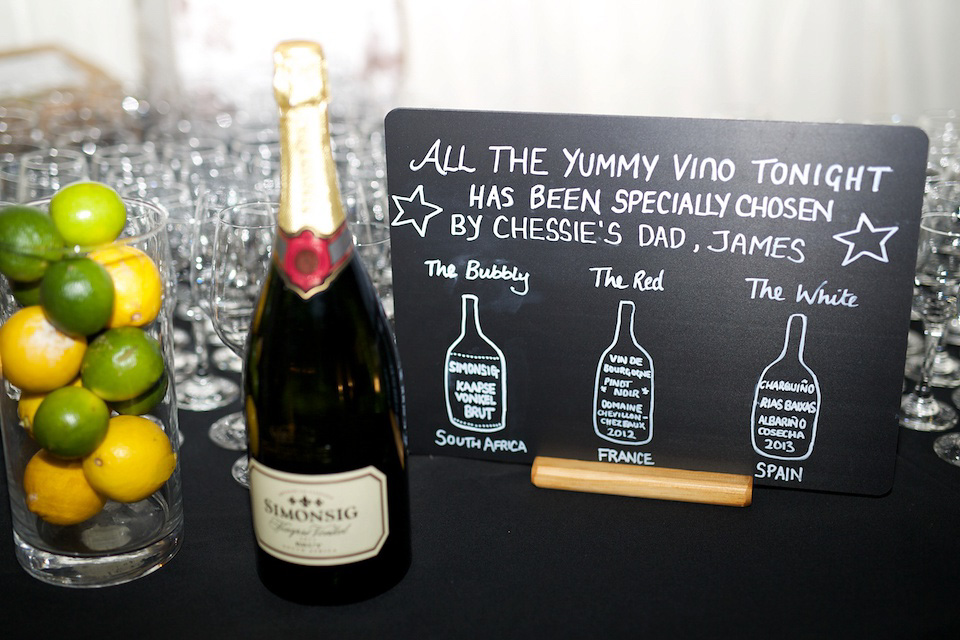 "I designed all our invites , table plans, and place cards – I really enjoyed coming home after work and doing it.
We decided not to do wedding favours, but everyone had a couple of indoor sparklers attached to their napkins instead."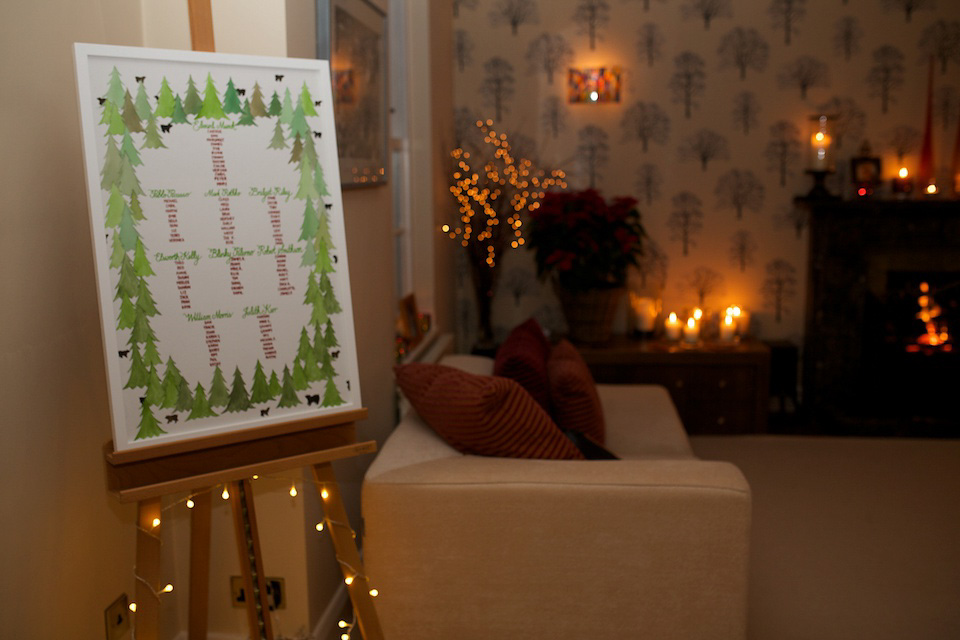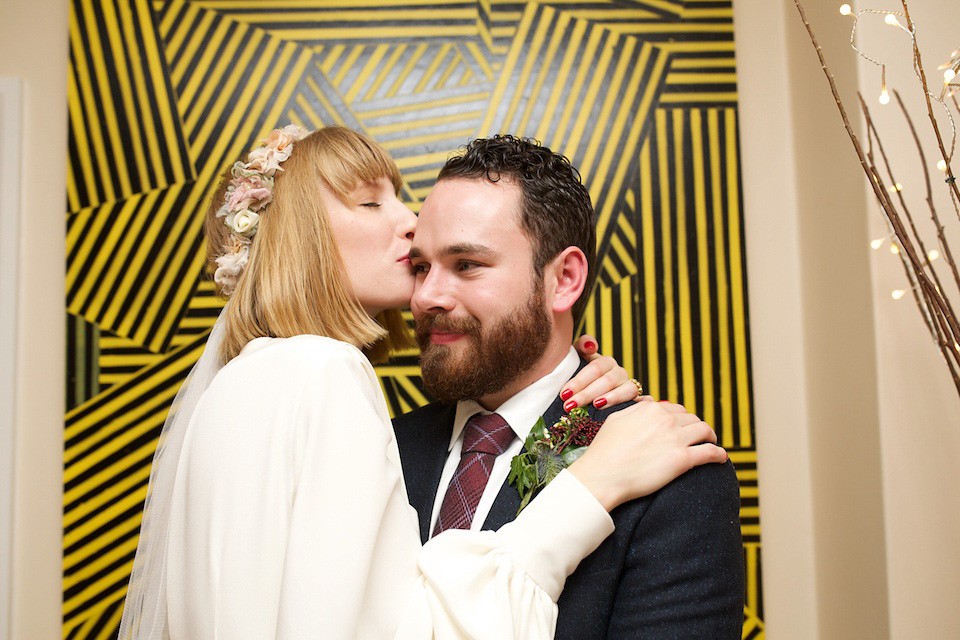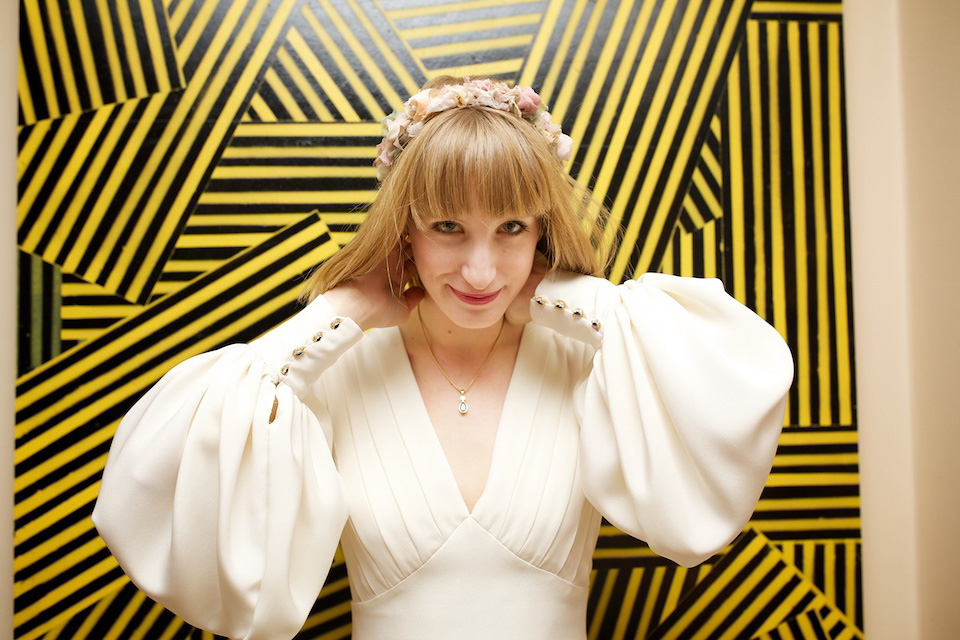 "We chose to have a DJ on the night – he was fab and even had the interesting combination of Jewish and Irish music on standby for Dan's relatives! We played a selection of music, but there was a lot of disco and funk!"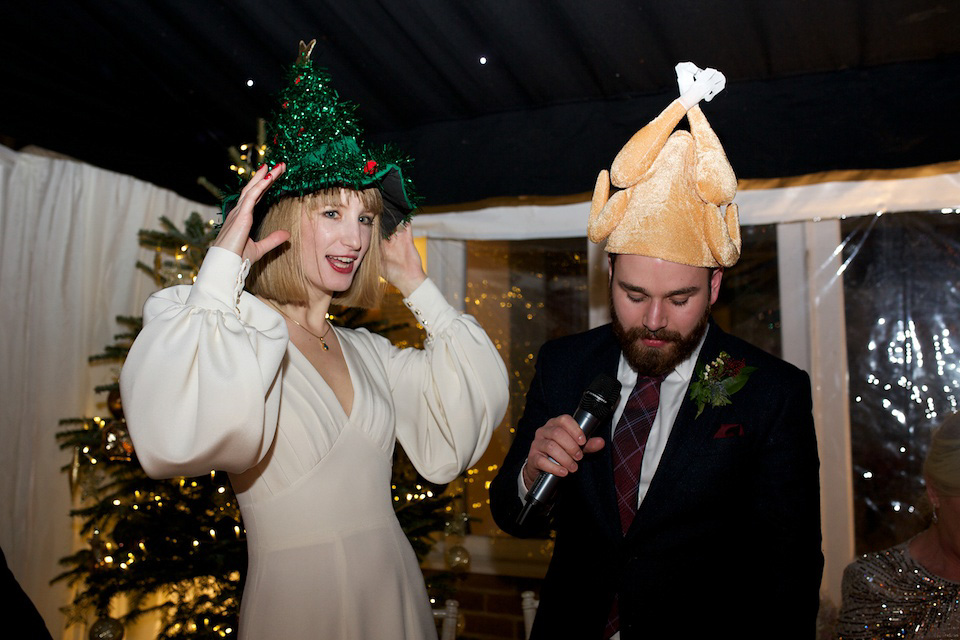 "We decided that the best way to guarantee everyone would get on the dance floor was to get everyone involved in the 'first dance'. So we decided to take some inspiration from Dans Jewish roots and have "Hava Nagila" as our first dance. We both sat on chairs and got hoisted up by family and friends – we were both petrified of falling off but it was so much fun!"
"It is so hard to think of one moment which was better than another – the whole day was just one big happy day! And it goes so fast! But as cheesy as it sounds for both Dan and I it was when our registrar said we were married. It was just such an amazing feeling. I remember looking at Dan and just thinking how amazing it was that we were there and that this was actually happening!
We were both so worried about all the little things in the build up to the wedding day – on reflection I wish we had just sat down and relaxed a bit more!"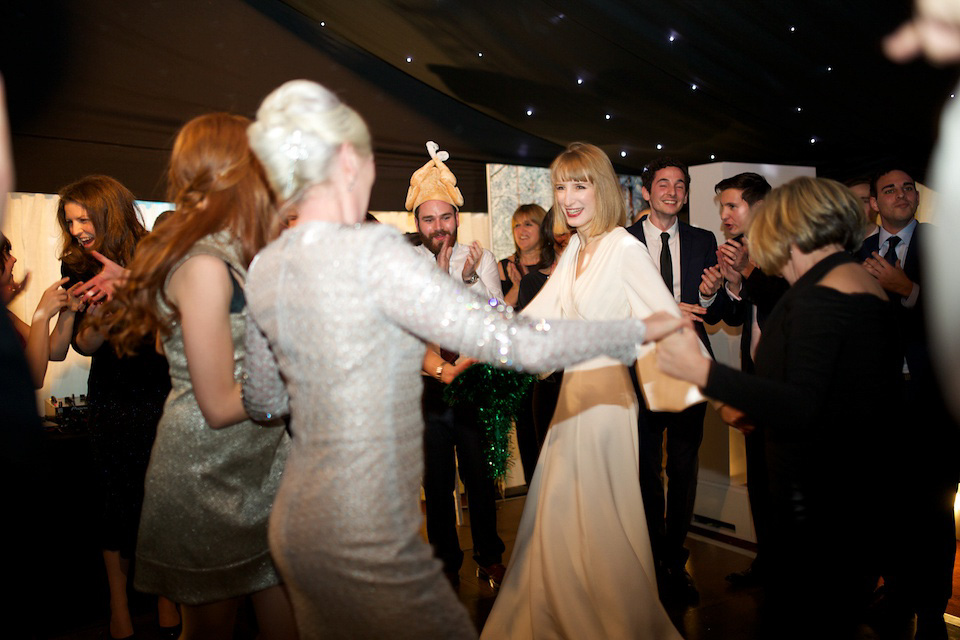 Words of Wedded Wisdom
"It's a big thing to organise but just don't let it take over! It can be stressful, but you just need to remember why you are doing it – trust me, its so worth it in the end."
I didn't think you'd mind being escorted back to Winter time, when it was this pretty 🙂 Might you be planning a winter wedding of your own? Also, brides, if you adore Ossie Clarke 70's style too, you might want to check out these 70's inspired weddings.
Huge thanks to photographer Sharon Cooper for sharing these images today.
Much love all,
Annabel xx
Photographer – Sharon Cooper Photography
Venue – Chelsea old Town Hall + the groom's parent's home
Veil – Minna
Shoes – ASOS
Perfume – Chanel Coco Mademoiselle
Grooms Suit – Paul Smith
Rings – Ruth Tomlinson
Catering Company – Food Events
Stationery – DIY