I'm writing this in the midst of a torrential downpour, and it's hard to believe that it's nearly July! I hope that the weather cheers up soon and that anyone venturing off to Glastonbury this weekend escapes a mudbath! In the meantime, today's wedding is a reminder of what summer should look like.
Sairah married Ian in glorious sunshine at the East Anglian Railway Museum in Essex on the 2nd of August 2014. This is what happens when a fashion designer (Sairah) and a rock musician (Ian) get hitched: the most elegant lace wedding dress, navy silk bridesmaid gowns, a dapper groom and a whole host of stylish guests.
Photography by Emma Sekhon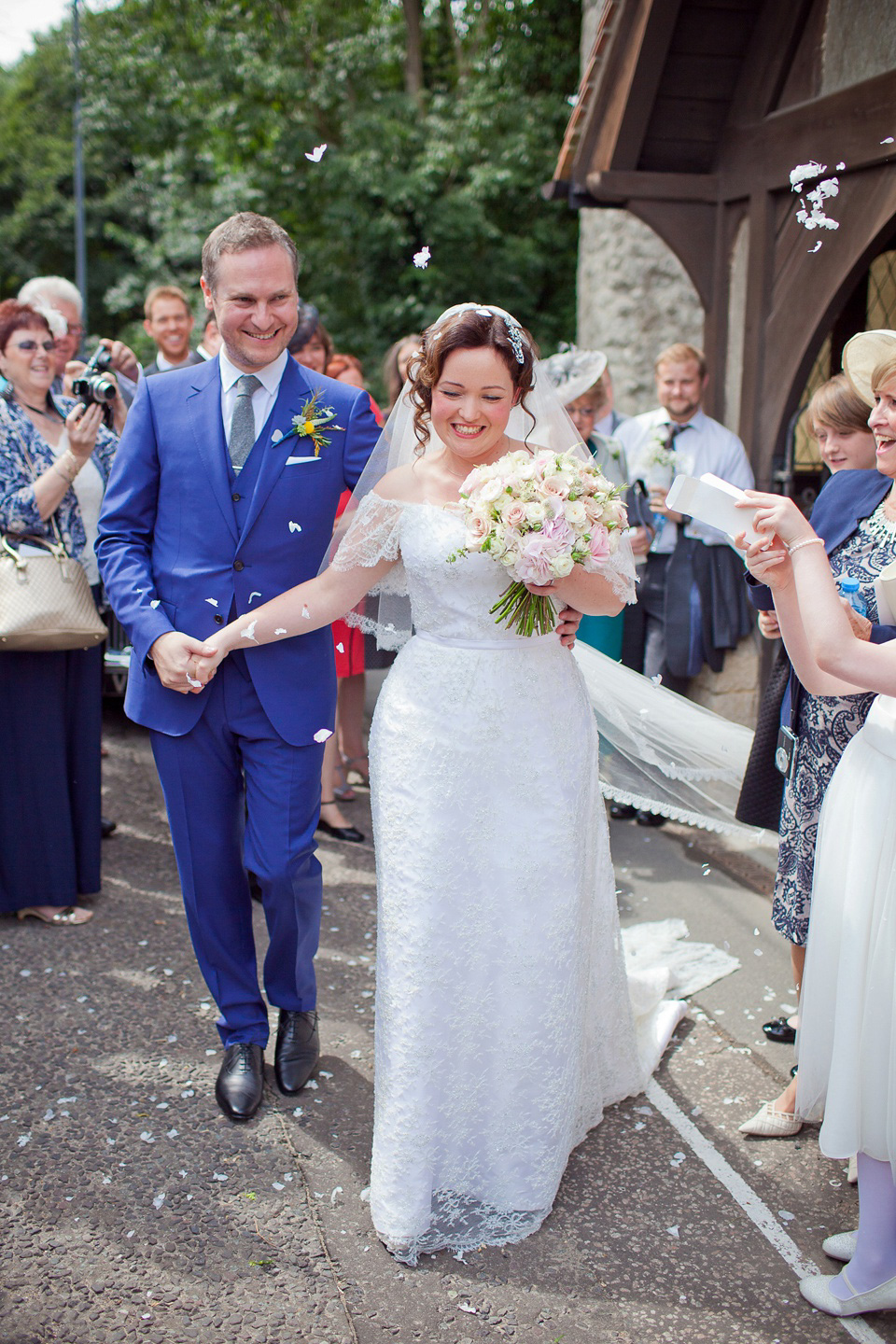 "We didn't really want our wedding to be themed but with the railway setting we did bring a few railway touches to the wedding. "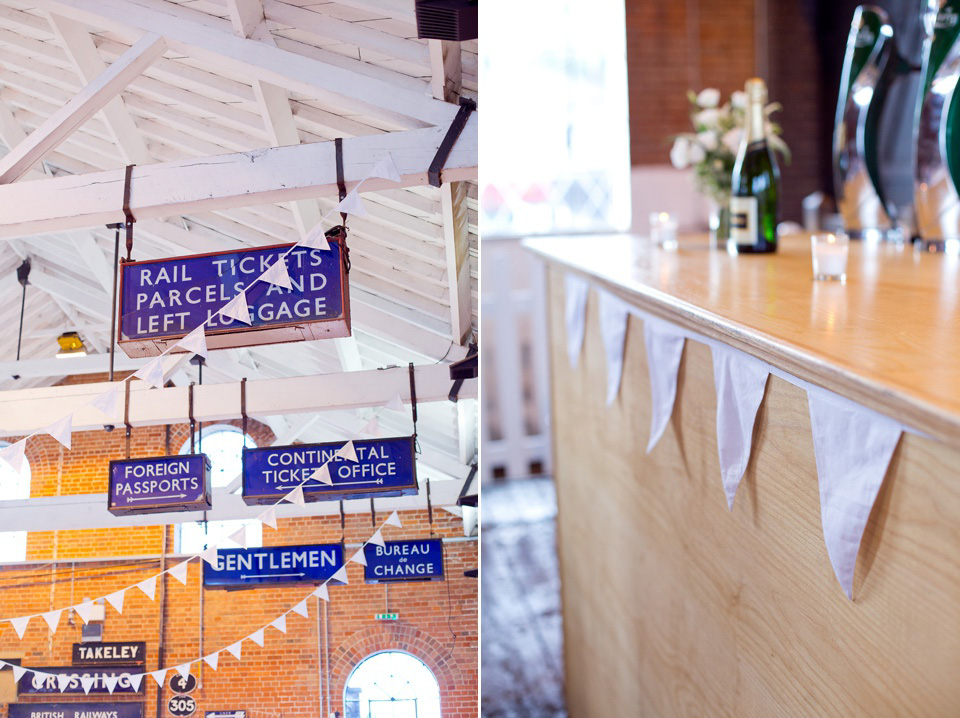 "The navy blue colour ran through, mainly because it is a colour we both like and also suited the venue with all the railway signage in blue. Overall we wanted things to remain stylishly simple with a touch of pretty elegance."
We love featuring Emma Sekhon on Love My Dress and her beautiful imagery of Sairah and Ian's wedding is no exception. You can see more of her gorgeous photography here.
"We couldn't recommend her enough, she made everyone feel very comfortable the whole day."
The elegant bouquets were put together by Helen Newman.
"We had a wonderful florist, Helen Newman.  Beautiful bouquets and venue flowers, we really loved the men's buttonholes too.  We wanted simple elegant flowers that were right for the time of year, that suited the English backdrop of the church and the Victorian Railway station."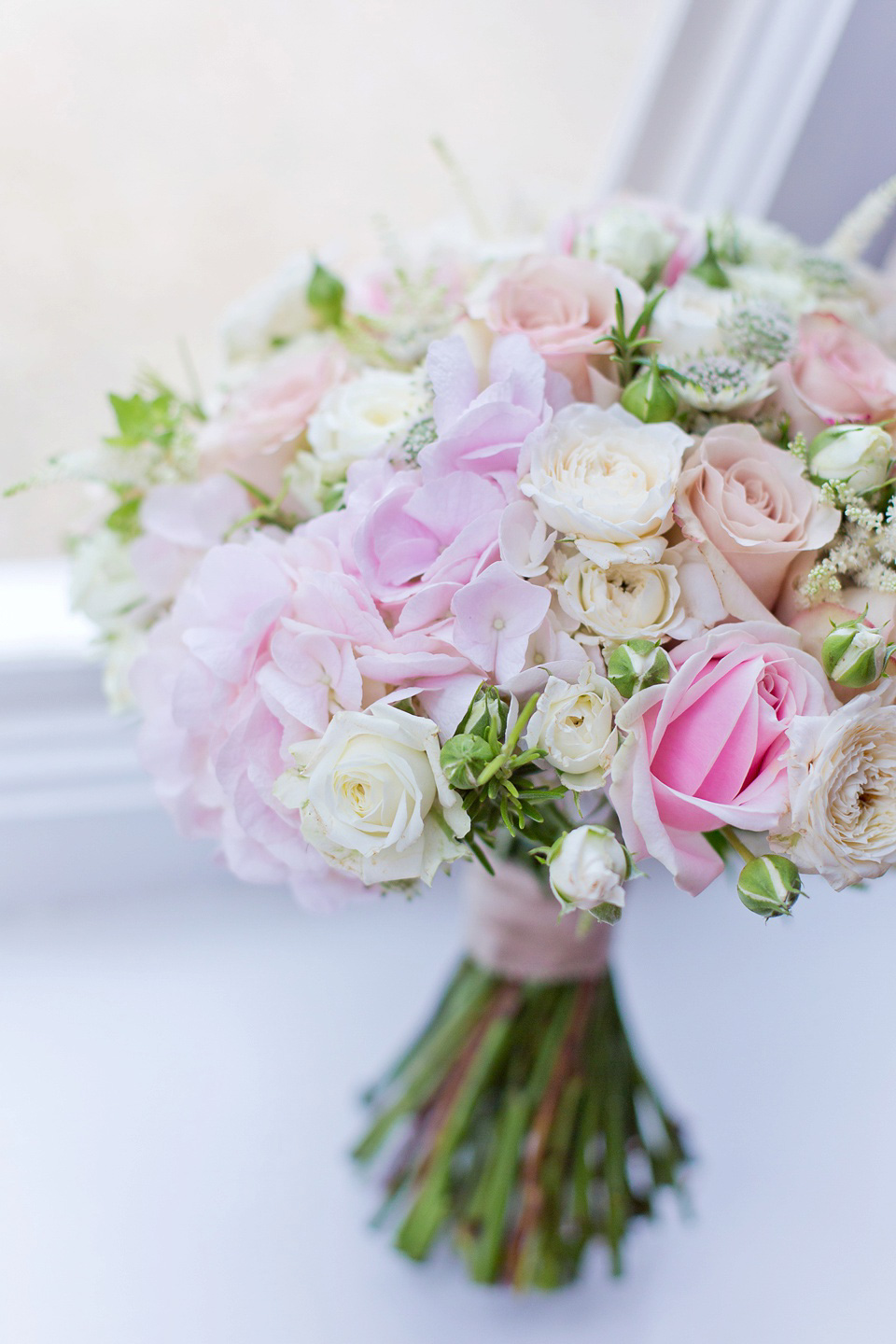 Sairah chose fabulous gold heels by Jimmy Choo, which were bought for her as a gift from a special friend. She also wore a diamond necklace and earrings by Tiffany.
There was only ever going to be one designer Sairah could entrust to make her dress… herself!
"Sairah designed her dress. It is made from French Solstiss lace, which took over three months to bead in France.  It was only right after working in Couture for many years and making so many other brides dresses that I got to design my own dress.  My wonderful team of seamstress ensured I thoroughly enjoyed the experience too."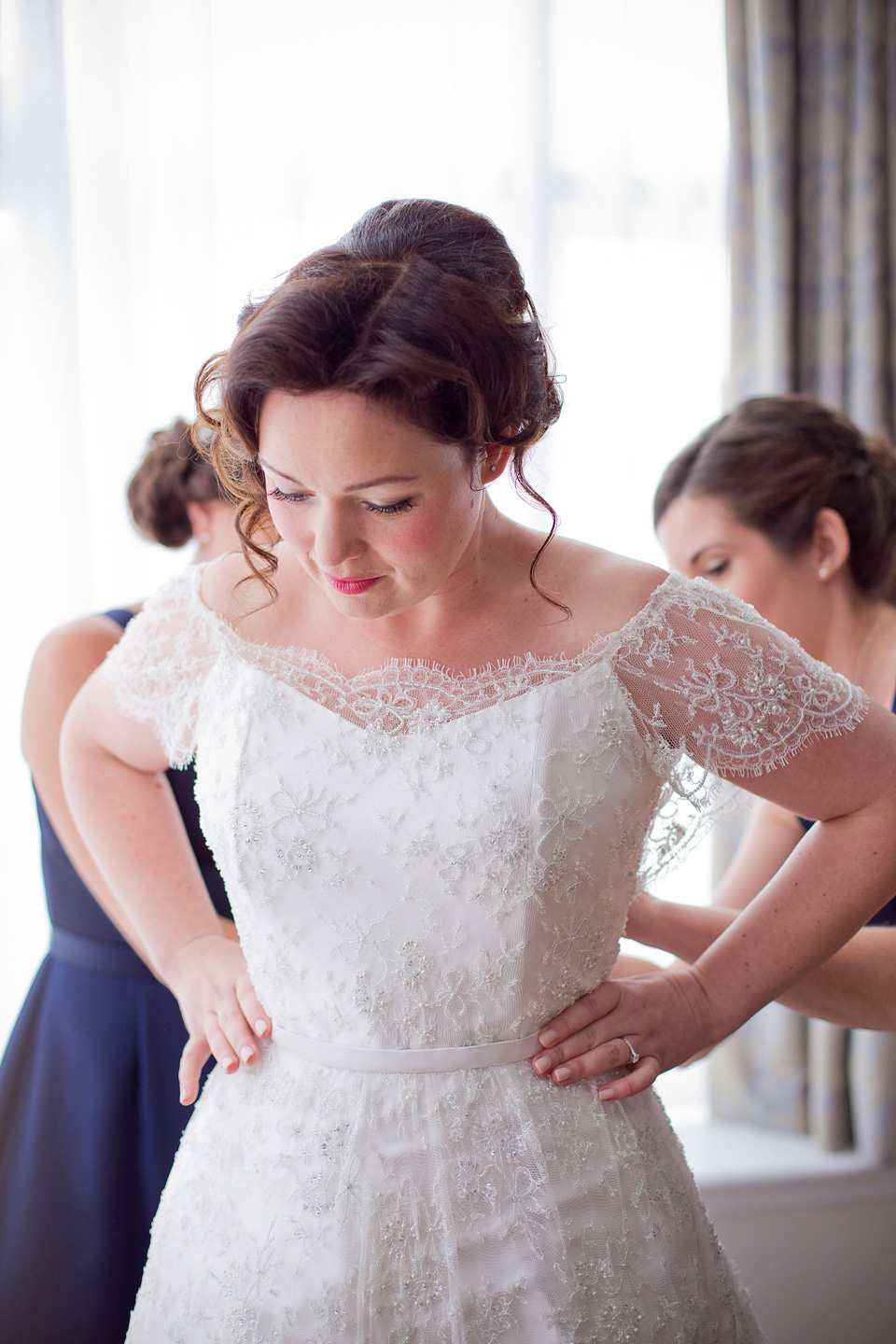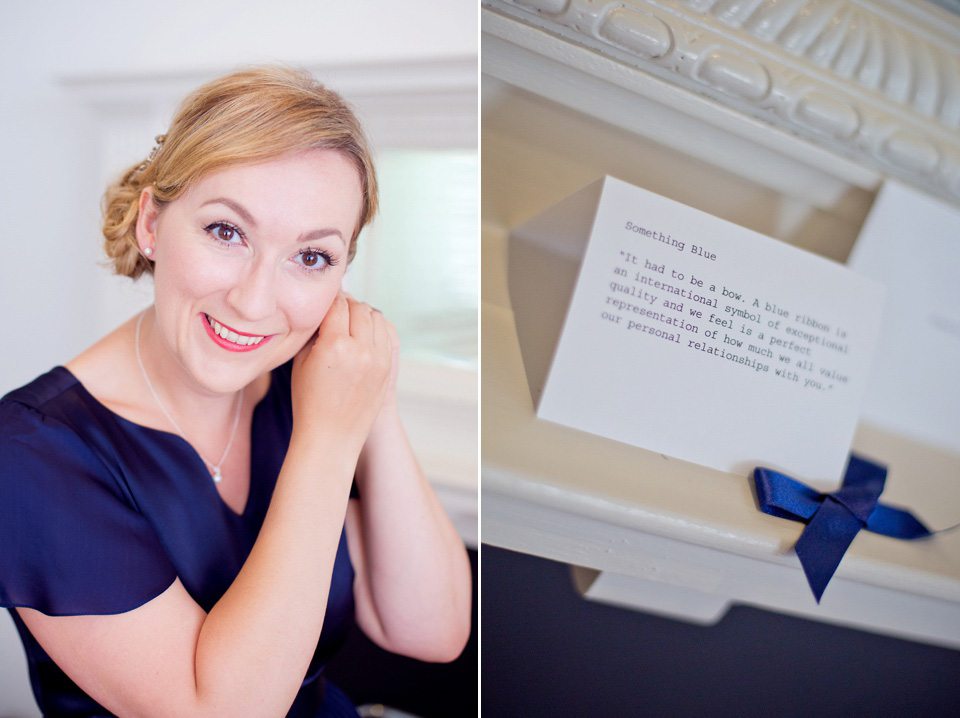 The bride and bridesmaids each wore bespoke headpieces by Rosie Weisencrantz. The navy blue silk dresses were selected from Sairah's designs by each bridesmaid and made to measure.
 "Each bridesmaid was given a  silver with pearl necklace and earrings and co-ordinating navy blue clutch bags with personalised names engraved."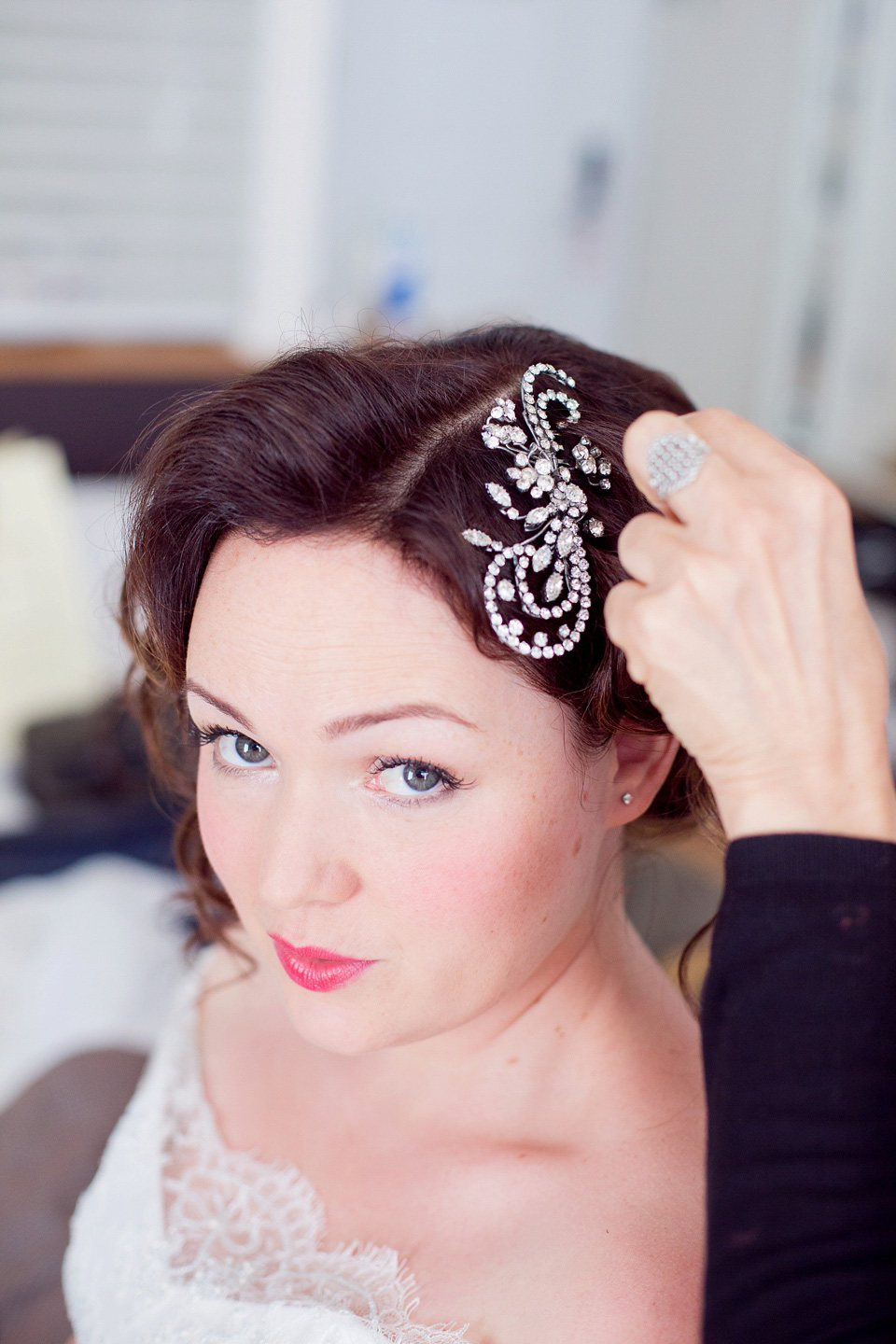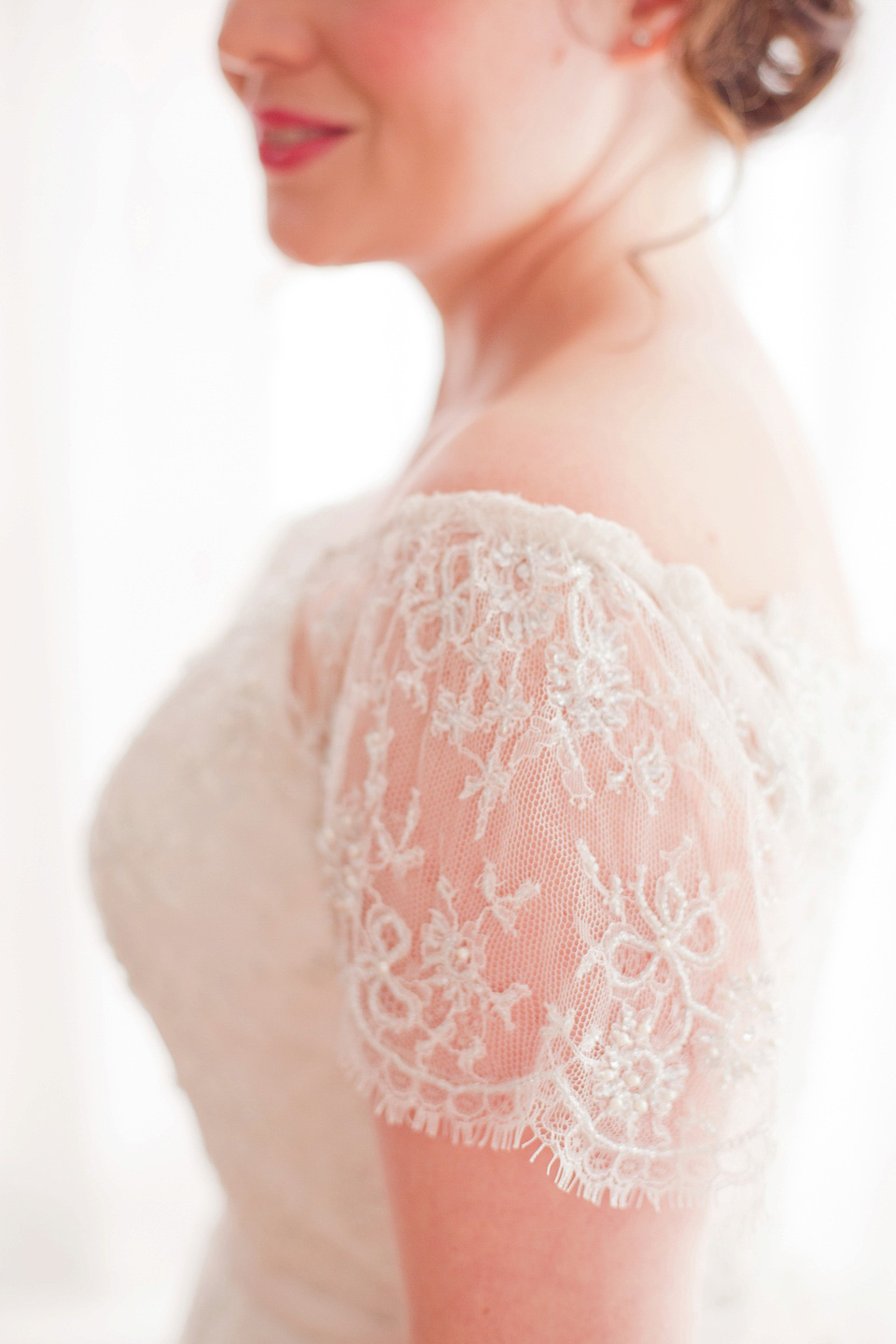 Sairah and Ian both chose scents by Byredo; Sairah's was 'Tulip' and Ian's was 'Sunday Cologne'.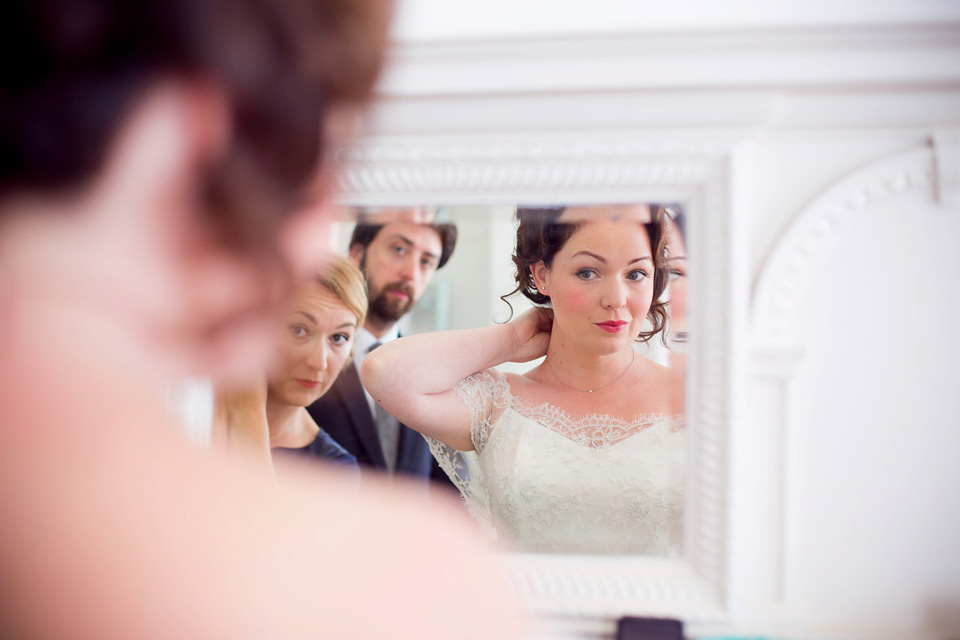 Sairah also designed her veil, which was silk tulle with fine lace trimming and measured 3.5 metres long.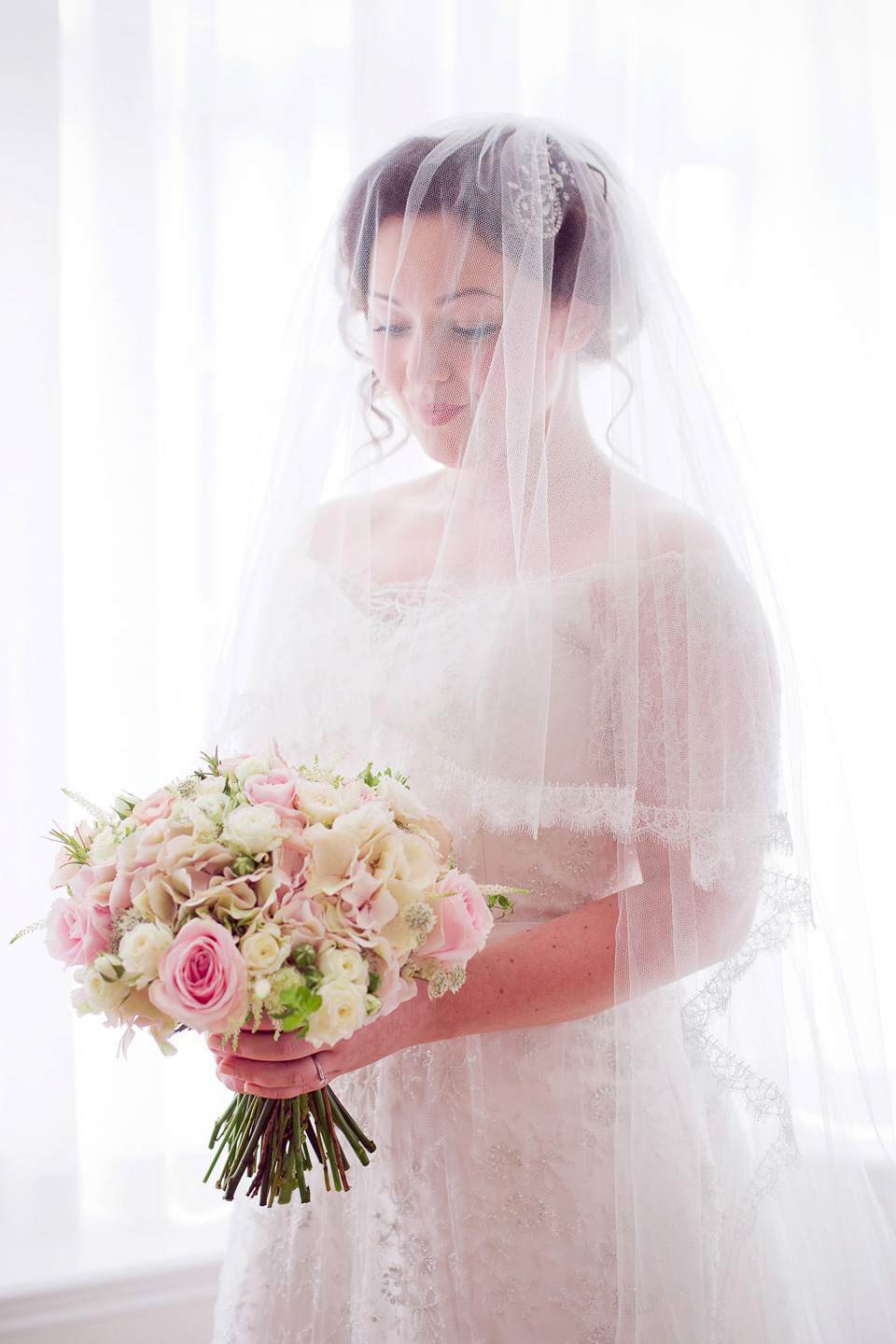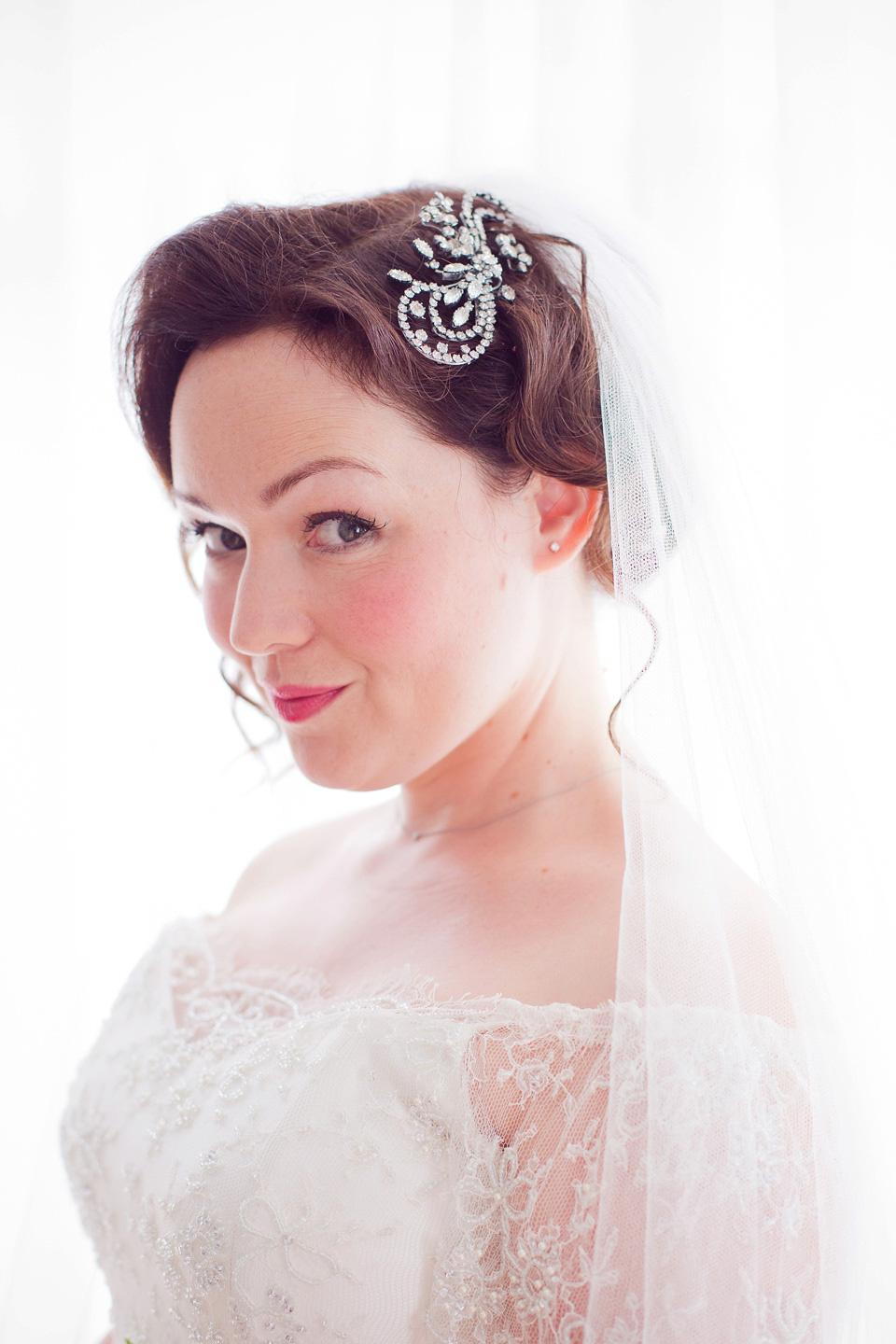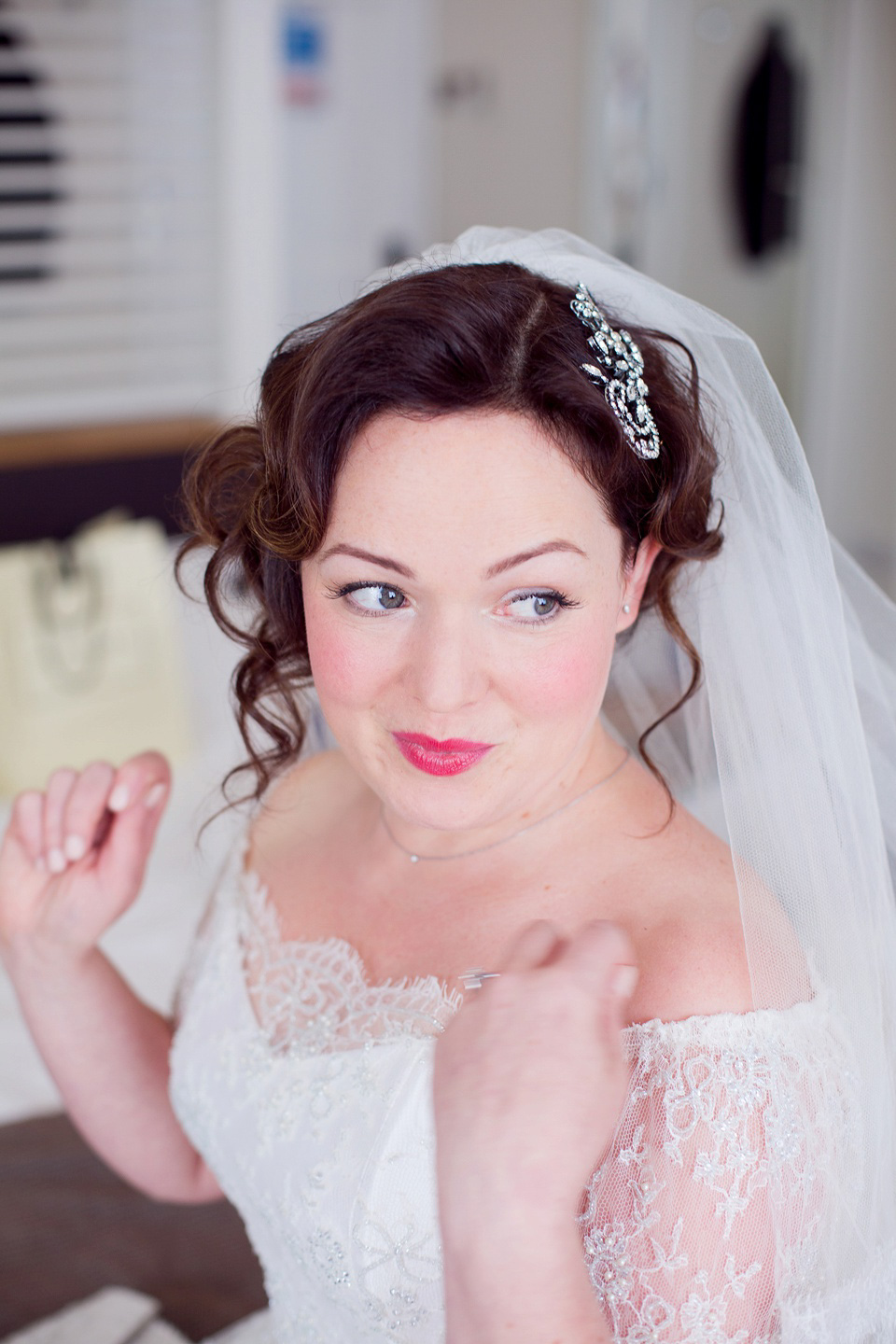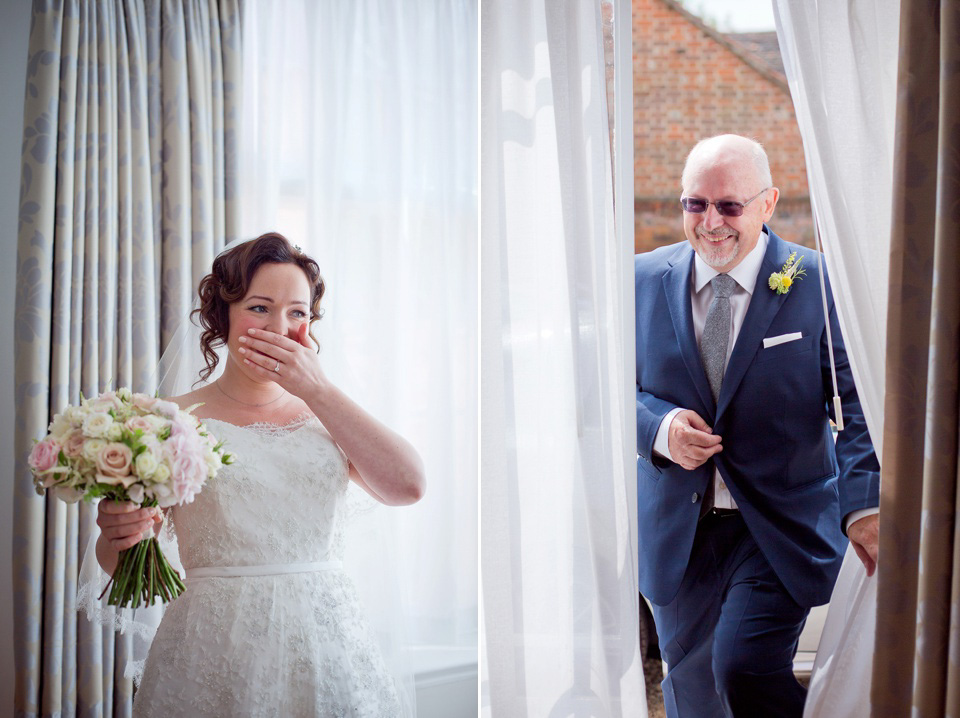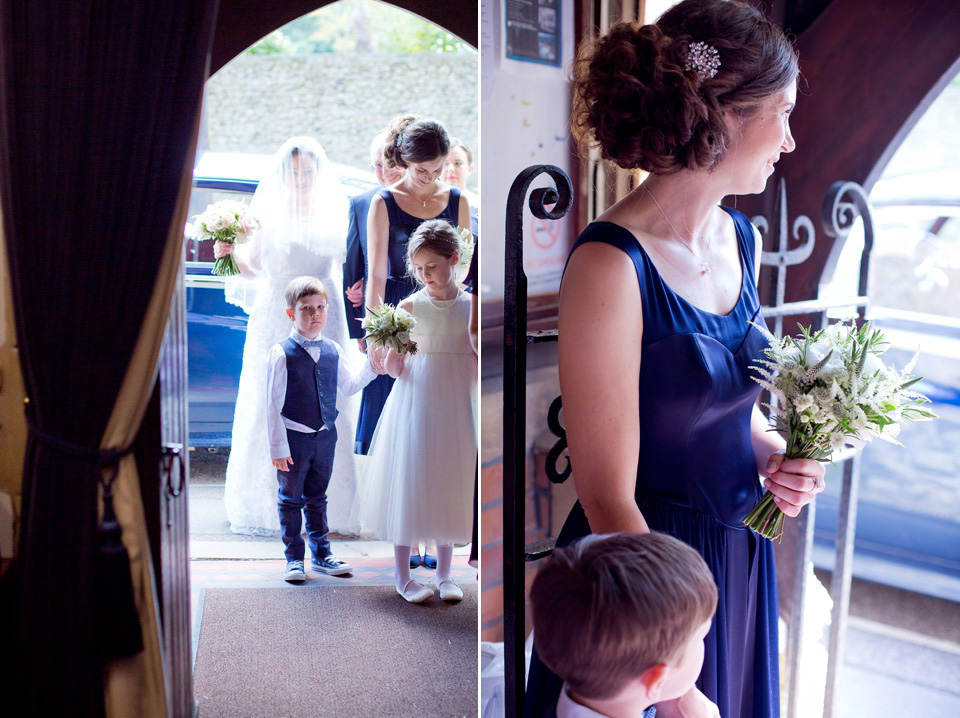 The groom wore a three piece suit by one of my favourite designers, Lanvin. He accessorised with YSL shoes, a tie clip also by Lanvin, and a tie and pocket square made bespoke by Faulkner London.
"We actually went to secondary school in the same town, but never met.  Well actually Sairah remembers Ian at one party around the time they were 18… some years later they became friend through a mutual friend and fell in love.  Ian proposed some five years later at a favourite spot of theirs in the Lake district.  They then married two years to the date later."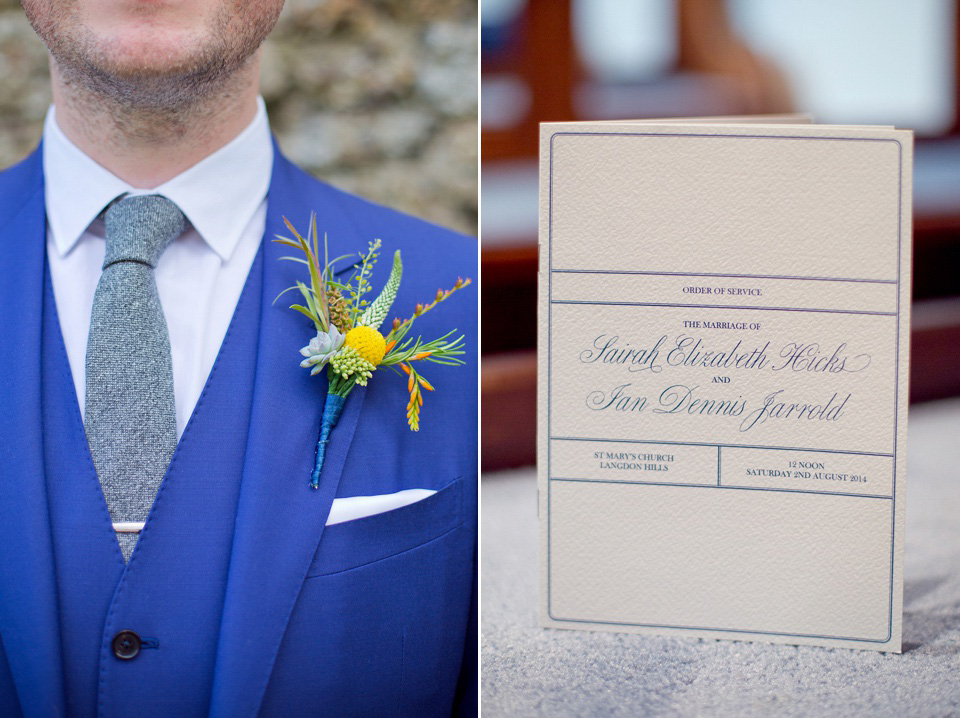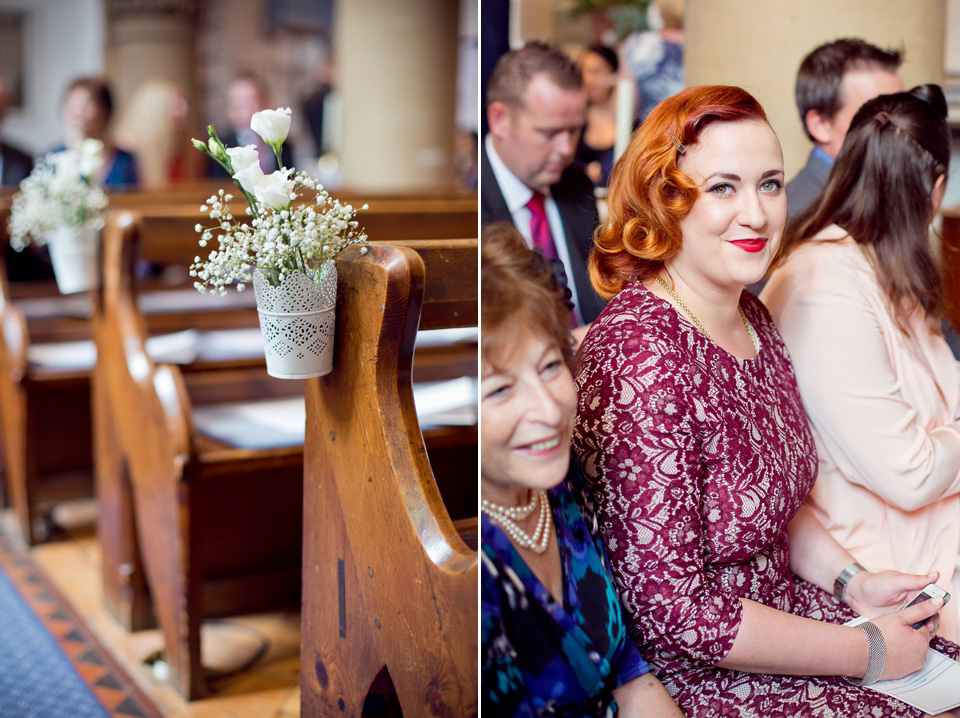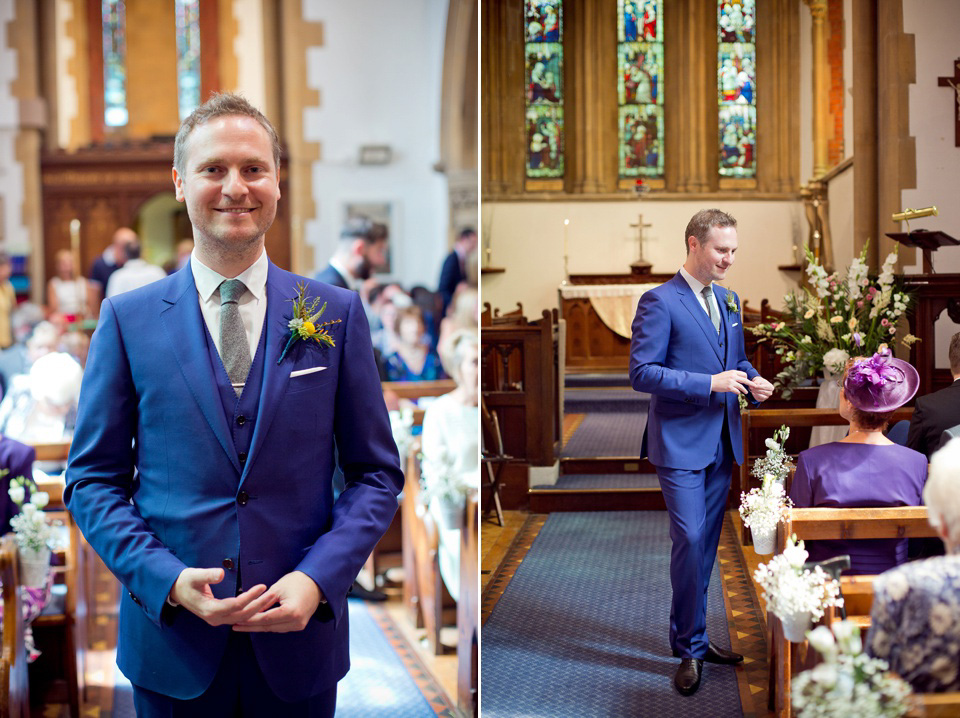 The couple were wed in a church ceremony and chose 1 Corinthians 13 and Shakespeare's Sonnet 116 as their readings.
 "Our vows were the best part of our day. Saying our vows and feeling so much overwhelming love in one room."
"We had a wonderful experience designing and having our rings made by Brett at Hearts of London.  We wanted him to make our ring as he had designed and made Sairah's engagement ring."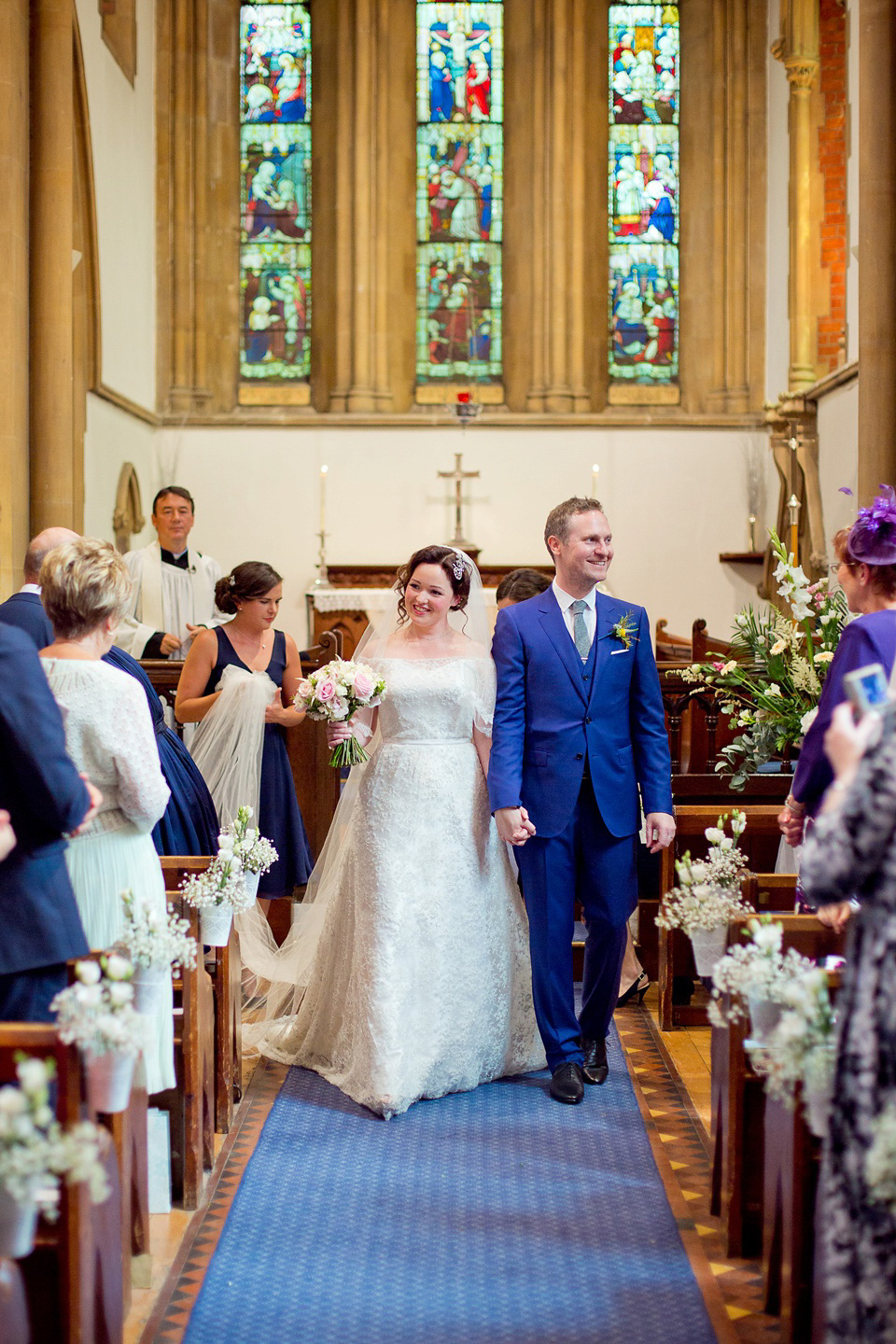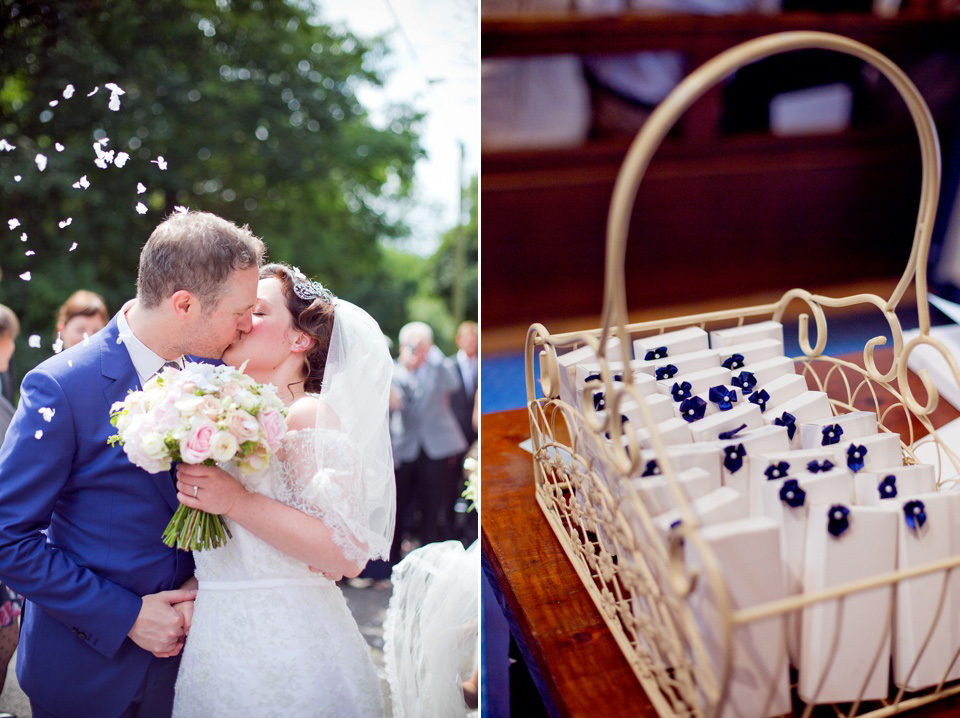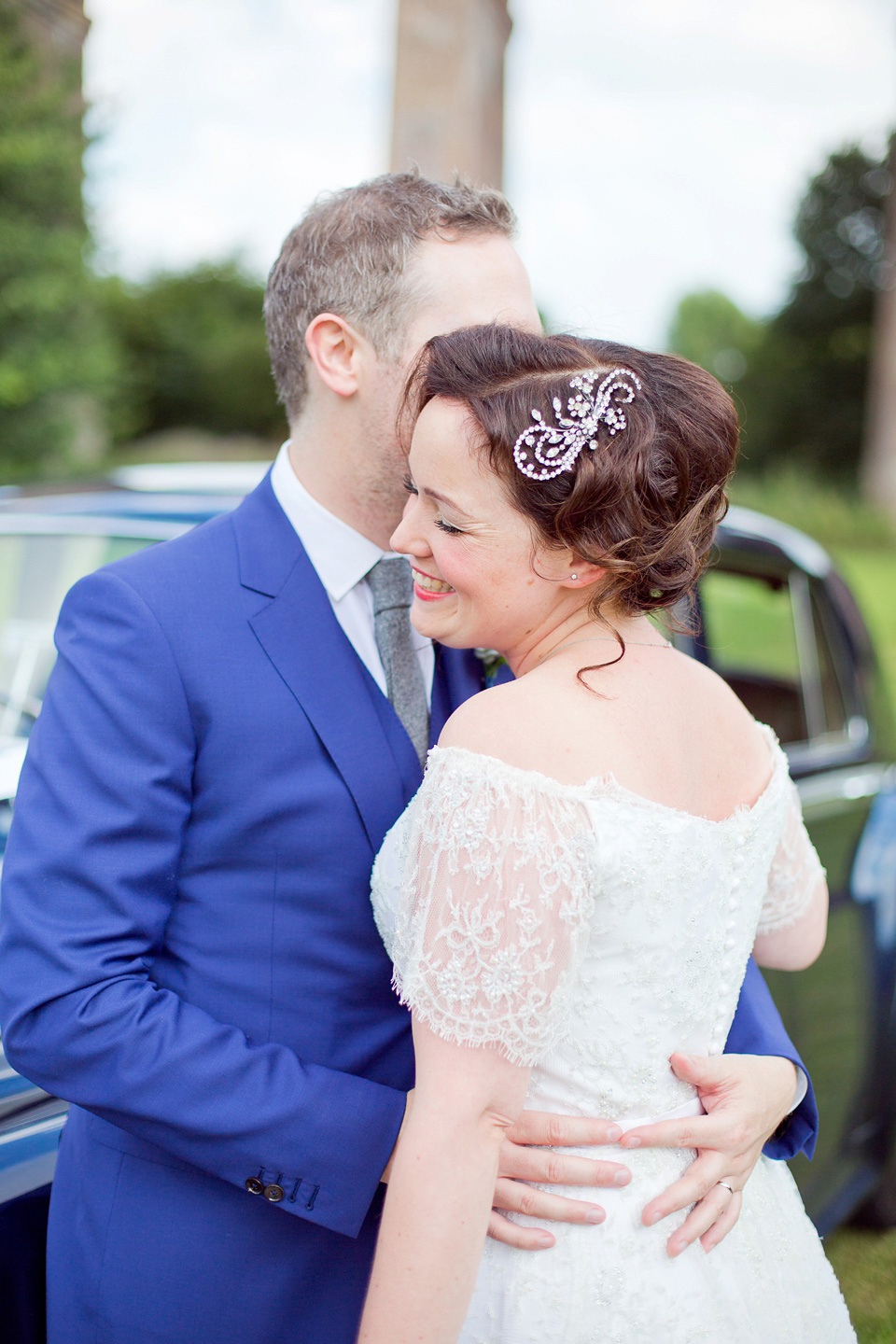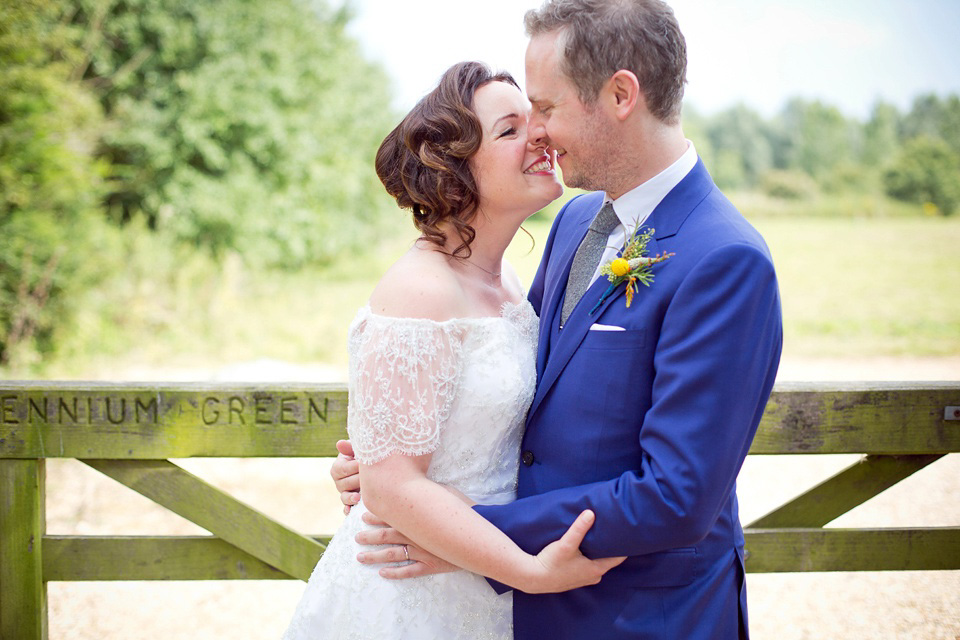 After marrying in a church ceremony, the couple were whisked off in a 1957 navy blue Bentley S1 to the East Anglian Railway Museum for the reception.
"We fell in love with the venue, the beautiful space, it was the blank canvas we were looking for to fill with everyone we love. Ian also plays in a band called 'I like Trains' so it all seemed somewhat appropriate!  We both grew up in Essex and it felt right to go back there to get married."
"We had made some train style signs of significant places to us both throughout our time together.  We had some wonderful bunting and lots of detailed features hidden around the venue."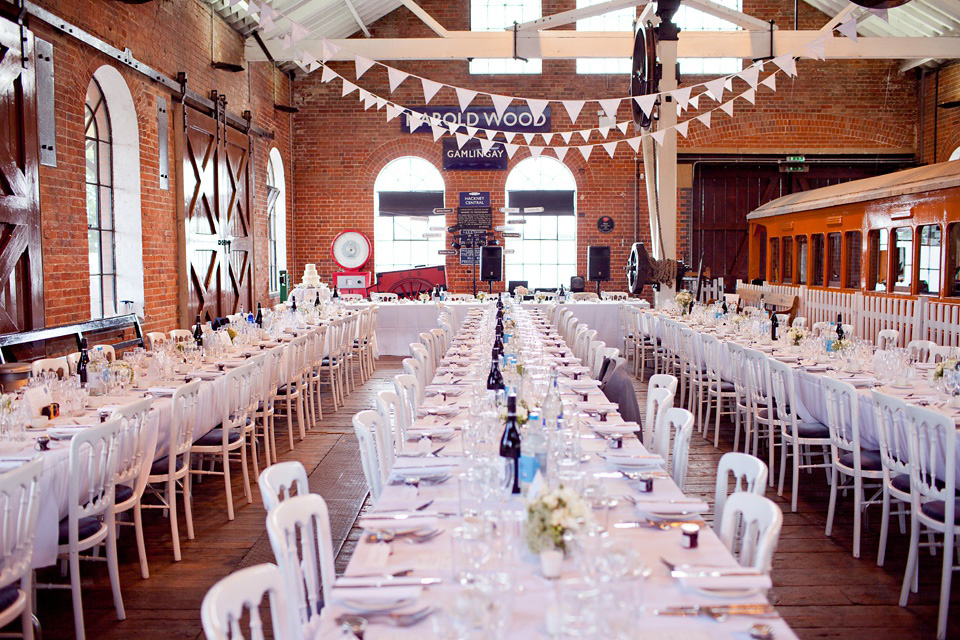 "Vanilla Patisserie made us our own cake designed by us.  We had a strong idea about porcelain looking flowers with pearl type beading and they made the cake beautifully.  Each tier a different flavour.  We also loved that they made special gluten free and diabetic cakes for certain guests."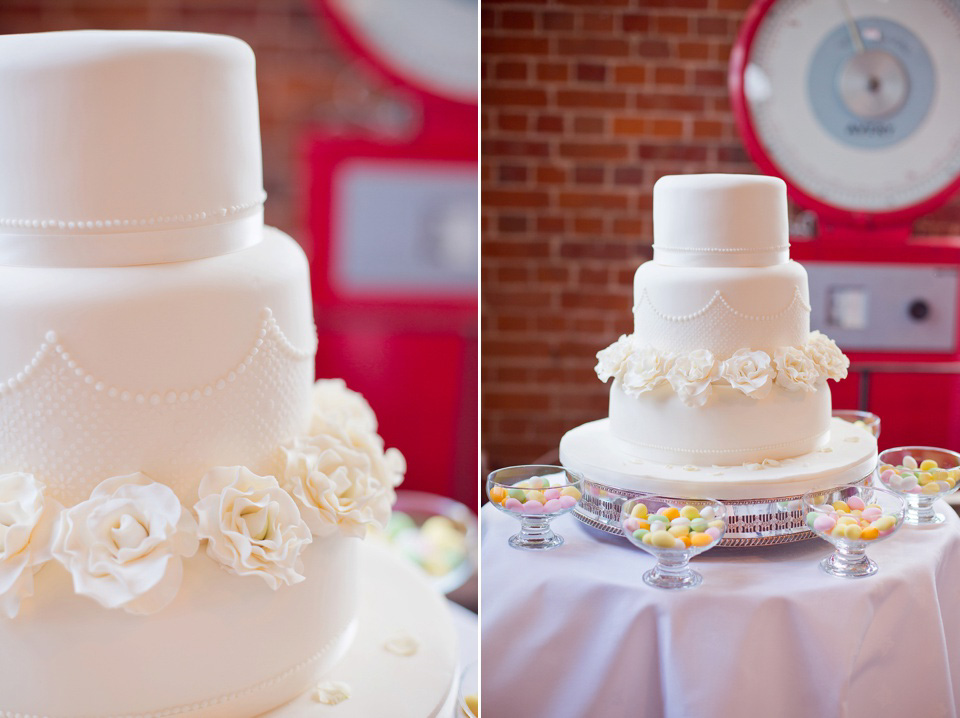 "For favours, we had some local Tiptree Strawberry and Champagne jams made with our names on, very cute."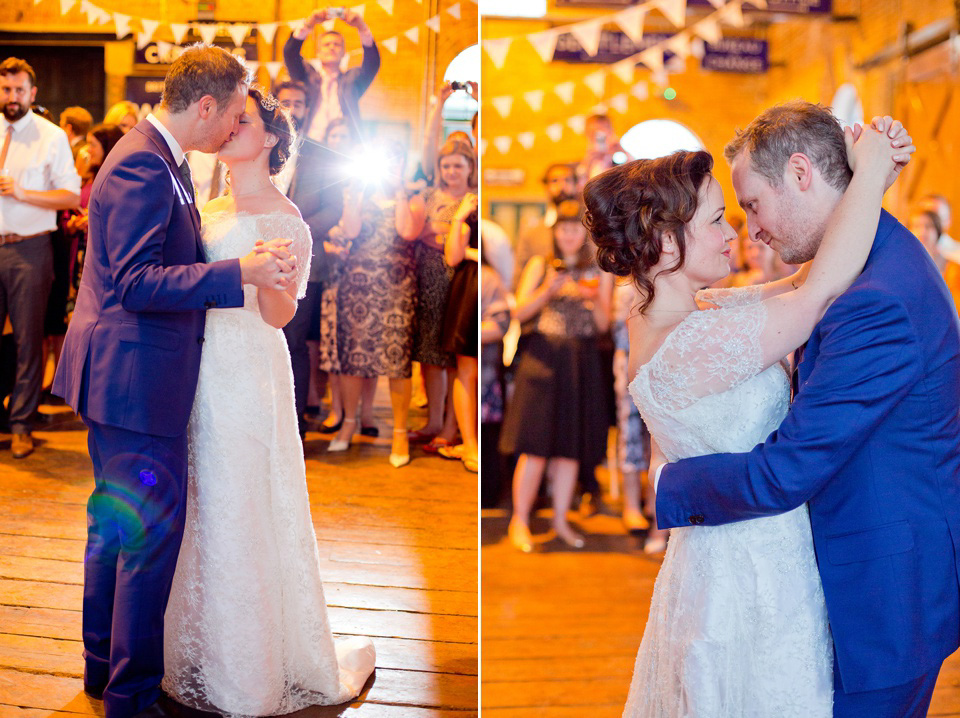 Wow, what a super-elegant and stylish day. For anyone looking for an alternative wedding venue in Essex with a vintage feel, you should most definitely check out the East Anglian Railway Museum…unusual and beautiful. Congratulations to Sairah and Ian and thank you for sharing your special day with us. Thanks too to Emma Sekhon – your sunny images have brightened up my day today.
Have a lovely Thursday everyone.
Love Louisa xx
Photographer – Emma Sekhon
Venue – East Anglian Railway Museum
Wedding dress, veil + bridesmaids dresses – designed by the bride
Bride and Bridesmaid Headpieces – Rosie Weisencrantz
Bride's shoes – Jimmy Choo
Bride's jewellery – Tiffany
Groom's suit – Lanvin
Groom's accessories – YSL shoes, tie clip by Lanvin, and tie and pocket square by Faulkner London
Flowergirls and page boys – John Lewis
Rings – Brett at Hearts of London
Florist – Helen Newman
Cake – Vanilla Patisserie
Favours – Tiptree
Make-up artist – Linda Johansson
Hair stylist – Lipstick and Curls