Hello lovely readers, I hope you are enjoying the sunshine today? We have a lovely, joyful, end of summer wedding for you to peruse, full of handcrafted, homespun details inspired by our creative couple's mutual love of travel and food. Hollie, a filmmaker and photographer, married Kieran, a web developer, on the 6th of September of last year at Colehayes Park, a stunning Georgian manor house in the Devonshire countryside.
"Kieran and I share a love of both travelling and food, so it seemed only natural that these were the themes that shaped our wedding. Food is what we live and breathe for and our work has taken us all over the globe. We wanted our wedding to have a relaxed and informal feel and as creatives we were keen for there to be lots of little handcrafted details. "
Photography by York Place Studios
"As soon as we came across Colehayes Park online, we instantly knew it was the right place for us. Colehaye Park is a Grade II listed, 19th Century, granite mansion set in twenty acres of gardens and woodlands and it is the most relaxed, laid-back, beautiful place anyone could hope for."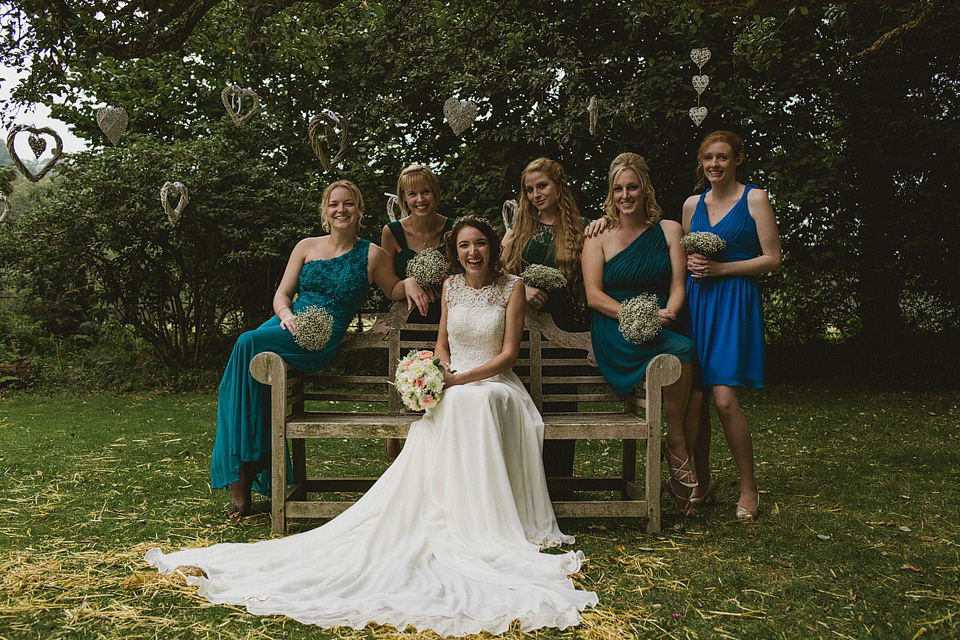 " The house itself is stunning and the surrounding land is beyond picturesque, from the immaculate gardens to the lake with its historic stone bridge leading to a little island with a single huge tree."
"We had exclusive access to Colehayes Park from the Friday to Monday and all of our family stayed onsite. Importantly, we could party as late as we wanted and choose our booze and caterers without restriction (or corkage!). The owners, Bill and Rebecca Brooks are lovely people and the staff are second to none."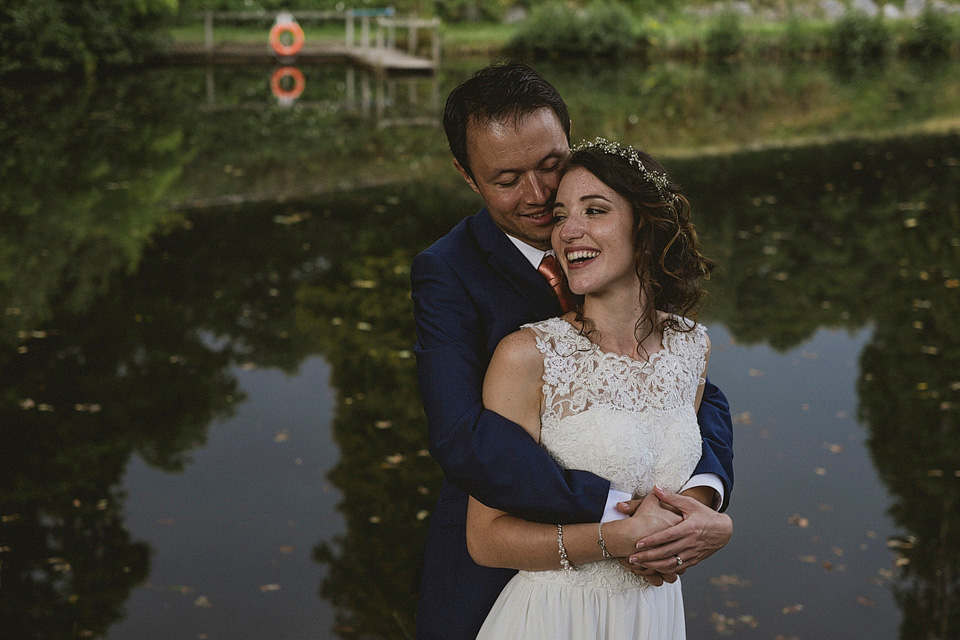 Hollie looked stunning in her beautiful boho – luxe gown which she found online on Etsy and fabulous feathery shoes purchased at a 'Brides for a Cause' drive, while our globetrotting couple were living in Seattle.
"I always knew what kind of dress I wanted: a boho, flowy, backless gown with a train and a lace bodice which 'disappeared' at the sides. I couldn't find what I wanted in the shops, so I started looking online. I was browsing Etsy one day and saw a dressmaker selling a stunning gown that was almost perfect, but needed a few tweaks and changes to make it into the dress of my dreams. The dressmaker was amazing, and agreed to craft it exactly as I imagined. I got so many compliments on my dress, and I felt absolutely amazing in it. Later in the night, once I had been dancing for a while, I decided to change into a shorter cocktail dress which I loved and allowed me to show off my shoes even more!"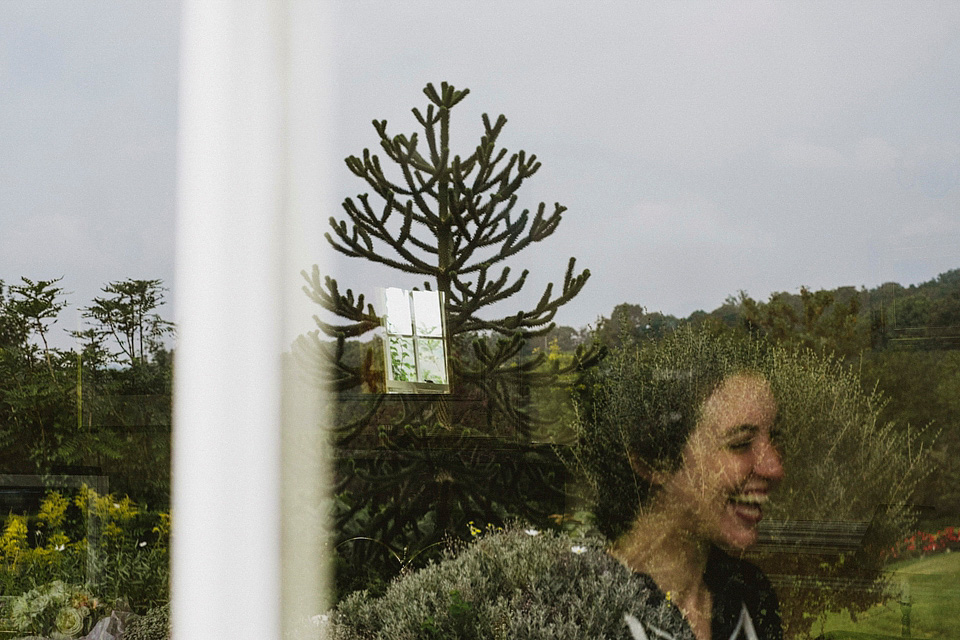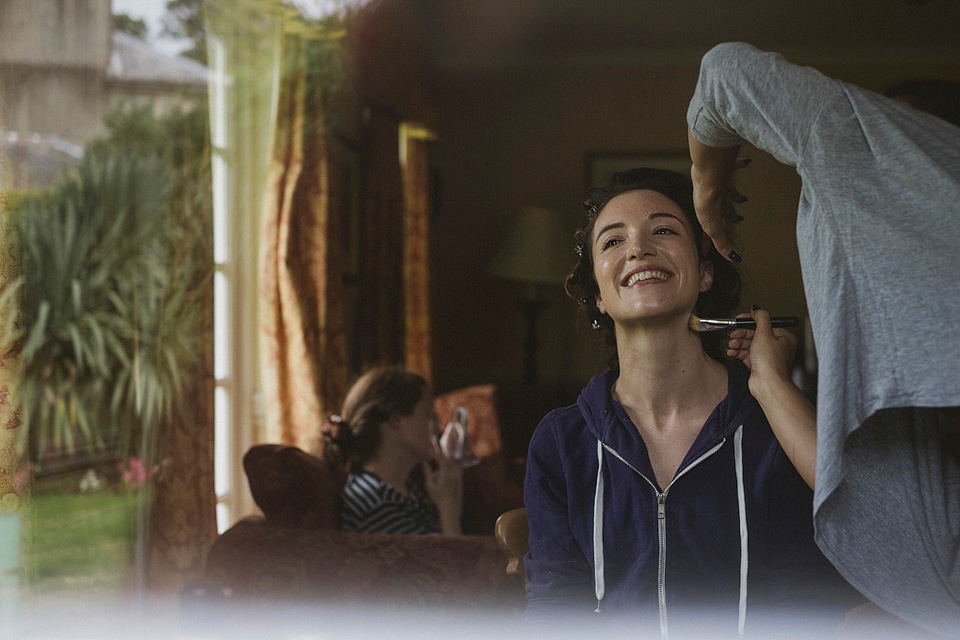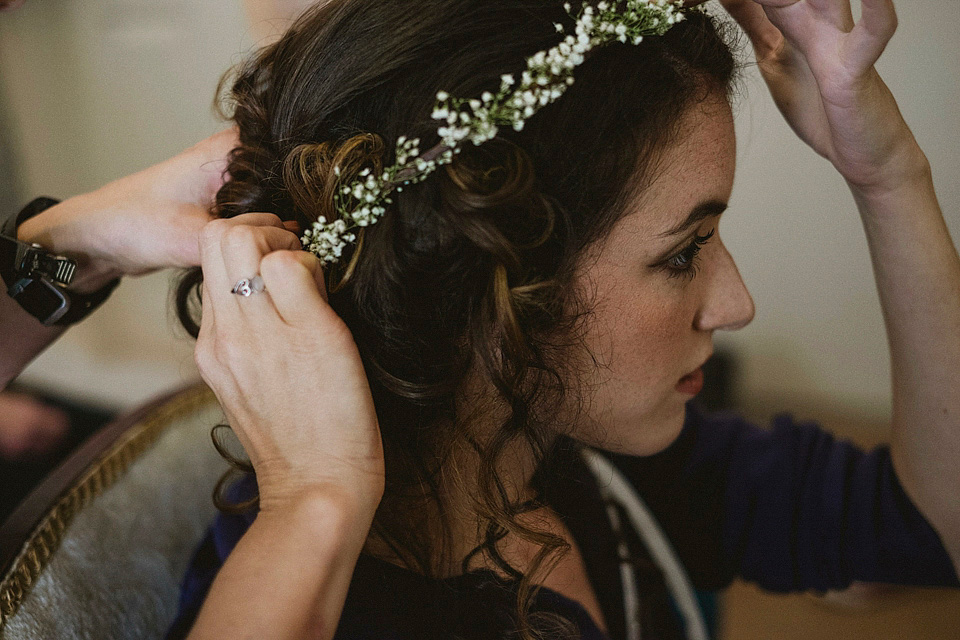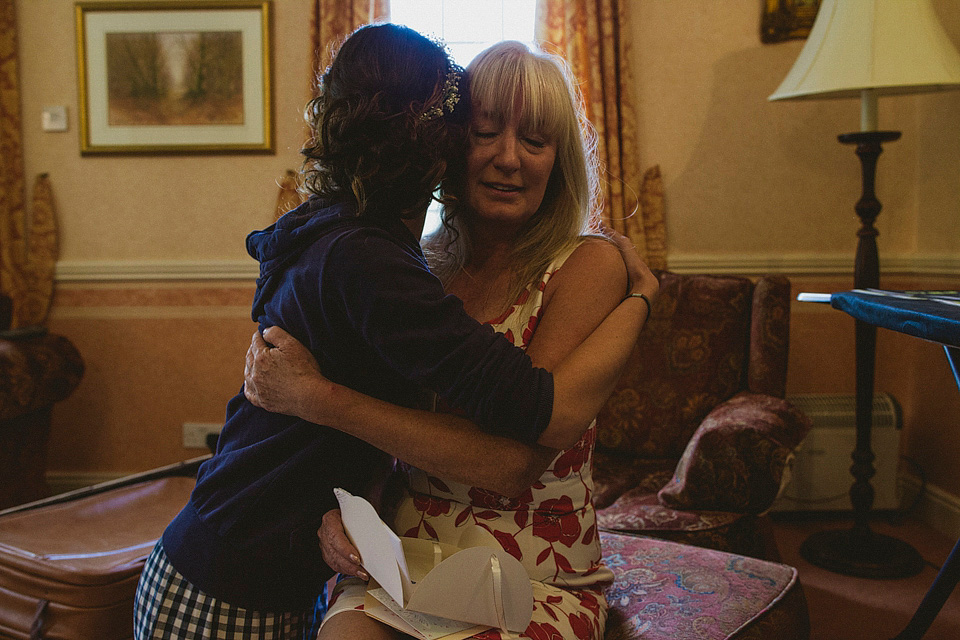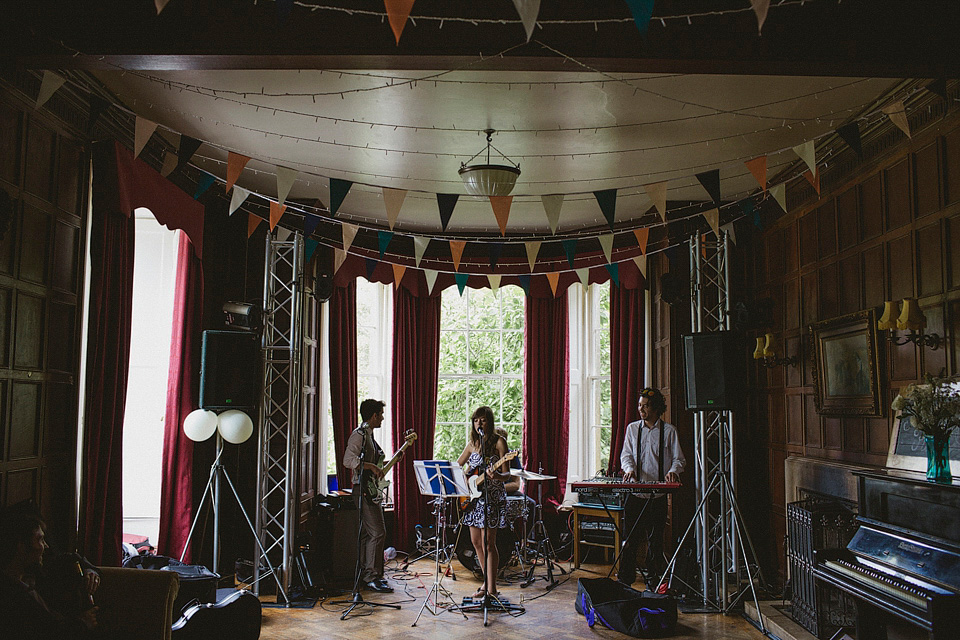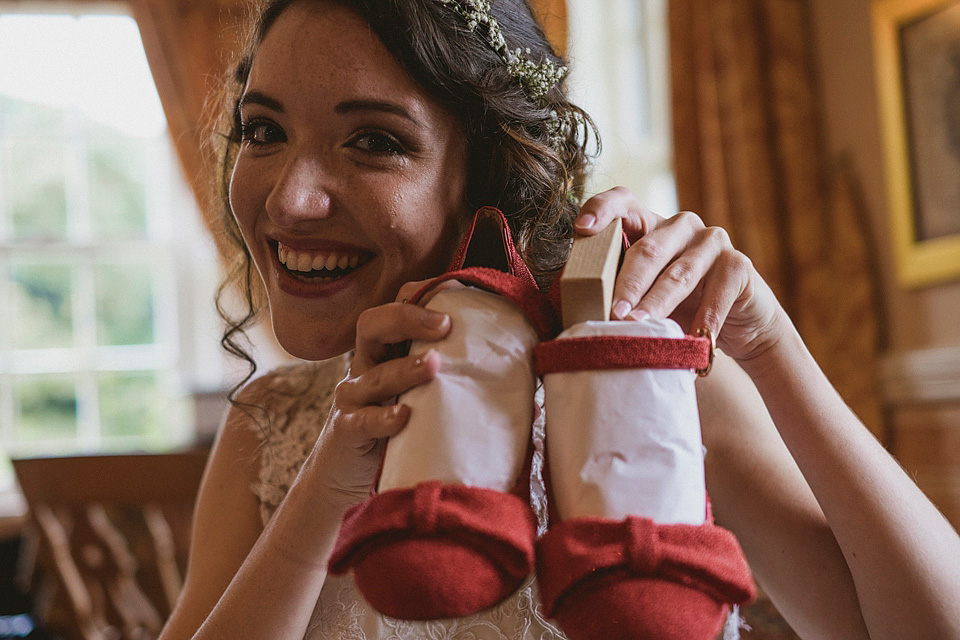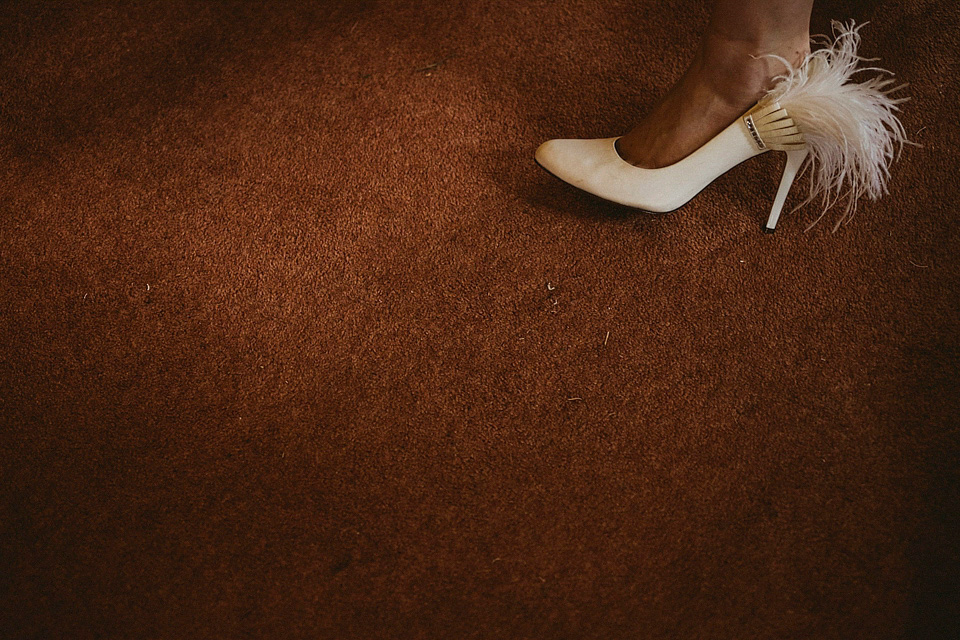 "I wanted our flowers to match the informal boho feel of our wedding so we opted for blousy, textured bouquets in ivory with a hint of peachy colour. Natasha at Pumpkin and Pye was incredible and helped me hone my ideas. She was really helpful during the planning process and the end result exceeded our expectations. I LOVED my bouquet!"
"Kieran and I met seven years ago while holidaying with mutual friends. After months of talking until the sun came up, sharing our dreams of travelling the world, we began dating. It wasn't long before we knew we had something very special and five years later Kieran proposed during an epic month long road trip around the USA. Kieran is the kindest, most generous and inspiring person I have ever met and I'll forever be in awe of him."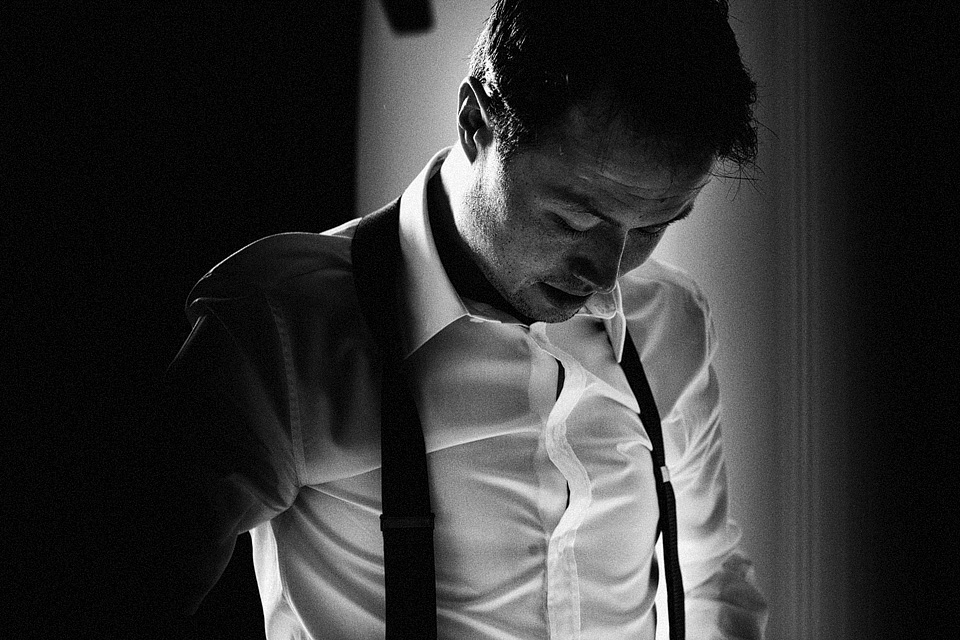 The groom wore a blue suit from Paul Costelloe, and a complimentary peach coloured tie and pocket square. Hollie handmade the men's buttonholes, creating paper flowers using maps and skeleton craft leaves.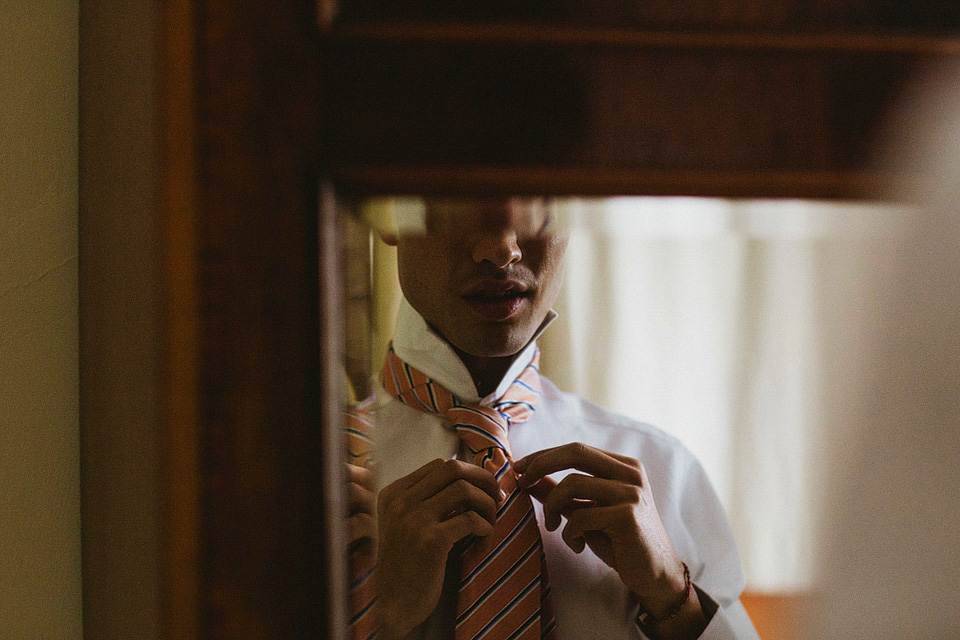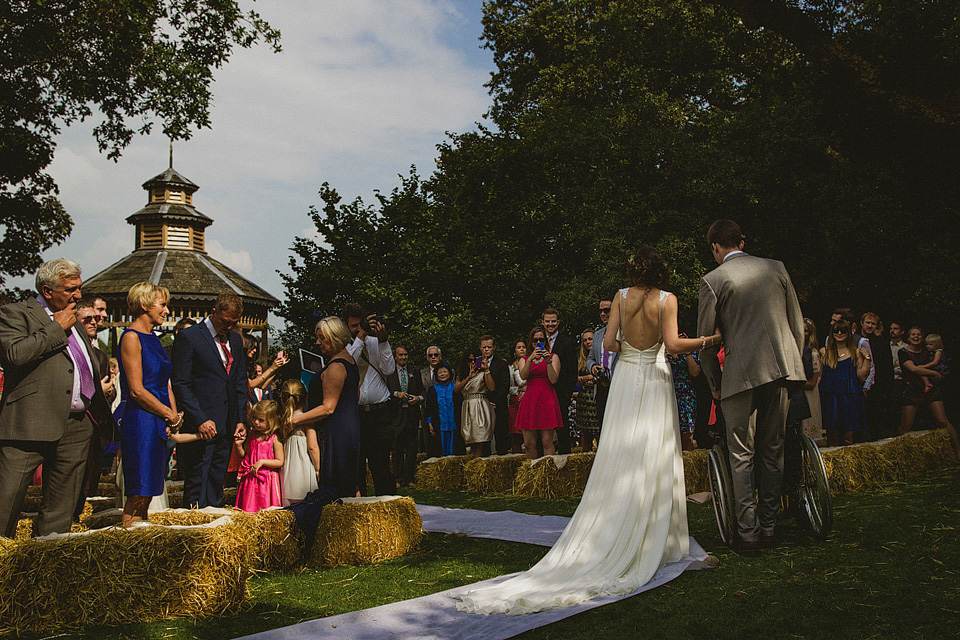 Our couple's ceremony took place in a beautiful small wooden pavilion at the end of the gardens. Their guests sat on hay bales and the 'aisle' was made from white fabric which ran through a hedge archway. Kieran and Hollie wrote their own vows and opted for two readings; 'Oh the Places You'll Go' by Dr Seuss and a short quote by one my favourite writers, 13th Century Persian poet, Rumi.
Hollie made her way down the aisle accompanied down accompanied by her father and brother, to the sounds of 'Somewhere Over The Rainbow' played by a friend on acoustic guitar.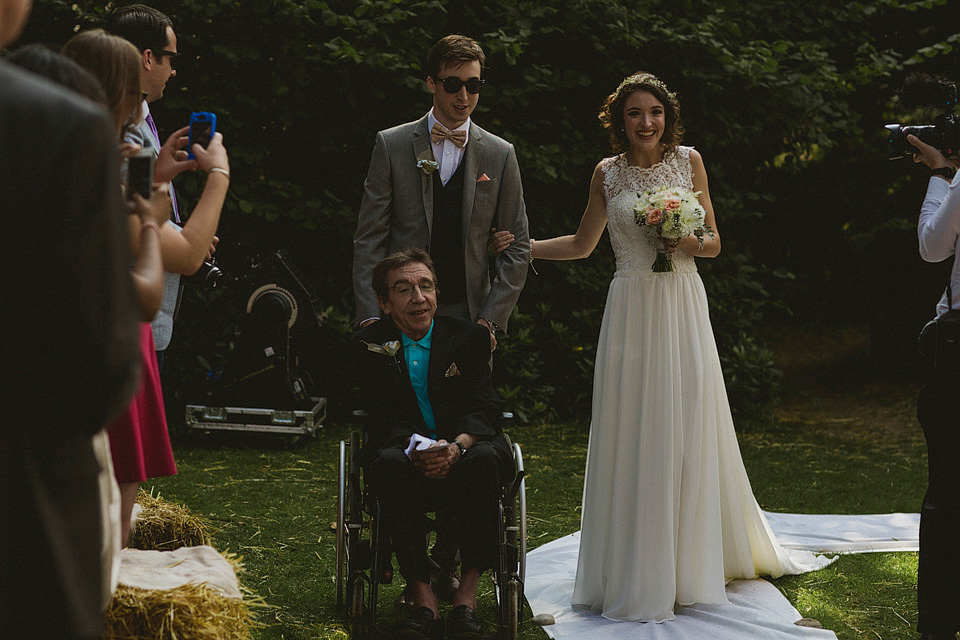 "My father is quite unwell, and it was a big deal for him to come all the way from London to Devon for the wedding. My brother helped my father down the aisle in his wheelchair and it was amazing having them both by my side. It was a feeling I can't put into words; it meant everything to me.
Seeing Kieran at the end of the aisle was amazing and I could feel everyone's love radiating towards us. My cheeks hurt because I was beaming so much!"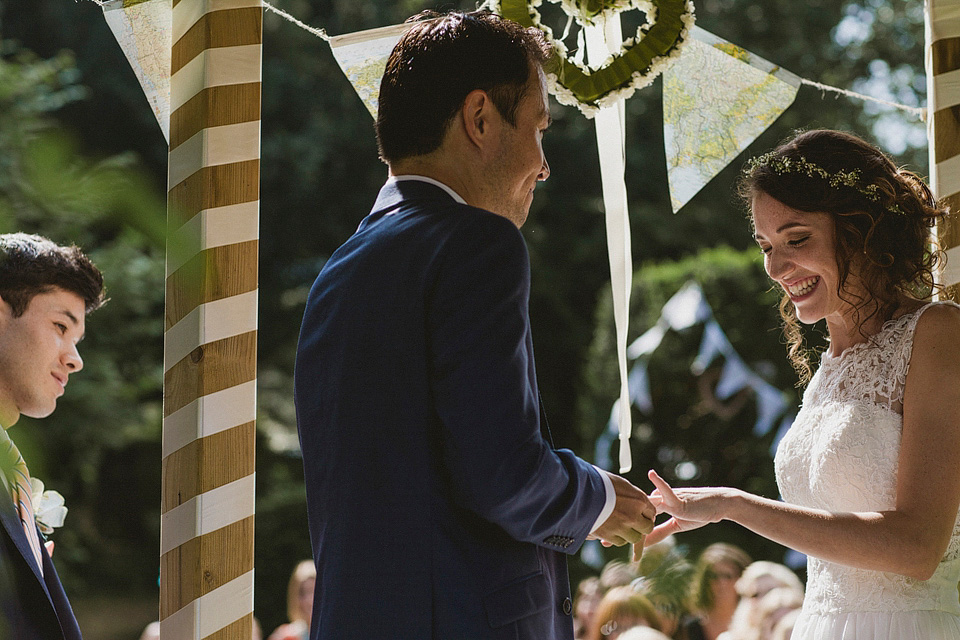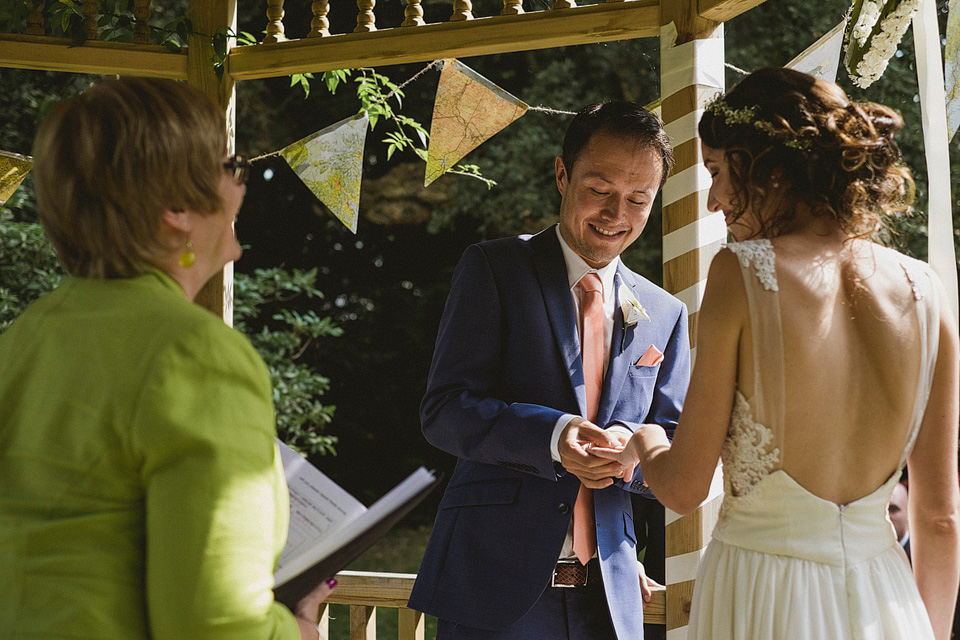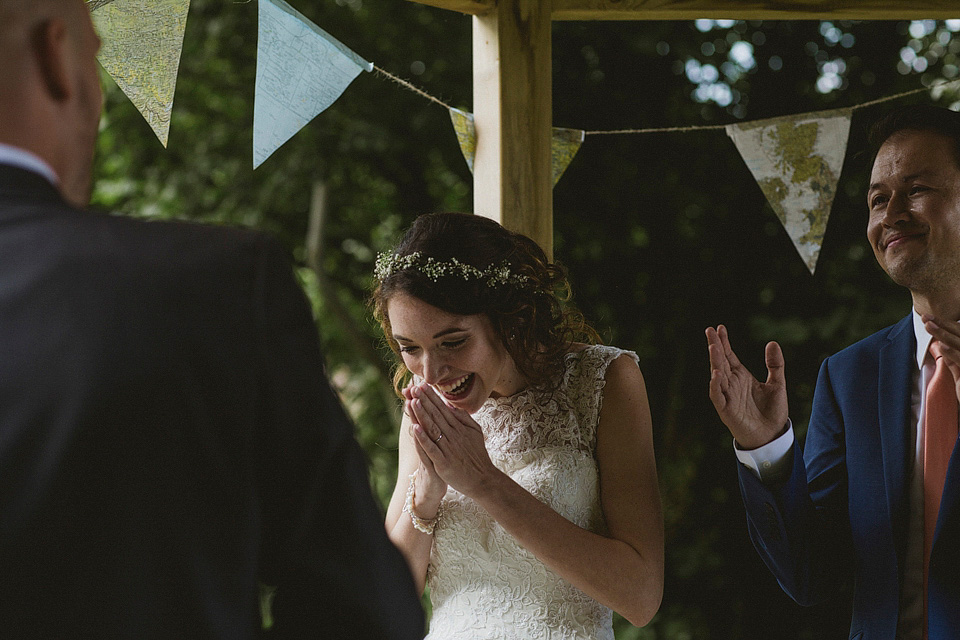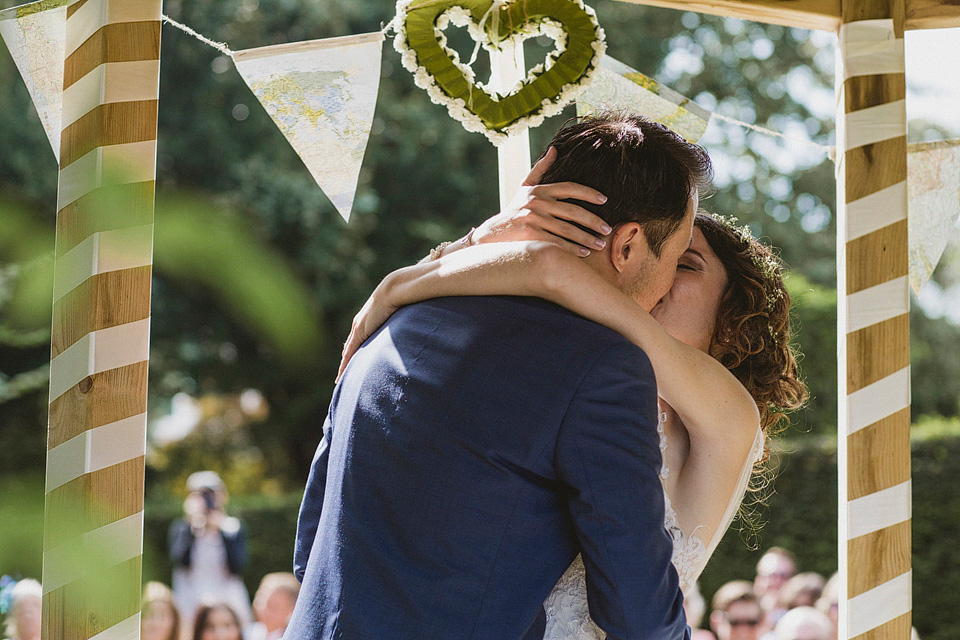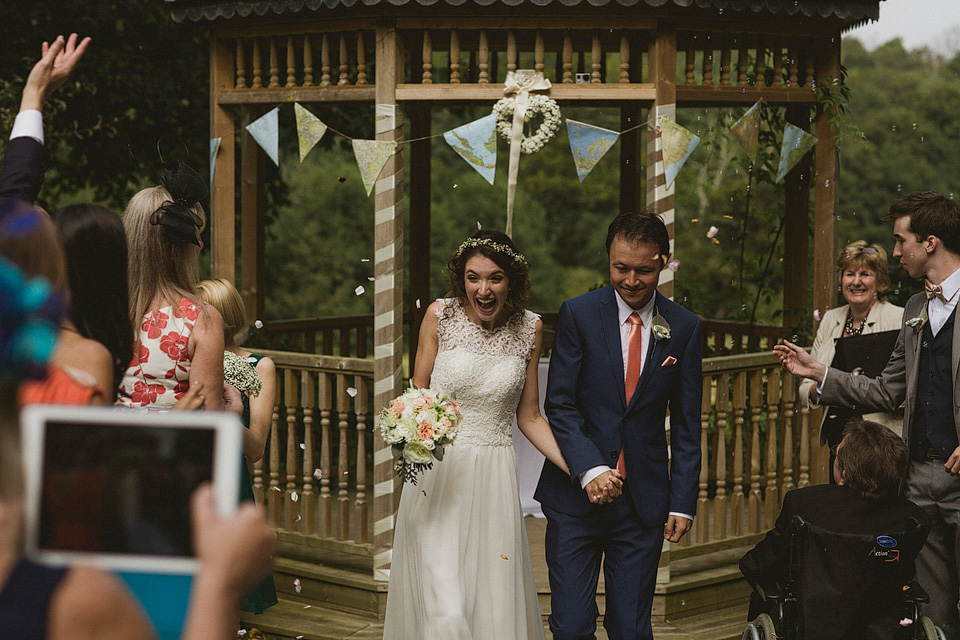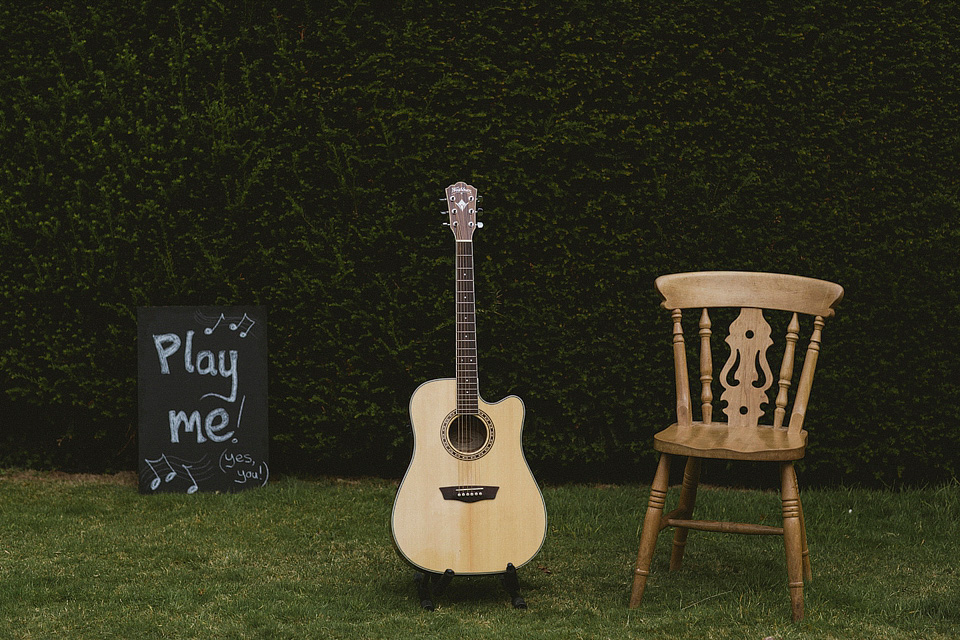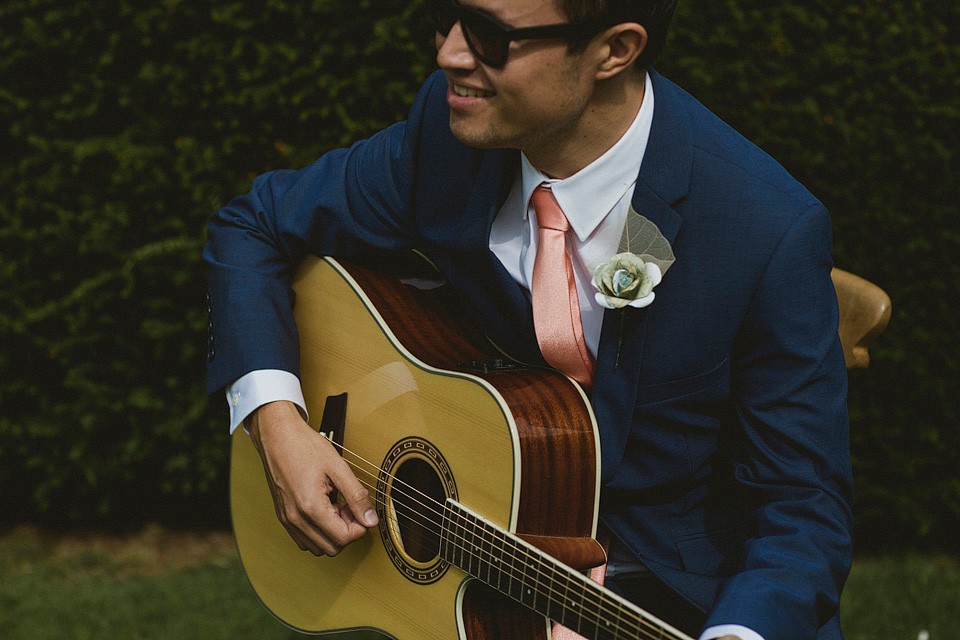 "Our photographers, Dom and Liam of York Place Studios were beyond incredible. As professional creatives (and a filmmaker and photographer myself) getting the right photographers for our wedding was the only thing we were really picky about. After searching high and low, we found York Place Studios and fell in love."
"Not only do they have unrivalled technical talent and a natural gift for taking beautiful photos using natural light, they also have an uncanny knack for capturing the little moments: small but wonderful parts of the day that would usually go unnoticed. From someone pulling a hilarious face, to a fleeting, beautiful moment between my father and I.. Everyone loved Dom and Liam; they were discreet but also kind and friendly and they worked all day to make sure they didn't miss a thing.
Needless to say, we were over the moon with our pictures. We seriously cannot recommend Dom and Liam enough!"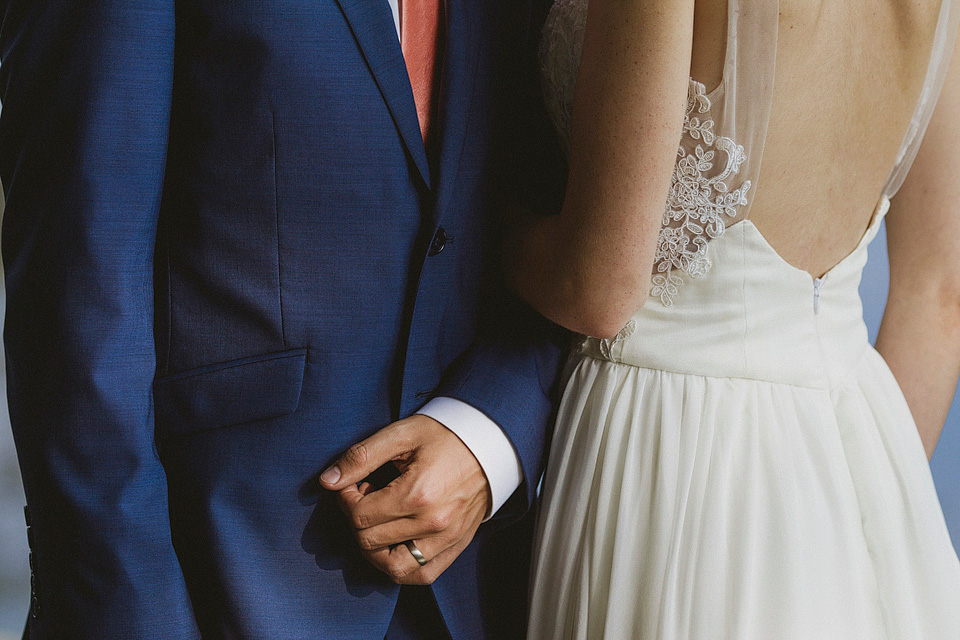 Hollie accessorised with an antique charm bracelet (her 'something old') handed down to her by her mother in law, a garter (her 'something new'), a ring leant to her by her best friend (her 'something borrowed') and a brooch, given to her by a close friend, which she attached to her bouquet (her 'something blue'.)
To show off the backless element of her gown, Hollie wore her lovely dark locks pinned up in loose, boho curls.
"I wanted my hair to fit the relaxed feel of my gown and Sarah, of Sarah's Hair Designs did a brilliant job. I knew I wanted fresh flowers in my hair and decided on a delicate, Baby's Breath crown which had a "woodland fairy" feel to it – perfect! My makeup was done by my friend Dani Dutra from the blog So Many Lovely Things. She knew exactly what I wanted and I was so pleased with the results!"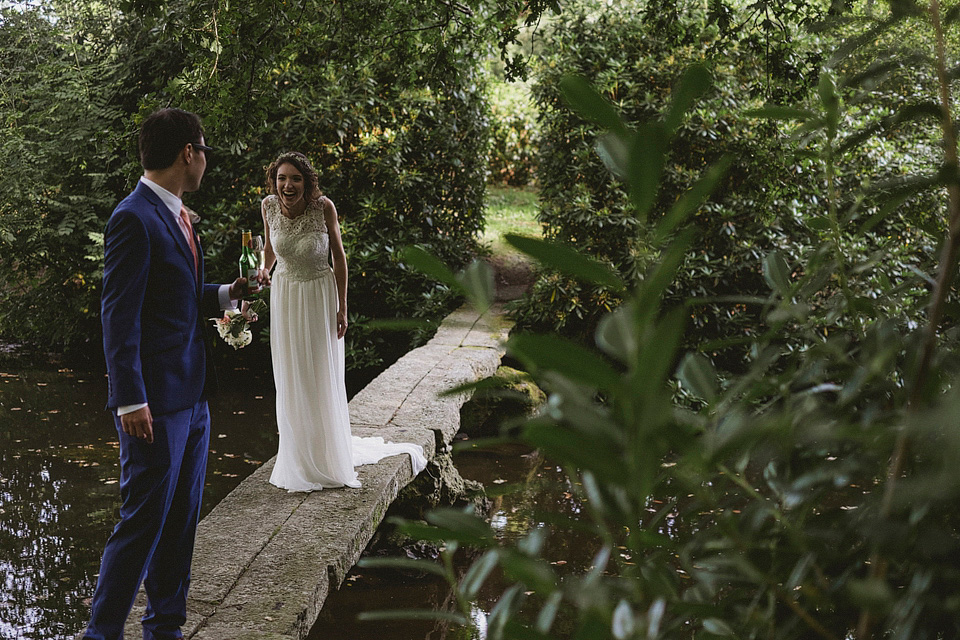 In keeping with their travel theme our couple decorated their venue with vintage suitcases, bunting made from vintage maps and H&K letters papered using pages from an old atlas. For their seating plan they used a giant world map with airmail letters indicating the table names; countries or places Kieran and Hollie have lived or travelled to.
"For the centre pieces themselves, I used a defining item from the places the tables were named after, for example a vintage Coleman's mustard tin for Norwich, a red phone box for London, a carved wooden giraffe for our time in Kenya and  a traditional Apsara figurine from Cambodia. For our place cards we wrote our guests names on paper planes, which were fun for throwing about later!"
Our talented couple made all of their own wedding stationery, with Hollie handcrafting the invites, and Kieran using his skills as a web developer to create their wedding website. In addition, Kieran and Hollie created a brilliant animated presentation of their travels together using Prezi software for their Save the Date.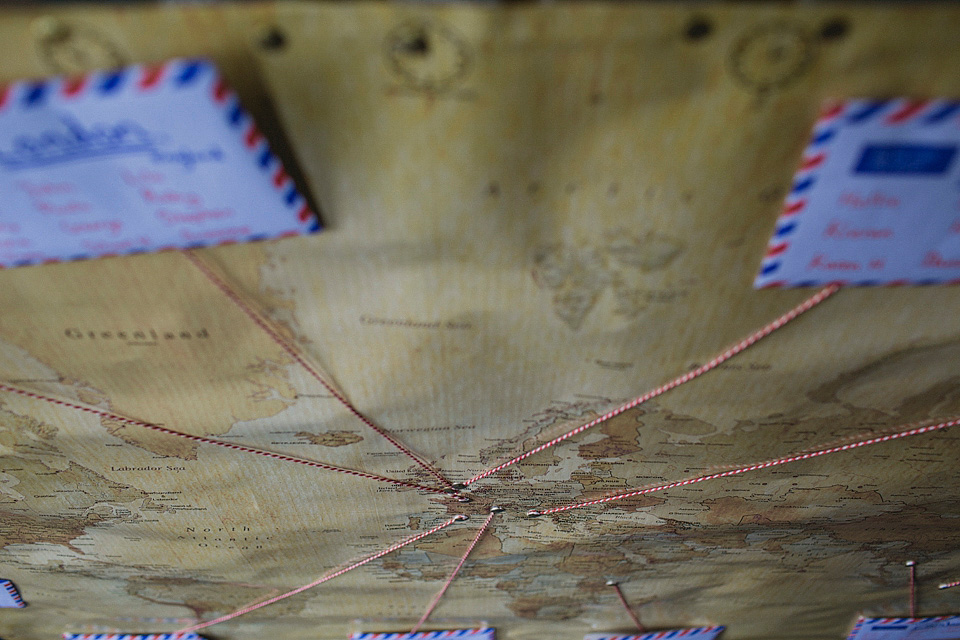 "Being big foodies it was hard for us to choose just one cuisine for our wedding breakfast.  In homage to our love of all things American, we opted for Dan's American Kitchen. We drove all the way down to Exeter from Norwich (around 8 hours one way!) to try his BBQ, and boy were we blown away!
We adored Dan's love of food, his attention to detail, his laidback approach and his mindfulness of being environmentally friendly. On the day, Dan created an all American BBQ with pulled pork, chicken, brisket and veggie options, with sides including cornbread, slaw and mac 'n' cheese. All the guests loved it, with people sneaking some seconds from the kitchen!"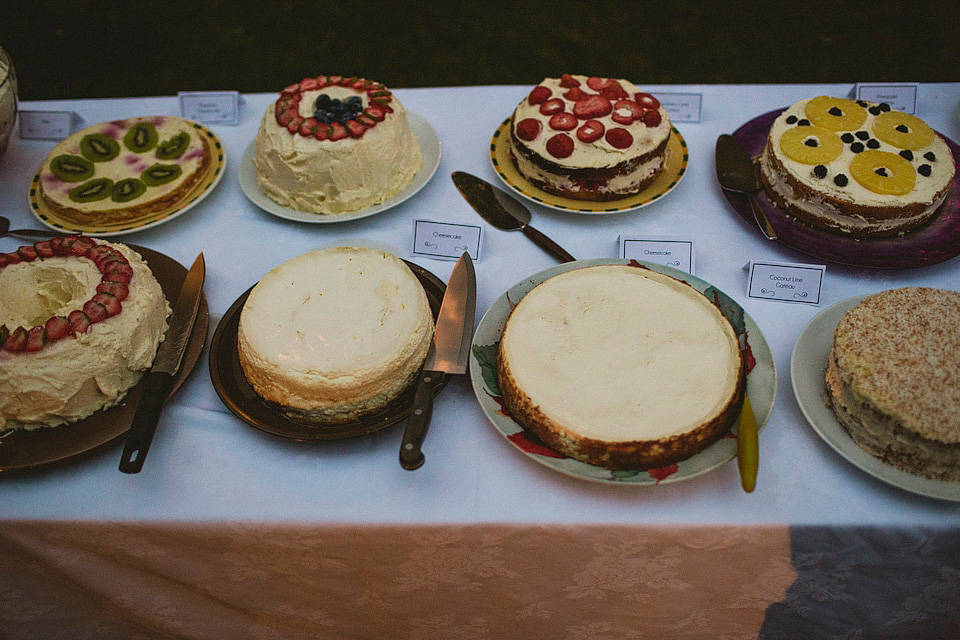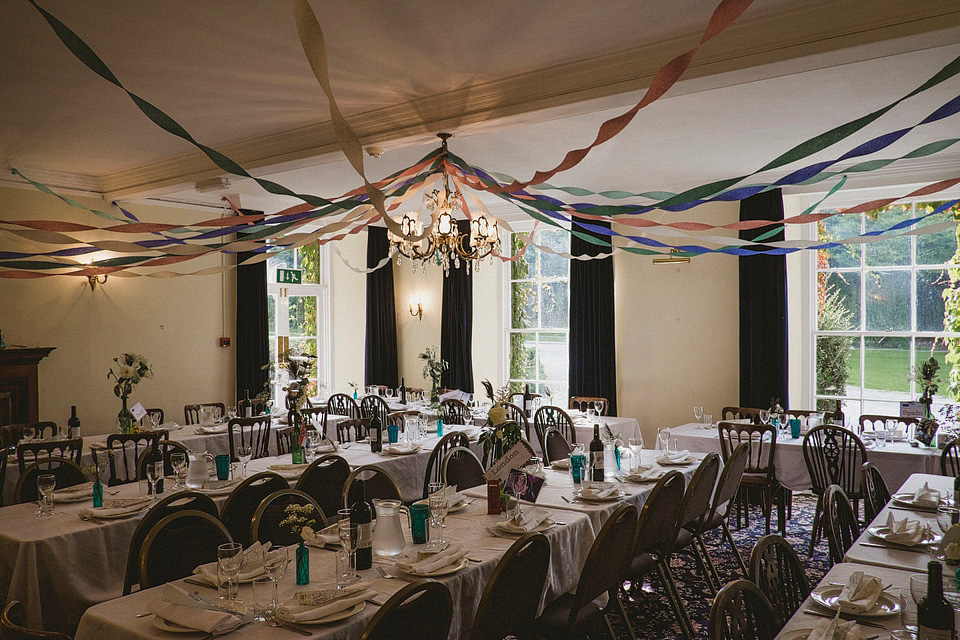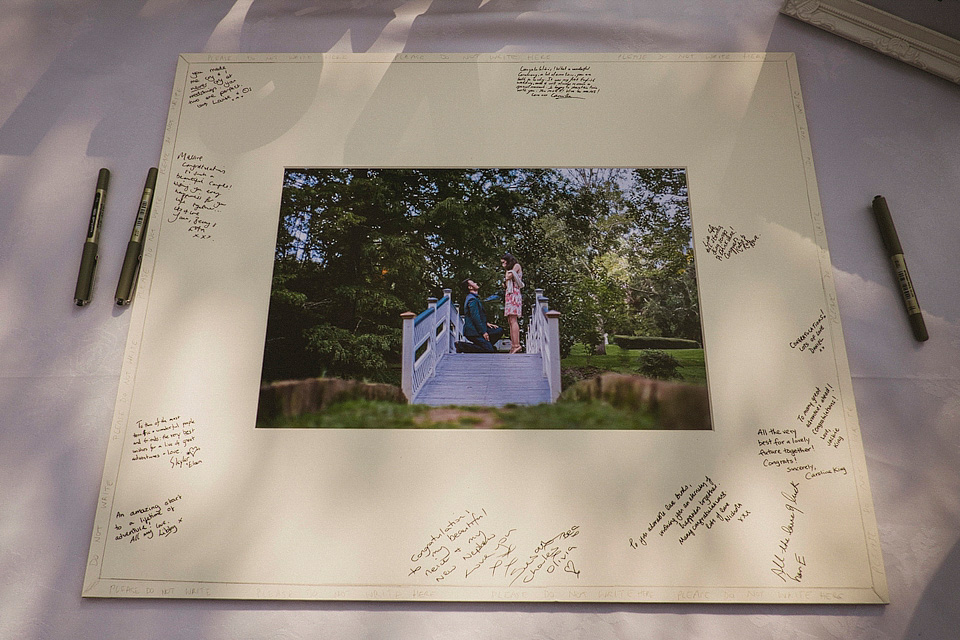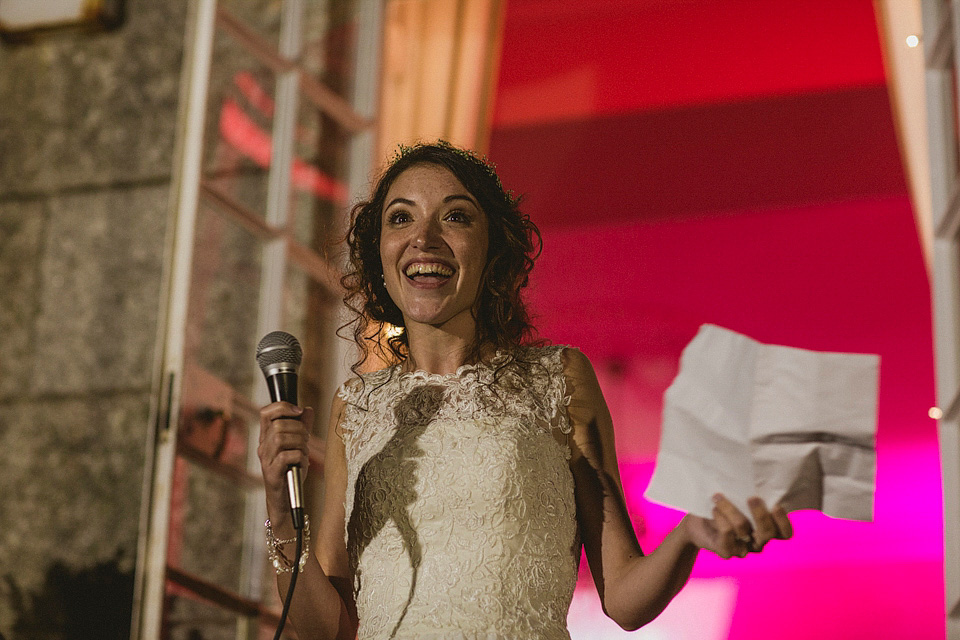 "My husband's father is an absolutely incredible baker/dessert legend, so we asked if he would do us the honour of making the wedding cake. He did an amazing job, crafting a stunning two tier traditional wedding cake, which the groom's mother decorated with flowers and ribbon in our complimentary peach colour."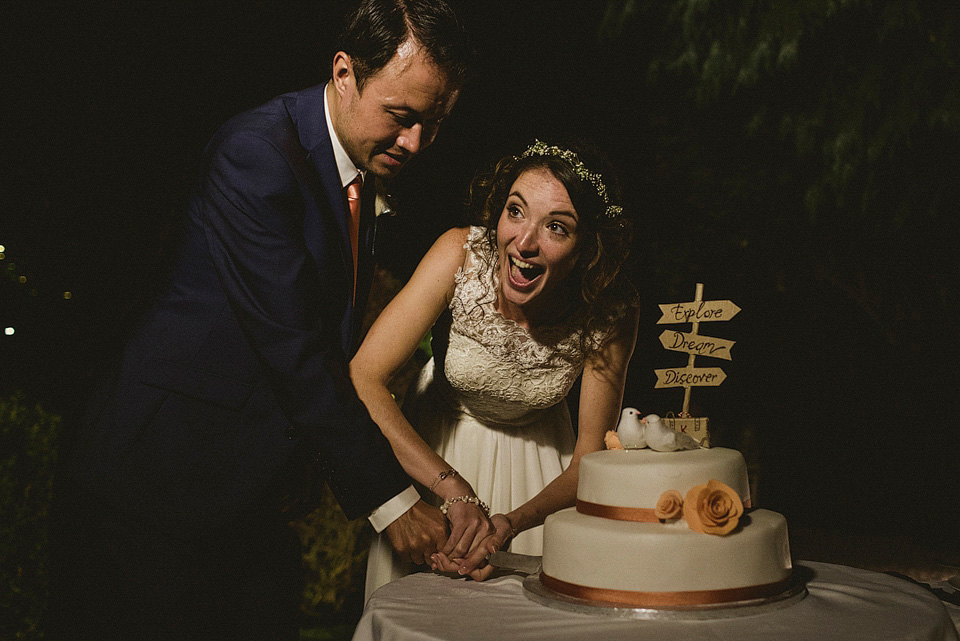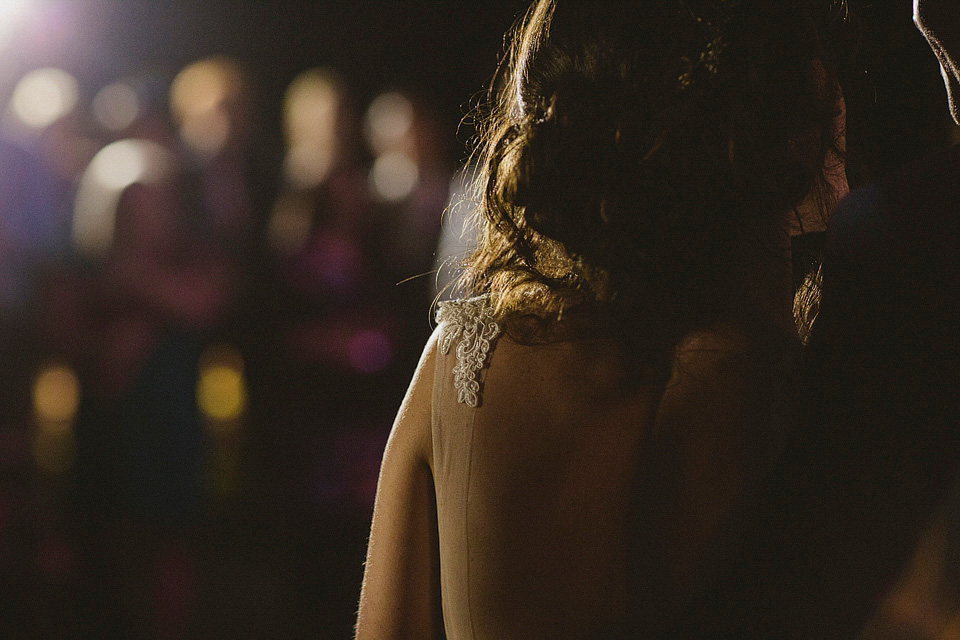 For their evening entertainment, Hollie and Kieran employed the skills of The Sykes Band (whose 'unique sound and excellent covers, went down a storm!' ) followed by a playlist which helped to keep the party going until 5.30am!
"For our first dance, we chose Elvis Presley's 'Can't Help Falling in Love', a song that will always reminding us of the US road trip where we got engaged"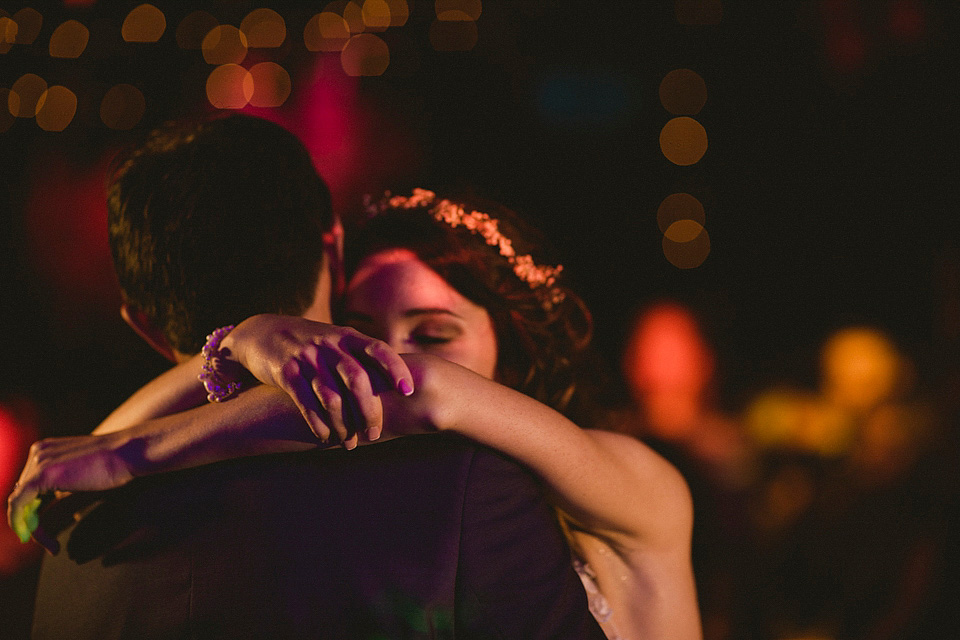 "The whole day was emotionally charged  in a beautiful way. I had butterflies the entire morning, drinking in every last minute of this wonderful combination of joy, nerves, and overwhelming love. When the moment came for us to take our positions at the cottage door, ready to walk down the lawn and through the hedge archway, I was struck with such a sense of bliss. "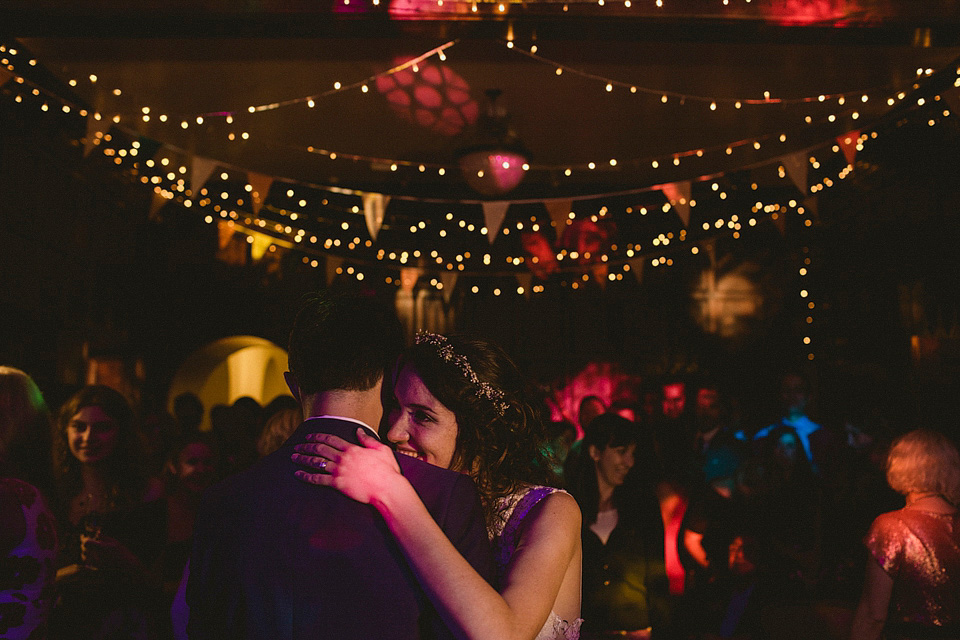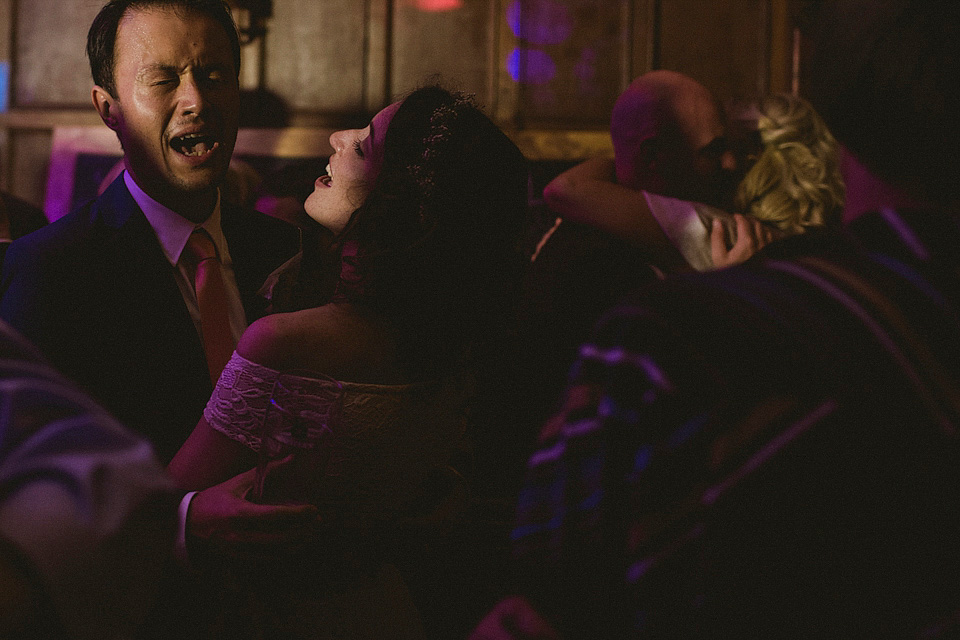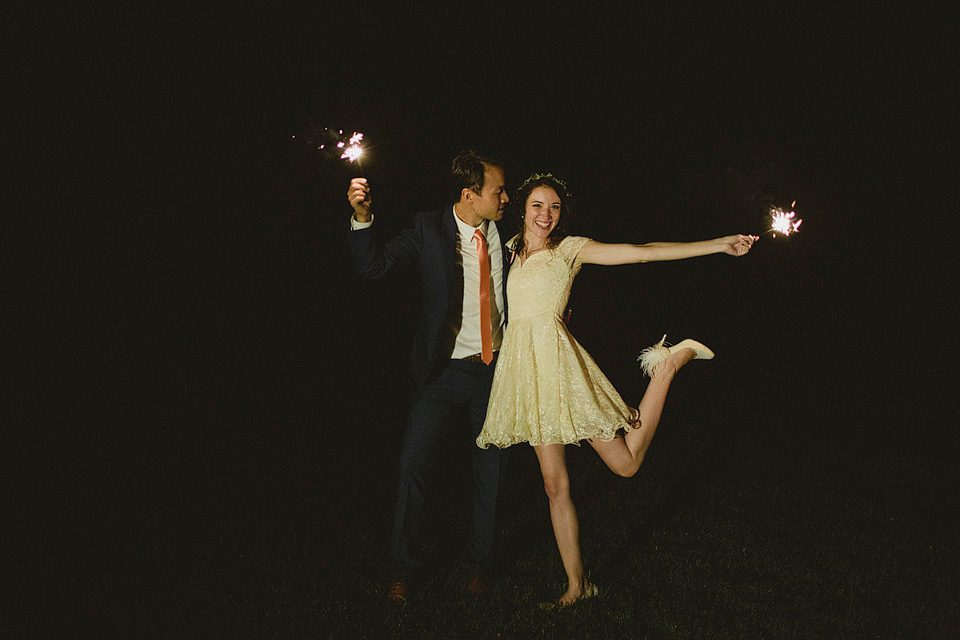 A huge thank you to Kieran and Hollie for sharing their beautiful day and to York Place Studio for capturing it so very well. You can find more lovely homespun weddings here. If you'd like to try your hand at creating some homemade details for your own wedding please do take a look at our creative DIY projects. We'd love to hear how you get on! To see other lovely, country house weddings, please follow this link.
Wishing you all a wonderful week,
Annora x
Photographer – York Place Studios
Venue – Colehayes Park, Dartmoor
Wedding Dress – Etsy
Headpiece – Baby's Breath crown by Pumpkin and Pye
Shoes – Purchased at a Brides for a Cause drive in Seattle, USA
Groom – Paul Costelloe suit + tie + pocket square
Florist – Pumpkin and Pye
Cake – Created by the groom's father and aunts
Entertainment –  The Sykes Band
Catering – Dan's American Kitchen
Stationery – Invitations handcrafted by the bride; Hollie Harrington + animated Save The Date by groom's web development company White Blackbird
Hair Stylist – Sarah's Hair Designs
Makeup Artist – Dani Dutra of So Many Lovely Things blog