Happy Wednesday guys! I'm so happy to be sharing this lovely Yorkshire wedding on your favourite blog  – a relaxed and elegant kind of day with a focus on the family, an intricately beaded gown, a rather wow ombre cake and beautiful white florals. Our newlyweds, housing officer Hannah and her new husband Chris, who is a project manager, married just a few months ago on 25 April in a ceremony in the family church followed by a reception at East Riddlesden Hall in West Yorkshire.
Photography by Paul Joseph Photography
"We decided that we wanted everything to be really relaxed and didn't really have a colour scheme.  Although I did know that I wanted the barn to be filled with candles!  We just picked things that we liked and thankfully everything just seemed to tie together."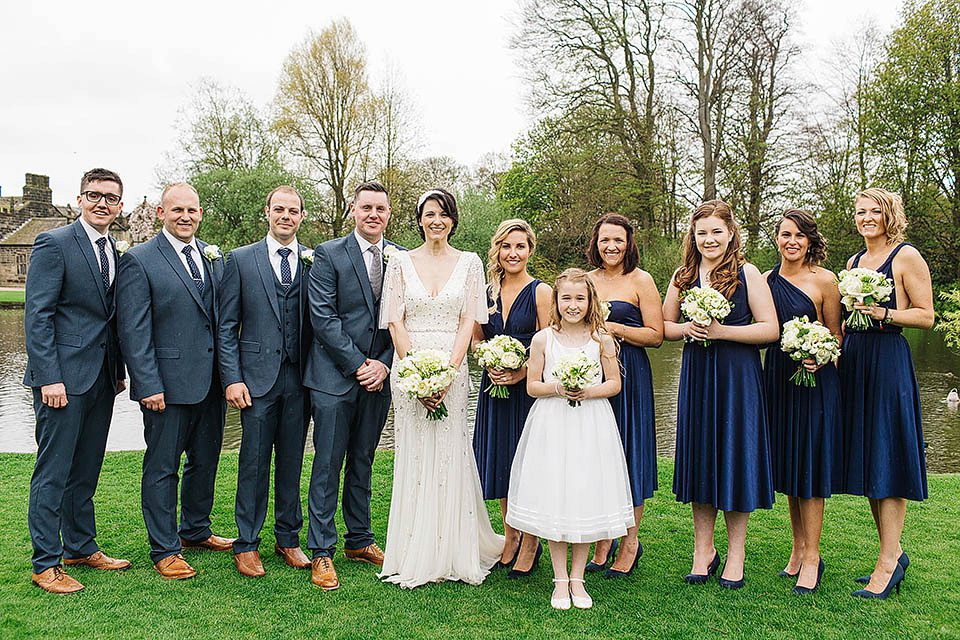 For many brides buying a dress becomes stressful and isn't the fun that they think it will be. Luckily for Hannah she chose her Anoushka G beaded gown in a whirlwind 30 minute visit to local bridal boutique Ava Rose Hamilton.
"I loved the dress the second I put it on – I loved its style and shape.  The bead work which covers almost every part of it made me feel amazing."
LOVE letters supplied by Typical TypeHannah had a tougher time tracking down her perfect shoes than buying her gorgeous gown.
"I had three criteria for my shoes that I bought from ASOS – silver, kitten heel and simple.  You wouldn't believe how hard it was to find these three things!"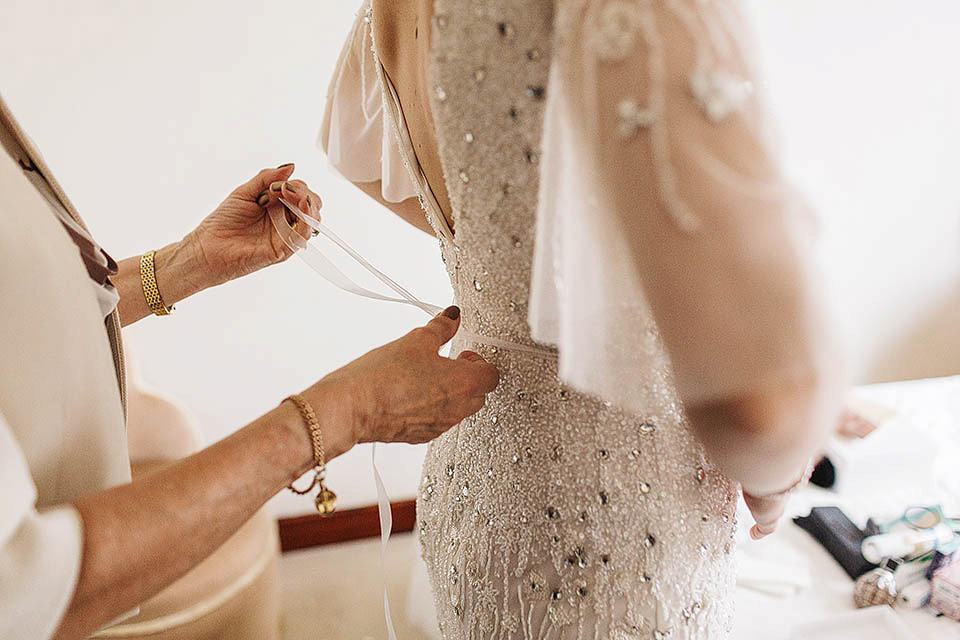 Hannah's handmade headpiece was designed and created by the wonderful Laura at Laura Rhodes Bridal.  Laura makes all her pieces in her bridal boutique in Addingham, West Yorkshire. They took inspiration from some of her other pieces and the detail on the dress.   
Laura also made a belt for the bride as well as the rings that were given to the bridesmaids as a thank you gift.
"I don't wear large amounts of jewellery, so I wanted to keep my look simple.  I wore a Links of London bracelet that Chris bought as a gift from Finlay for my first Christmas as a mum."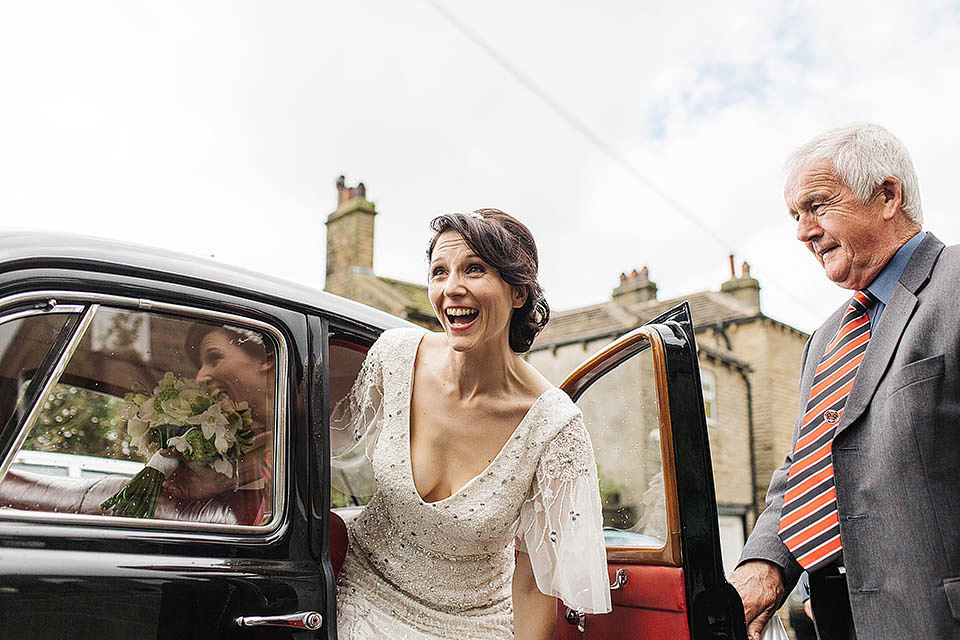 "Chris and I met when we became next door neighbours at university.  After a few nights out we got together and as they say… the rest is history!  Four years later Chris got down on one knee in front of Lincoln Cathedral (we went to university in Lincoln).  After asking what he was doing, I said yes!!  We had a long, eight year engagement for no real reason although, we always had plans to marry.  But when our son Finlay arrived we decided that the time finally felt right."   
"We married at Ilkley Road Methodist Church.  It holds great memories for my family and me. All my three sisters married there and my son, nieces and nephews were all christened there.  It is also in the village where I grew up and where my parents have lived for 45 years so it was lovely to see people from the village celebrating with us."
Chris and his men all wore suits from Next.
"Chris's best man was his best friend Adam that I went to school with when I was 11…small world!  He also had his brother Rob and close friend Terry who took a break from his farm and lambing season to attend the wedding!"
"Our lovely friends Phil and Vickie and their Wedding Angels team did all our stationery.  They were amazing. I knew exactly what I wanted and they did not disappoint."
The bridemaids look lovely in their blue dresses from BHS and shoes from Dorothy Perkins.
"I loved the style of the wrap and twist dresses.  I liked the idea that all the girls could have a different style.  Although, we did have to have a few practices!"
"Paul and Kelly of Paul Joseph Photography were recommended to us and were one of the first suppliers we booked. They were, by far, one of the best decisions we made.  We wanted our photos to be relaxed and take us back to our memories of the day. They did just that and more. 
Paul and Kelly are amazing and you can tell they just love what they do.  They worked tirelessly throughout the day.  We were so relaxed around them and definitely laughed a lot whilst having our photos taken.  Our guests loved them and so did we."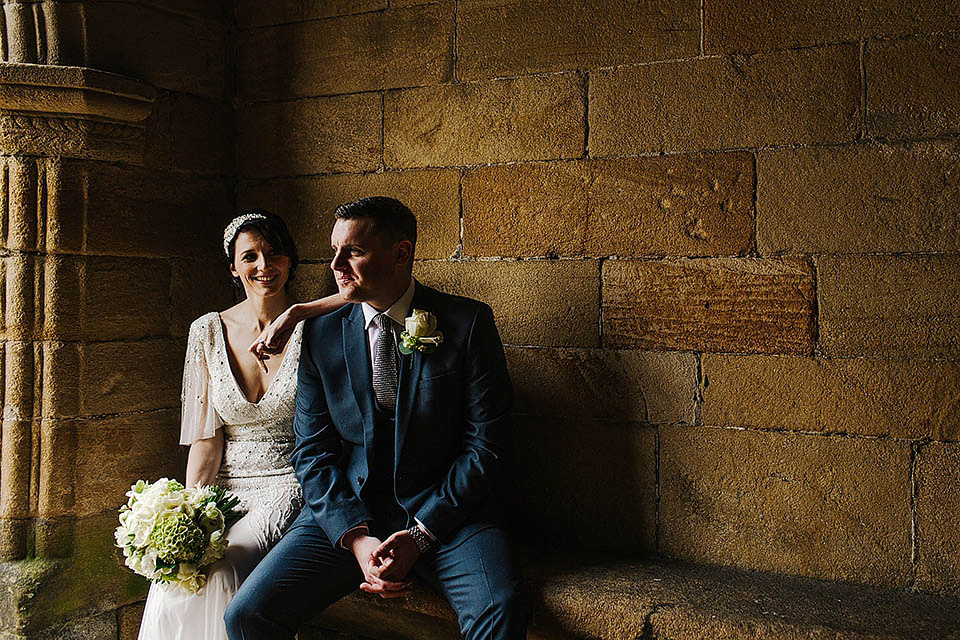 "I love flowers.  I think it must come from spending Saturdays as child in the flower shop my mum and sister used to work in.  I knew I wanted large, white flowers but I was happy to have any type, very vague I know!  Amanda and her team at The Greenhouse Idle were amazing and created the most wonderful table pieces with a different type of flower on each table. This looked fantastic!"
"We chose the Airedale Barn at East Riddlesden Hall because we loved the feel of the place.  It is also another place that holds great childhood memories for me of school sports days and trips so it felt like a place we could relax in."
"A string quartet played throughout the wedding breakfast, this was a gift from Chris to me.  They played a mix of classical and modern music.  One of my favourite parts of the day was when our guests started to sing along to it 'Must be Love' while eating their food.  We had a DJ in the evening who played a handpicked playlist of all our favourite songs!"
"Every corner of the barn was filled with candles and it looked amazing and created a lovely atmosphere.   We had a sweet table and every sweet was eaten.  We had a photo booth with an instant camera, which meant we have such fun shots of all our guests…even of our grandmas! 
There was an activity table for the children where we made bags with individually chosen items so they could have fun throughout the day.  Although, once the golf buggy (toilet taxi) arrived they spent most of their time on that!"
The couple chose caterers, Eat Me Drink Me and decided on a tasty sounding menu full of family favourites including pâté, bangers and mash and sticky toffee pudding. And in the evening there were delicious steak sandwiches.
In the past I have expressed my love of all things grey so I was intrigued and delighted to see my first ever, grey wedding cake!
"It was made by Cake Couture in Shipley.  I saw a similar picture of the cake on the internet and just fell in love with the detail and how amazing it looked.  I knew it was the right one when Chris said that we 'had to have that cake,' blokes aren't always the most enthusiastic about these things are they!?  We had a different flavour on each tier and I encouraged all our guests to try a piece of each. It definitely got a lot of attention!"
"We danced to 'I Love you Baby' by Frankie Valli for our first dance which we chose about a week before the wedding.  We wanted something that wasn't slow so we could have fun whilst over a 150 eyes were watching us!"
Great choice guys – our first dance was to the same song by Andy Williams for pretty much the same reason.
"There were so many other parts to the day that I loved.  Seeing Chris when walking down the aisle was really special.  After all the years of talking about it and watching so many people in our lives doing it, it felt so amazing that we were finally getting married."
"One of my favourite pieces of décor were the L.O.V.E. and festoon lights supplied to us by Typical Type.  The LOVE lights provided our backdrop for the whole day and I wish I could have taken them home.  The festoon lights just looked amazing around the lake in the evening."
Words of Wedded Wisdom
"Plan! So that when the day finally arrives you can enjoy it.  Don't worry if you don't have a particular theme in mind, you don't have to.  Go with what you like and it will all fall in to place."
We would love to send our congratulations and best wishes to Hannah and Chris on your recent marriage and our thanks goes to Paul Joseph Photography for sharing the lovely images of this spring wedding. If all-white wedding flowers are  your thing then do visit our Pinterest board for lots more achromatic inspiration.
Much love,
Katie xx
Photographer – Paul Joseph Photography
Venue – East Riddlesden Hall
Dress – Anoushka G from Ava Rose Hamilton
Headpiece – Laura Rhodes Bridal
Shoes – ASOS
Bracelet – Links of London
Groom – Next suit + Loakes shoes
Bridesmaids – BHS dresses + Dorothy Perkins shoes
Flowergirl –Next
Pageboy – Autograph at M&S
Rings – Diamond Factory &
Alba Rose Florist – The Greenhouse Idle
Stationery – Wedding Angels
Cake – Cake Couture
Catering – Eat Me Drink Me
LOVE lights – Typical Type
Vintage car – family friend