Hello lovely readers – the real wedding we're blogging this morning is full of complete loveliness, lace and a setting by the sea. Meet Jo and Tom, who married on the Isle of Wight on 28th June 2014, on a sunny Summer's day.
"As our wedding was at home in the garden, it was never going to be a really styled or swanky affair, so we went along with the seaside and country setting and themed it around the location. It was a mish-mash of country, rustic, wild and field, mixed with a bit of 'Midsummer Nights Dream ' inspired greenery and fairy lights."
Photography by Especially Amy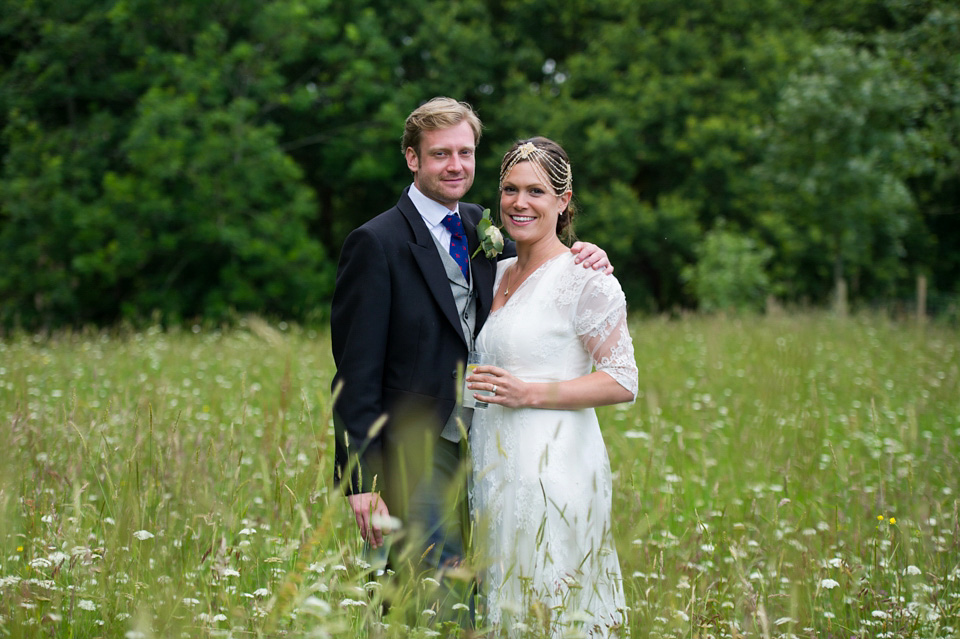 "We got married in our local church followed by an afternoon reception, and then an evening dinner and dancing. We had marquees in the garden at my parent's house, a combination of country-side and seaside."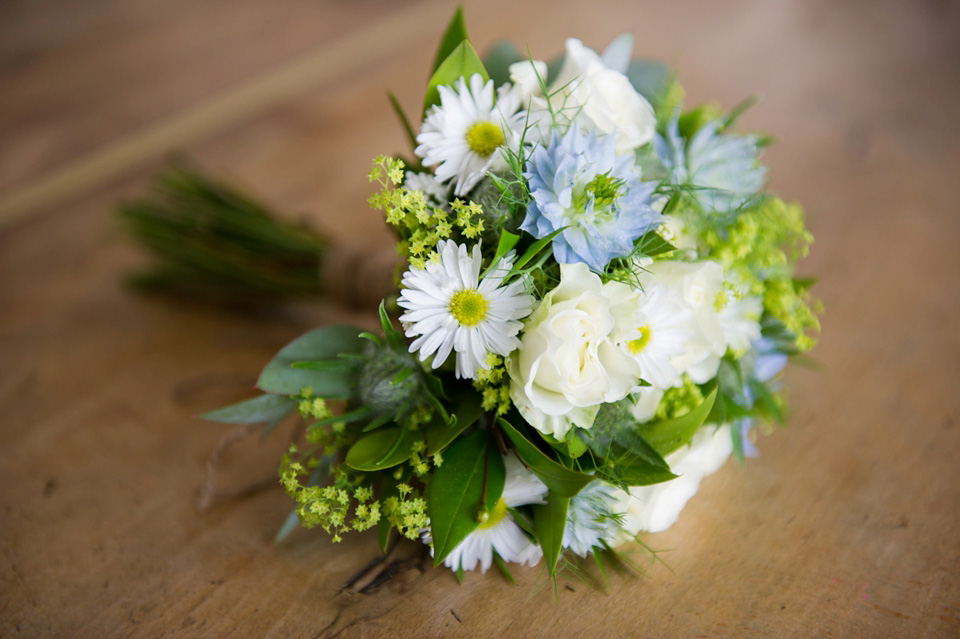 The bride and her mum did most of the wedding planning, with help from Tom and other family – and in the lead up to the wedding lots of friends were on board to create a team of decorators and organisers. The couple married in their local church, with the reception at Jo's parents home, and on the day the weather was luckily on their side.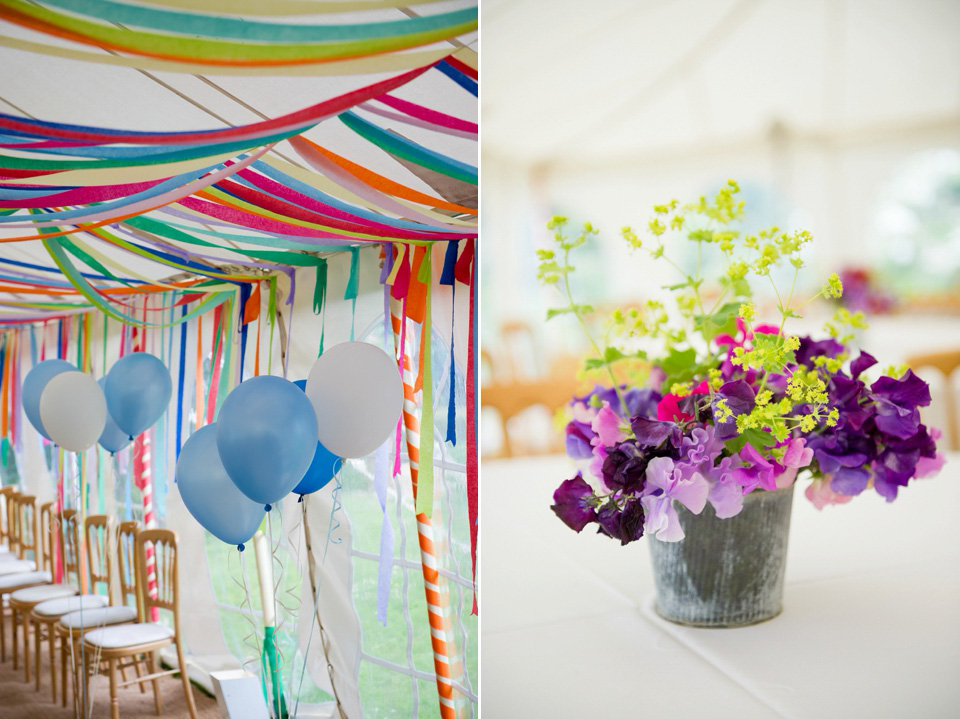 "We really wanted our wedding to be outside as much as possible and luckily the weather was on our side. Although I must admit the weather was a subject of huge stress and when the forecast for our wedding day changed from sun to rain a few days before, I cried. So stupid. It couldn't have mattered less if it had rained, but amazingly it didn't!"
Especially Amy was the couple's photographer – and I'm sure you'll agree Amy's use of the natural light came up beautifully and she caught so many emotions in these amazing images.
"Amy photographed one of my best friend's weddings a few years ago and I absolutely loved the photos she took, hence why I asked her to do our wedding. I can honestly say we could not be happier with them, they are gorgeous and have captured everything about our wedding day perfectly. Amy was brilliant at finding the best spots to take the family pics and pics of just the two of us, she worked discreetly amongst the guests too.
My mother is also delighted with them so they have passed a critical eye! I would absolutely recommend Amy without hesitation, we will treasure our photos forever and anyone who chooses to use her will be so glad they made that decision."
The pretty flowers were a mix of blooms from Bembridge Flower Shop and friends' gardens.
"Bembridge have quite a rustic and wild style anyway but I wanted greens, whites and blues for the bouquets and church flowers and we worked together to decide on the final arrangements.  In the church as well as the arrangements, we went for potted white hydrangeas that were so simple, but really effective.
I loved the idea of being able to use them again, they are now planted in the garden and some were used as presents to give to our loyal helpers!"
"We also moved the upright arrangements from the church to the afternoon marquee and they then stood either side of the speech podium – it was great that they got more use as the service is only 45 mins long. Our kind florist whizzed into the church after everyone had left and drove the arrangements over to the marquee. All the table flowers were sweetpeas from the garden or donated by kind local friends from their gardens! The table centre's on the dinner tables were oak branches from the garden too."

"My sister is an illustrator, and my mum a calligrapher, so between them they designed a beautiful hand drawn invitation, church order of service, menus and place cards. A lucky combination!"
The beautiful bride wore an absolutely divine Sally Lacock dress – one of Annabel's favourite independent designers; see here for more fabulous frocks from Sally – and looks stunning in her chosen lacy, relaxed ensemble.
"It was made with gorgeous vintage French lace, was amazingly comfortable and the style was exactly what I was looking for – relaxed and understated. I feel that it was appropriate for the setting of our wedding too."
"I needed a dress that would enable me to walk around outside easily, and on the beach, and that felt really comfortable. I didn't want to be remotely worried about it falling down or splitting or anything! Sally's dresses are all made of the most amazing material, light and elegant feeling, and seriously special. It just felt right.
I changed out of my wedding dress after dinner for the evening party, I wanted something with a bit of evening glamour and found a short white sparkly sequinned number which was a lot of fun to wear, and meant I didn't have to worry about ruining my beautiful wedding dress too!"
These pictures of the wee little helpers are simple adorable. The flowergirl wore a Monsoon dress and silver sparkly shoes from Toms, whilst the pageboy sported a blue waistcoat and white linen shirt from Monsoon and his own trousers and shoes.
Jo wore a very pretty flower crown, made by her florist, then later donned an exquisite gold head-dress, a family heirloom. She accessorised with a necklace and earrings lent to her by her mum, Chi~Chi Hair and Beauty were the hair and makeup artists, and Jo added a spritz of her old favourite scent 'Ralph' by Ralph Lauren.
"My flower halo was one of my favourite things about the whole wedding, it was so beautiful, hand-made by the ladies at Bembridge Flower Shop."
"We met at university, we went out (on and off!) over a period of about eight years, and after realising that we were, and had always been the one for each other, Tom proposed in Croatia – quite literally in the sea – having jumped off a boat with the ring in his pocket (fool) and swimming up to Jo to pop the question.
It was a brave but amazing proposal, especially since we were on holiday with my family so we had an audience, but also an instant party of people to celebrate with which was wonderful. We got engaged in September and married the following June."
"We borrowed a beautiful old convertible Bentley from a friend of the family and he very kindly drove us away from the church in it. We then left the reception in my dad's old Landrover which our friends had decorated … tin cans and all."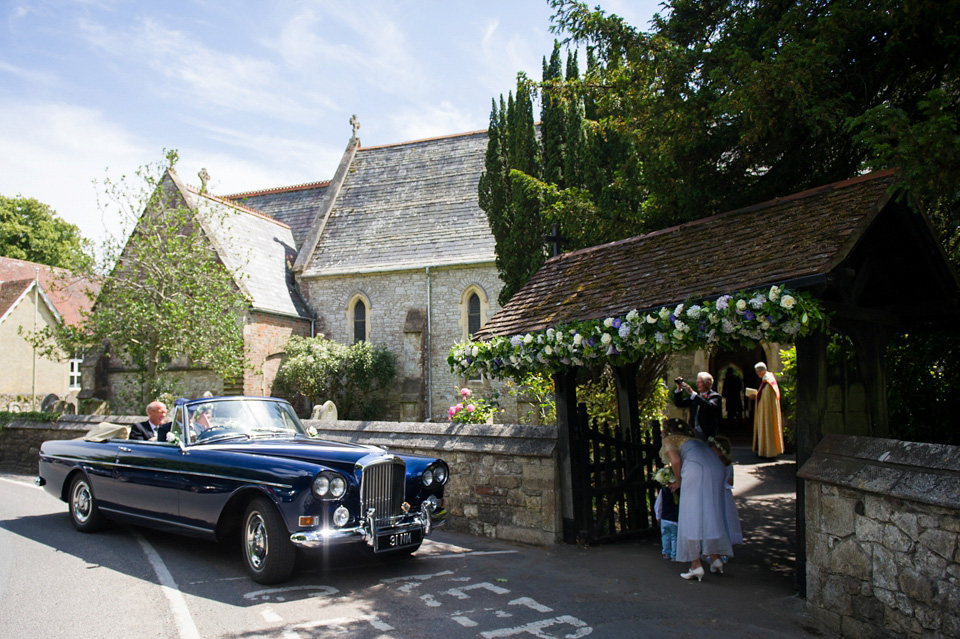 Jo's father walked her down the aisle to 'The Arrival of the Queen of Sheba' by Handel and she found an antique ring to match her engagement ring.
"Tom doesn't have a ring, and mine is antique from Bembridge Jewellers.  It is a gold band with a tiny band of diamonds in the middle – it compliments my engagement ring perfectly which was his grandmothers and dates back to around 1920."
The groom looked dapper in a Favourbrook suit and Jeffery West shoes and cufflinks. I love the story of how Tom proposed to Jo on a holiday.
Jo's lovely bridesmaid paired her vintage 1920's silk and lace tea-dress, bought from Etsy then altered, with white kitten-heel vintage dress shoes from Portobello market in London – such a stylish result.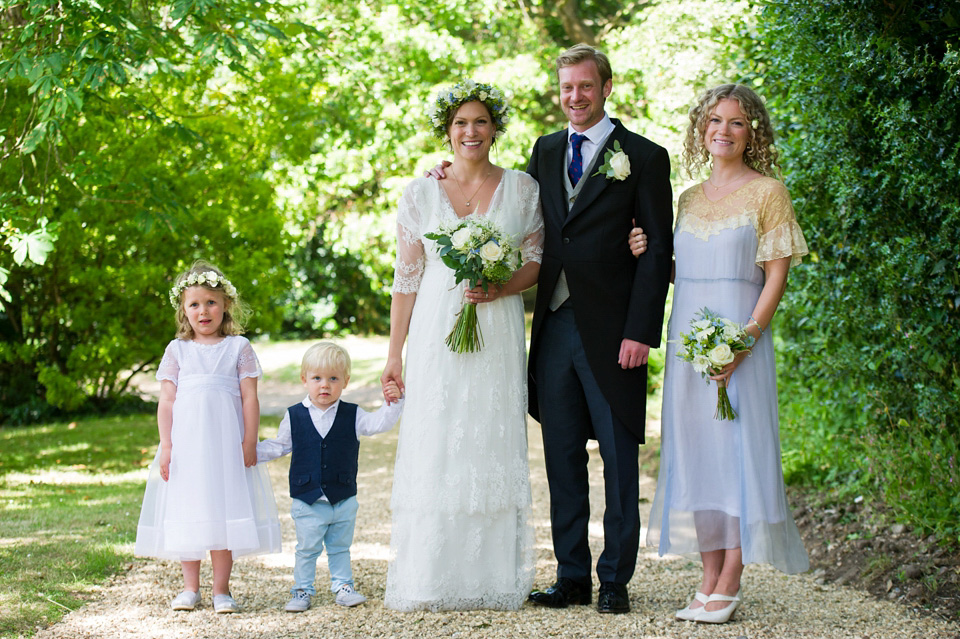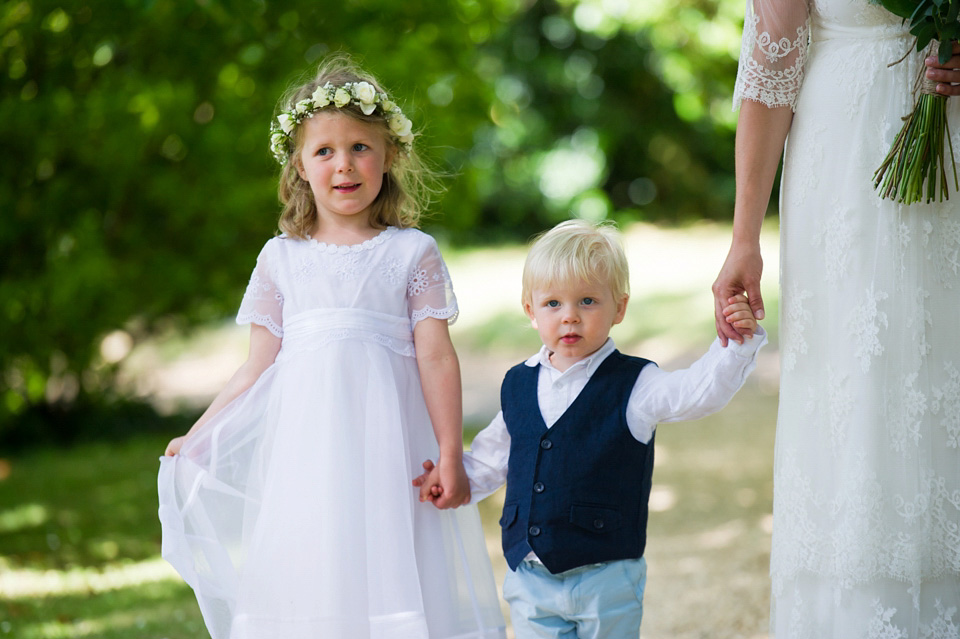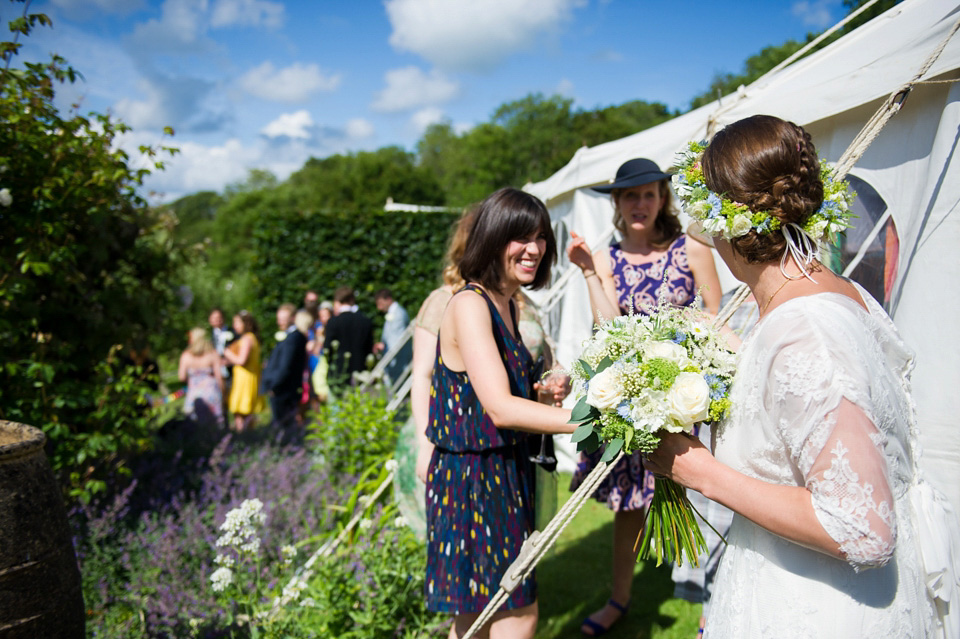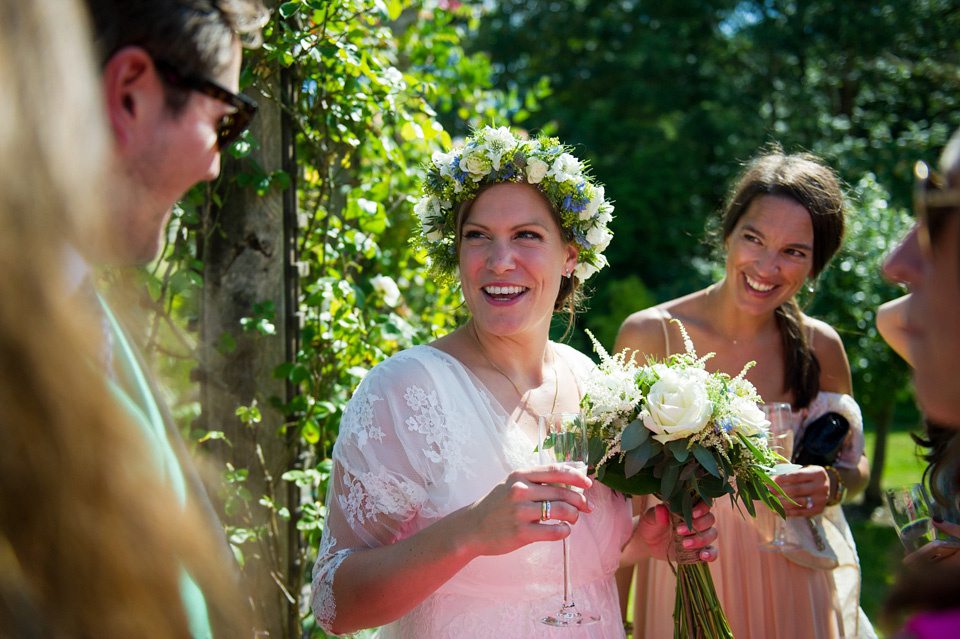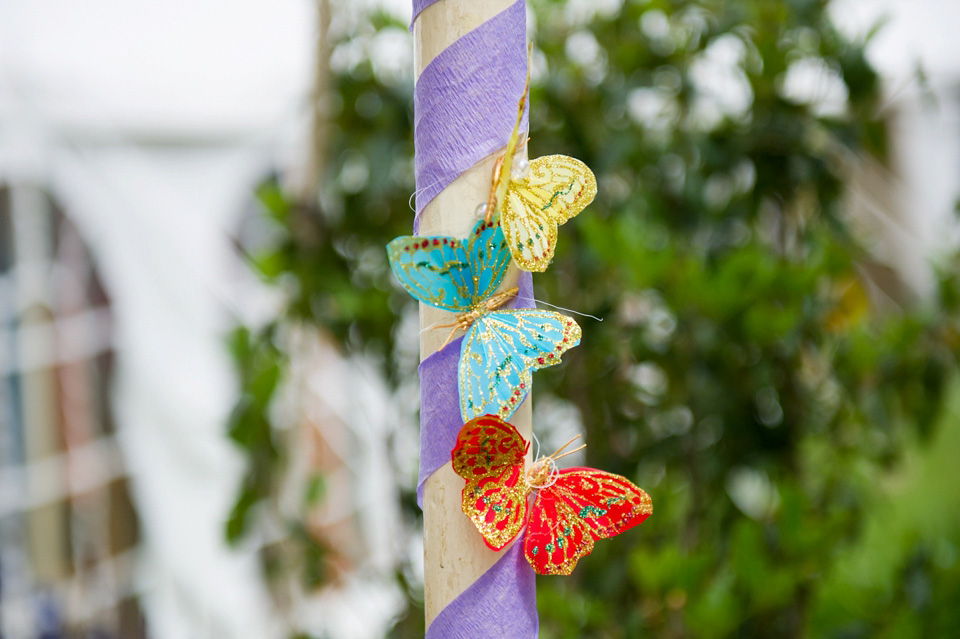 The decor was an eclectic mix of bits and pieces Jo collected throughout the planning stages – all bought inexpensively from charity shops and even the local post office.
"We had paper streamers and bunting, lots of fairy and festoon lights around the garden, oak branches in clear tall vases which had mini battery powered fairy lights in them and magical when it got dark."
"We used beach buckets filled with sand as ash trays, paper lanterns with fairy lights in lining the steps, hanging glass tea-light holders in trees, chalk boards with chalk pens to make signs for the loos, balloons, butterflies on strings and hessian twine to tie up the napkins which also had lavender and rosemary placed on them."
"We didn't have a cake! People find this so strange, but I've never eaten a single piece of wedding cake at a single wedding I've been to, even though there have been lots of cakes. We decided to spend the money elsewhere."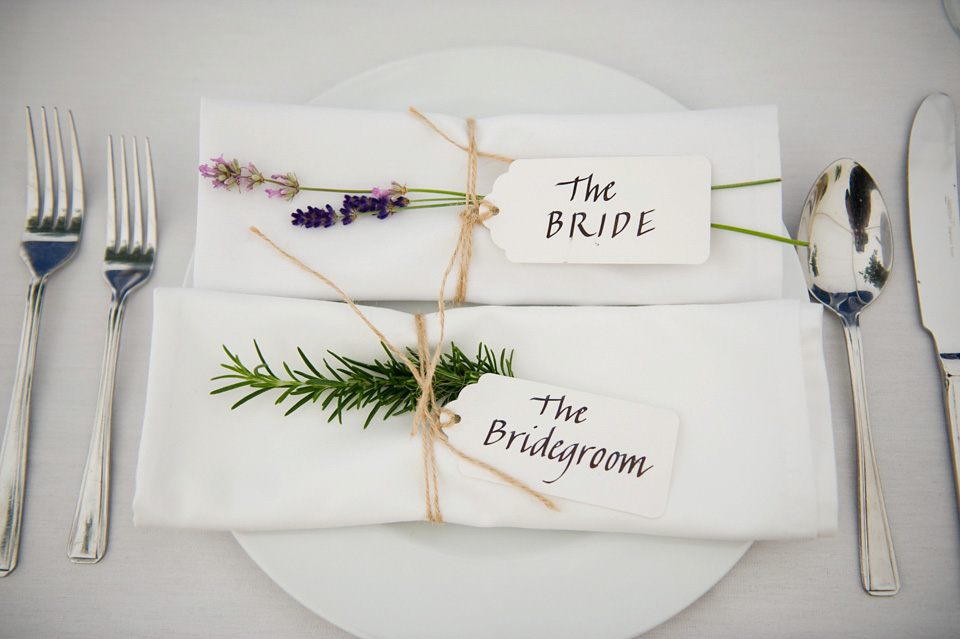 "We had tea-lights on the tables, a lot of our flowers were picked from the garden and kindly donated by local friends from their gardens too. We also made our own confetti from roses in the garden which was a lengthy labour of love but totally worth it and really beautiful!"
"The head-dress belonged to my great aunt, and then my mother, and then was lent to me for the wedding. It's actually a 1920's dress collar I believe, but I didn't know and tried it on my head and decided to use it as a head-dress instead!"
"One of my favourite parts of the day, as much as I adored all of it, was actually when Tom and I went to the beach for some photos – we had about half an hour just to ourselves and it was amazing to have a tiny breather and step out of the mayhem for a moment. It allowed us to speak to each other and catch up on how were feeling before we went back for the evening reception."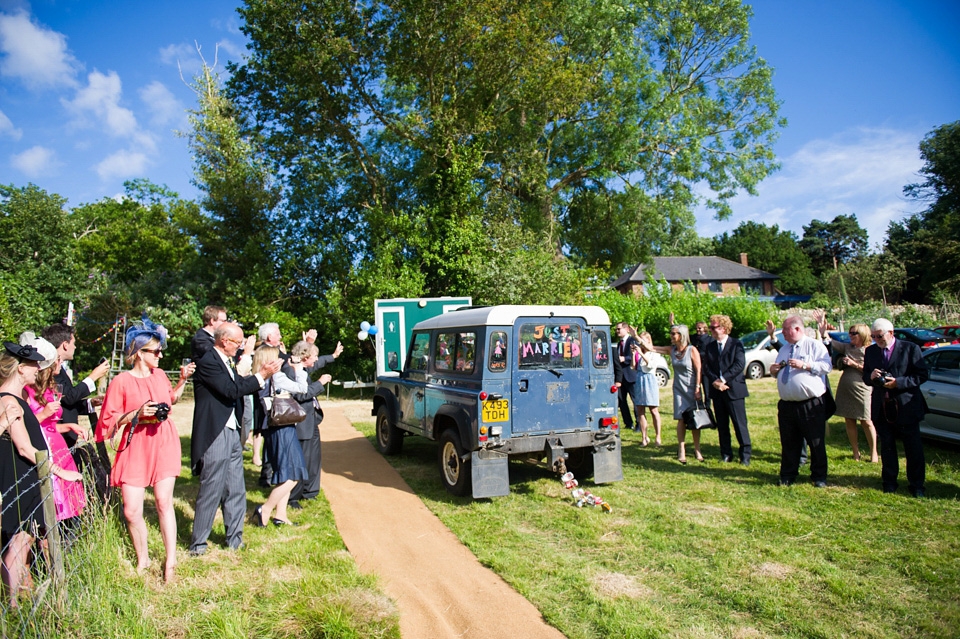 "I love our photos from the beach as well. I would definitely recommend planning a small amount of time for just the two of you to take a step back and absorb everything that is happening, it makes it all easier to take in!"
Words of Wedded Wisdom
"Enjoy the planning as much as you can. I miss so much all the time that mum and I spent together planning the wedding. We saw more of each other in those 9 months than ever and we managed to do it all without a single row (well, almost!). I so often hear of people feeling really stressed about their wedding planning which makes me sad, it will all be over so quickly and by then it will be too late to enjoy it, so just make the decision that it will be fun and stress free and go with the flow of it all.
There is always a compromise to be made and a solution to be found for every issue that arises (apart from controlling the weather … so again decide to let that one go!).
I wouldn't do anything differently, I loved it just the way it was. Even though plenty of things went wrong and it was not perfect by the books, it was perfect from our point of view and all the things that didn't quite go to plan ended up being funny or forgotten about."
Such sound advice for those of you who may currently be amidst sorting out what may seem like a zillion things. The planning stage really is a lovely time, so treasure these moments. Thank you so much to Especially Amy for these wonderful photos … and to Jo and Tom for sharing your pearls of wisdom and happy memories.
See here for more wonderful Isle of Wight weddings we've previously featured on Love My Dress. And if you've fallen in love with Jo's delightful flowers for her hair, click here for loads of flower crown inspo.
Enjoy the rest of your week everyone.
Love Jo -xxx-
Photographer – Especially Amy
Venue – Family home at Bembridge, Isle of Wight
Dress – Sally Lacock
Shoes – Dune
Flowers + Floral Crown – Bembridge Flower Shop
Gold head-dress – Family heirloom
Jewellery – Borrowed necklace and earrings from Jo's mum
Scent/Perfume – 'Ralph' by Ralph Lauren
Bridesmaid Dress – Found via Etsy
Bridesmaid Shoes – Portobello Road market, London
Groom – Favourbrook suit and Jeffery West shoes and cufflinks
Flower girl – Monsoon dress and Toms shoes
Pageboy – Blue waistcoat and white linen shirt from Monsoon and own trousers and shoes
Jo's Ring – Bembridge Jewellers
Catering – Laura Saddler Catering
Stationery – Designed by Jo's sister and mum
Hair & Makeup Artist – Chi~Chi Hair and Beauty
Entertainment –Tony Martin Music Show