Morning all, and oh my, do I have a beauty of a modern vintage glamour style wedding to share with you today. Tim and Georgie, who are both Architects, tied the knot on 28th March this year with a ceremony and afternoon tea at The Asylum Arts Chapel, followed by a party at The Hunter S.Pub in East London.
I adore the essence  of 'decayed decadence', that gorgeous bias cut wedding dress and Georgie's absolutely beautiful flowers and smile.  As always, it is such a pleasure to be able to share the wedding photography of Caroline and Kelly, aka, The Twins, who were ably assisted on this occasion by Heather Shuker.
Photography by The Twins, with Eclection Photography second shooting
"Nothing about traditional weddings really appealed to either of us and I'd have felt like I was in fancy dress. Everything we chose was just because we like it. That's how you choose clothes or furnish your house and that's how things seem 'you' so that's what we did. It meant I could happily make table runners without worrying what the flowers would be etc."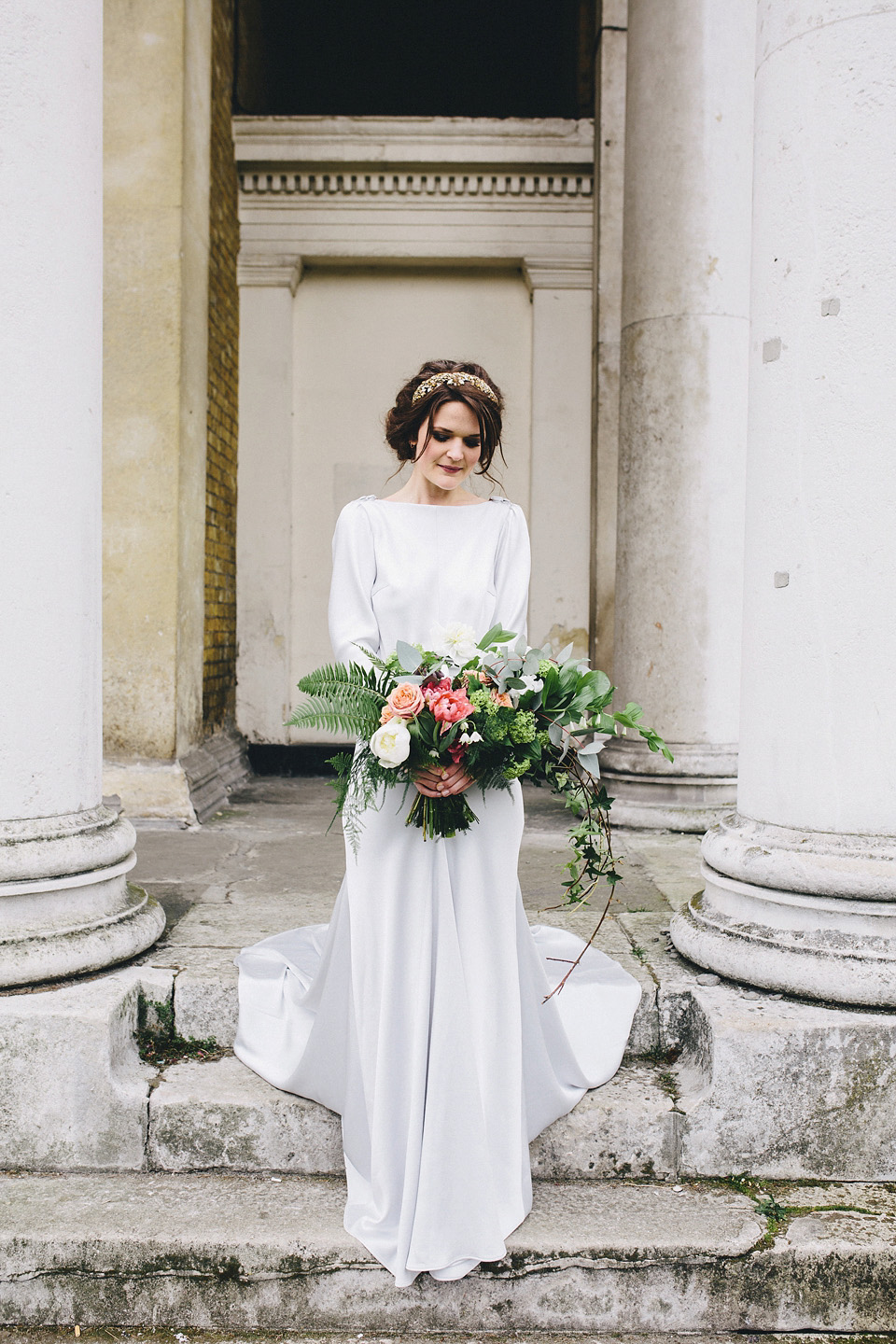 "I bought the bridesmaids crepe skirts from New Look and they wore their own tops, shoes and accessories."
"The one thing we did 'splash out' on was the large T and G in lights from Vowed and Amazed, and I think it was worth it as they worked in the room and gave it a focal point and a great backdrop for the band."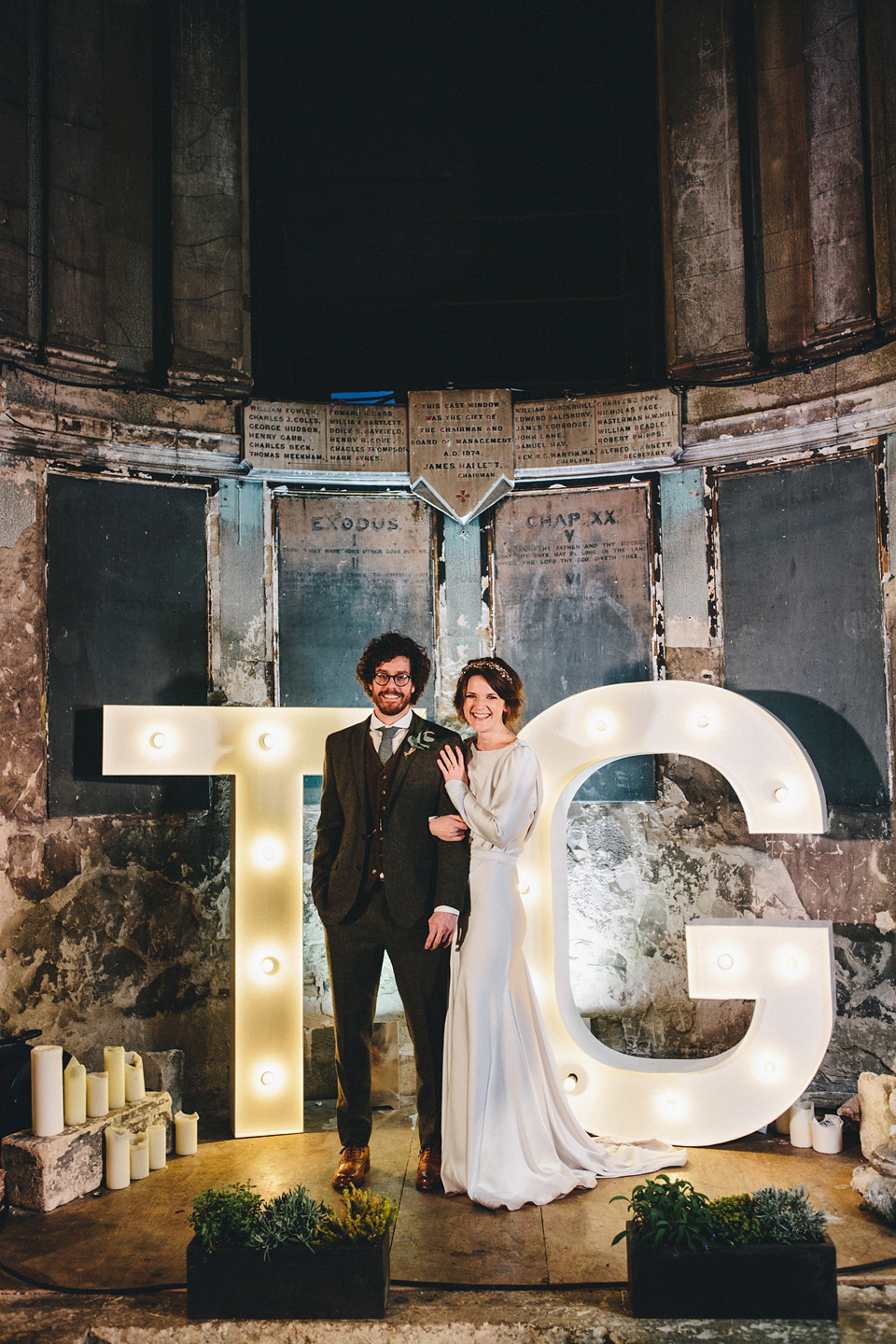 "I designed my dress based on a Ghost dress that I bought in the sale and then ripped! I went to Linda Brooker in South East London who makes beautiful, classic clothes and not just wedding dresses. She's laid back and not at all girly or fussy which I really liked.
She has a facebook page but no website. We spoke lots about fabrics and chose it together using her expertise."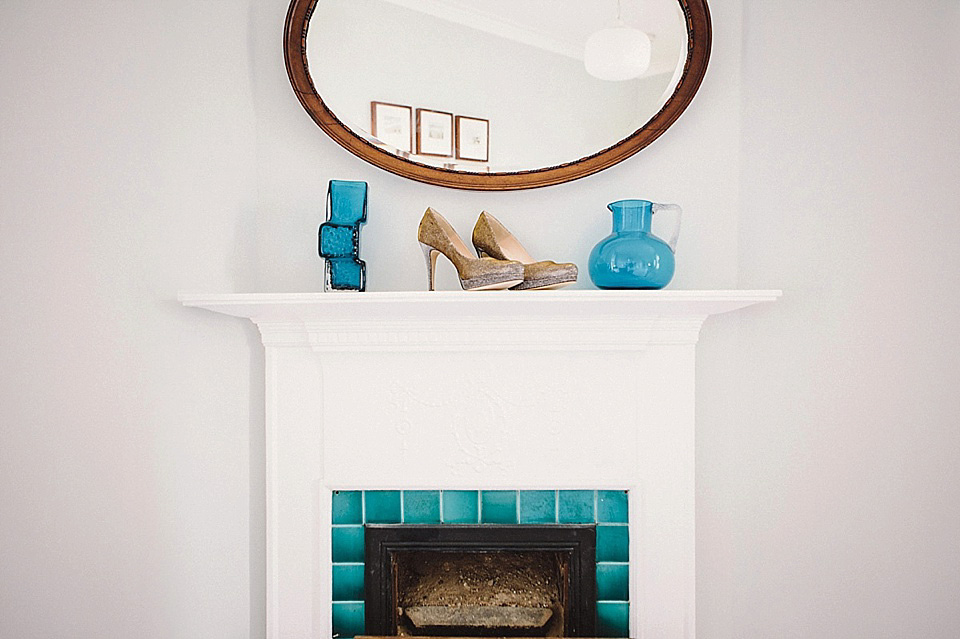 "We knew we wanted to get married in London as that's where I'm from and where we live.  The first, obvious choice was Hackney Town Hall as we live opposite however Tim especially wanted to avoid the in-and-out/quick turnaround of these places so we started 'Googling'. We quickly found ourselves on council websites and arts organisations as they seem to own the best 'hidden gems'.
In a conversation with Wilton's Music Hall, Tim was recommended The Asylum. By chance, they had an open day that weekend so we went – and loved it – and that was that!"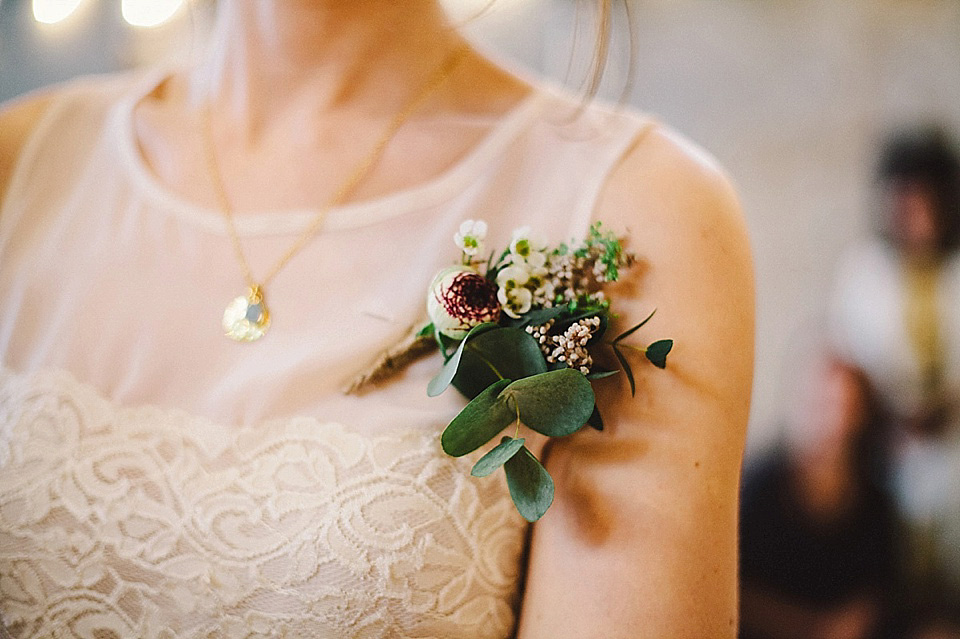 "The second part at The Hunter S.Pub was an easy choice. We wanted to dance the night away in a local pub that we go to a lot and the staff at the Hunter S were happy to close for the evening for us. The layout is perfect with space to dance and space for the oldies to sit and chat
We bussed people between the two – it's a cliché in London but its practical and was really fun."
"Tim's suit was from Ben Sherman and is made with Abraham Moon and Sons wool. It was tailored at Bradford and Carlos Tailors on Kingly Street, Soho.  He also wore a pocket watch – a present from me for his last birthday from Dezeen Watches (sadly, no longer for sale), a Harris Tweed Waistcoat from Toast and a woo tie that he already owned."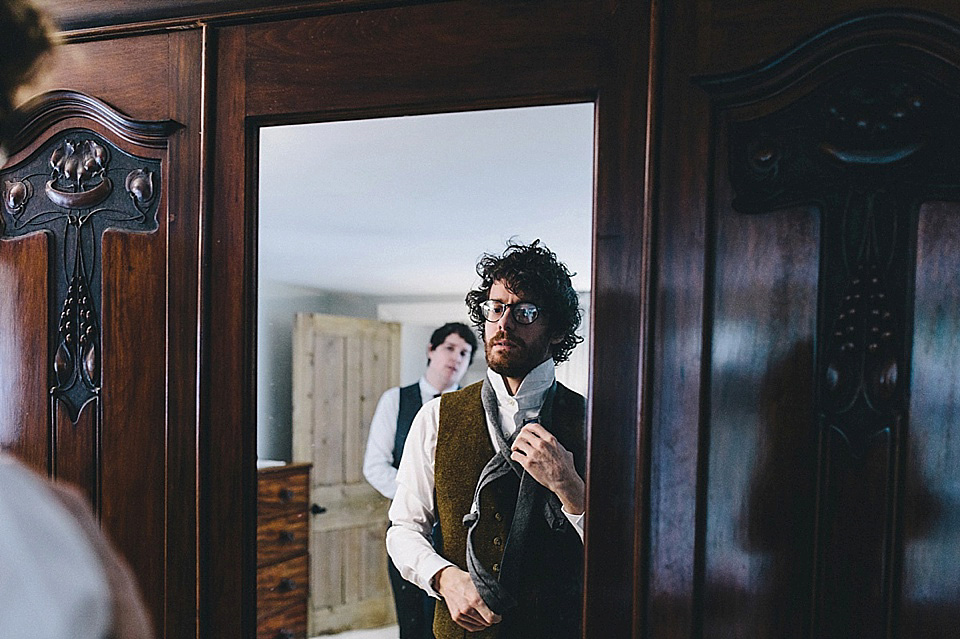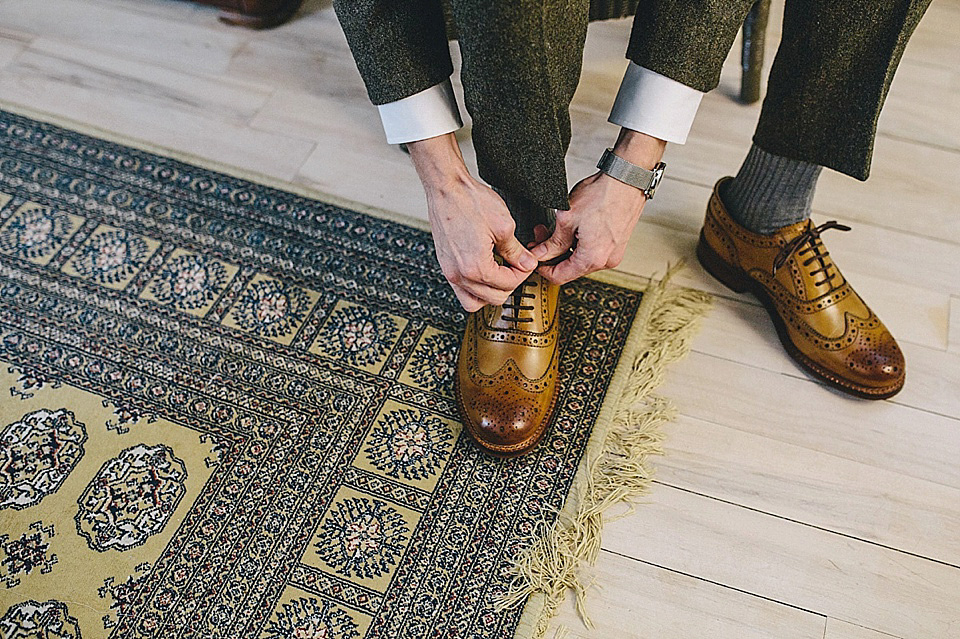 "Tim and I met at university and got engaged in the Peak District just over a year before we got married. Knowing I wasn't really that set on getting married Tim's proposal was 'do you want to have a big party?' and that's a sentiment we tried to keep to the end."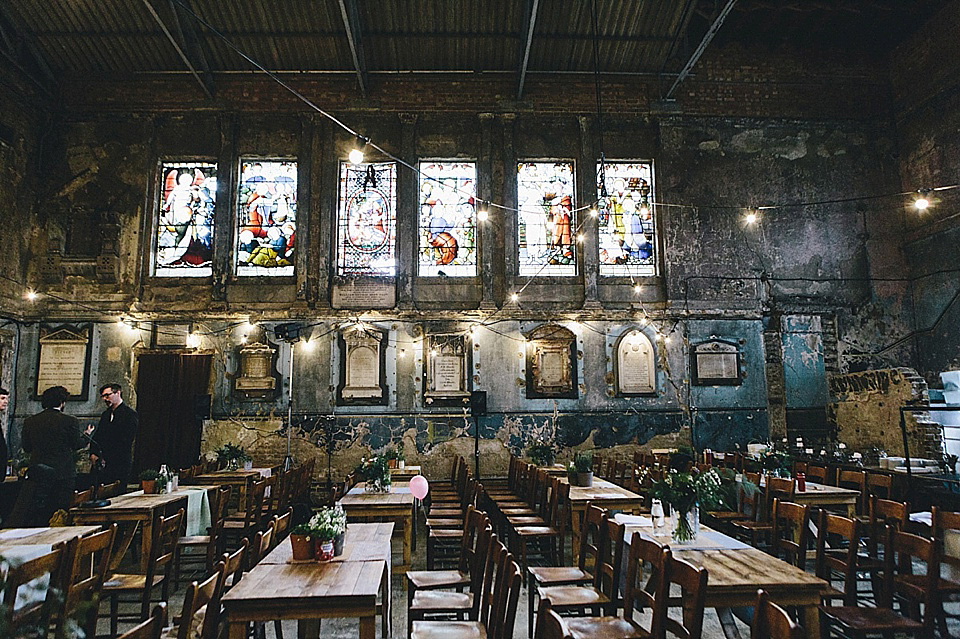 "I wasn't 'given away' – I wanted to be part of setting the venue up so we were both there early and got changed in the loos. We said hello to everyone as they arrived and got some of the photos out of the way before people got there too! It made me (and, hopefully the whole day) more relaxed."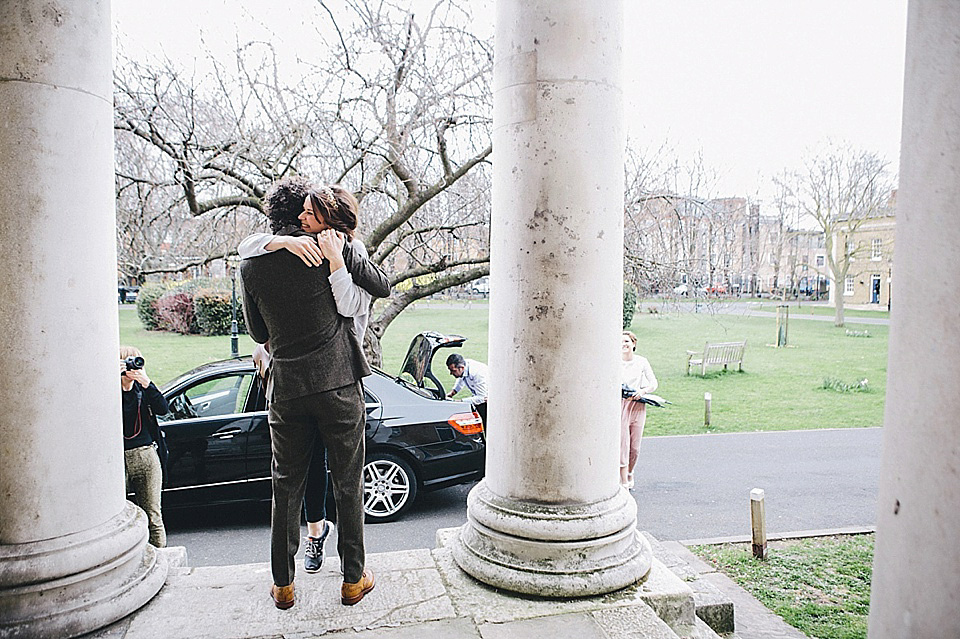 "Invitations and 'order of the day' were from Moo. We designed our own but they have a great range of designs you can tailor to a wedding."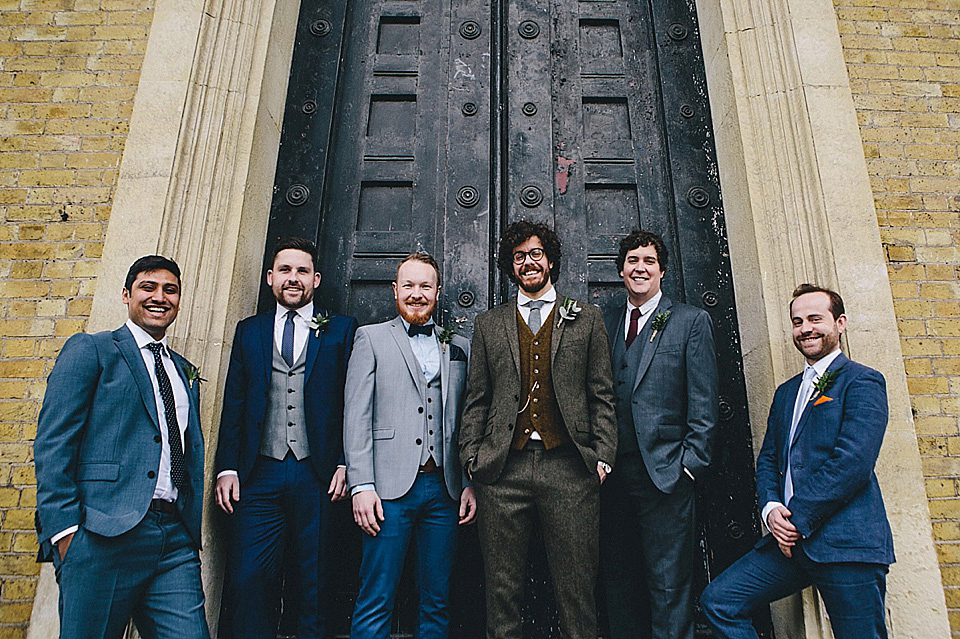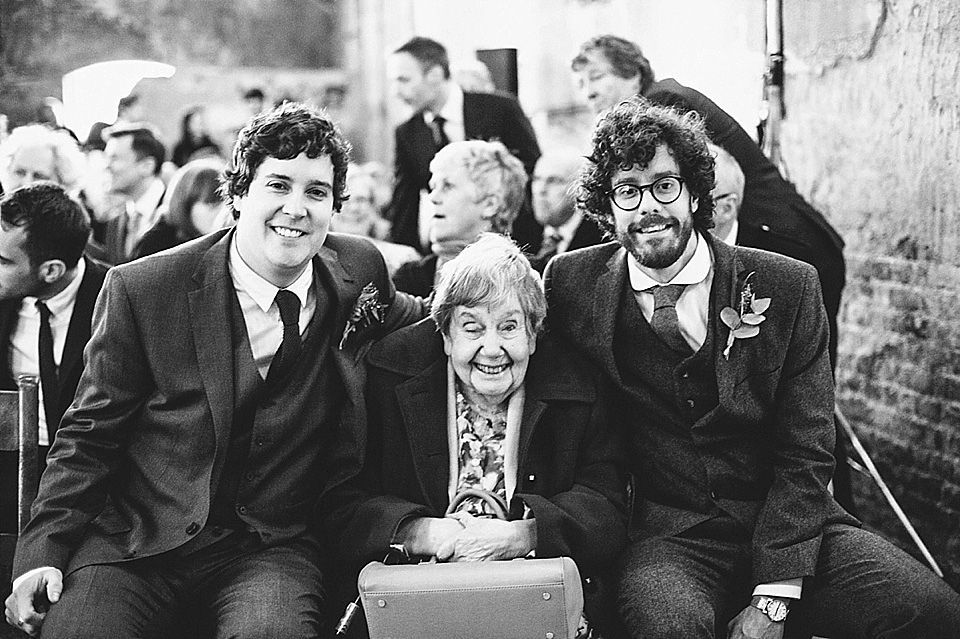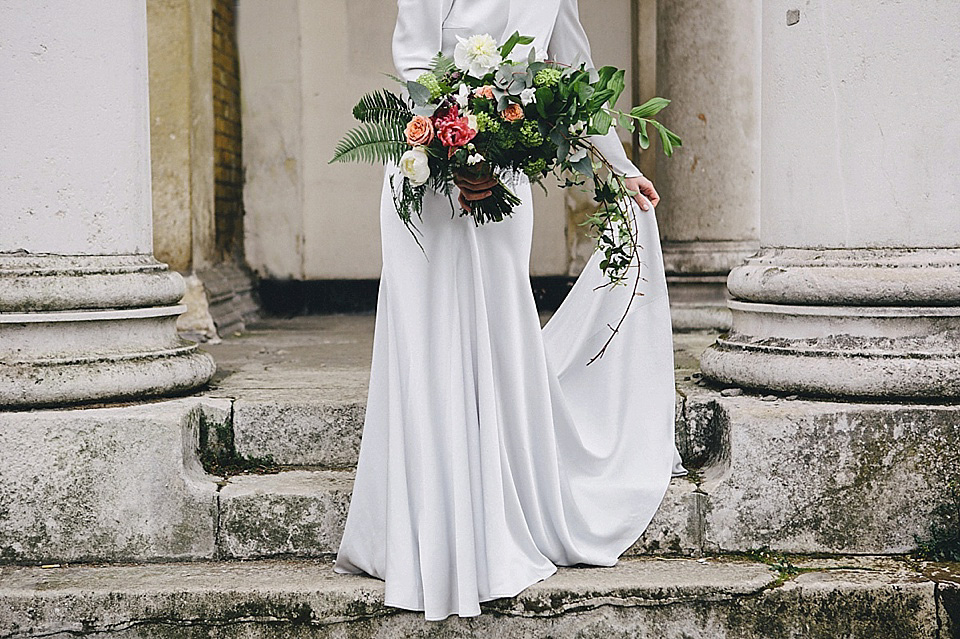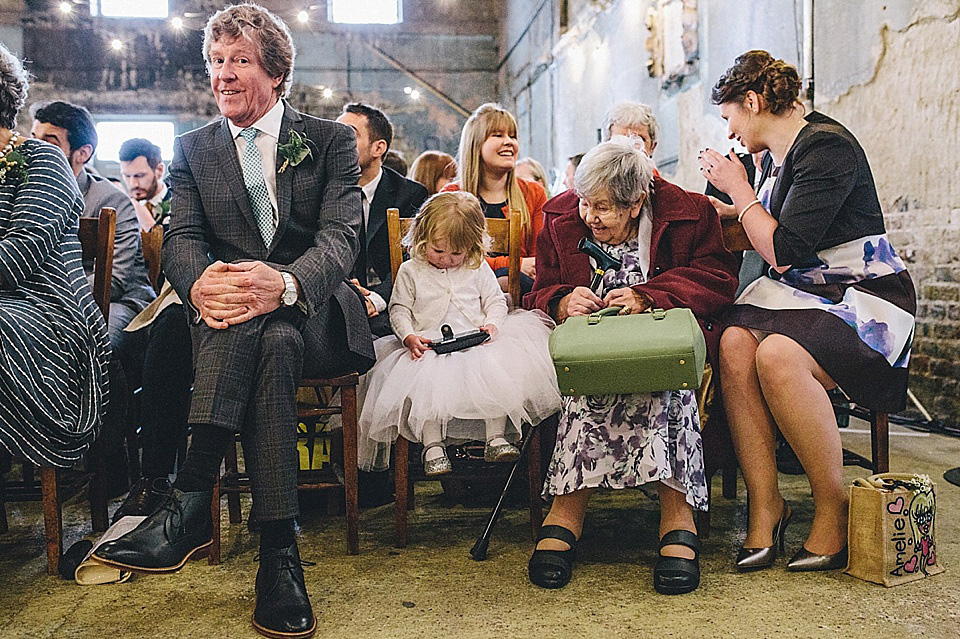 "We were so lucky Terry Tew, a colleague of my dad was able to provide all the sound and lighting for the day making it feel quite professional. He set up the Asylum with festoon lighting and even gave us a full audio recording of the day – which we weren't expecting. There aren't many people who would have let our amateur DJ friends use their equipment; I hope he knows how much he made our day extra special."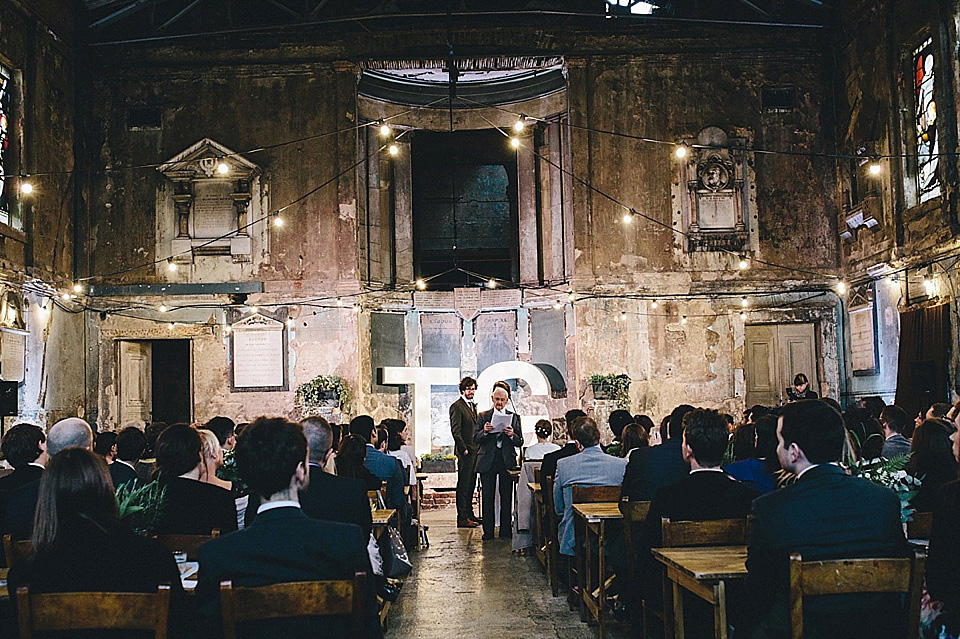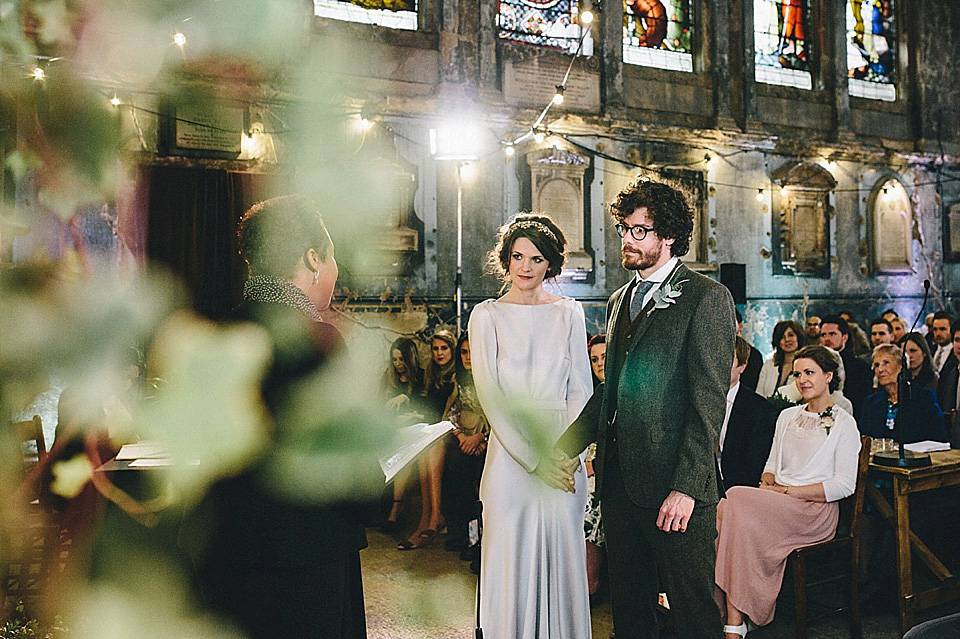 "We had three readings from my granddad, Tim's mum and our friend Matt. All were a surprise on the day. My granddad spoke before the registrar introduced the ceremony and it worked well to set the scene. He spoke about the history of the building, their wedding during the war and the importance of looking out for other people. At 92, there were lots of us holding back tears!"
"Tim's mum read an extract about 'home' from Wind in the Willows, a book that Tim's granddad used to read to Tim and Matt found a brilliant poem 'I like you' by Sandol Stoddard Warburg. I have to hand it to all of them, they did an amazing job. I'd recommend that people keep readings secret; it's a nice surprise on a day that is so 'well planned!'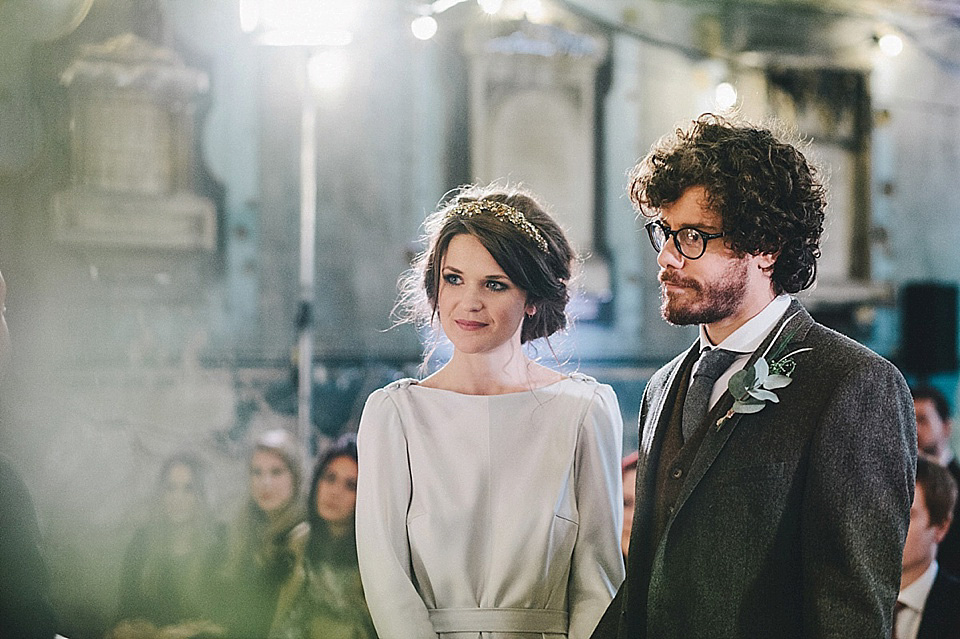 "My ring is my Nanna's wedding ring. Tim went to speak to jewellers at Hatton Gardens and they recommended buying it online!"
"My hair accessory was by Jenny Packham and was my one bit of very bride-ness! – It was bought in the sale for 50% off but it was still expensive."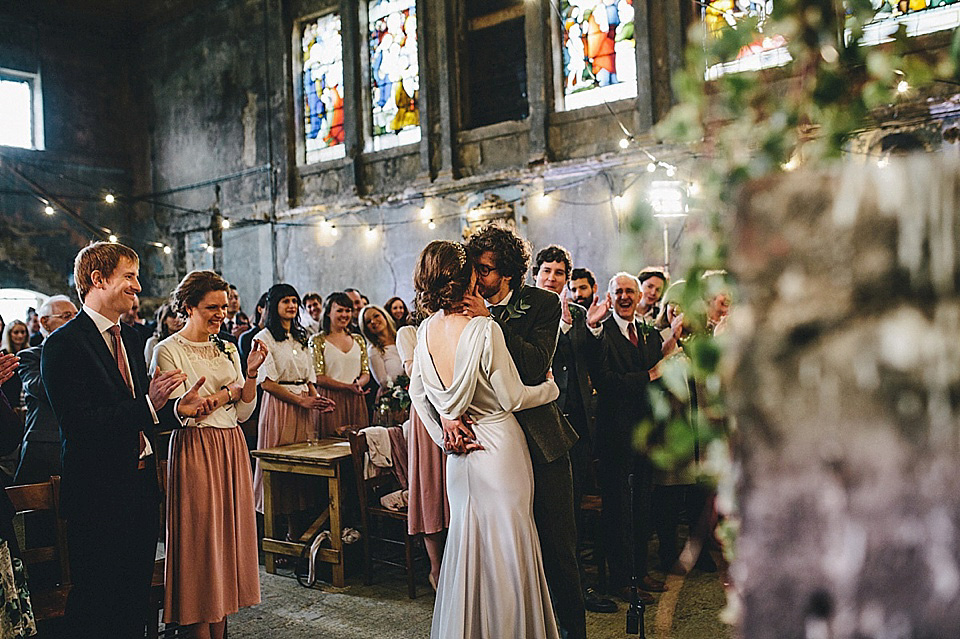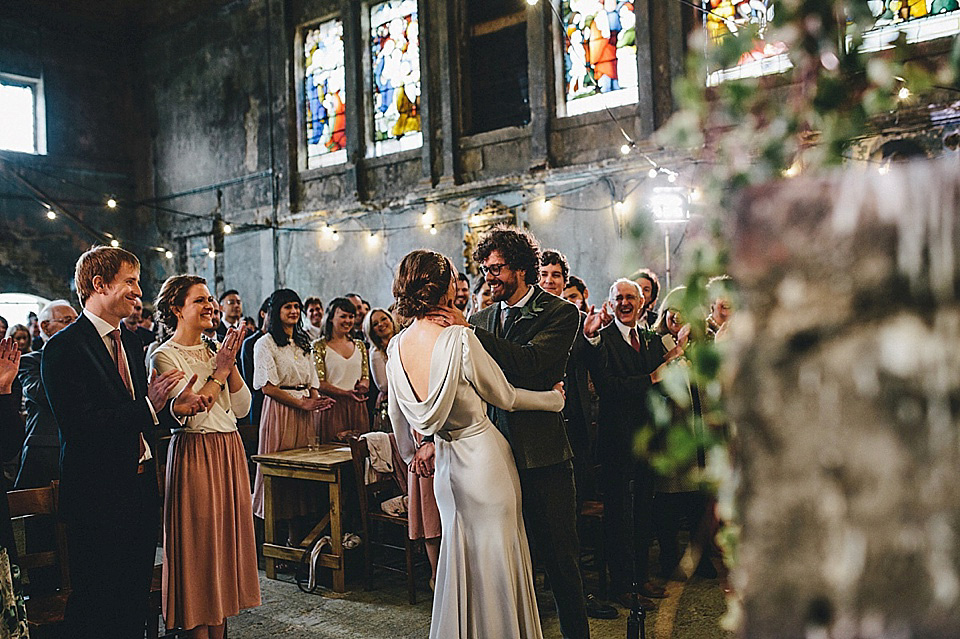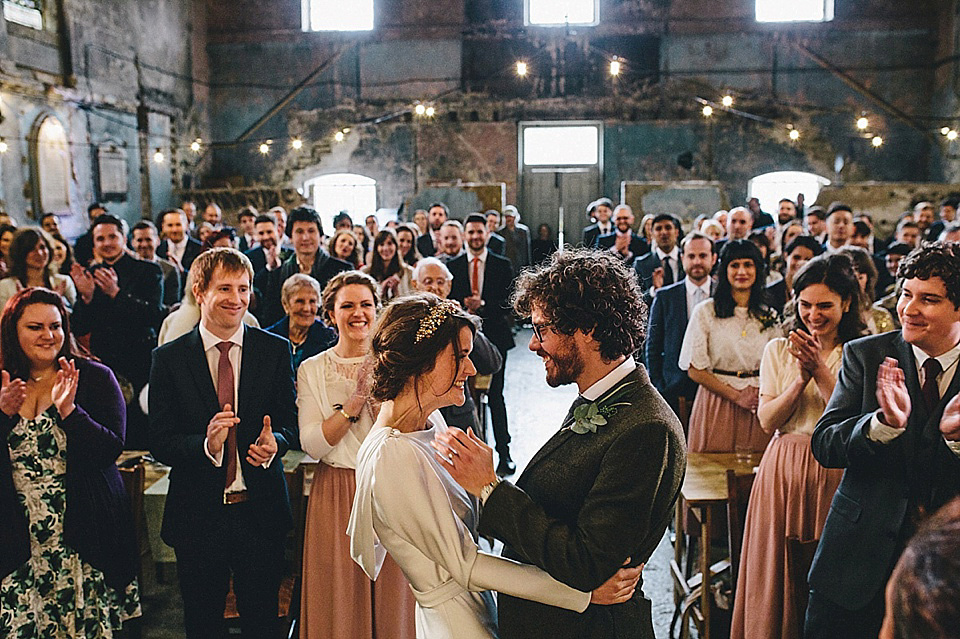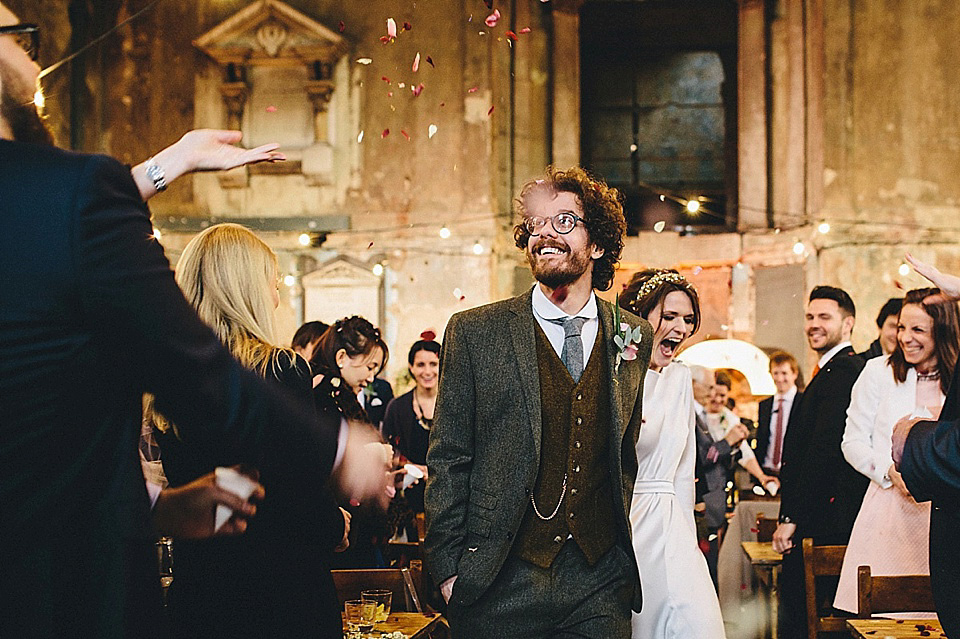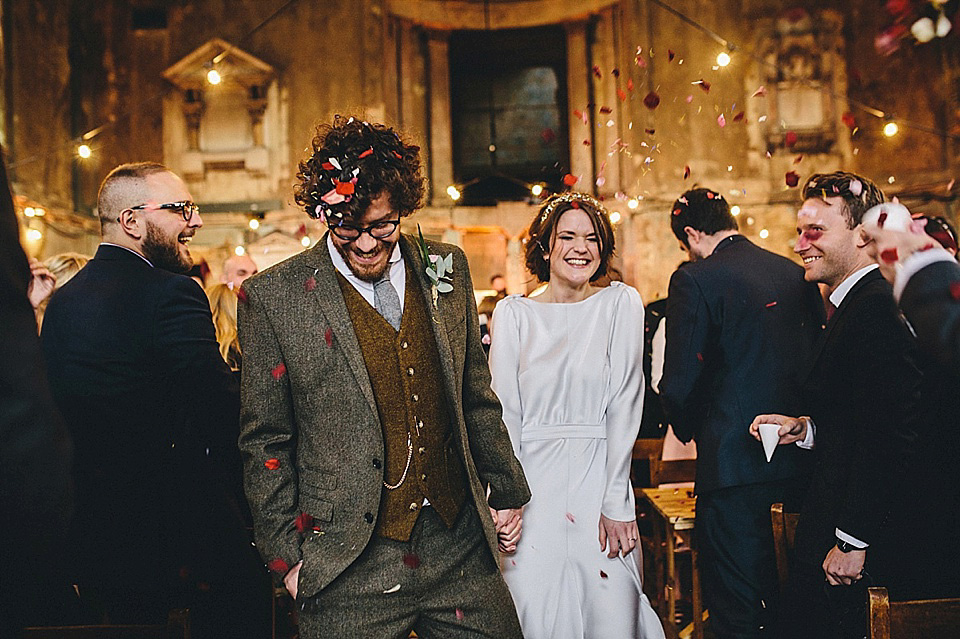 "Tim's mum made amazing tutus for the two little girls (aged 18 months and 2 years."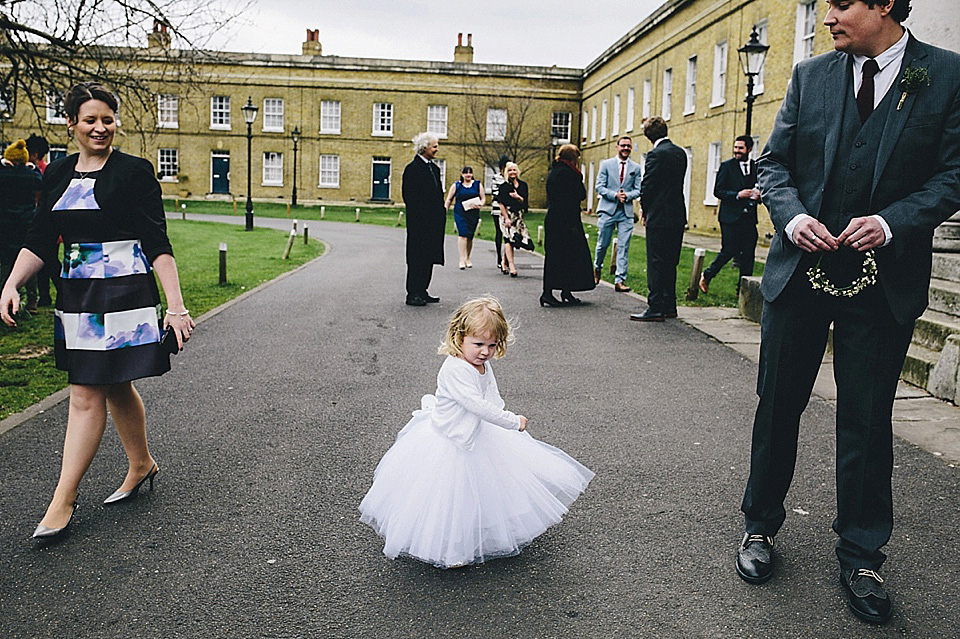 "Our florist was Grace + Thorn, as they share my taste (Tim didn't mind with flowers). I gave them a few images but trusted they'd do a good job and they did. Flowers are expensive and they look great on mass so to avoid spending too much, we planted lots of herbs and smaller plants in tins and ceramic pots (I was on the hut for food in interesting tins for months!) which we used on every other table."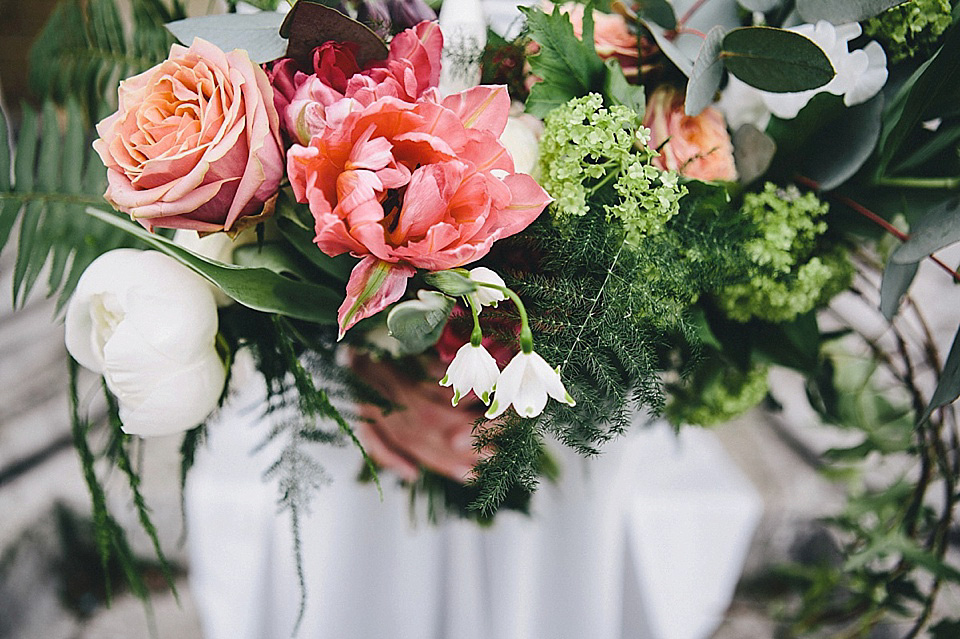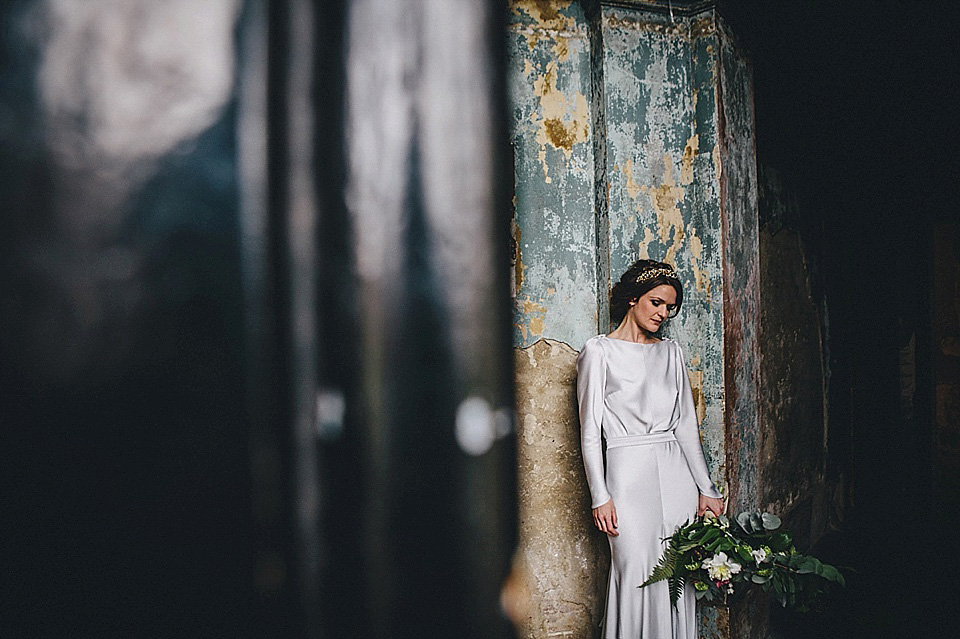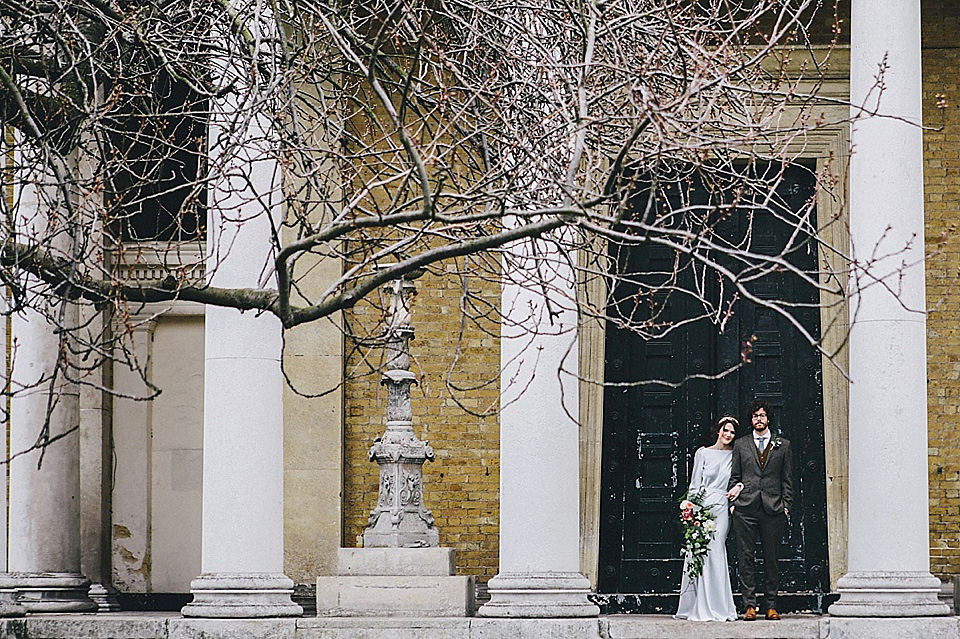 "Other than that decoration came from the things we hired. The Asylum comes with chairs only so everything else was rented / bought. We hired tables from Classic Crockery and I made table runners from random pieces of fabric I liked (I made them wide enough so that I can turn them into cushions for our sofa)."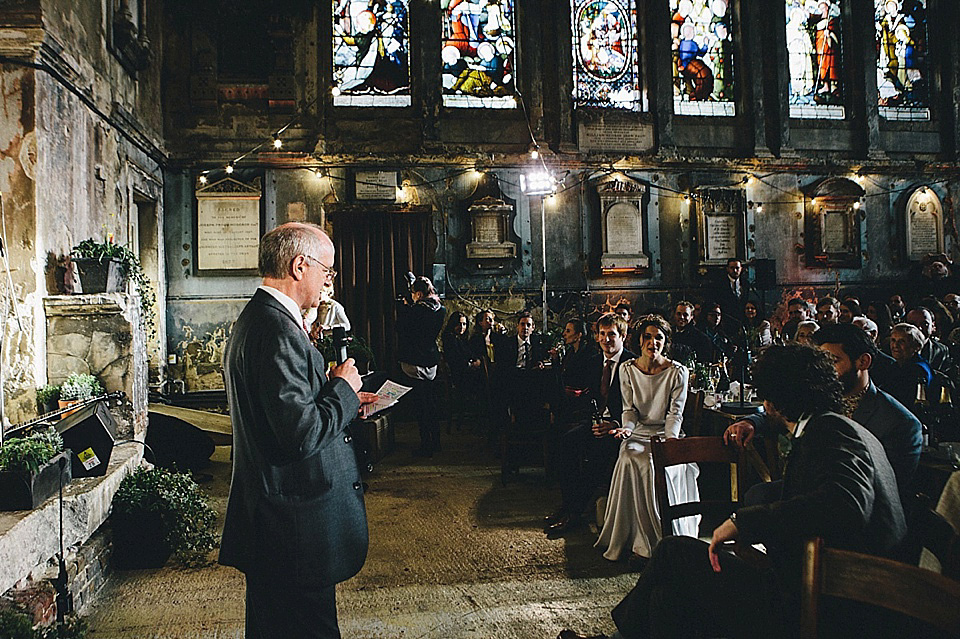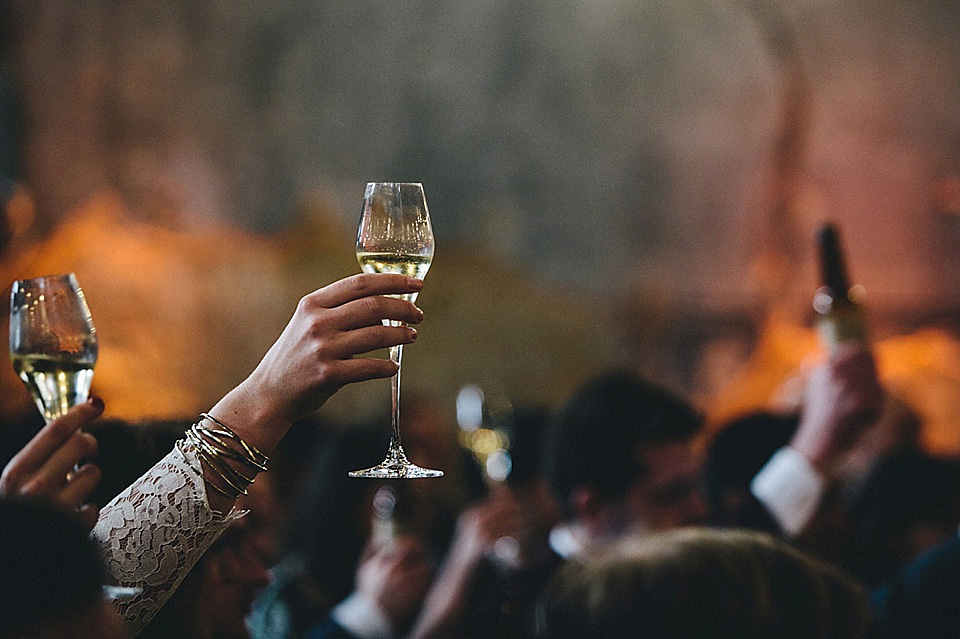 "At the Asylum after the ceremony we had afternoon tea. The sandwiches were from the London Particular and the scones were from Dunns Bakery with jam and cakes made by our friends. The food at the pub was in-house, their regular, delicious pub grub.
To accompany the afternoon tea we had tea pigs tea, champagne and craft beers from local breweries supplied by our local beer shop Clapton Craft. In the year leading up to the wedding I got quite into 'champagne deals' on Wines Direct and snapped them up as they came up. Buying a couple of bottles a week was a great way of keeping the costs down but a habit I now need to drop!"
"We didn't provide favours – we thought that they were an unnecessary cost – even if we spend £2 per person that's £300 and the favour wouldn't be very good!"
"We made playlists for the different stages at the Asylum and for the bus trip and just plugged in iPods to play them on. We had a brilliant folk Band 'Concrete Mountain' play at the Asylum just after our ceremony (they have a Facebook page only). Several months before the wedding Tim had sent me a video of them playing at our local Broadway Market just because he liked them. We remembered this when we were planning the wedding and scouted them out! They were such good fun and a lovely group of guys."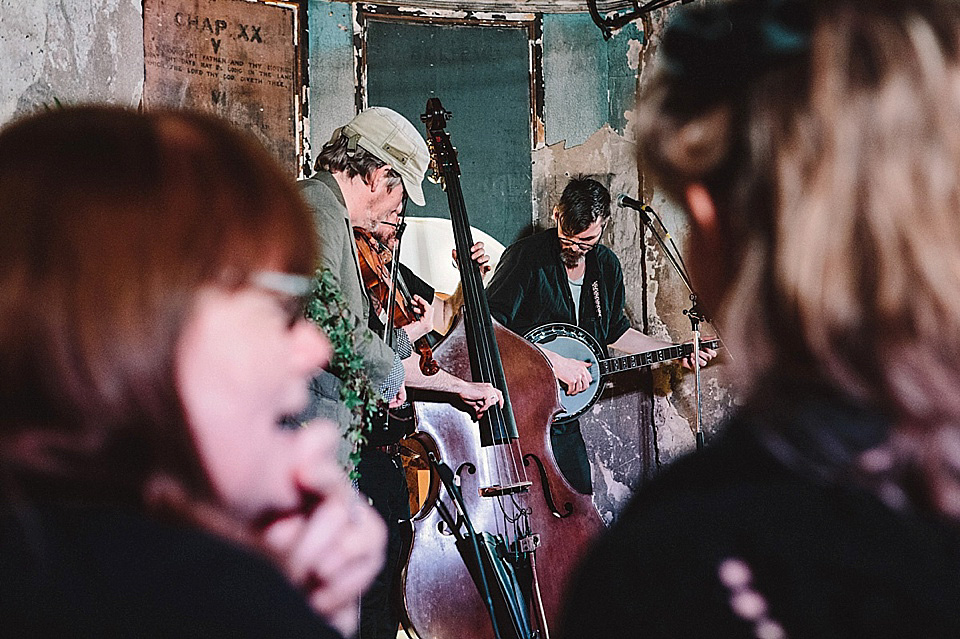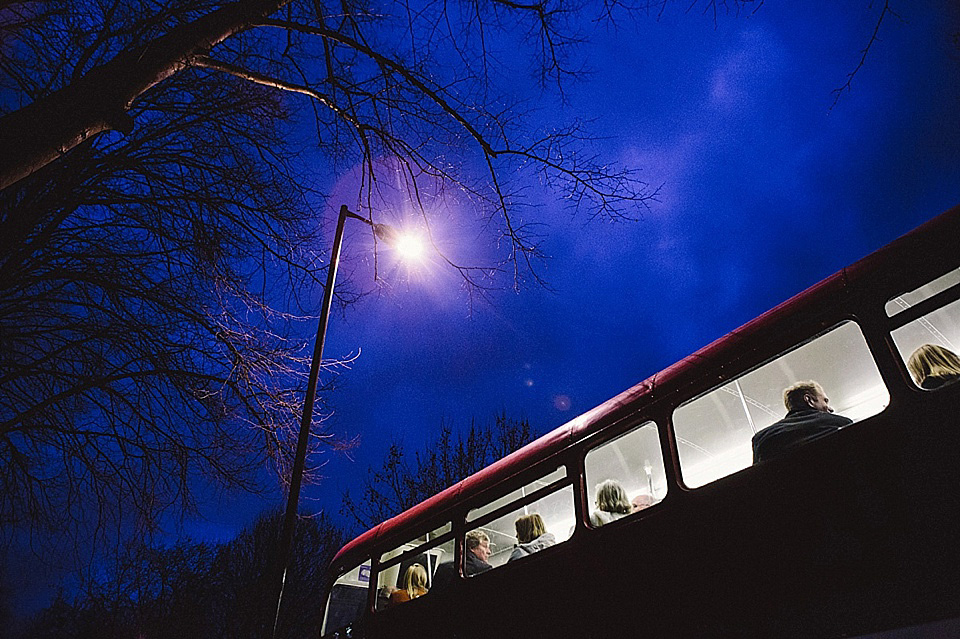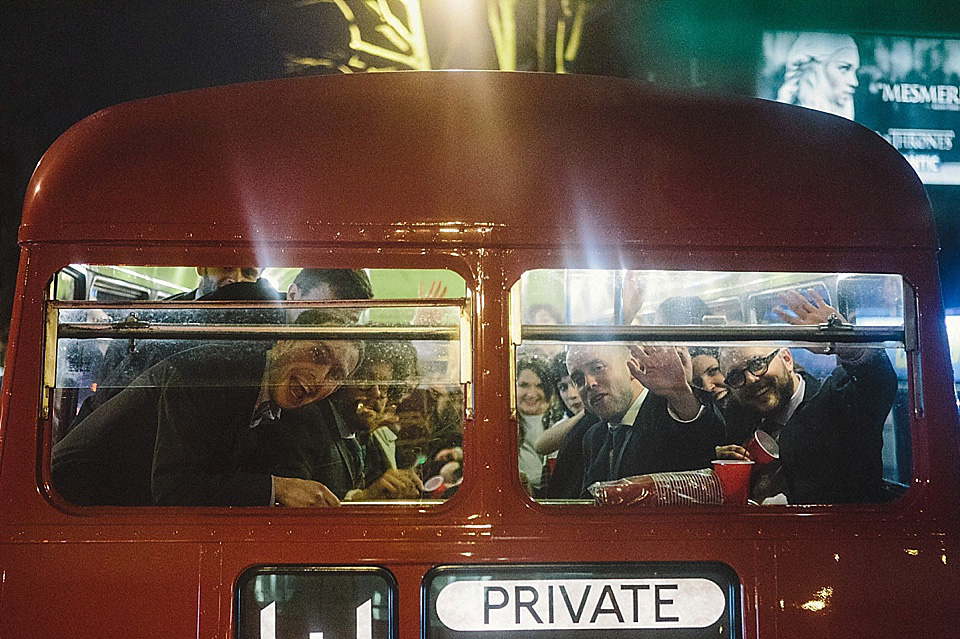 "I think, strangely, that it was the end of the night that was my favourite part of the whole day. The pub stayed open as long as we wanted and by the end it was just our very best friends dancing away like a normal night out. I was so hot, exhausted and hadn't eaten all day but I felt so happy. Matt told me he'd never been to a wedding that so well summed up the couple doing it and that made my day. That's exactly what we wanted."
"We didn't choose a first dance as such as Tim and I (DJ name Lady and Tramp) just started the DJ set. Our songs were 'You make my dreams come true' by Hall and Oates, 'Do I love you (Indeed I do)' by Frank Wilson and 'I got a woman' by Ray Charles. They're all good for dancing and that was their job!
I changed outfits at the pub (like a Diva!) I knew I'd mess up my dress and it would inhibit my dance moves. I changed into the most amazing silver trousers by Solace London. They're really wide legged and reflective so I still felt like the bride!"
"At the pub our friends paired up and played 20 minute DJ sets – starting the night with ours (in lieu of a first dance). This was an idea from a friend at work as an alternative to hiring an expensive DJ. We had the likes of DJ Poptart, Krispy Kreme and Jeffy Jazz making an appearance. It was a great idea and meant it was non-stop hits. Once receiving their playlists we created a set list to give the evening some sort of order. Our mums wanted to do one (Mother Funkers) – we couldn't say no – and they went for it with costumes and wigs. It all added to the fun."
Words of Wedded Wisdom
"For us, the best weddings we've been to are the ones that represent the couple – so I would say just plan it like you're planning a big party. We only took on the traditional parts that we agreed with – for example the giving away and revealing of a veil seems antiquated to me but wearing rings is a symbol we liked. Tim wanted to do a speech but we did all the thank-yous (and there were many) together.
Friends and family want to help and the day is nothing without them. Our mums, my sister and my best friends were just amazing – give people a brief and ask them for help!  Also spend your money on things that make the day great. For us, that was ensuring a free bar, free transport and good music for a boogie. We considered every cost in relation to the whole day."
"A friend told me if you plan your own wedding it should go on your CV! A busy job and wedding planning is pretty tough. I won't deny there were moments when I just thought, let's forget it and run away to Paris for the weekend! But it was worth it.  Another friend at work told me very early on that when you start planning a wedding you think 'I'm not going for the traditional wedding thing' then you realise there is a whole market for people who 'don't want to do a traditional wedding thing'.
Ultimately the thing to do is keep your head. I found it was very easy to nearly get carried away (like on the Jimmy Choo website) but I made sure I took a step back and double check it's what we actually wanted – looking at other people's weddings makes you realise what you want and don't."
"In the run up I had a lot on my plate – everything was ordered / brought from a different supplier and I was militant about the purse strings. Keeping track of all the payment days and details was a challenge and it was only me that had an overall handle on everything. Doing everything separately isn't for everyone and there were times when it was a bit much – so I suppose I'd think about that next time! I noticed every last detail but I'm sure nobody else did!"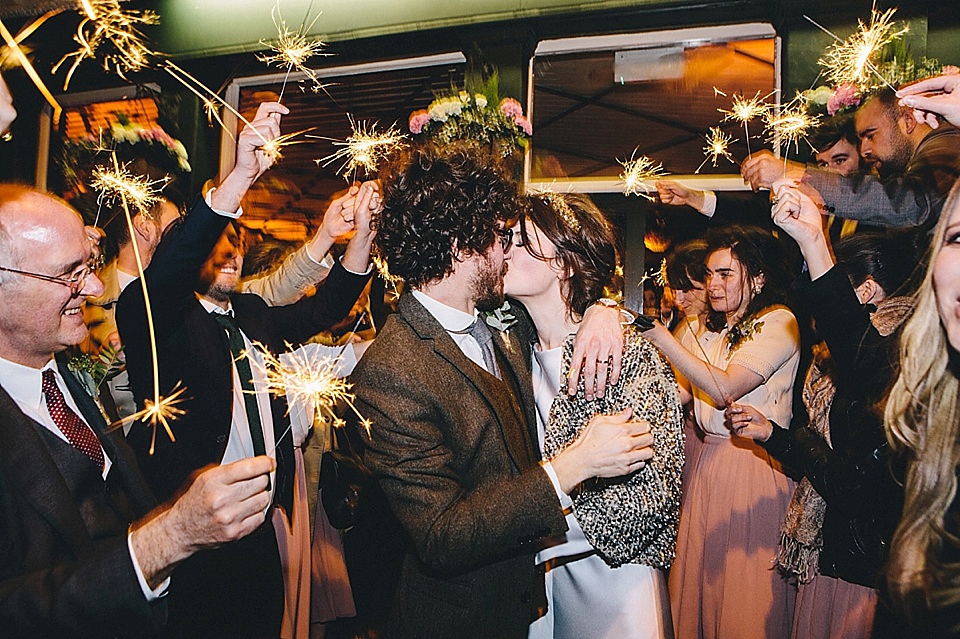 Now that's a wedding party! What an incredible wedding – utterly beautifully photographed and oozing the most impeccable style and taste.
Thank you from the bottom of my heart to Caroline and Kelly of The Twins for submitting this wedding, and a heartful of love and thanks to the beautiful newlyweds for allowing us the privilege of being able to share this most beautiful day.
Love Annabel xx
Photographer – The Twins + Eclection Photography second shooting
Venue – The Asylum Arts Chapel + The Hunter S.Pub in East London
Wedding Dress – created by a local dress maker + trouser suit by Solace
Headpiece – Jenny Packham
Shoes – Russell and Bromley
Perfume – Paul Smith Rose
Groom – Ben Sherman suit + pocket watch + Harris Tweed Waistcoat from Toast
Bridesmaids – New Look
Florist – GraGrac
Cake – The brides mum
Transport – Red Routemaster
Entertainment – Bride + Groom DJ set
Rings – Hatton Garden
Catering – London Particular + Dunns Bakery +  The Asylum Arts Chapel
Sound + Lighting – Terry Tew
Table hire – Classic Crockery