For all of you dreaming of an escape to the sun, planning a wedding abroad, or eagerly anticipating your honeymoon, I have something VERY special for you today. Gill, who works for Love My Dress favourite Twobirds Bridesmaid and Mike, a writer, flew off to the Greek island of Zakynthos to tie the knot by the sea with a little help from event planner Alexandra's Dream Weddings.
"We knew we wanted to get married abroad and I stumbled across Cameo Island online.  We fell in love with the flags flying high above the stunning private cove and that rickety old bridge that looks like it's going to fall down any moment! There was something about the light on the island that seemed special to us and we stopped looking after that."
Photography by Nick Kontostavlakis
"We didn't set out to have a vintage inspired wedding but my dress really influenced the overall feel and the beautiful beach setting formed the basis of our colour scheme."
As Gill works at Twobirds, there was only ever one choice when it came to bridesmaid dresses.
"The bridesmaids wore Twobirds multiway dresses, naturally!  They were the perfect choice for my beautiful ladies as they could all style it however they wanted and I knew they'd look great.  The colour was perfect for the setting and they looked amazing as they came down the stairs to the cove with the skirts flowing in the breeze."
"It was such a small wedding and everything was very personal to us so it was lovely to share it with our closest family and friends.  Most people came to Greece for at least a few days so it was amazing to be able to spend so much time with the people we love."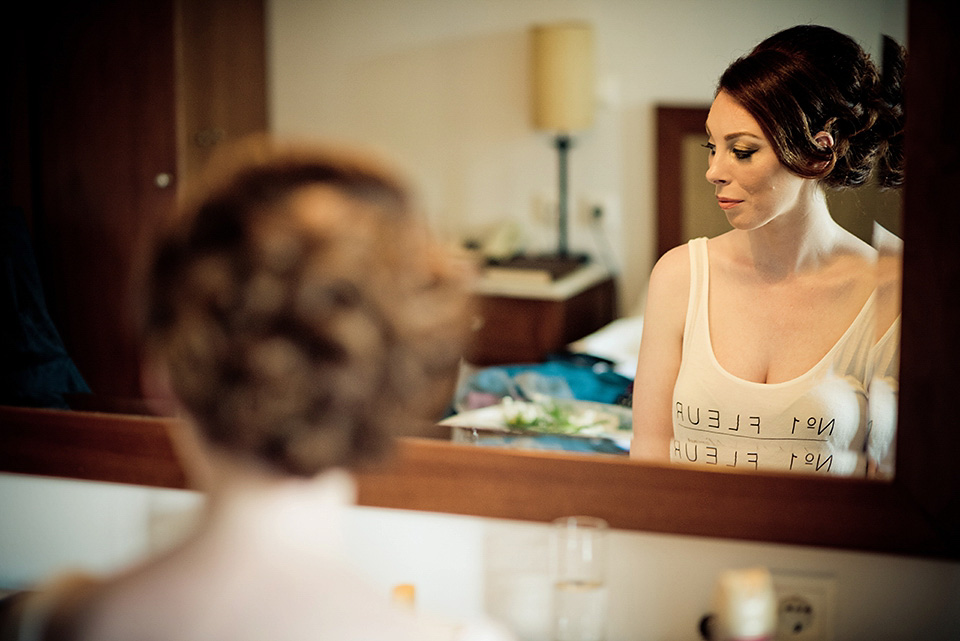 These fabulous crystal caged sandals are from Faith at Debenhams.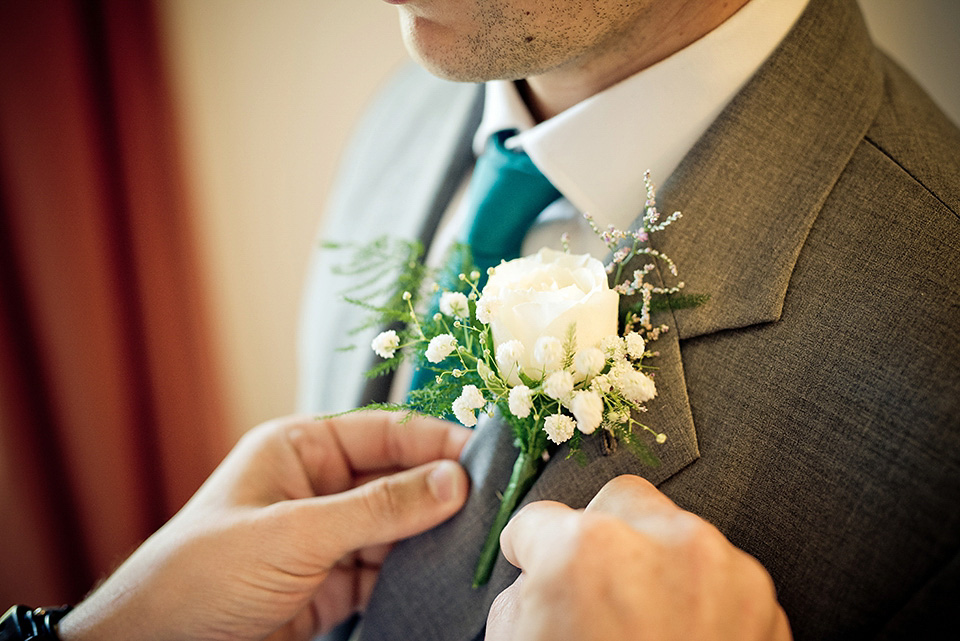 "It was really important to me that Mike felt as special as I did on the day.  We had a bespoke suit from A Suit That Fits and he was thrilled with it. I hand made his pocket square from fabric he chose from Liberty because it reminded him of his tattoos!"
I am crazy in love with Gill's whole bridal look; the dress, the shoes, the jewels, and that gorgeous beehive do…
"My dress was Raffaella 68002 by Ronald Joyce, purchased from JS Couture. I loved the asymmetric tulle and the fishtail shape and it just felt like 'me' when I put it on.  I didn't have a big 'this is the one"'moment but I looked like how I imagined myself to look as a bride so that was the decider for me. I was adamant that I didn't want any beading or sparkles so didn't even try the top until a month before the wedding and ended up loving it!"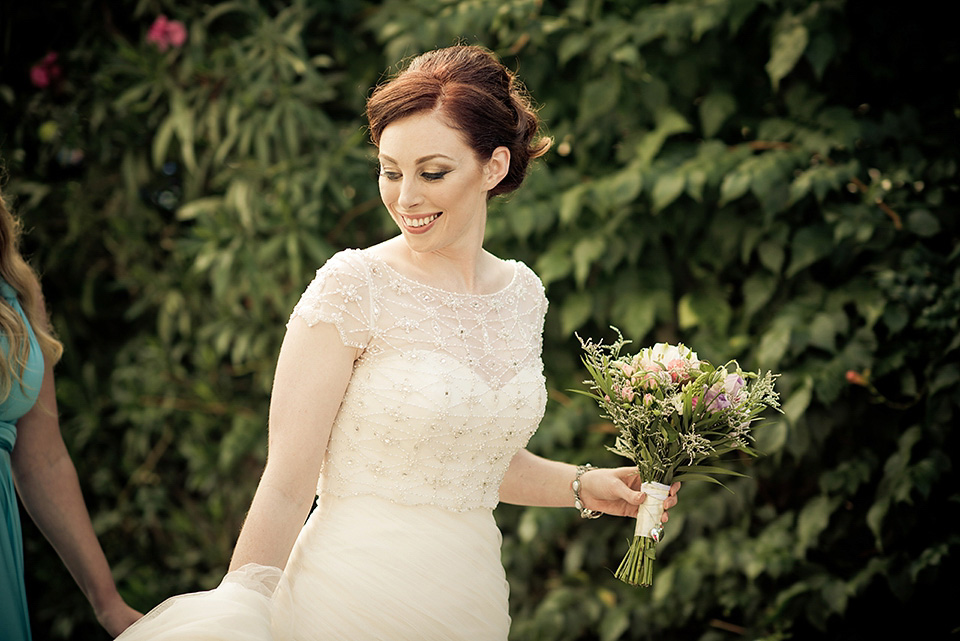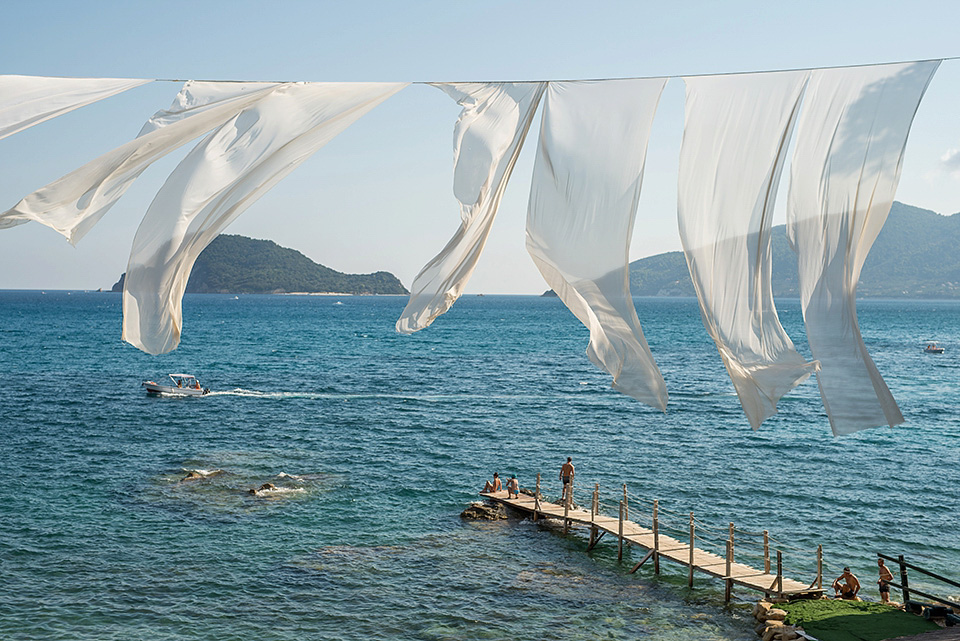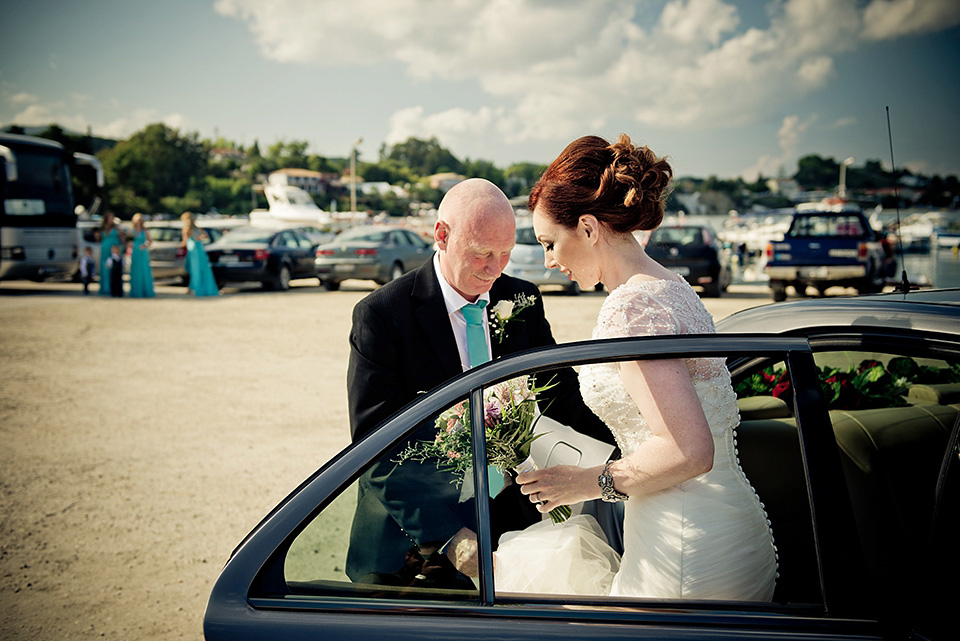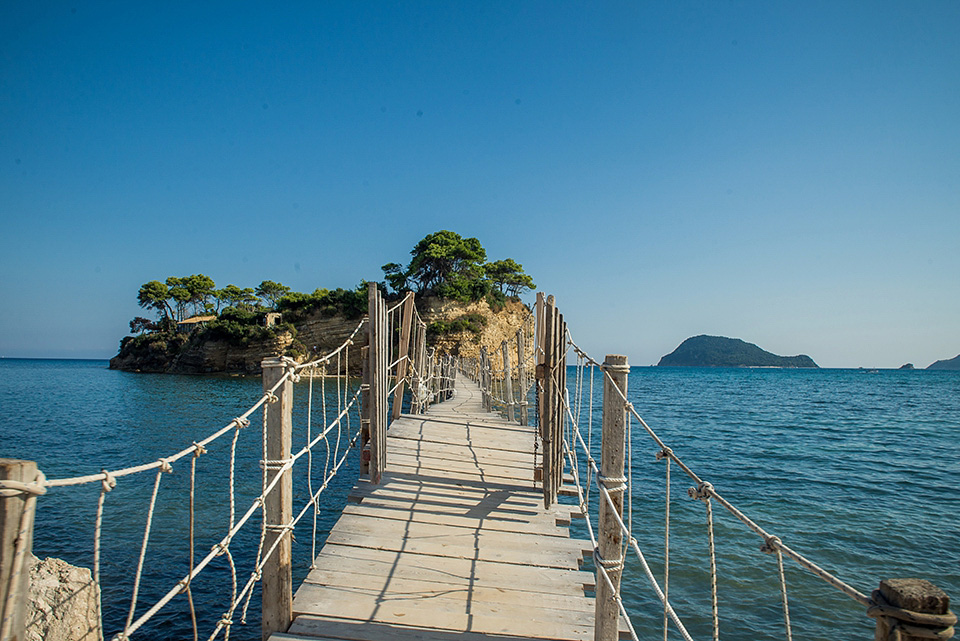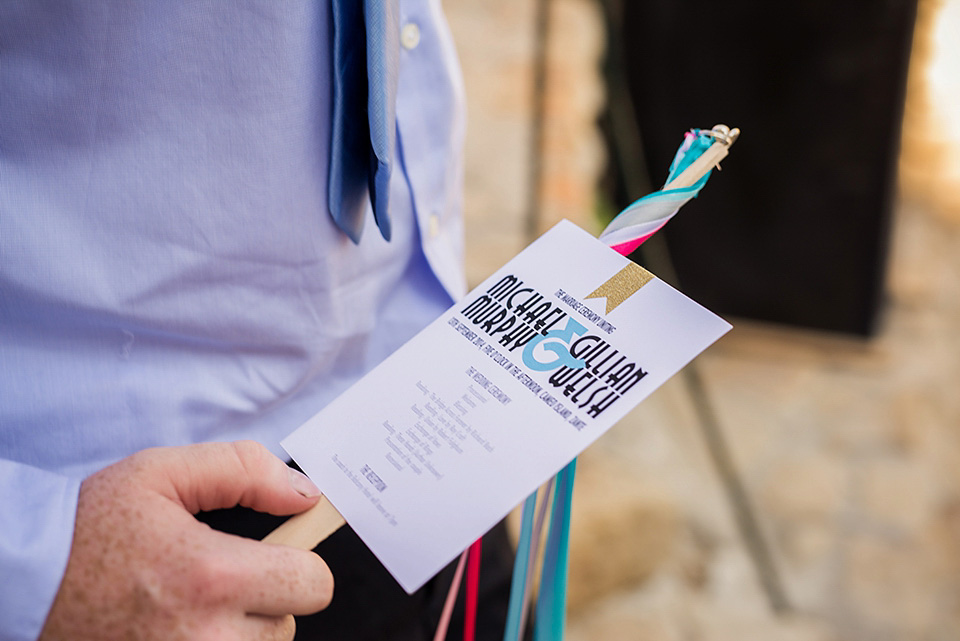 "Sadly, both of us have lost a parent so we honoured them on the day by having a lantern lit in their honour with some pictures of us together with them when we were small.  I'm so glad we did that.  It felt like a significant moment lighting the candle for them."
 "The most romantic moment for me was seeing Mike for the first time when my dad and I came down the stairs.  He looked so happy and I'll never forget it."
The couple spent a long time choosing readings, but eventually settled on 'The Bridge Across Forever' by Richard Bach and 'Love' by Roy Croft.
"We each wrote our own vows and neither of us heard them until the day.  Here is an excerpt from mine…"
Mike, I fell in love with you like when you fall asleep. Slowly at first then all at once.  I fell in love with your kind heart, your easy laughter and all your little quirks.  In you, I've found my soulmate, my constant, my true love and my best friend. So, On top of all the other vows I'll make today, I promise to appreciate how lucky I am to have found you.  I promise to cherish our precious time together and to try every day to make you feel as special and loved as you make me feel.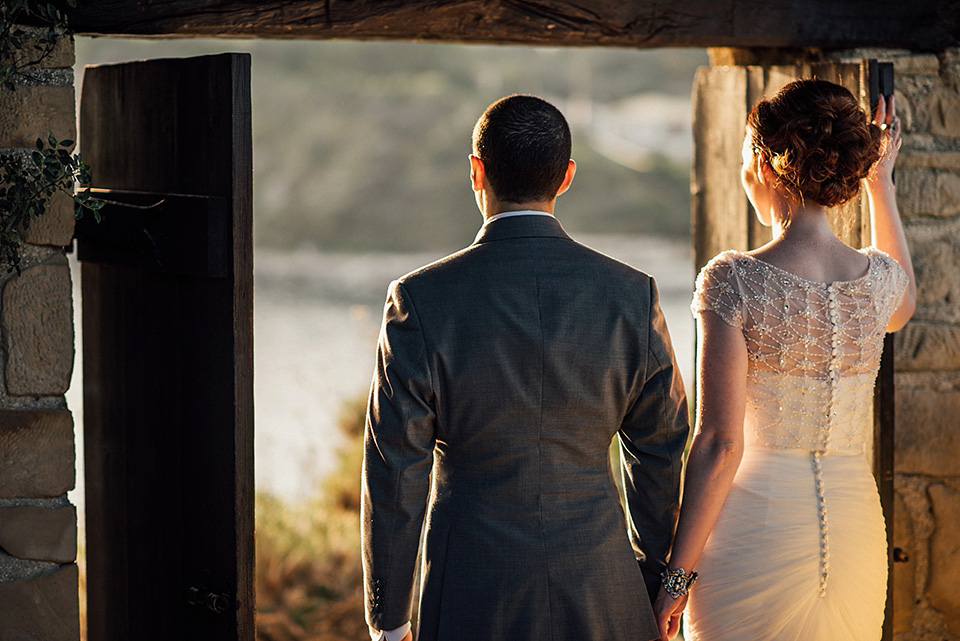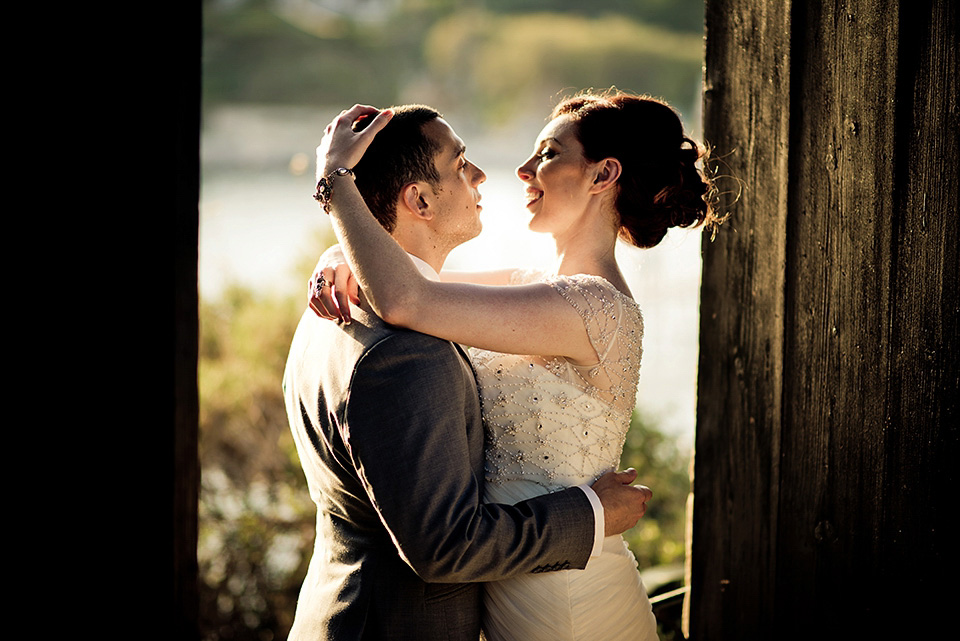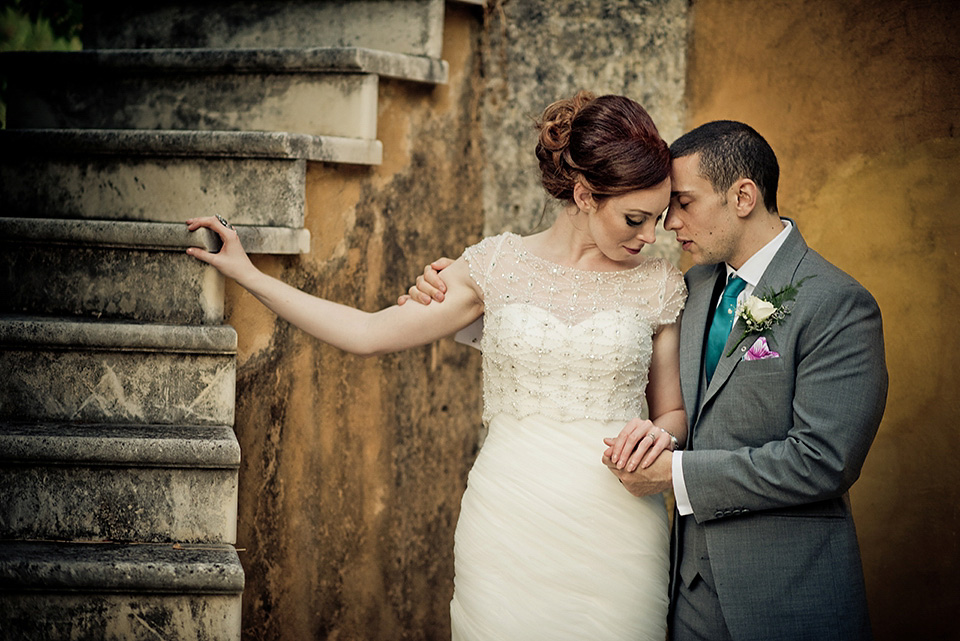 The reception was held at the Balcony Hotel , which the couple decked with beautiful vintage décor.
"We spent 18 months sourcing vintage books, vases, candle holders and ink pots for reception decorations and I'm still not sure how we managed to get all of that to Greece in our suitcases!"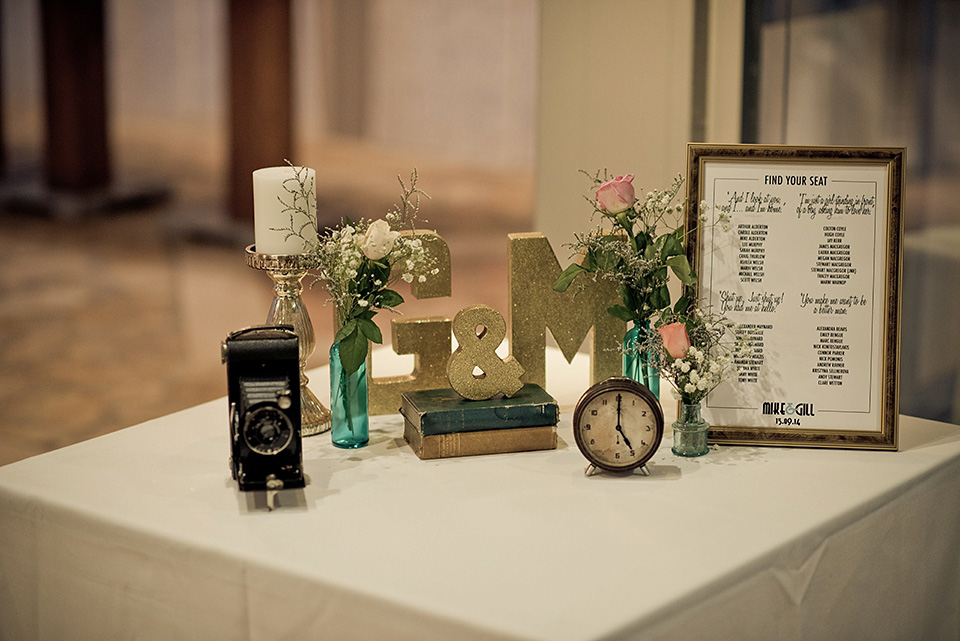 "I designed and made the menus, table plan and programs which were actually little fans.  It was very hot on the day so we know those went down well!"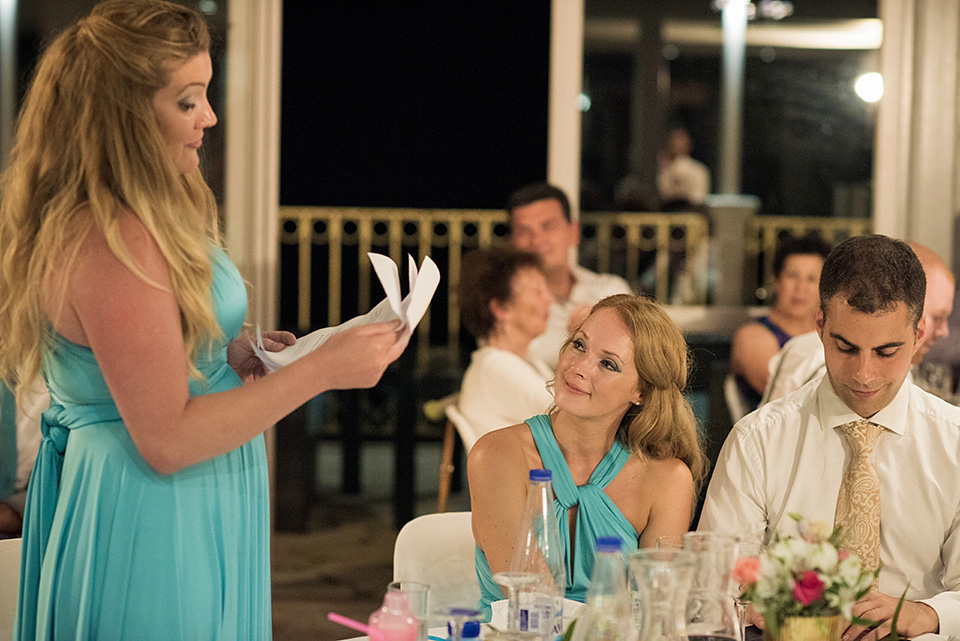 "After being a bit of an emotional wreck in the lead up to the wedding, I was surprisingly together on the day and managed not to cry very much but my Maid of Honour gave an incredibly touching speech and the whole room was in tears by the end, including me!  She had also given me a beautiful locket with pictures of my mum inside which I tied around my bouquet before walking down the aisle."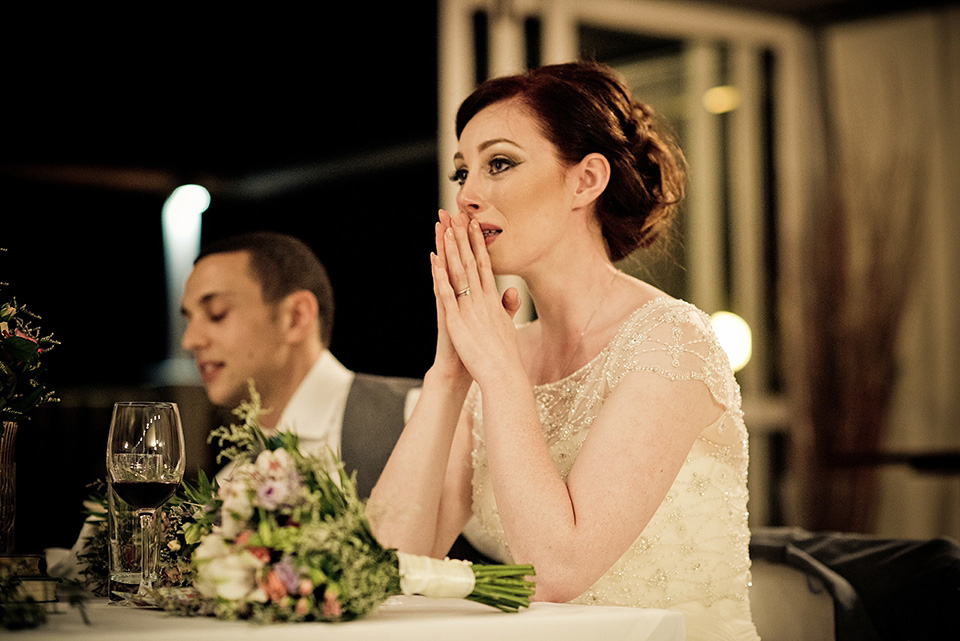 Words of Wedded Wisdom
"We're so lucky these days to have endless inspiration online and in magazines so you can plan out every detail of your wedding if that's what you'd like.  Having said that, don't stress too much about things you can't control and remember what it's all about: you and your partner celebrating your commitment to each other.
EVERYONE says it but the day really does go by so fast so try to take a breath and enjoy it.  A final piece of advice would be to prioritise your photography budget because you wont regret it and I'd definitely recommend hiring a videographer."
"We chose Nick Kontostavlakis after coming across his pictures on Pinterest.  He clearly knew both of our venues very well and we loved the mix of artistic shots and reportage photography.  There was a particular image we came across from another wedding he shot at Cameo and we knew he was the one."
"Nick gave us an amazing gift: a once in a lifetime photoshoot under the stars!  We couldn't believe those shots when he sent them through and not only do we have those incredible pictures but I also have a funny story about climbing across a rocky cliff face in the pitch black middle of the night in my tight, fishtail wedding dress!"
Thank you so much Gill and Mike for allowing our readers a glimpse of your beautiful day, and especially to Gill for sending us such a heartfelt and genuine account of your wedding. It was a pleasure to write this feature. Special thanks also to the brilliant Nick Kontostavlakis – I loved looking at your stunning photography and hope we'll be seeing more of you on Love My Dress in the future! Are any of you planning a wedding abroad? If so I would love to hear about it!
Louisa x
Photographer – Nick Kontostavlakis
Event planner – Alexandra's Dream Weddings
Venue – Cameo island and the Balcony Hotel, Zakynthos, Greece
Wedding Dress – Ronald Joyce via JS Couture
Bride's shoes – Faith at Debenhams
Bride's jewellery – Samantha Wills
Bridemaid dresses – Twobirds Bridesmaid
Flowergirl dress – Monsoon
Groom's suit – A Suit That Fits
Groom's accessories – shoes by Ted Baker
Rings – bride's ring by H Samuel and groom's ring by Minter & Richter
Florist – organised by Alexandra's Dream Weddings
Cake – organised by Alexandra's Dream Weddings