Hello lovelies! While I truly love the warmth of summer (yes, even the heat of this week!), my favourite season has to be spring. I love the new signs of life, I adore the longer days after the cold, wintery nights and most of all I love the blossom on the trees. Particularly magnolia blossom. So when the first photo I looked at from this morning's wedding included a blossoming magnolia tree I couldn't wait to see more from this beautiful Spring day.  Alexandra, who has the most radiant of smiles and obviously a very caring heart, as she works as a neonatal intensive care nurse, married her visual effects producing man, Peter in traditional English style on 18 April this year.
Photography by  Jo Hastings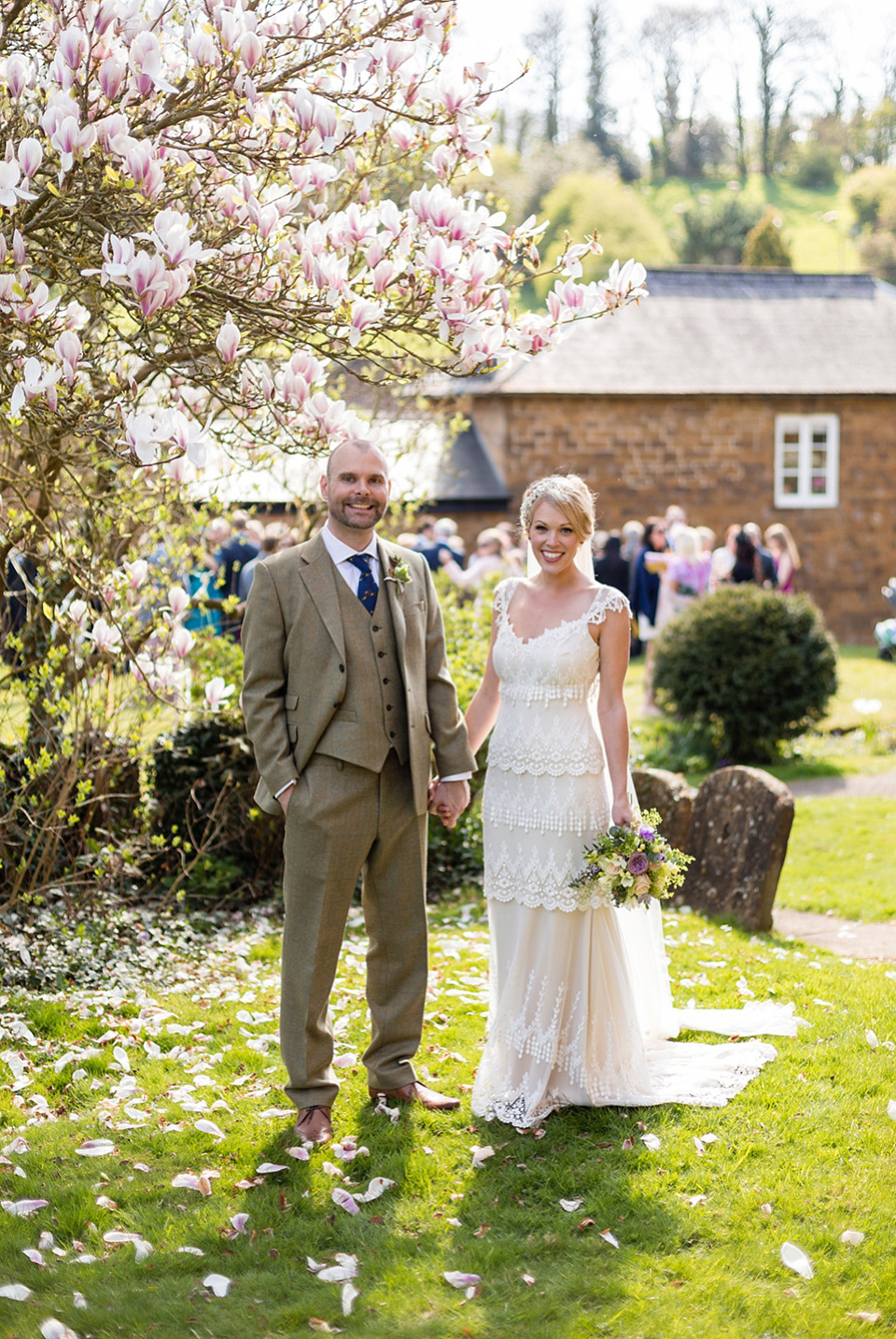 "We both love antique jewellery, furniture and historical architecture so it started from there. It then developed into a slightly 1920's glamour style, without being too strict on a theme."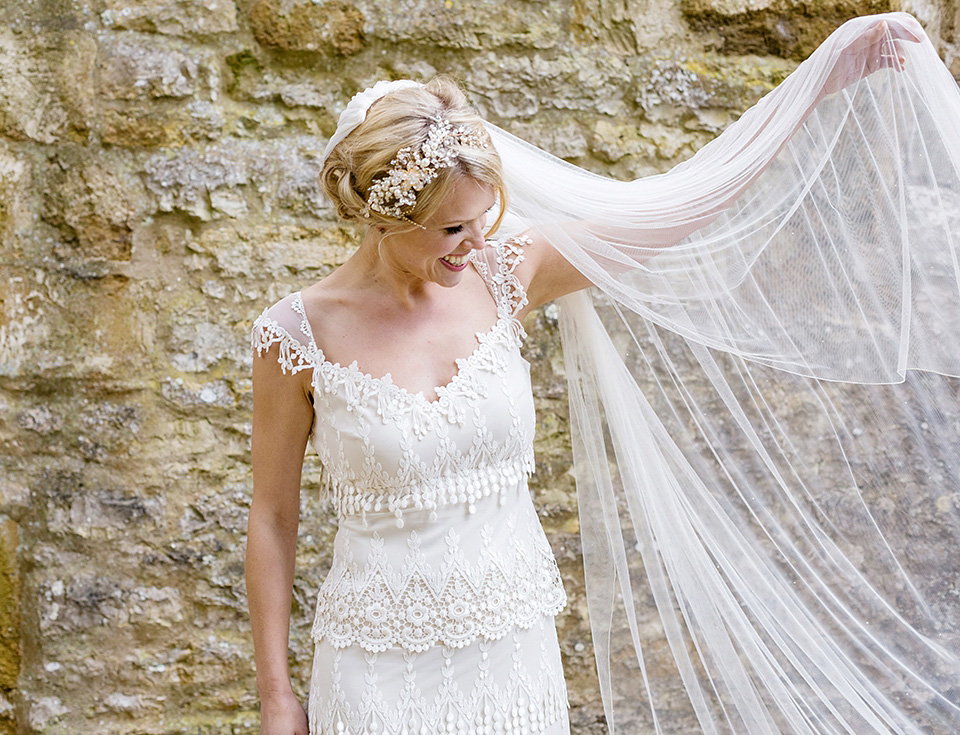 "We also wanted to incorporate Peter's successful career in the film industry into the day, hinted to with the table names, invitations and signage."
We were so happy to hear that the couple chose their fabulous photographer after seeing her work on these very pages.
"Jo Hastings, our photographer, was an absolute dream! I found her on Love my Dress whilst planning my wedding. I love her informal, relaxed and feminine style and feel that she captured the day perfectly. She just blended in and made us feel totally at ease."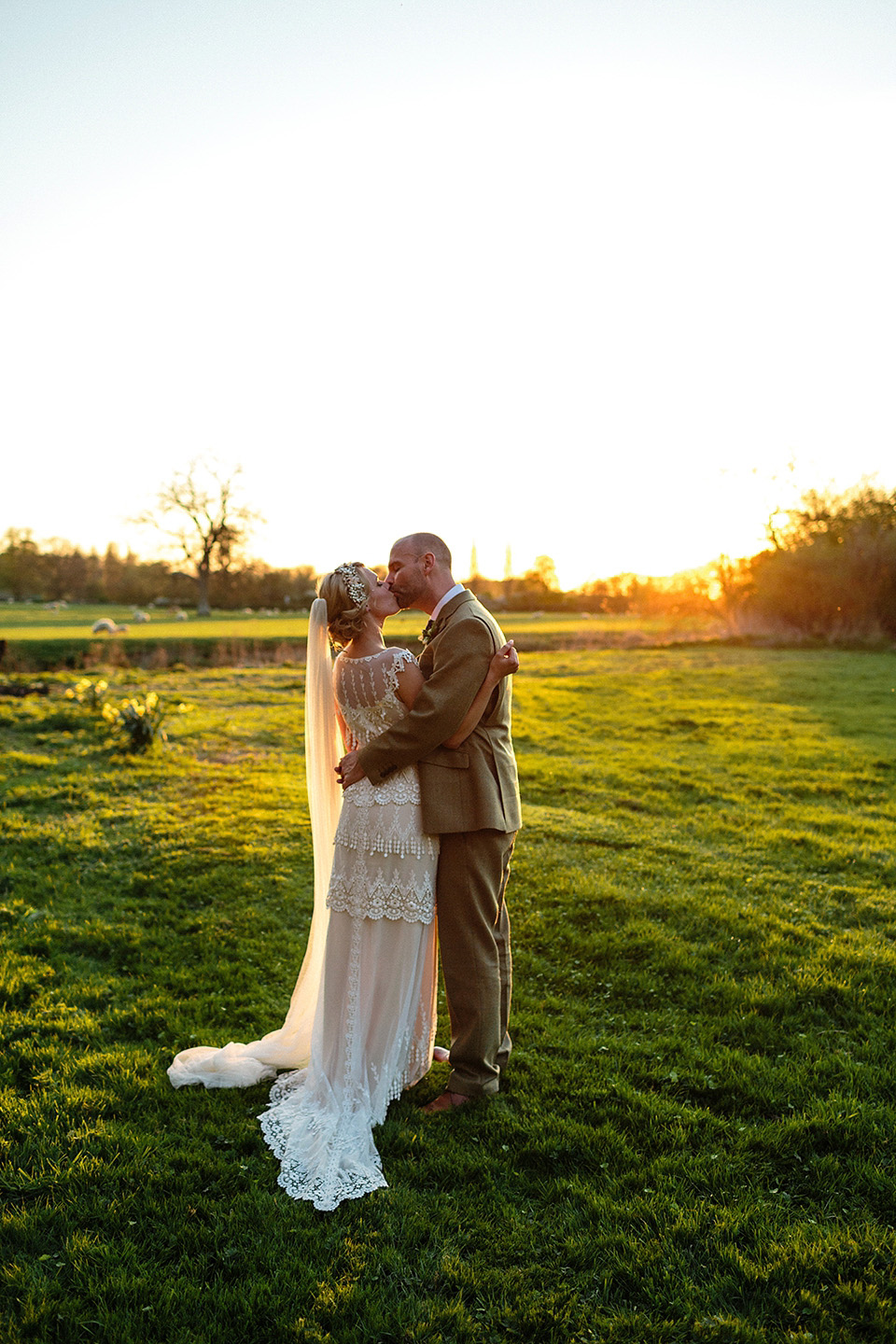 The couple chose to marry in a church ceremony near their home in Oxfordshire, followed by a reception at Ettington Park Hotel in Stratford-upon-Avon.
The hotel was chosen since it is a Grade I listed building that suited their love for everything vintage and antique. It has true English 'old school' style and it was also big enough to accommodate all their guests.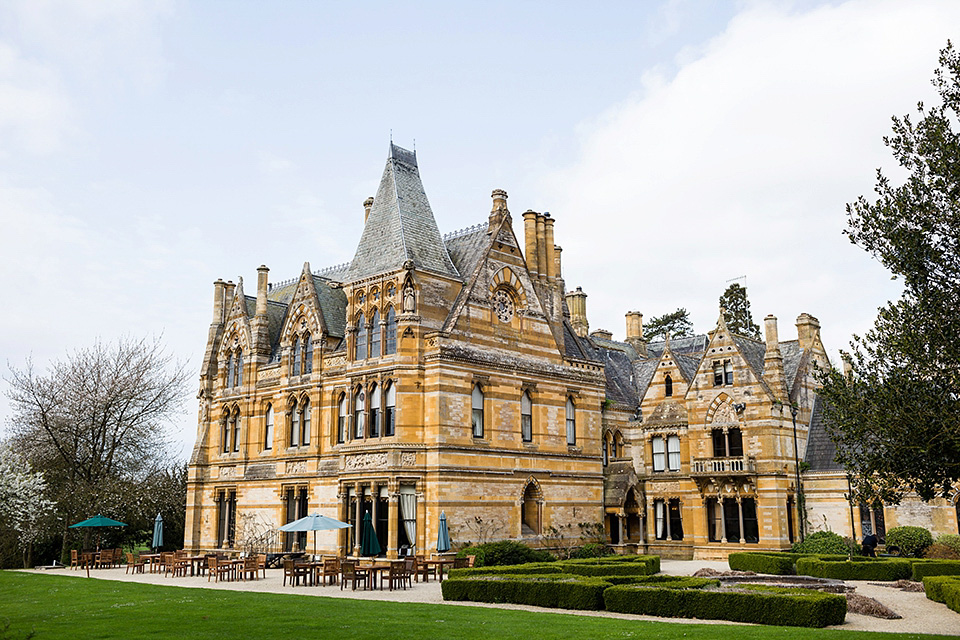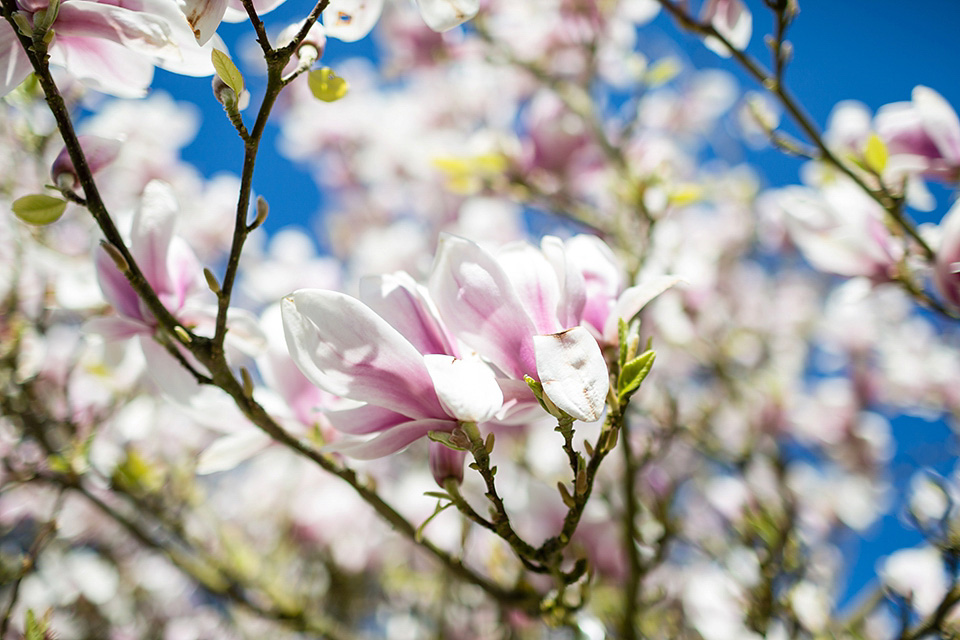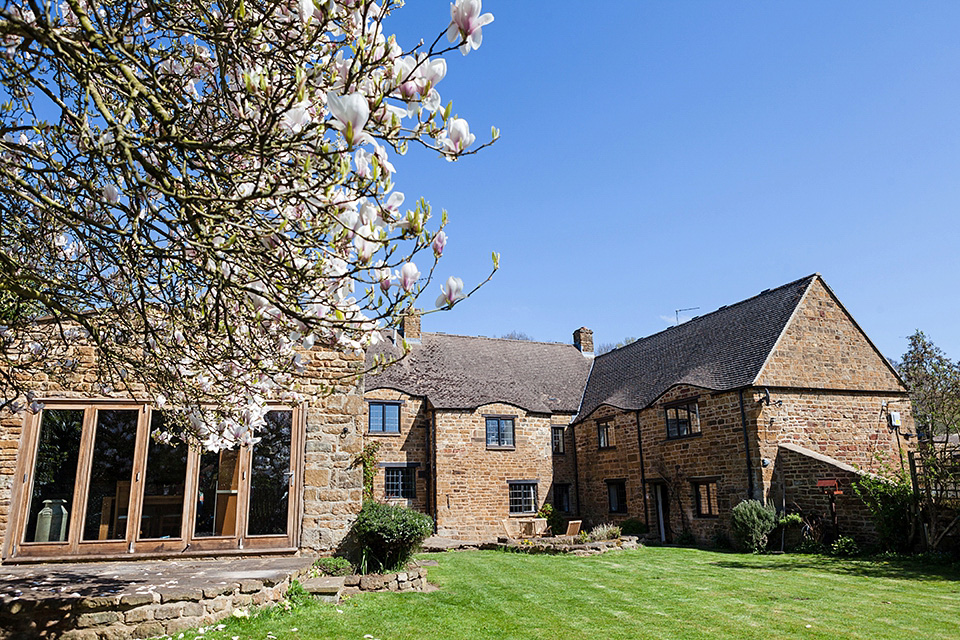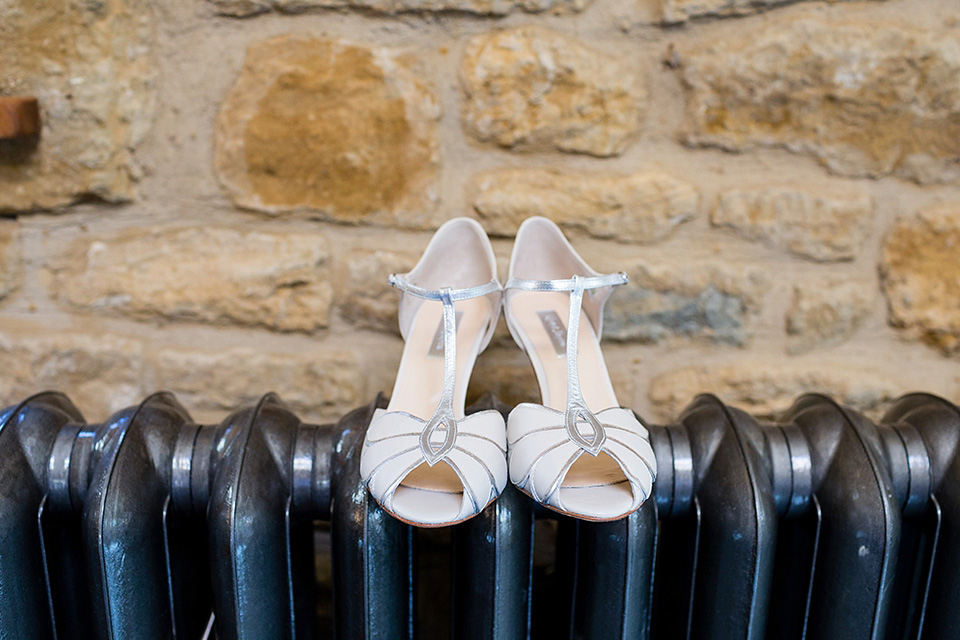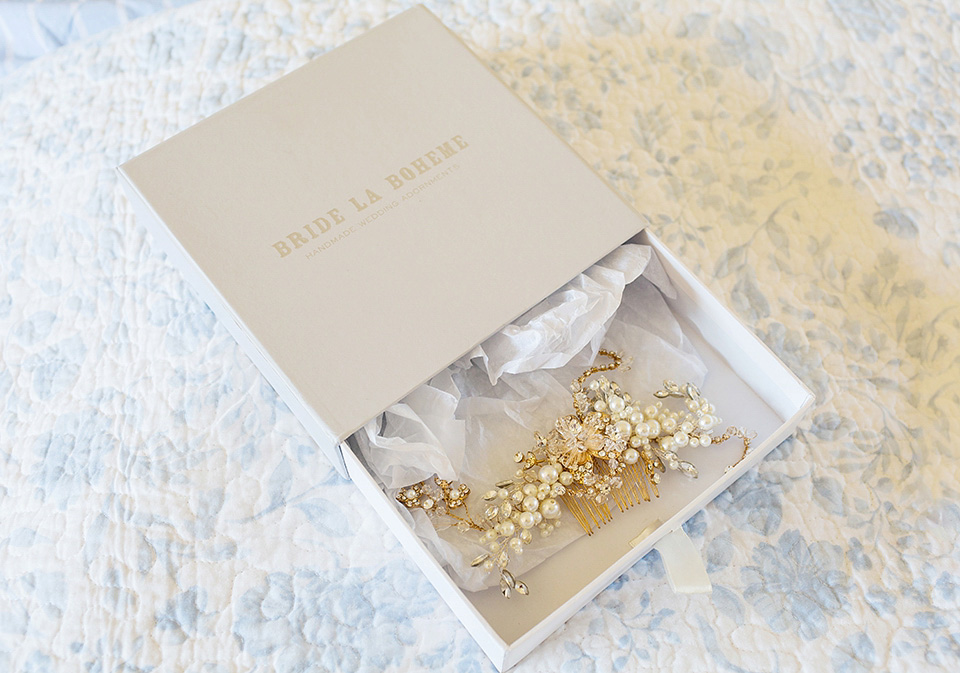 In her hair she wore a beautifully handcrafted headpiece by Bride la Boheme, for her feet she chose LMD brides' favourite Mimosa by Rachel Simpson and her scent of choice was Black Orchid by Tom Ford, "Peter bought me some the year before. I love its dramatic and mysterious perfume.
The only other piece of jewellery I wore was a pair of vintage earrings that Peter left for me to open on the morning of the wedding. He found them at Grays Antique Market in London. In the evening I swapped them for a pair of more glamorous pearl and gold earrings from Amara. They complimented my hair piece perfectly."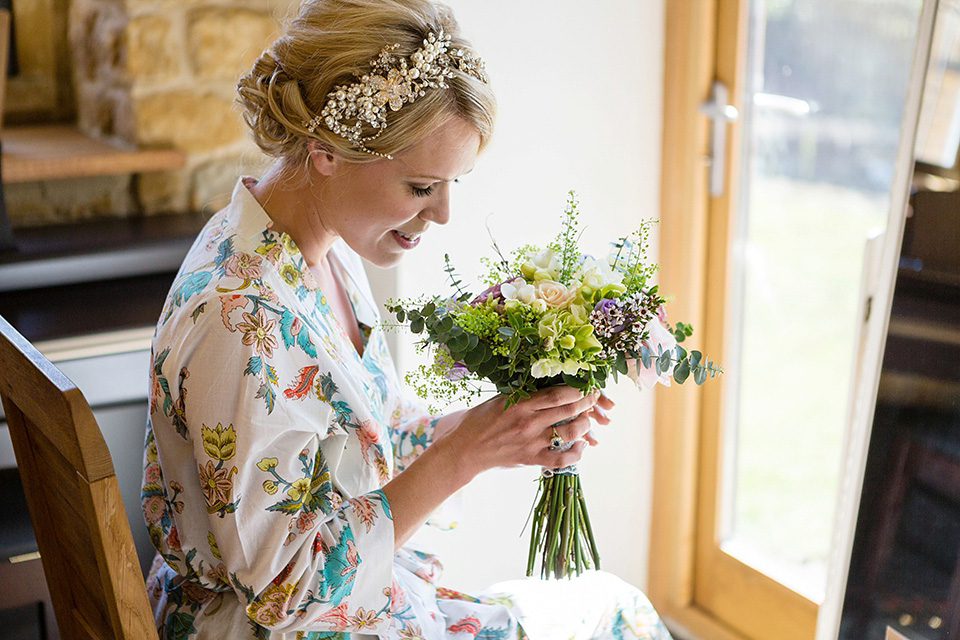 "After losing count of how many dresses I tried on and struggling to find something that I felt was truly vintage, Chloe at The White Roomin Sheffield introduced me to Kristene by Claire Pettibone, which I fell in love with. The embroidery and the heart shaped train are stunning. It felt instantly feminine and glamorous. I knew it was a dress that I could dance and move in easily and perhaps, I could wear it again to a red carpet event?"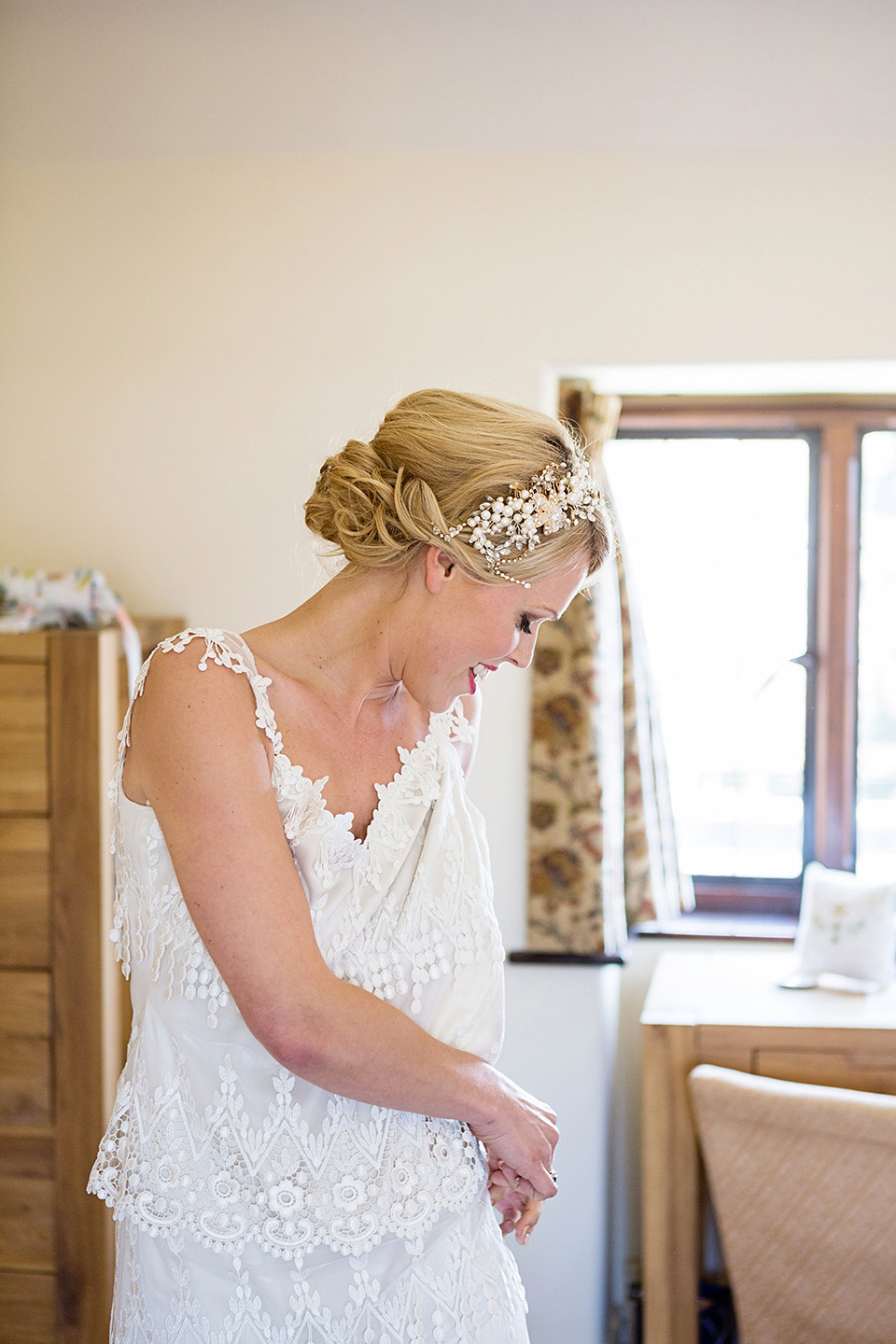 "We wanted a very small, informal wedding party. I chose not to have bridesmaids as I wanted my best friends to enjoy the day sharing it with their partners and they all had a blast! It also meant the morning was calm and enabled me to take in my emotions on the morning. It's like a whirlwind of excitement and nerves and it can leave the day as a blur, unless you make time for yourself. It was just what I wanted."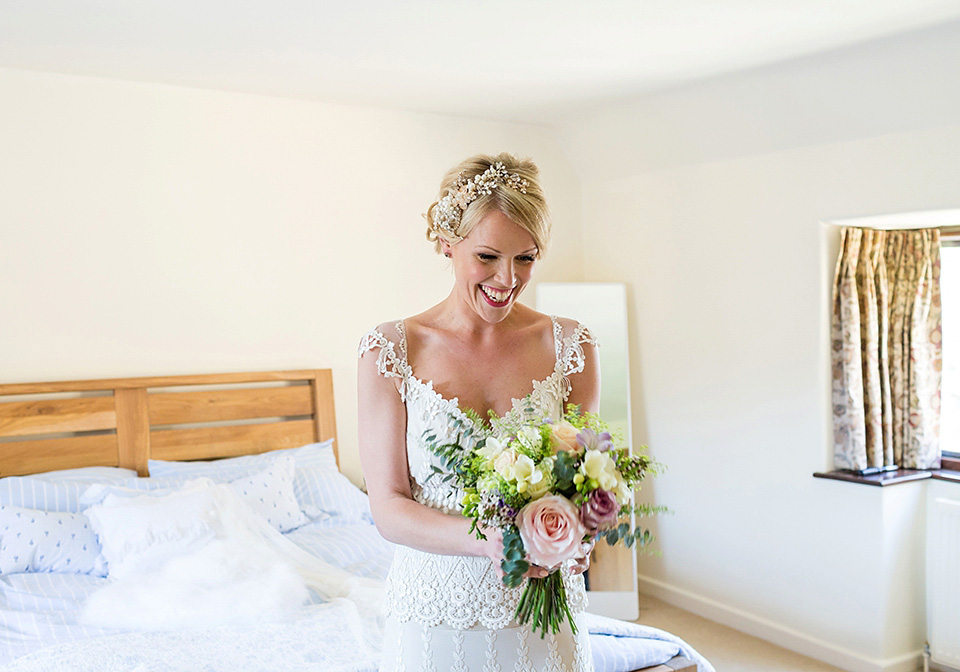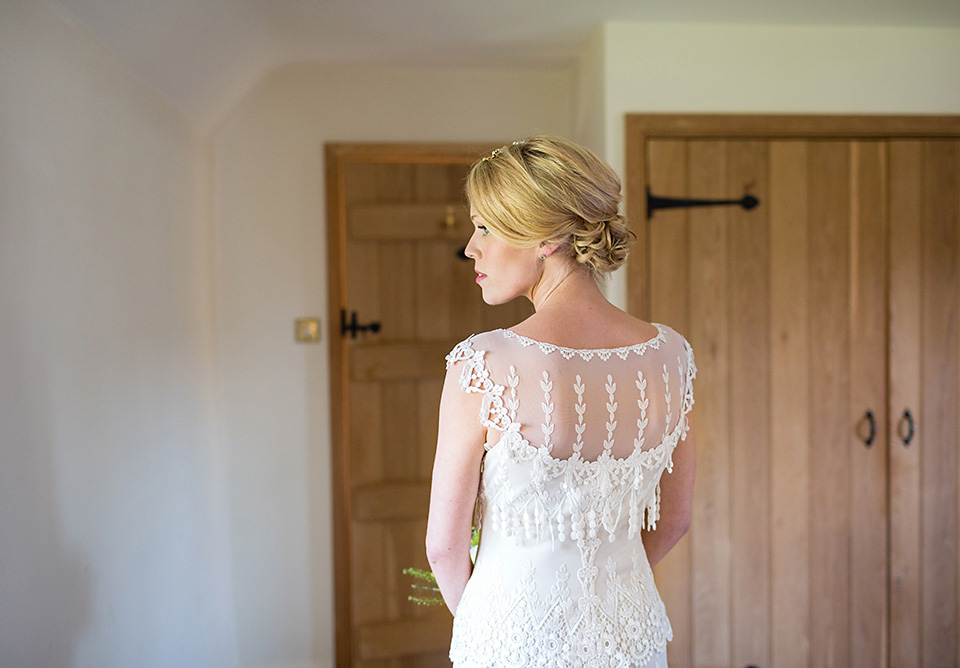 "Local village florist Sarah Walther did all my flowers. She was fabulous and listened perfectly to what I wanted – a mixture of different flowers and soft pastel colours. Nothing structured or formal. I couldn't even remember seeing any flowers in the church on the day and so I made a visit a few days later to see them.
We had a huge milk churn in the village filled with flowers and made our own cones filled with confetti that my mum had dried. My bouquet was hand tied with vintage lace and secured with a small blue bow, as my 'something blue'. I also had a sneeky second small bouquet made which I threw to the girls at night, which meant I could keep my bouquet to preserve it!"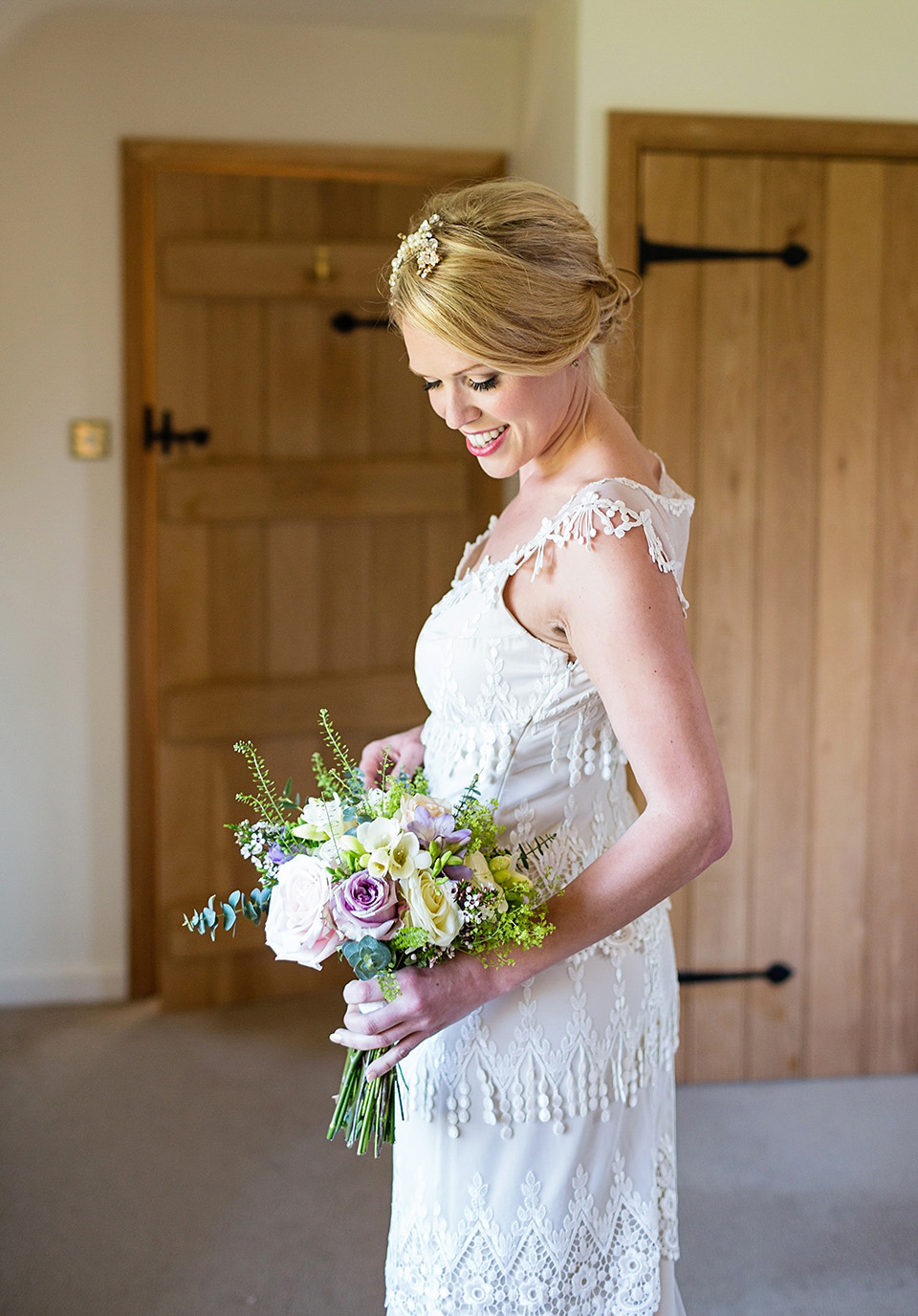 Alexandra elegantly paired her dress with a handmade Italian silk veil from Helen Martin Veils. One of my favourite images from this wedding is where the veil is caught in the wind. However that has always been a soft spot of mine, having loved, since my childhood, an image of my mom and dad on their big day where my mom's veil is flying high.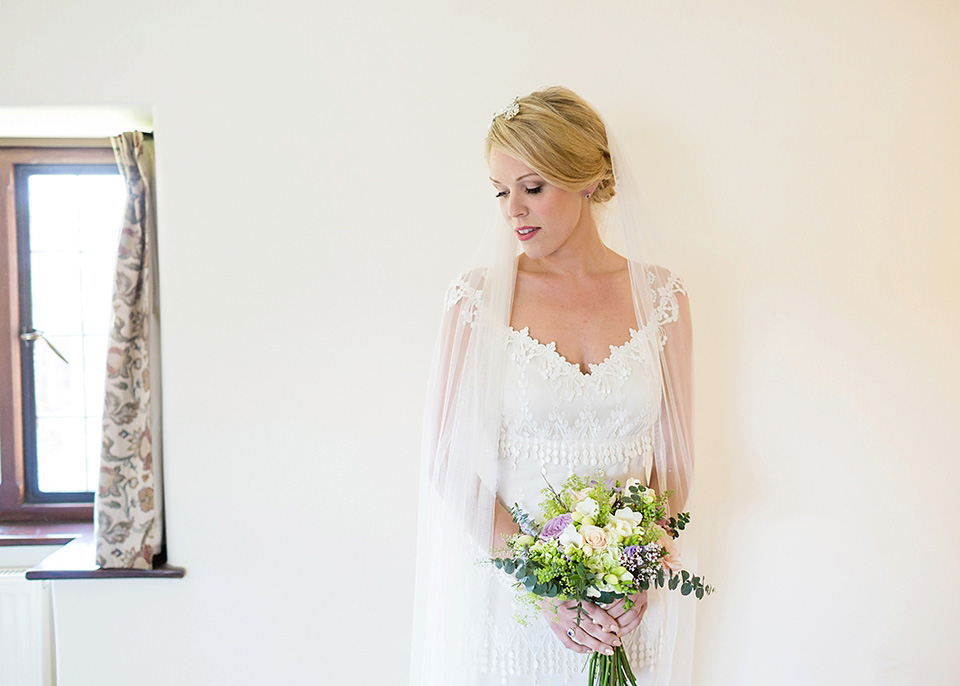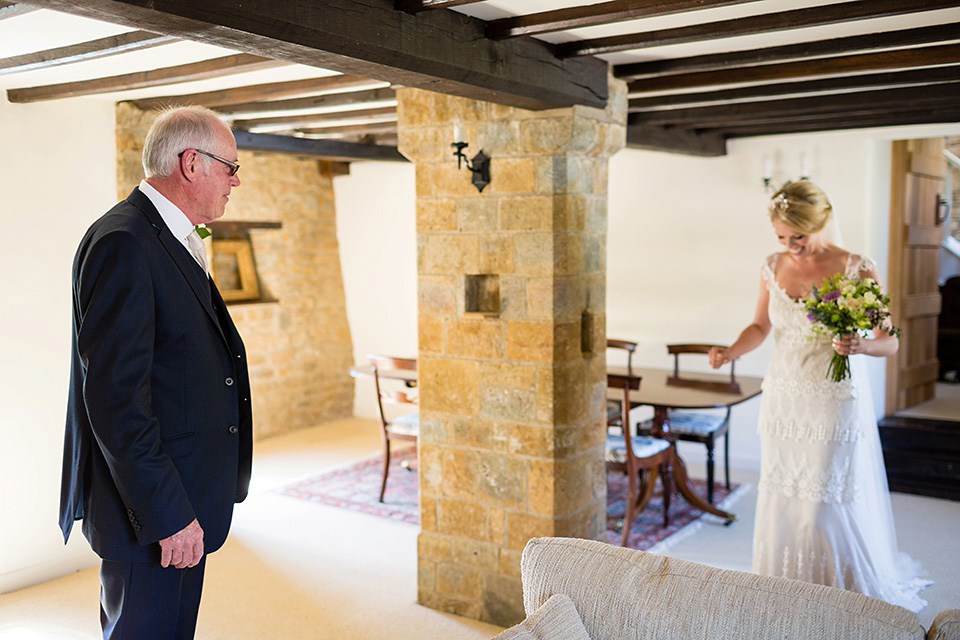 "Peter and I met on a random night out in Liverpool just over 2 years before we married and we immediately knew that it was right. I was due to leave Sheffield to work in Australia; I had a job lined up and was ready to go, but decided to move to London instead, where Peter lived. The engagement was private and personal. I thought he was just getting ready for work downstairs but instead surprised me with a champagne breakfast in front of our open fire, and asked me with a beautiful antique ring."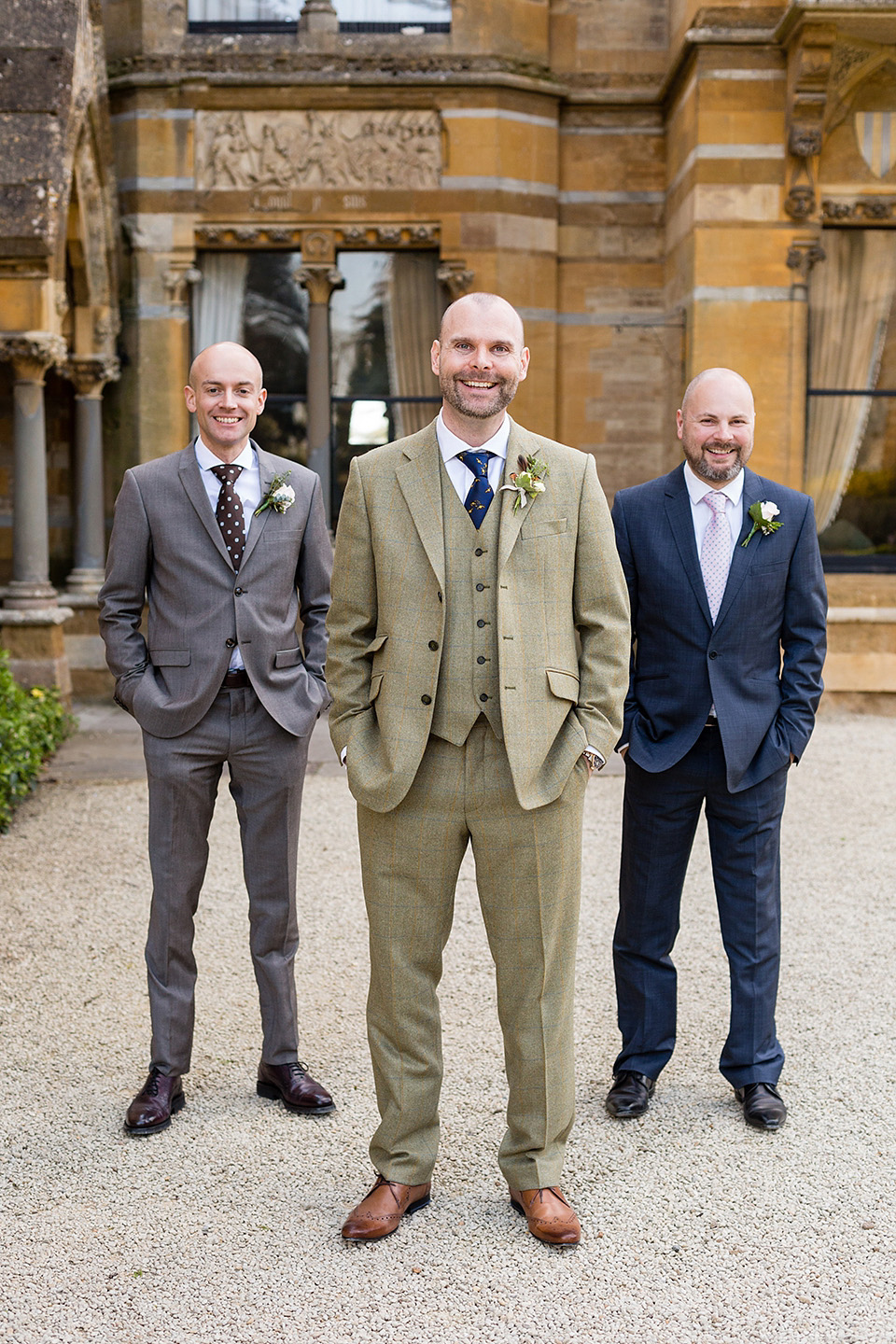 Peter chose to wear a country house tweed suit from William Powell teamed with Ted Baker shoes. On the morning of the wedding, Alexandra surprised him with a set of beautiful cufflinks from Deakin and Francis.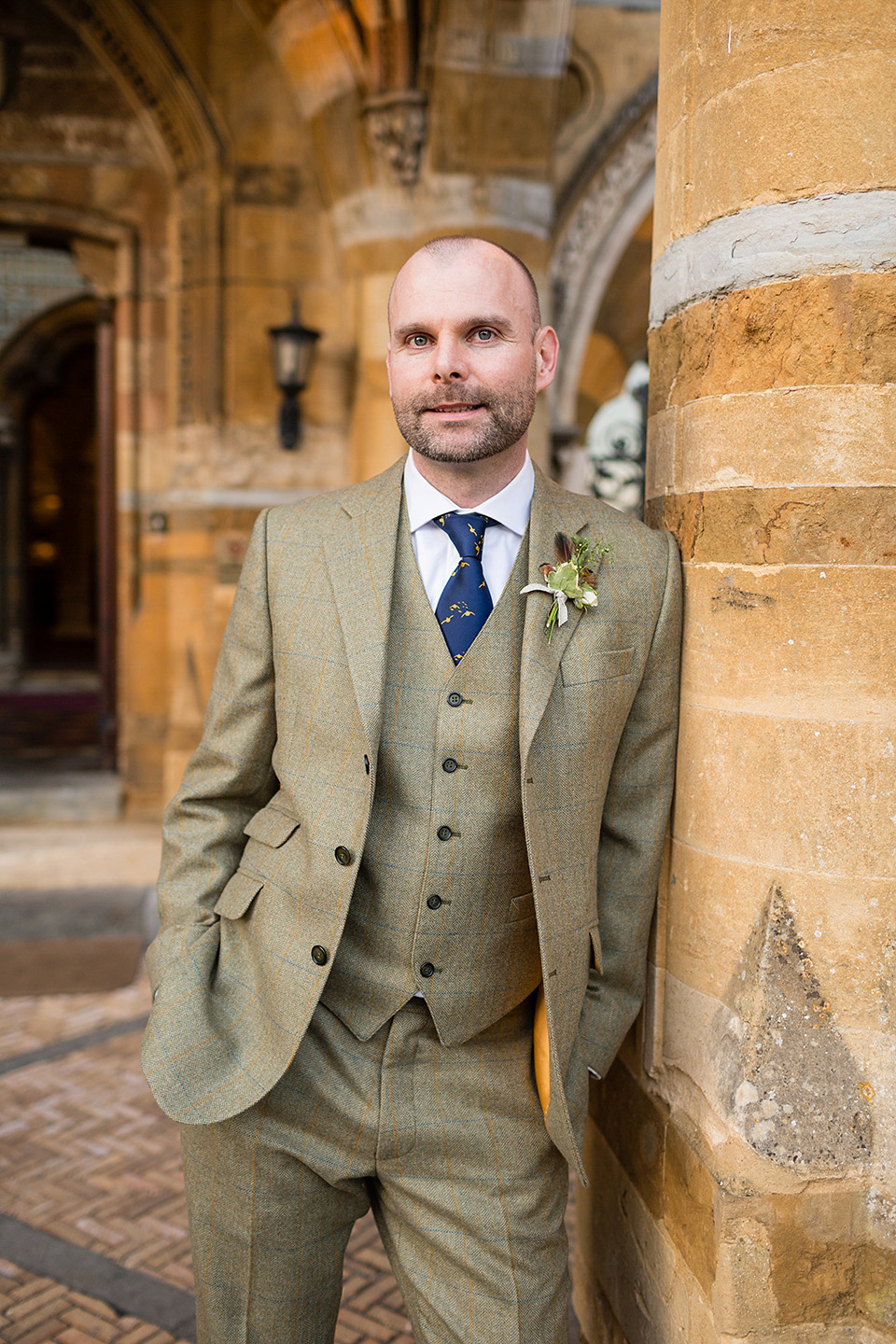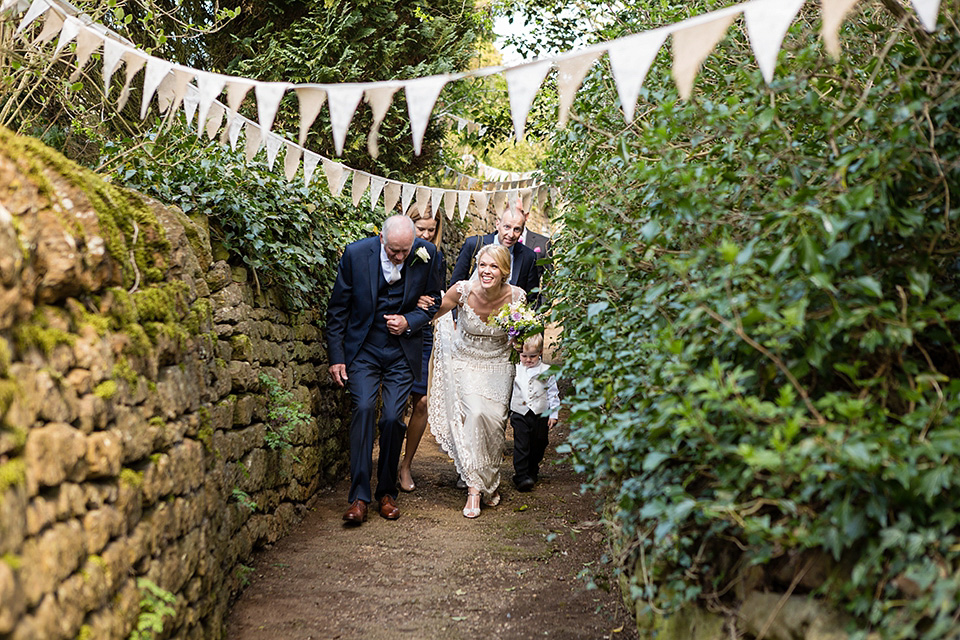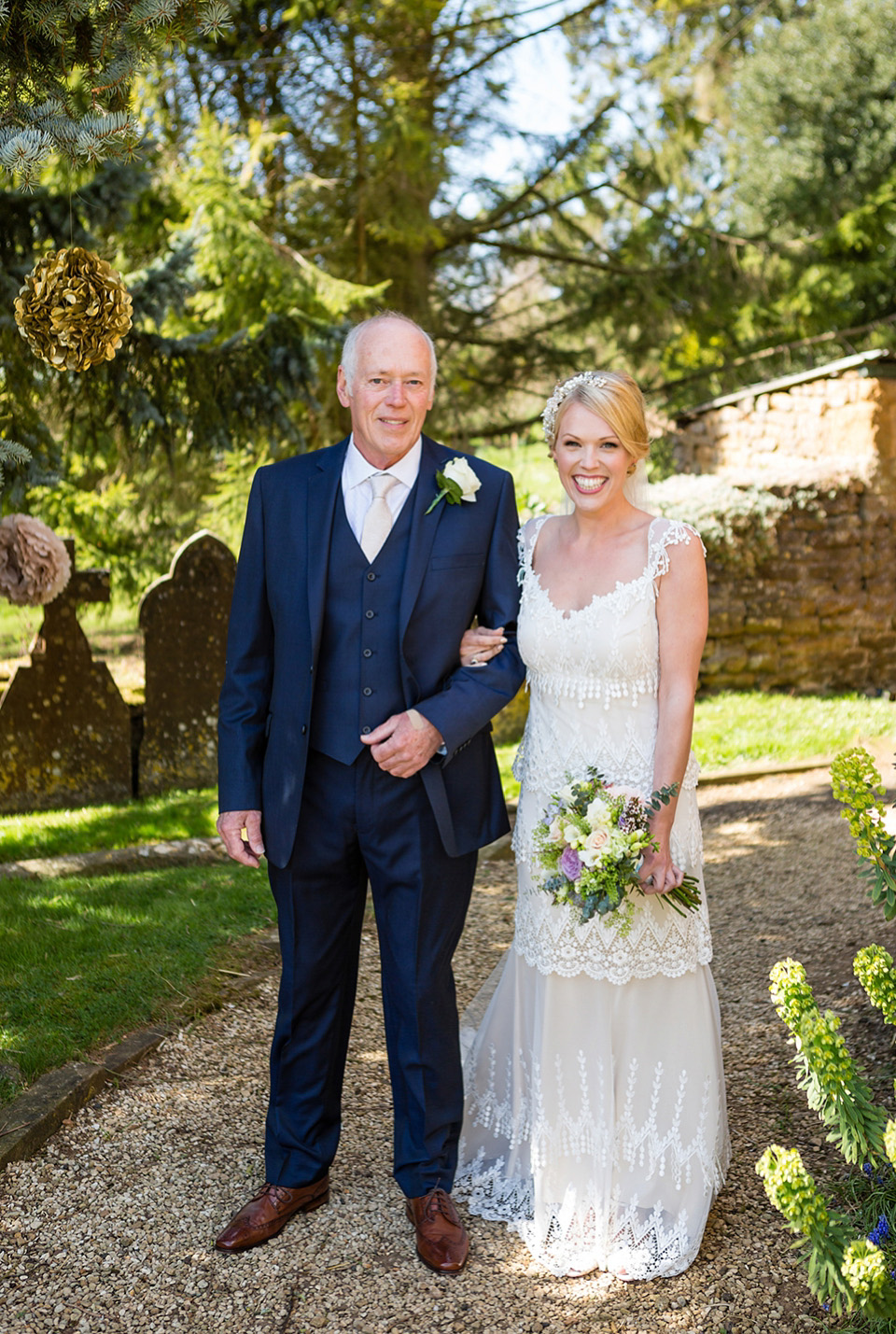 "The invitations and order of service were found on Etsy. They were 1920's style movie tickets which helped bring in Peter's ideas. The menus, table plans and place card were from Paper Treats and continued the 1920's art deco theme perfectly."
Alexandra's father walked her down the aisle to the triumphant Bridal March by Wagner, "after all, you can only do it once!" and they kept to the traditional wedding vows as they felt that they were already important and so meaningful.
"Peter was certain that he wanted to use his mother's wedding ring as his own as she had sadly passed away. My wedding ring was made locally by Jodie Houghton to fit around my engagement ring. She was wonderful and came to my home to help me get just what I wanted which was a much more personal experience."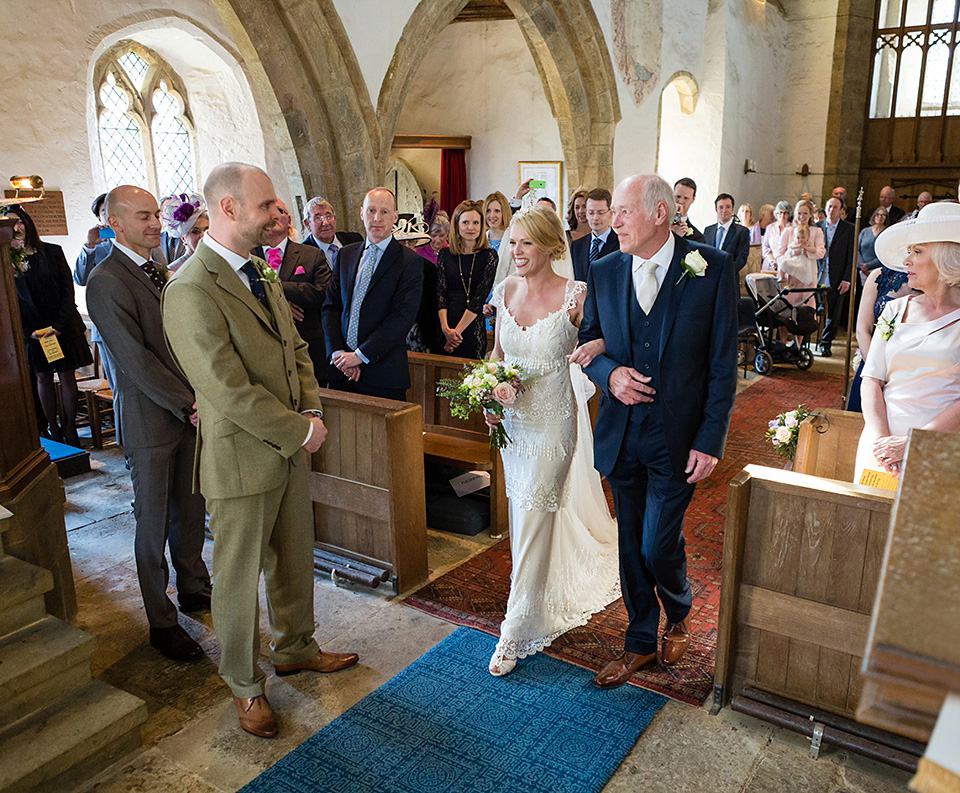 "My best friend, Elisabeth Dale read a poem that my nan's friend, who sadly now has Alzheimer's, had once written. It is a beautiful poem called the Seasons of Life. It is not just about love, but about caring about others, recognising the wonderful things life has to offer, appreciating these moments and not rushing through life."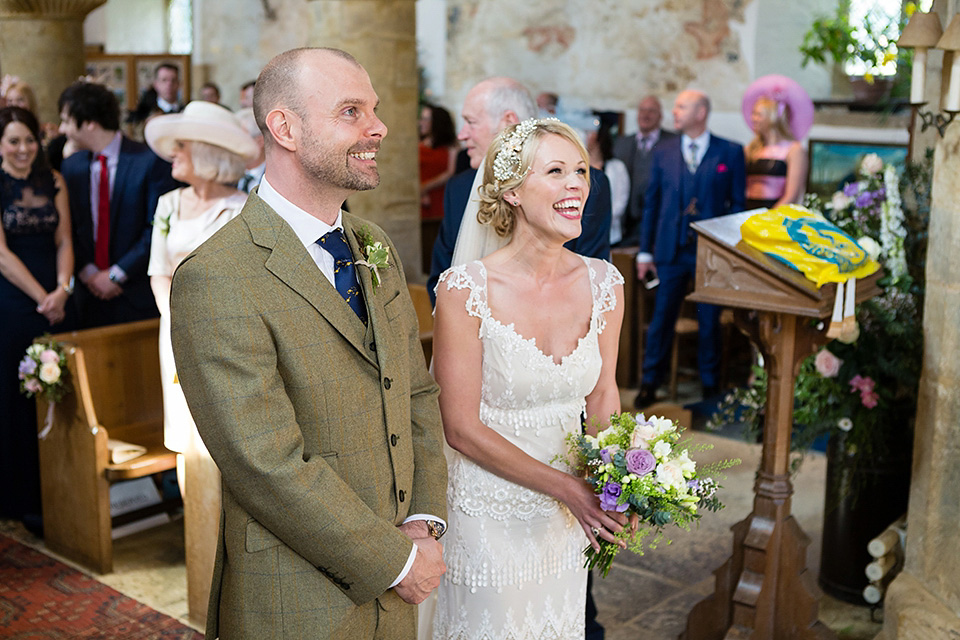 "Our favourite part of the day has to be the church ceremony. The adrenaline and emotion is overwhelming; saying the vows out loud in church in front of all our family and friends is a hugely powerful experience. Seeing the emotion on each other's face makes you recognise the love you have together. It was truly the most wonderful moment of my life."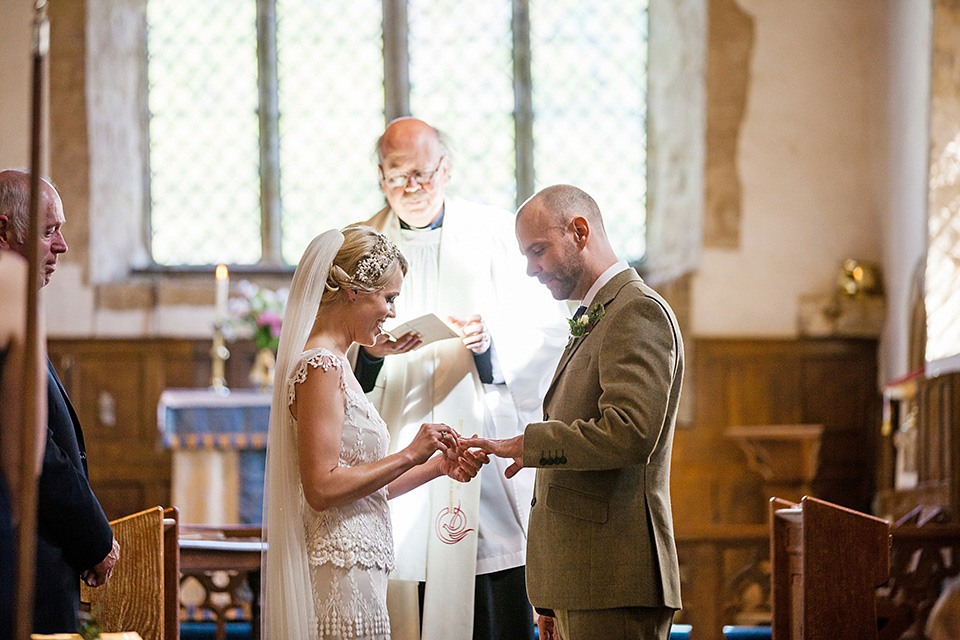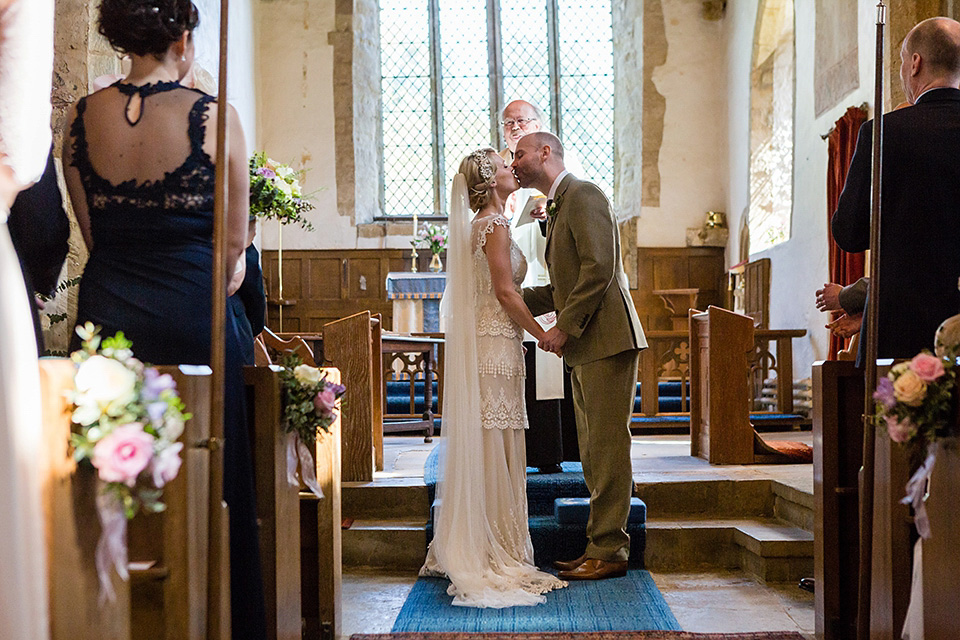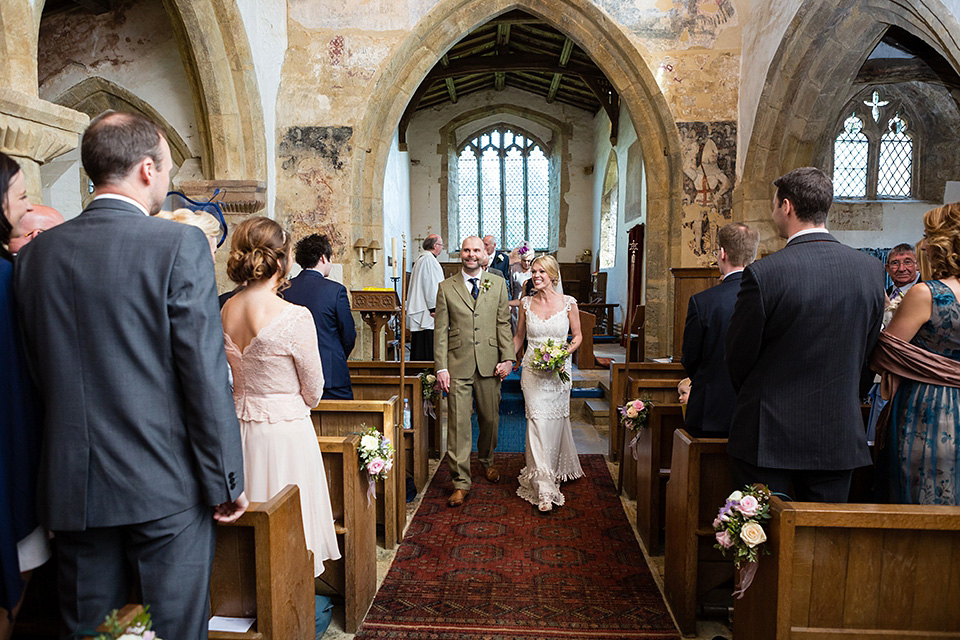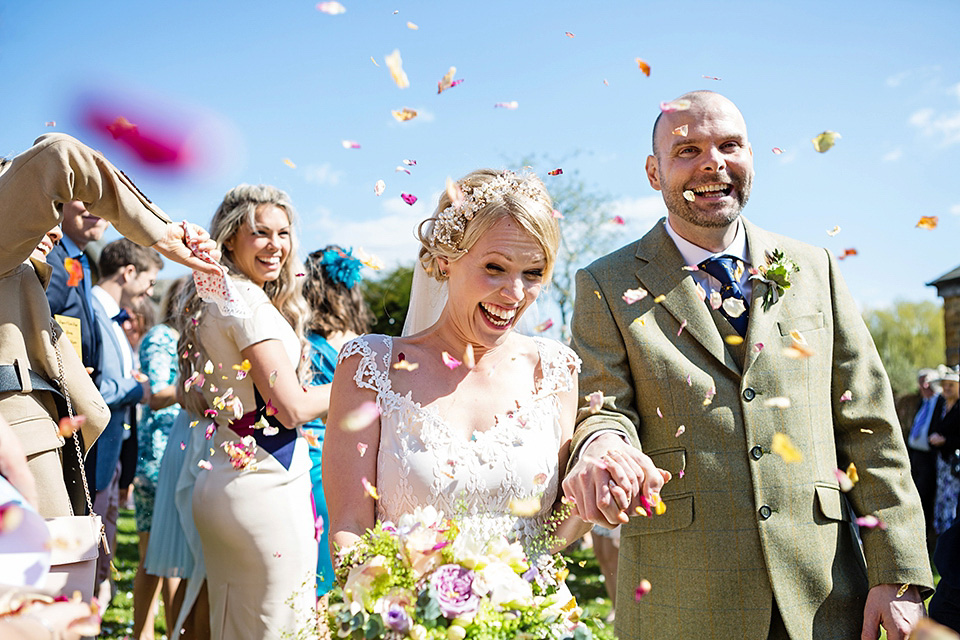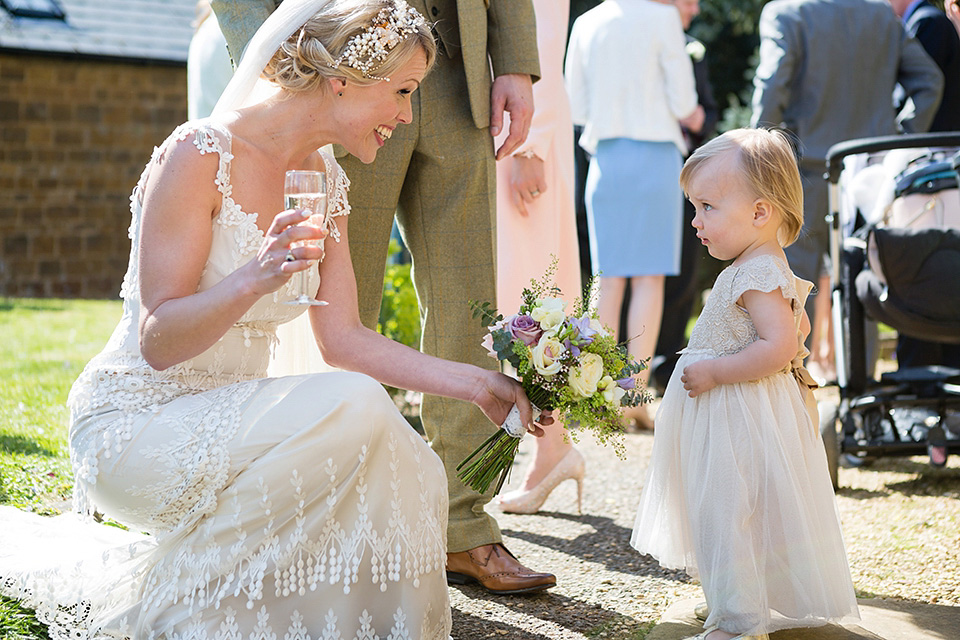 "I felt that guests always feel obliged to stay around whilst the bride and groom have photos so I wanted them to enjoy the moment. Our wonderful neighbours surprised guests by quickly laying a table whilst we were in church and filling it with canapés, champagne and Peter's favourite tipple Port and Brandy. It went down a storm!"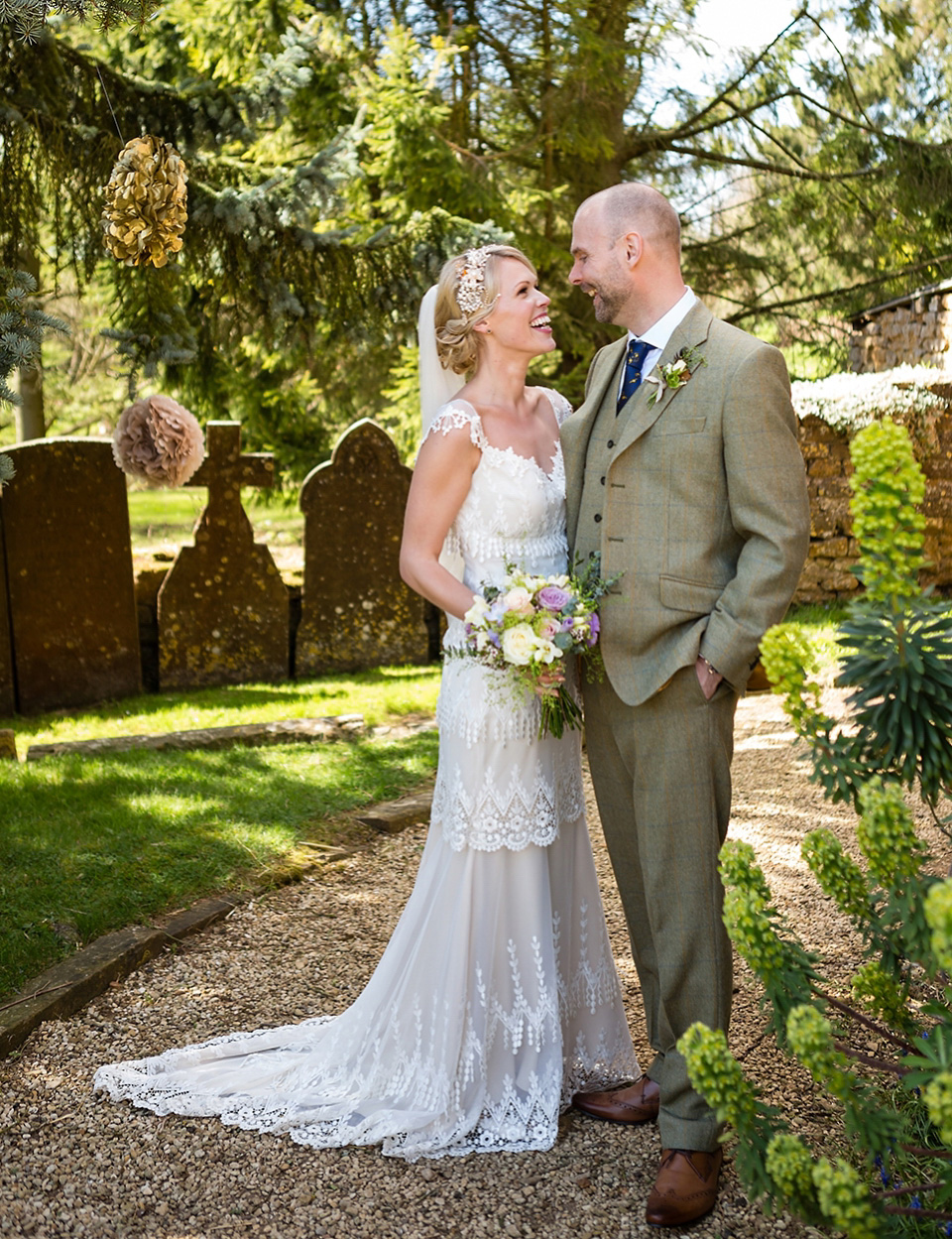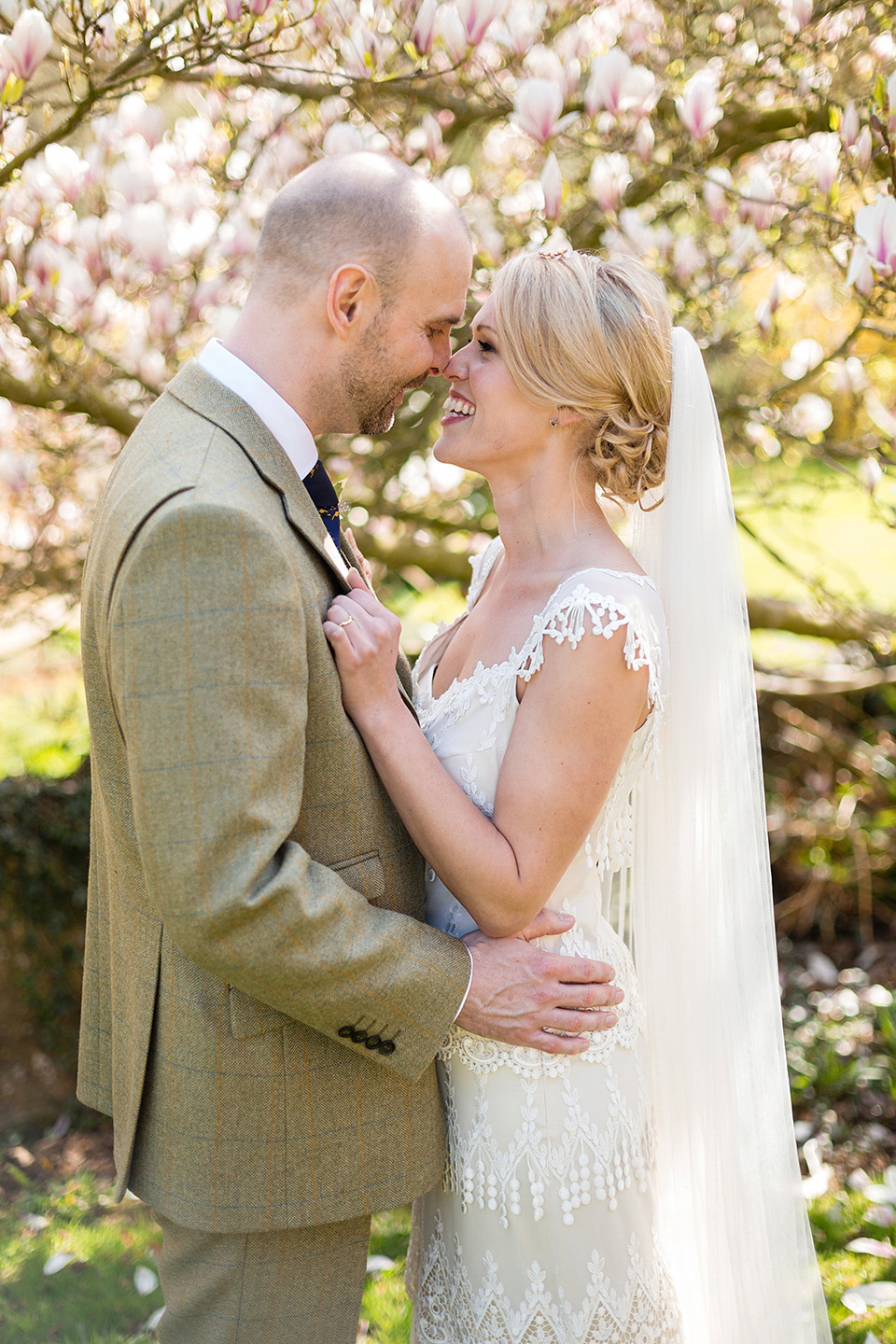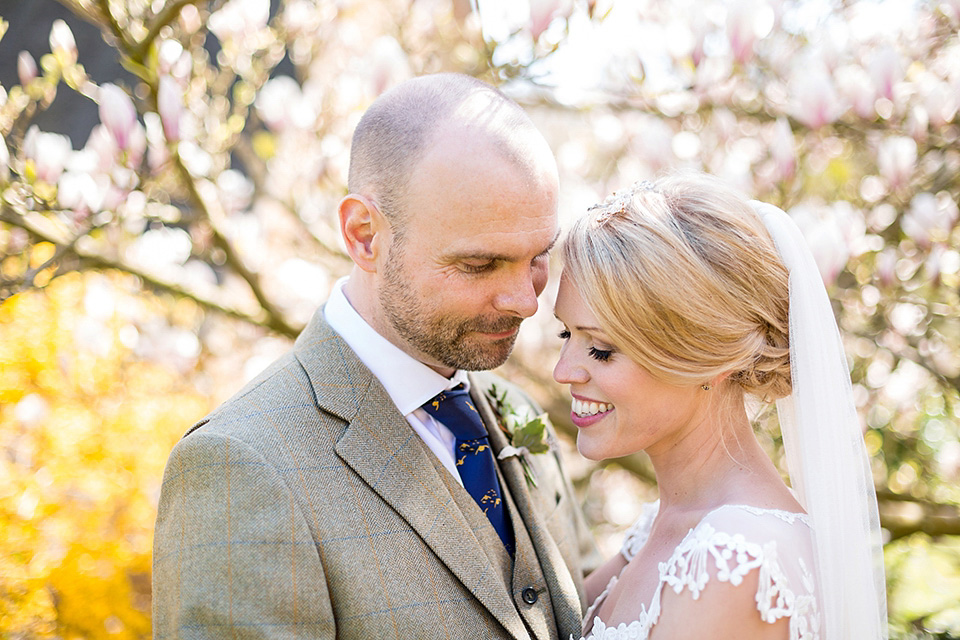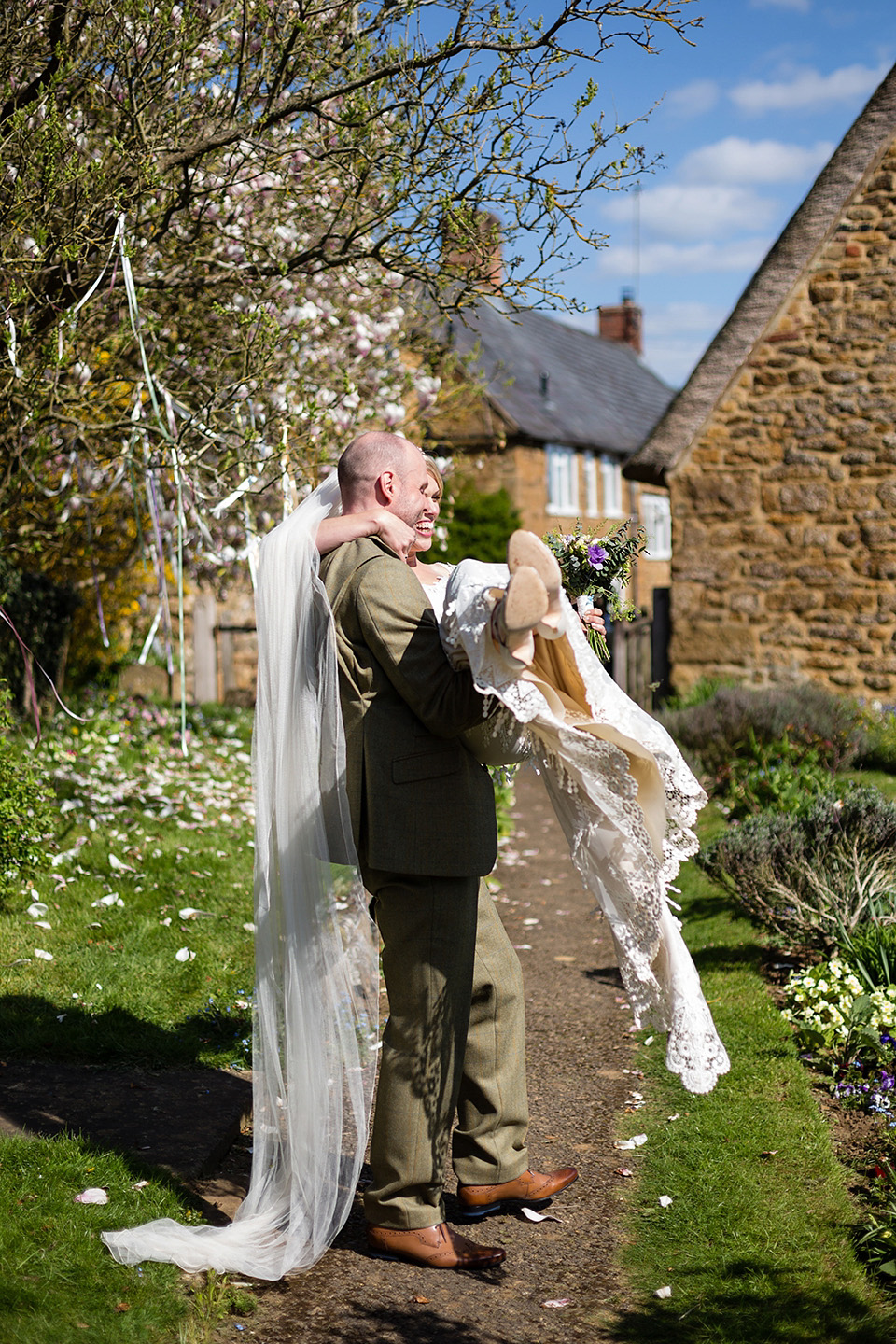 "We hired a beautiful Beauford 1920's car which fitted the theme perfectly and took us from the ceremony to our reception at Ettington Park Hotel. However I wanted to walk to church as our home has a small private path that leads directly into the churchyard. It was the perfect time to gather my emotions and Peter and his best man had decorated it the day before with the prettiest bunting made by my friend Emily."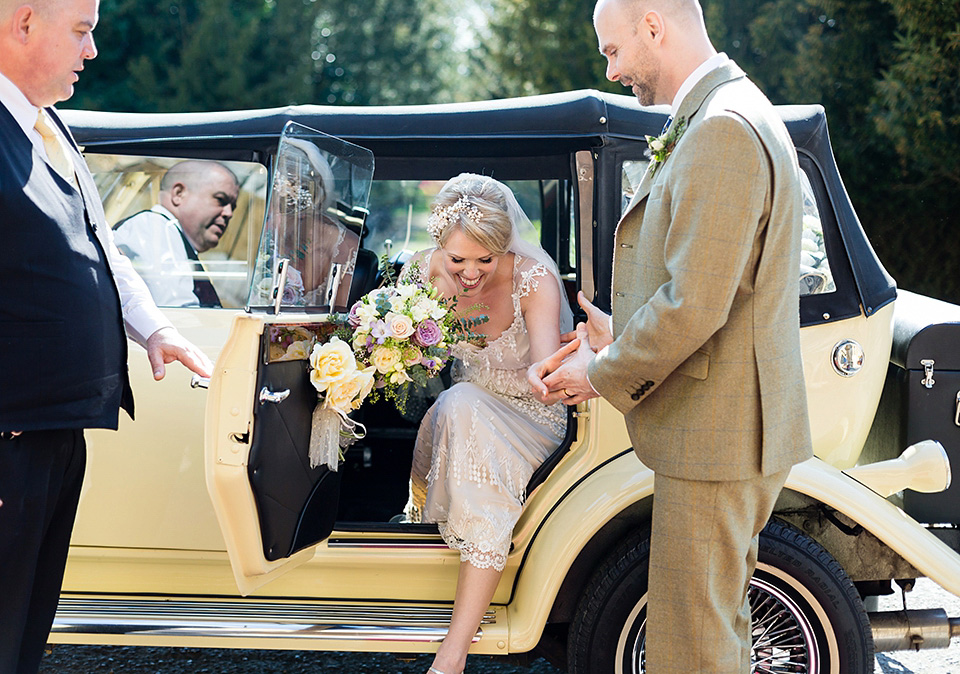 The couple's nieces made delightfully pretty bridesmaids in Monsoon dresses and handmade flower garlands.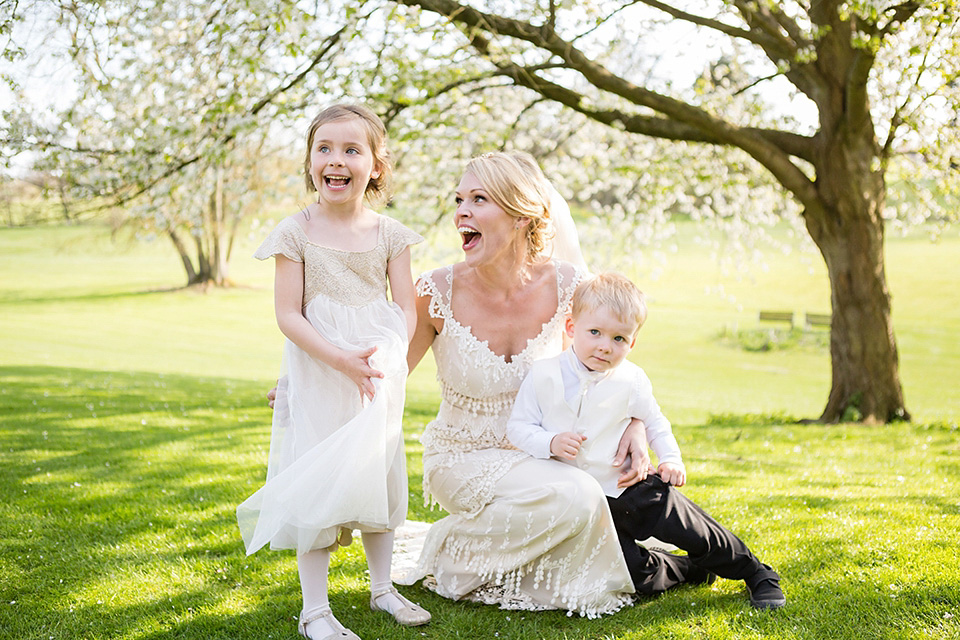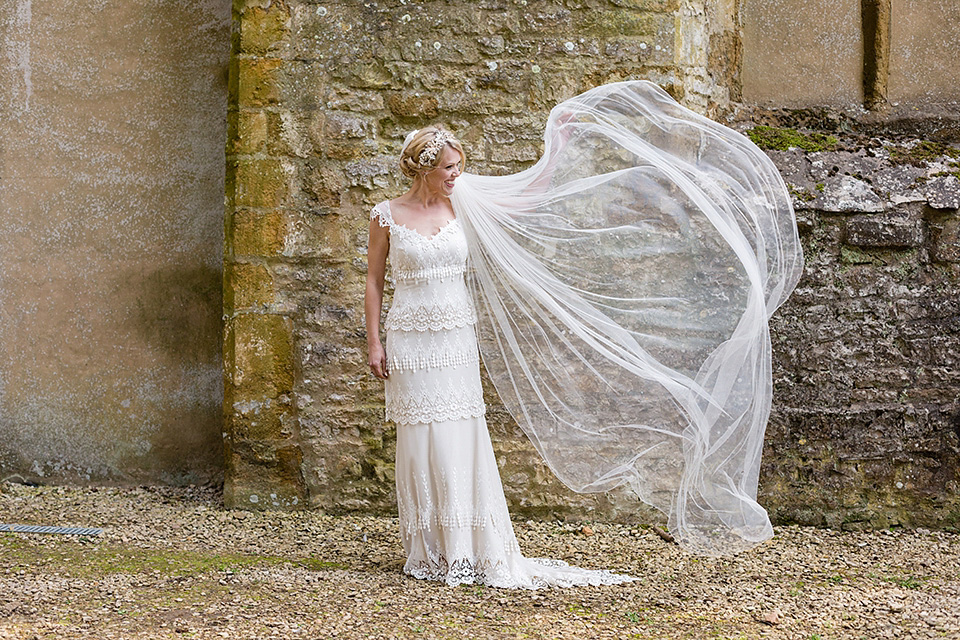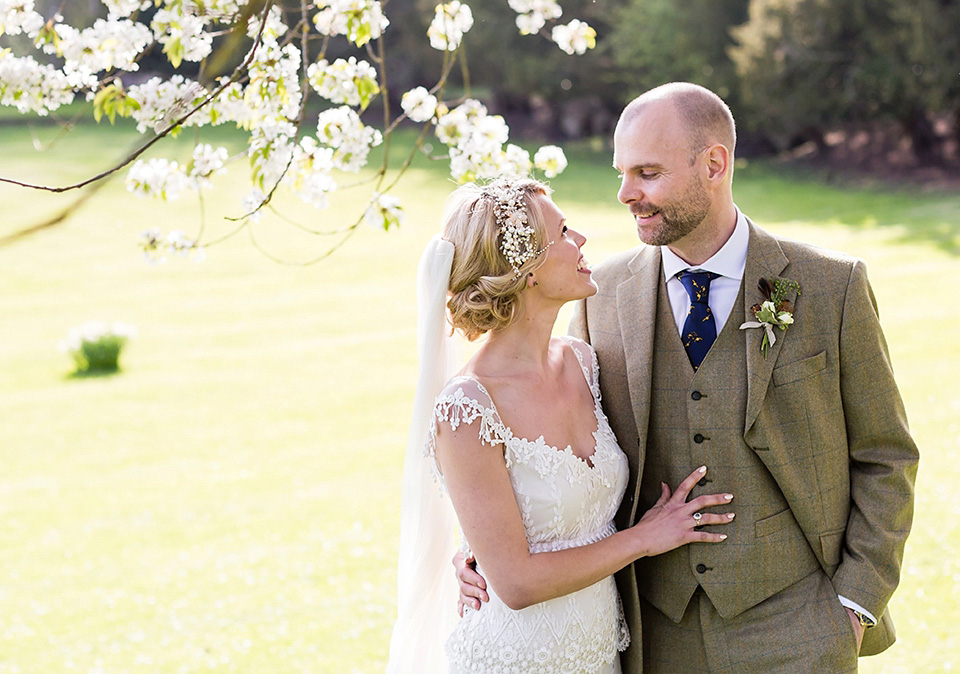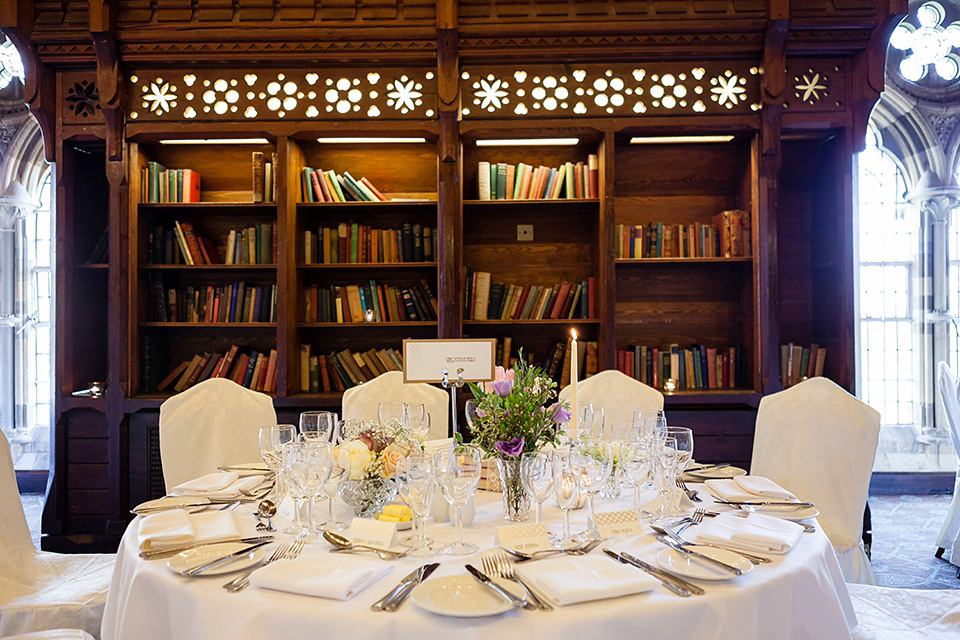 The couple didn't want one traditional wedding cake as they had often seen lots of it left over at weddings that they had attended. Instead, they opted for a small traditional cake that their clever Auntie Vee baked and iced to match the embroidery of Alexandra's dress, along with a selection of their favourite cakes.
"The brownies and cupcakes were made by my sister in law. Then we had macaroons and a cherry and amaretto cake from Cakes for All, a local award winning baker as well as salted chocolate caramel and coffee and walnut cakes from my home town of Sheffield at Steel City Cakes. My cake topper was sourced from Sophie Victoria Joy via Not on the High Street. The remaining cake was handed out in cake boxes as favours."
Other decorations were made by Alexandra's dad who made signs for the village and church and I love the ribbon garlands that were created to decorate the churchyard and pom poms to hang from the trees. For more simple, decorative ideas have a look at our very own creative DIY pages.
"The wedding breakfast was in the main gallery, which is filled with books. Therefore we collected antique books and wrapped them in vintage lace to bring the whole look together. We didn't want anything too matching so searched for vases, tealights and candlesticks in charity shops that looked vintage and personal. We found postcards from Zazzle to match the table names, and named them after films which represented the people on them. That got people giggling immediately! We also sourced our initials, made from books, from Anthropologie to have behind us."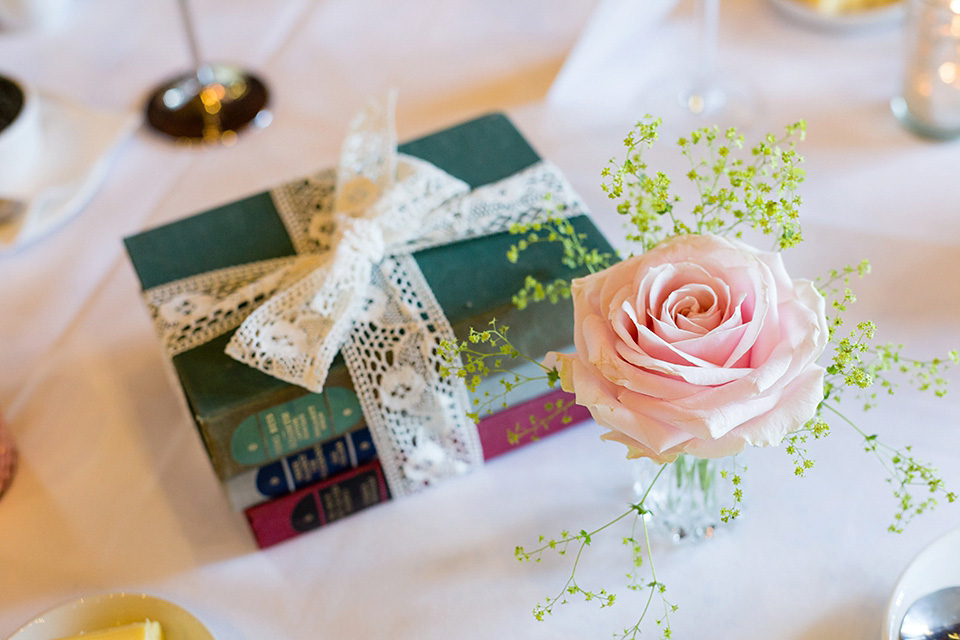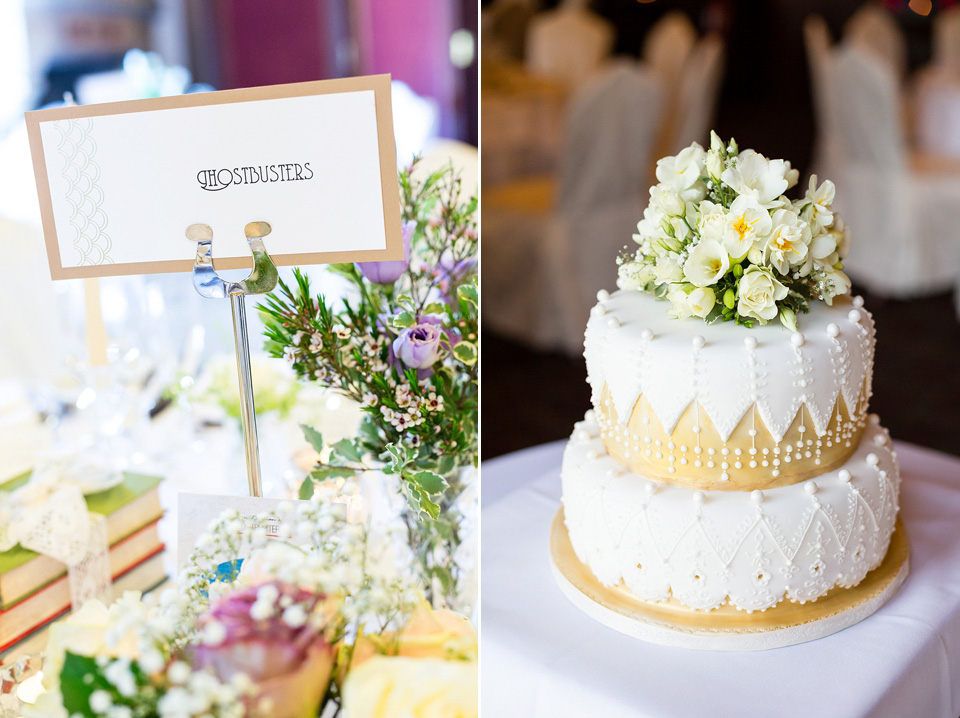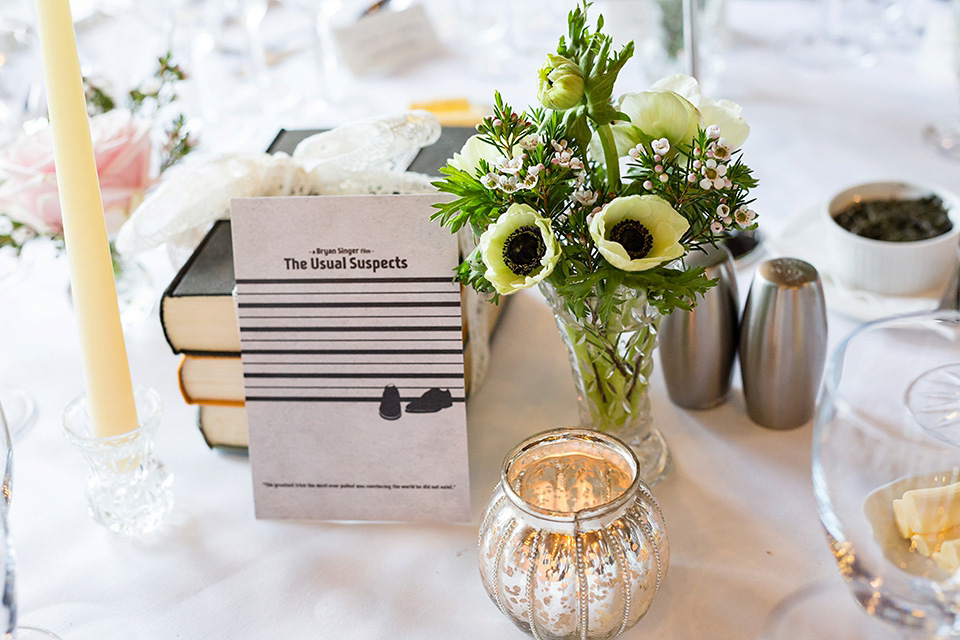 "I knew that the day would go with such a blur and therefore capturing moments that I would miss in our guestbook was important. We bought an instant camera and bought movie style props (that fitted with Pete's career) and people had a blast. We took our guestbook with us the next day on our mini-moon and didn't stop laughing as they got progressively more funny as the night went on."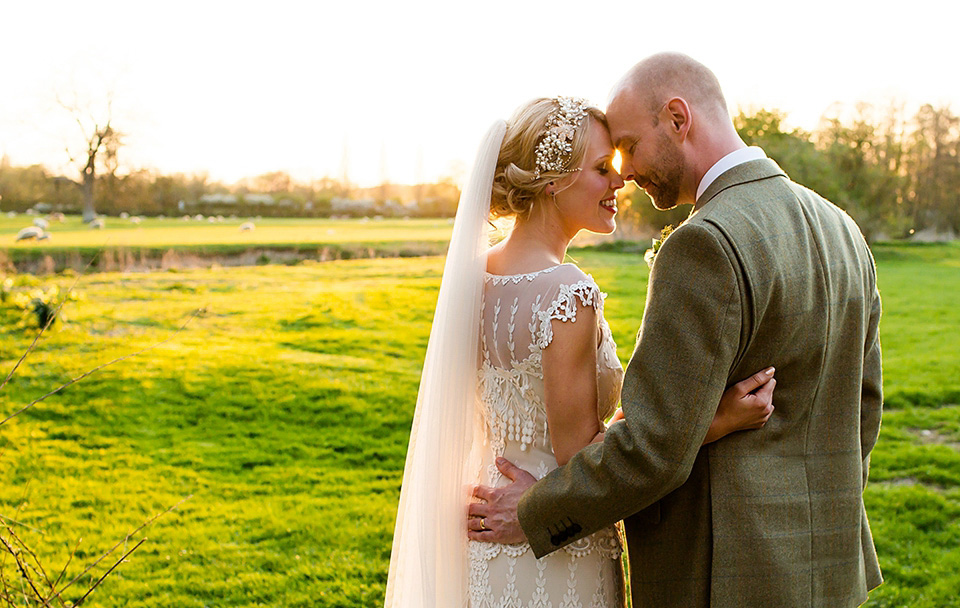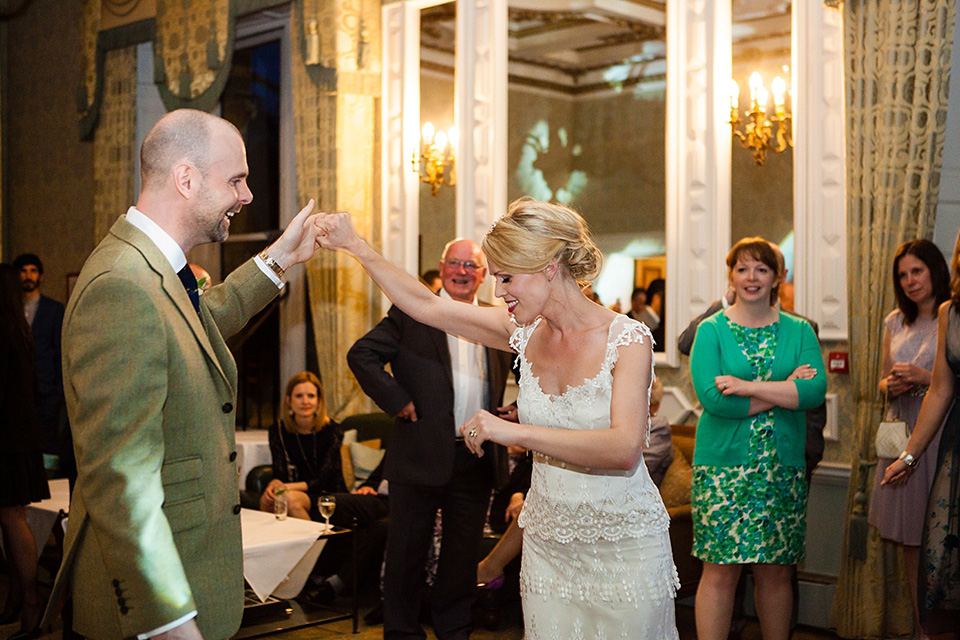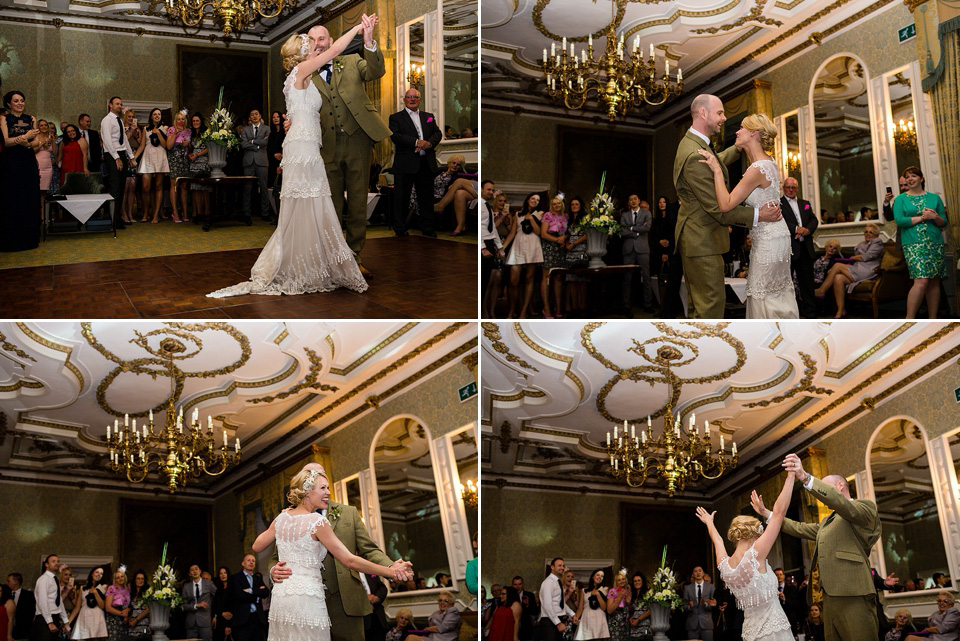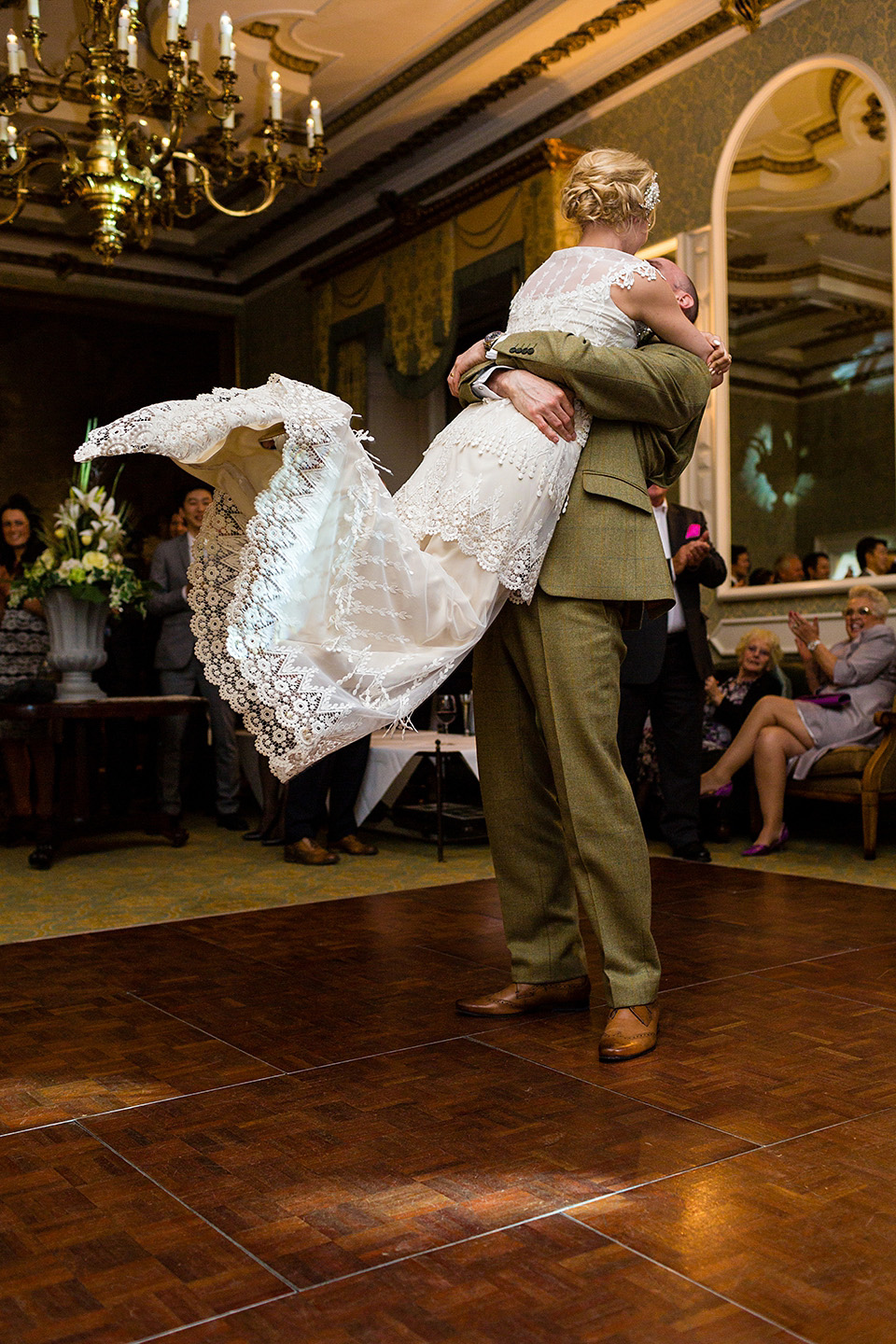 Words of wedded wisdom
"On the run up to our wedding I remember how worked up I got about every tiny detail – what if people got lost? Traffic? What happens if it rains or if the timings didn't work? What if people didn't get the correct food? However, trust me it'll all be fine and you honestly won't care if it isn't! Having said that, do plan things and let friends, the best man, photographer, venue know your ideas and plans and what's important to you so they can sort any problems out for you, leaving you to enjoy the day!"
Congratulations both on a beautiful day and very happy marriage ahead and many thanks to Jo for choosing to share their lovely images with us all. Dear readers please do check out the full list of suppliers below – Alexandra has done a great job of listing a wide range of contacts for a whole host of different wedding goodies.
So who is currently planning a delightful spring wedding?
Much love, Katie xx
Photographer – Jo Hastings
Venue – Ettington Park Hotel
Dress – Claire Pettibone from The White Room, Sheffield
Veil – Helen Martin Veils
Headpiece – Bride la Boheme
Shoes – Rachel Simpson
Earrings – Grays Antique Market & Amara
Groom – suit – William Powell, shoes – Ted Baker, cufflinks – Deakin and Francis
Flowergirls & pageboy – Monsoon
Hair & make-up – Clare Turner
Wedding ring – Jodie Houghton
Florist – Sarah Walther
Invitations & order of service – Bright Eyed Birdie
Menu, table plan & place cards – Paper Treats
Cake – Auntie Vee, Cakes for All & Steel City Cakes
Cake topper – Not on the High Street
Personalised goods – Zazzle
Post ceremony canapés – Marks & Spencer
Pom poms – Paper poms
Book initials – Anthropologie
Vintage car – The Oxford Limo Company
Band – Shirt Tail Stompers
DJ – Damian Edge
Pianist – Fraser Graham