As I write this, it's 10 weeks until our wedding, which means I have 10 weeks to do All The Things. At this point, I've learnt a fair bit about weddings, so I thought I would share some of my observations, for those who are early on in the process. And hopefully those at a similar stage will recognise a few of the things I bring up and we can bond, like a big group therapy session.
Crazy? Me?
Weddings are not crazy things. It's an industry full to the brim of talented people with the organisational skills of army majors and the creative eye of Picasso. Spend your money wisely and there is absolutely no reason why you need to get stressed.
However, there is one fact of life that comes in to play during weddings and it's unavoidable I'm afraid: bitches be crazy. I'm sure you're exempt from this (we all think we are…) but I'm going to put my hands up. I've had moments of sheer lunacy. I'm putting off ordering straws because I can't decide what colour I want the stripes to be.
Practicing calligraphy with Quill London
I have changed my mind about my bouquet at least 329 times. I considered spending an obscene amount of money on biscuits – and I'm still not completely convinced I won't. It doesn't matter if you're the coolest of all the cucumbers – it'll get you.
Big opinions
Ask someone what they think about the financial situation in Greece, gun control in America or Saddam Hussein and they'll mutter something indifferent or non-committal. Casually mention something you're considering for your wedding and you'll get a reasoned and calm response such as, 'Carnations?! They make me SICK TO MY CORE.'
Everyone has an opinion about weddings. And you will hear them, whether you want to or not. My answer? Stop asking; start telling. You have to, otherwise you'll end up with the wedding other people want.
Now don't get me wrong, there are some things about weddings I hate. My hit list includes the following things: bands with a singer (nothing against them, but public singing makes me feel awkward and somehow I always end up stood directly in front of them), jewels in flowers, reception lines (cringe fest), first dances where the couple sing along to the song, videographers who ask you for a message for the happy couple at 1am when you've drunk all the wine (I still cringe at a message I left for someone where I blathered on about them not having an obese baby. Don't ask), tiaras and that blimmin poster about drinking champagne and dancing on the table (I liked it when it first came out – but then I liked Rhianna's Umbrella when that first came out too, and that also now occupies a special place in my personal hell).
But we're all different – you might be planning to wear a tiara, sing along to Leona Lewis for your first dance and then shake a tail feather on a table so enthusiastically you accidentally throw your jewel studded bouquet in someone's face. We're all different.  And you can't make everyone happy. Have the wedding you want. That was nice of me, wasn't it? Other people aren't nice. Consider that a warning.
Diplomacy
I would like to find out how many brides submit an application to MI6 while they're planning their wedding. Nothing allows you to fine-tune your negotiation and people-managing skills quite like it. For instance, it became a running joke that my mum and sister couldn't ever tell if I really liked a wedding dress. I tried on some horrors, but I was always very grateful for the help the nice ladies were giving me, and I knew that someone had put a great deal of effort into designing it. Obviously, inside my head I was thinking: "BURN IT WITH FIRE" but I could never bring myself to say it. So I became the greatest actress the world has ever seen. Or at least in the top five.
Expect the unexpected
You can't make everyone care about your wedding. Accept this early on to avoid getting hurt. There are some people I thought would be really excited, who have been pretty vacant. But then, on the other side of the coin, there have been some really unexpected lovely people, who are so excited for us and the wedding – this has really touched us.
Lovely things
You will never have, again in your whole entire life, such an amazing reason to treat yourself to lovely things. Suffer from buyer's remorse? Let me help you – I have discovered the secret and it's very simple. If you want something, but can't really justify it, then simply put the word 'wedding' in front of it. I bought wedding scissors the other day. And I'd do it again. Just make sure you tell people when you're buying a 'wedding something' – I told a nice lady in the Stella McCartney shop at Bicester Village that I was looking for a 'wedding bag' and she knocked another 10% off.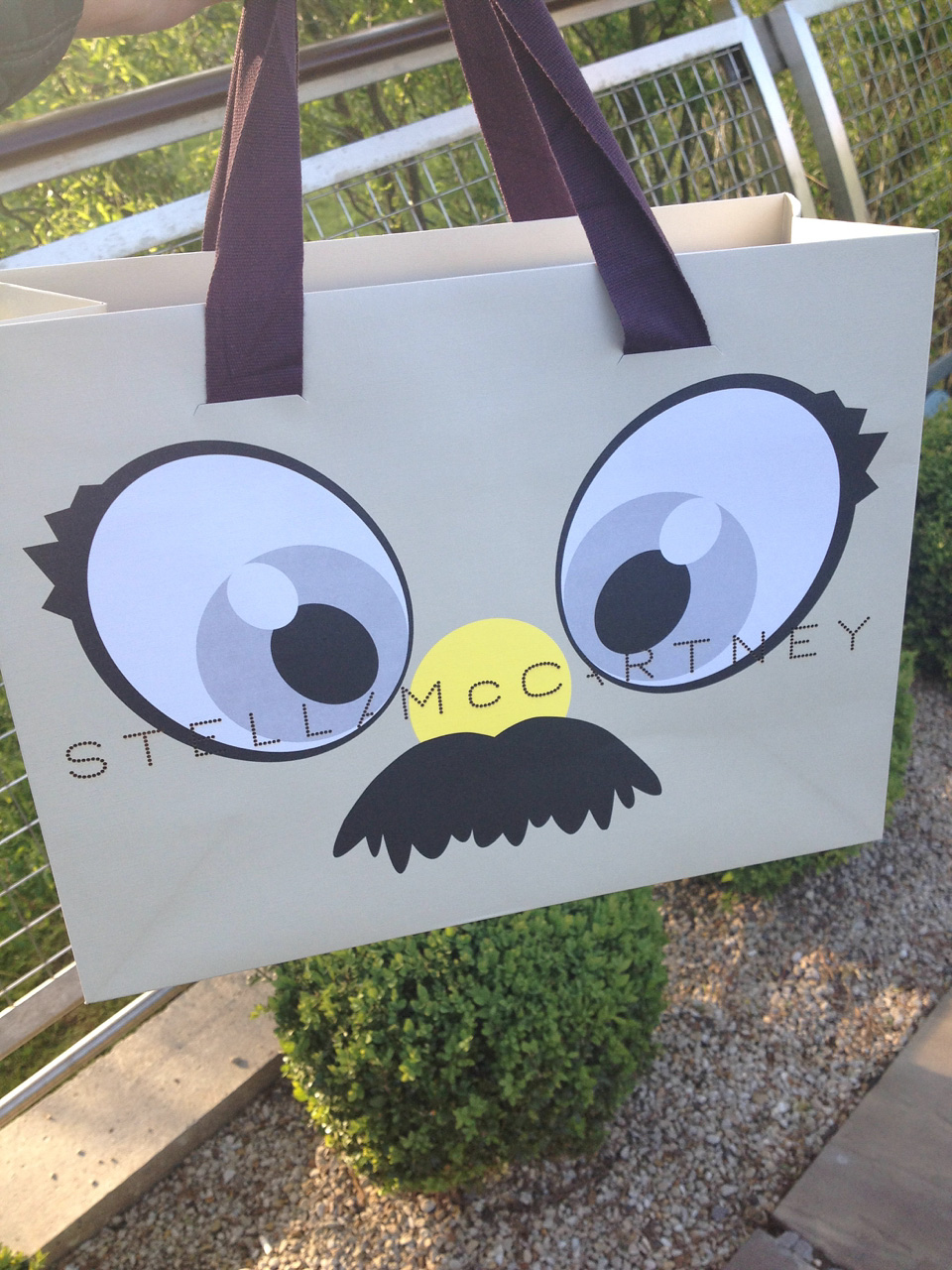 RSVPs are a pain in the ****
I will never, ever, ever wait to send an RSVP, ever again. Our deadline has raced past and we're still waiting for a whopping 47 people to decide what they're doing. Which seeing as we've only invited 70 to the day, seems a tad extreme. We know most of them are coming – but we need to know for sure because we're having beef for our wedding meal, and I don't want that cow to die in vain.
We've also asked them to do something I thought was quite simple – draw a funny picture of themselves for a special project I'm putting together. Judging from some peoples' reactions, you would have thought we'd asked them to send us a urine sample.
Your happy place
With the latter in mind, you need to find your personal wedding happy place. By this I mean your secret list of all the little things you're really excited about. It can be something big, like your dress, or something small, like the font you've used on your invites. Whatever it is, thinking about it at times when you're teetering on the edge of going on a rampage will help a lot. Here's my happy list to get you started:
Our flowers. Our florist, Hannah at Bloom Fleuriste, is amazing – she has impeccable taste and it helps that she's so lovely. Visiting her to talk flowers and drink coffee in her lovely shed at the bottom of her garden was one of the nicest wedding-related things we've done. I've developed a weird obsession for floral arches at churches, so if I've had a particularly dark day, I look at images of them on Pinterest.
My veil. I went from 'I'm a modern bride who doesn't see the point of veils' to 'Is it ok to wear my veil the day after the wedding? On honeymoon? At work?' I am going to turn into Miss Havisham. Although there's no danger of there being any leftover wedding cake decades later – my schedule for the day after the wedding reads: Eat All The Cake.
Our nephews' outfits. Yes, trying them on could have gone better. Yes, it would have been nice if one of them hadn't ended up in the foetal position, clinging to his mother's leg, refusing to move until we'd stopped looking. But from what I could see behind my fingers, as he ran back up the stairs, they're going to look super cute.
Our illustration. I created the invitations myself and commissioned an illustration from a very talented chap called Alex G Griffiths. I really wanted an image that featured our dachshund Mortimer and my sister's pug Millie, so I asked him to draw them as a bride and groom. Hear that? That was the sound of artists all over the world smashing their heads against a desk. But I knew that his style would make it look really cool and I love the finished result.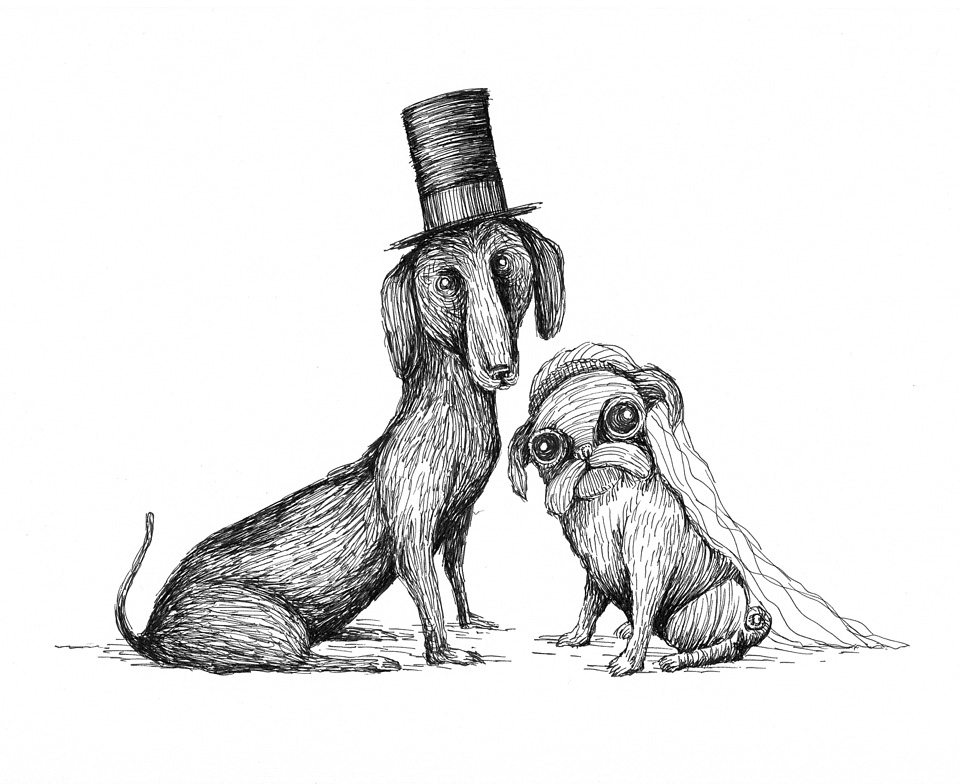 Our illustration
Calligraphy. I started teaching myself and then went on a Quill London modern calligraphy course. I'm addicted and it's my new favourite way to relax: I will park myself at my desk, with Mort at my feet, Radio 4 on in the background and a cup of coffee, light my favourite candle and practice my lettering. I'd love to carry on doing this PW (post-wedding) so just drop me an email if you're looking for someone to do your envelopes.
And finally, a small confession. Sometimes I play Pachelbel's Canon in D, the music I will walk down the aisle to, in the car on my way to work. Sometimes I play it more than once. Sometimes I play it the whole way there.
Please feel free to share your wedding happy place – if only because it would be reassuring to know I haven't gone completely mad!
Emily xxx
__________________________
Emily is due to marry Daniel on 12th September 2015 at Shustoke Farm Barns, Warwickshire.  Their photographer will be Mister Phill (who took the photograph below). You can find Emily on Instagram and Pinterest and read her other posts for Love My Dress here.  Drop her a line – she'd love to hear from you.