I am always in total awe of the creativity displayed by the brides and grooms we feature on this beautiful blog. This particular wedding is a prime example, with the clever bride making her own dress and the crafty groom helping with the stationery and decor. And, to top it all off, they planned everything in just three months.
Meet Nathalie, a photographer, and Mark, owner of a joinery and furniture making business, who tied the knot on 4th April this year at Boconnoc Estate on a spring day in Cornwall. I've so loved blogging their beautiful nuptials and fell in love with their magical venue.  It was their wedding venue in fact that provided the inspiration behind the couple's special day.
Photography by Amy Shore Photography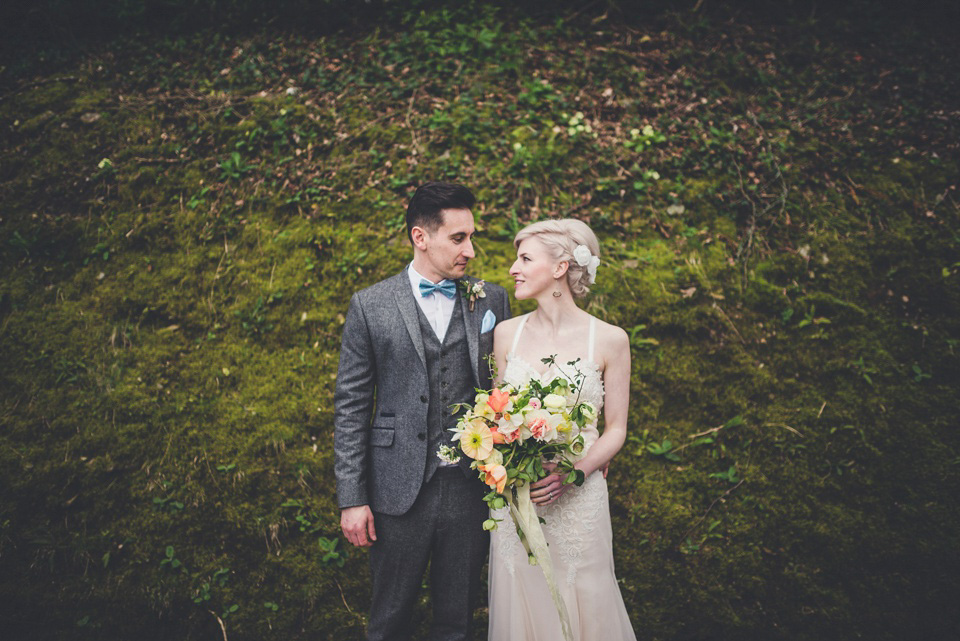 "We wanted a relaxed wedding, nothing too formal. Boconnoc is just such an inspiring place, very beautiful, grand and historic that we just wanted everything to be in harmony with the setting."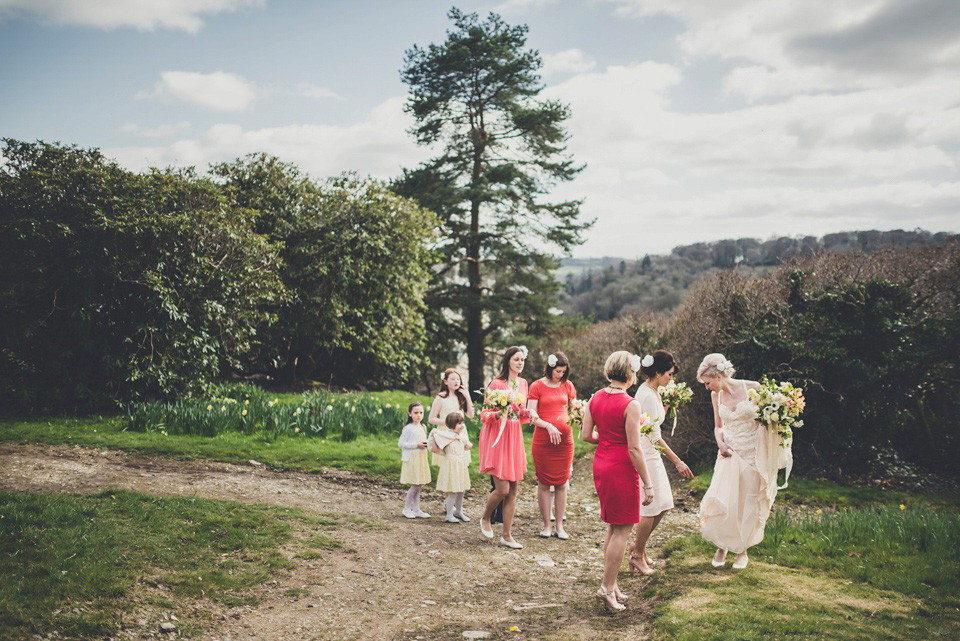 The Garden Gate Flower Company supplied the flowers, as the couple wanted locally grown and I just love the wild-looking effect that was achieved. I have also just lost a chunk of my life gazing longingly at the beautiful images on the website. Happy browsing!
"Amy and her assistant Liam from Amy Shore Photography were absolutely amazing, talented, super friendly, helpful (they pretty much organised us so we were in the right place at the right time all day!) and just down right lovely."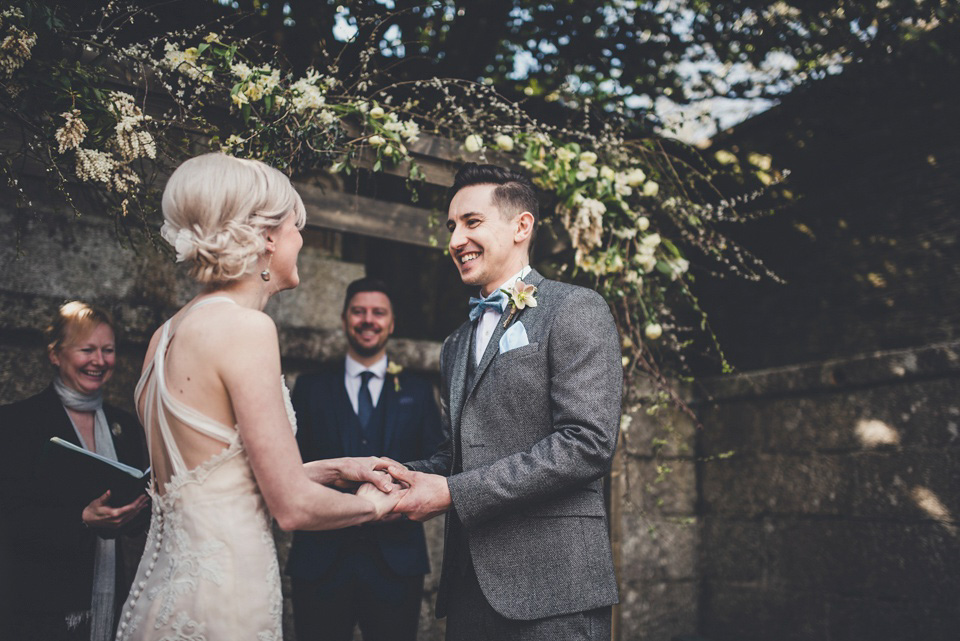 "We met about ten years ago at a friends wedding, but we only started dating five years ago when we met up again after having not seen each other for a couple of years and really clicked. We got engaged in Thailand after a months travelling with friends after our friends wedding in New Zealand. Mark carried the ring round in secret for a whole month, so he could propose on Christmas morning. It was a total surprise and very romantic. He later confessed that every time we went through airport security he was paranoid that they would make him empty his pockets and he would have to propose there and then.
We initially wanted to have a short engagement or more importantly not spend too long planning the wedding, but we didn't get around to starting organising until we had already been engaged for a year. We then spent just 3 months planning as we were very lucky to get a free date at Boconnoc for Easter Saturday."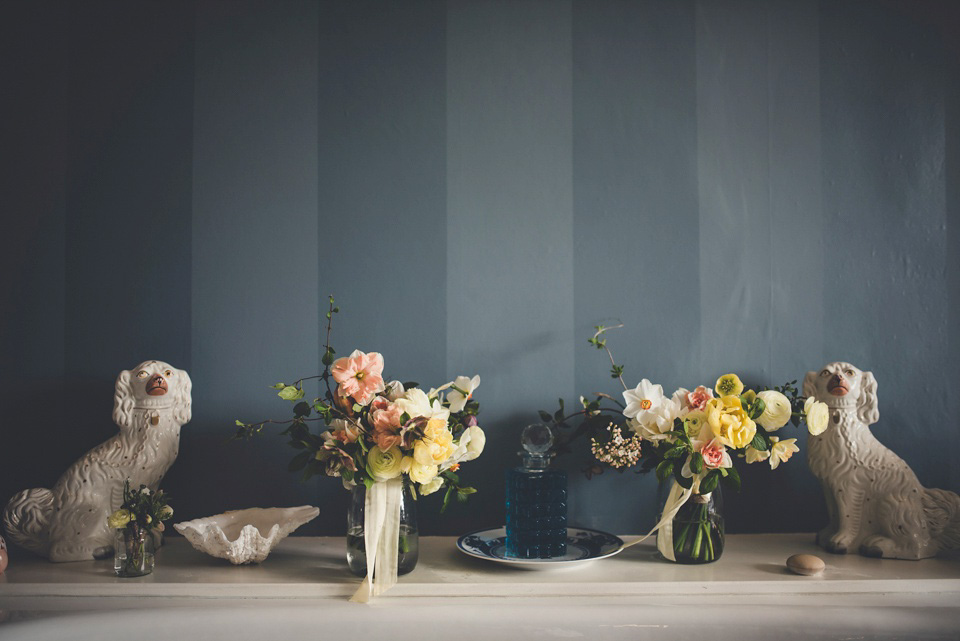 With time a little tight, Nathalie decided to create her divine dress herself and based it on a design she had tried on that was out of budget.
"I made my dress myself. I had been to a few shops and by the time we selected the venue most places said three months wasn't long enough to make the ones I had liked, I tried on one that was waaay out of my budget so I decided to make something similar myself. Despite most people thinking I was a bit insane I loved the whole process, and as I am more of a maker than an organiser it was actually one of the less stressful parts of the wedding process."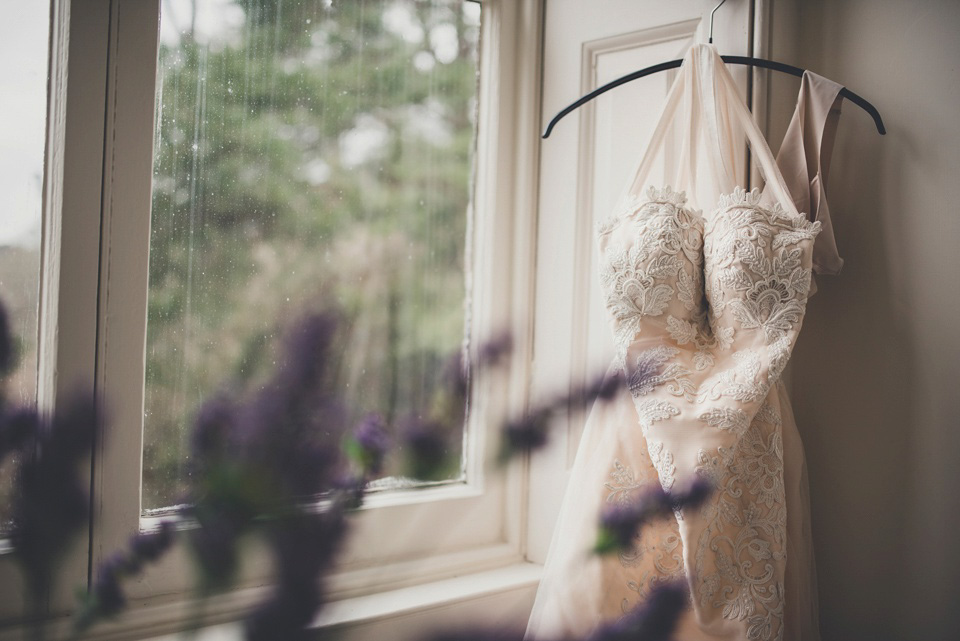 For her hair accessory, Nathalie hand-made the fabulous fabric flowers, all whilst her best friend Niki was doing her hair on the day. She did her own makeup, wore a spray of her favourite go-to fragrance, Penhaligon's 'Artemisia', Rainbow Club heels and borrowed her cousin's earrings.
"Hair was by my bestie Niki Moores – a super talented hairdresser and all round amazing human being and total hero in the run up and during the wedding. My earrings were borrowed from my cousin the night before the wedding when I spotted her wearing them at our family meal."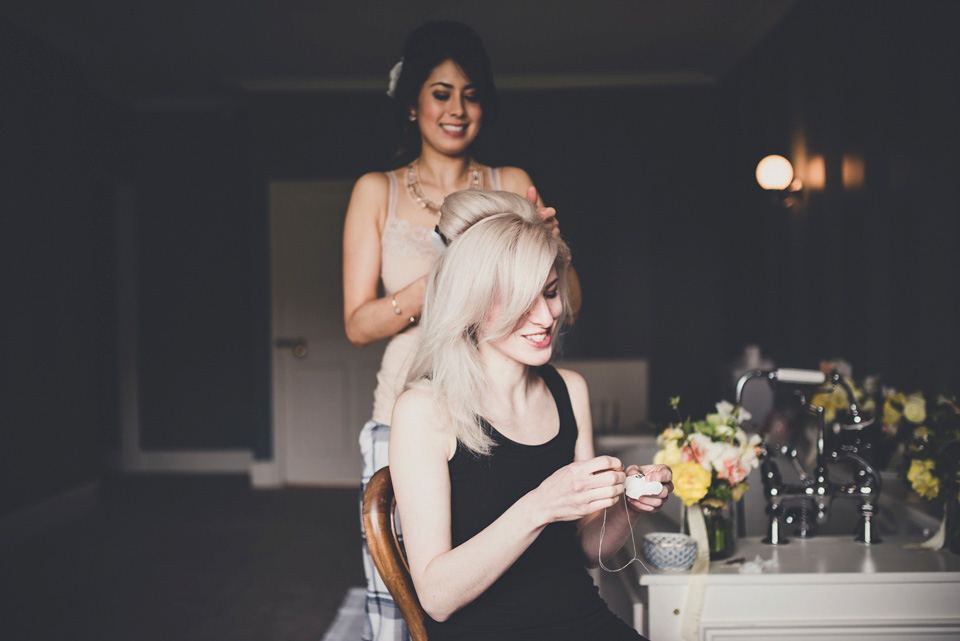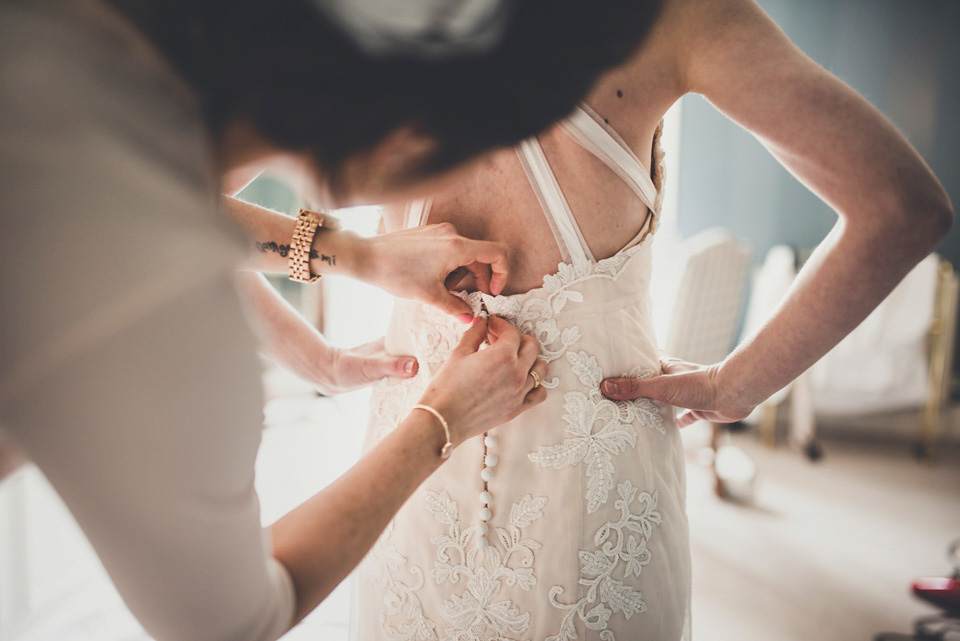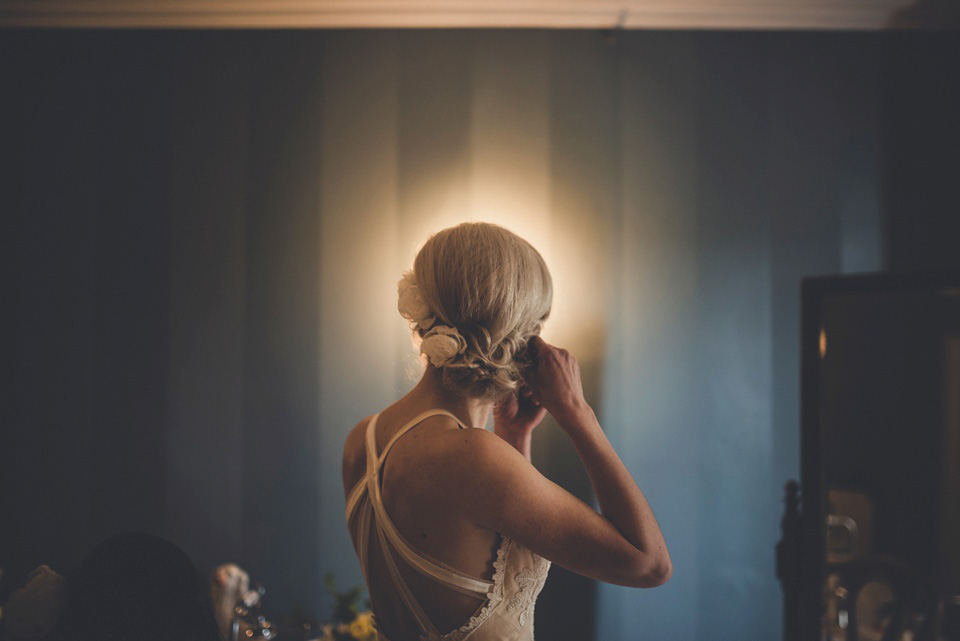 Cornwall is such a beautiful part of the world and Boconnoc is absolutely breath taking, with incredible views from every angle. It was simply perfect in every way. Another thing we loved is that you can book rooms and cottages there for a holiday so we are totally planning on going back for an anniversary stay at some point as it's a very romantic setting.
When we found out about Boconnoc, Mark was down in Cornwall visiting his parents and so he drove over to take a look and was absolutely blown away. He called me there and then and said that that was the place we had to get married. Mark agreed to save the last available date they had before the latter part of the year and I went down to visit not long after and was equally smitten."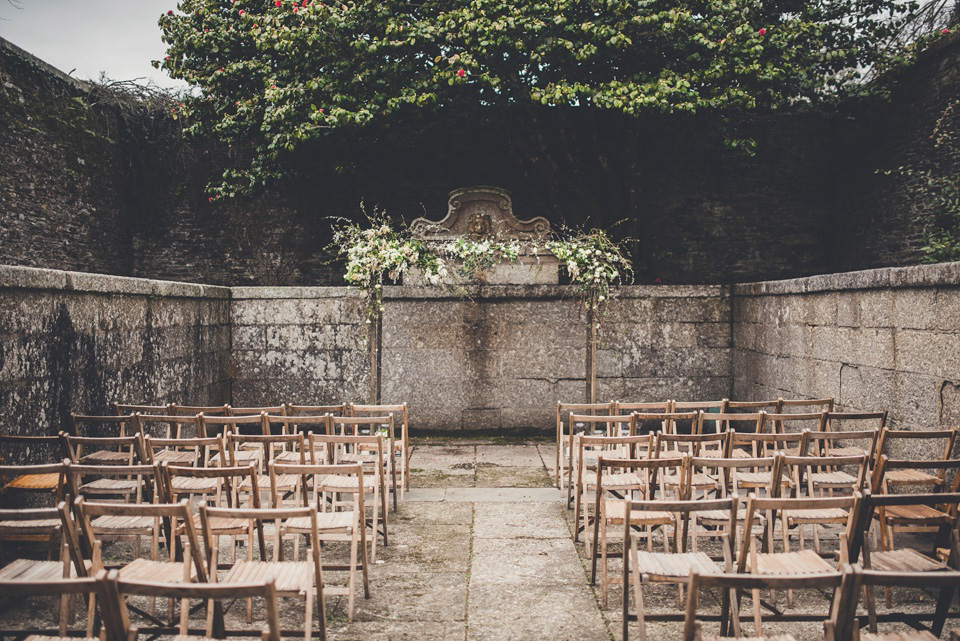 "We just fell in love with the house, the grounds and old bath house for the ceremony and from then on I just couldn't have imagined getting married anywhere else – despite everyone saying we should have a plan in case it rained, I just decided there wouldn't be any rain and that was that … and there wasn't!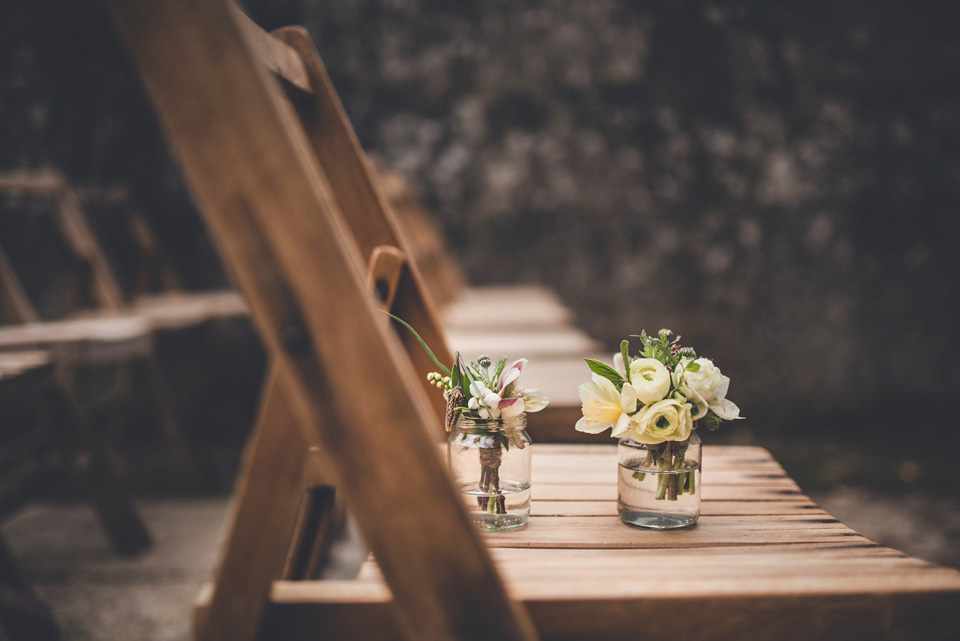 Mark's smart suit was by Ted Baker, which he paired with stylish Paul Smith shoes and a funky bowtie.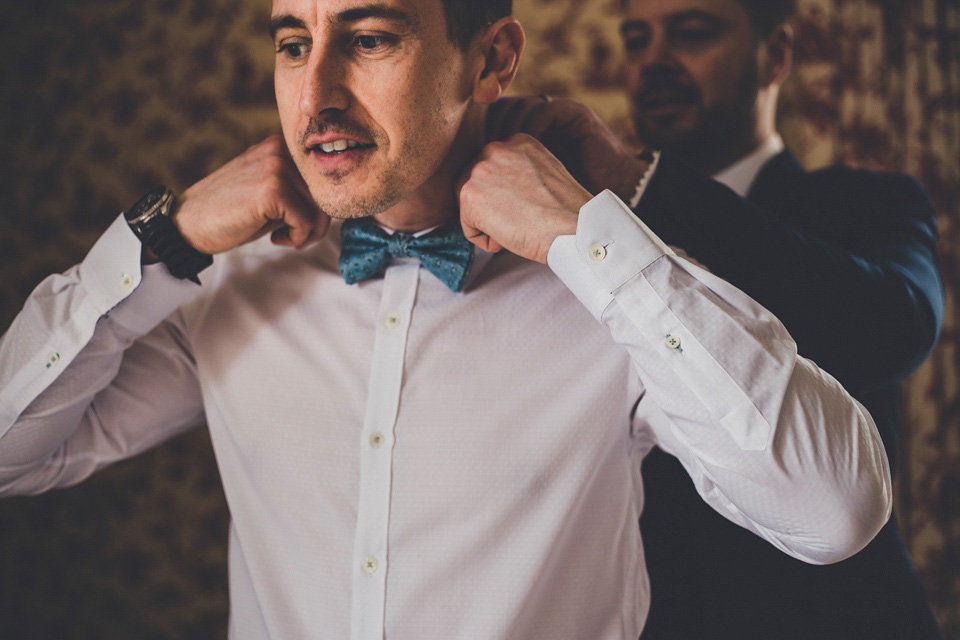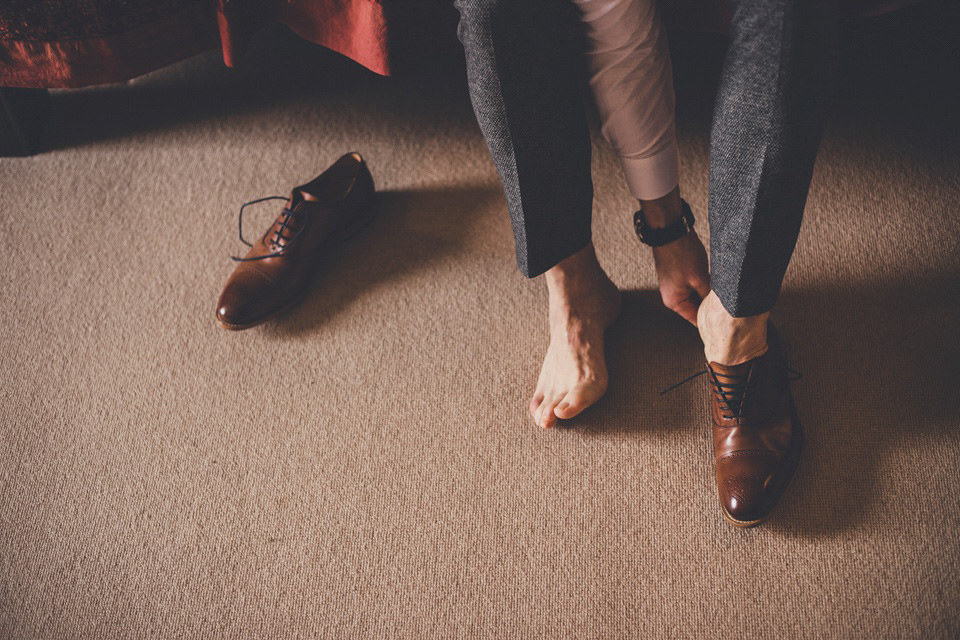 The bride was walked by her father down the aisle to 'Toothpaste Kisses' by The Maccabees and was so pleased with how the ceremony turned out.
"Mark chose that song about 30 minutes before the ceremony with my bridesmaid Jess (who put together a pretty amazing ceremony soundtrack the night before when we realised we hadn't done it yet!) and they ran it past me and I agreed it was a perfect choice."
Rings were found via Alistair Stewart Jewellers in Hatton Garden at the final hour, as were quite a few elements of their day.
"We actually left the ring buying to the last minute (there's a theme coming through here) and we initially went to the same shop where Mark got my engagement ring but they were closing so we went in here as they were still open and we didn't have time to come back another day. Mark wanted something classic and not too wide and I saw the studded looking one in the window.
When I asked if it was a popular choice we were told that they had had that specific ring in the window for twenty-two years and no one had ever bought one… it sealed the deal as I liked the idea of having something unusual (I did wonder afterwards why they still had it in the window for all that time when it was such a bad seller but hey ho!). We decided to both go for white gold as we liked the colour and wanted them to match."
"Mark made a beautiful wooden (flower) arch for the ceremony which the florists then decorated. We put candles around the ceremony space too and had a few giant white balloons attached to a tree (we were initially going to have more balloons and some balloon letters but we ran out of helium!)"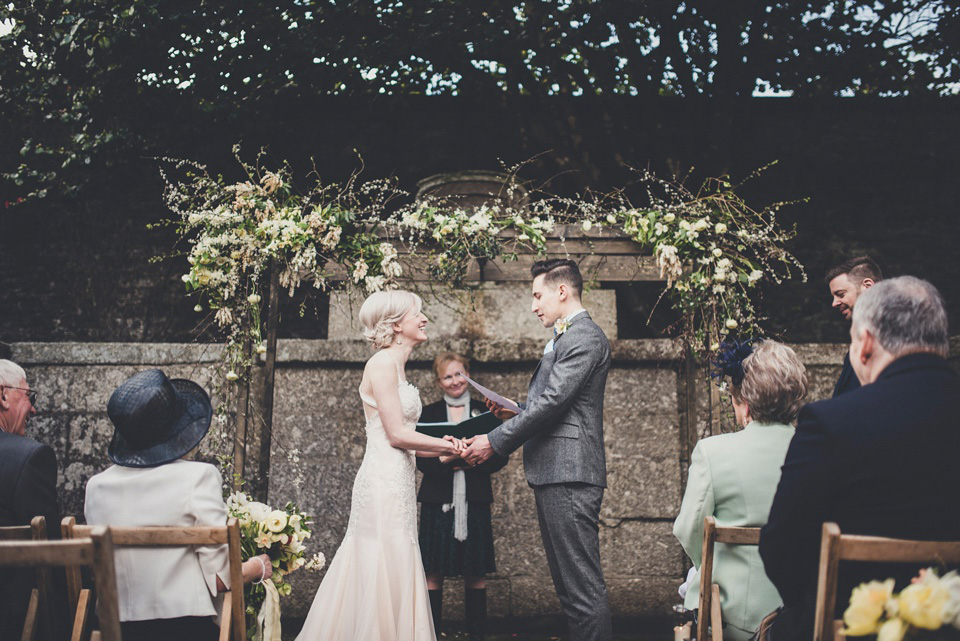 "The ceremony was amazing. The sun came out about half an hour before the ceremony started and there was a bird singing in the trees whilst we were saying our vows, it was so perfect and magical. And the old sunken swimming pool in the bath house where it took place just looked beautiful. I couldn't have been happier."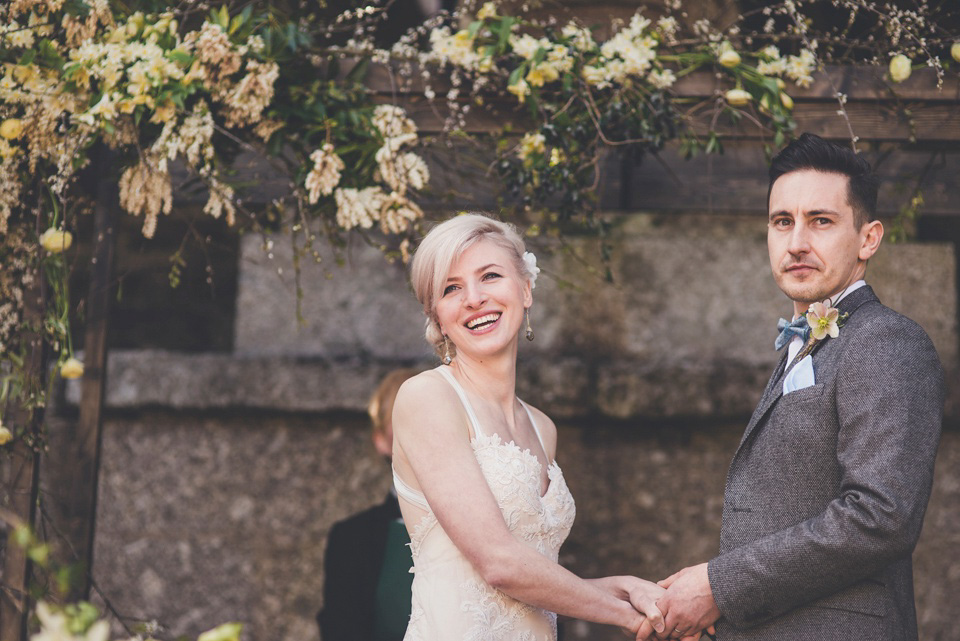 "We wrote our own vows with a little help from Pinterest and worked in some things that we felt were important that had been advice from friend and family."
On this day I give you my heart. My promise that I will walk with you hand in hand, wherever our journey leads us, living, learning, loving, together forever.
I will always to be honest with you and communicate fully and fearlessly.
I will nurture your dreams because through them your soul shines.
I will always strive to be better and to be flexible in mind to grow with you wherever our journey leads us.
I will never let the sun set on an argument, I will strive to wake up and be thankful each day for our love for each other.
I am marrying you because I believe in all that you are.
You will be with me for all eternity.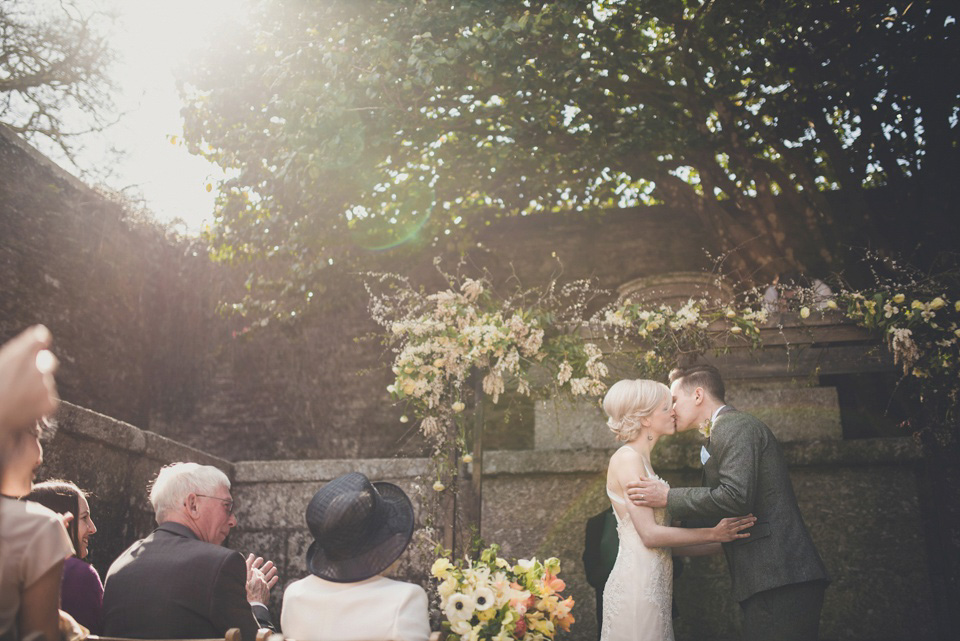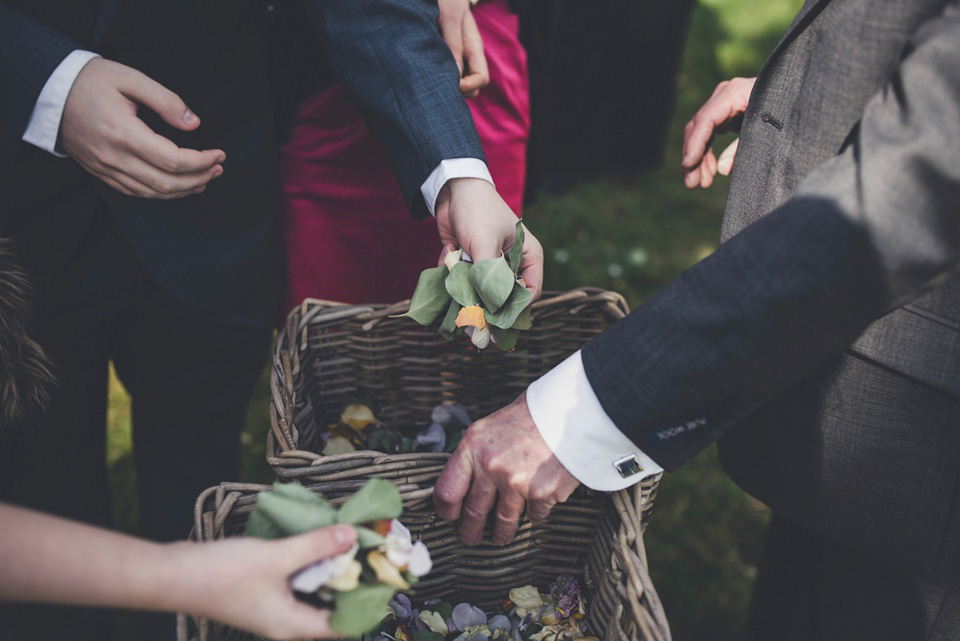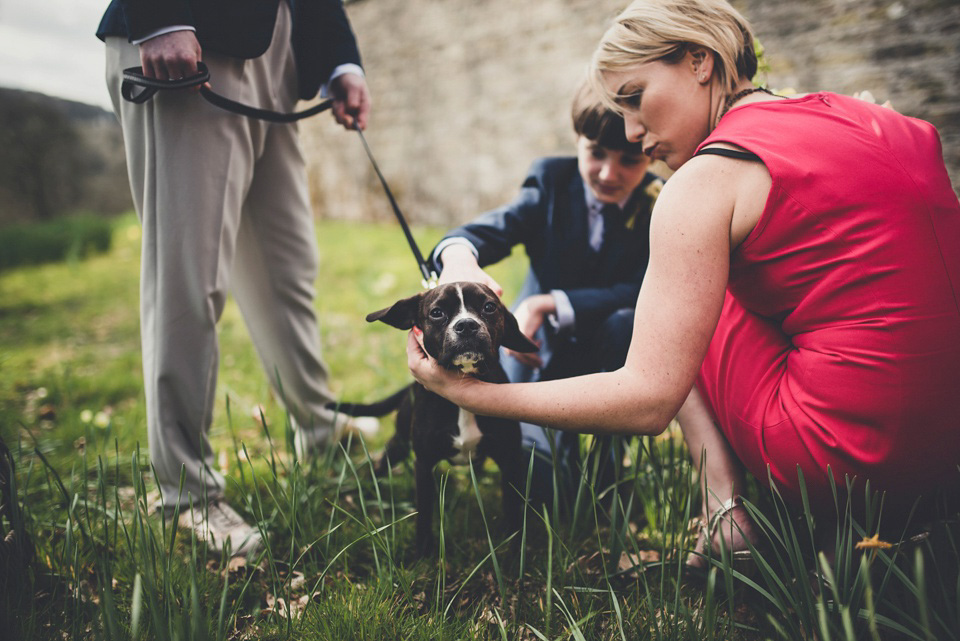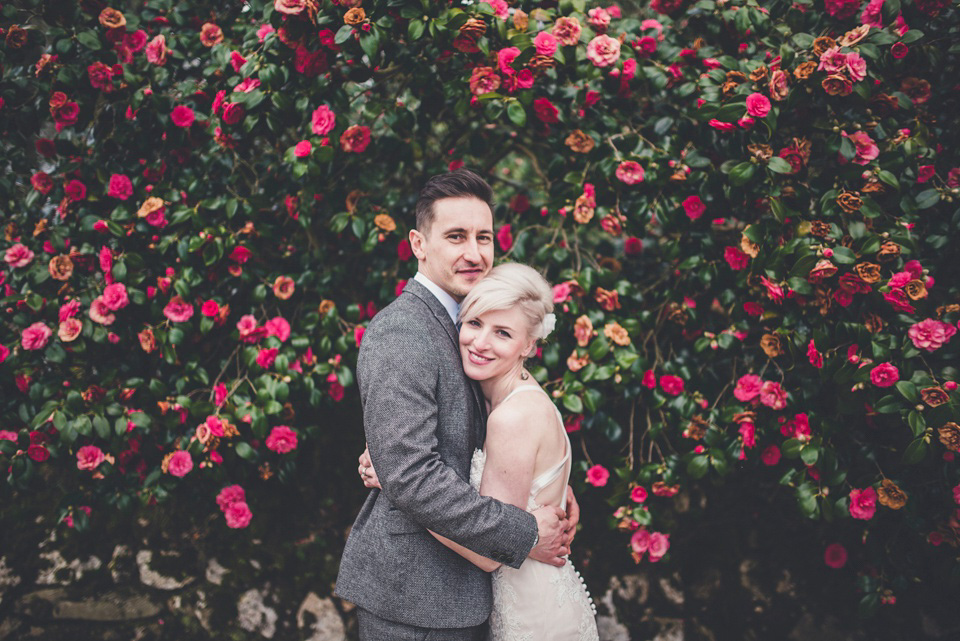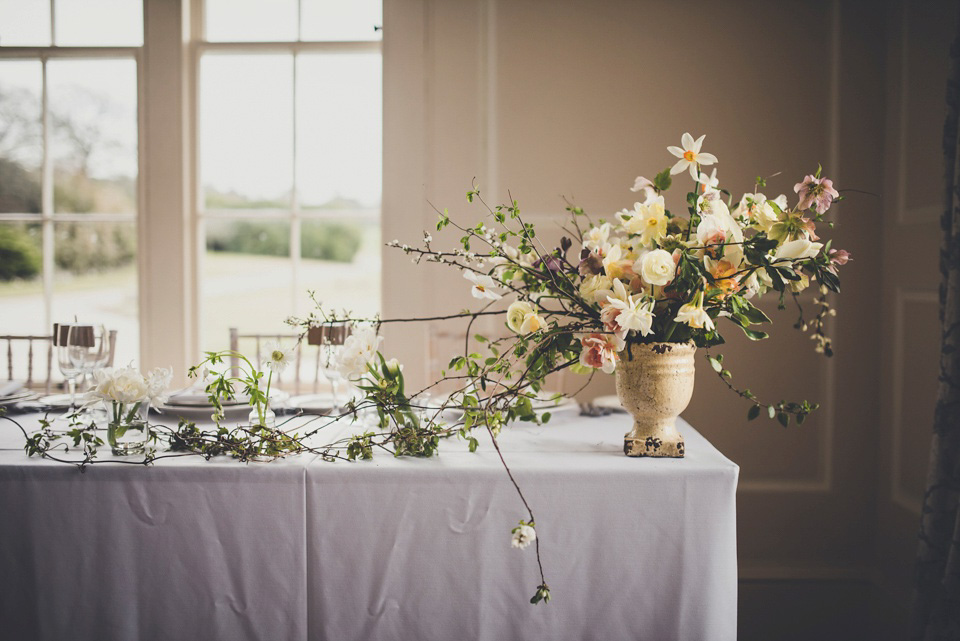 The stationery and décor was designed and handcrafted by the couple, with Mark proving to be very handy in this department.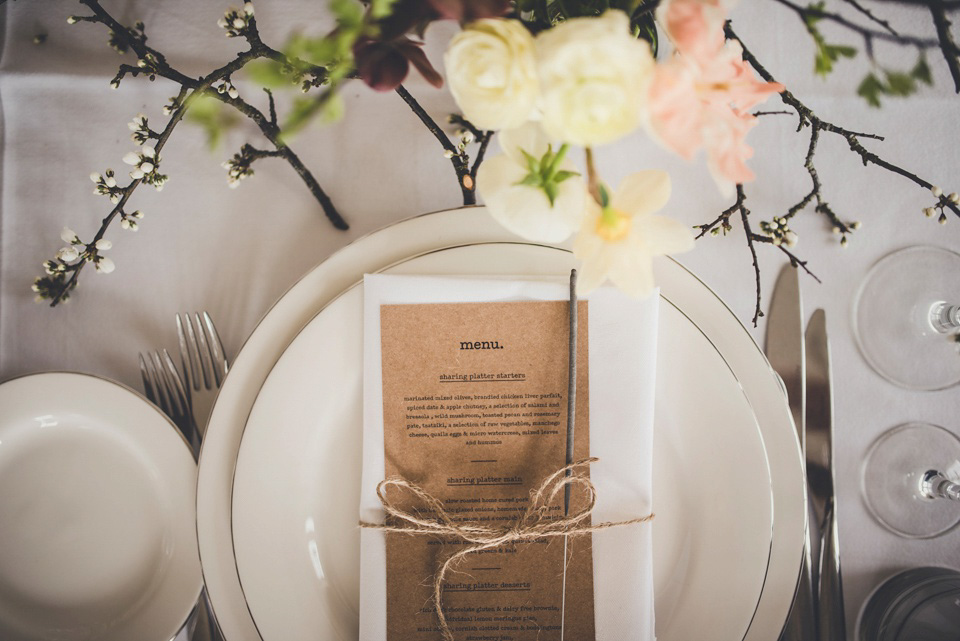 "Mark made the seating plan – he made little tables and then wrote the names of the guests on clothes pegs that were attached to the tables. He also wrote out the place names on cards that were clipped to the glasses with mini pegs. Nathalie made the menus."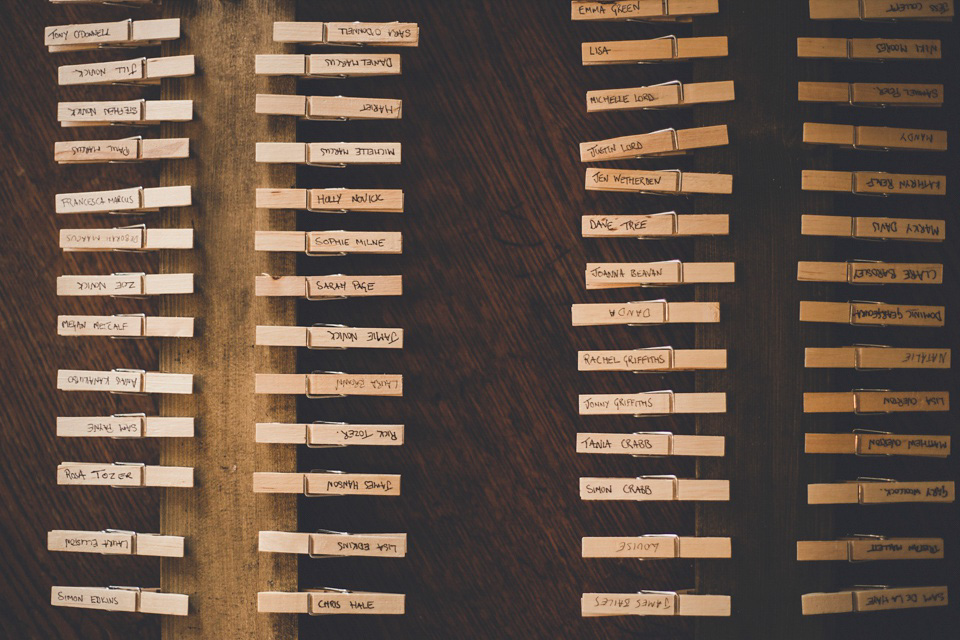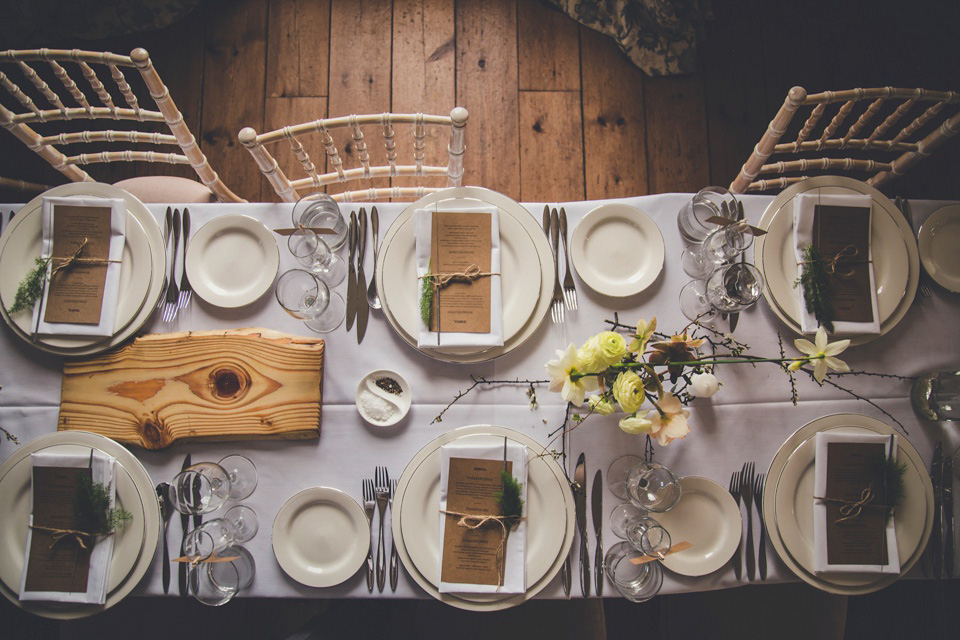 "The Round Kitchen catered and were amazing, incredible and totally delivered.
The cake was baked by the mother of the groom, Kate and, of course, my hero Niki the day before the wedding. And beautifully put together by the wonderful Kate on the morning of the wedding. She did such a beautiful job, we were very chuffed."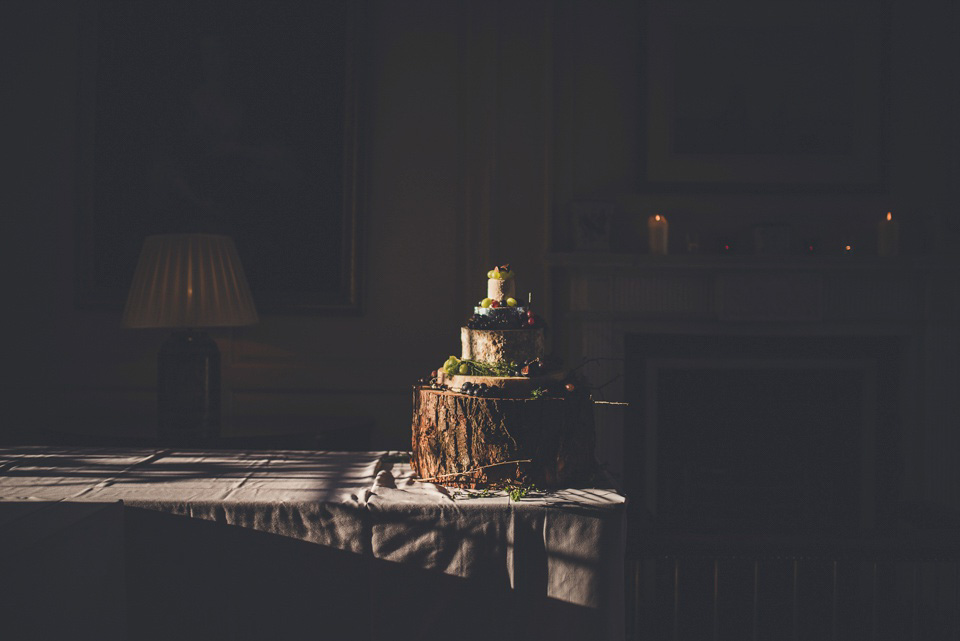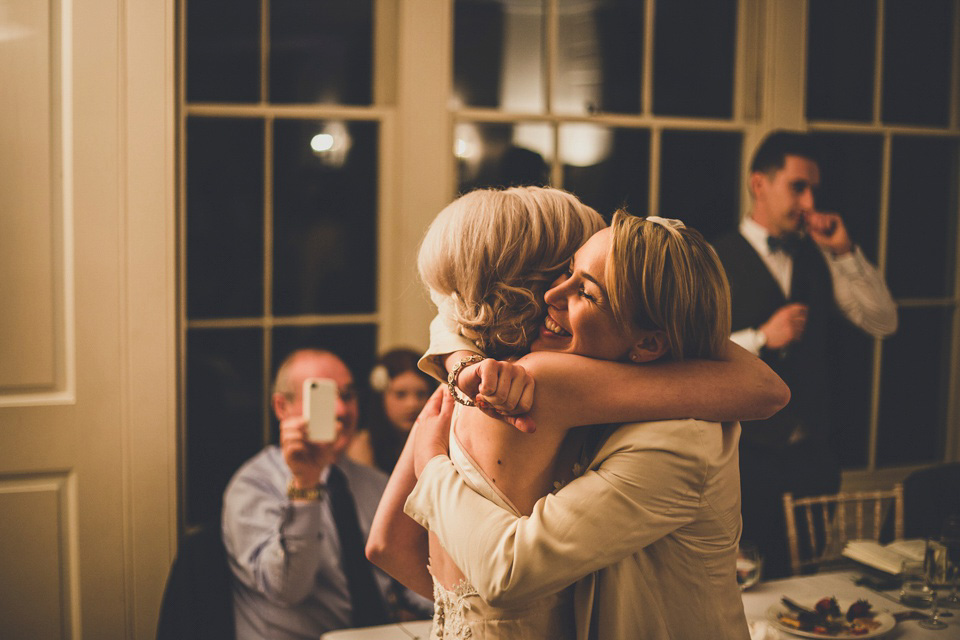 "We didn't have favours as such but we put sparklers at each place setting and the menu cards had little quotes on the back. For the kids, Mark made little clipboards using mdf and bull clips and Nathalie printed up little activity booklets with colouring crayons. The father of the groom very kindly put the kids booklets together for us."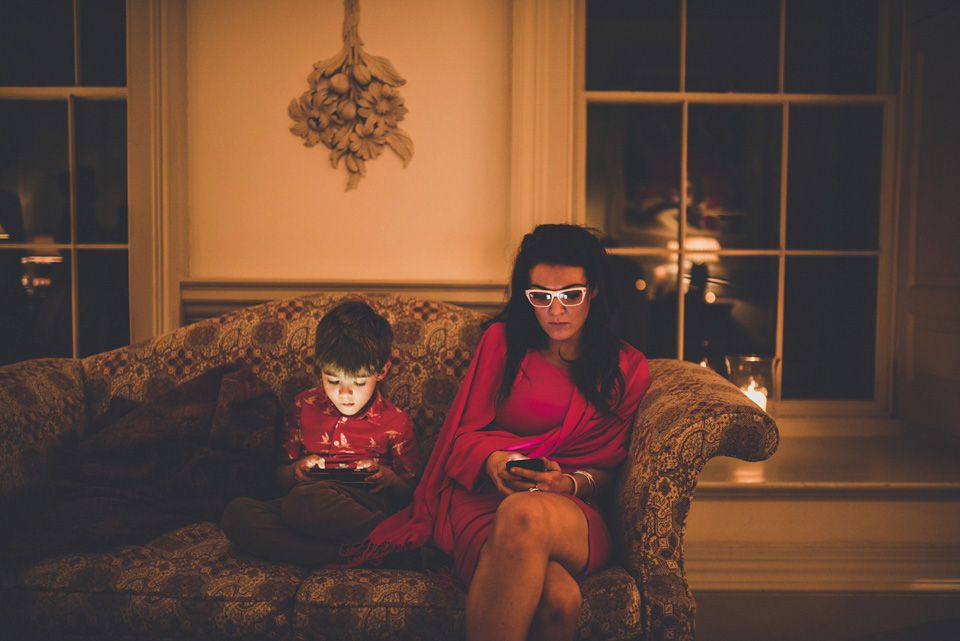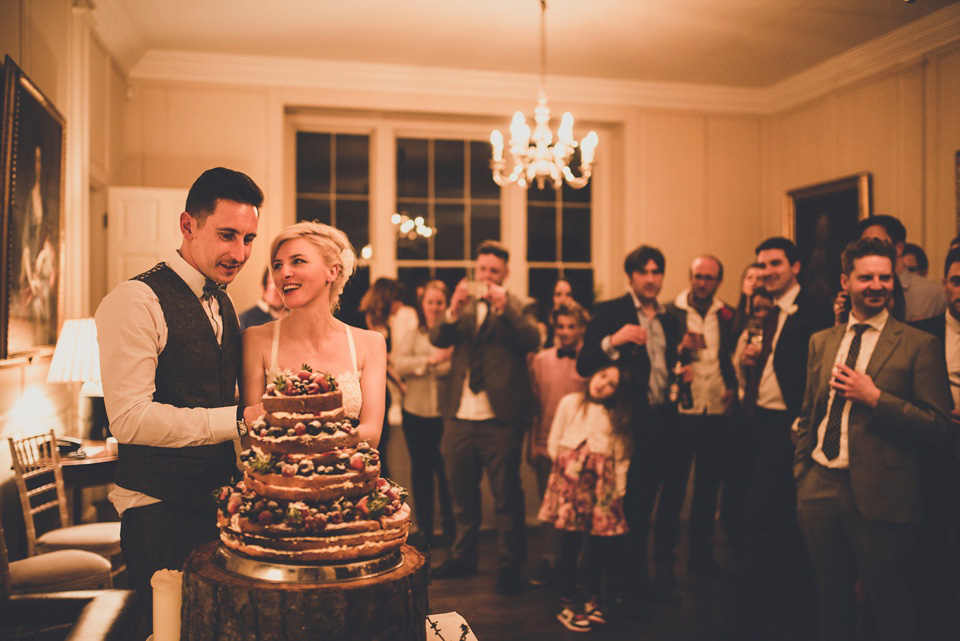 "We weren't going to have a first dance but our friends said they weren't taking no for an answer so we had 'Toothpaste Kisses' again.
Our friend Rick was DJ extraordinaire and creator of a room full of people saying "OMG I love this track" every three minutes. I might add he also had my five-year-old niece dancing her little heart out for literally five hours, it was hilarious! I've never seen her so entertained."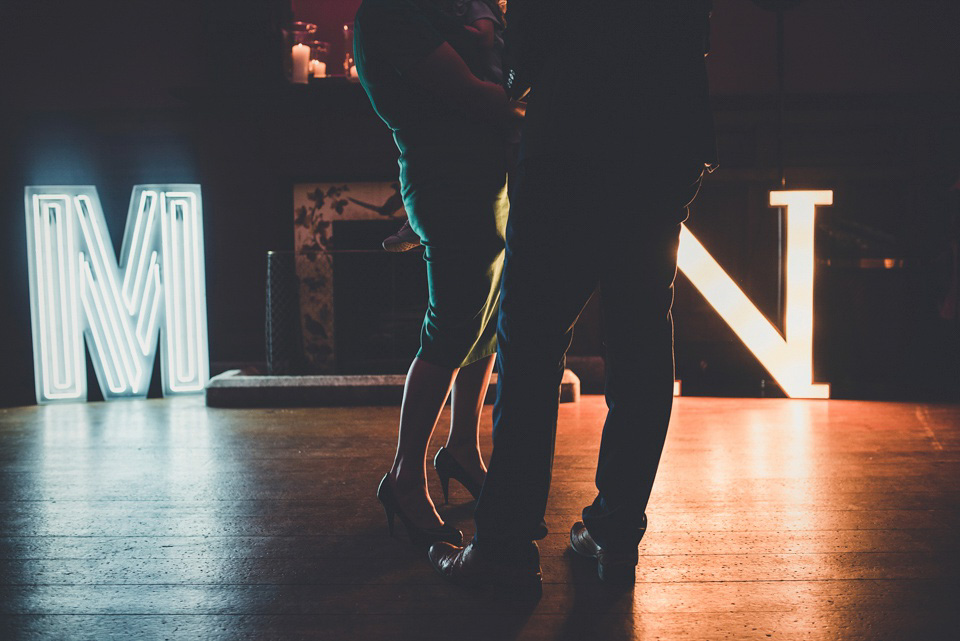 Words of Wedded Wisdom
"My word of the day (and the whole process) was 'Flexibility'. I tried to be flexible throughout the organising process (mainly because I am not a naturally organised person) and I think this helped limit my meltdown moments to just three incidents – one about bread (I thought I had missed the order deadline), one about an ironing board that didn't turn up (dress-making related) and one about a potential face breakout the day before (that disappeared!).
On the wedding day my mantra was 'what will be will be' and it allowed me to be relaxed and not at all nervous and just free to really enjoy the day."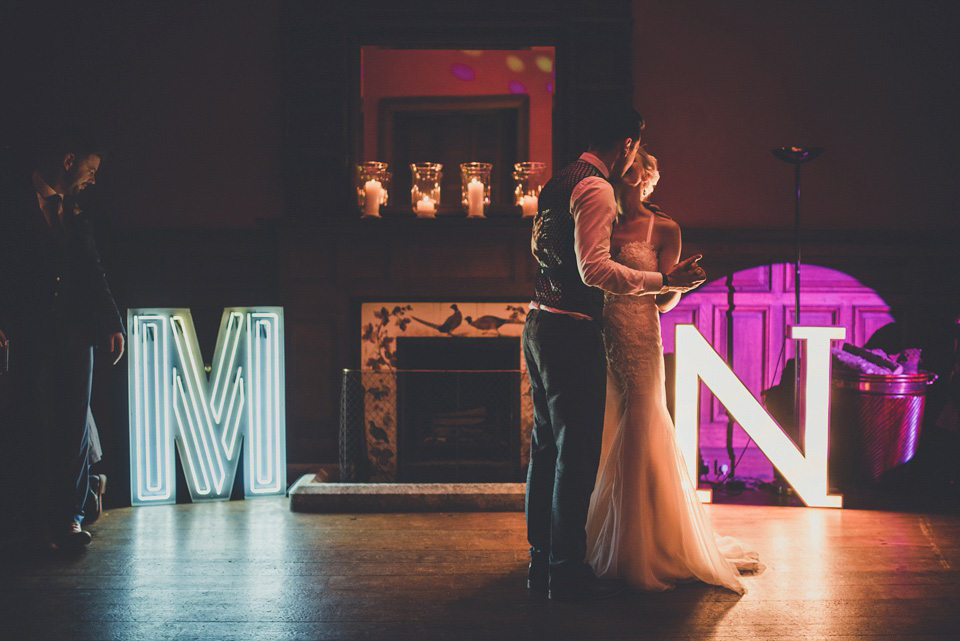 What will be will be – I love this mantra so much. It definitely helps with a more relaxing day for the bride and groom. Thank you to Amy for sharing the couple's gorgeous day and your photos are just lovely. And to Nathalie and Mark – your day looked so relaxing and here's wishing you both a lifetime of happiness and adventure.
If you've been inspired by our couple to get a little crafty, see here for more handmade weddings.
Have a brilliant week lovelies!
Jo x
Photographer – Amy Shore Photography
Venue – Boconnoc Estate, Cornwall
Dress – Handmade by the bride
Shoes – Rainbow Club
Jewellery – Borrowed earrings
Hair accessory – Handmade fabric flowers
Scent/Perfume – Penhaligon's 'Artemisia'
Bridesmaid Dresses – Miss Selfridge, Banana Republic, Dorothy Perkins, H&M, Isabella Oliver + Zara
Bridesmaid Shoes – Asos, Miss KG, BHS Wedding and Clarks
Bridesmaid's Accessories – Handmade fabric flowers and Accessorize
Groom – Ted Baker suit, Paul Smith shoes and bowtie from unknown supplier
Flower girls – Next dresses and handmade fabric flowers
Pageboy – John Lewis
Florist – The Garden Gate Flower Company
Rings – Alistair Stewart Jewellers, Hatton Garden
Catering – The Round Kitchen
Stationery and Décor – Designed and handmade by the bride and groom
Hair Artist – Niki Mores, best friend of the bride
Makeup – by the bride