I was so delighted to receive these beautiful images recently from photographer photographer Ilaria Petrucci recently. Ilaria had collaborated with a lovely team of creative suppliers to produce these elegant, vintage inspired 'Something Blue' images. I thought you would love some of these lovely wedding day styling ideas.   The shoot was actually styled by Lou, found of Beyond Vintage, from whom you can hire beautiful vintage items for your own wedding.
Photography by Ilaria Petrucci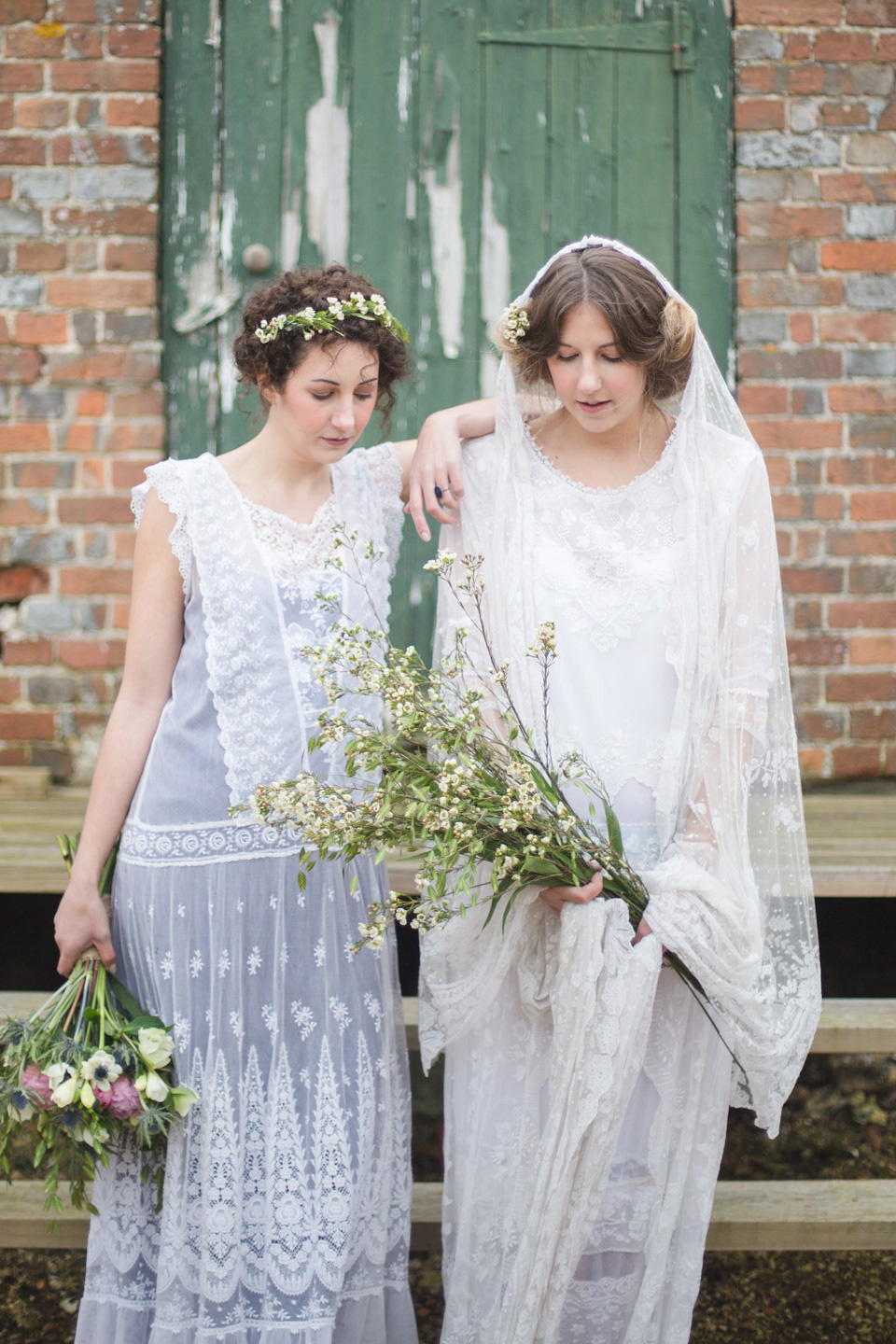 Below, Lou explains how these images came to be.
"The idea behind this shoot started with my love for vintage china, I remember my mum hanging china on the walls and along the dado rails, it was always around me as a child and the ones which always used to stand out to me were the Delft Blue china, and the Willow Pattern. Now I run Beyond Vintage and have the ideal job of collecting gorgeous china so obviously my collection of blue patterned china has grown to now a full hire package, I felt the need to show it off so couples can see how this gorgeous china can work with a wedding theme."
"The beautiful blue wedding cake was from Natalie at Cuppies 'n' Cream, it was an easy decision to have her on board as I knew we shared a similar love of the Delft pattern china, I had seen her painted cakes before and she did an amazing job with a delft painted layer in the 3 tier cake."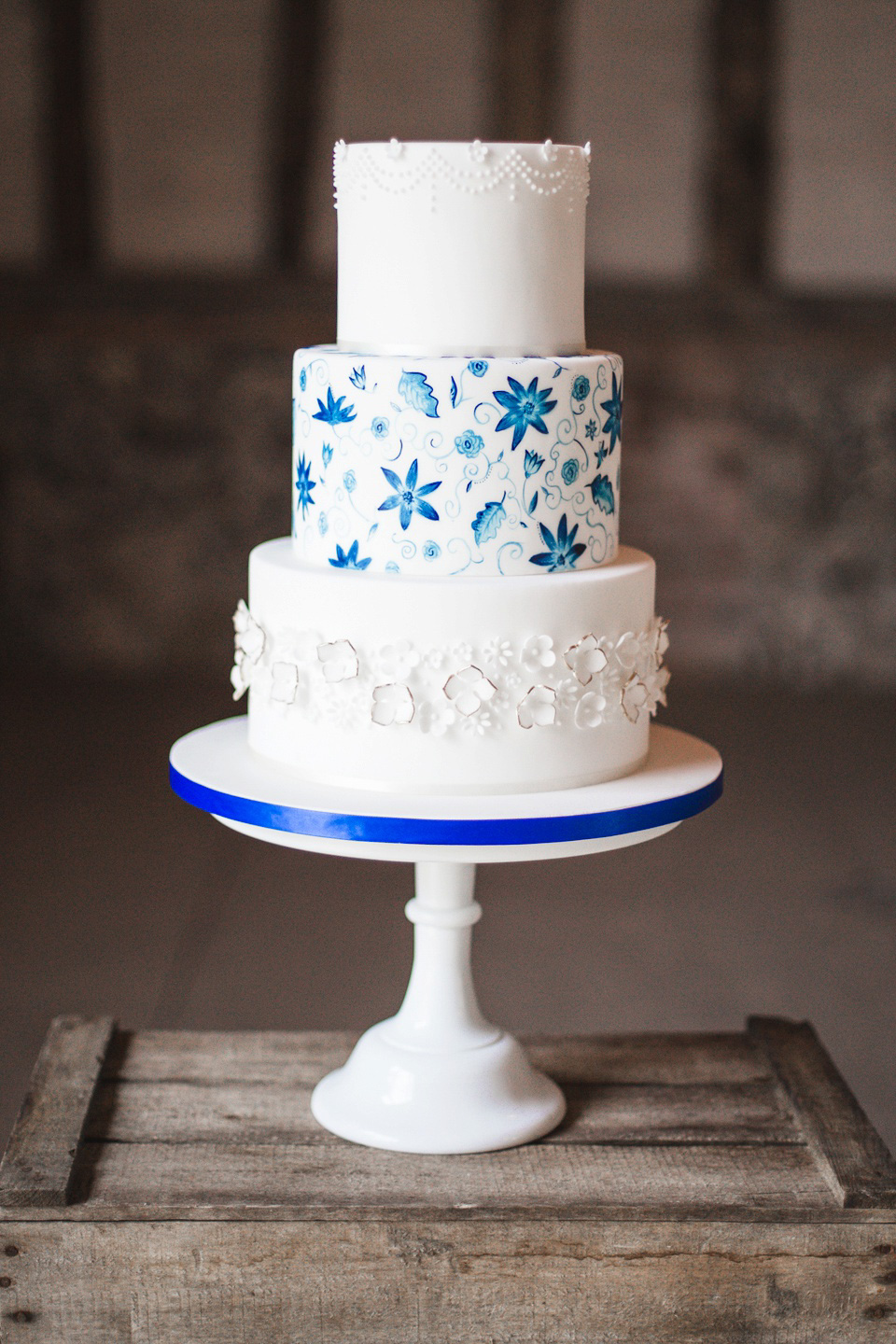 "The dresses were supplied by Days of Grace, Linda has such a fabulous collection of vintage wedding dresses and was able to adapt them by hand dying the vintage slips to fit our vintage blue look."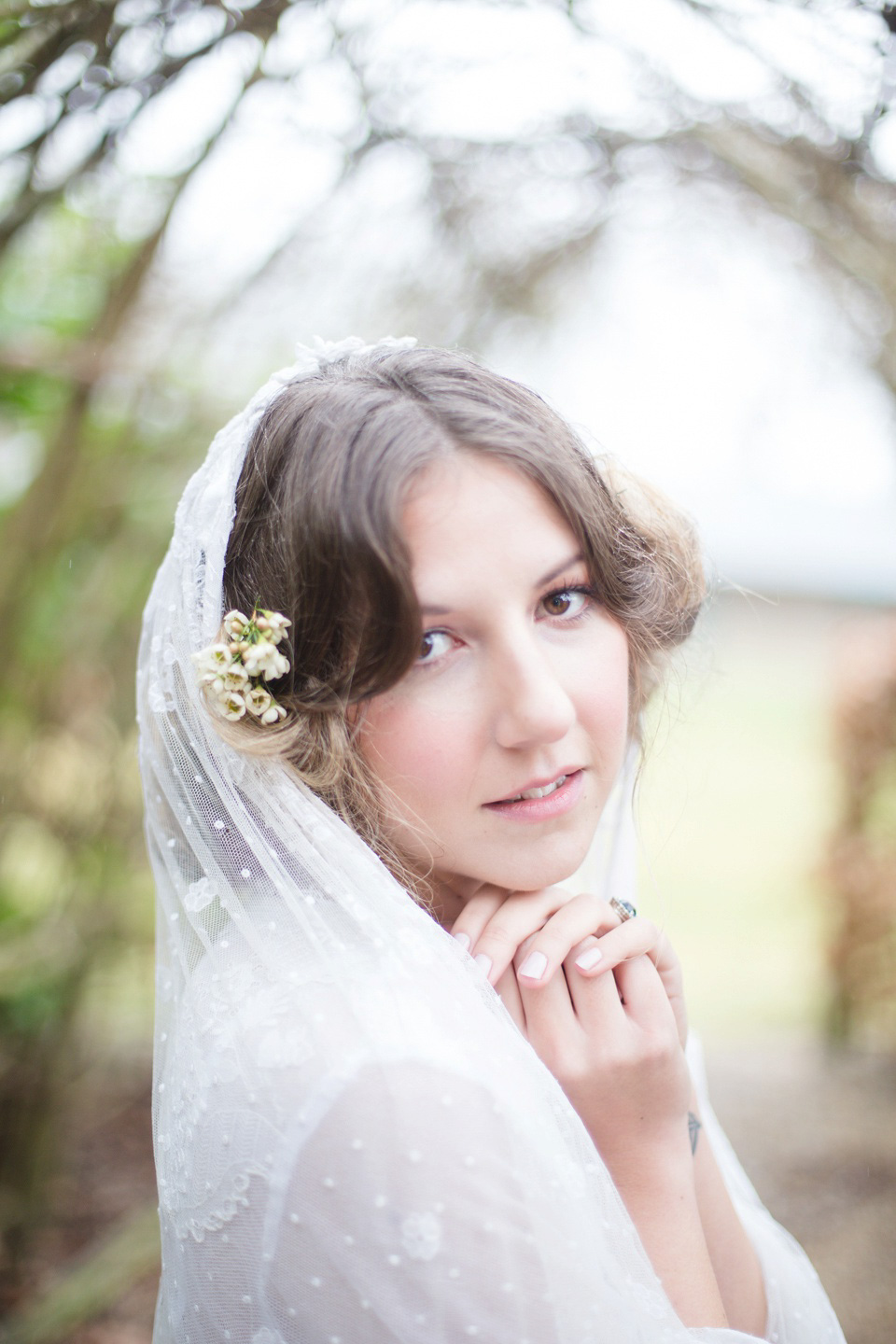 "I remember as a child making little stories up in the china patterns, often showing farms and windmills, Id take little journeys through the patterns. It seemed ideal that the venue needed to replicate this, an untouched barn, still full of rustic features and country charm. It took quite some searching but Templars Weddings in Hungerford was the perfect setting, run by the Parry Family on their farm it really encompassed everything we needed for the beginning of our story."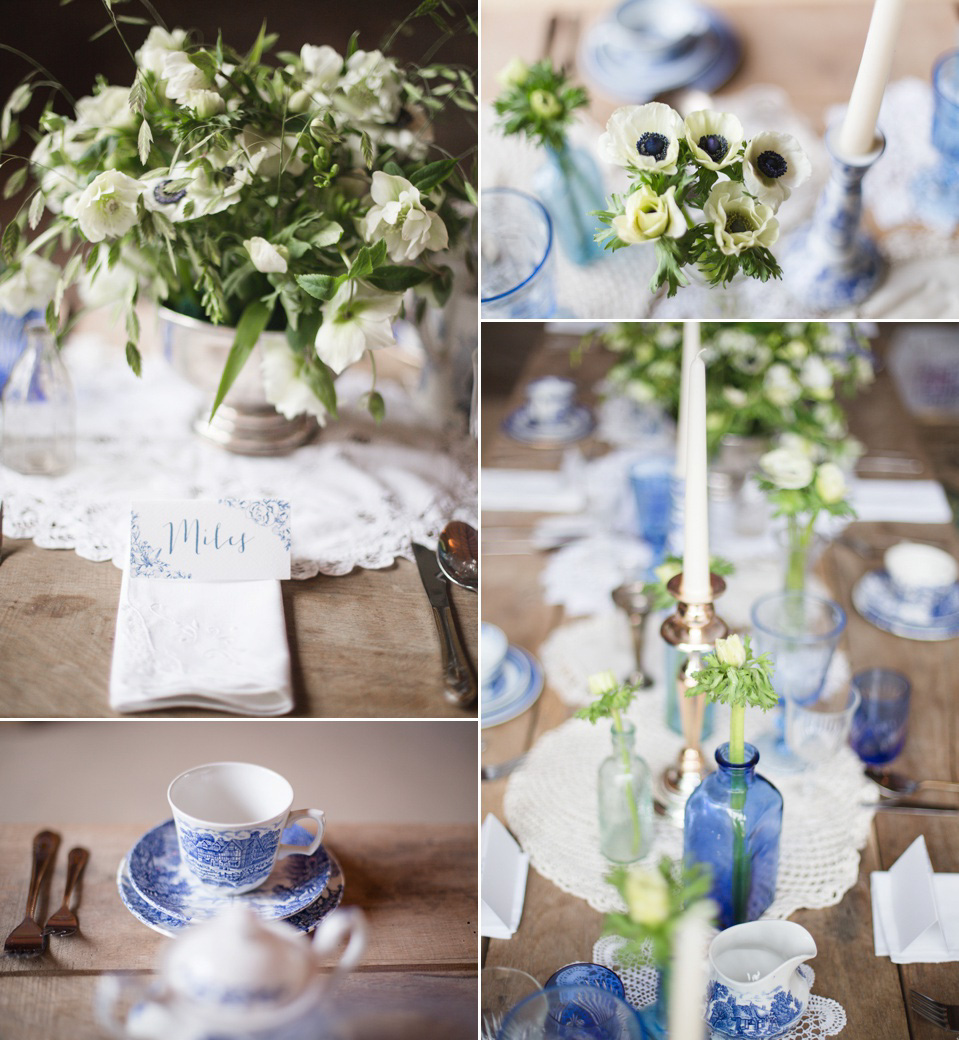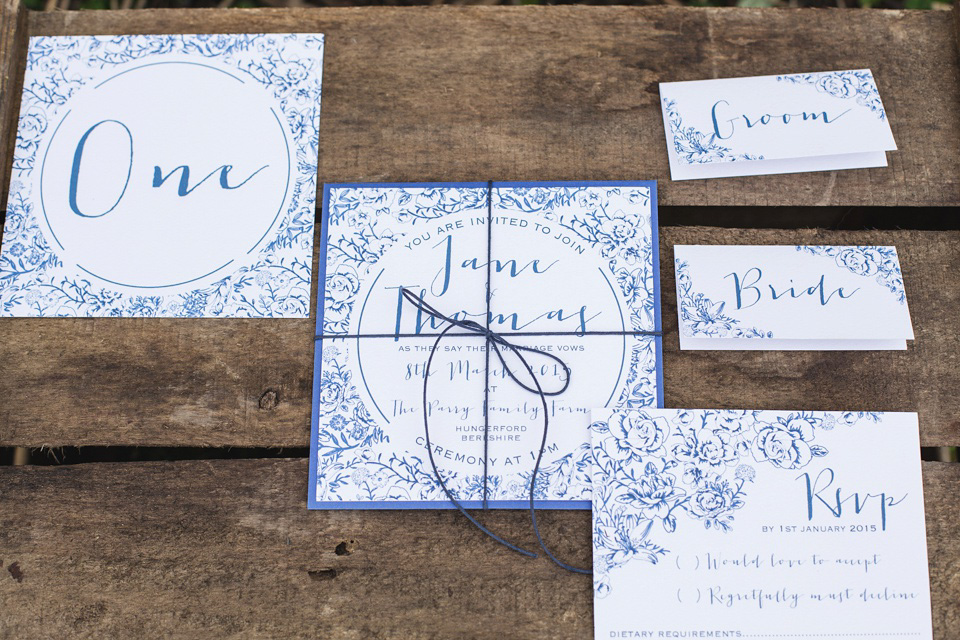 "I designed the stationery with the china in mind with a delicate delft inspired floral blue pattern, the main invite almost mimics a china plate with the circular central placement.  The table was set with mixed delft and willow patterned china, with vintage silver candle sticks."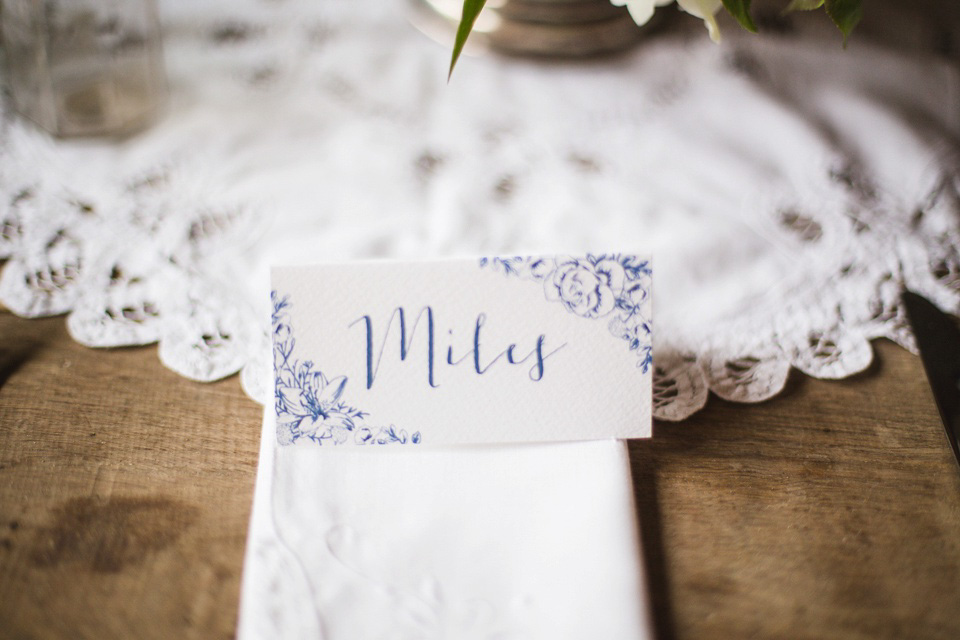 "The glassware was mixed from Beyond Vintages' collection with hand painted blue goblets. I chose from a selection of my vintage bottles, tins and books, so many tones and highlights of blue all working together with the rustic backdrop of the barn."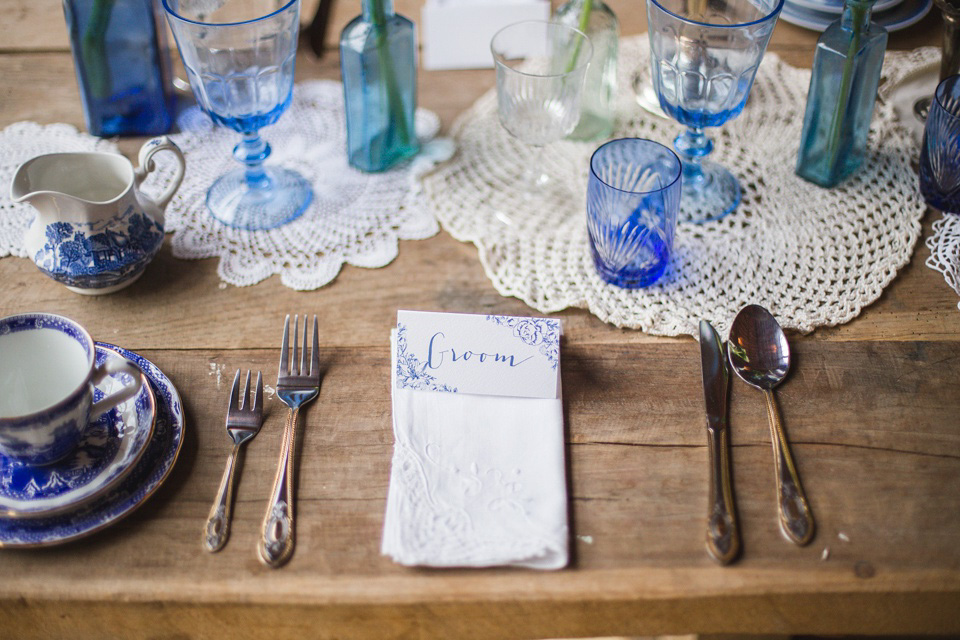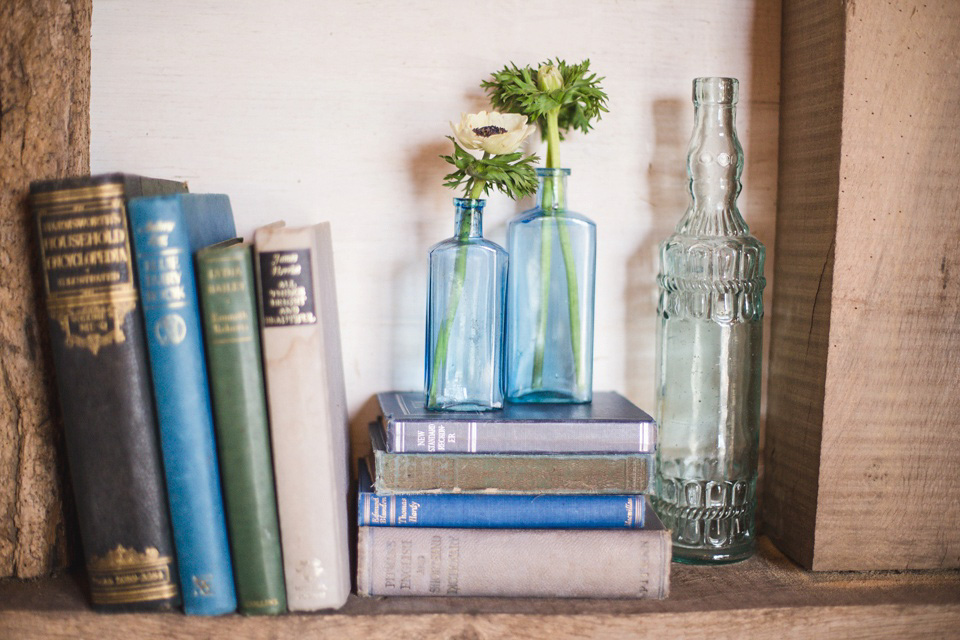 Emma of Ladybird Flowers shared a little about these beautiful blue blooms…
"For the bridal flowers I couldn't resist popping in the most elegant pink peonies letting their gentle petals fall against the prickly thistles, a wonderful play on textures and colours. For the models hair I used delicate wax flower just popping out of their curls with grace and elegance."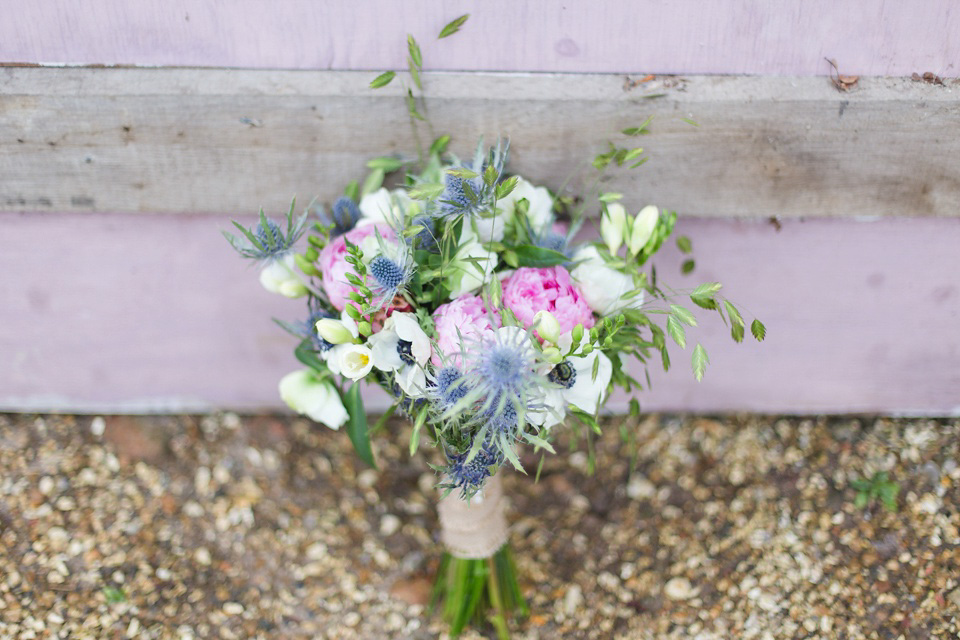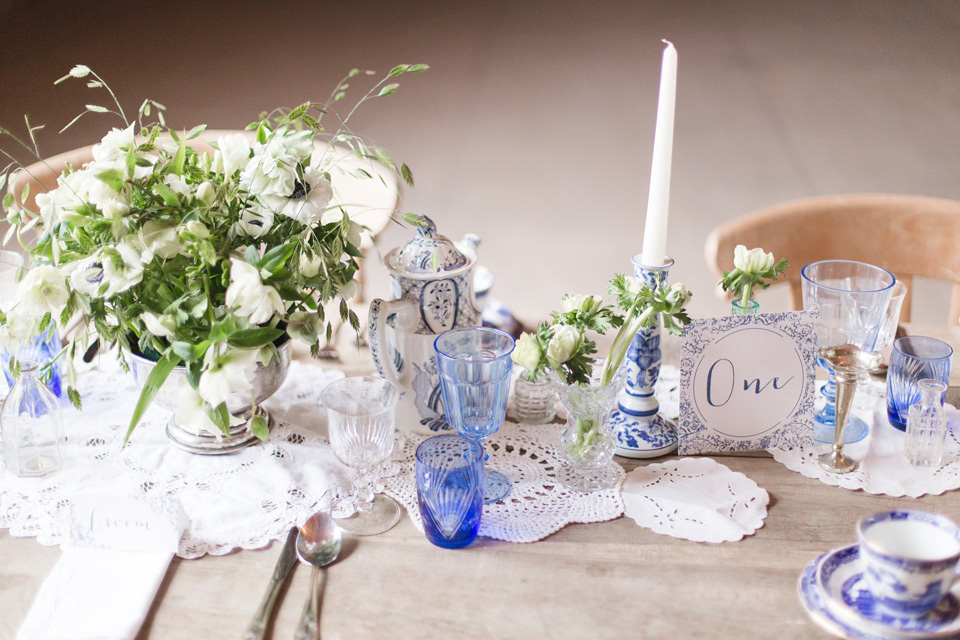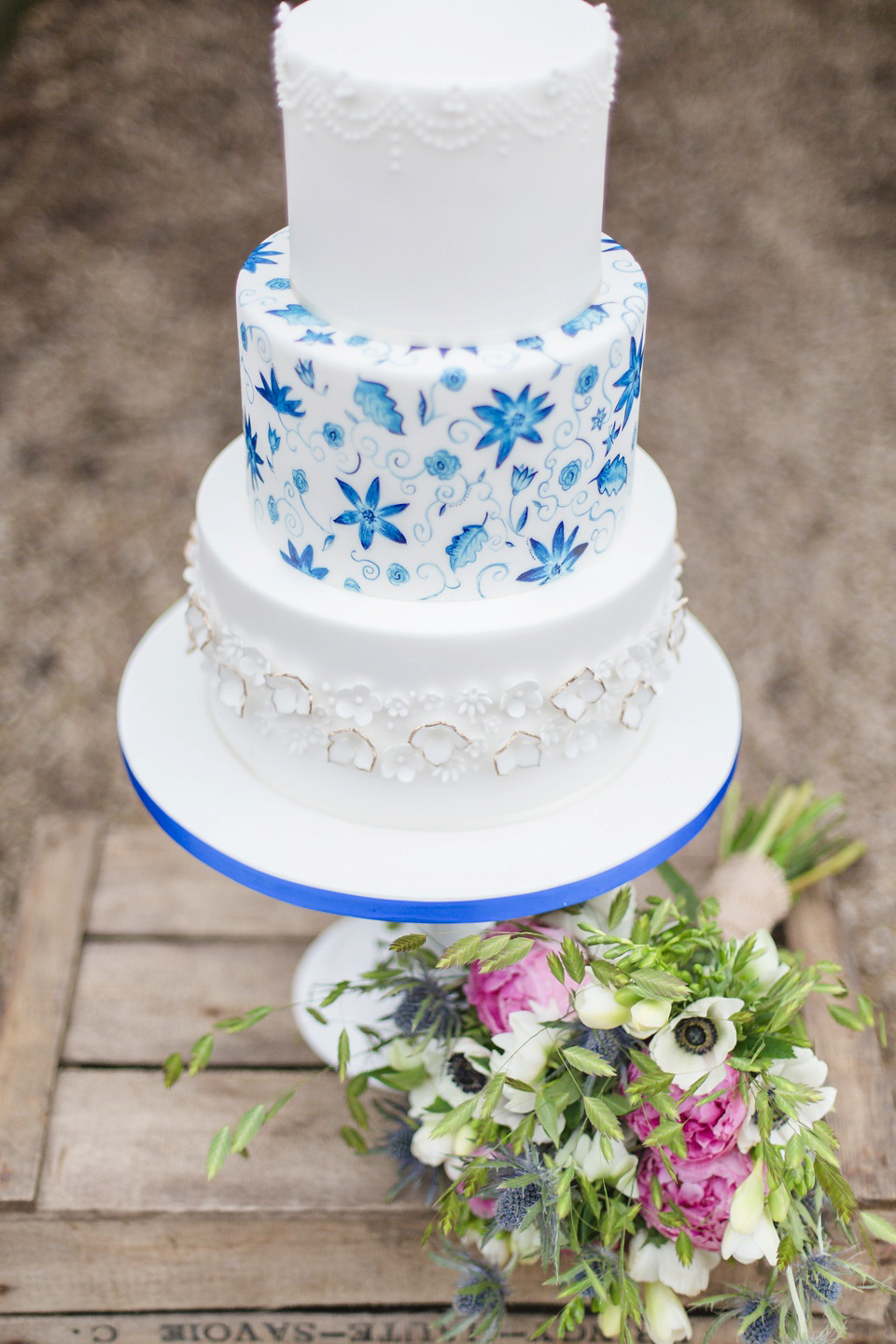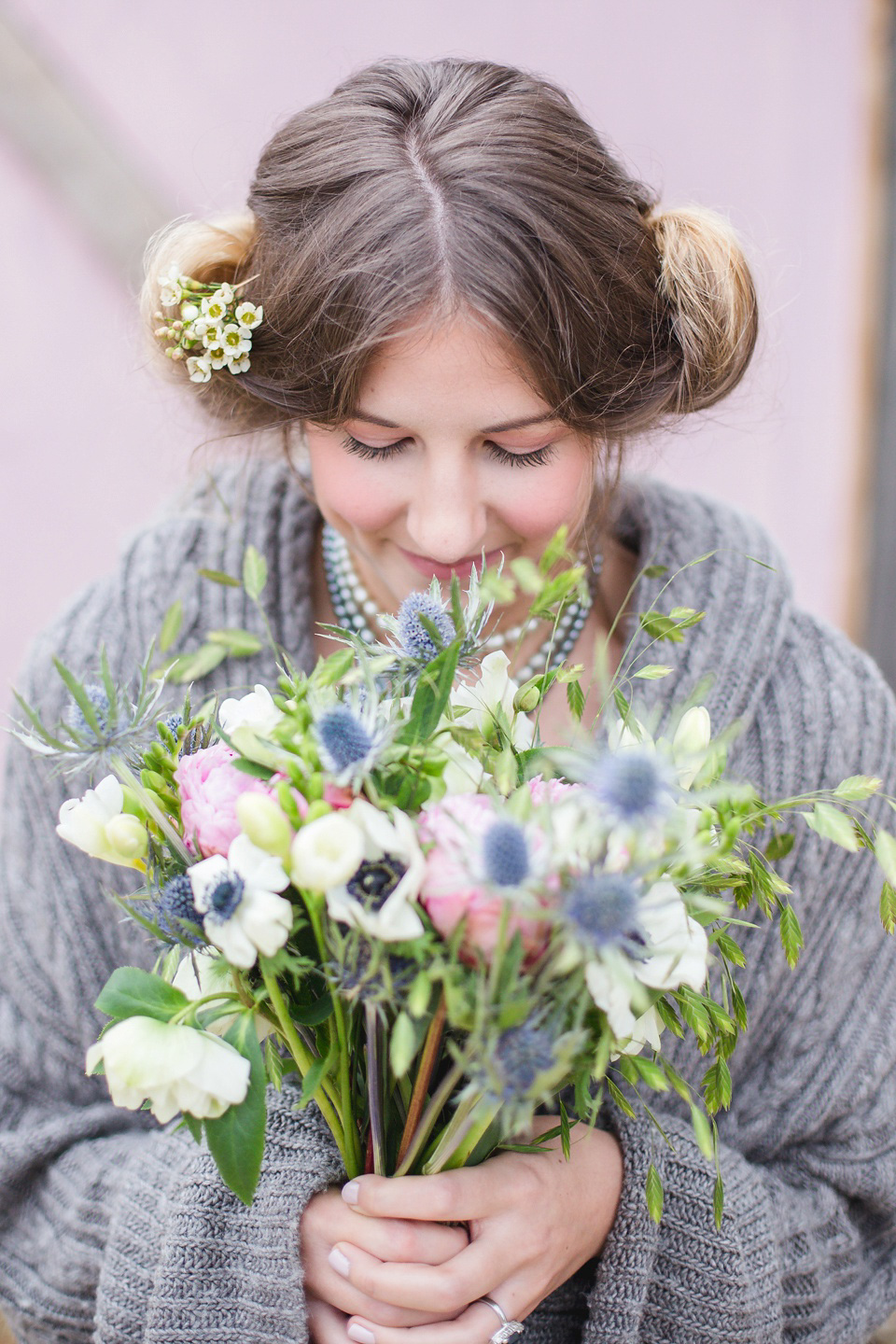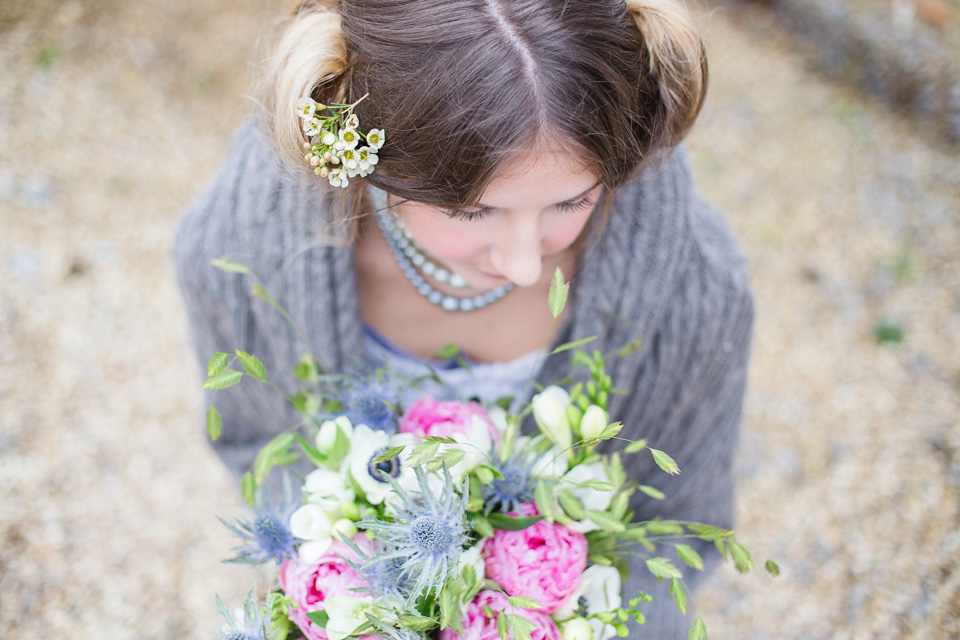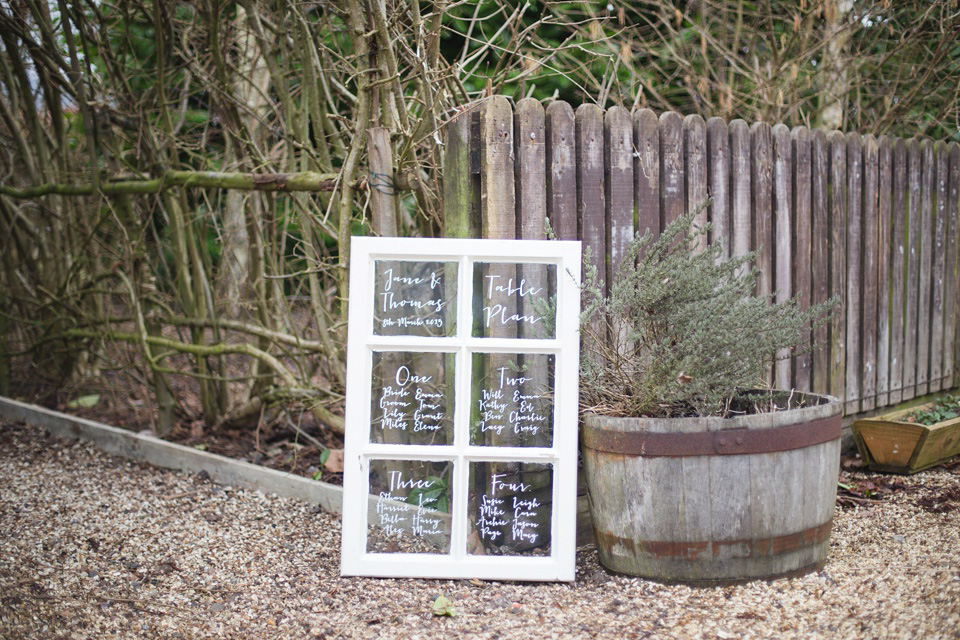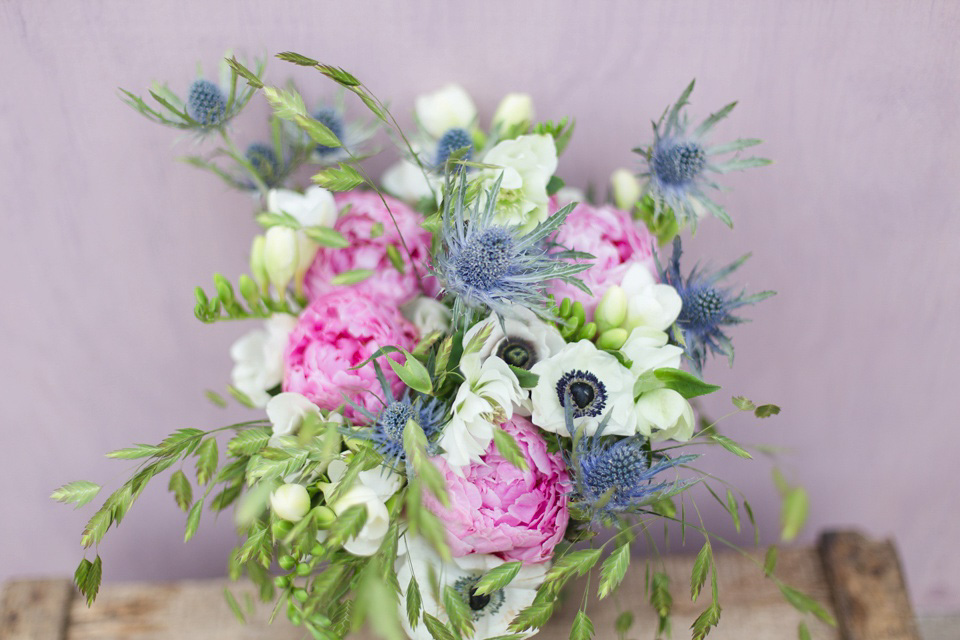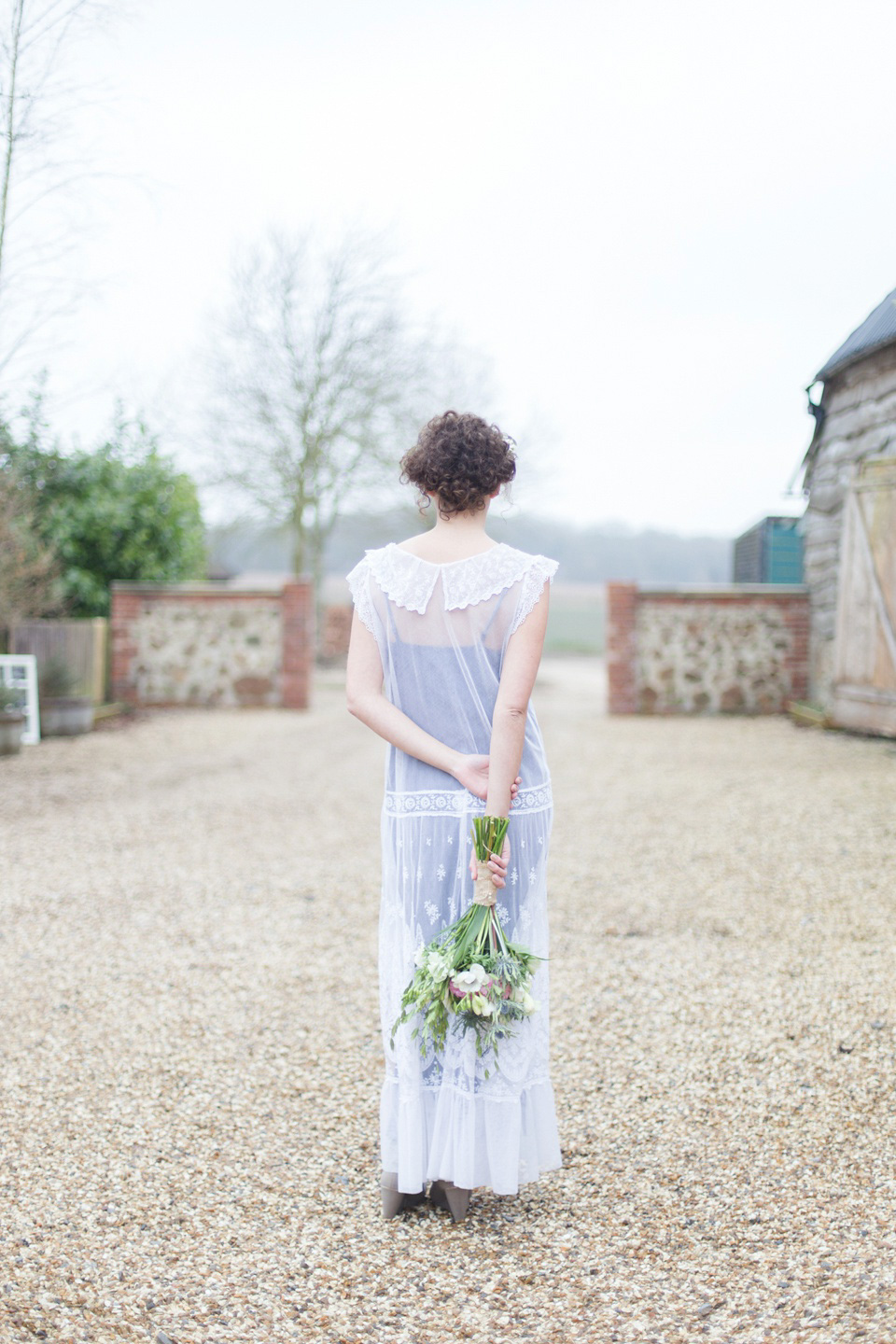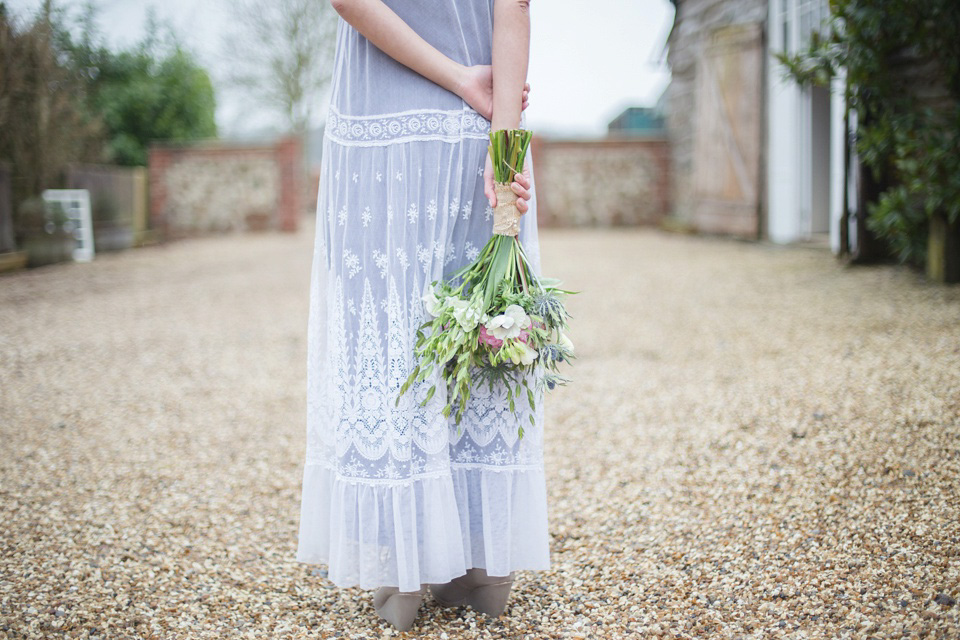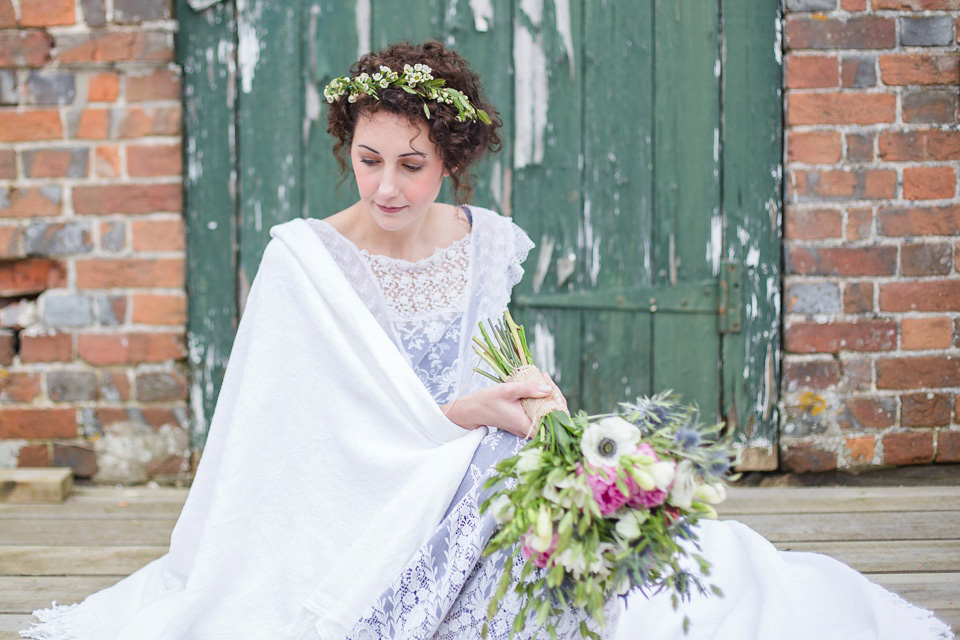 And finally some lovely words from the photographer herself, Ilaria Petruccci…
"Photography has changed my world. Brought me back to life. Being able to live and breath what I love every day is such a wonderful blessing. Being able to create and seeing visions and dream become real things, it's the most wonderful feeling.
I worked with Lou from Beyond Vintage many times before and she is one of the most talented and wonderful creatives I know. She has it. Whatever she does she feels it in her soul and I love that about her. I trust her completely and when she told me about her vision, her ideas of a blue vintage inspired shoot, I was totally excited to be working with her again.  
I love everything that is beautifully simple, I love things with stand-alone prettiness, and oh my there is so much of this in this shoot.  Templars Barn was the most perfect venue to bring this inspiration to life, such a plain canvas, the barn and the grounds offered us exactly what we were looking for.
I hope these lovely photographs have inspired you today. You can find more beautiful blue wedding inspiration here.
My huge thanks to the team behind this shoot – thank you so much for choosing Love My Dress to share your beautiful work.
Love Annabel xx
Photographer : Ilaria Petrucci Photography
Venue – Templars Barn
Flowers – Ladybird Flowers
Styling – Beyond Vintage
Make up – Motherlipstick
Hair – Marijana Jovanova hair sculptress
Cake – Cuppies 'n' Cream
Dress – Days of Grace