Happy Wednesday everyone!  I believe many people refer to Wednesday as 'hump day' (as in, getting over the 'hump' of the working week), but I prefer to think of it as 'day you can legitimately start asking people about their weekend plans' (although I concede that is not quite as catchy). Anyhow, it has been such gorgeous weather recently, that I hope everyone has something nice and outdoorsy planned.  Perhaps this lovely rustic Autumn wedding will get you in the right mood?
Photography by Sally T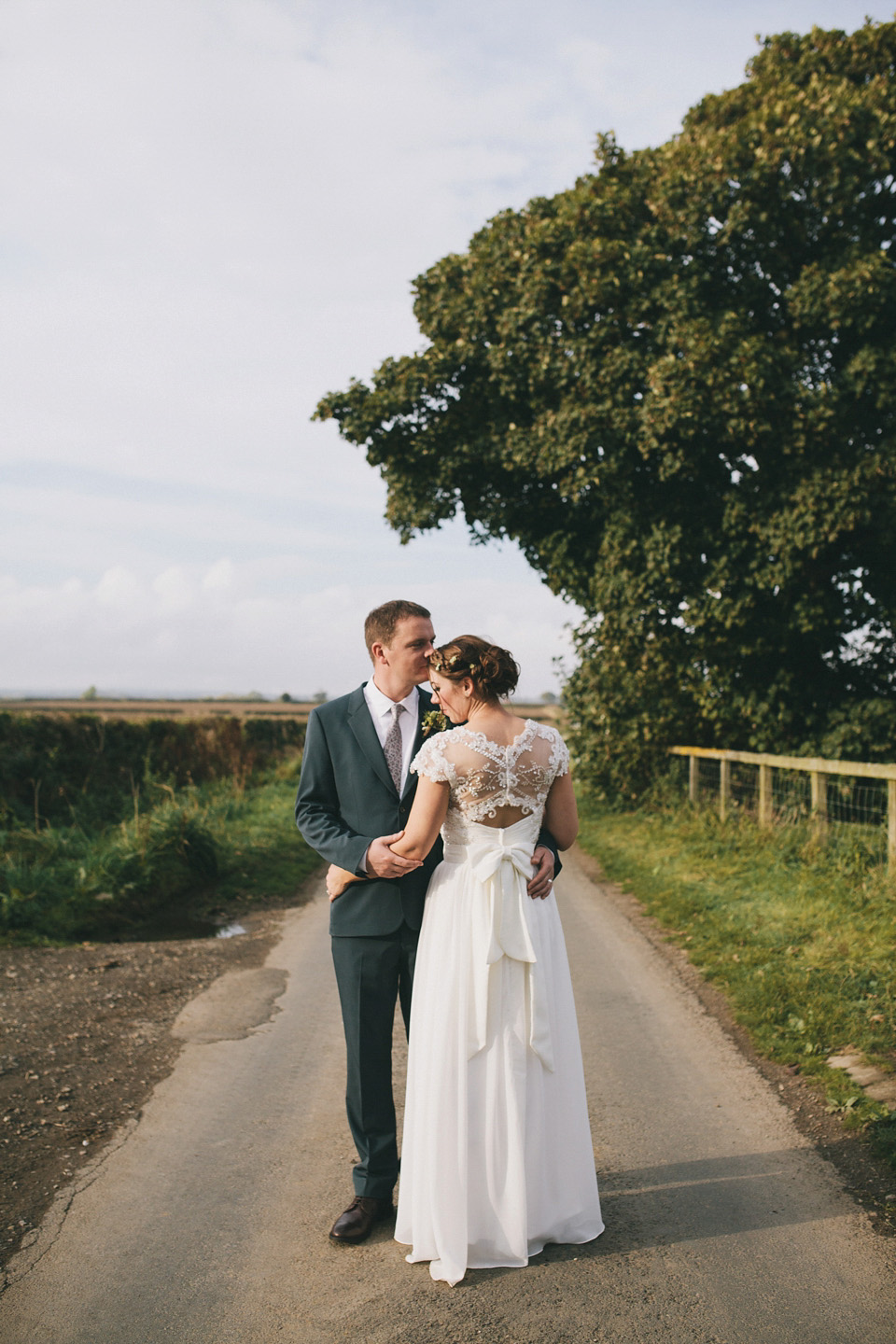 Groom Chris, and his bride Vicki, married at the beautiful Star Inn, in North Yorkshire on the 11th of October 2014 surrounded by their family, friends and the gorgeous Yorkshire countryside.
The detailing in this wedding is just so very pretty, and the dress completely stunning!  I absolutely love the sign directing guests to 'T't wedding', for extra added Yorkshire-ness!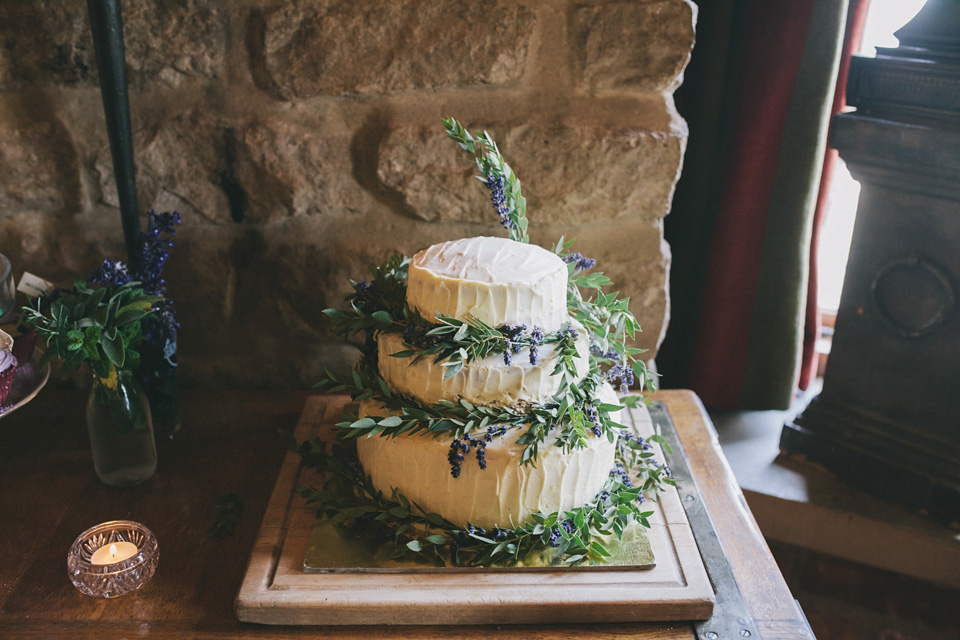 Chris is a professional photographer and was used by Vicki's company for a campaign, which is how they met- so the choice of their own wedding photographer was therefore a very important one.  Luckily they made an excellent choice in Sally of Sally T Photography, a new photographer to Love My Dress.
"We loved Sally and our wedding pictures – we wanted beautiful and creative but relaxed wedding photography and she was a brilliant fit for us.  She was as relaxed as we were and was a great help on the day – she even helped put the flowers in my hair!  We adore our photographs."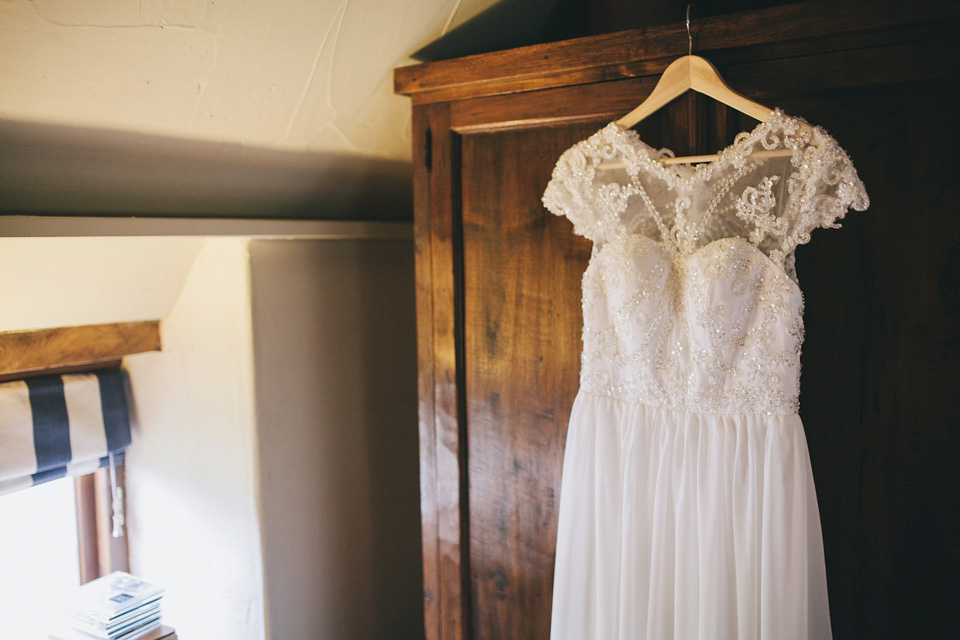 Vicki's delicate beaded gown was made by local seamstress Deborah Sanderson.  Vicki wore her gown with a long cathedral length veil, and the dress also had a detachable train, which meant she could change her look as the day wore on- a great way of freshening your outfit for the evening party.
Doesn't this dress have one of the most beautiful backs you've ever seen?  I absolutely adore the beading and cut away effect- it almost looks like butterfly wings!
"It was just 'me', reflected my style and personality and was comfortable but elegant. I tried on a lot and didn't feel like me and realised that I really didn't want to feel too restricted on the day."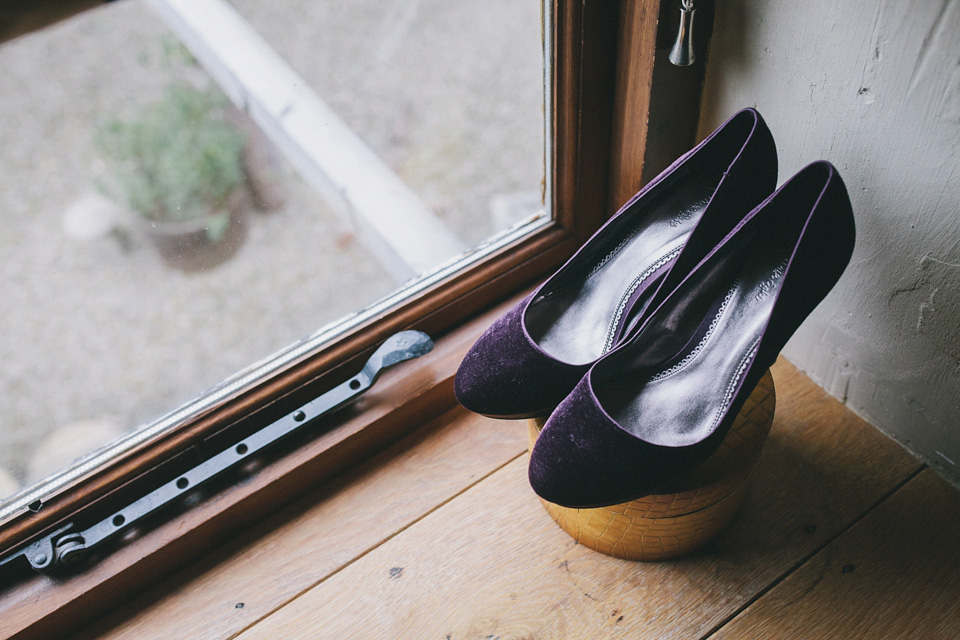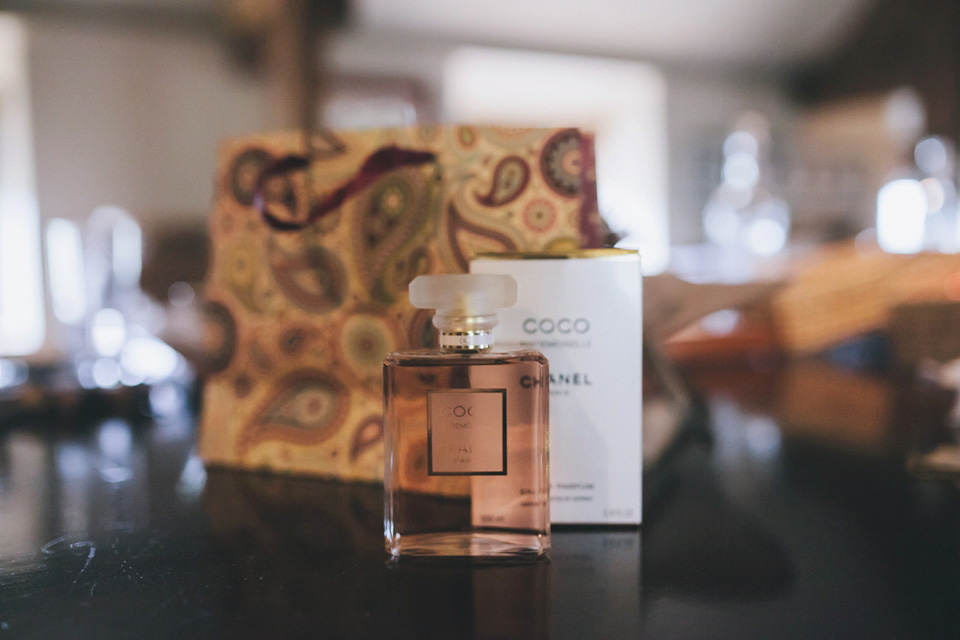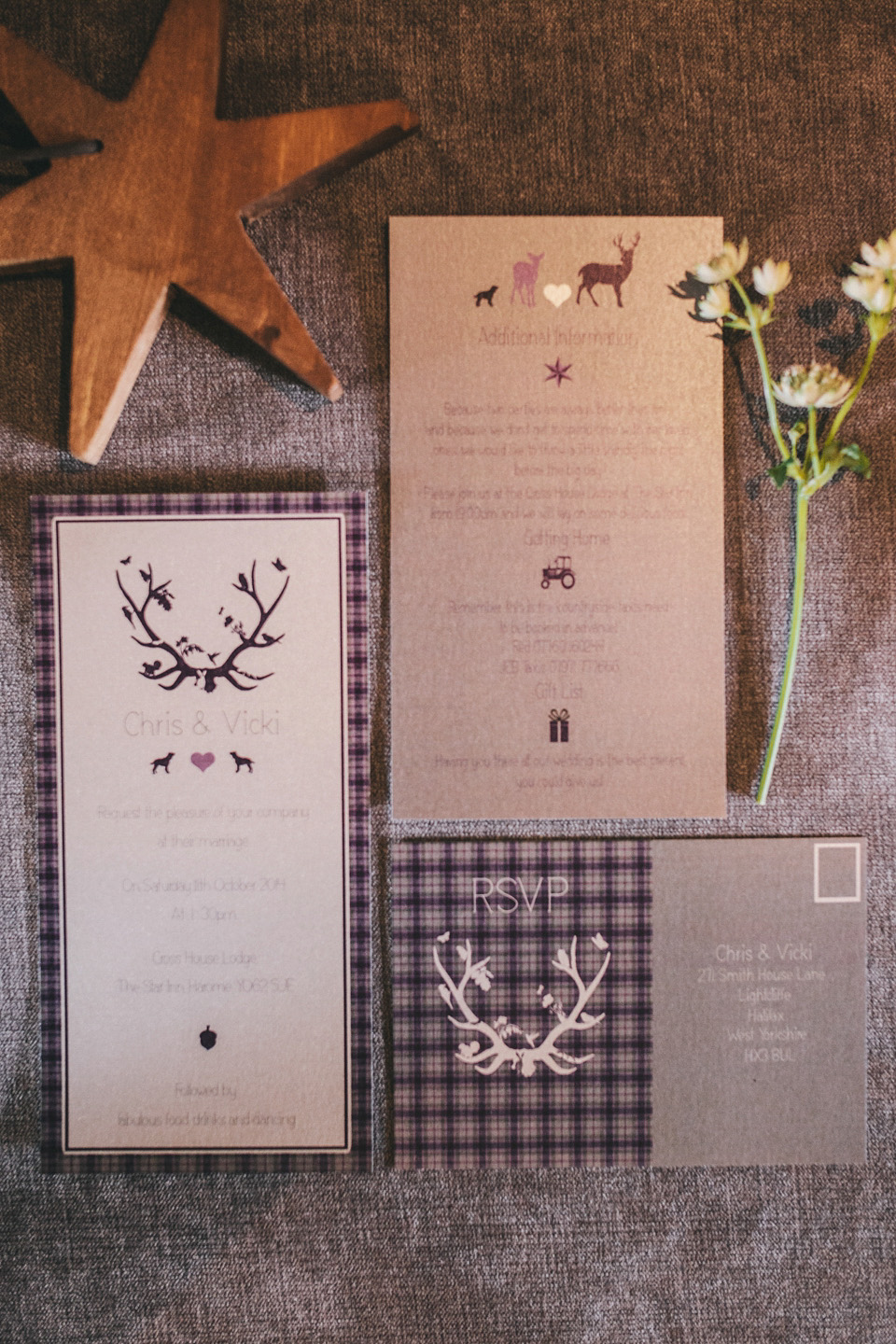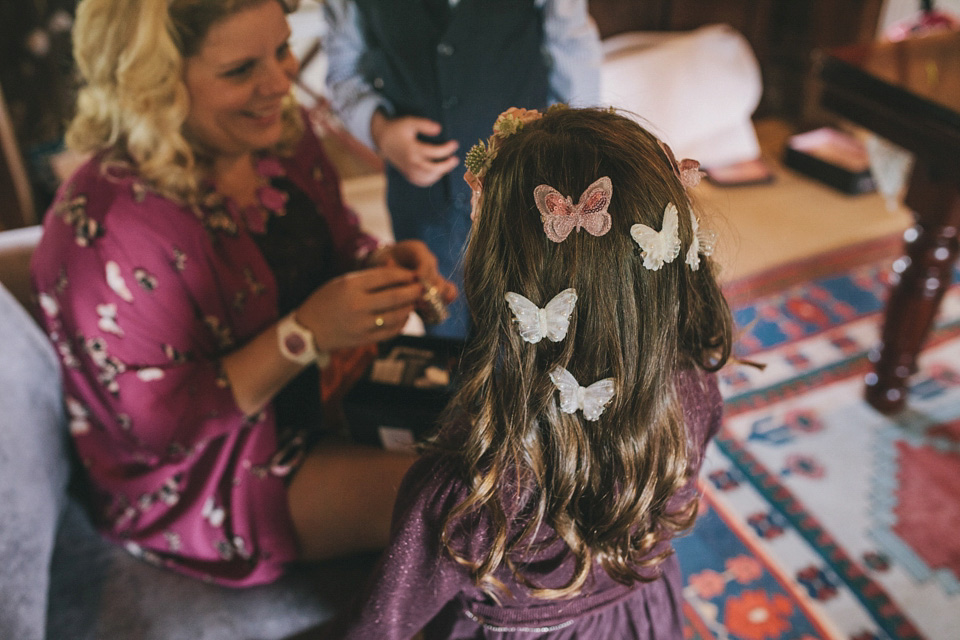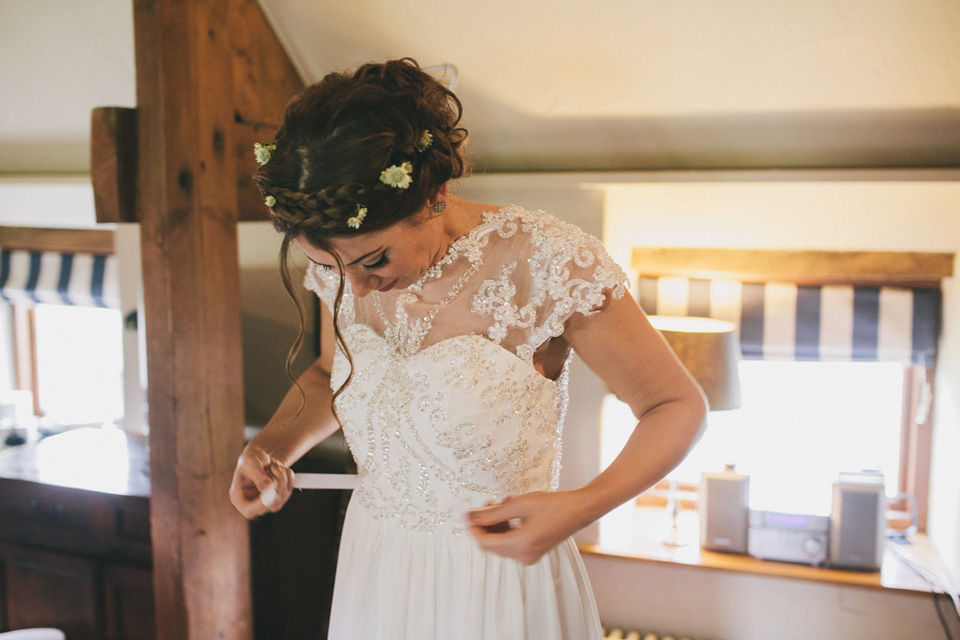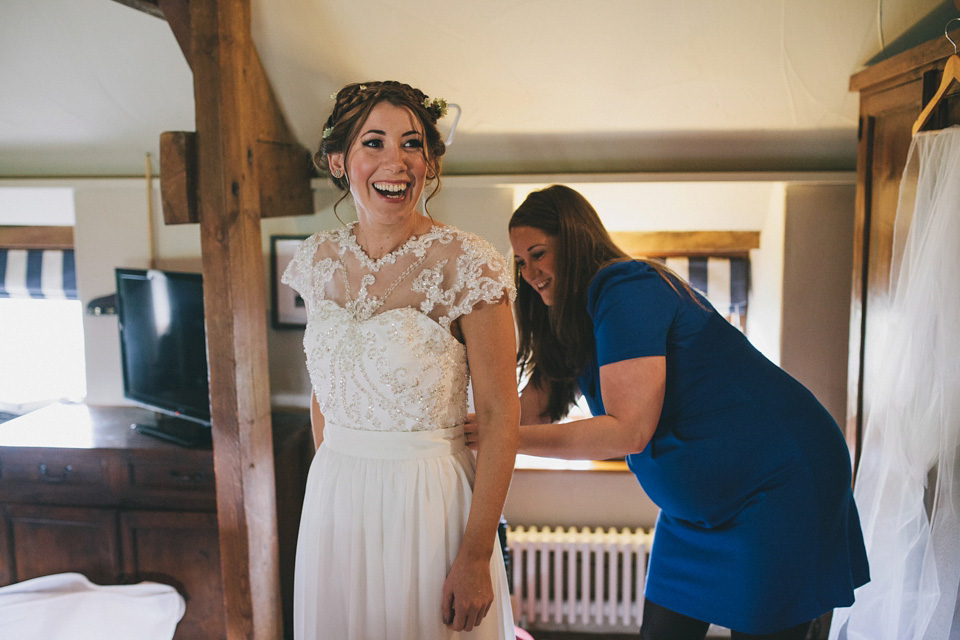 Vicki's stunning bouquet was the work of the very talented Swallows and Damsons, who are based in Sheffield.  (A very close friend used this lovely little shop for her own wedding so I can guarantee the beauty of their work personally!) The soft pinks and interesting textures are just fabulous and make for an unsual bouquet with a romantic feel.
"Swallows and Damsons were amazing.  We only went to see them once but they really just understood what we were after."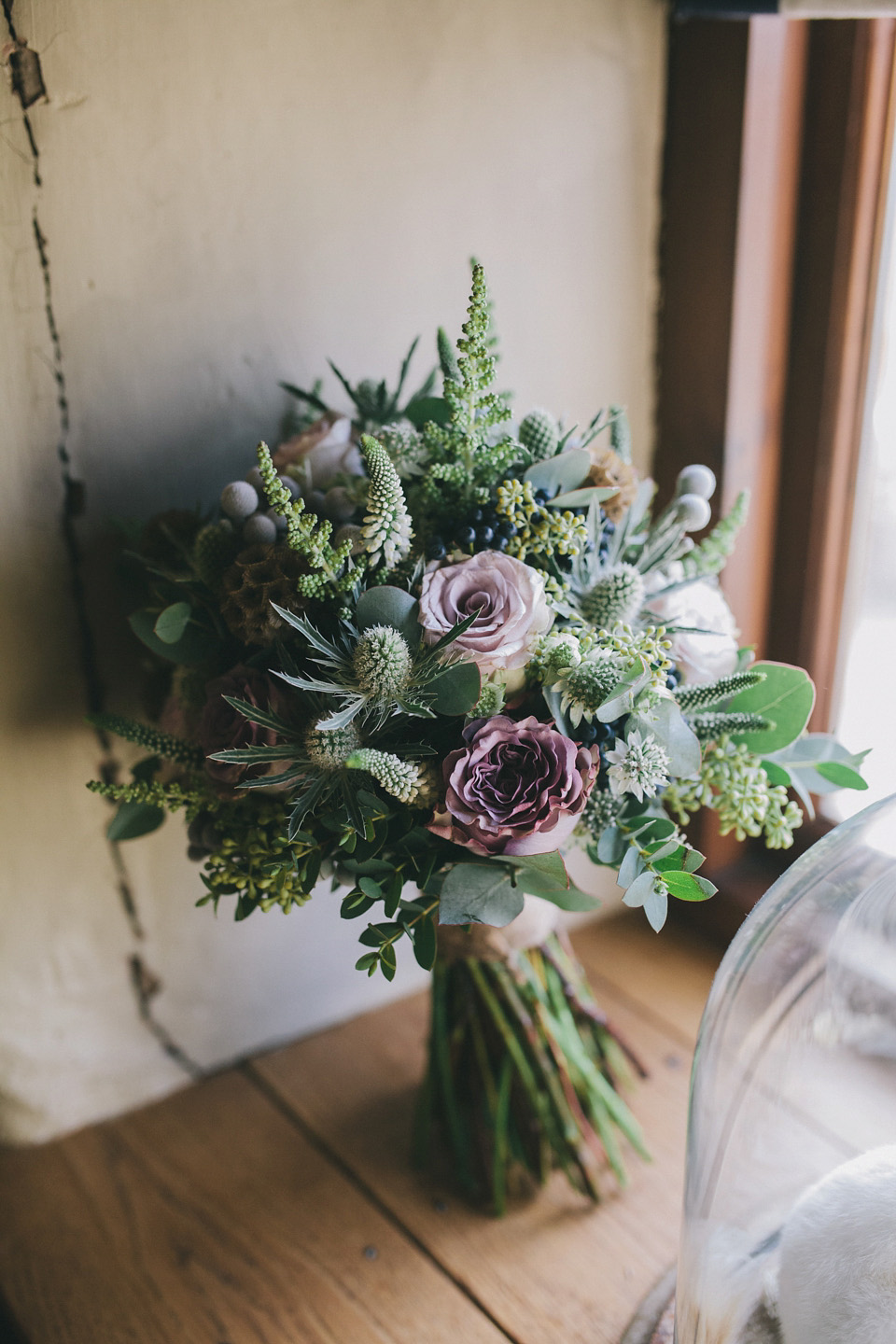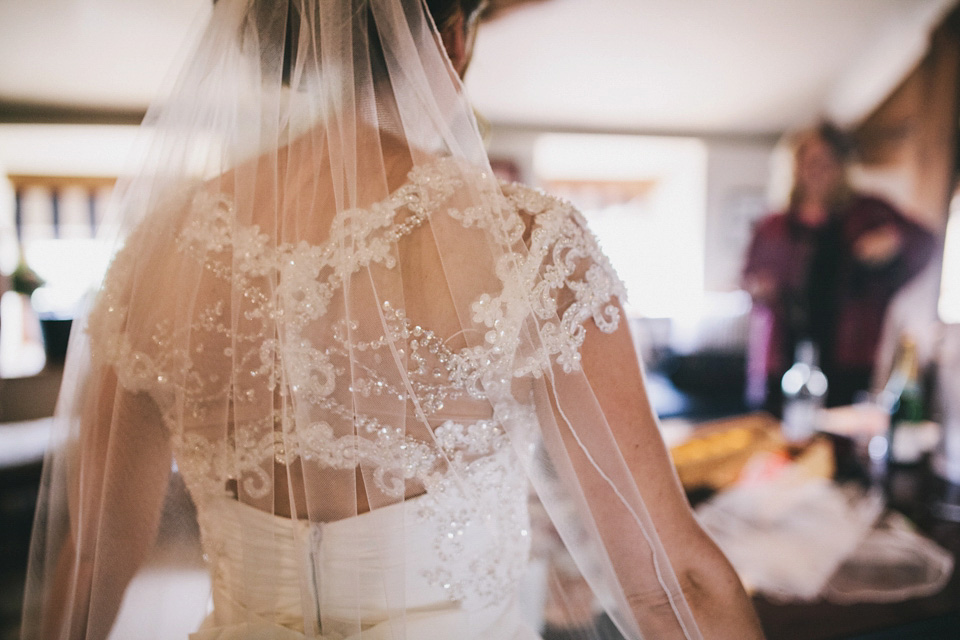 Flower girl Lily chose her own outfit, and doesn't she look wonderful?  The butterflies in her hair echo the shape of the back of Vicki's dress perfectly and her beaded purple dress is the perfect foil for Vicki's.  Pageboy Oliver also looked very smart in waistcoat and striped shirt.
Vicki finished her look with fresh flowers in her hair, earrings bought for the occasion, and a garter which was a gift from a friend.  On her feet she wore a sumptuous pair of purple velvet shoes from Phase Eight, and  completed her toilette with a mist of Coco Mademoiselle; a gift from Chris that morning.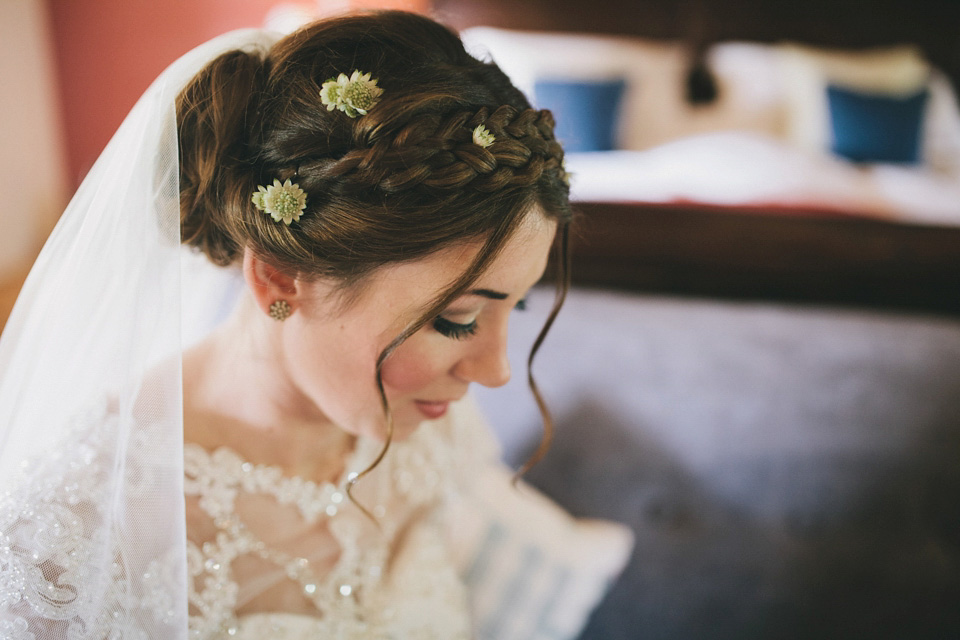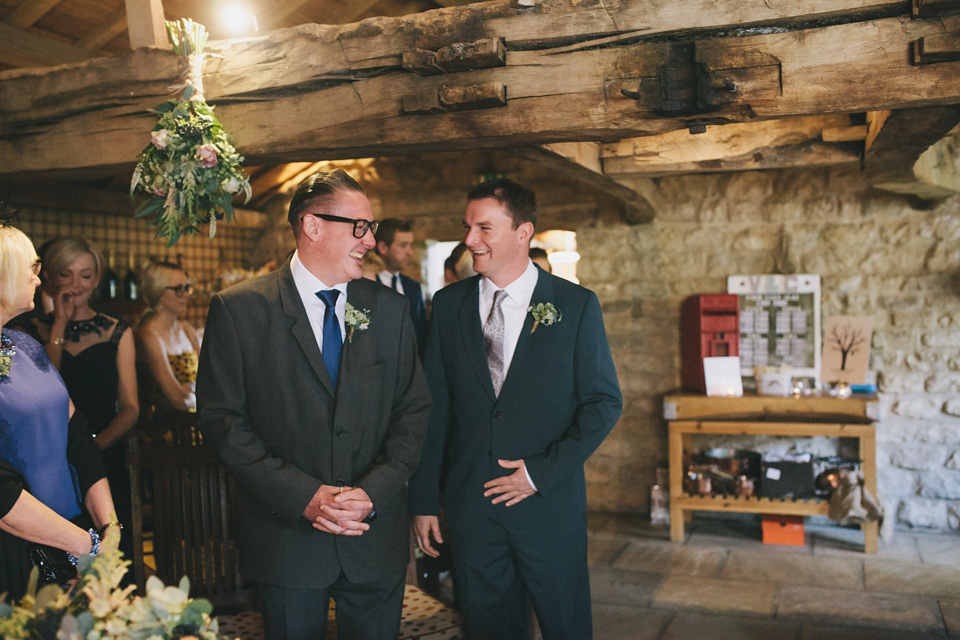 Vicki's dad walked her down the aisle to 'Somersault' by Zero 7.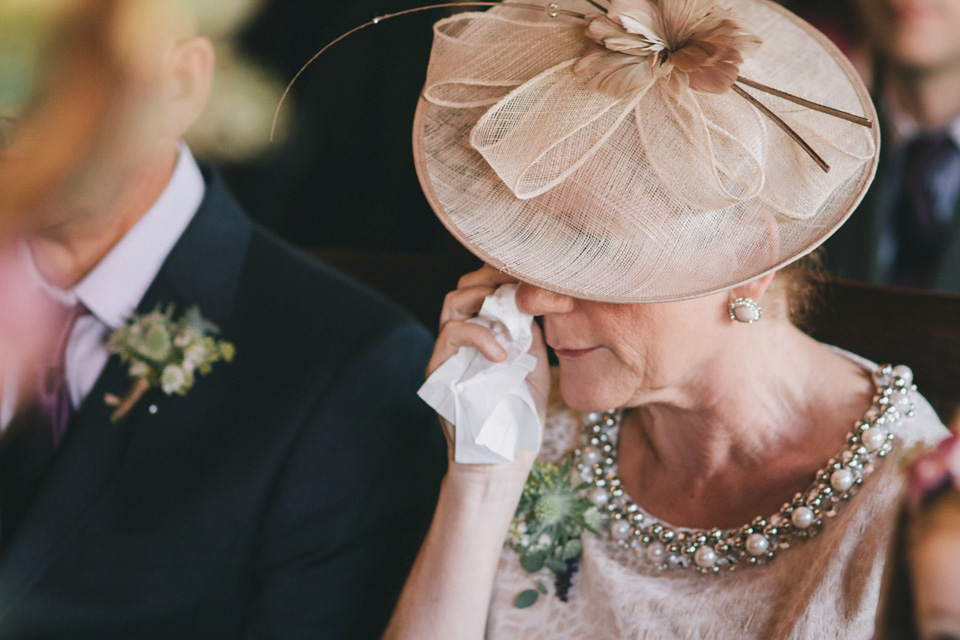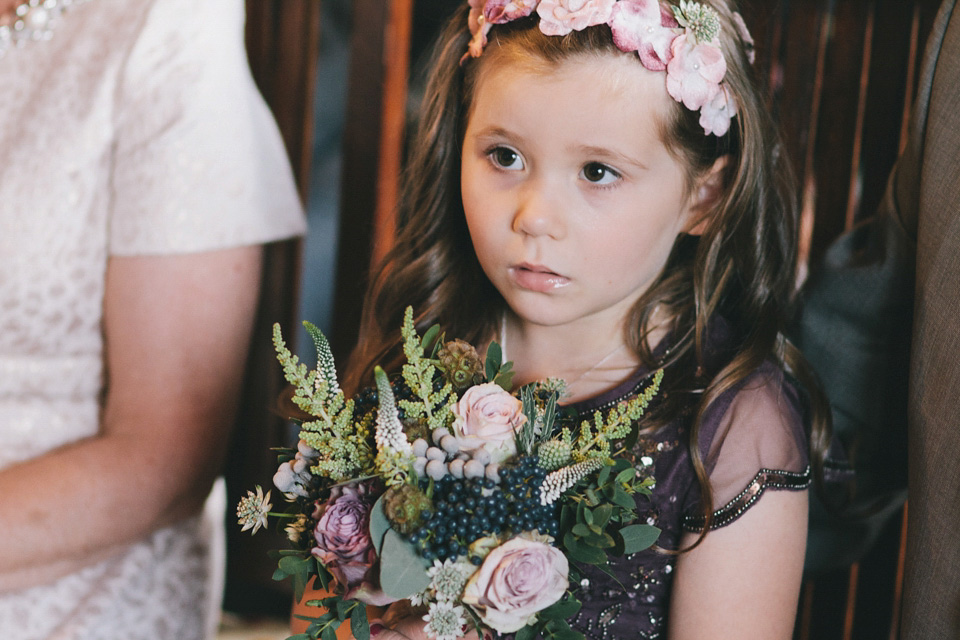 Chris's Mum wrote a piece especially for the couple, read by his Dad.
"It was such a lovely reading, all about our personalities and history together- it was called 'An ode to Chris and Vicki'"
I love the ceremony photos- so many smiles…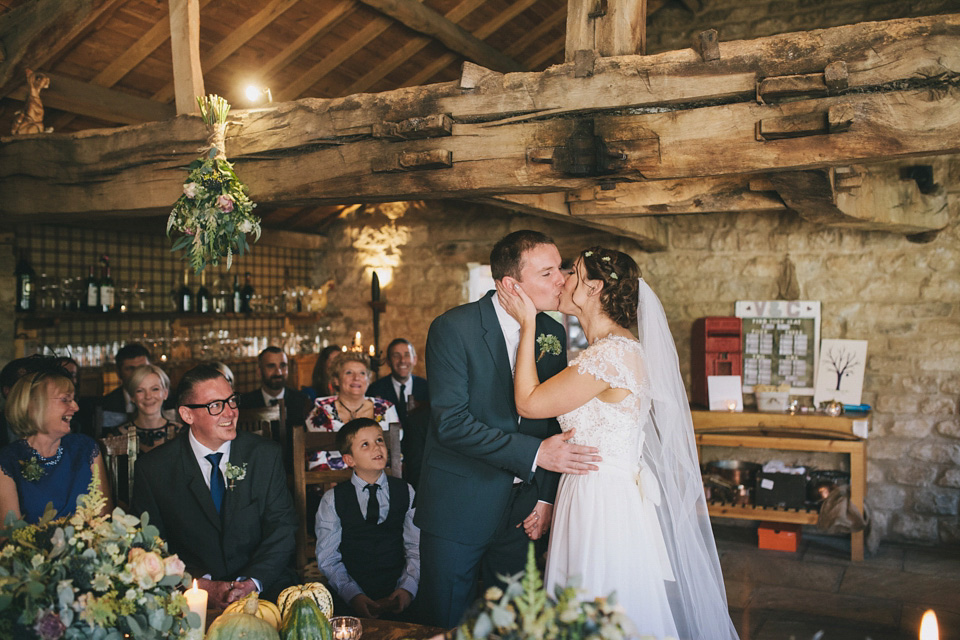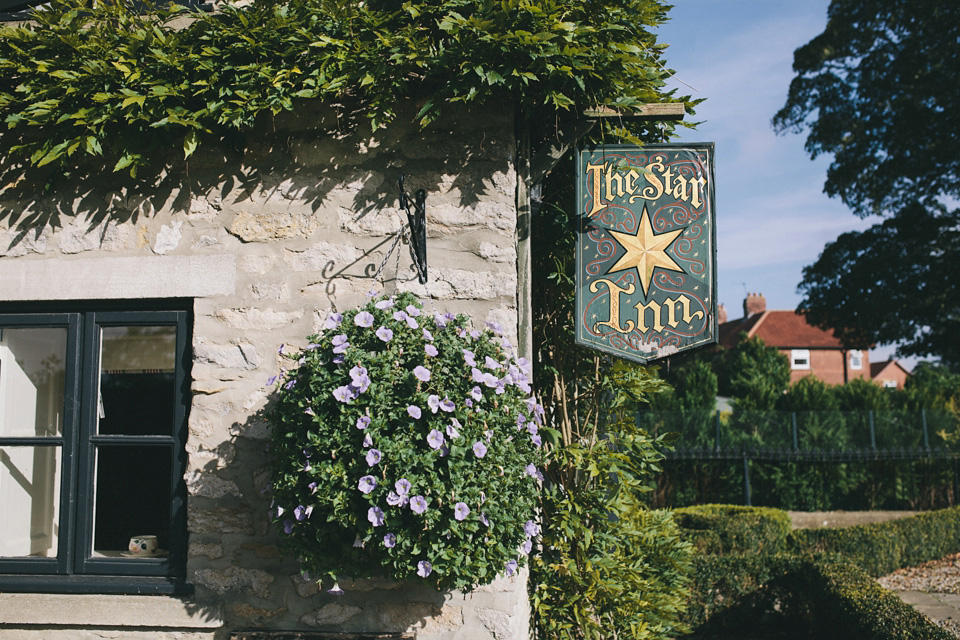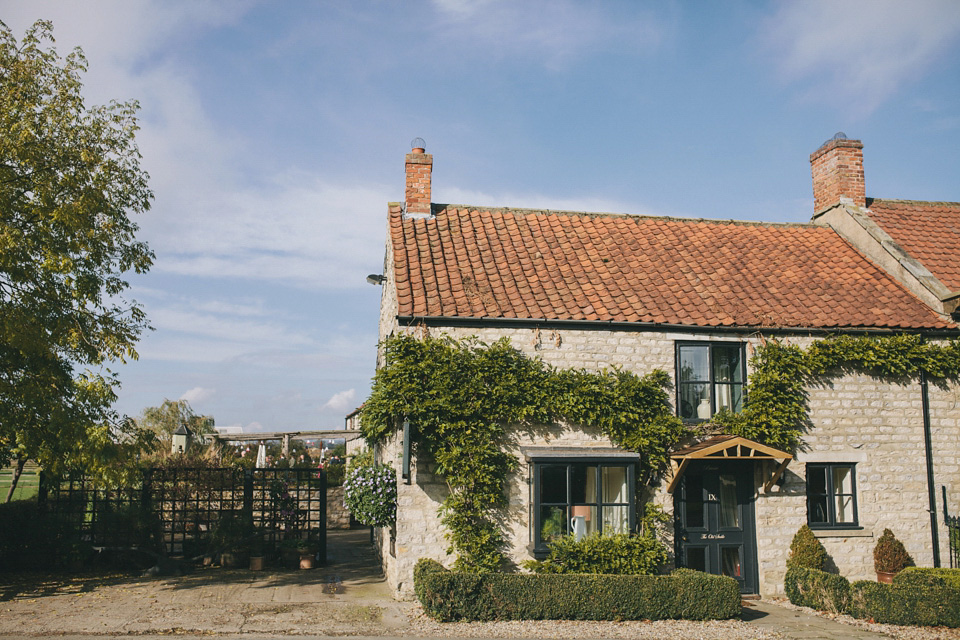 "We chose our venue because it was dog friendly and we really wanted Molly our cocker spaniel to make an appearance! We wanted it to be simple, rustic and to do with October. I loved the idea of Autumnal influences and anything a little bit 'woodlandy'."
I love it when couples include their beloved dogs (or any pet- my auntie rode to her wedding on her horse for her wedding!) in their big day, and the pictures of the happy couple with their gorgeous dog are some of my favourites.  Vicki even made a tartan bow and matching lead to dress her for the celebrations.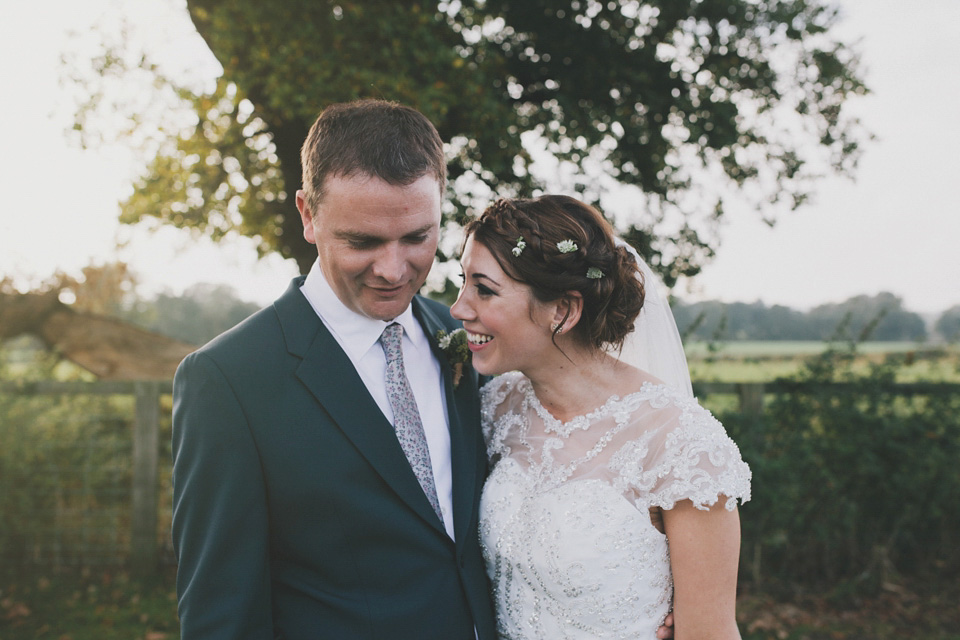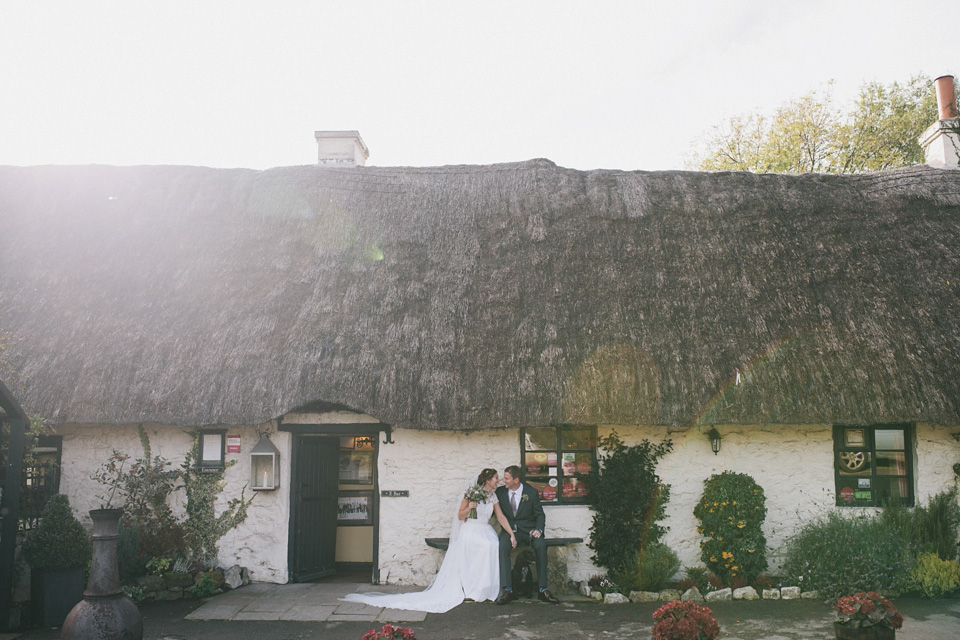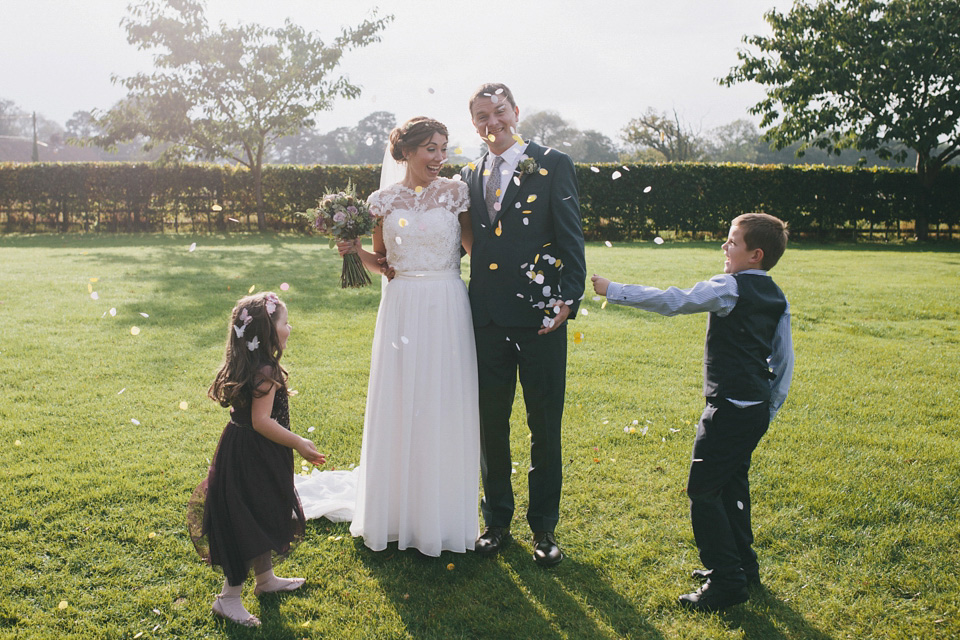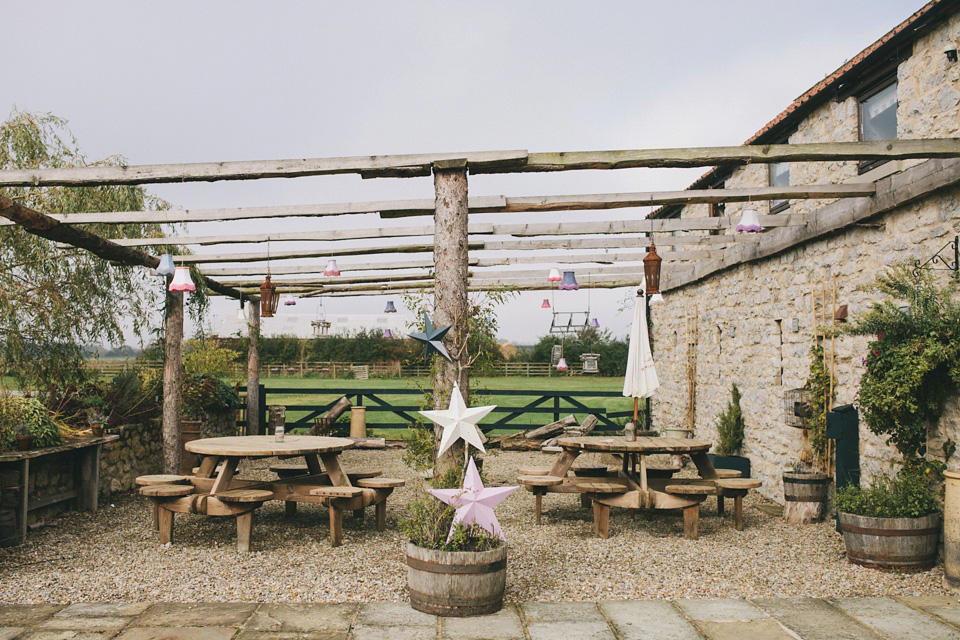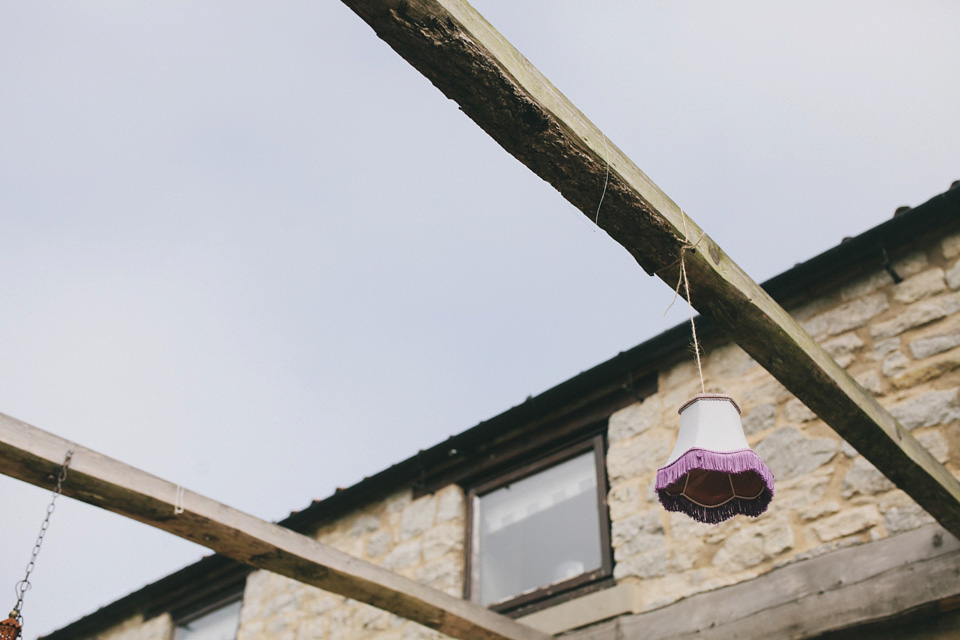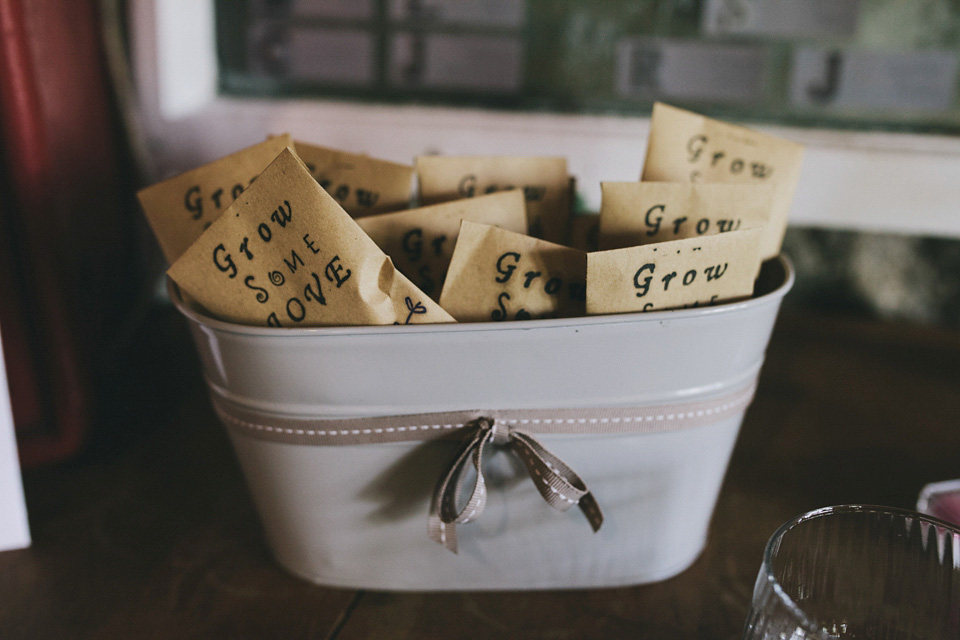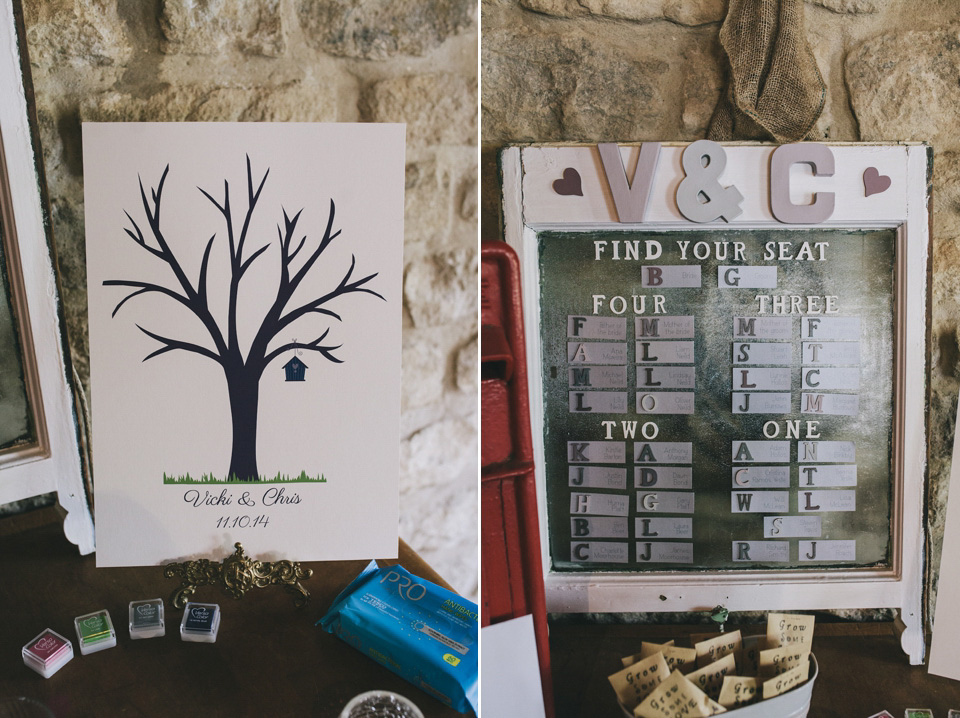 "A friend made our cake and we decorated it with fresh lavender.  It was three tiers of Victoria sponge with vanilla icing. Chris' Dad made some 'V&C' shortbread and there were also some gluten-free cupcakes."
To enhance the Autumnal and rustic theme, real gourds and pumpkins were dotted around the venue, dyed lampshades hung from the rafters outside and rustic handmade name cards adorned the guests' dinner places.   Pinecones on the tables and old fashioned brown string to wrap the favours (Green and Blacks chocolate- excellent choice) further added to the overall look.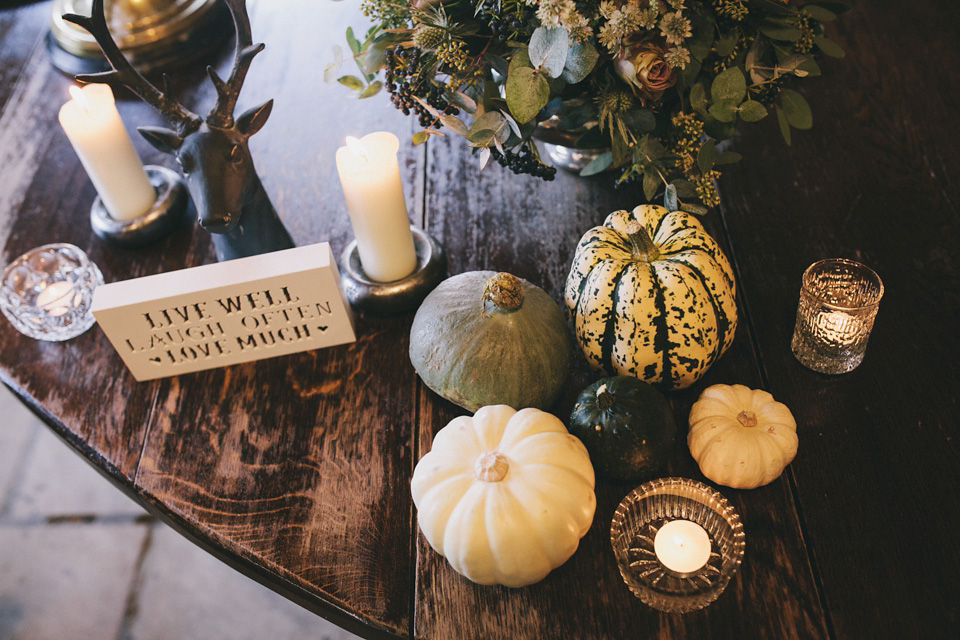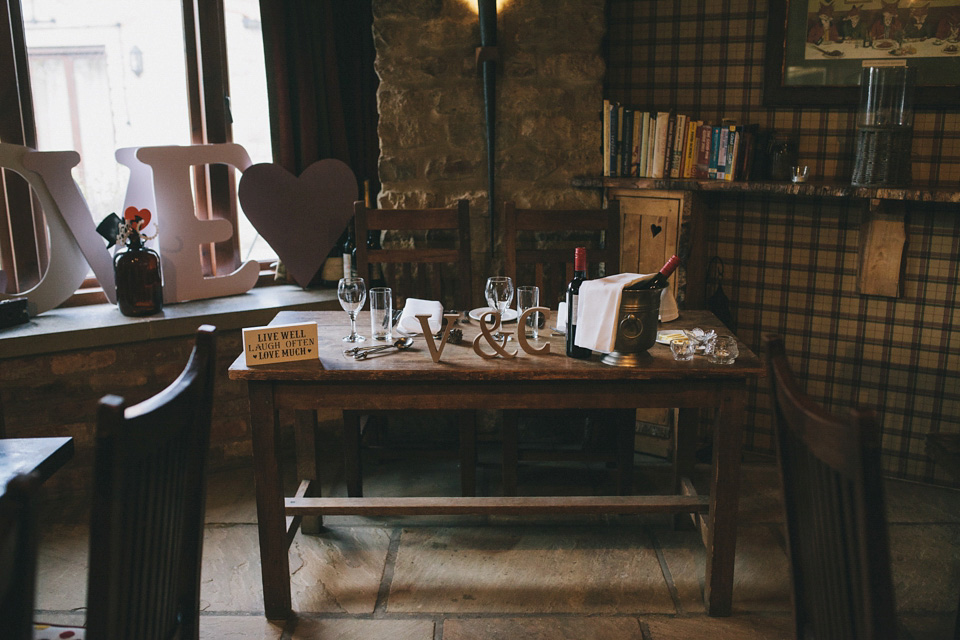 "We chose not to have speeches. Chris said a few words and it was perfect. Our best man and dad enjoyed not feeling the pressure of speaking too, although we left the option open if they wanted to.
We also prioritized the things that were important to us, so we made sure we had good food and an open bar!"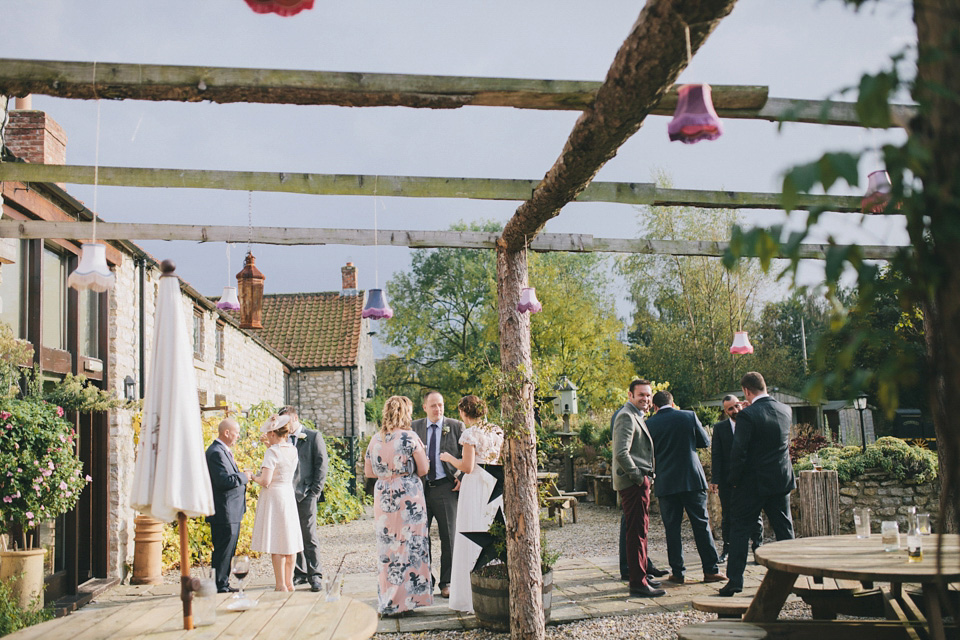 "We enjoyed ALL of it and never stopped smiling.  I really enjoyed spending time with my mum in the morning getting ready.  The whole weekend was amazing because we had everyone there- it's so special to just have everyone in one room together.  During the meal we had a 'sweetheart' table to ourselves and loved having that time together over dinner.
I don't think we would have done anything differently – everything was so lovely.  The weather was amazing and then a thunderstorm hit at the right time just as everyone sat down to eat!  I wouldn't change anything- the whole day was incredibly special."
Words of Wedded Wisdom
"Concentrate on yourselves and each other- don't worry about what everything else thinks about how your day should be.  Don't lose what it's all about."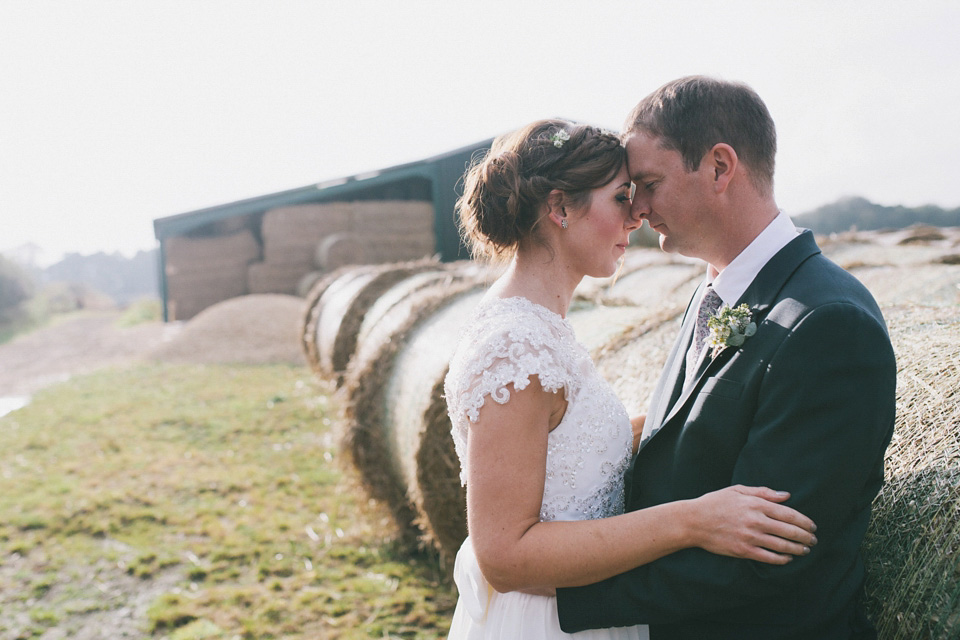 A very happy and terribly pretty day.  Thank you Chris and Vicki for sharing the details, and to Sally for the gorgeous images.  I'm looking forward to autumn now, after looking through these pictures…
Is anyone else looking forward to this autumn for their own wedding? Any other Yorkshire based weddings?  We love hearing from you!
Love as always,
Shona x
Photographer – Sally T Photography
Venue – The Star Inn, Harome, North Yorkshire
Wedding dress – Made by local seamstress Deborah Sanderson (no website given)
Hair accessories  – fresh flowers
Shoes – Purple Velvet, from Phase Eight
Perfume – Coco Mademoiselle, by Chanel
Makeup artist – Vikki Adams
Hair stylist – Steph from Tabu Hair, Malton
Groom – Whole outfit from Paul Smith
Florist – Swallows and Damsons, Sheffield
Cake – Made by a friend
Catering – In house by the Star Inn
Entertainment – Rock My Reception
Rings – Slack and Andrews, Manchester (no website)
Stationery – Designed and put together by Vicki, printed by Knight Graphics