Whilst I blog every day about weddings and bridal fashion, it isn't every day that I get to meet the designers behind some of the beautiful gowns that grace our pages.  Back in May, I did just that when I spent a few days in London visiting the White Gallery and London Bridal Fashion Week – the two main bridal fashion trade events in the UK (not including Harrogate of course). During these events, many designers who don't choose to exhibit at one of the big shows, hold their own events instead, often by hiring out spaces in the city or hosting mini catwalk events at their own boutiques.
This was exactly how designer Stewart Parvin chose to launch his beautiful new 2016 bridal collection to the British press and bridal fashion buyers this year, and I was lucky enough to be one of those on Mr Parvin's guest list.
Photography by David Burke
Stewart Parvin is lauded as being one of the UK's most acclaimed bridal and fashion designers, a designer who has enjoyed 20 years at the forefront of British couture design.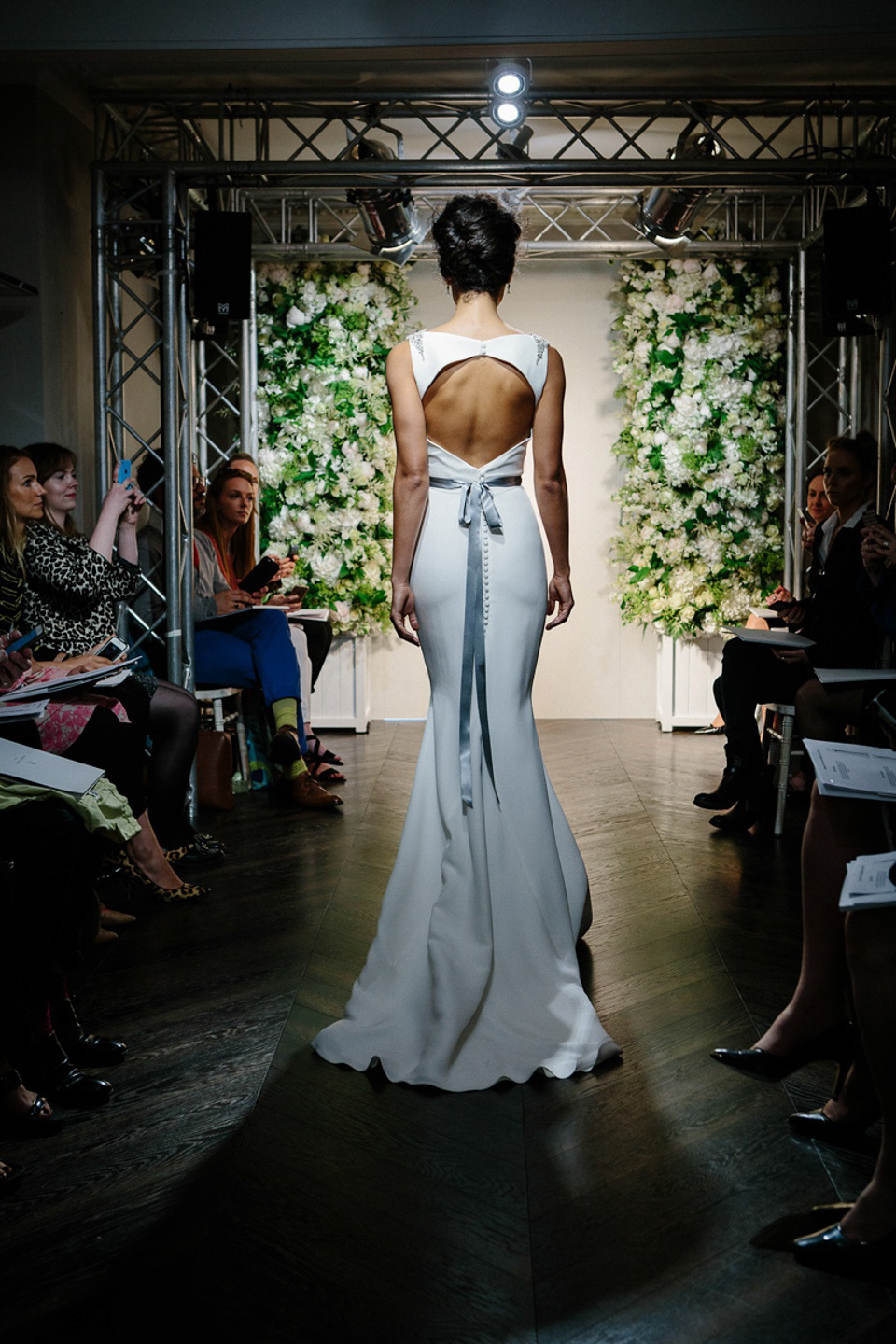 After training as a designer, Stewart launched his own label in 1995 – an event marked by the opening of his London boutique. Today, this boutique is home to his womenswear collection, whilst bridalwear has it's own flagship store at 17 Beauchamp Place.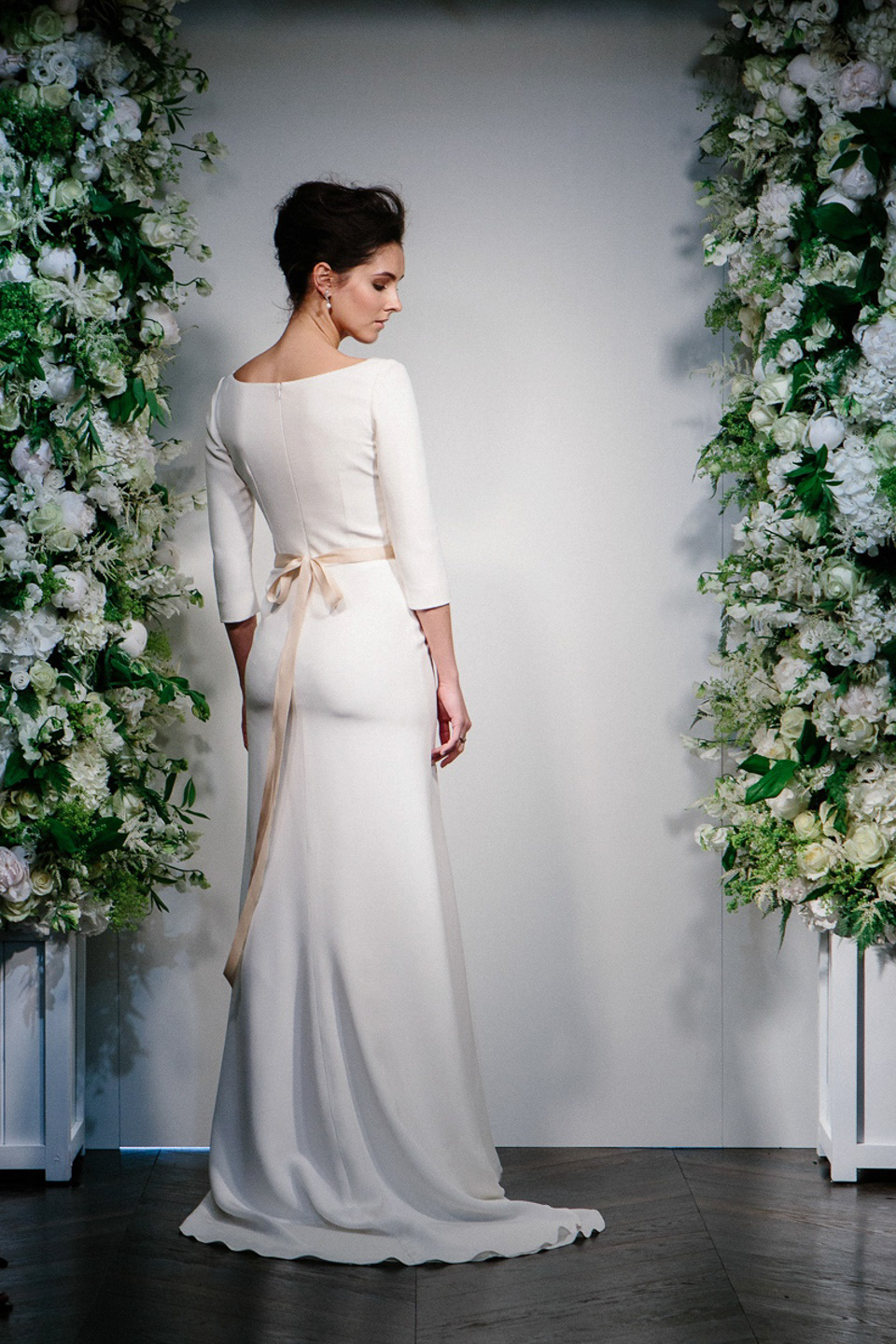 The first thing I want to say about Stewart is that he is utterly charming.  Not every designer goes out of their way to talk, say thank you for attending, and make you feel as though you're the most valued guest there (and without doing that whole high fashion intimidating thing).  Mr Parvin is naturally very charming and it was a pleasure to be able to spend a little time in his company and to be amongst the first to get to see the fruit of his past 12 months worth of labour.
This particular collection carried extra special meaning for Stewart and his team, who celebrate 20 years of being at the forefront of British Couture design this year.  It seemed a bit of a shame that the celebratory glass of fizz was lost on me (I'm teetotal) but the utterly delicious non alcoholic cocktail alternative served up by the Last Supper catering team was exquisitely delicious. As were the canapé.  As guests, we were rather spoilt with the most beautiful bouquet of flowers too.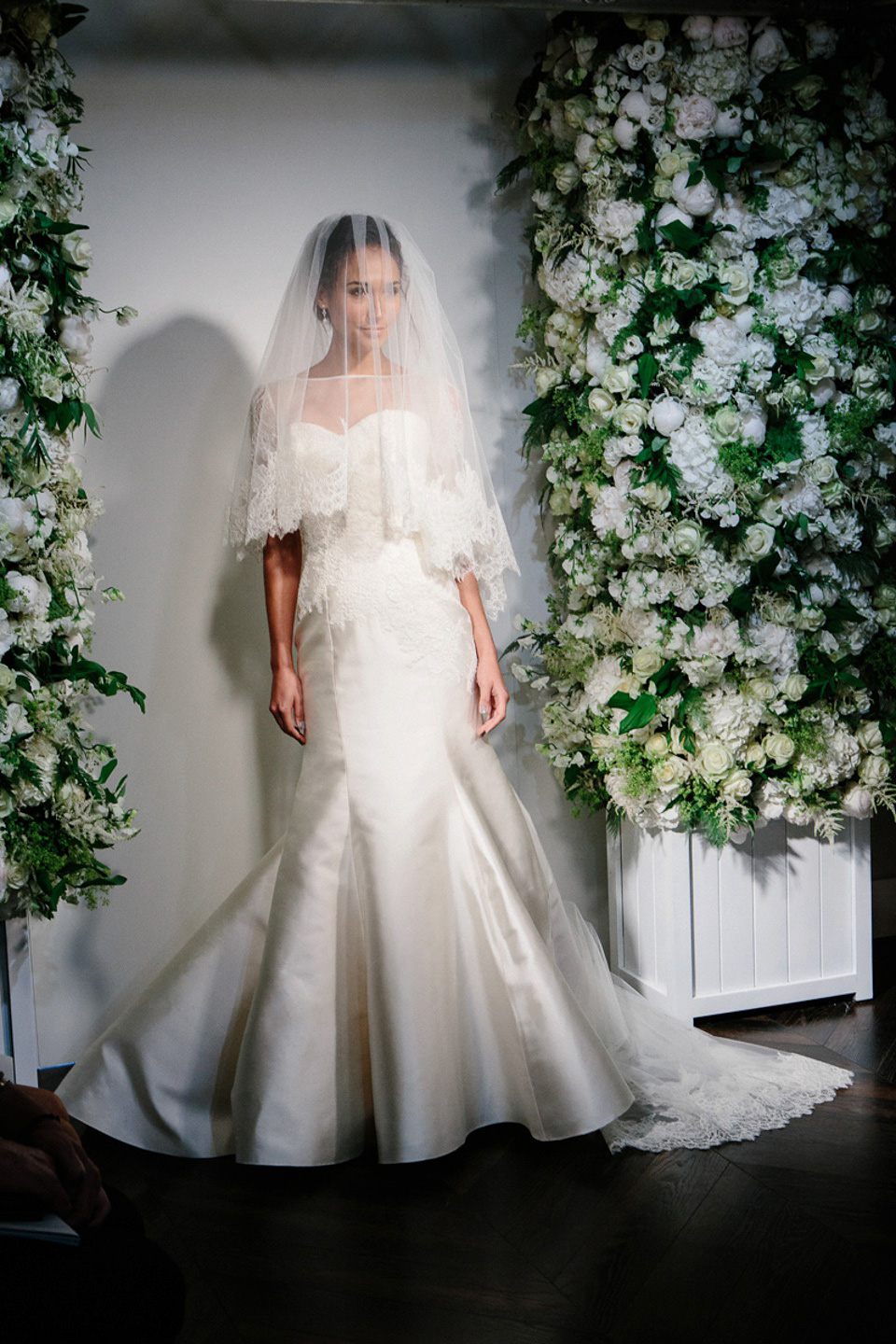 This special new anniversary collection, which maintains all the sophisticated elegance synonymous with the Stewart Parvin brand, explores the use of new fabrics and laces and newly honed shapes and silhouettes.  The result is a perfectly balanced mix of sumptuous and sexy, yet refined and elegant.
Every single masterfully constructed gown carries the Stewart Parvin hallmark of understated elegance.  Flattering A-line silhouettes and soft, fluid fabric provided a beautifully relaxed look and feel to the collection as a whole too.
I spoke with the very lovely Louisa Shipstone, PR for Stewart Parvin – who was wearing the most glamorous Stewart Parvin gown – a silk shift dress in a beautiful print with turtle neck detail – I'm still lusting after it now…
Every collection we product remains completely true to Stewart's hallmark design style.  Even as this year, we have a slight departure form the grand formality of previous years, each gown is still undeniably part of the brand.  His aesthetic is quite literally stitched into the fibre of each dress.  As with all of Stewart's collections, the quality of construction and design is second to none.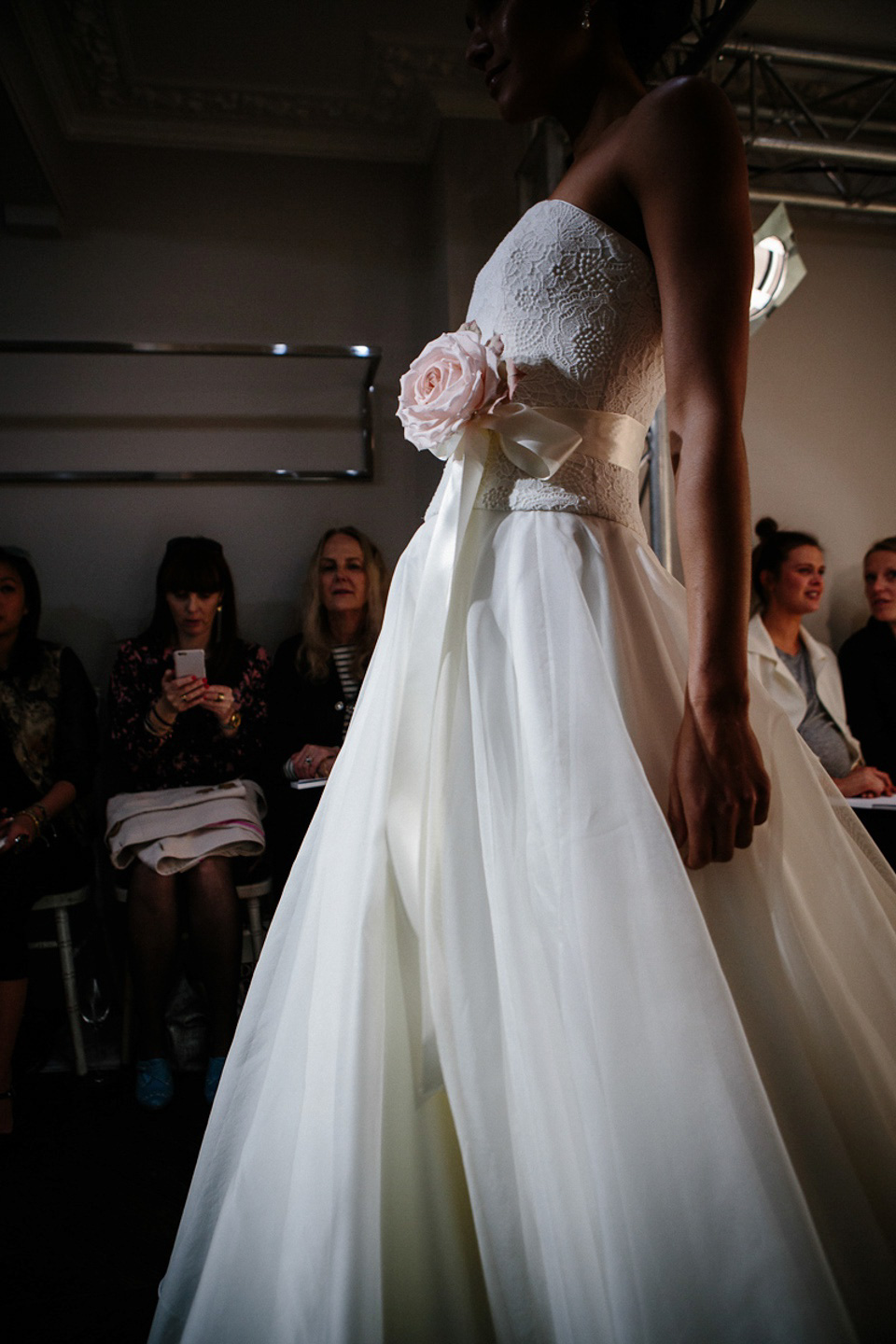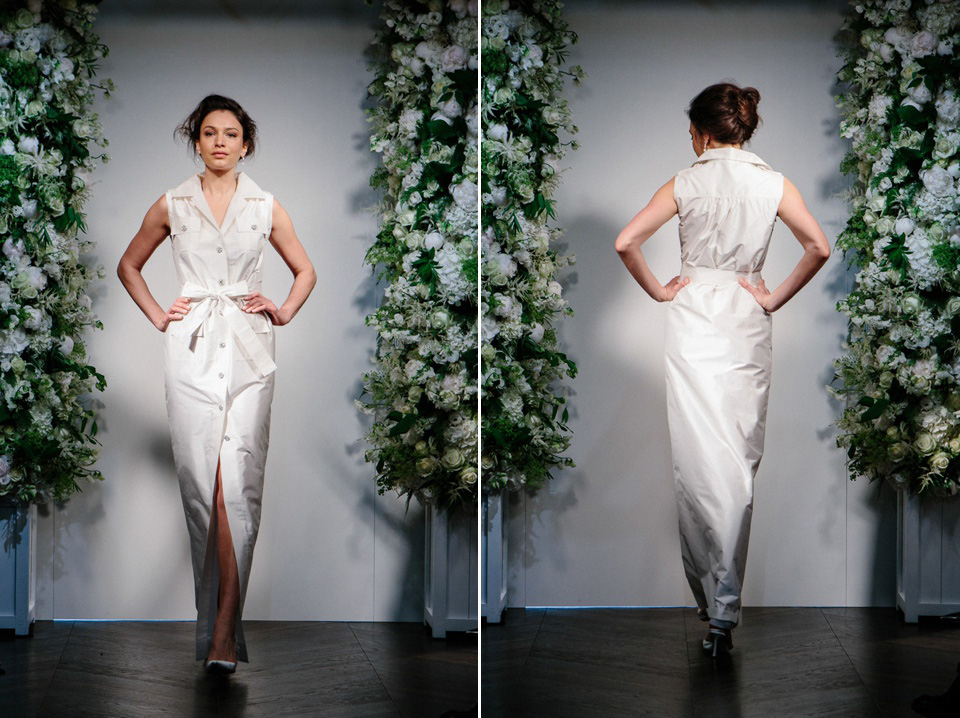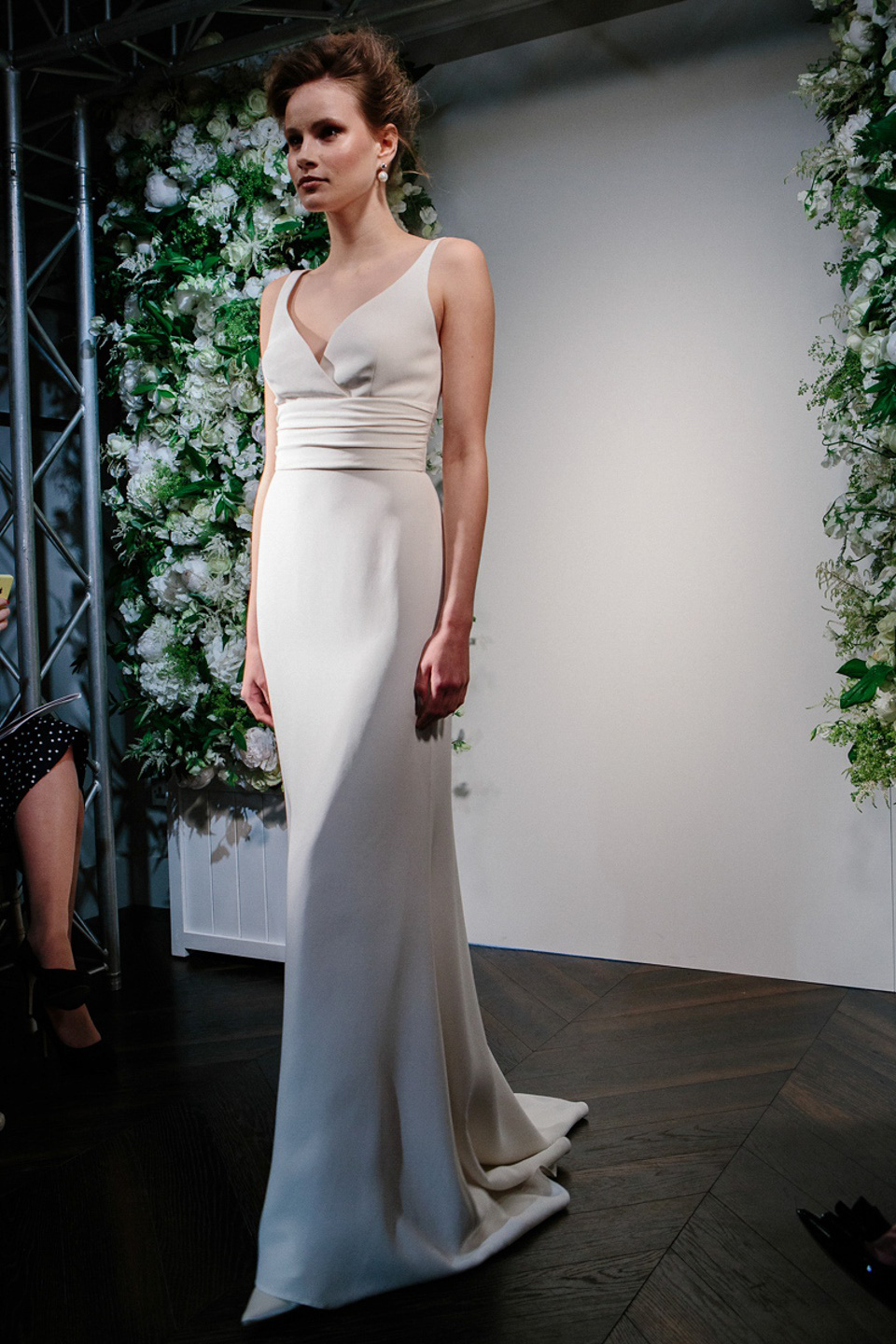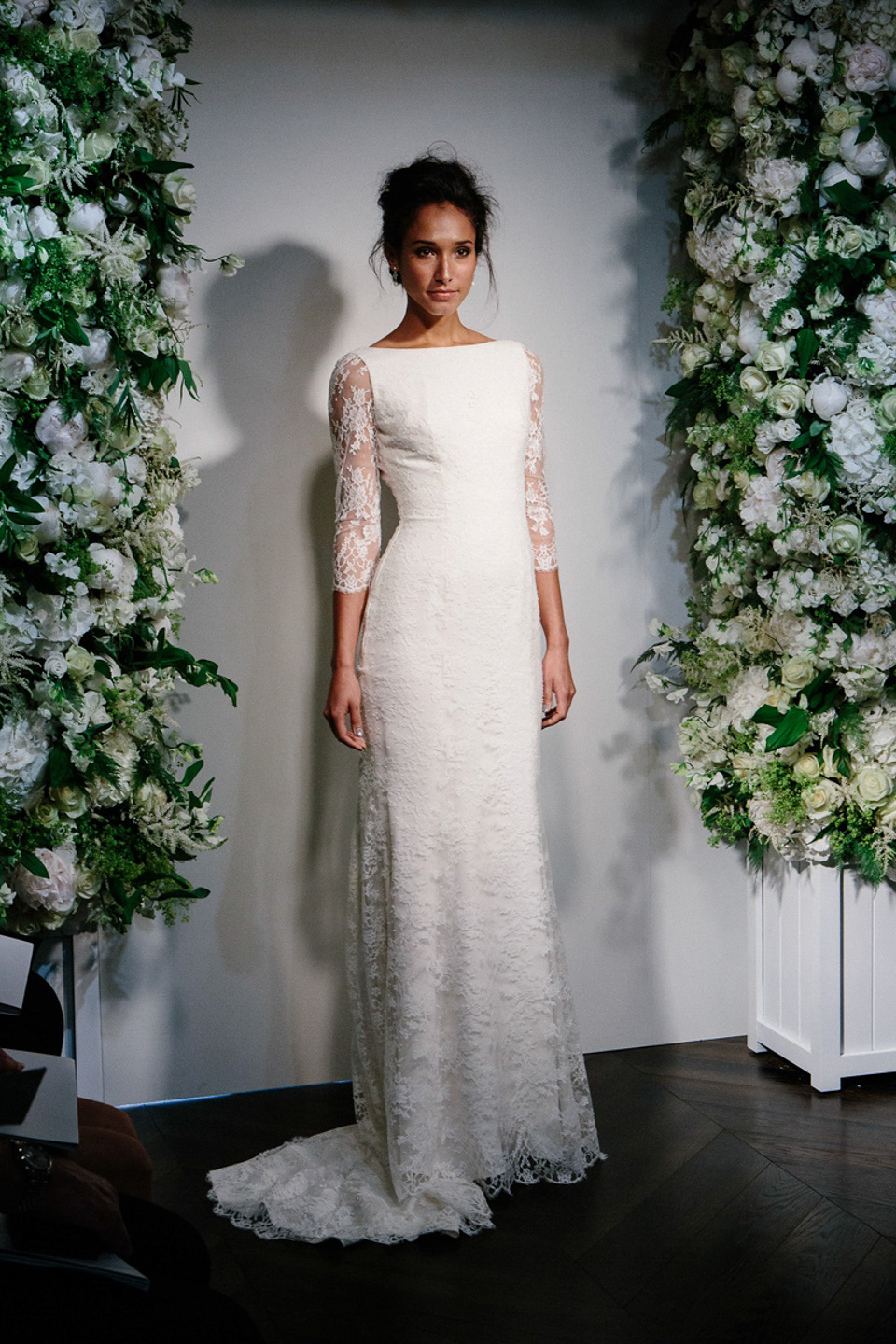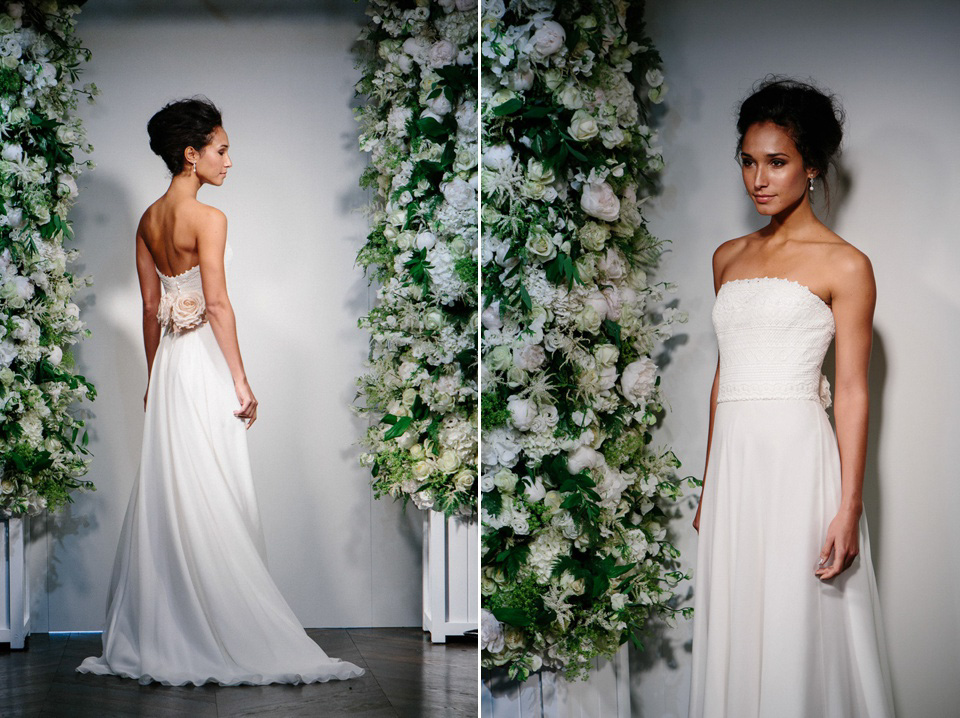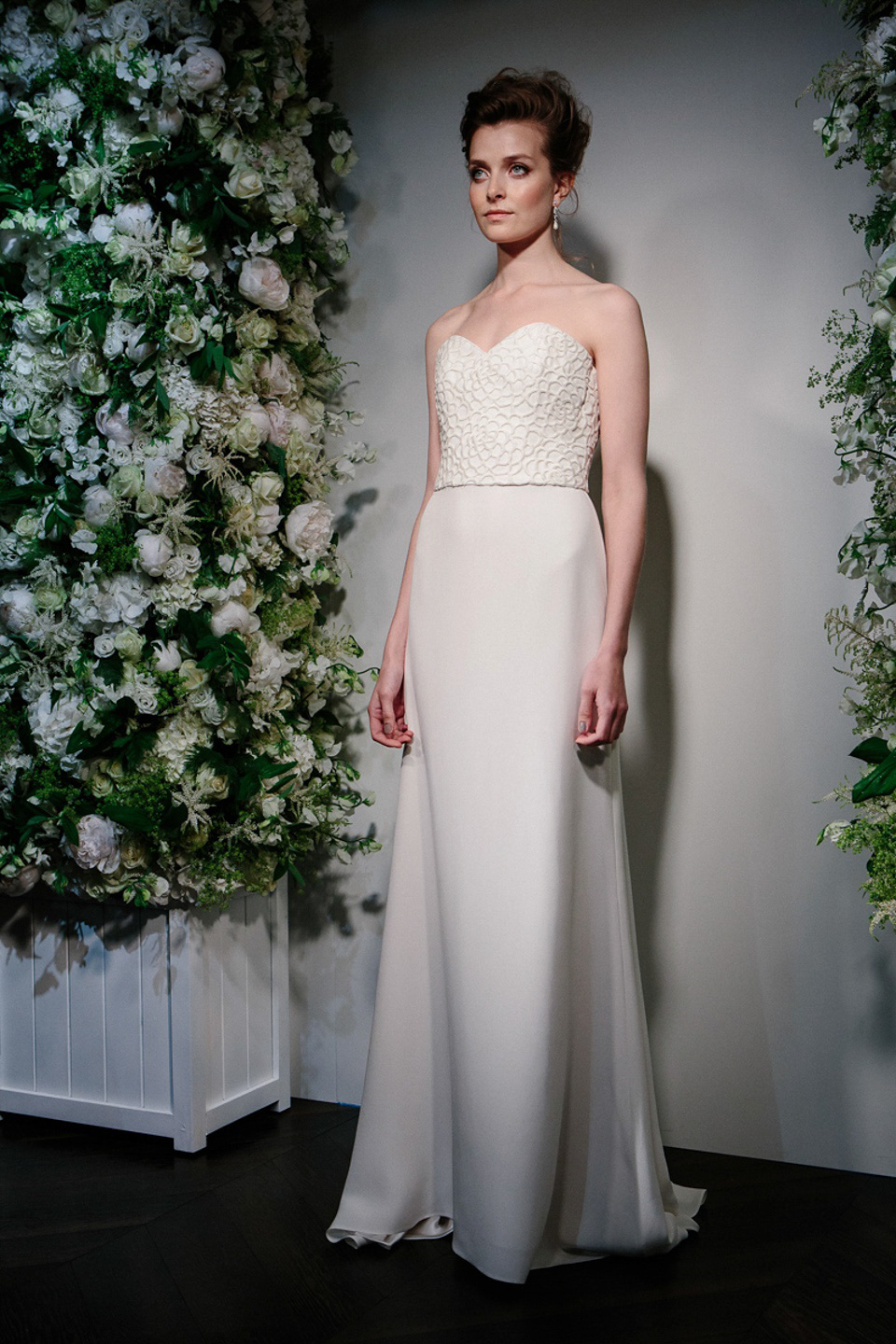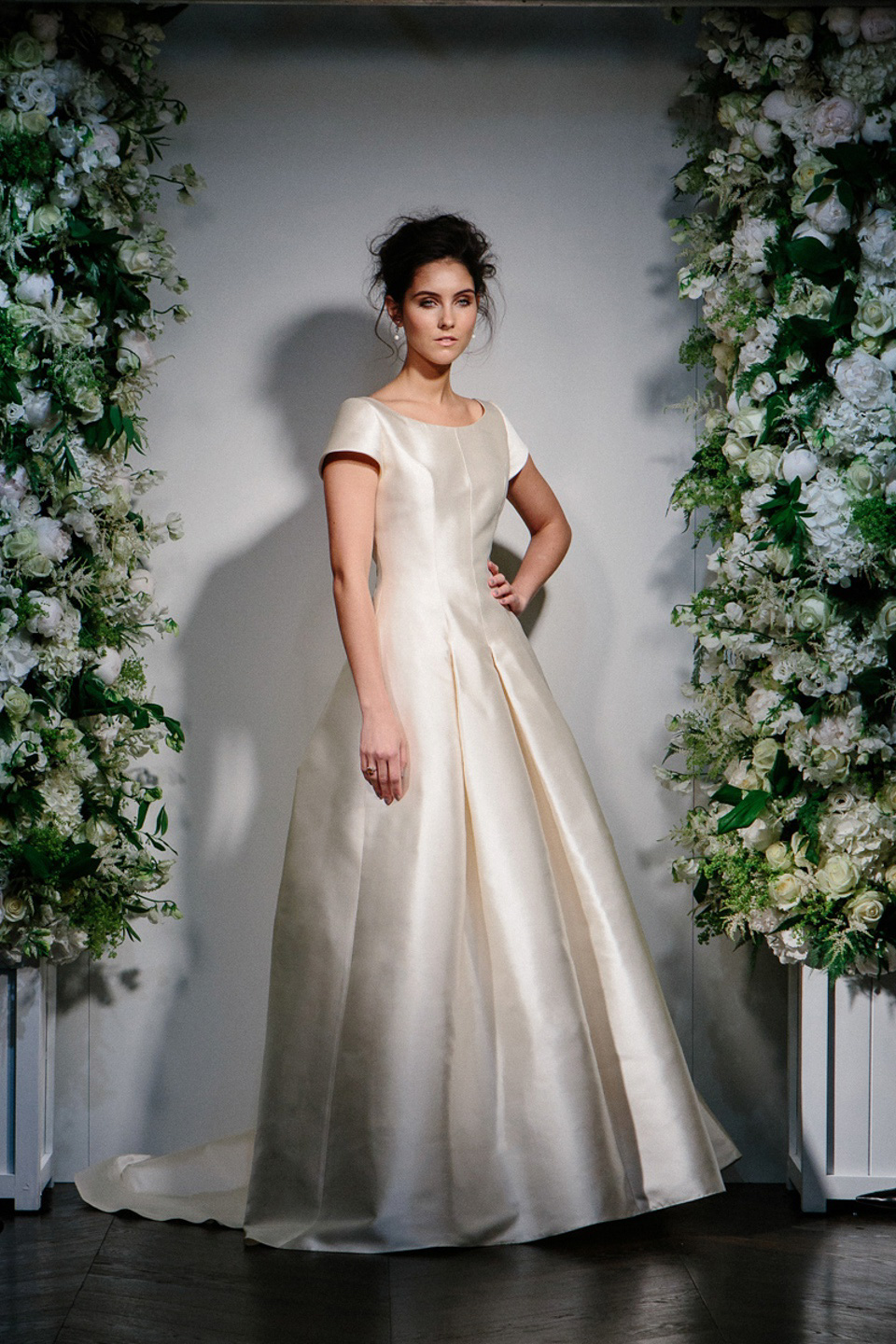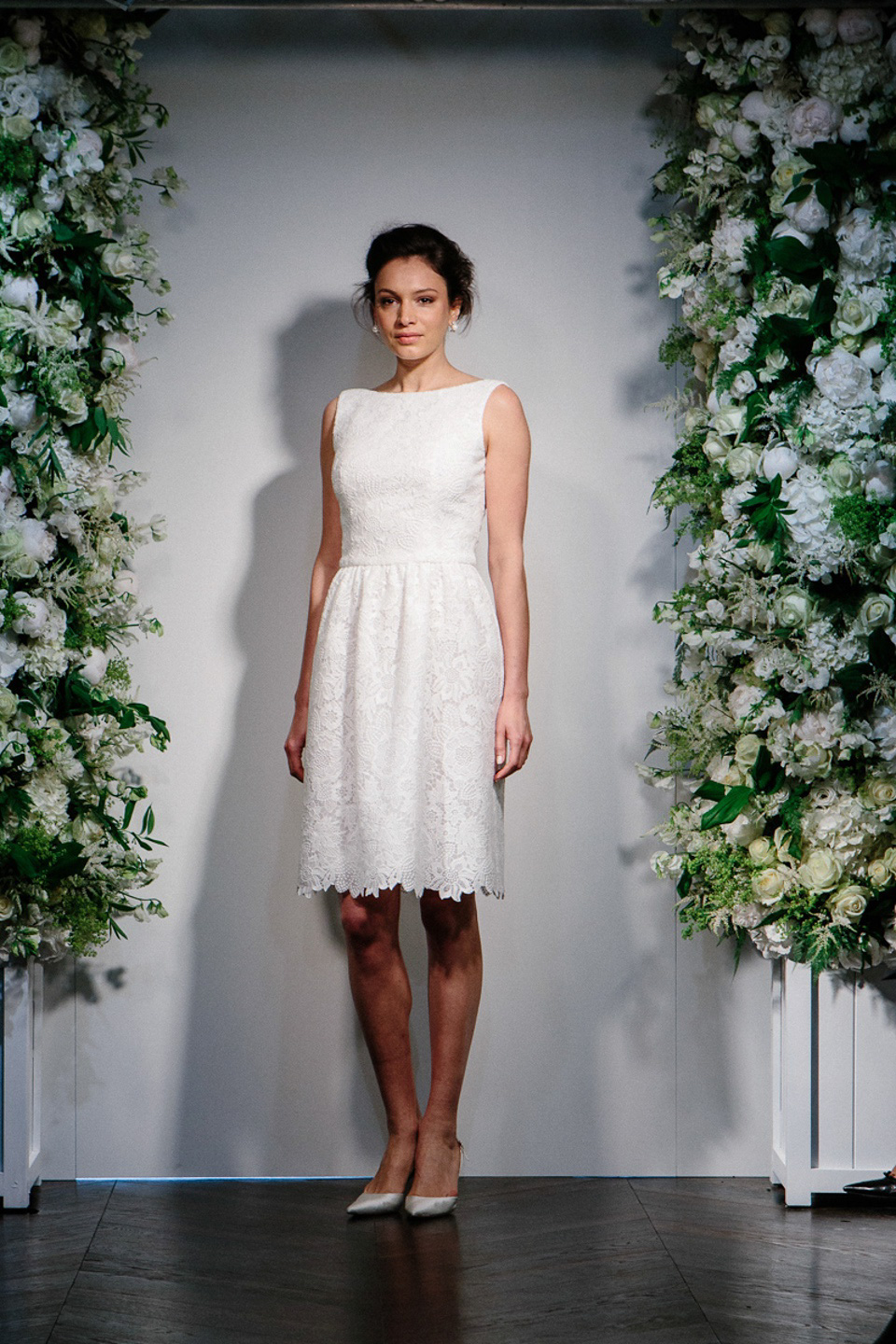 Stewart Parvin is known for his expert cut and sublime fitting dresses.  Cutting a dress pattern to perfection is what he does best.  There are inexpensive ways and there are more expert, couture ways of creating a wedding dress and let me tell you, there is a big difference between the two in terms of quality and the way that dress will make you feel once you slip into it.  Mr Parvin and his team are the ultimate experts in their field – trust me when I say the quality of these gowns is second to none.
It was quite a treat to watch the well appointed, elegant models sashaying down the catwalk and letting the dresses make the statement.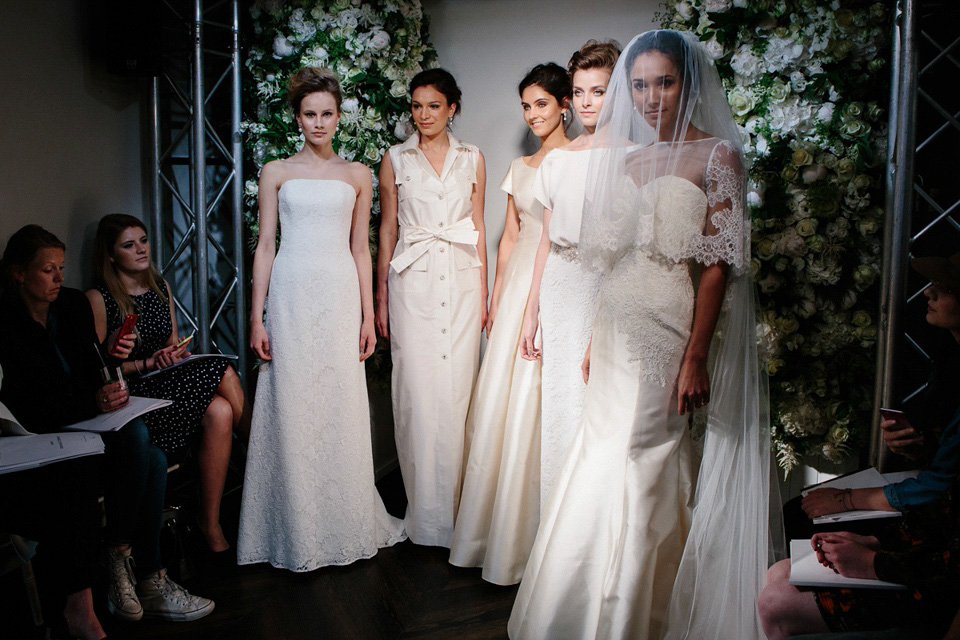 All the gowns you see here are from the new 2016 Stewart Parvin collection and photographed on the day I was present at the boutique. I can vouch for their beautiful quality, I can tell you that the Stewart Parvin design team are delightful – each and every one of them, and I geninuinely cannot hesitate to recommend that our readers take time out to visit Stewart Parvin
For further information, please visit the Stewart Parvin website at stewartparvin.com.  You will also find Stewart Parvin on Facebook, Instagram and Twitter and can contact the boutique on [email protected] or telephone 0207 589 5529.
I'd like to thank Stewart Parvin and his team as well as Nicola of Propose PR for making me feel so welcome at this event. It was a real pleasure to attend and I really, really hope we get to see a bride wearing one of these beautifully made gowns on Love My Dress very soon.
Brides, are you planning on wearing a Stewart Parvin gown, just like these brides did?
Love Annabel xx
Photography – David Burke
Hair – Jay Rapata at Michael John
Makeup – Pamela and Andrea Makeup
Flowers – Pinstripes & Peonies