I've attended The White Gallery (one of the UK's biggest bridal fashion trade events) for the past five years now, four of which, I've been accompanied by a photographer. I love to be able to share with our readers, some of the dresses and designs that will be making their way into all the best bridal boutiques over the coming months.
As a bridal fashion lover, it's also the most amazing place to visit as it brings together the culmination of months of hard work and inspired design from some of the world's very best bridal designers.
Photography by Emma Pilkington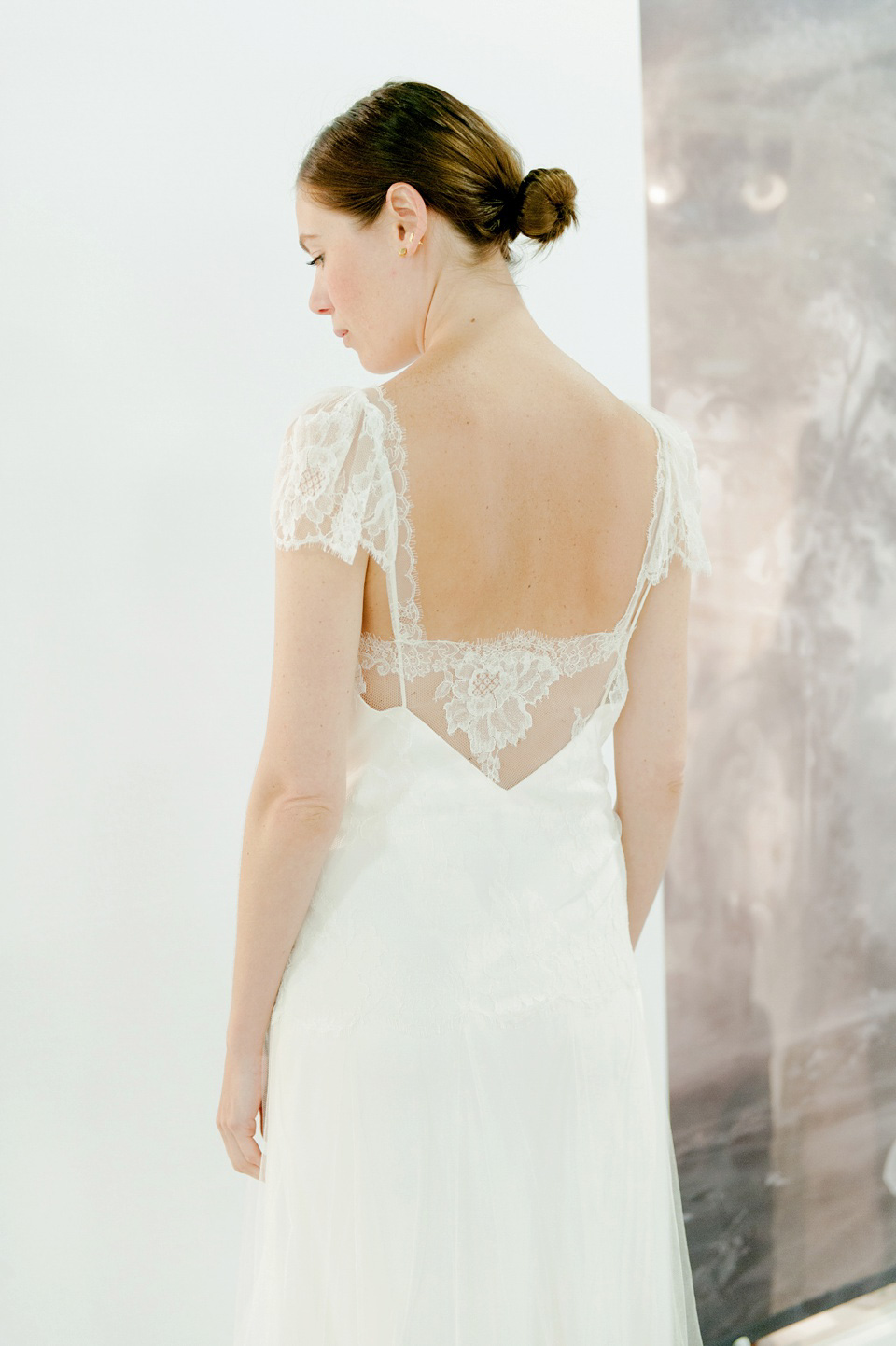 Halfpenny London (see our review of the London flagship boutique)
Of course, there's usually just the one show in town, The White Gallery, plus a few pop up events for designers who choose to exhibit independently…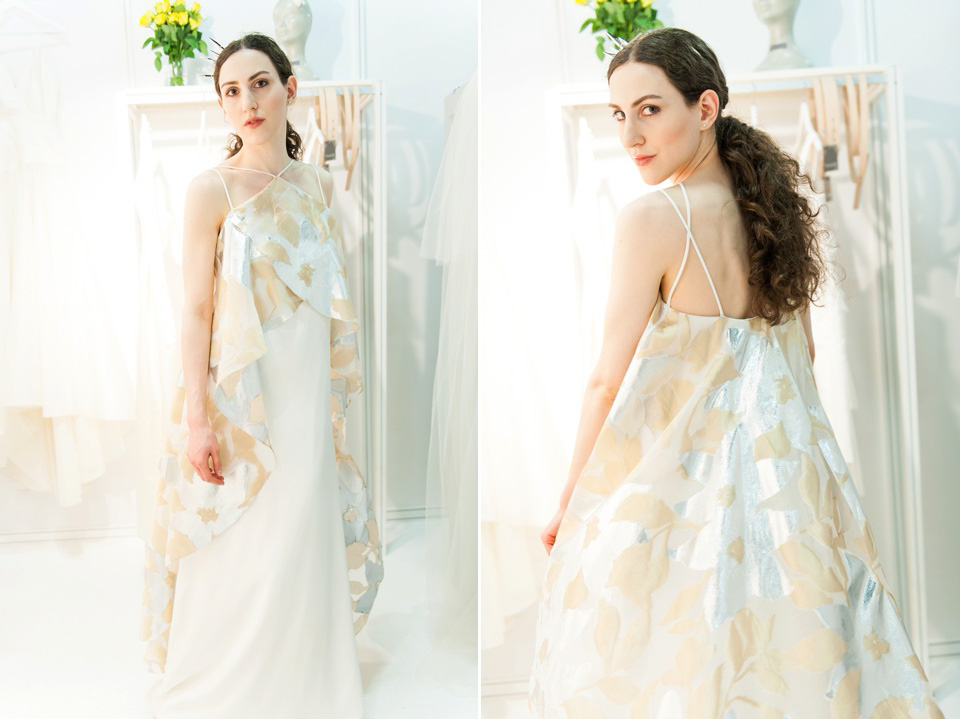 This year however, another major exhibition, 'London Bridal Fashion Week' also took place at the same time. I thought I'd cover some of the amazing designers who exhibited there in a separate post that I'll be blogging over the course of the next week on Love My Dress.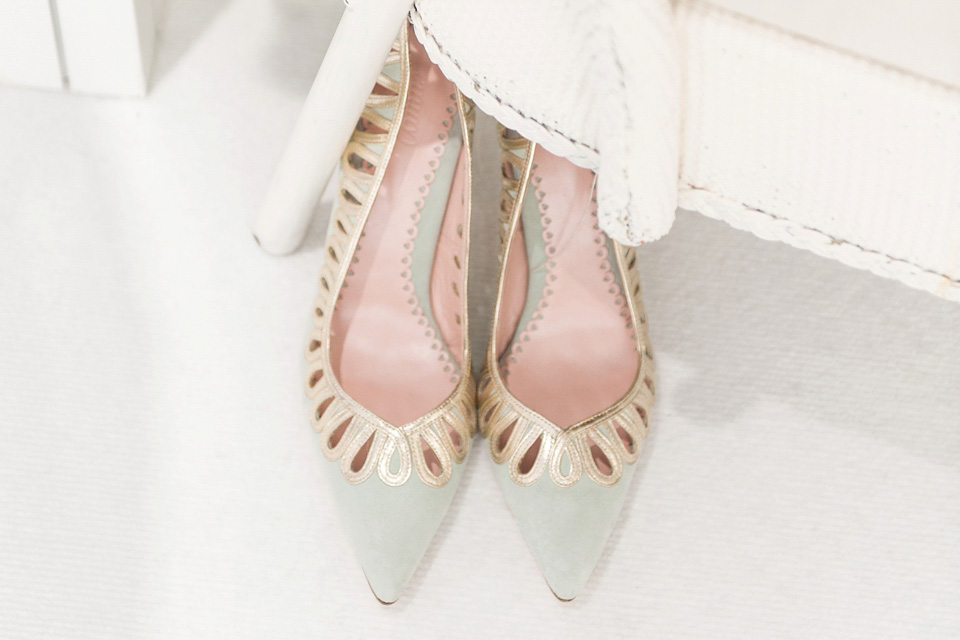 And as usual, I'm going to keep the wordage light in this post – after all, I believe the dresses do the speaking for themselves. That just leaves me to say, there was a LOT to cover in just half a day at White Gallery this year – I've already made provision for attending the shows across two days next year.
Attending the White Gallery this year was, for me personally, about making those of our sponsors who were exhibiting a priority – and to make time to meet new designers after this.  There wasn't much time left for the latter but I did manage to discover some new absolutely brilliant new creatives in the time we did have (Anna Kara, Muscat London – more on both further down in this post). I only wish I'd had more time to discover more!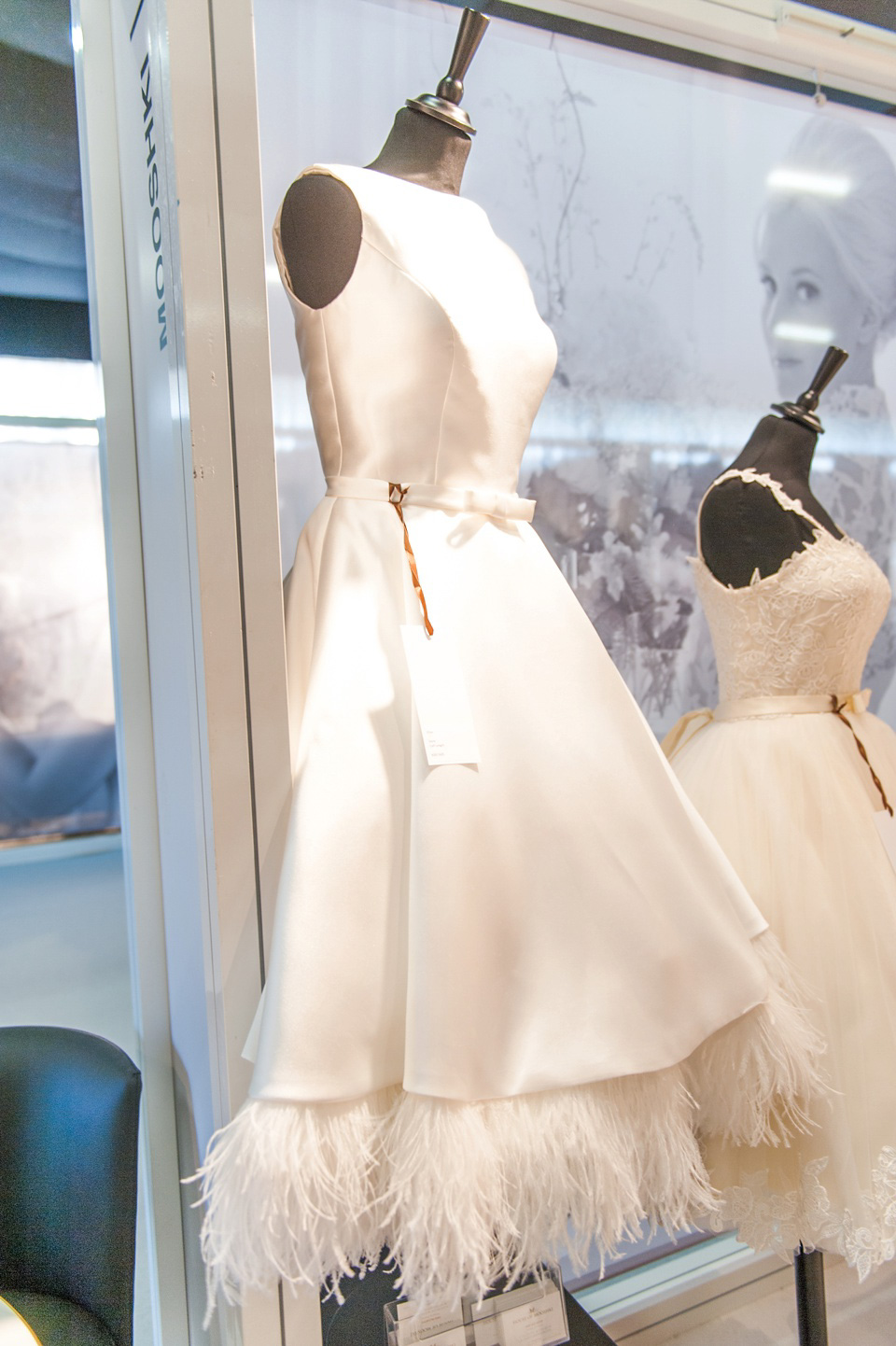 Warning – this is a very long, image heavy but ultimately Pinterest-focussed post! Images from last year's White Gallery post on Love My Dress have been pinned over 50,000 times already. Please feel free to pin or share as many of these images as you like (providing credit to Love My Dress and photographer Emma Pilkington at all times).
I do hope that you enjoy this year's Love My Dress report for White Gallery and that you find something beautiful in these images to inspire you.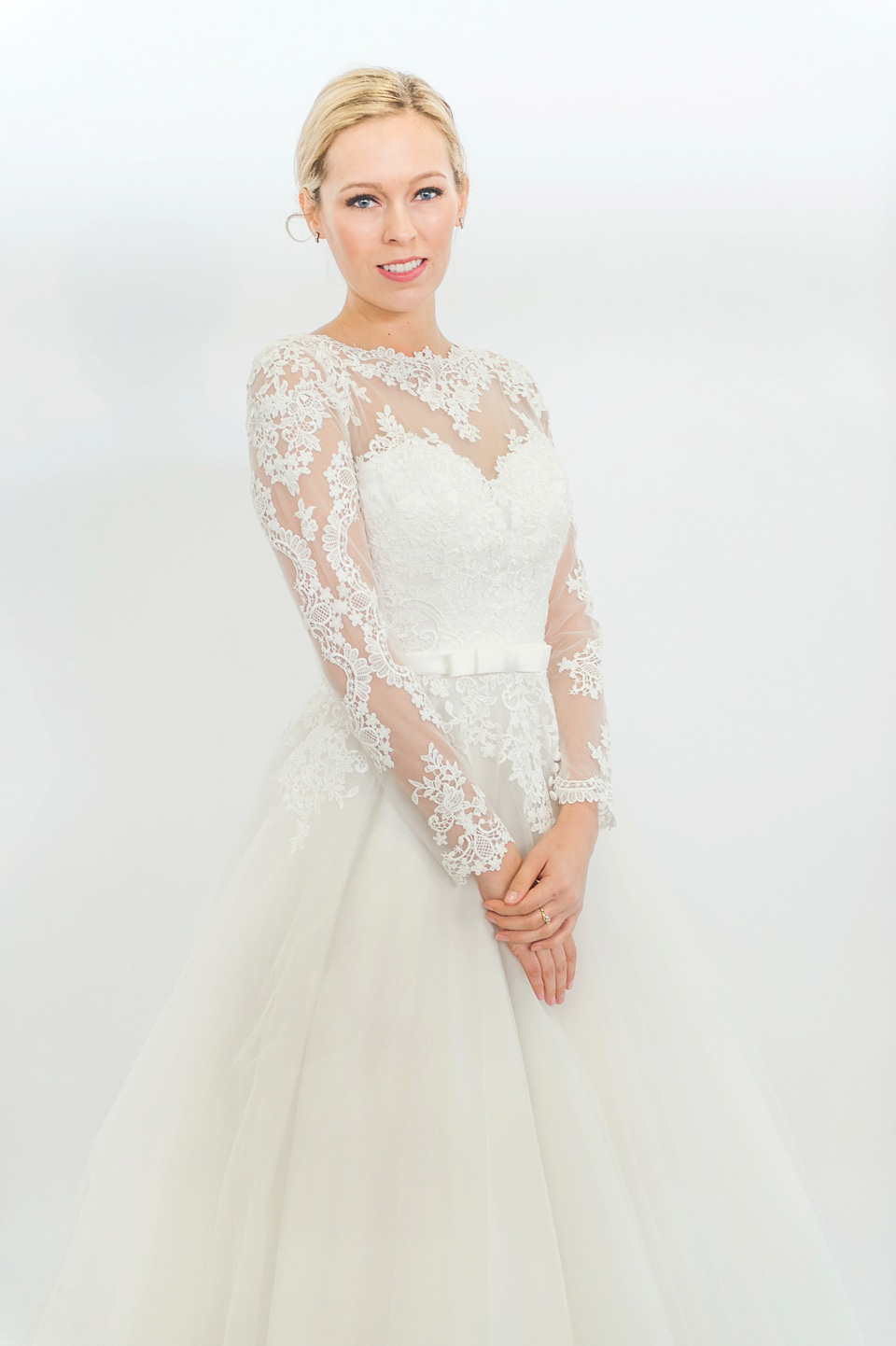 The Halfpenny London stand.  Let's just say it was a challenge to pull myself away after visiting.  I adore Kate Halfpenny and shall make no secret of the fact that she and I are great friends.  We are, however, also  business colleagues and each have a great deal of respect for what each of us are trying to achieve in this industry, through a shared passion for beautiful wedding dresses and just really good customer service.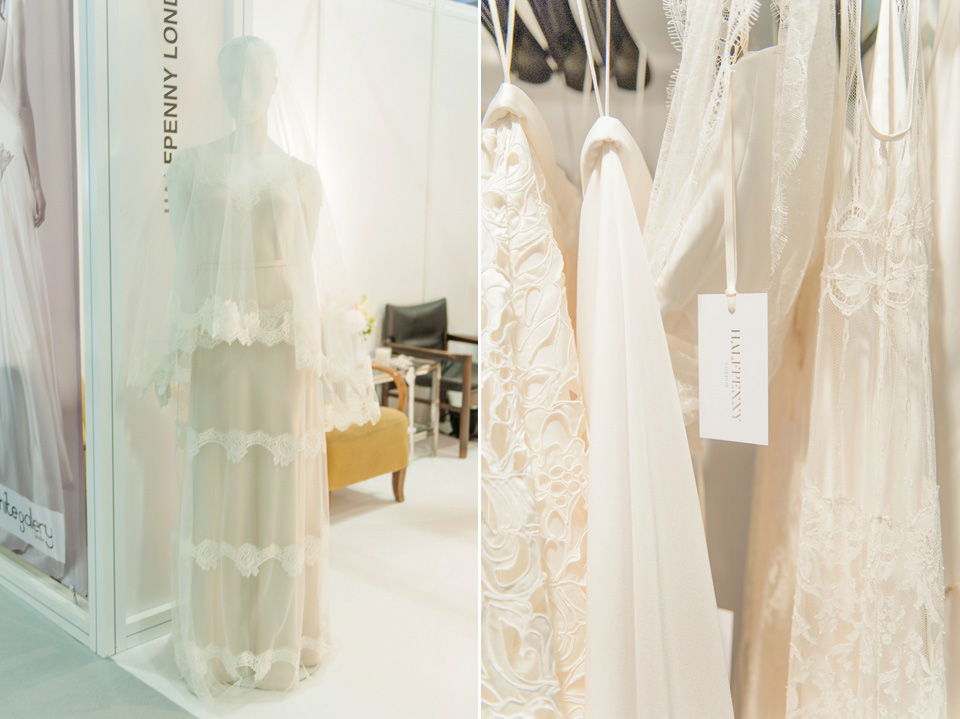 I was a huge fan of the Halfpenny London brand long before Kate and I became friends – in fact, Kate's was one of the very first designer brands I blogged about back in 2010.  It's the kind of home-grown British brand, bursting with femininity and elegance but with a super-cool fashion edge that has 'Love My Dress bride' written all over it.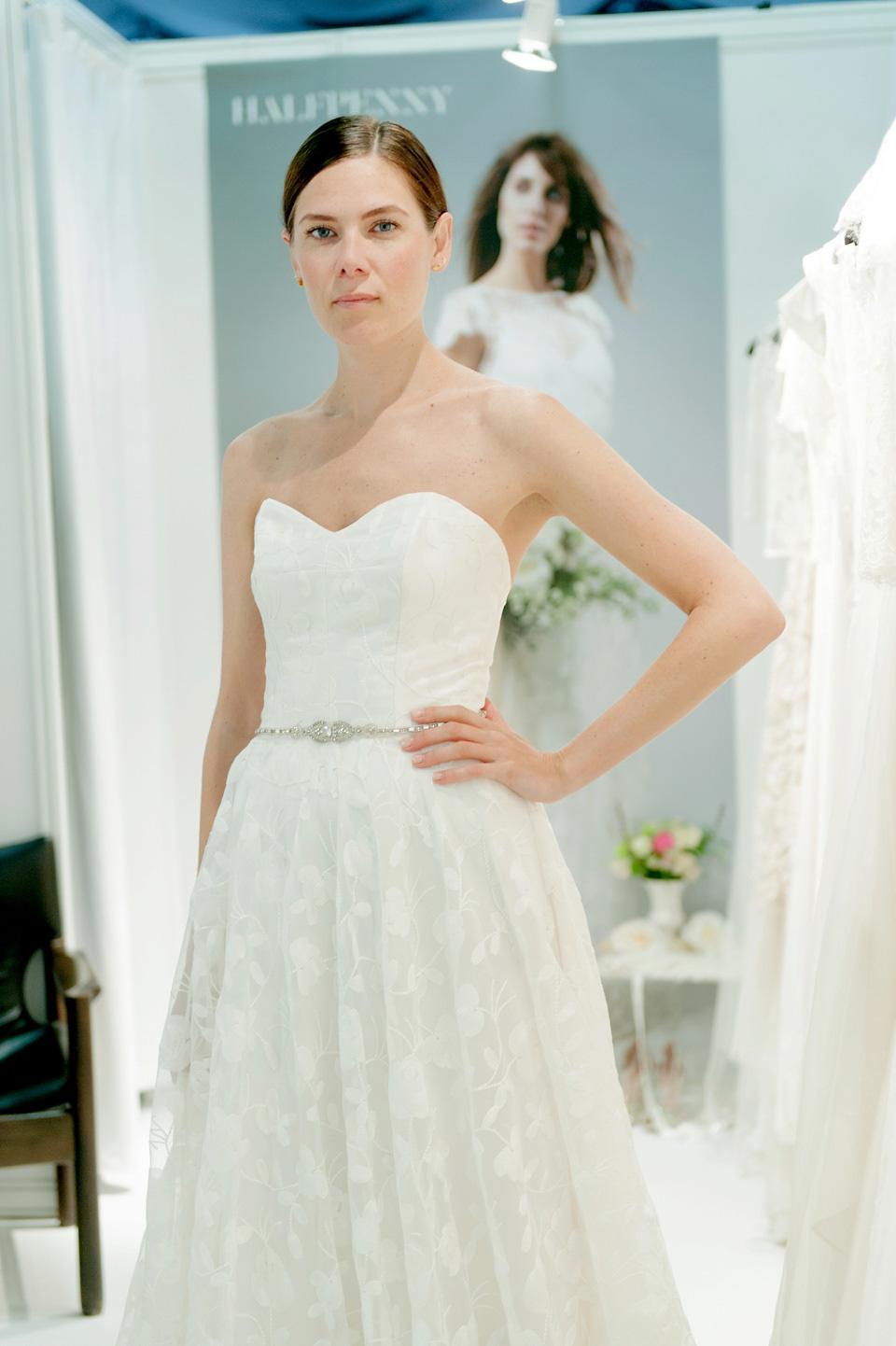 Wholesaling her designs is a big new move for Kate and so I was delighted to hear of her success at White Gallery, and particularly because some really amazing boutiques have picked up her brand.
But as well as soon-to-be-stocked in a boutique near you, Halfpenny London also have a flagship boutique in London. It is just so beautiful – tucked away off an old cobbled street just a stones throw of a walk from Kings Cross station (making it easily accessible even for those brides who might need to travel).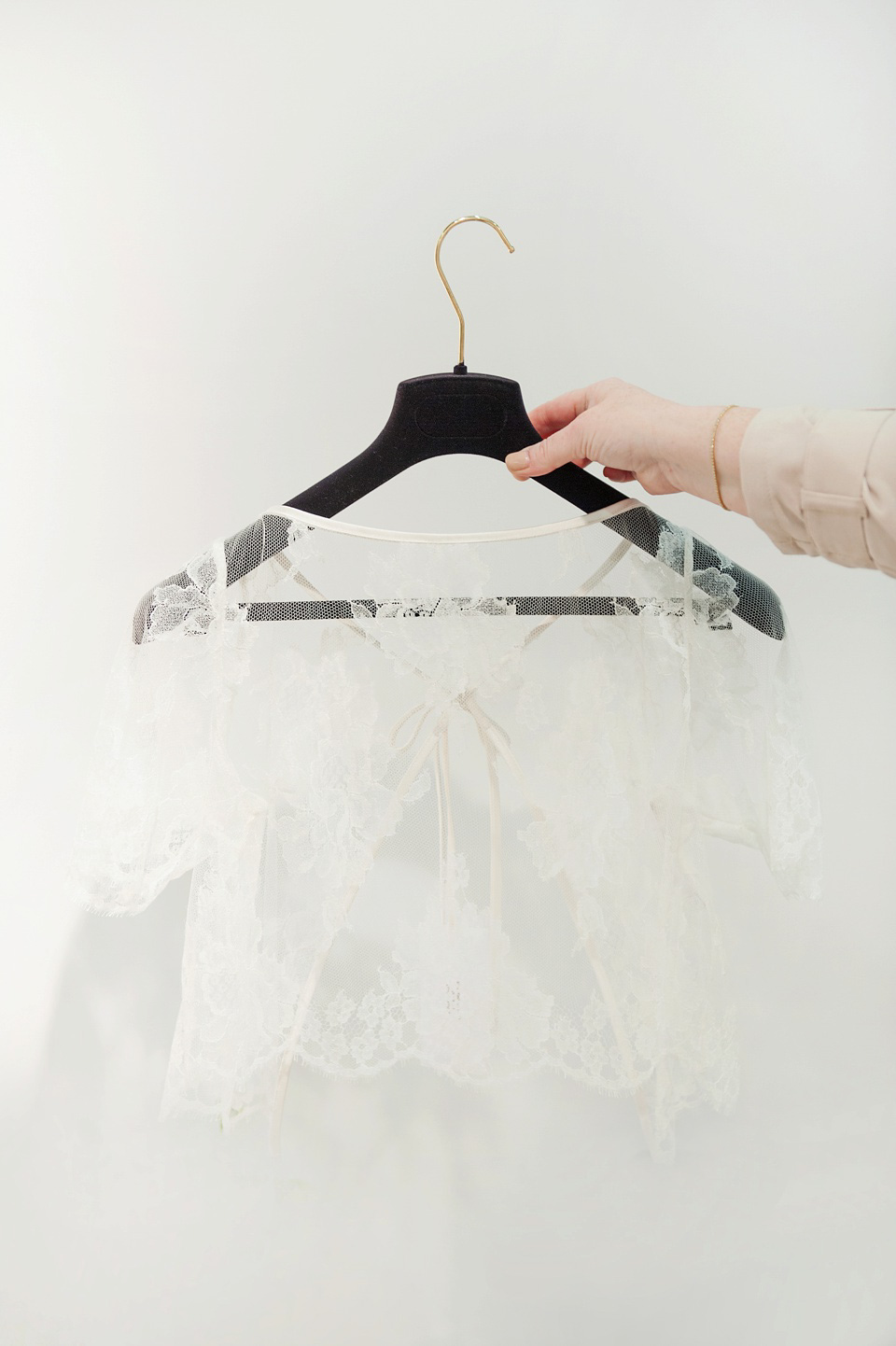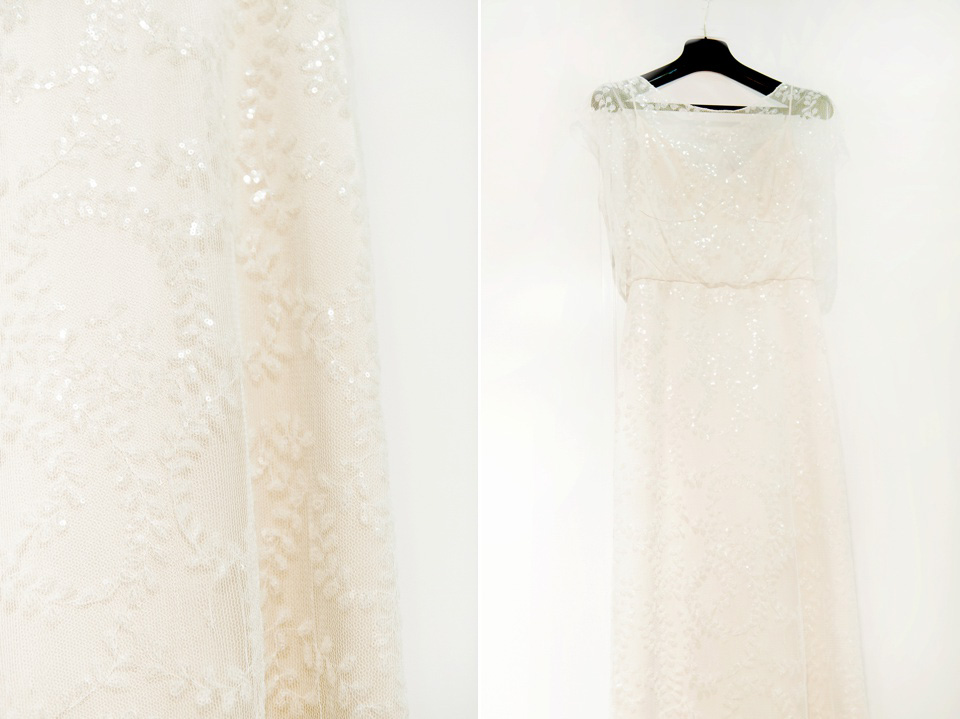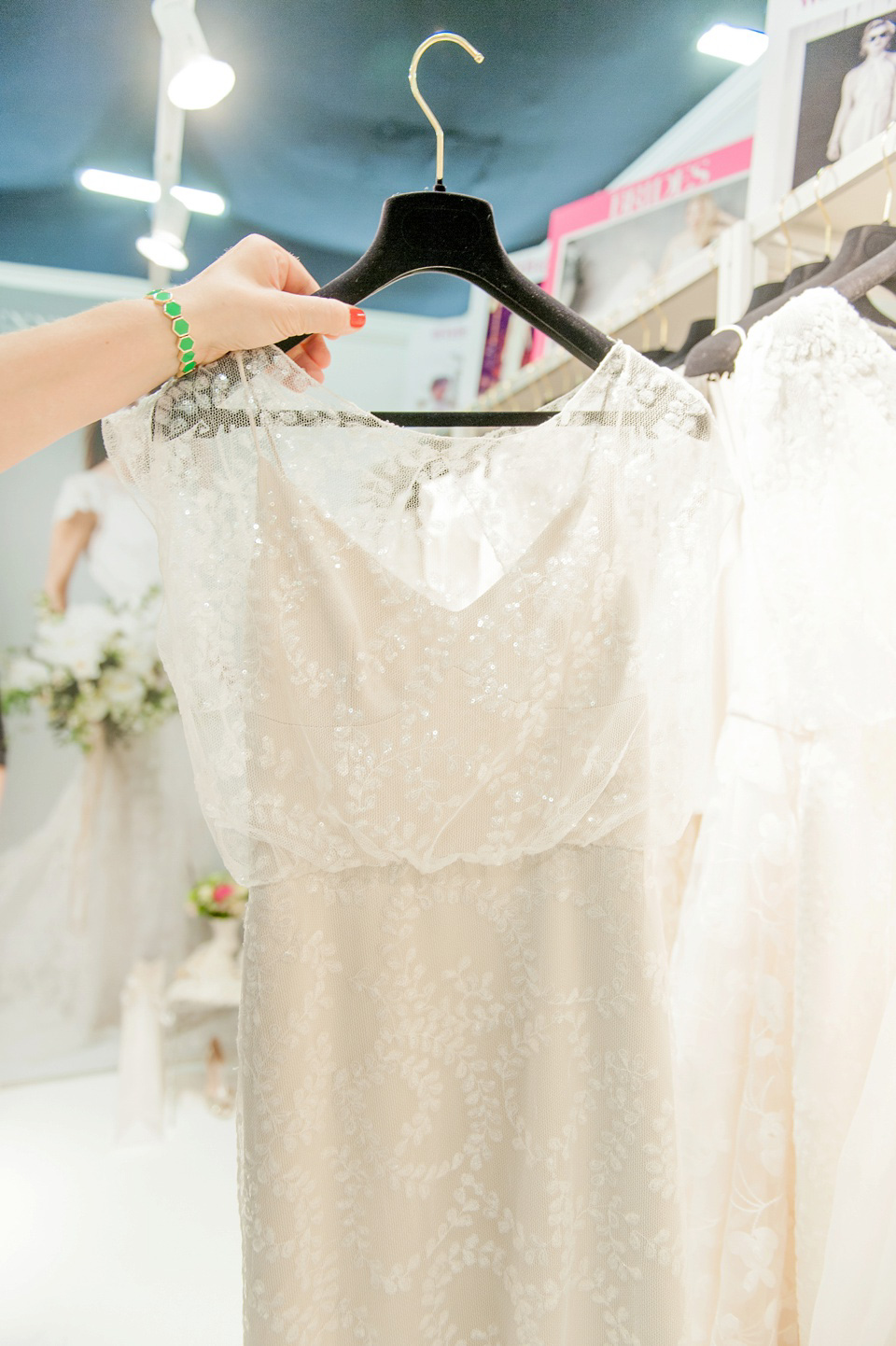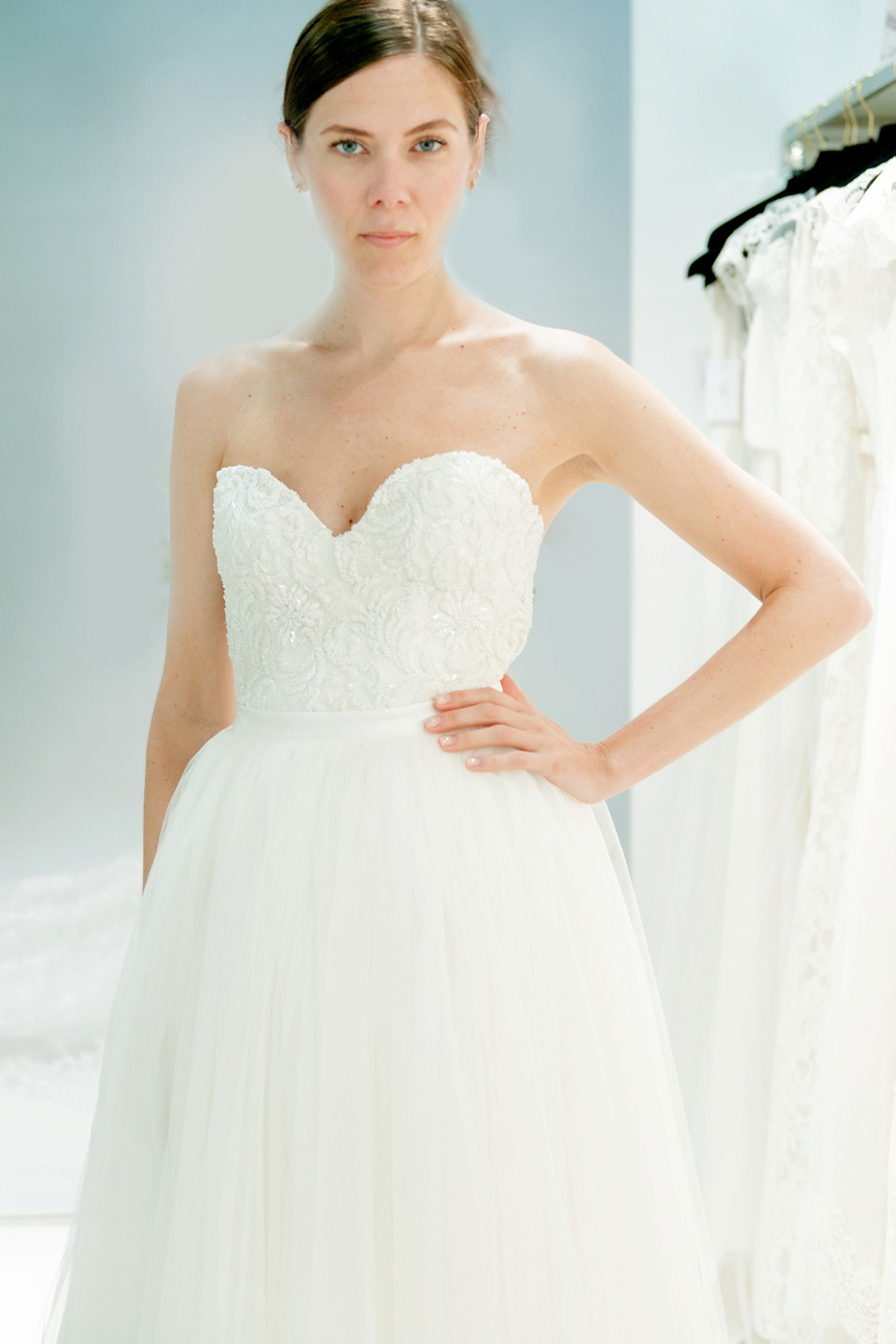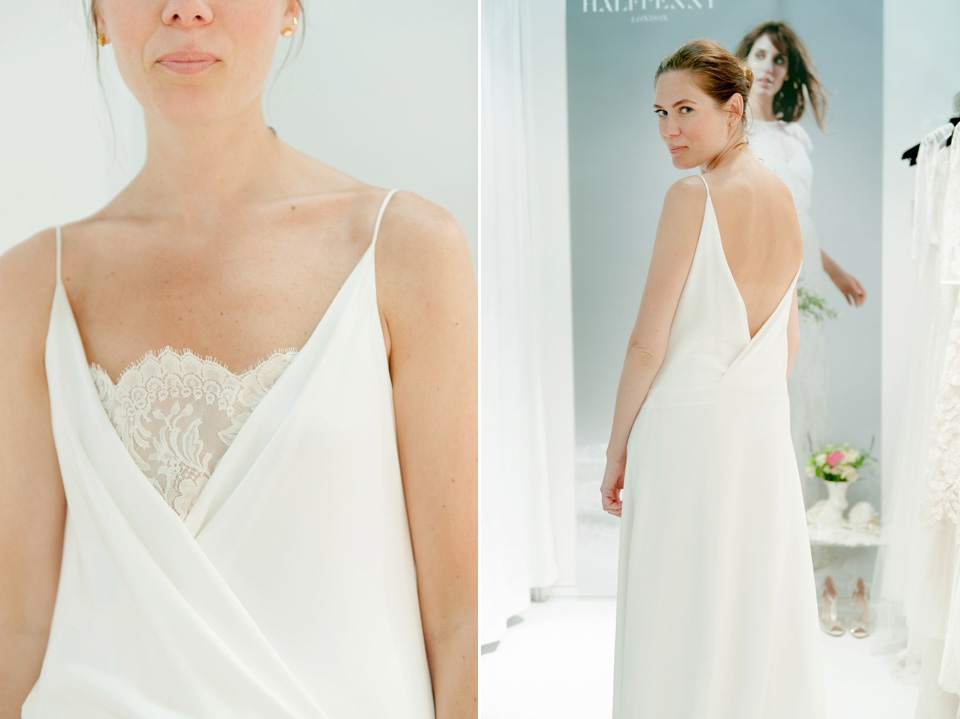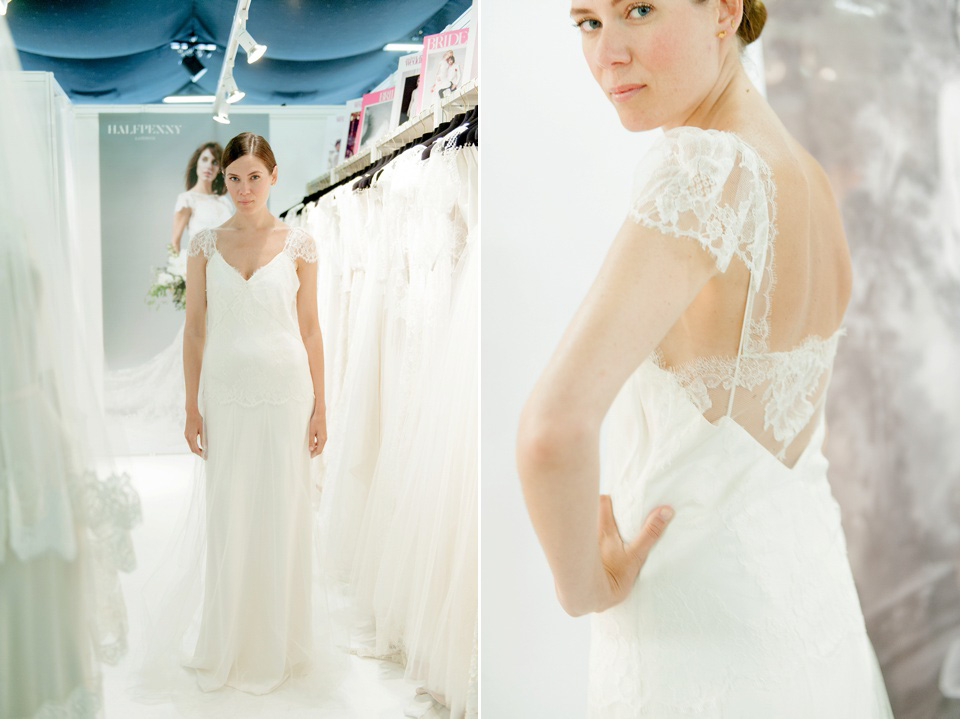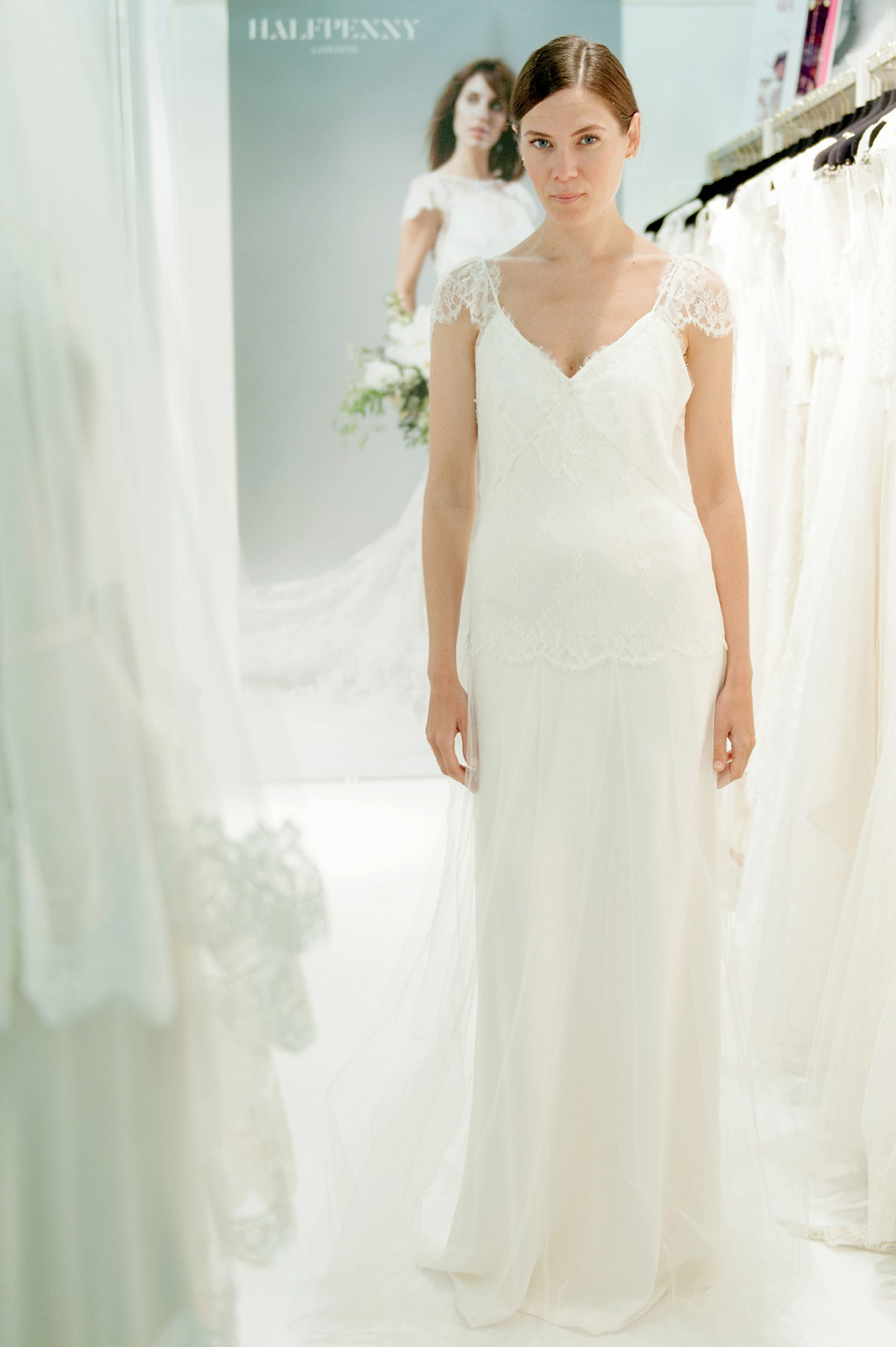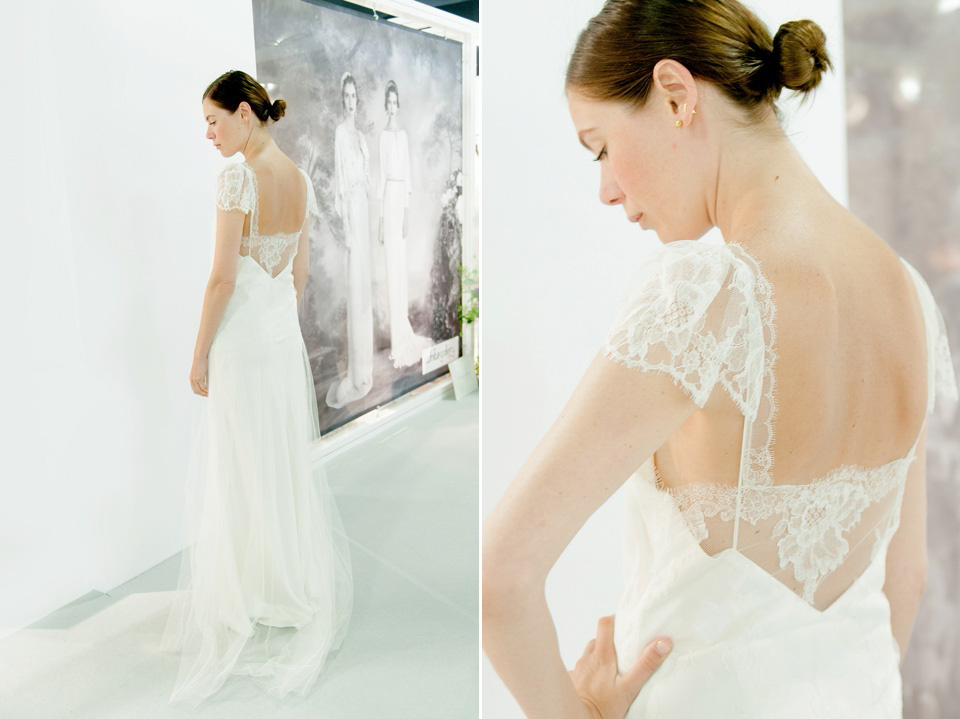 It's all about the detail – look at these hand embroidered embellishments!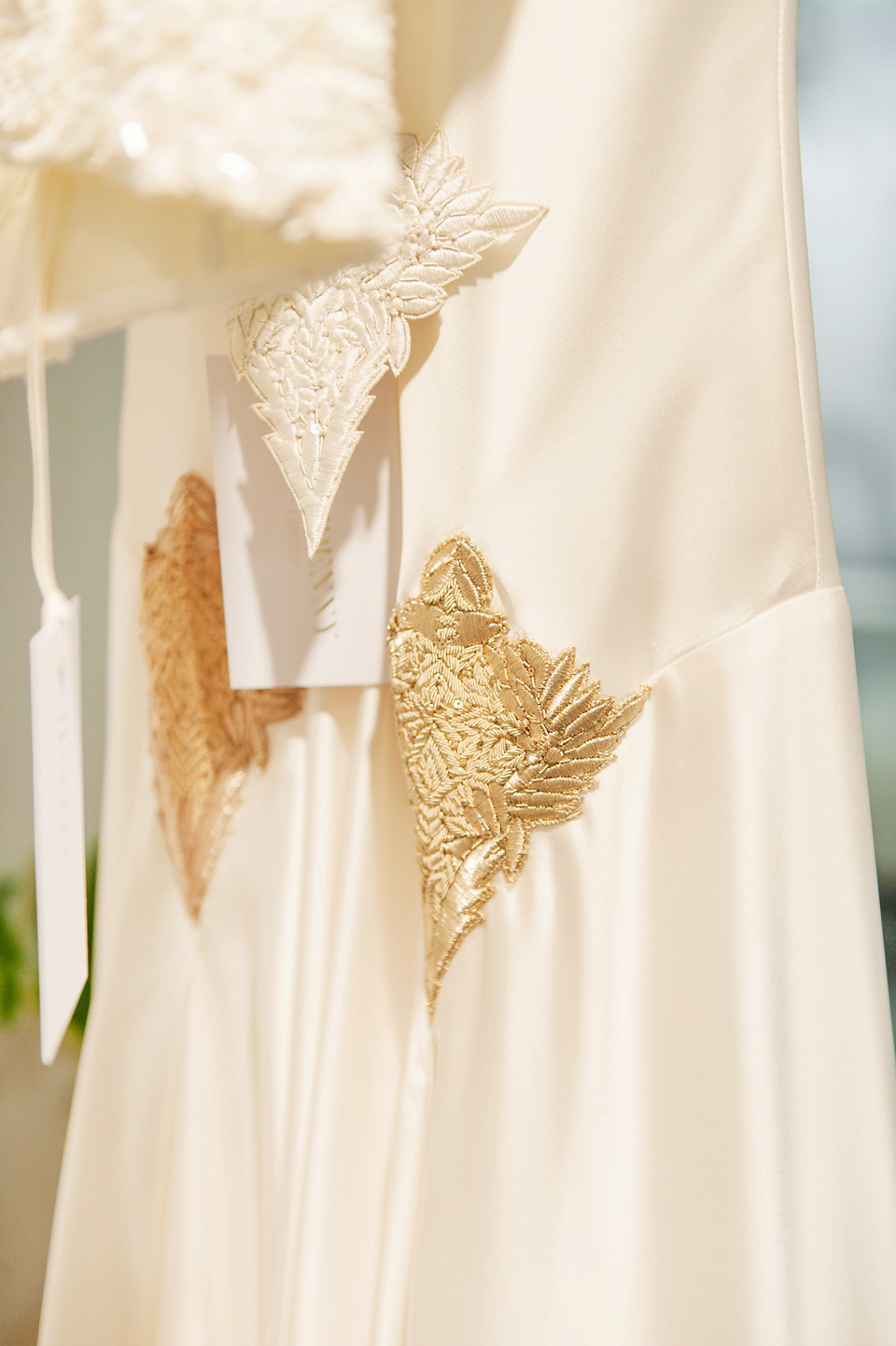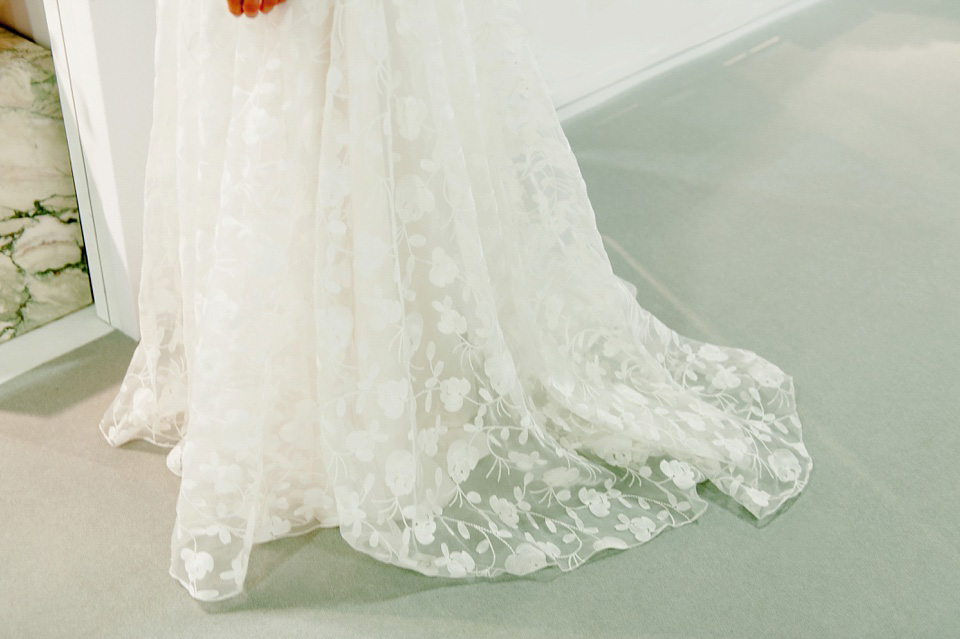 Kate has been leading the way with bridal separates for sometime now. I simply adore her skirts but especially these beautiful new lasercut designs…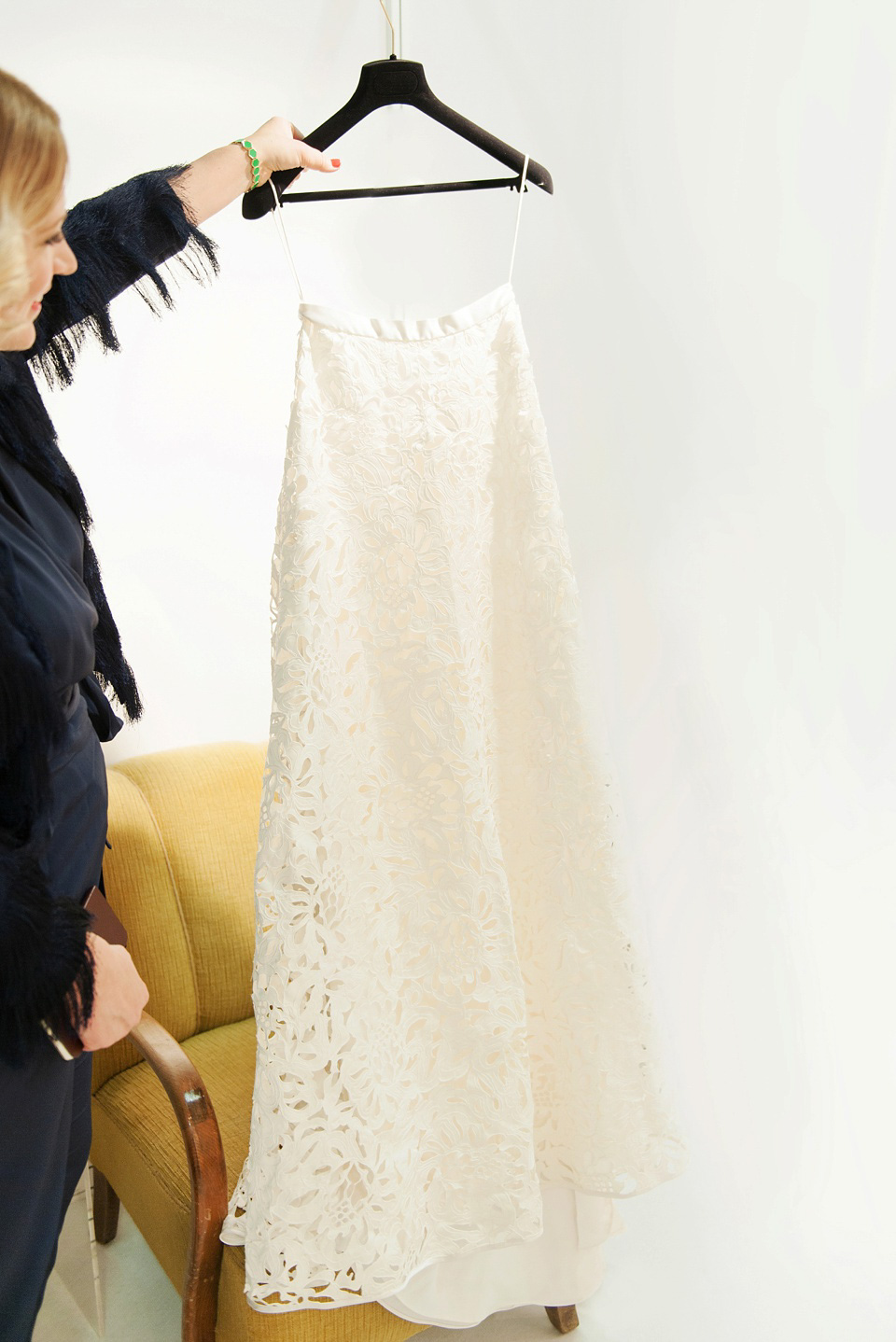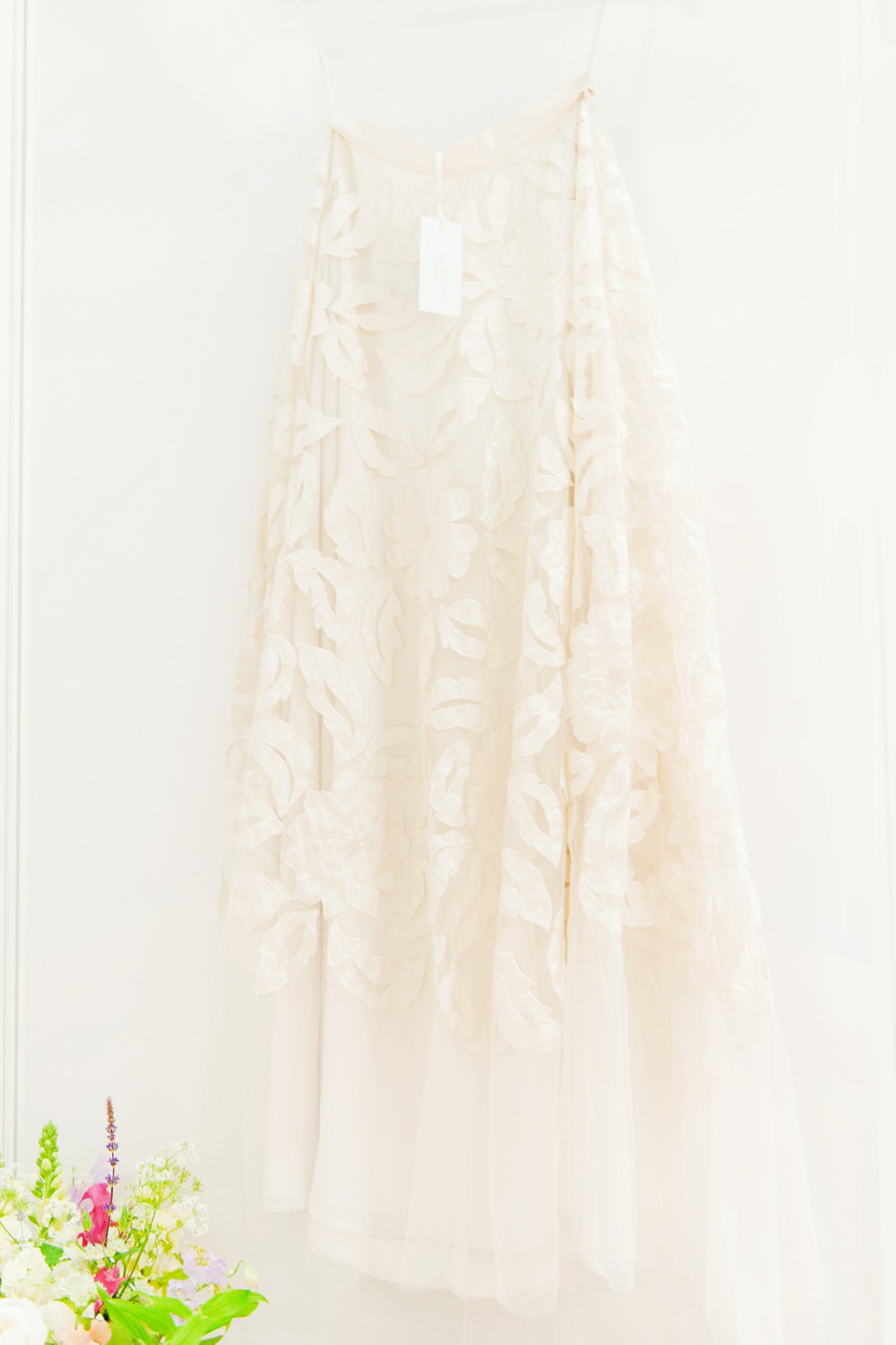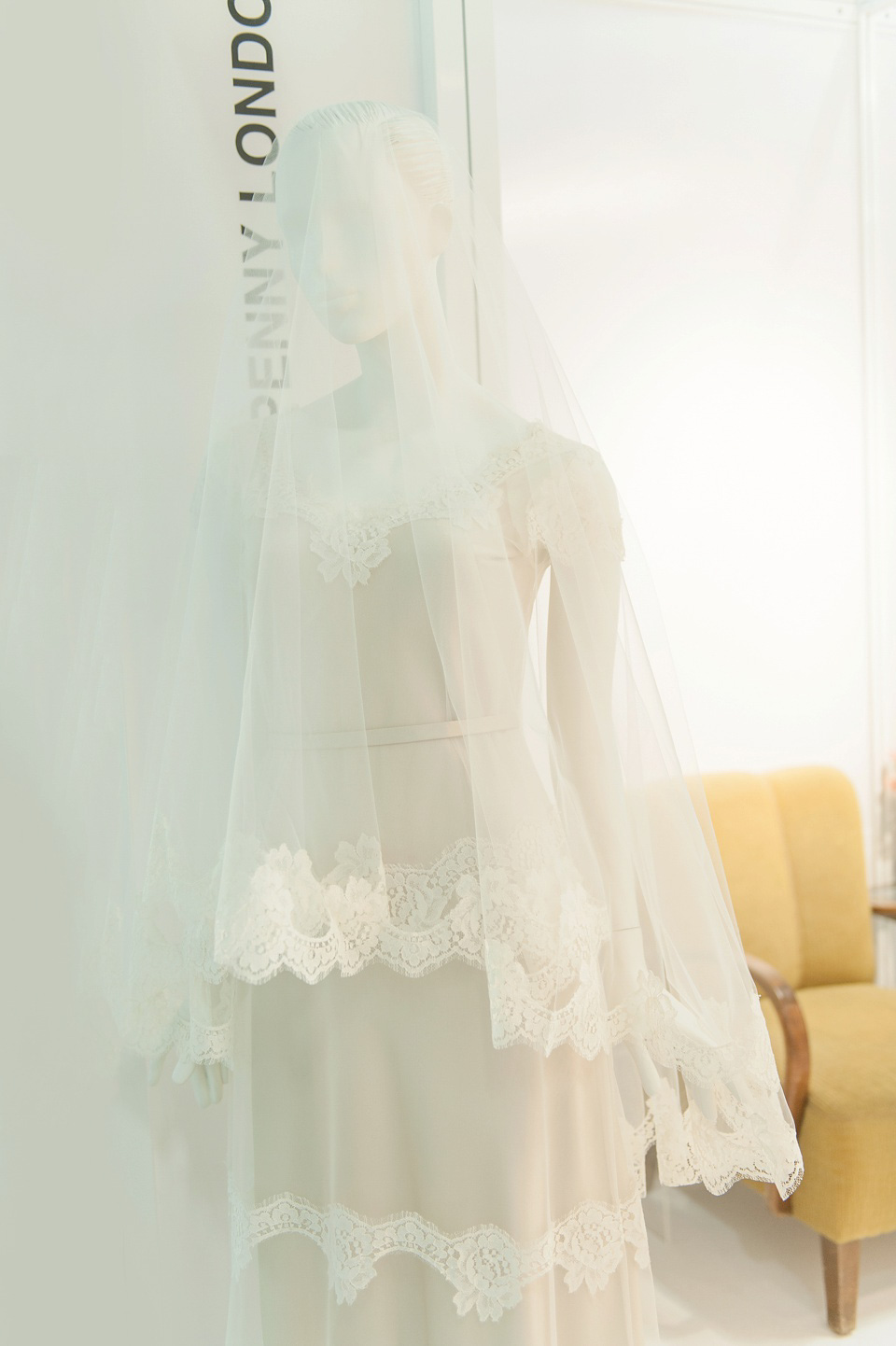 Emmy Scarterfield of Emmy Shoes was manning her stand with all the usual grace and finesse that I've become used to. Her shoes need little introduction but let me just say, they are the finest, most beautiful luxury wedding shoes you ever will see.
I cannot rave about this brand enough.  And I do realise that for many brides, these shoes could be quite expensive, but as a good friend of mine once said, 'you do not need a single 'wedding' product to get married. You need a registrar and a registry office and two witnesses.  Any other cost you should actually enjoy adding.  Be pleased to part with some hard earned cash for a celebration!'
Life is too short ladies.  Buy the shoes!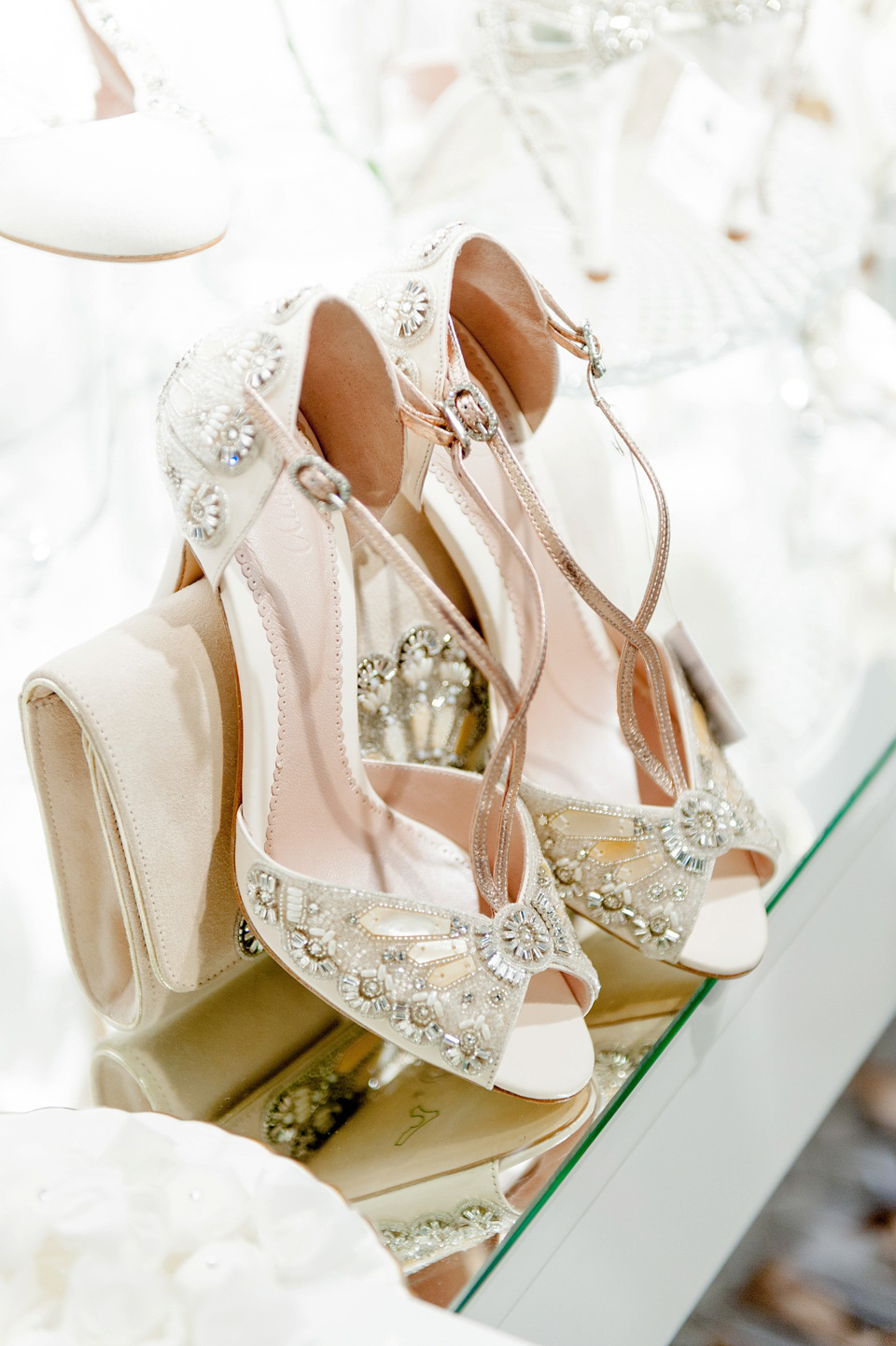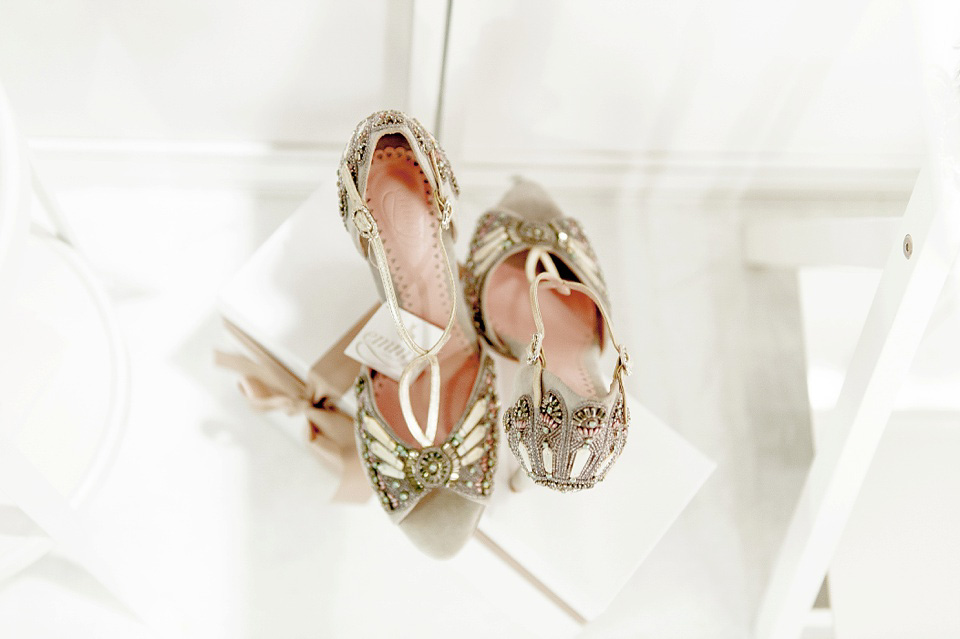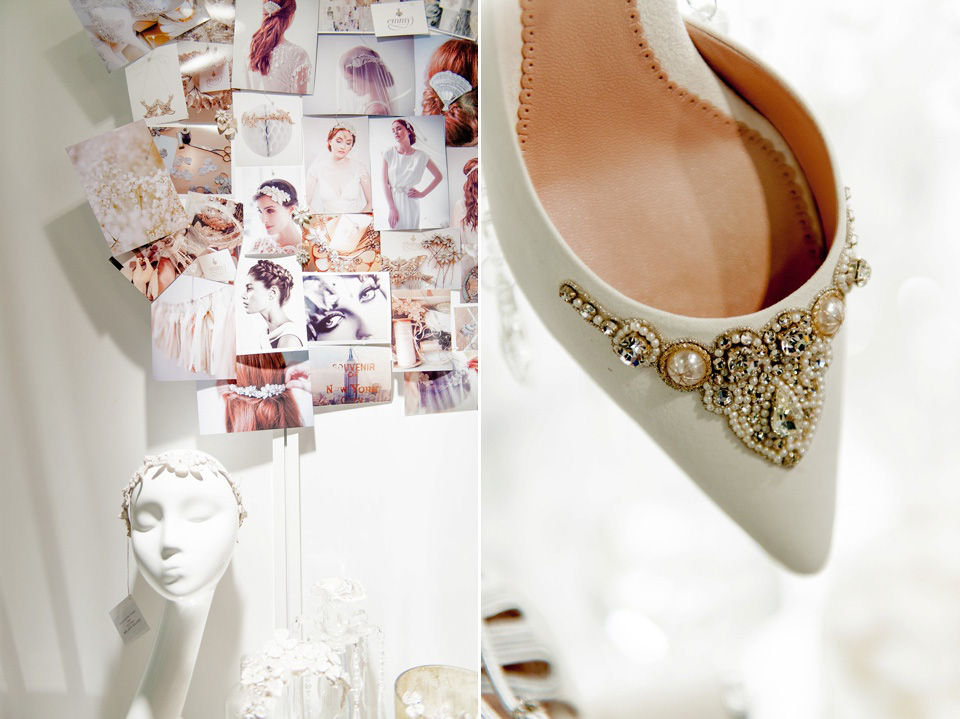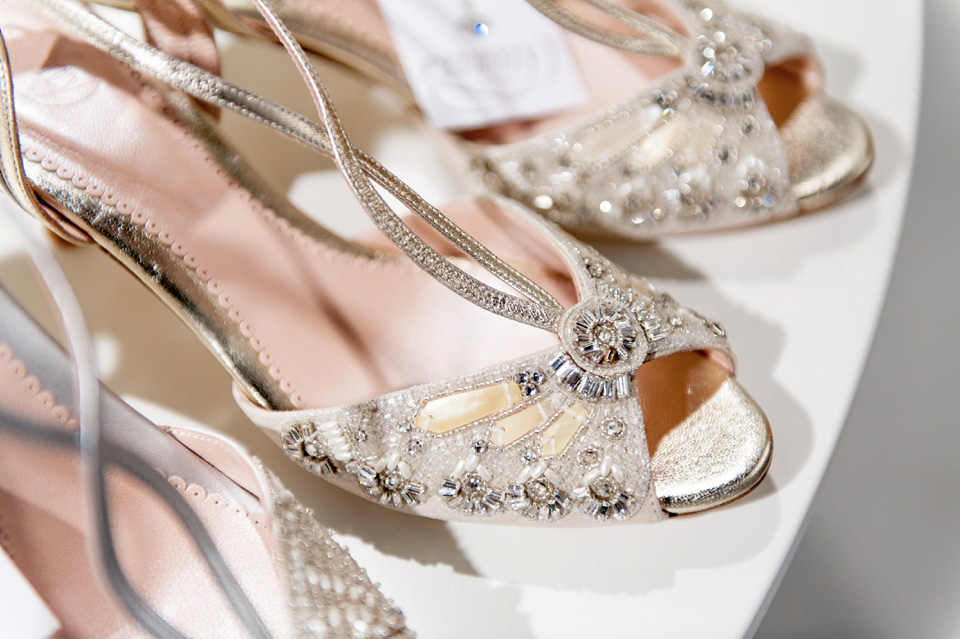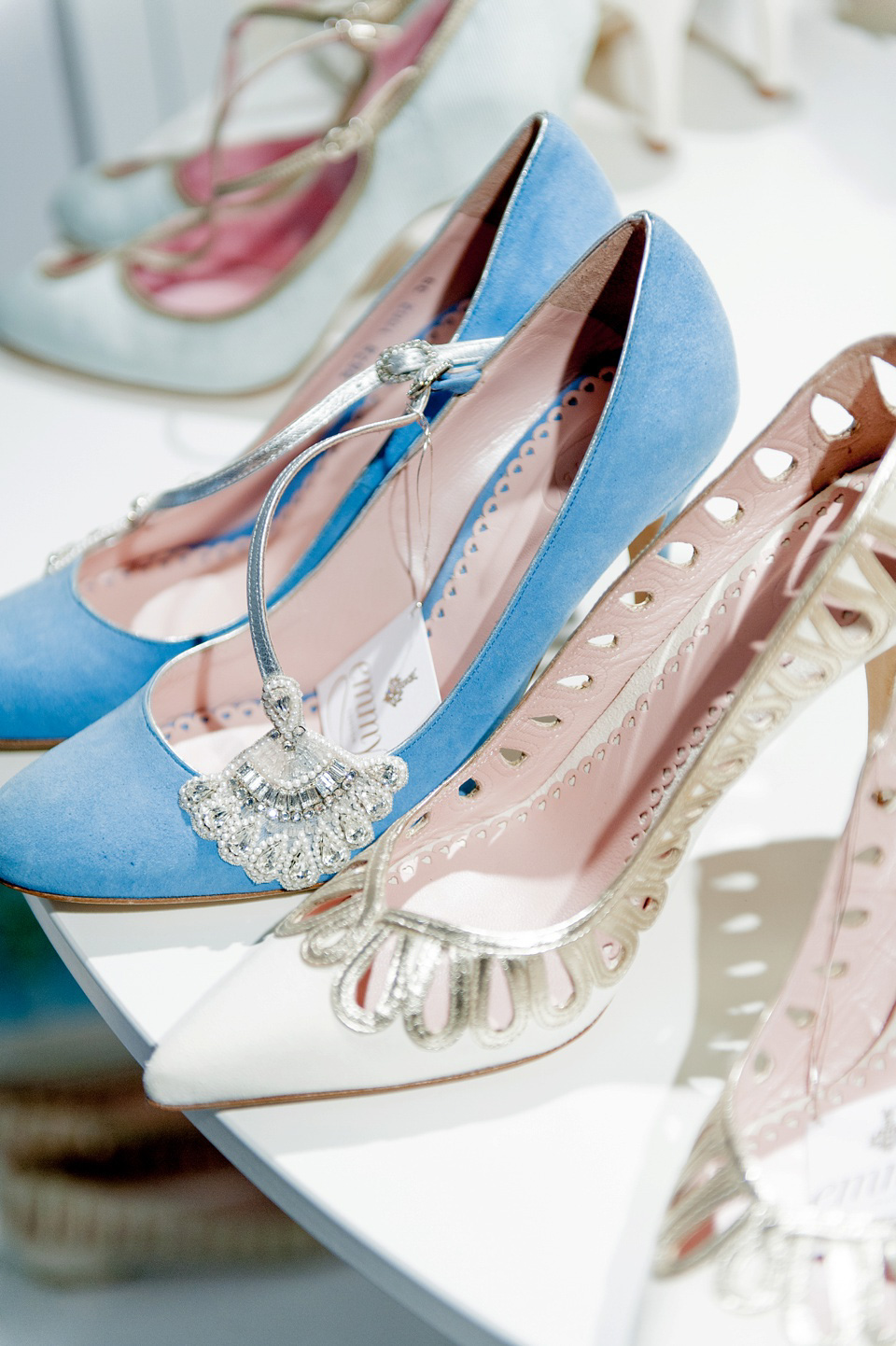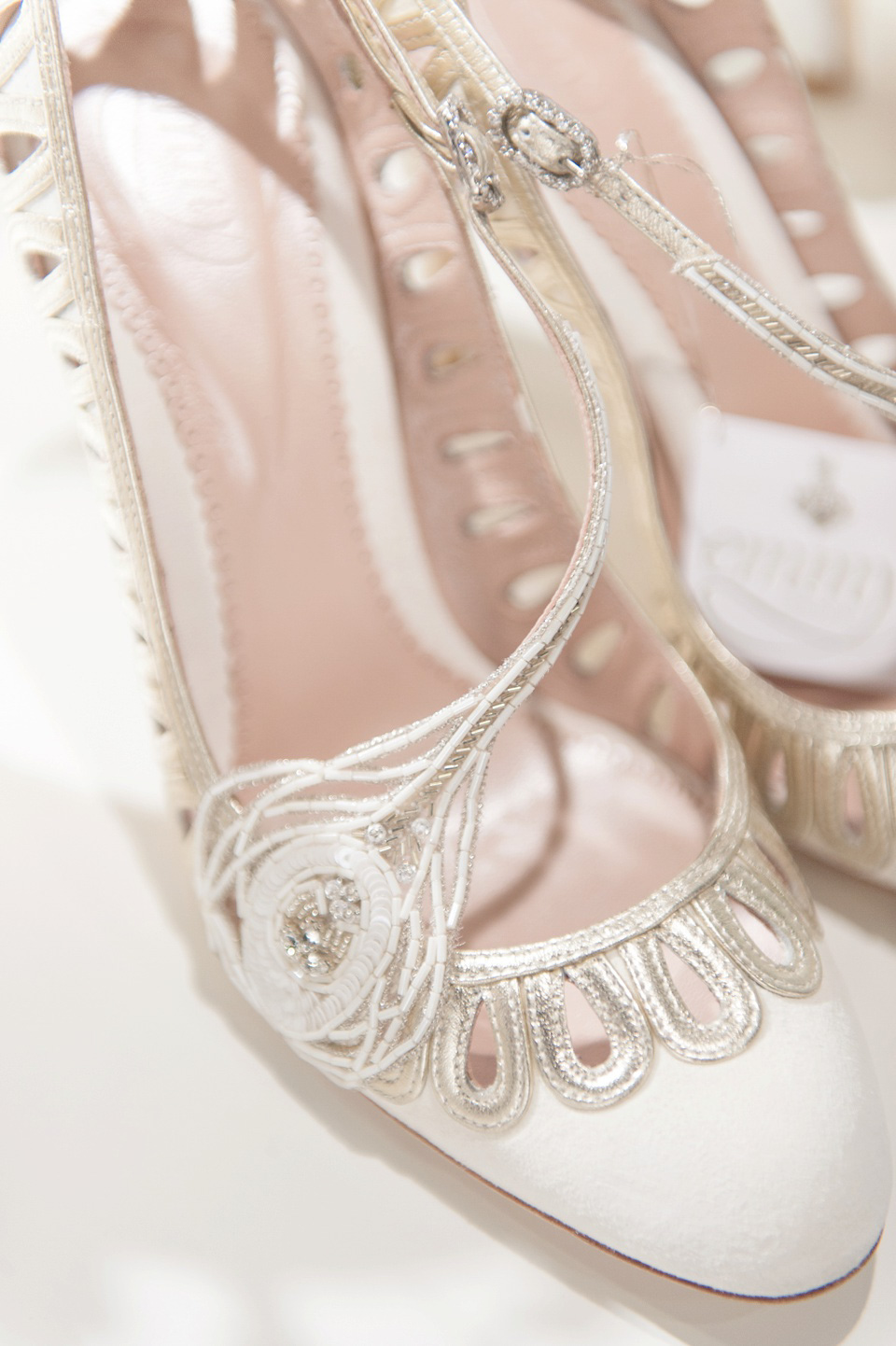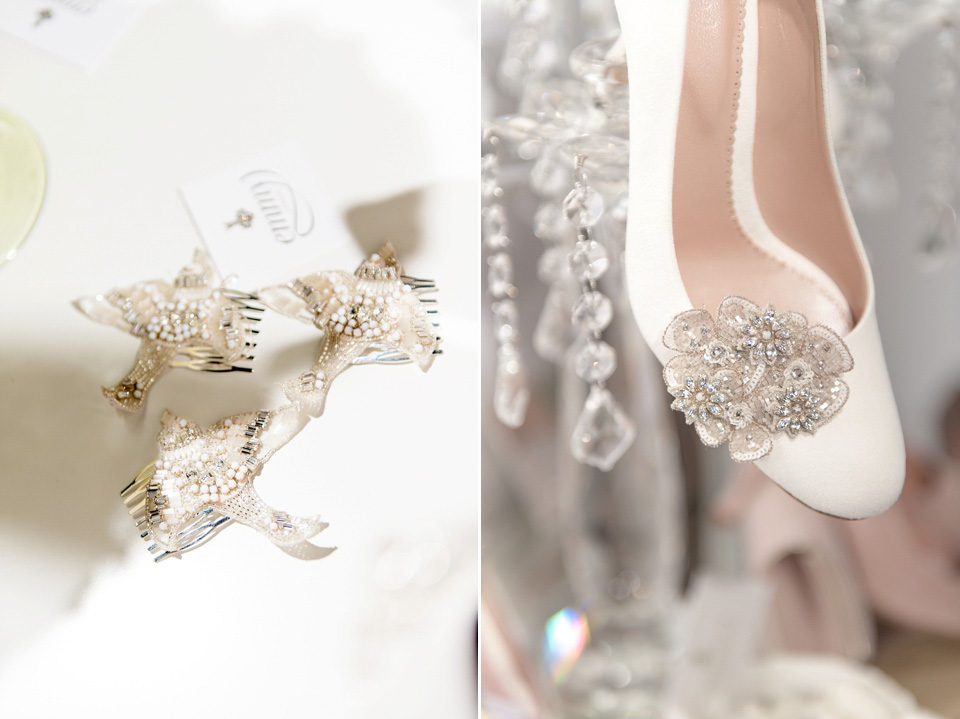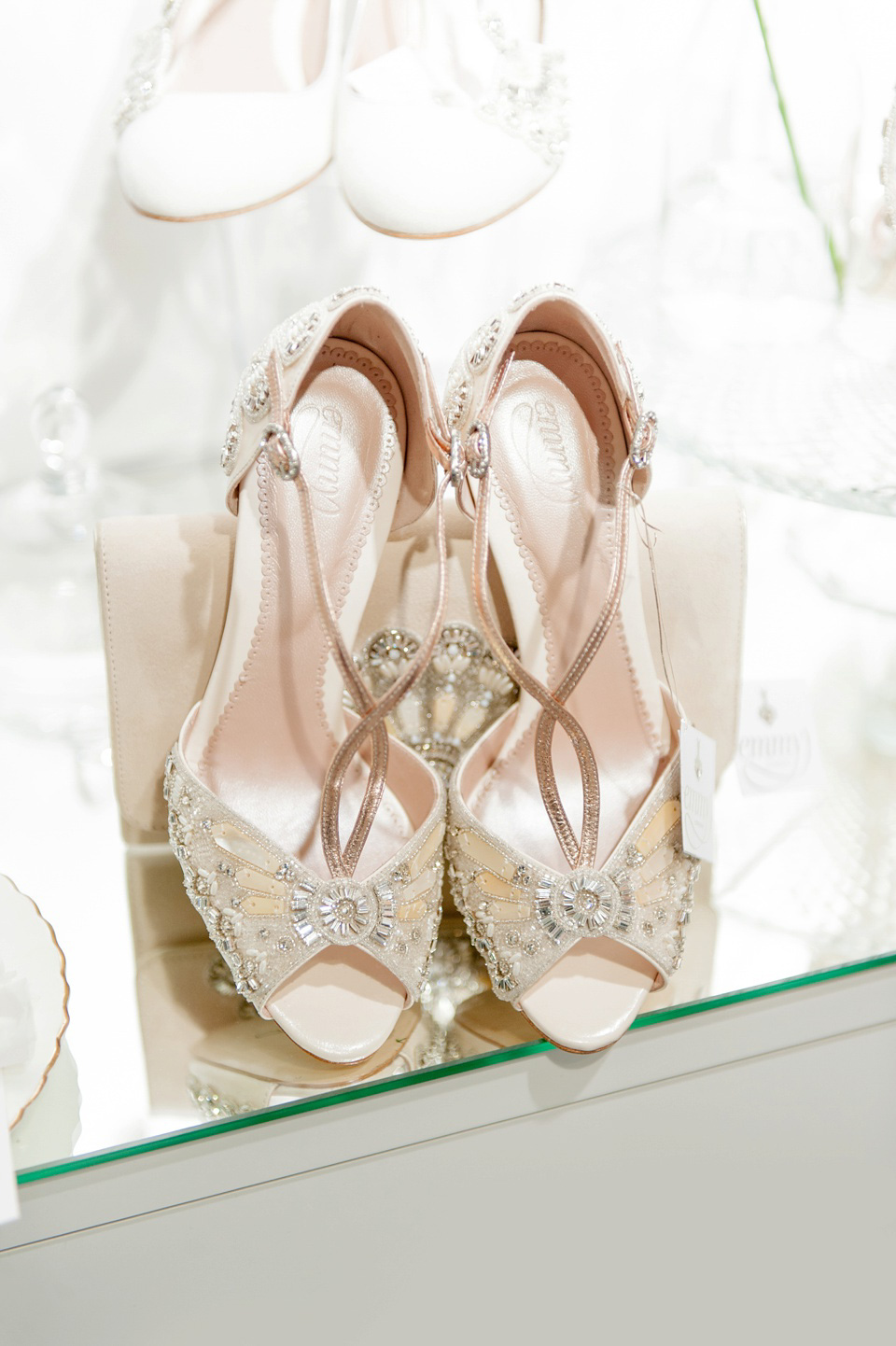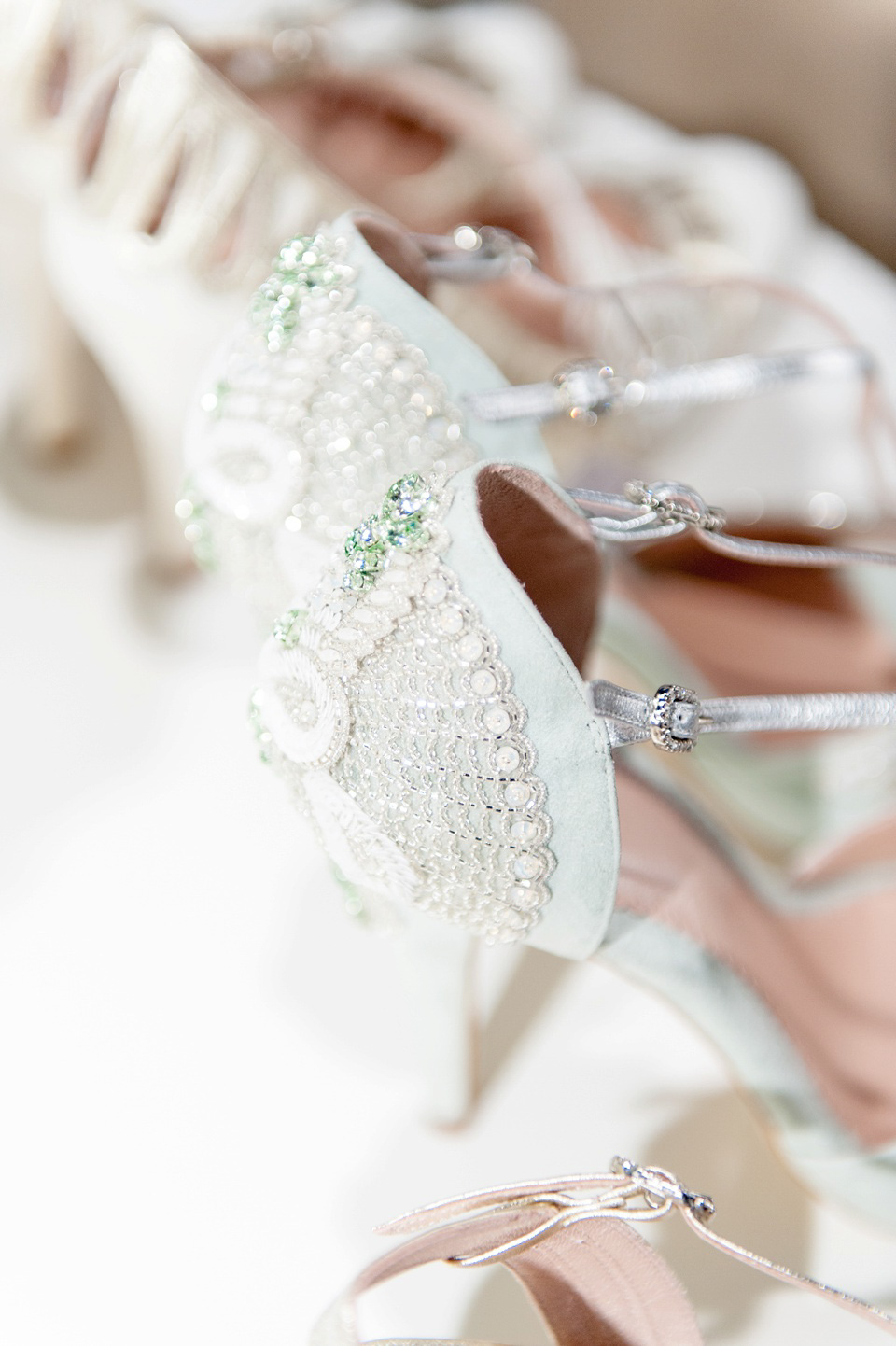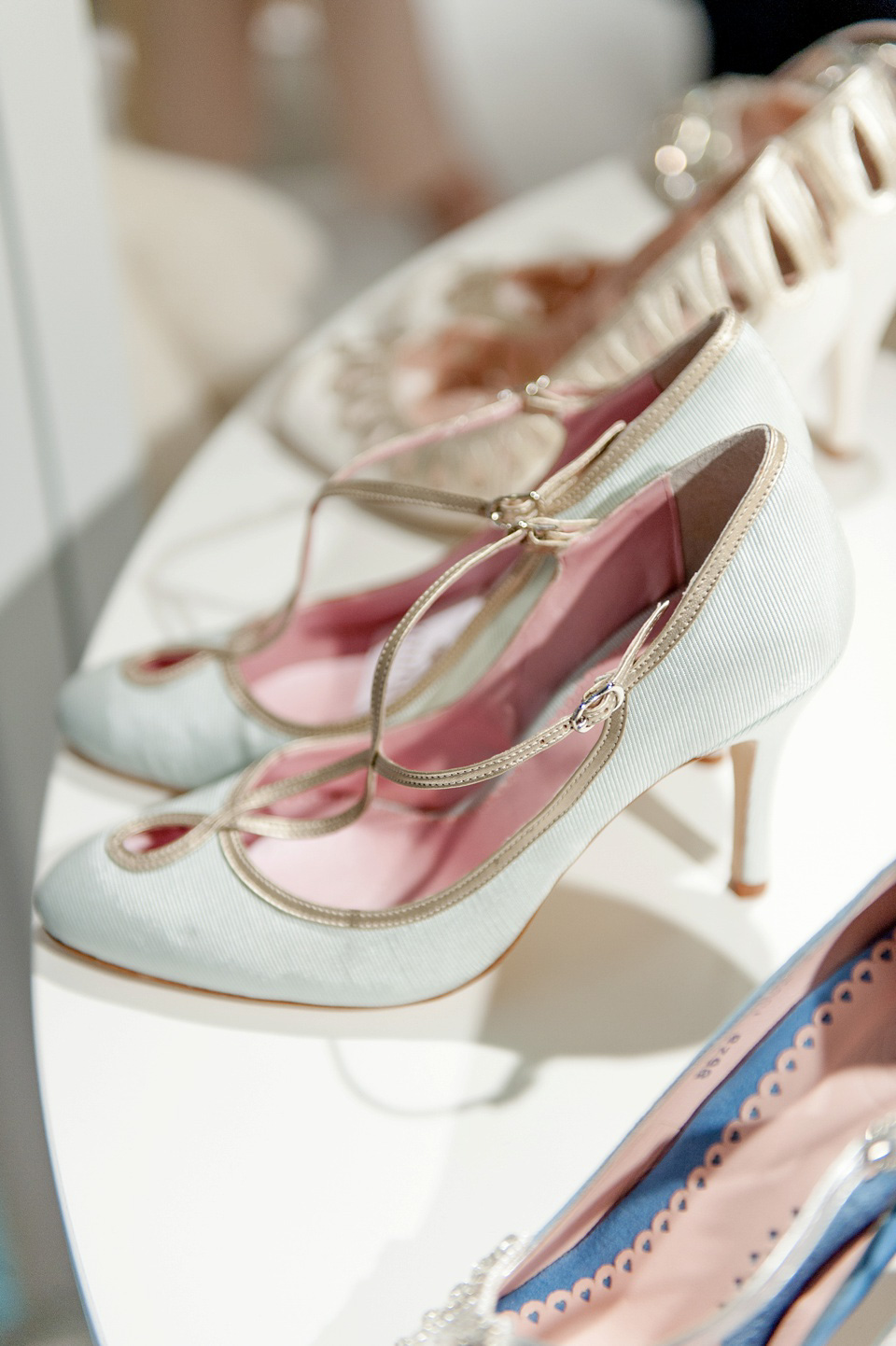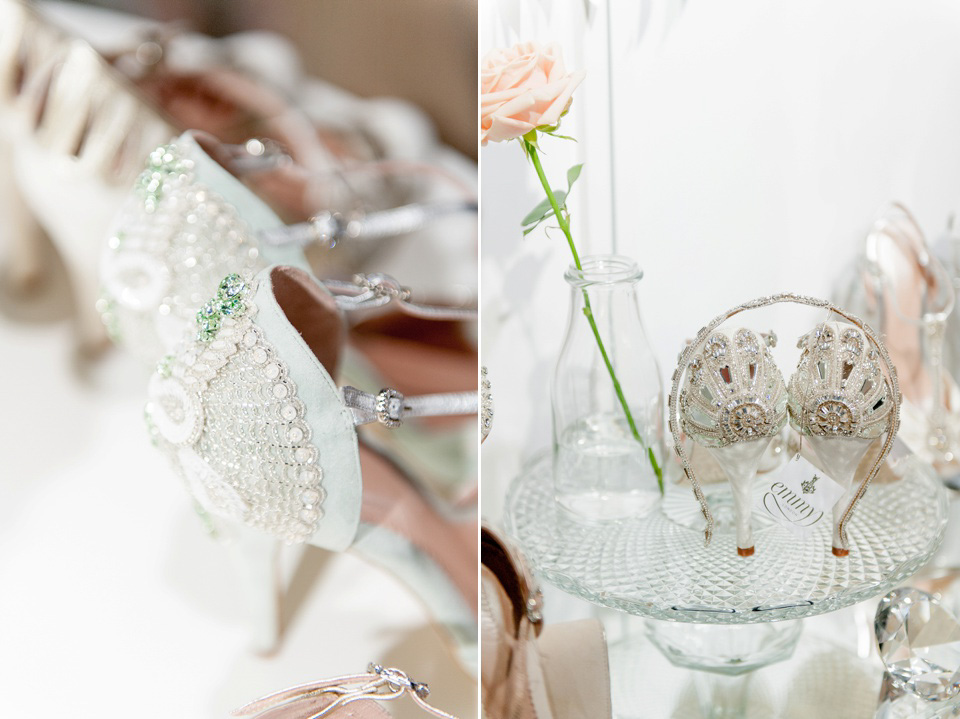 Emmy also creates a line in the most beautiful luxury baby shoes. Just look at these!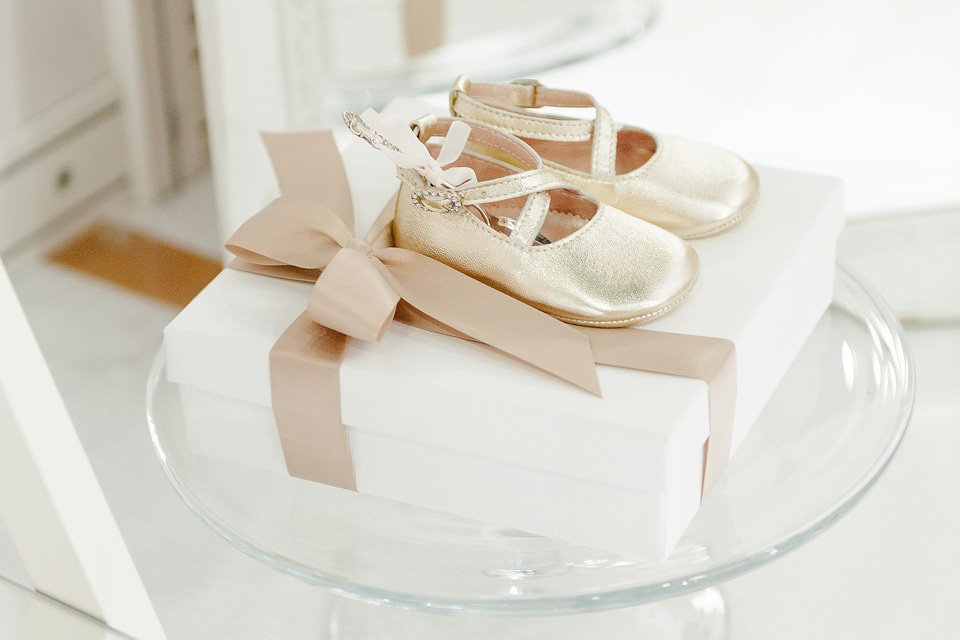 A most exquisite range of hair accessories and jewellery is also available at Emmy Shoes...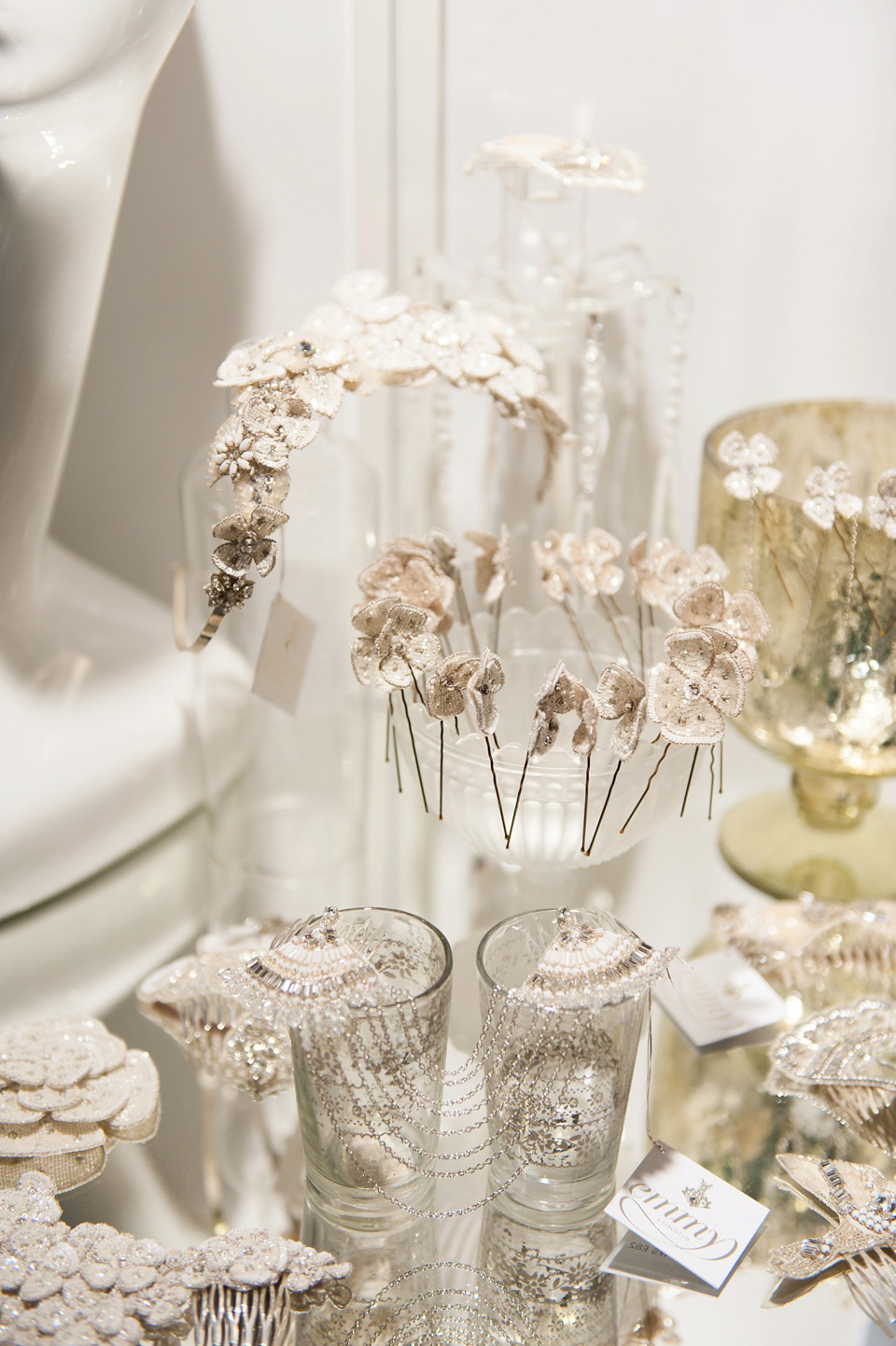 We're proud to recently have taken on Lyn Ashworth by Sarah Barrett as sponsor of Love My Dress – and so it was an enormous pleasure to get to meet, albeit far too briefly, this lovely design team.
Our admin all-star Lyndsey adores these dresses and thinks that these images are some of the best promotional images for bridal fashion she has ever seen.  'The  model is smiling and you can see all that beautiful, beautiful movement in the dresses!' she says.
She's not wrong, and having had the opportunity to now see these gowns up close for myself, I can tell you for a fact they are most exquisite.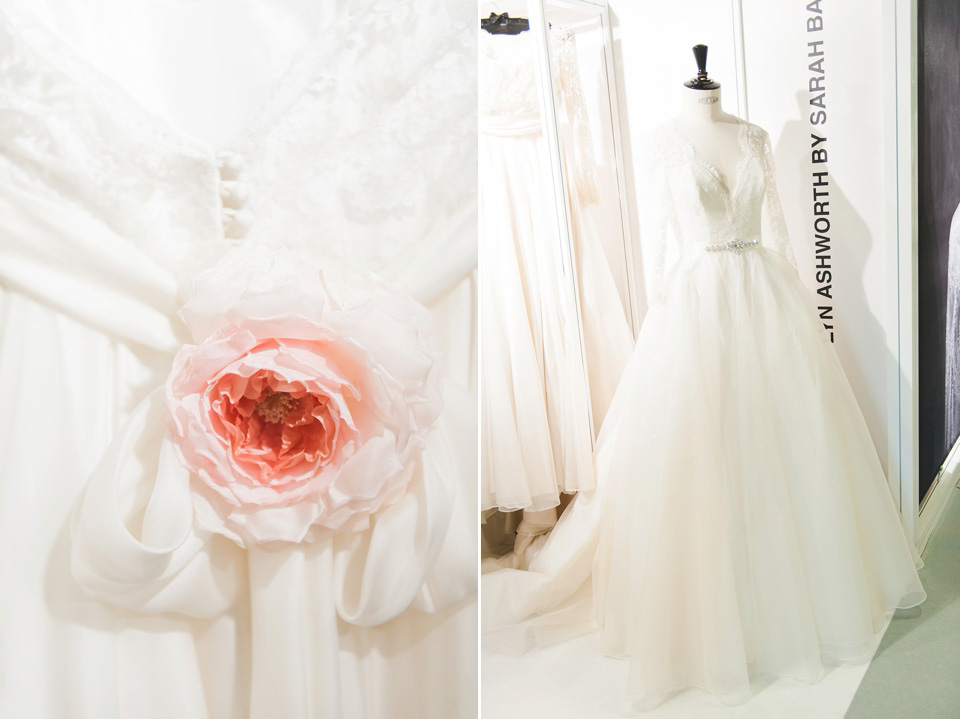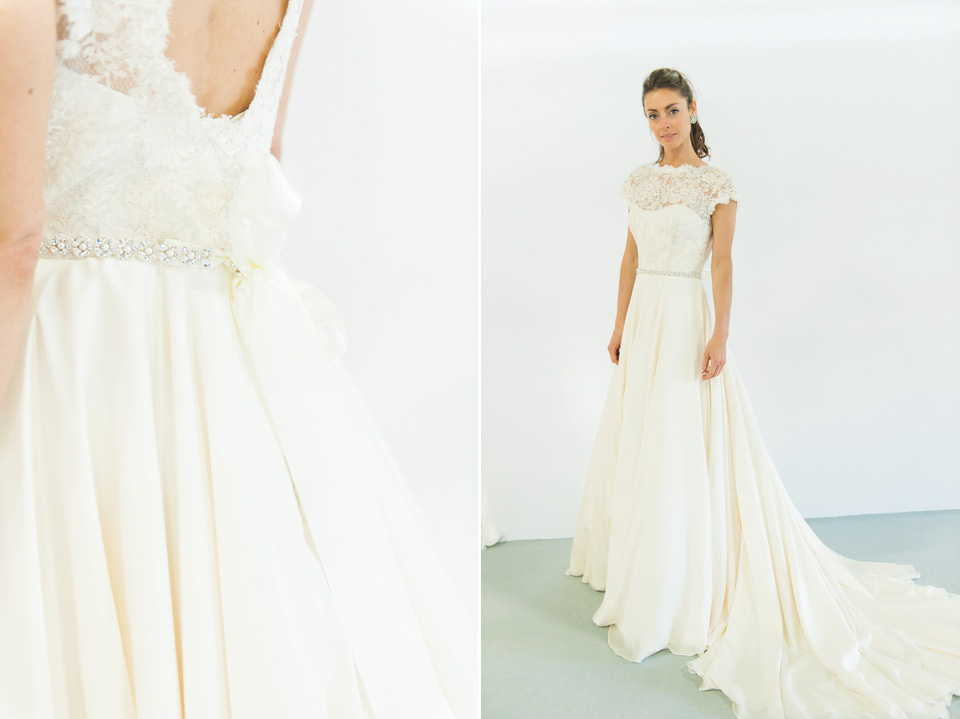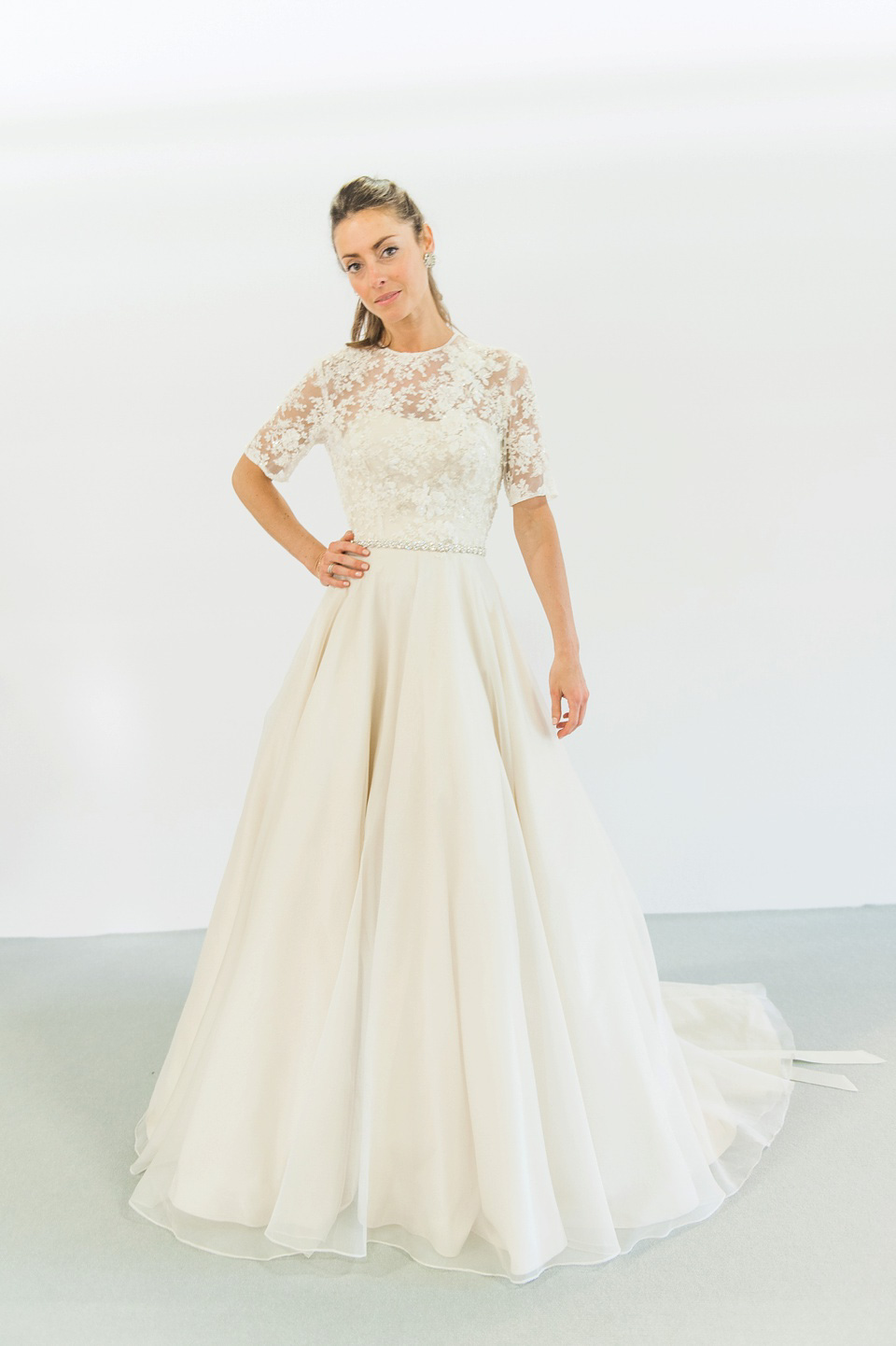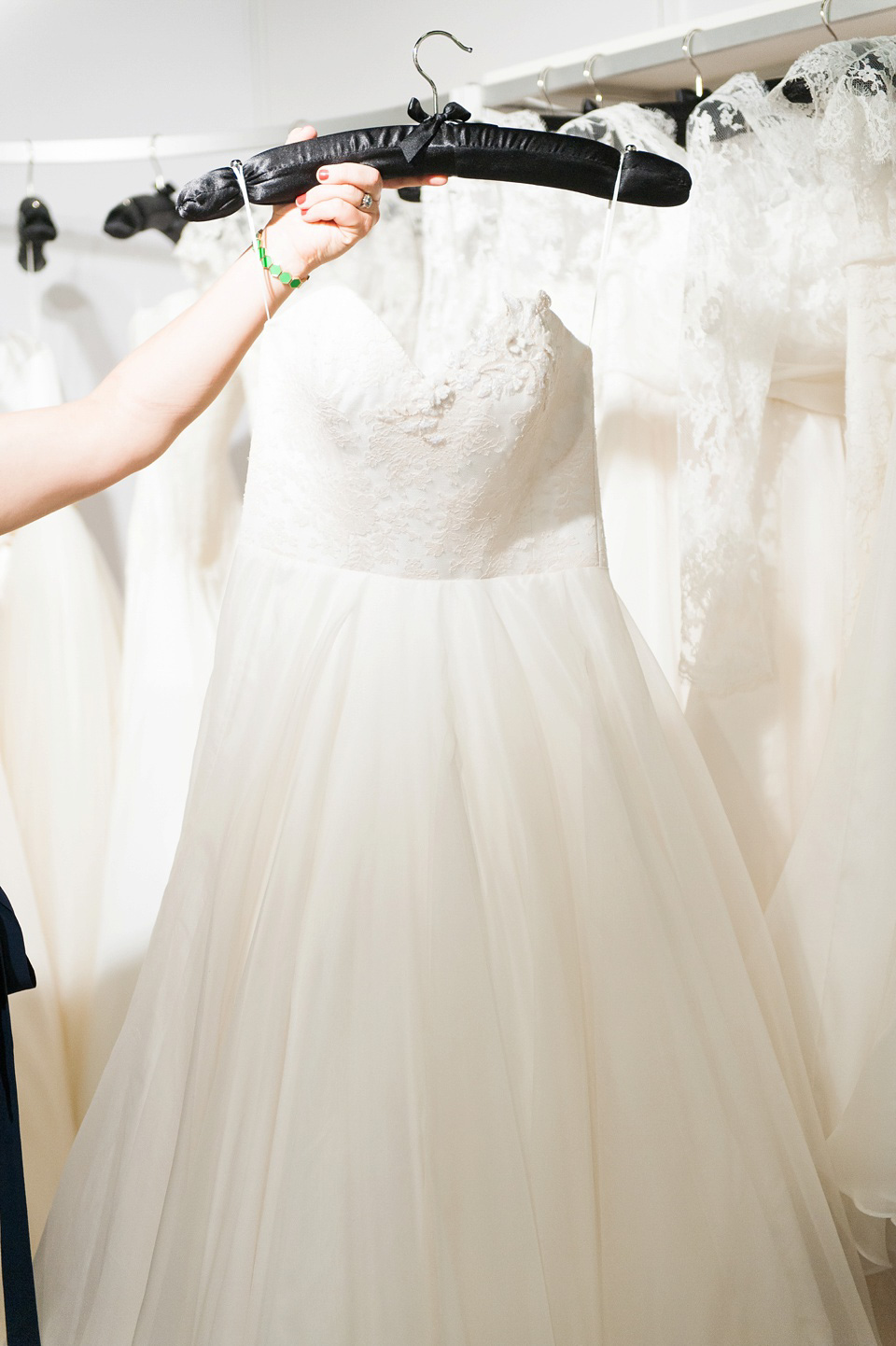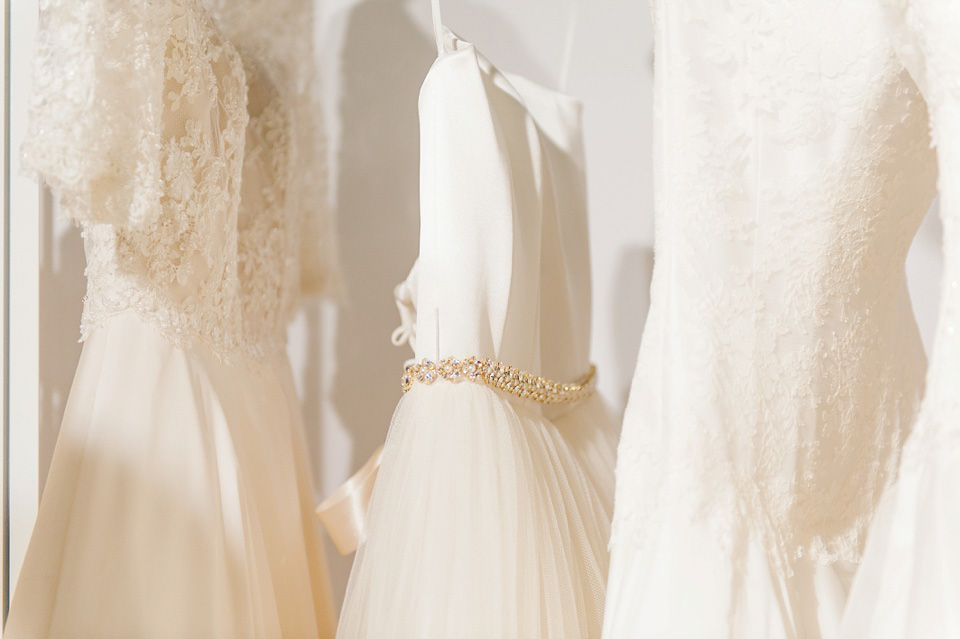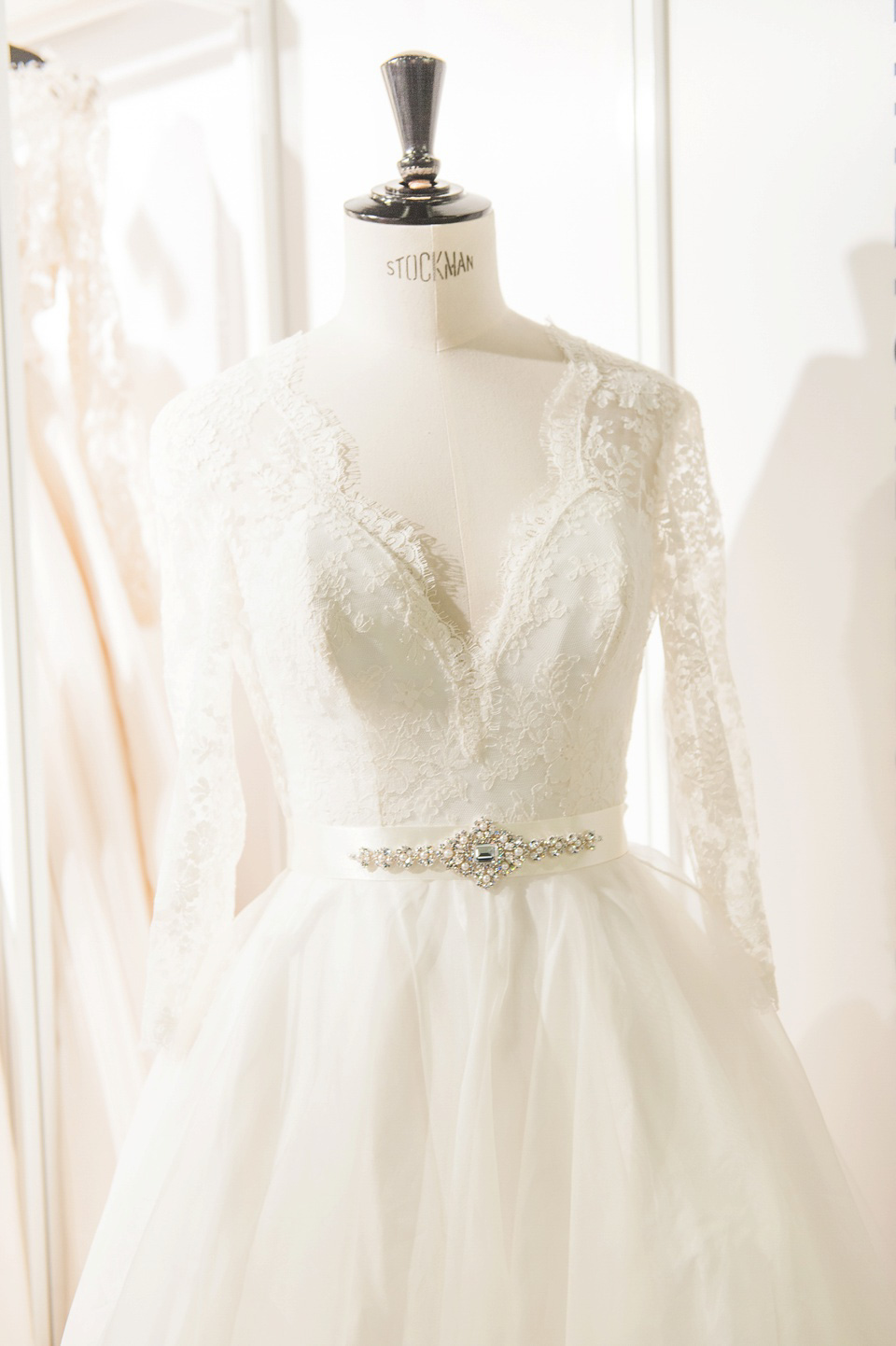 Designer Ruth Shaw, the lady behind the Harriet Wilde brand of wedding shoes was manning her stand. I have a huge soft spot for Ruth and her fabulous shoes.  She's just so very lovely, and I hugely admire the way she runs her business.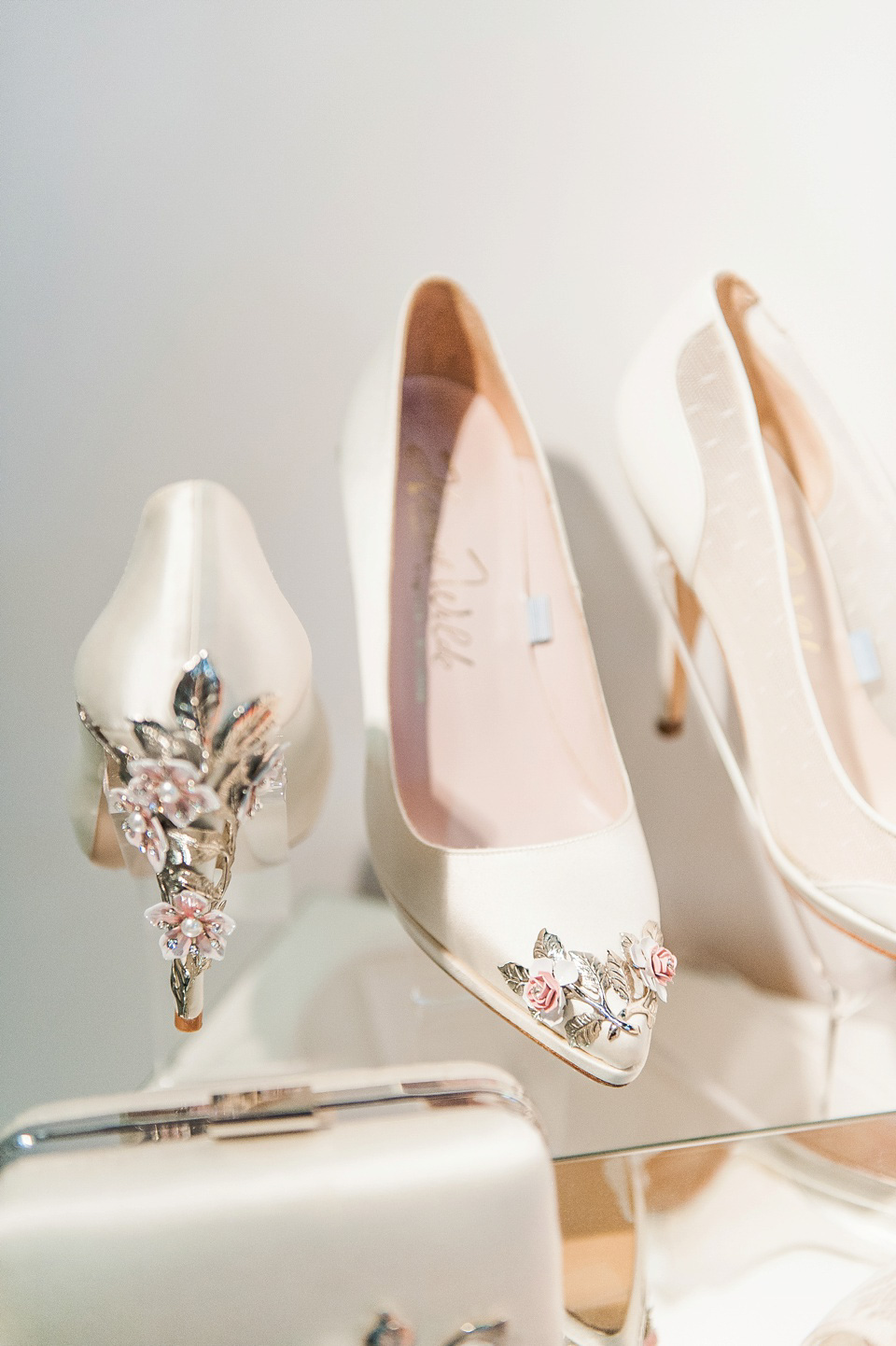 Over the past couple of years, the Harriet Wilde label has become synonymous with wow factor shoe embellishments as well as laser cut leather designs – both were on show at White Gallery this year with this particular pair of red heels causing more than a few jaws to drop in amazement.
I own a turquoise blue pair of these beautiful shoes. I'm saving for this killer pair….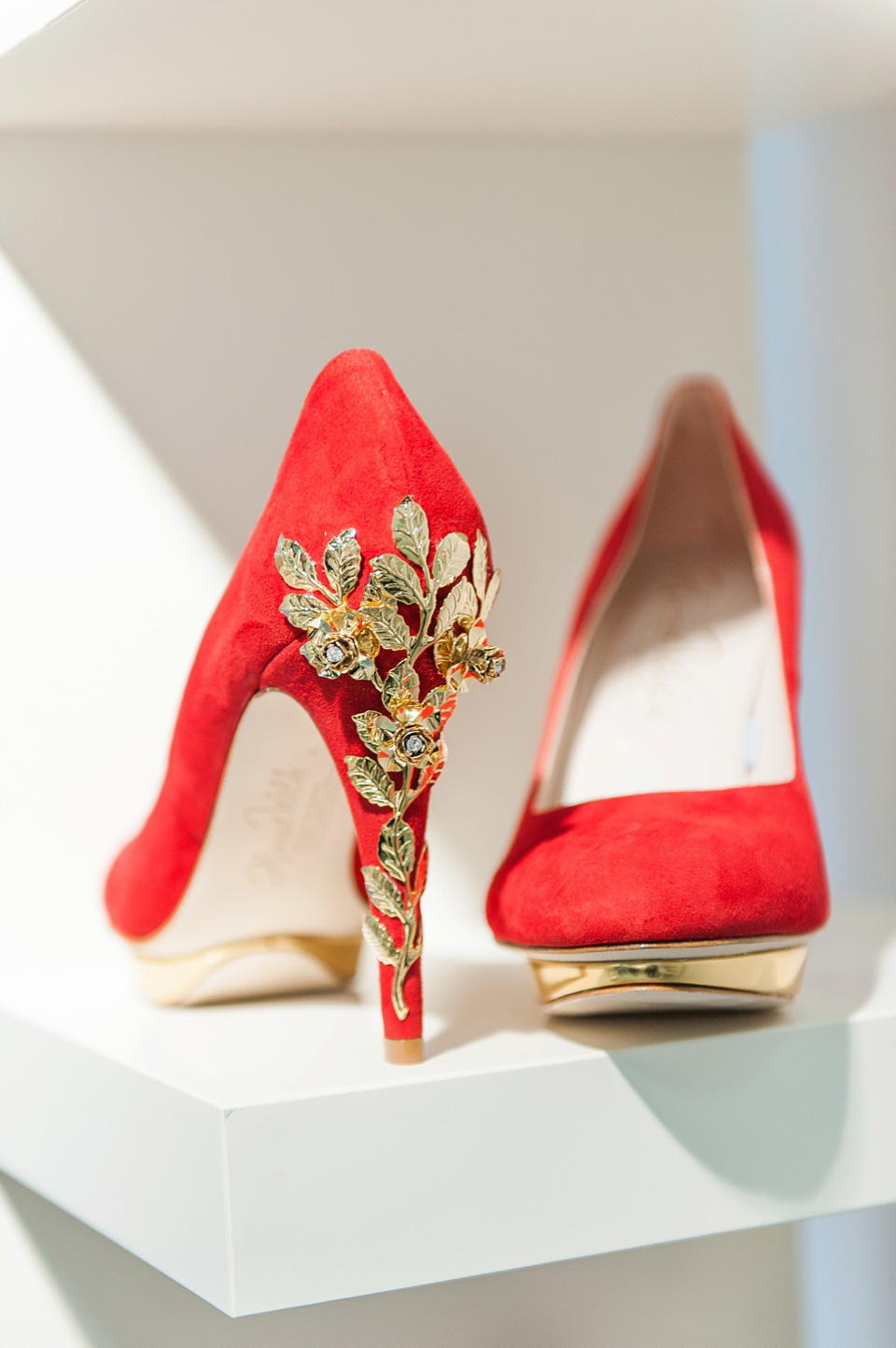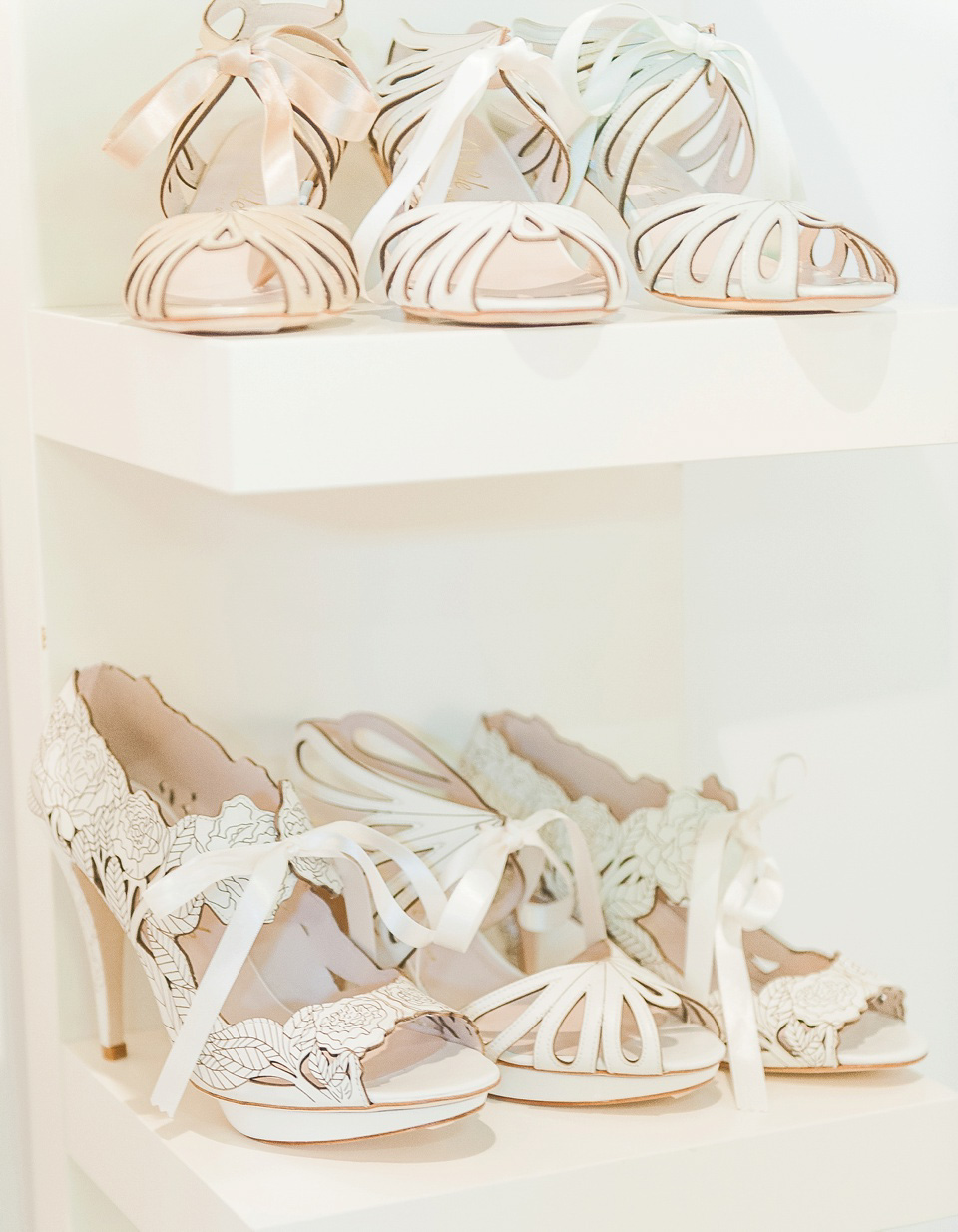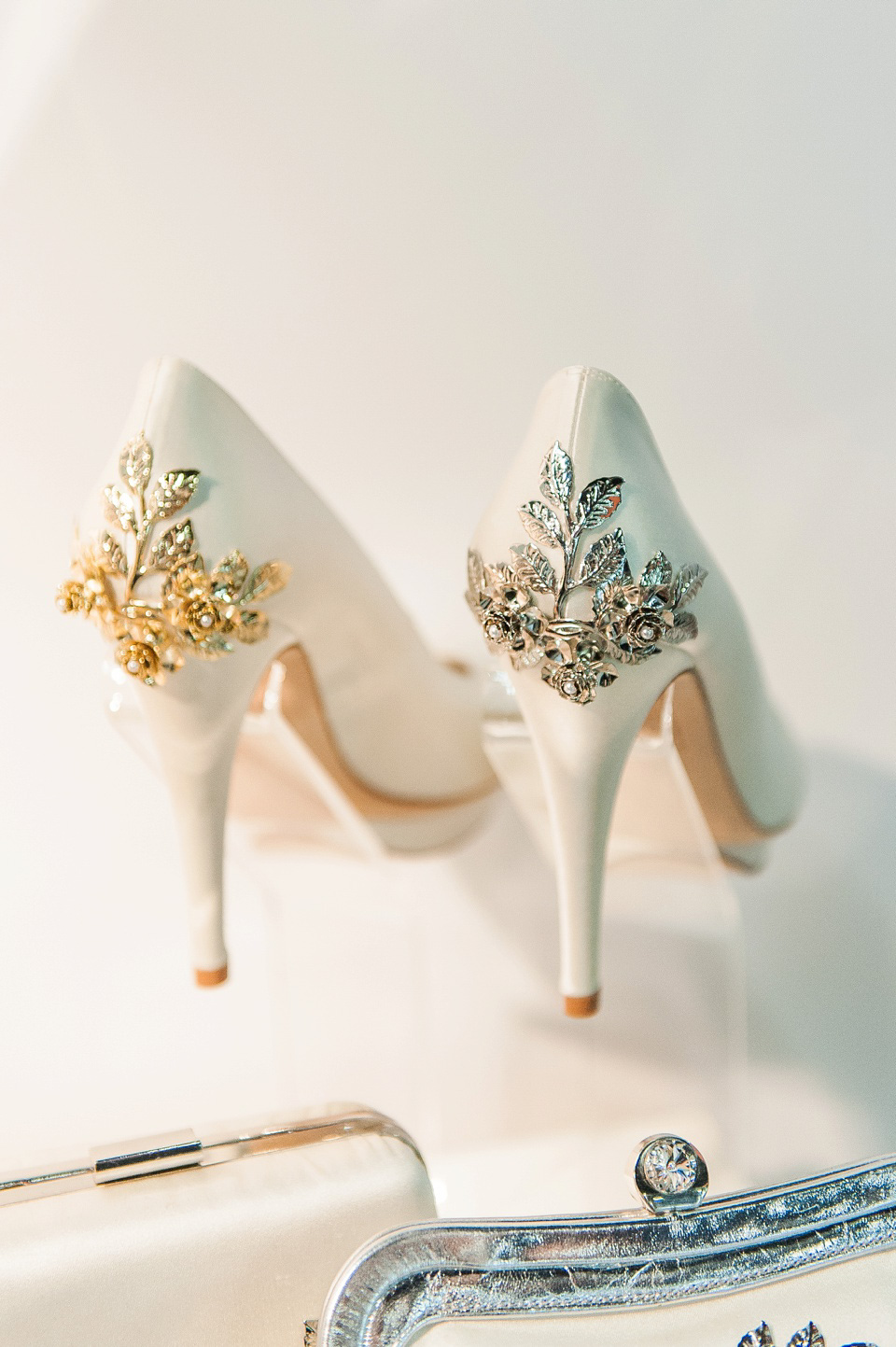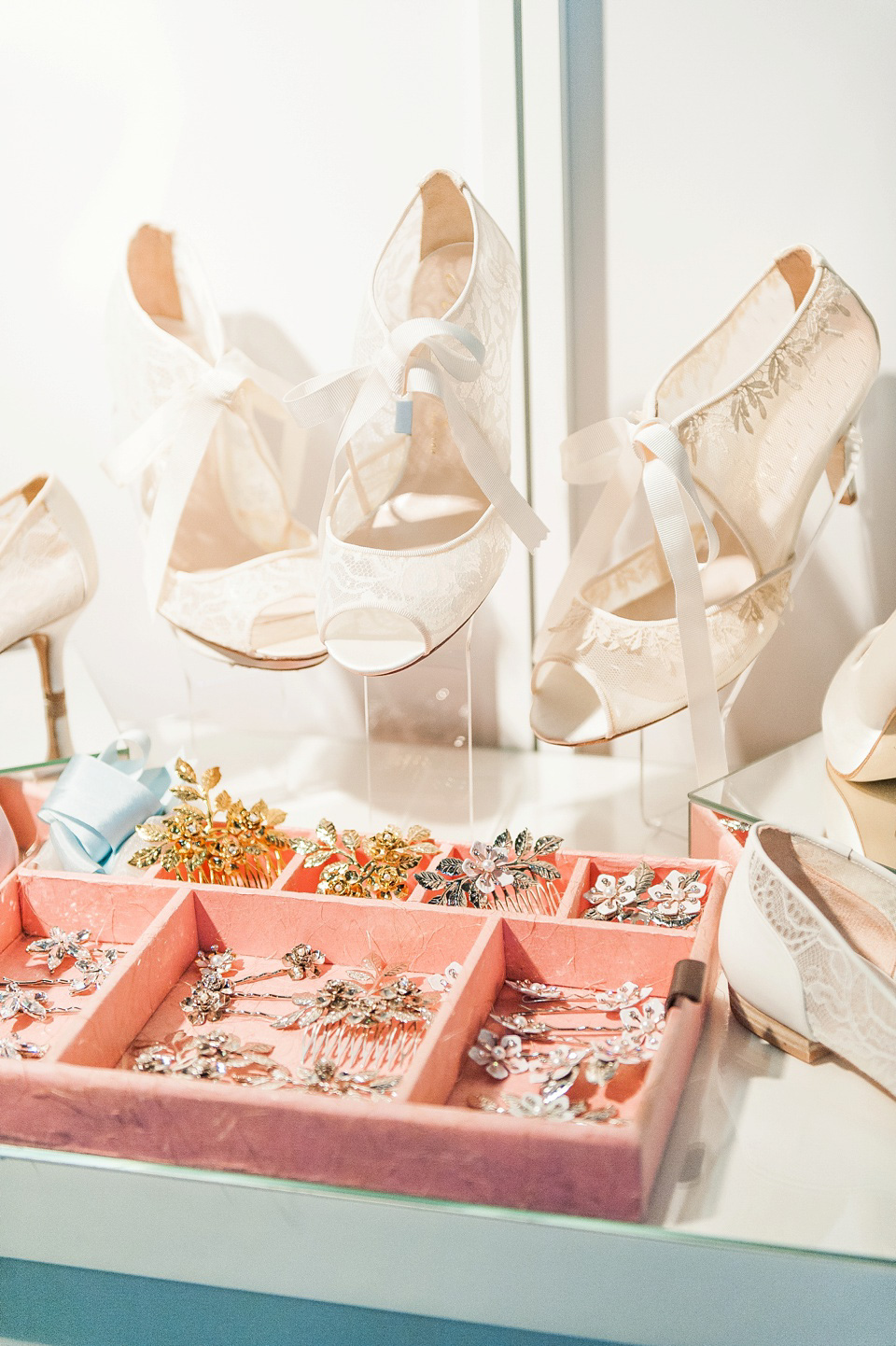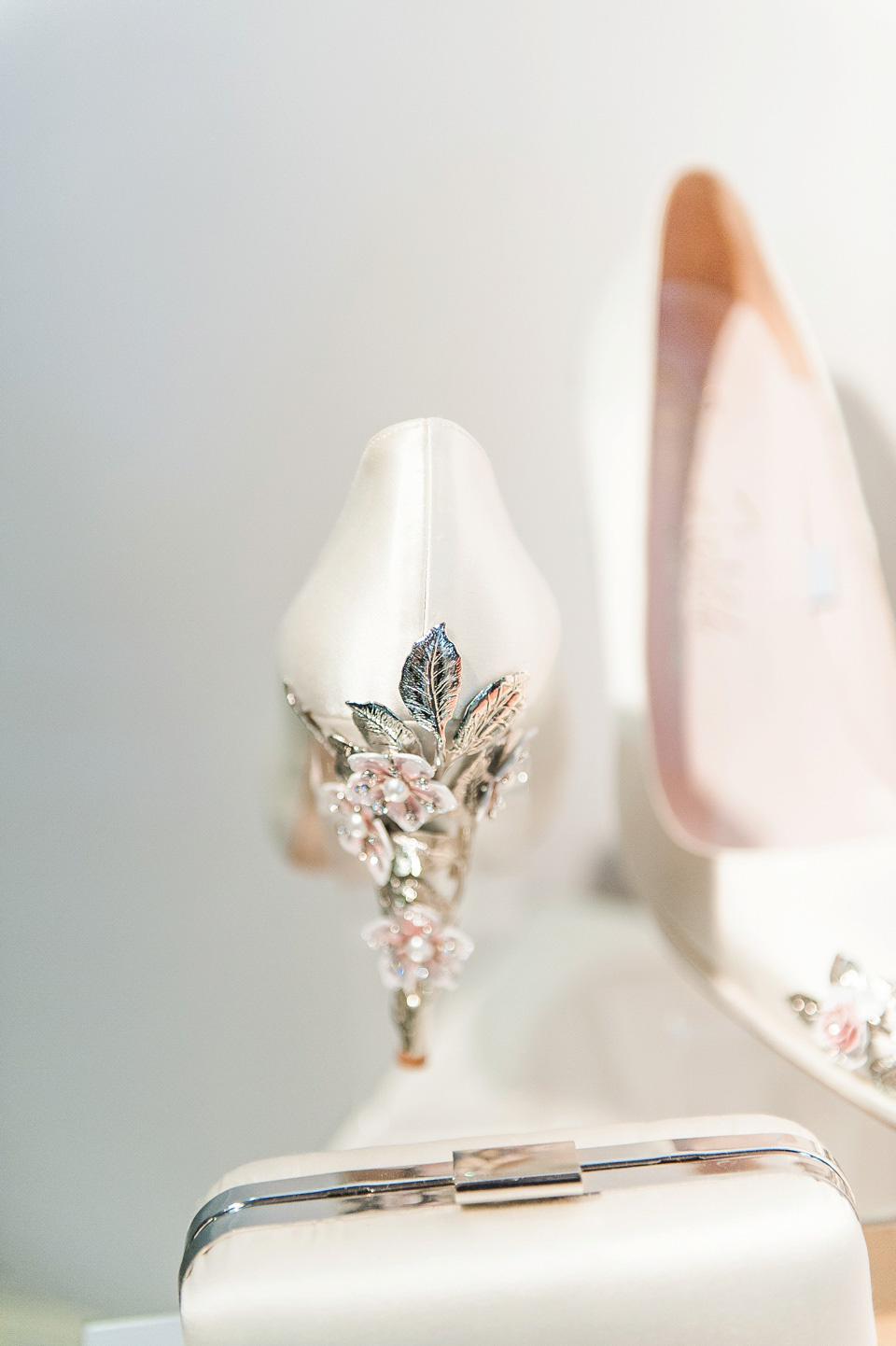 As usual, Sasso was all about the most glamorous of bridal accessories, this time, with a berry inspired collection of ostrich feather shrugs and pretty floral adornments.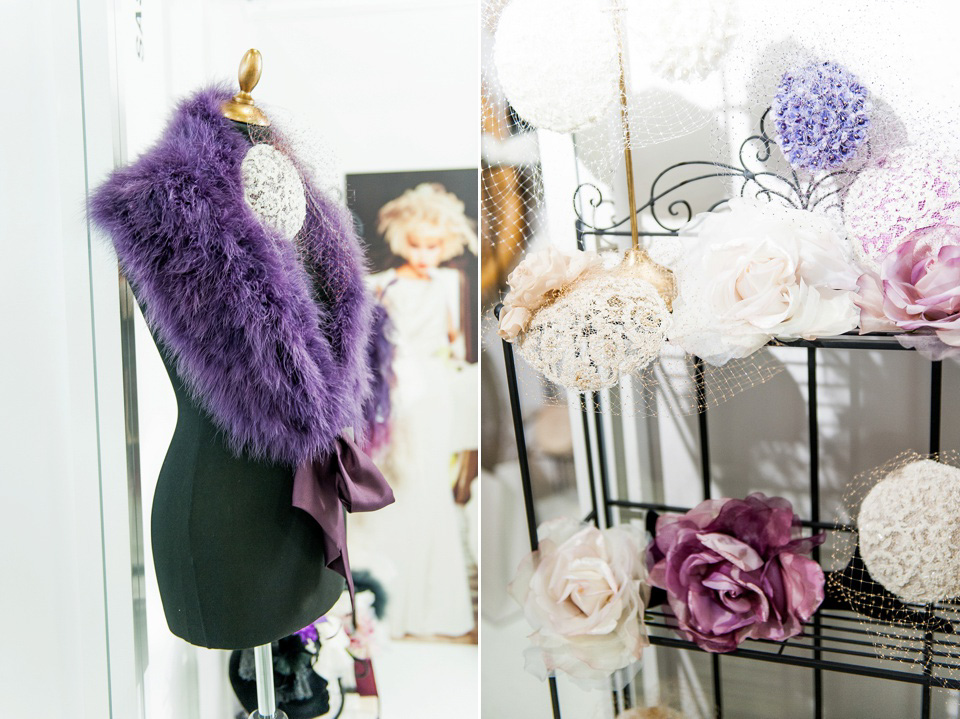 A new brand to catch my attention was Ruth Milliam Couture – a design based studio based in Hampshire, with a focus on hand crafted bridal accessories and attire.  Designer Ruth has just established her new brand and it was a pleasure to have met her.  With a strong focus on silk flowers,  hand embellished crystals and pearls, feathers, French laces & fine silks, this small exhibition space packed a big punch for me.  I'm looking forward to hearing more about this designer in the coming months.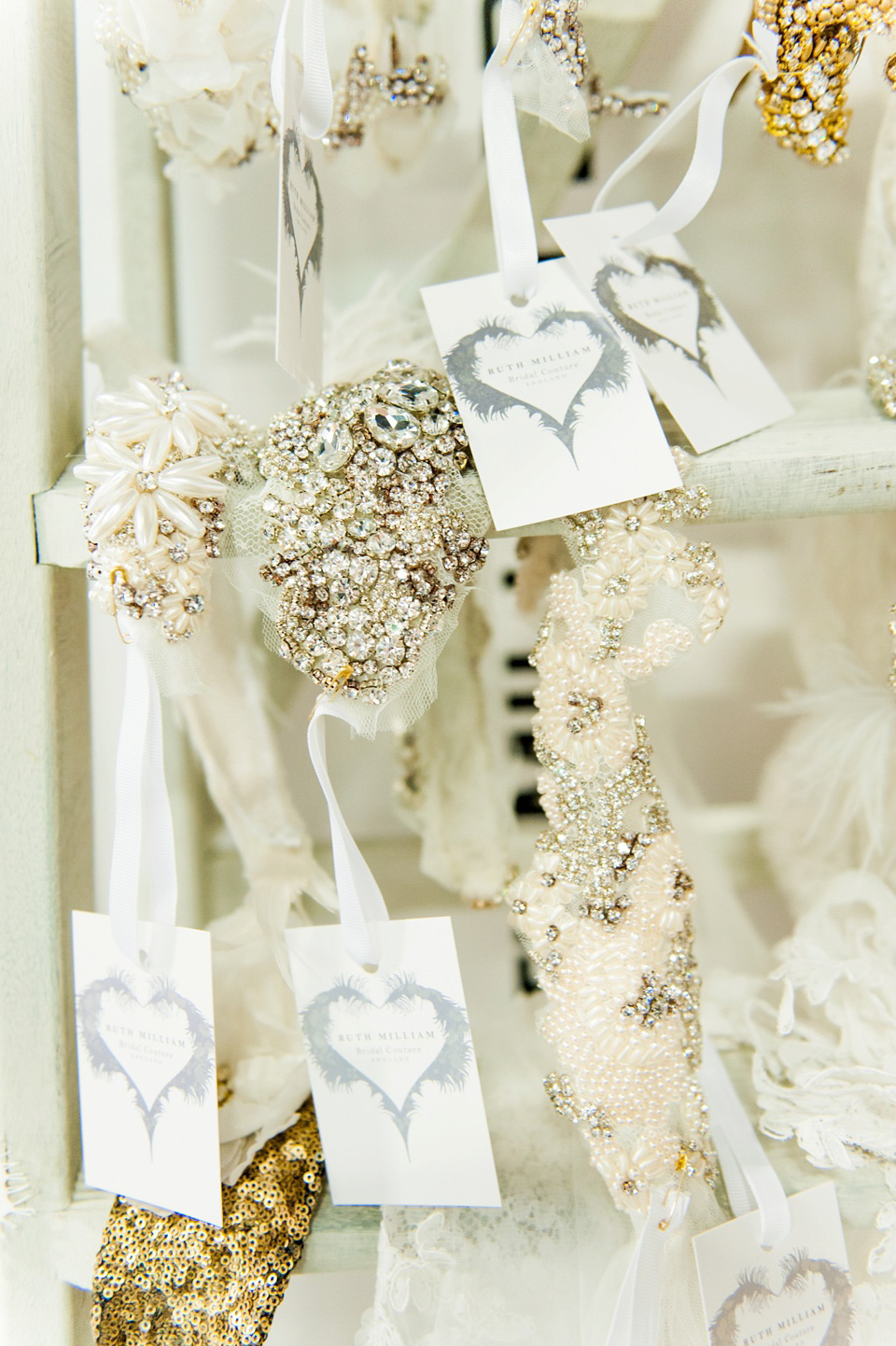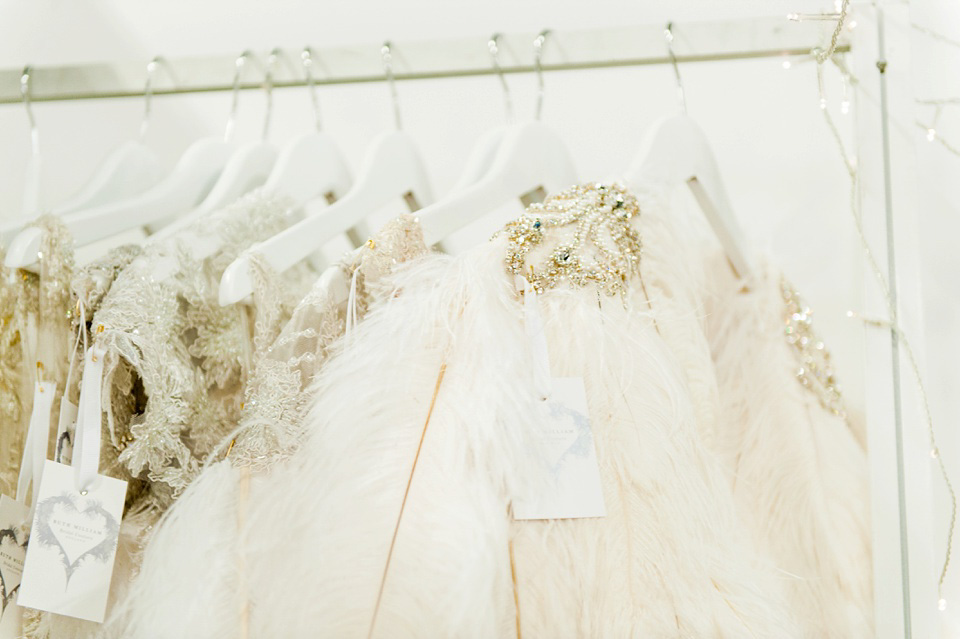 Last year's show stand out for me was luxury lounge-wear-come-evening wear and lingerie brand Shell Belle Couture. It was such an enormous pleasure to meet designer Michelle again and to be amongst her divine creations.  I'm lucky enough to own a few pieces from this most exquisitely feminine collection and adore each of them like they were my own children!  Luxury bridal boutiques, if you're not already stocking a few well chosen items from this collection for your brides – why not?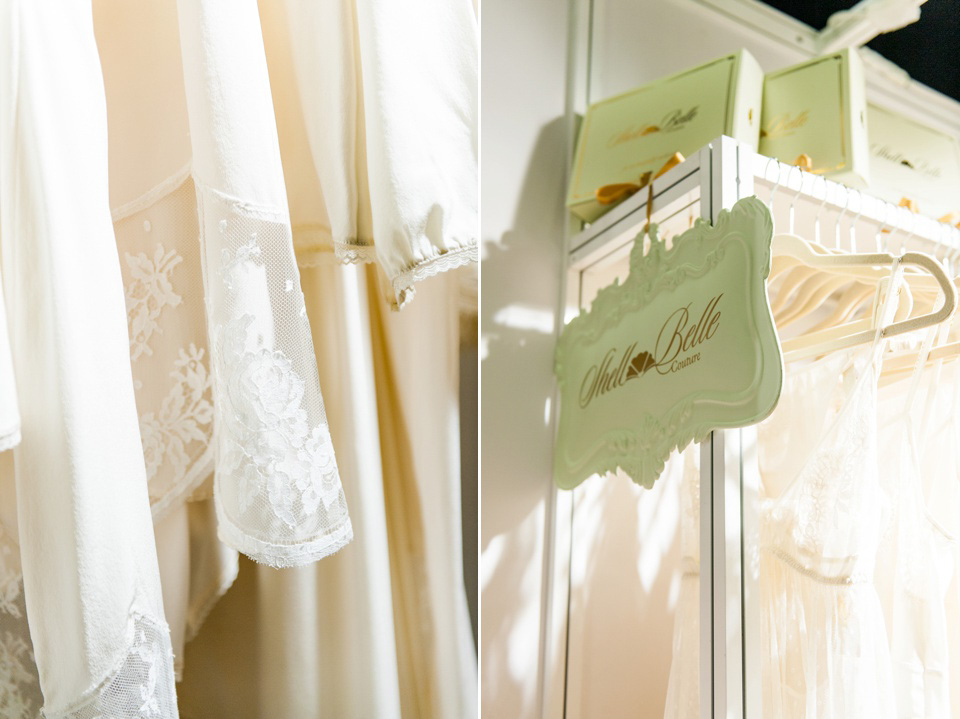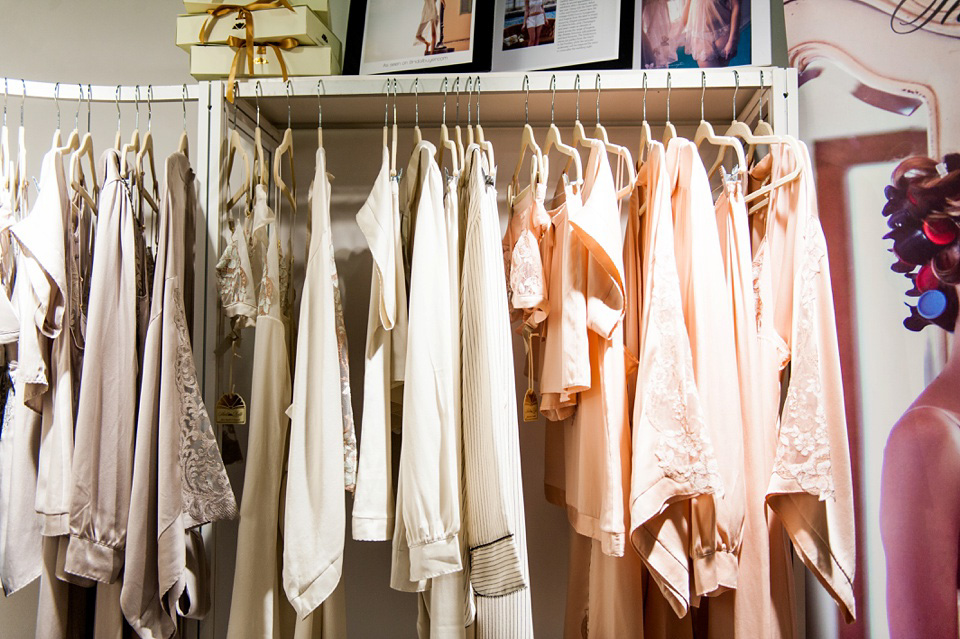 Even Shell Belle Couture's packaging is beautiful. Almost made for Love My Dress infact with all that pale green and gold. I love a touch of luxe in packaging…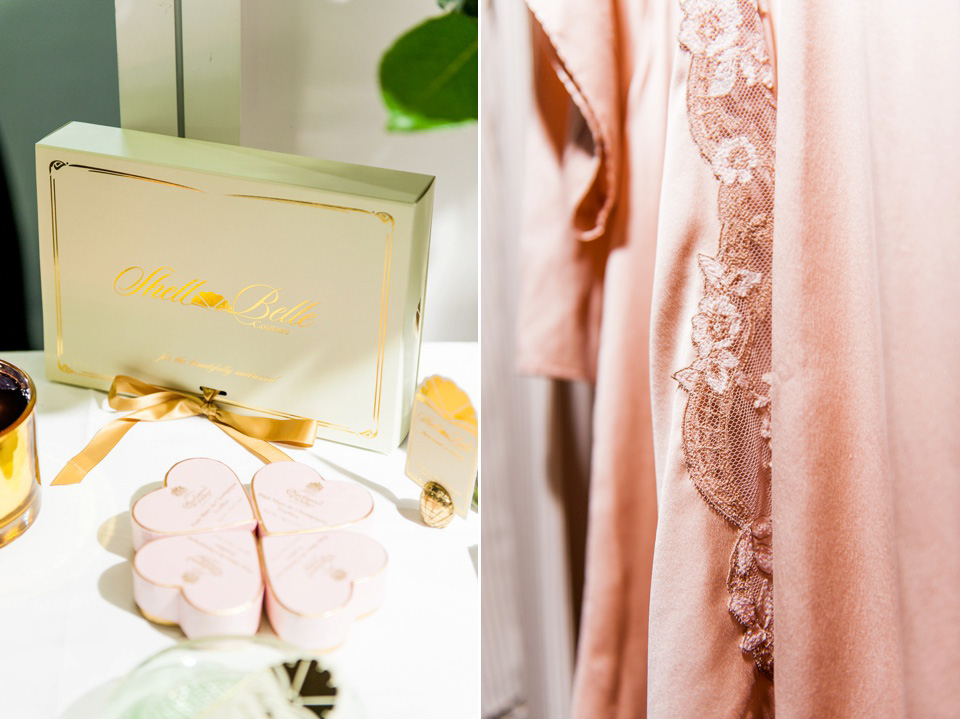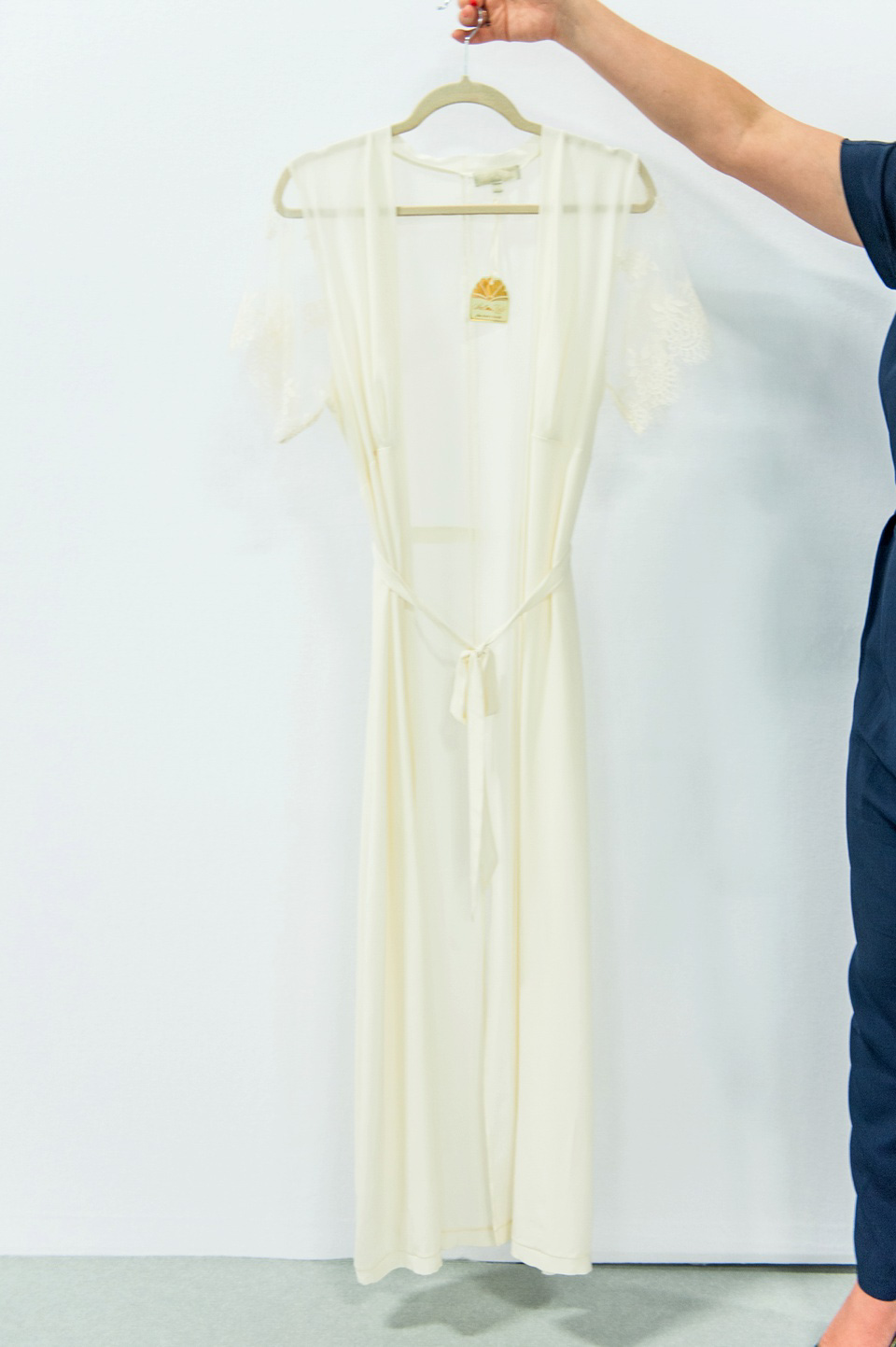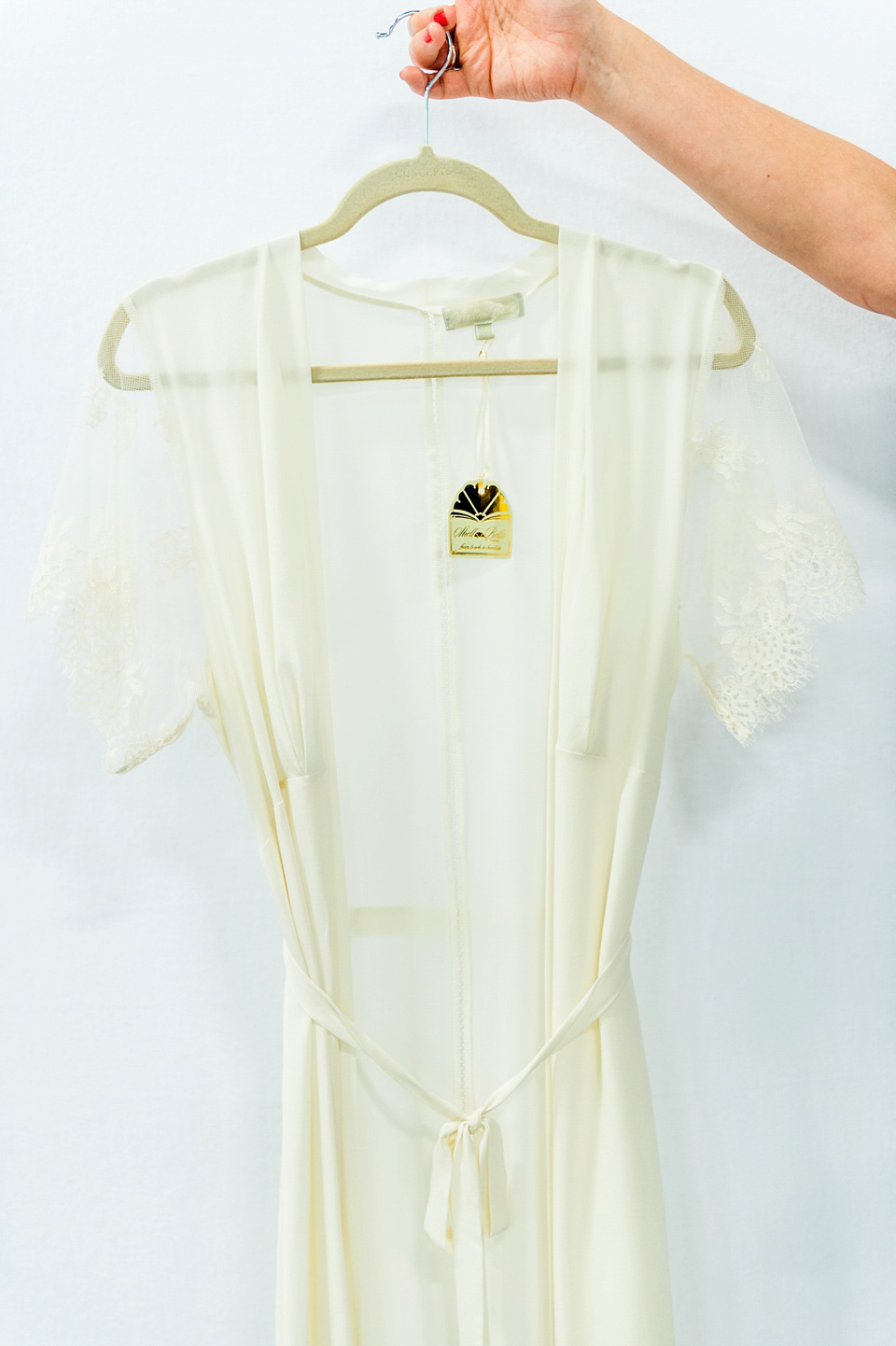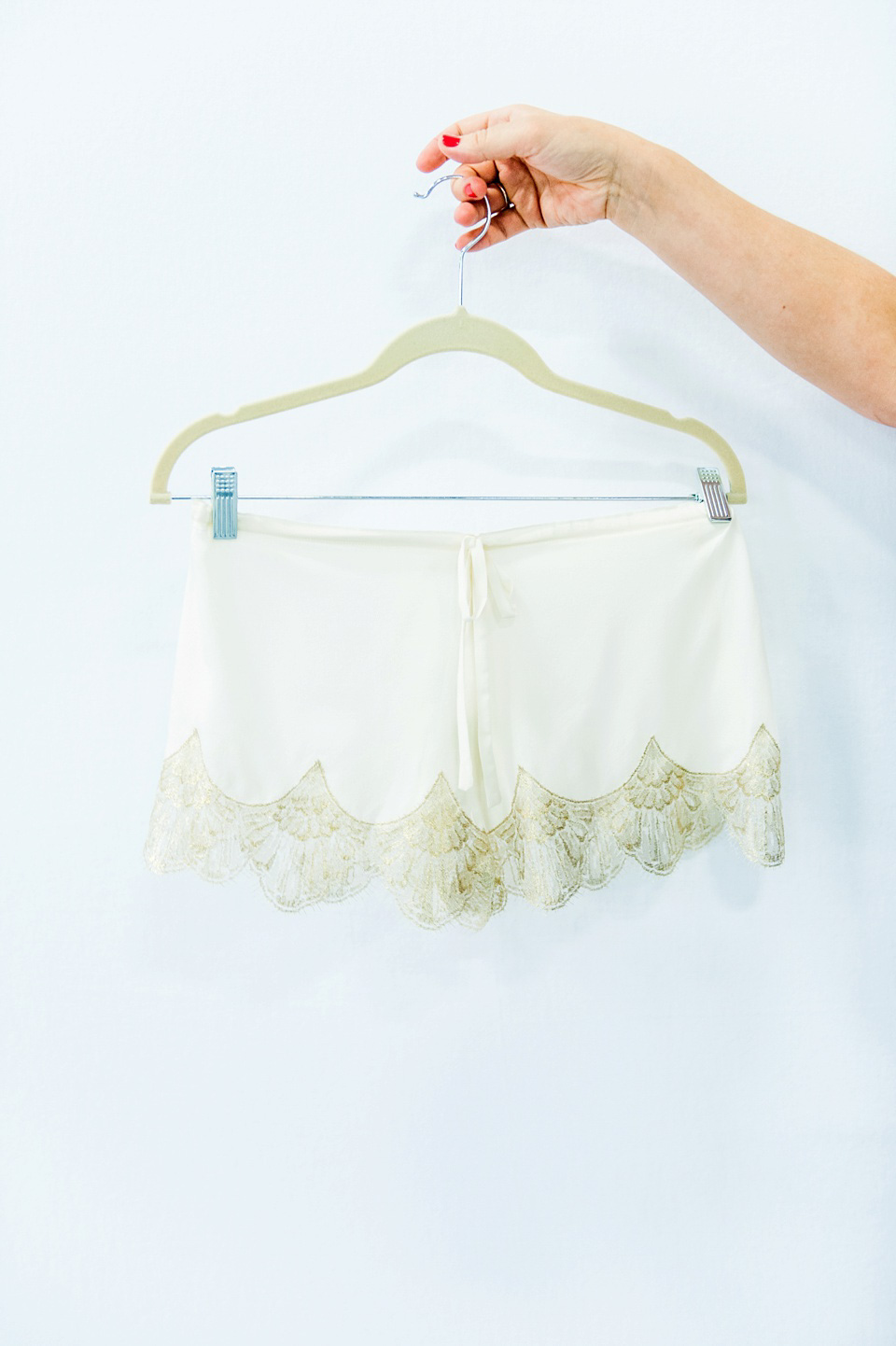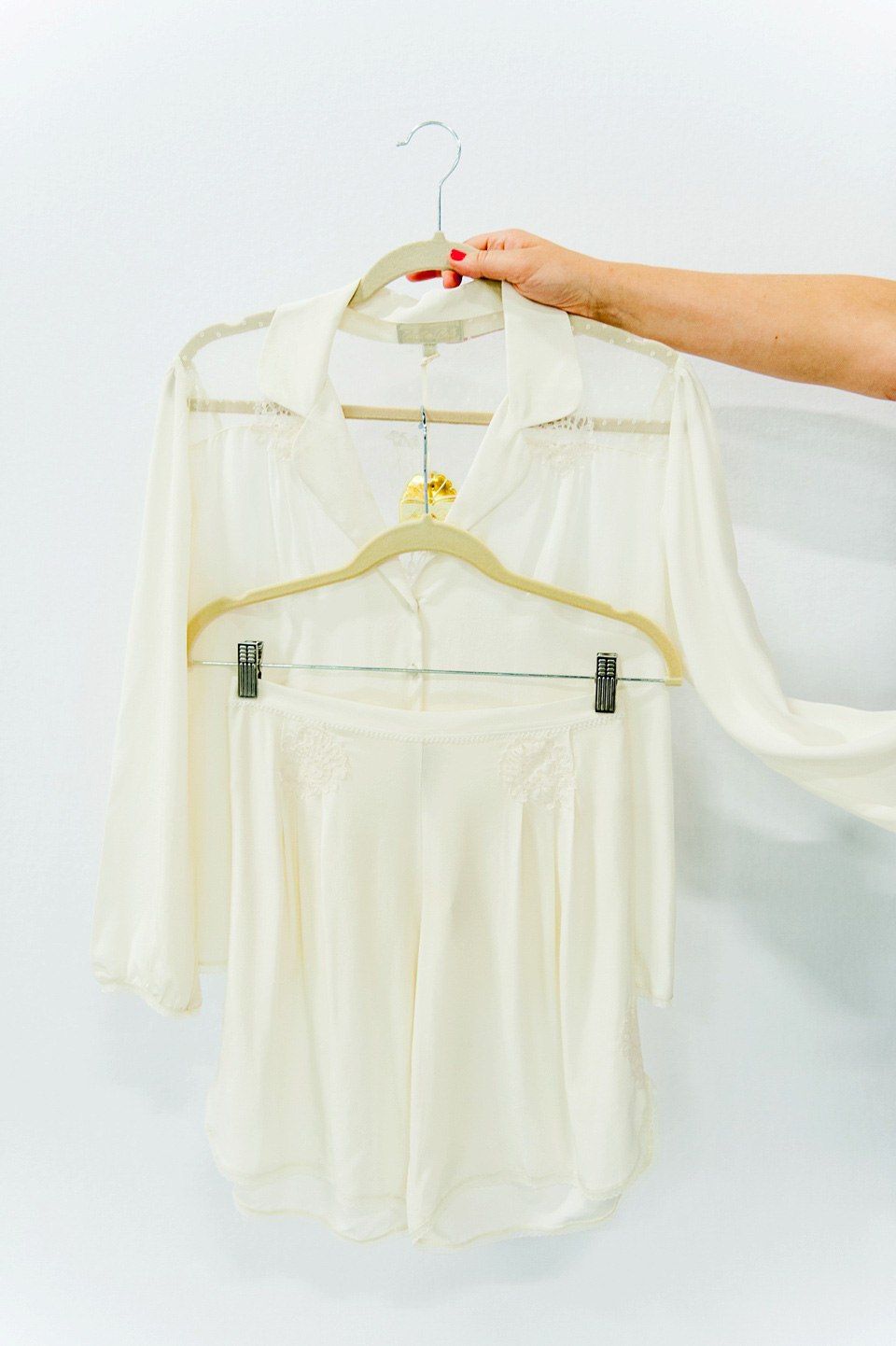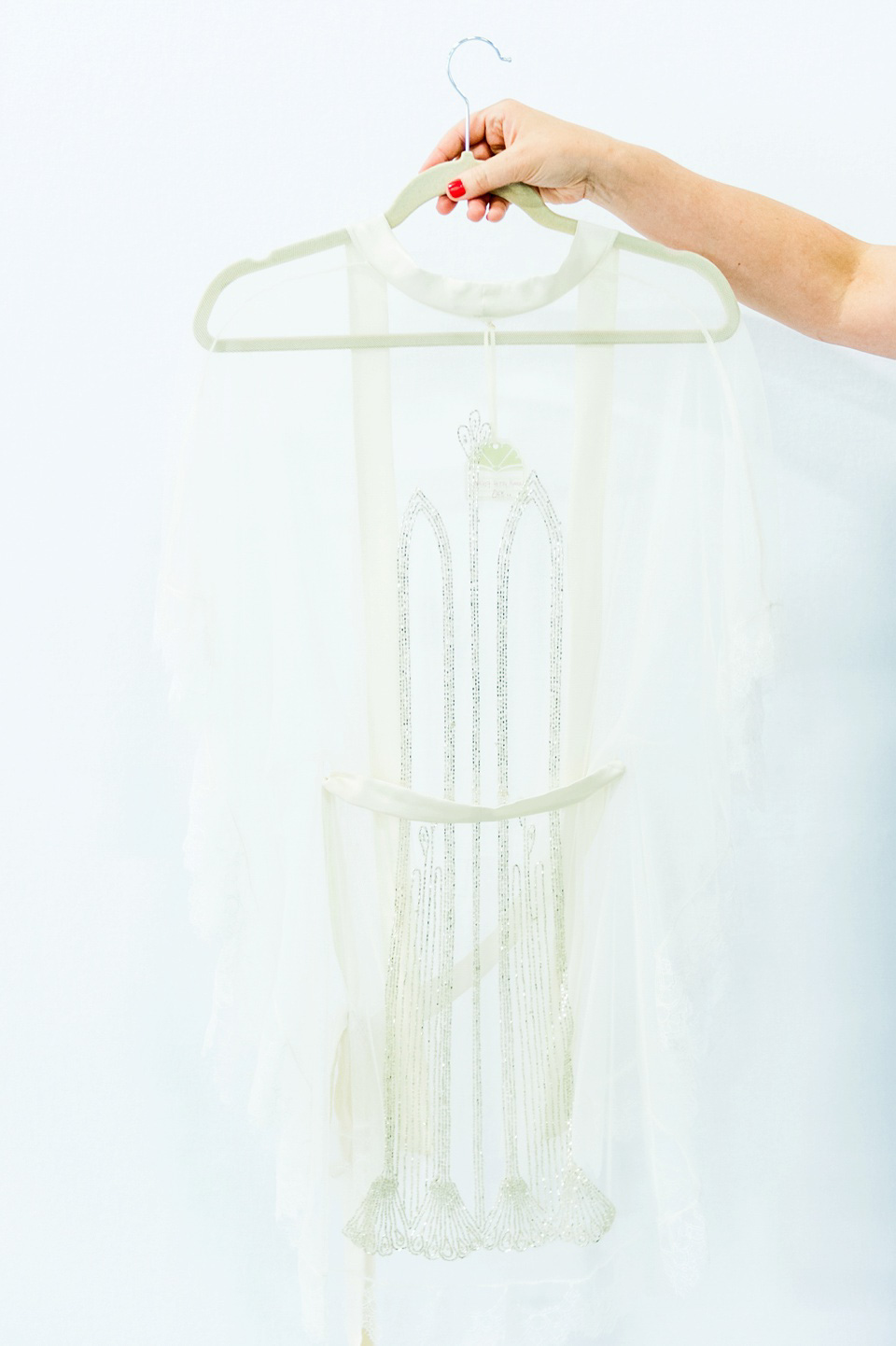 One of the biggest pleasures for me of this whole show was getting to chat with shoe designer Charlotte Mills.  This time last year, Charlotte was the new kid on the block, and exhibiting for the very first time at the White Gallery.  Boy, what a year she's had since then.  With 50 stockists now under her belt, Charlotte has made a swift and elegant step from newcomer to smart, business savvy and respected industry member in what feels like no time at all.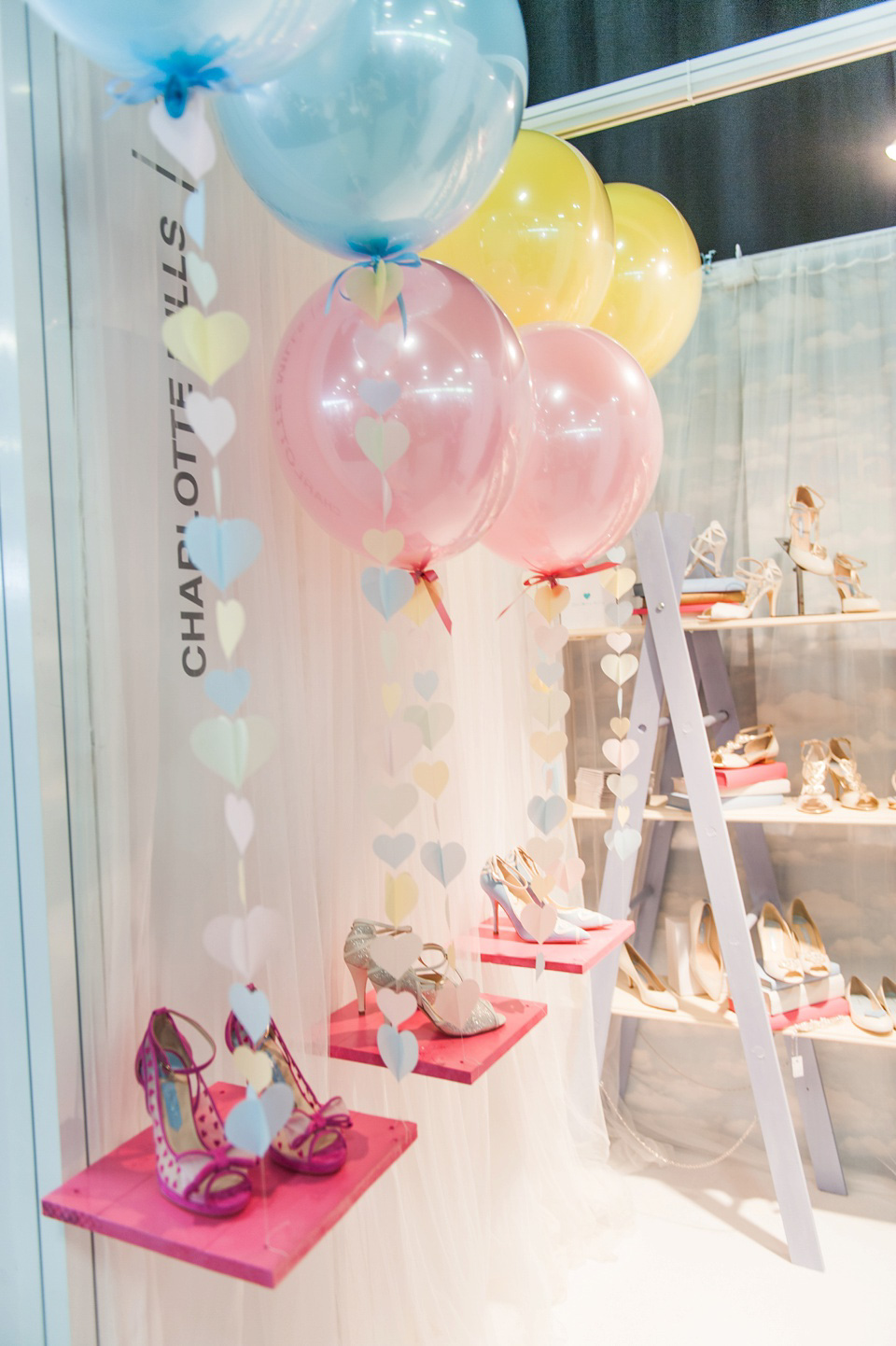 As a sponsor of Love My Dress, I feel enormously proud of Charlotte and her achievements.  Her shoe designs are fun and playful – and every single pair contains an original sixpence meaning brides can have a little fun on their wedding day by adhering to the 'sixpence in her shoe' tradition.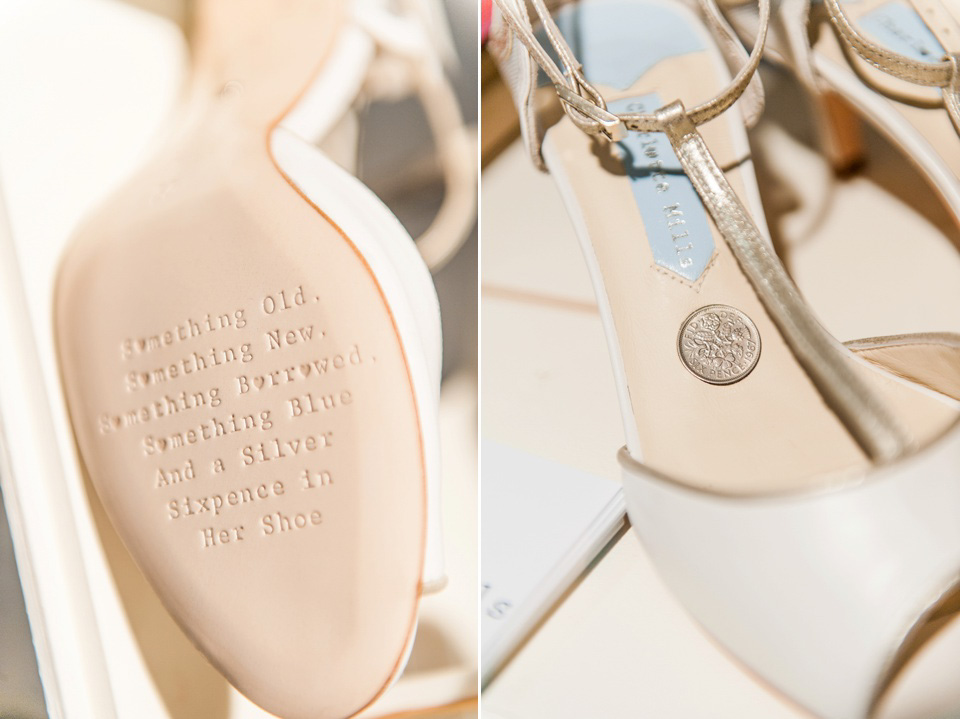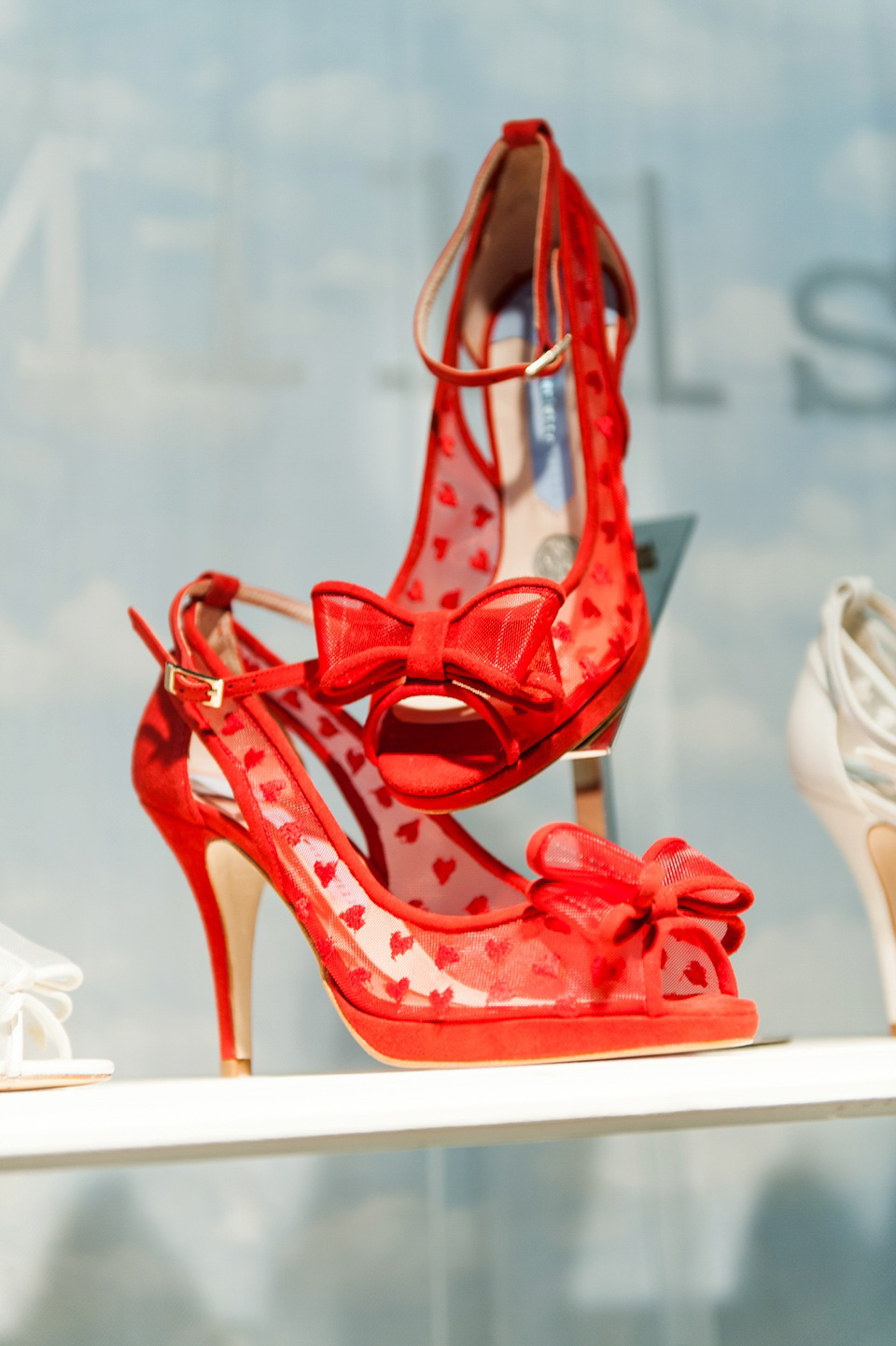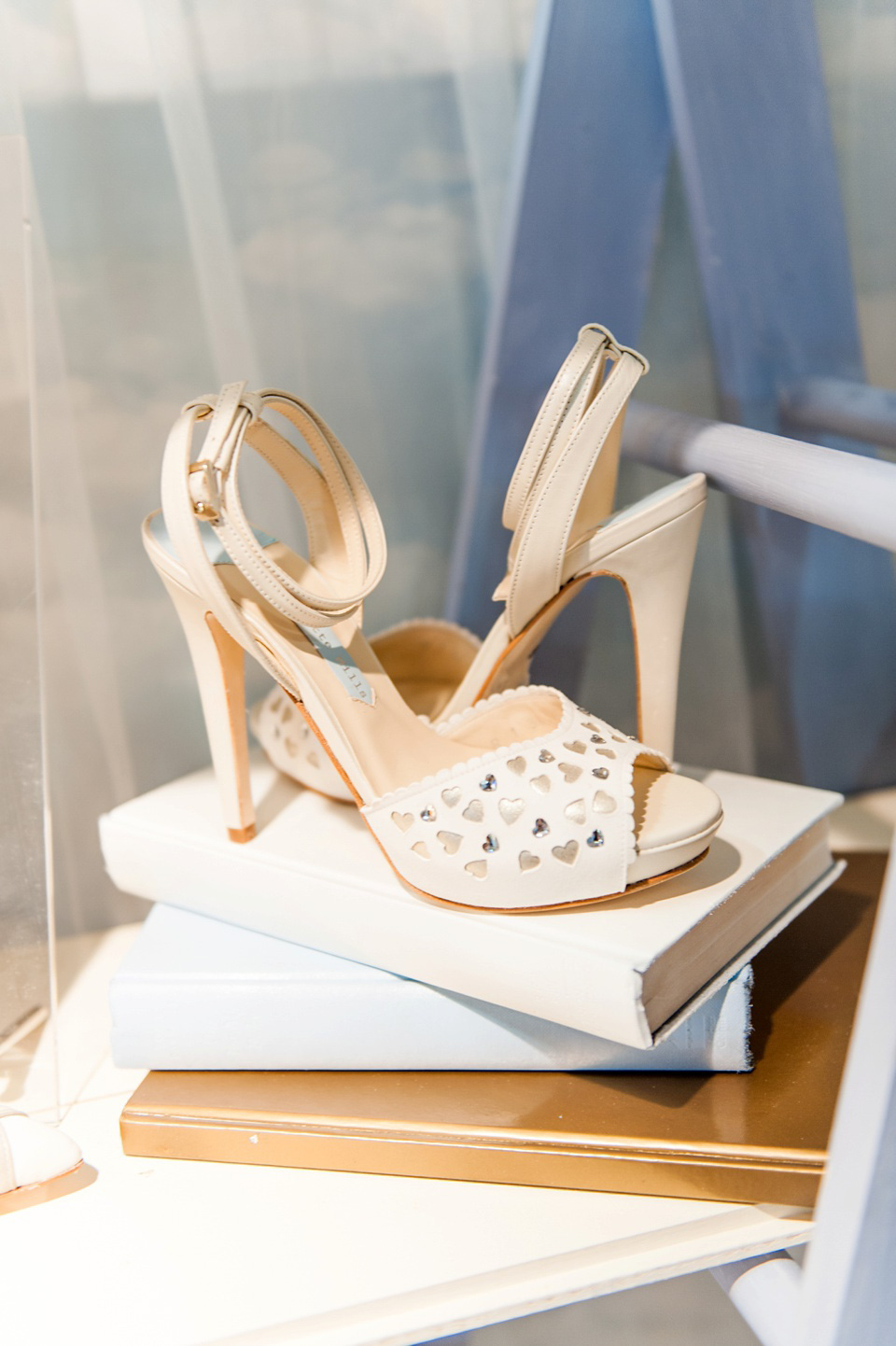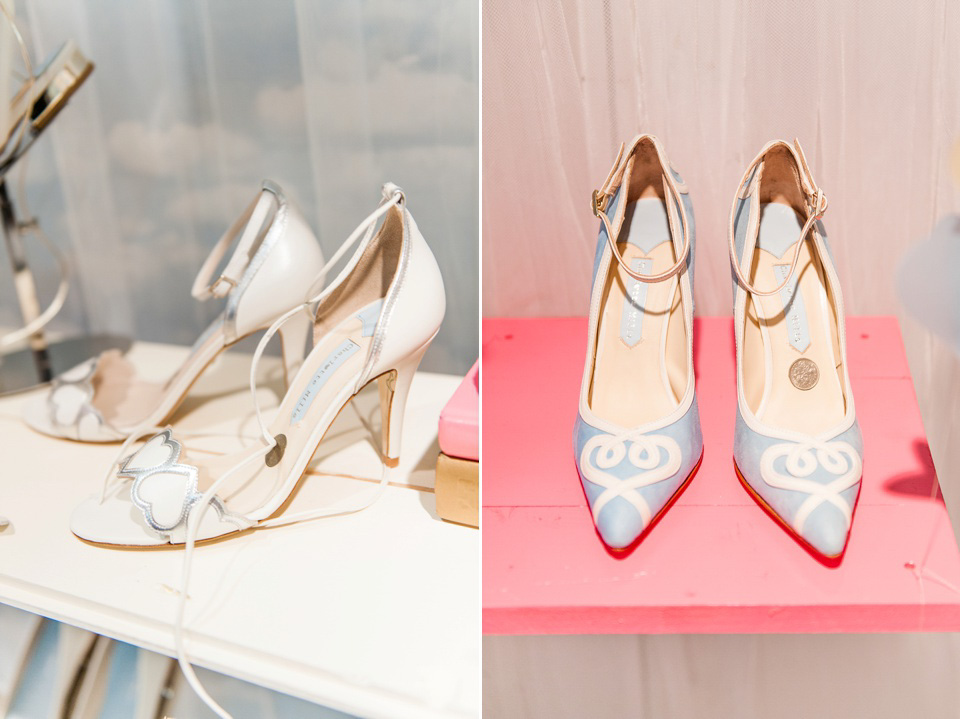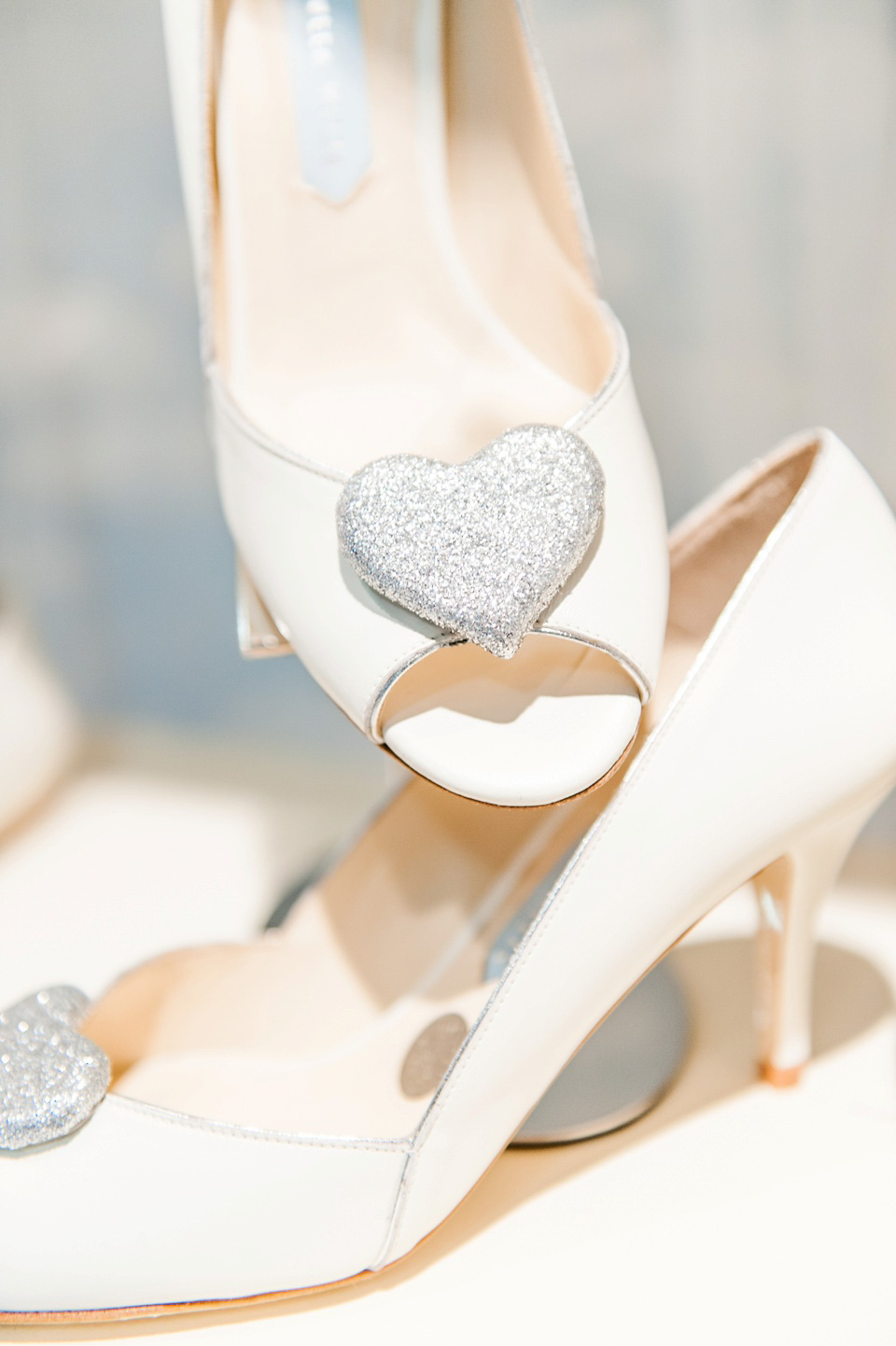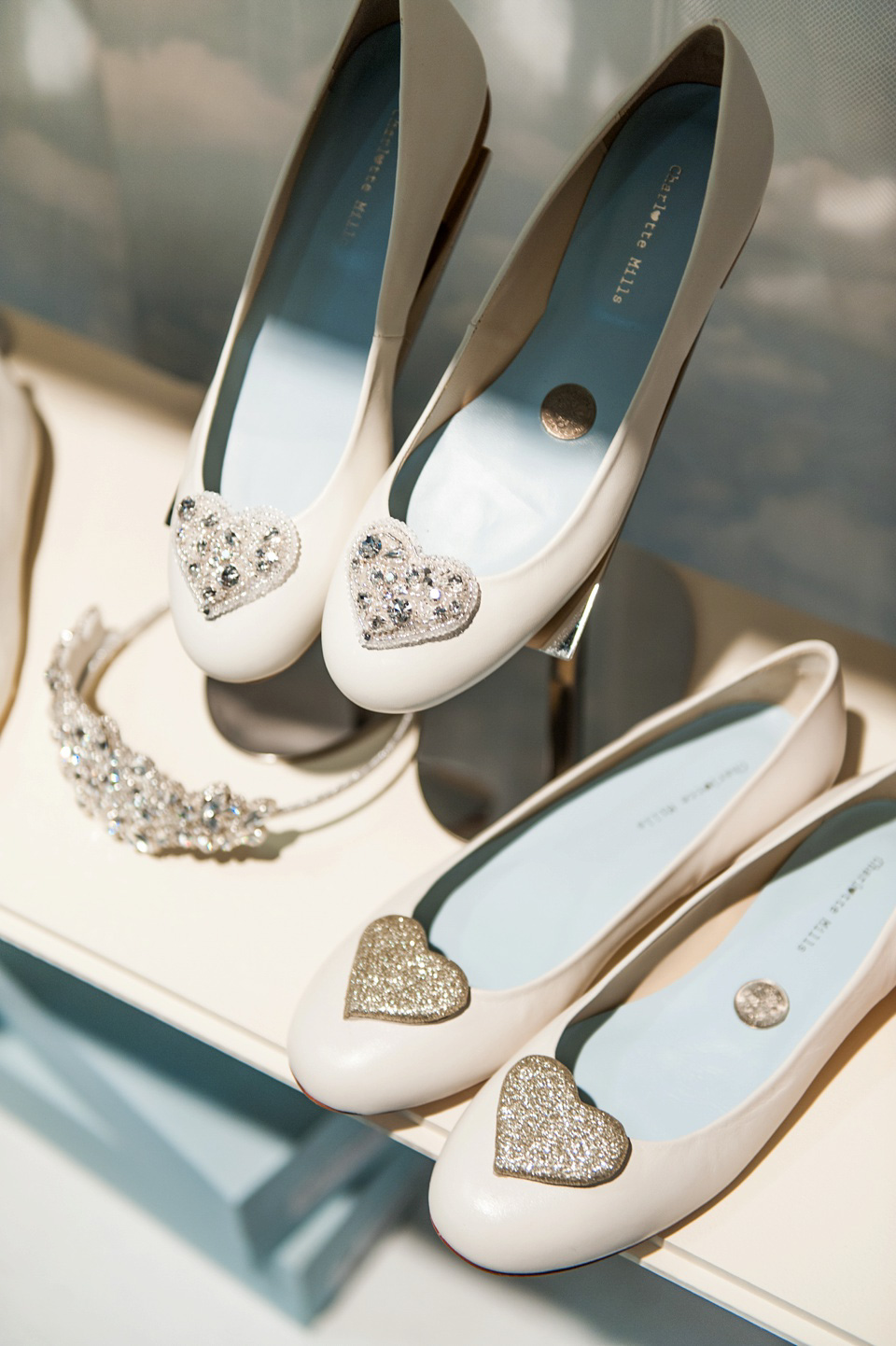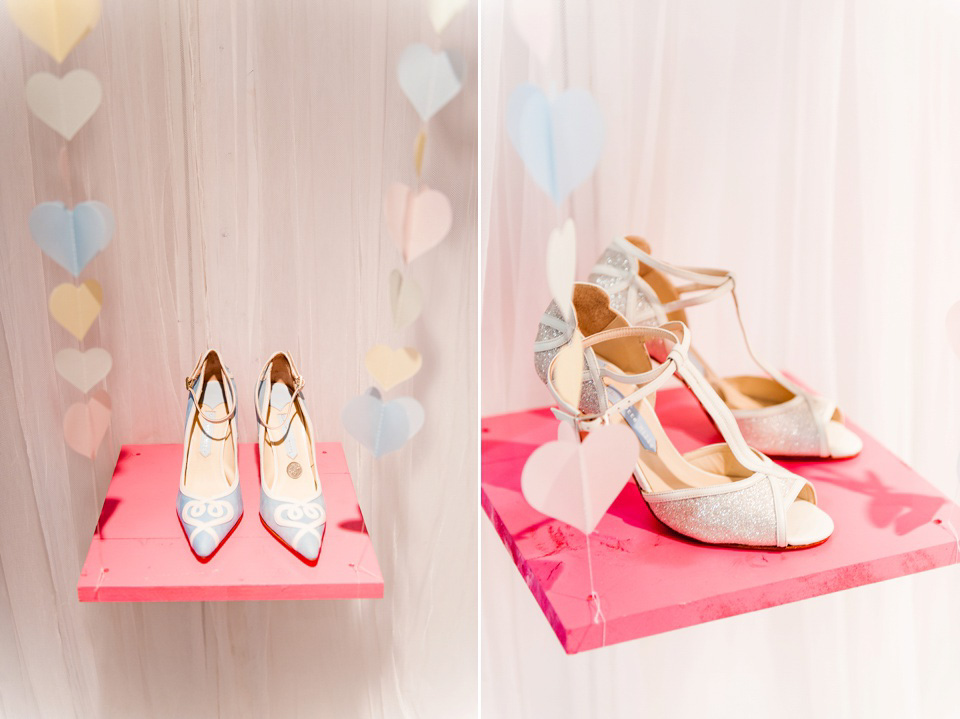 We briefly popped into the Catherine Deane exhibition – missing the designer herself (damn!) but getting to at least see some of these dresses that have made our blog look so pretty in recent months, up close and personal.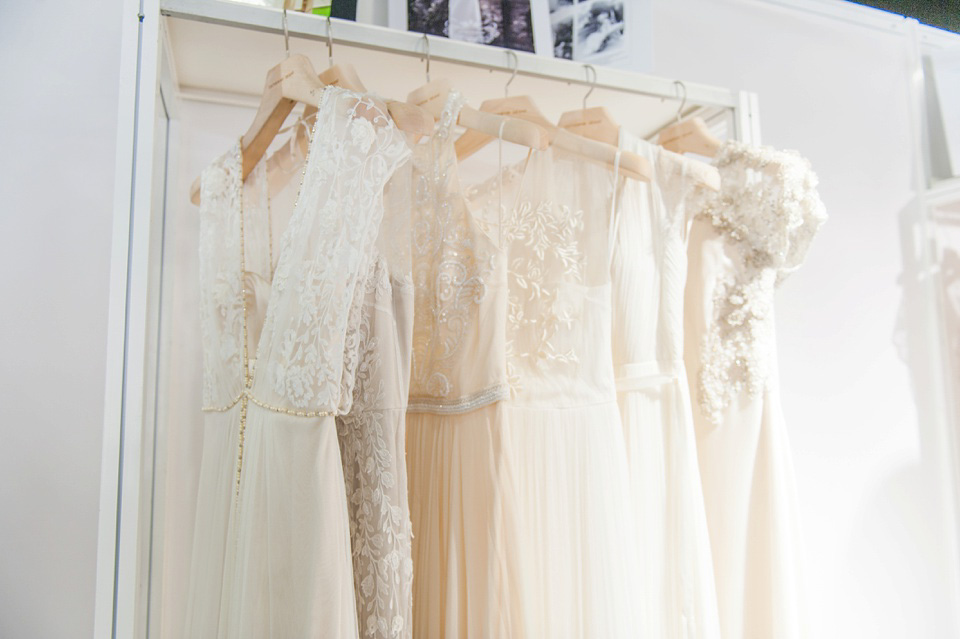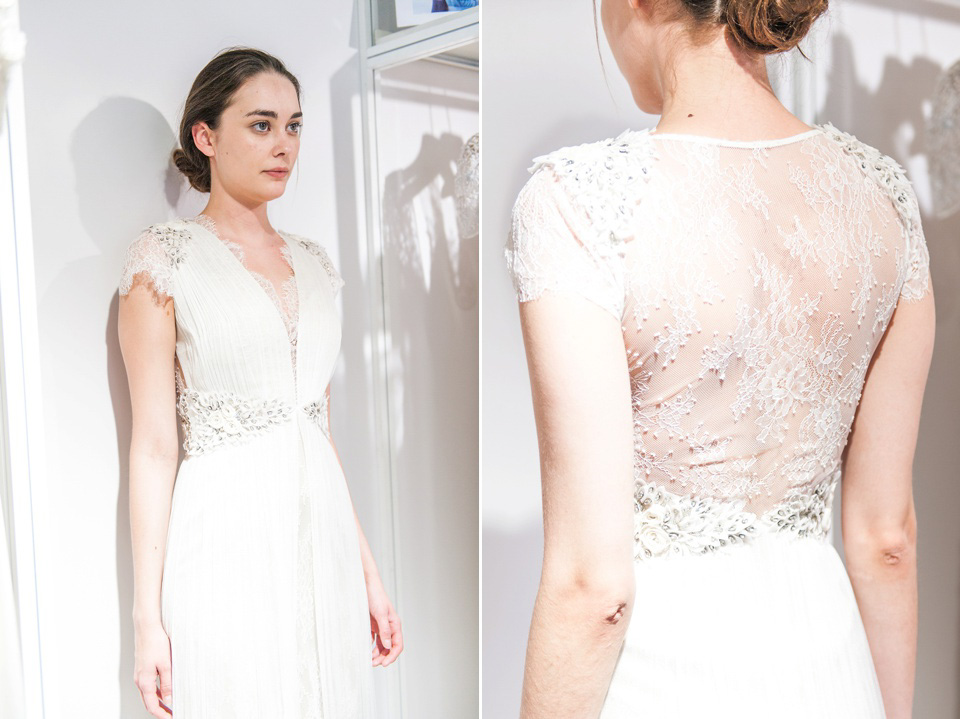 What struck me most about the Catherine Deane gowns was the beautiful mix of  texture and incredibly delicate embellishment.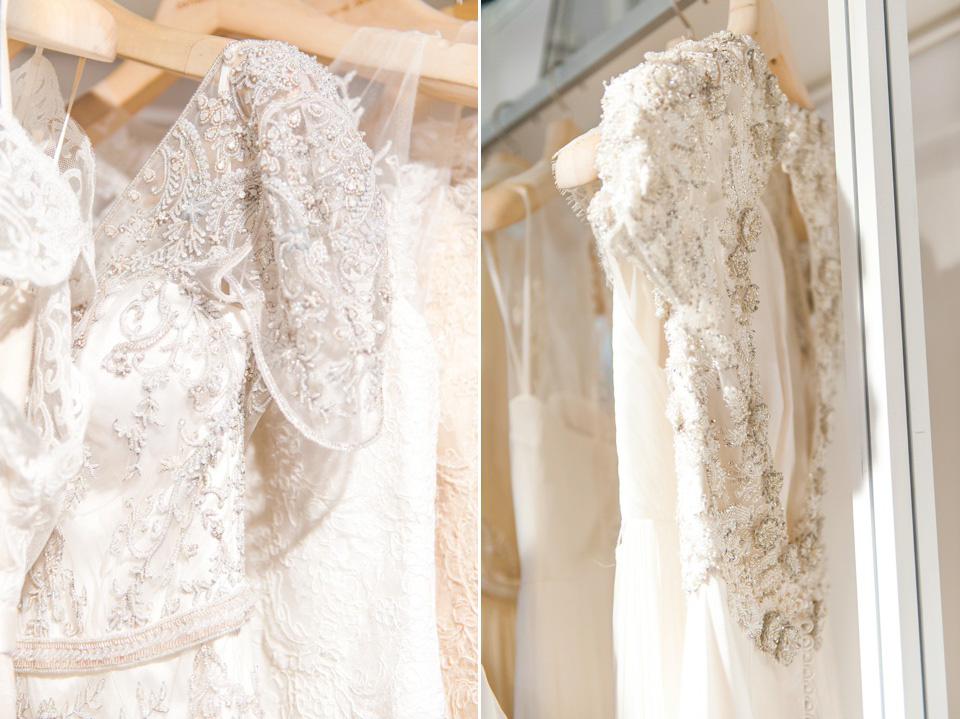 This particular gown was apparently inspired by a spiders web. Just so incredibly elegant.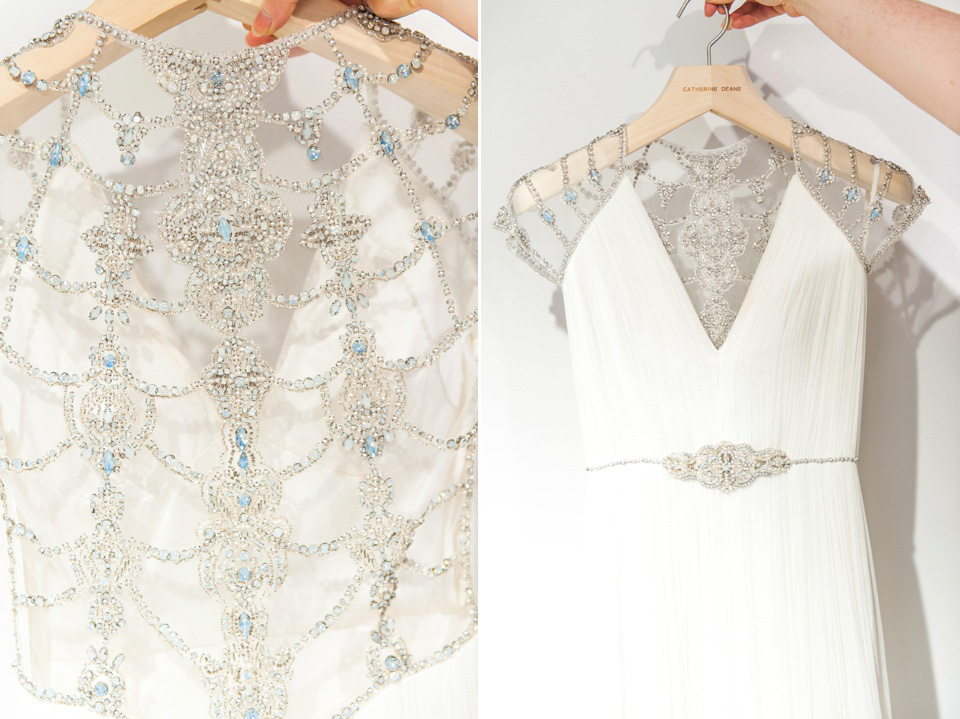 I love to support brands based in the North. This whole industry is so London centric that it can often feel like everywhere else location wise is a bit of a poor relative, which is complete BS if you ask me.  Mooshki Bridal is one such business I love to shout about.  I've watched this business grow from nothing into an internationally successful brand designing elegant and playful 50's inspired gowns. 
The team are great fun – infact, the cute blonde you see modelling their gowns every year is their designer, Olivia!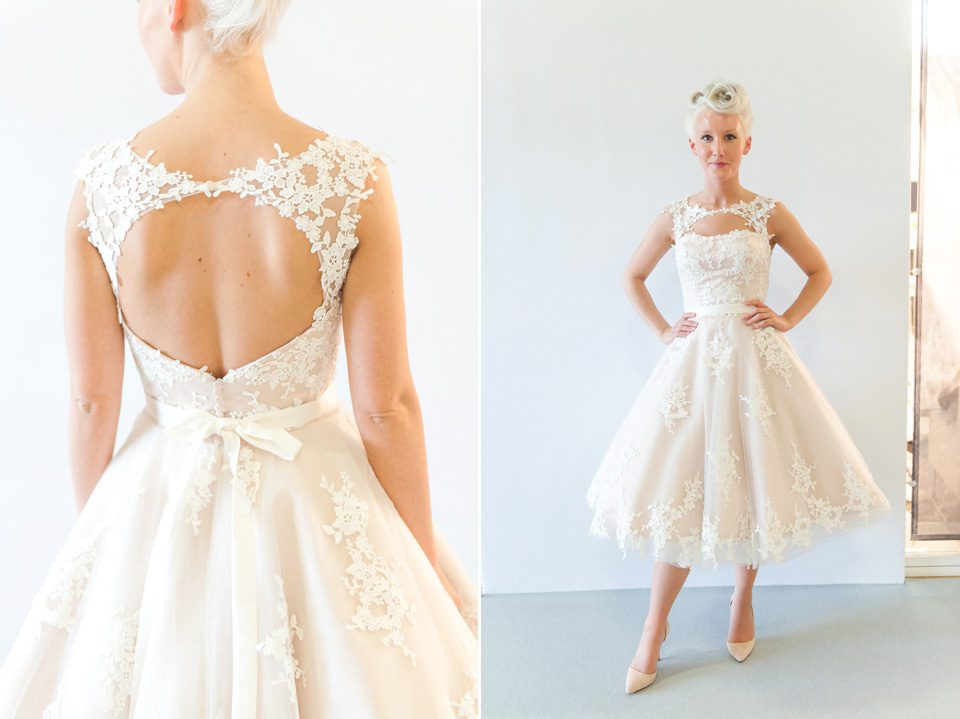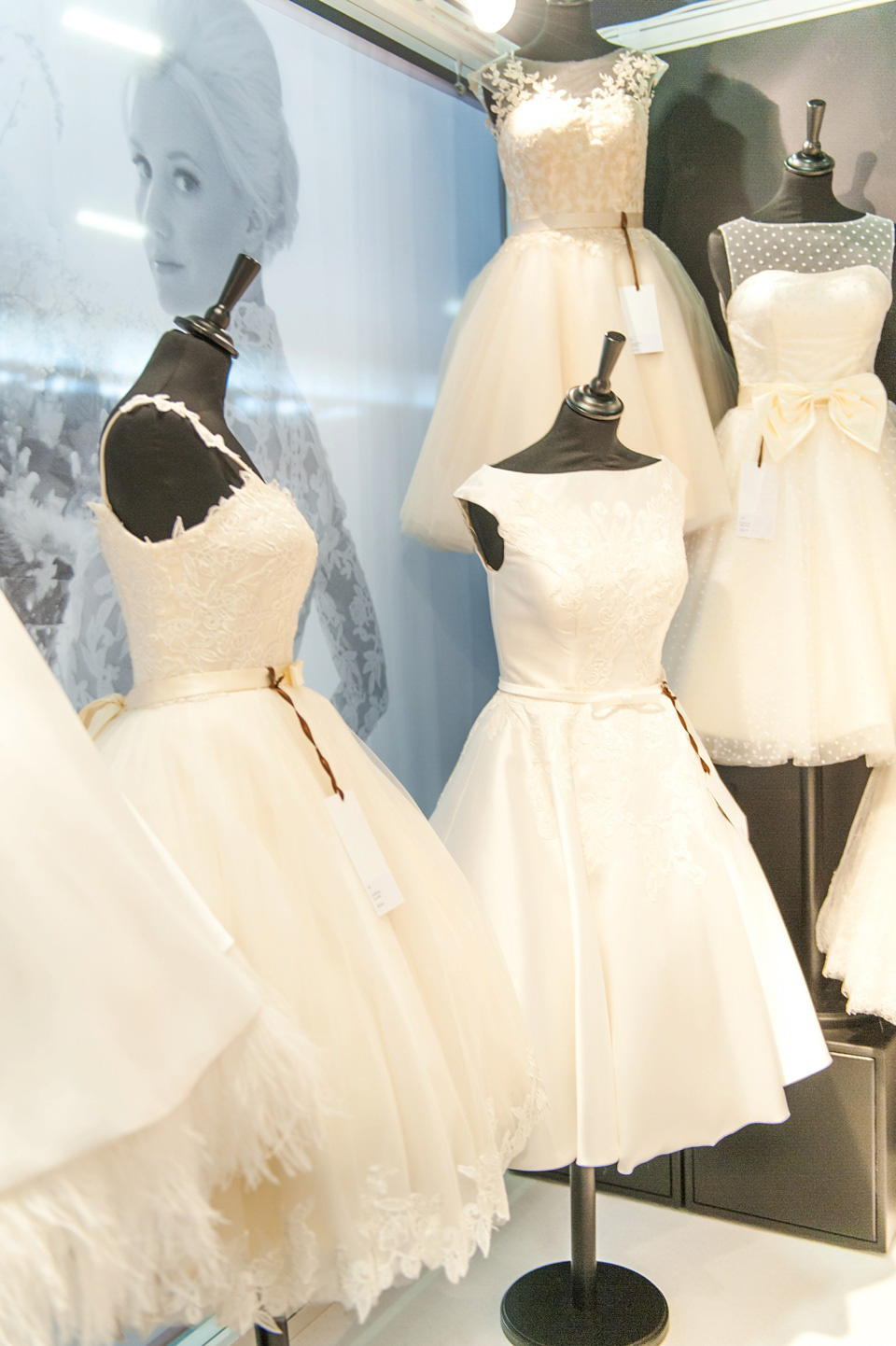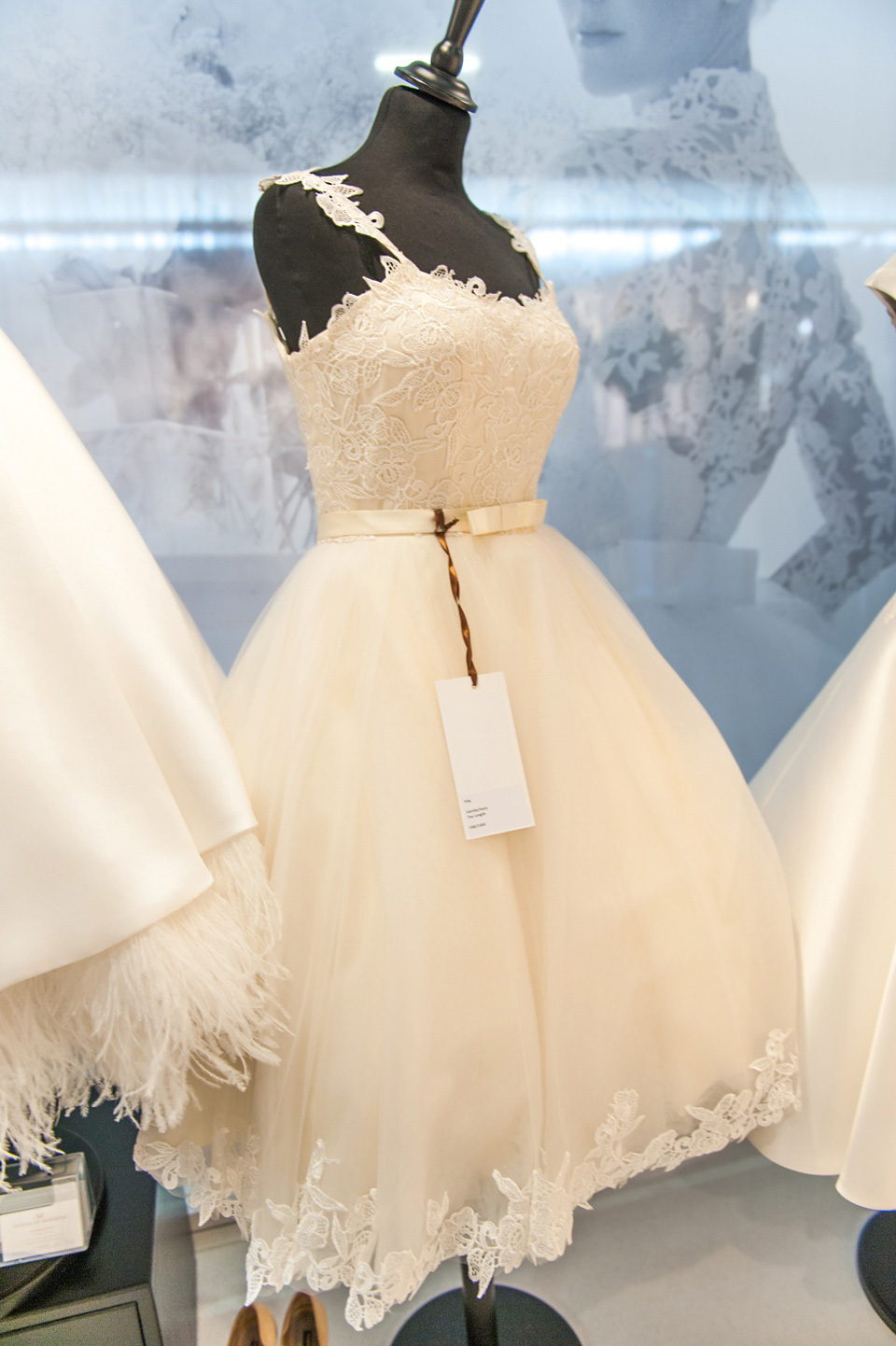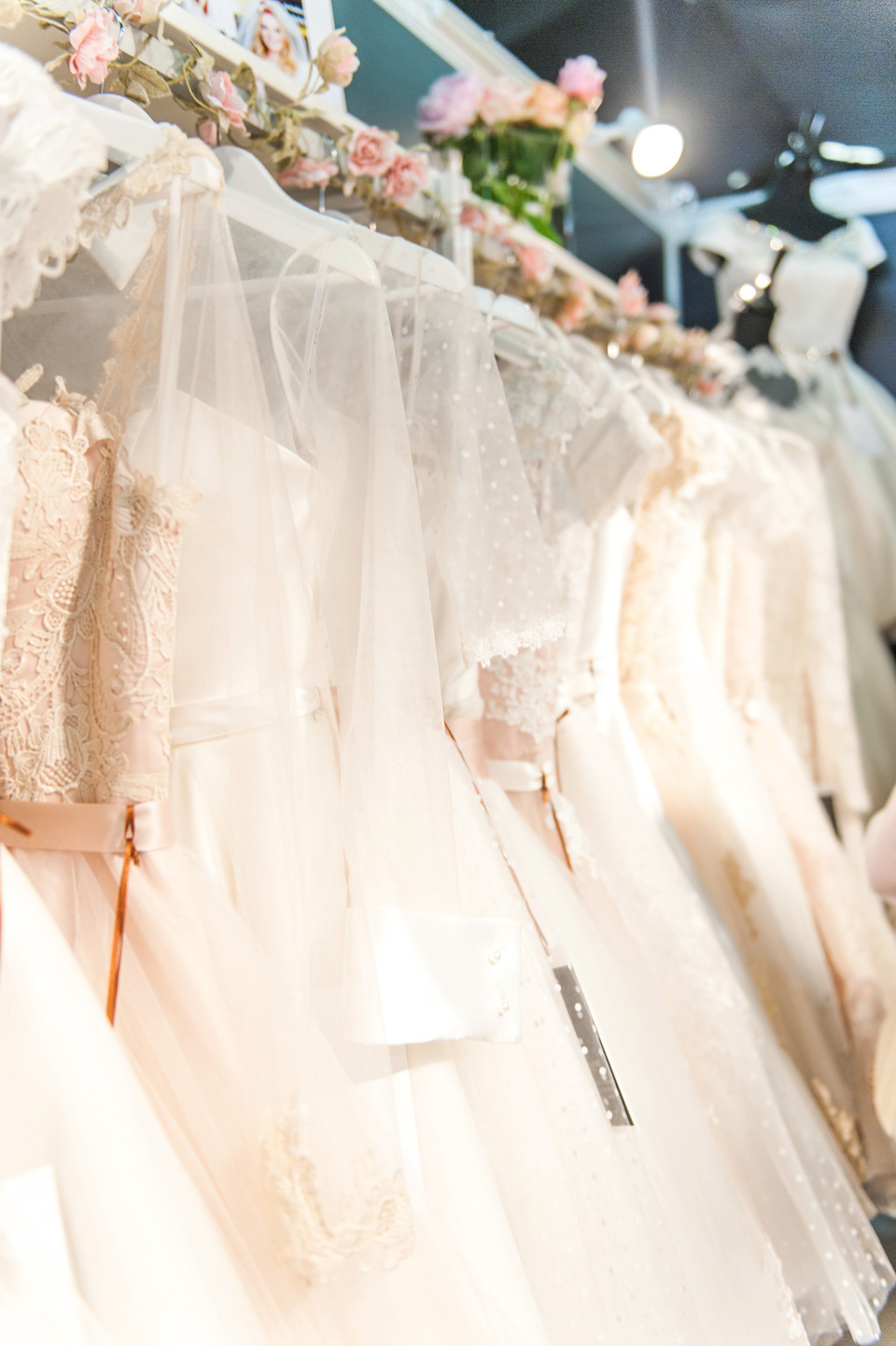 Now that they've nailed the 50's silhouette, it's great to see Mooshki Bridal refine their collection with use of some really beautiful fabric and design detail.   Ostrich feather lined hems, cute collars with Edwardian style brooches and this rose fabric are two particular design elements that stood out to me.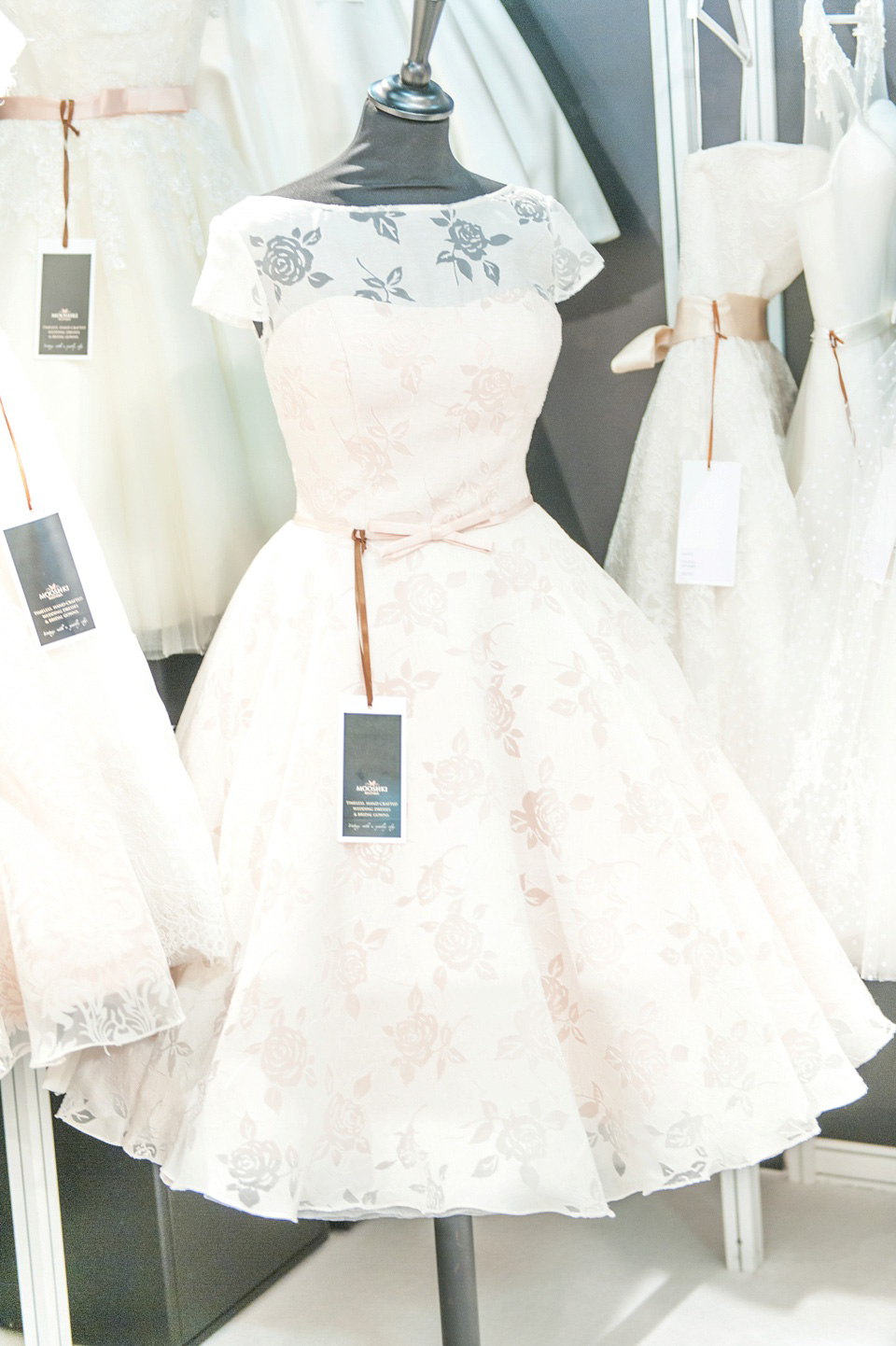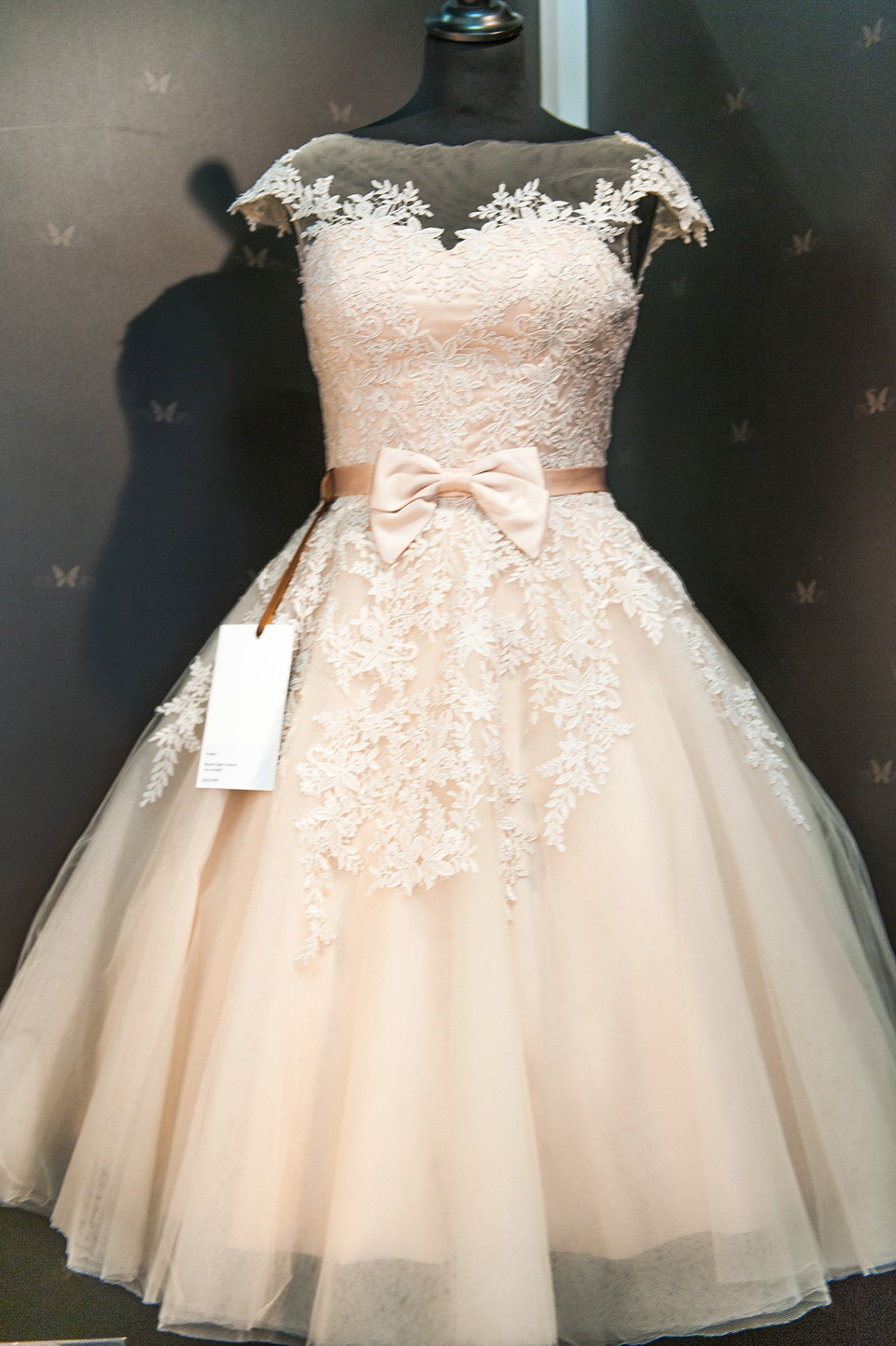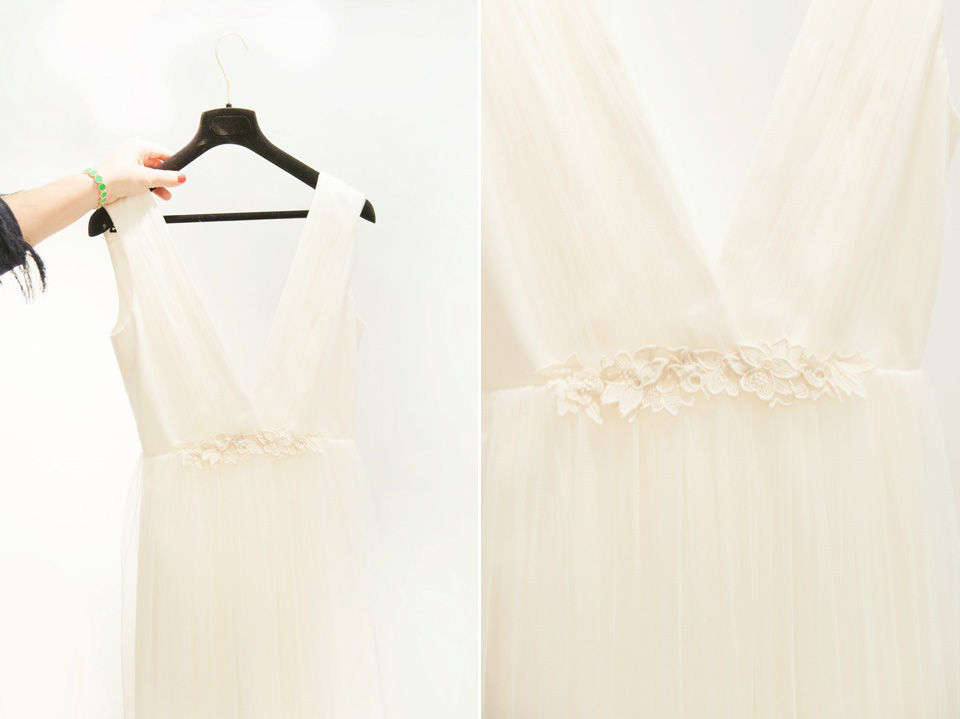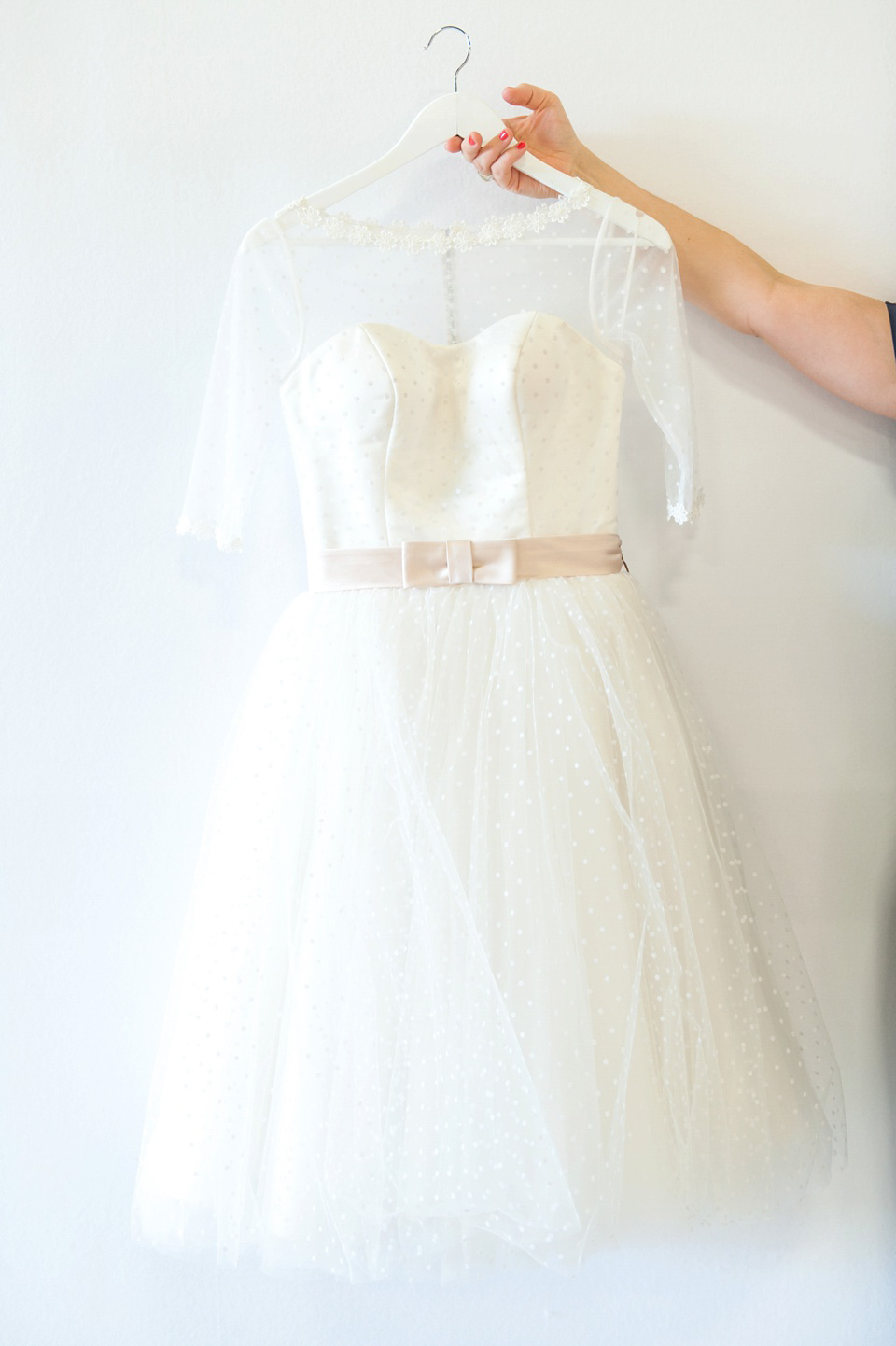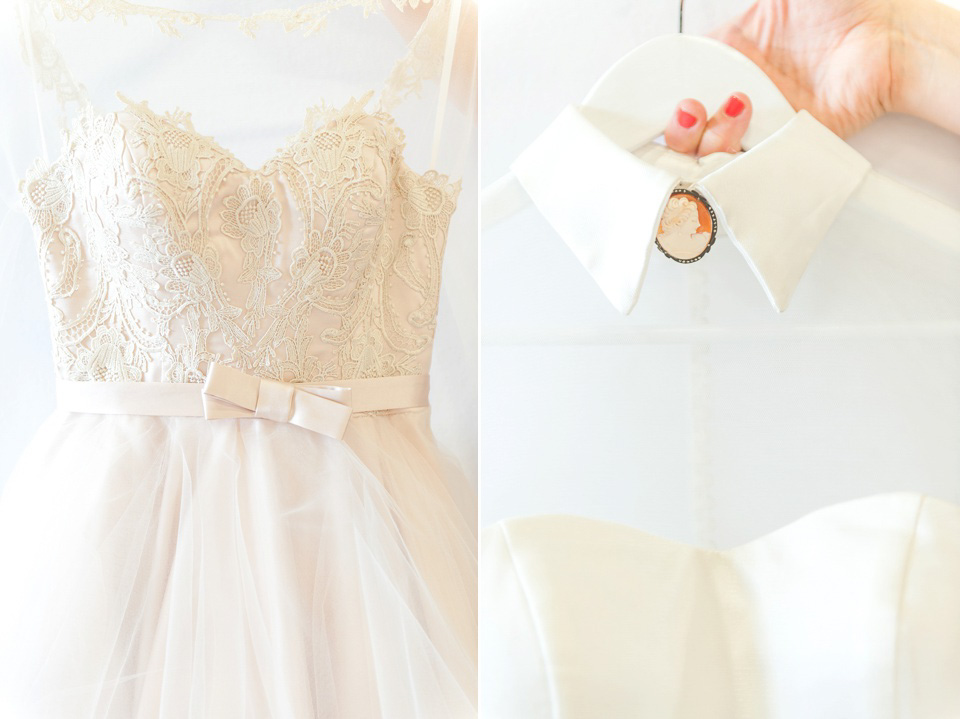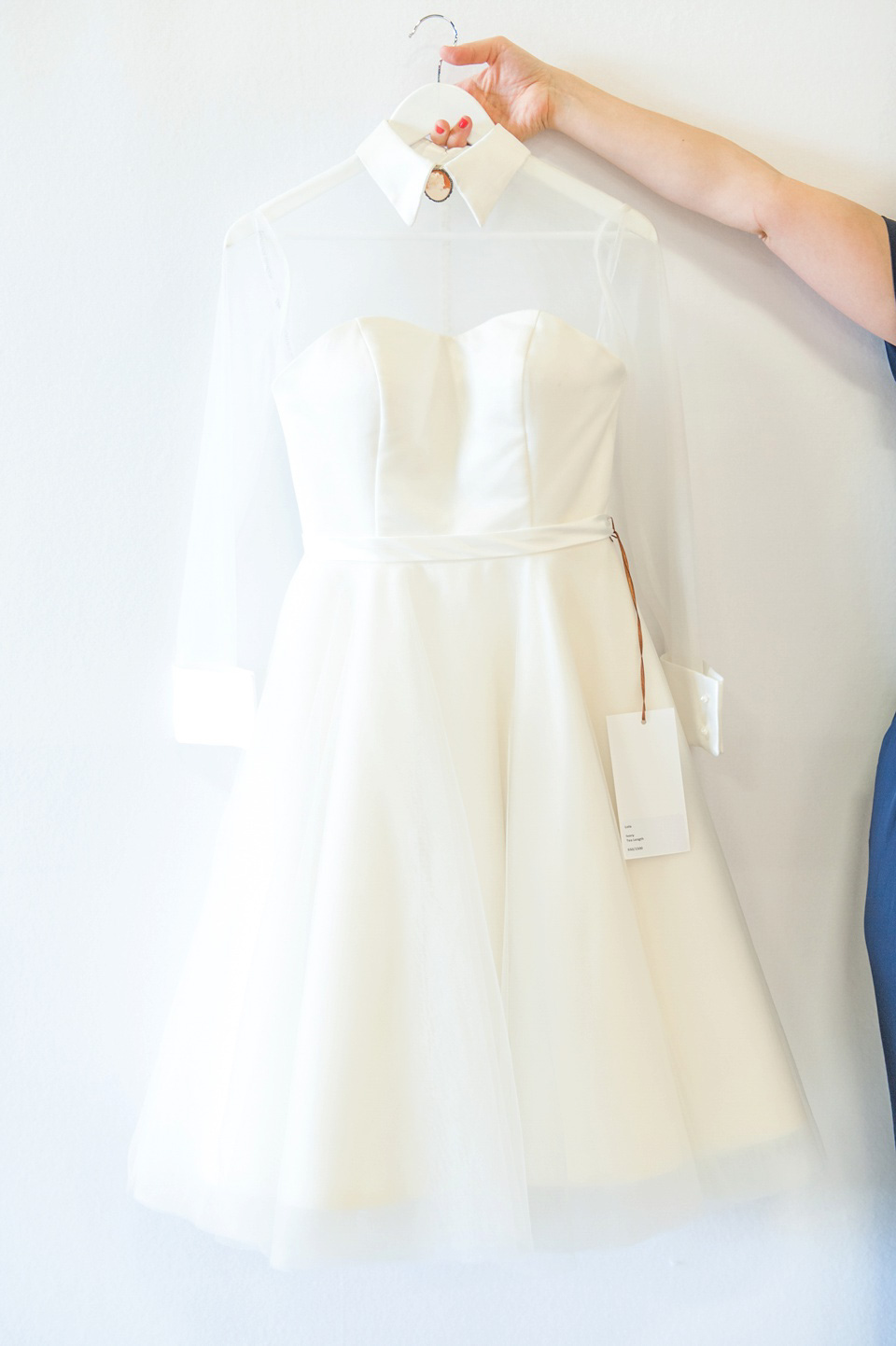 Anna Kara was a new show discovery for me this time at White Gallery.  Anna's gowns have been designed to be simple and light and ultimately feminine.  Everything about this brand just screamed 'super, super cool bride'.
You can see more of her 2015 collection for brides here.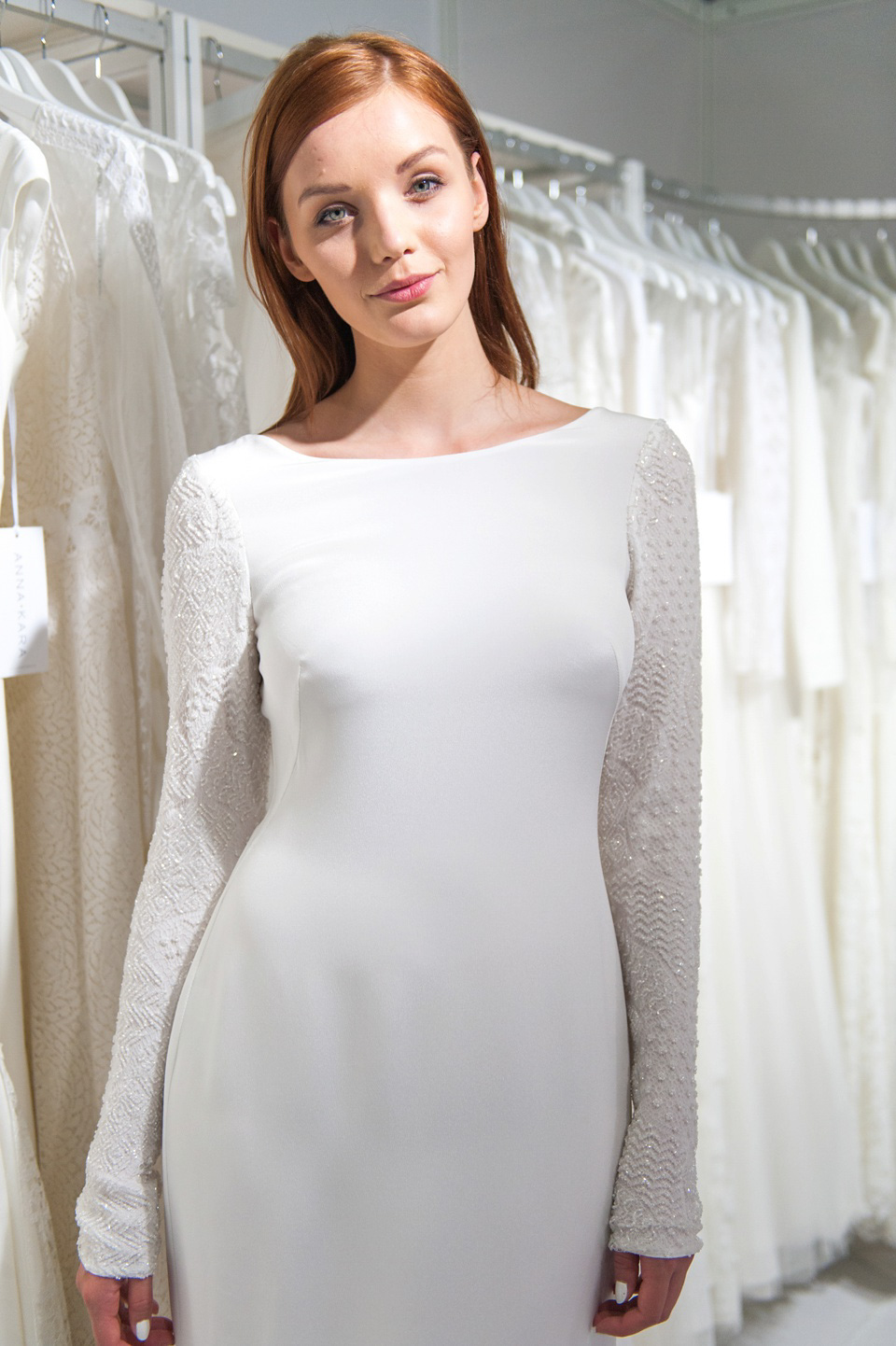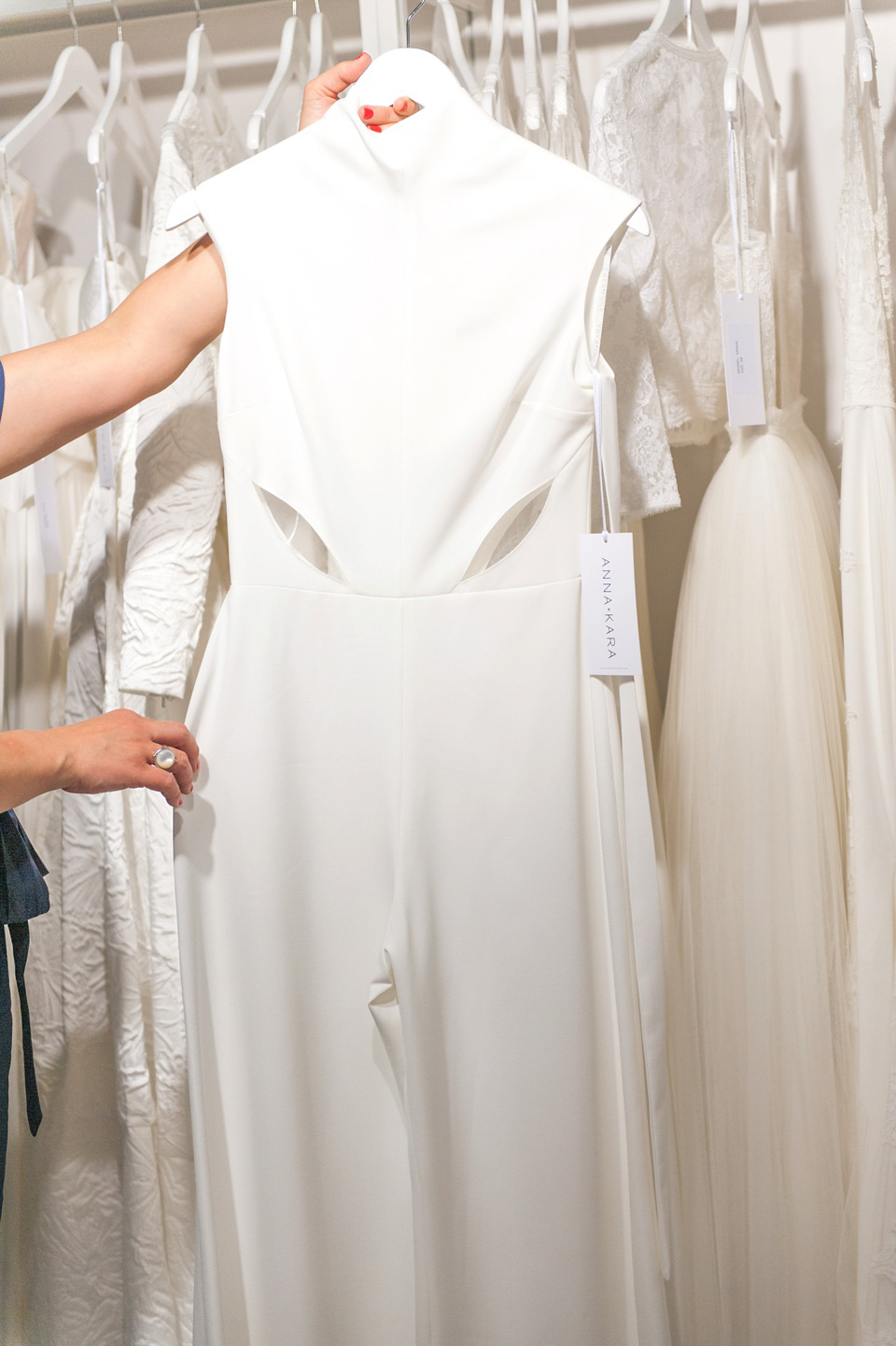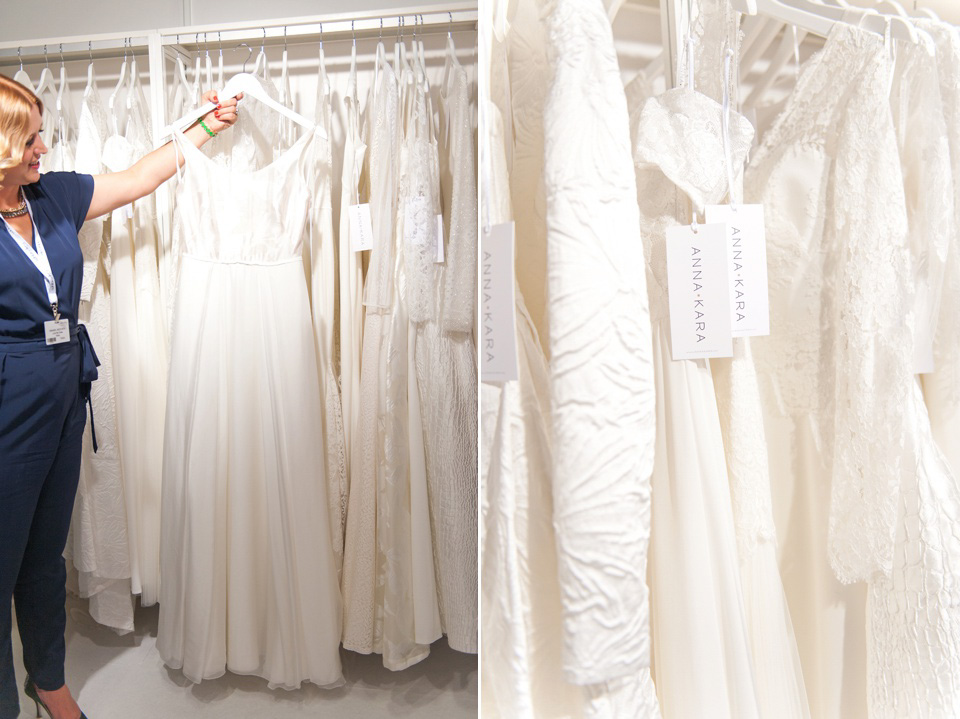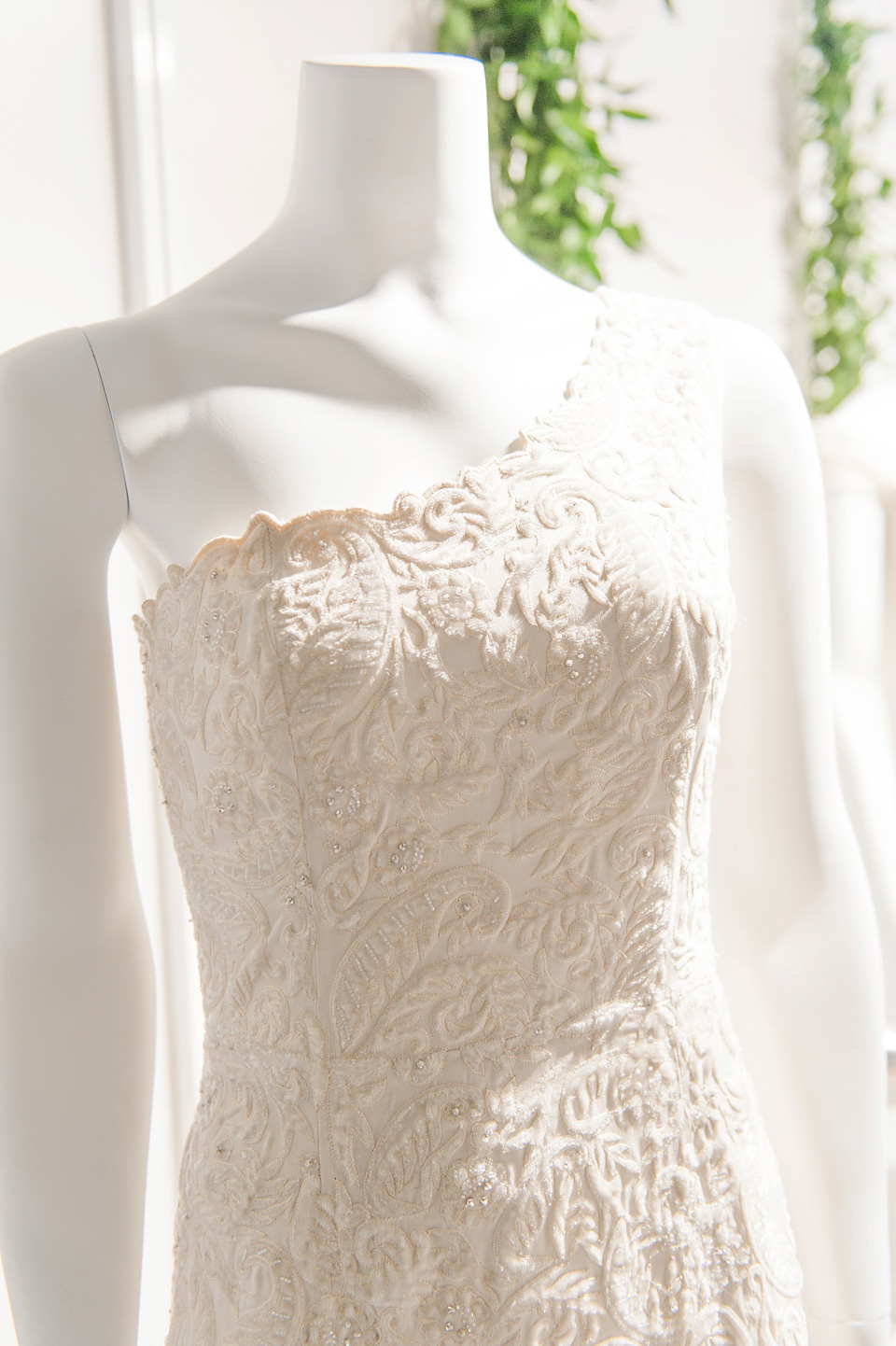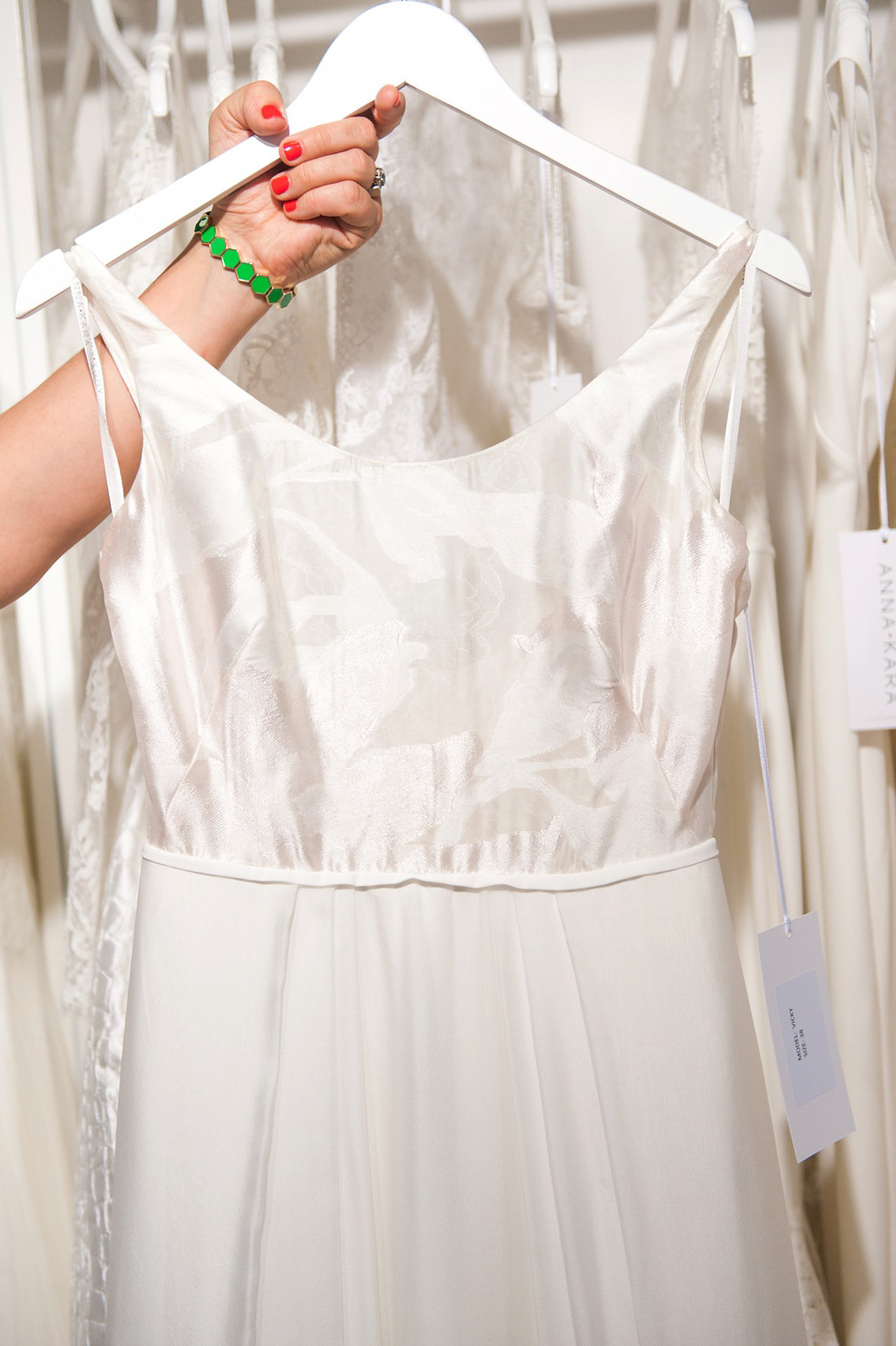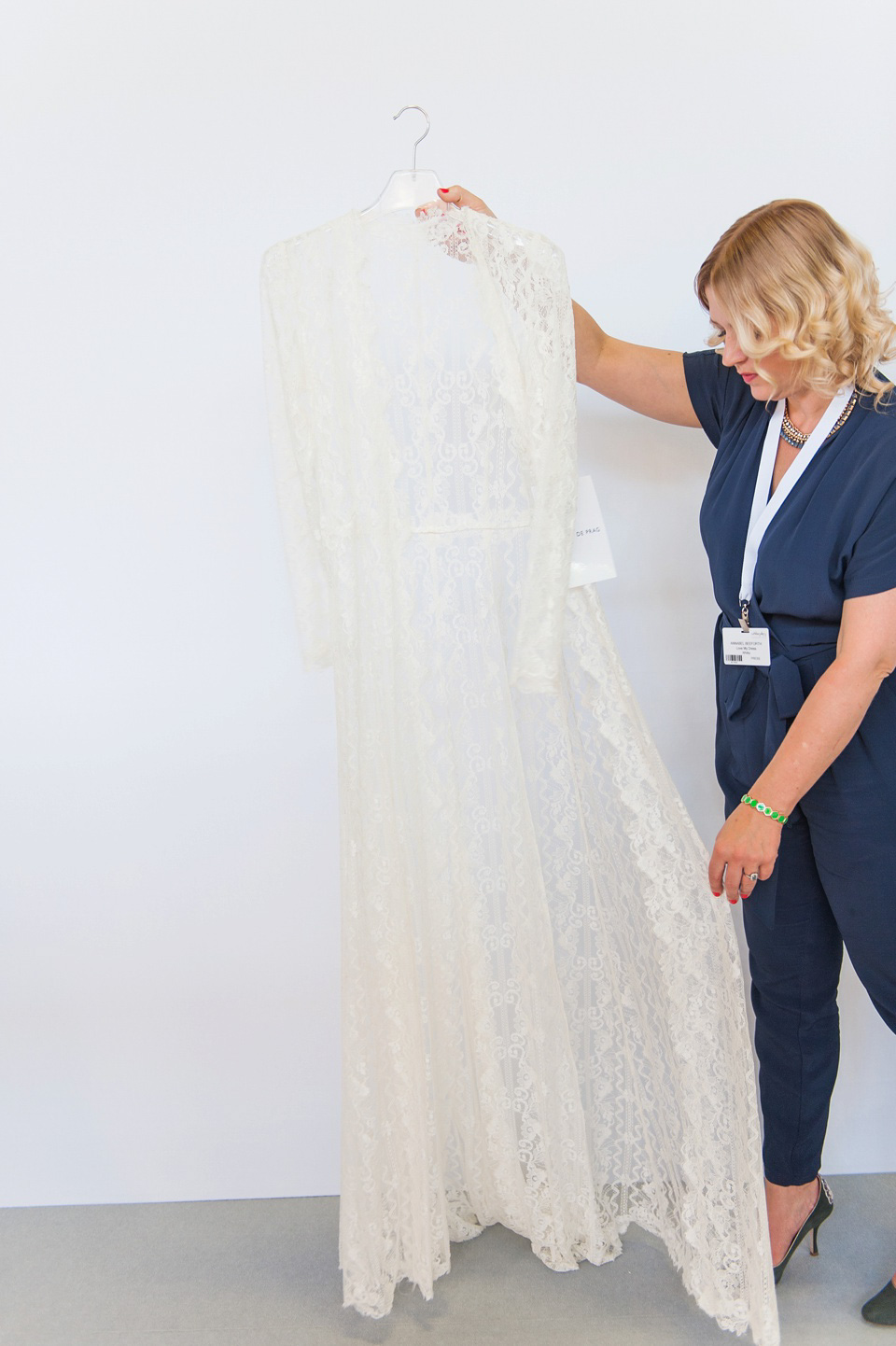 Just the day before I attended White Gallery, I had blogged about the new Emma Hunt London collection for brides – you can see my feature here.  This was the first time I'd actually met designer Emma face to face and it was a real pleasure.  I have a great deal of admiration for this designer, whose has been designing for brides from her London Atelier for the past 17 years.
We stopped and talked about the amazing fabric used to create this dress below…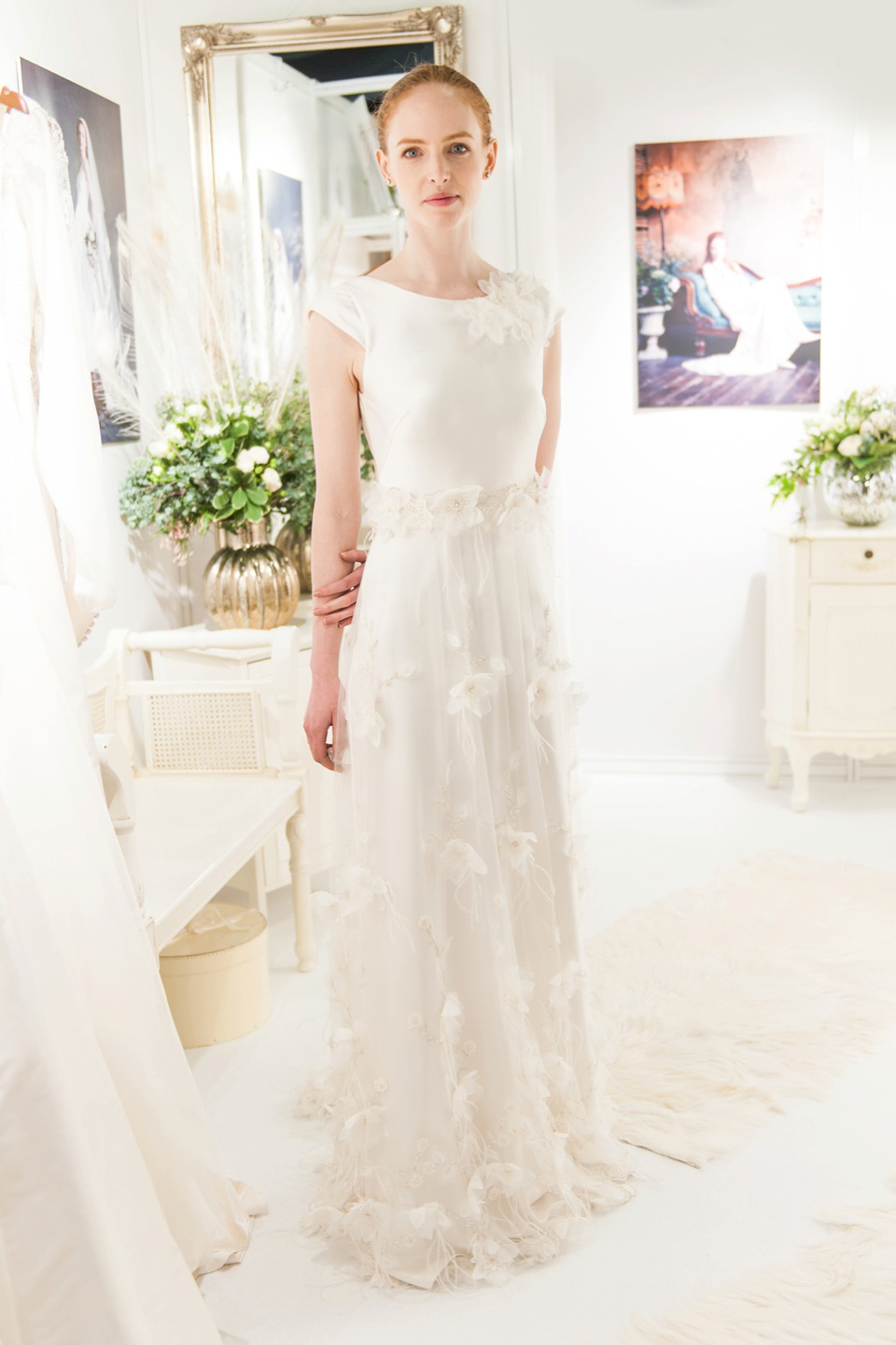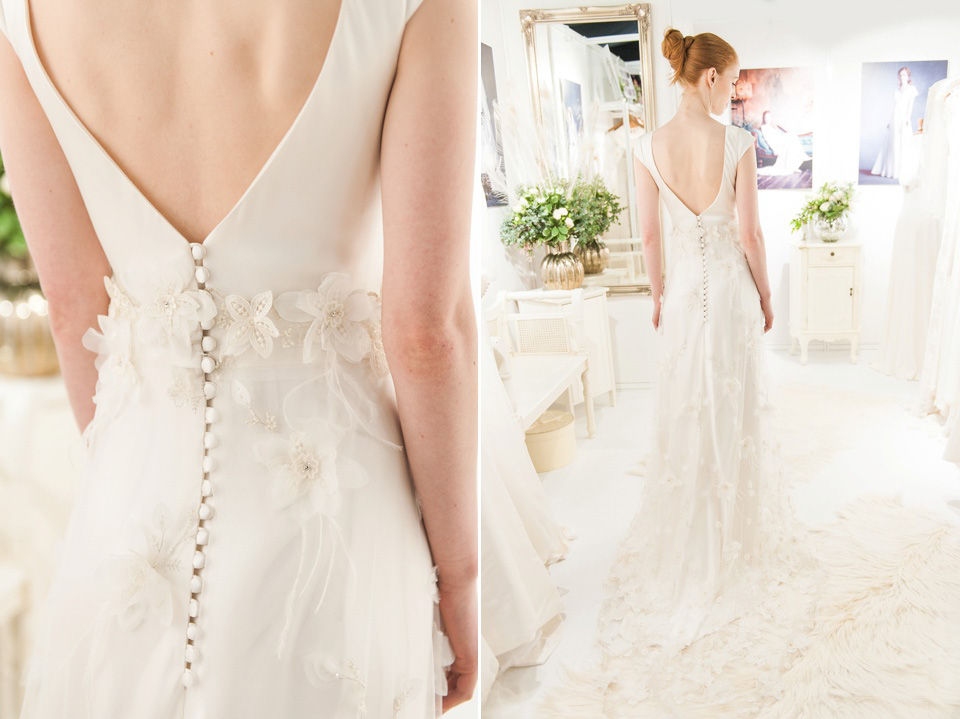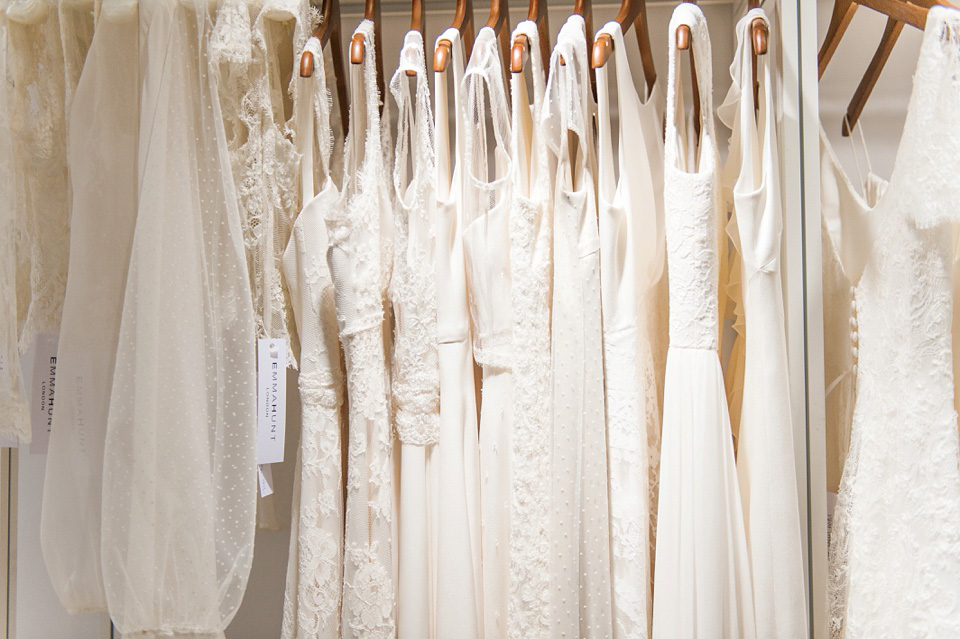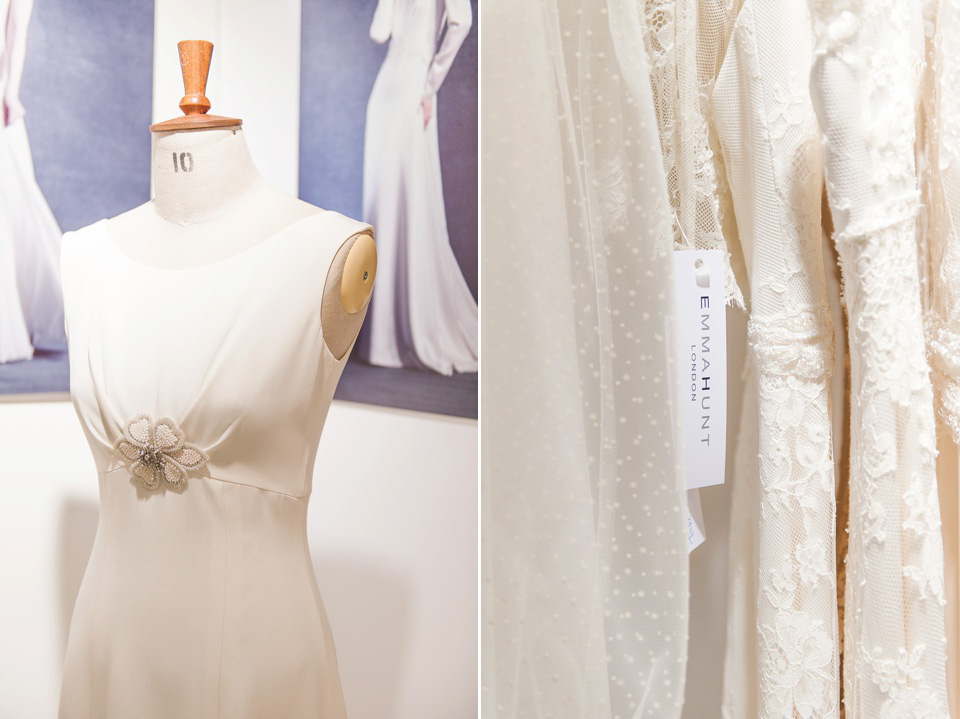 Little people aren't over looked at Emma Hunt London either. I loved this sweet bridesmaids dress with the little keyhole detail at the back.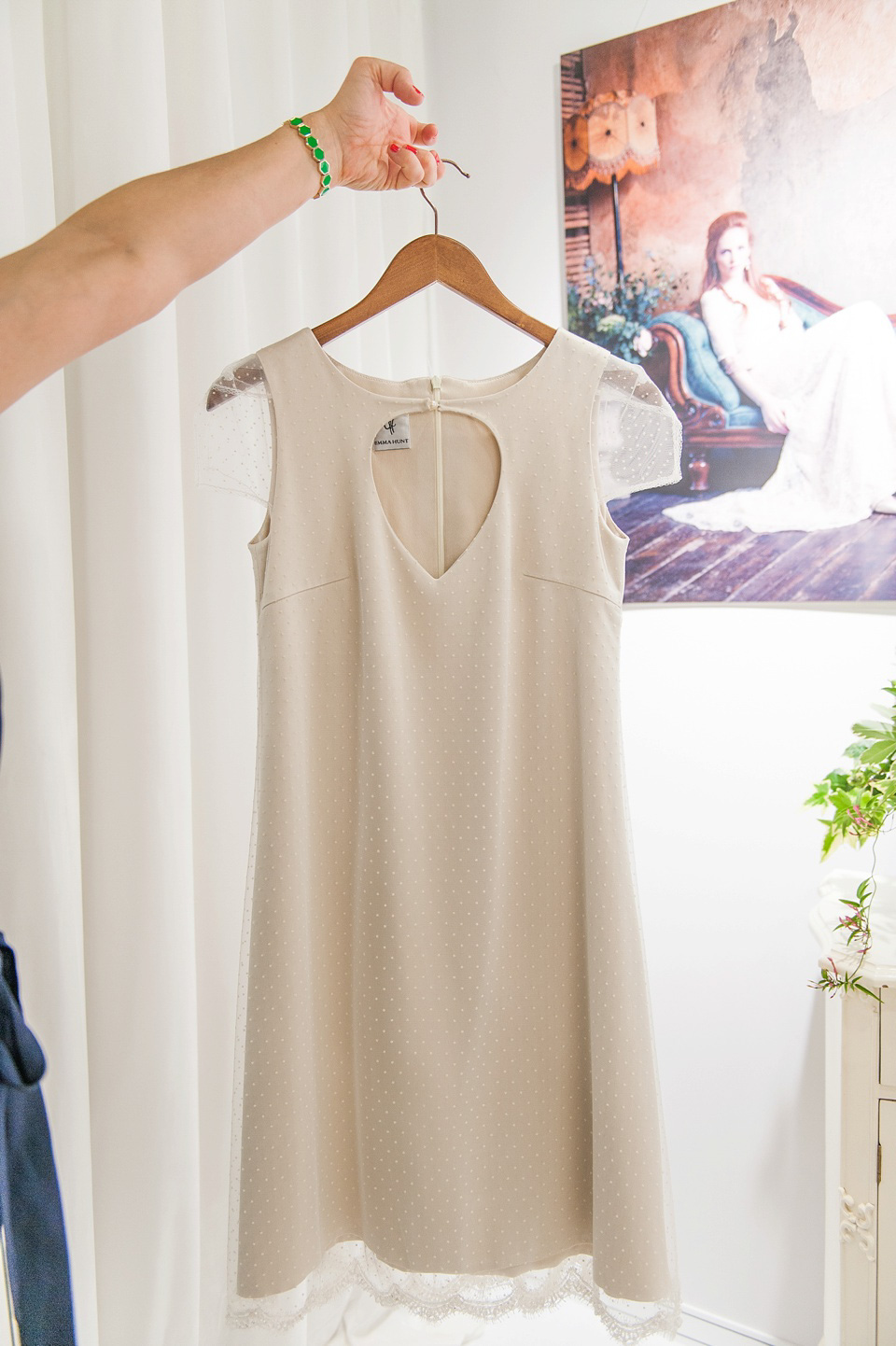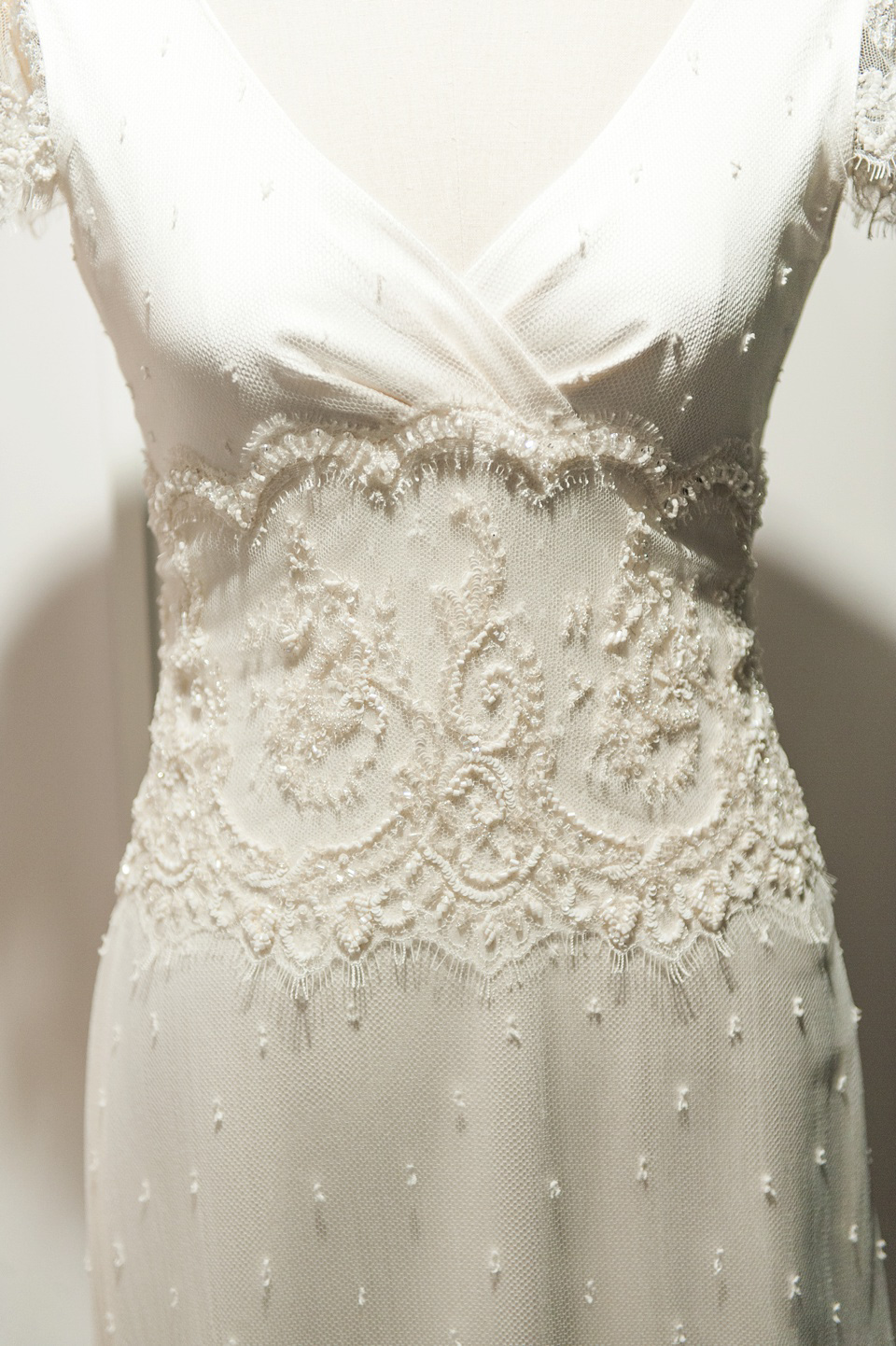 It was a little difficult to capture this elegance of this sheer, polka dot wedding dress (would be worn over a silk slip) but please trust me when I say it was very beautiful indeed.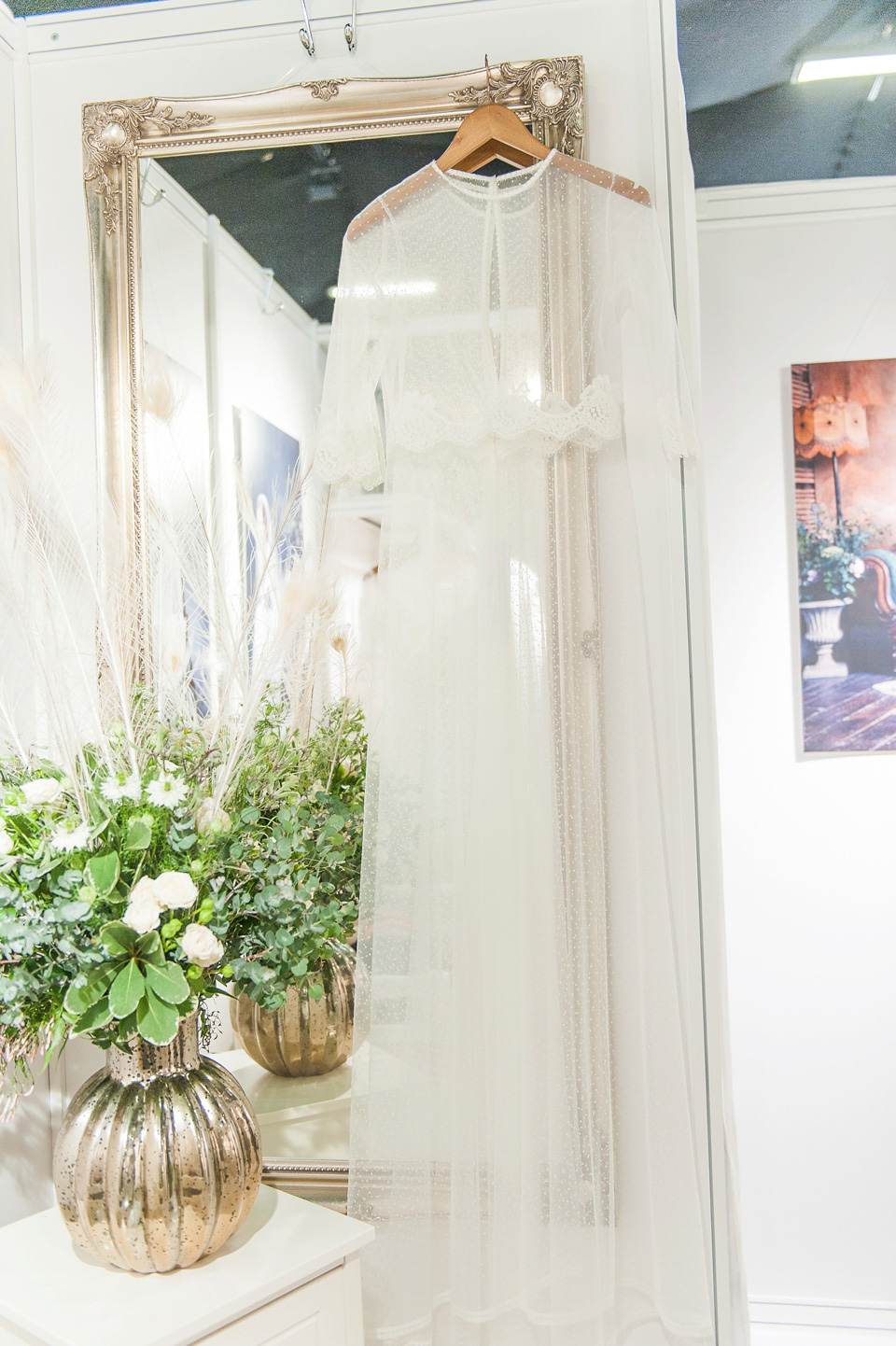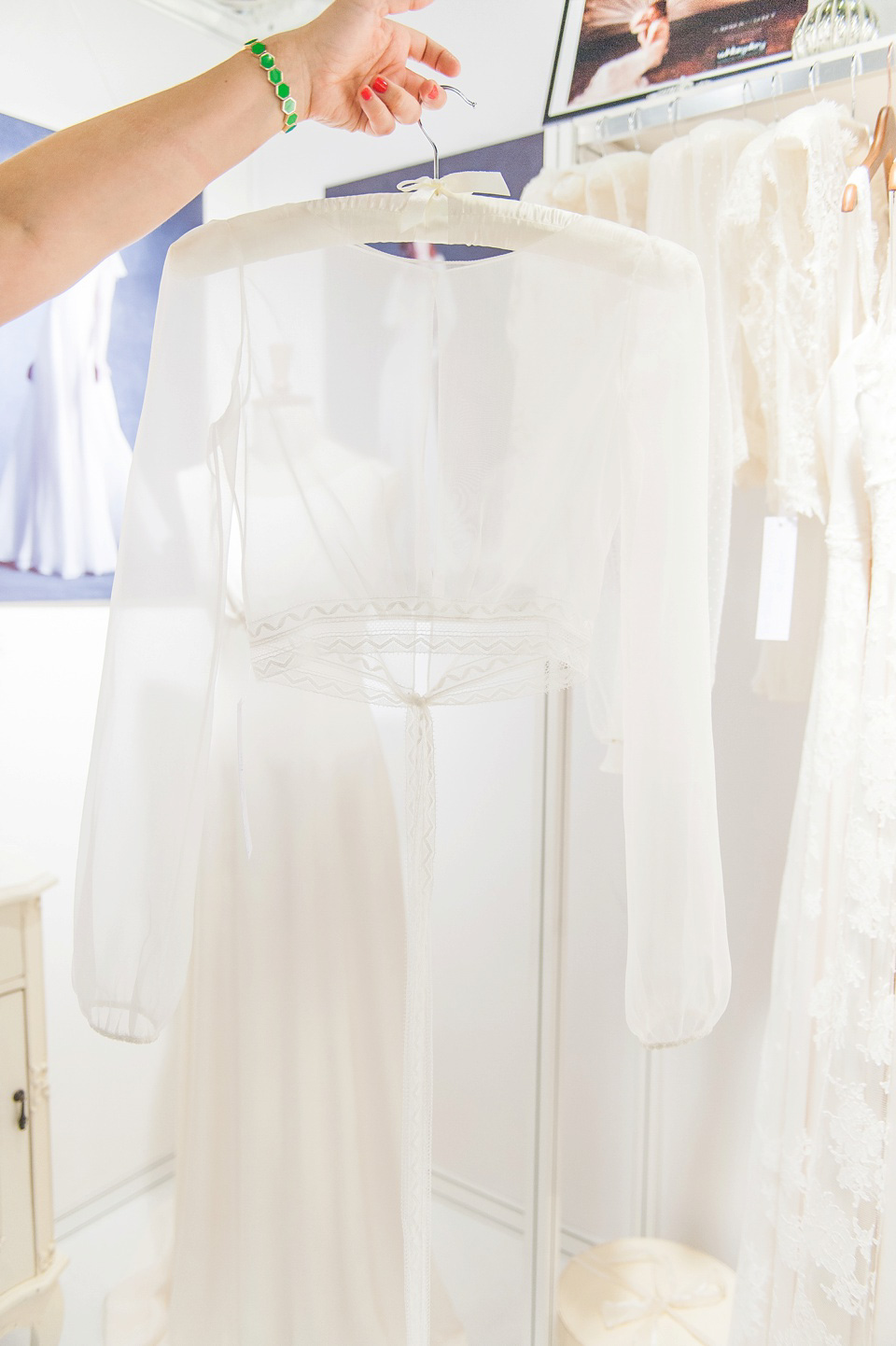 One person it is always such a genuine pleasure to be able to catchup with during these events is designer Charlotte Balbier. Which is why I was gutted that her stand was so busy (a great sign!) that she didn't have time to stop to talk. Customers come first though however and we managed to grab some images of Charlotte's gowns from her beautiful Willa Rose collection.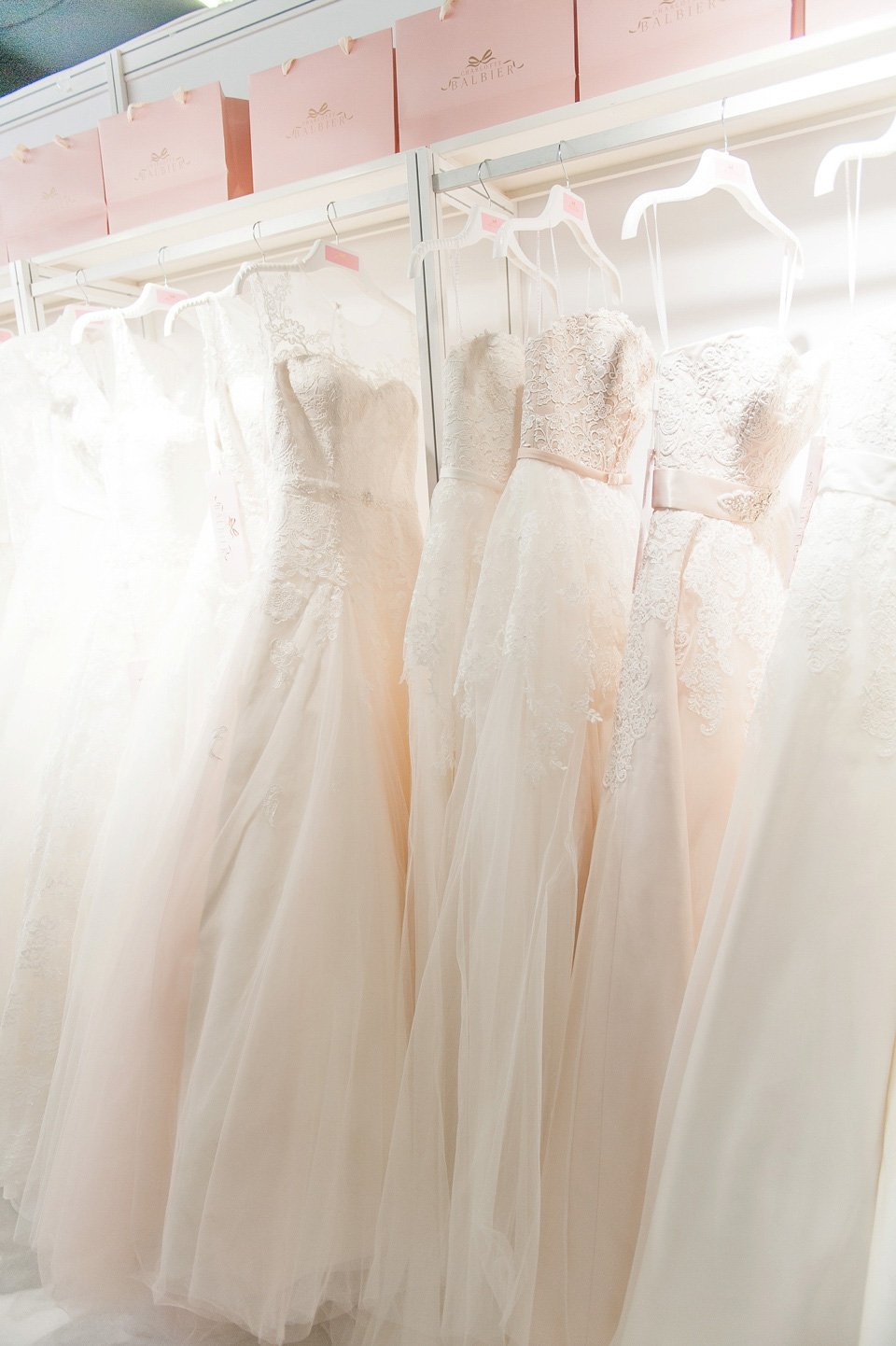 Many of our readers enjoy wearing Charlotte Balbier gowns and it's no surprise why – they ooze romantic, feminine appeal – I always think they're the 'English Rose' of bridal fashion.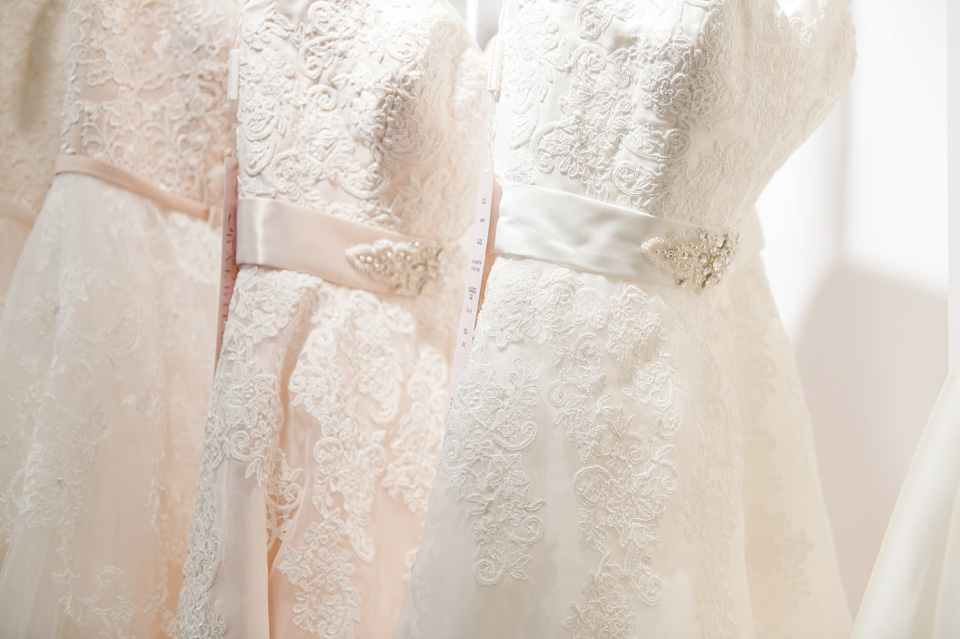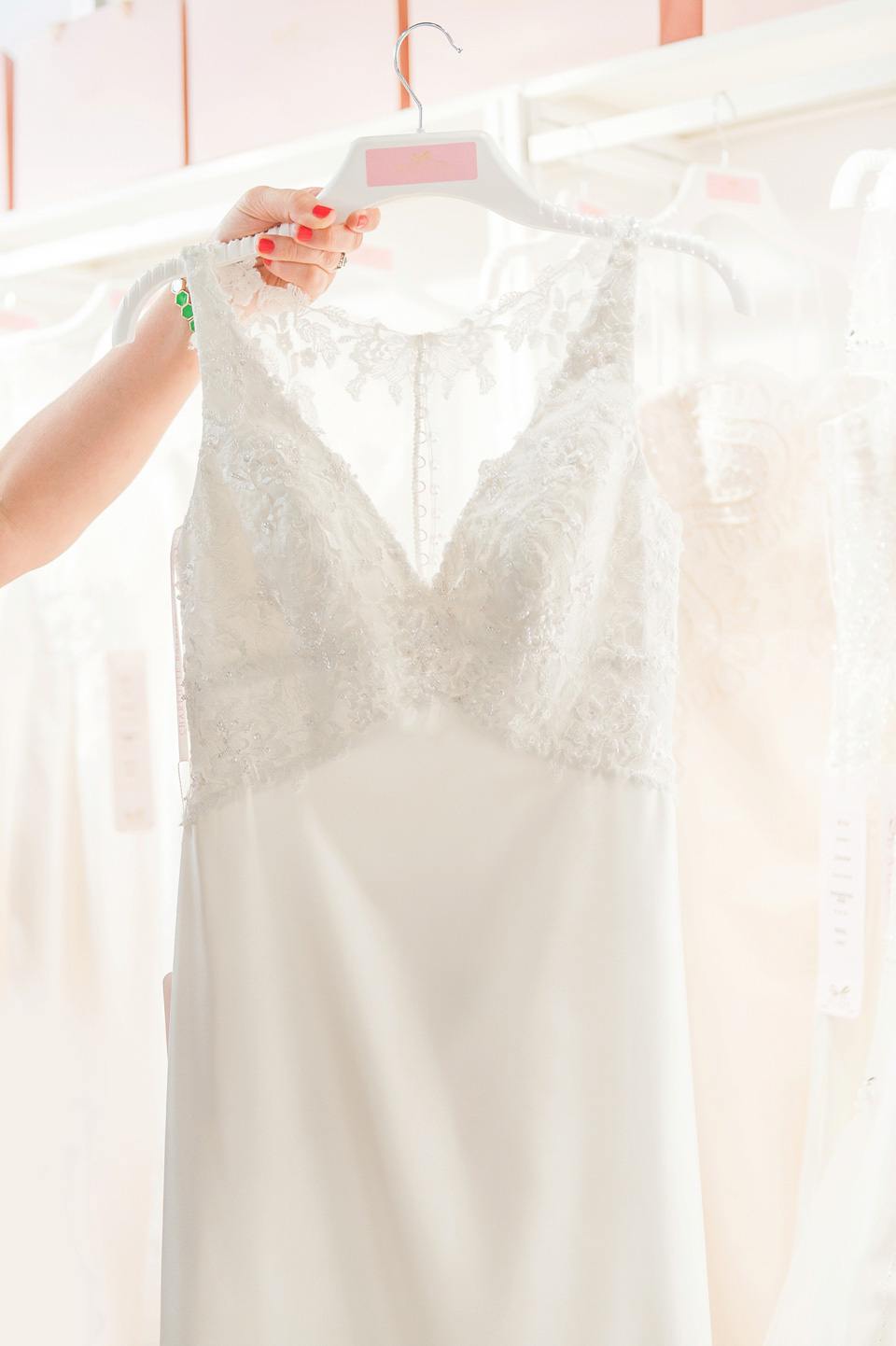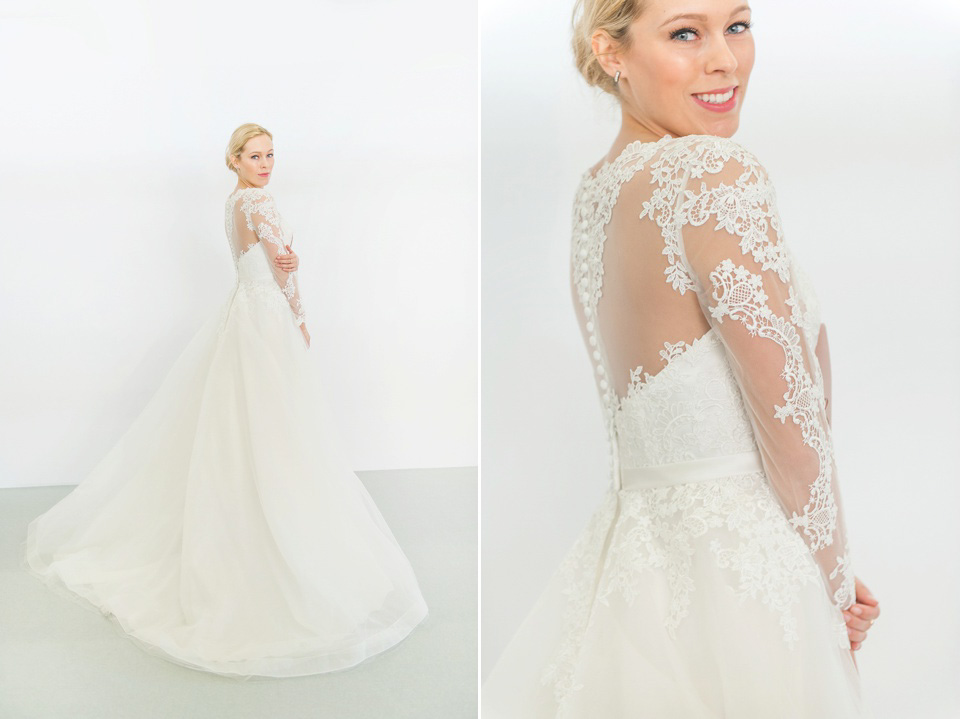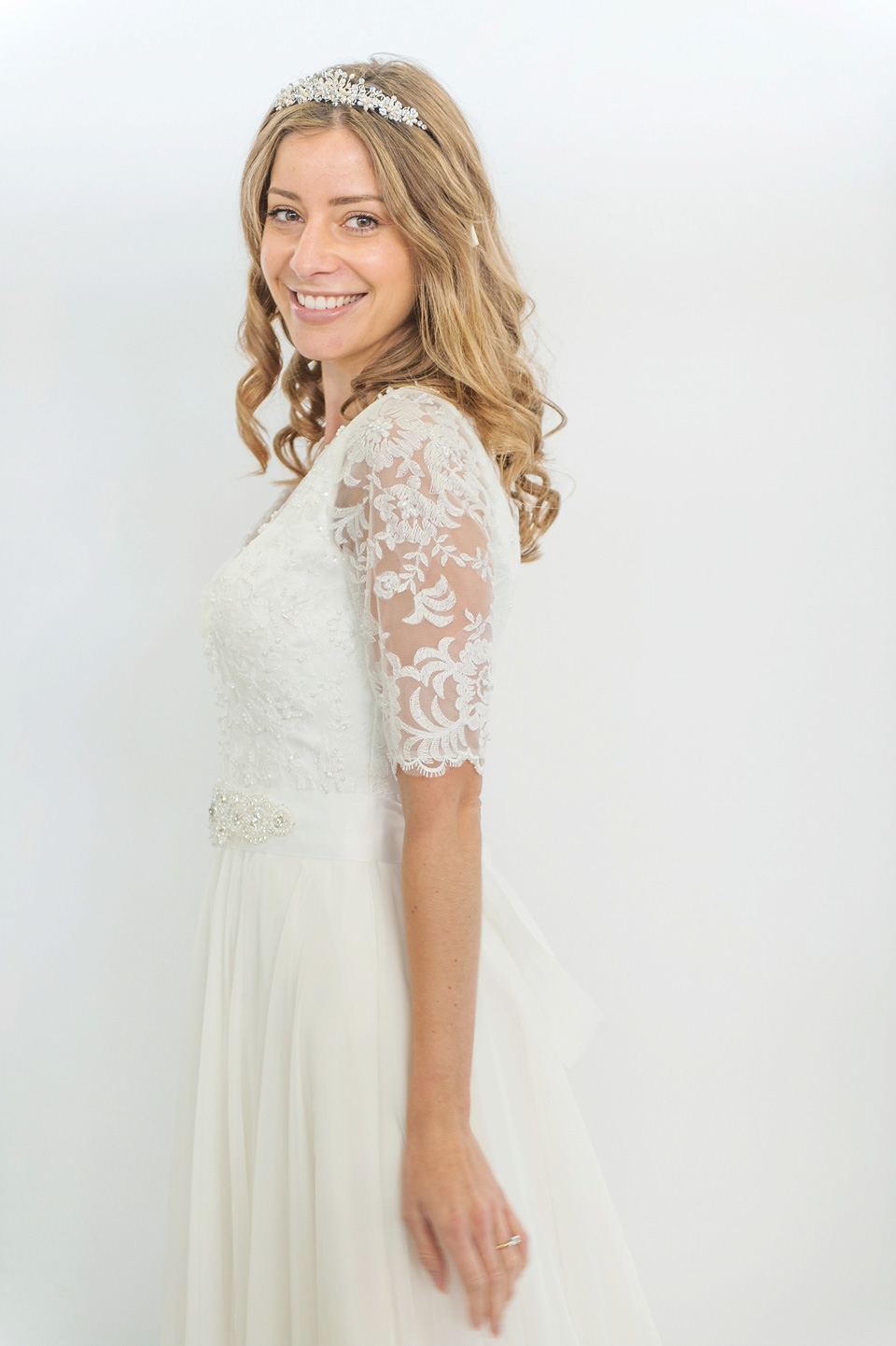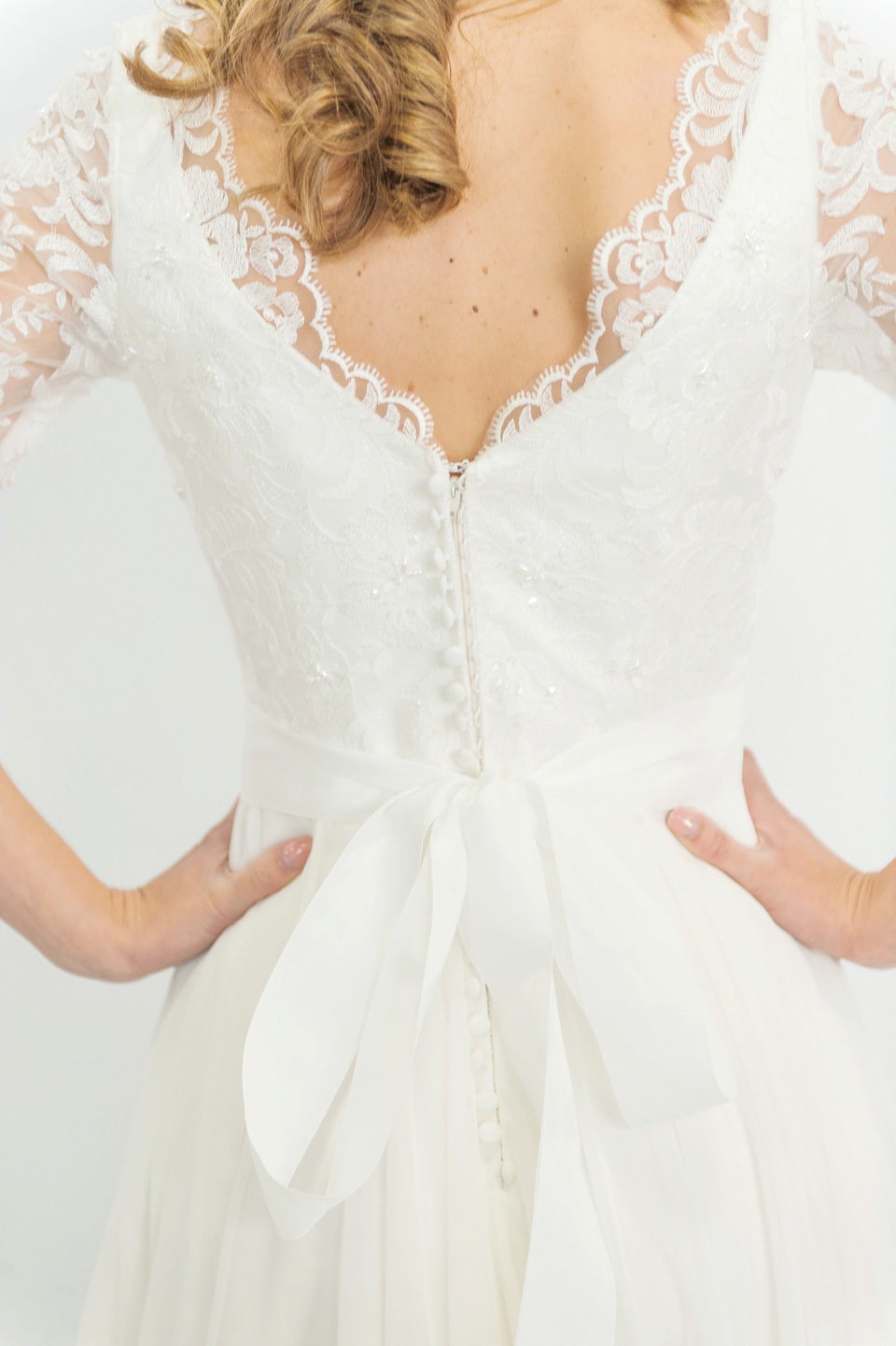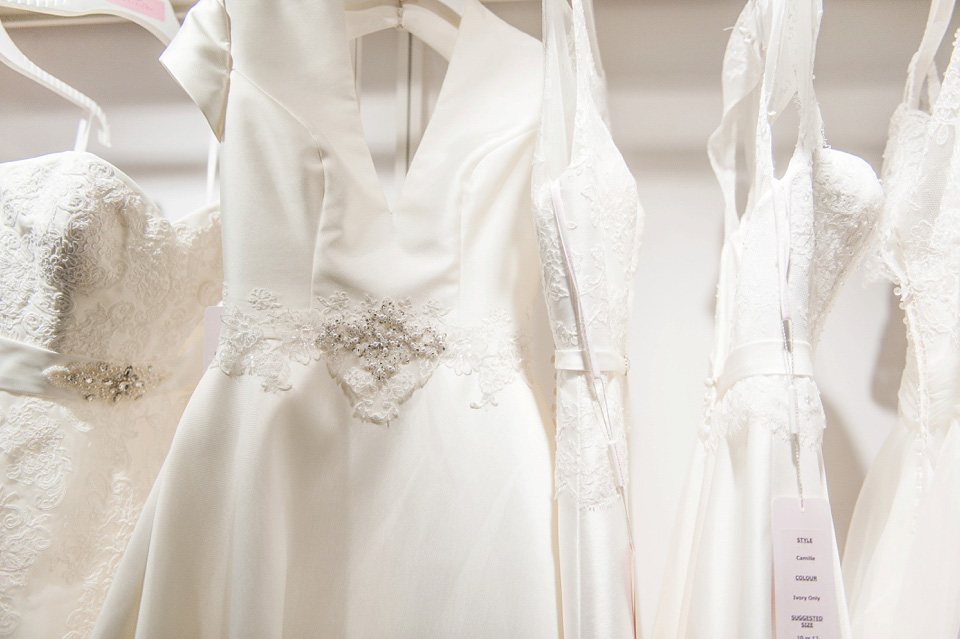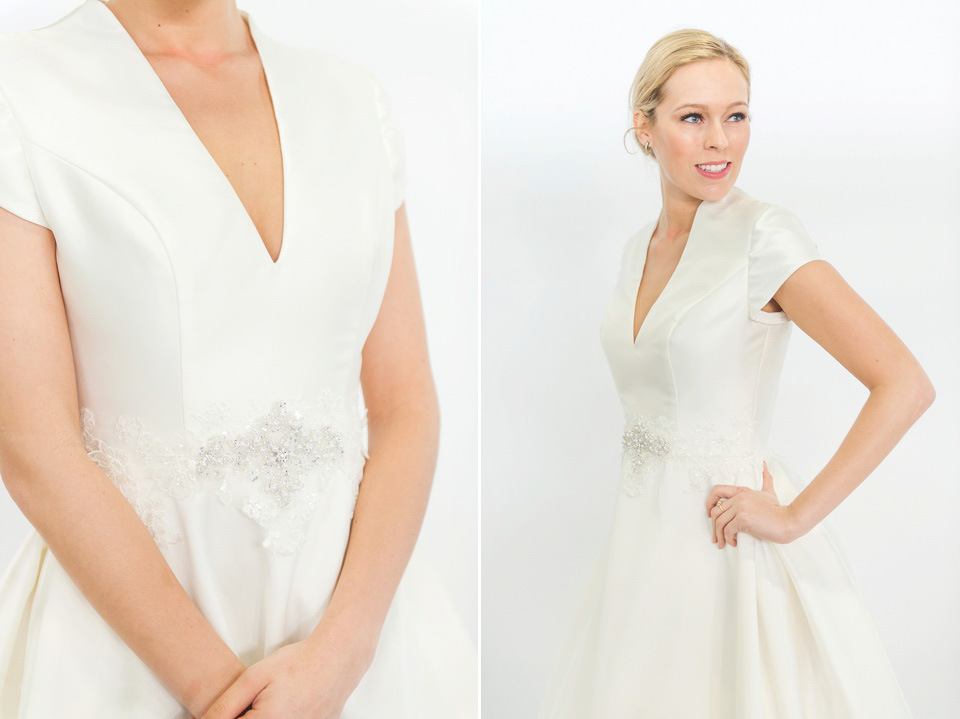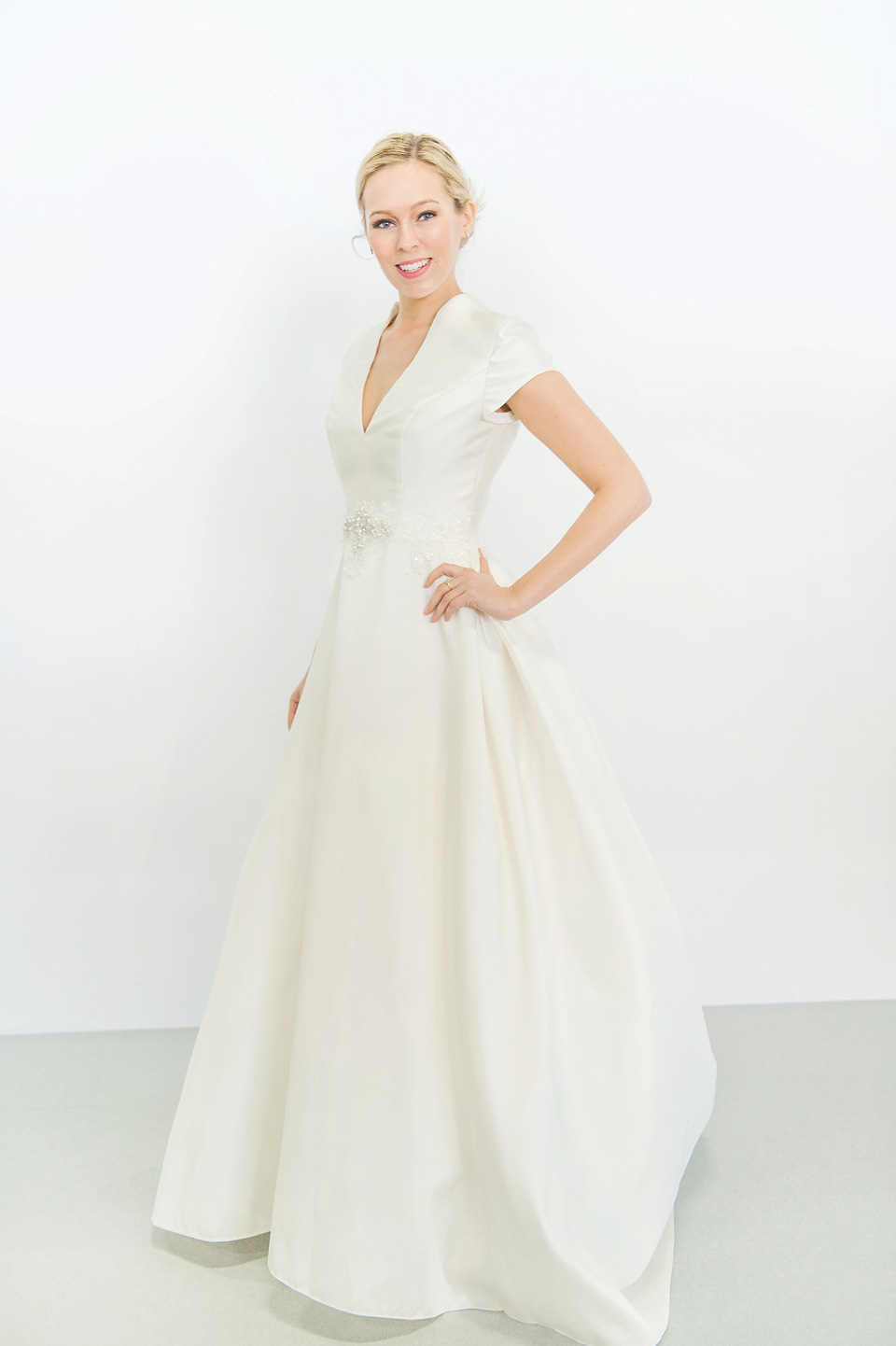 There were some nice 70's silhouettes happening over at the Cabotine exhibition. Lacy peplums, sheer halterneck and 70's inspired sleeves really caught my eye.  The team manning this stand were super helpful too.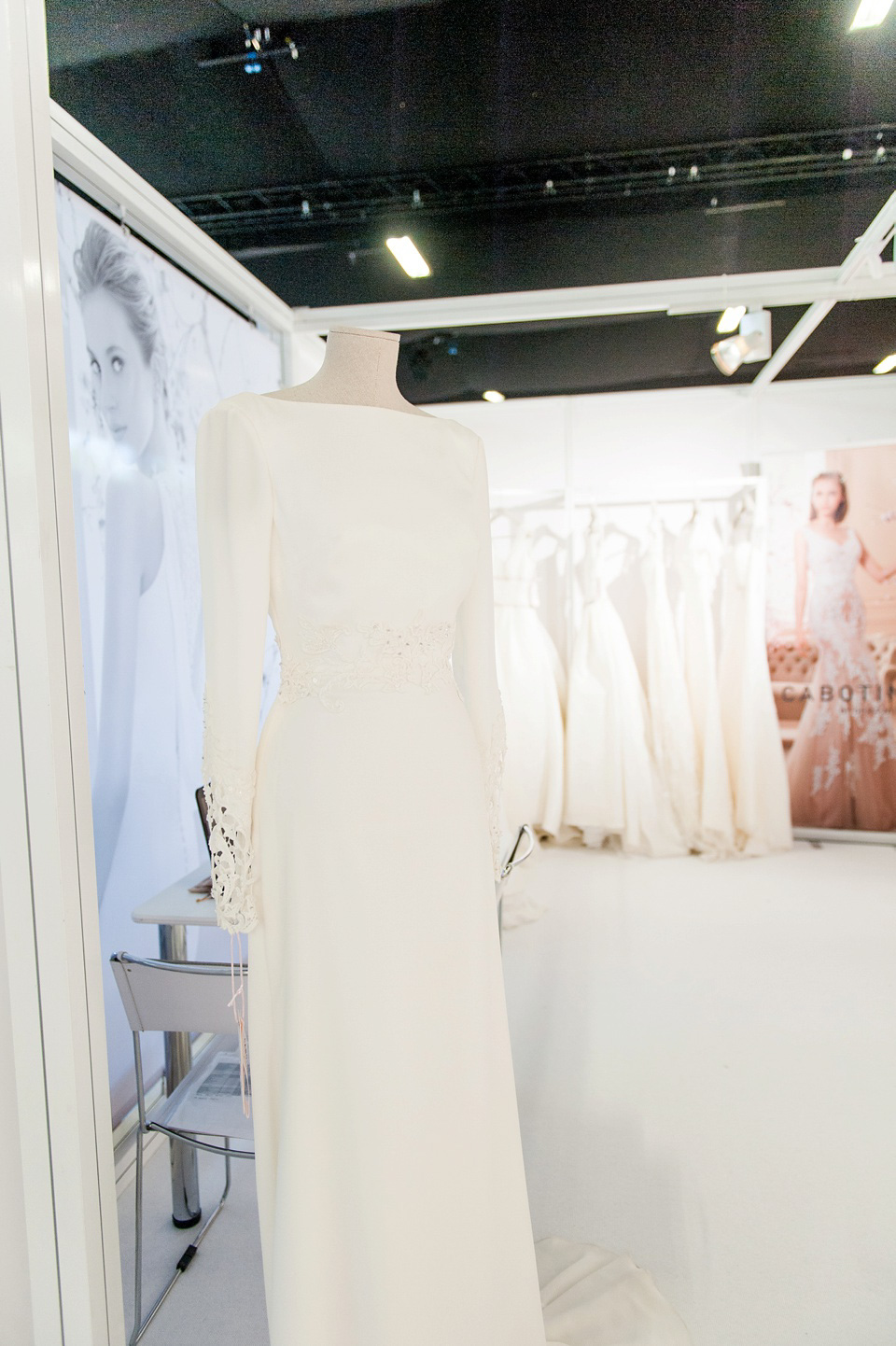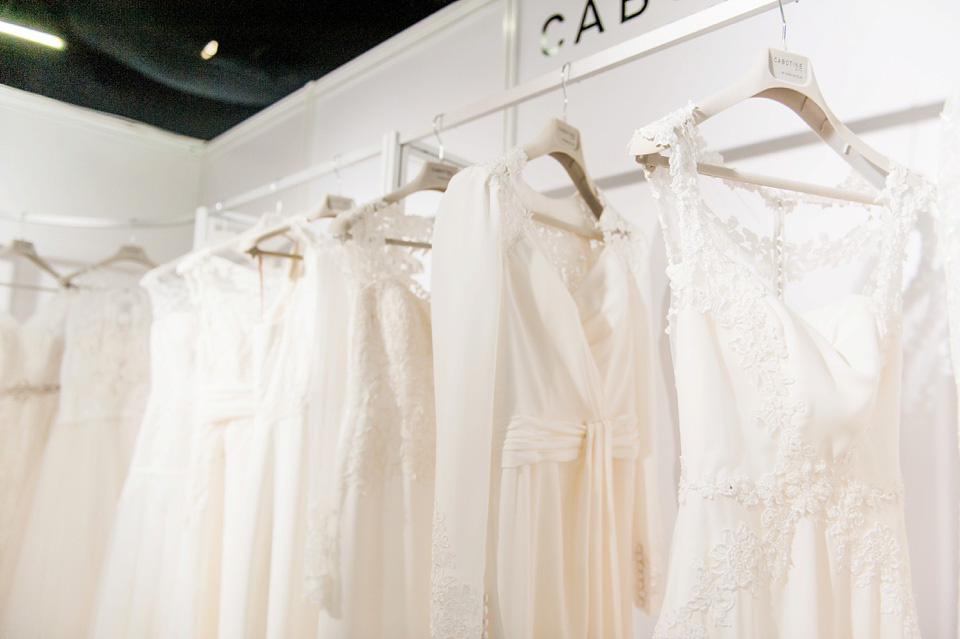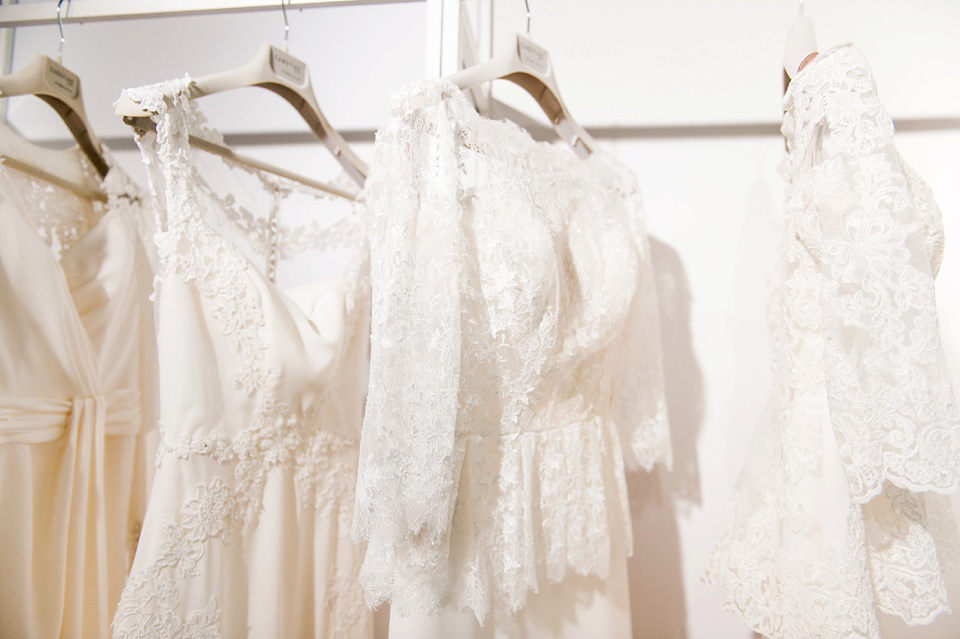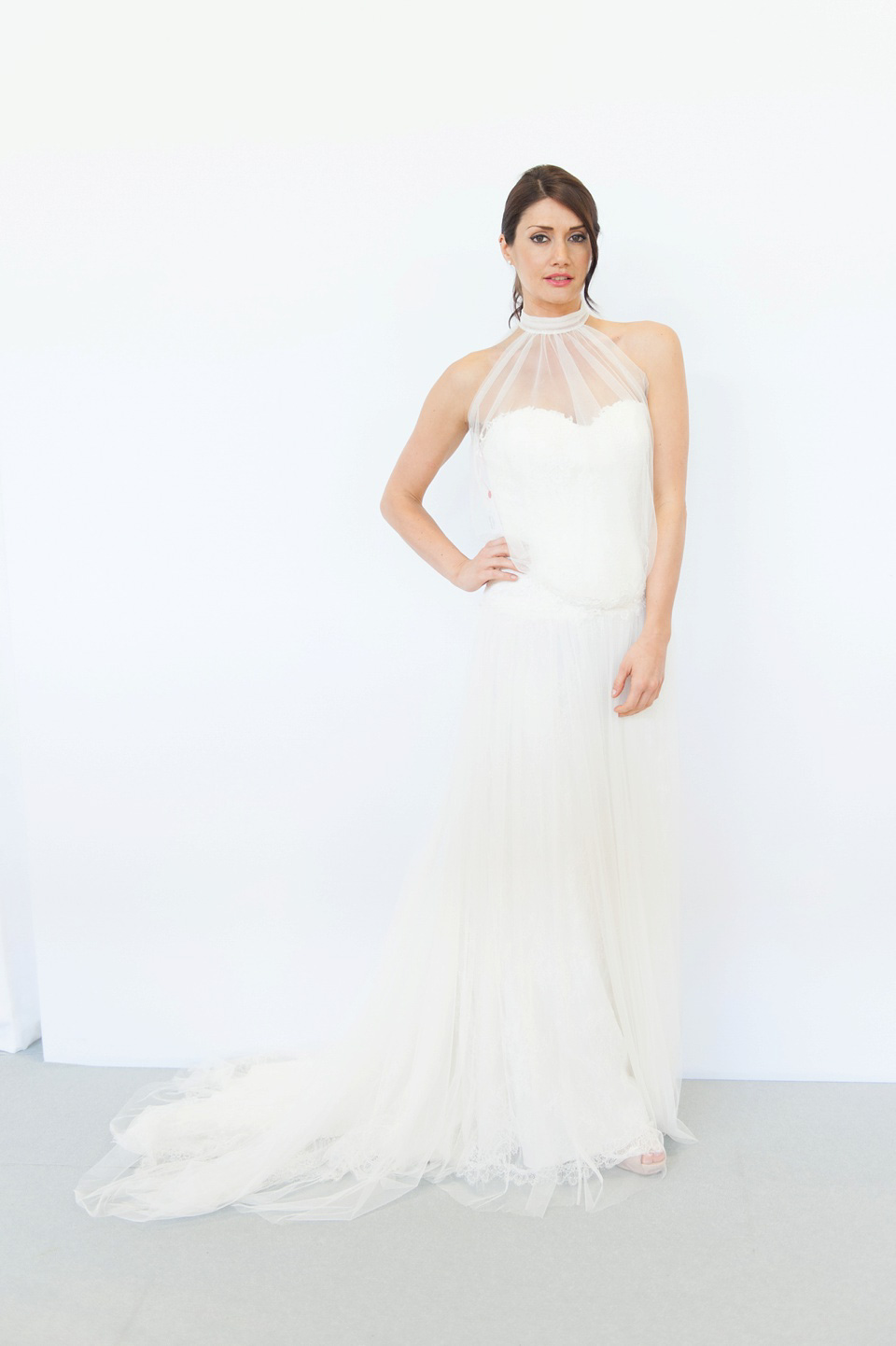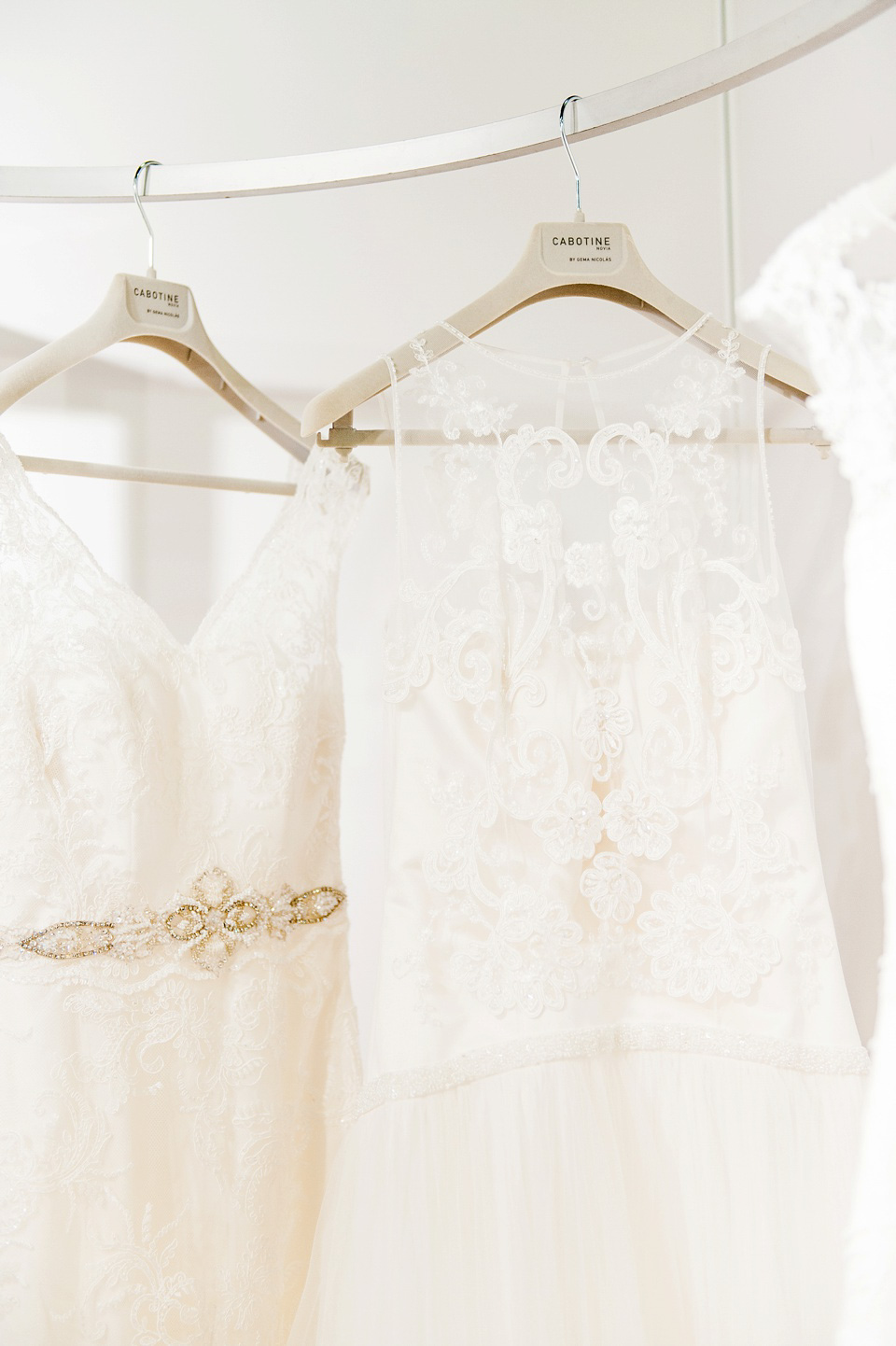 Another pleasant surprise this year was the addition of Ghost to the exhibiting ranks. We've featured quite a few weddings of late where the bridesmaids wore Ghost gowns.  I love the simplicity of these dresses and the colour pallet is pastel pretty and appealing too.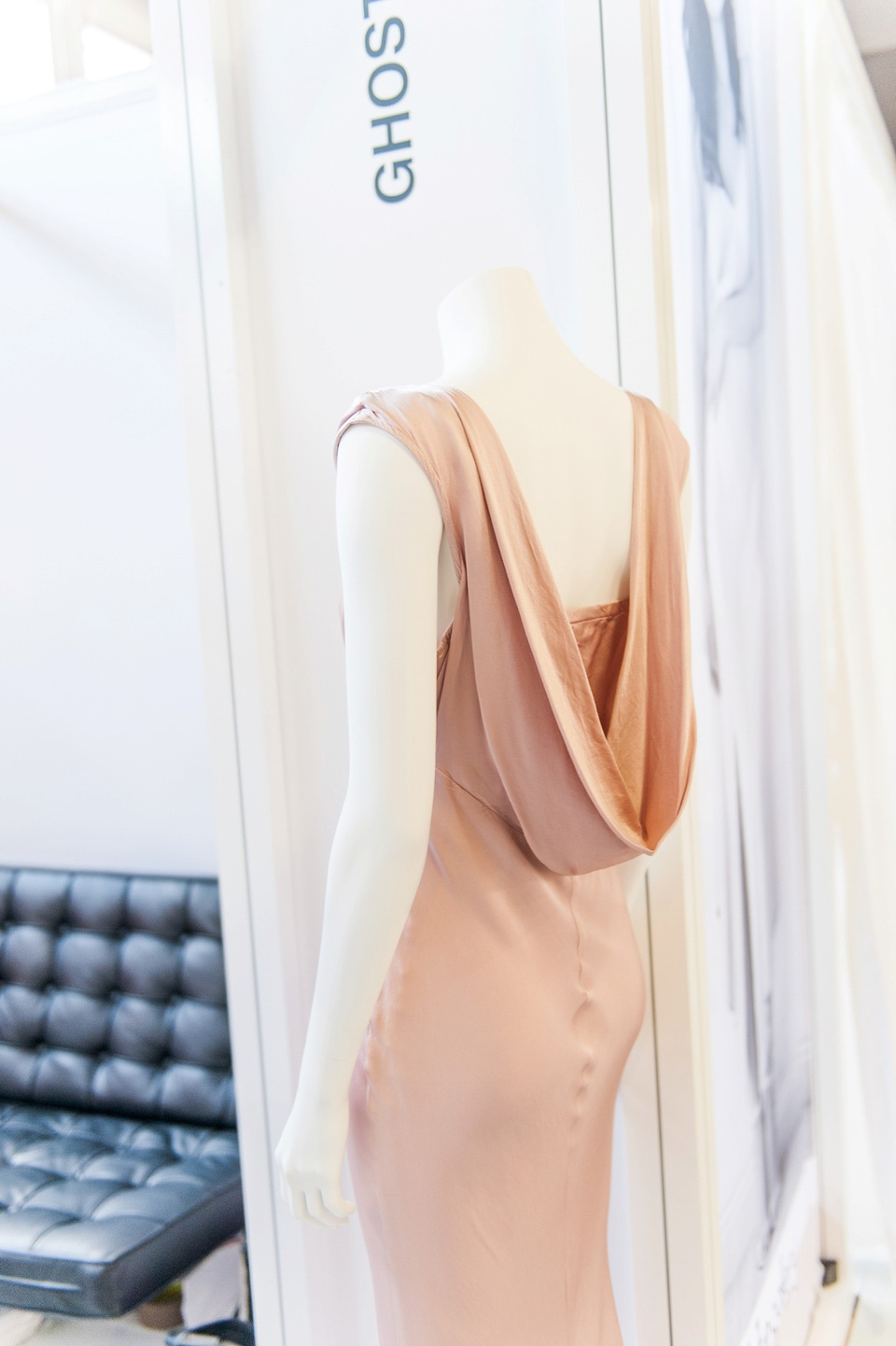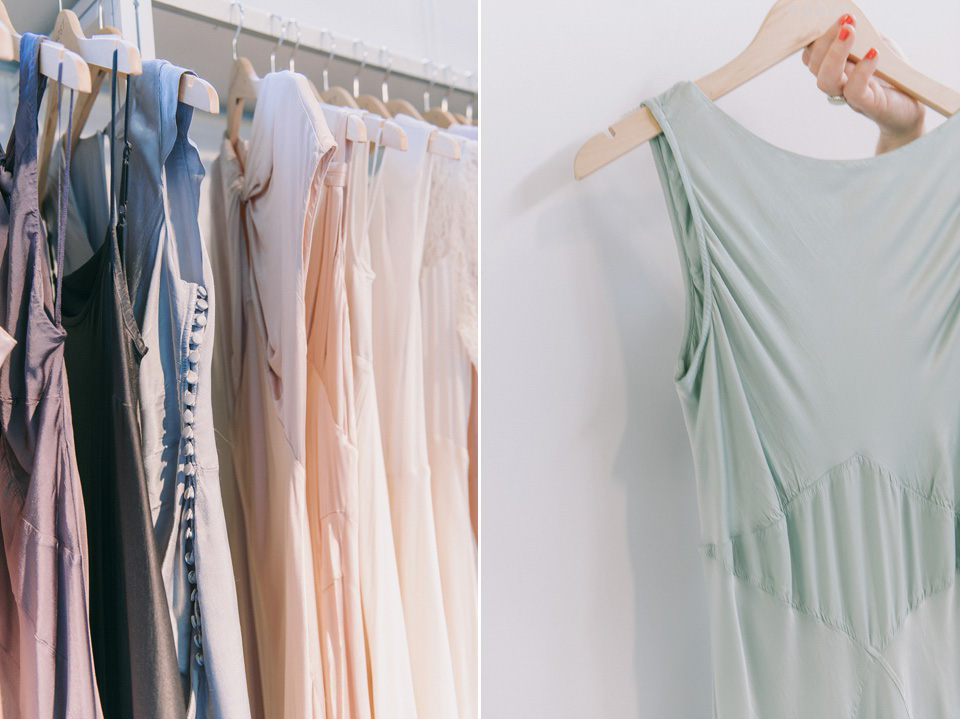 Zaeem Jamal is a brand who first entered my consciousness at last year's White Gallery. This year I was as utterly mesmerised by this top British luxury designer's offerings as I was 12 months ago.  I adore how this designer has added completely fresh and unique perspective on bridal to the mix. Delving into the past to seek inspiration for his bridal wear creations for the modern day bride, Jamal has turned to the Egyptians and the Mayans to direct his creativity.
Zaeem Jamal's designs really are something else, they ooze luxuriousness and surprisingly much lighter on the hanger than I thought they would be given the penchant for beautiful embellishment.  This all makes sense for a designer whose aim is to make his dresses 'feel as soft as air, and the garments to flow like a gentle breeze, to enhance the wearer's aura with a soft, radiant feeling of sensuality, warmth and joy.'
Mr Jamal,  please consider me a huge fan of your work. I'm keeping fingers crossed we get to share one of your real bride's weddings very soon.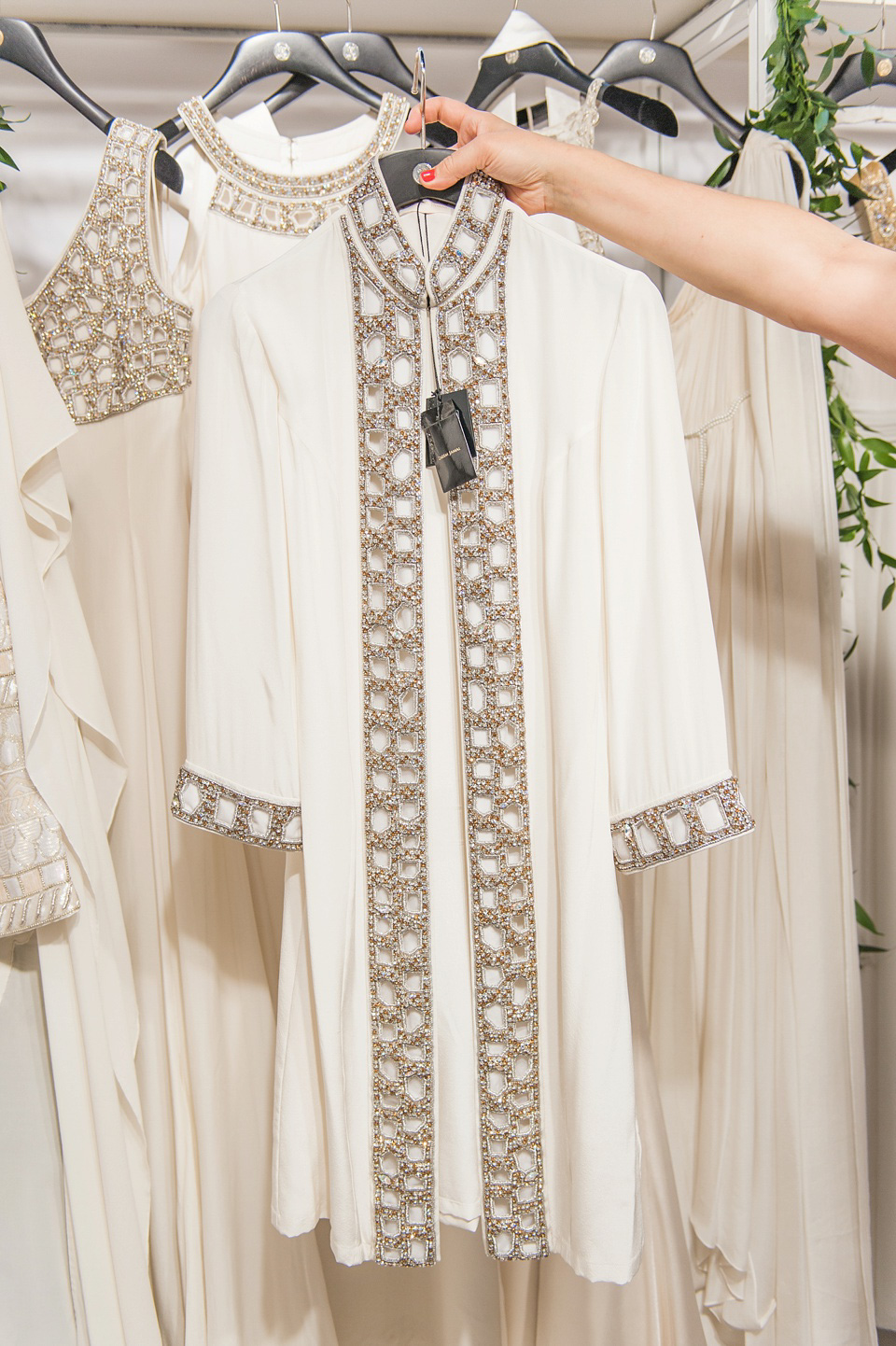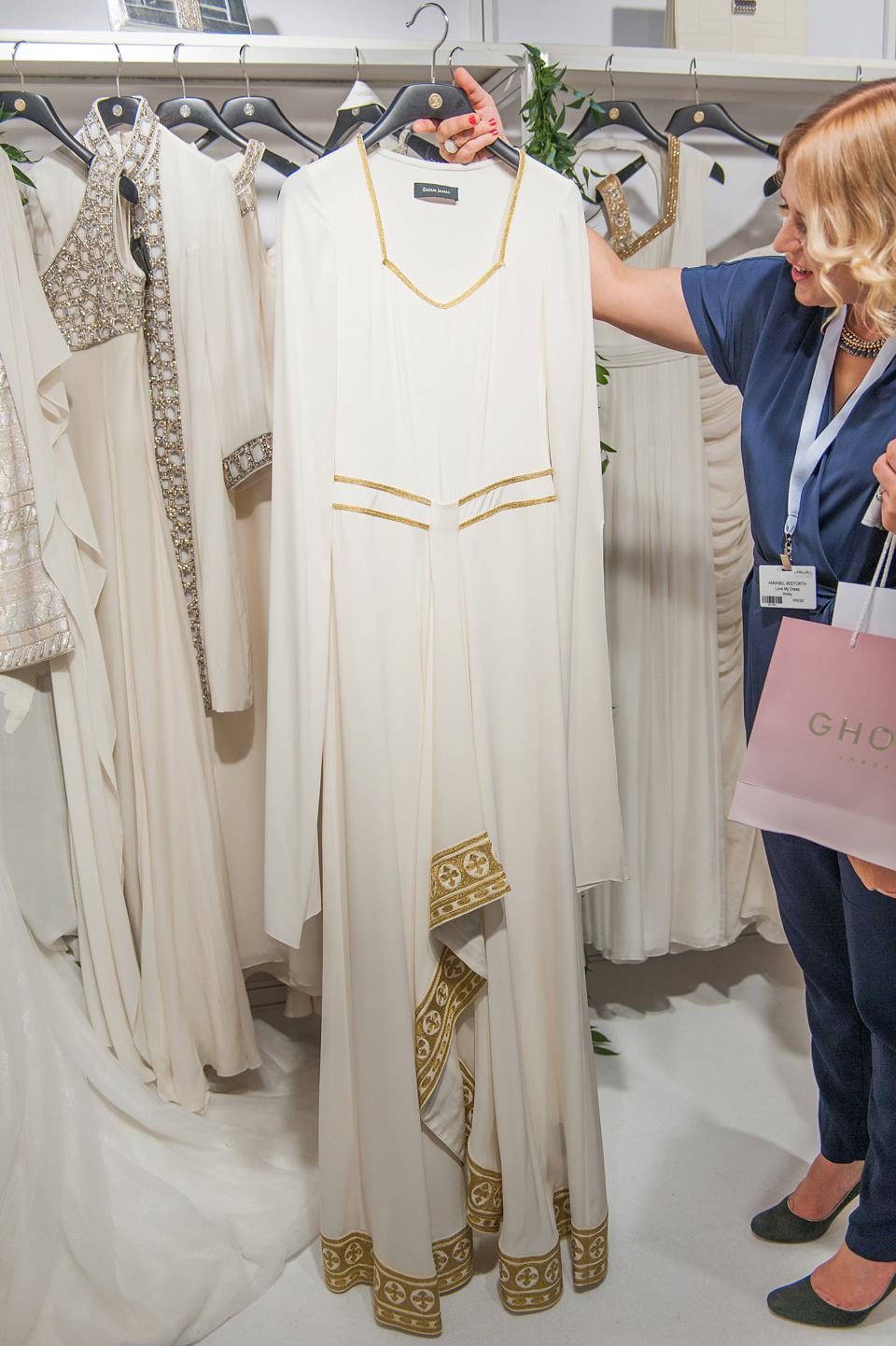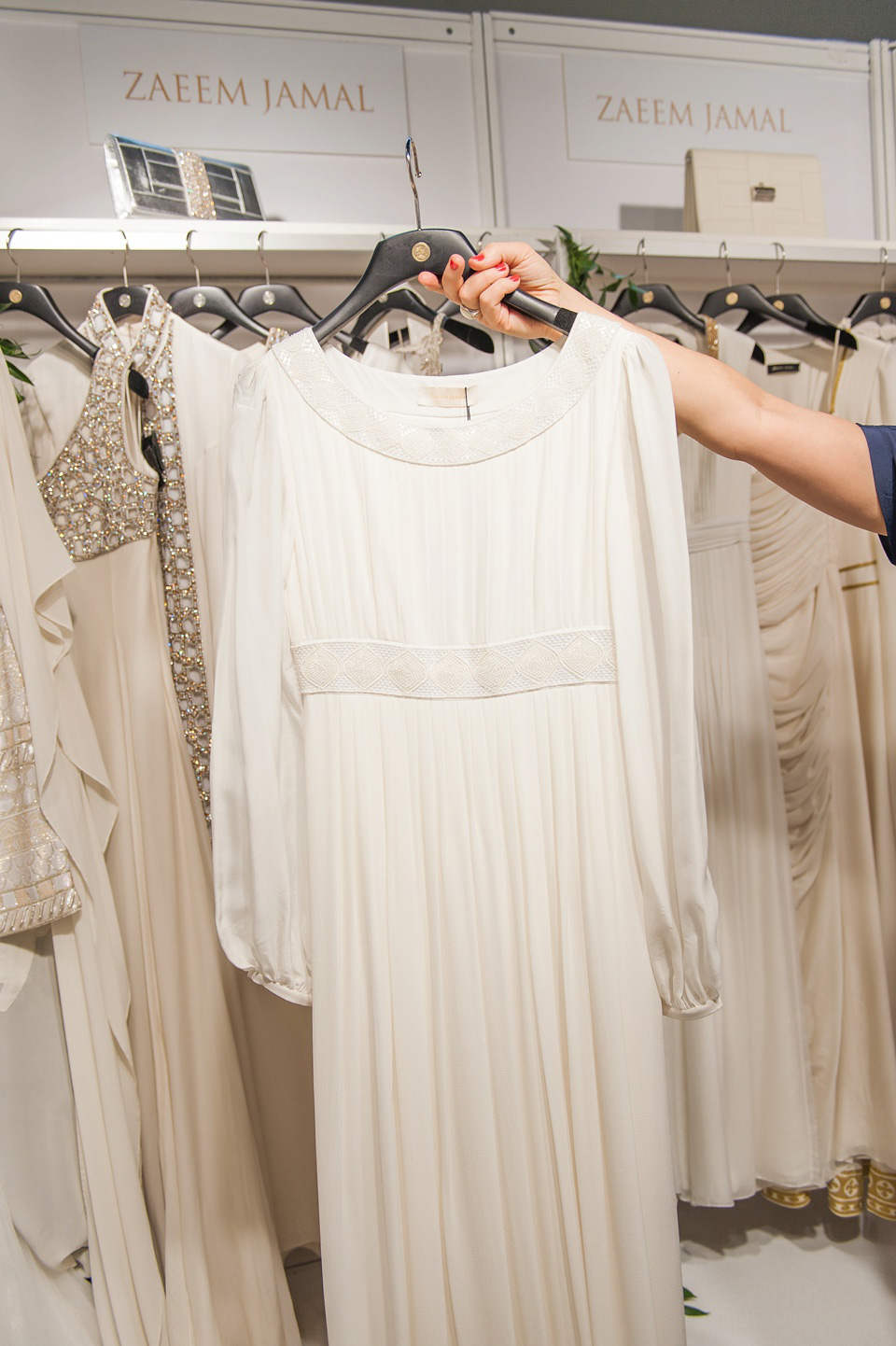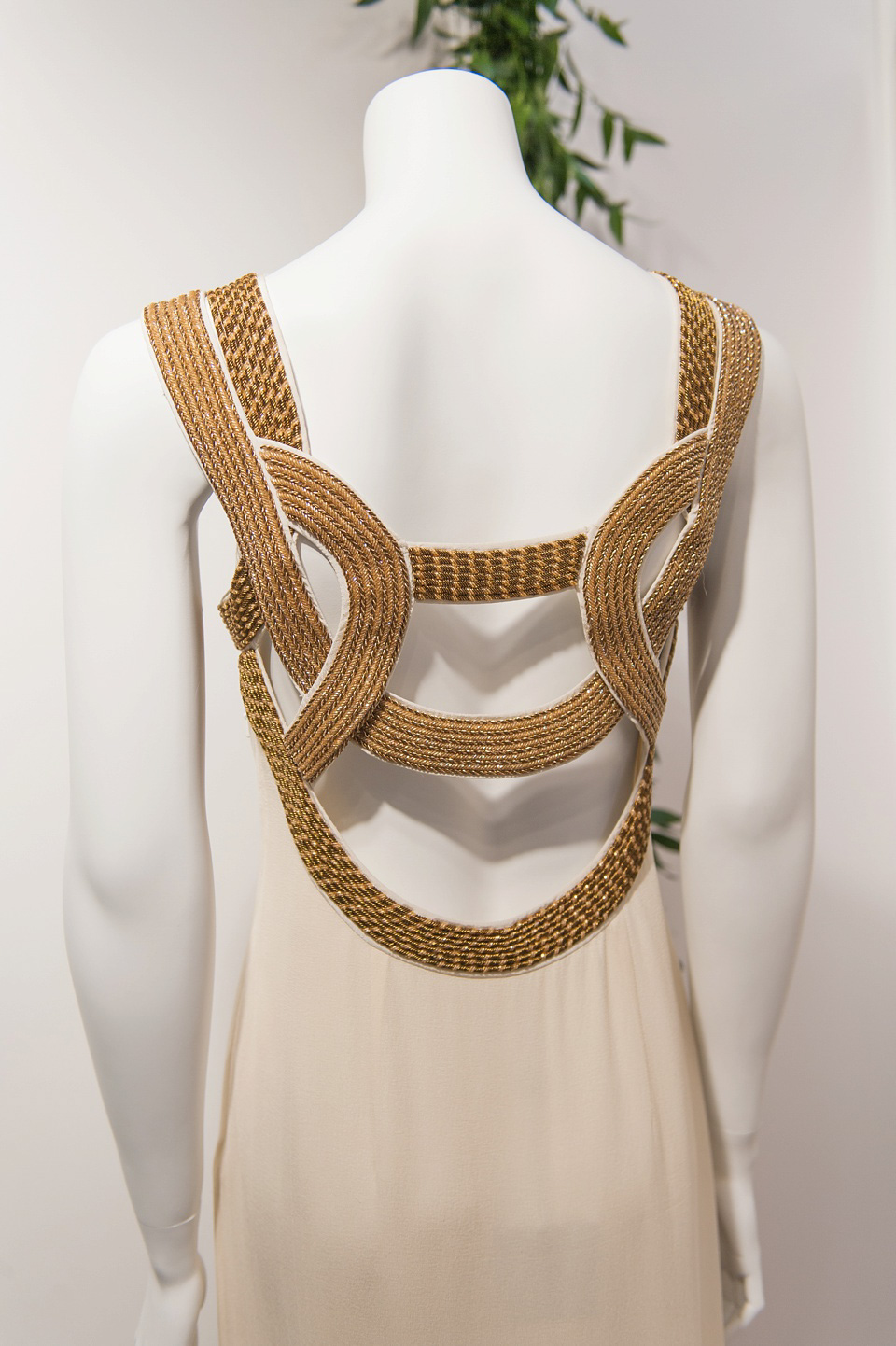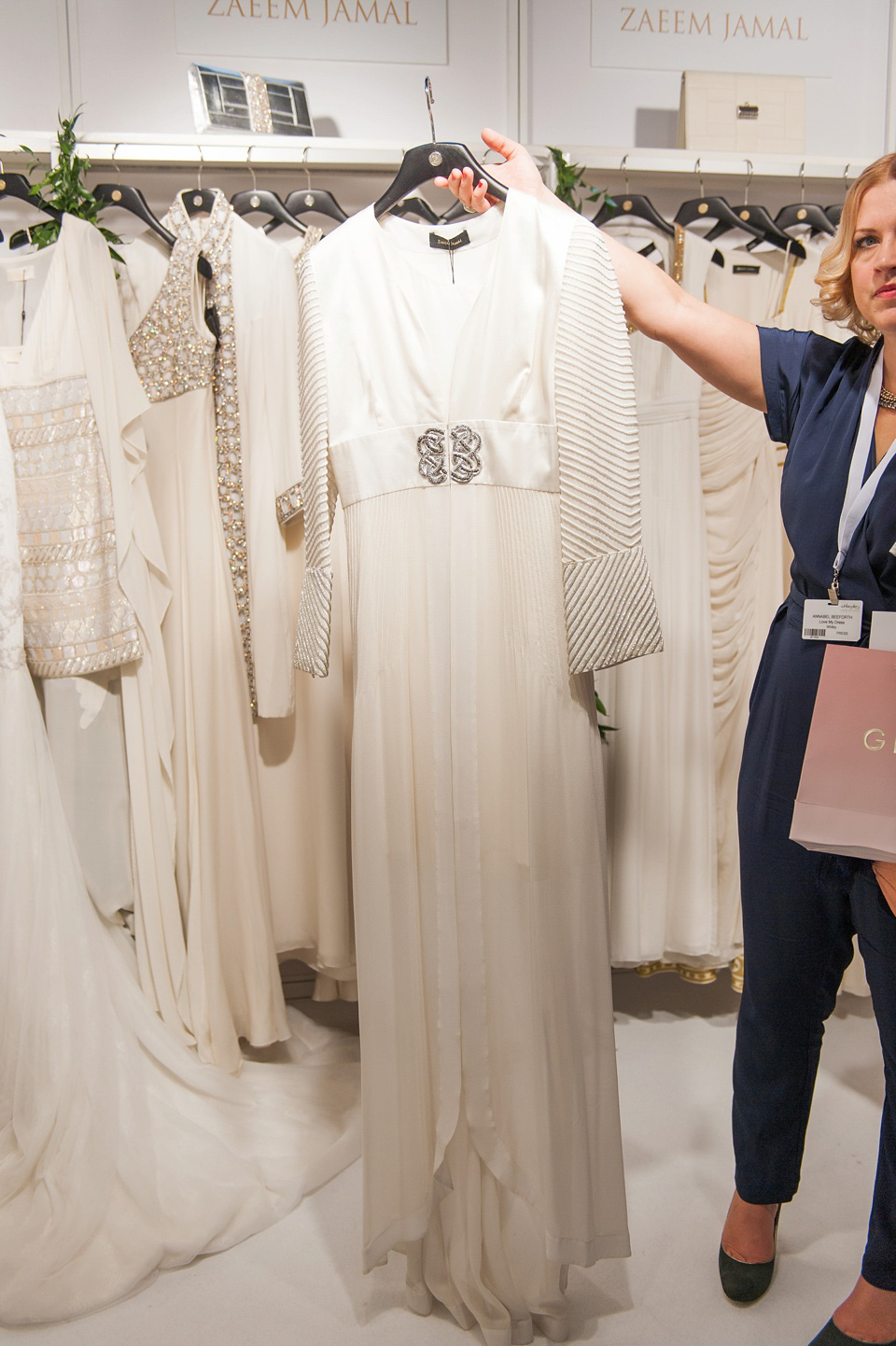 Zaeem Jamal's shoe creations are pretty divine too. Take a look at these beauties. Expecting these jewel encrusted heavenly heals to cost an absolute fortune, I was very pleasantly surprised to find discover each of the pairs pictured below retail between £245 and £595.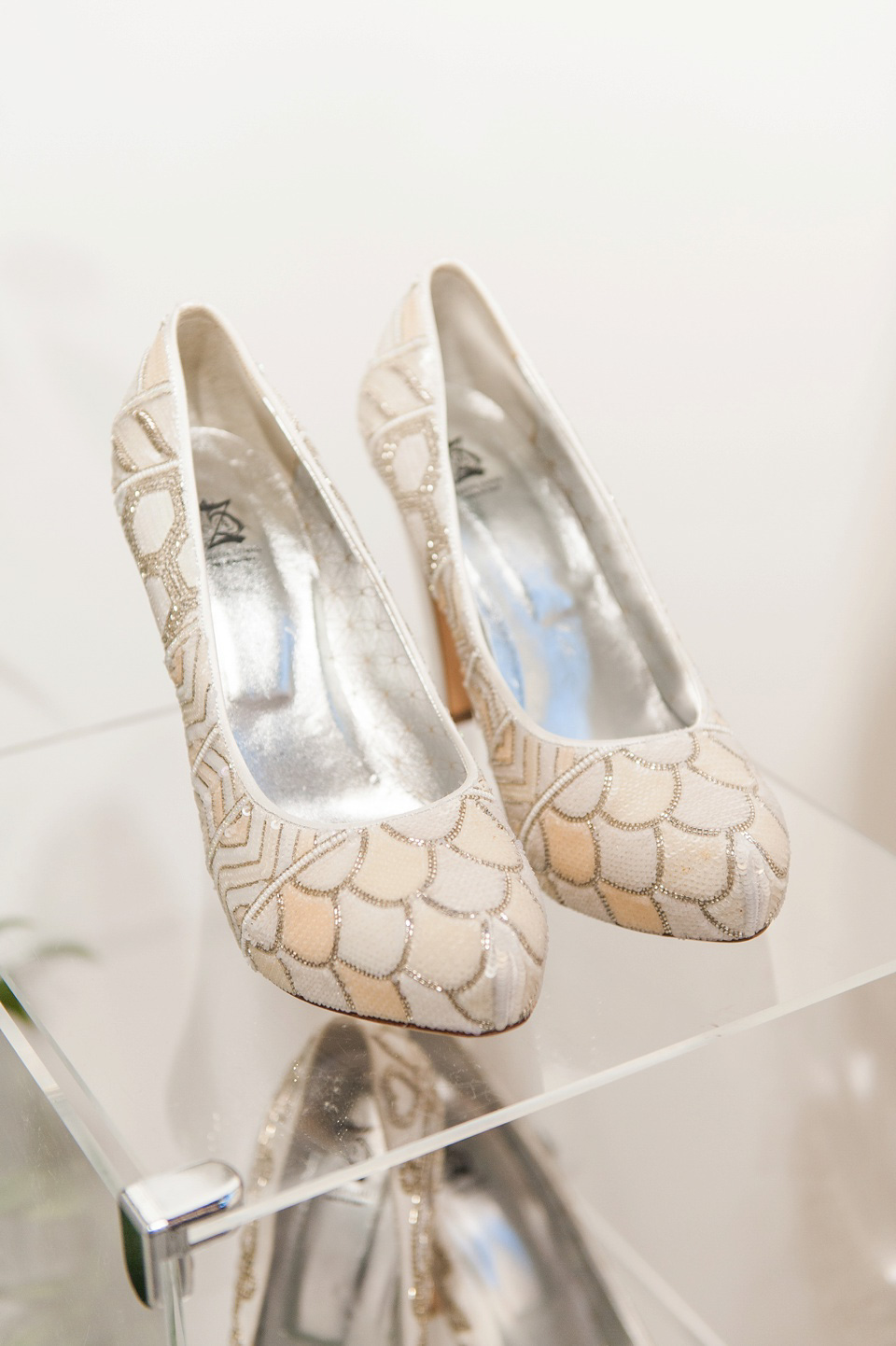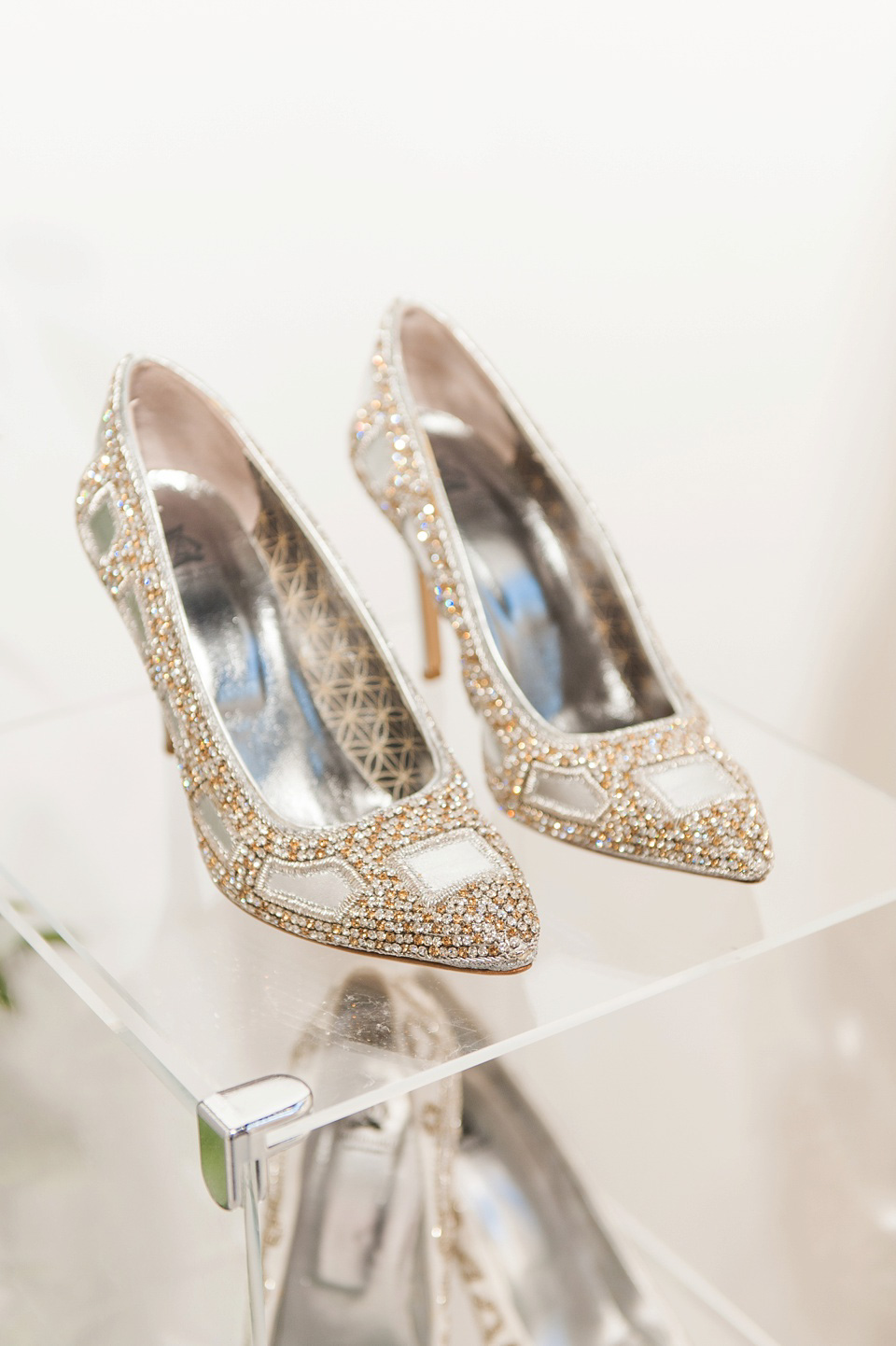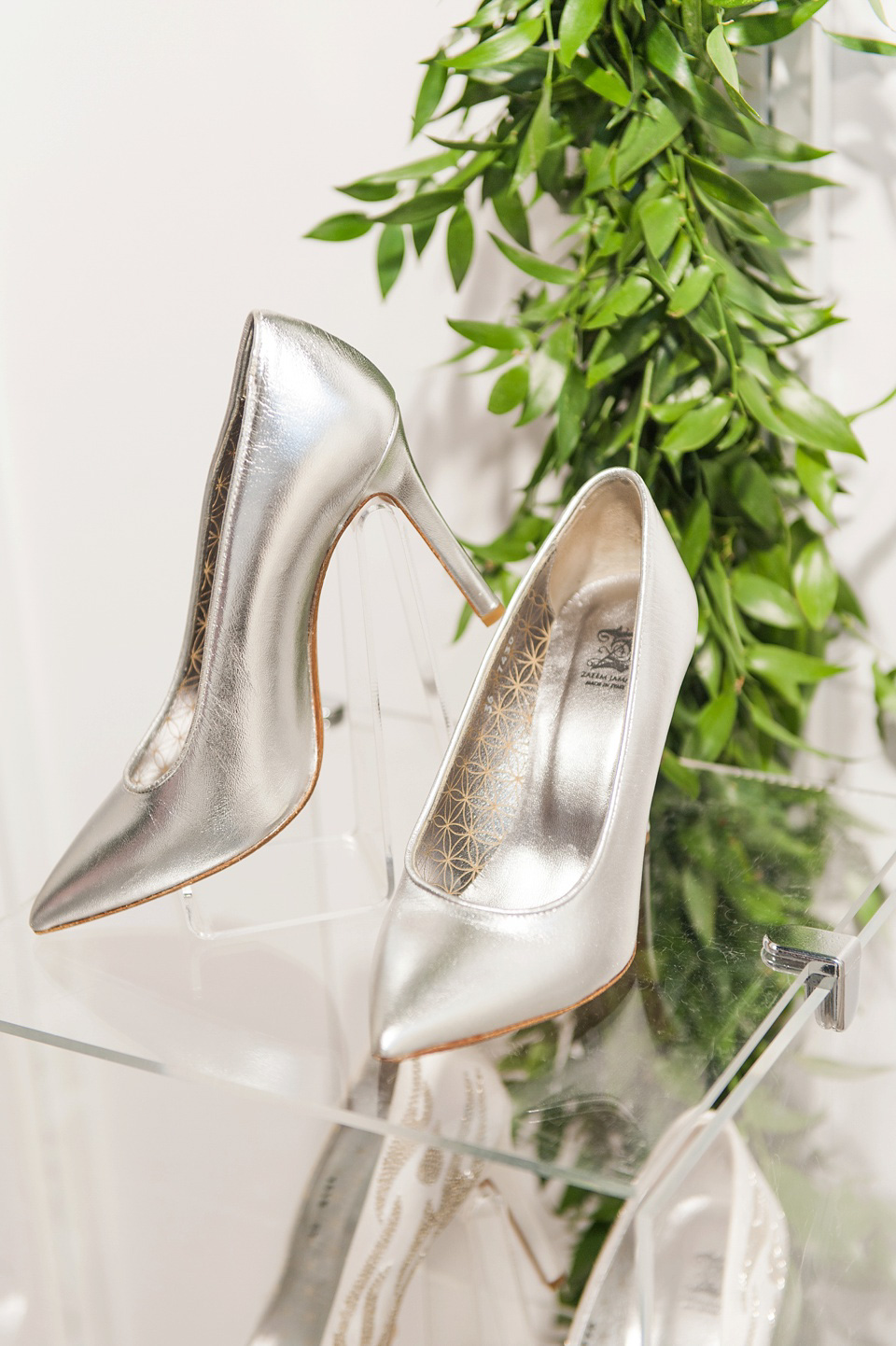 A whistlestop visit to the Sabina Motasem stand revealed some really beautiful gowns. Sabina's dresses are all about simplicity – fabric is fluid and hangs elegantly – cut to perfection and adorned with just the right amount of embroidered detail or elegant crystal.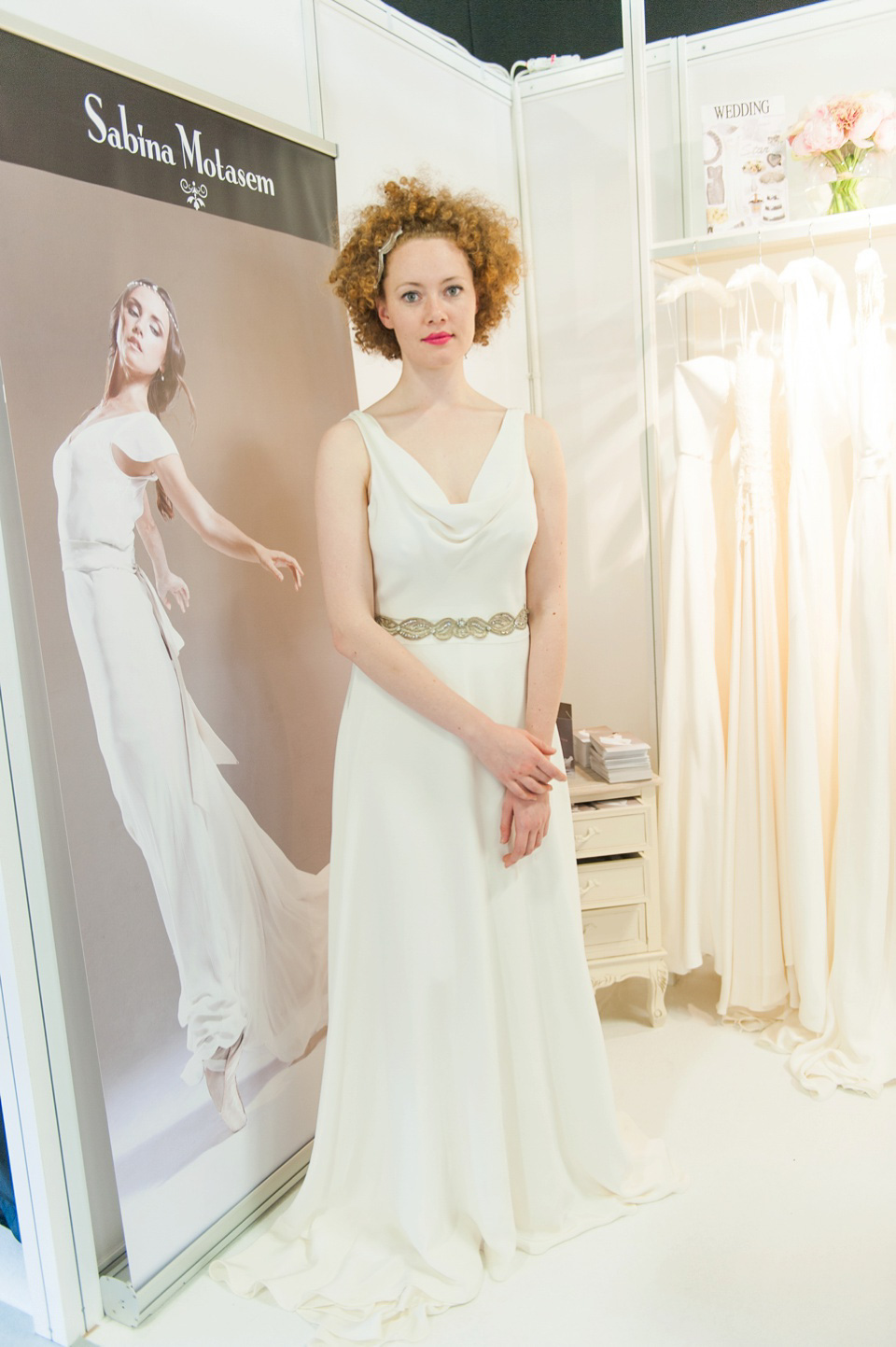 It's really encouraging to see so many newer brands exhibiting.  Love My Dress was chosen to assist in launching the Andrea Hawkes Bridal brand last year.  Andrea Hawkes is a couture bridal designer based in Hackney, East London.  Inspired by the classic shapes and simplistic style of fashion from the 1920s through to the 1960s, Andrea's work references Modern Scandinavian design while also celebrating the intrinsic beauty of luxurious fabrics. In short, Andrea Hawkes Bridal represents a perfect pairing of contemporary and couture.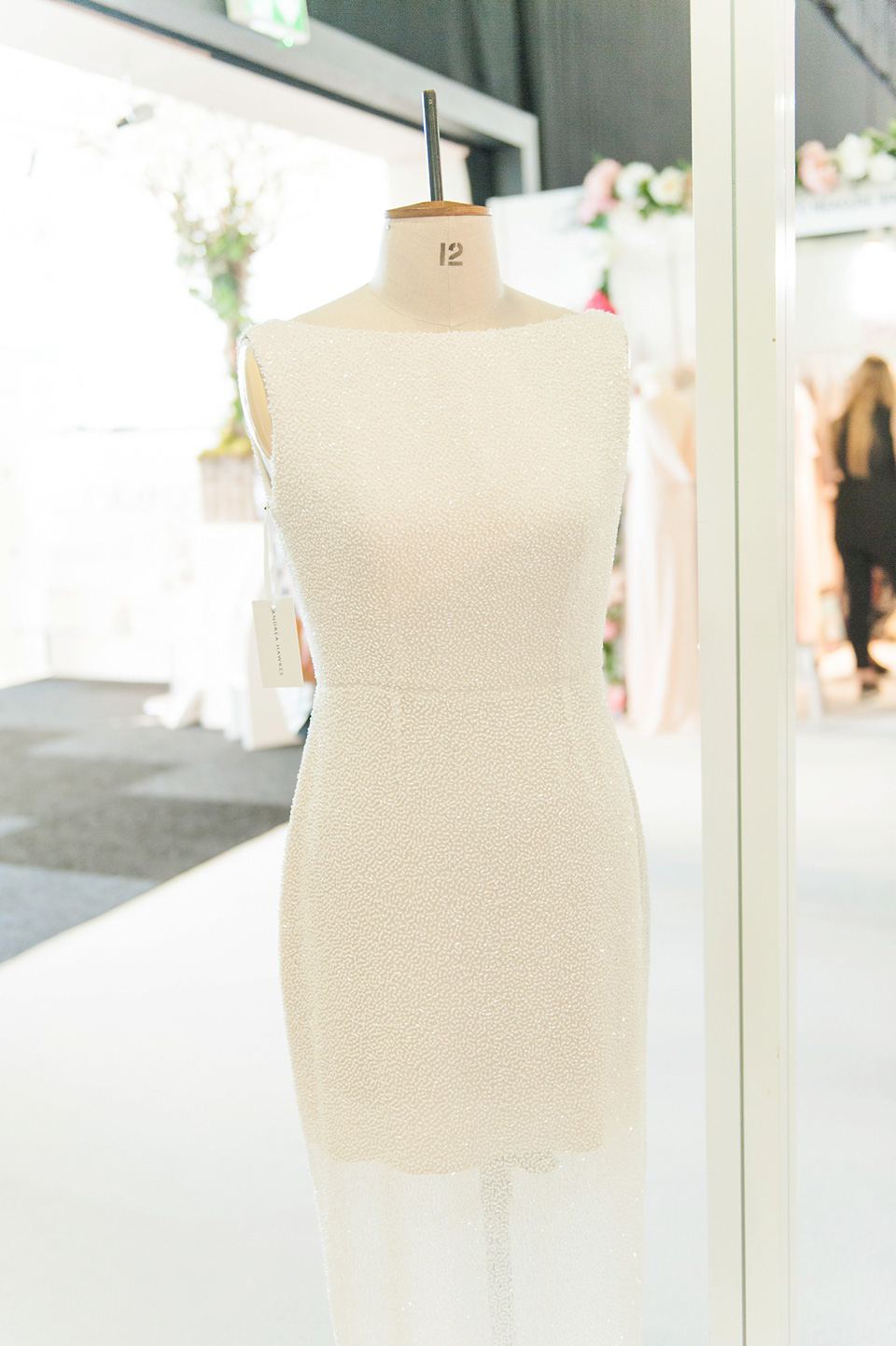 Getting to meet Andrea at the show was a pleasure. I really love her fresh take on bridal fashion, but this gorgeous little knitwear piece really stole my heart.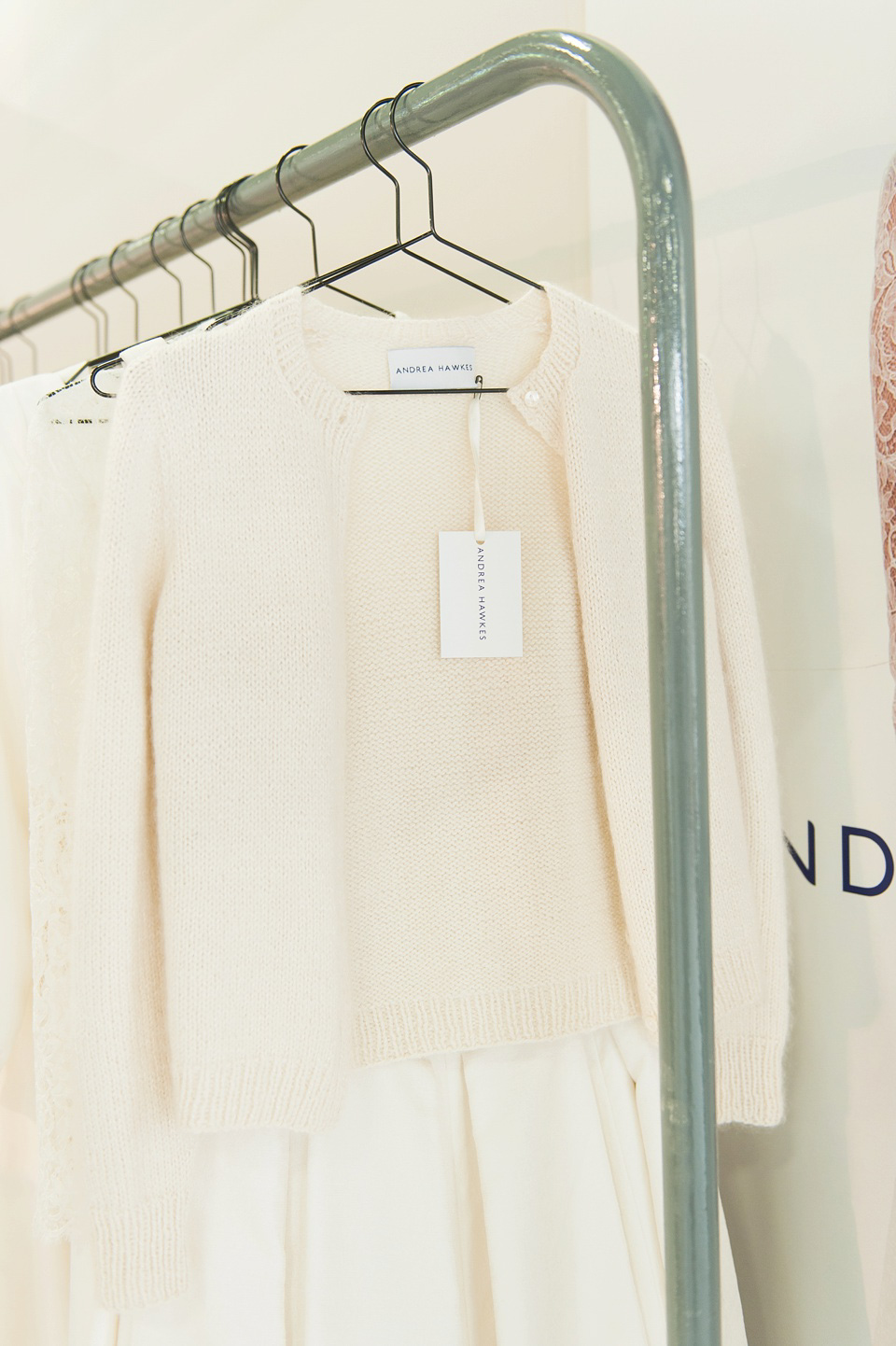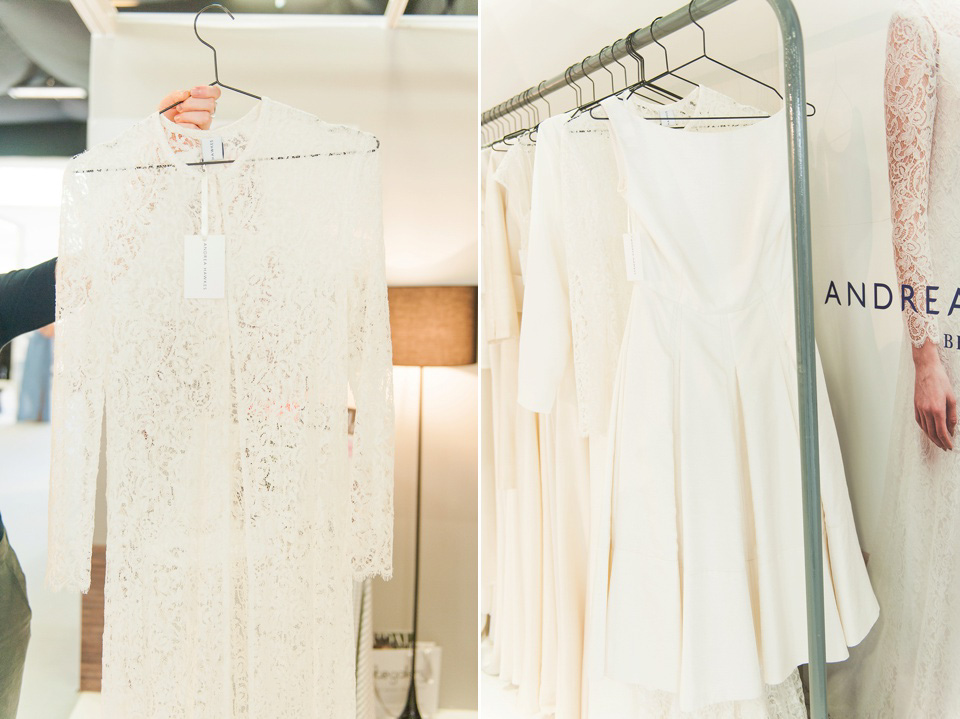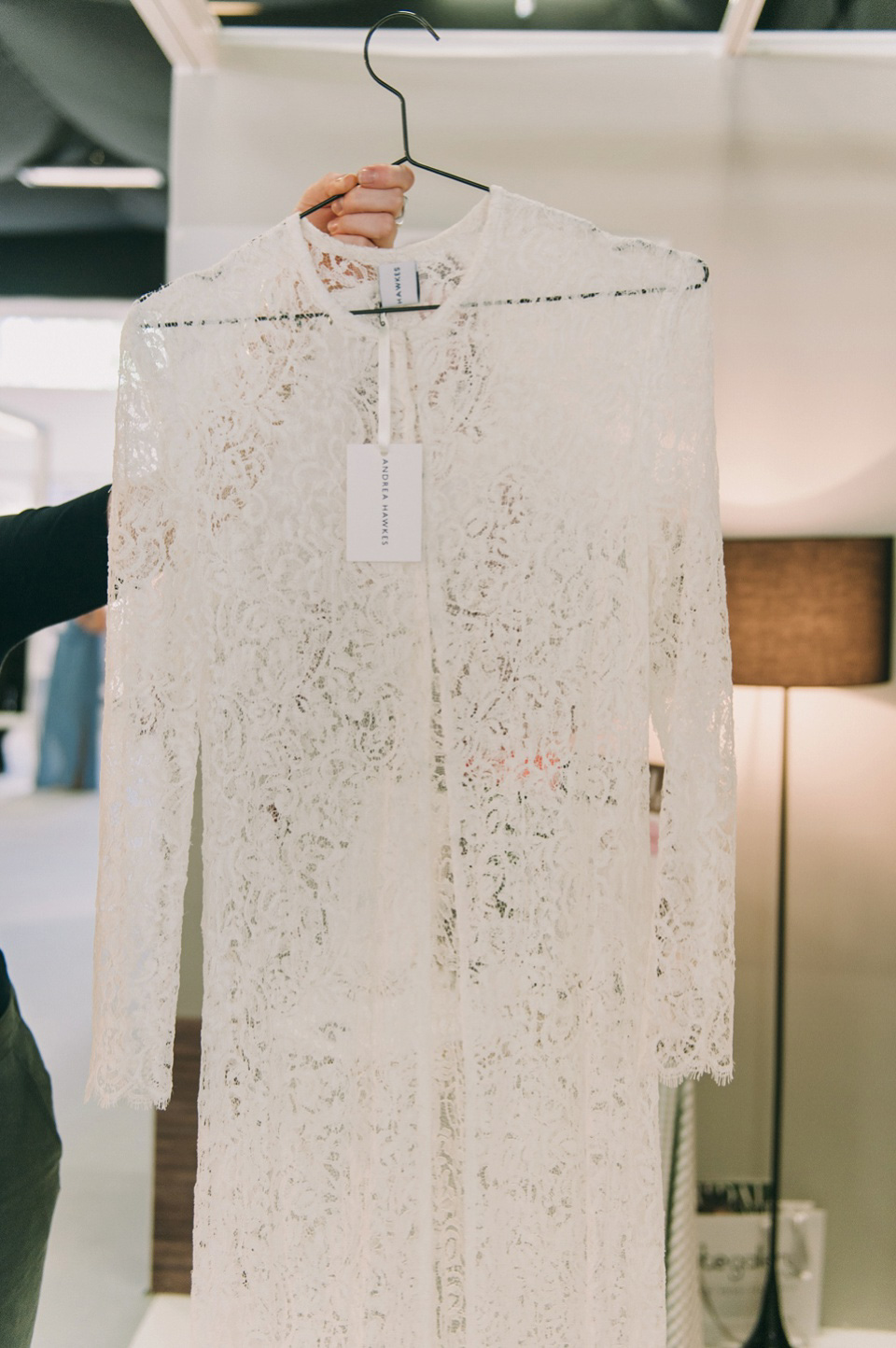 I adore the Maids to Measure team. Founded by sisters Sinclair and India Sellars, this business aimed on making the process of choosing bridesmaids dresses fun and memorable has gained a great deal of business acumen over the past two years.  I love that their designs are always super feminine and flattering and I just really love the 'vibe' the sisters bring to their brand.  Sinclair in particular is a bundle of energy and loveliness.  I really take great pleasure seeing this business do so well.
Beautiful pastel colours are leading the way for Maids to Measure right now…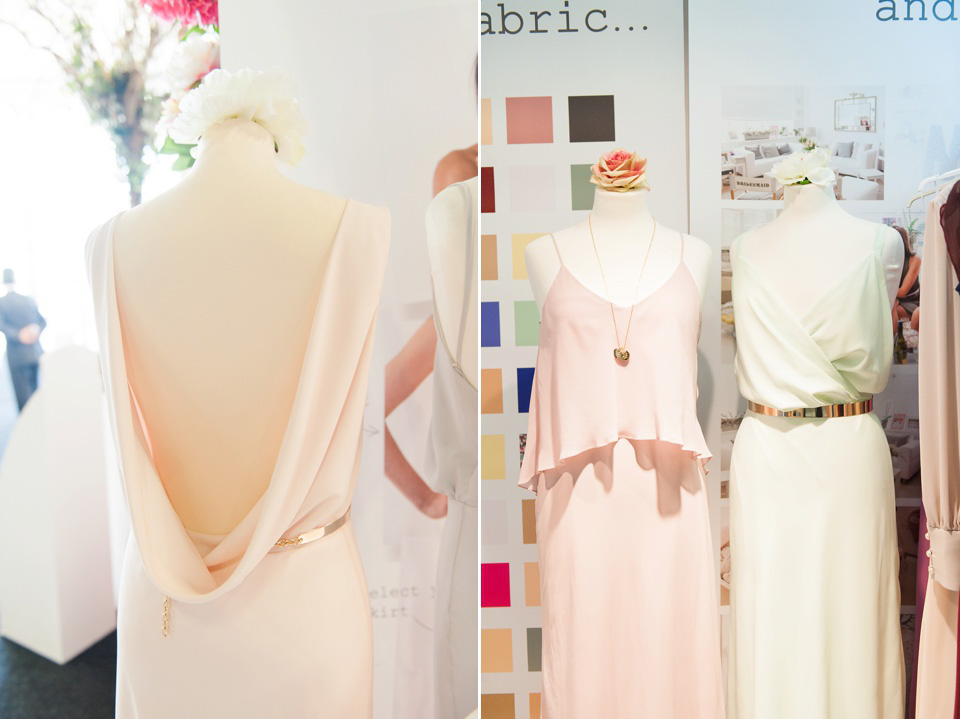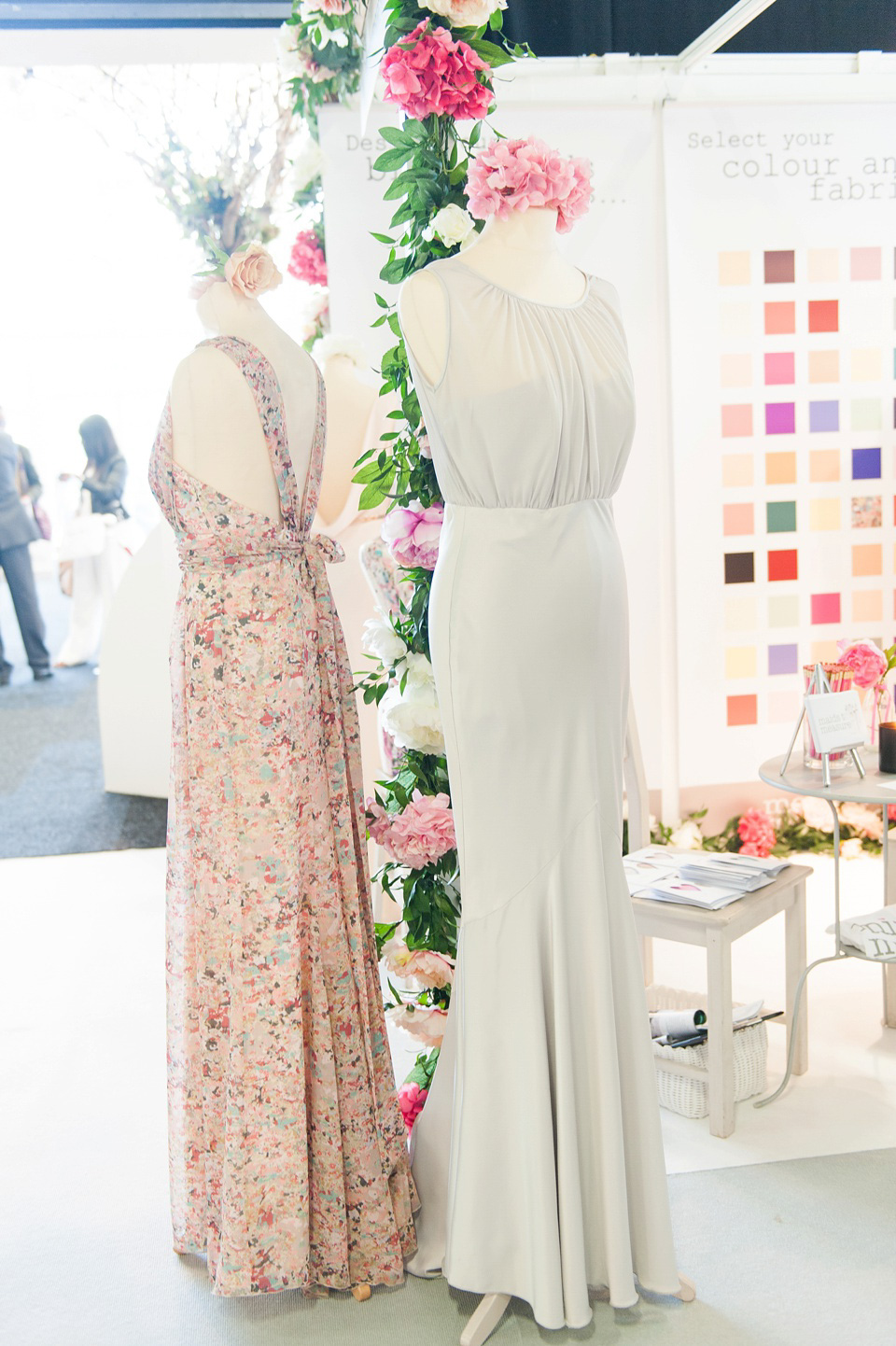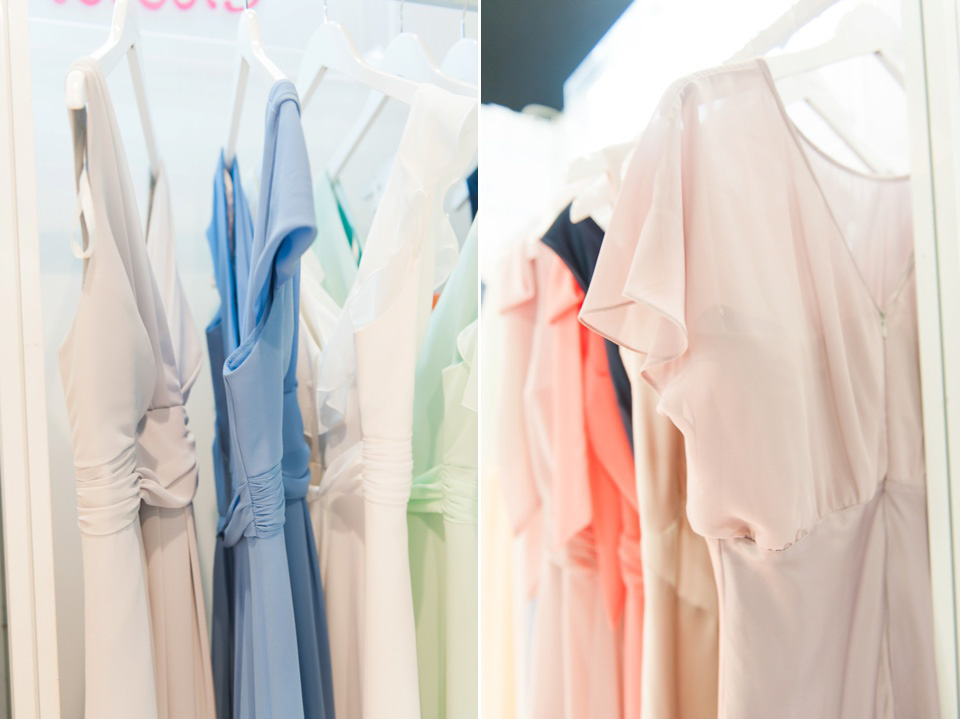 I wanted to end this White Gallery feature on a high.  As photographer Emma Pilkington and I found ourselves with 5 minutes to spare before our taxi on to the London Bridal Fashion Show, we thought we'd take a quick wander down the exhibiting aisles to see what caught our eyes. We didn't get very far – our first stop was Muscat London, and in those moments began a rather passionate love affair.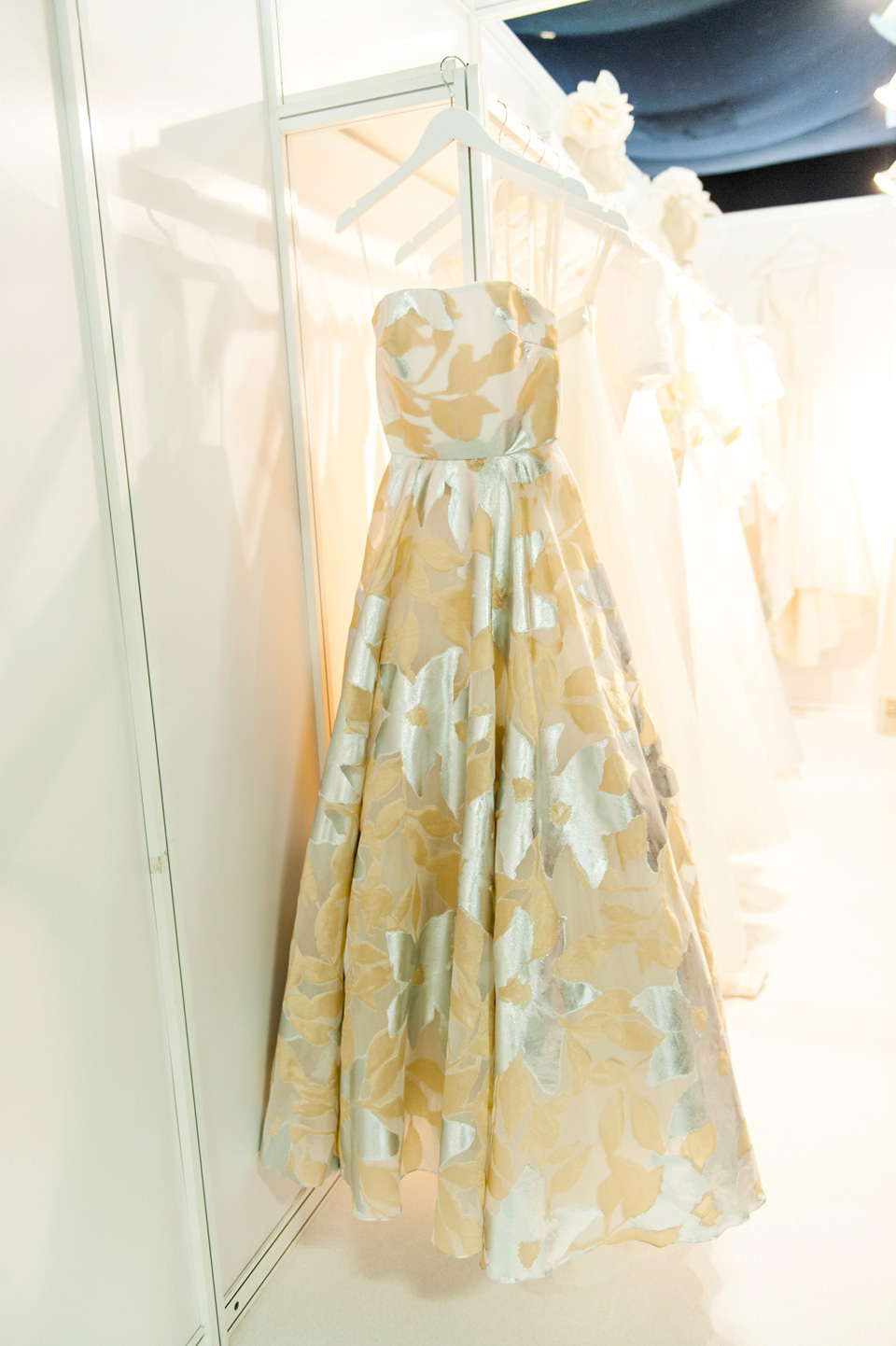 This was definitely one of the fabulous new show finds for me.  I ADORED designer Kevin Muscat's modern design led take on bridal.  The designer himself was also completely adorable and so ready to tell you all about the collection that he has clearly poured his heart and fashion loving soul into. I found the entire collection most compelling. This is how to do modern bridal elegance.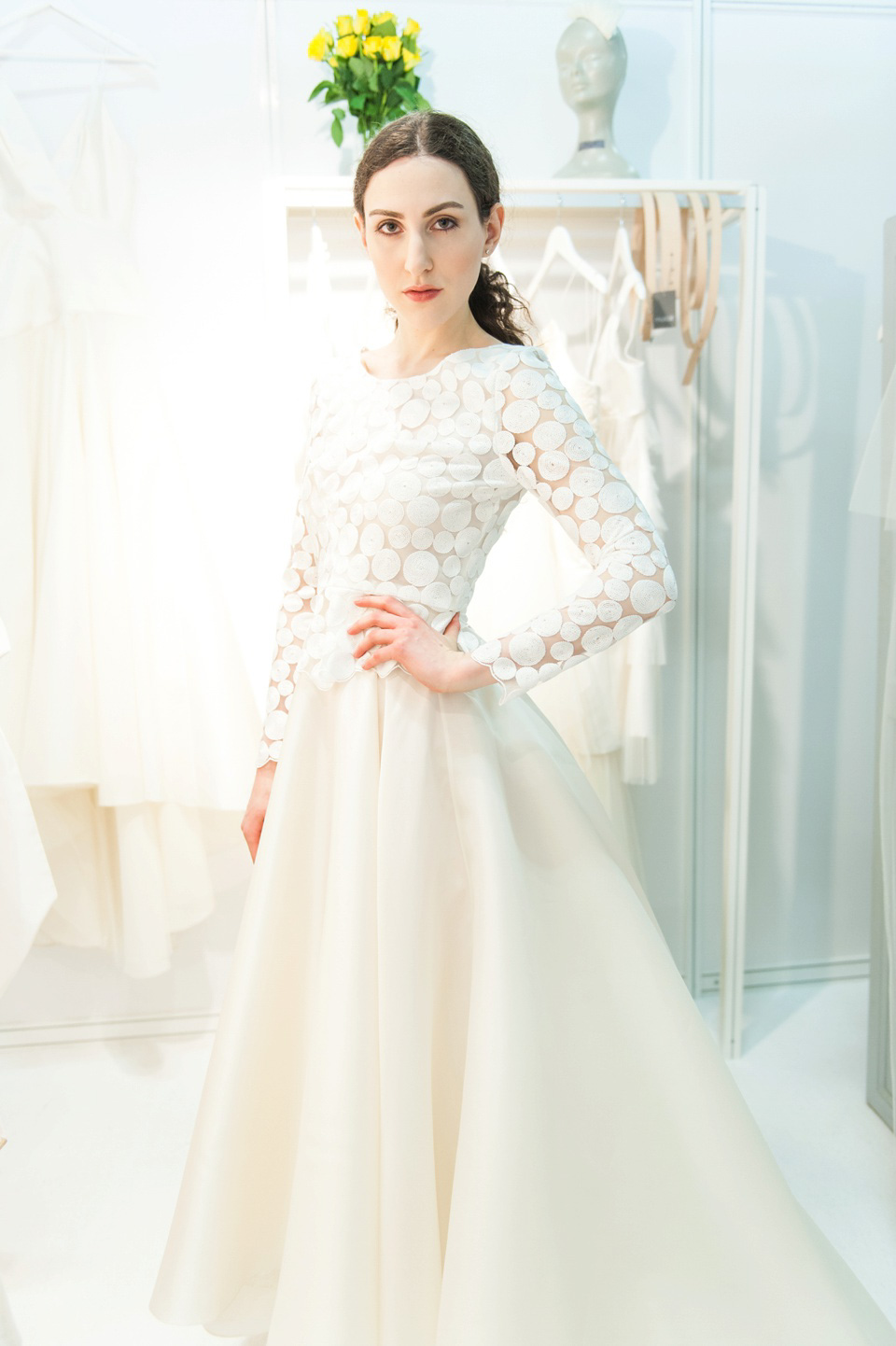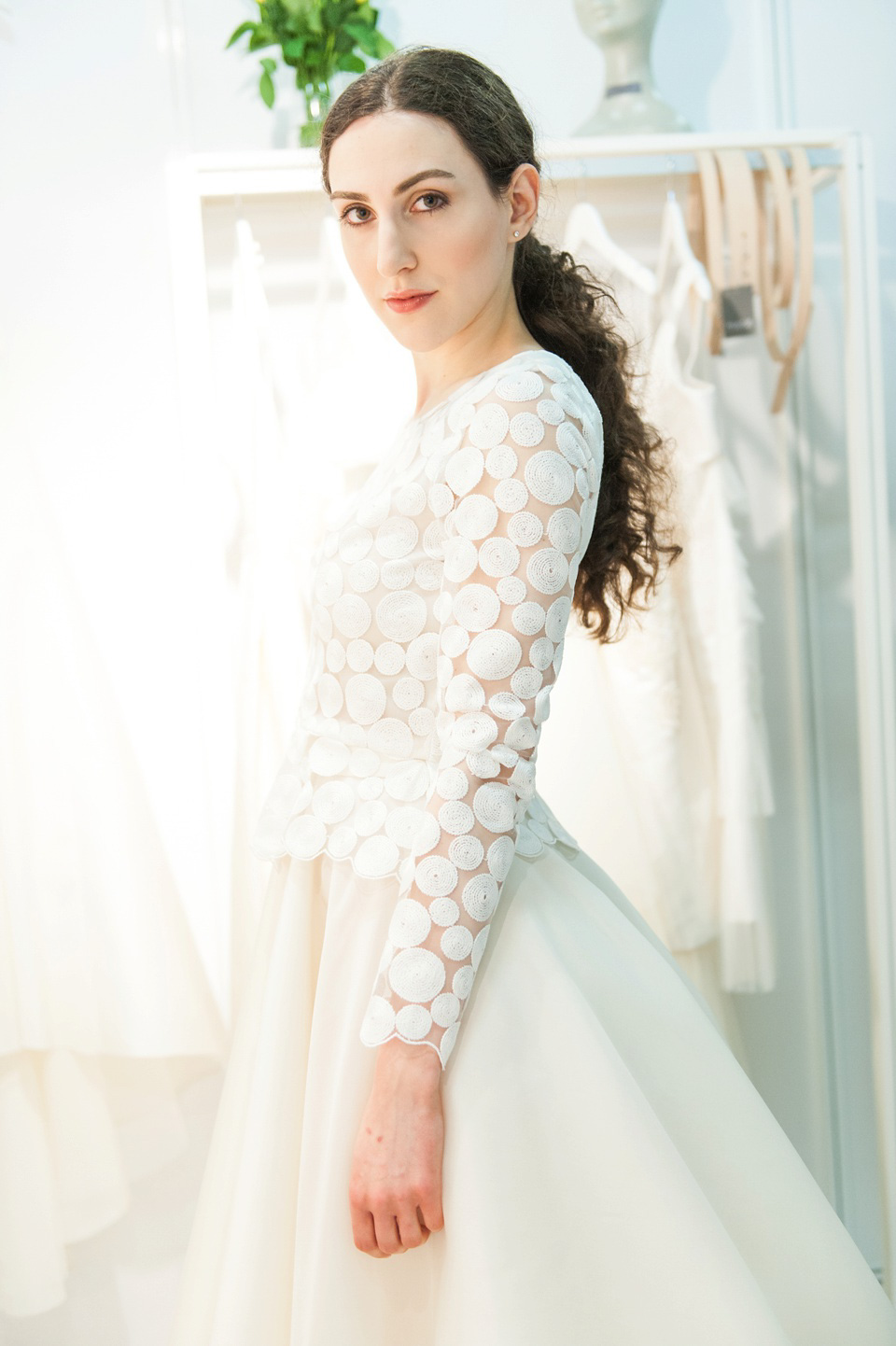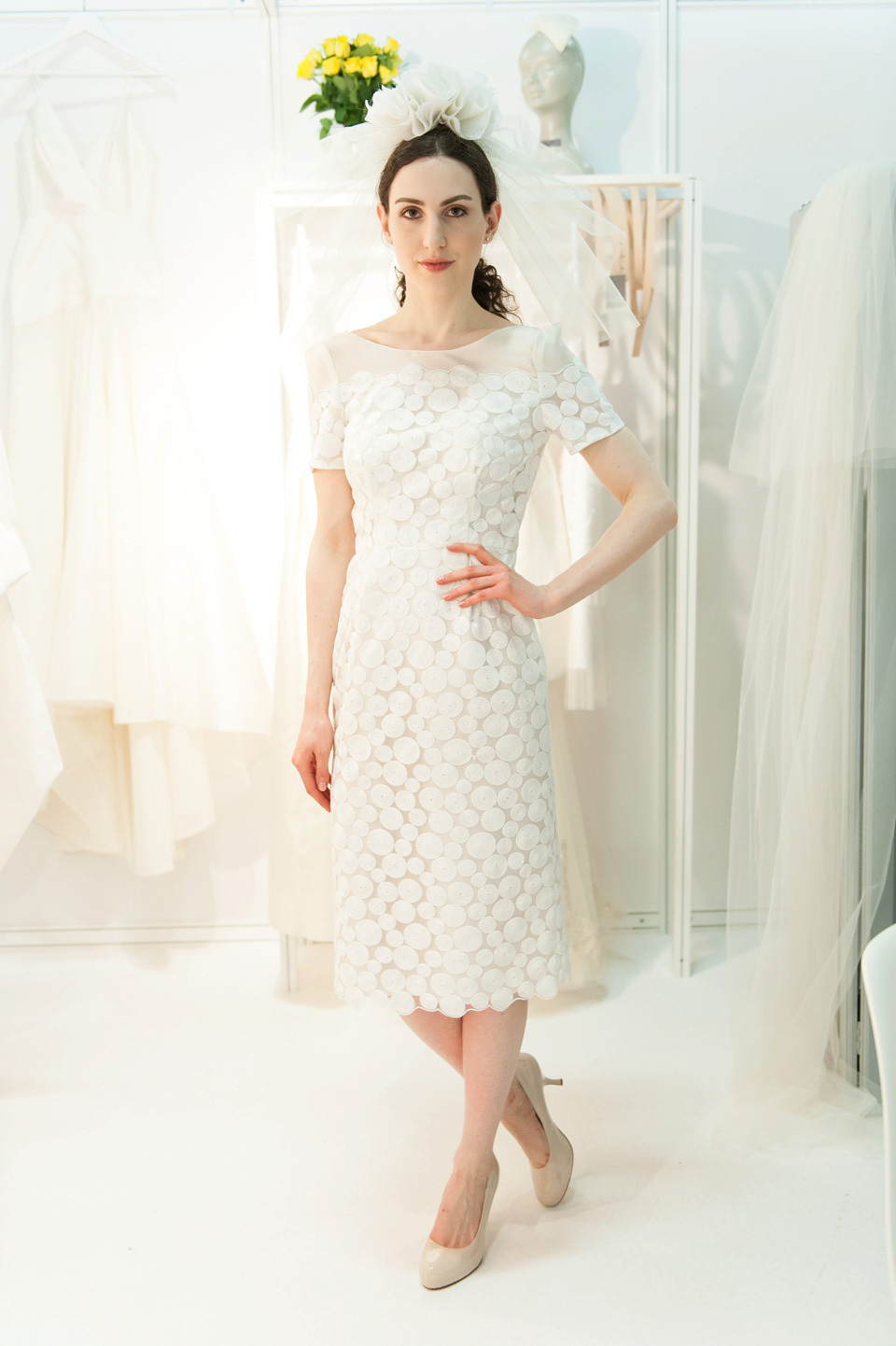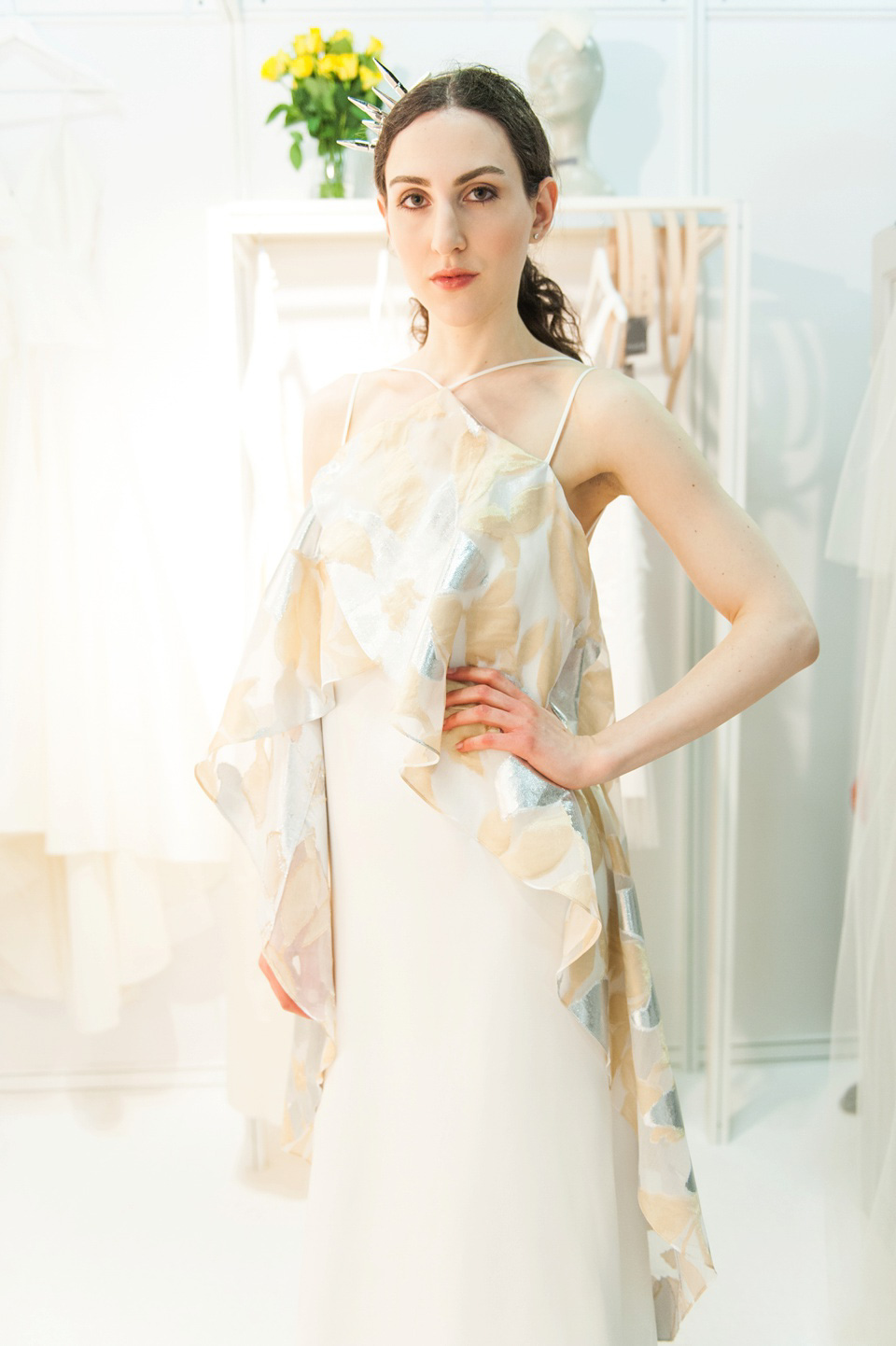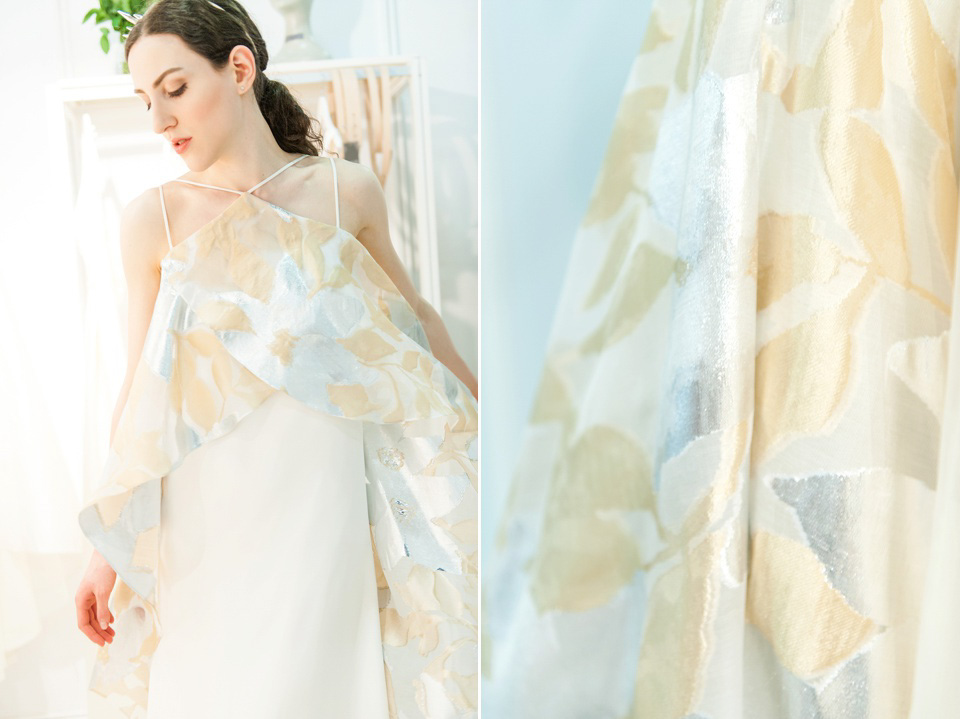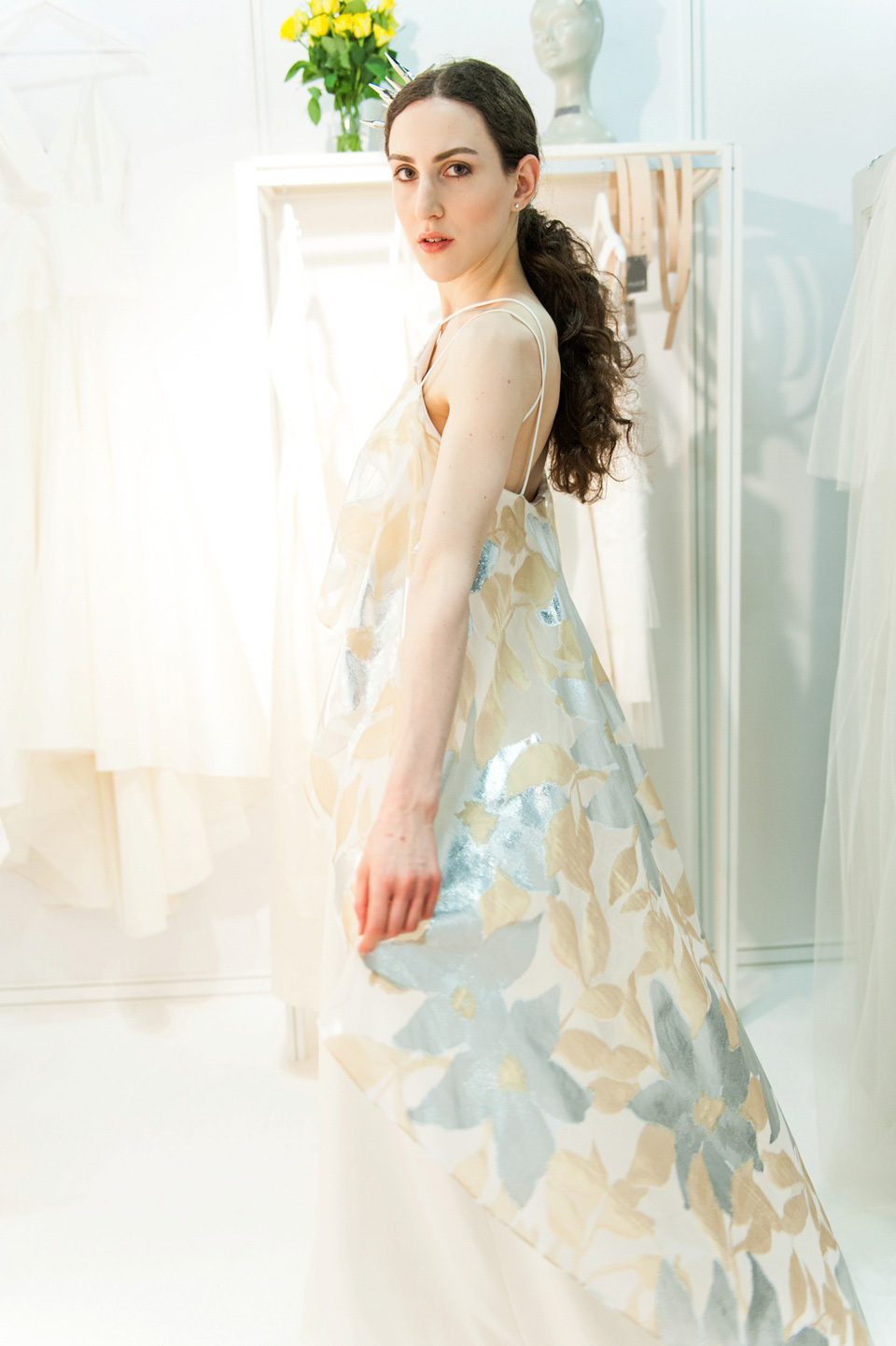 I really hope you enjoyed my round-up of White Gallery 2015.  I only wish I'd had a full day to explore and discover even more – next year for sure!
I also wanted to take time out to comment to exhibitors that I noticed the White Gallery appeared to have 'upped their game' this year – perhaps they felt the need to with the new London Bridal Fashion Week in town – but everything just 'felt' more polished – even the wifi was super hot (it never usually even works!).
I'd also like to thank photographer Emma Pilkington for working like a trooper capturing all these beautiful images for us to share on Love My Dress – it's been really great working with you Emma!
At some point over the next few days, I'll be sharing our images from London Bridal Fashion Week event that we attended on the same day as White Gallery.  Until then, it would be great to hear in the comments box below if you were at the show too and what might have caught your eye.
Love Annabel x
NB:  We visited the Claire Pettibone stand, but they were super busy so it was difficult to get shots – besides, you can see Claire's divine Gothic Angel and Romantique collections on Love My Dress already.