Kate Halfpenny is one talented British Fashion Designer.  Having gained a BA(Hons) Degree in Fashion, Marketing and Manufacturing from Huddersfield University, Kate went on to graduate with a Masters Degree in Design for Textile Futures, from the acclaimed Central St Martins University, whose list of notable alumni boasts Stella McCartney, Alexander McQueen, John Galliano and Katherine Hamnett (and a whole lot of others…)
Kate was busy filming when we first made contact with her; since 2000, she has become permanently in demand as a costume designer and stylist for brands such as Pepsi, Playstation, Swarovski, Ghost, Dove, Moschino, Hugo Boss – her personal website boast a very long and impressive list of other brands she has and continues to work with.  She has also styled the likes of Twiggy, Shirley Bassey, Laura Baily and Elizabeth Jagger for M&S as well as Charlotte Church, Erin O'Connor and Kate Moss (who wore one of Kate's dresses for her 35th birthday party last year. And Kate is mixing shoulders with a number of uber-cool and up and coming new icons, via her PR Manager, Liz Matthews, such as Alexa Chung, Rosie Huntington-Whiteley and Daisy Lowe.
As if all this wouldn't keep Kate busy enough, she has also developed a supremely elegant collection of Bridal Gowns under the brand name 'Halfpenny London'.  It is full of antique French Lace, beautifully draped silk jersey and gorgeous pretty vintage inspired detail…
All Imagery Copyright (C) 2010, Halfpenny London
Below Left, Milly spotted tuille corset dress with rose bustle
Below Right, Vera backless, with antique lace back, silk crepe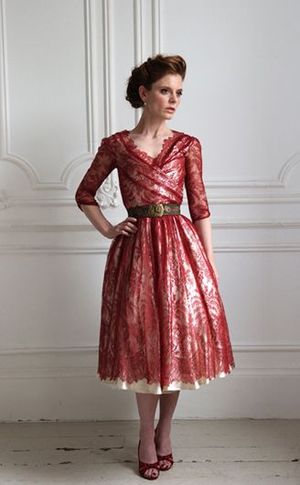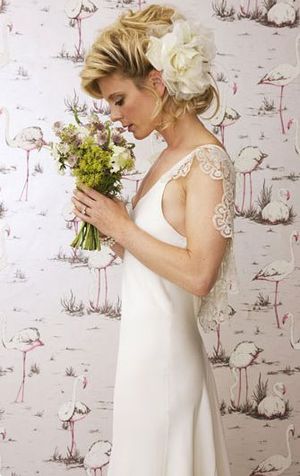 I don't know about you, but I find that so many Bridal designers claim to have 'something for everyone' these days.   What I find they really have is, well, dare I say, a collection of slightly uninspiring gowns, that just don't 'speak' to me. Do you know what I mean? I find myself flicking rapidly through the pages of a fair number of bridal magazines, in the same way a bank cashier would flick hurriedly through their fistful of generic, monotonous bank notes…1,2,3….99, 100, 101….257, 258,….hmmmmm.
When I came across Kate Halfpenny's bridal gowns, I didn't just discover a dress that spoke to me, I could hear a whole chorus of bride-to-be loveliness belting out their harmonies from the heavens above! (no, really!!). From 1950's style full-circle skirts (very Carrie Bradshaw), to full-length antique french lace train dresses, to delicate rose bustles, antique petticoats to short tulle dresses with a more contemporary edge, and the most sumptuous silk, satin and chiffon numbers, evoking the fashions of the 1930's right through to the 1980's.  And I love how quintessentially English this collection is – even Kate's name has that feel that it rolled right off the edge of the page of Dickensian classic…
Below Left, Sarah 1920's cowel, with antique shawl, satin back crepe
Below Right, Sarah 1920's cowel with tie back, satin back crepe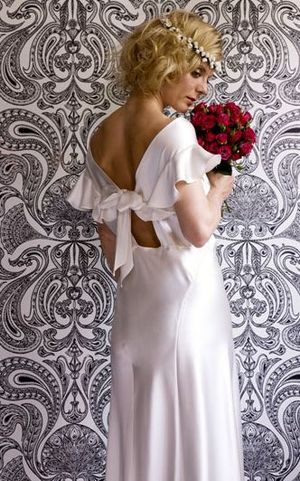 I can't think of a prettier, more charming English Rose than British Actress, Emilia Fox, to model these exquisite Halfpenny London bridal gowns.  Kate designed Emilia's own wedding dress back in 2000…
"'Kate has captured you in every stitch of that dress' my best friend said to me on my wedding day.  It is just one of the many talents that makes her such a unique and extraordinary designer. She can knock you up the wedding dress of your dreams, hand-make the flowers for your veil, design the sparkler for your engagement, make you a necklace that everyone asks you where you got it from, style you from top-to-toe or simply refresh your wardrobe with a few new key pieces, and this is before we get to her day-to-day jobs which include styling for fashion editorial, commercial advertisements and costume designing.
Below Left, Belen pink tuille dress with hand washed silk sash & flower
Below Right, The Marilyn dress, in silk jersey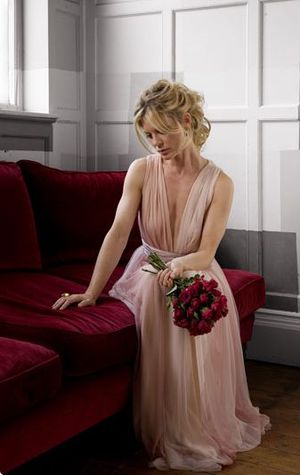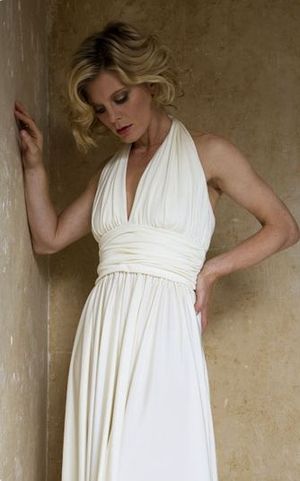 "I had three [wedding dresses], two of which were designed by Kate and then adapted for special occasions! I didn't want to waste their exquisite beauty by leaving them sitting around for years unworn.

It is Kate's personal touch which makes her so gifted as a wedding dress designer. She understands the importance of getting the dress right for the day. She wants every bride to feel special and stresses the importance of creating it together, making sure the experience is exciting, effortless and enjoyable, never awkward, and always understanding that a dress is a big spend of the wedding budget and so must be completely perfect. She can also make the bridesmaids dresses fit the theme of the bride's and incase the groom feels left out of Kate's talents she offers a personal styling for them for the special day, she can find the perfect suit and all the trimmings."
Below Left, Molly spotted tuille draped corset dress with rose bustle & antique petticoat
Below Right, Juna flat fronted silk corset & embellished full skirt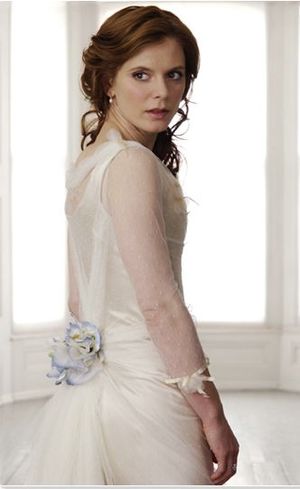 Emilia has been muse, and model to Kate Halfpenny ever since they became friends via Emilia's wedding.
Emilia says…. 
"I can safely say that if Kate hadn't styled me for all the events I have been to in the last five years I would probably never have left the house for fear of getting it wrong! She has a fantastic sense of what is in vogue right now, but will always add a twist to it which makes sure the outfit is not only noticed and admired, but makes you feel unique and like no other who may be wearing or have worn that outfit.
She will put combinations of clothes together you won't have thought of, dress you to suit your shape and size and give you the confidence in your sense of style and what suits your figure so that you no longer need to shake your head in despair at not having Kate Moss's wardrobe or Elle MacPherson's body. Kate will dress you to suit you, no copying, and if you're lucky she will have handmade an extra detail on your clothes to make them extra individual."
Top Left, Emilia Bafta Dress with silk roses, spotty tuille
Top Right, Josephine antique lace corset dress & jacket
Bottom Left, Georgina short silk tuille dress, lace sleeves & trim, navy silk sash & flower
Bottom Right, Amelia spotty petticoat & antique veil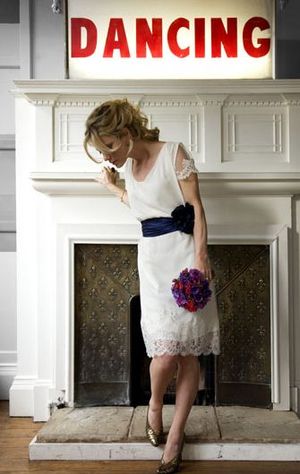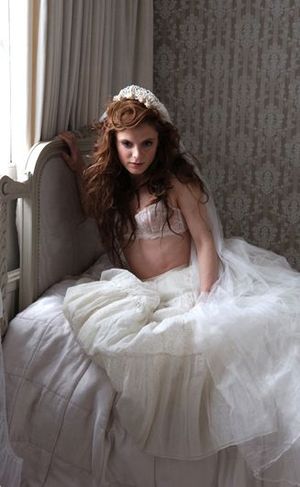 So we have here, without any doubt, an exceptionally talented designer, who is full of passion, ideas and boundless energy and enthusiasm when it comes to doing what she does best; creating exquisite dresses.  But where did this all come from then, and how did Kate get in to design?
Below, Annabelle lace jacket, with Nicola Duchess satin & chiffon dress & vintage belt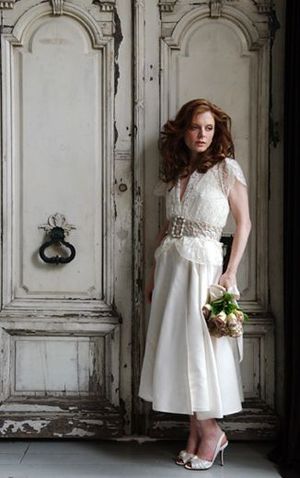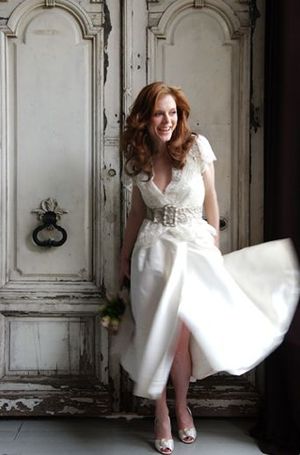 Kate grew up in Derbyshire. Her mum, an extremely talented seamstress herself, was a knitwear designer making batwing 80s mohair jumpers and allowing her daughter to play on the knitting machines. Kate was inspired by visiting the old wool mills in Bradford and remembers going to craft fairs with her mum selling brooches that they had made together out of curtain poles.  Kate's dad also studied graphics and craft design technology so she grew up in a creative environment of artists, making things out of bits of furniture in her Granddad's garage.   I love this part of Kate's biography – once again, it resonates with my own family experience – my husband is a fashion designer, and even now, we can see our 4 year old daughter showing big signs of wanting to follow in his footsteps.
Below Left, Amelia spotty peticoat & antique veil
Below Right, Christabelle full French lace corset & long column skirt with train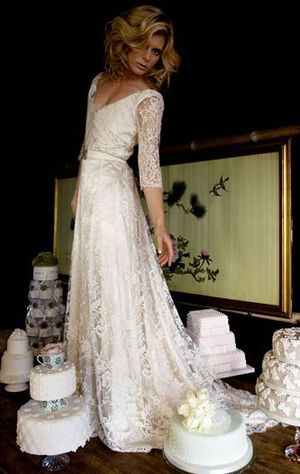 In her 3rd year of University study, she did an industrial placement at Vivienne Westwood where she gained good background knowledge of production and PR, she also joined The New Renaissance, a company of costume designers and art directors. She says that it was while working on the fantastical worlds of the Powergen weather adverts and hand embroidering a giant 60 foot cobweb for a Gordon's Gin commercial that she decided she loved and wanted to continue making and adorning stunning and imaginatively creative pieces.
Below Left, Annabelle lace jacket with long tuille column skirt with lace trim & train
Below Right, Erin grecian silk tuille dress with porcelain rose detail & long antique veil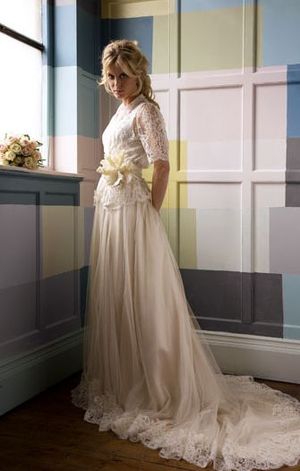 Top Left & Right, Mercedes blue tuille dress, silk sash & procelain forget-me-knot headdress
Bottom Left, Andrea full lace dress with hand-washed silk sash
Bottom Right, Clare – vintage lace 1950's style full circle skirt with satin back crepe top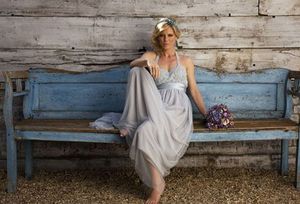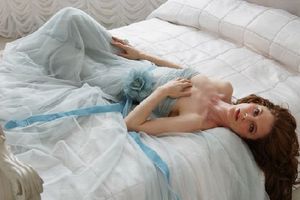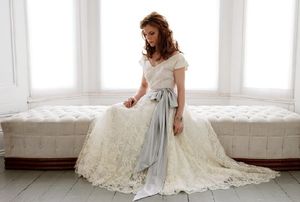 Kate's studio is apparently surrounded by trims and laces, mannequins adorned with the most beautiful gowns and rails of vintage dresses from the late 1800s to the 70's that Kate renovates, repairs or reworks to make the dress you have dreamed of, a dress that brings a flavour of the past to the present, such as these…
From Left to Right…
Antique lace dress with satin sash & bow
Heavily embroidered dress with bow detail
(Far Right) Chiffon top & antique lace skirt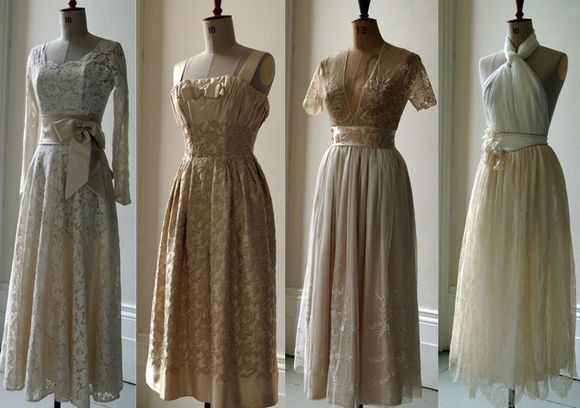 Kate has also started to make bespoke diamond and precious stone engagement rings, wedding bands and eternity rings. If simply looking for a present for a loved one Kate has also put together a collection of gold and silver charm inspired necklaces, bracelets and earrings using Swarovski crystals and freshwater pearls as well as other treasures to create one-off vintage inspired pieces ~ some examples below, but visit Halfpenny London's Jewellery Page for much more…
Left, Silver plated bird on short-sterling silver thick chain, £185
Right, Gold charm necklace with gold-plated dragon-fly, £275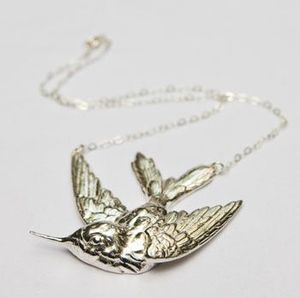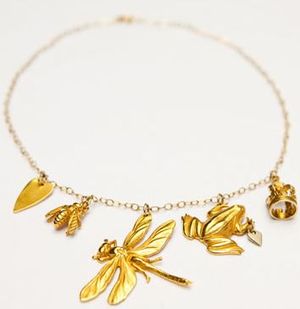 Prices Range…
Prices start at £1,400 for Vintage dresses, Couture gowns start at £2,500 (all prices include VAT and a deposit of 50% is required prior to the first fitting on any bespoke gown).  It is also occasionally possible to purchase a sample dress that Kate has designed, prices for these can be discussed at the fitting.
All alterations on the Vintage dresses are charged as a separate cost. This service can include re-styling the dress, the adding or removal of sleeves or re-sizing the dress. Alterations are charged at an hourly rate, an estimate can be given on all alterations prior to purchase.  Payment in full is required on all Vintage dresses before any alterations are carried out.
I think that is money exceptionally well spent, for ……..
If I owned a Kate Halfpenny, I would, without exception MORE than love my dress…
xXx