I love Alice Temperley. I LONG (as in dreaming with sparkly hearts pumping out of my eyes and a cheshire cat type grin fixed in a permanent style on my sleepy face sort of longing) to own one of her incredible dresses ♥ ♥ ♥
Alice Temperley is a London based British fashion designer.  She grew up in Somerset, England, on her parent's cider farm before moving to London to attend university and graduated from the Royal College of Art and Central Saint Martins before setting up her company 'Temperley London', with Husband Lars von Bennigsen, in 2000 (quick random fact for the day!…Alice's parents are responsible for a bus that takes residence at the Glastonbury festival each year, delivering cider produced on their farm to the revelling masses).
Since establishing her Temperley London brand in 2000, Alice now produces four collections per year.  The brand is sold in 300 stores in 37 different countries.  After designing her own wedding dress from vintage lace in 2002, Alice Temperley started designing bridal gowns due to popular demand.
The Temperley London 2010 Bridal Collection is sophisticated, beautiful and free spirited. The collection contains true fantasy dresses in a variety of silhouettes that celebrate the female form. Each piece conveys an elegance and sophistication that flatters all styles from structured to soft and intricately draped.  Ranging from classic Grace Kelly inspired pieces to more decadent Hollywood fantasy styles, the collection is largely inspired by screen sirens from the 1940's and 1950's.
Today, I would like to take you through a little tour of this bridal collection, starting with these two extraordinarily elegant gowns.  On the left, the 'Long Jean Dress', and on the right, the 'Harlow Dress'.  Click each image to enlage to their full glory, and read to the end of the article, for a Price Guide.

All Imagery Copyright (2009), Temperley London
Special thanks to Virginia Richie, Public Relations, NY, for Temperley London, for providing the images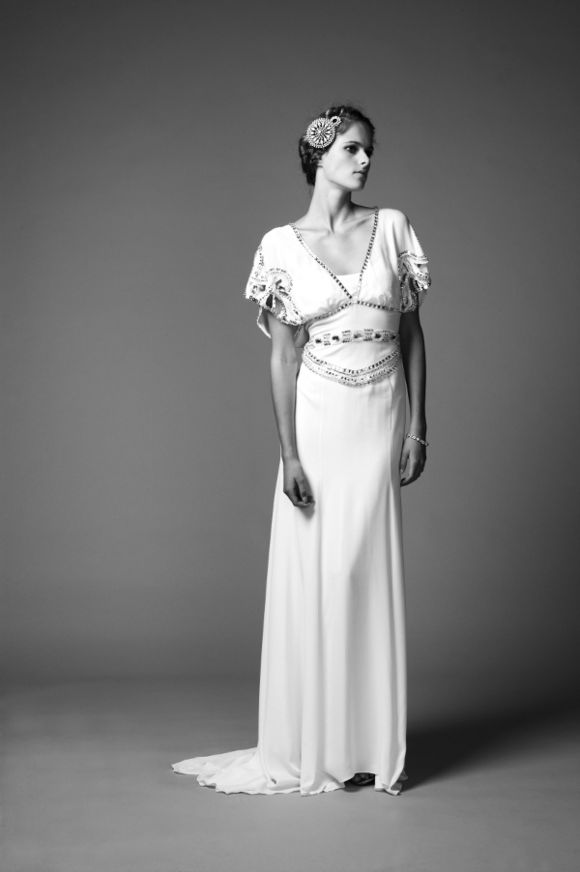 On the Long Jean Dress…"Dripping with over sized jewels, glittering sequins and beads, this dress resonates with 1940's Hollywood glamour. Waisted and with a sleeve, the silk has been cut away between the stones giving tantalising glimpses of the skin at the same time remaining demure. An exquisite dress for the bride who wants to sparkle."
Just exquisite isn't it? I have literally not been able to stop staring.  Please God, can I get married all over again, so that I can feel like a 1940's glamour goddess in a Temperley wedding dress?  Pretty sparkly silky please………………??
In her fabulous, fun and totally addictive book The Goddess Guide

(buy it now!!), author Gisele Scanlon describes Alice Temperley as 'the ultimate Earth Goddess'.  Gisele interviews Alice and discovers that her rural upbringing has had a big influence on her life and designs, and that she has a deep fondness for being with nature and the outdoors – especially in tipis! (…and you'll have to buy Gisele's book

to learn more about that!).  
Left – Long Faun Dress.   Right – Long Imani Dress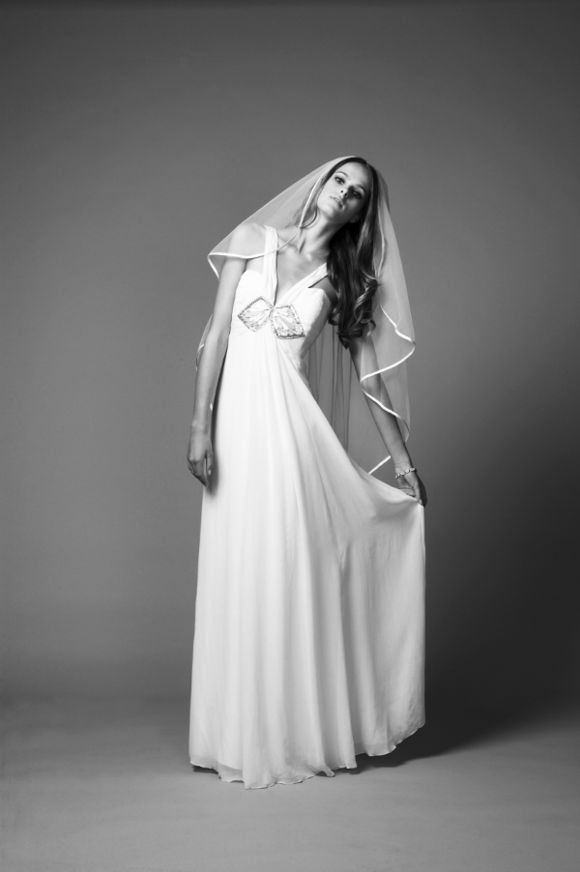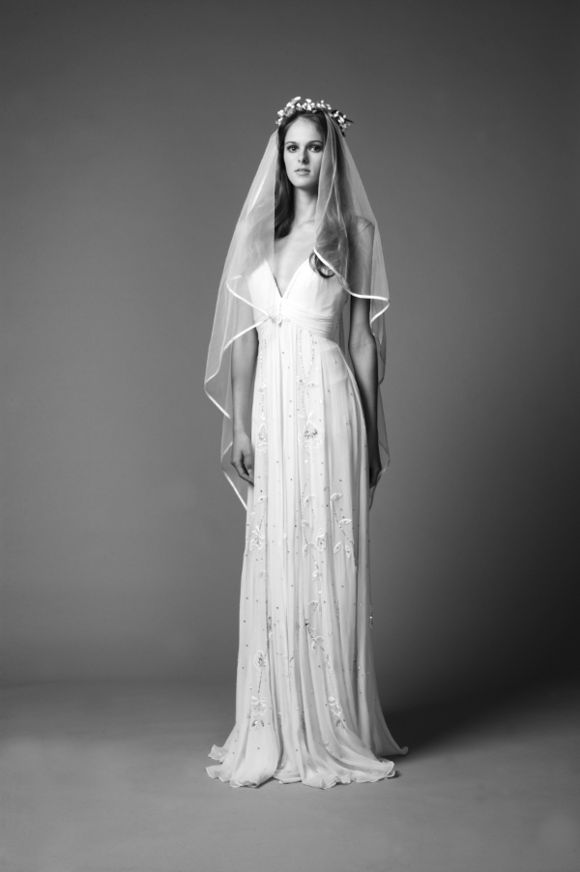 Left – Long Anisha Dress.   Right – Long Zora Dress
The Temperley London Bridal collection has been designed to create overtly feminine and flattering dresses, to suit a range of weddings, from beach, to more formal Church affairs. Attention to detail, synonymous with the Temperley London brand, is central to the Bridal collection philosophy of providing exquisitely detailed and beautiful dresses; ethereal and romantic, ancient embroidery techniques, the finest French laces and a luxurious selection of silks are used to create timeless dresses to last a lifetime.
Let us take a look at this audio-visual taster of the latest Temperley London Bridal collection (just incase – those wondering about the music – it's by the Cinematic Orchestra [one of my favourite bands - who were amazing live when I saw them in 2004]. It's the track 'To Build A Home', from the album 'Ma Fleur').

Enchanting……………..  
Why not play it again, just because you can…
Temperley London Bridal offer an Off-The-Peg, and Made-To-Order collection.  The former pays much attention to detail, with luxurious fabrics and intricate handwork characterising each dress, with layers of silk petals, soft embroidery, delicately sequined French lace and intricate bead-work.  These dresses are available to purchase immediately.
Below – Long Ellette Dress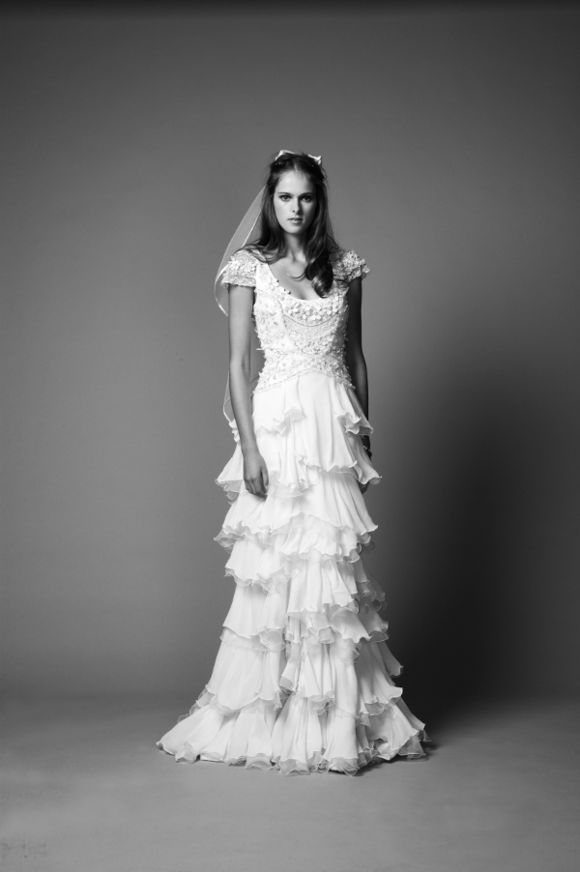 I adore the description of the Long Twinkle dress, below left (click to enlarge)…
"A fairytale dress scattered with hundreds of three dimensional silk flowers and embellished with sparkling lines of Swarovski crystals, embroidery alone takes over 4 days to sew. A long train and accentuated sleeves make this a dramatic yet glitteringly beautiful dress that will leave the wedding guests in awe. A real showstopper for the bride who wants to wear the dress of a lifetime."
Left – Long Twinkle Dress.   Right – Long Jessamine Dress
The Made-To-Order collection promises that a team of highly experienced seamstresses and tailors will conduct a fitting to ensure your dress fits perfectly.  Made-to-order dresses are delivered within six months or ordering.  And the Temperley London Bridal website makes the prospect of an appointment at the boutique sound extremely tantalising – well worth a train trip from any UK destination I really do believe…
"Enter the Temperley Bridal Boutique and lose yourself amongst an exquisite collection of bridal dresses, intricately embellished and finished to the highest standards, all with exclusive Temperley designed beading, embroidery or lace.  Enjoy a glass of champagne and the expertise of a stylist who will help select a style to suit you and your wedding".
Price Guide…
Prices range from £1,900 / $2,990 USD (for simpler styles such as the Long Lara Dress & Long Zora Dress) up to £7,500 / $11,960 USD for more extravagant designs (such as the Long Ellette Dress & Long Twinkle Dress).  The Long Jean Dress that appears at the beginning of this article, retails for £3,110 / $4,995 USD.  The average selling price for the made-to-order line is about £3,125 / $5,000 USD the season.  The dresses are only sold in Temperley London Boutiques in London, New York and Los Angeles for the time being.  All stores have a selection of 'Off-The-Peg' styles that are available for purchase & can be worn immediately – these dresses tend to run at an average of £2,200 / $3,500 USD.  The Temperley London Bridal Collection is available at their New York, Los Angeles, and London boutiques. For more information, please visit the Temperley London website.
And watch Love My Dress for more features very soon on this most fabulous of fashion designers, for as well as her high-fashion Temperley London brand, a new and more price accessible 'Alice' label is about to launch, just in time for Spring/Summer 2010.   The Alice collection is 'very London, with cool Britannia motifs, and will include military inspired tailoring, washed-leather biker jackets and sling over sun-dresses, with colours ranging from indigos and whites, to pastels and sand'. 
Reference, UK Vogue, January 2010
Thou shalt deliver to you all the most tempting of Temperley news as it arrives hot off the press….
And that's a big sparkly silky promise.
♥