The wedding industry has just come to the end of a really busy buying season.  New York, Barcelona, London – all the major cities have hosted their own versions of 'bridal fashion week' in the past few weeks, where designers showcase their new collections and suppliers/boutique owners place the orders for the dresses they want to be stocked in their boutiques and stores over the Autumn/Winter period.
The two major shows held in London in May are The White Gallery and, the newly established London Bridal Fashion Week.  I blogged about The White Gallery recently here – take a look to see some of my personal favourite designs that were on show. Today, I'd like to share a little from the inaugural London Bridal Fashion Show.
Photography by Emma Pilkington for Love My Dress®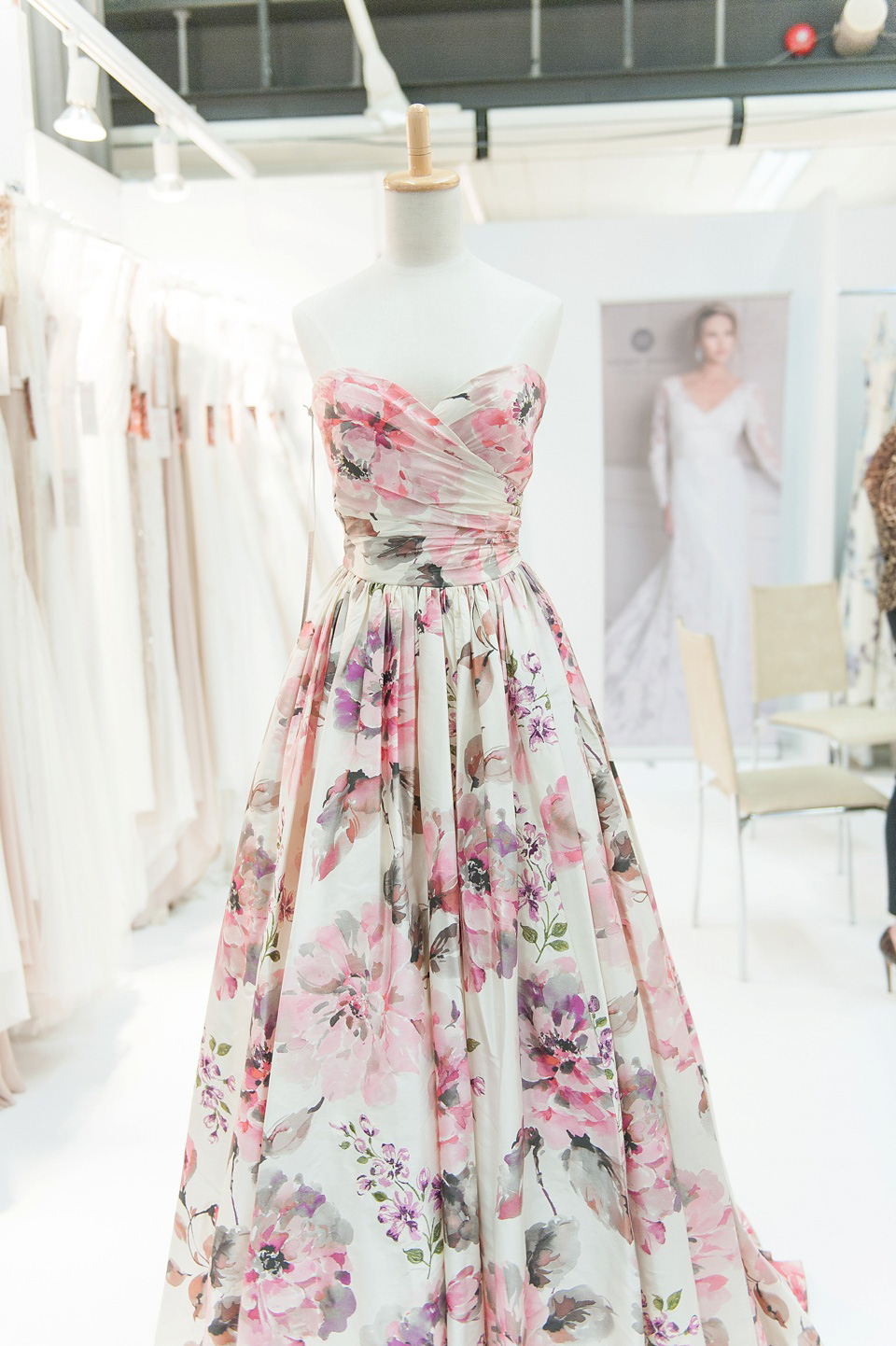 'That' floral gown by Wendy Makin (more about this amazing dress further down)
Also see this instagram post and this intagram post
I'll be honest, from a press perspective, its sooo much easier to have everything in one place.  I very quickly realised during my visit that one day simply wasn't going to be enough to spend the time I really wanted to at two major trade shows, catching up with our much loved sponsors and getting to meet with new designers too.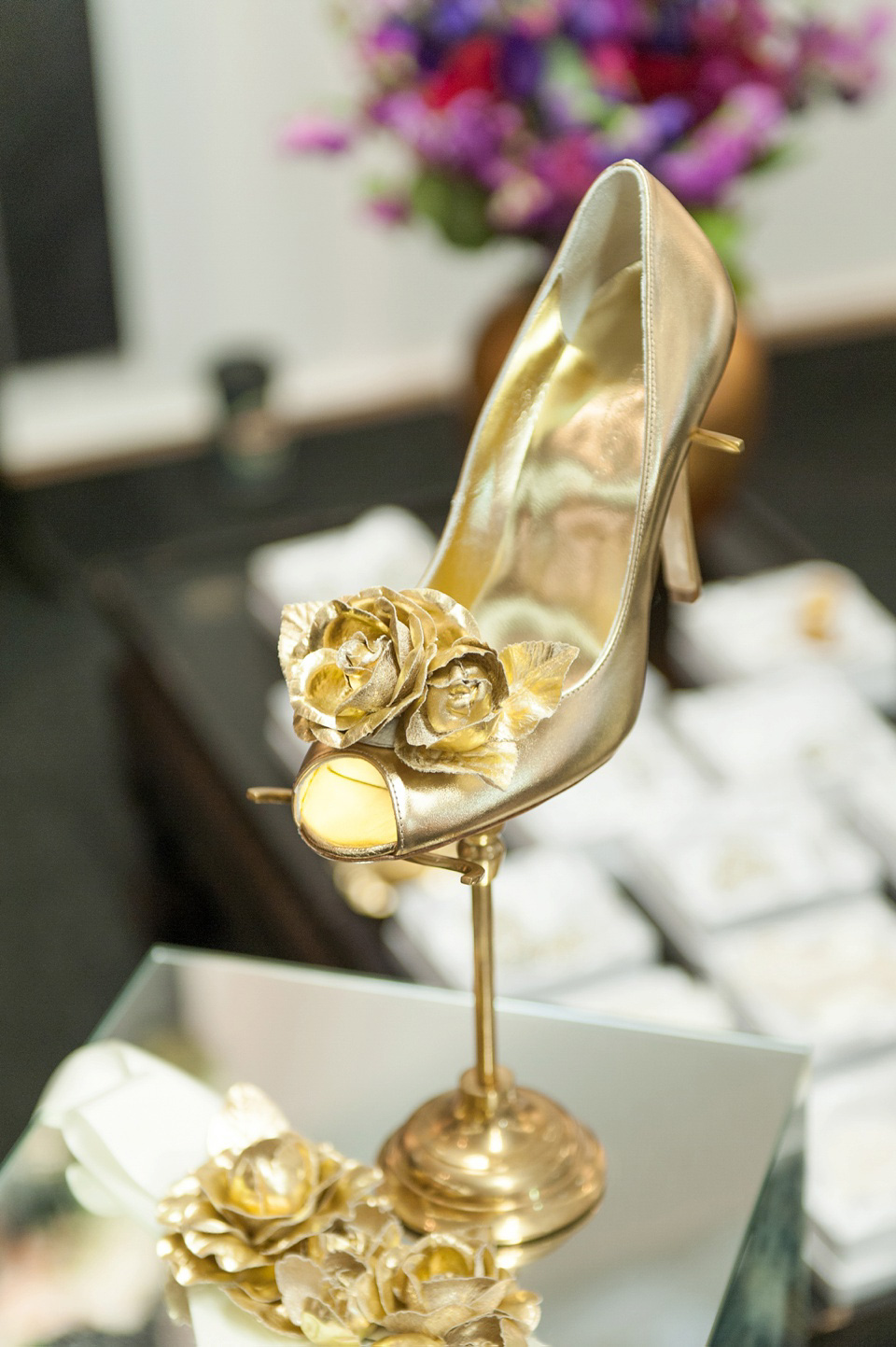 Gold shoes by Freya Rose
That said, I also think that the established shows probably needed a bit of a shakeup (thank you for finally sorting out WIfi this year White Gallery!).  And so actually it was a pleasure and rather exciting to be able to jet off over to the other side of town to Old Billingsgate for London Bridal Fashion Week.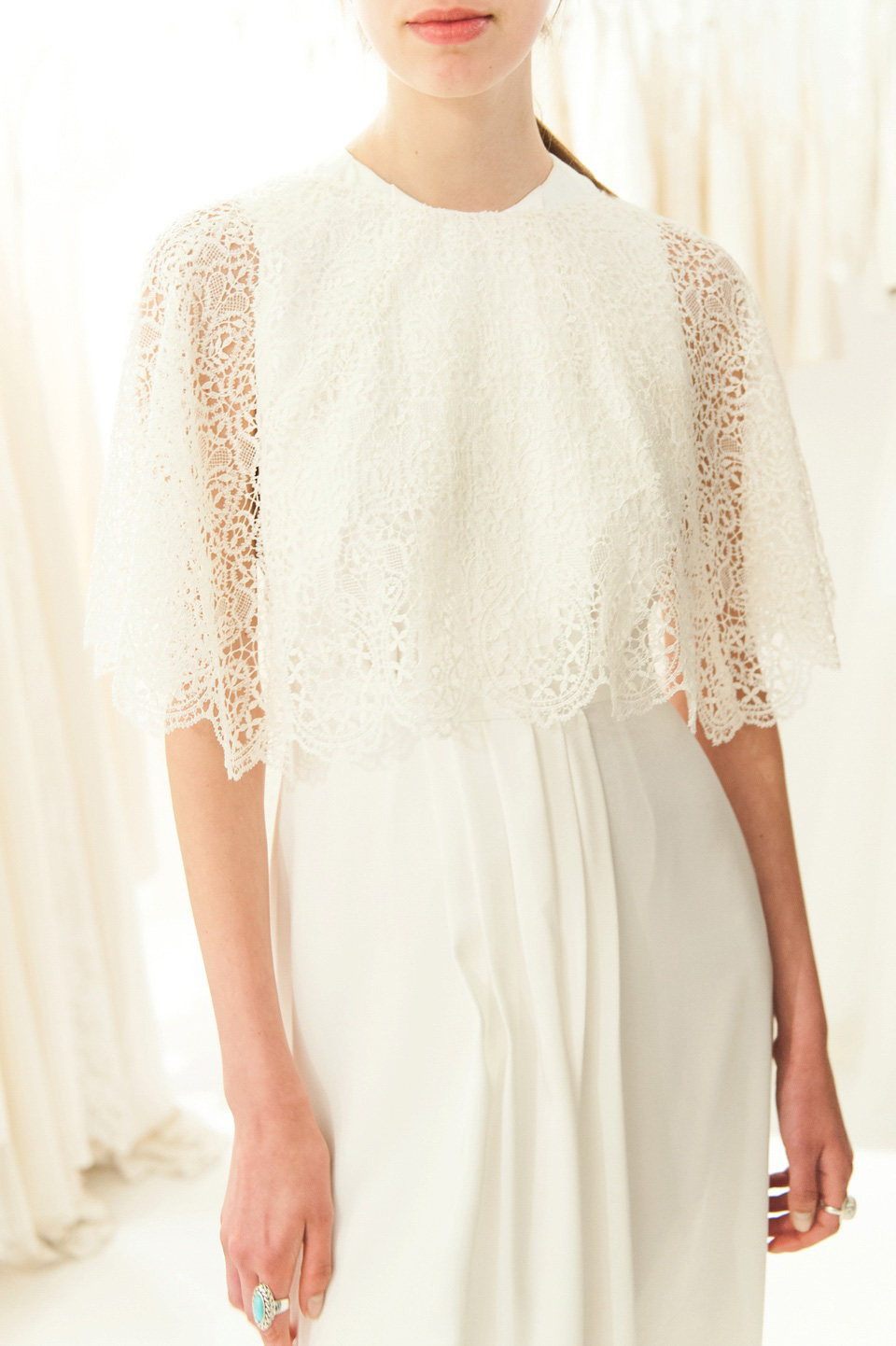 Bridal Poncho by Charlie Brear
I was so utterly delighted that I got to meet designer Wendy Makin – she's the lady behind the floral dress you see at the top of this post.   Wendy told me that since featuring this dress in this real wedding feature (which you lot have pinned from over 6,000 times now!), she has been inundated with enquiries for this gown (in fact we have two weddings to feature over the next few weeks where the bride wore this gown).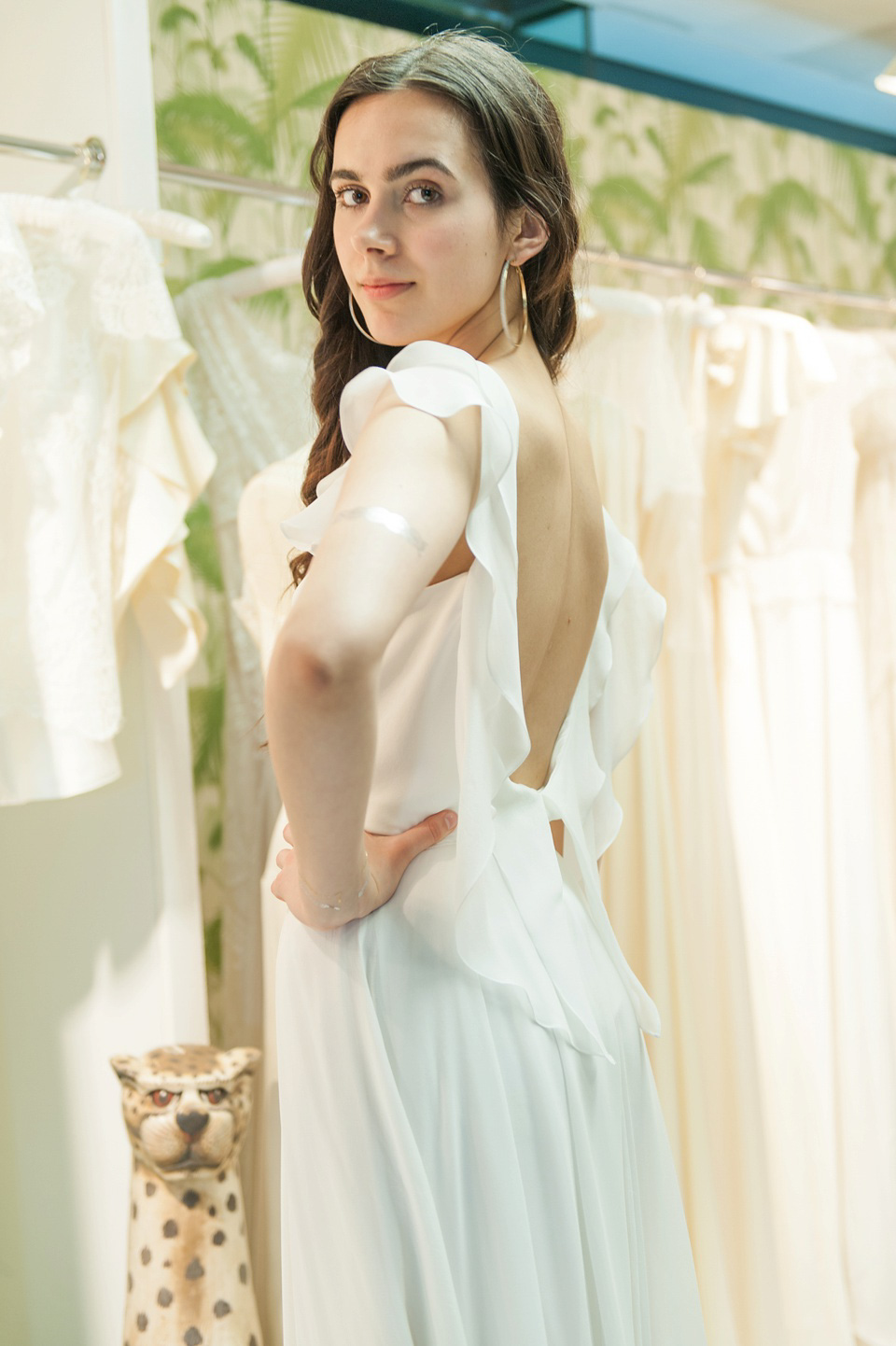 Elegantly cascading silk sleeves by Belle & Bunty
My chat with Wendy prompted me to share this Instagram post. . The power, reach and influence of the wedding blog still never ceases to amaze me!
Gown by by show discovery, Ozlem Suer
London Bridal Fashion Week has been established by Alejandra Campos Morales, who actually used to also manage White Gallery. Alejandra has set out to create an environment that she feels better supports an industry that seeks to flourish rather than stagnate.
Having been in constant conversation with the industry, I have a firm belief that in recent years its needs have not been fully met. The time is right for the launch of London Bridal Fashion Week, the international platform focused on representing the interests of both leading premium manufacturers and designers. (Alejandro Campos Morales, MD, London Bridal Fashion Week)
I Alejandro's philosophy and I have to say, I think she did a superb job with her inaugural event. The venue is a very different one to London Bridal Fashion Week and perhaps one or two things could be taken into consideration for next time (like fully operating Wifi – ESSENTIAL for an Instagram addict like me keen to do some live show reporting – and a better offer of refreshments). But on the whole I think Alejandro and her team should pat themselves on the back for a superb first show – I certainly look forward to attending many more.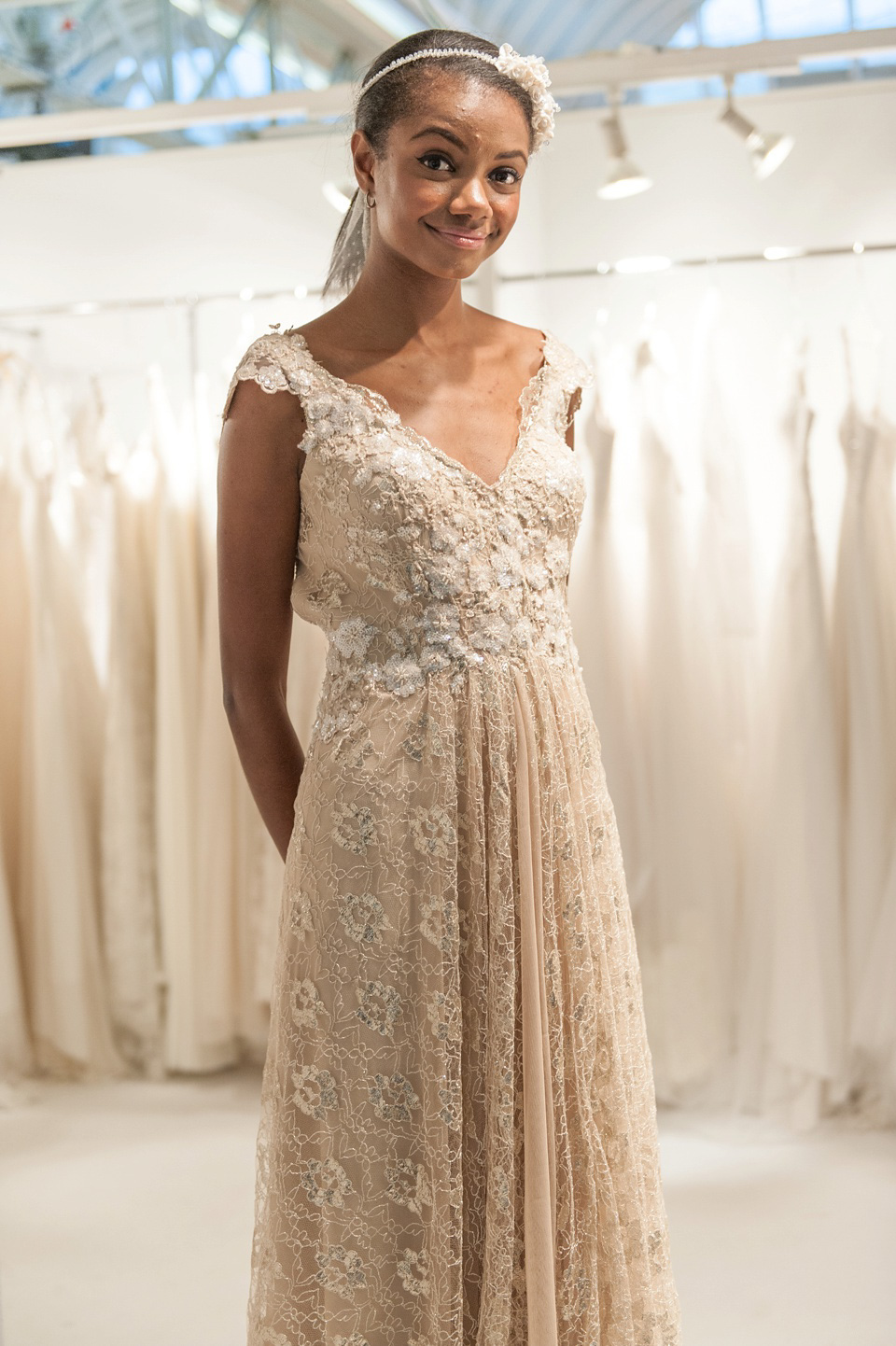 So, I have to talk first about my show discovery, Ozlem Suer. I'm not sure these photographs by the very lovely Emma Pilkington truly do these pieces the justice they deserve. I was SPEECHLESS. And that's saying a lot for someone who's spent the past five years looking at a whole lotta wedding dresses – but these gowns were quite something else.
The gown that stole my heart was the one you see two shots above (also pictured below). It was rather awkwardly (for photographing purposes that is) positioned directly under a super bright spotlight and the model was busy trying on gowns for buyers so sadly we didn't get to see her with it on, but wow, what a truly incredible creation.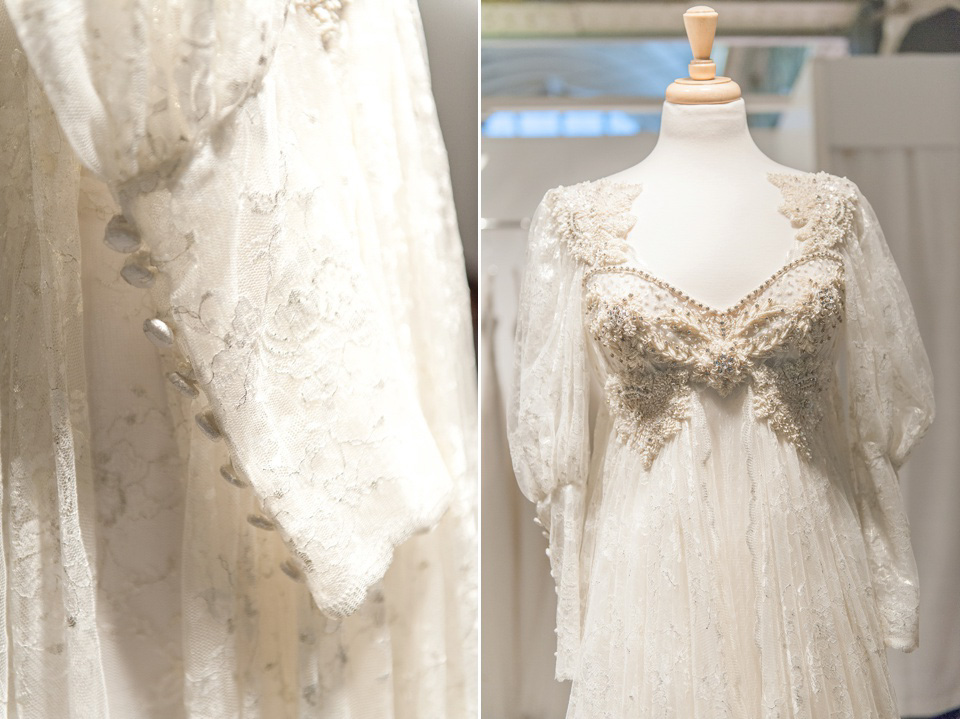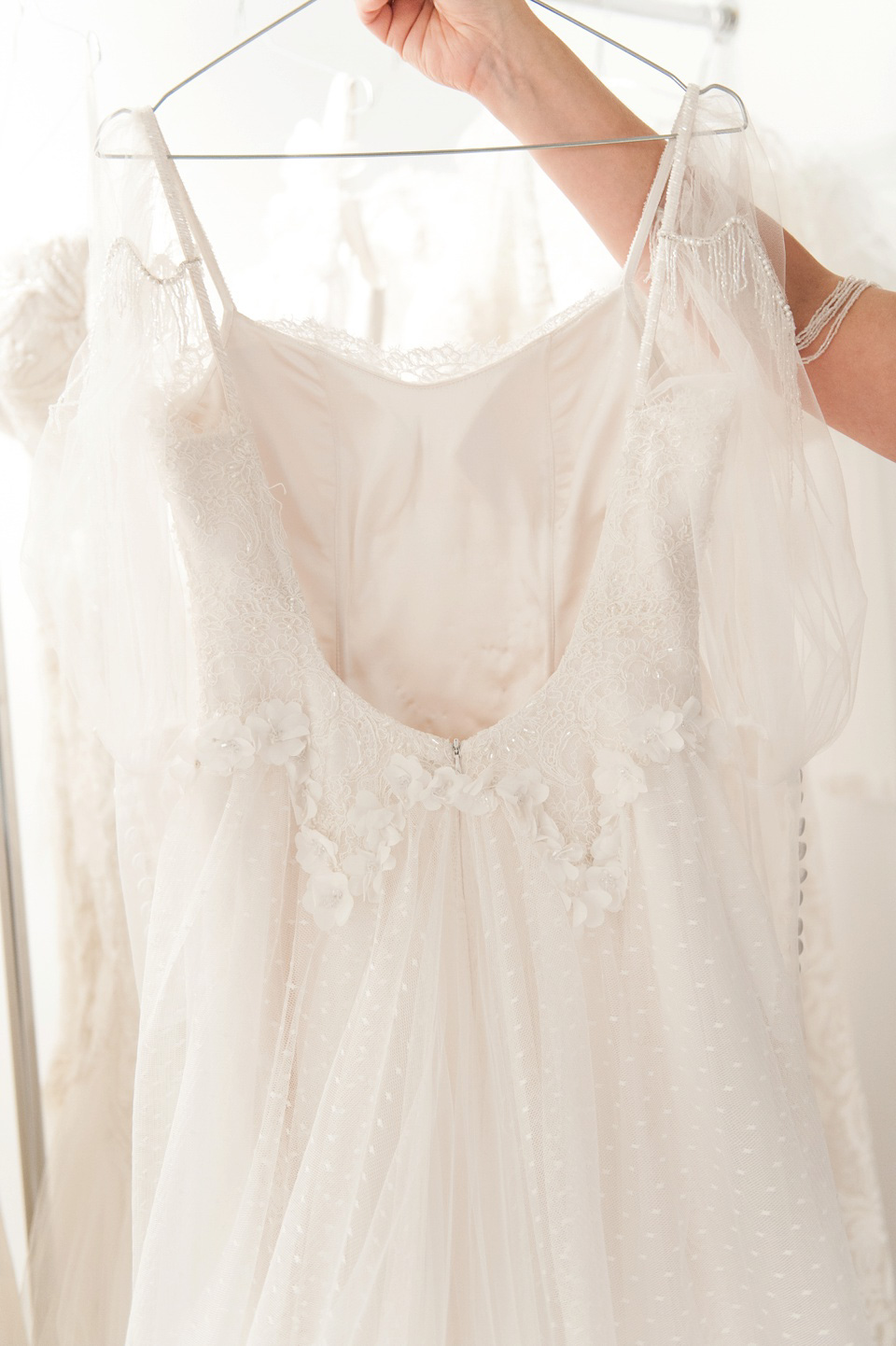 The detail up close in these gowns is exquisite – teeny tiny beads applied with perfection, layer upon layer of soft, sensuous tulle and delicate textured fabric all in the most elegant shades of peach, gold and ivory.
These gowns are more conceptual in design than the average wedding dress – Ozlem has turned to the Neoclassical period and sought inspiration from 18th Century decadence in producing these pieces.  There is a truly romantic vibe to these gowns – I could envisage a barefoot bride wondering through the woodland to meet her groom – there's certainly a touch of woodland nymph about them. However you see them, they really are like nothing else I'm seeing out there right now so carry a really strong signature style.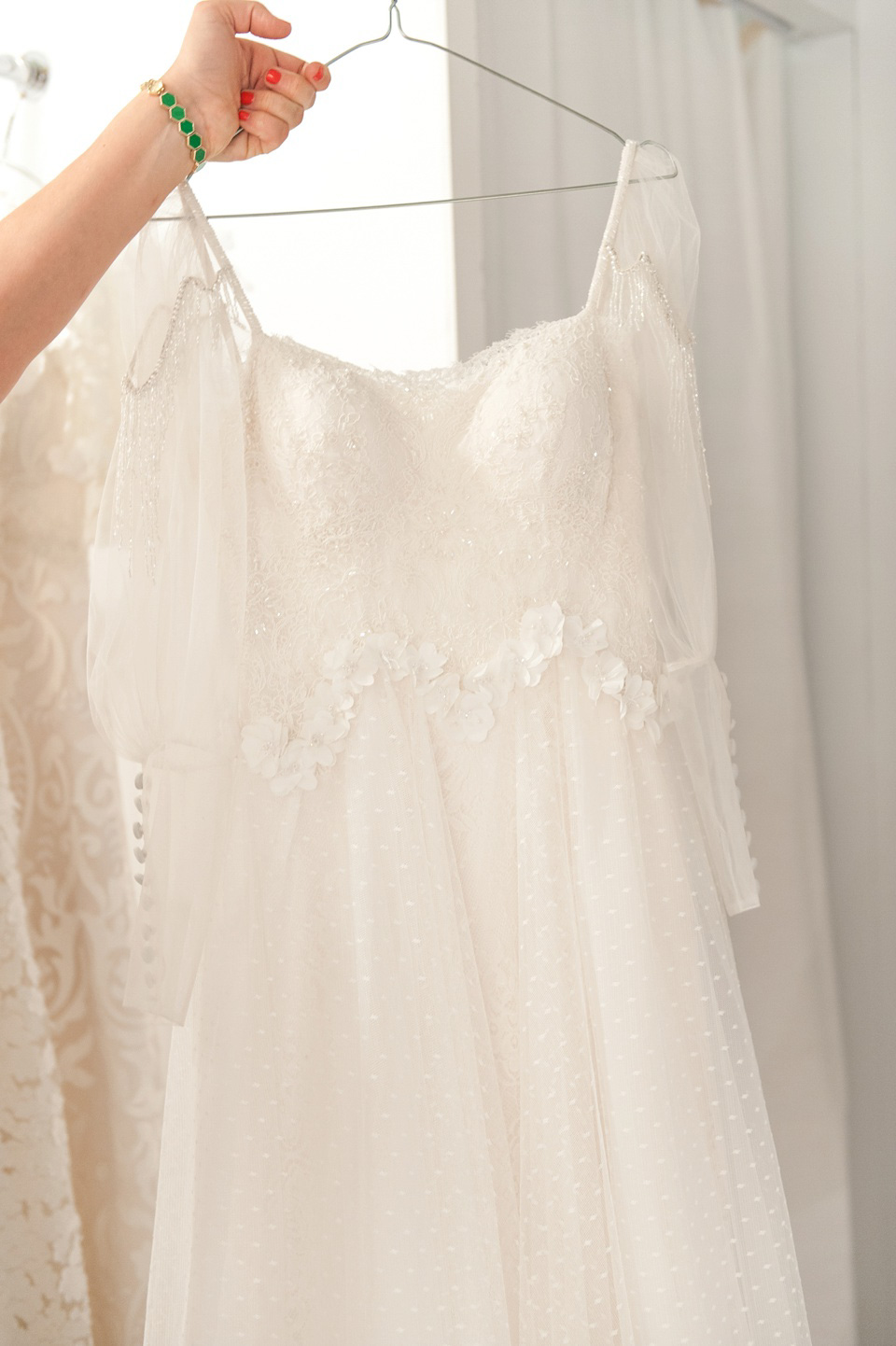 I have to say the team manning the Ozlem Suer stand were very friendly and helpful and couldn't have bent over backwards for us more if they tried.   We got talking about the designer herself (sadly absent at the time) who is apparently a colourist and rather famous for being so too in her native Turkey.
I know that there are a small number of UK stockists carrying Ozlem Suer already. If I were a boutique owner myself, I'd be front of the queue.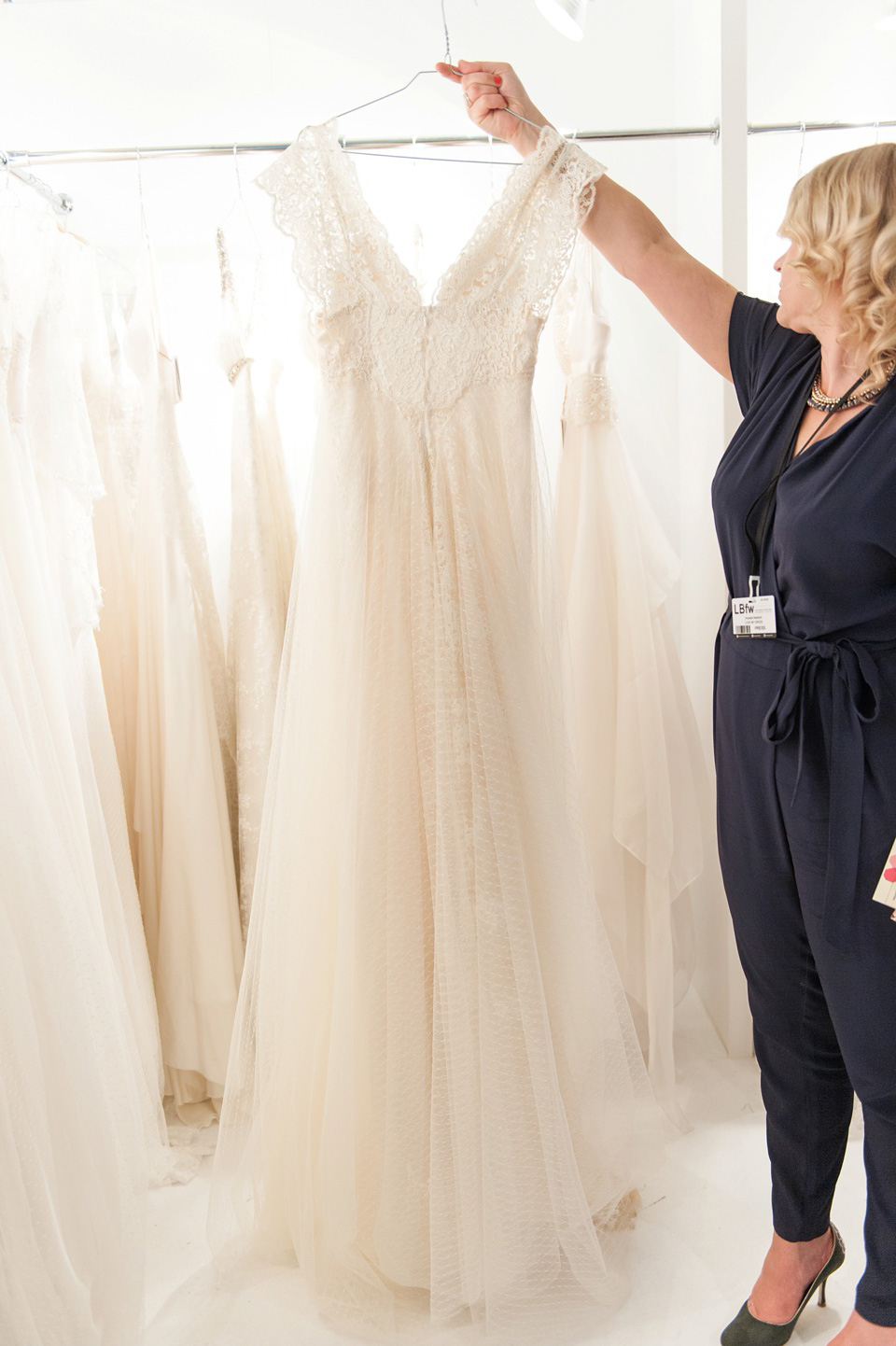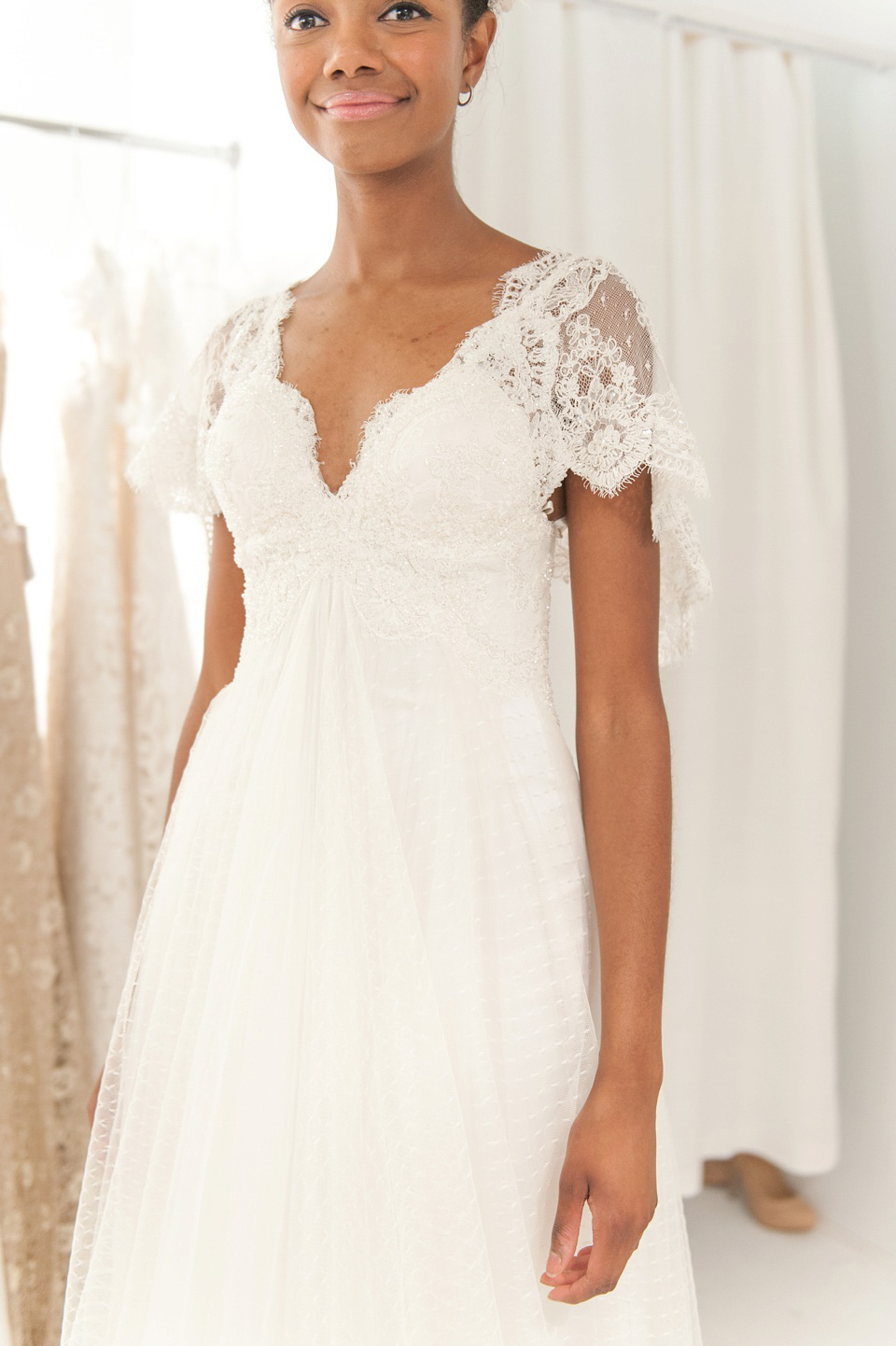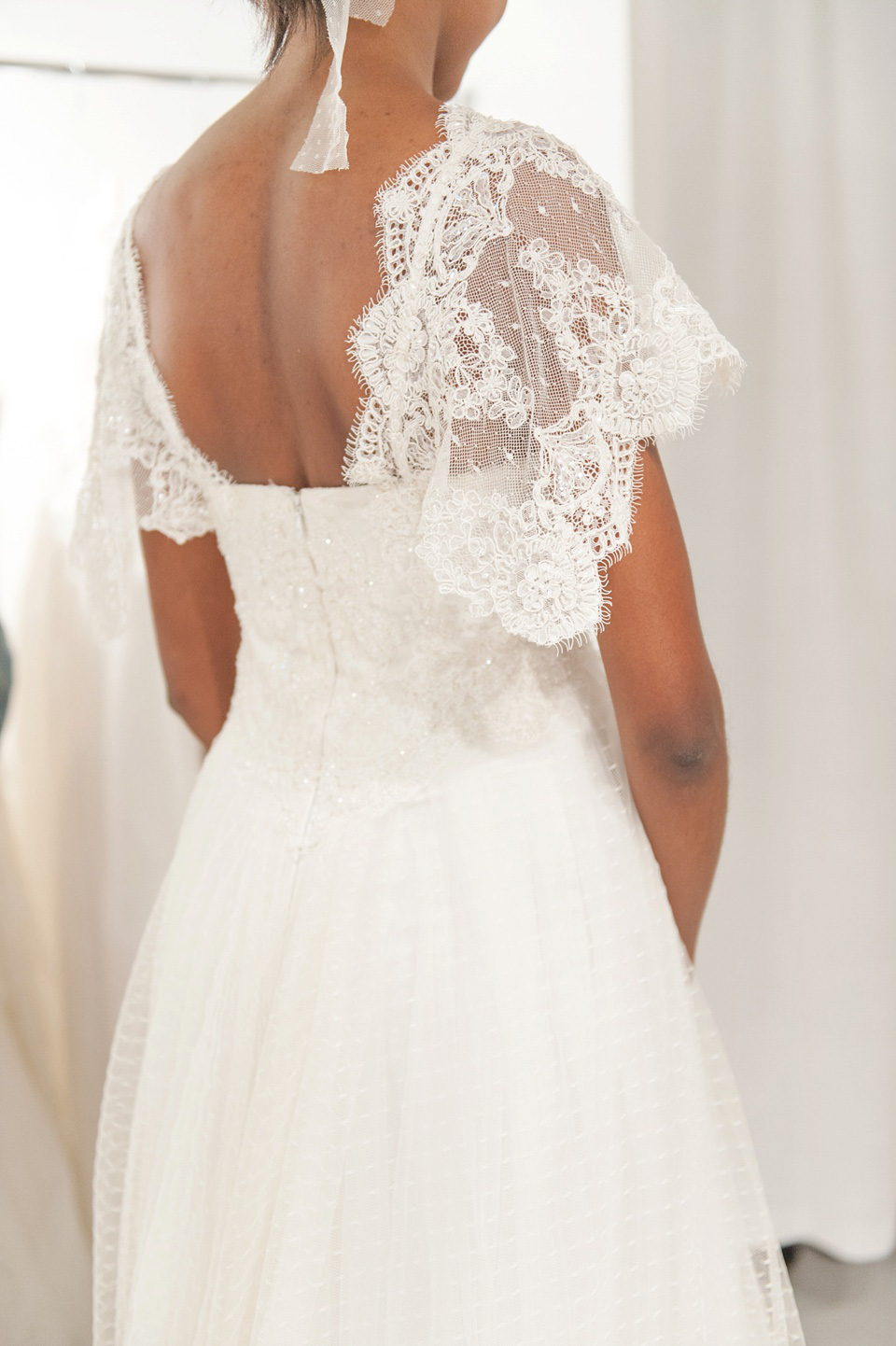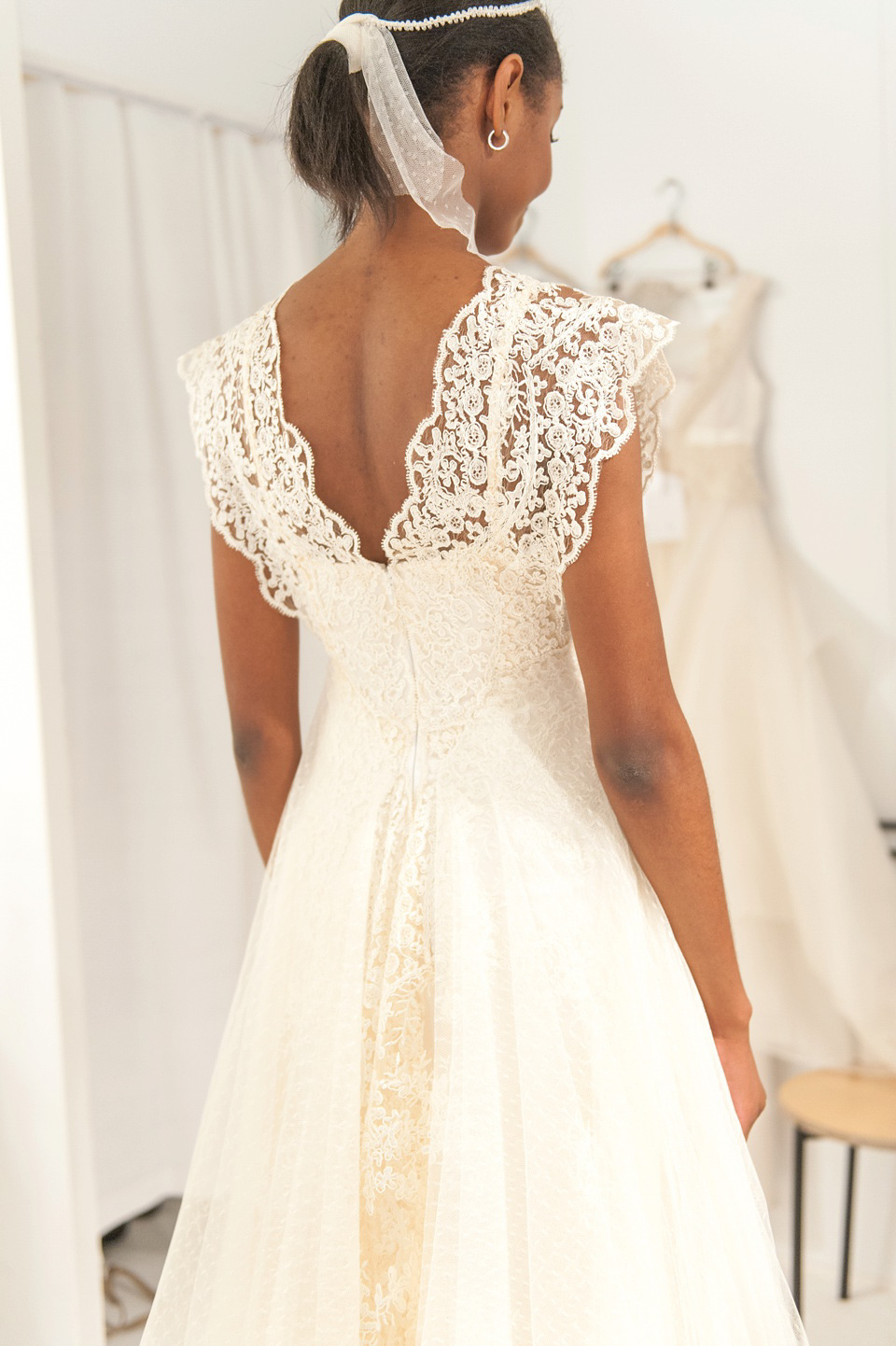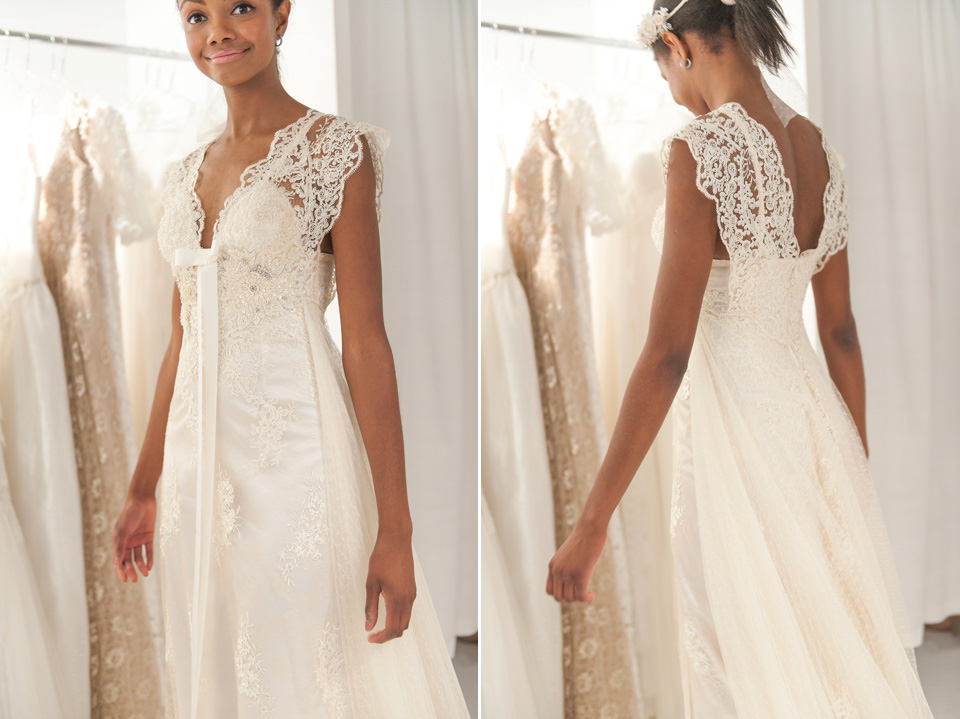 The darling Belle & Bunty girls were out in force with one of the best designed spaces at either shows! I love how these girls embrace their creativity and always have something bright and beautiful to Instagram.
We blogged only last month about the brand new Belle & Bunty collection and we recently also took you on a tour of this flirtatiously British design duo's beautiful London boutique too.  This brand new collection is full of modern feminine touches.  As Alice said to me when I was chatting with her at the show, '
This is a collection for the cool, modern, independent bride who is done with the images of brides in floral crowns, who wants to make a fashion statement with her gown. This bride isn't necessarily walking down any aisle – her groom is coming to her. (Alice Shreeve [that's her below], Belle & Bunty)
Yes ladies! Yes!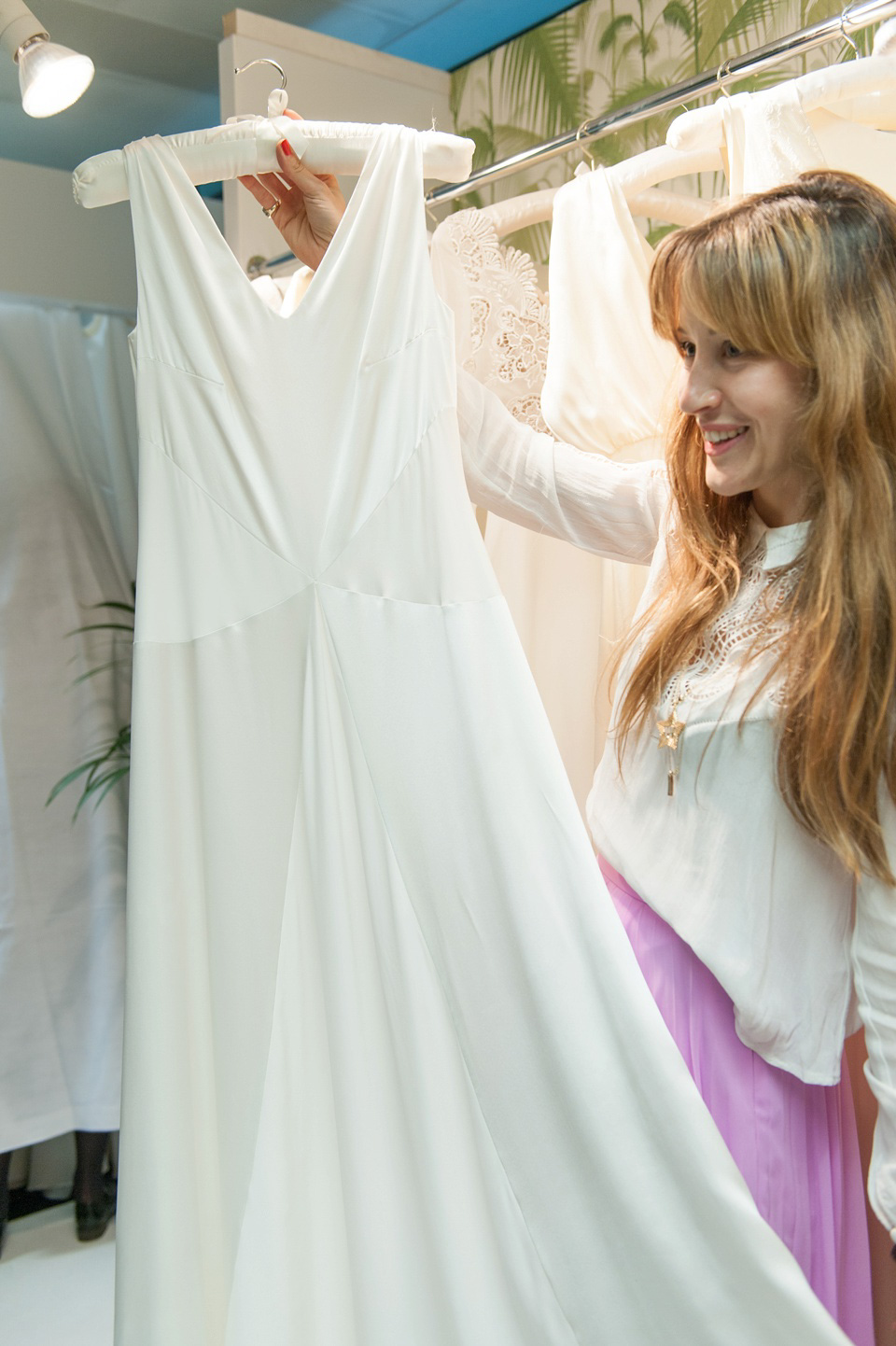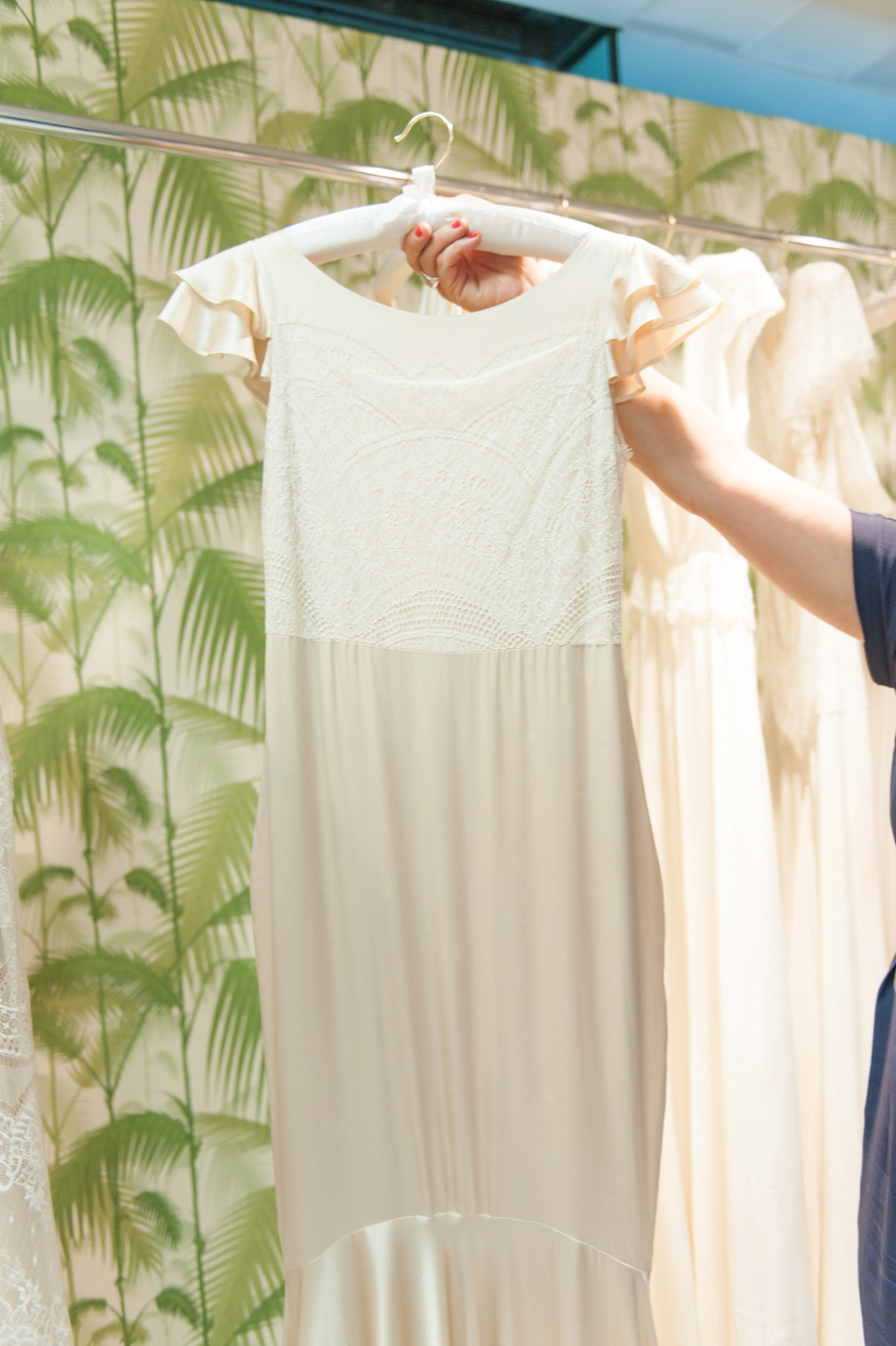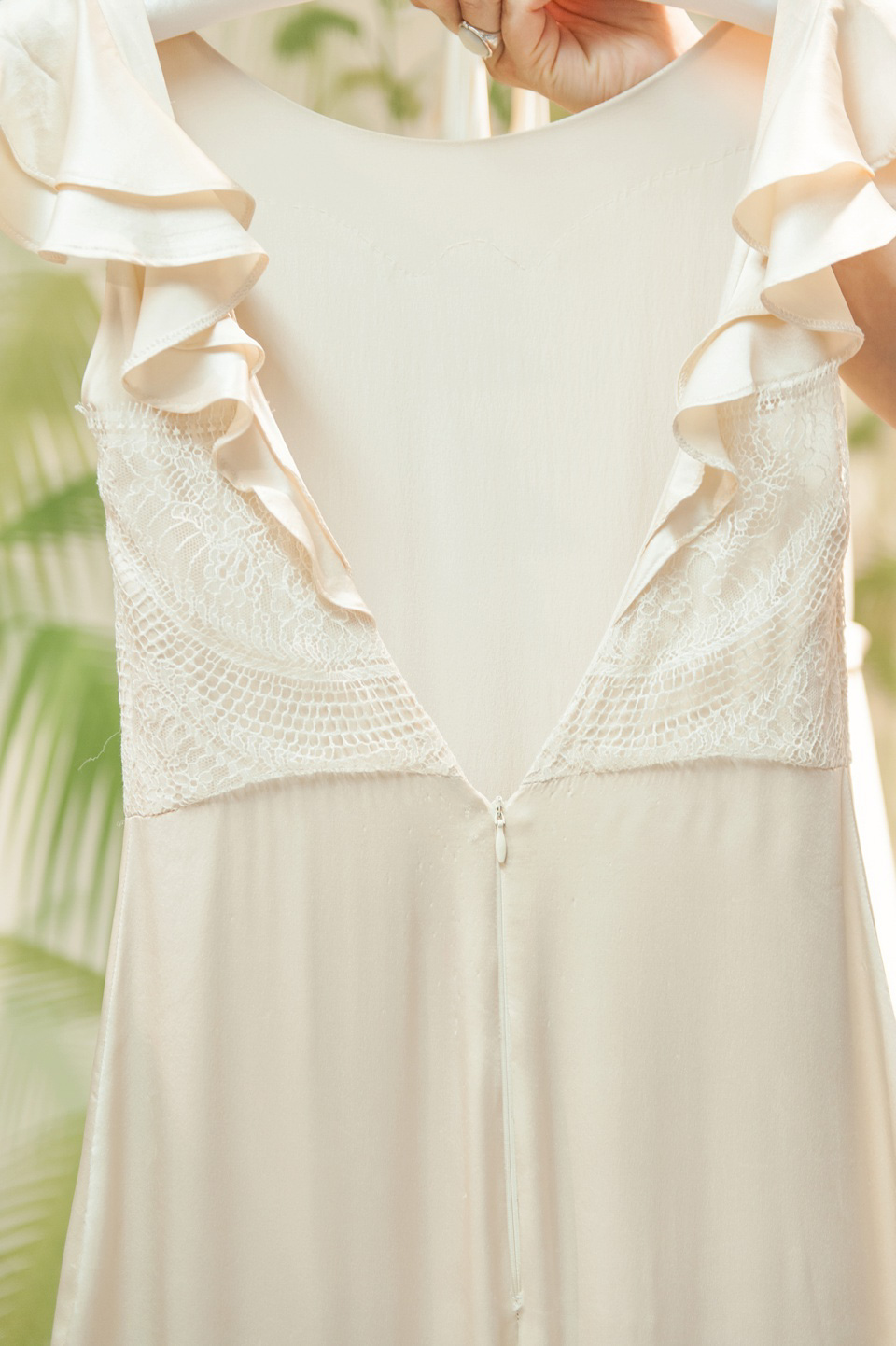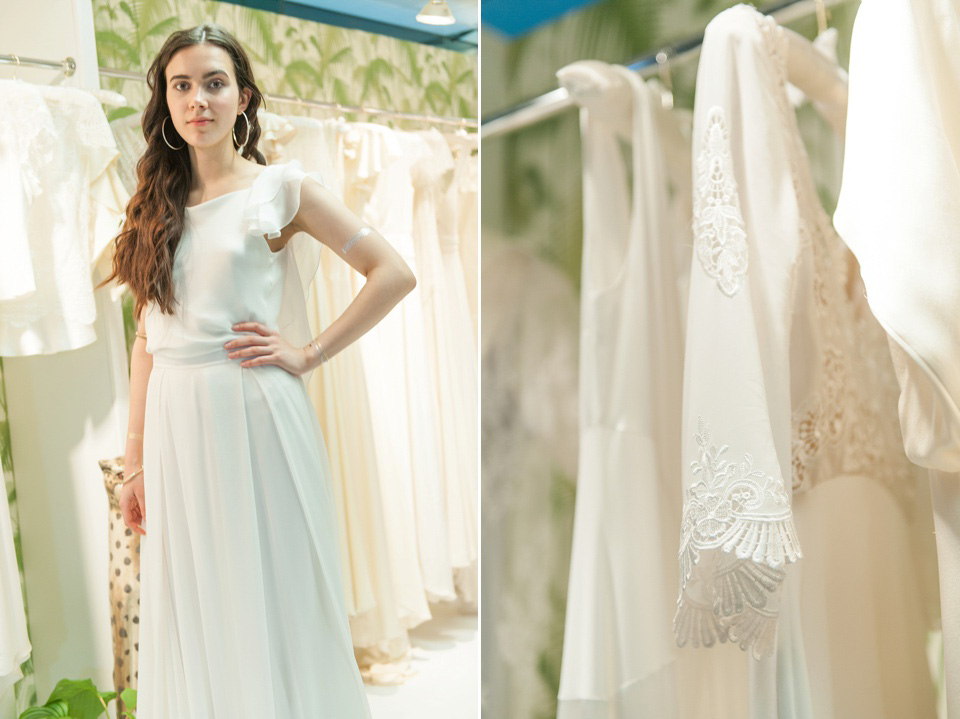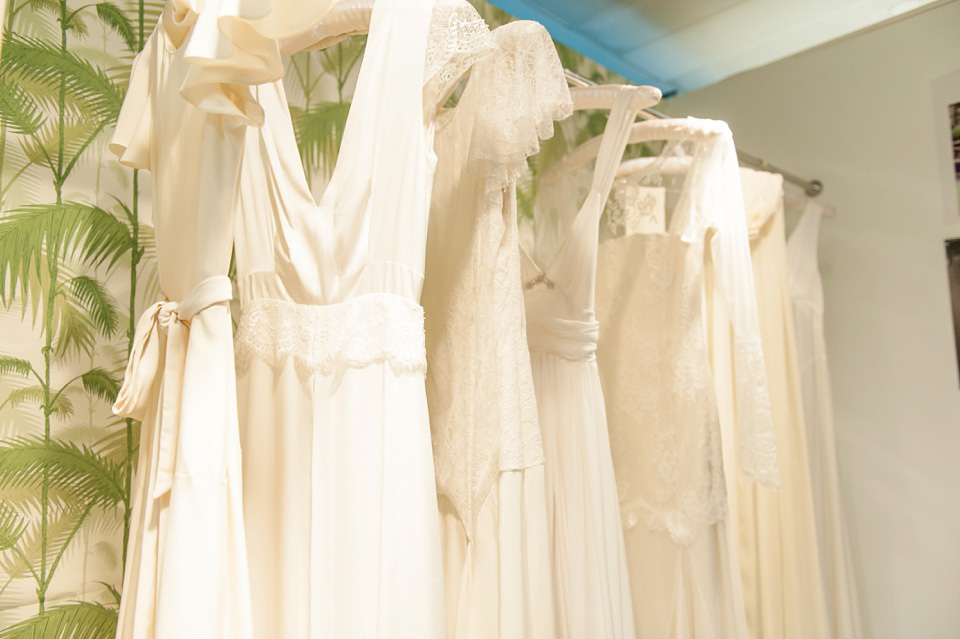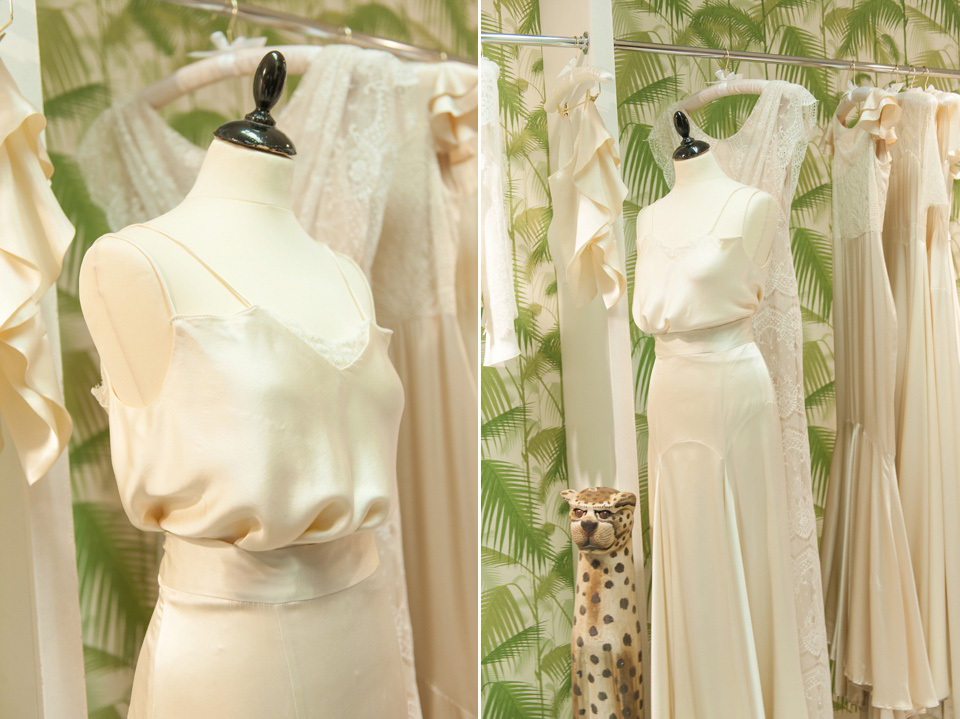 Charlie Brear's new collection oozes 70's Halston glamour and free spirited bride appeal.  Think elegantly exposed backs and halternecks, dropped waists with a whisper of 20's decadence and skirts with concealed pockets – a lace poncho even makes an appearance.
Since rebranding two years ago from 'The Vintage Wedding Dress Company', Charlie Brear has led her eponymous brand to the very cool and chic corner of the bridal fashion mark, the vantage point from which I think she'll be holding on to for the foreseeable future.
I'm a huge fan of Charlie's designs – and so, it seems, are a great many of our readers.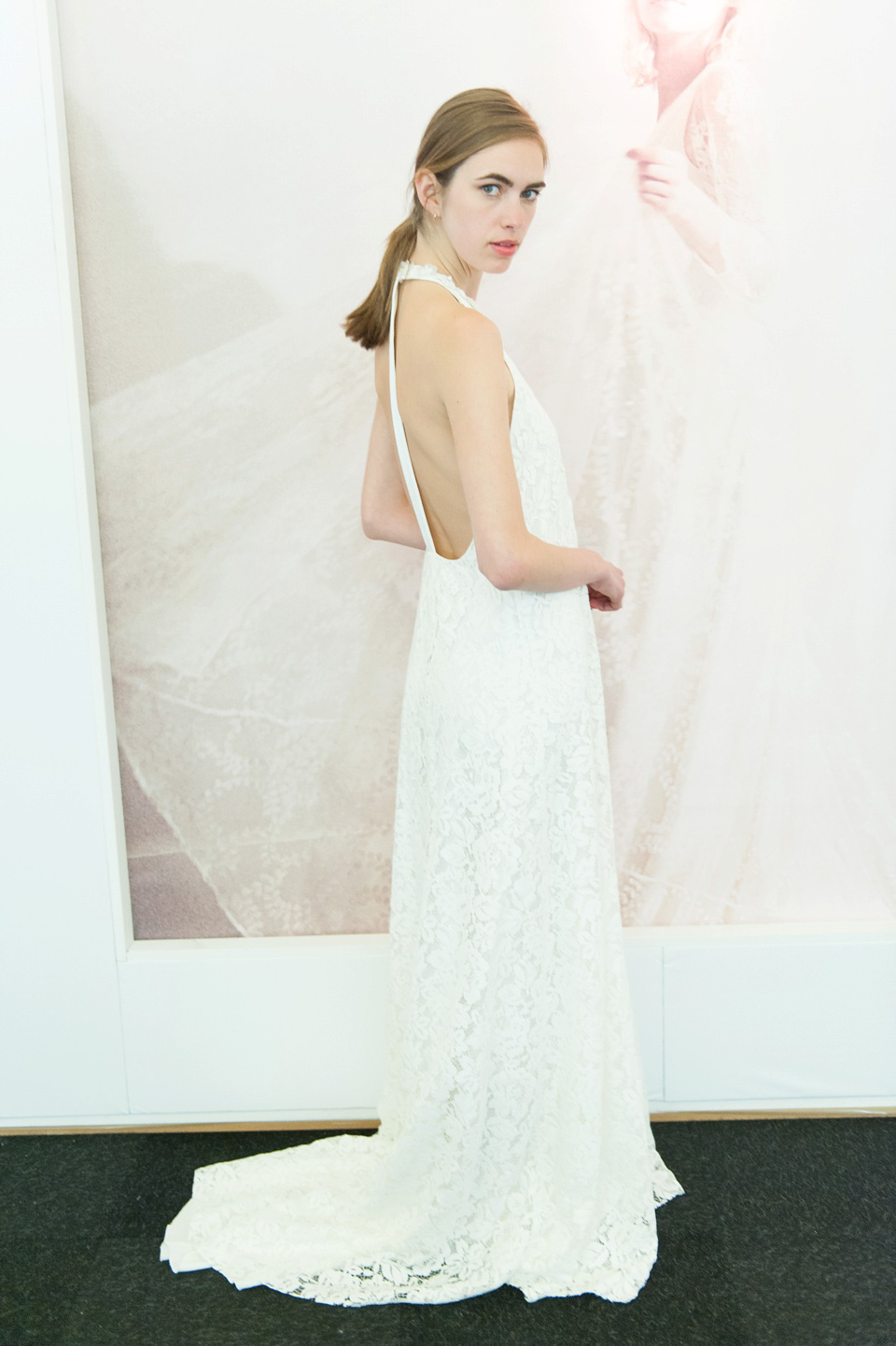 A bride in a lace poncho. Who'd have thought this would have looked so cool. This is why I love Charlie Brear!
Bridal separates are big on everyone's watch list right now, offering a superb alternative to the bride who doesn't feel all that comfortable with the idea of wearing a dress.  Charlie Brear's sew separate options are beautiful – dropped waist skirts combined with drop top lace tank tops make for a chic and elegant boho vibe. Imagine these with a pair of gold sandals and a bouquet that looked like the flowers had been collected from the meadow that very morning.
One thing Charlie Brear does superbly well is create a strong silhouette – look at this beautiful pocketed skirt (which was actually in the palest of green silks. A simple, chic design that makes a strong style statement. And pockets for the WIN I say. Right?
Rembo Styling is a name that's crept quietly onto the British bridal scene over the past six months or so.  This Belgian-based family produces innovative, design-led gowns of the very highest quality at a refreshingly affordable retail price. Their gowns are contemporary and relaxed yet timeless and elegant, and, as I learned first hand, light to hold (that's my arm in most of these images!) gorgeous elegant floaty fabric creations.  
I particularly loved this little lace bomber jacket – an indication of the brands fondness for innovation.
The starting point for our designers is the bride of today: a dynamic young woman who knows what she wants.  We also know that bridal fashion should be fully-fledged fashion. That's why we opt for innovation every year and as a trendsetter, we're willing to take risks. We give our designers creative freedom. (Werner De Vlieger, owner of Rembo Styling – read more here)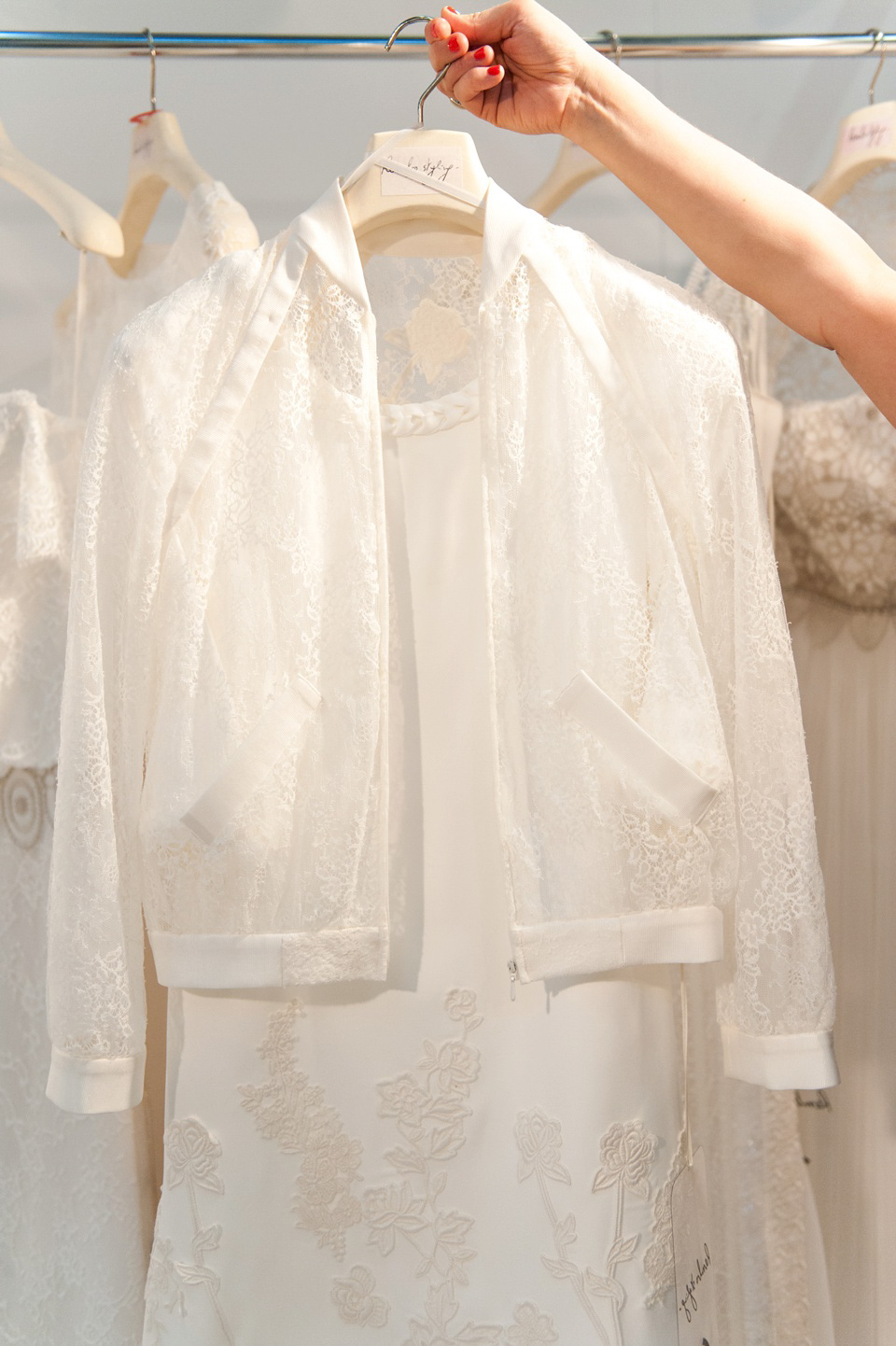 I'm genuinely a big fan of this brand – we blogged about them here on Love My Dress back in January.  They are part of the new generation bridal brand producing cool, innovative, fashion lead and very elegant pieces.  Watch this space I say.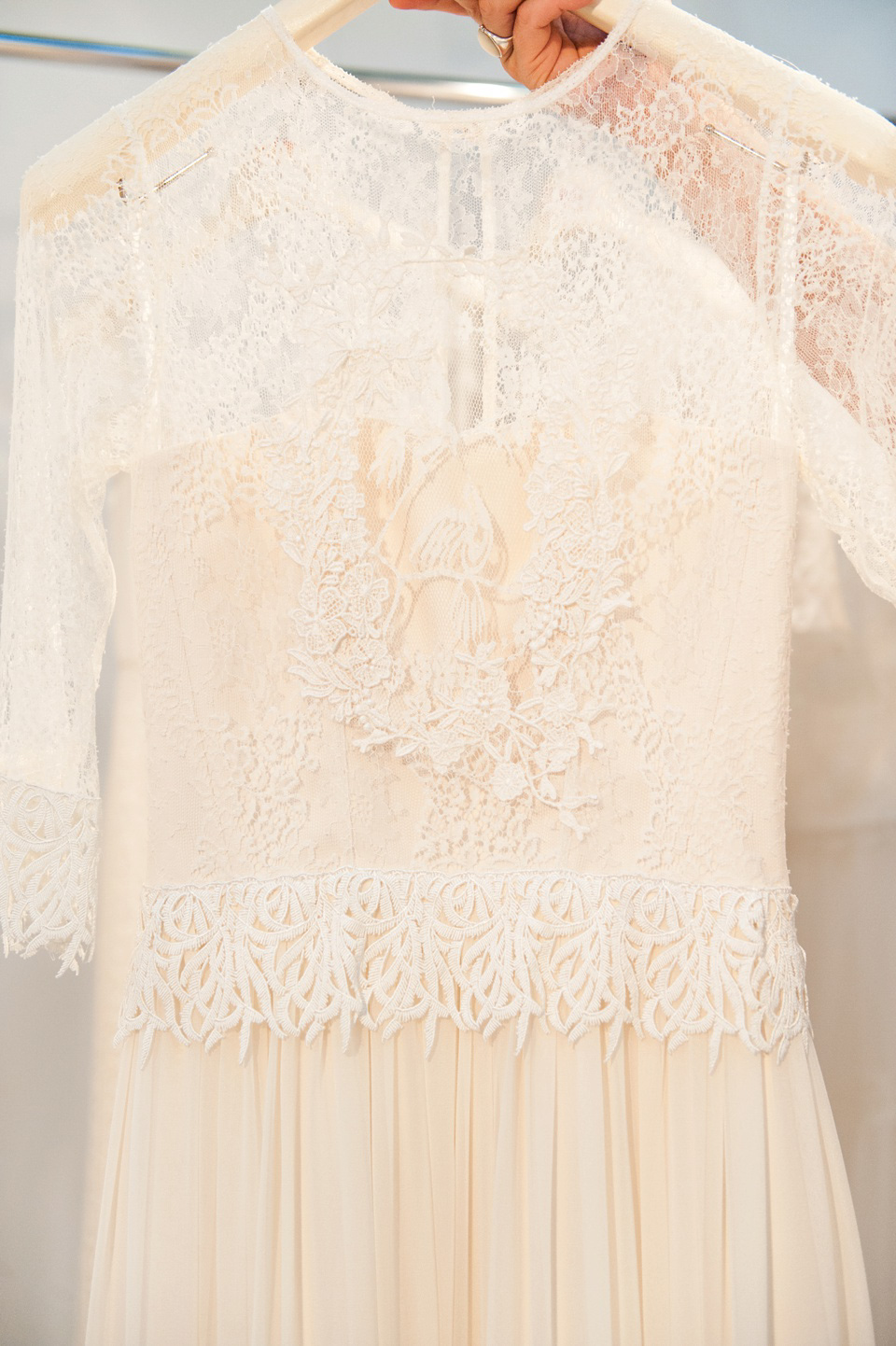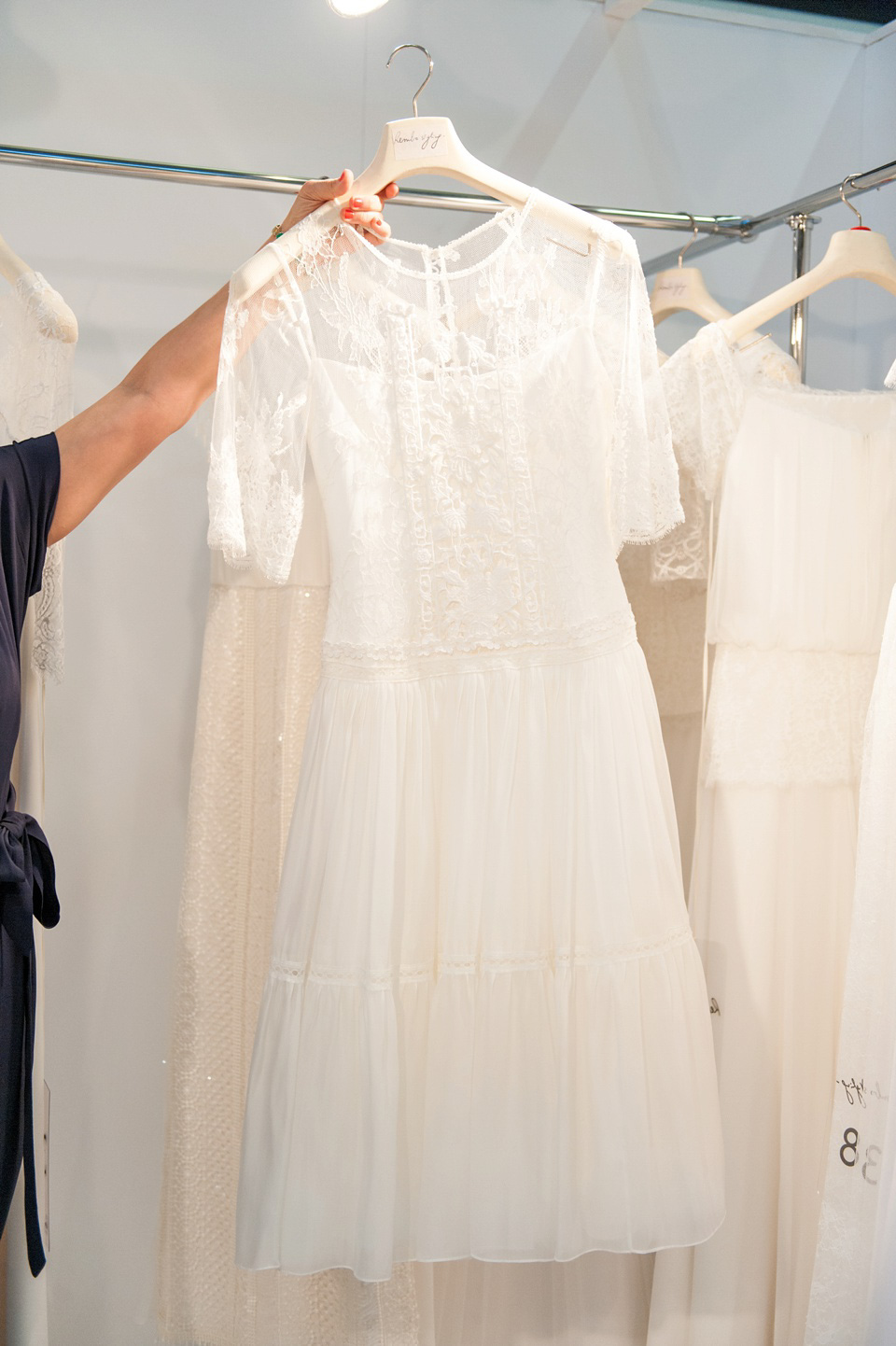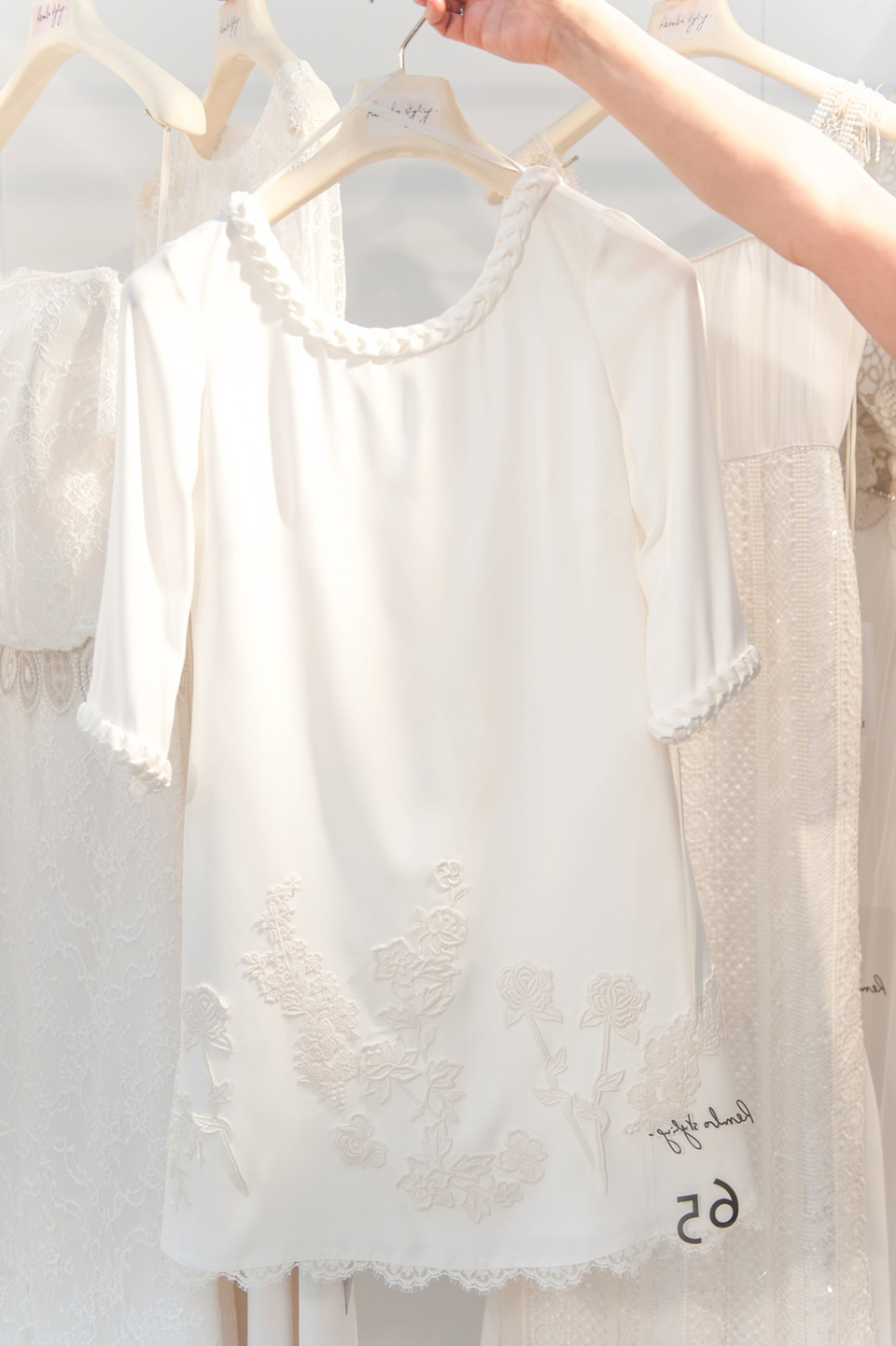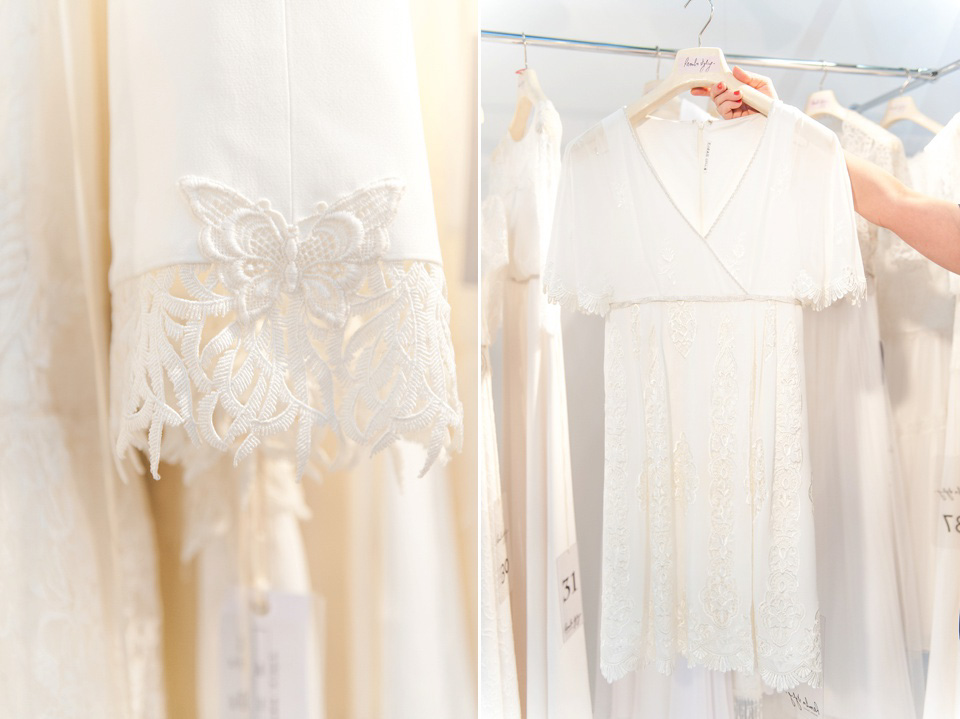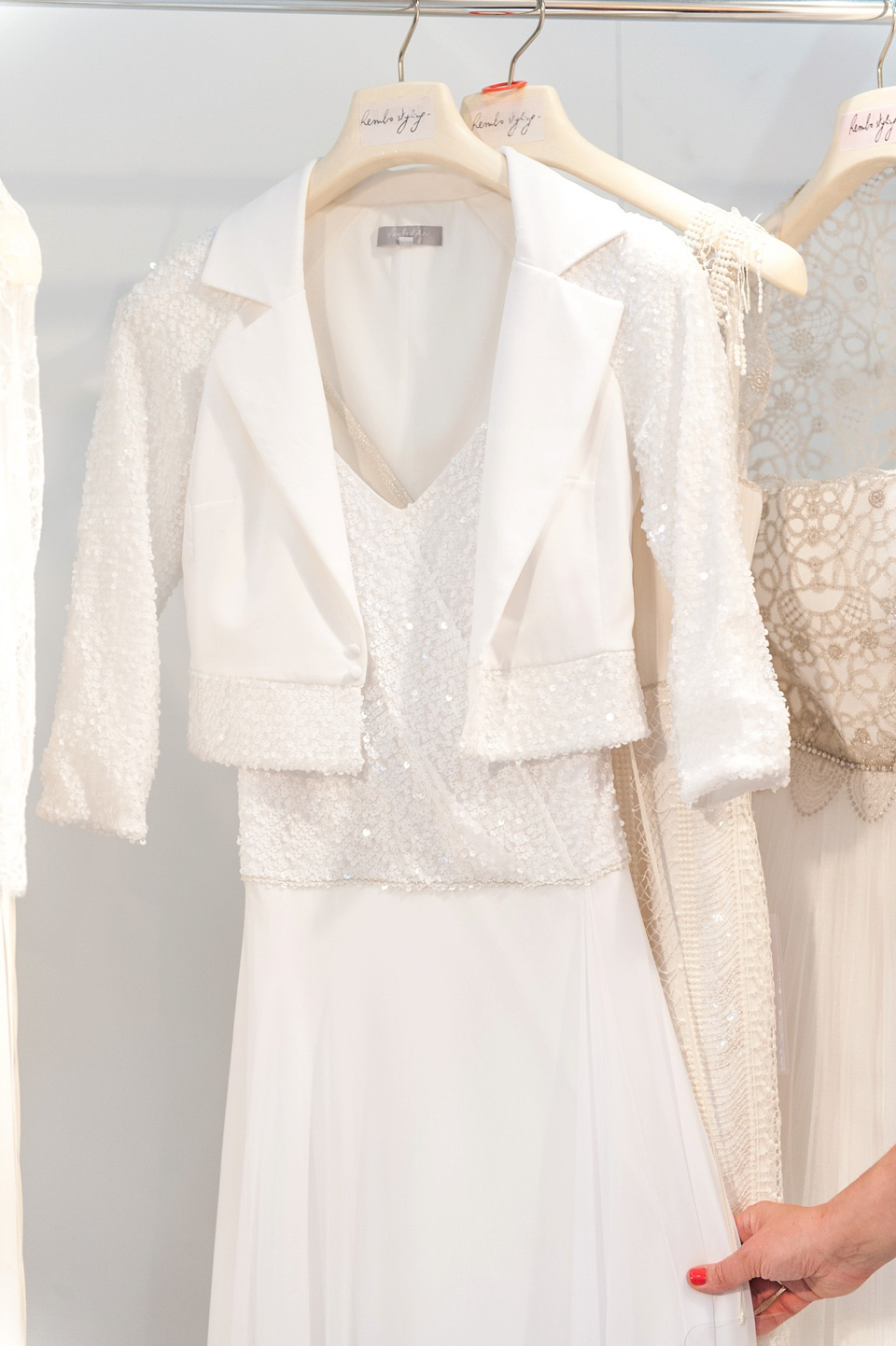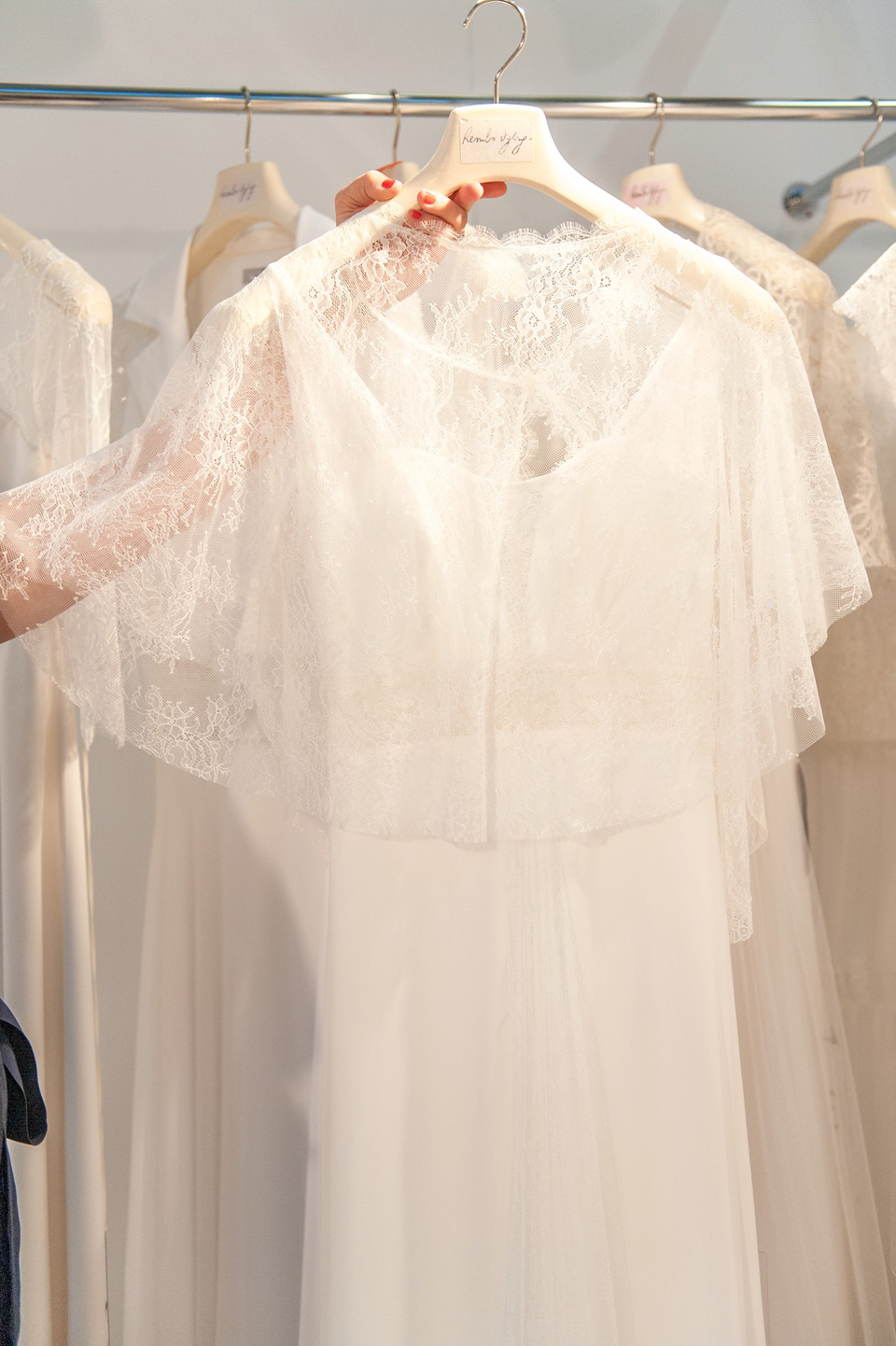 The utterly charming and delightful Sanyukta Shrestha was in attendance with her design team too.  I'm a big fan of this designer's work and hugely admire her ethical approach to bridal fashion.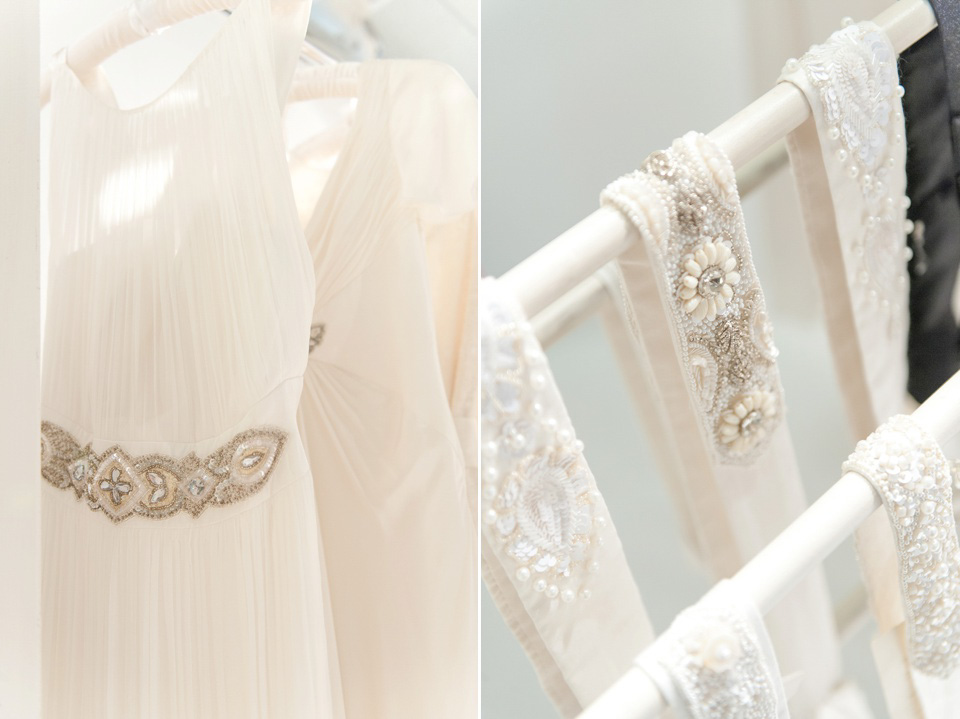 Sanyukta Shrestha launched her new 'Eco Goddess' haute couture collection at London Bridal Fashion Week. You can see many of the gowns that we weren't able to photograph (because they were out for the catwalk show) via this post, but here's what the designer herself says of her own environmentally conscious new collection…
Eco Goddess is the coming together of out of this world, glamorous Bridal Haute Couture with sustainable, fair trade fabrics hand loomed and crafted by Nepalese women merged with most romantic Chantilly lace and dreamy tulle. Luxurious and rare fabrics are used – such as hemp, fine hand – hand weaved bamboo lace, 100% organic cotton and organic silk meaning that these dresses are as gorgeous on the inside as they are on the outside. (Sanyukta Shrestha)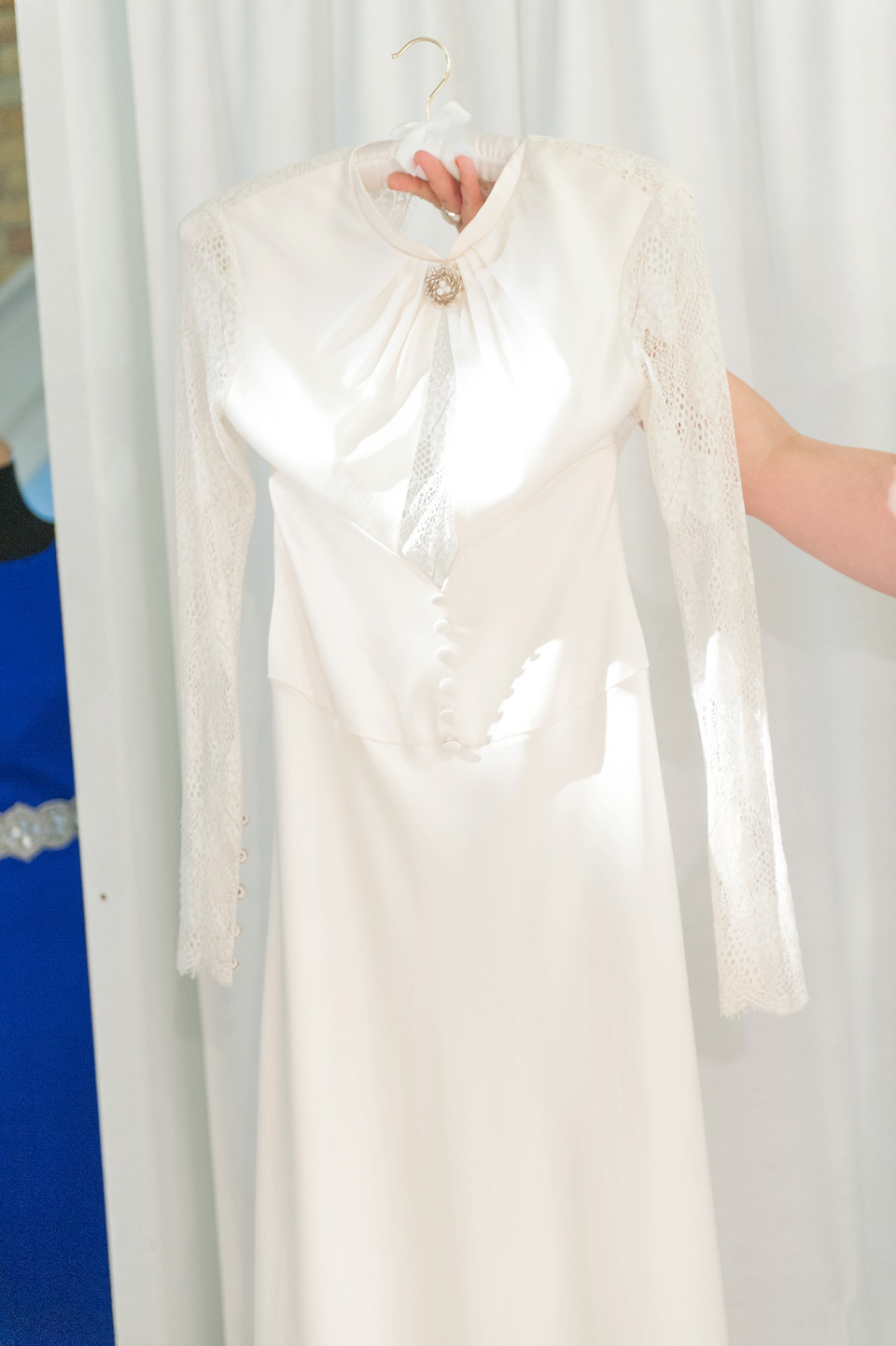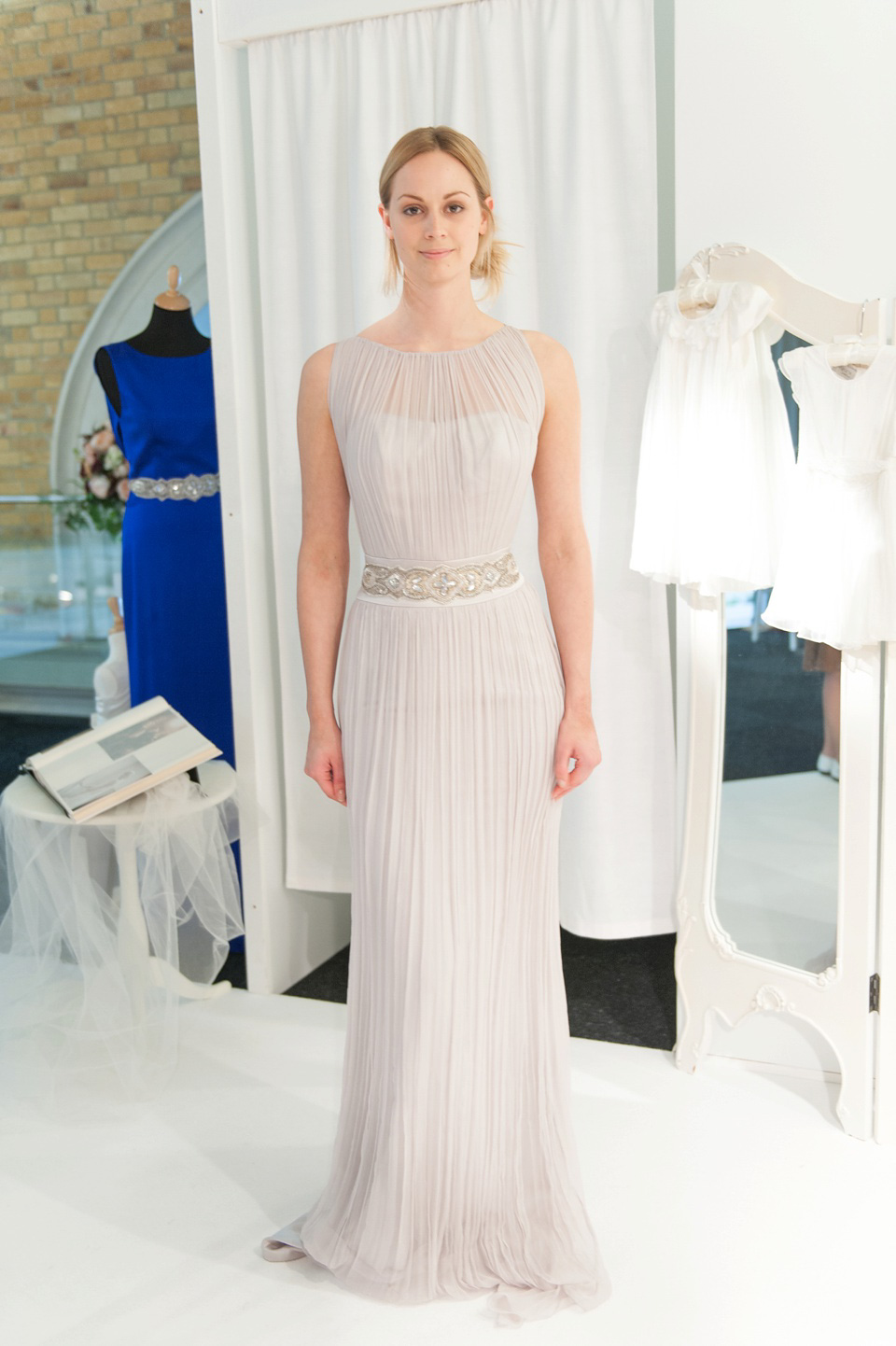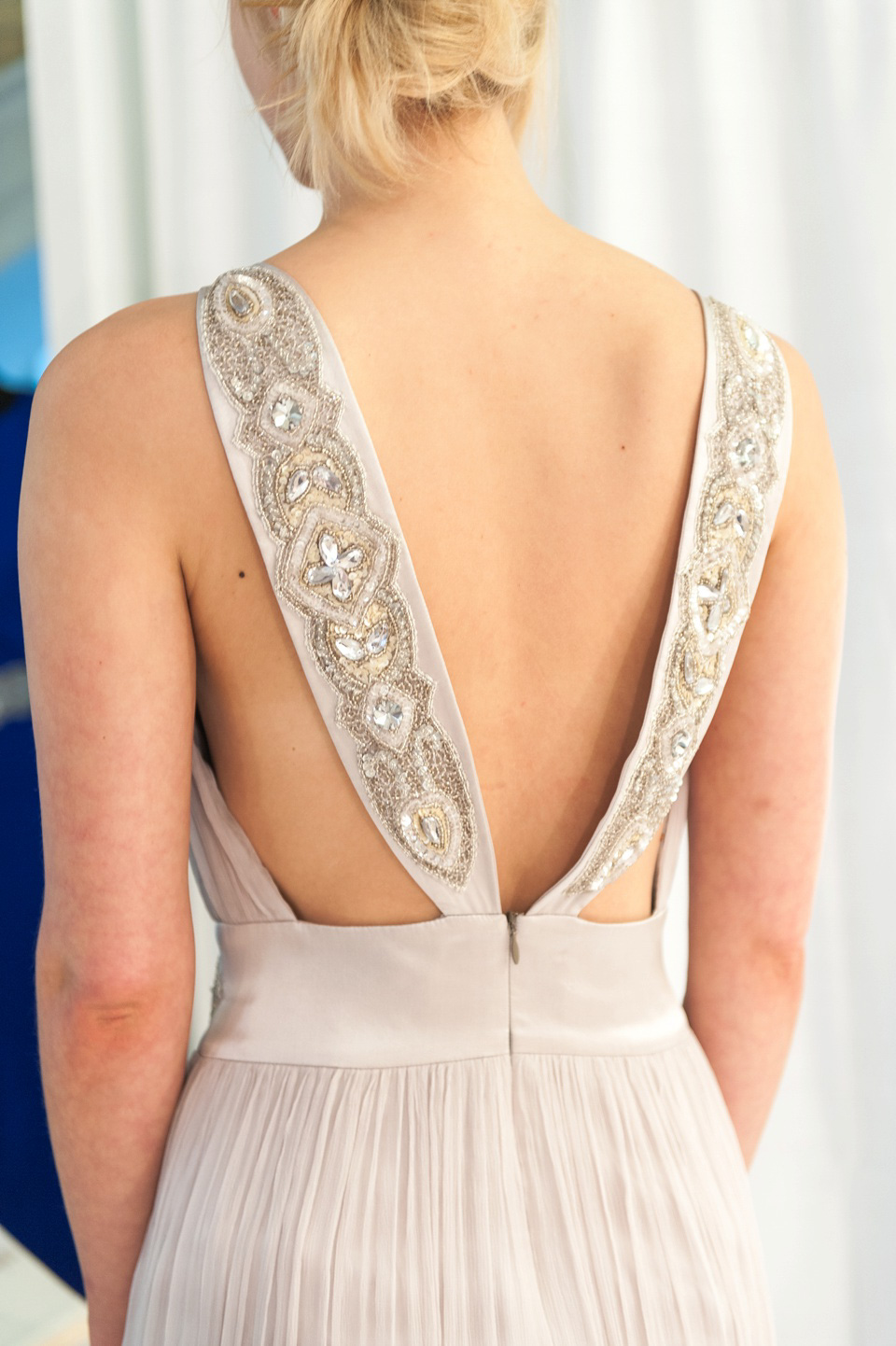 Freya Rose, creator of that incredible golden shoe at the top of this post, was exhibiting her exquisite collection of statement heels.  I've got a huge soft spot for this wonderful designer, she is so incredibly lovely – professional, supportive and kind.  Her shoes are incredible luxurious pieces, like little works of art.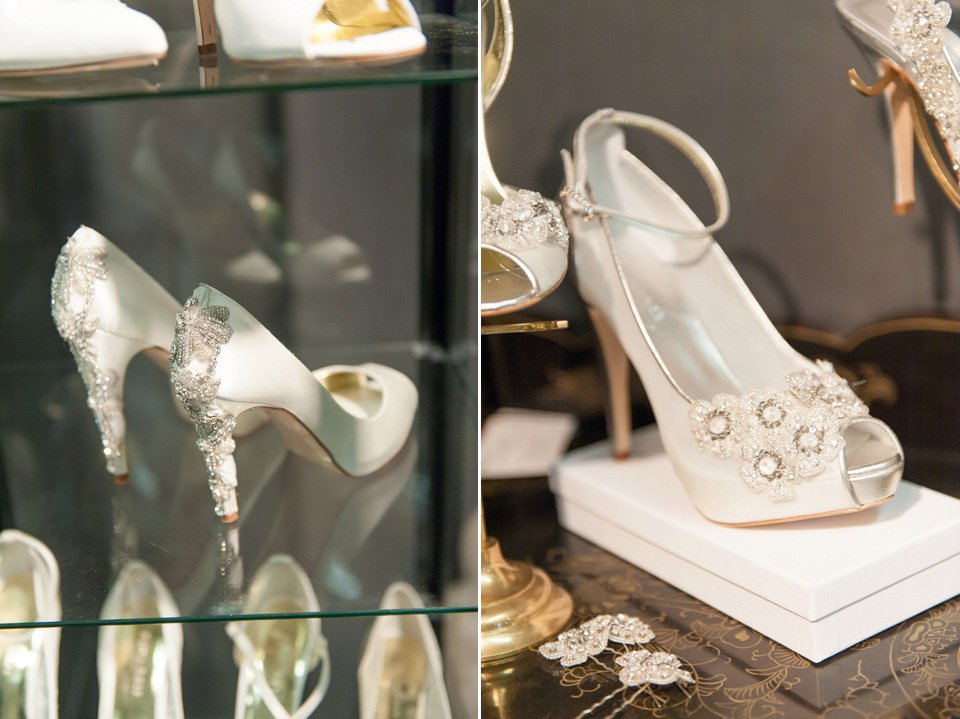 Elegant white lace ankle booties – so very chic.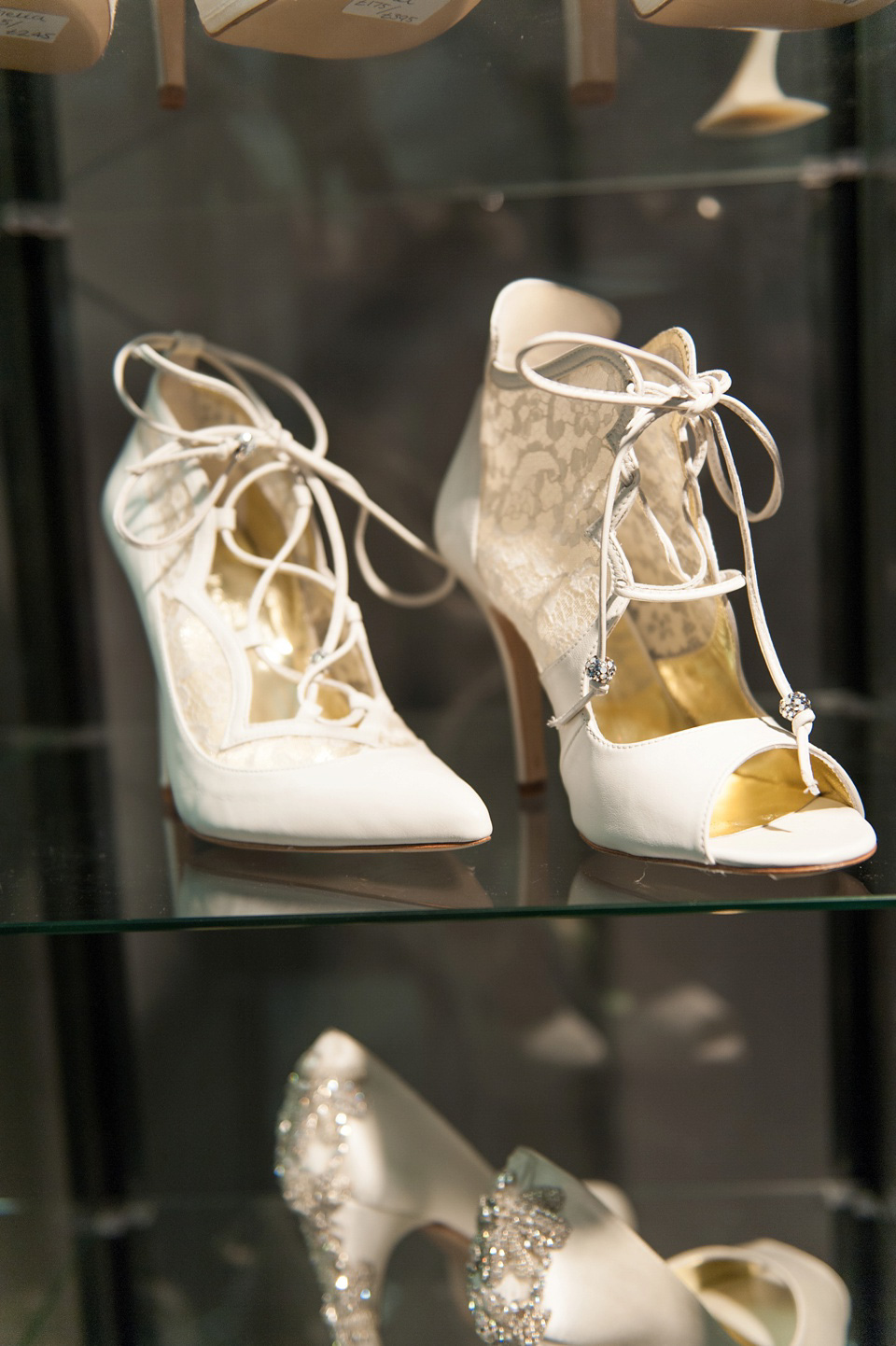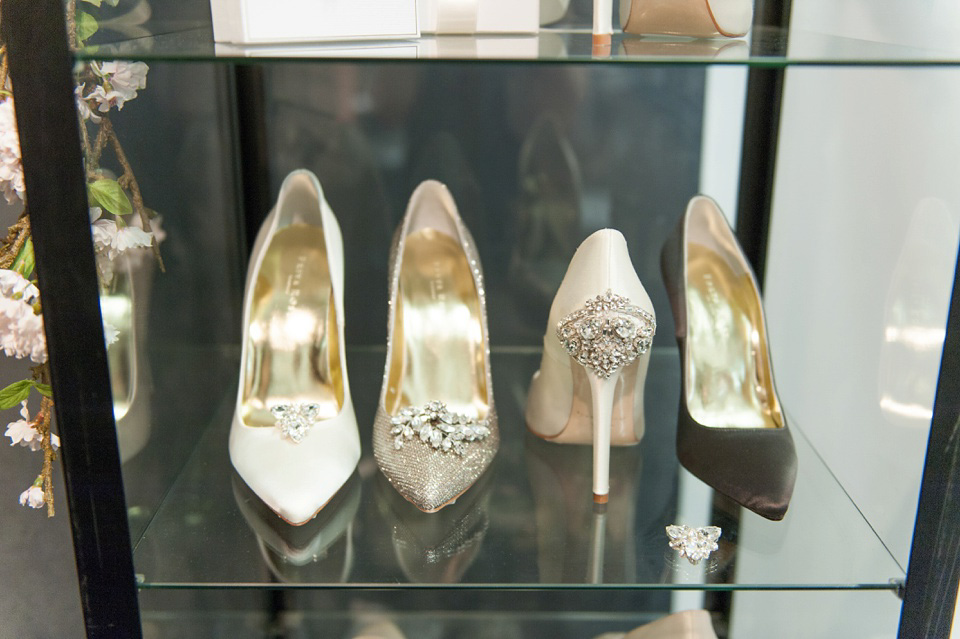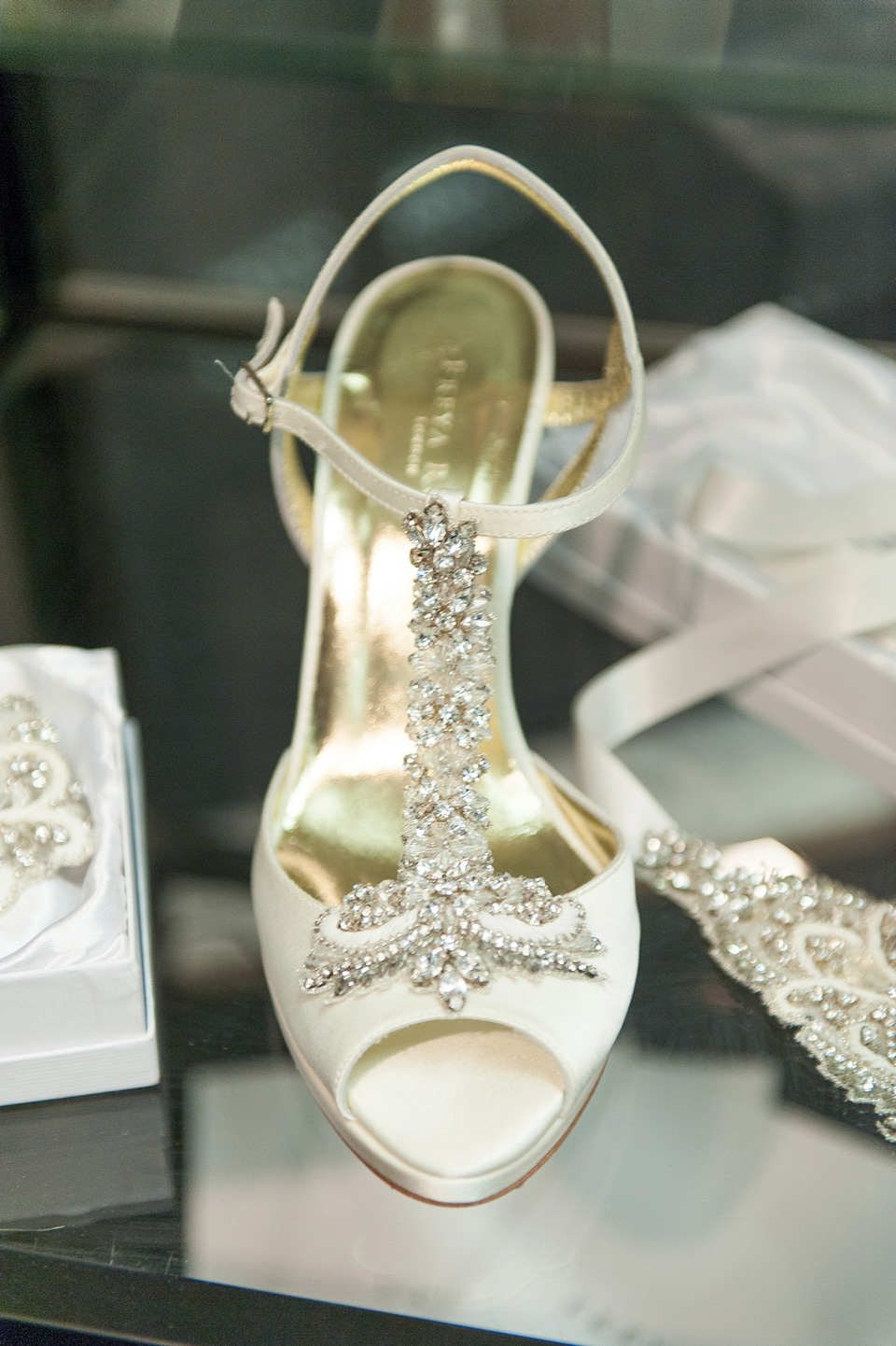 I was super keen to meet Kirsty Griffiths, founder of Lily Bella bridal – though admittedly by that point I was pretty darn warn out. We still however managed to gather some of the image from her beautifully presented collection of elegant bridal accessories. Kirsty is lovely, I really warm to her and love working with this kind of woman in business (Lily Bella is a sponsor of Love My Dress).  I've always been drawn to other like minded women in business actually.
What Kirsty does beautifully are wedding veils – specifically, birdcage veils which she and her team handcraft from fine French netting. In fact Lily Bella have over 50 kinds of birdcage veil. They also sell a range of really elegant sashes and jewellery too – come take a look.
I talked about the fabulous Wendy Makin at the top of this post, but here are a few more photographs from her stand…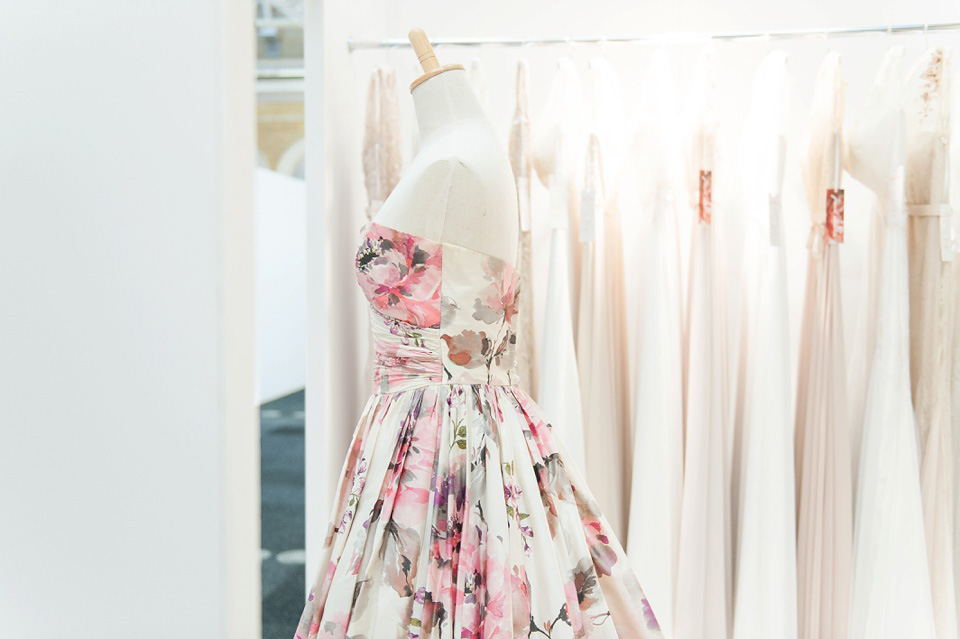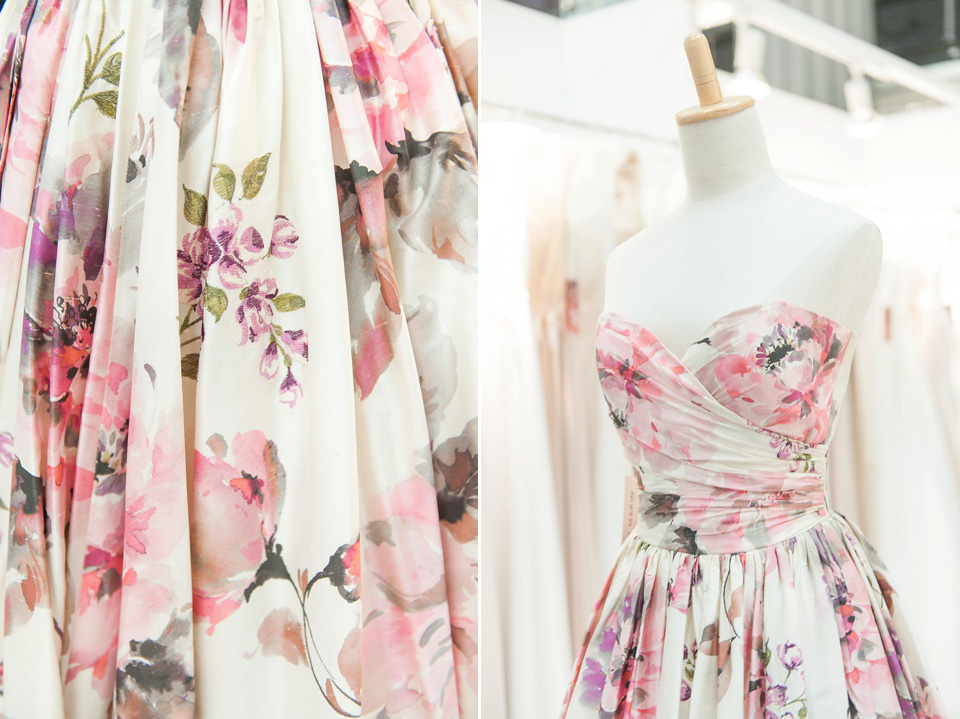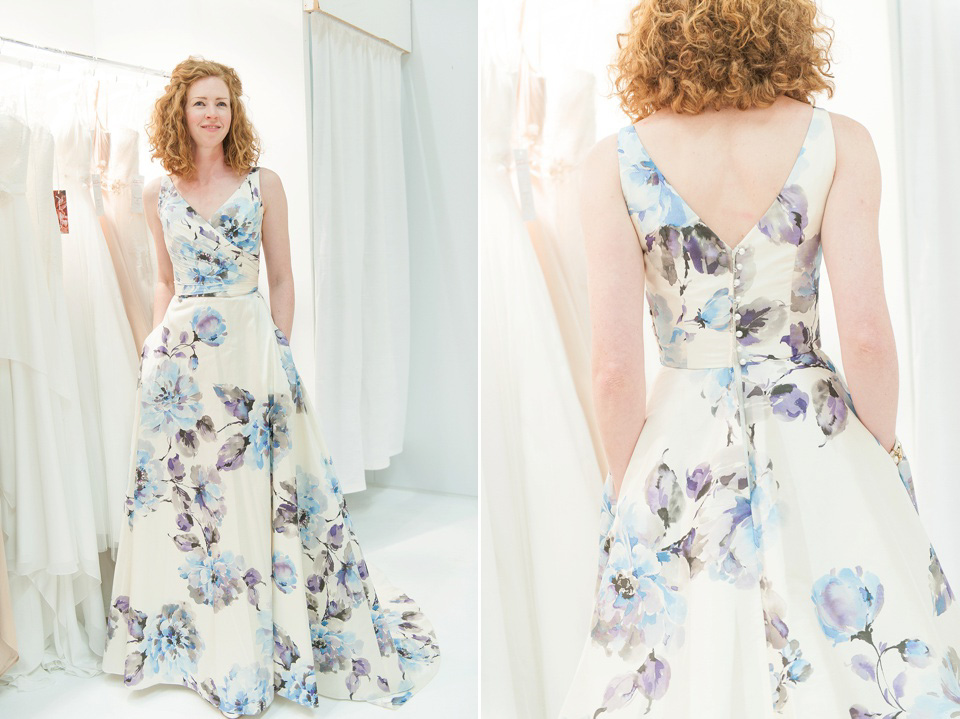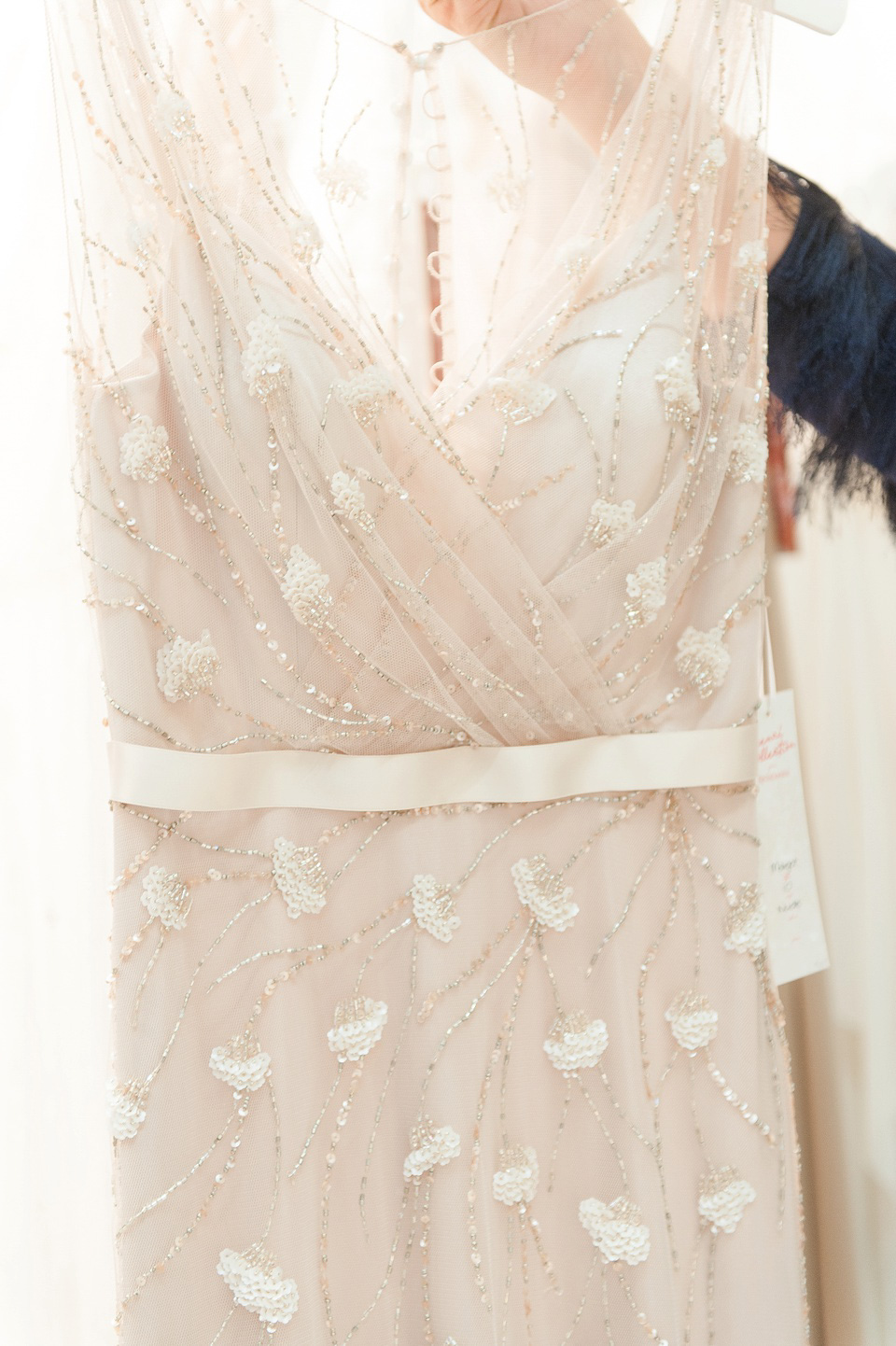 And finally, the wonderful Rachel Simpson was in attendance – sadly for us however so was a busy team of buyers! We didn't get a chance to stop and chat this year but this makes me happy! I love seeing designers I love busy and doing so well 🙂
Thankfully for you lot, we've been asked to share the new Rachel Simpson collection on an exclusive basis – watch this space as we'll be blogging the full new collection very soon. For now, here are some of Rachel's beautiful shoes for brides that were on how at London Bridal Fashion Week.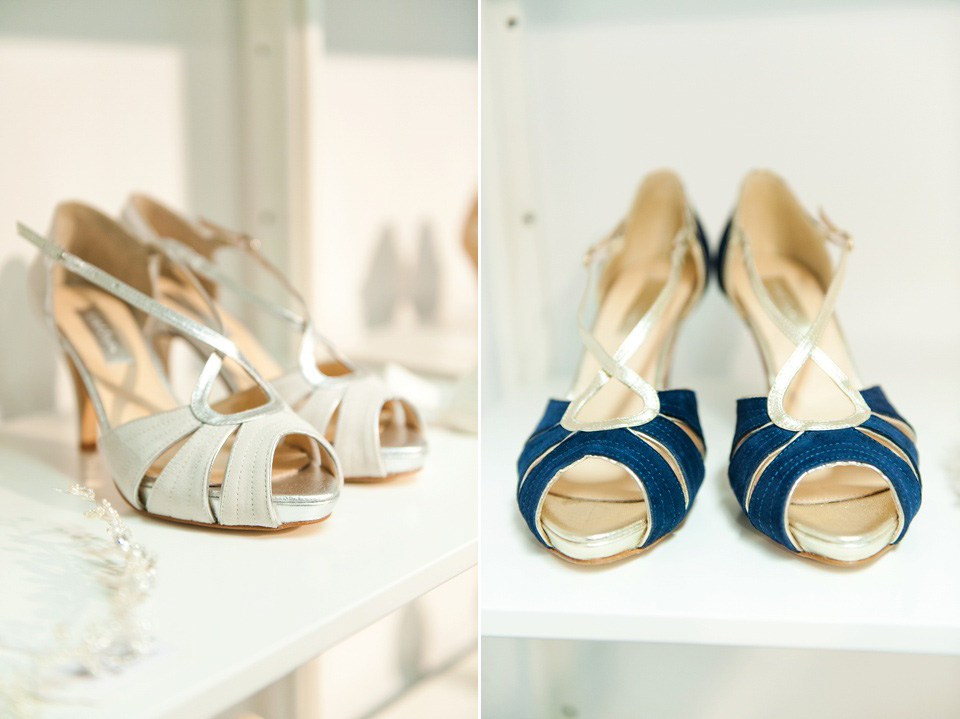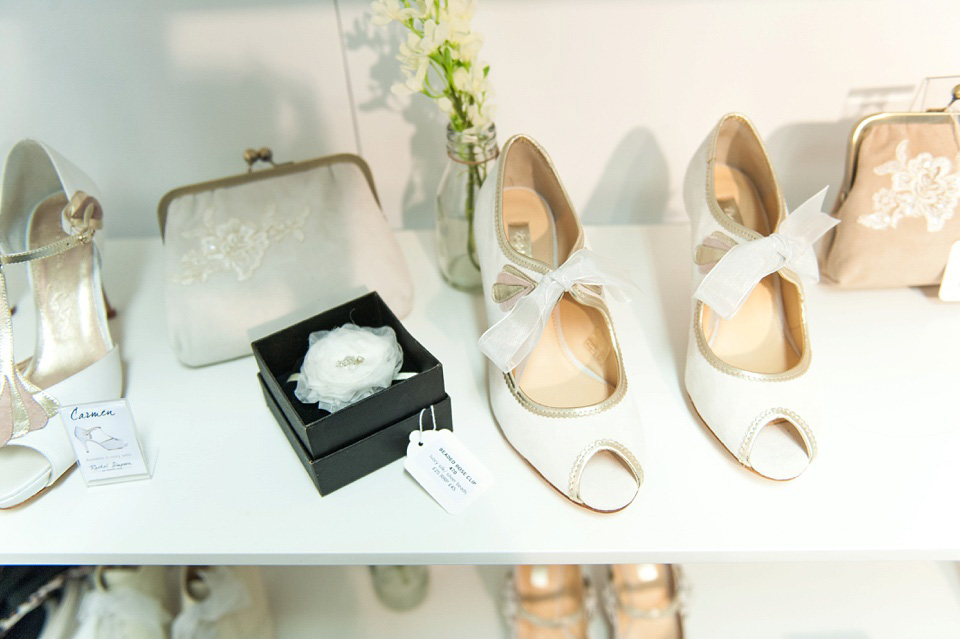 Possibly my favourite pair – I just love how they look like a sweet pair of dancing  heels that you might find in a charity shop! And I adore the colour.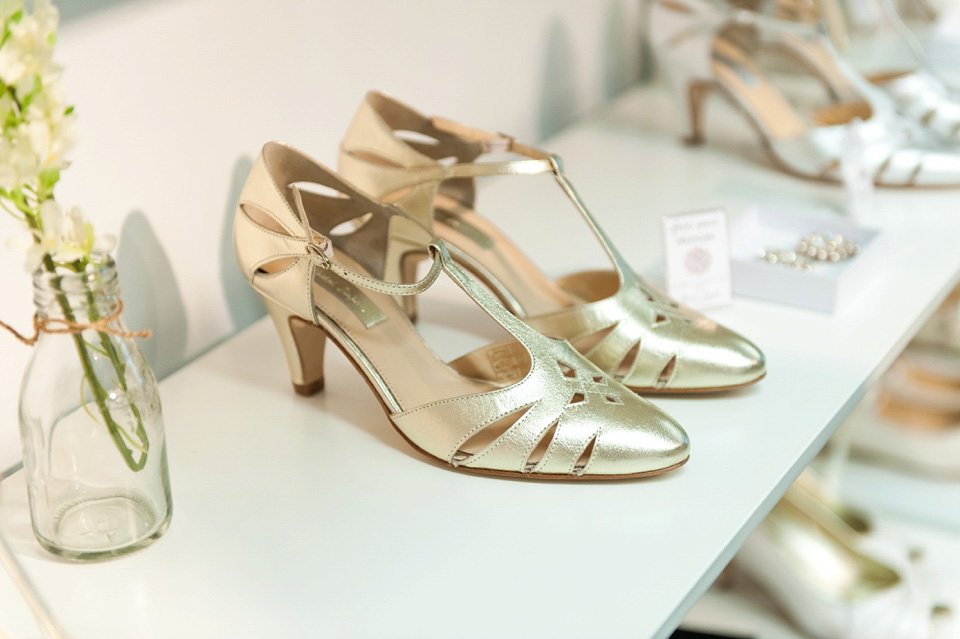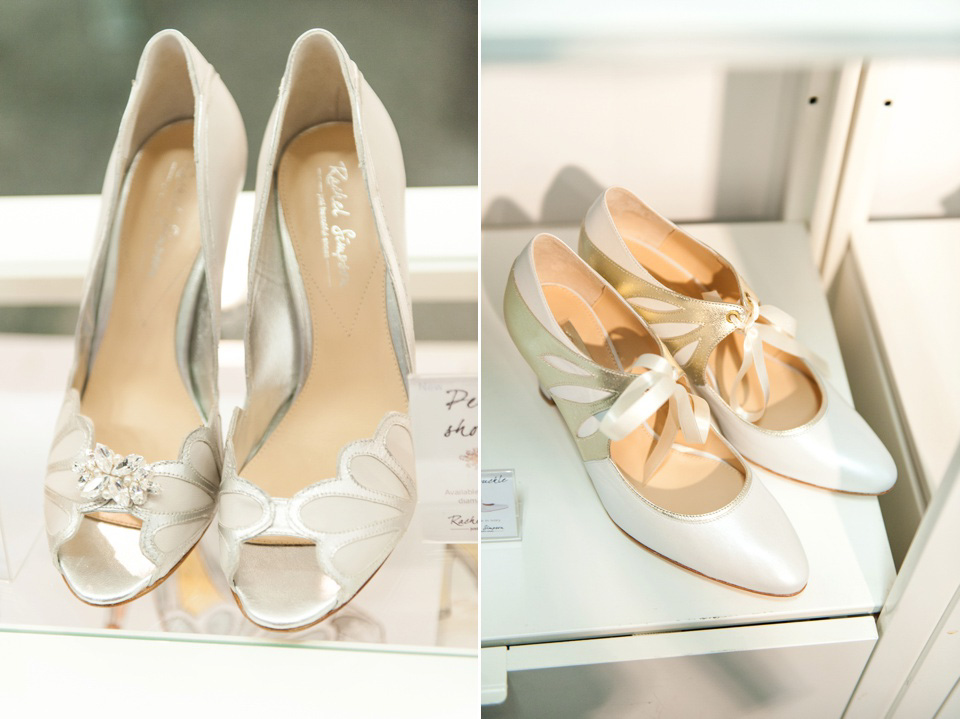 So there you have it, a little roundup of what we saw at London Bridal Fashion Week this year.  BIG lesson learned for me in terms of time and schedule – we've already booked out to attend a full date at each event next time around. It's needed, believe me. There's just so much to see!
Remember you can catch up on my White Gallery post here too.  And a quick reminder of my show discoveries and 'ones to watch' from both events, they include Anna Kara, Muscat London and Ozlem Suer – each of these designers is bringing innovation and elegance to the bridal fashion market. I shall most certainly be watching them closely from here.
Huge thanks to my colleague Emma Pilkington for taking these photographs for Love My Dress – it was great working with you Emma.
Love Annabel x