As my bank manager and long-suffering postman will testify, I love internet shopping. Whether I'm buying from names I know or small labels I've only just discovered, I do enjoy a browsing and buying online. That said, there are times when visiting somewhere special and being advised and assisted by an expert is an absolute joy. That's why today, I'm so happy to introduce you to Gillian Million and her truly personal range of bridal accessories.
Gillian Million has been creating bespoke bridal jewellery and hair accessories for the last sixteen years and whilst styles might have changed, one thing that hasn't altered is Gillian's dedication and commitment to providing exceptional customer service.
"I want my clients to feel welcome and experience the ultimate in customer service," she says. "I have a shop in Teddington, South West London and many of my clients visit to begin their journey towards creating 'The Finishing Touch' for their wedding."
"I also carry out appointments over the phone or using Skype and we've created a new online shop to make it easier to buy Gillian Million wedding accessories. However, no online purchase goes through without a personal call to the client to make sure we're exceeding their every expectation."
Even with the rise of internet shopping, Gillian invites all her clients to her Teddington boutique to experience something very special indeed. The boutique is not a normal shop but rather it is a working studio set in a fabulous sitting room. The radio will be playing, the kettle will be on and you can indulge with fabric swatches, magazine cutting and moodboards whilst you sip your tea and discuss all the important details of your wedding.
"It's extremely rewarding to create designs that are unique and special to each individual bride," says Gillian. "We have such a lovely time together and I'm always inspired by my clients. My signature style might be intricate beadwork and a contemporary yet timeless design but all my pieces are bespoke. They compliment the bride's wedding dress, wedding style and most importantly their personality. Each and every design is extremely special, utterly personal and totally created from a blank canvas."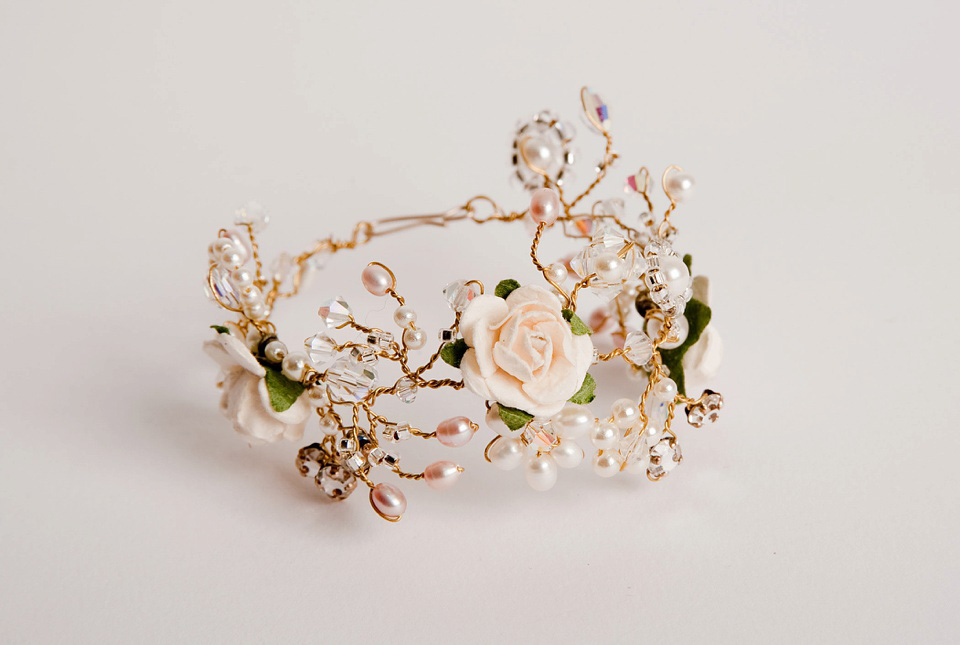 Gillian Million is continually developing her range of bridal accessories and recently launched The Gillian Million Hair Vine Collection at the Quintessentially Atelier Show at Somerset House. The collection received rave reviews and has caught the eye of many brides since with very good reason:
"Hair vines extremely popular with our brides as they're beautiful elegant and can be woven into the hair for a glamorous yet natural look. Hair stylists love them as they're so flexible and this versatility makes them great for brides who aren't sure on their final hairstyle but have fallen in love with our accessories. I make my hair vines from freshwater pearls and Swarovski crystals so they can be as sophisticated or as sparkling as you like!"
As well as Gillian's fabulous new hair vines, you'll also find headdresses, tiaras, clips, pins, veils, cuffs, necklaces, earrings and much more at her Teddington boutique that's also the home of her designer wedding dress agency. Here, you can take you pick from a fantastic selection of designer wedding dresses that are just looking for a chance to make another bride extremely happy!
Personal attention, bespoke designs and a huge range of the most beautiful accessories – you can absolutely understand why Gillian Million can't wait to welcome you.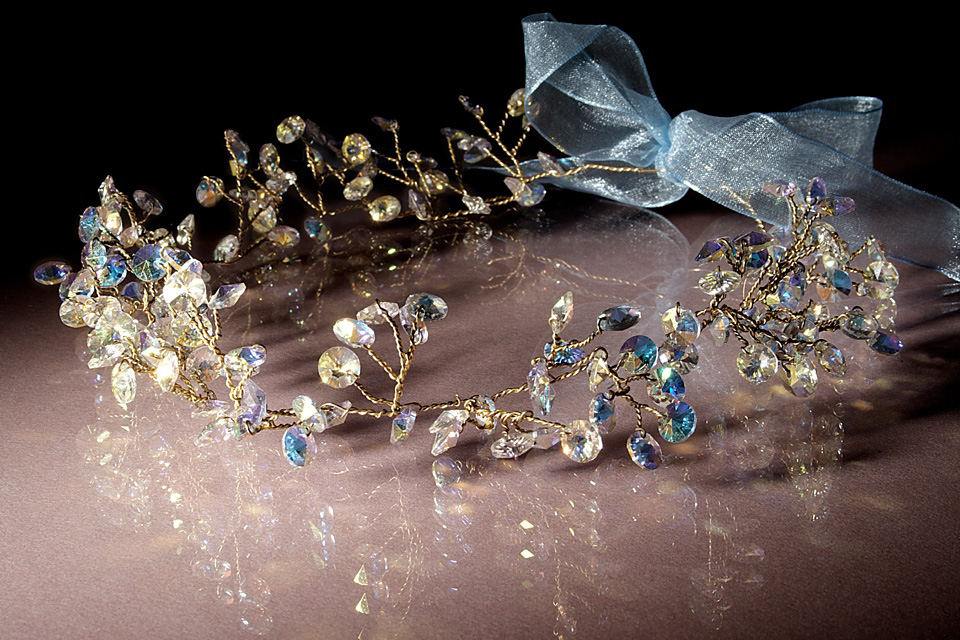 Bridal accessories from Gillian Million are made specifically for each client and each piece can be designed to fit your budget. Prices are based on the time it takes to create each piece as well as the materials used and beautiful, simple pins will cost around £6 each, rising to £800 for the most expensive headdresses.
For more information or to book an appointment, do take a look at Gillian Million's website and keep up to date with the latest news on Twitter, Instagram, Pinterest and Facebook. You can also see the preloved wedding gowns in stock on Gillian's dedicated and up-to-date Pinterest board.
Love Tamryn x
This is a sponsored post