Good morning lovely blog readers.  How are you this fine morning? Are you taking a break anywhere this year? We're just back from a holiday in this beautiful 15th Century barn in Devon, where we spent a really lovely few days exploring the local area.  It couldn't have come at a better time and I'm feeling much refreshed – I hadn't quite realised just how badly I'd needed the break. I've also set up my own personal Instagram this past week, which you'll find here. Remember you can also follow Love My Dress on Instagram too.
This morning's wedding is one of those 'perfectly Love My Dress' kind of affairs – an era inspired bride with effortless glamour and style.  Sam and Joe's wedding took place at Assembly Halls in Hackney Town Hall, London, on 23rd May this year – I thought I'd open this feature by sharing a fabulous little film created by one of my favourite wedding suppliers, Minty Slippers.  These images also pay homage to one of my favourite photography formats, and were shot on 35mm film and medium format film, by the very talented Katharine of Peachey Photography.
"We decided to go for 1930s Art Deco as that's the style and era of my engagement ring. I've never been someone to dream about my wedding so we were totally starting from scratch. To begin with, I was pretty overwhelmed with the immensity of the task at hand but once the shock had subsided, I thought my beautiful engagement ring was a pretty good thing to be inspired by."
Film by Minty Slippers
https://vimeo.com/128738803
Sam wore a fitting feathered dress, a Rosa Clara design, that she purchased from Fairytale London.
"I was originally looking for vintage dresses but then had a dream about the exact dress I wanted; I always loved old movies and being that we were going 1930s Art Deco, I wanted to have a touch of Ginger Rogers from the film Top Hat – yes, THAT scene – and hence I had to have ostrich feathers."
Photography by Peachey Photography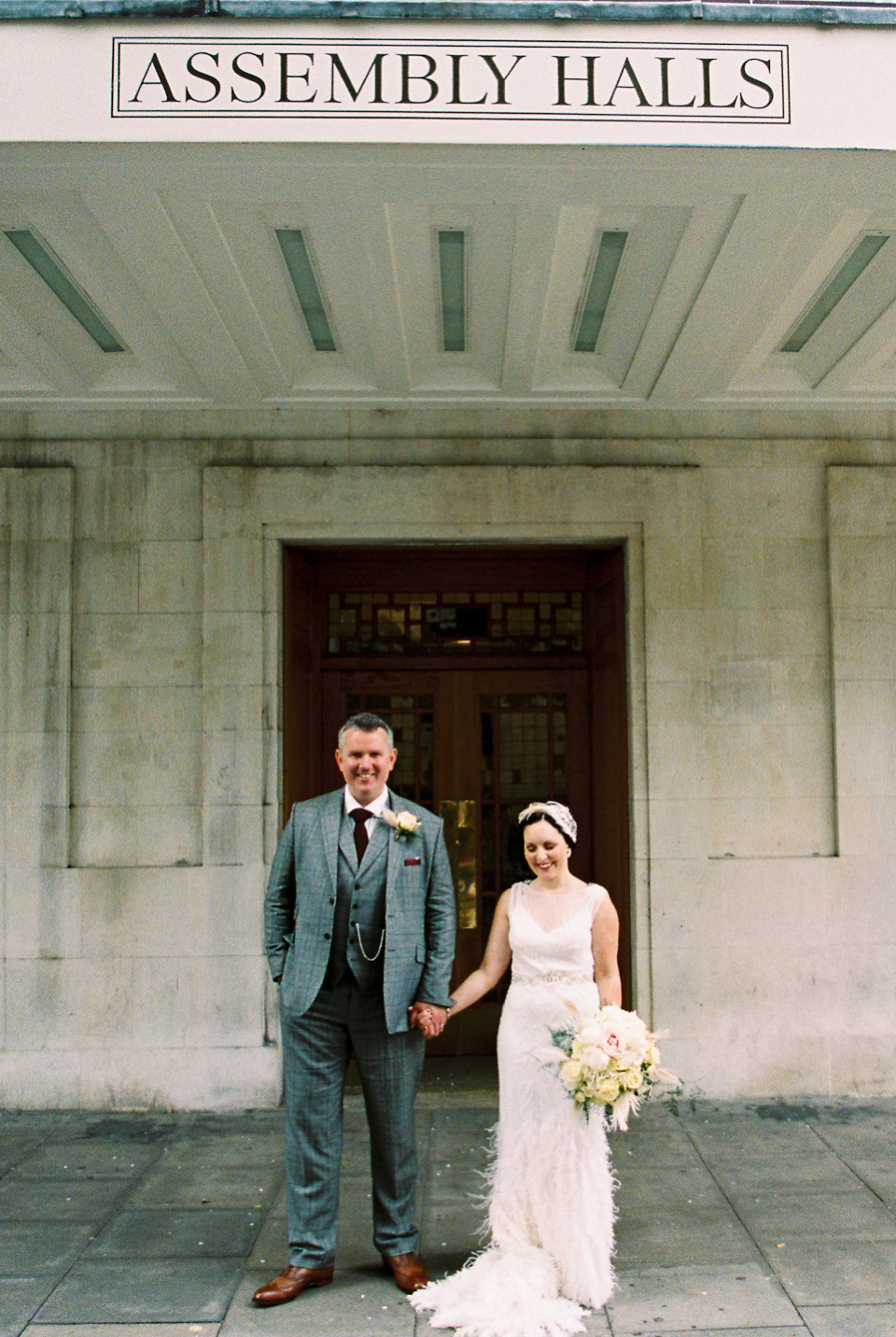 "The day would not have been what it was without the hugely important, not to be underestimated, input from Ian at Swash & Fold. Yes, he designed the stationery and many other more obvious bits that went with that (table names, table plan, CD covers, thank you cards) but the most influential part of his designs was our monogram which we were then able to replicate everywhere – chocolates, light box, mints, golf pencils, ribbons, photo booth wallets and prints."
Stationery design by Swash & Fold
"I ended up purchasing lots of different vintage items such as the brooch and antique gold Art Deco lace used in this piece. So Vicky of Victoria Millésime really had her work cut out for her trying to appease me in designing my headpiece."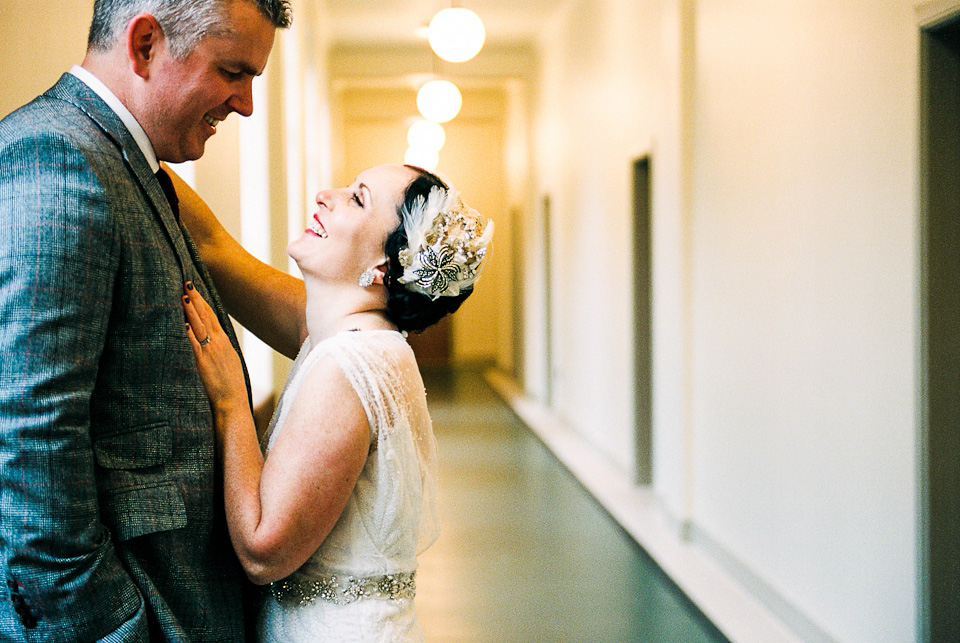 "Victoria did an outstanding job, despite being on maternity leave, and I'm hugely pleased with the result. A veil was therefore unnecessary."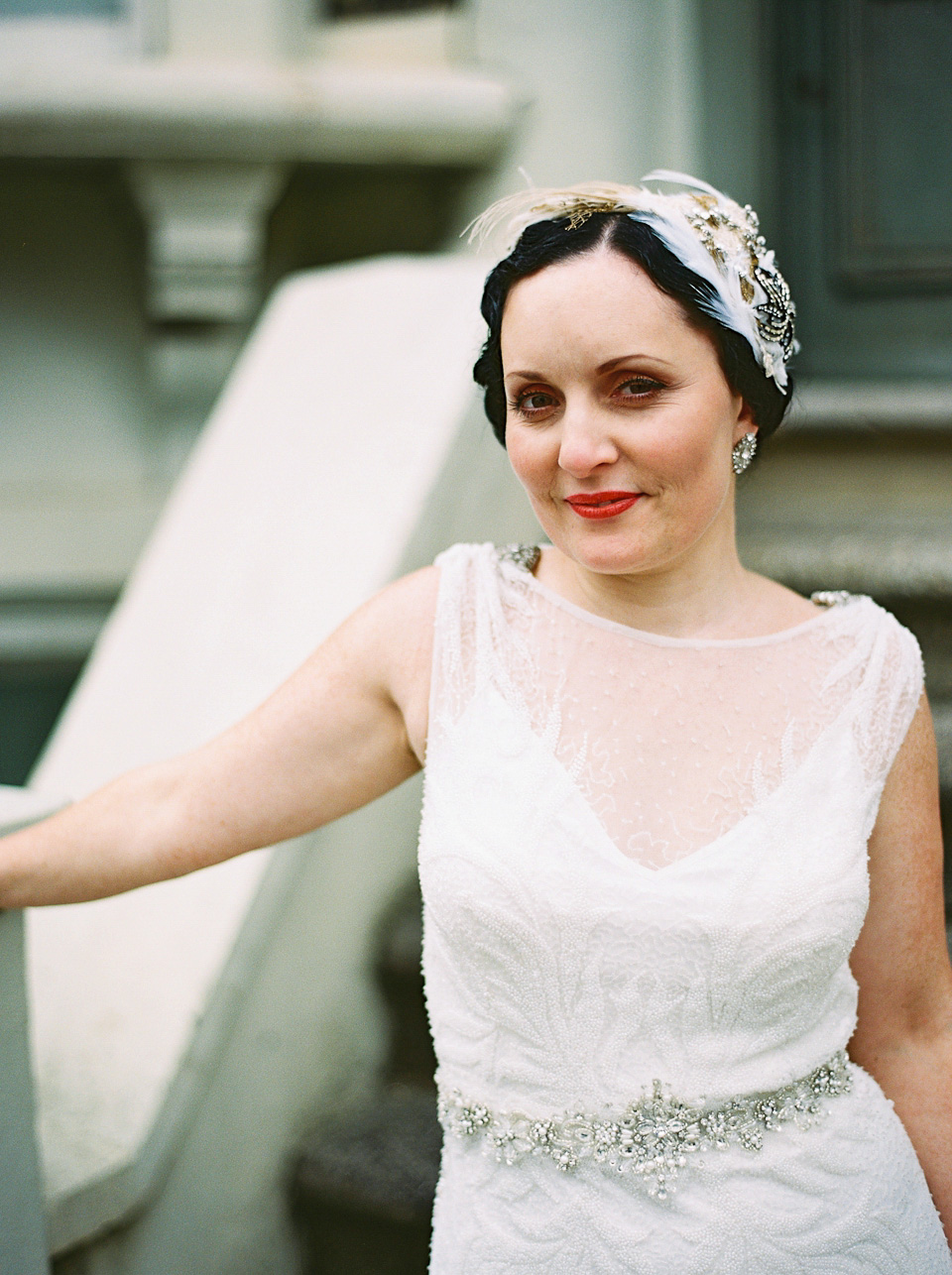 The couple hired Peachey Photography who shot every image on 35mm film.
"I was already familiar with Katharine's amazing work as she was the photographer at a friend's wedding which took place just after Joe and I became engaged. When we met with Katharine, I knew absolutely that she was the right person for us – her approach is so laid back but assured. We absolutely didn't know she was there for much of the time and unexpectedly felt totally relaxed with the portrait shots which were a big deal for us as neither one of us usually feels comfortable in front of a lens. And, clearly, Katharine has a fantastic eye!
We were also familiar with our film makers Minty Slippers as they'd also worked with our friend at their wedding just after we'd become engaged. Our friends were actually the 'guinea pig' for Minty Slippers' (outstanding) 'Same Day Edit'. And again, we're not fans of ourselves on video but the moment we saw our friends' SDE, we decided there and then that we had to have it. And I can honestly say, it's one of the highlights of the day for everyone as they keep commenting on it."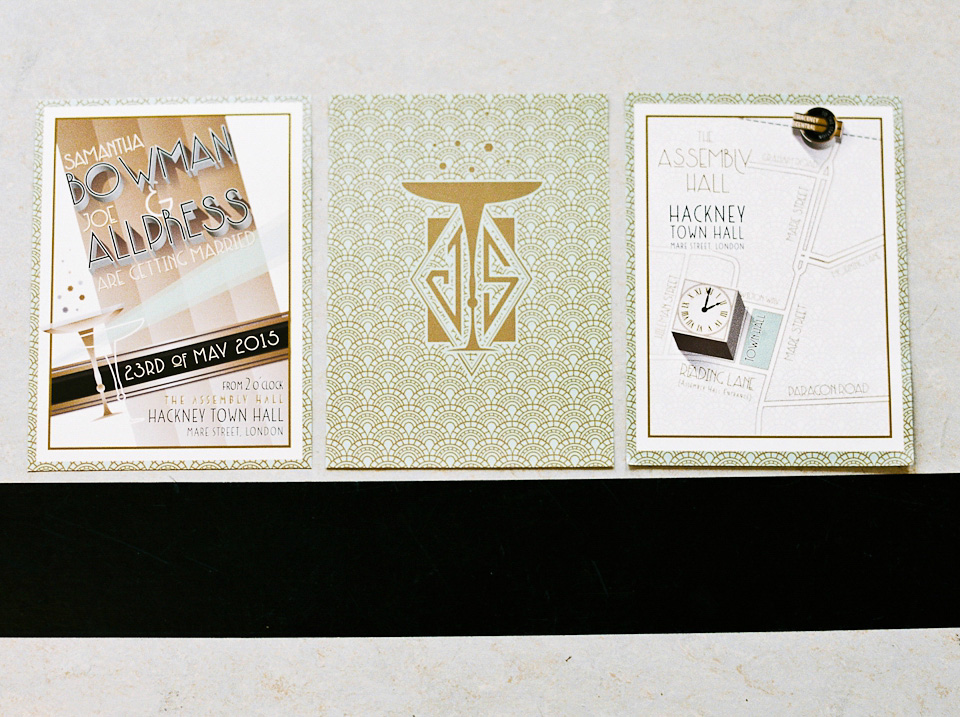 Stationery design by Swash & Fold
"Professional hair and makeup by The Deco Dolls is definitely something every bride should treat herself to. I'd never done anything like this before and it's such a treat having a professional work on you – and when else will you ever have this excuse?
Deco Dolls are great as they come to your hotel/home and look after you there meaning there's no rushing around first thing in the morning trying to make appointments and risking traffic delays. I knew I wanted finger waves and Deco Dolls knew what they were doing, which was confirmed once I'd had my trial – they were absolutely the right fit for me. I also booked for both Mums and my Nan to have their hair and make-up done on the day too so it was a very rare treat for us all."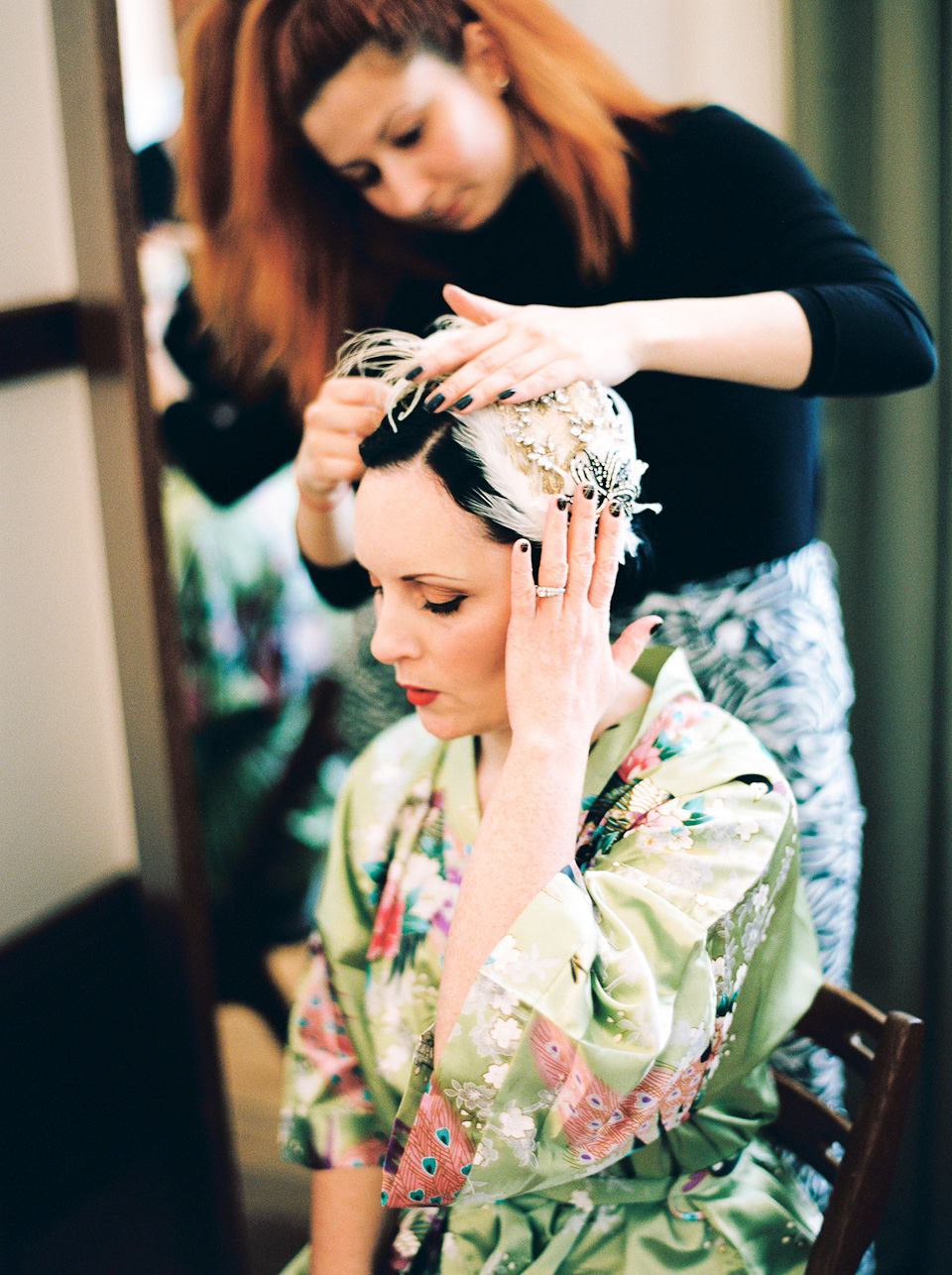 Sam's accessories included a pair of earrings by Luxe Deluxe an antique bracelet from Vintage Headdresses and antique dress clips that were sourced via eBay.
"I went to an awful lot of effort to find exactly the right period of jewellery and bought antique where I could to ensure it was spot on.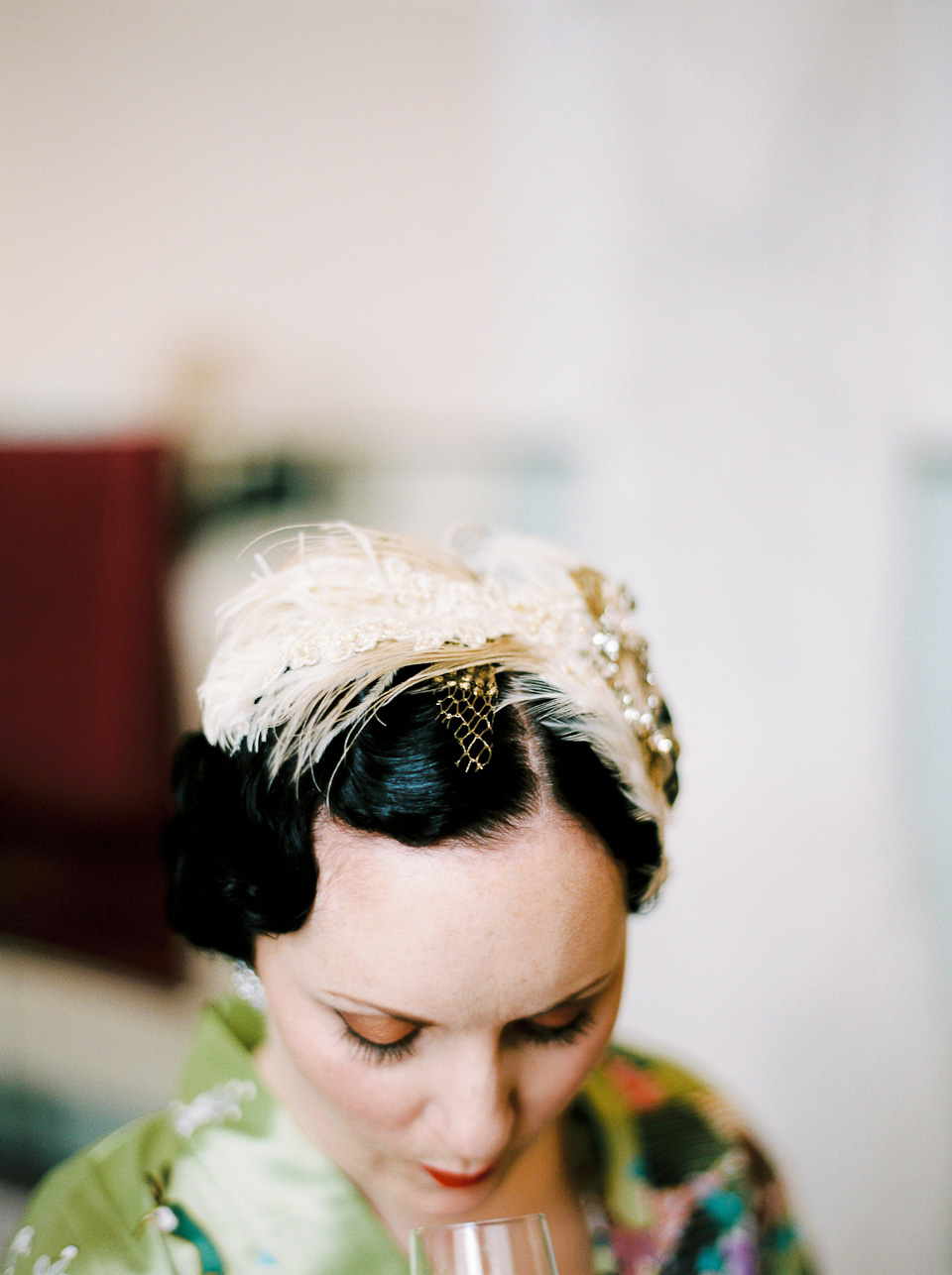 "I wore Ralph Lauren's Safari – it's been my signature scent since I was 15 years old."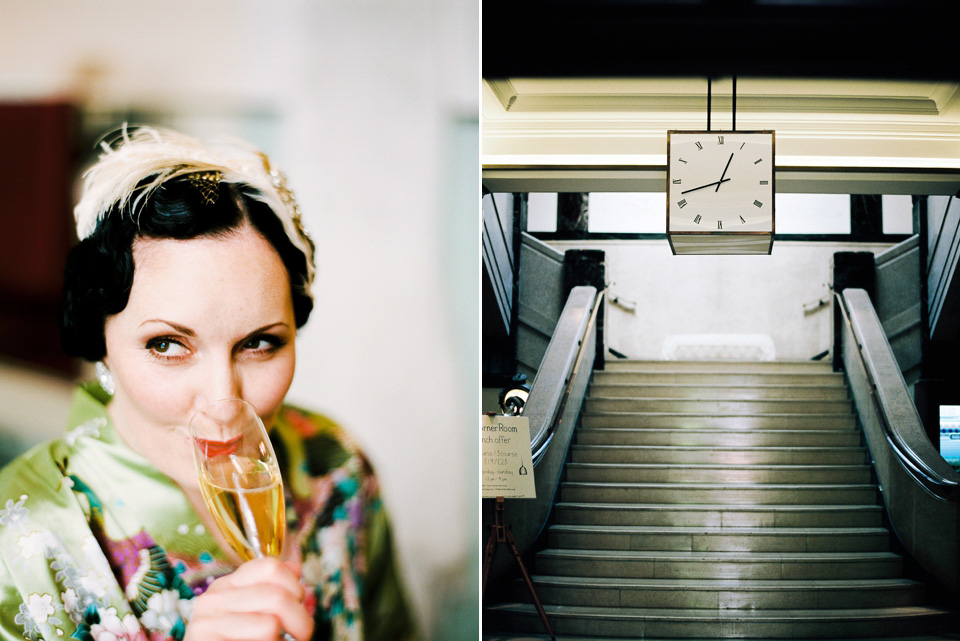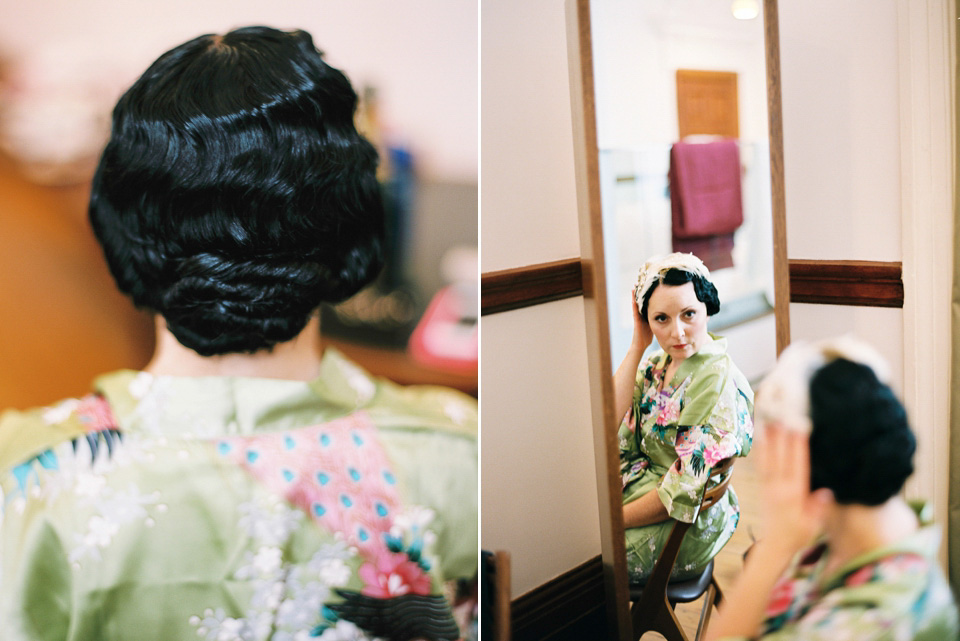 "We hired the florist Sweet Pea Flowers. As soon as we knew the theme and the venue was confirmed, we had to go big and opulent – there was no other way. The Assembly Halls are so big and beautiful but they do have very high ceilings and, for me, the only way to add to this and to bring out the best was to go high with the table centres as well. And it goes without saying, there had to be ostrich feathers too!"
I wanted the simple elegance of white with the gorgeous green of the foliage. And, it being Art Deco, there had to be architectural structure too in the form of ferns and palms. I knew that my vision would need someone more creative than a mere florist – and Marianne was just the person to help realise my dream. In fact, she got totally over-excited with the beautiful urns she created on our behalf and they ended up slightly larger than we'd originally anticipated – but they were absolutely divine.
And, of course, having so much time for the planning meant that I kept coming up with more ideas for smaller decorations further around the venue, such as the champagne glasses on the antique tray, etc."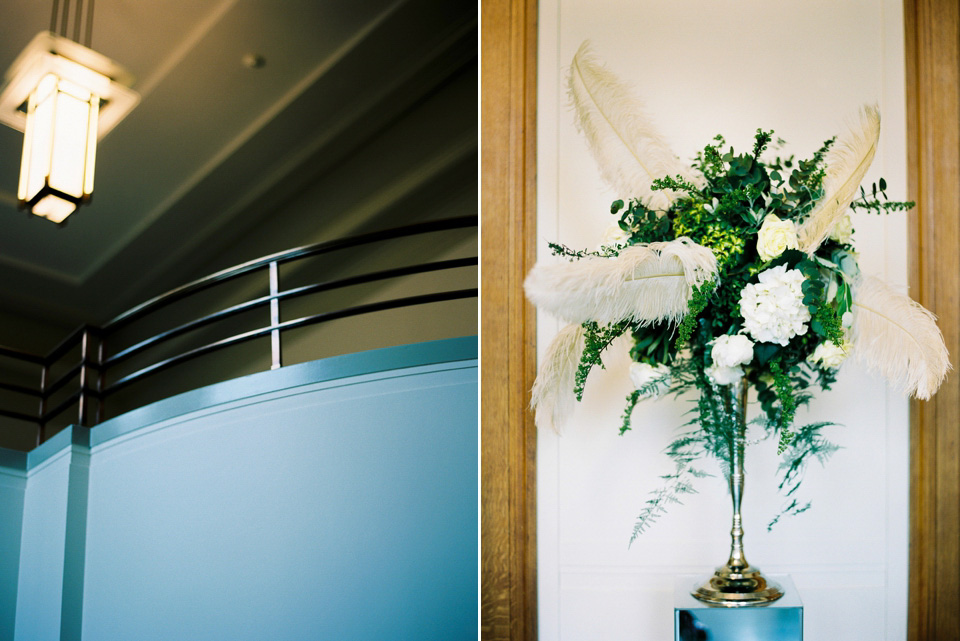 "We met in a local pub one Saturday evening whilst out with friends. We went on a couple of dates but the timing obviously wasn't quite right for us then. We lost touch and then I text Joe out of the blue about 18 months later as he was a nice guy, just to say 'hello' and we ended up meeting up again and have been together ever since."
"Joe proposed totally unexpectedly whilst on a day trip to Paris. We'd been together just over 18 months at that point. He'd somehow managed to trick me into talking about engagement rings without my ever realising he was planning anything (I know, makes me sound HUGELY naïve and I'm not usually) and he ended up buying the exact antique ring that I'd seen and liked on-line from these conversations. Plus he'd also managed to ask my Dad's permission without any of the rest of us realising on a family day out."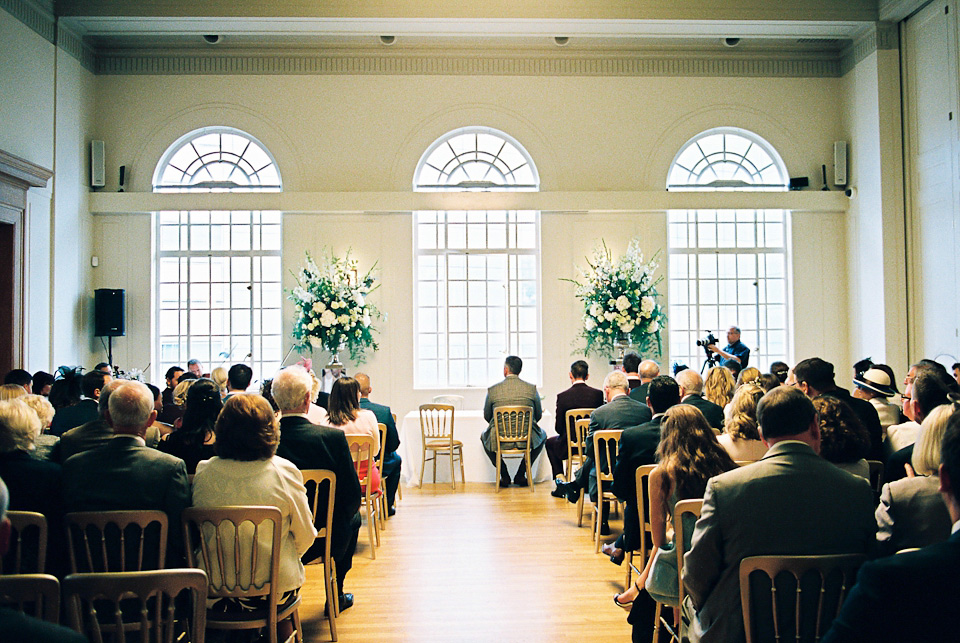 "We'd been to Paris for a long weekend several months before so when I'd suggested a day trip for something to do, I thought we'd spend the day sightseeing places we hadn't managed to get to on our previous visit. I had visions of touring graveyards and gardens, instead Joe wanted us to first visit the Pont des Arts where we'd previously left a lock with our names scrawled in permanent ink.
Of course, we couldn't find our lock but Joe used it as his excuse to be down on one knee and before I knew it, he was proposing with my ring in his hand and an antique lock he'd had engraved especially for the occasion waiting to padlock to the bridge! It completely blew me away and needless to say, we spent the rest of the day celebrating so the graveyards had to wait.
We then decided to have a slightly longer engagement than we initially wanted to give us time to save for the day itself as we knew it would be big as we wanted everyone there so were engaged for just shy of 21 months."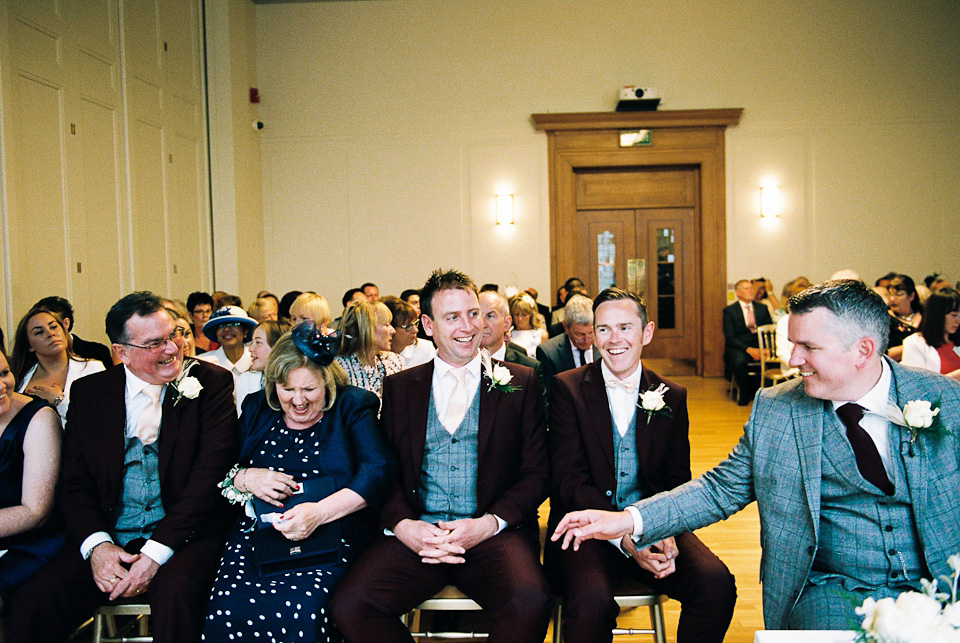 "I walked down the aisle to the sound of Etta James' 'At Last' – played beautifully by the Capital String Quartet. Joe is a huge West Ham fan and really wanted a string quartet playing 'Bubbles' as we signed the register – an inspiration he had from a relative's wedding – hence it dictated our choice of ceremony and drinks reception music which was actually really added to the day."
"I loved walking down the aisle to the string quartet. It made it feel very romantic. We're also that bit older and, being first timers, we thought this song was pretty apt.
"We just did the standard vows as prepared by the registrar but it was still a lovely service – made lovelier by the fact that the two registrars were such warm, friendly people with a sense of humour!"
"My engagement ring was from Friar House – if you watch our film above, you'll hear that there's a reference to the fact that at the time Joe proposed, I'd been busy planning our bathroom refurb and wanted to go Art Deco in that room, hence I was well-versed in the style for that era and whether that influenced my accidental choice of engagement ring too, and ultimately the wedding theme, we'll never know.
We purchased both our rings from Chisholm Hunter – I needed a vintage looking band to match my ring and Joe wanted a ring as similar to his Dad's ring as he could find and Hunter Chisholm were able to satisfy on both counts. We ended up buying these a full 17 months before the wedding when we'd actually gone out to buy Christmas presents but lost our focus."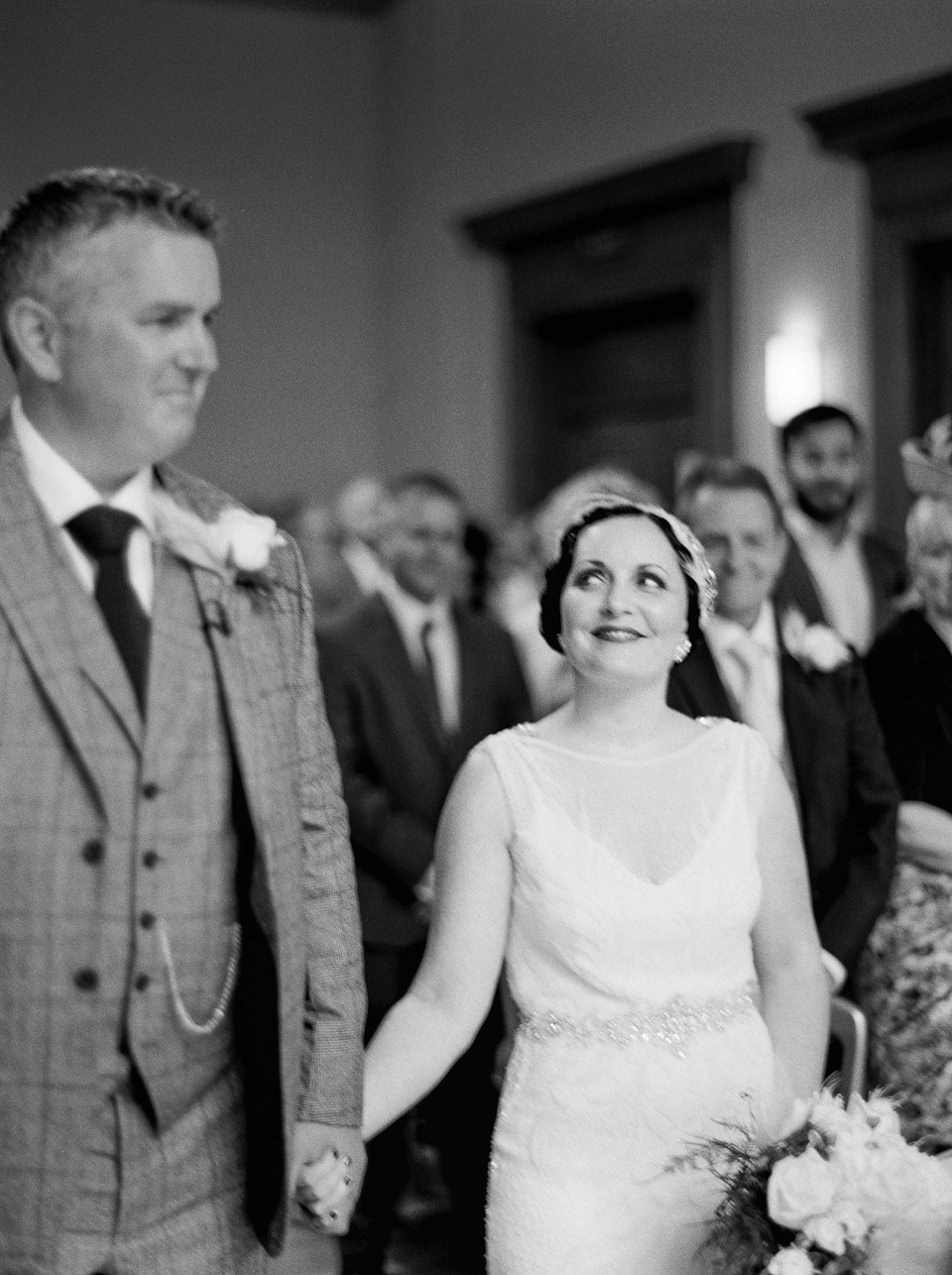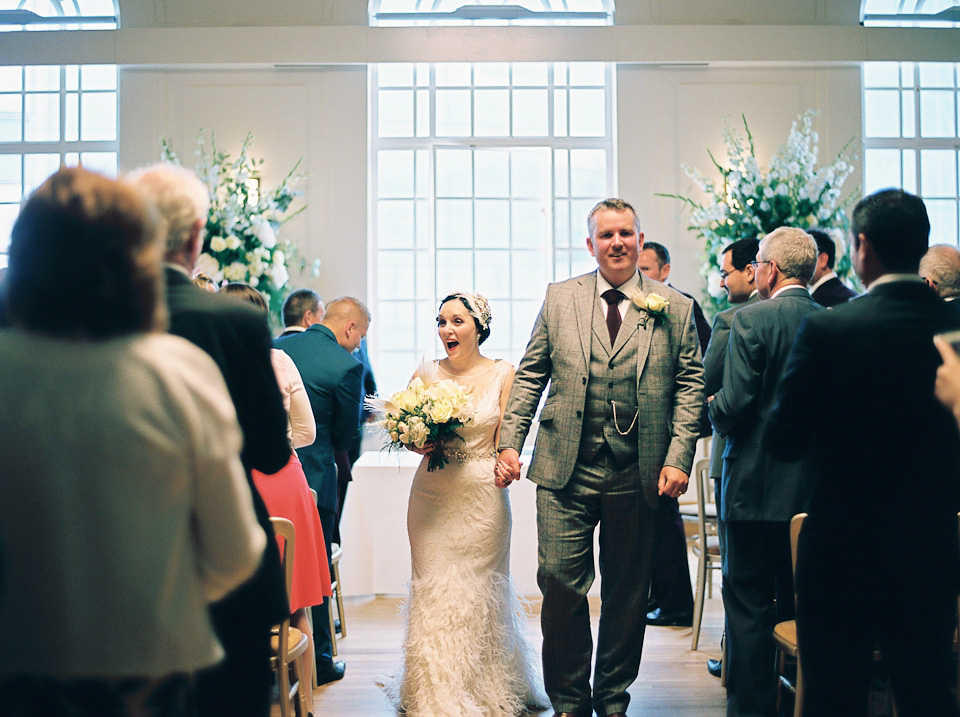 "I can't recommend Fairytale London – the boutique that I purchased my gown from, enough. I felt completely comfortable and was grateful to them for their advice in trying on other dresses, just to see if there was a particular type of dress that might've been 'the one'. They were also hugely flexible as we had various dramatic things occurring at home when my dress first arrived for fitting plus when I was due to go in for my second (and final) fitting, but they were so understanding. Plus they know exactly what they're doing and talking about."
"Obviously, vintage feathers are few and far between. I couldn't find anything that I liked initially and thought I would have to solicit the services of a dress maker but, as time started drawing on and I was about to start making some calls, I thought I'd have one last look and there it was – pretty much the exact dress I'd been dreaming about!"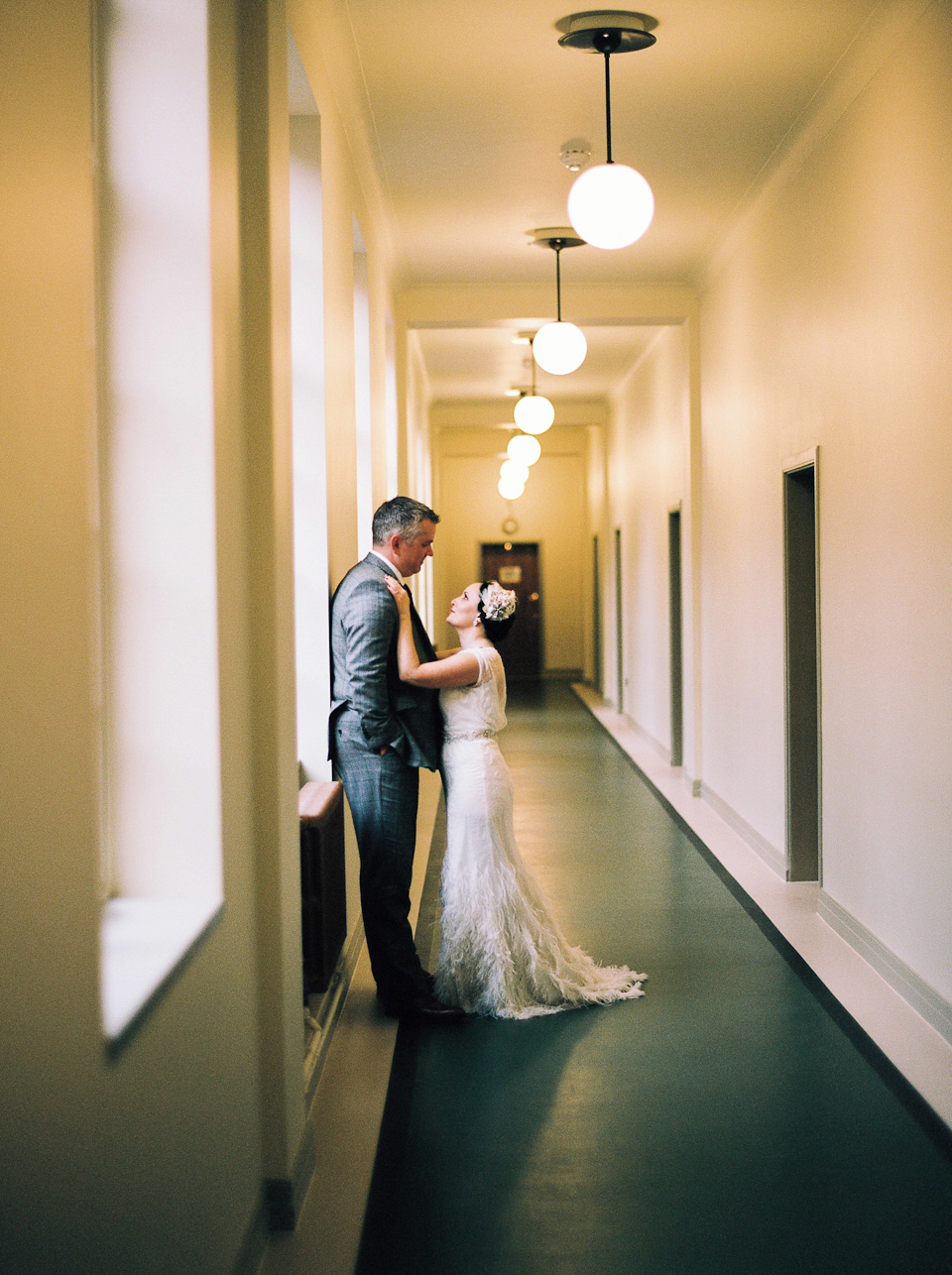 "At the time, there were only two official suppliers in the UK, neither of whom had this particular dress as a sample, so I went to Fairytale London anyway to have a look through their Rosa Clara collection and to try on some other dresses at their insistence before taking the biggest risk of all and ordering my dress anyway, having never seen it in the flesh and with absolutely no guarantee that it would suit me.
I had huge butterflies 7 months later when I was going to meet it for the first time. But it was absolutely the right choice."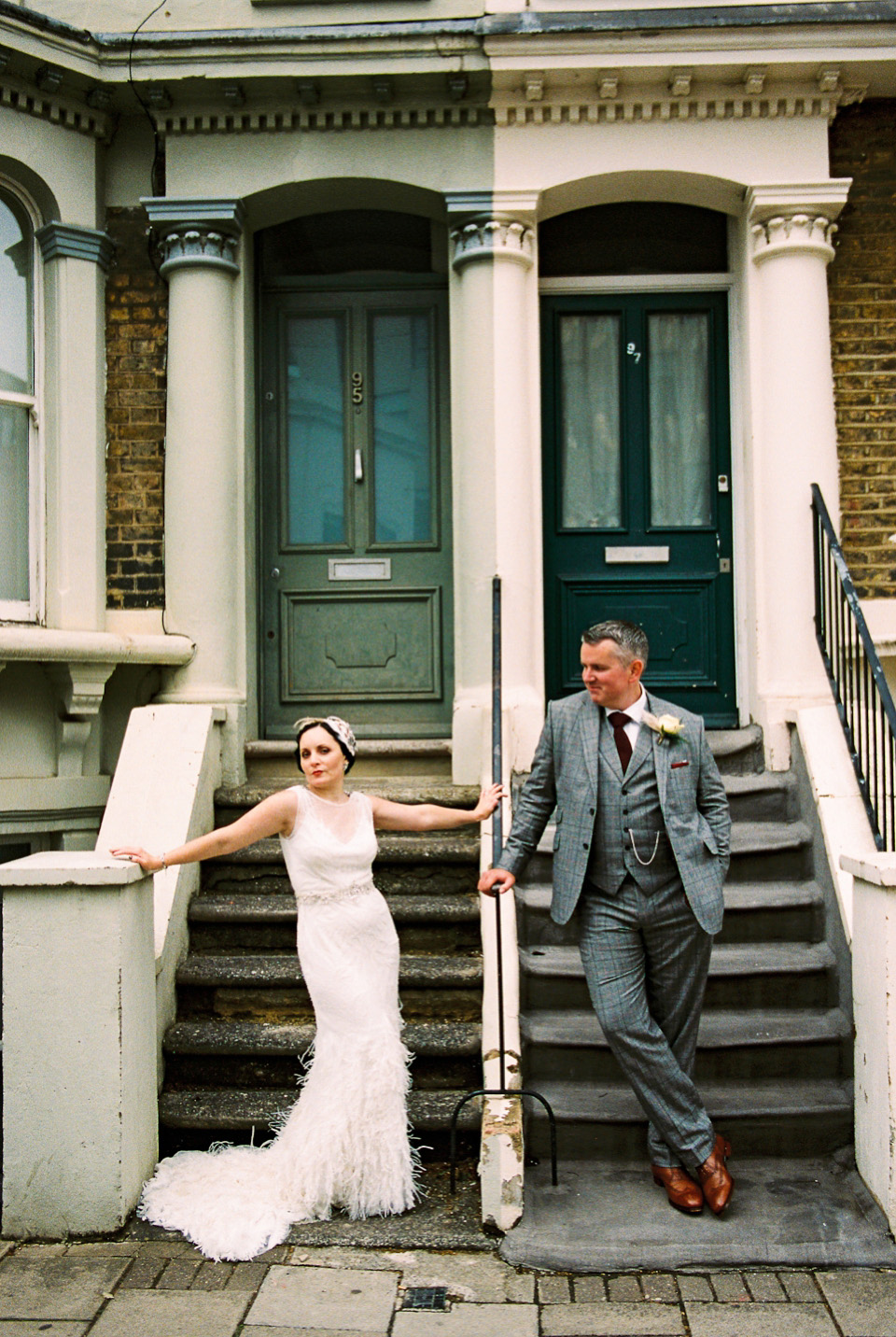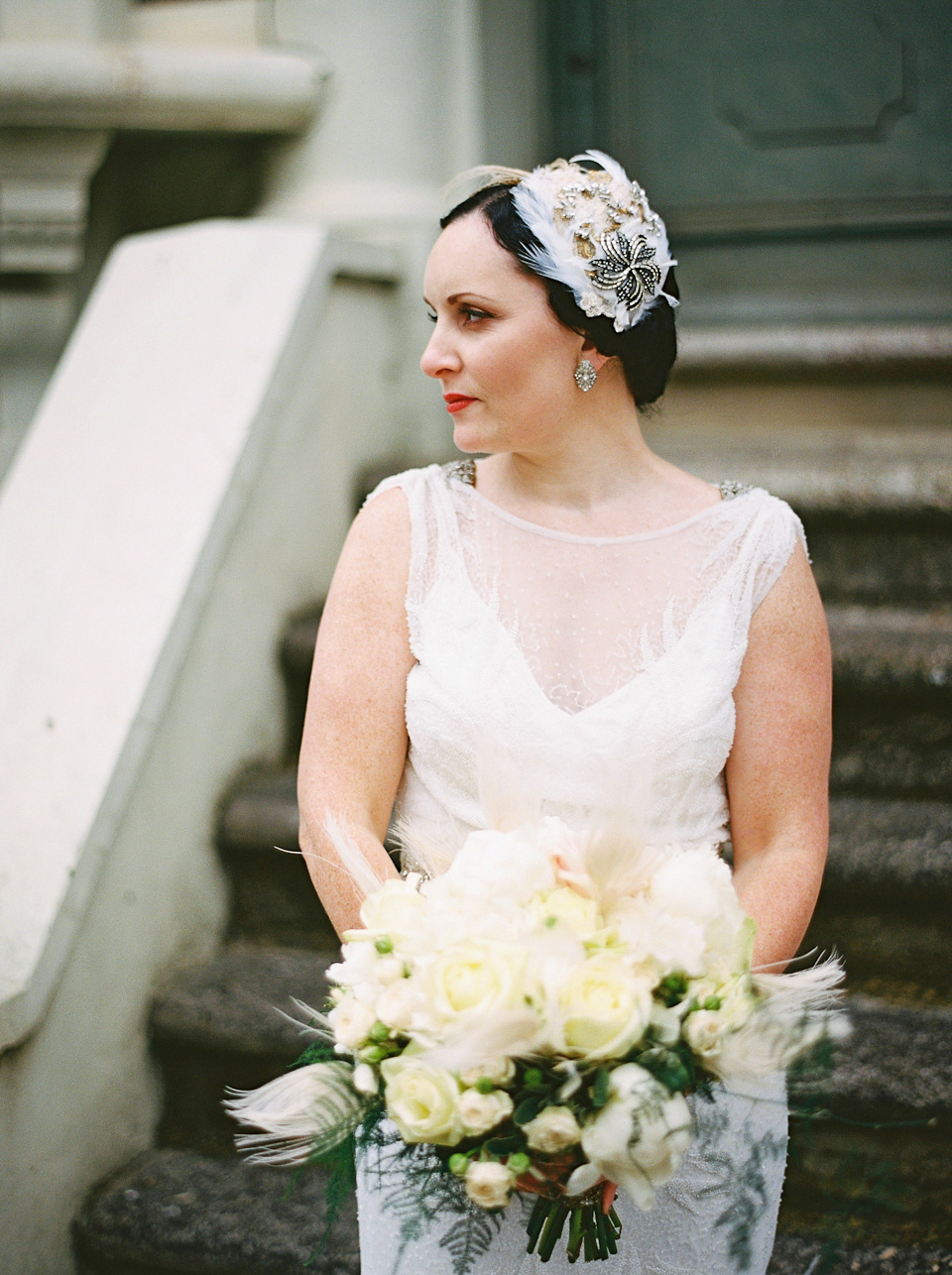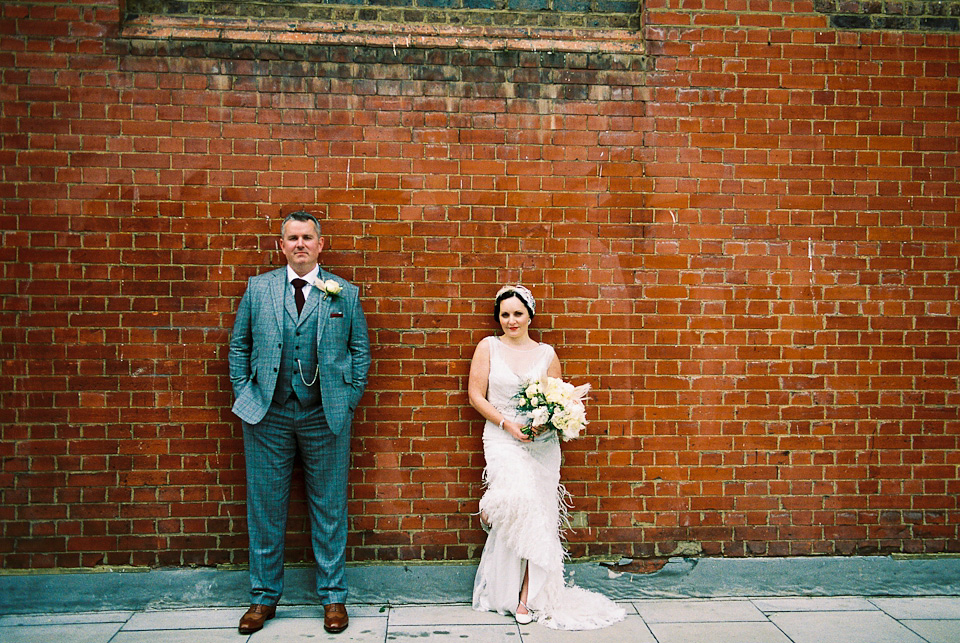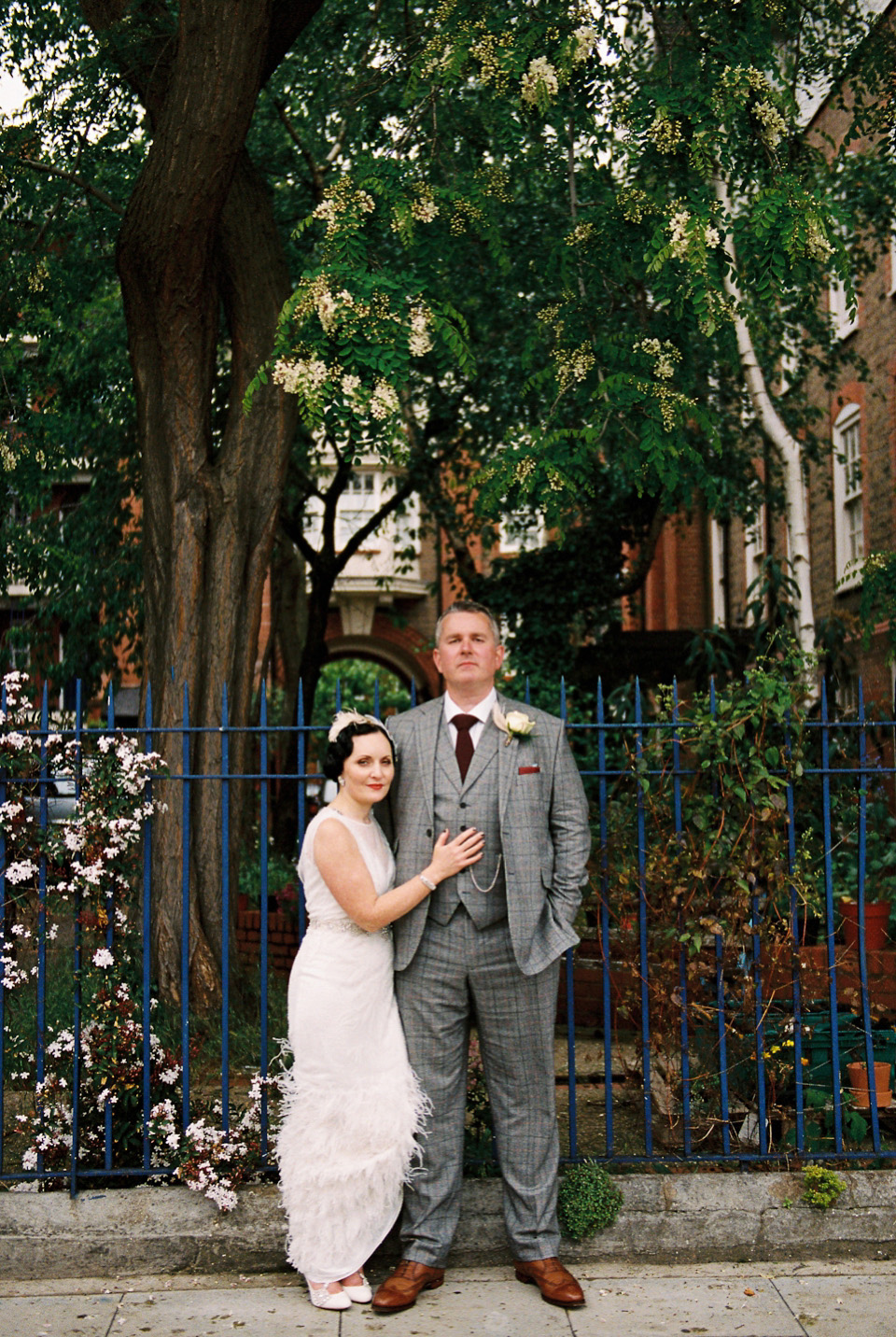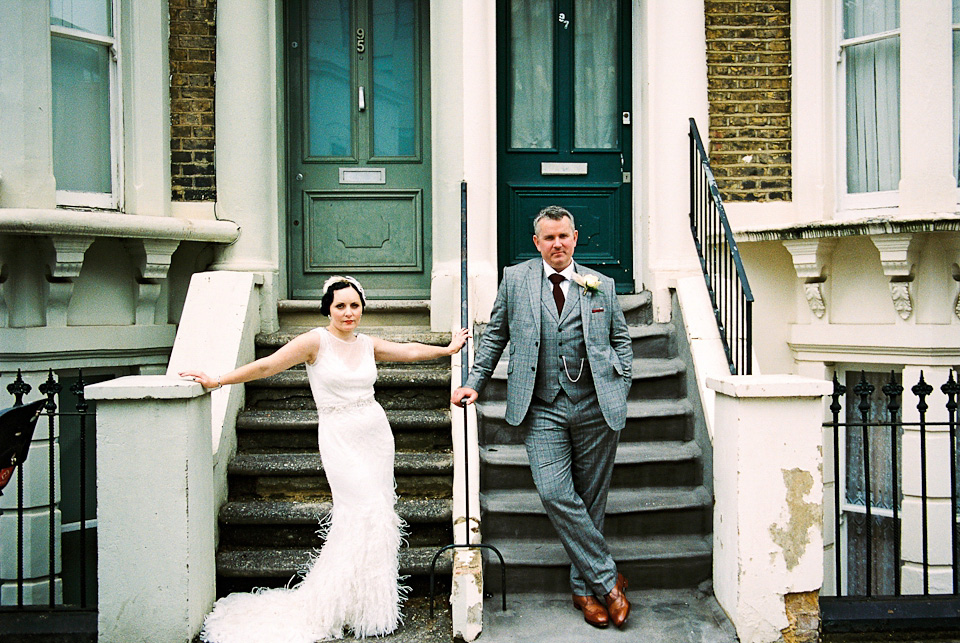 "I didn't feel we should worry about transport as we were staying literally a 5 minute car ride down the road and we were in the one venue for the whole wedding, however it was something that my parents felt very strongly about and hence they hired a gorgeous white Hackney carriage to take my Dad and I to the venue. It was just such a shame that due to disorganisation at the other end, my entrance plans were changed literally at the last minute so our photographer was unable to take any pictures."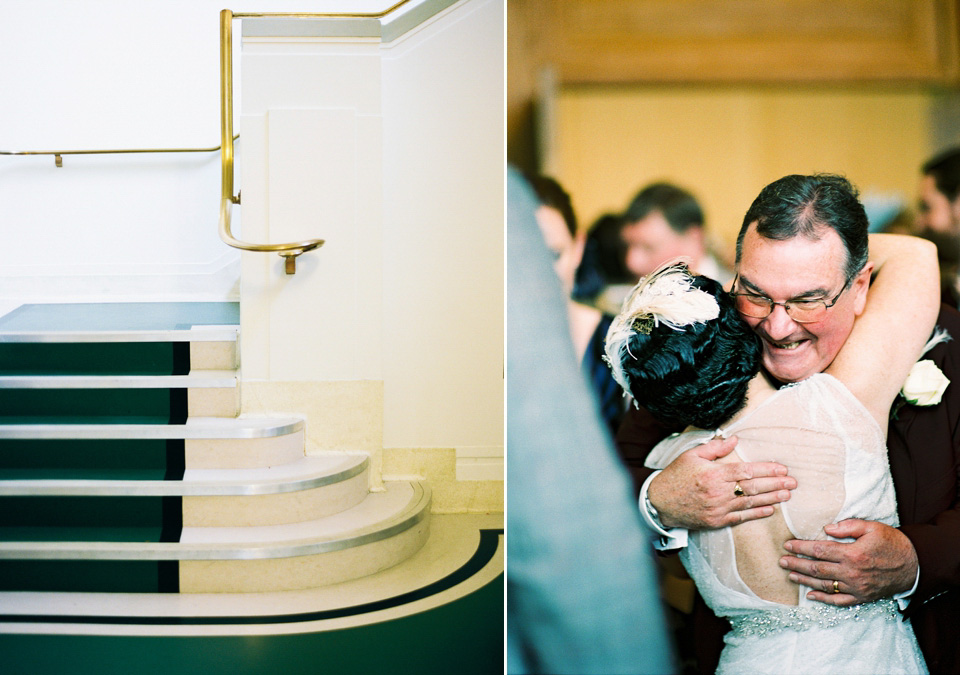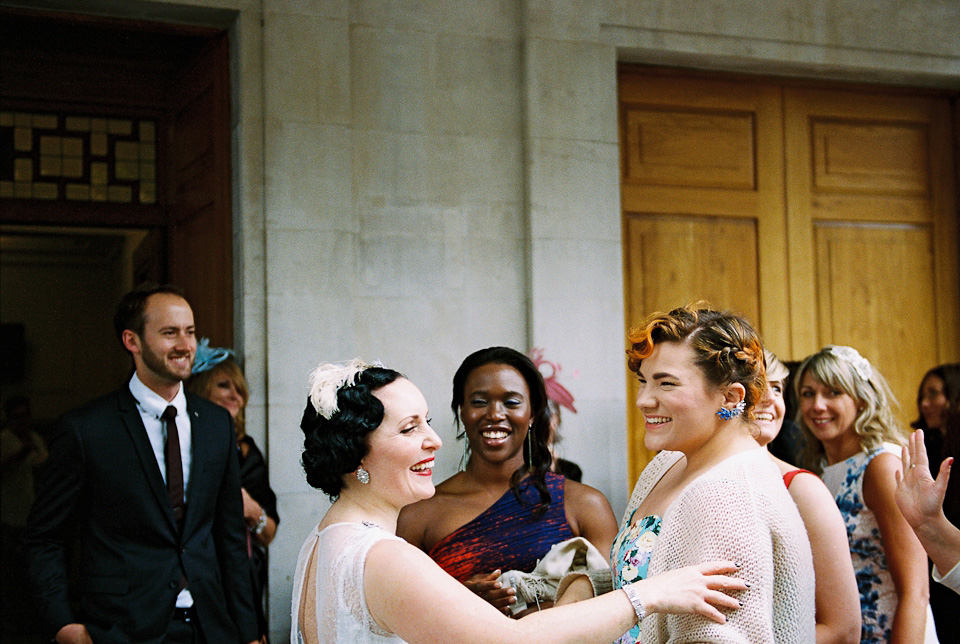 The couple hired caterers Easy Gourmet who played a key role in the smooth running of the day overall.
"If we had our time again, Easy Gourmet would still be very much involved. Marie-Laure did a fantastic job of decorating and arranging everything that was loaded upon them on the day (and believe me, there was a lot) as well as running a very tight ship. The food was excellent and we've had nothing but great comments about it. We, again, deviated slightly from our theme but we felt our menu choice fitted pretty well with the location of our venue and the fact that both our families are originally from the good, old, East End – pie and mash."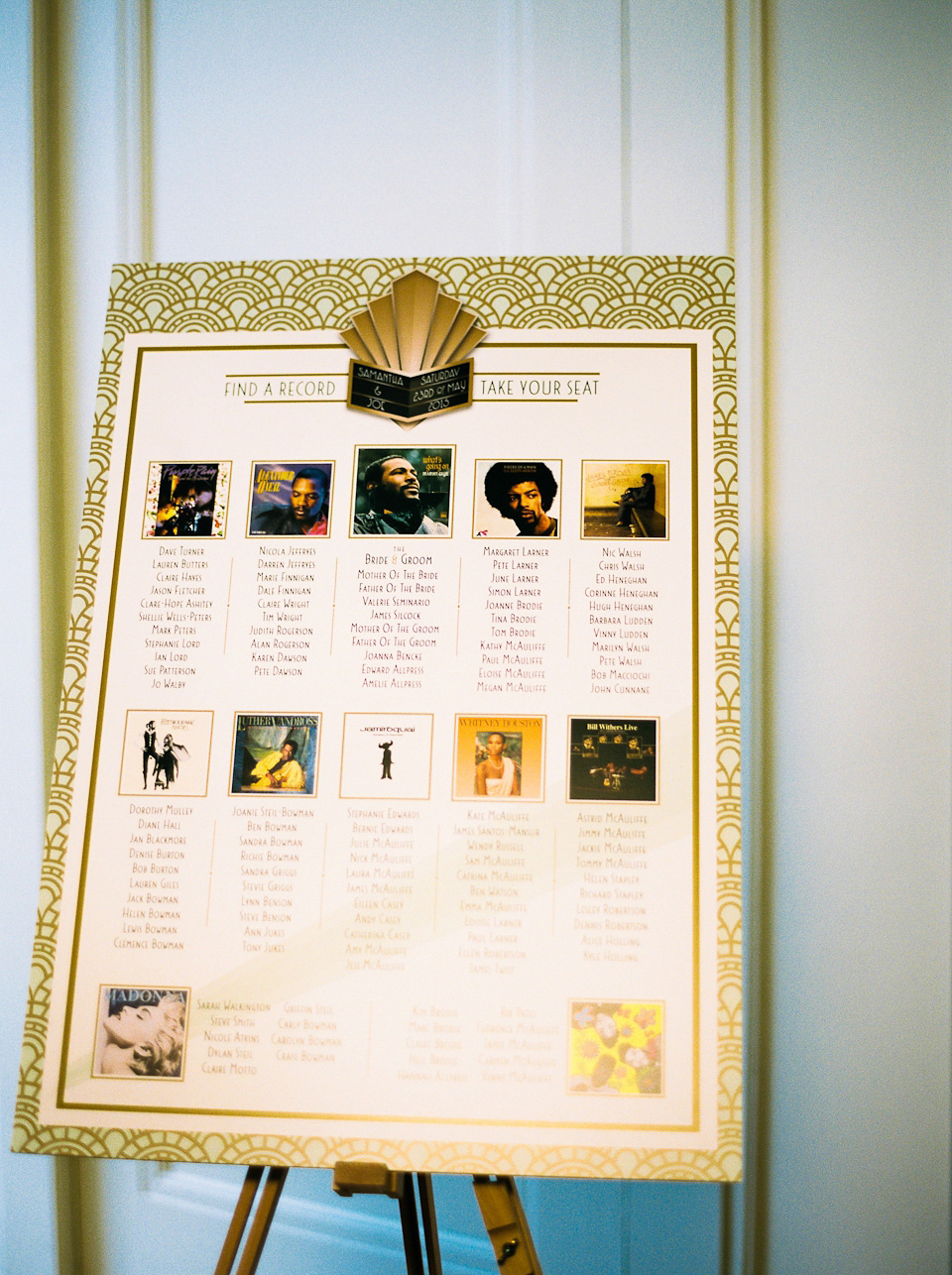 Table plan by Swash & Fold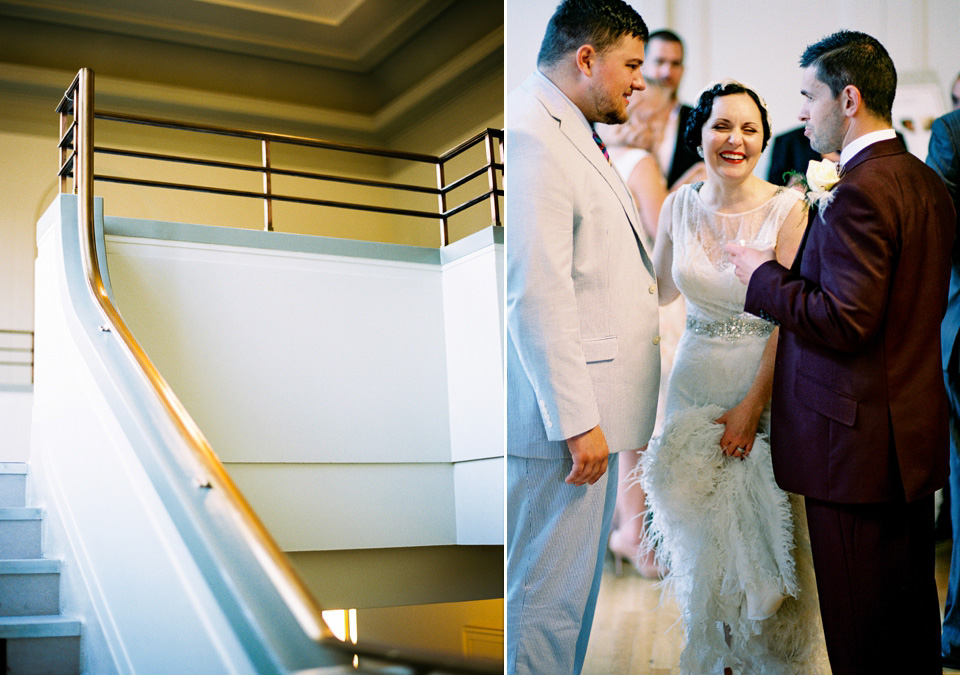 "Other than the beautiful flowers, the biggest décor impact would've come from the amazing bespoke light box I commissioned from Vowed & Amazed as a surprise to Joe of our monogram. I was a little worried how he'd take it at first as a few weeks prior to the big day, he mentioned that he thought we'd gone too far with our monogram. As it happens, we hit the nail on the head and everyone adored our light box, including Joe. Which is now a huge, stunning and ever-lasting memento of our wonderful day right there in our living room."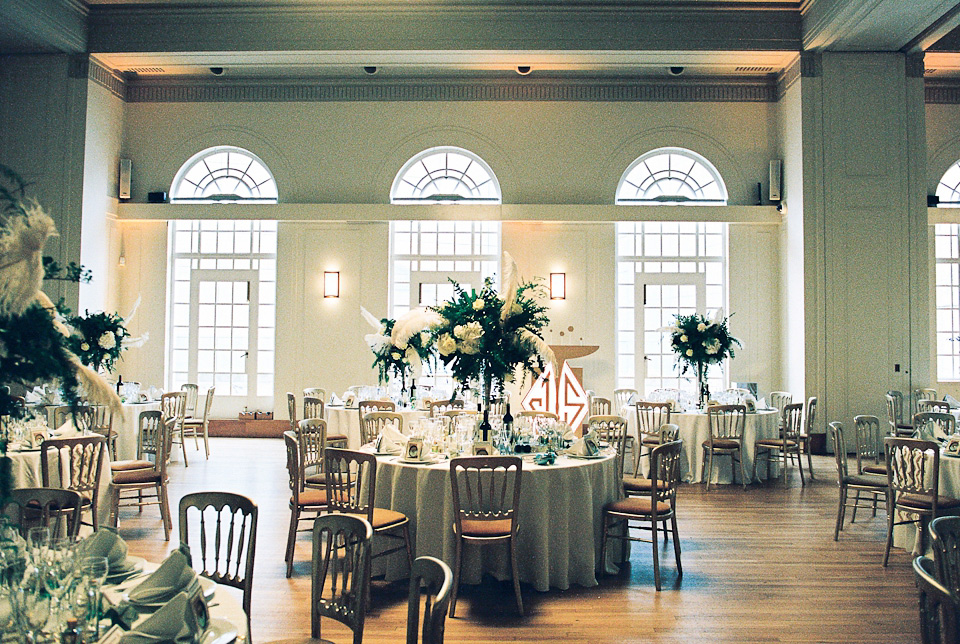 "The items that had more subtle styling impacts would've been the sequin table runners and cake table cloth (which I hired from The Sweet Hostess) and the up-lighters (also provided by London Speaker Hire). We also hired in some extra furniture, like the arm chair for my Nan and some poseur tables (from Pasithea).
Everything else that we used were items that I'd collected and bought during our engagement and that I thought would add to the theme, like the decorations for the gift table (Art Nouveau style brass frames with photos of our parents, grandparents and great-grandparents' weddings), a 1930s Box Brownie camera, a 1930s cine-video camera, vintage 1930s publications and lyric sheets and tealight votives for the tables, etc. I also made up 'post cards' of 1930s film stars which were propped up in the toilets along the mirrors along with essential items in vintage glass bowls for guests to use – anything that kept with and might've added to the theme really."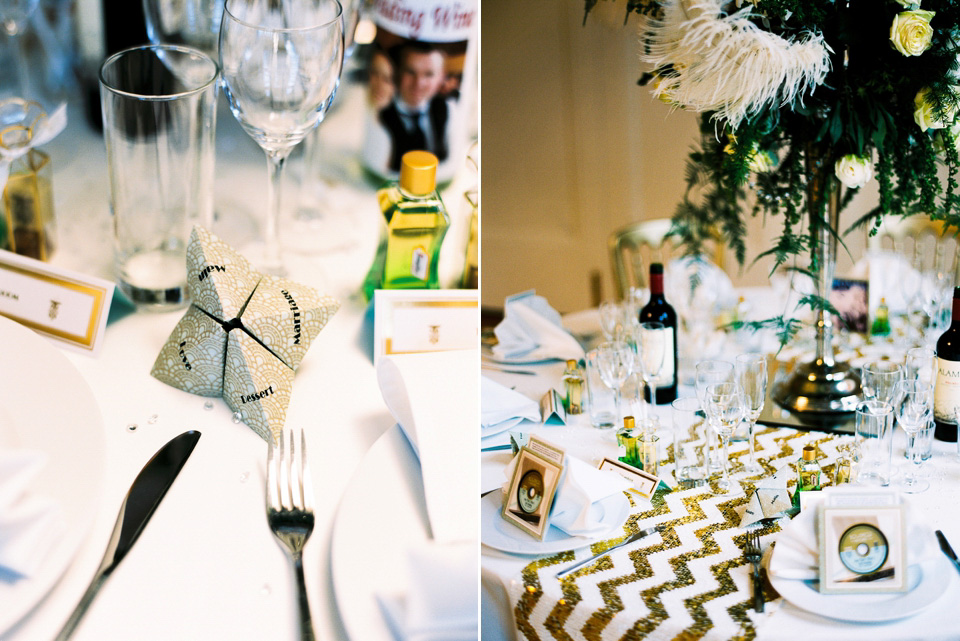 "We went a bit OTT with favours. The main ones were bottles of Frangelico liqueur, which we bottled and labelled ourselves, bespoke printed chocolates, provided by The Chocolate Nest, and bespoke CDs – another deviation of our theme; we're both big music lovers and we'd decided to pick six albums each that we loved with which to name our tables. 
We then chose our favourite song from each album and, along with a secret track which was our first dance, they were recorded onto a CD made to look like a small vinyl record (we're both big vinyl fans) and again, graphically designed and styled by Ian from Swash & Fold to look like a mini album (provided by Band CD's)."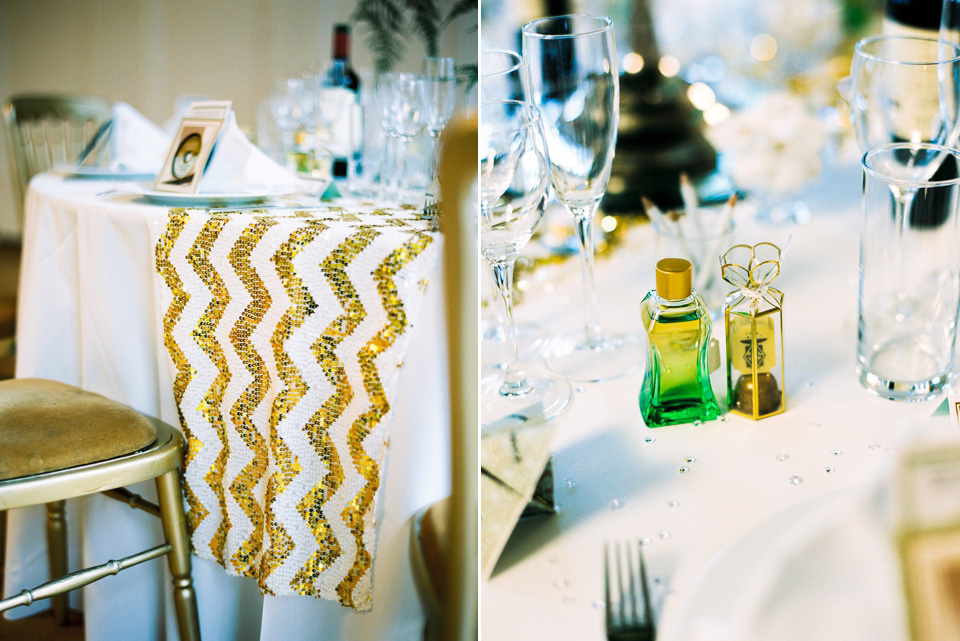 "Our cake was created as per our instruction by our caterer, Easy Gourmet. It was simple, but elegant, and very Art Deco. The pastry chef at Easy Gourmet did a wonderful job of recreating the cake that we'd taken to our hearts and even managed to make white chocolate icing to coat the cake at our behest.
The cake topper was a surprise to Joe. He and his family are all huge Star Wars fans (I quite like the original trilogy too) and although it was a slight deviation of our theme, it fitted with the classic black and white figures, and movie connotations – and was one of the most photographed and Facebook-posted pictures of our day. Turns out Darth Vadar won after all!"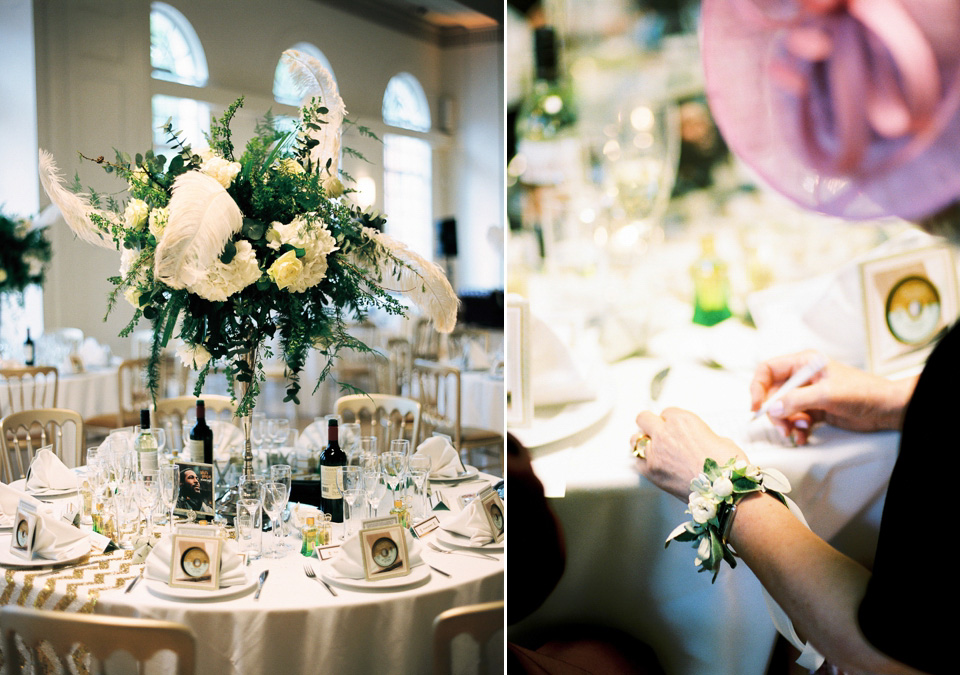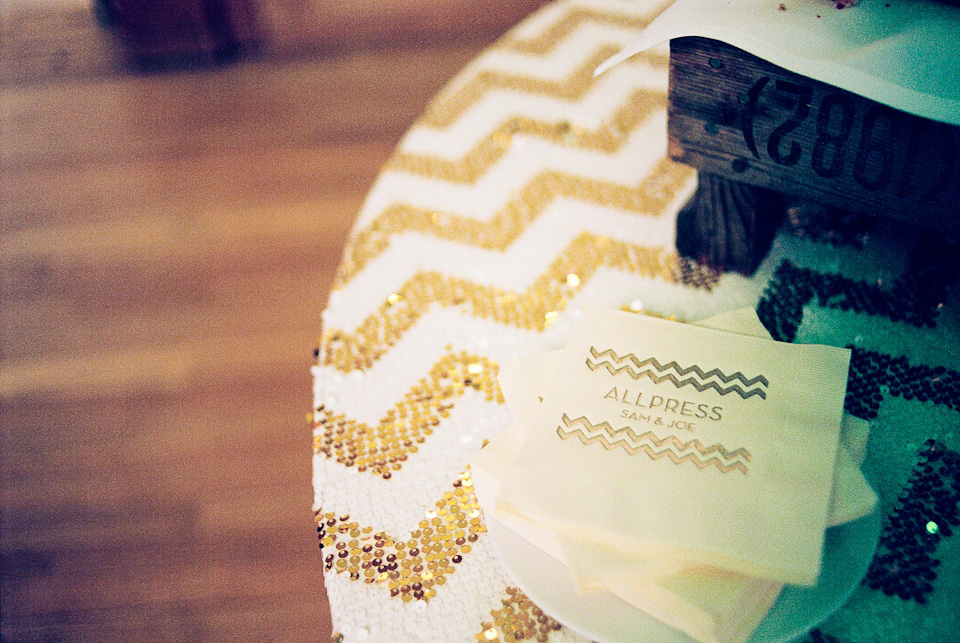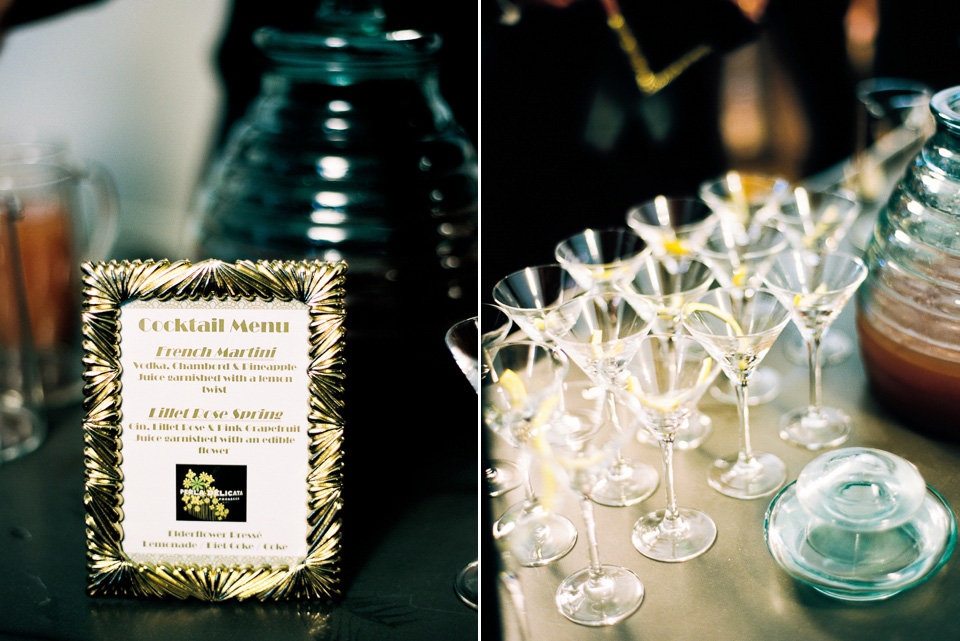 "We supplied all the evening entertainment ourselves but we had to hire in AV equipment and lighting which was provided by London Speaker Hire."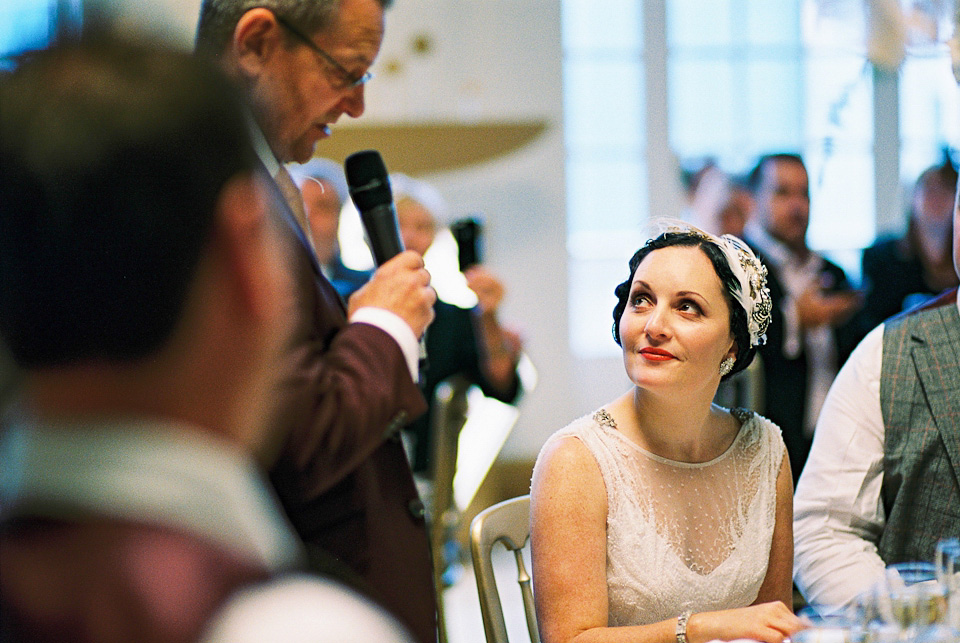 "Our first dance was to The Brand New Heavies' 'Never Stop'.  There's not a real story behind this one other than we were having issues coming up with a first dance and I didn't want a slow, mushy song. It was probably the usual debates being had in the choosing – Joe is a music man, I'm a lyrics woman. Anyway, we ended up with this one as we both love The Brand New Heavies and the lyrics are happy and about love but asexual in terms of the point of view of the singer.
It could've been sung by a man or a woman and therefore was about us as a whole, not one or the other of us."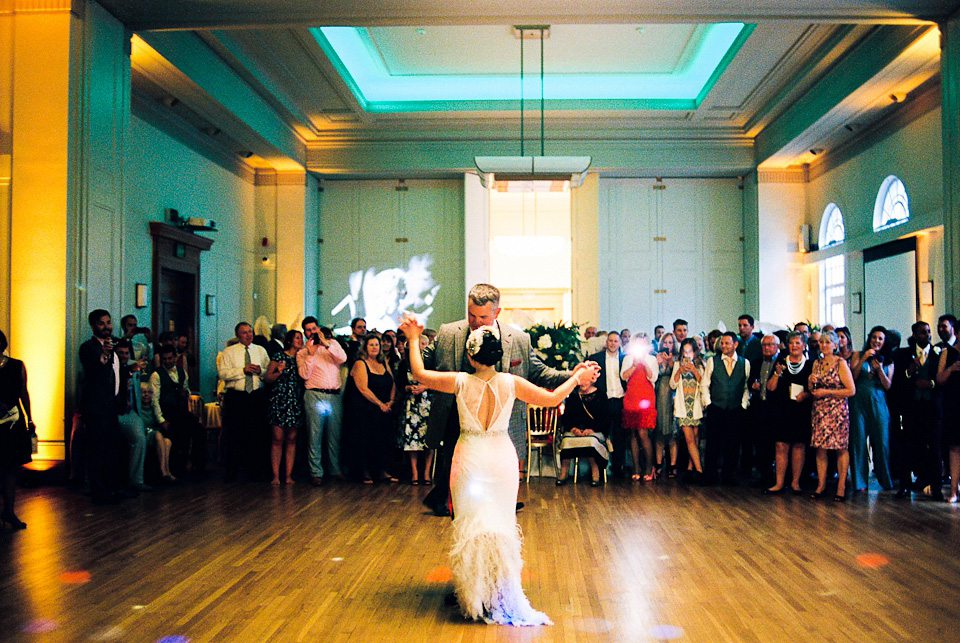 "I honestly loved every second of our day. But for me, probably the most surprising part of it and which therefore sticks in my mind the most, were the audible gasps of surprise from our guests when I walked down the aisle. I suppose I'd managed to keep everyone guessing about my dress and my hair so well, no-one knew what to expect and because it was all so different, everyone was literally shocked. And it's another thing that guests keep mentioning to me as well so it's definitely become a treasured moment in time in my mind – it's always good to keep people guessing!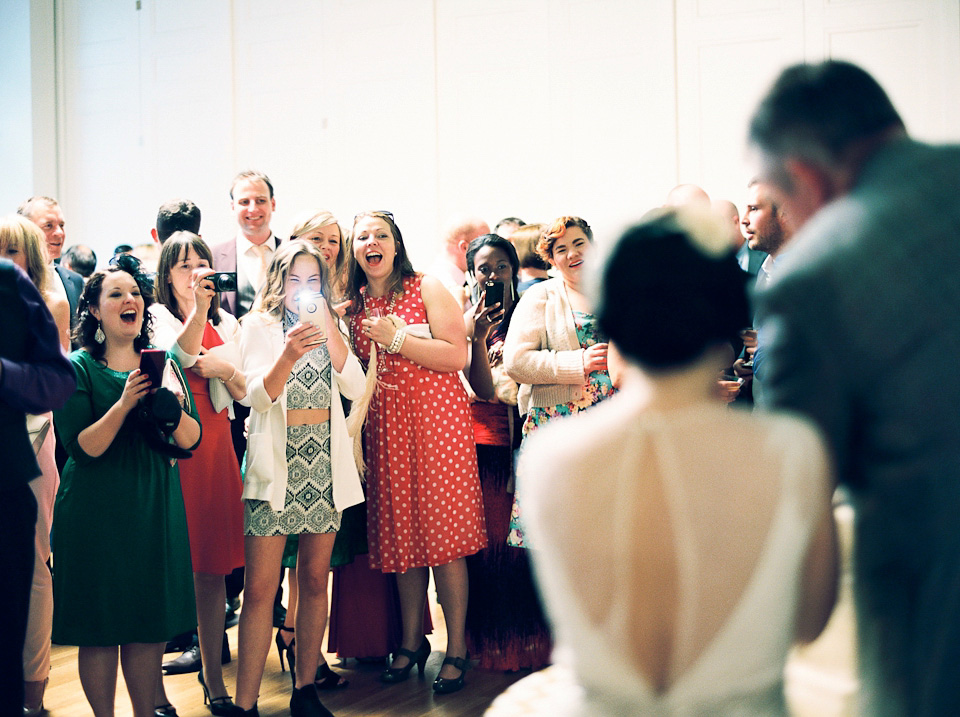 Words of Wedded Wisdom
"Just after we became engaged, someone told me that I shouldn't stress about the detail as no-one notices detail. Well, I can't help it, but I'm a detail kind-of-girl. And it was the detail that everyone totally noticed and which helped to really give our wedding the feel that it had. So if you're into detail, don't let anyone put you off.
Also, everyone has to have some kind of theme otherwise you can't narrow down what you need or want to have – and in our case, it also dictated the venue. A theme doesn't mean fancy dress or a circus or anything like that. It might just be your colours. For me, it was the era. Whatever form it takes, you need to be clear what your focus is and what you're using to tie everything together.
Do your research, especially if it comes to sourcing items. This country can be so difficult to obtain anything that's slightly different to the rest of the crowd, but persevere!! It's out there somewhere. For me, I was like a dog with a bone for the bottles we used as our liqueur-filled favours and lots of other items, I had to buy from abroad."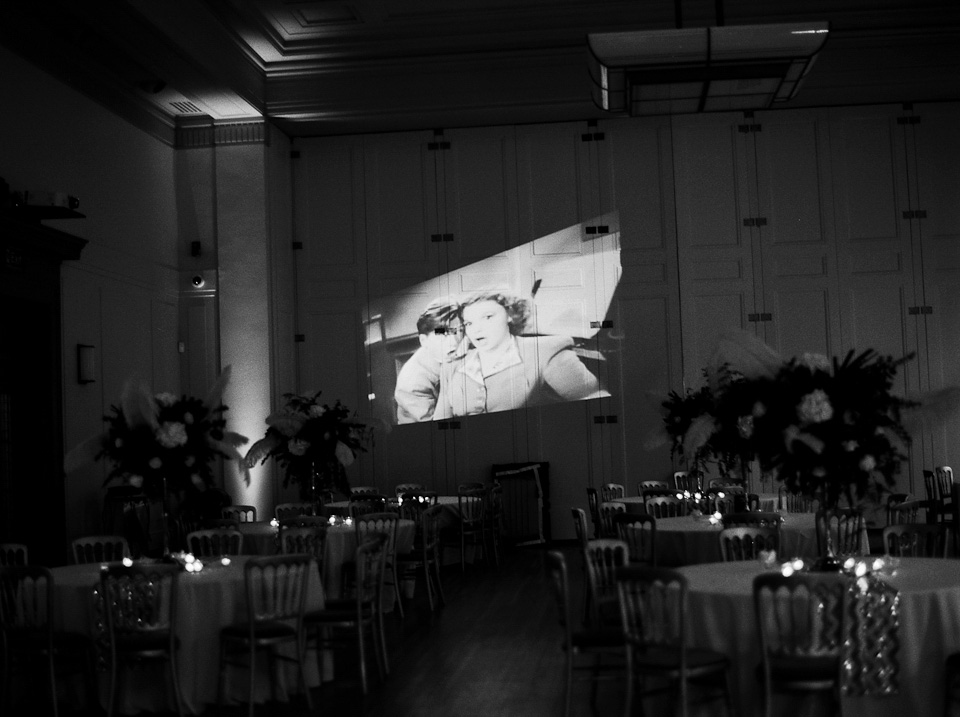 "With suppliers, make sure they're all totally on-board with what you're trying to achieve – if they're not buying into it or getting excited, maybe they're not the ones for you? Personally, I would use every single one of my suppliers again. They all completely understood what I wanted to achieve and were looking forward to it as much as us. To me, if they don't buy-in, maybe they won't put themselves out to make sure it's the best it can be?
Most importantly, what every bride must absolutely do, is make sure, whatever stresses you might have had in the run-up, on the day itself you have to let it go and make sure you enjoy it. This is your one day so you make sure you enjoy it to its fullest and don't worry about anything or anyone else.
Finally, we hired the wonderful Boothnation to provide a fabulous photo booth for the event for which we ordered double-printing plus a guest book made up of the extra photos and guests' comments which went down a treat. Plus, who doesn't love a photo booth? These particular booths also give the most flattering lighting so are worth the slightly larger price tag. They were another fantastic set of suppliers that were great to work with and really bent over backwards to help us.
Ultimately, there was nothing that I would've done differently. We had a couple of things that didn't happen as originally planned but then nothing's ever perfect and I certainly didn't let it ruin my day."
What a beautiful and perfect day – I will never not feel incredibly privileged to have been given such a moving insight into such personal and loving celebrations as this one. Thank you so very much Sam and Joe for sharing your gorgeous wedding day with Love My Dress.  I'm also thrilled that you chose the unstoppable Ian of Swash & Fold to work with – an individual without whom this wedding blog simply would not exist (Ian wears many hats and one of them is a blog developer!).
Readers, if you'd like to see more beautiful film images from Peachey Photography, please take a moment to visit photographer Katharine's website at peacheyphotography.co.uk.  I'd love to know if this wedding has sparked inspiration amongst any of our lovely readers this morning?
Have a lovely relaxed Monday morning – and for those of you back at their desks today – don't work too hard.
Love Annabel xx
Photographer – Peachey Photography
Film – Minty Slippers
Venue – Assembly Halls in Hackney Town Hall
Wedding Dress – Rosa Clara via Fairytale London
Bride's Shoes – Emmy
Bride's Hair Accessories – Bespoke bridal cap from Victoria Millésime
Accessories – Antique bracelet via Vintage Headdresses + antique dress clips via eBay + earrings via Luxe Deluxe
Perfume – Ralph Lauren's Safari
Grooms Suit – Jack Bunneys + Shoes by Crockett & Jones + Shirt by Thomas Pink + Granddad's cufflinks + Pocket watch by Royal London (provided by Jack Bunneys)
Florist – Sweet Pea Flowers
Transport – Hackney carriage
Rings – Friar House + Chisholm Hunter
Catering + Cake – Easy Gourmet
Stationery – Swash & Fold
Hair and make-up Artist – Deco Dolls
Photobooth Hire – Boothnation
Sequin table runners – hired via The Sweet Hostess
Light hire – London Speaker Hire
Poseur table hire – Pasithea