Good afternoon everyone – for the last couple of weeks, I've found myself with the Monday slot on our lovely wedding blog- anywhere else that might be a difficult place to be, trying to cheer up readers back at work after a (hopefully) fun-filled weekend, but on the contrary, I love helping to open up the week and never have any concerns that the weddings and images we share will make you smile. Today's pretty village hall wedding is no exception.  Jess, a fashion print designer, married Craig, an I.T. Specialist, in the pretty town of Warwick on a lovely spring day in April this year, with the ceremony is a beautiful historical setting and the reception in a lovely little village hall just a few miles away.
"I had always dreamed of a relaxed village hall knees-up with banqueting tables where everybody could sit together and plenty of space for dancing. We didn't want our wedding to be expensive and to start married life with lots of debt. We just wanted a big old party really so worked out where we would spend our money and where we could save."
Photography by Ellie Gillard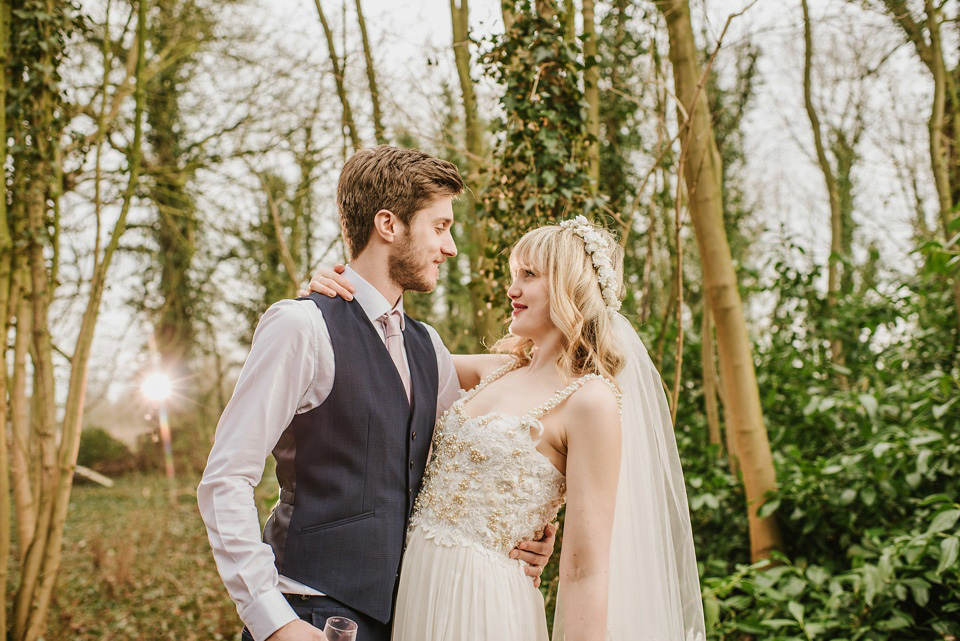 Jess made her wedding dress completely her own, by buying a dress she liked online, and then converting it into something she really loved. I just adore the embellished bodice and floaty skirt.
"I knew from the beginning I wanted a delicate, flowing romantic dress with a nipped-in waist and a skirt that I could dance the night away in and so I chose the cream Geneva dress by Alice & Olivia as I fell in love with the beautiful silk chiffon fabric and the lace godets in the skirt."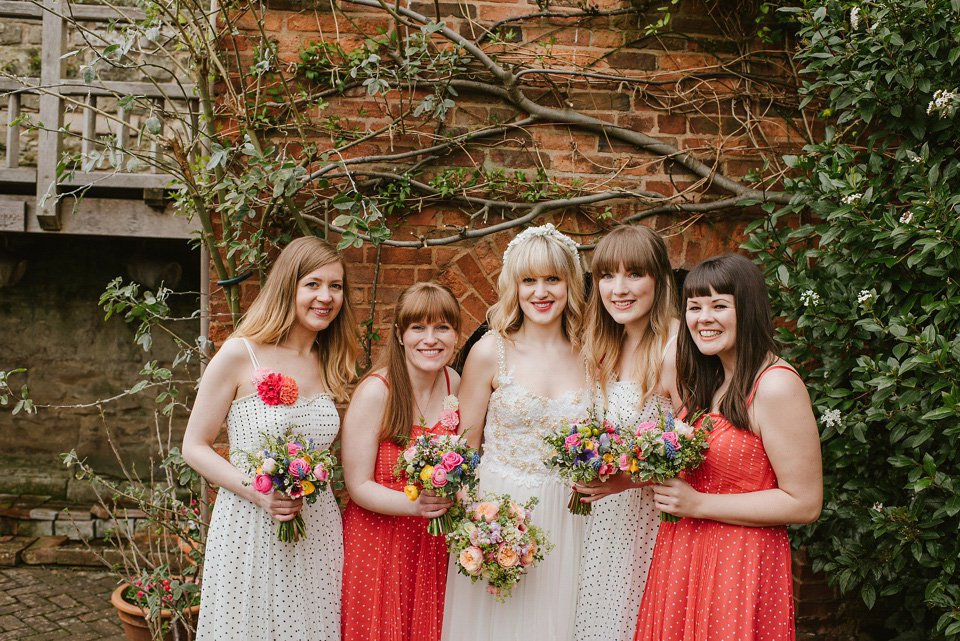 The couple chose photographer Ellie Gillard to capture their big day, and didn't she do them proud? Ellie's work has graced the pages of Love My Dress on a number of occasions and it's always a pleasure to look through her pretty, detail filled images.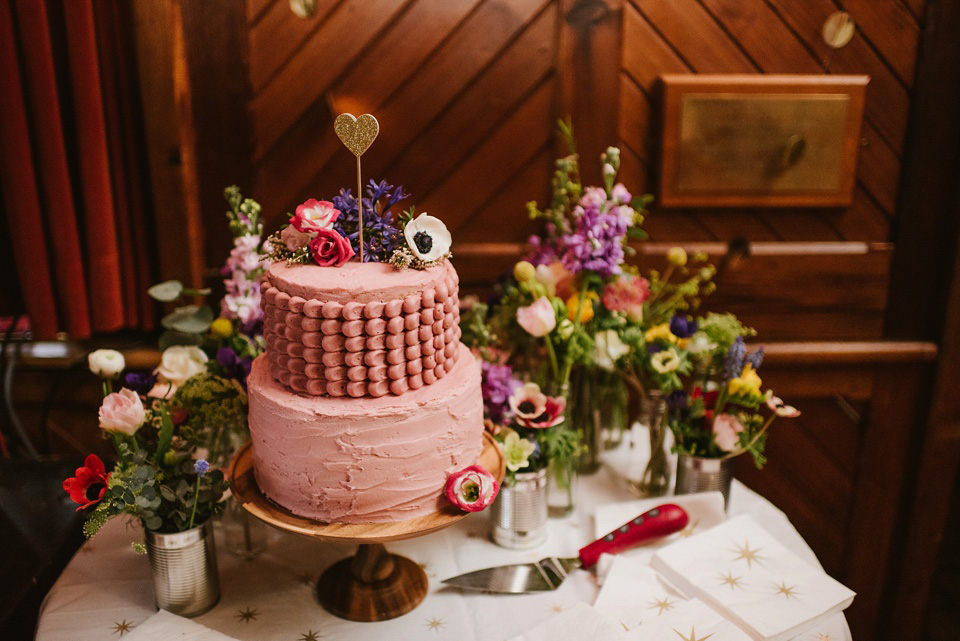 "Ellie was great, she really worked hard to understand what we wanted from our photos and made us super- comfortable. The whole process was fun and she took control and made us feel so special from the very first enquiry. She was very helpful with general wedding tips and actually helped us organise some of the timings and logistics too. Her photographs really captured the magic of the whole day- thoroughly recommended!"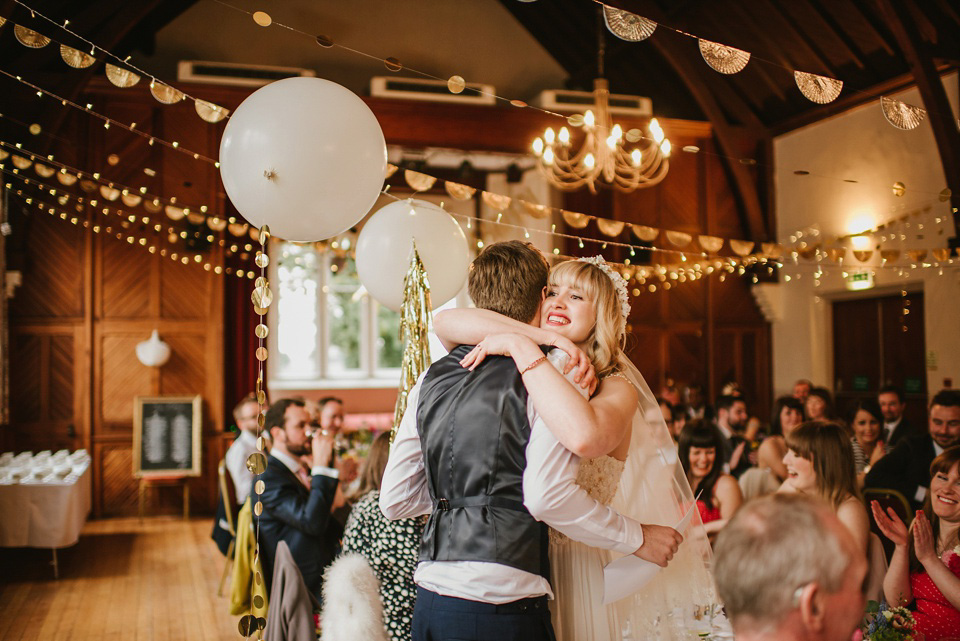 "Craig was the tall dark handsome stranger at a house party of a mutual friend. We got chatting (in the kitchen of course, where else?) drank questionable 'house party' punch and have been pretty much inseparable since then! We got engaged on holiday in Rome two years later in September 2013, we planned to have a short engagement but I fancied a spring wedding so we set the date for Spring 2015."
"My dress, shoes and circlet were such bargains I felt like I deserved indulgence so went straight to Chanel for my perfume. The wonderful Chanel ladies in Birmingham Selfridges helped me select a wedding scent: 'Gardenia', fresh and floral and just so elegant and timeless.   I'm so pleased I chose a wedding perfume; when I wear it now I am completely transported back to the day, I instantly feel a lovely combination of happiness, excitement and so much love; it's like a magic potion!"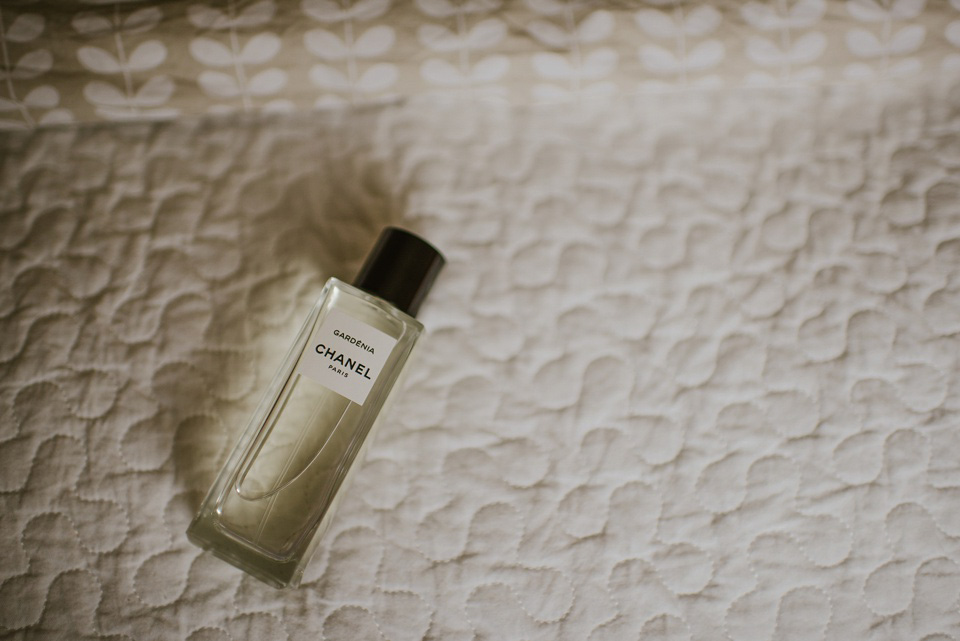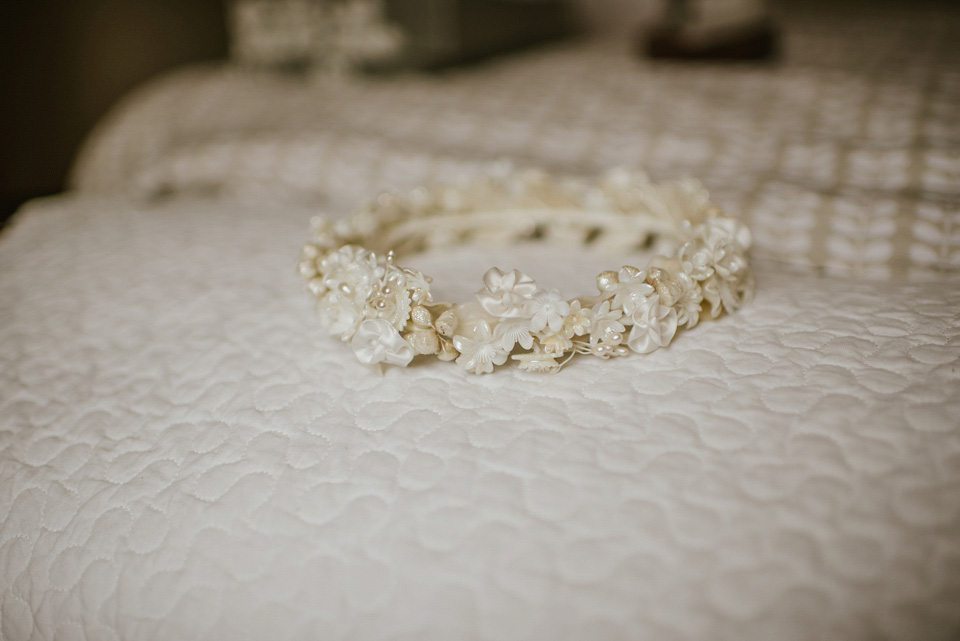 "I had spotted my dress on Pinterest and took it as a sign when it went down to less than half price on The Outnet (Net a porter's sale site). It originally had exposed cups and a big metal zip down the back, so had to do a bit of DIY to make it wedding worthy. I took out the back zip, put in a side zip (I had a gin, watched a YouTube tutorial and just went for it) and embellished the bodice with lots of guipure lace motifs and vintage pearls. The ladies at my local charity shops saved hundreds of pearls and broken pearl necklaces for me over the space of about a year!
Craig's Nan had made her own and Craig's mother's wedding dresses and gave me some sequins and pearls (in their original packaging!) that she had saved. I also sewed on a tiny lucky silver horseshoe from one of my lovely friends.
I loved imagining its original owner wearing it on her wedding day and I felt like I would bring me luck on my own day"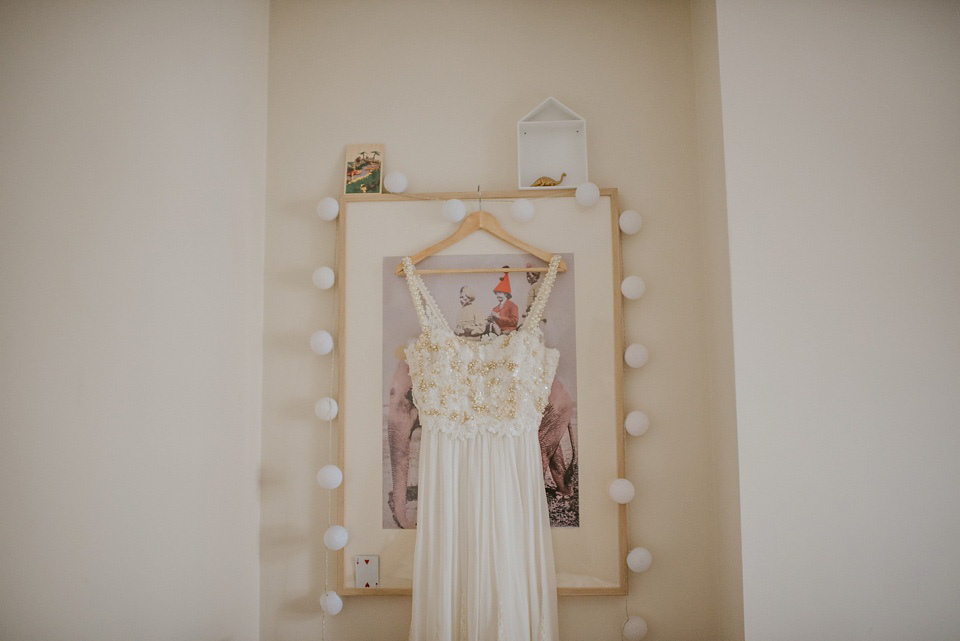 Jess accessorized with a Nottingham lace fingertip length veil, patent t-bar flats from Topshop embellished with daisies and pearls and a gorgeous 1950's wax flower and pearl circlet, bought from the Sue Ryder charity shop outlet on eBay.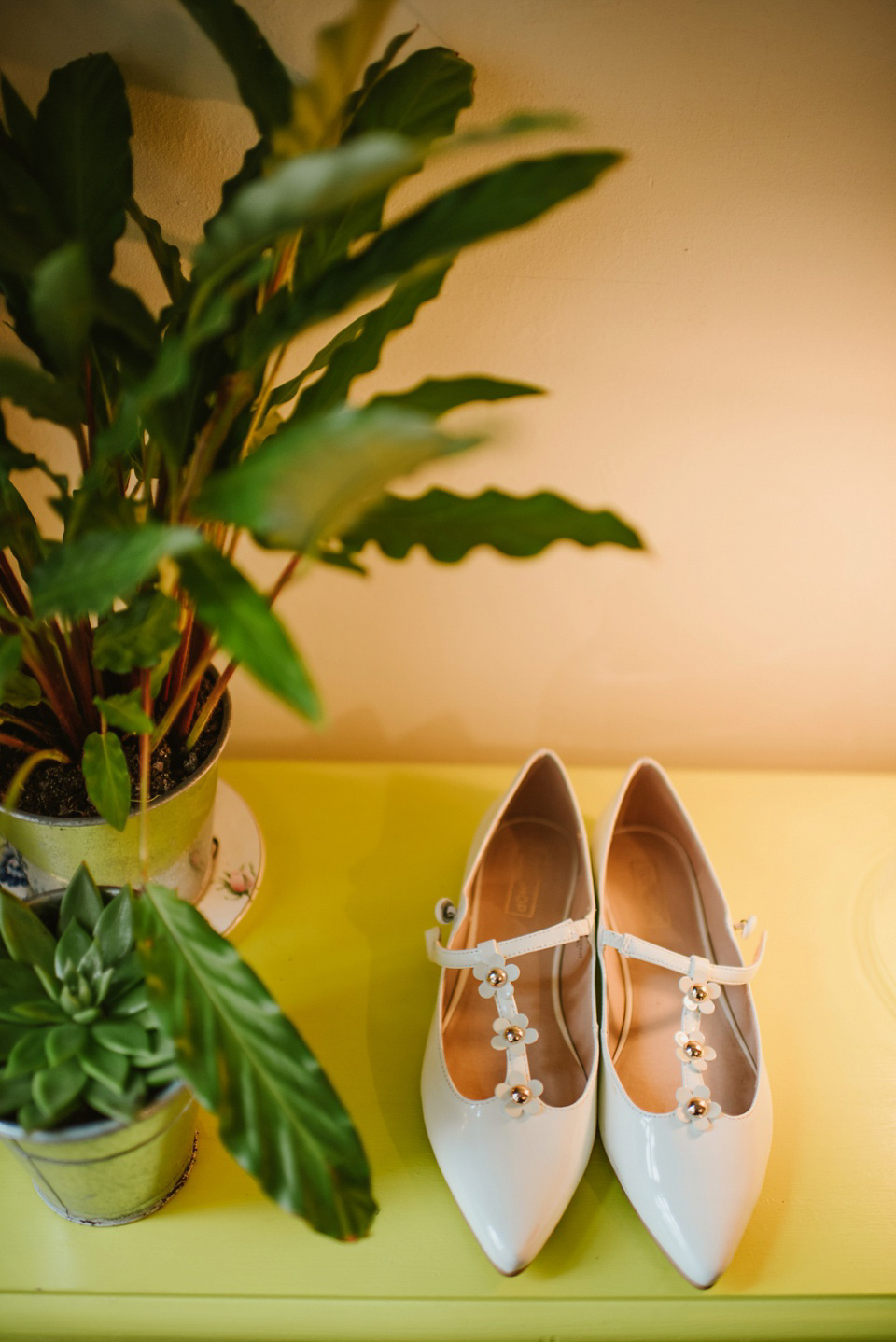 "I also wore a beautiful 1920s ruby bracelet that had belonged to my maternal Grandmother. As I child I had lusted after the bracelet but was always told I couldn't try it on until my wedding day. I never forgot and was so happy to wear it on the day, a tribute and a little nod to my wonderfully glamorous grandmother."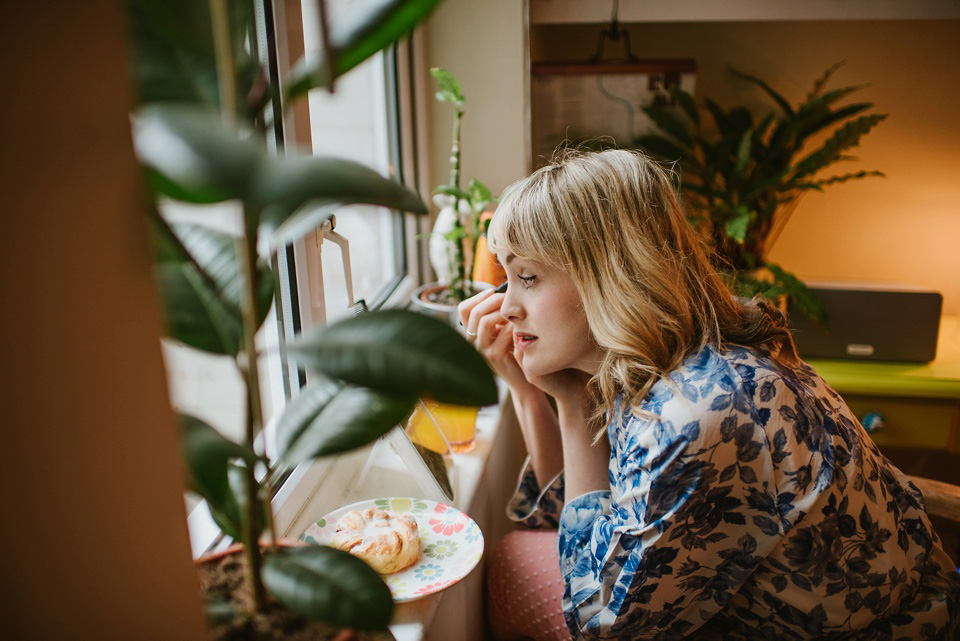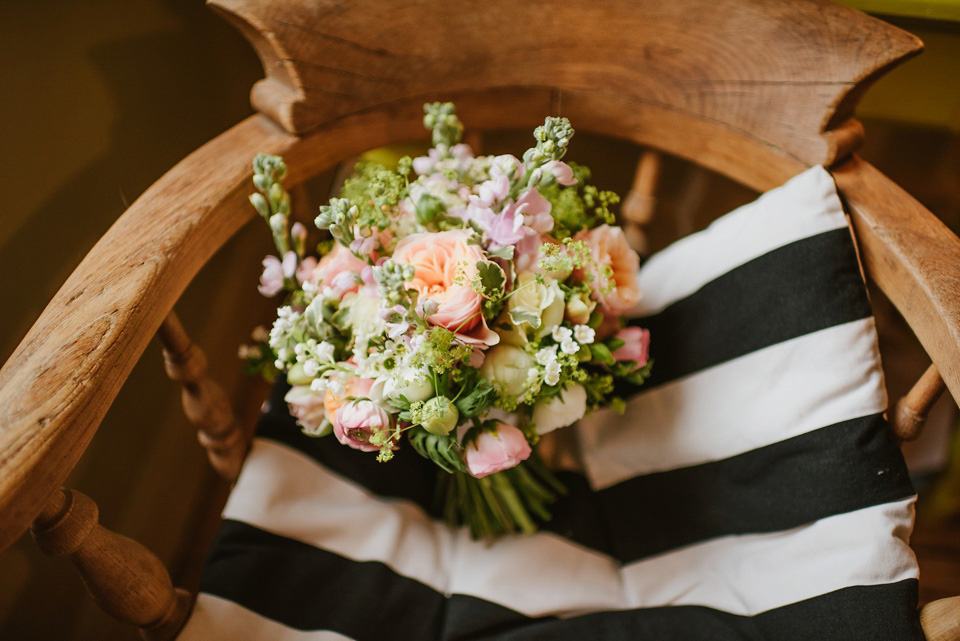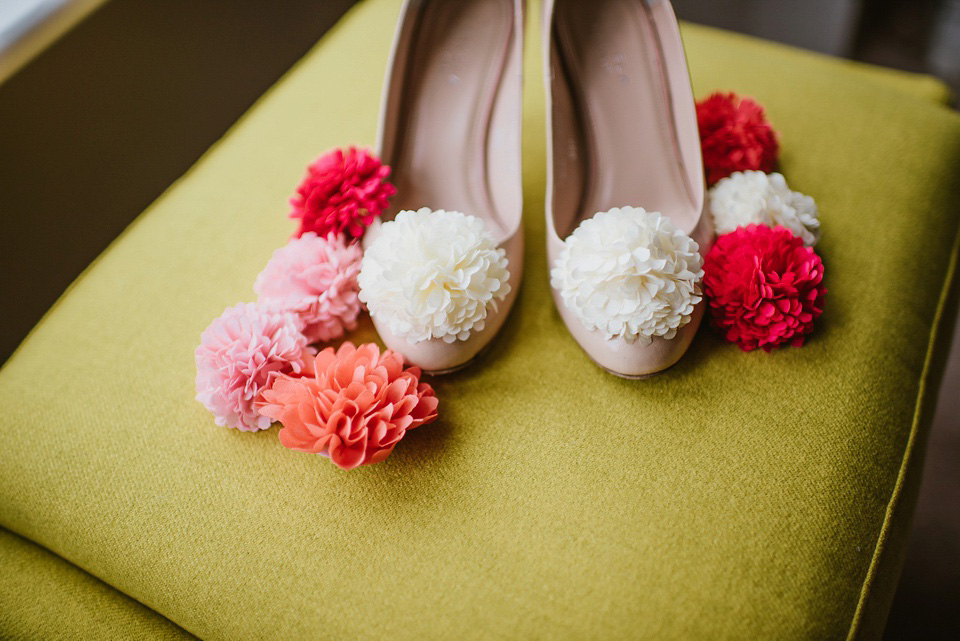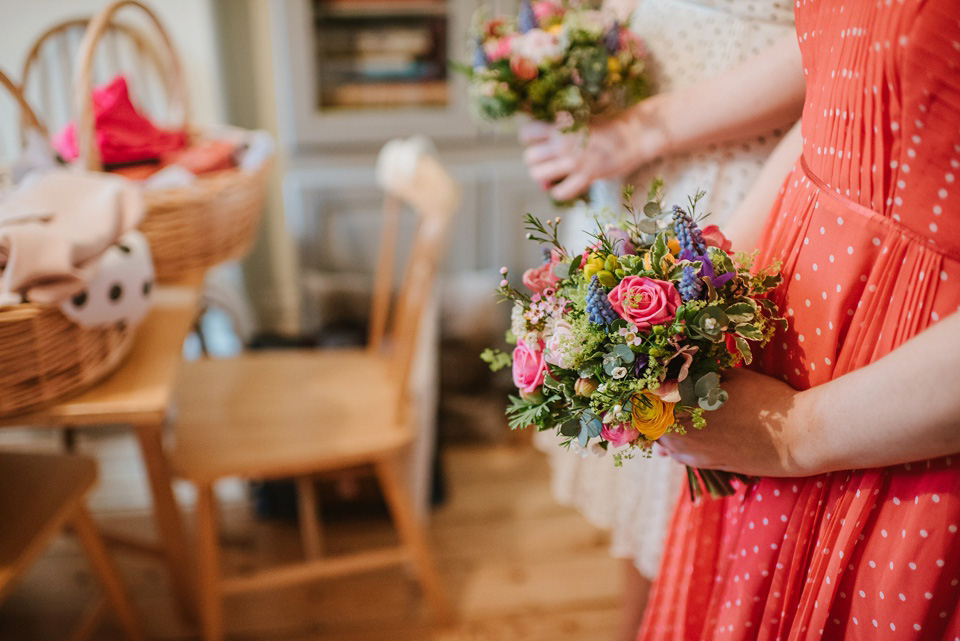 The lovely bridesmaids dressed in gorgeous polka dot frock purchased from Monsoon, in either peach with white spots, or cream and black- I love these dresses- they're so floaty and fun.
"We all did our own hair and make-up. I budgeted for some new make-up and just did the same kind of 'look' I would normally wear. I actually didn't worry how I looked on the day at all, I was just too excited to get to the ceremony, see all the guests and marry Craig."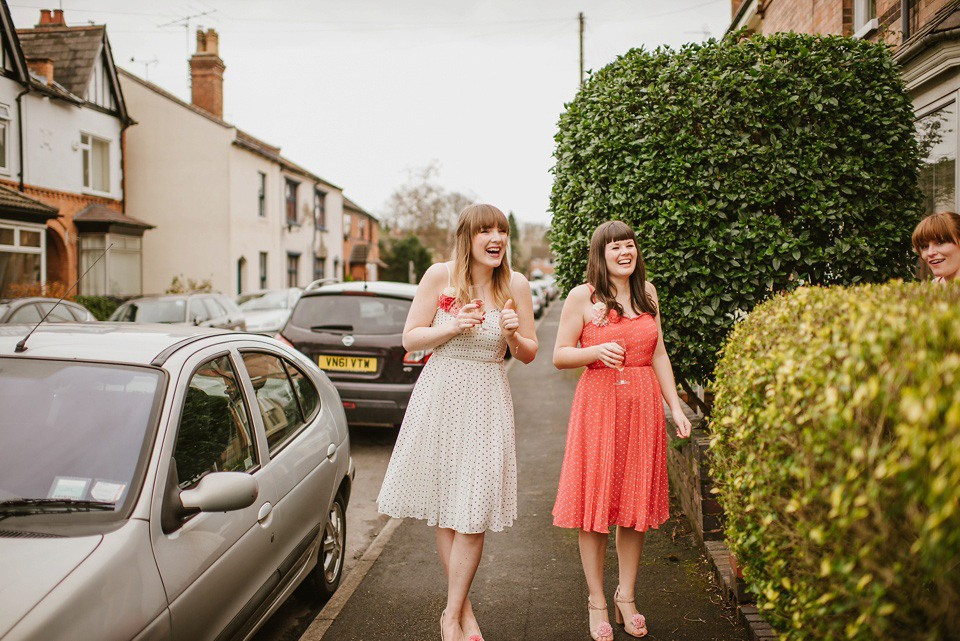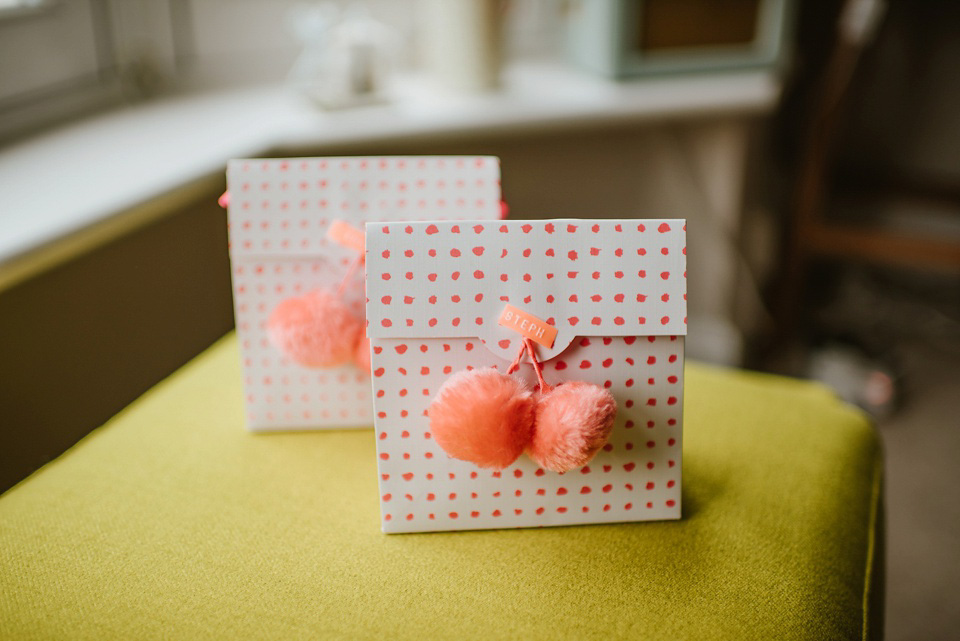 As those of you who have read other features of mine may know, I do love flowers and those featured here are absolute beauties. I love the vintage feel they have, complimented by careful flower choices and the colour matches, and I'm especially admiring of the bouquets- such amazing colour and texture. The sheer volume of flowers is wonderful too, and I love the long tables with floral arrangements in jam jars all the way along.
"Our florist was my wonderful friend Ailsa from Lily Loves Flora. I wanted the flowers to be a real focal point and wanted a mass of informal cottage garden style blooms."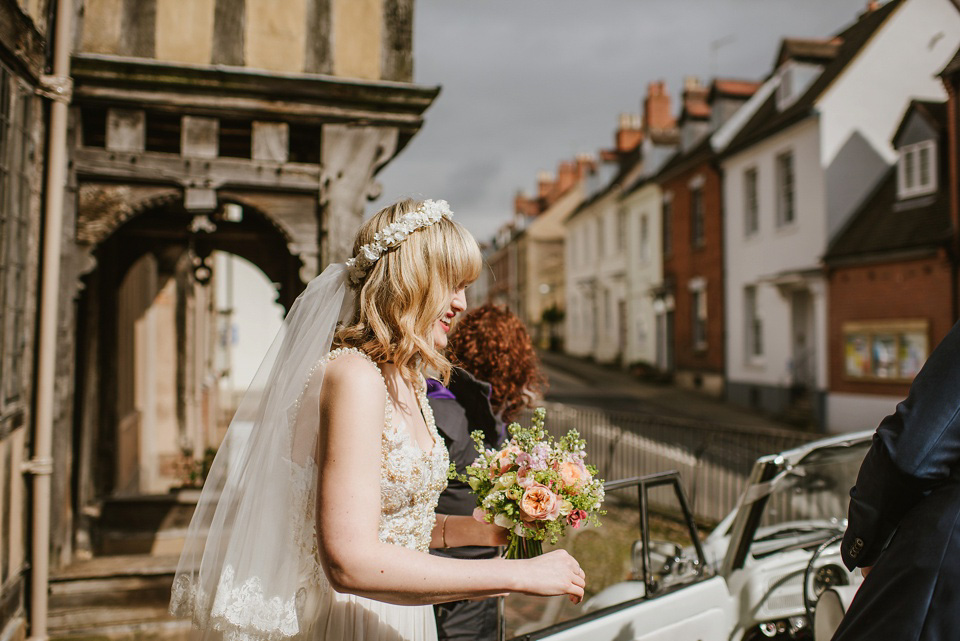 "We went for an eclectic mix of subtly colourful spring blooms and I collected glass vases, milk bottles and tin cans and spent a day making arrangements for the tables.
The flowers really made my day and I found making the arrangements wonderfully therapeutic in the middle of a crazy week. At the end of the evening we encouraged out guests to take as many flowers home as they wanted and we left the rest in little arrangements on our neighbours' door steps before we went away on our honeymoon."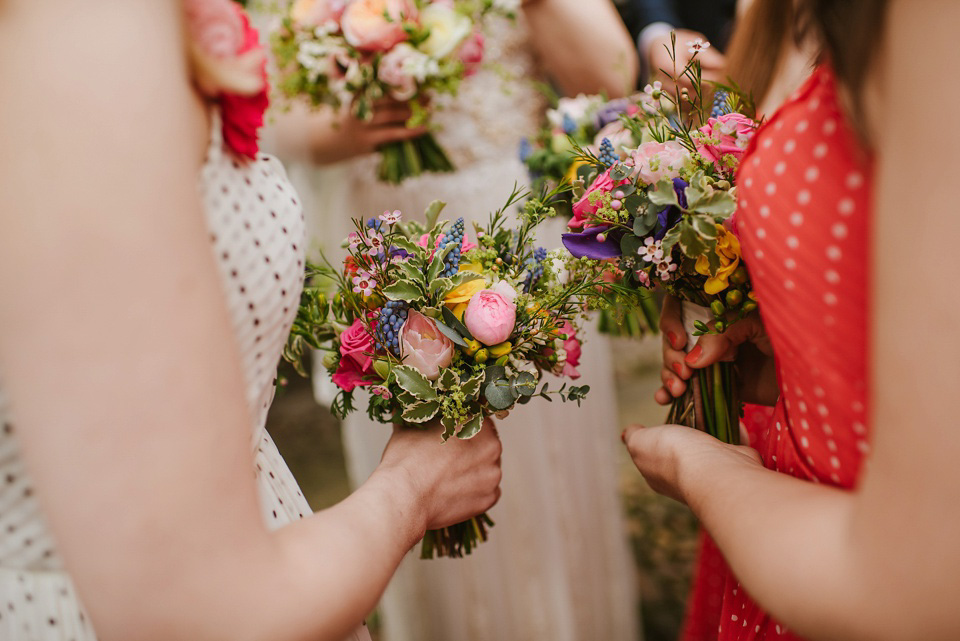 "We chose to get married in Warwick, close to our home. We moved here two years ago and love the charming countryside and beautiful historical buildings and so we were excited to have all our friends and family stay in our little town.
We chose The Lord Leycester Hospital for our ceremony and said our vows in the Great Hall. The hall with its amazing ancient vaulted ceiling appealed to me as I knew it would have the 'wow' factor without us having to decorate it all. The courtyard was perfect for our confetti moment and the master's garden was a lovely little space for photos.'
Jess was walked down the aisle by her 'little' brother, who was almost as excited as she was! They processed to 'Re: Stacks' by Bon Iver, a song both Jess and Craig love. The couple made the traditional vows, and had three readings.
"Our readings were all wonderful. We picked two of our closest friends and my mum and asked them to pick something to read. My friend Jenny read the lyrics from 'The Song Islands' by The XX, our friend Paul read 'What I learnt in Kindergarten' and my mum read Life, Philosophy and Beer."
Craig donned a very smart in a dark blue three piece suit by Reiss, who really impressed him with their tailoring service, attention to detail and the way they made his mum feel special too! His groomsmen wore their own suits and chose shades of navy blue with ties in different shades of pink.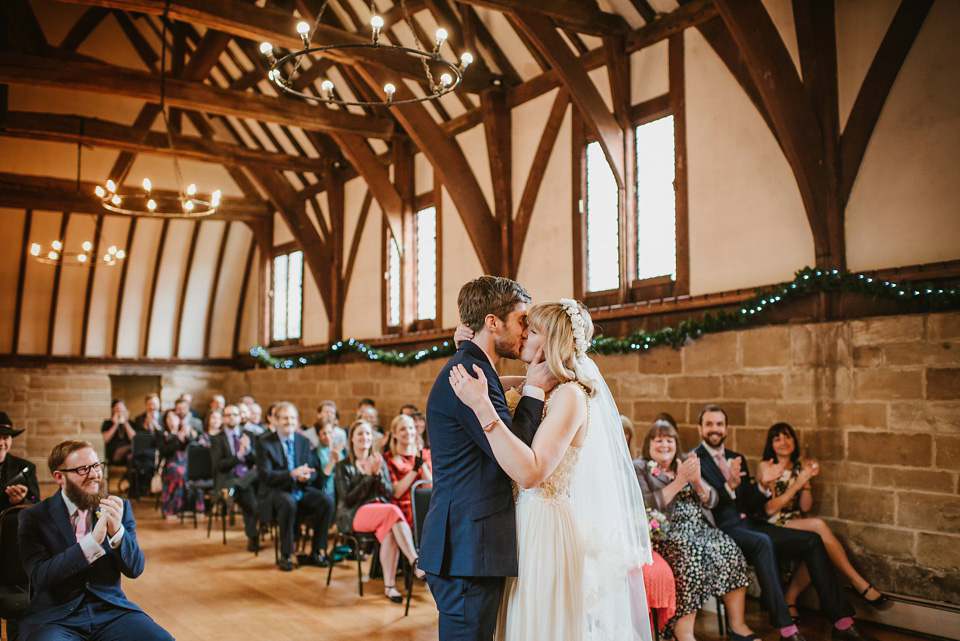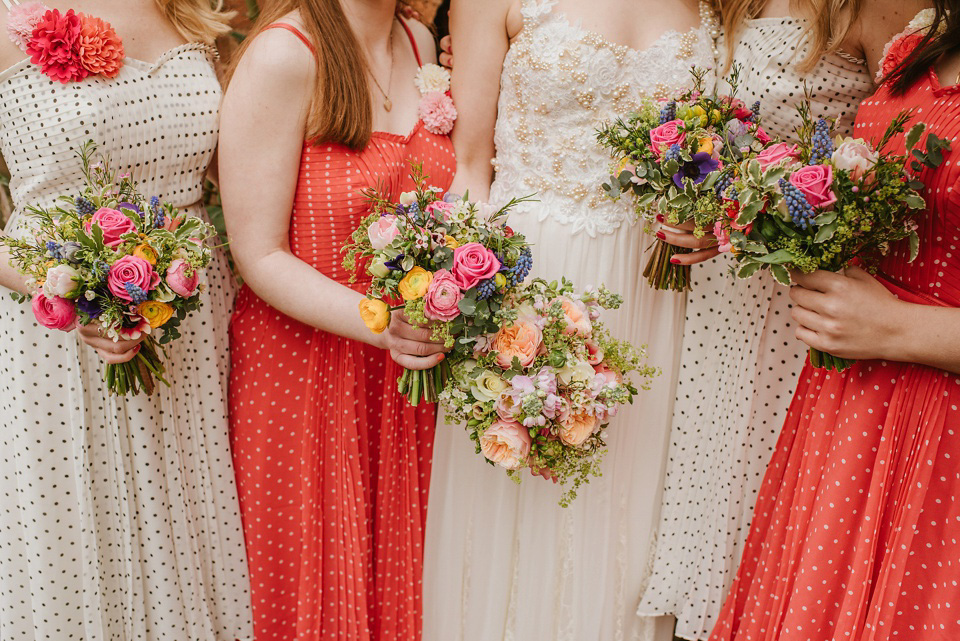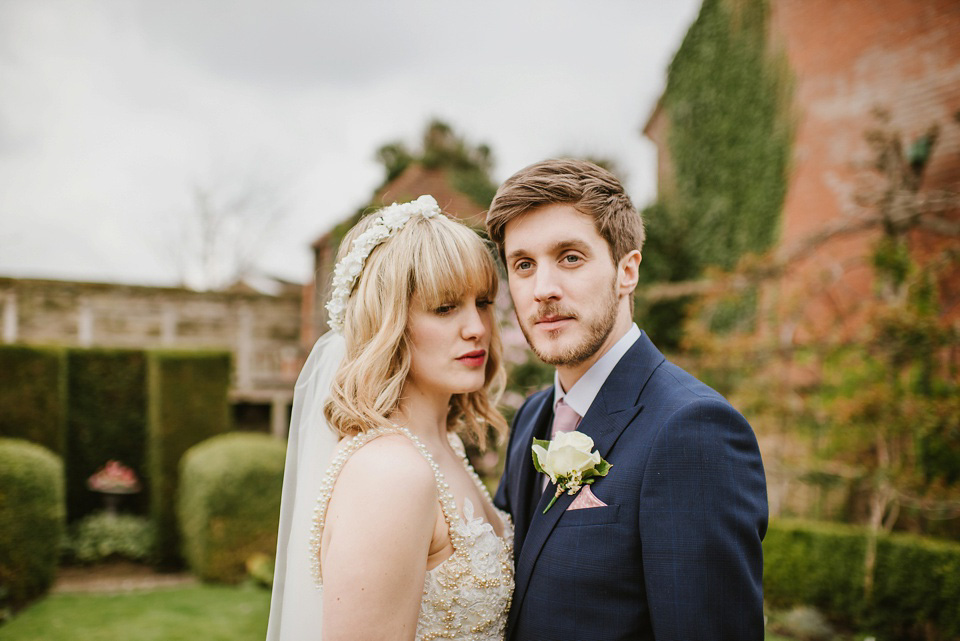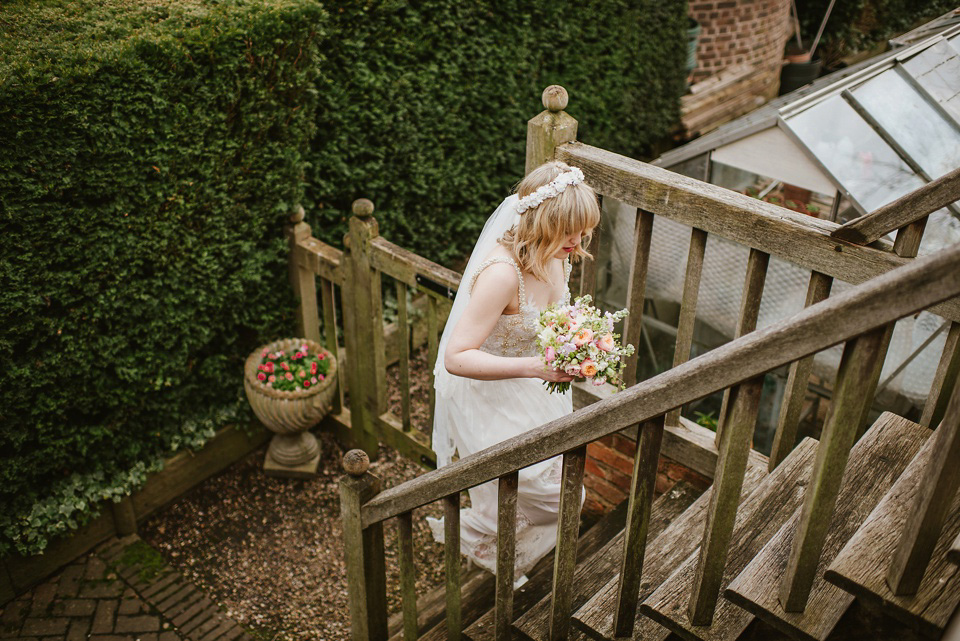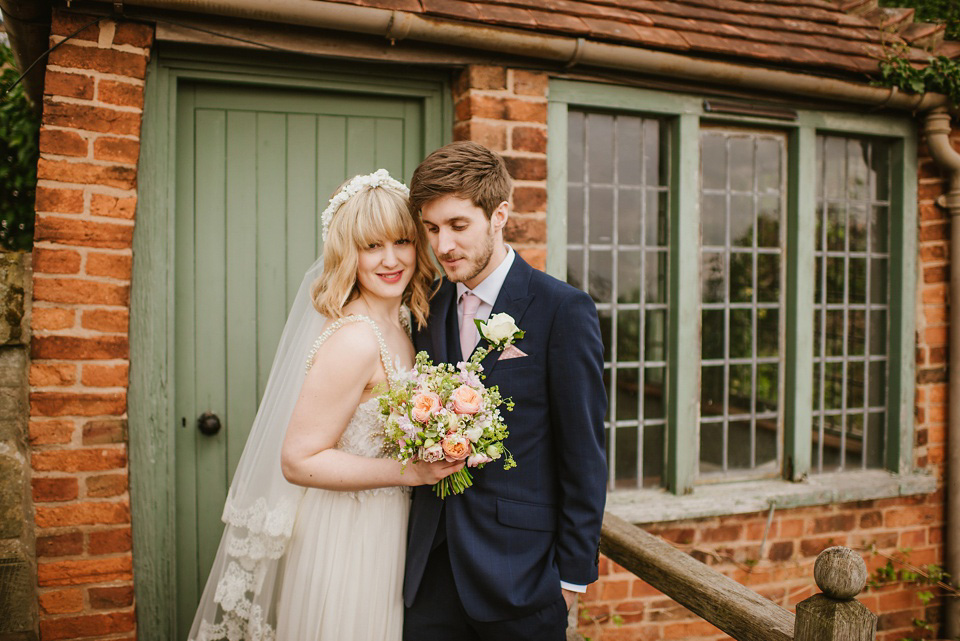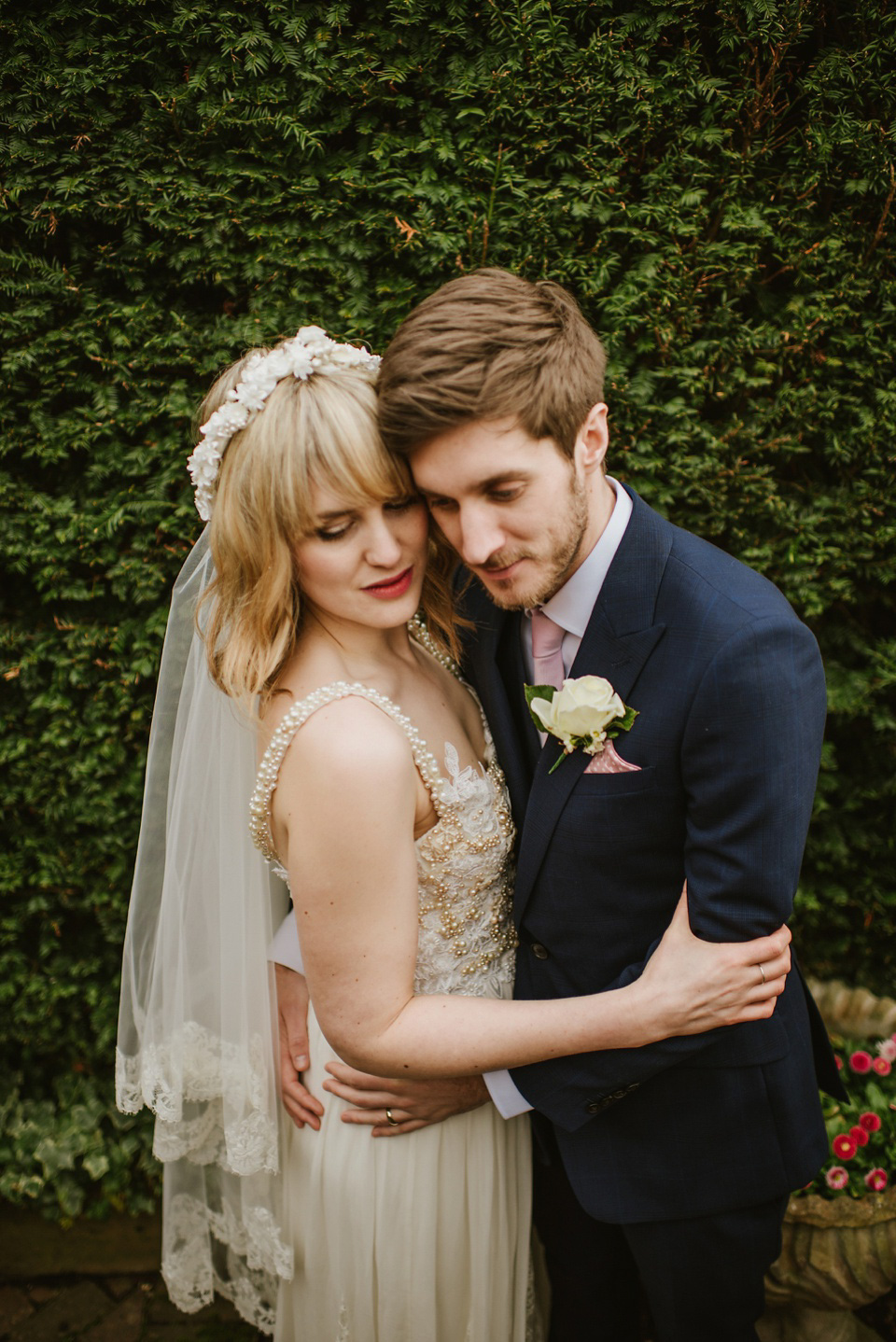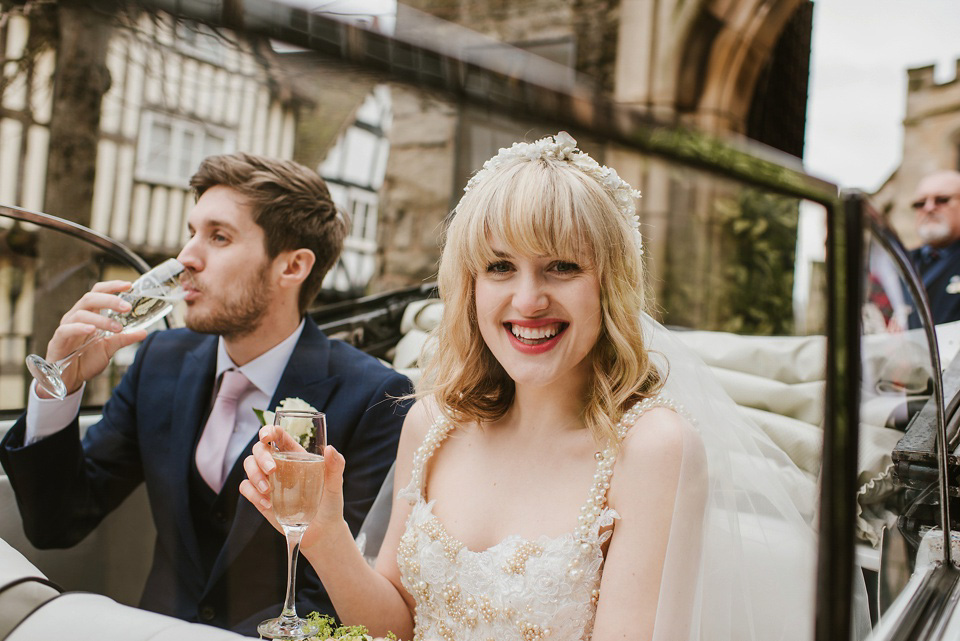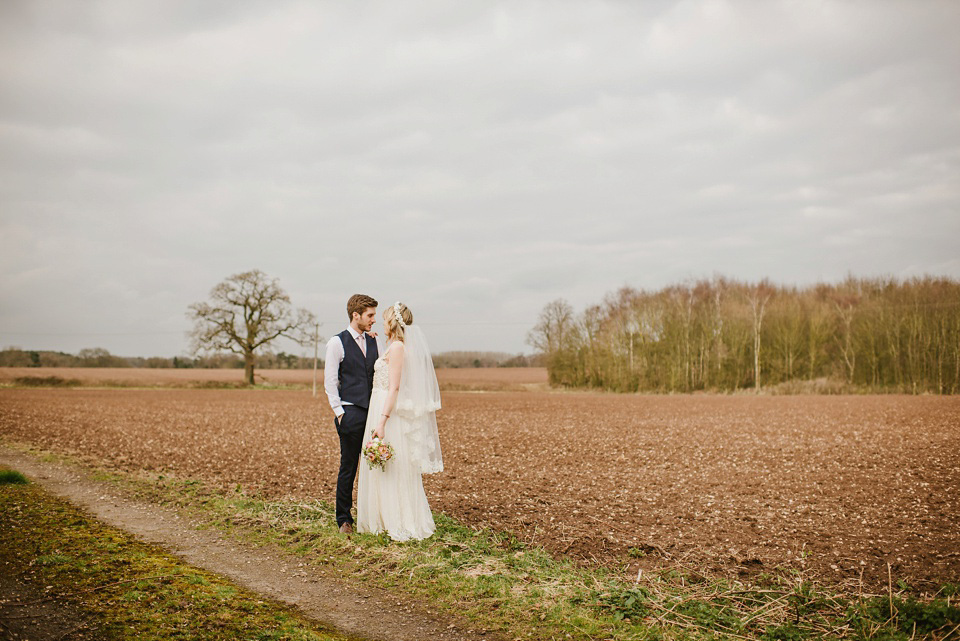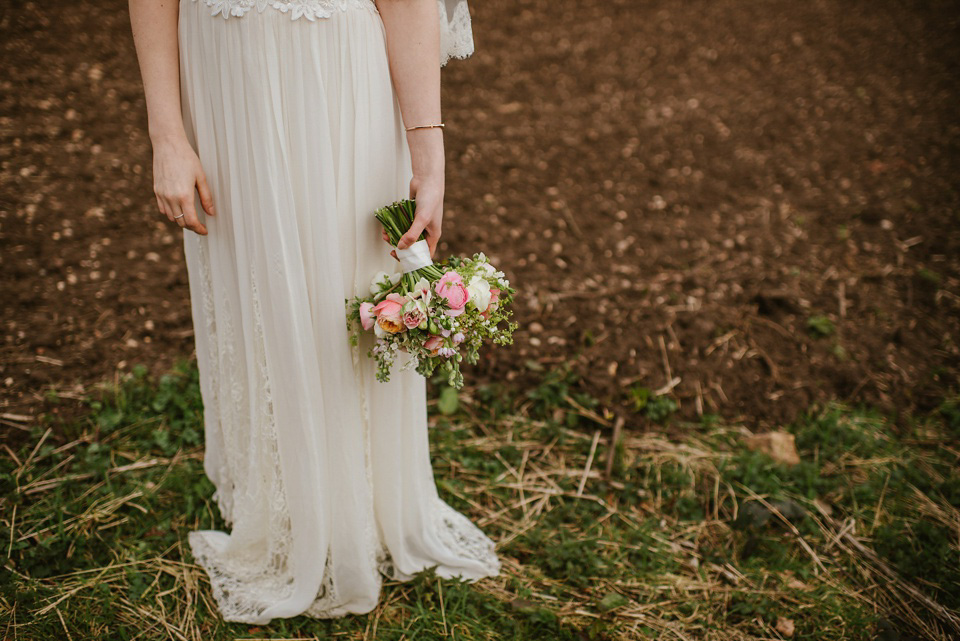 "We chose Hatton Village Hall for the reception- a really sweet building in a lovely rural setting. It was a blank canvas with a bar, a stage and the all-important space for dancing!"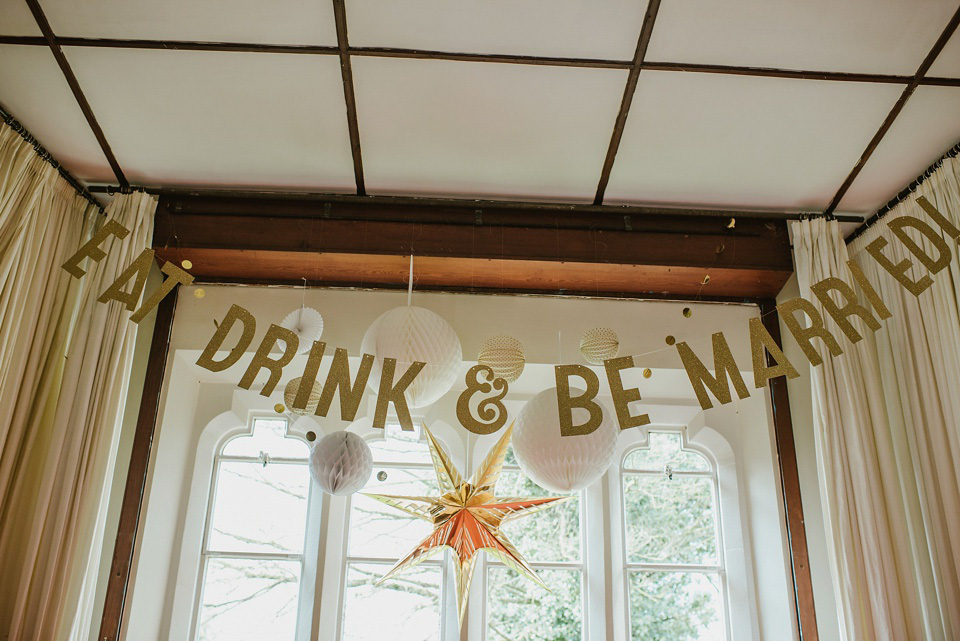 "The décor was so fun to plan and buy! We felt that the Lord Leycester didn't need any extra decoration so we went to town with Hatton Village Hall."
"I bought giant paper honeycomb balls, fairy lights and gold star hanging lanterns from IKEA and eBay. With the help of friends and family we made lots of strings of gold and silver decorations from metallic cupcake cases and gold stickers. I made our 'eat drink and be married' banner from gold glitter card and fishing wire and I wrote our table plan and various signs on gold frames with chalk pens
Our wedding was on Easter Saturday so as favours each guest had an egg cup which doubled as place names and a foil covered egg with chocolates and a fortune cookie fortune inside."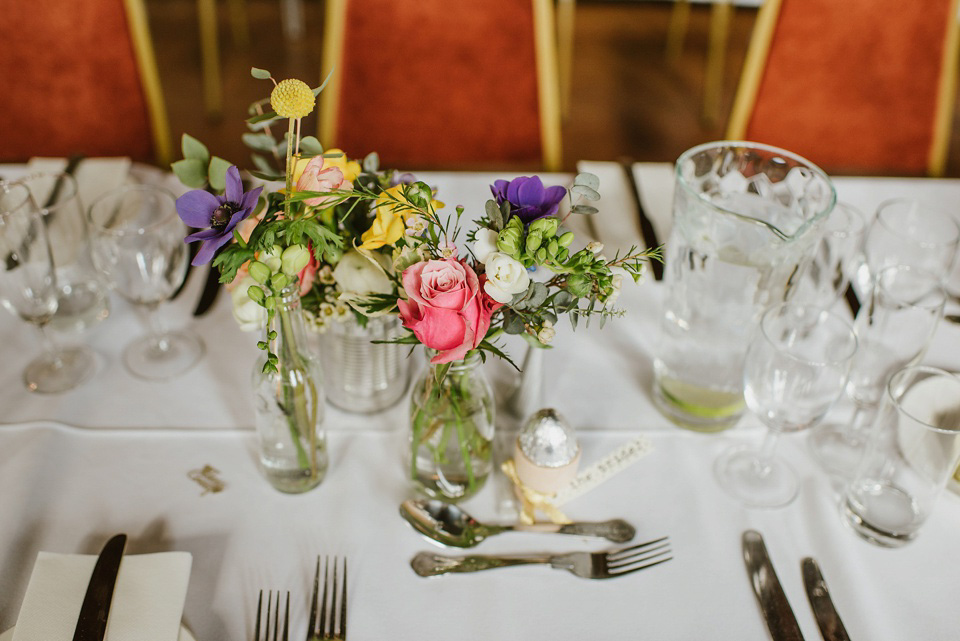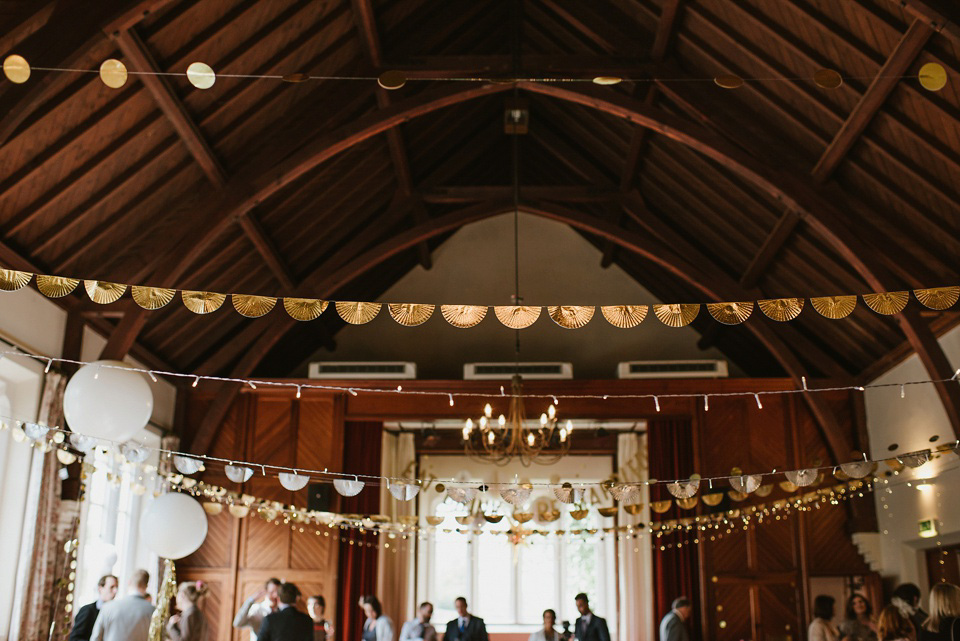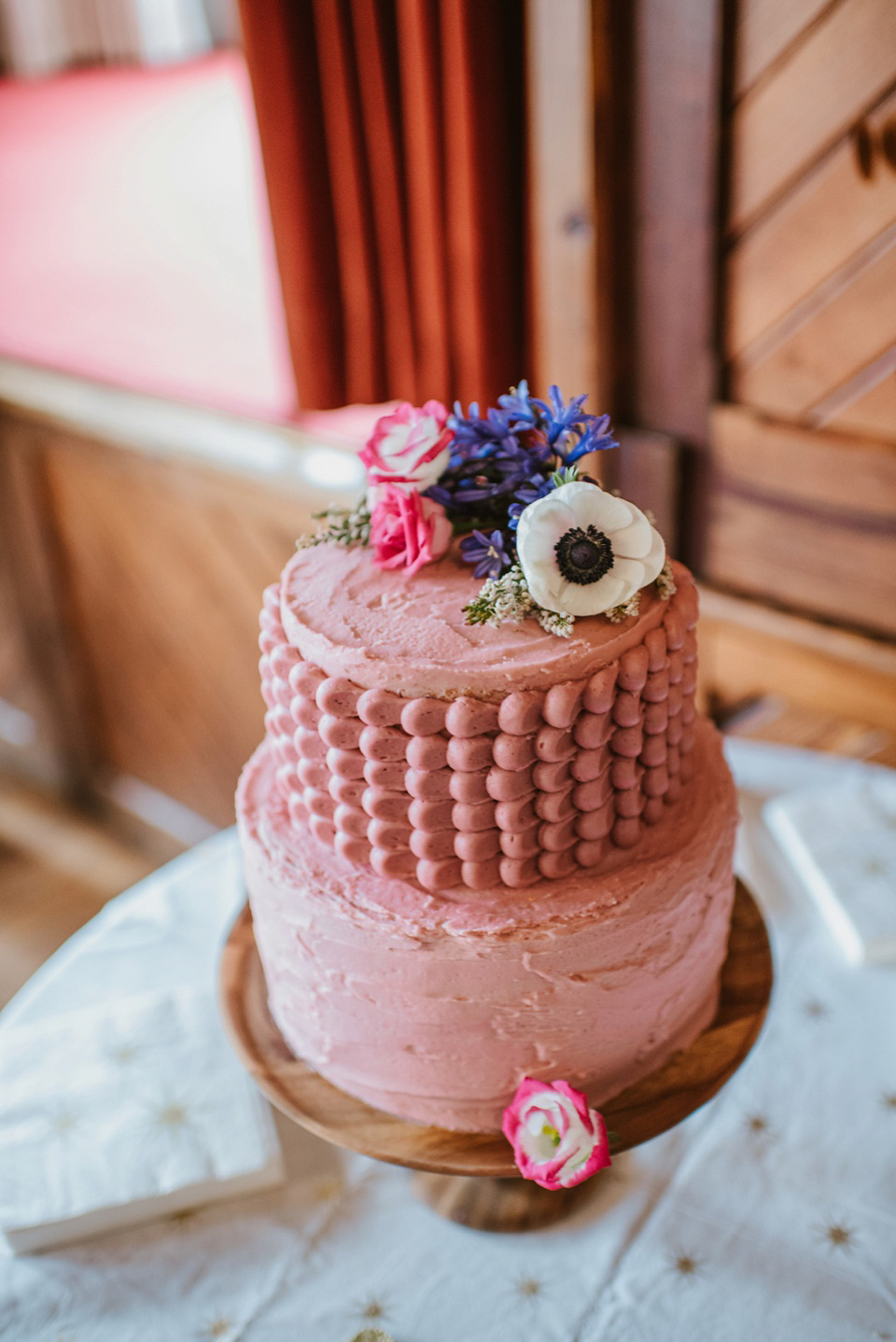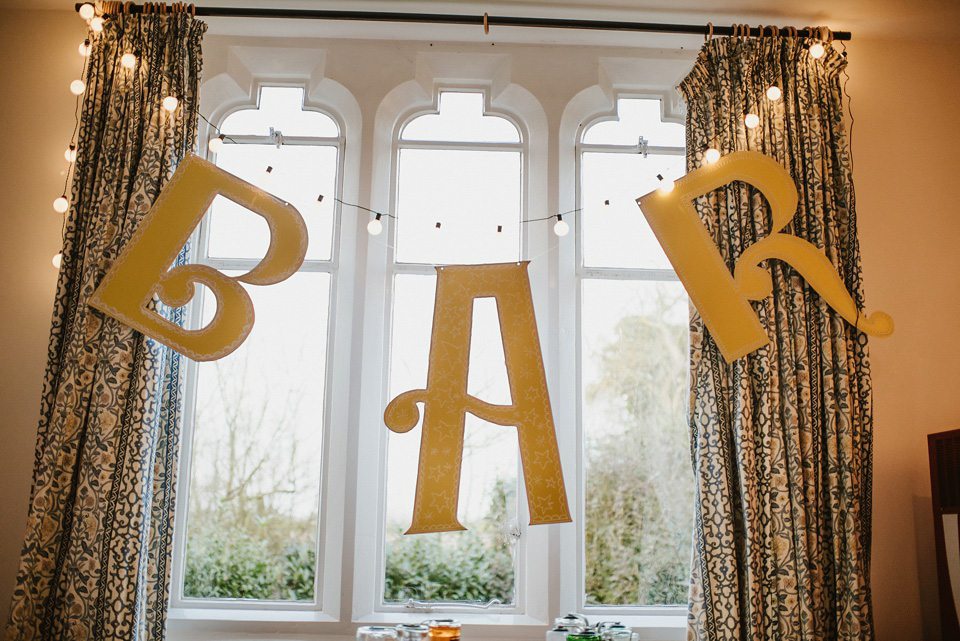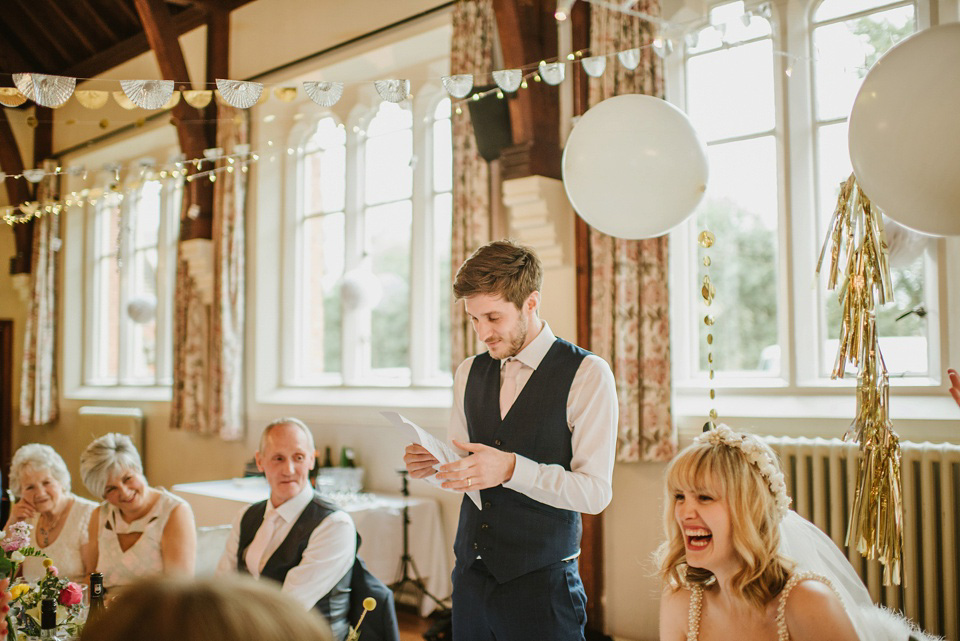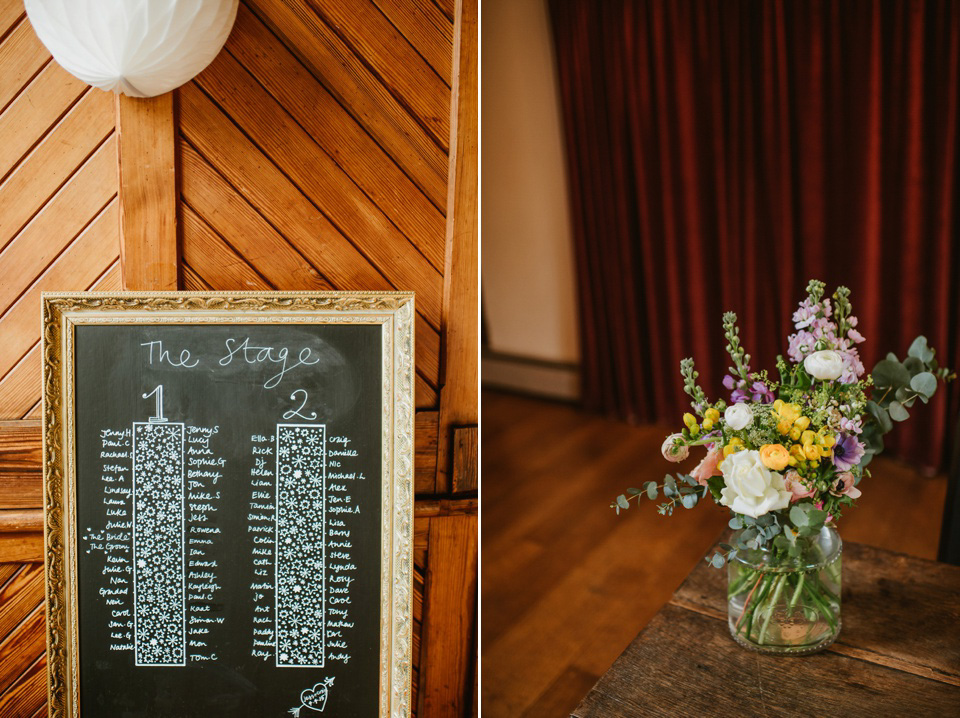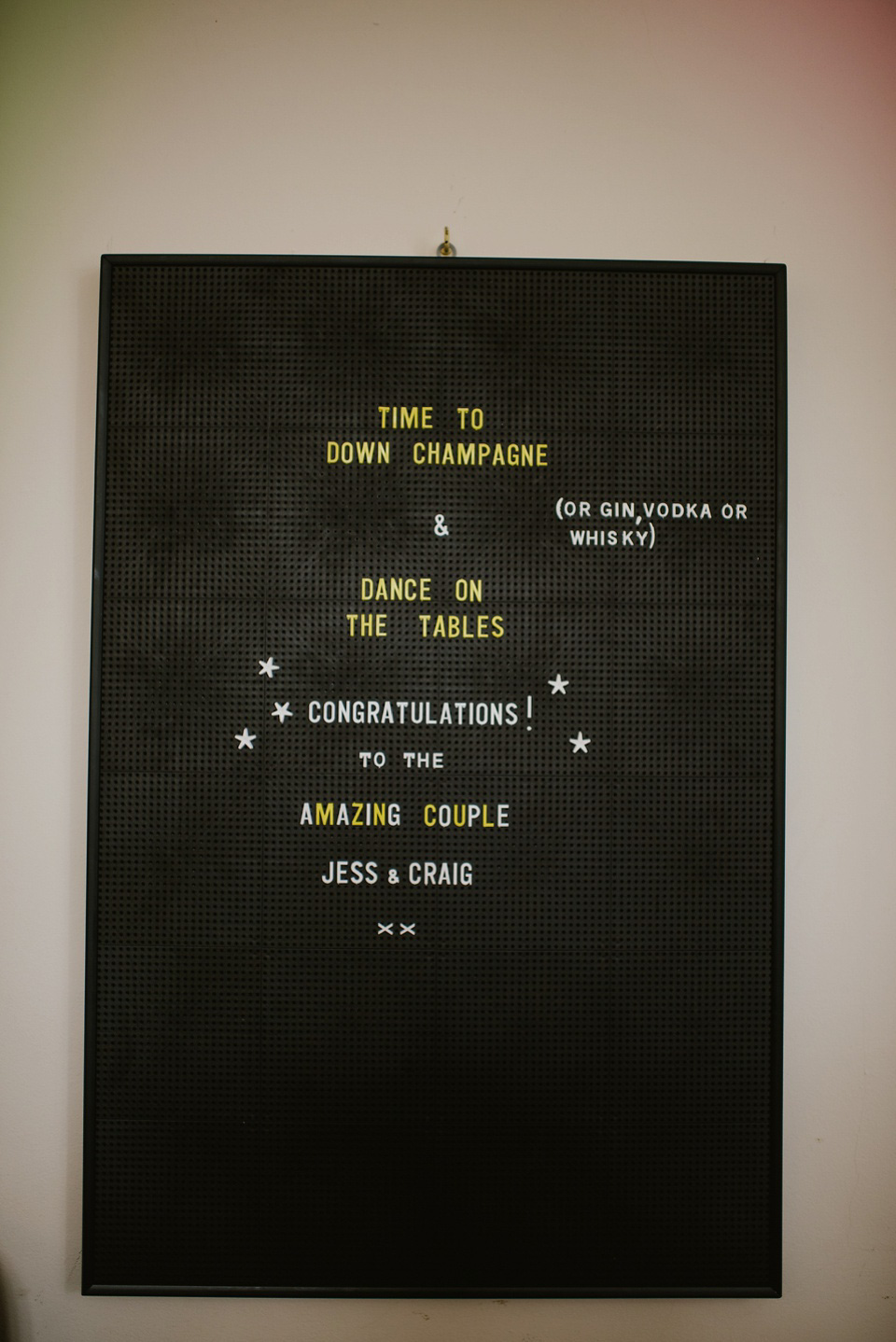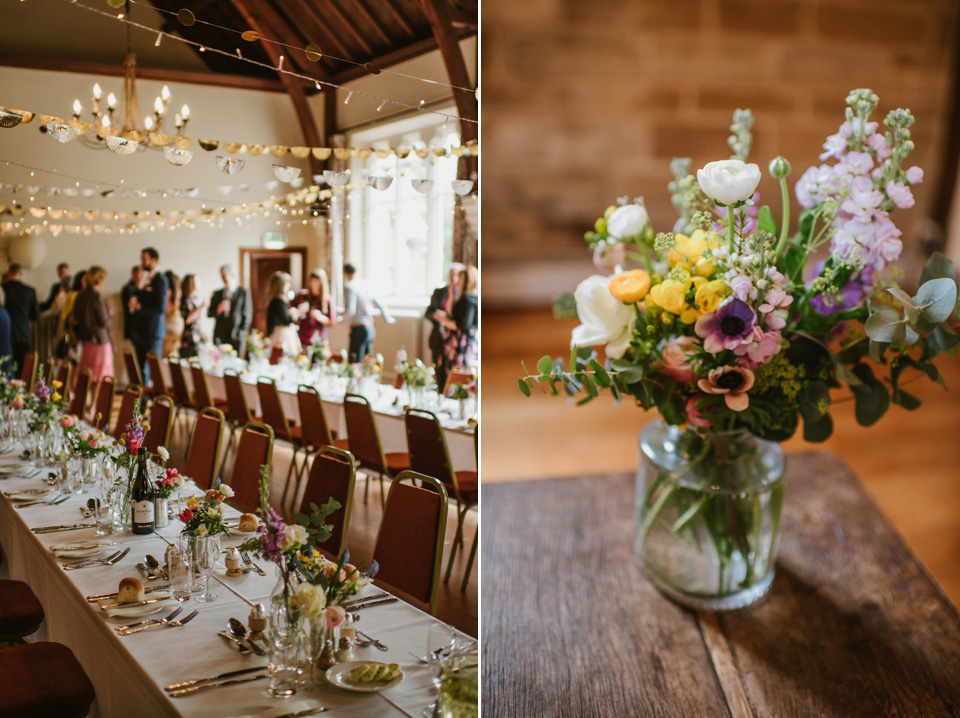 "The Kicks put on an absolutely amazing performance for us in the evening. It was the perfect ending to the day and they had EVERYONE up on the dance floor- we didn't stop all night! The band were our biggest expense but worth every penny. I'll never forget dance after dance with all my nearest and dearest."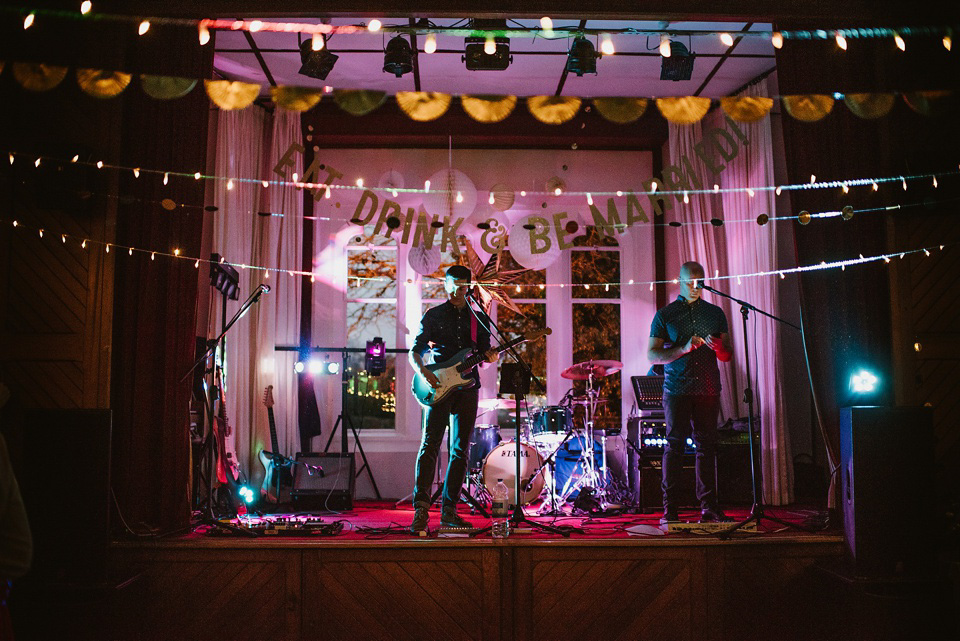 "We didn't fancy a first dance and the dance floor was full before the band had even started so we all danced together to the band's first tune 'You and Me Song' by the Wannadies.
Craig and I had our romantic slow dance moment with an impromptu drunken last dance' to 'Don't Look back In Anger' by Oasis. It was an amazing moment and I'm officially naming 'The Last Dance' as the latest trend!"
(A last dance option is definitely a 'thing' among Love My Dress brides! Is anyone else considering this as for their day?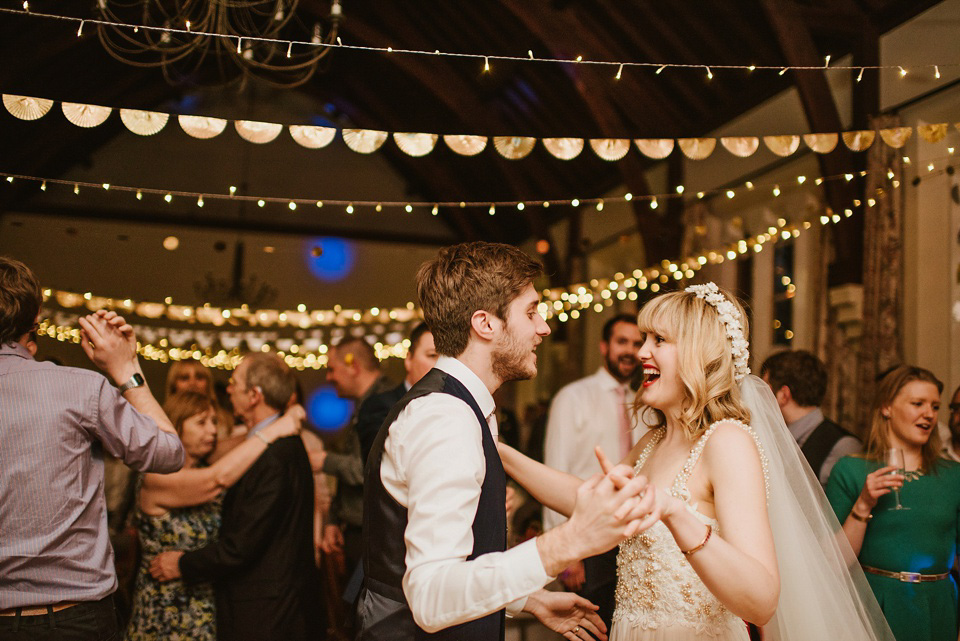 "My favourite moment was during dinner, sitting next to this amazing man, just looking around the room, thinking how lovely it was to have all these wonderful people sitting together, smiling and laughing and so full of joy and love! Everyone just seemed comfortable and happy, something that was probably number one on our list."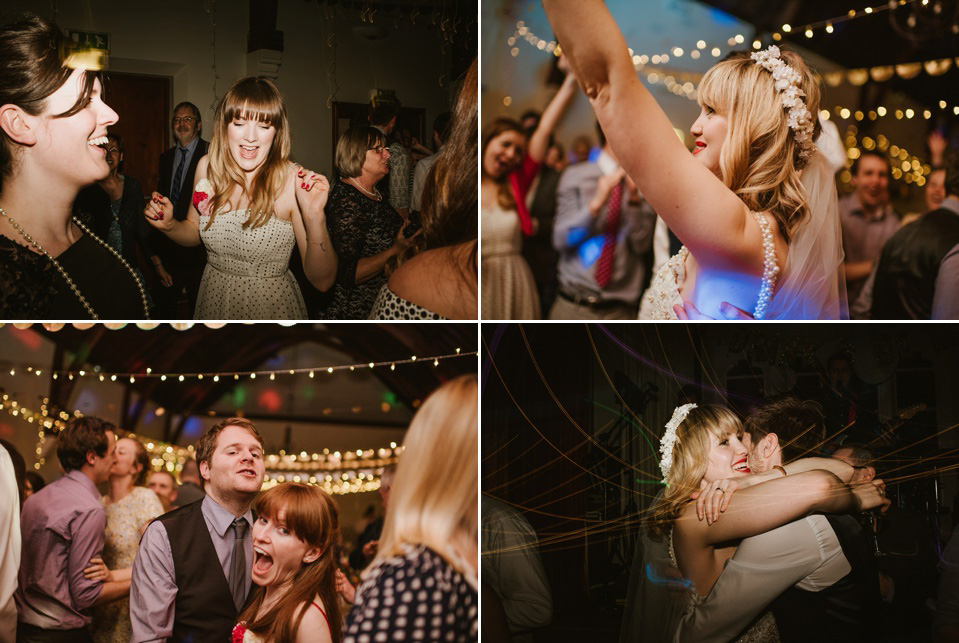 Words of Wedded Wisdom
"If you're having any DIY elements just focus on the things you enjoy doing, and delegate or just forget the rest! Don't worry about trying to make everything perfect and Pinterest worthy- no one will notice.
You've found the man [or woman!] of your dreams, you're going to be married! That's all that really matters."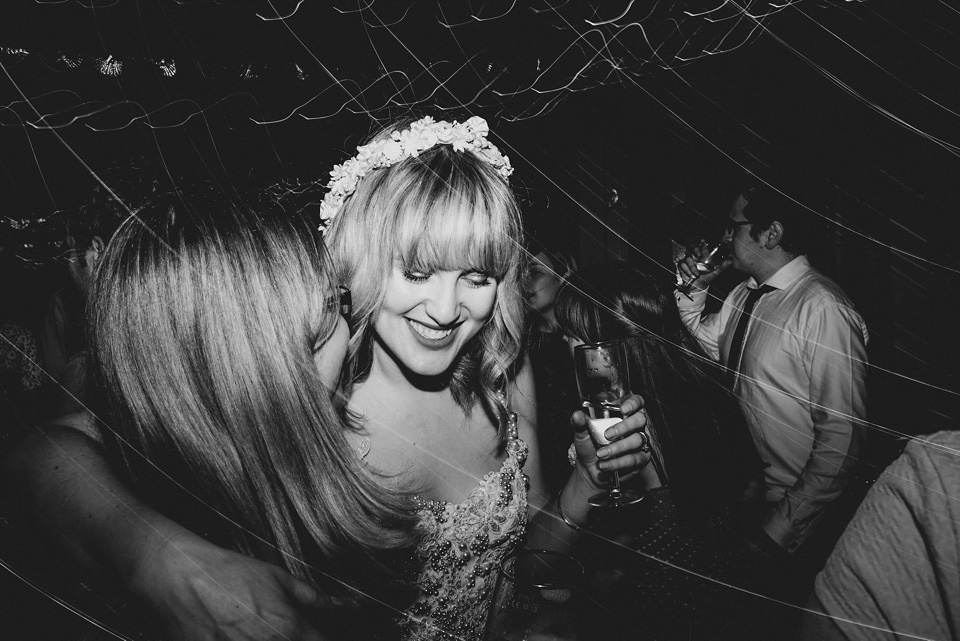 This wedding definitely made me smile- I hope it does you too! Congratulations to the happy couple, and thank you to the talented Ellie Gillard for sharing her work with us once again. Are there any more village hall weddings taking place out there?
Shona x
Photographer – Ellie Gillard
Venue – The Lord Leycester Hospital, Warwick and Hatton Village Hall
Wedding dress – Geneva by Alice & Olivia with alterations
Veil – Karolanne (now closed), Nottingham
Accessories – vintage wax flower circlet, bought from Sue Ryder on eBay
Shoes – Topshop
Perfume – Chanel
Bridesmaid dresses – Monsoon
Groom's outfit – Reiss
Groomsmen – Own suits
Florist – Lily Loves Flora
Cake – Holly Loves Cake
Rings – Jess- Lilia Nash, Craig- Ernest Jones
Transport – Beetlebugs
Catering – Great Tasting
Entertainment – The Kicks